Beautiful, Blush and Breezy
June 13, 2019
Danielle & Rob's Upwaltham Barns Spring Wedding
The perfect March day saved itself for Danielle and Rob who married at the breathtaking Sussex location of Upwaltham Barns. Fitting to the serene and tranquil setting was this easy-going, very relaxed pair who seemed to take the momentous day of marriage in their stride. Seeing to small essential tasks without stress and enjoying each moment as it fell upon them, the couple appeared to revel in its magic and mindfully absorb the details in real-time. It is rare to notice and acknowledge the little treasures of people's words and actions with so much to think about for the day ahead, but charmingly, I witnessed this to be true of Danielle and Rob.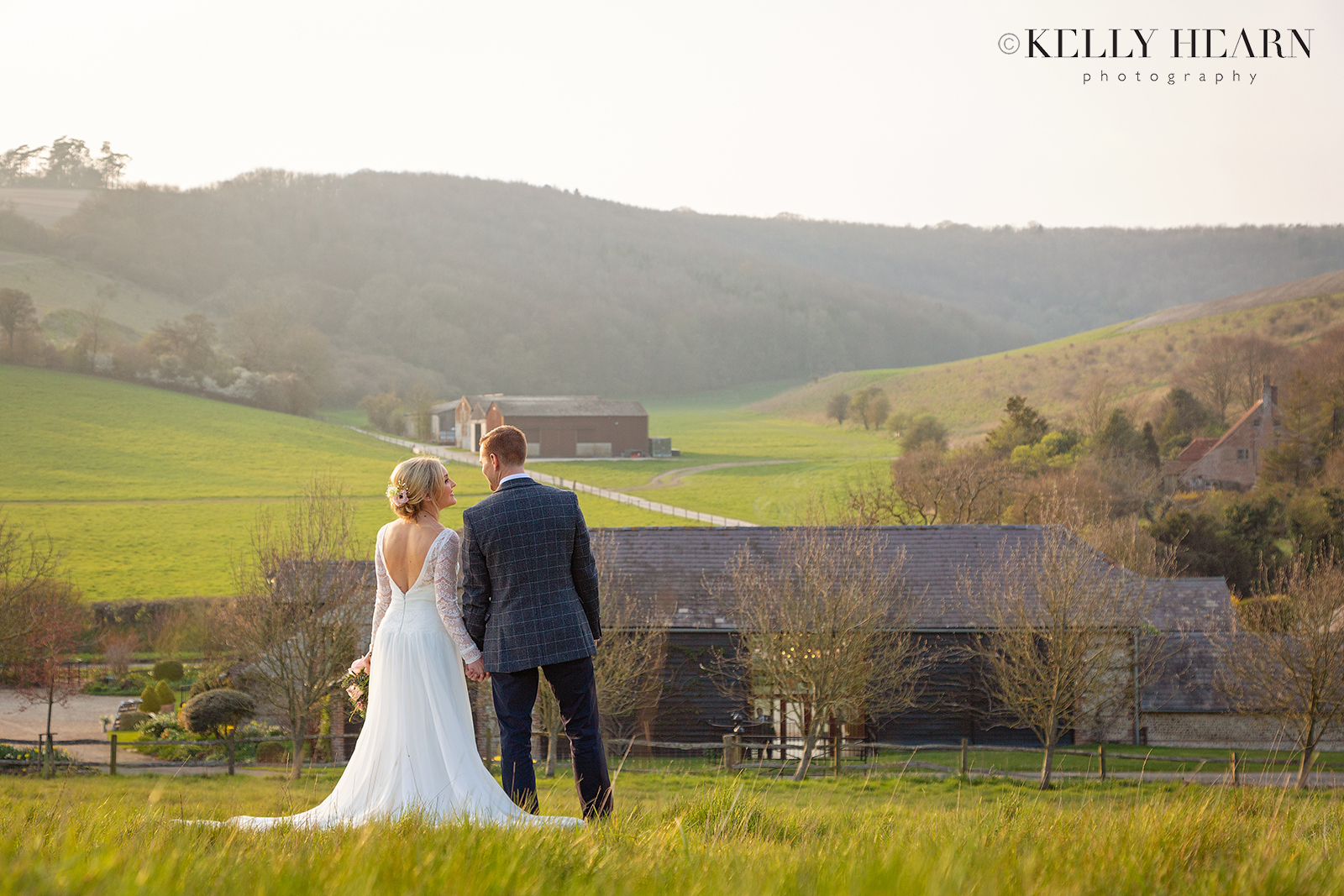 My first stop on the wedding morning was at The Swan in Fittleworth. The historic and picturesque 14th-century country inn hosted Rob and the groomsmen as they prepped and primped in suitably dashing wedding apparel. A fun aspect to the photography side of a wedding morning is to creatively mark such moments and, as Rob was captured adjusting his tie in the reflection of the steamy bathroom mirror, we had ensured he would never forget his wedding date!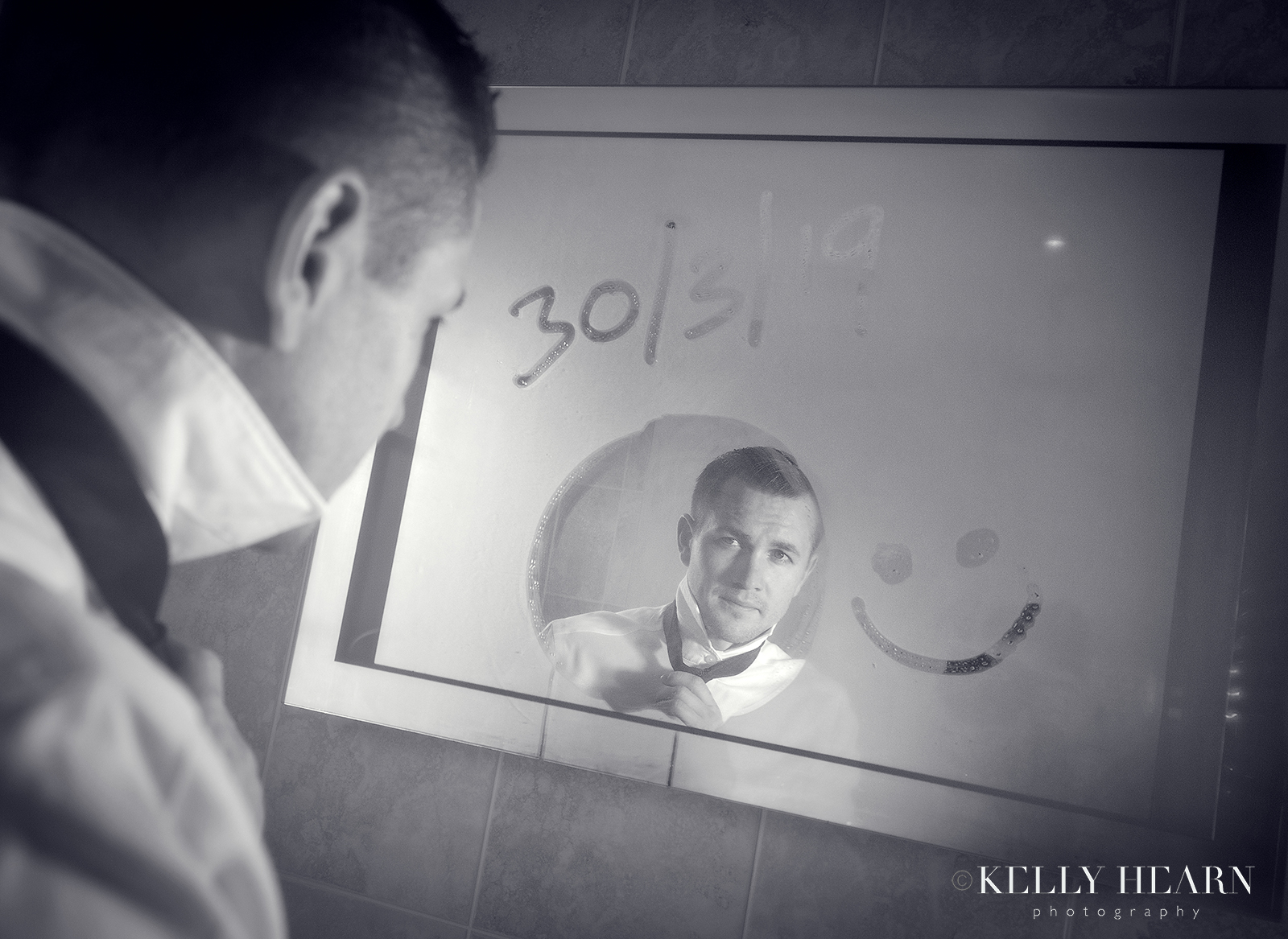 Navy check jackets and waistcoats teamed with navy trousers, coordinating ties and brown brogues ensured the refined and well-styled group looked right at home in the traditional country establishment. They looked like noble English gentlemen in a private social club as they sat around the table under the ancient wooden beams.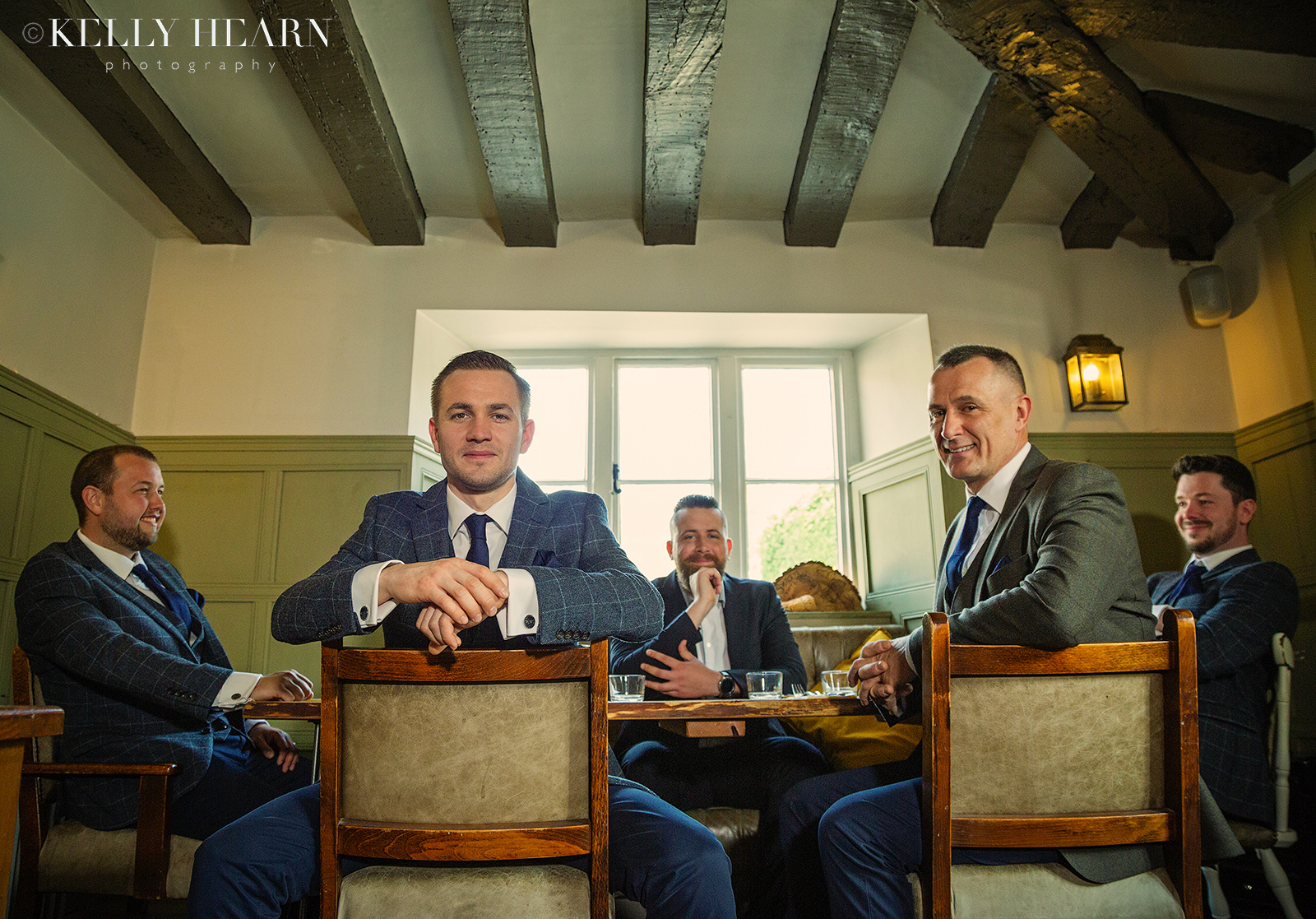 Whilst the groom enjoyed a few drinks in the company of his associates, Danielle was at the wedding venue of Upwaltham Barns making her very own entrance through the bunting-bedecked archway with her very own entourage! Donning silk floral kimono gowns whilst laden with flowers and watering cans, this bridal party arrived having already had good friend Lou, plus Charlotte from Polka Dot Hair and Makeup transform them all with their beautifying skills. After getting a few last minute flower-related jobs sewn up, all that was left for them to do was to slip on their gowns for the day ahead.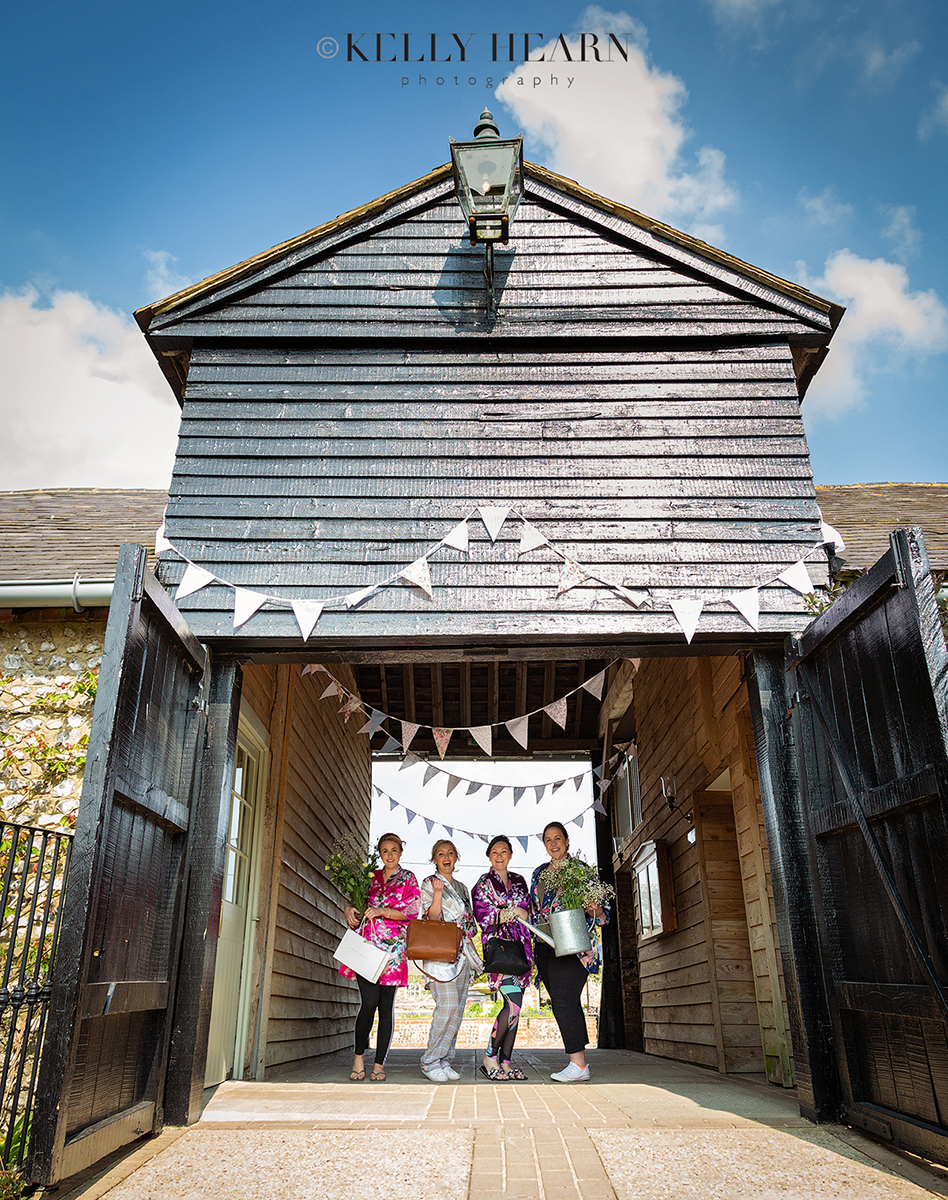 Also at hand was Mum, ready to help Danielle into her gorgeous wedding gown. Lying somewhere between classic and boho in style, this dress was an absolutely stunning choice for Danielle and she wore it effortlessly. The dress boasted an elegant low V back, beautifully delicate scalloped lace sleeves, and a soft rippling skirt which flowed luxuriously and sweepingly to the floor. Danielle's overall look remained refined and chic with just the right amount of bohemian romance to enhance her rustic wild-flower inspired theming.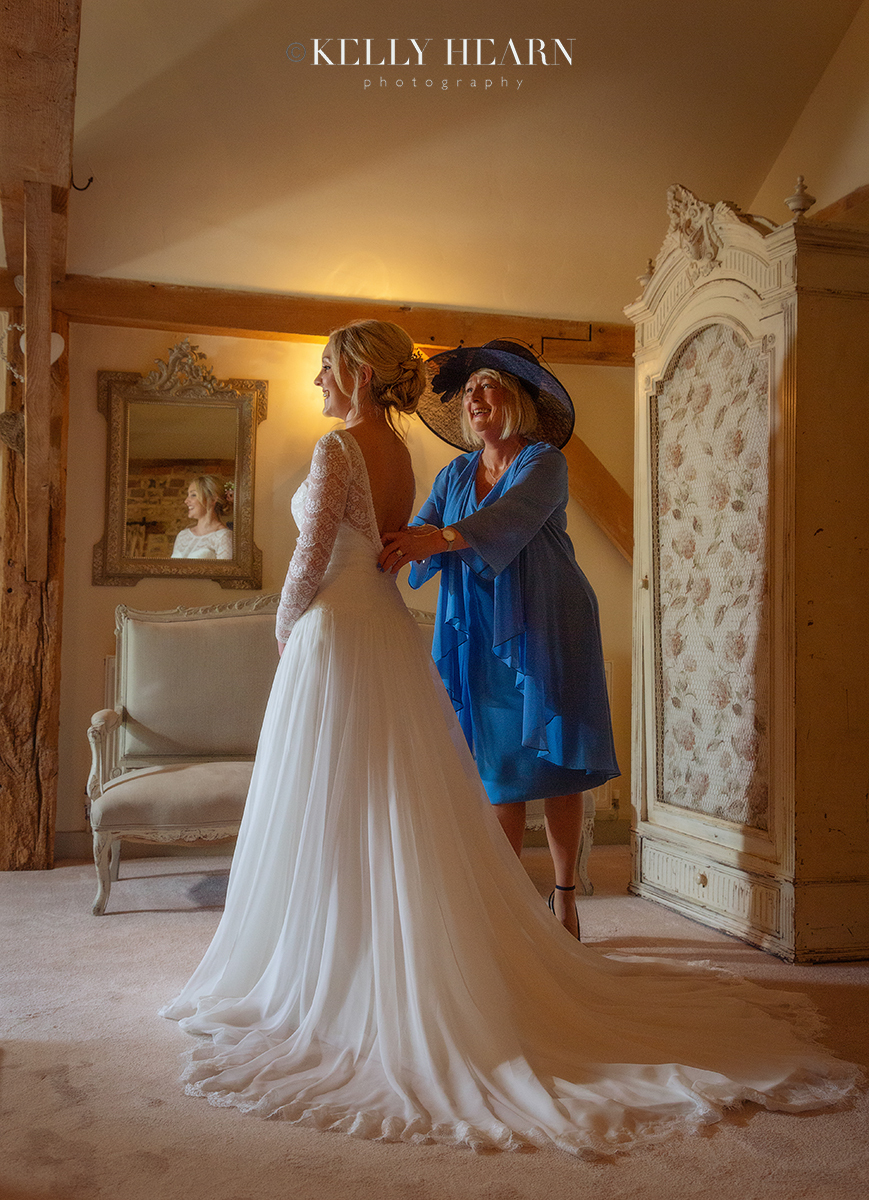 The bride's happy and easy-going demeanour perfectly matched her graceful yet composed styling which became apparent as she sat to be photographed, enjoying a relaxed couple of minutes on the chaise longue. We saw a hint of Danielle's chosen colour palette of pinks revealed in her bridal bouquet - a hand-tied, wild-flower assemblage designed by Surrey Flower Design.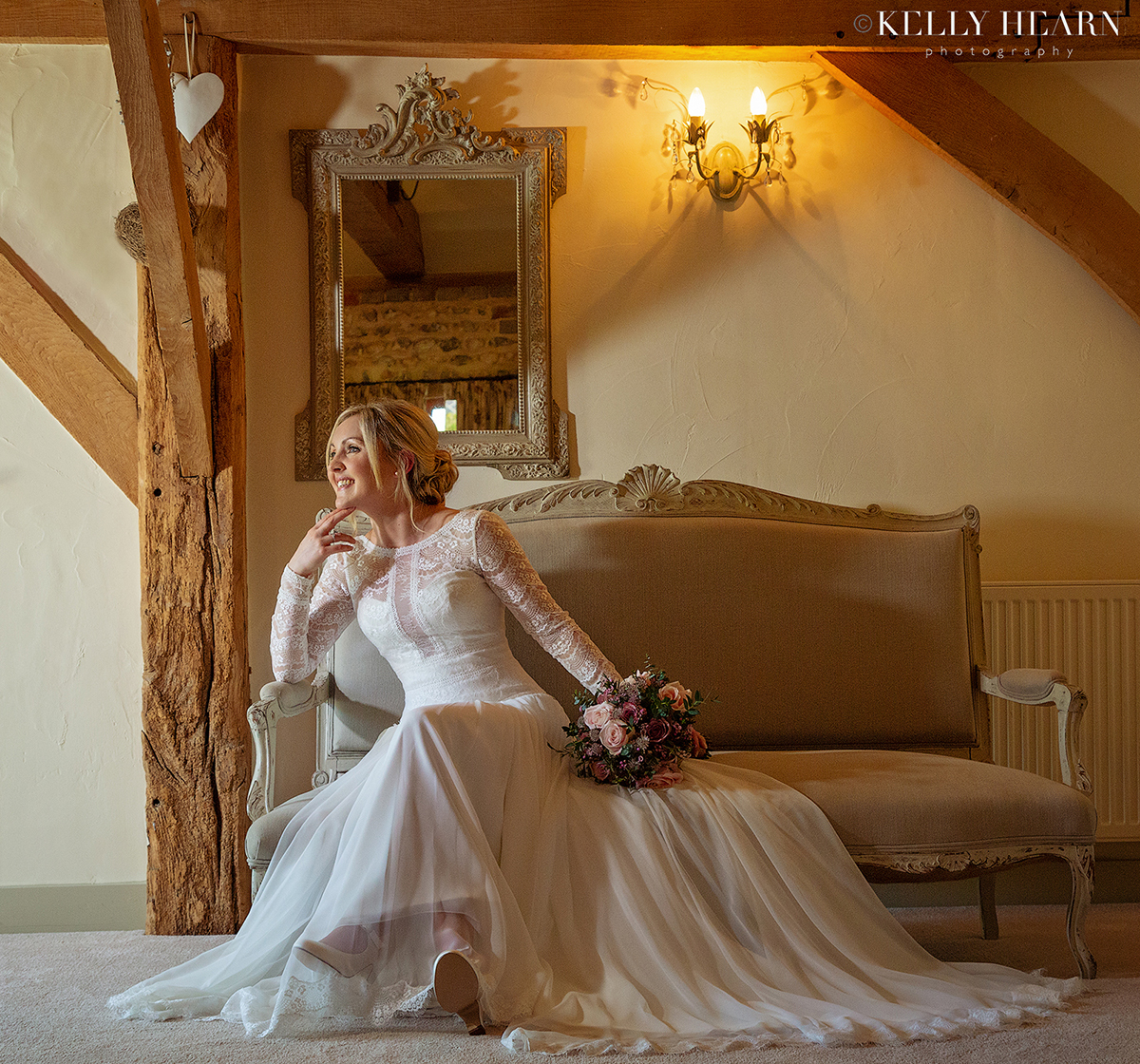 Themed with classic pink roses, wild meadowy stems and the neutral minty green hues of eucalyptus, the bouquet successfully combined classic wedding florals with festival-style blooms. Bridesmaids carried simple, yet pretty posies of Gypsophila to compliment their blush pink floor-length gowns. Together the bridal party painted a perfect romantic picture, reflecting femininity and the muted fresh pastels of spring.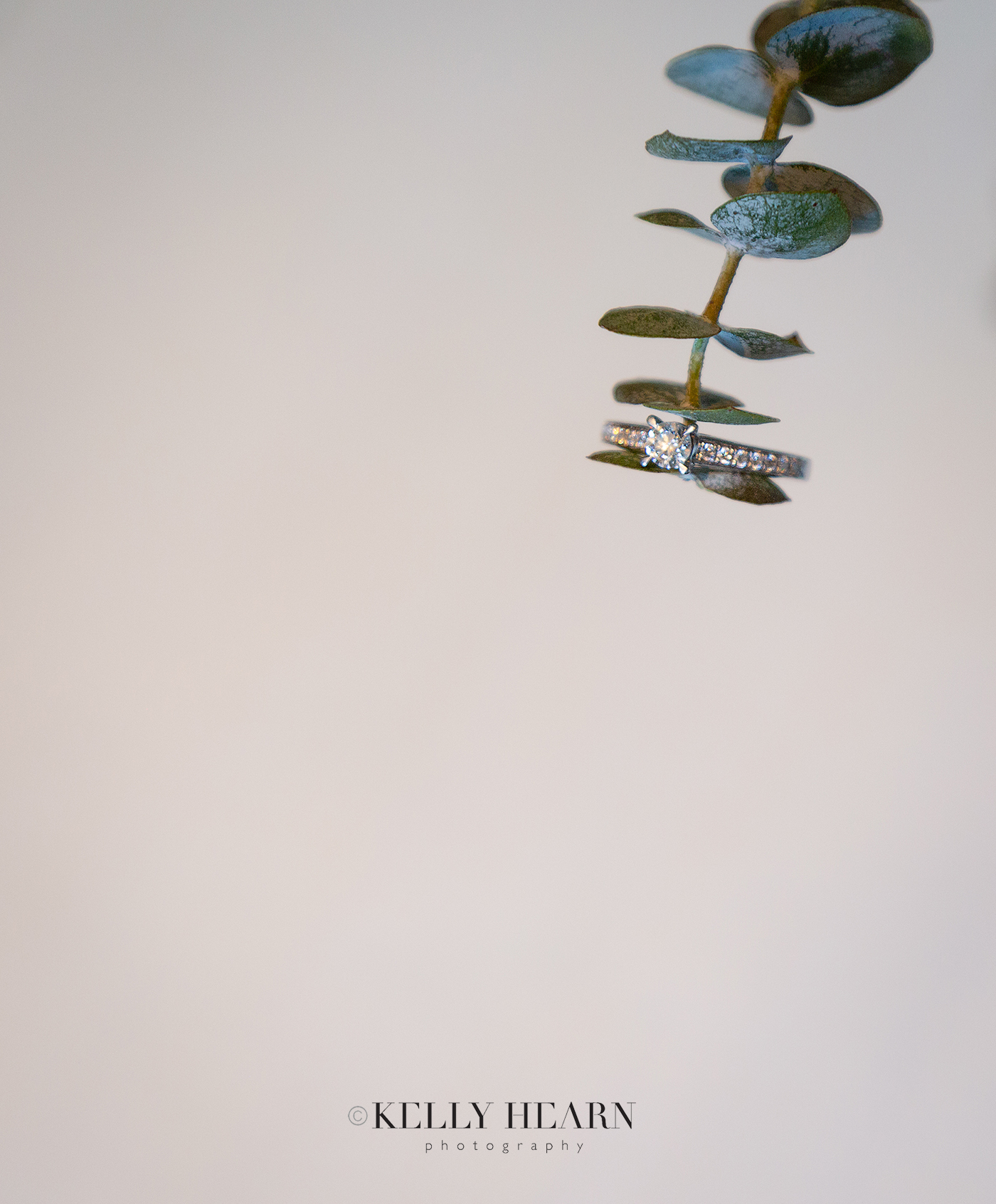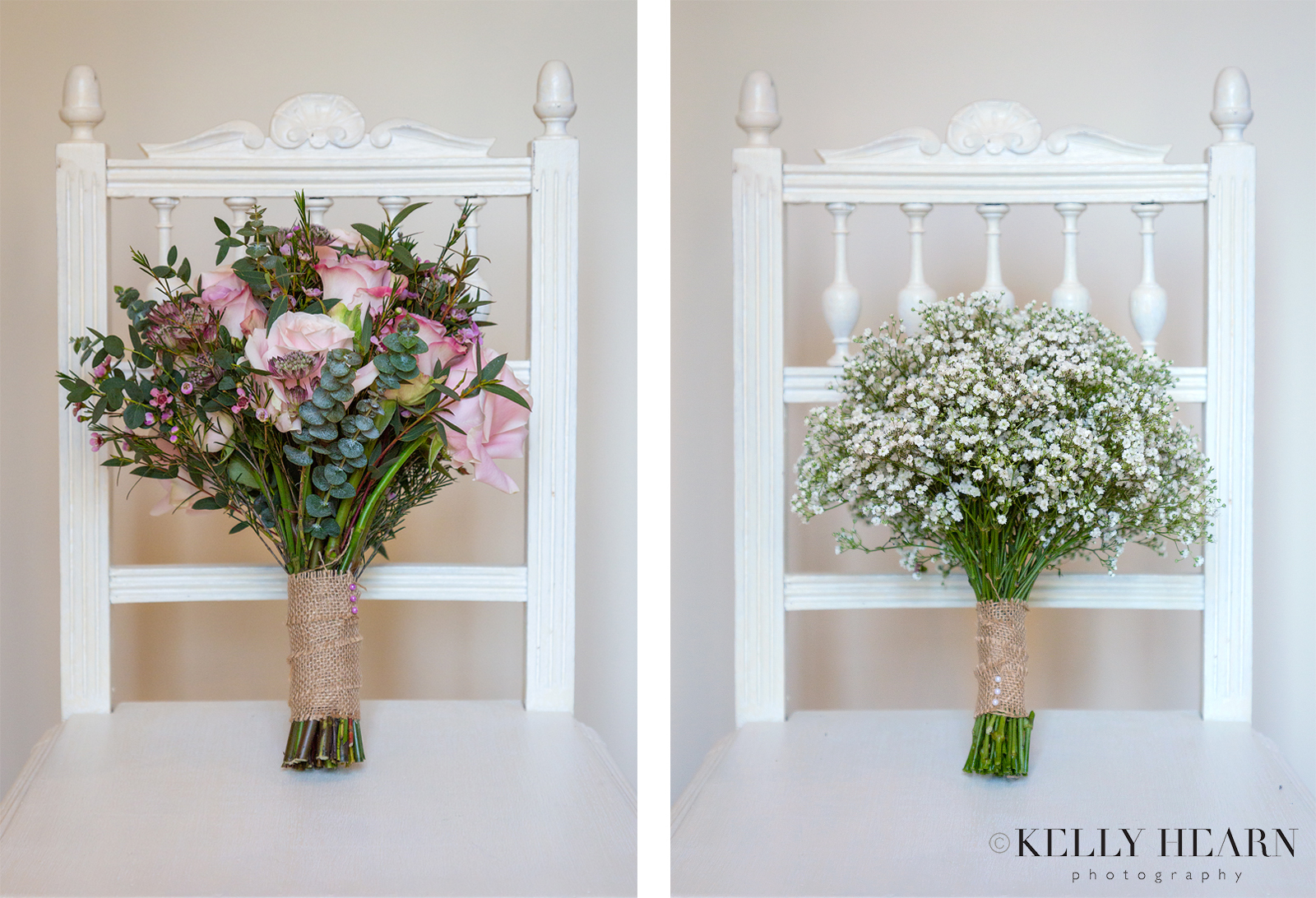 Bathed in the beautiful spring sunlight, Danielle walked arm-in-arm with her Dad and Maid of Honour, the three of them making their way towards the palatial East Barn. Casting subtle shadows and softening all the edges, the delicate quality of light during this pre-ceremony stroll made for a dreamy vision of this bride about to be given away. A truly happy father-daughter moment to behold!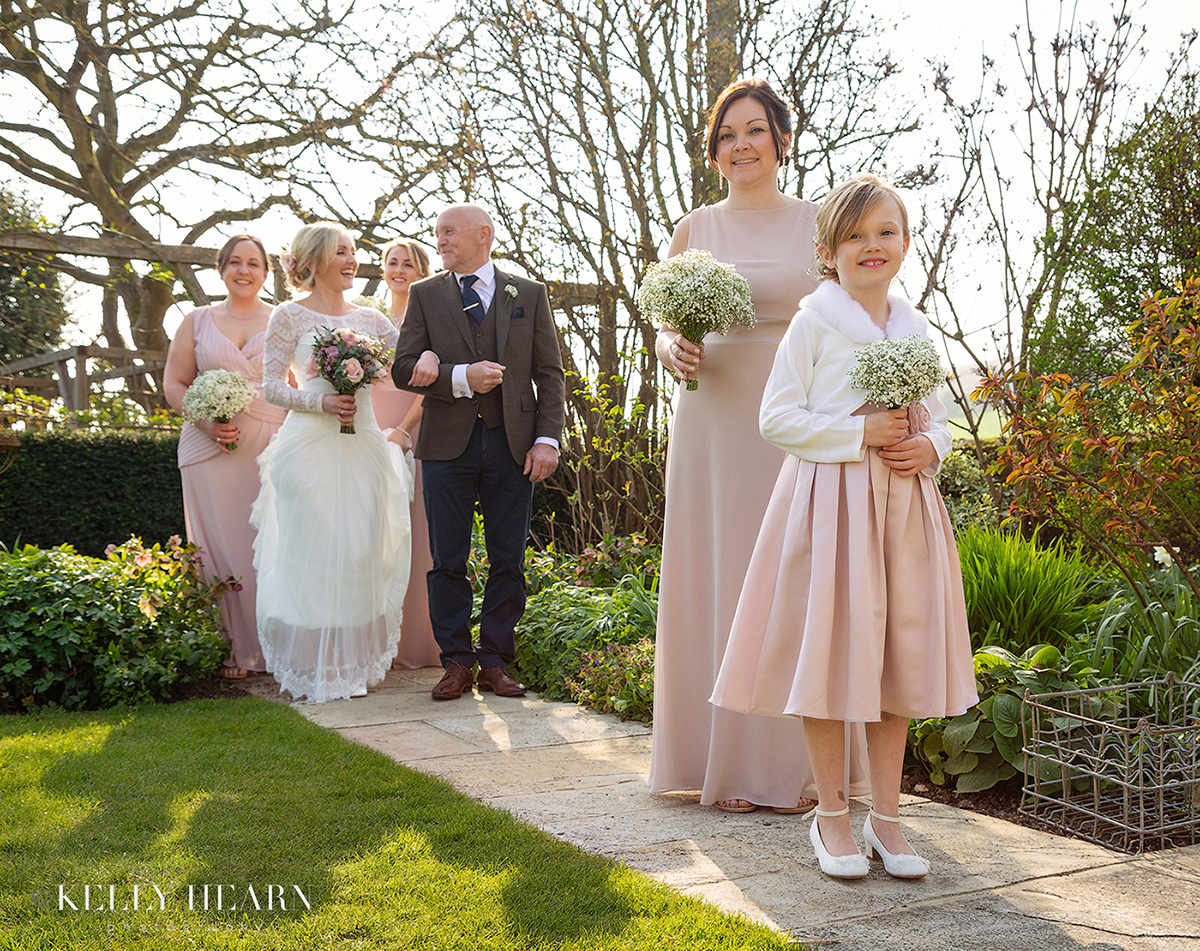 At the end of the aisle, groom Rob was waiting patiently for the barn's solid wooden doors to slide open and reveal his beautiful bride. (The doors are a new feature to the ceremony barn and were fantastic for keeping sacred that element of surprise as the bride awaited her big entrance!)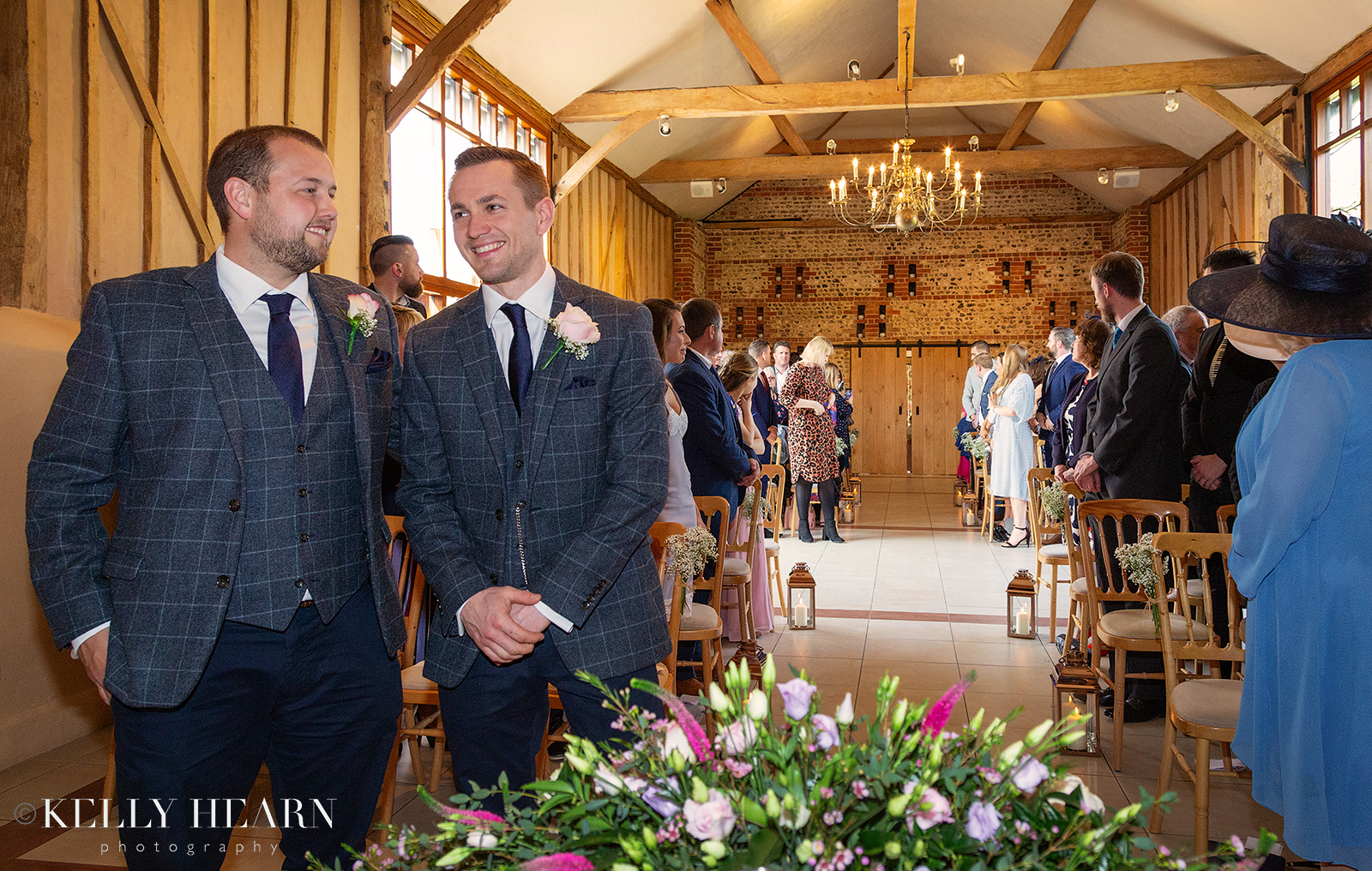 Sharing underlying nerves that surrounded the vows that were to be spoken and rings that were to be exchanged, the couple were clearly delighted to get to the point of signing the Register!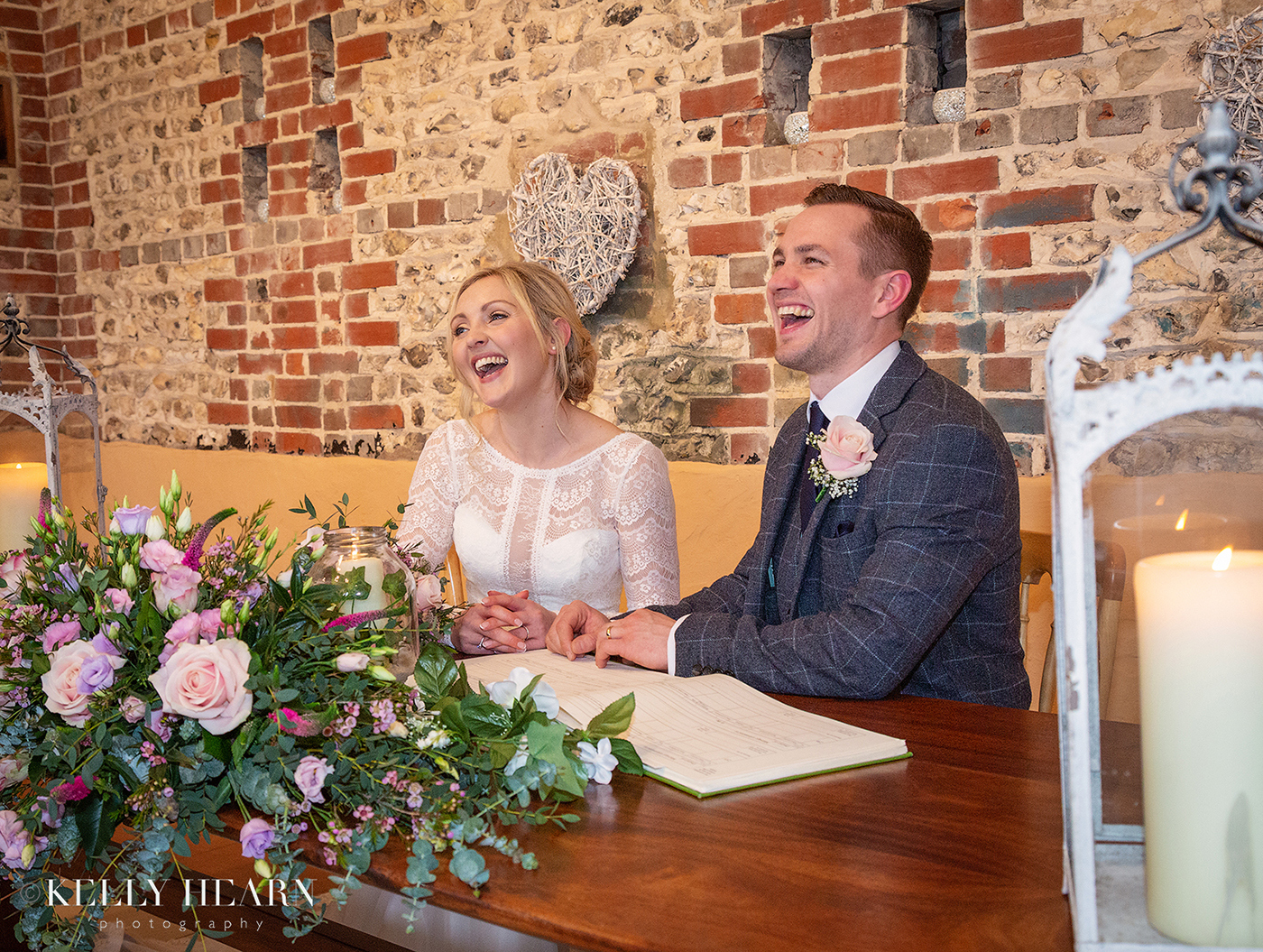 Following a heartfelt ceremony, happy catch-ups between friends and family were scattered throughout the courtyard. Guests seemed relaxed and, of course, were all keen to offer doting compliments and congratulations to the new Mr & Mrs Walmsley!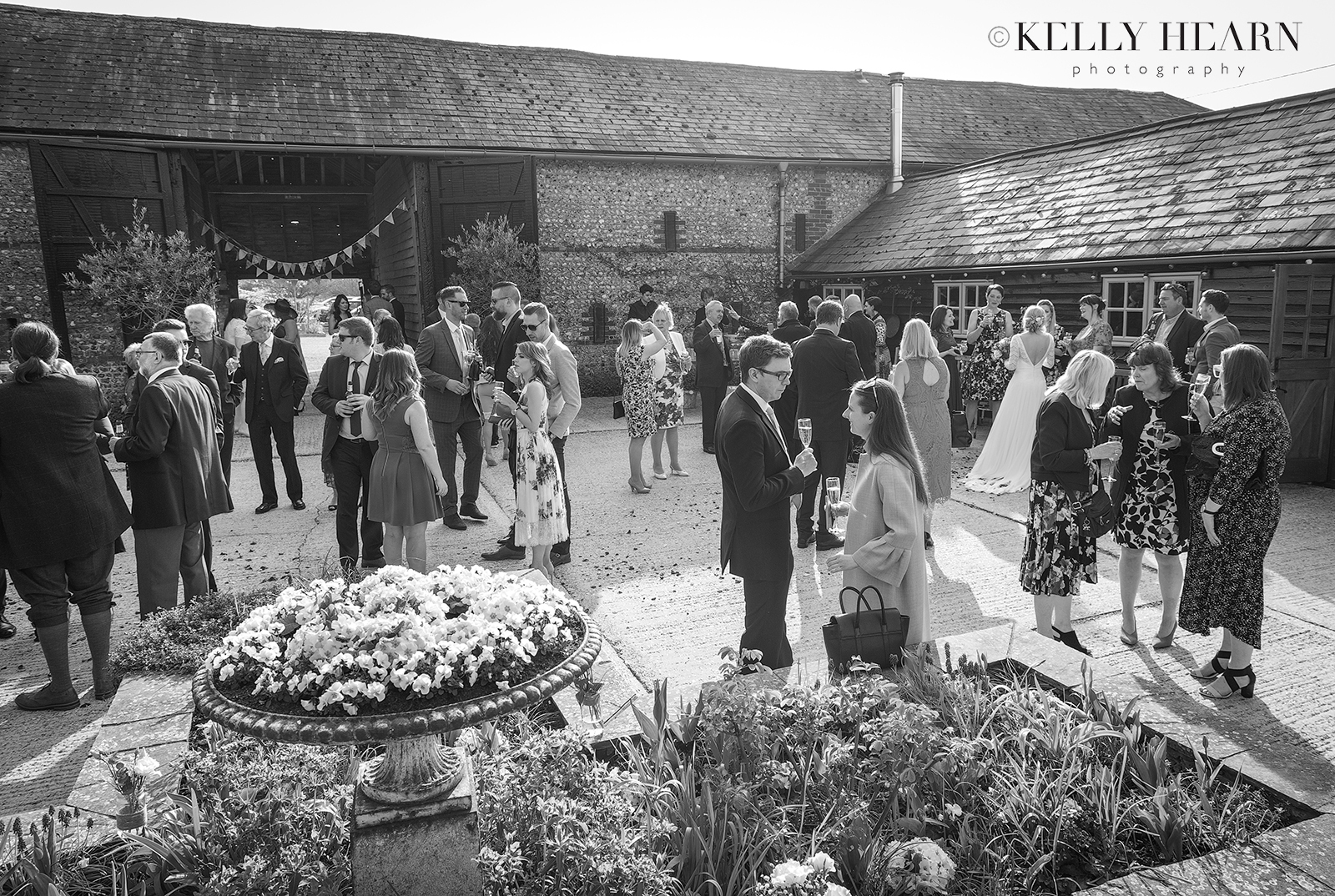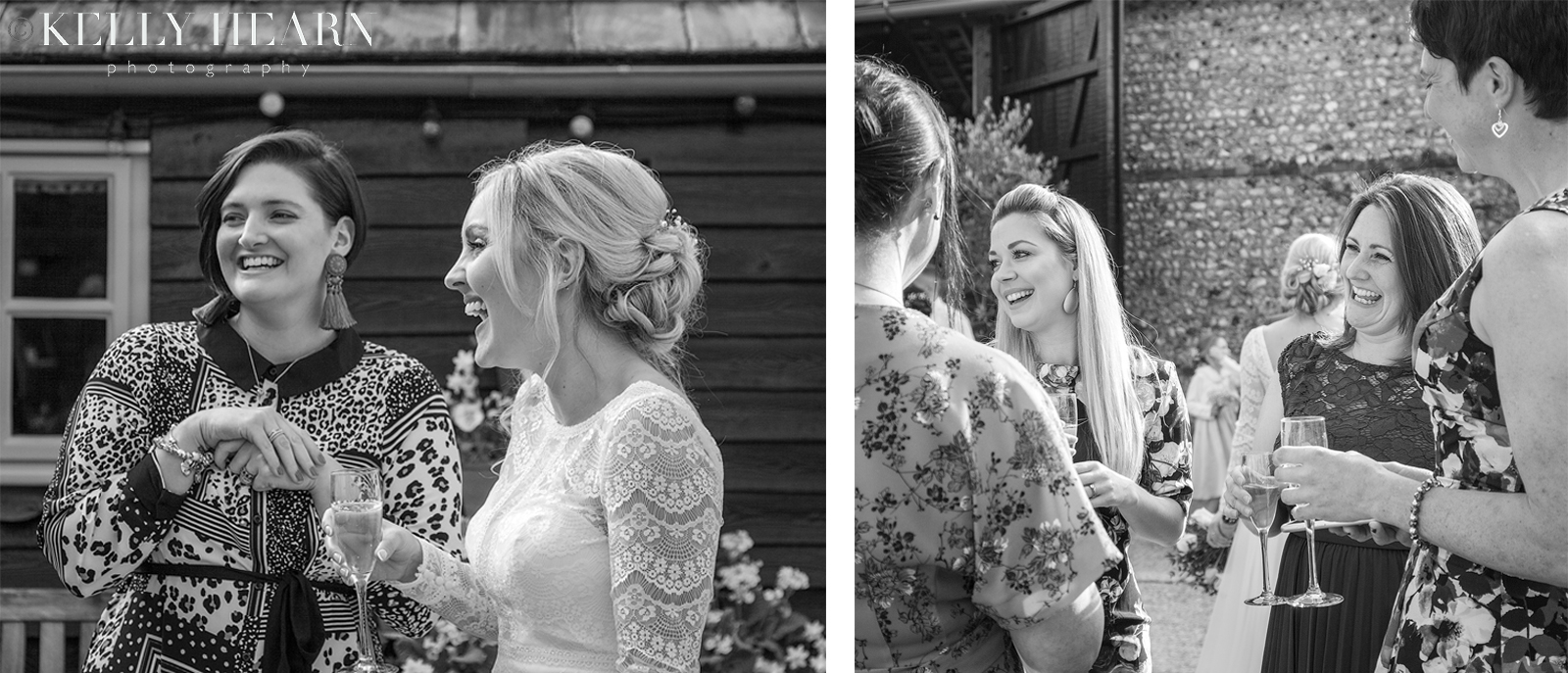 The entire wedding party assembled to raise a toast and I really loved witnessing how little connections were happening between and amongst people in the crowd. In contrast to the formal composed group shot, this spontaneous fly-on-the-wall style image was a lovely second perspective which, when photographing, can feel a little bit like being a spy! I find these captures to be pure gold for seeing the unseen; the blink-and-you-miss-it moments which so often later come to be most treasured pictures.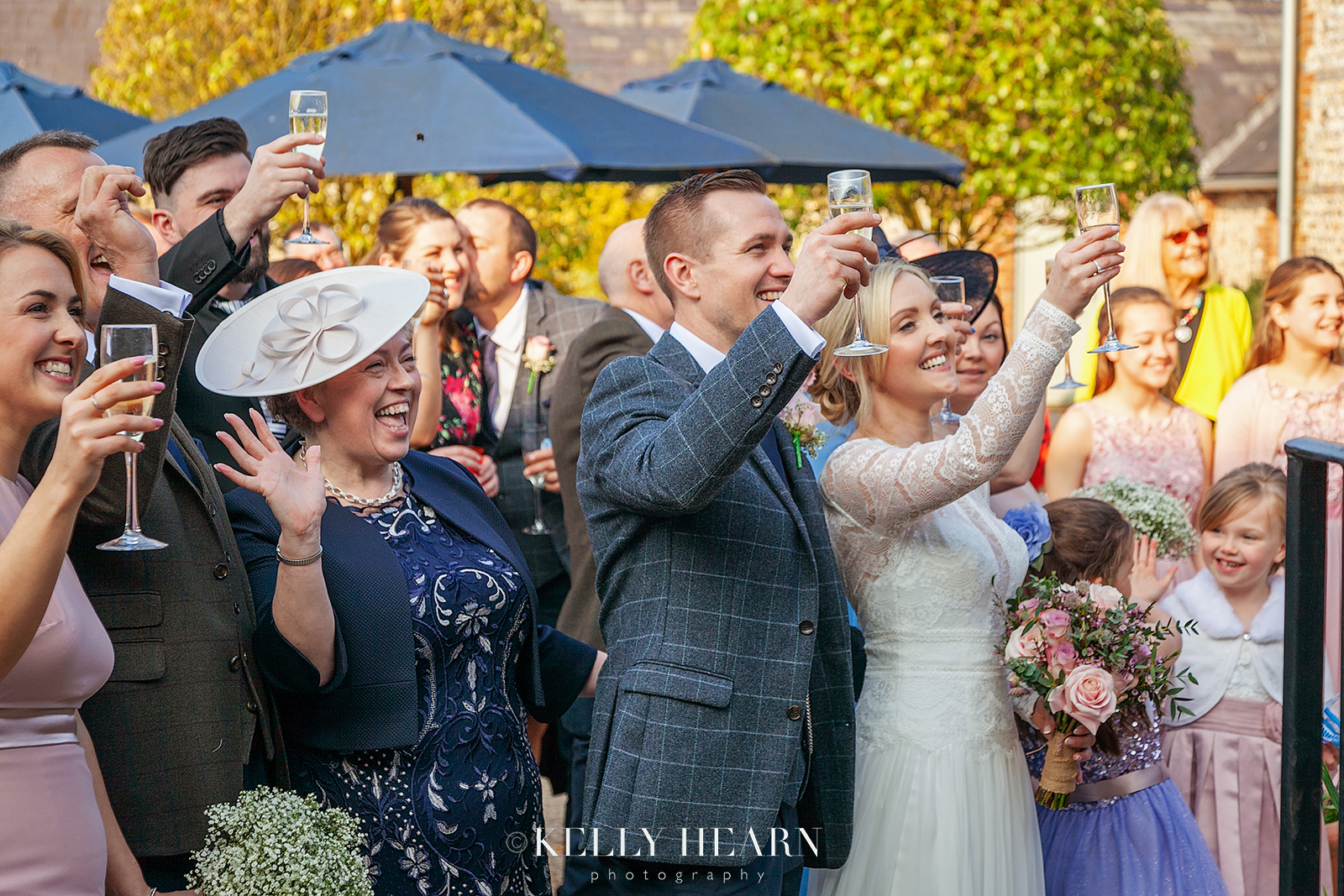 Whilst the mingling continued outside, the tables were set and ready to receive the guests in the South Barn. Before heading inside, I collected the bridal party together, ensuring the group had a moment to pause, reflect and enjoy a few special moments with their closest friends and family members. These group shots can often be a great reminder of the colour palettes that have themed the day and inspired various decor and flower design elements. When designing an album, these hints towards colour and texture really help to create a visual picture of the event as a whole whilst enhancing the storytelling of the day.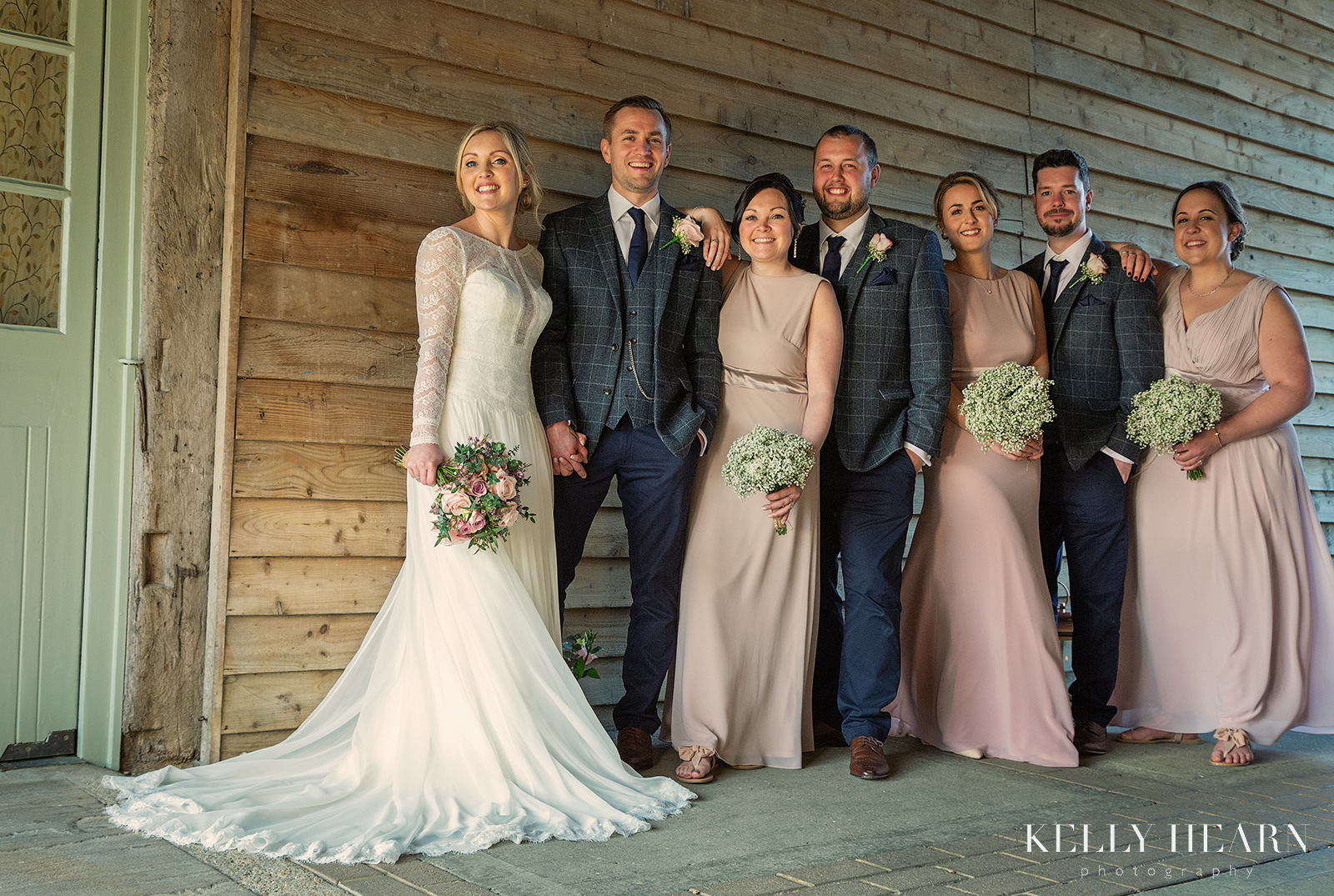 Inside the reception room, the country theme continued, with bunting hanging from the rustic interior flint stones walls and mini bunting even topping the tiered wedding cake of cheese! Jam jars decorated with hessian and lace held pretty pastel bunches of wildflowers to coordinate with Danielle's floral concept, whilst little miniatures of homemade sloe gin marked each place setting as a personal gift from the couple.
As well as stylish decor, a sentimental feature came in the form of a number holder displaying a picture of Danielle's horse. This ode to her beloved equine companion brought a bit of personalisation to the table and a reminder to guests of Danielle's 'other' love in life! (Move over Rob!)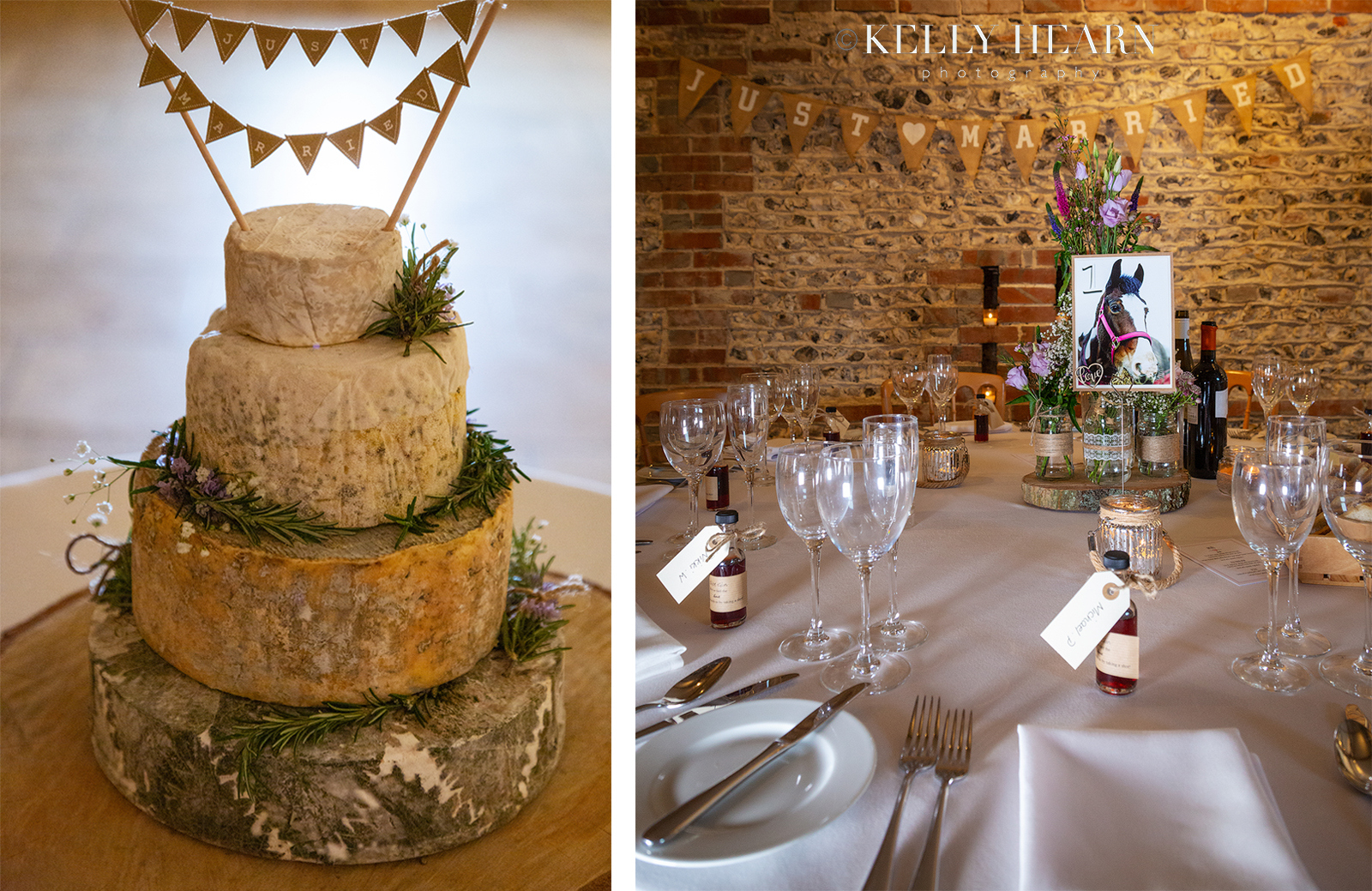 It remains to be true that no-one can get married at Upwaltham Barns and not venture up the hill at sunset! The weather had been so kind that there was no way we were going to miss the opportunity of capturing possibly the most romantic shots of the day! Whilst the evening party was being prepared, the couple luxuriated in these quieter moments to reflect married life whilst enjoying the simmering sun on their happy faces!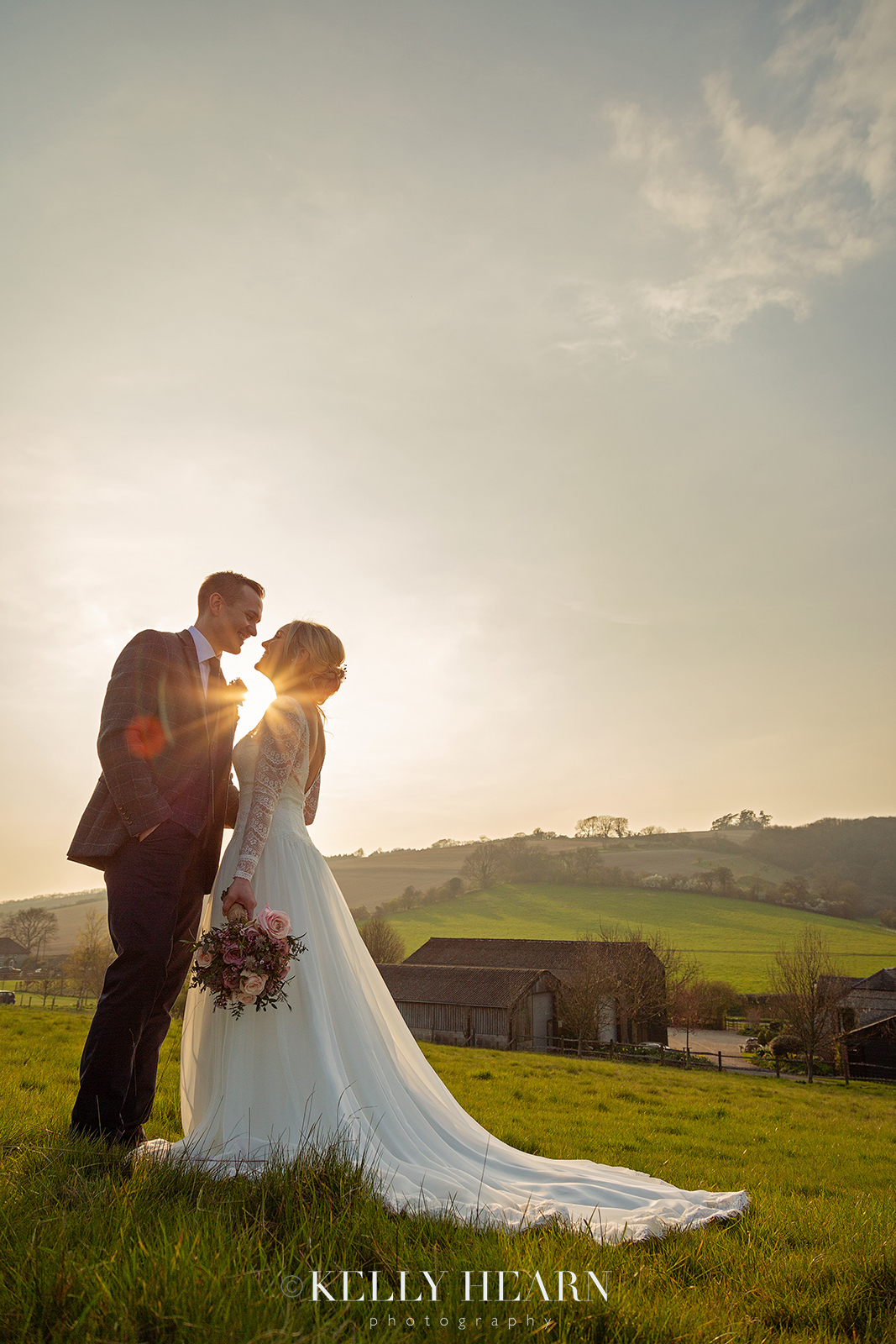 As dusk turned to darkness, festoon lights twinkled and candles radiated their golden light around the dramatic barns. Danielle and Rob shared one more embrace under the bunting for their final portrait.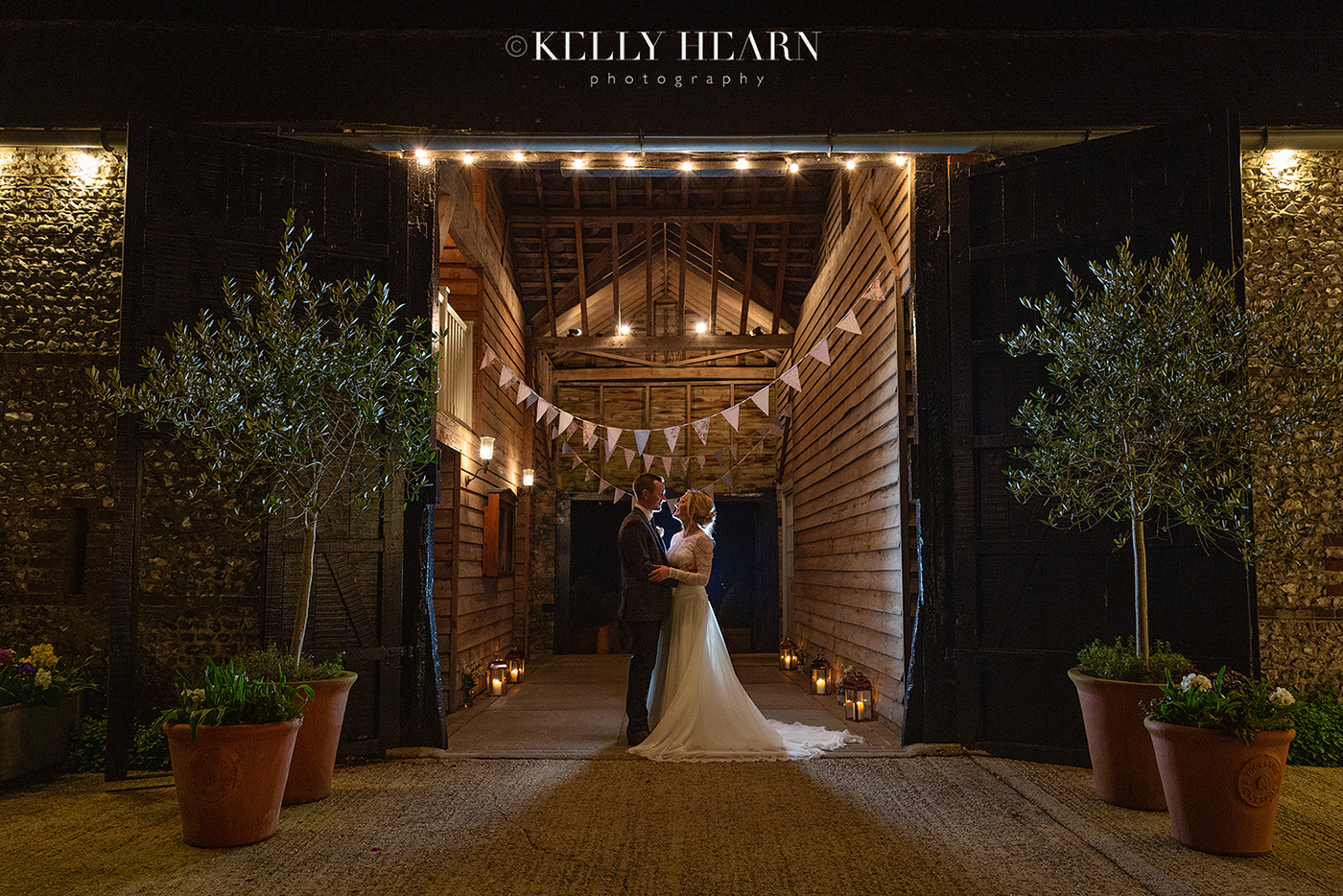 Congratulations to Mr & Mrs Walmsley! Your picture-perfect day was a pleasure to photograph and idyllic in all its modern rustic ways! The balance of colours and careful details all contributed to making this a very happy and relaxed, bright and breezy day. Wishing you both all the best for a chilled out future together!
Love Kelly x

Kelly Hearn A.B.I.P.P - A.M.P.A