'Found you!'
August 02, 2018
Jade & Sam's Southend Barns Summer Wedding
There were so many sweet, romantic and happy moments that filled this warm June day - so much so, that it was difficult to shake off the face-ache from the perpetual smiling that we all seemed to be engaged in! Jade and Sam married in the light and calming Dairy Barn that regularly plays host to brides and grooms celebrating their nuptials at the effortlessly charming Southend Barns. For friends and family of Jade and Sam, the scene was set that day - not just by the beautiful south coast countryside surroundings and pretty pastel notes in the decor, but helped along by the couple's natural and fun approach to the day filled with their warmingly contagious laughter!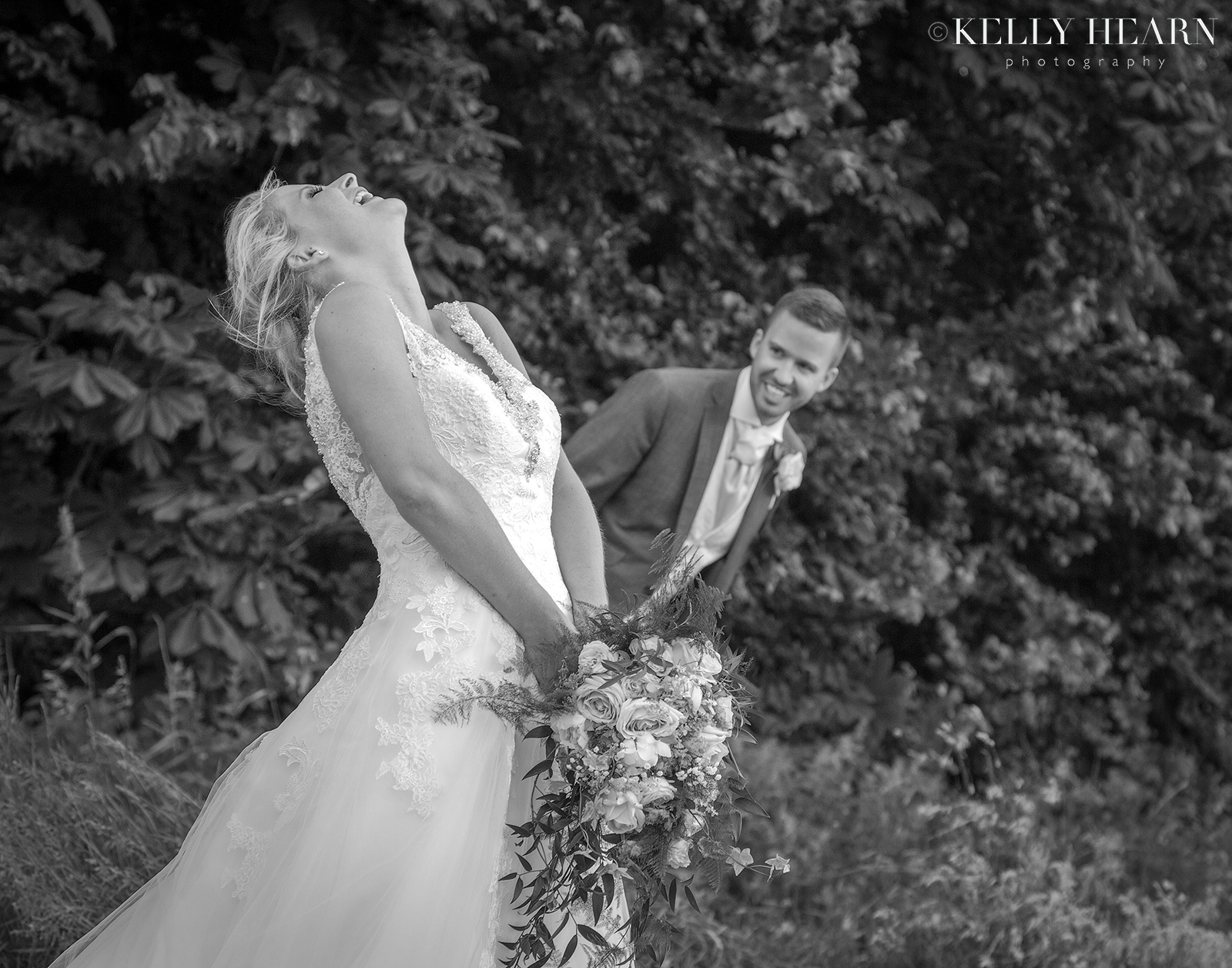 The day began with the usual 'getting-ready preparation' for both the bride and groom in their individual accommodations. Whilst Sam and the groomsmen were staying at the luxurious Goodwood Hotel a few miles away, Jade had the quiet calm of Southend Barn's very own bridal quarters to share with her bridesmaids with the added benefit of a very short trip to the aisle! As seems to be tradition now for bridal parties, floral kimono robes were sported, helping to create that coordinated team/squad vibe whilst the girls posed on the bed for some glamorous group shots! Not wanting to miss out, Sam also donned a floral robe and sat on the bed with his groomsmen. Sadly the scene didn't quite carry the same feel as the girl's pictures… as it turns out, residing on a bed cosied up with your Dad, brother and man-mates doesn't quite achieve the same glamorous effect!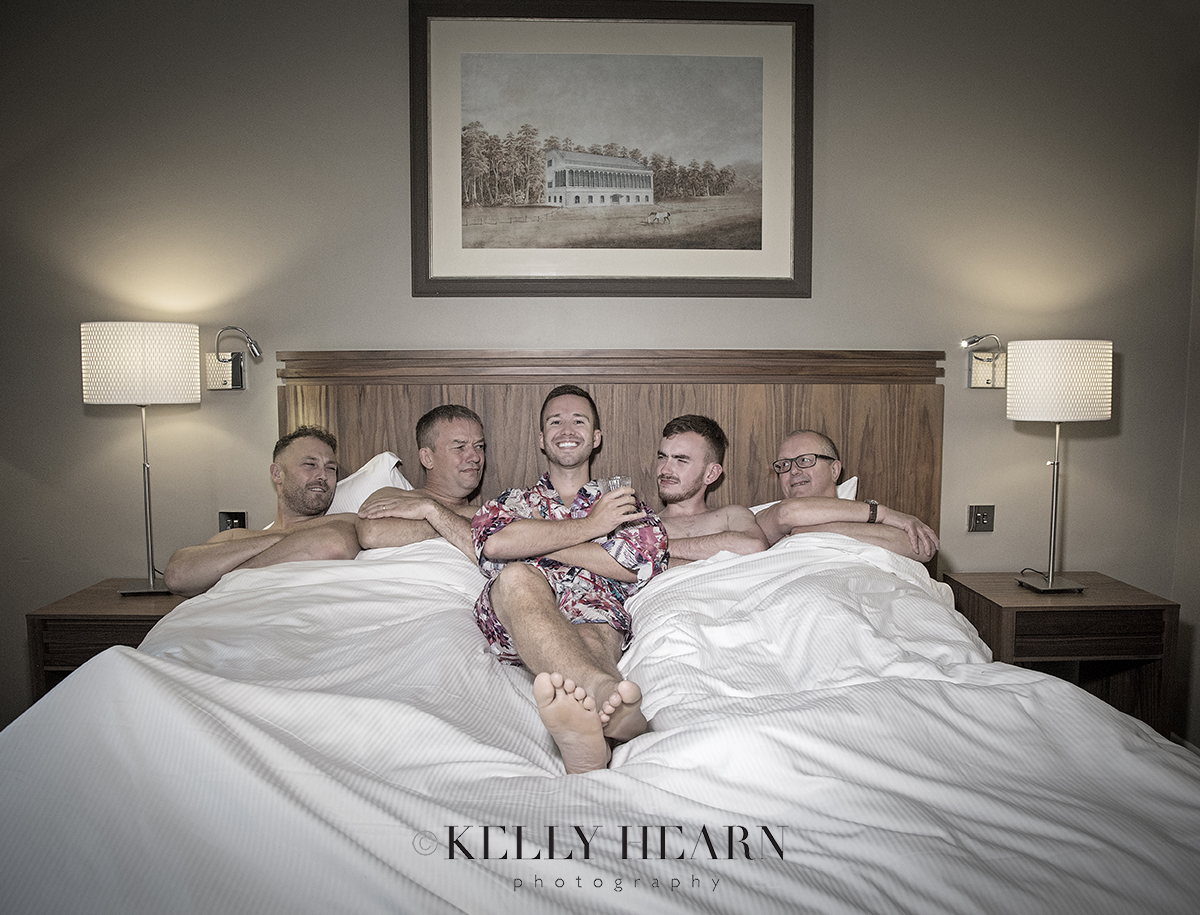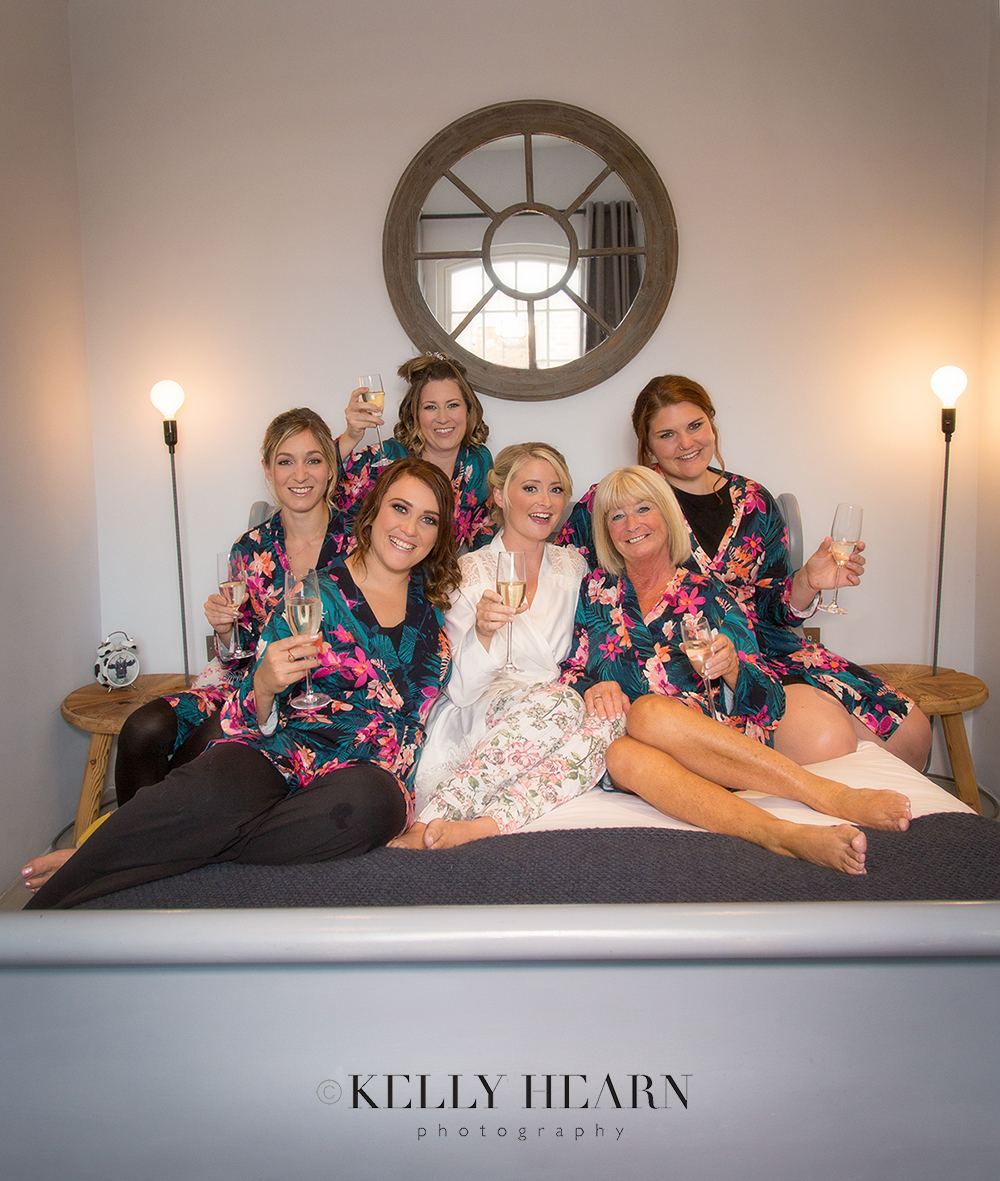 Jade, fortunately unaware of the boy's photography situation(!), was busy having hair and makeup preparations and pampering completed by Sam from SB Makeup. Helping her into her bridal gown was her best friend and Maid of Honour who later in the day did an incredible speech which truly wowed the bride, groom and guests! It is always a special moment for the bride on her wedding morning to be helped by a close and dear friend as she gets into the most important dress of her life!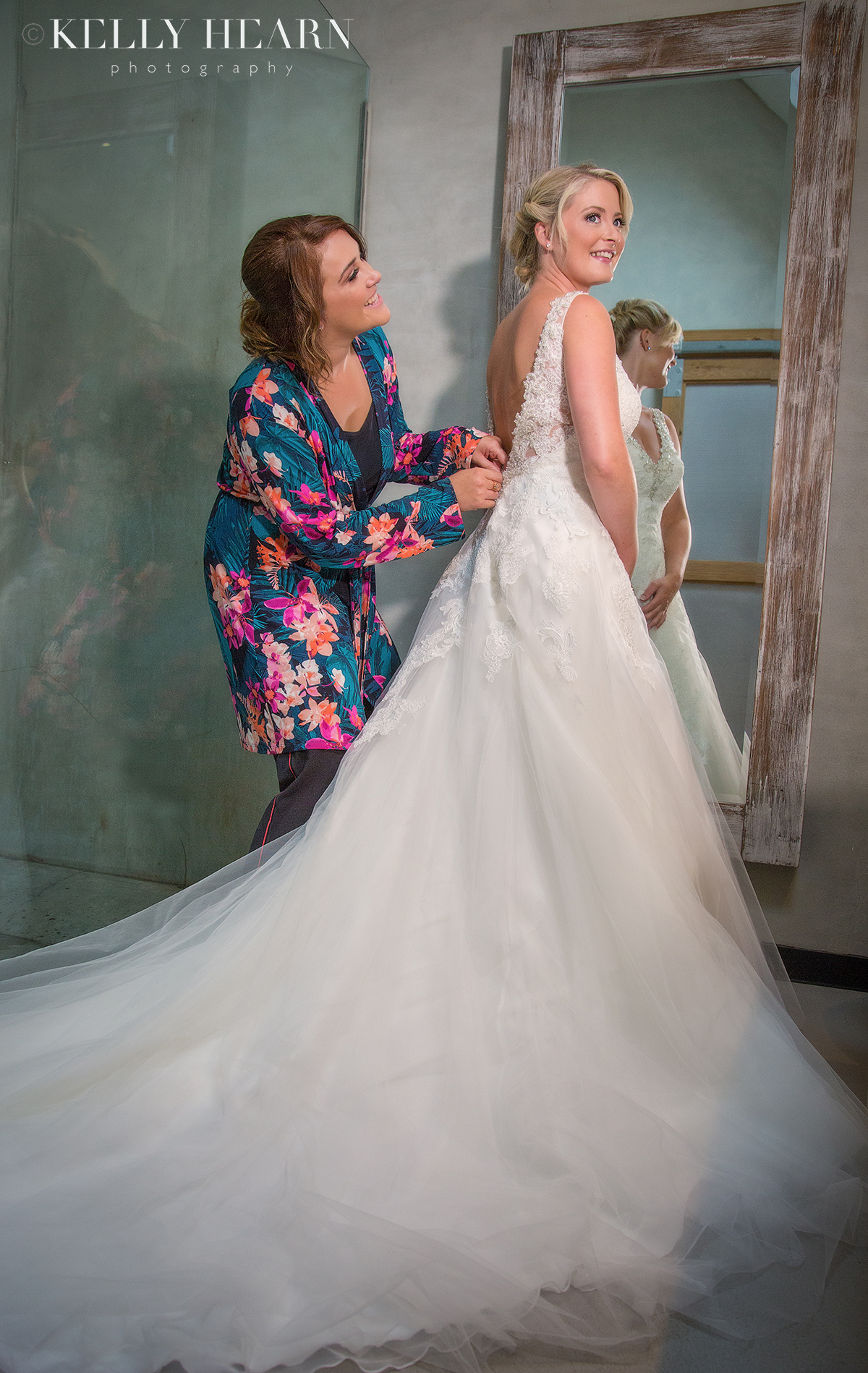 Rococo of Chichester had created an elegant tear-drop shaped bridal bouquet for Jade, designed to cascade delicately down the length of the skirt. The pastel pink roses and sweet little Tanacetum Partheniums (little daisy-like flowers), were broken up with with pops of violet which created an English cottage-garden pretty palette of colour. These soft pastel tones remained the colour theme throughout the day and were reflected throughout the decor and in the bridesmaid's pale lilac gowns.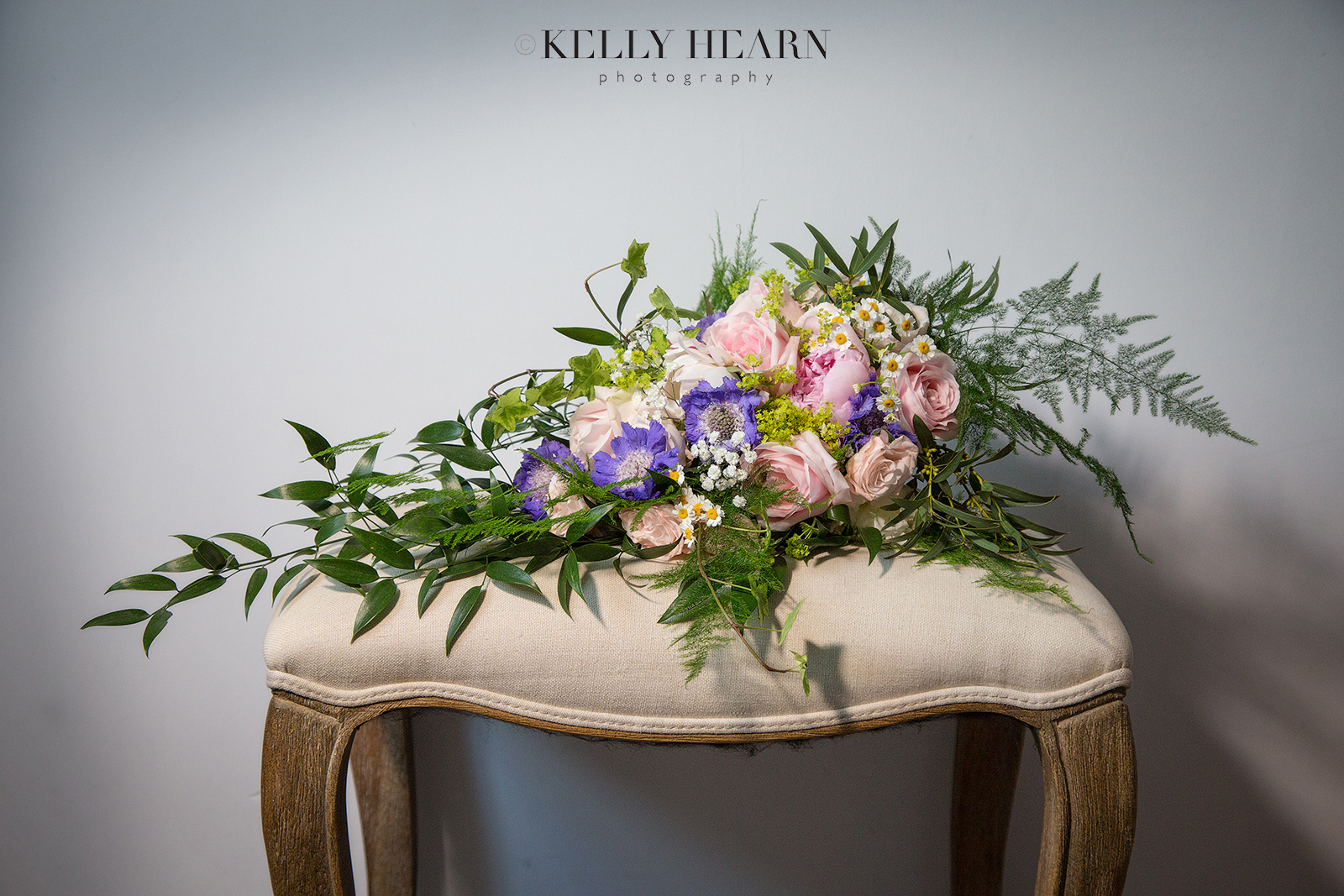 So according to a common wedding superstition, it is bad luck for a bride and groom to see each other the morning of the wedding. Throwing caution to the wind, Jade and Sam were close to breaking tradition with just a single wall separating them in the courtyard. Just before their ceremony was to take place, and whilst being very careful not to see each other, they shared a romantic and reassuring touch of hands through the archway in a cute hide n' seek moment where of course, no-one was yet found!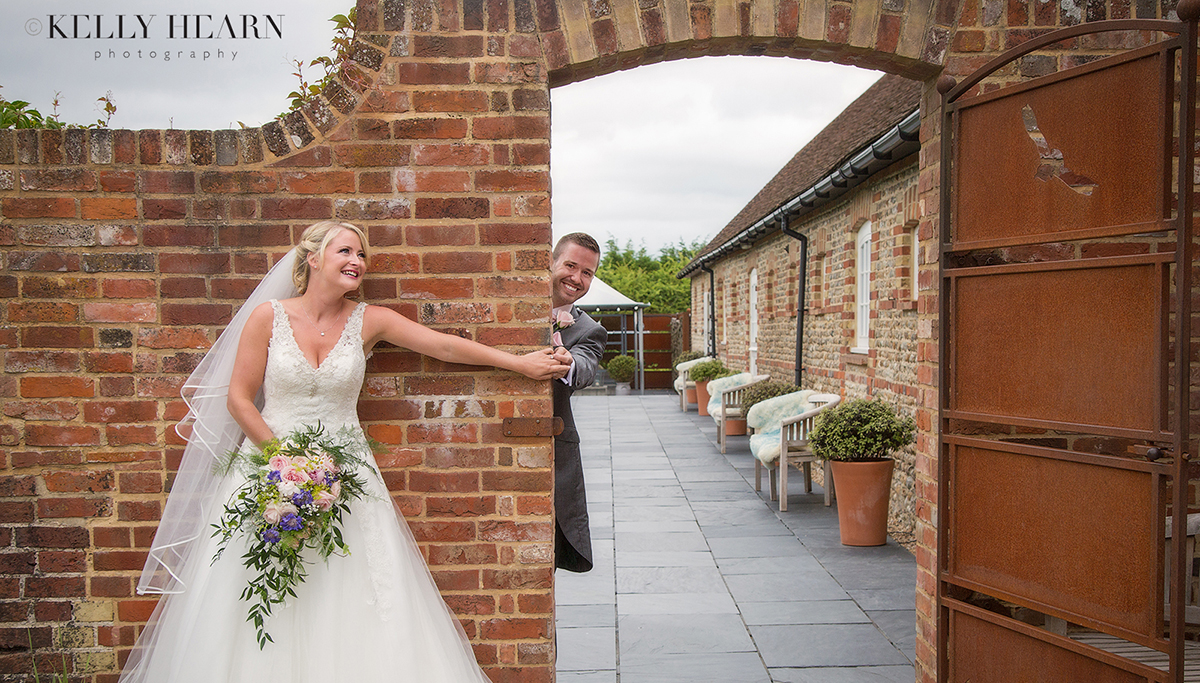 Meanwhile the quiet and tranquil ceremony room was starting to fill with the hum of guests filtering in to take seats, quietly excited and with anticipation of witnessing some heart-warming vows. Soft white swathes of fabric hung from the rustic oak beams with strings of green ivy to accent the graceful drapery. The muted white-washed walls contrasting these natural textures made for a simply perfect environment to welcome the bride in her stunning lace-covered V-front and low V-back gown.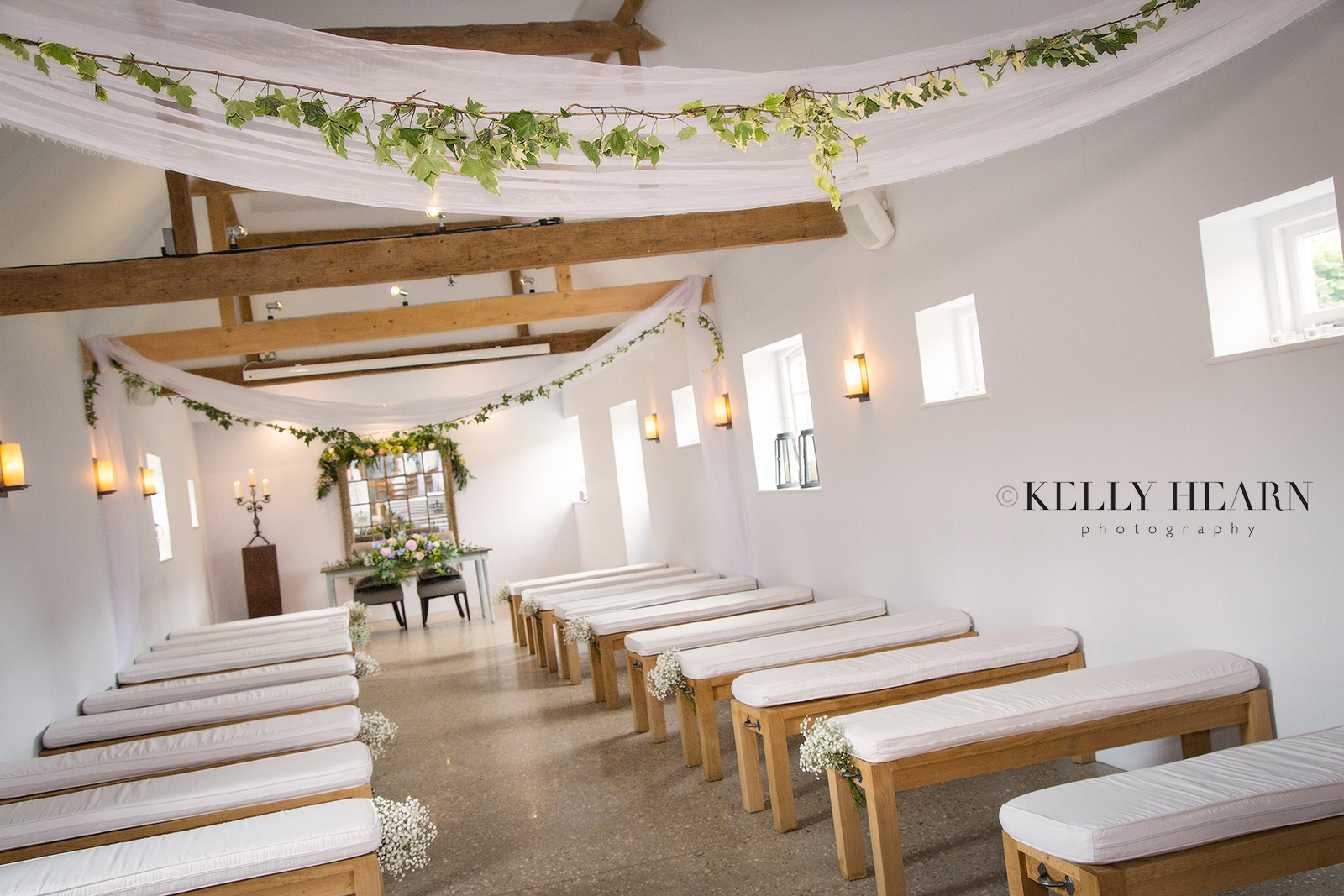 Jade's short journey from the courtyard to the aisle was accompanied by her Father and entourage of bridesmaids and 'minis'(flower girls and page boys!).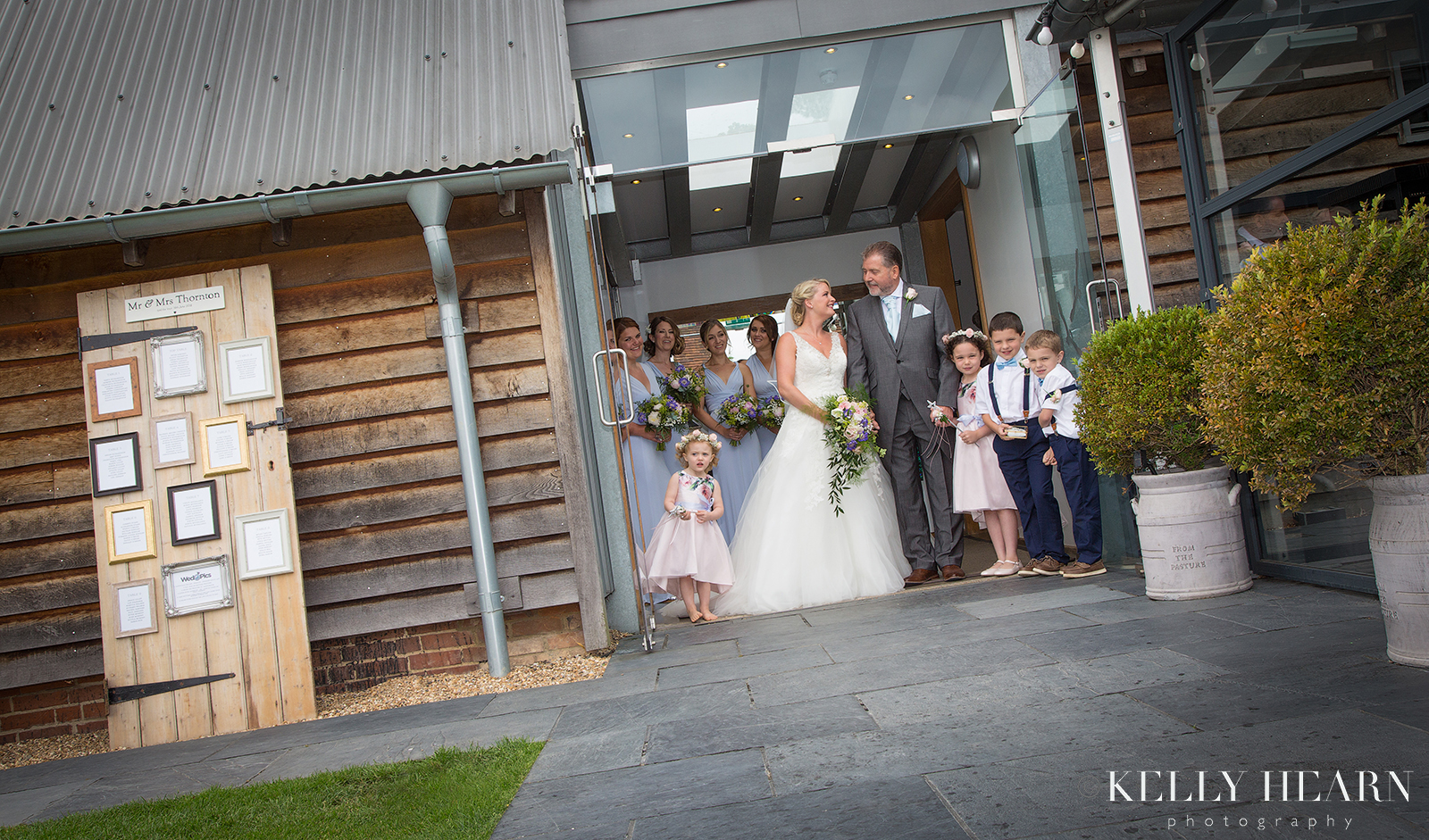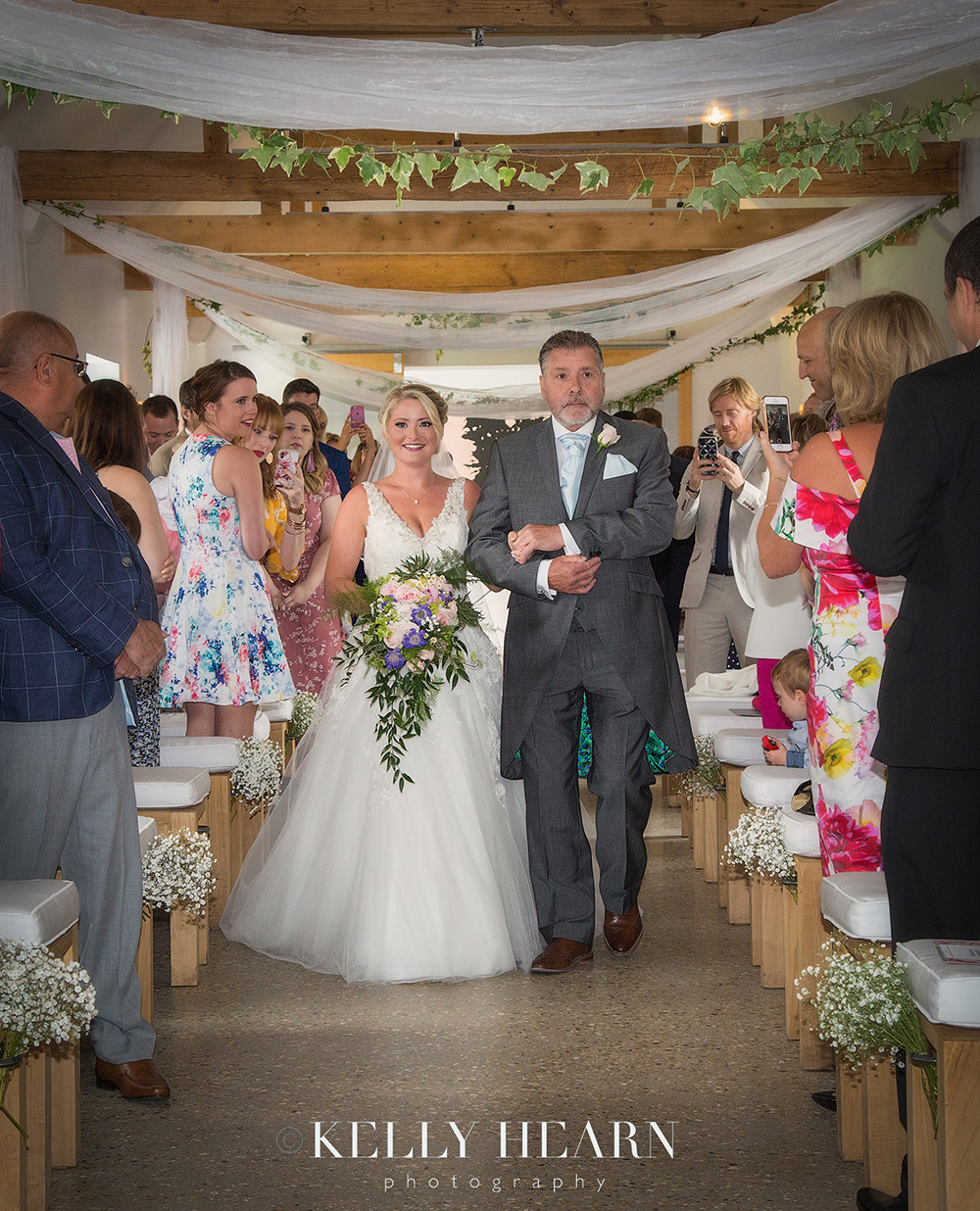 Soon rings were exchanged and the couple discovered their wedding rings had been swapped (by Jade's father), for some gigantic blingy comedy rings!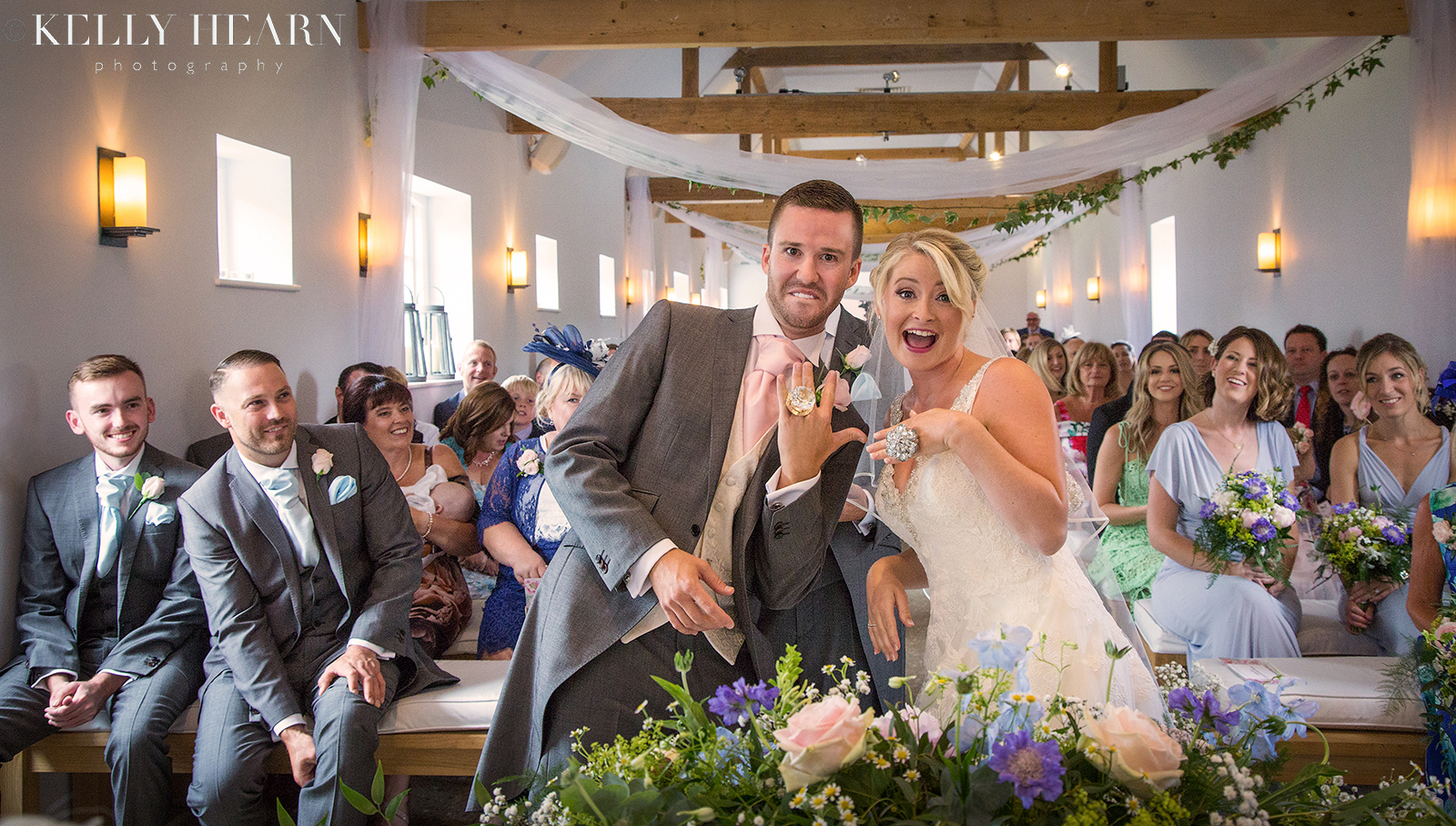 After the laughs had died down, the serious bit commenced and the couple soon exchanged vows (and real rings!) enabling them to officially become Mr & Mrs Thornton!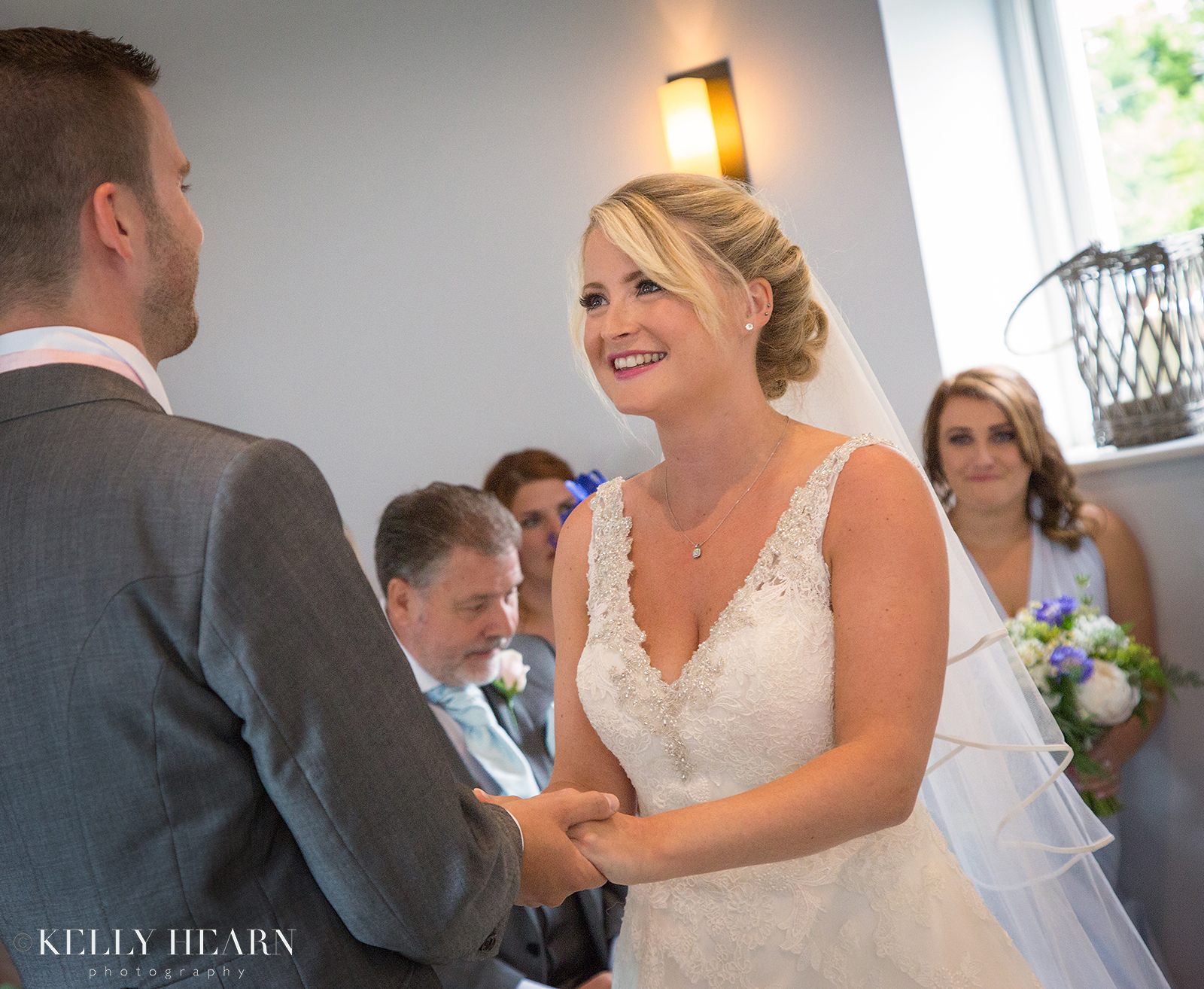 Drinks and mingling followed the service as guests celebrated the newly-weds' new status. Having dodged a little rain shower, I stole Jade and Sam away to capture them in the lush green gardens with their 'minis', followed by the most important page boy of all, their gorgeous little boy Oliver.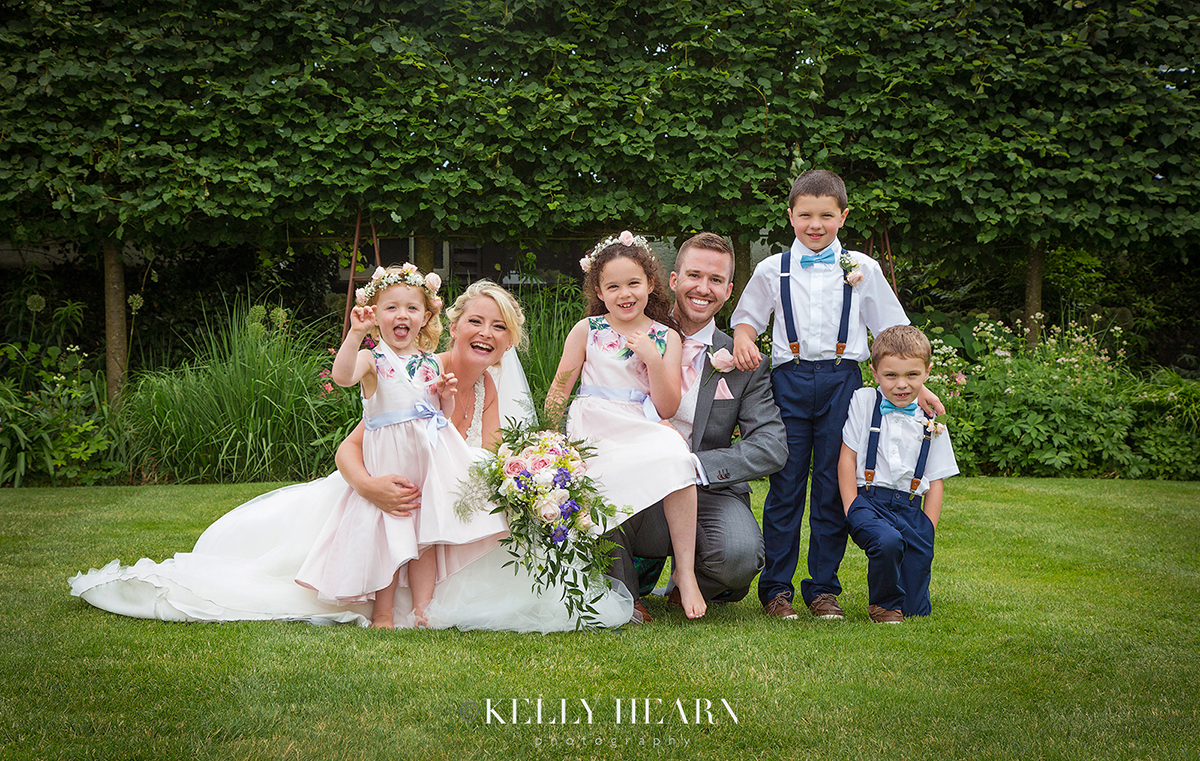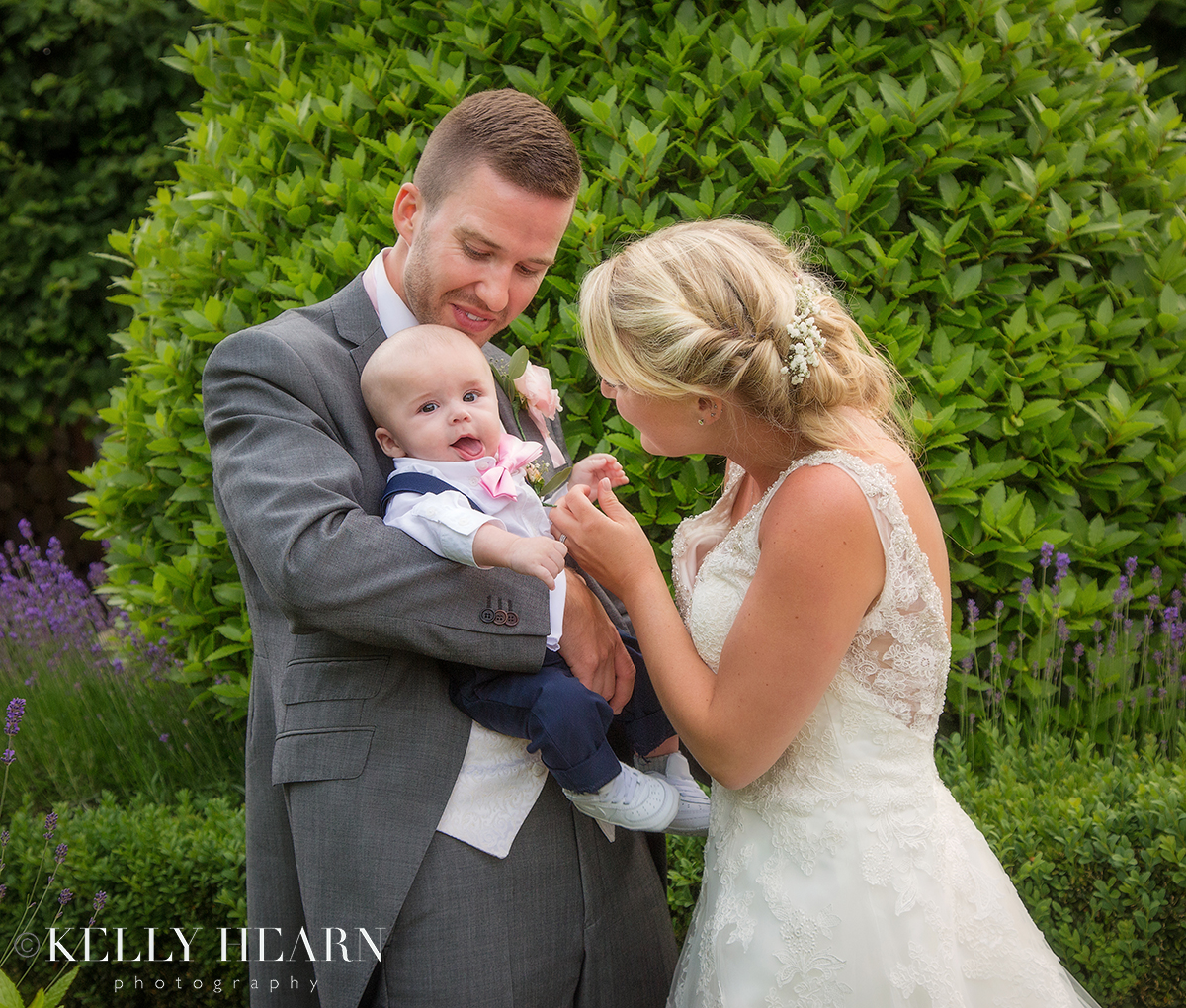 Always up for having fun, this wedding party were definitely down for a laugh and cooperated gladly and with gusto in the group shots!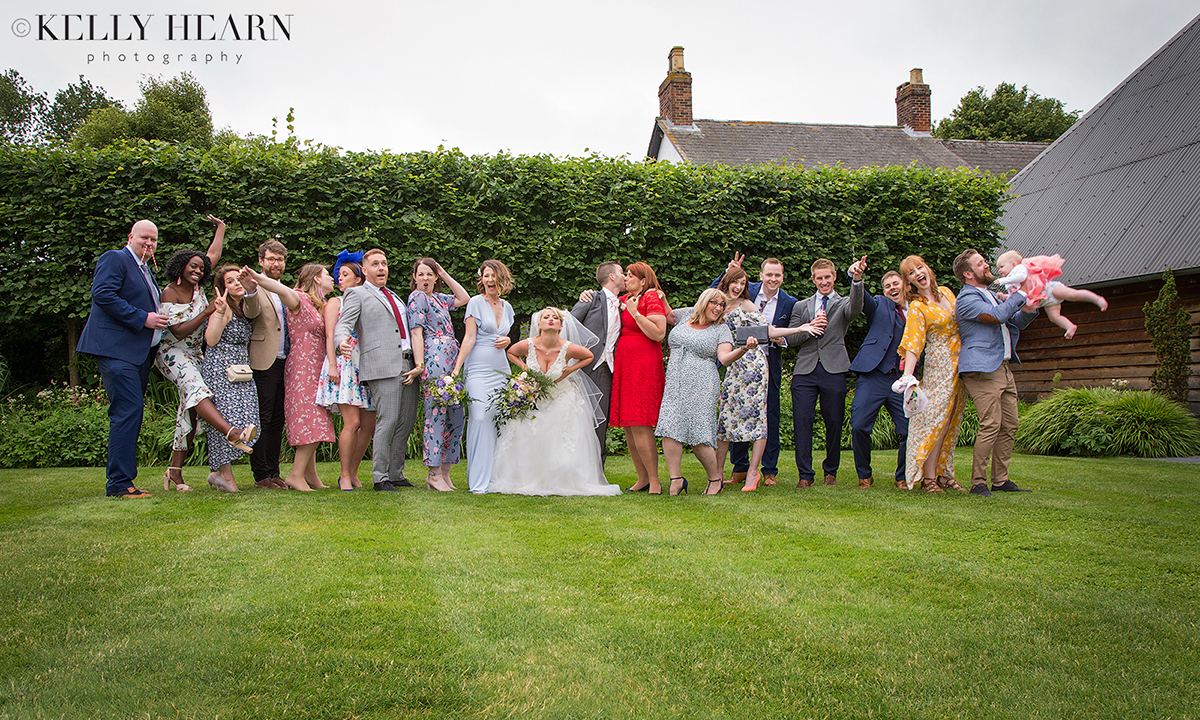 After a few more photos with family and friends, on we went to the Threshing Barn to see it all laid up ready for the guests who were due to pile in and eat a wonderful reception meal.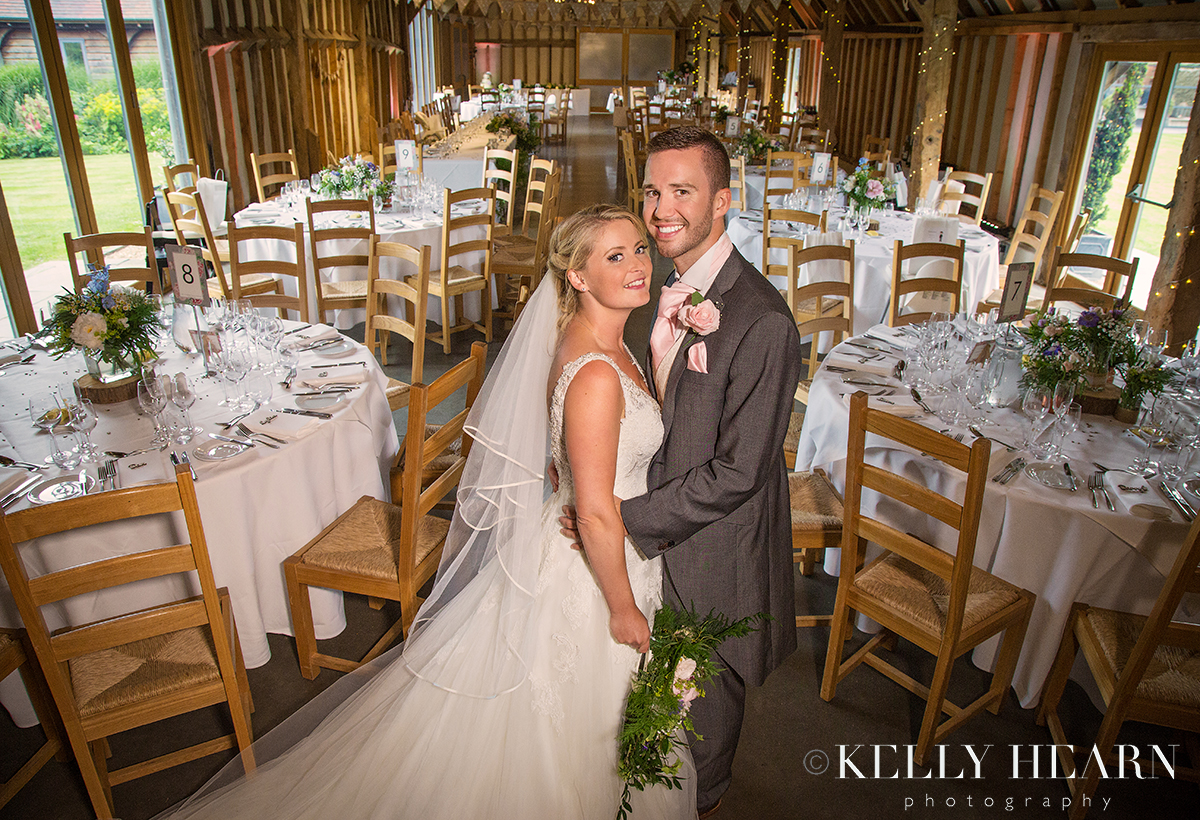 The tables were tastefully decorated with floral themed stationery and sweet little pastel-themed posies which coordinated perfectly with Jade's bouquet. The table plan was to be found out in the courtyard leaning against the barn wall. Uniquely Jade had created it using an old rustic wooden barn door which she had attached all sorts of frames to, each one indicating the table names and guests - a brilliant creative touch! The tiered wedding cake designed and created by Milk Street Kitchen also tied in beautifully with the floral choices, incorporating fresh flowers with touches of gold leaf and even fresh fruits including blueberries. It really was a very attractive cake and looked absolutely delicious!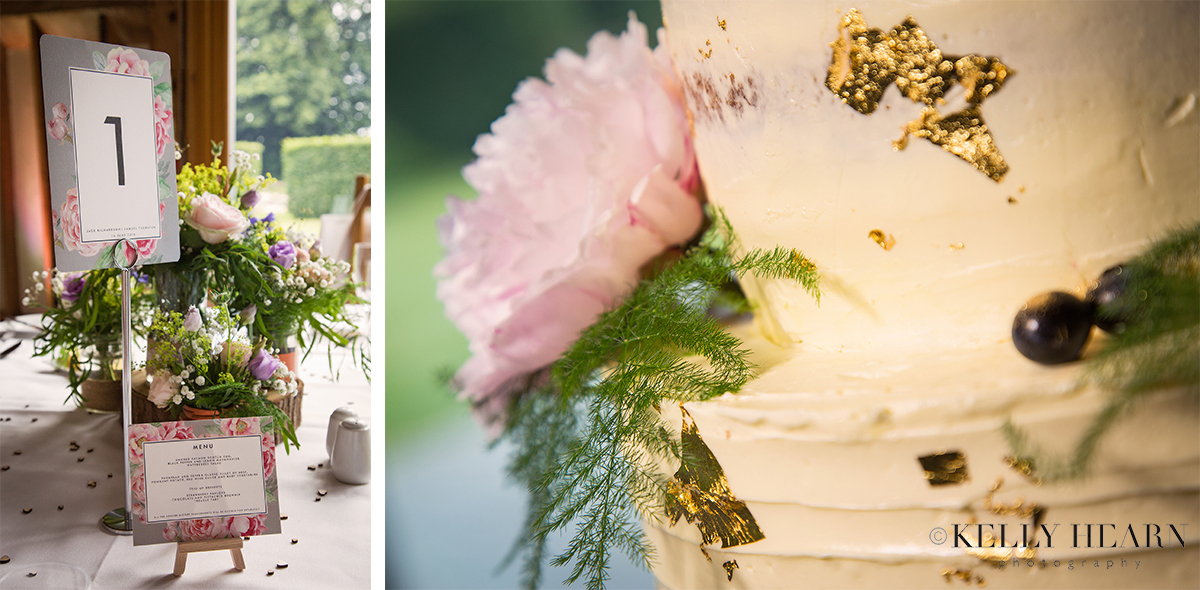 As the evening drew in it was time for one more romantic photographic capture for the album. Jade and Sam returned to 'that' wall and 'that' archway where the 'found you!' moment of the hide-n-seek game of the morning could now occur. Completing what had been started, they shared a now permitted and non-superstition-breaking kiss enfolded by the blue of the dusky sky.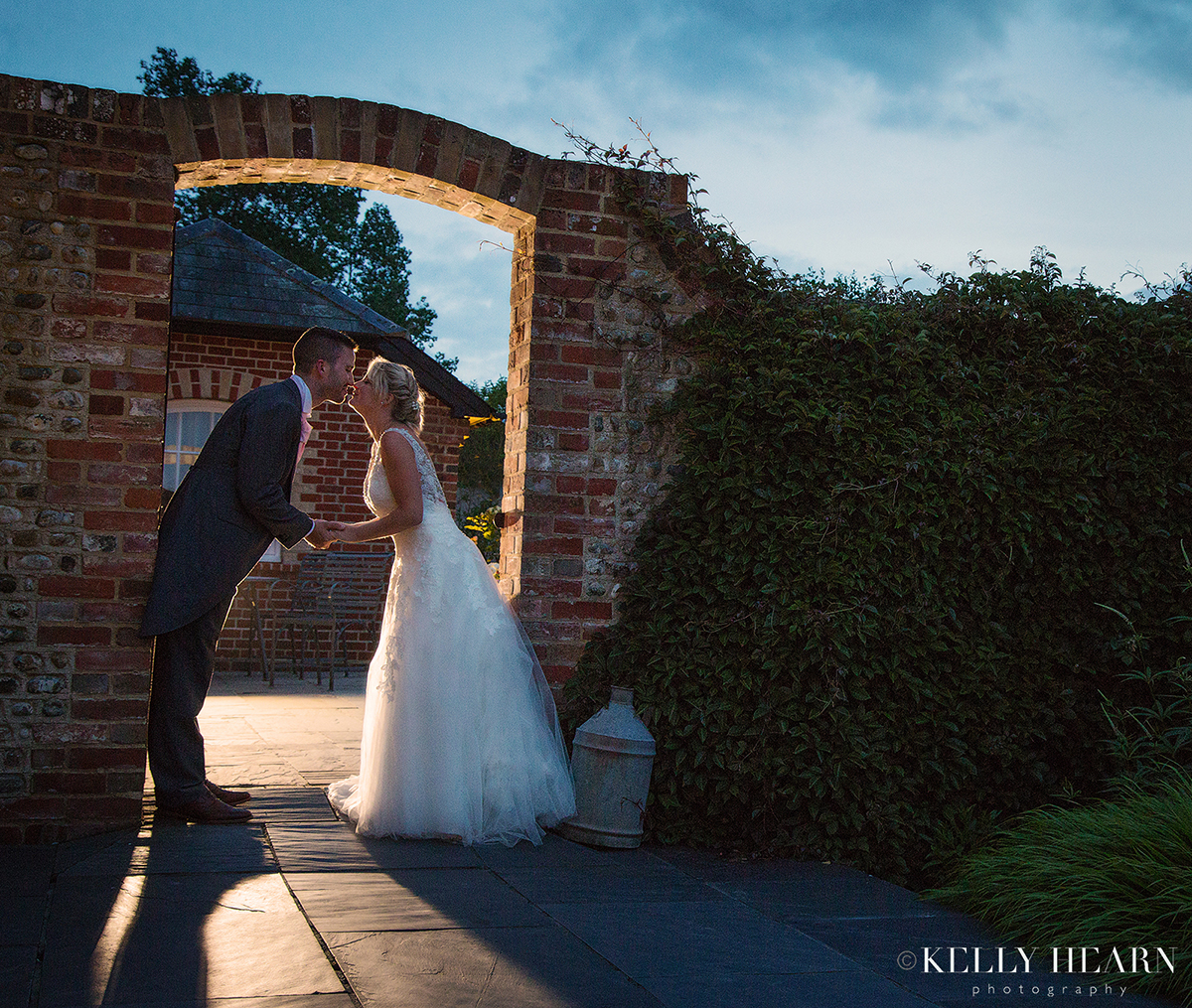 Local band, The Deloreans were selected to soundtrack the evening with some upbeat live music, ensuring loads of fun was to be had by all on the dance floor. Jade and Sam's first dance kicked off the party and the energy levels continued just to go up and up as the moves got larger and crazier!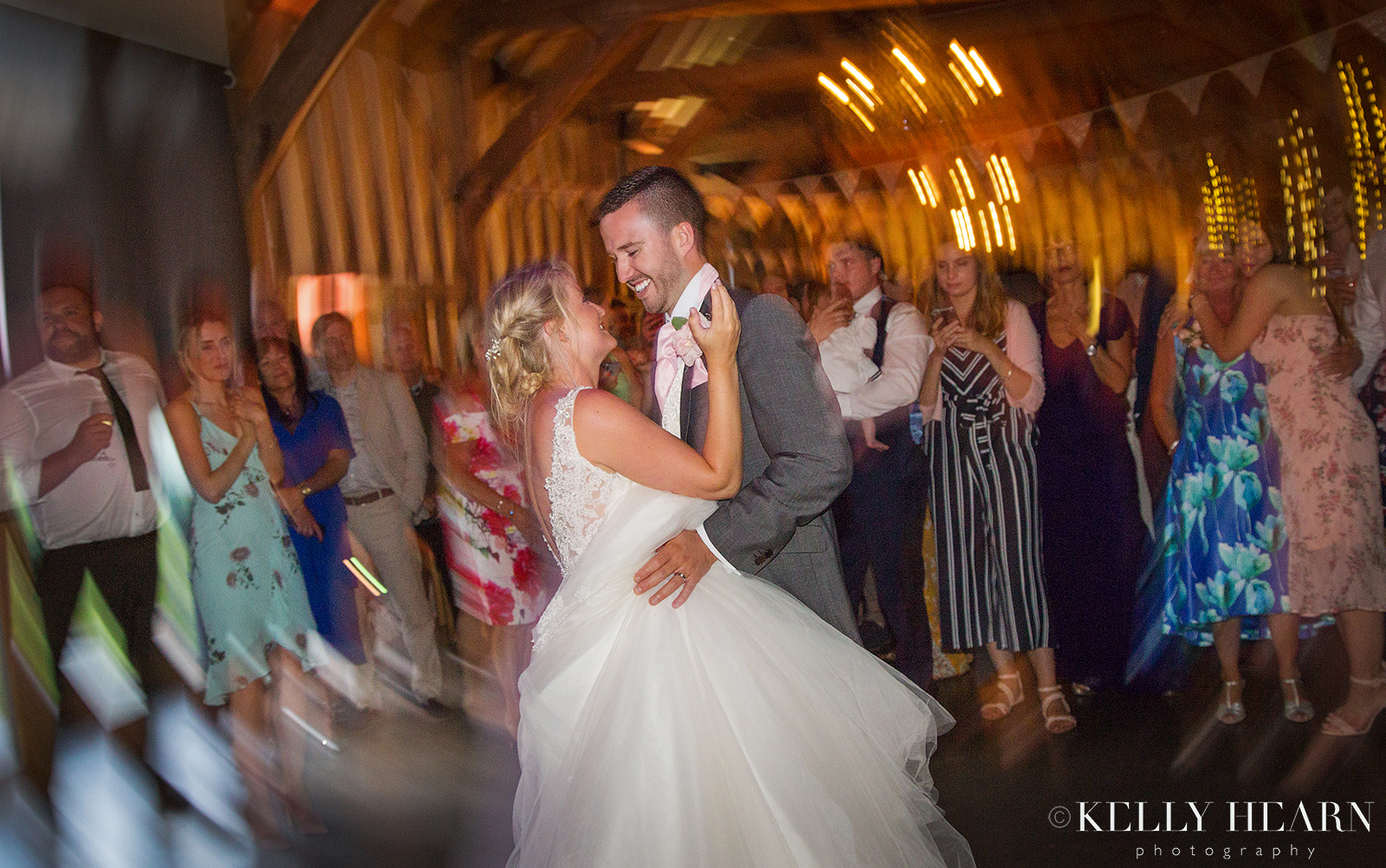 The evening closed on a high and Jade and Sam stepped outside into the gardens to reflect on the day and enjoy the moment together under the vivid pink of the up-lit trees. What a day of laughter and romance it had been, enjoyable through and through with so many highlights!

Congratulations to Mr & Mrs Thornton! It is so good to see two people who have waited for love and then have truly 'found' each other in such a real way. Your joy and laughter was infectious and delightful for all who were there to celebrate you. Thank you for allowing me to capture it in pictures! May you continue to find each other in new and lovely ways as you continue your newly married family life together!
Love Kelly x
Kelly Hearn A.B.I.P.P - A.M.P.A