Memories cherished, longed for and made
September 08, 2017
Kellie & John's Upwaltham Spring Wedding
Kellie and John's wedding was a lovely family affair taking place at Upwaltham Barns at the end of the sunny month of May this year. Having spent many years together, the couple had some wonderful history to share with guests including some much cherished family moments. They filled the beautiful rustic barns with photos, details and decor reflecting many happy memories of their life together so far, including the raising their two beautiful children Sam and Molly, and not forgetting their family dog, Doug! Having decided upon the perfect time to tie the knot, Kellie and John were so happy to see those near and dear and get dressed up to the nines for this long-awaited celebration of their love and commitment.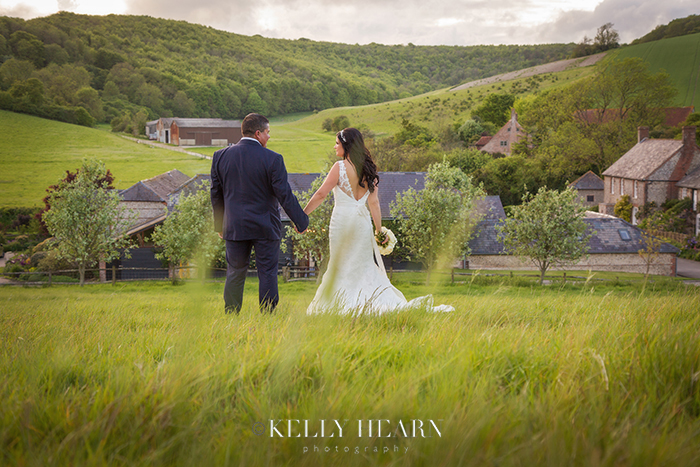 In the comfort and privacy of Jasmine Cottage, Upwaltham's very own hideaway bridal zone, Kellie had Chichester's ID Makeup, Hair and Beauty professionals pampering her with some first class styling! She carried simple yet classic ivory roses created by Bracken & Bramble Floristry which complimented her elegant look and provided a simple pure tone in contrast against her chosen accent colour of deep blue, as worn by the bridesmaids and groomsmen.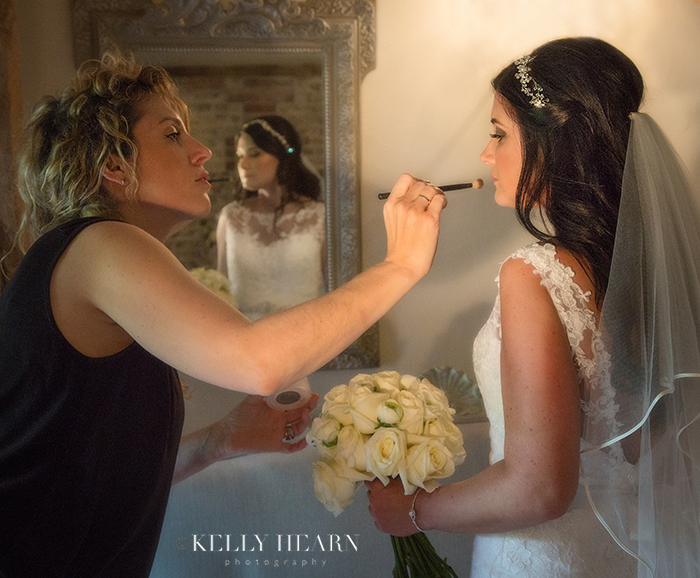 Looking absolutely gorgeous with her long dark curls against the low lace edged V back of her gown, Kellie's mermaid style dress with long layered train with lace detailing fell like a whimsical waterfall down the steps as she stood sharing a sweet pre-wedding moment with her daughter. Beautifully coordinated, Molly was also dressed in white like her Mum, carrying a mini version of her Mum's bouquet and wearing a cardigan in the feature blue to tie in with the grown up bridesmaids and groomsmen.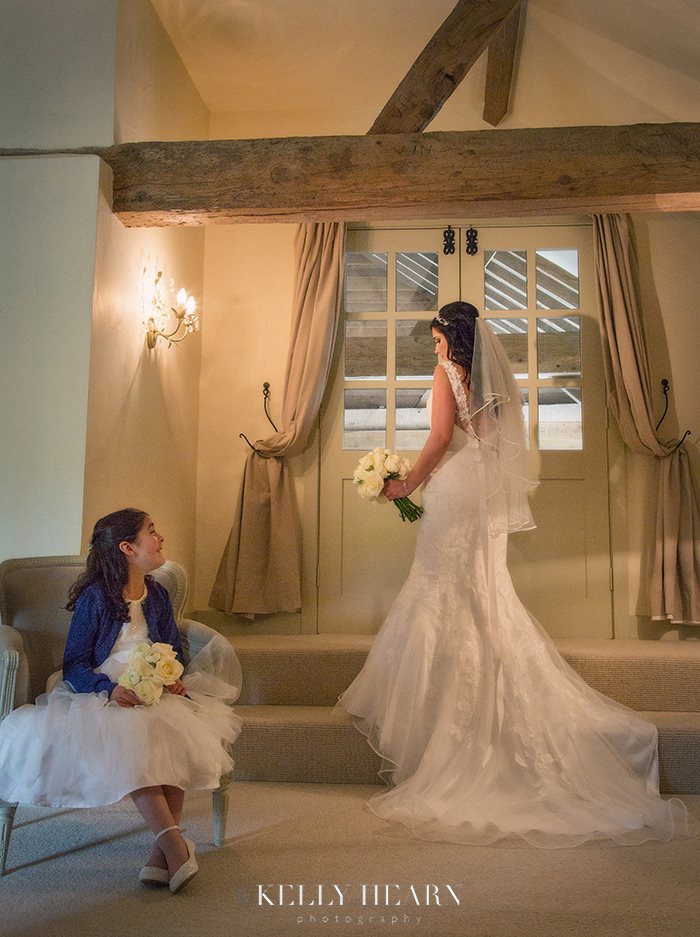 Also joining Kellie and offering smiles and laughs alongside complimentary words of admiration, encouragement and the support that every bride needs to hear, were two of Kellie's closest friends, also bridesmaids, who were looking stunning in midnight blue floor length gowns.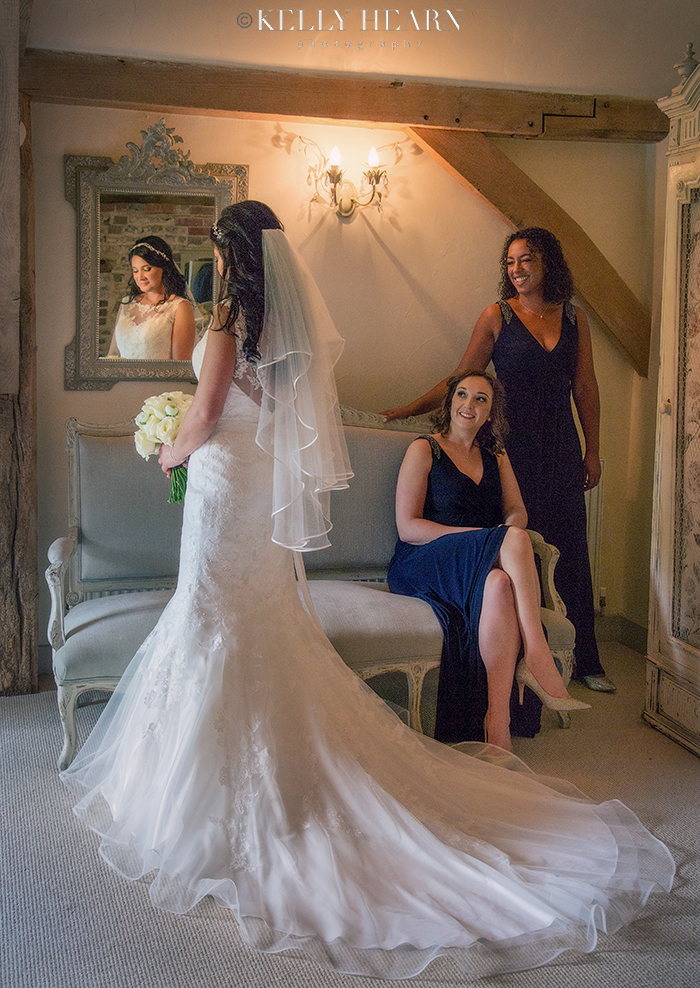 I met groom John and his groomsmen at The East Barn where the ceremony was soon due to take place. John stood confidently with his groomsmen for some pre-wedding shots dressed smartly in deep blue suits with the contrasting ivory waistcoats and buttonholes to remain in keeping with the colour theme. Here in a strong triangle of three with his two best men including his close friend and son, this groom couldn't have looked prouder. With these allies by John's side they scrubbed up well and certainly looked the part.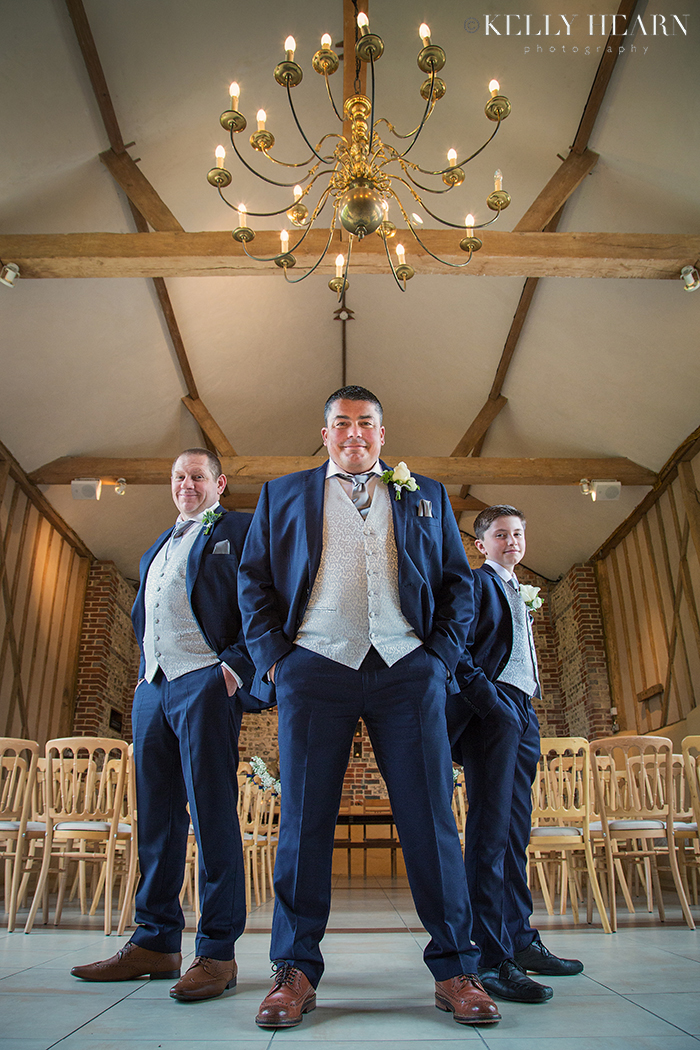 Flowers and wood were stand-out features at this wedding. The english country rustic venue was full of lovely old oak beams, wooden window and mirror frames and beautiful french carved furniture. Softening the boldness of the building's structure and striking exposed beams were elegant classic floral arrangements of whites and blues dotted about throughout bringing Kellie's selected colour palette into play throughout the various areas of the barns. Organisation was en pointe with the help of this wooden crate creation revealing the itinerary of the day so guests could be reassured about what was coming up next! (I loved that the ceremony part was less formally referred to as the, 'I DO'S'!)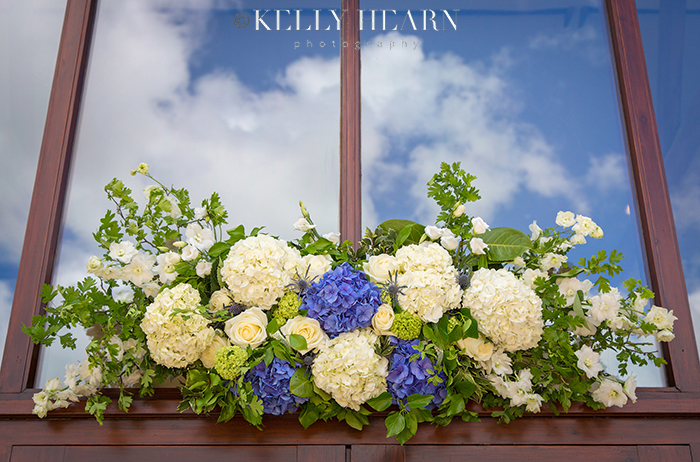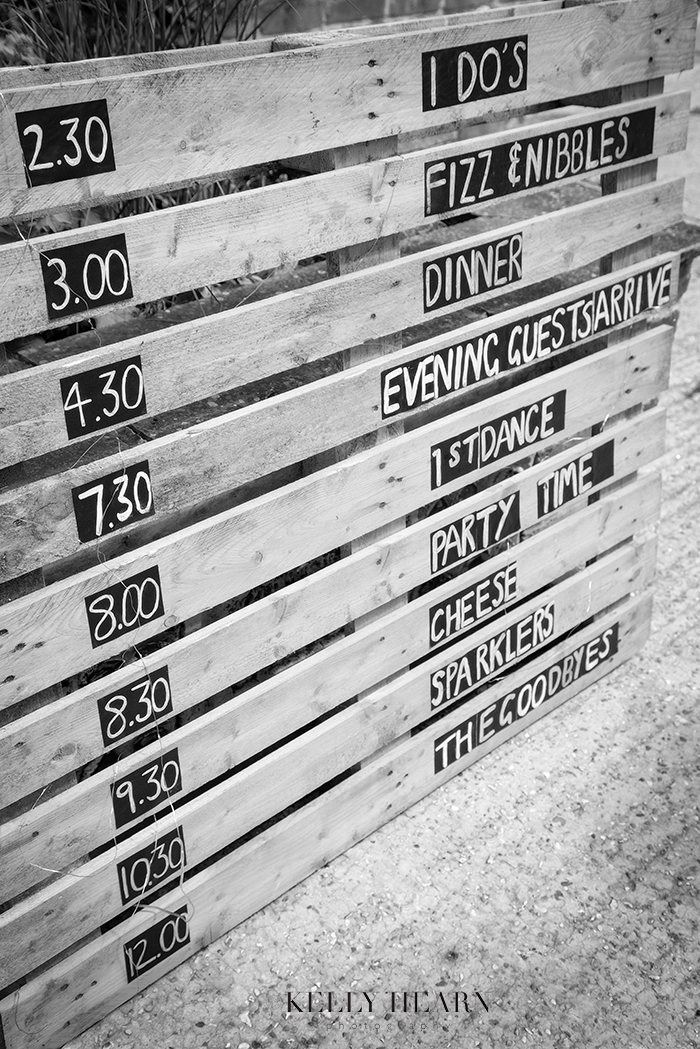 Kellie and John were showered with love, smiles and petals as they exited the East Barn after their nuptials. It was amazing to see the excitement on all the guests' faces who looked genuinely delighted to welcome the new and officially titled Mr & Mrs Lawrence to the world!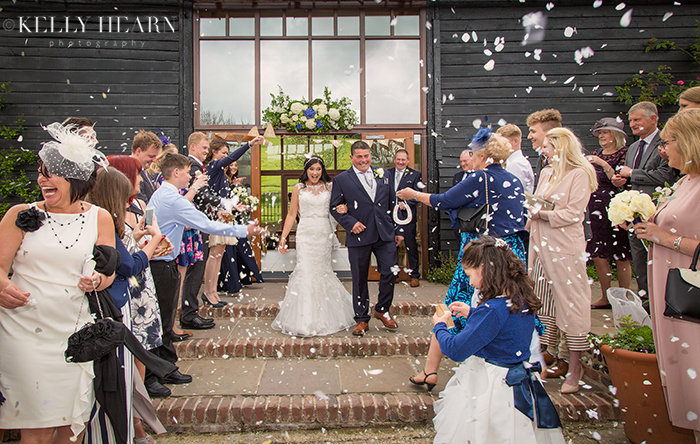 Guests enjoyed some fizz and nibbles, mingling in the courtyard and making the most of the Moroccan snug and gardens that adjoined the Stable Bar. Having photographed the bride and groom with many of their guests, we also pulled together the whole wedding party for some serious (and silly!) pictures against the quaint Sussex flint stone cottages in the barn's grounds. This is often a lovely memorable part of the day so long as everyone is willing to drop their guard for two minutes and and enjoy the moment - which this wedding party did without a doubt!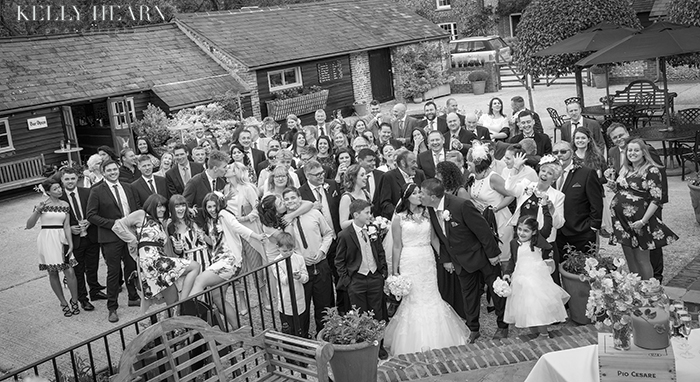 Everyone was looking forward to a delectable meal made by Upwaltham's professional team of caterers, Nibbles2Nosh, to be served in the South Barn. For those who weren't sure where to sit, they needed to look no further than the table plan which displayed names of guests on brown luggage tags. These were purposefully positioned on a world map, pointing out various places that Kellie and John had travelled. (I like how this detail showed guests a little bit about the couple's life journey whilst telling guests where they actually needed to go!) Decorating the space above were washing lines of photographs pegged and hung from the vast beams overhead, another way of giving guests little personal insights into the family's memories and story together.





As an after dinner delicacy, Kellie and John chose to have an impressive savoury cake of cheese created by Emsworth Delicatessen, decorated stunningly with grapes and fresh figs. The log slice on which the tiers of cheese sat had been hand-carved with the couple's initials J and K and the date of the wedding - a sweet romantic keepsake of the day!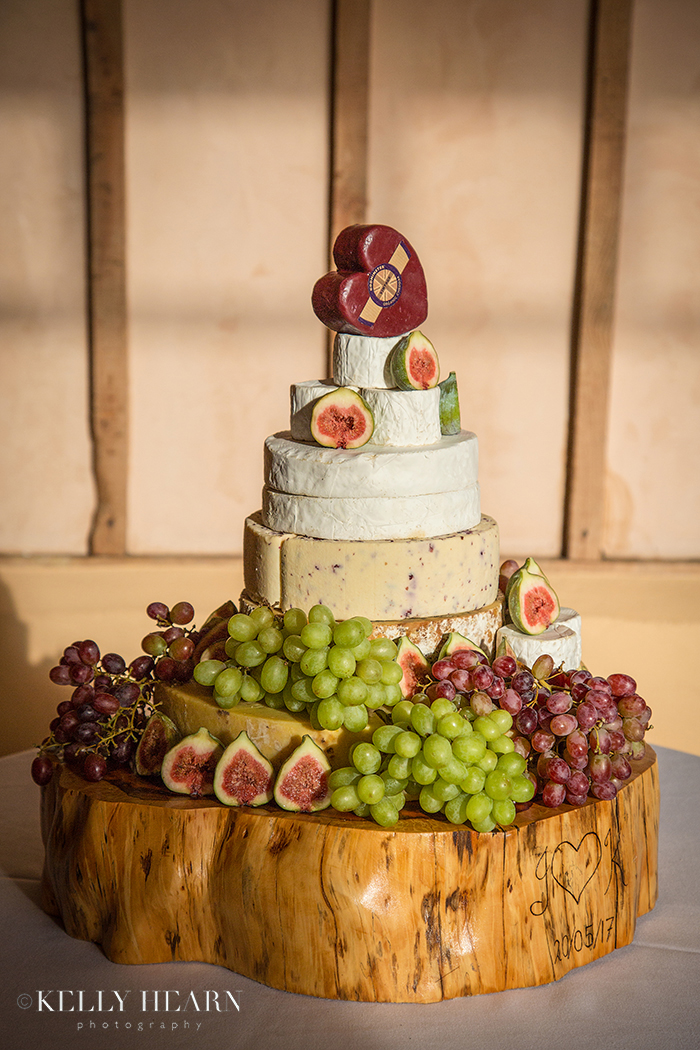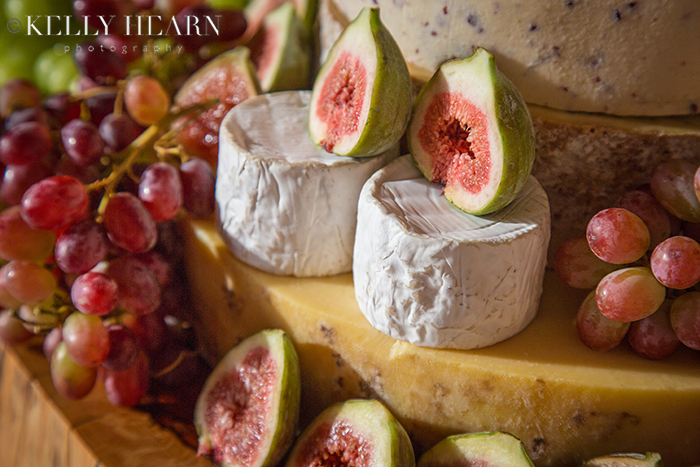 Those of you who know me well will know that I can't shoot a wedding at Upwaltham Barns without making the bride and groom climb a very steep hill at sunset! In a bid to burn off some of that cheese, I thought it only considerate to make Kellie and John suffer the hill-climb for some golden meadowy pictures together! The light was dewy and a touch misty and I loved how the colours in the scene really worked seamlessly with the couple's choices of outfits and flowers. Here we captured some picture perfect moments - I honestly don't think there can be many views to beat this one on your wedding day in beautiful West Sussex.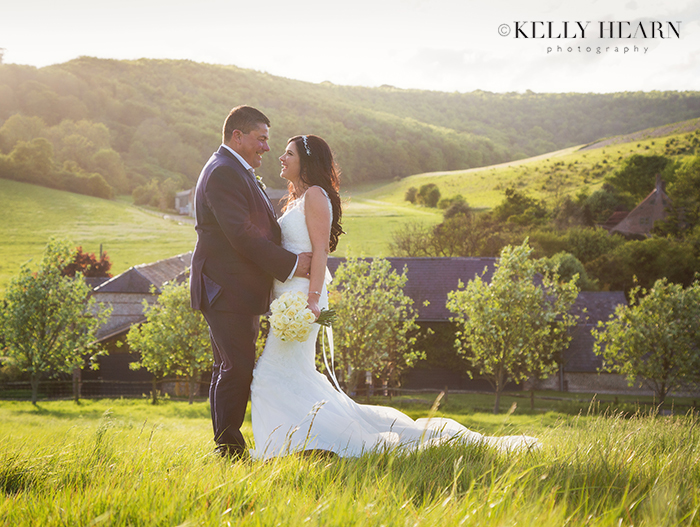 Seeing two amazing people in love, who've travelled many roads together and are more committed than ever, is as golden as being on top of a hill with the lowering warm sun and a breathtaking view! Kellie & John, I loved that your long-awaited special day was classy, sophisticated and full of family, memories and joy. Seeing your loved ones gather around you with huge smiles of support and love was truly wonderful. Congratulations Mr & Mrs Lawrence and thank you for allowing me to capture some more special moments for you to add to the collection!

Love Kelly x
Kelly Hearn A.B.I.P.P - A.M.P.A