Better Together
February 10, 2017
Rachel & Doug's Scenic Summer Wedding
It wasn't only an artistic eye, creative flair, and highly efficient organisational skills that I gained when Rachel joined the KHP (Kelly Hearn Photography) team back in August 2015! It turned out that I was not only to acquire a talented colleague but also a truly wonderful friend. Fast forward a year and Rachel went from being behind the editing screen in my studio to being on my screen!  Having relocated from Bristol, Rachel moved to beautiful Bosham and got engaged to Doug; a charming, popular and charismatic DJ, music agent, networker and friend - known and loved by many in these parts and beyond! Before I knew it, Rachel rocked into my office sporting some sparkly bling and I was being booked to photograph a wedding in August 2016! Stunning locations and venues were chosen for their personal meaning to Rachel and Doug, not to mention the breathtaking views that were to become awesome backdrops to a very memorable day. I was feeling honoured that I had been lucky enough to be asked to photograph the happy couple, it's always a pleasure photographing friends, and I couldn't wait!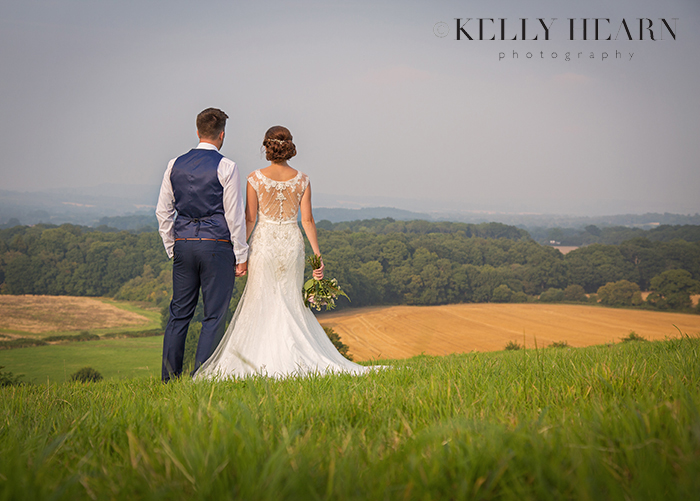 The morning of the wedding arrived in a flash and Doug stayed home with his Dad, brother (best man #1) and his two boys - (best men #2 and #3), who were also very handsome ring bearers. Whilst they got suited, booted and prepared for the exciting day ahead, Rachel was to be found at the family-owned Brookfield Hotel in Emsworth getting ready with her bridesmaids who included her daughter, two sisters and three of her close friends.  The atmosphere was relaxed and happy as the girls did their make-up and giggled together, with Rachel looking radiant as her make-up and hair was completed by a professional beautician from Chichester's A&A Wonderland. She slipped into a chic and glamorous wedding gown designed by Sottero & Midgley (supplied by Proposals in Chichester), with a flattering illusion bateau neckline and back, a satin belt accenting her waist and all embellishments of intricate pearls and glittering Swarovski crystals detailing the sheer top layer. She looked simply stunning.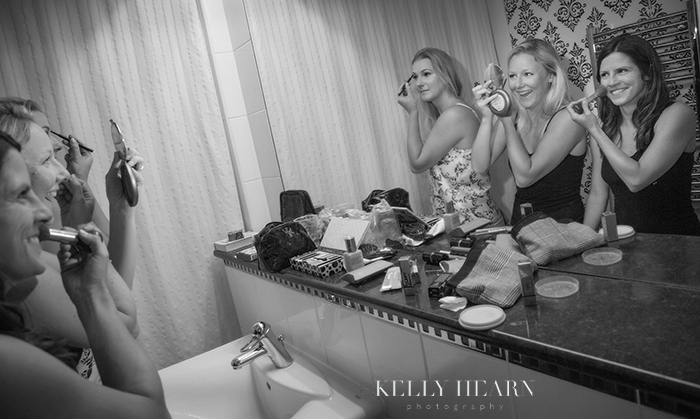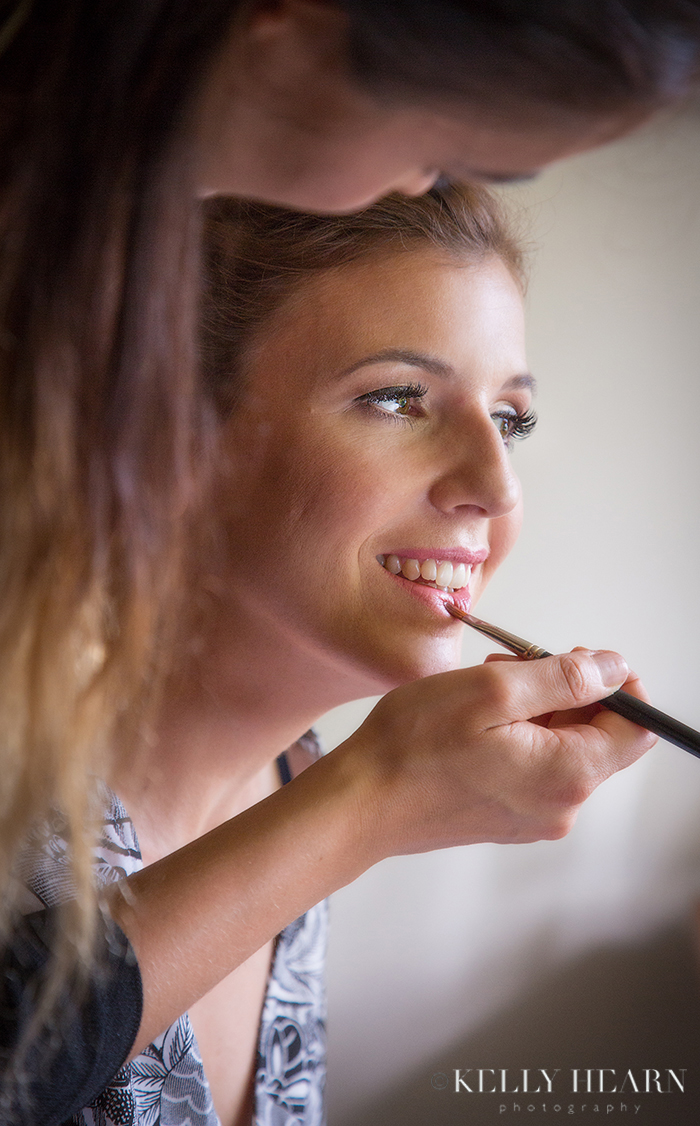 The style of the day could perhaps be summed up as English Country with a touch of glamour! Rachel's bouquet of dusky pink roses (created by Beckie-Lou Designer Florist xx), had a hint of rustic wildness to it with blue thistles dotted throughout. The thistles were included as a subtle salute to Doug's Scottish roots, which I thought was a lovely thoughtful detail. 
Rachel's sophisticated taste meant that a modern edge, class and the elegance were never lost amidst the rustic flavour of the wedding, - (sparkly shoes therefore, were essential)!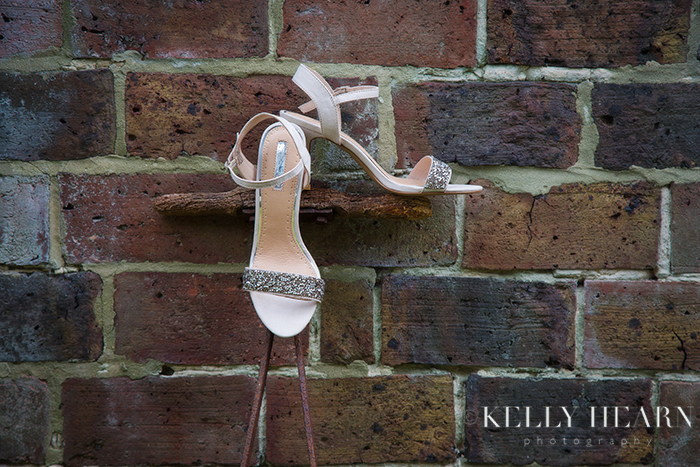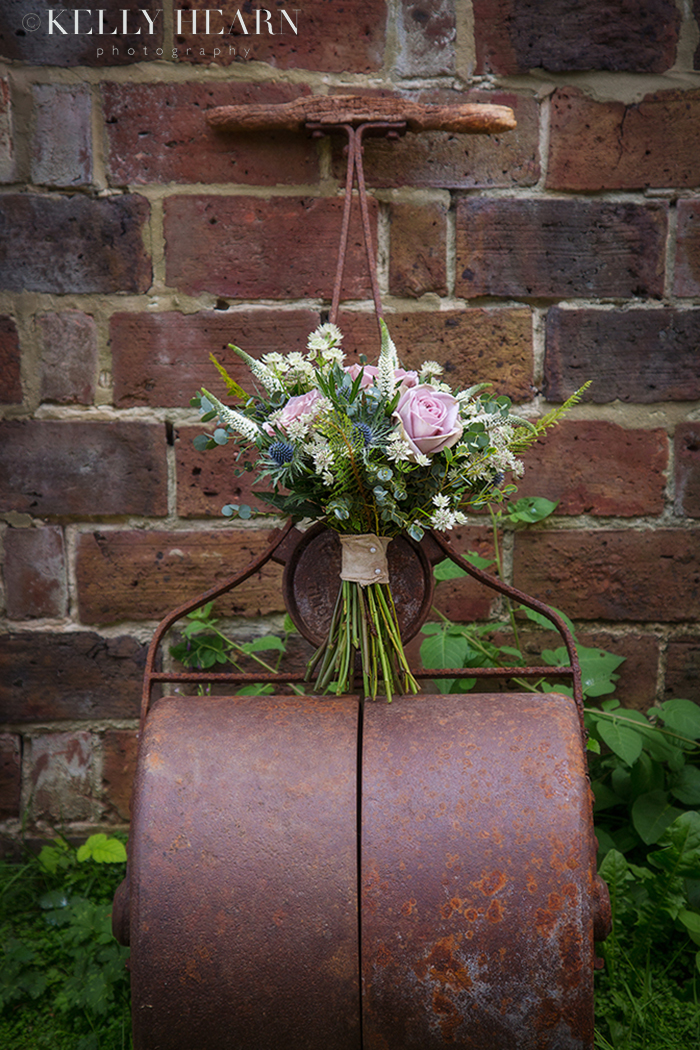 Rachel and Doug had chosen the pretty coastal village of Bosham to get married. This is a place with roots and connection for Rachel, who still cherishes childhood memories of visiting the picturesque harbour with her family. These days she loves to photograph Bosham at every beautiful sky opportunity, (of which there are many!) and whilst this obsession remains a bit of a running joke at KHP, (-sorry Rach!), she does always come out with some amazing shots!

Normally Doug, Rachel and the kids can be found at the harbour grabbing an ice-cream from the van, but this day was to be different! I met Doug and his two sons, Isaac and Jonas at Bosham quay for some precious father-son pictures before the ceremony was to take place in the beautiful traditional and historic Holy Trinity Church.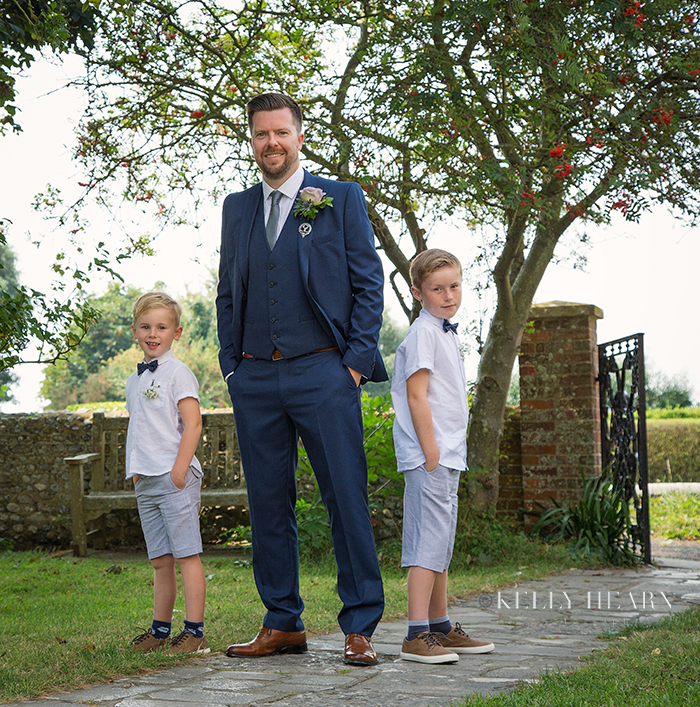 Guests quickly filled the pretty 11th century village church and soon the bride arrived in style with her Dad, ready to descend the long aisle!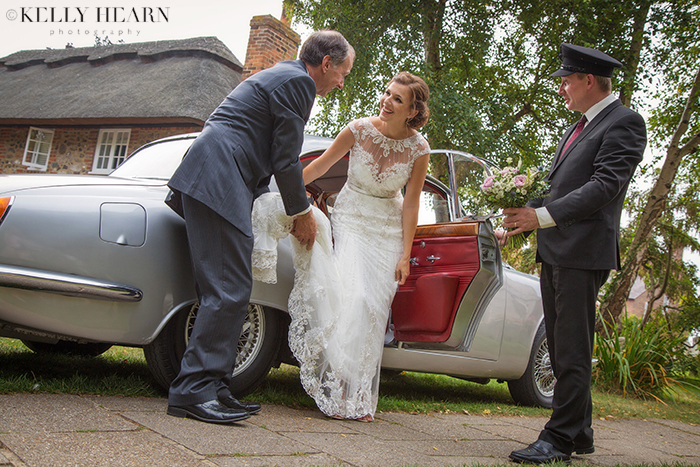 Arm in arm with her father and with daughter Mia at her other side, I could see that the short walk to the church doors was one filled with joy. It was lovely to witness the mutual proud father/proud daughter/proud mummy emotions, all occurring at once!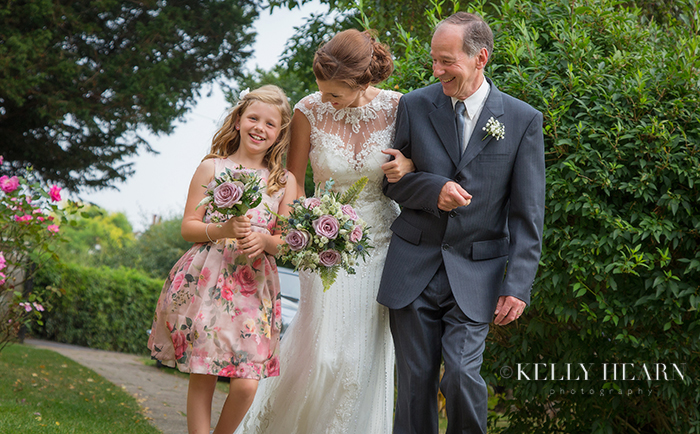 The ceremony was peaceful, heartfelt and happy and the setting beautiful as the couple stood beneath the brightness of the magnificent five-light lancet windows, exchanging rings, vows, smiles and giggles. During the day I heard many comments about how breathtaking Rachel looked in her sensational dress, and most noted was when her and her groom stood at the altar, the back of her train elegantly splayed out and glistening, wonderfully show-cased in that grand yet warm building, full of history.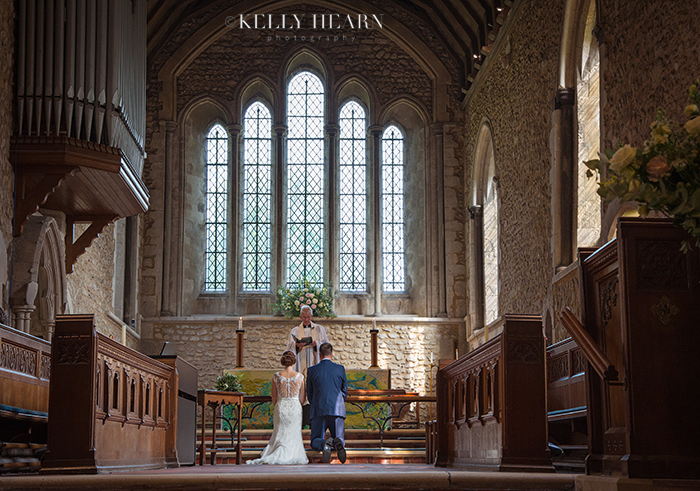 After a celebratory exit, I grabbed the new Mr and Mrs before they were showered in confetti and mobbed by family and friends who had come from near and far. One of my favourite images captures them outside the church in the gardens with the bell tower in the background - the oldest part of the church - and in my opinion one of the loveliest features.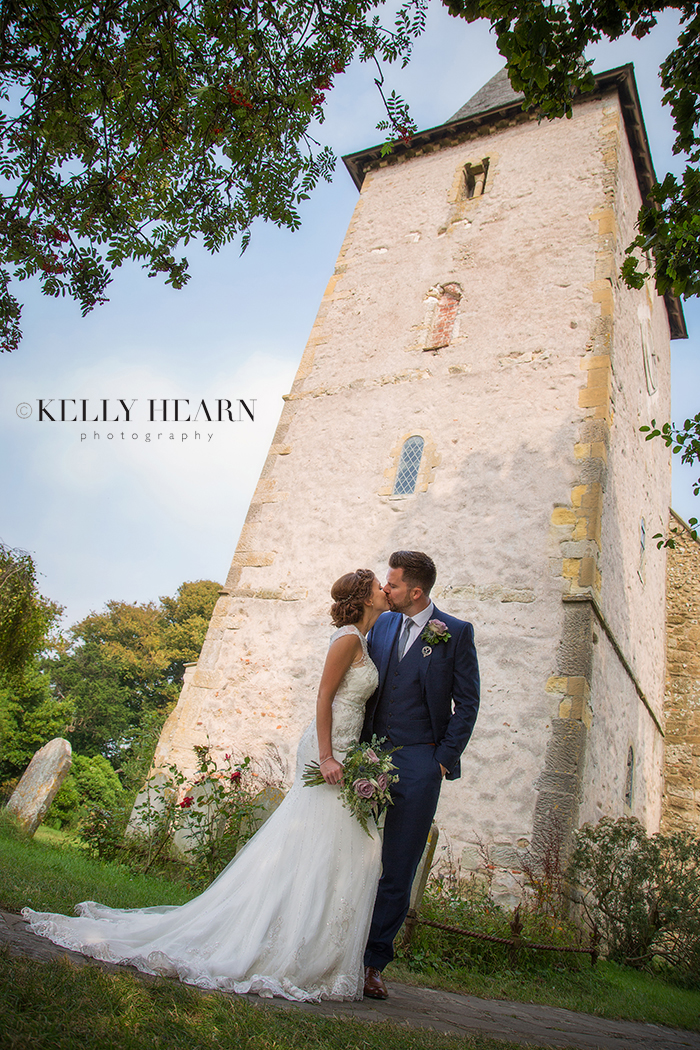 Out on the quay the party atmosphere was in motion as the children joined their newly-wed parents. The celebration of two families officially weaving together seemed to have begun! I loved seeing the strong and vibrant characters of these kids and how Rachel and Doug were enjoying and encouraging all their individual personalities. Capturing that sentiment in a photo was a challenge, but one I was determined and delighted to achieve!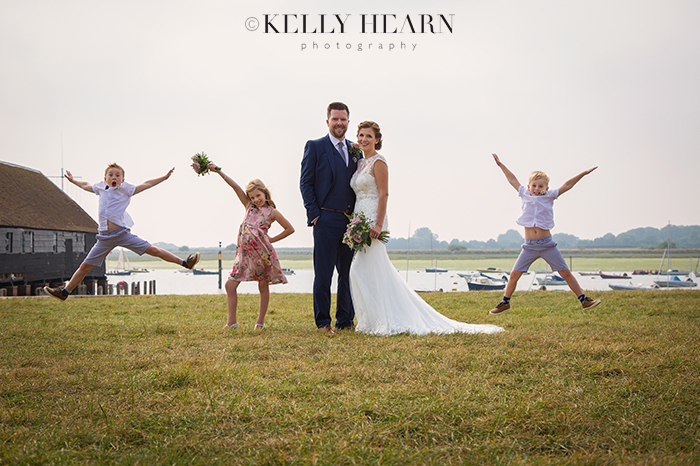 Up next was a thirty minute drive, (and well worth the mileage), as the location for the reception was absolutely idyllic and awe-inspiring. When walking across the lush green grass at Elsted Village Hall near Midhurst, the wide expanse of landscape before us was simply beautiful. The ambience was calm with guests chatting away, the sounds of children laughing and playing and the light, dreamy and somehow wistful, bringing a feel of serenity to the happy scene.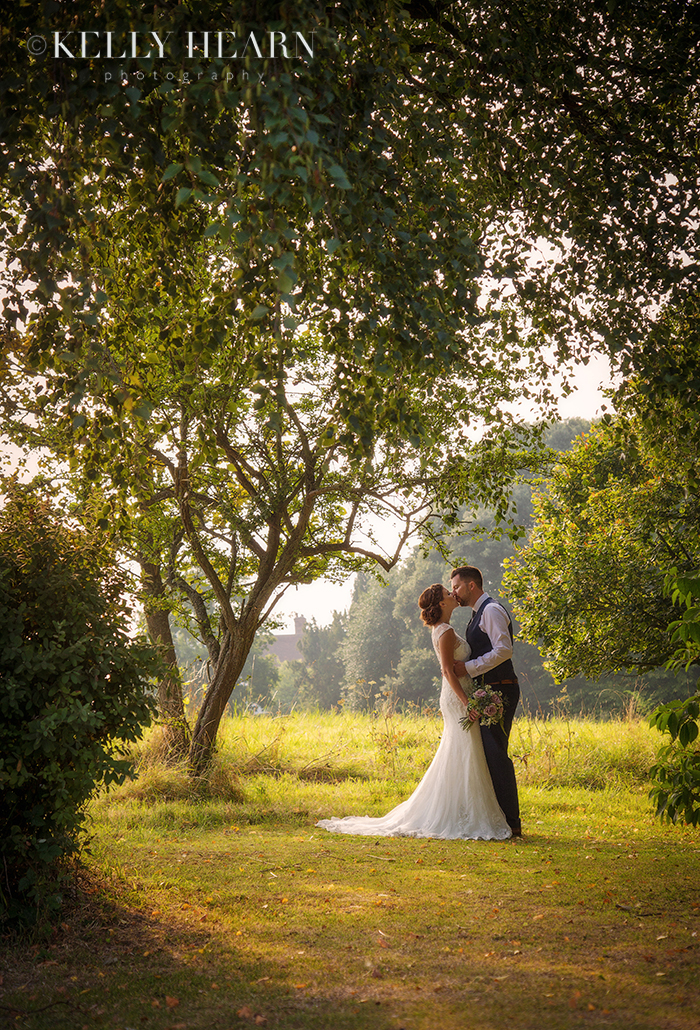 The bridal party were in great spirits, excited for the celebrations ahead. Relaxed and at ease, jackets were off and the two best men enjoyed a crazy jumping moment, mirroring an earlier shot of the two junior best men who were pictured star-jumping after the ceremony! In a wonderful contrast to the crazy best men, the bridesmaids looked cool and effortless in their relaxed yet feminine long dresses.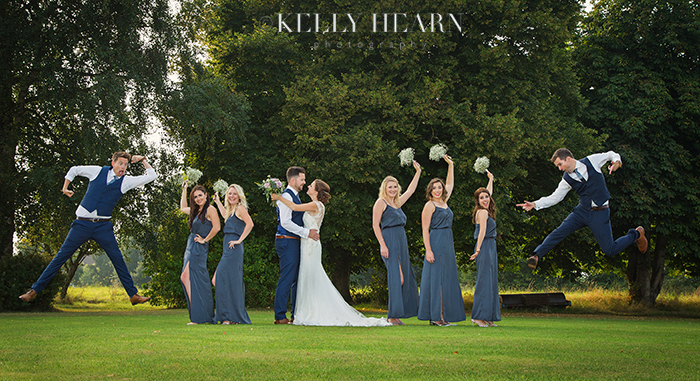 Whilst guests mingled on the lawn drinking bubbly, Rachel and Doug very informally kicked off proceedings with the cutting of the 'cake'. Rachel's Mum had hand-crafted hundreds of french macarons, all in different pretty pastel colours and flavours. They were stacked high and each guest was lucky enough to taste at least a couple of flavours each - they were seriously delicious!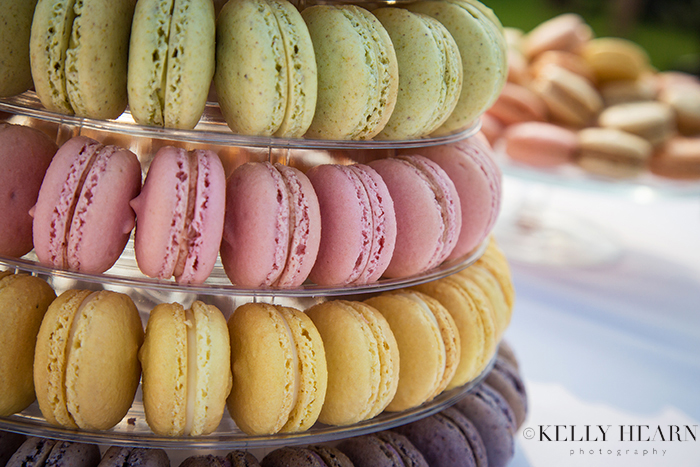 Being out on the lawns all day with that undeniable view, Rachel and Doug were certainly blessed with the weather that really 'made' it the summer's day of their dreams; a day they had longed, hoped and prayed for! Guests tinkered with a bit of croquet whilst sipping Pimms and children jumped with delight on the huge bouncy castle. Important to Rachel and Doug that guests felt relaxed and comfortable, they chose an informal and relaxed style of reception in a simple yet elegant marquee, without a seating plan and instead an intimate family style table arrangement in long rows. A tasty hog roast from Forest Hogs of Chichester was dished up and dessert was an ice cream in a flavour of choice from Pinks Vintage Ice Cream tricycle!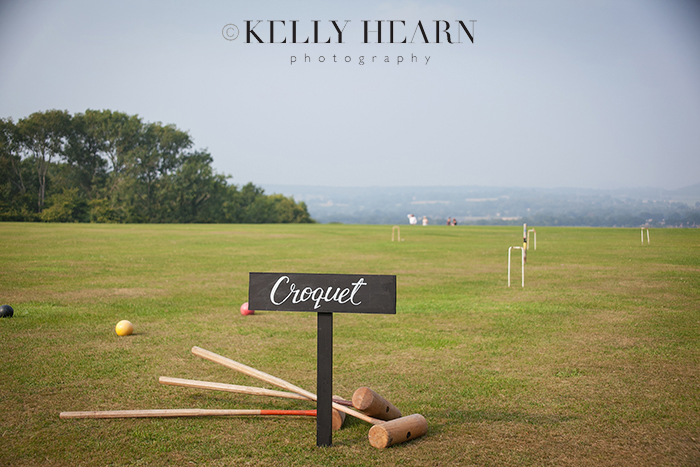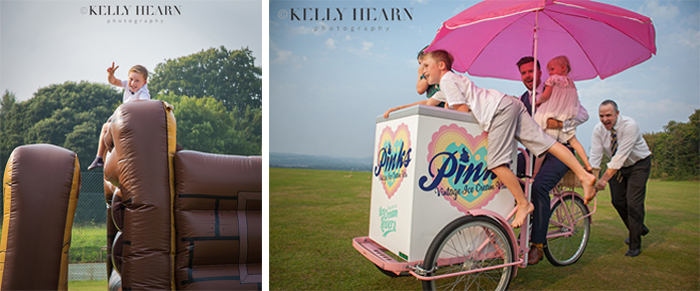 Friends and family had all pitched in to help supply some of the details that brought a bit of vintage flavour to the classic English country summer day that it was; hay bales were supplied by a farmer friend for outdoor seating, logs for table decorations, along with jam jars that had been collected for the wild flower arrangements. Even place mats that welcomed each guest were hand-designed, all these touches sourced and supplied by close contacts of this well-connected couple. I loved seeing little personal elements that had been included, for instance each guest's favour was a traditional striped bag of sweets sealed with a personalised photo sticker of Rachel, Doug and the kids. A 'sweet' touch indeed!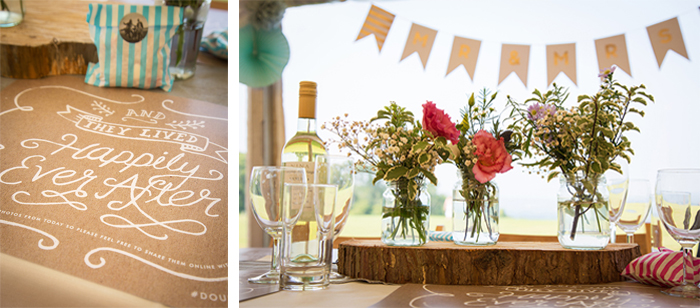 The speeches evoked an array of emotions as Doug's sons and Rachel's daughter all shared a few special words in their own precious ways. Further speeches came from Rachel's father, Doug's father and brother and finally best man #4 and friend of many years. Although the kids didn't get all of the jokes(!), the words were genuine, heartfelt, humorous and moving; barely a dry eye was left by the end for crying either with emotion or laughter!

Turning from daylight to dusk, the sun set slowly for the duration that the speeches were given. I suggested to the new Mr & Mrs we venture out to the field nearby to capture them with the peachy sky background and Rachel and Doug, (despite not yet having had their ice-cream), were fabulously flexible and happy to go with the flow. From a photography point of view it is amazing when you have this trust from your subjects and you can look around you and act on what is happening and what you see in a moment, even if it is not compliant with the wedding schedule!  It was essential to capture the back of Rachel's dress that had become such a point of discussion that day, and that atmospheric sky provided the most romantic backdrop for this moment.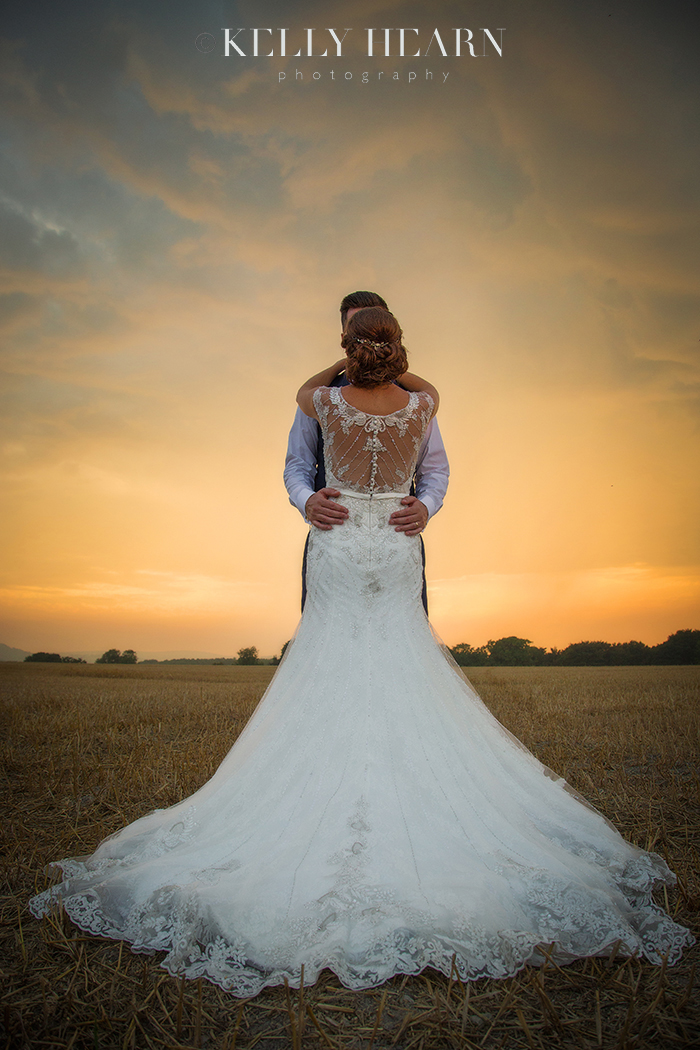 Capturing individual personalities in a couple's portrait can be a challenge which is why I loved this next image…With a larger than life character I was pleased to capture Doug totally being his 'jumping-for-joy' self with Rachel by his side, being her cool, calm and amused self!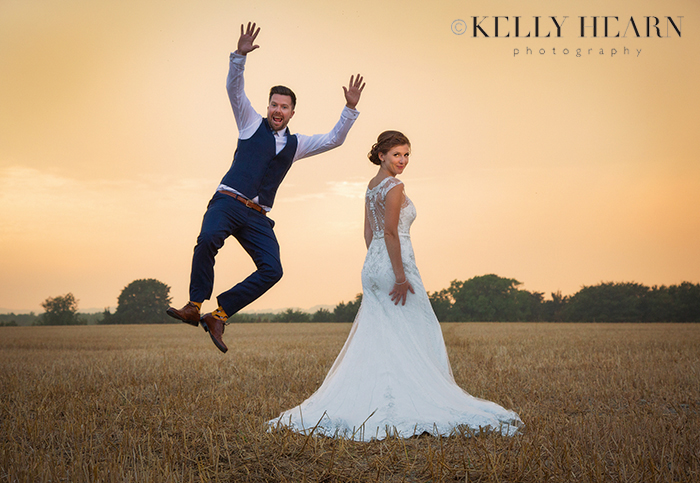 We returned to grab ice creams and to greet evening guests that had arrived and were enjoying mingling before the party really got started. Being in the music business and also working on the wedding scene himself as a DJ with Chichester music agency 'Toast Functions', Doug had arranged for popular local band, The Deloreans, to play some classic covers and get everyone on the dance floor. Following the country theme of the day the sweethearts danced to the folky 'Hey Ho' and guests joined them for the last part, singing along with them!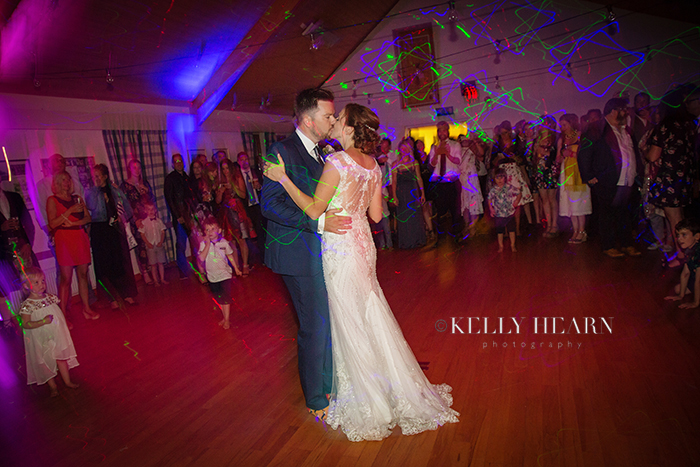 Things jazzed up a little as members of the band appeared amongst the crowd and interacted with the bride, groom and guests alike, bringing the live music directly onto the dance floor! In a gesture to honour his Scottish roots Doug and his brother even took to the stage to sing a duet and serenaded Rachel with "I'm Gonna Be" (500 Miles) by the Proclaimers! 
Thanks to Doug's great connections, shoes were kicked off and the party continued with an amazing set from Fingerlickin breakbeat and big beat artist A.Skillz, a friend and high profile DJ who was pleased to come and play for the new Mr & Mrs Ross. Friends who were MCs, rappers and break dancers joined in with entertaining guests as the night turned to the early hours and it seemed all musical genres were covered! From the youngest to oldest, everyone shared in the dancing and celebrations!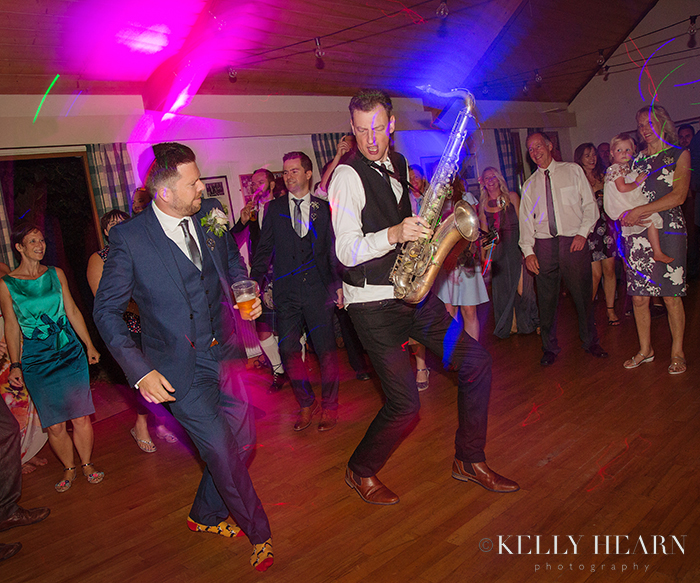 It's hard to know where to start in summarising this wonderful day and this brilliant couple. With so many guests, some that had even travelled from as far as Canada, the love and support for Rachel and Doug was evident and great testament to the time and effort they have obviously invested into so many friendships. Individually Rachel and Doug had really put their own stamp on the wedding allowing for both their personalities to shine whilst complimenting each other charmingly. With Rachel's laid-back, easy-going nature and creative input, alongside Doug's warmth, skill for inclusion and vision for bringing the wow factor, the combination made for a relaxed and genuinely joy-filled day.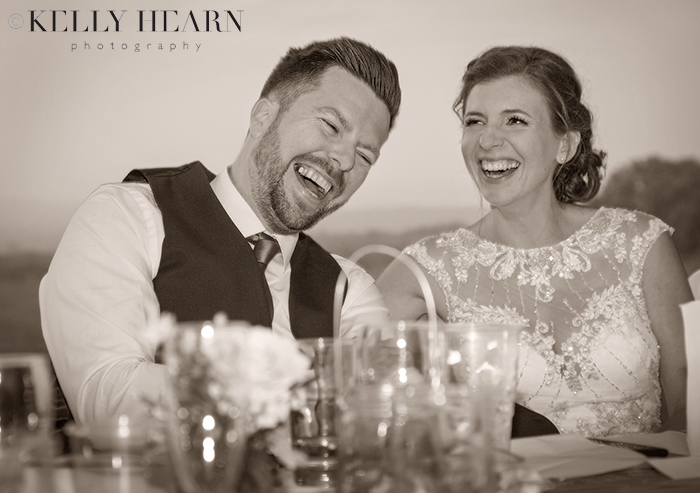 Here's wishing you, Rachel and Doug, many happy years together. You are truly wonderful people apart but even better together. Congratulations!
Love Kelly x
Kelly Hearn A.B.I.P.P - A.M.P.A