A WEDDING WORTH ITS WEIGHT... IN GOLDEN SUNSETS!
April 19, 2022
Helen and Freddie's Winter Southend Barns Wedding
Helen and Freddie were blessed with a crisp sunny winter's day for their beautifully elegant wedding nestled in the stunning West Sussex countryside at the picturesque Southend Barns.
It was a delight to witness these childhood sweethearts, who have known each other since they were babies, finally tie the knot. All their loved ones were with them to share in the joy of the ceremony and celebrations as the couple said 'I do'.
Here we captured the time tested, strong connection between Helen and Freddie as they took a moment alone together hand in hand watching the sun go down as it projected its stunning sunset colours creating these solid silhouettes. Such a generous gift from Mother Nature on our first wedding of the year!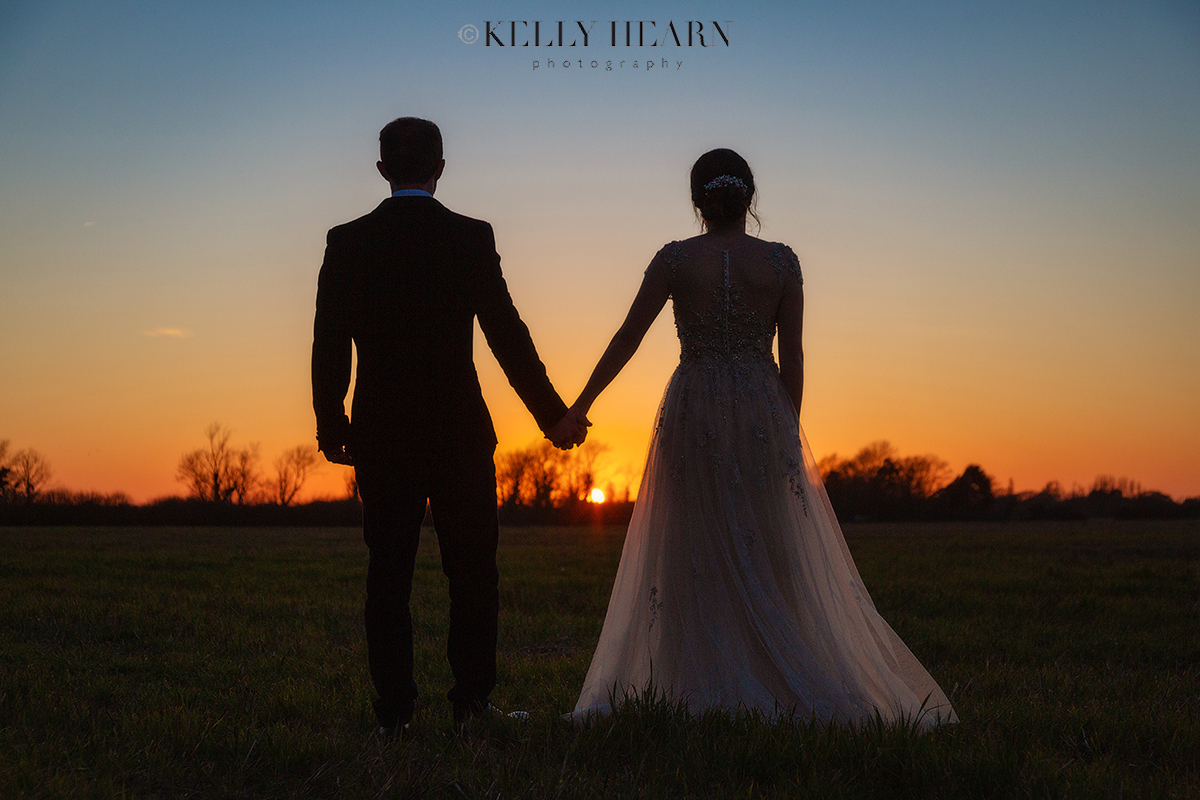 SOMETHING BORROWED, SOMETHING VROOOOM…

Featuring Freddie's father's vintage MG in this couple's photography was a must, not only did it add a meaningful personal touch to the day, it also made for a charming prop to feature Freddie, his dad and brothers. They certainly did this fine motor justice as they styled it out with the pink of their ties complimenting the gleaming cream paintwork as the iconic Southend Barns peak stands just as proud in the background.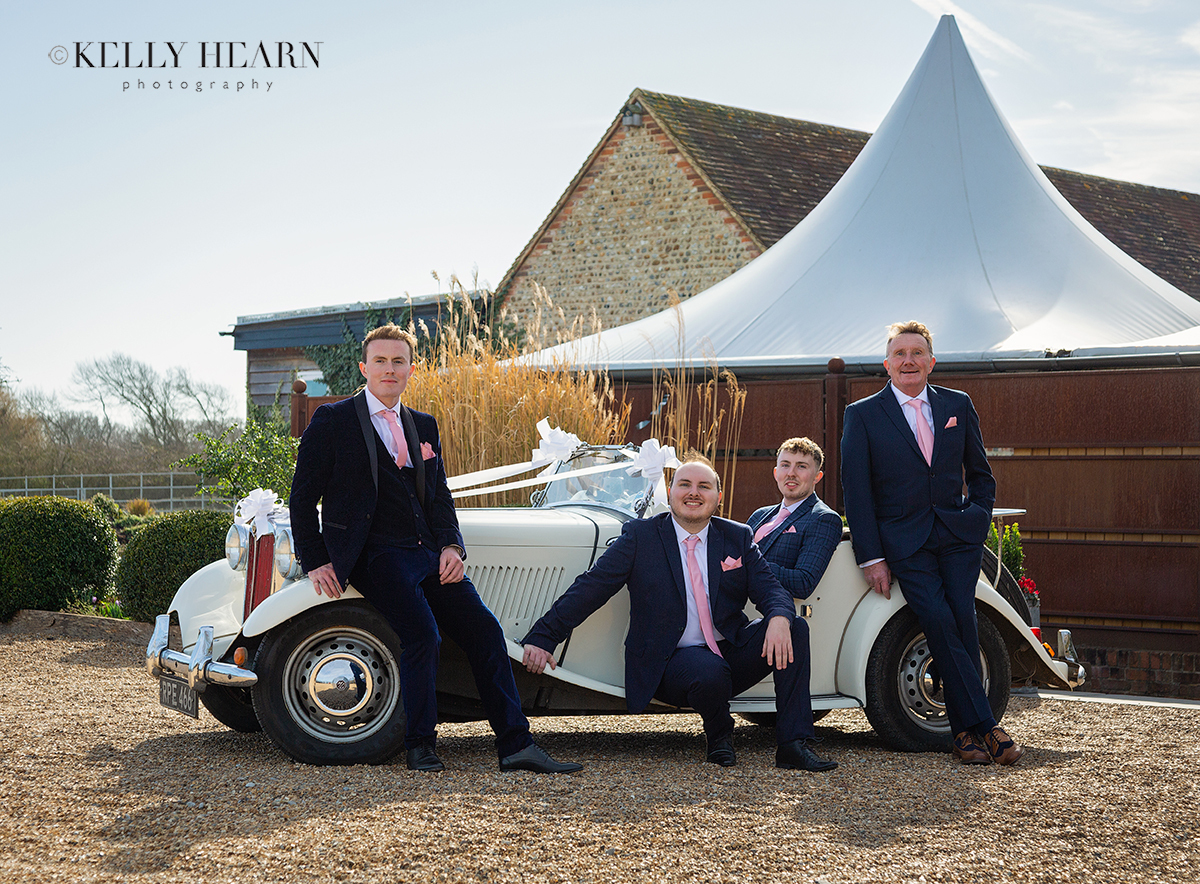 LEAN ON ME

We took Helen and her sister into the exquisitely manicured gardens and posed them among the triangular shaped topiary hedges. This youthful back-to-back pose not only replicates the symmetry of these beautiful green shapes but also symbolises the sibling's strong rooted closeness – all lit perfectly by the reflected sun as it cast its warm glow around them.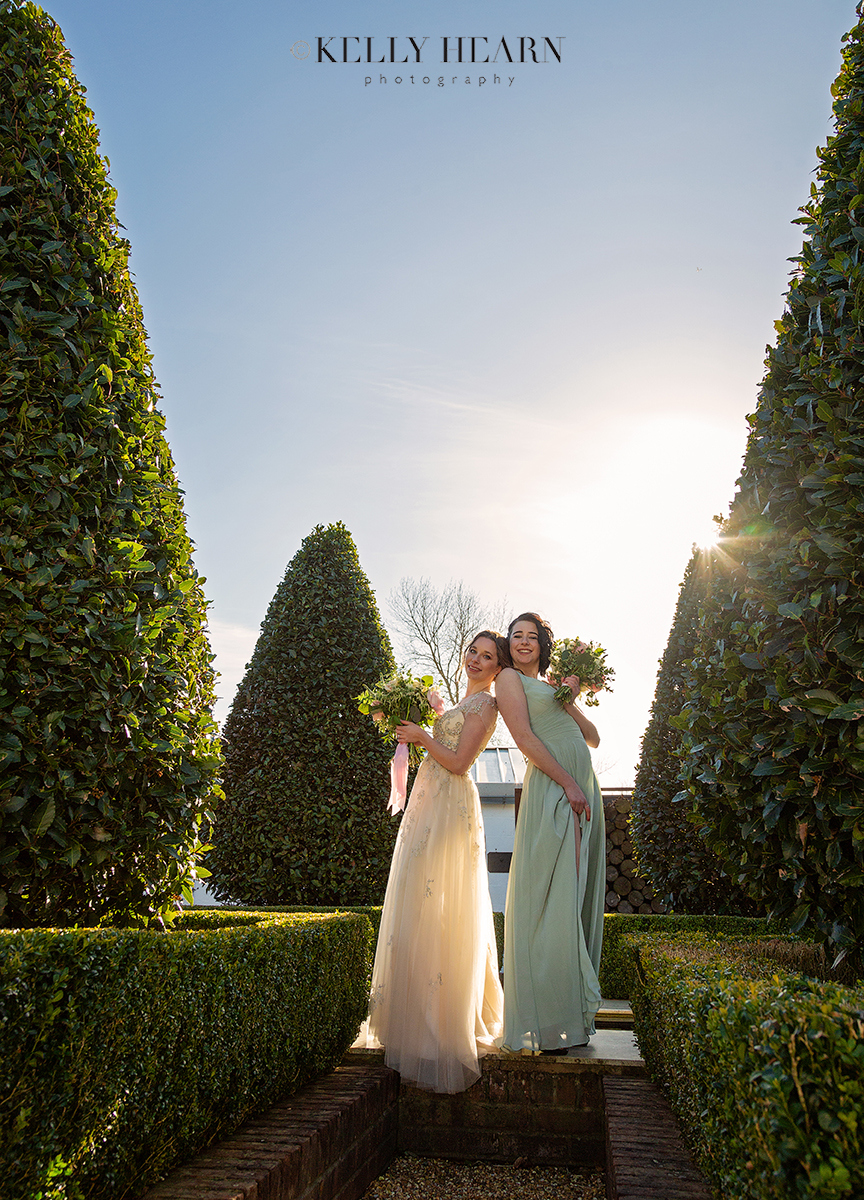 WORTH THE WAIT

With their original 2020 date being rearranged to 2022 it was no wonder there was such elation on the faces of their friends and family once the couple had officially become Mr and Mrs – and no wonder they sealed it with such a loving kiss!
The light and airy Dairy Barn with its dreamy drapes, sweet chestnut benches and sweeping aisle was simply brimming with love and cheer – and we just loved how it tied in so well with Helen's gorgeous look.
Helen's dress by Elizabeth McQueen Bridal. Helen's hair and makeup by Charlotte at Polka Dot Hair and Make-up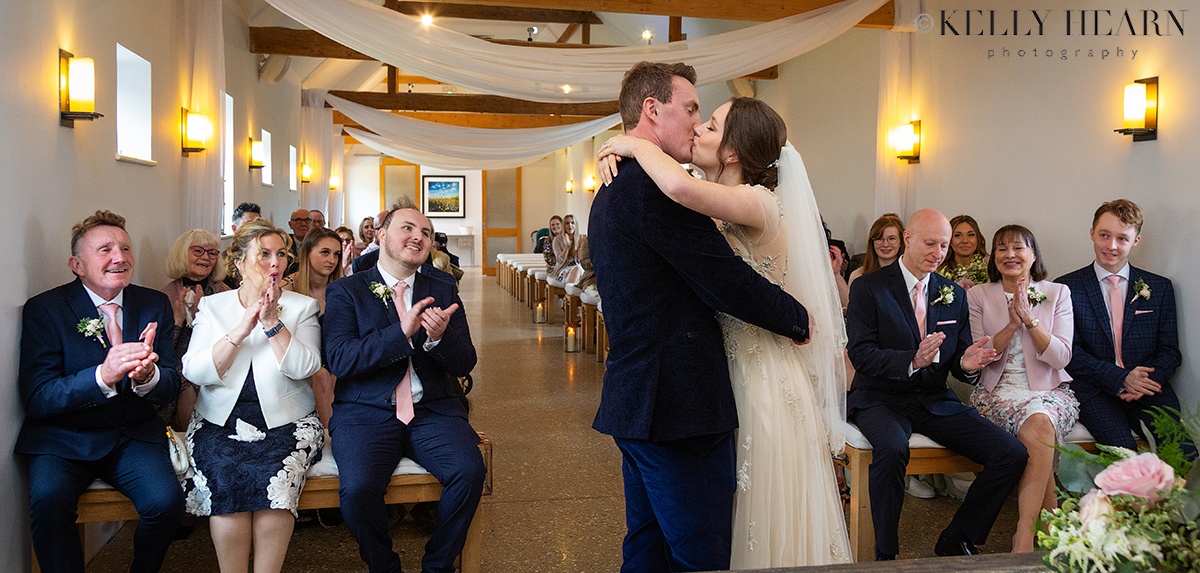 COMING TOGETHER NICELY

We showcased the bridal party top to toe against this rustic, pastel coloured outbuilding which provided a backdrop of soft colours to complement their chosen colour pallet of sage green, pink and gold.
A classic bridal party image capturing the well thought out, finer details of a wedding always serves as a great memory to look back on over the years, an image not to be missed.
Bridal flowers by The Floral Artisan.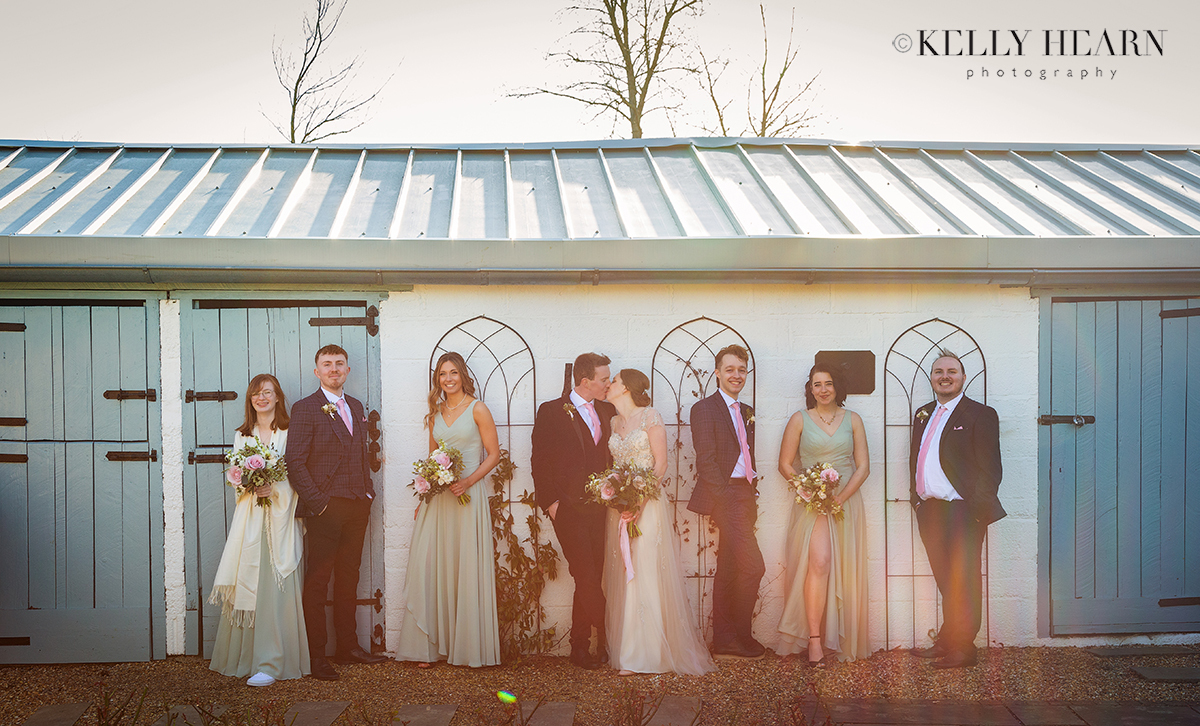 TOTAL ECLIPSE OF THE HEART
Back in the delightful gardens Freddie and Helen starred in the perfect advert for a February winter wedding. We found this moment in the glorious sunshine and used the low hanging sun to create this eclipsing statement piece in the striking garden.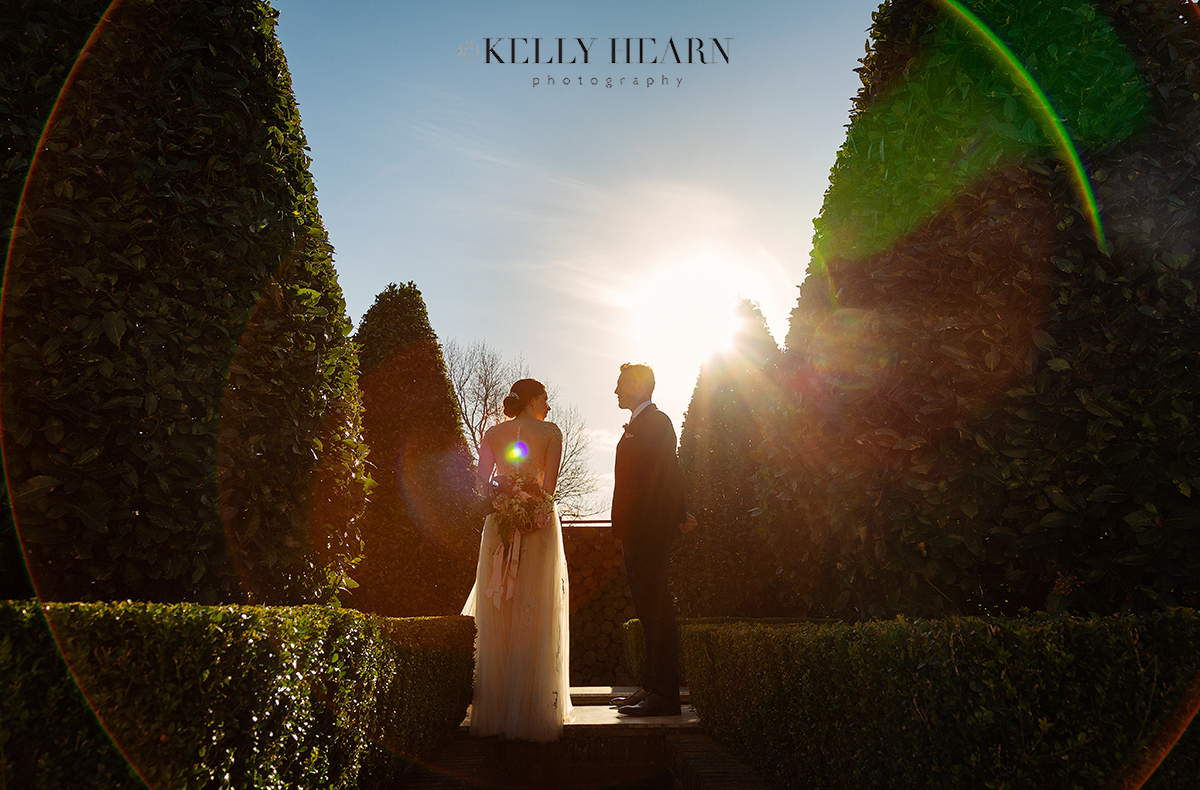 LOVE AND LAUGHTER

A photo captures a moment in time that can spark vivid memories.
During the speeches we placed the camera lens through Helen and Freddie's perspective in the hope that the image we created will forever spark memories for them of their magical day.
Here we look out with them at their guests sharing in the laughter of Freddie's best man's comical speech, whilst taking in all their carefully planned magical touches of the twinkling fairy lights, fabulous flower arrangement and glowing candles.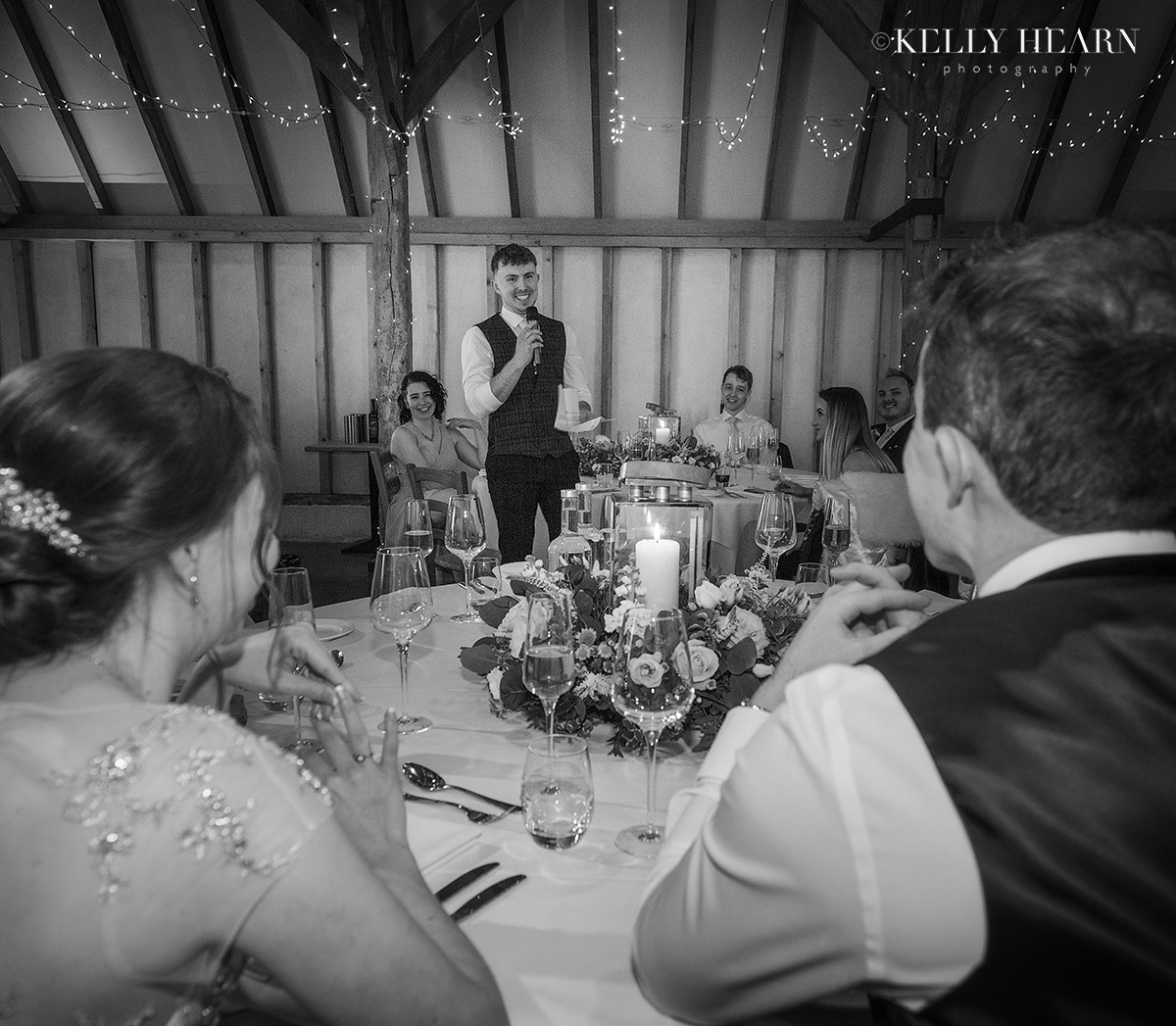 HAPPY FEET

After Freddie and Helen set the boogie bar high by wowing their guests with a show stopping first dance routine there was some serious shape throwing on the dance floor to follow.
These party people sure knew how to raise the roof as they danced the night away to some classic tunes by the Toast DJs. We couldn't miss capturing these fantastic moves and preserving the party vibe forever!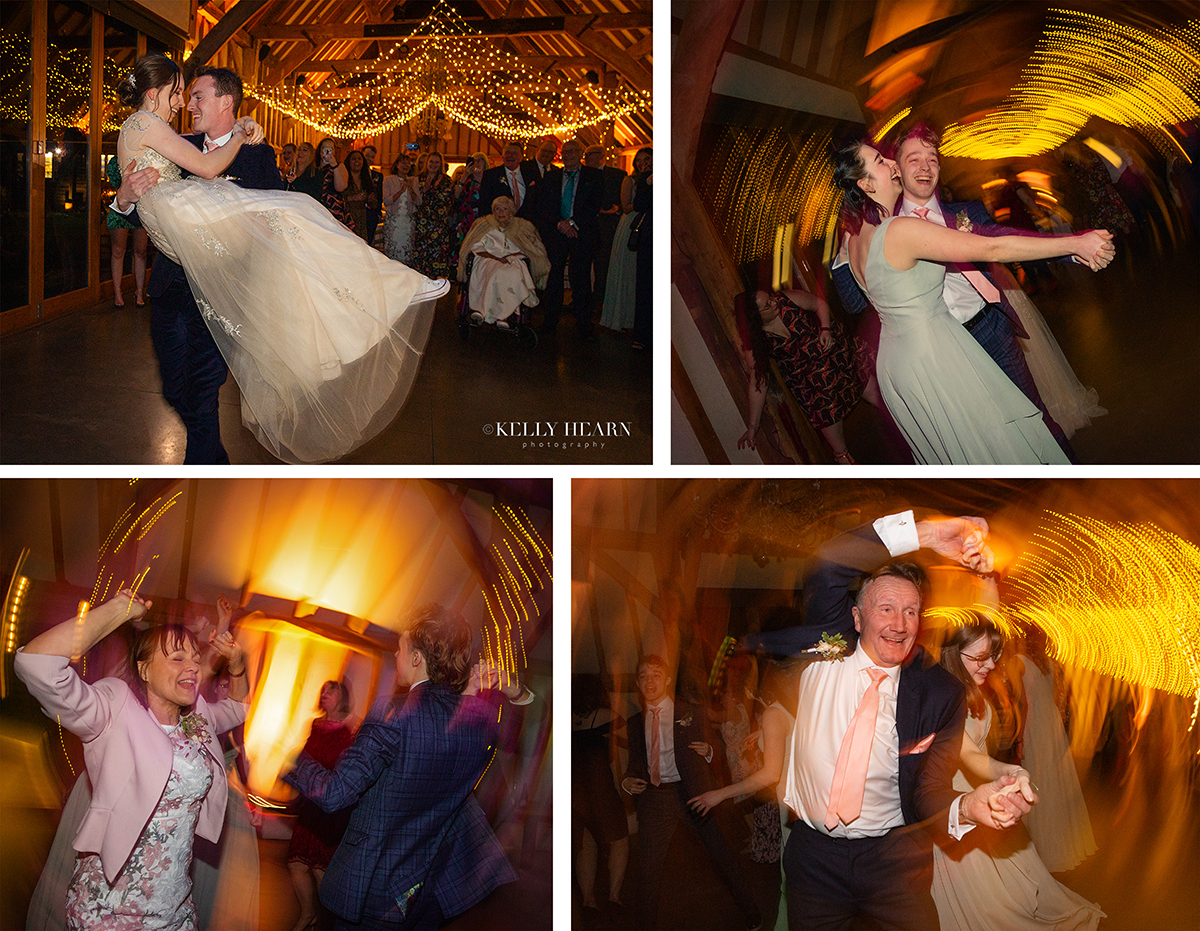 Helen and Freddie, may your journey through life together be full of idyllic sunsets, love, laughter and dramatic dance moves! It was an absolute pleasure to be part of your wedding day, and to capture your images that we hope will continue to bring joy for many years to come.

Kelly x
Kelly Hearn A.B.I.P.P - A.M.P.A