The Time Is Now
September 05, 2019
Laura & James' Clock Barn Summer Wedding
Laura and James chose rural Hampshire's Clock Barn to be the charming venue at which to celebrate their marriage and the timing couldn't have been better. It was a hot and breezy day in June and as every wedding couple would wish for, the skies were blue and the sun glorious. Judging by their engagement shoot a few months previous, I knew this easy-going bride and groom would be open to being photographed in a mix of styles. They embraced the elegant portraiture in naturally beautiful settings whilst also seizing a more contemporary approach, involving gritty industrial backdrops to juxtapose the traditional classic wedding look. The venue offered such diversity with its rustic barn features and neighbouring grassy meadows, but its hidden gem was what looked like an old abandoned aircraft hangar which turned out to serve as a strikingly cool backdrop. Having initially scoured the site and with my creative juices bubbling, I couldn't wait to get started on photographing the couple and capturing some of these amazing scenes painted with their unique memories.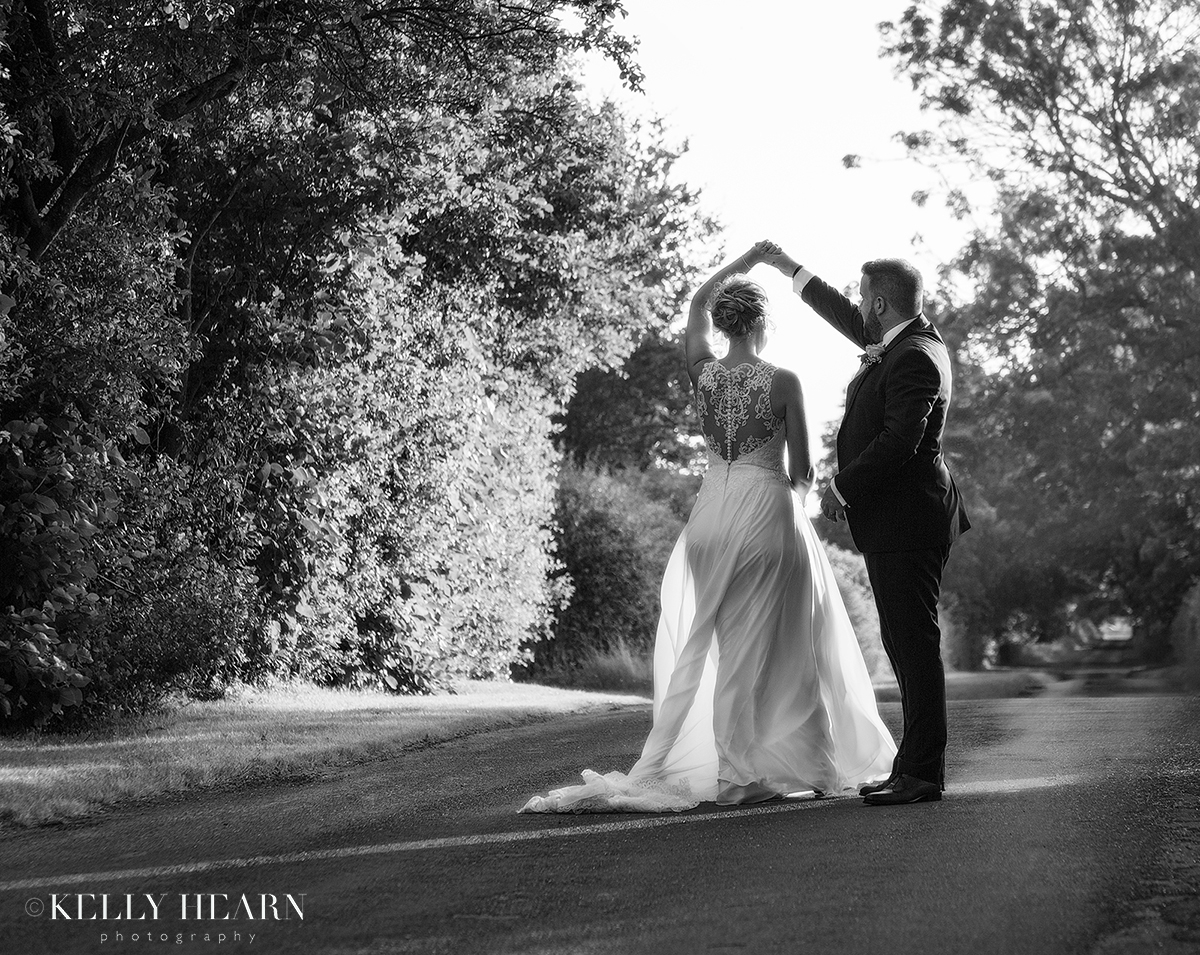 Clock Barn offers luxury onsite accommodation and with its nine ensuite bedrooms, Tufton Warren Farmhouse is handily located right next door to the Main Barn venue. Here, Laura was found on the wedding morning getting primed with professional makeup and hair assistance from Helen and Georgina from Claire Jane's Totally Flawless. Laura's neat bouquet of romantic pink roses were made by a friend, Karin, and as they sat on the window sill they almost blended into the lush green background of the blooming gardens outside.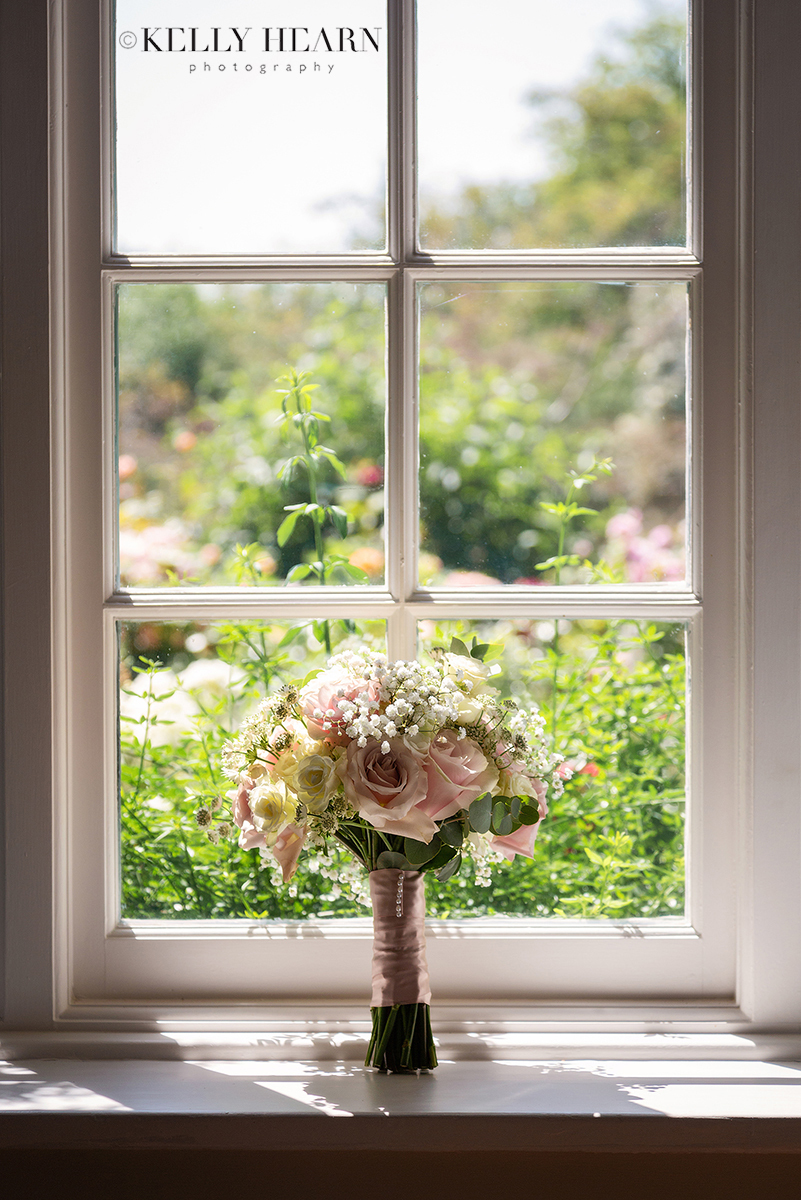 Taking another perspective looking in from the gardens through the old cottage windows, I spied the makeup artists at work as Laura sat elegantly in her robe, enjoying the exciting preparatory moments before the enrobing of her wedding gown. Whilst being mindful to capture a variety of perspectives, even I couldn't escape my own camera as the reflection in the glass caught me stealthily shooting from outside!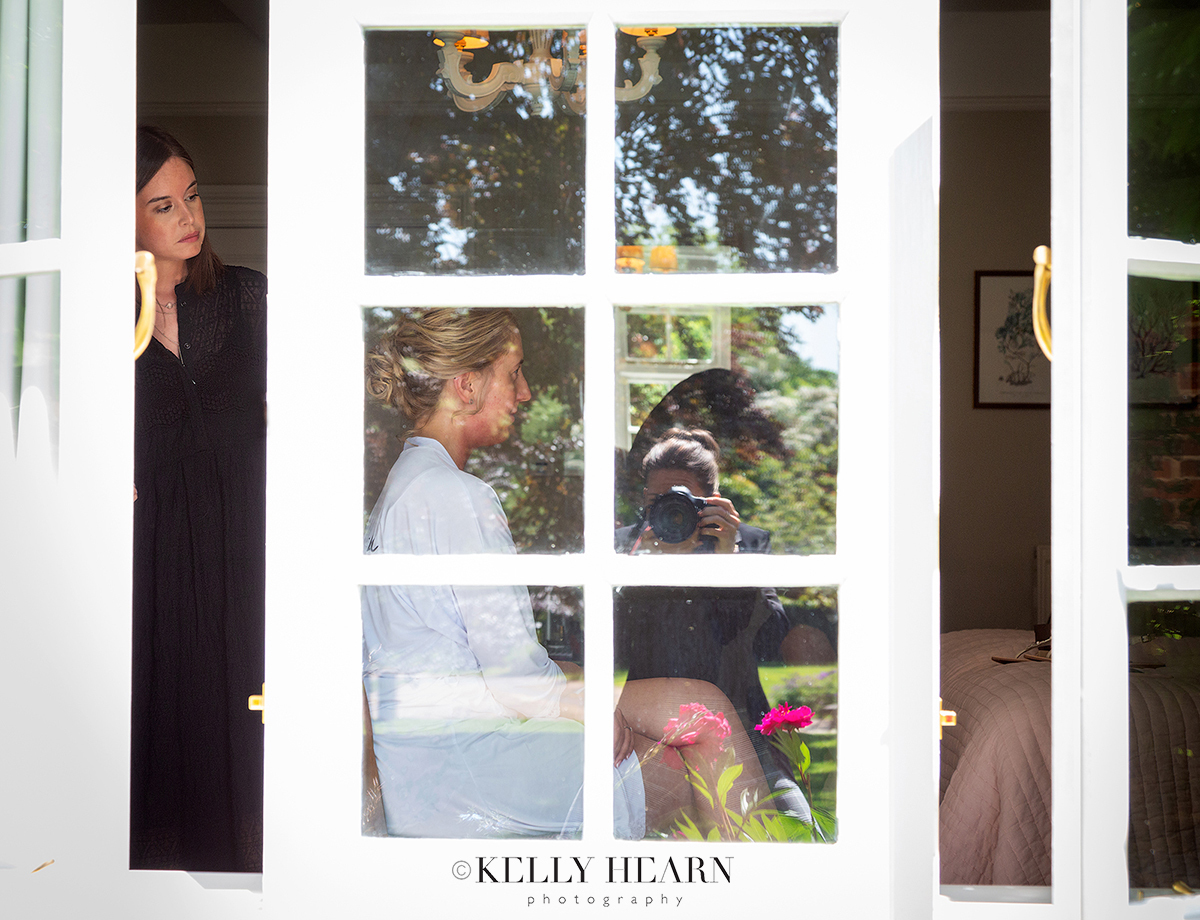 Soon it was time for this beautiful bride to get into her stunning designer gown provided by Confetti Bridal Centre. This handcrafted Stella York dress had oodles of rich fabric in its full gathered skirt and the flattering cameo lace illusion back with button-down detailing were enhanced by Laura's elegant up-do hair styling.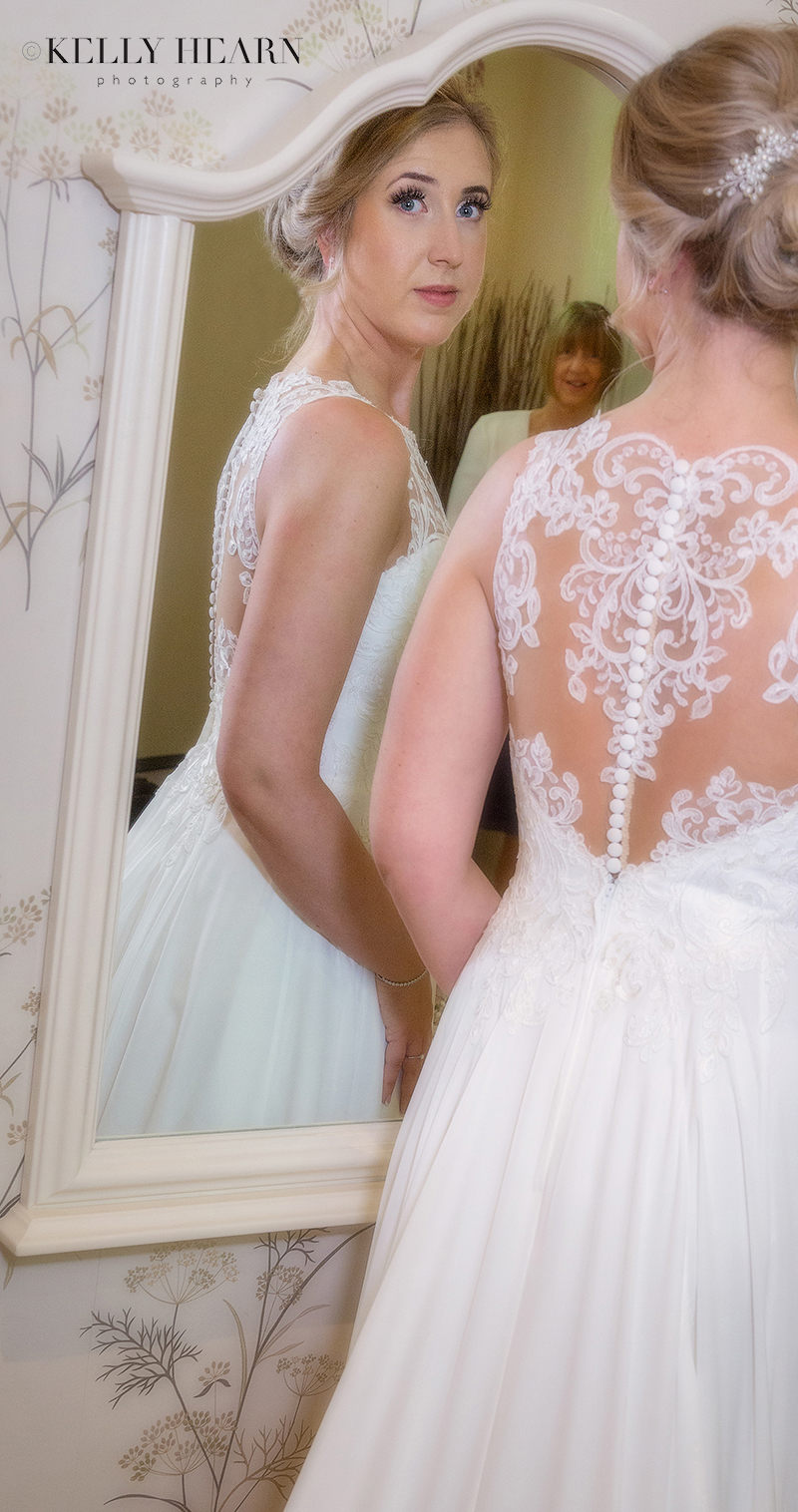 Creating a contrasting impression to the beautiful ambience of the farmhouse and its lush gardens, I photographed James and the groomsmen against some corrugated iron barn walls. Continuing to use unique angles and perspectives, James and his best man ensured the camera saw their best sides!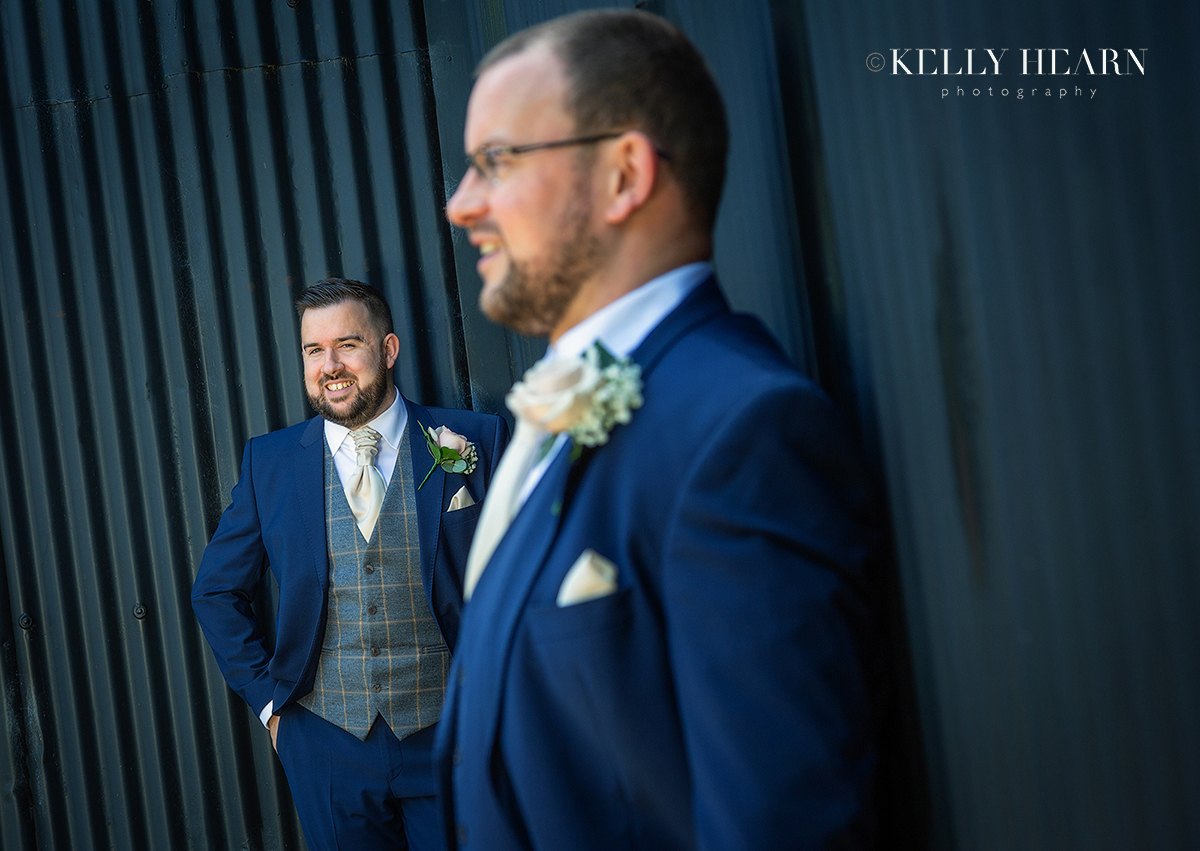 Looking refined in their tailored blue suits and check grey waistcoats, the bold lines and textures from the industrial backdrop worked well to enhance the strength of this group image, the sun ahead offering warmth through its softening flare.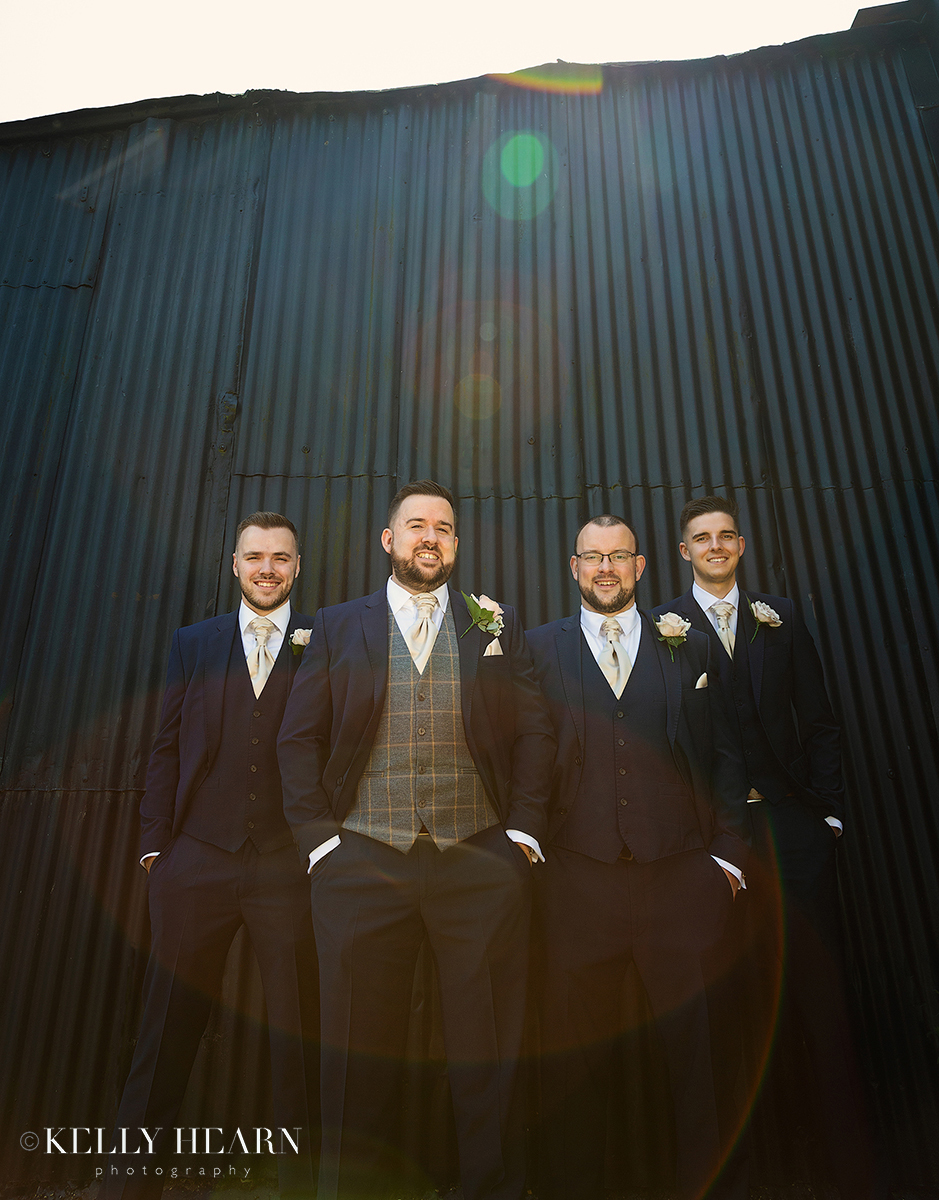 The Clock Barn first welcomed wedding guests into its quaint and leafy grounds, followed by the bridal party. The vibrant greens and summer florals brought the traditional wooden-clad country wedding venue to life, setting a perfect rustic country scene.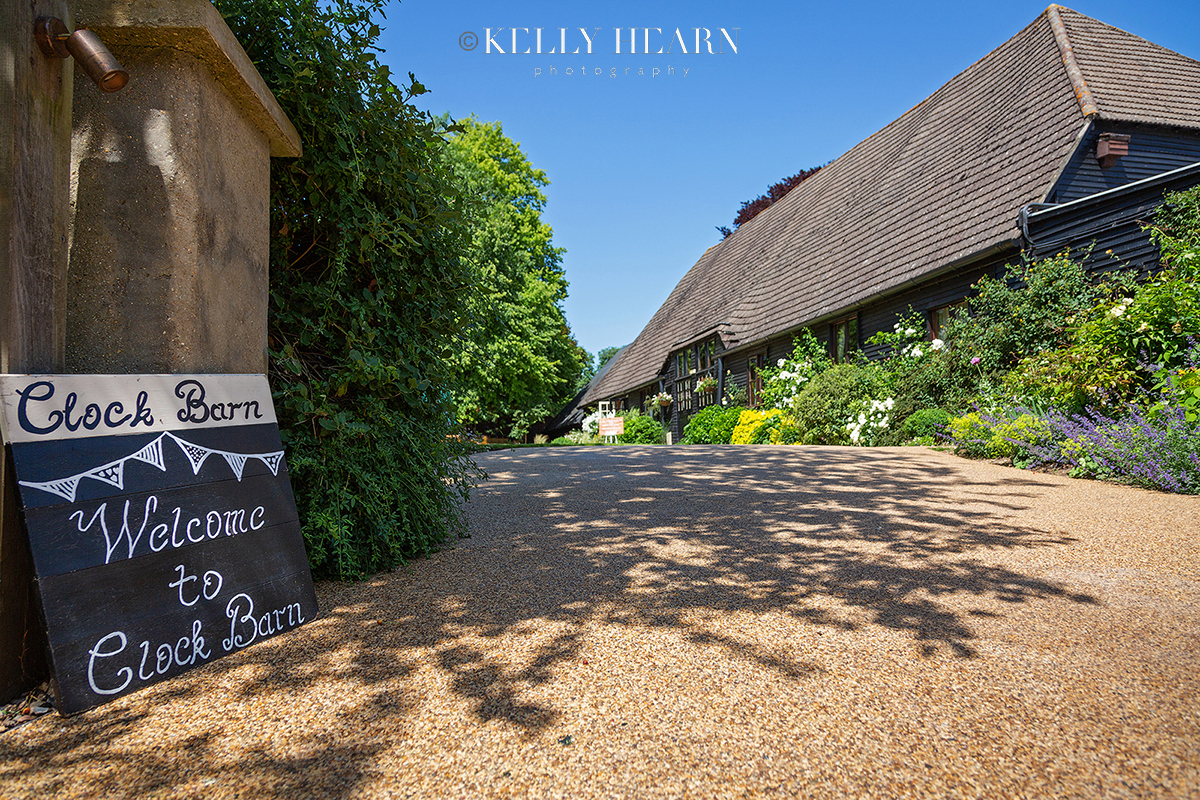 With guests now seated and the Main Barn in view, Laura and her Dad, along with the bridesmaids, made the anticipative walk past the venue's famous Clock Tower towards the back entrance. Guests inside stood to welcome the procession as they graced the aisle and groom James was waiting patiently to receive his bride and steal the first precious glimpses of his imminent wife-to-be!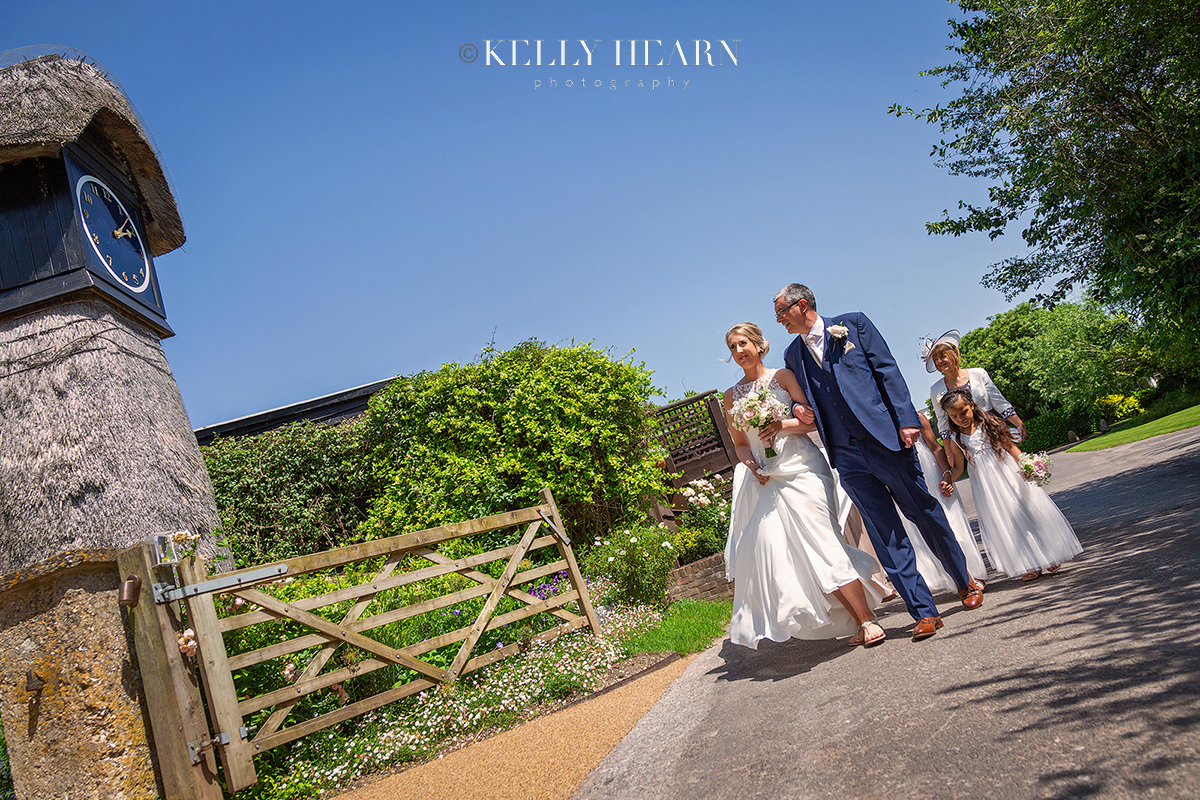 Showered in confetti, the newly-weds exited a heartfelt ceremony through another aisle, this time an outdoor one lined with joyful family and friends all excited to congratulate the happy pair.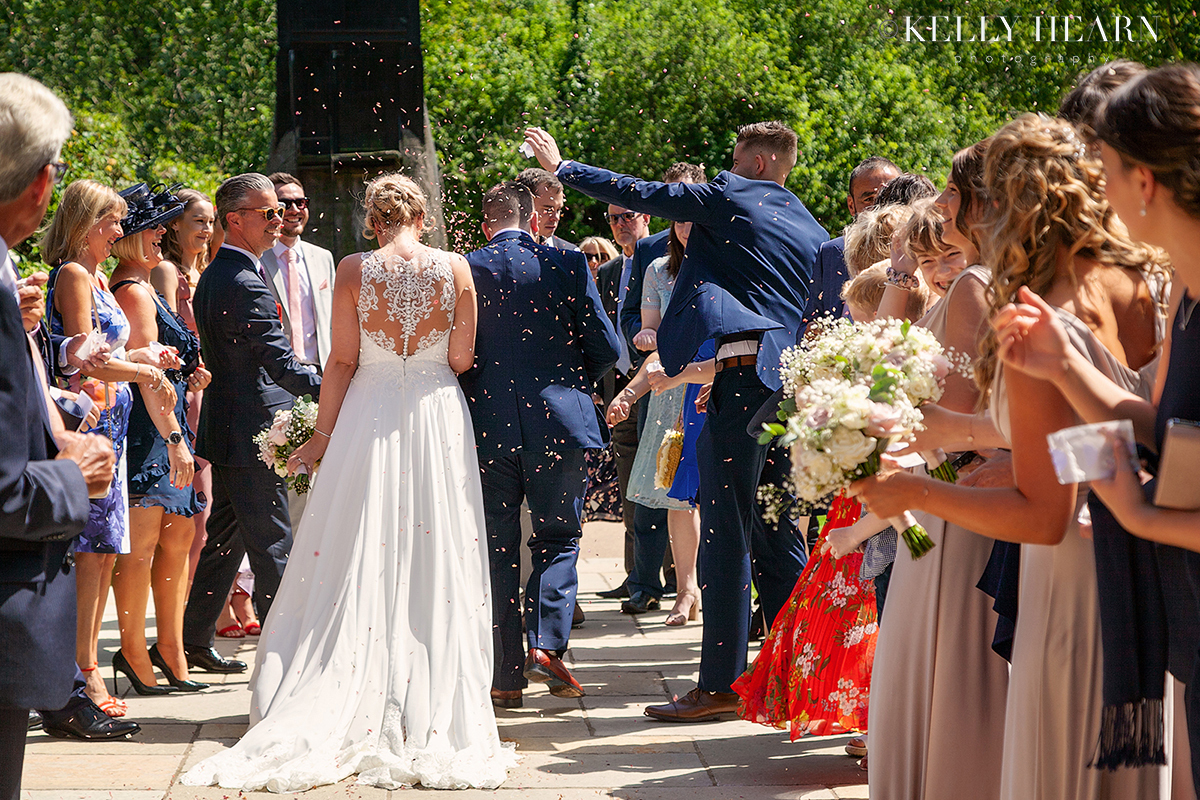 When it came to the group photography the old hangar became our canvas for creating some wonderful industrial-styled images. I have noticed that design trends are increasingly being ethically driven and considerate of environmental impact; we are finding more value in anything that can be reused, converted or repurposed. I love to bring an element of that thinking into my photography design and love to use unexpected materials and spaces artistically, getting some value out of whatever I happen to stumble across. Bringing Laura, James and the wedding party to this old worn-out expanse, offered an element of now-ness to their images for the very reason that they were repurposing the space and I loved how it carried a unique contemporary feel.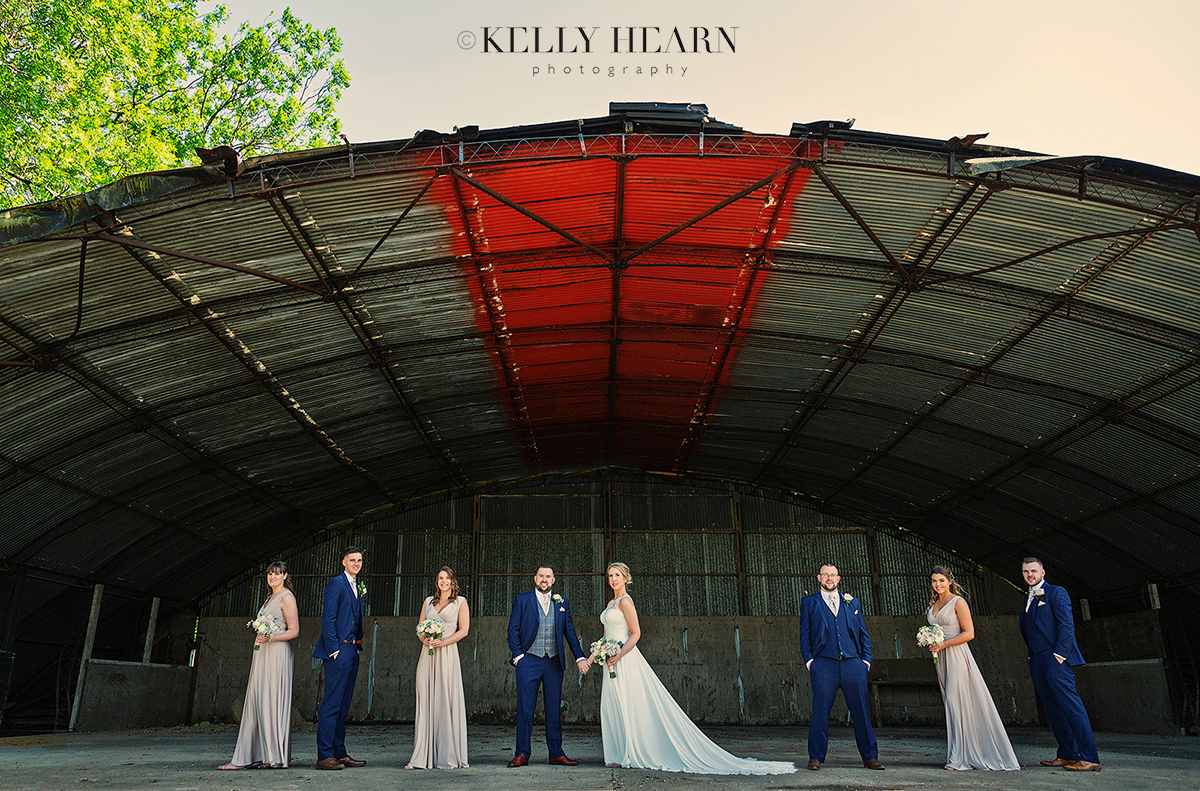 With the groomsmen's group shots earlier in the day, the corrugated iron background served to enhance an image of strength and masculinity. In contrast, the bridesmaids were set against this same scene wearing long flowing pastel mink dresses and our eyes are drawn to their softness and femininity. What is created here is a sense of comparison that highlights the romantic nature of a wedding and the radiance of a bride with her bridesmaids. Both effects are powerful and the messages strong, despite the one and same backdrop.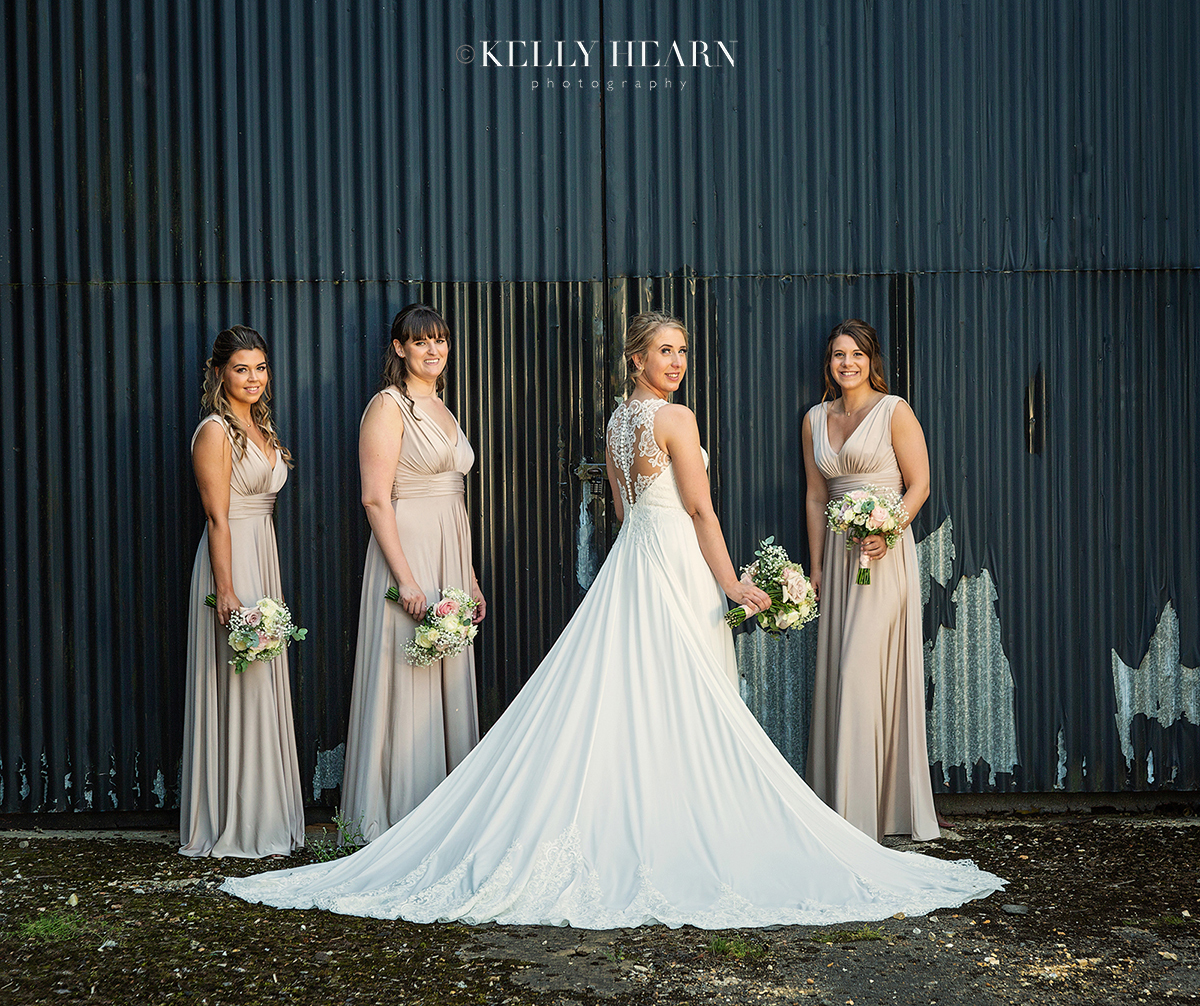 Laura and James, fully trusting in the creative process, relaxed into the following captures like pro's.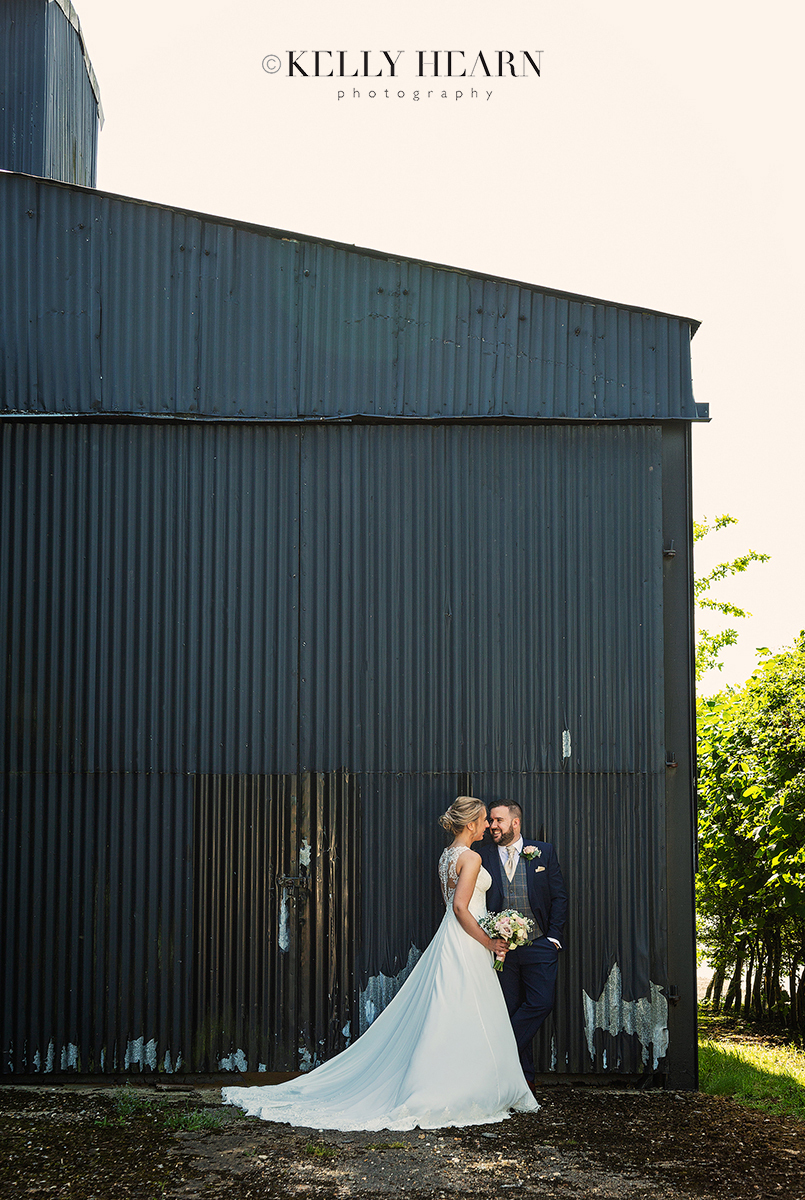 Adding a little humour is always a good antidote to too much romance. However, occasionally and with the help of the right light, it is possible to combine both!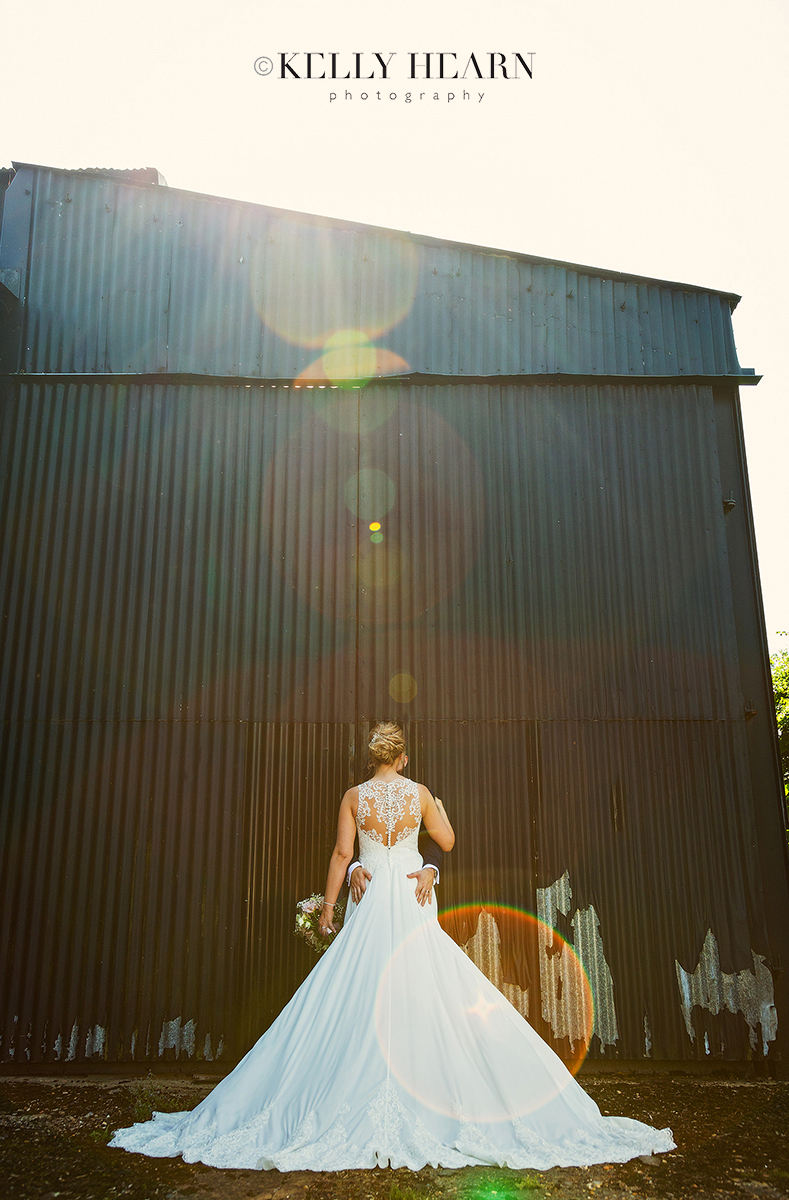 Having excelled themselves like models in a brilliant portrait session, Laura and James headed back to their guests and I returned to my stealthy ways to capture them in the natural moments, unawares.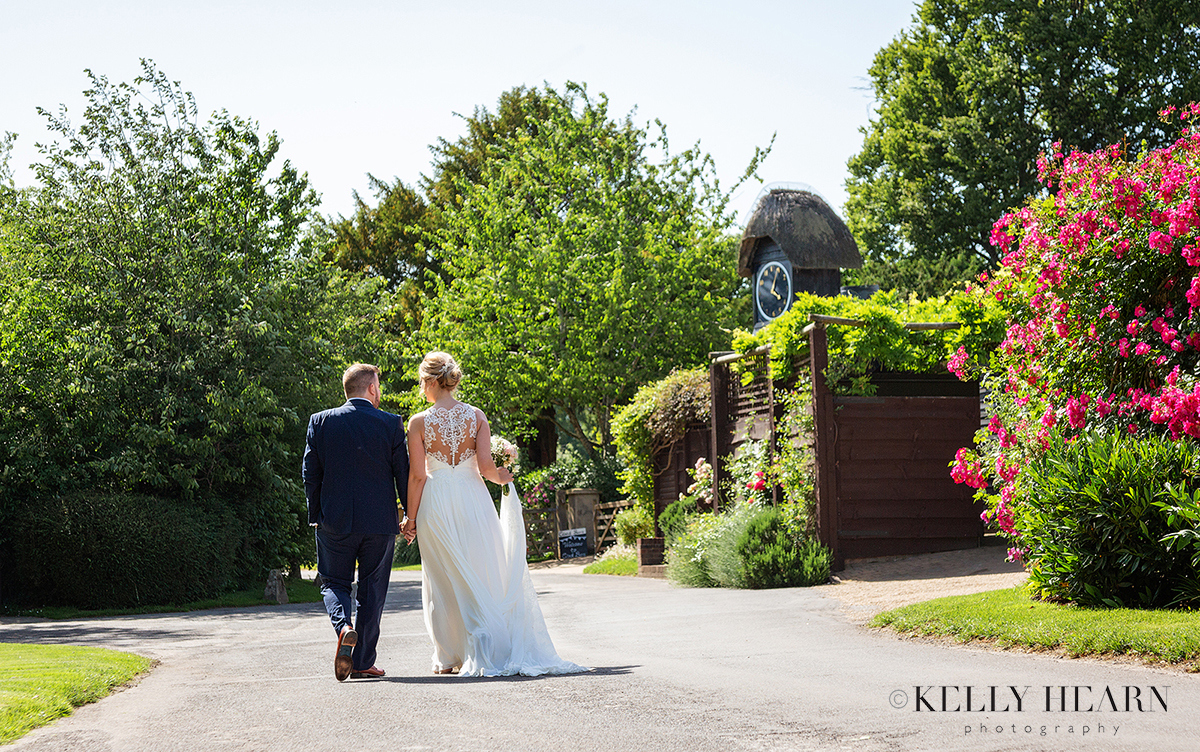 The interior of Clock Barn is breathtaking with its exposed skeleton of original oak beams, adorned with long lengths of bunting. With each table dressed with pretty posies and garlands reflecting Laura's bouquet, the romantic pastel pink theme was carried throughout - even tying in with the semi-naked four-tiered wedding cake which was decorated in matching pink roses.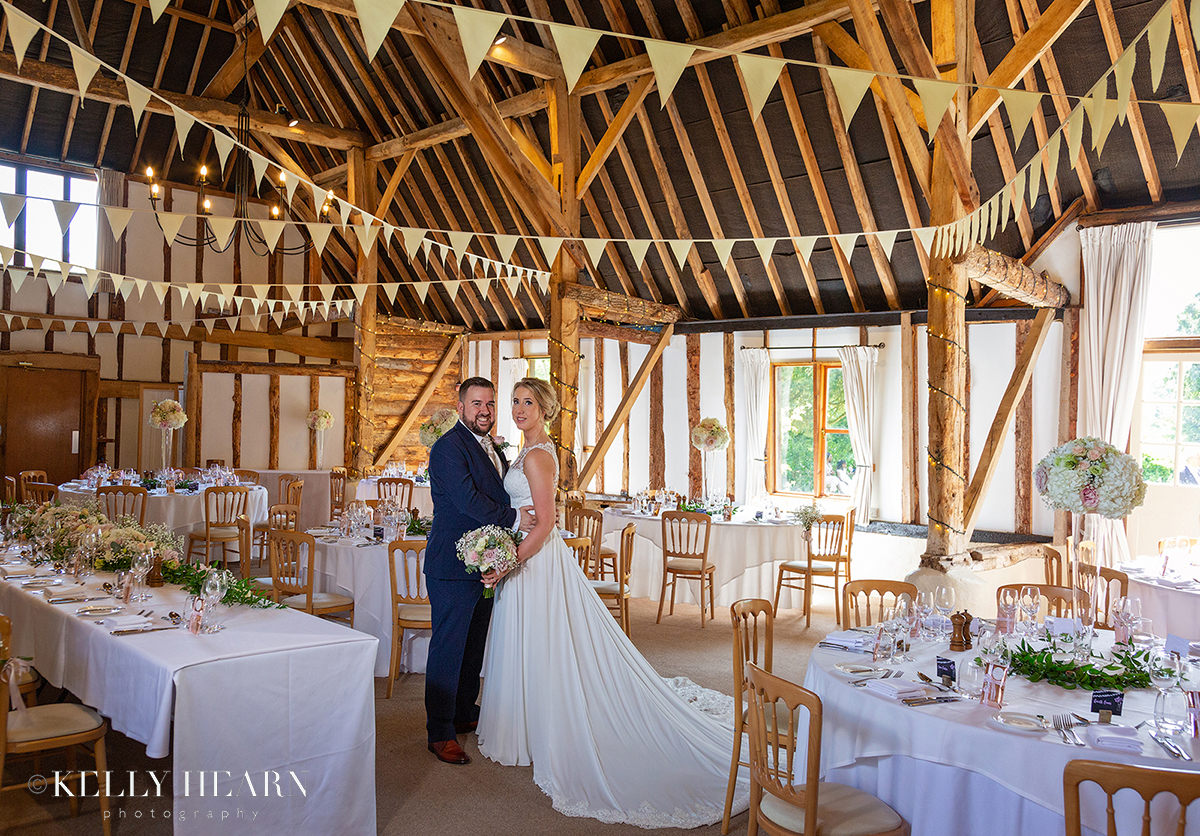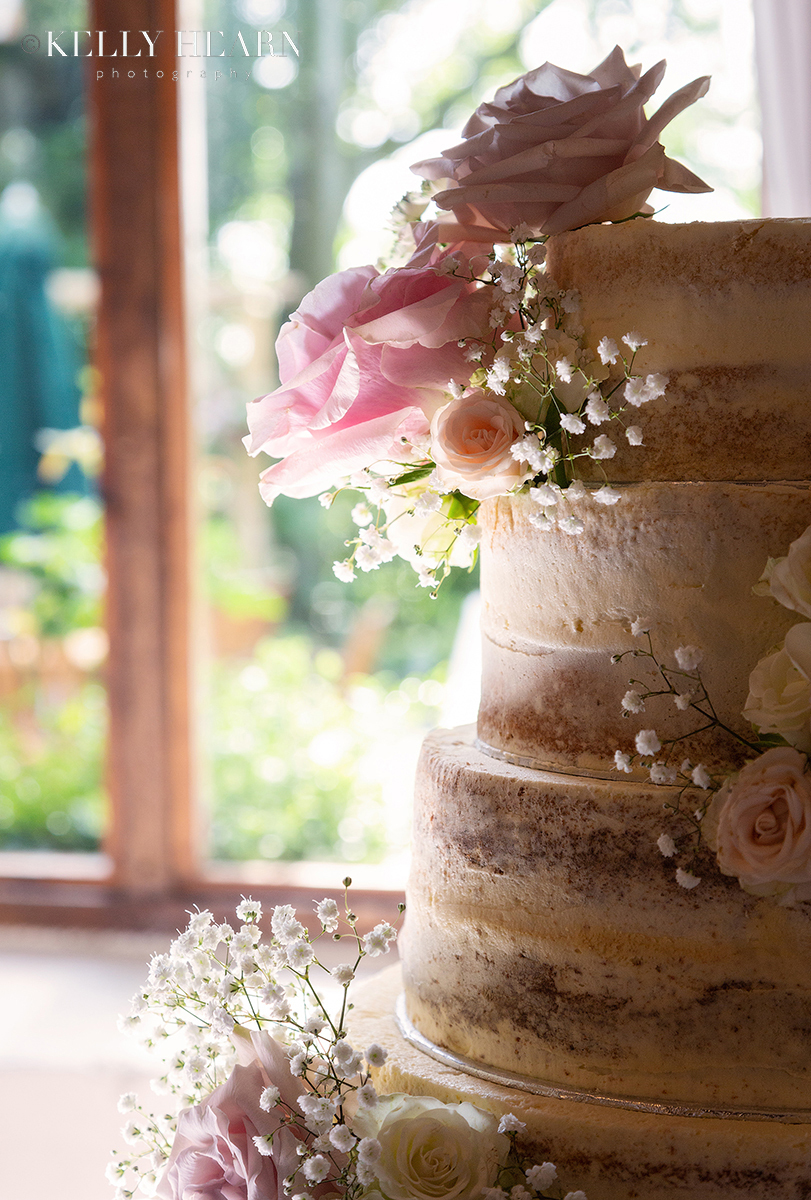 The evening drew in and the wedding party enjoyed a delicious meal together in the Main Barn with fabulous speeches following. Out in the gardens and looking back at the farmhouse, the lowering golden sun glimmered through the trees, making for a comforting English country scene. It seemed only minutes before that I was outside that window photographing Laura inside as she prepared to be a bride.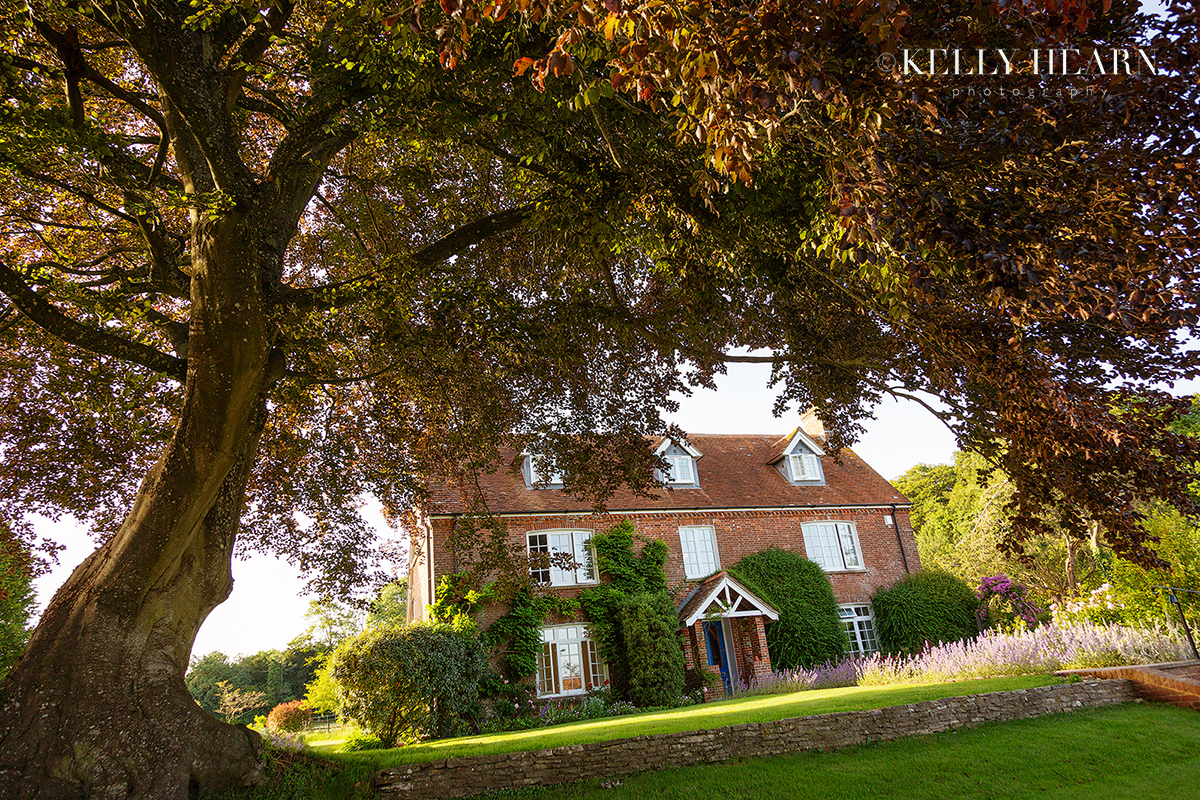 Basking in the dreamy evening light, the feeling of relaxed happiness was a delight to see as both the bride and groom could reflect on what a magical day it had been.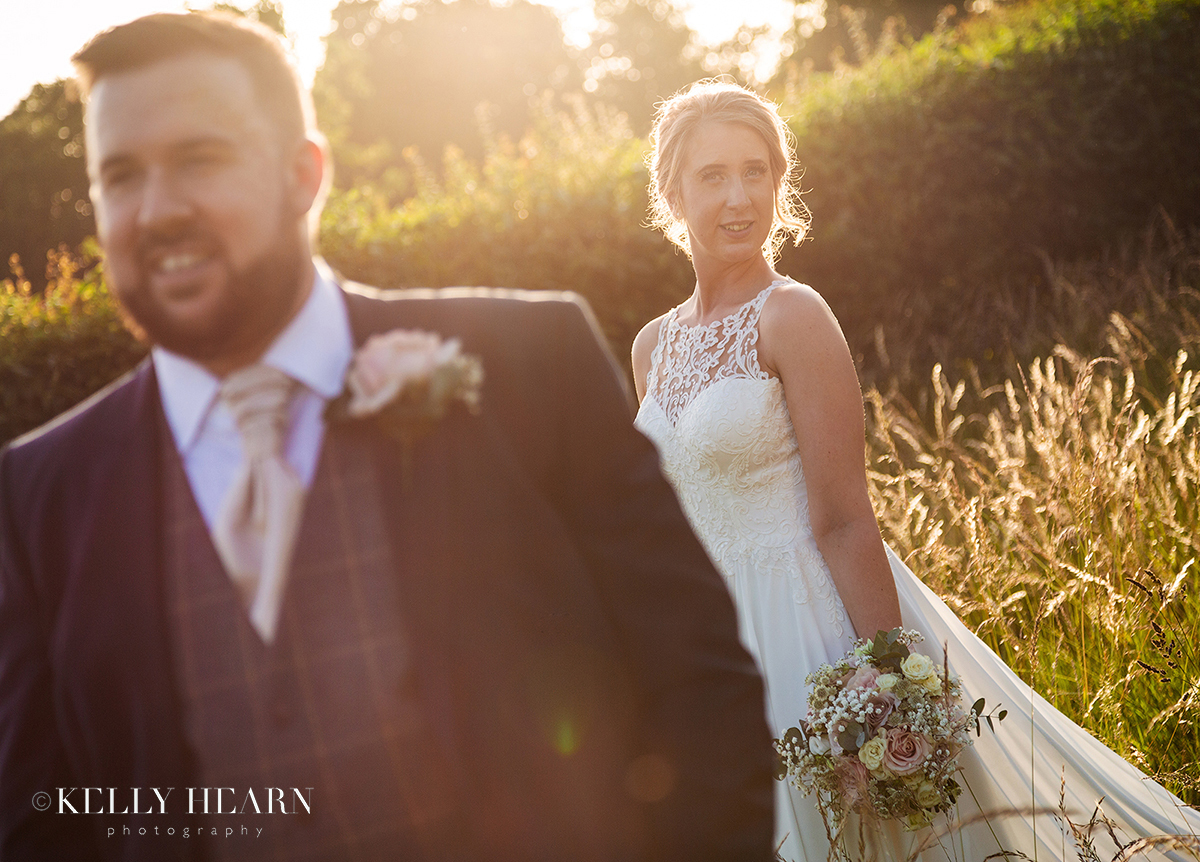 With the awe-inspiring high ceilings and impressive wooden structures, the newly-weds were perfectly framed in the venue's lovingly restored oak carcass. Clock Barn had been the perfect choice of location to capture a wedding full of character, creativity and unusual perspectives. A diamond of a place restored from an intriguing past, I love how its name and the significance of capturing time resonates so well with brides and grooms who marry there.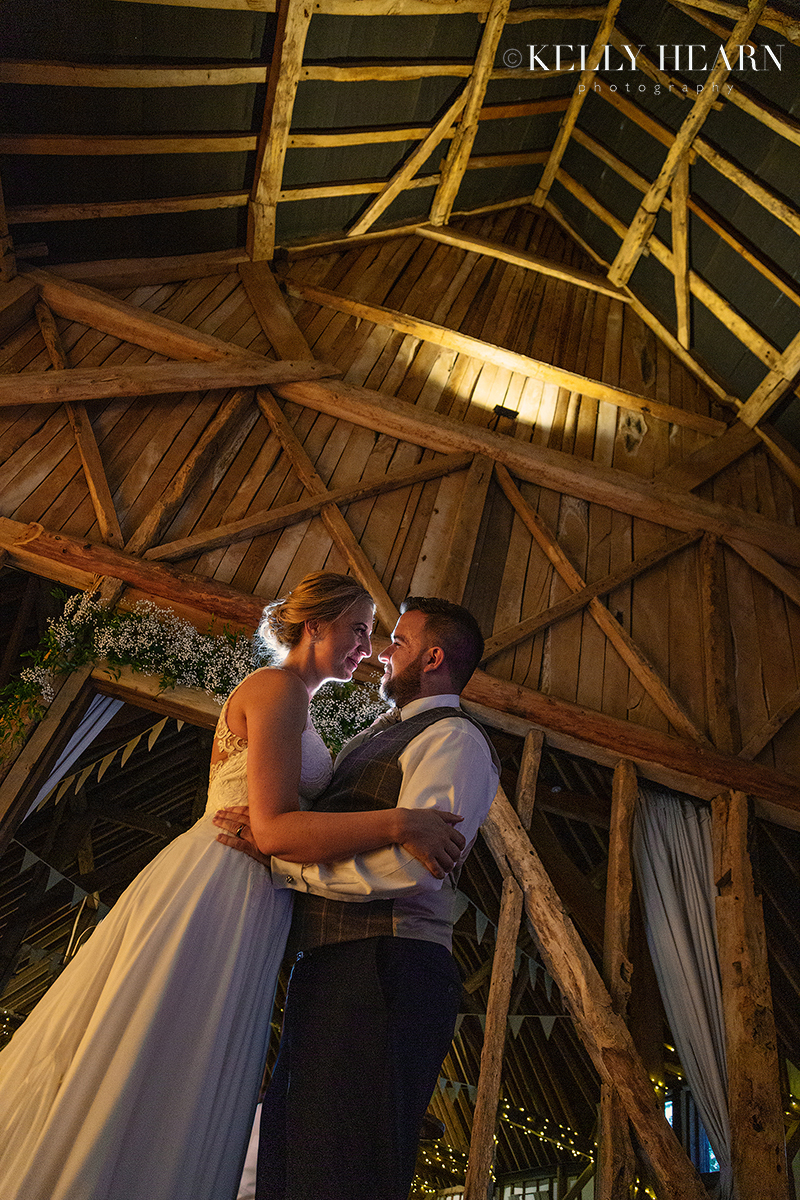 Congratulations Mr and Mrs Pagden! It was such a pleasure to photograph all the different and varied scenes of your wedding day. It is so important to appreciate all the precious moments and the times between and I feel you did this so well! Wishing you much happiness for your future together and may the amazing memories never fade.
Love Kelly x
Kelly Hearn A.B.I.P.P - A.M.P.A