All About Connections
December 13, 2018
Charlotte & Dom's Autumn Upwaltham Barns Wedding
On an idyllic sunny September day, Charlotte and Dom married at the stunning venue of Upwaltham Barns, a gorgeous English country venue set against the rolling hill backdrop of the South Downs National Park in West Sussex. No stranger to these lovingly restored family-owned barns, bride Charlotte, who works for their in-house catering team Nibbles2Nosh, called upon well-loved local suppliers to assist her in creating the ultimate wedding day! Having personally helped hundreds of brides and grooms with the running of their weddings, Charlotte's knowledge and experience of the industry ensured that all the the 'i's were dotted and the 't's crossed on this glorious big day of her own. The barns were full of charming rustic decorative details and the atmosphere perfectly laid-back as this couple enjoyed undertaking the formalities whilst choosing to take a more relaxed approach to some of the other wedding traditions.
Stunning flowers, delightful decor, tantalising food and lively entertainment were all exceptional elements, giving me plenty of picture-perfect moments to photograph. It was a joy to capture happy scenes of the bride, groom and their guests enjoying the easy-going ambience in such a beautiful setting and I was honoured to be a part of this special day.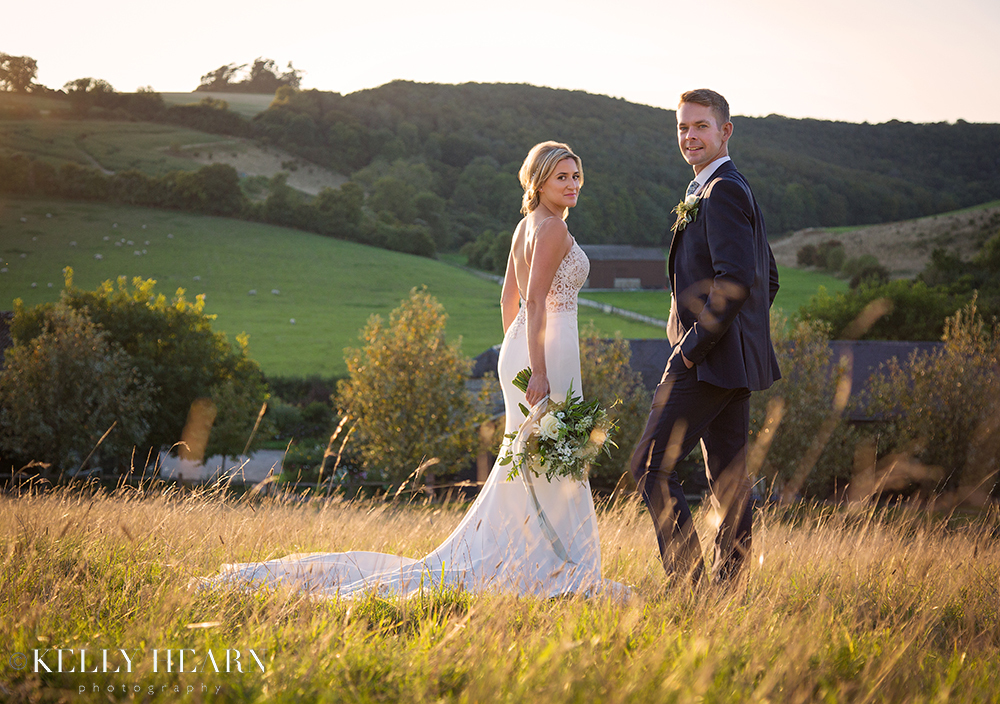 Making a stunning statement from the outset was the entrance to Upwaltham Barns, adorned with welcoming white lanterns hung from garlands of festoon lights. Supplied by To Have and To Hire of Billingshurst, they were suspended from the high wooden beams in the barn's internal framework above. This decor styling made for a striking and magical passageway as guests made their way through to the pretty courtyard on arrival.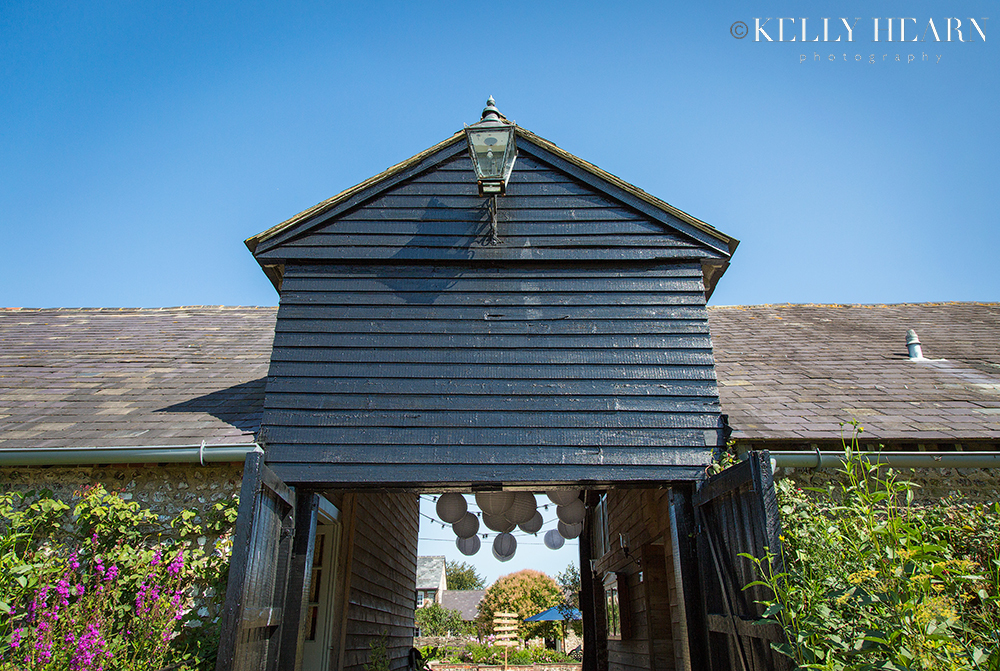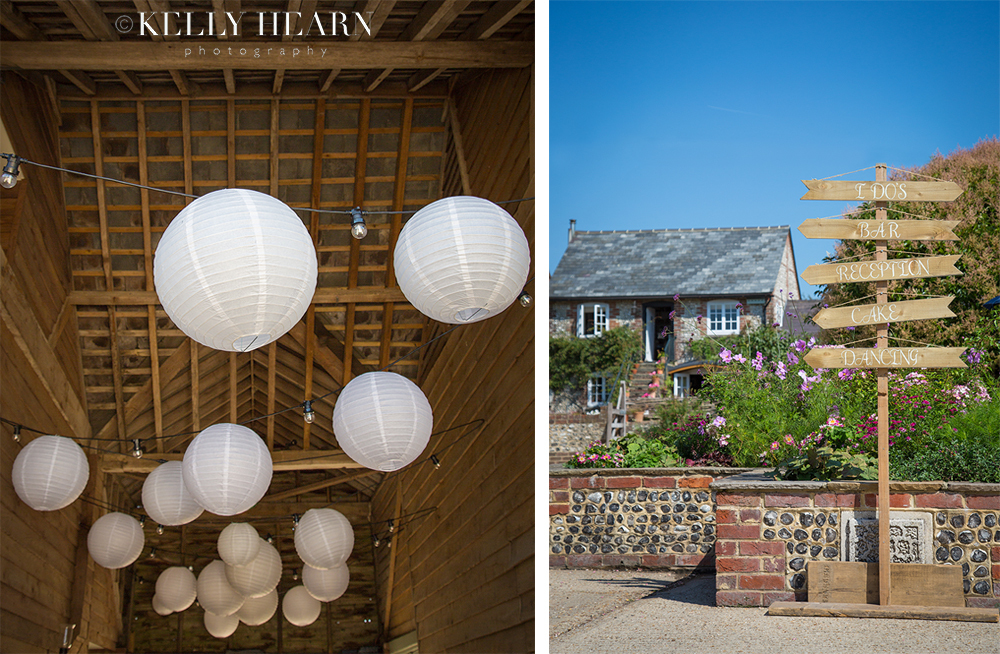 Hiding under the archway, in the venue's bridal suite Jasmine Cottage, bride Charlotte was to be found being pampered before getting into her sensational wedding gown. Professional hair and makeup artists ID from Chichester were on hand perfecting Charlotte's chic look, whilst giving her the five star treatment any bride deserves on her wedding morning. With a classic low chignon hairstyle complimenting soft tones and natural makeup shades, this bride was the epitome of sophistication and elegance.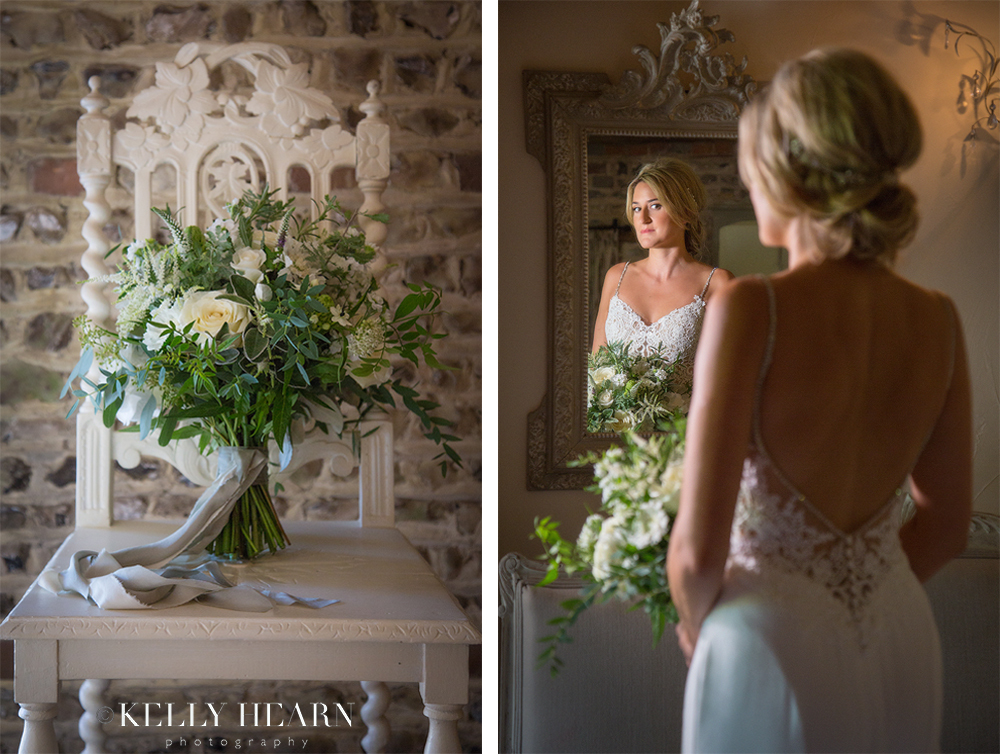 Understated and refined, Charlotte had selected an elegant floral creation of classic white flowers teamed with lush contrasting green foliage. Skillfully designed and put together by Rose Cottage Flowers of Westbourne, this delicate bridal bouquet established the summery quality which was then reflected in the table arrangements and additional floral styling seen throughout the barns.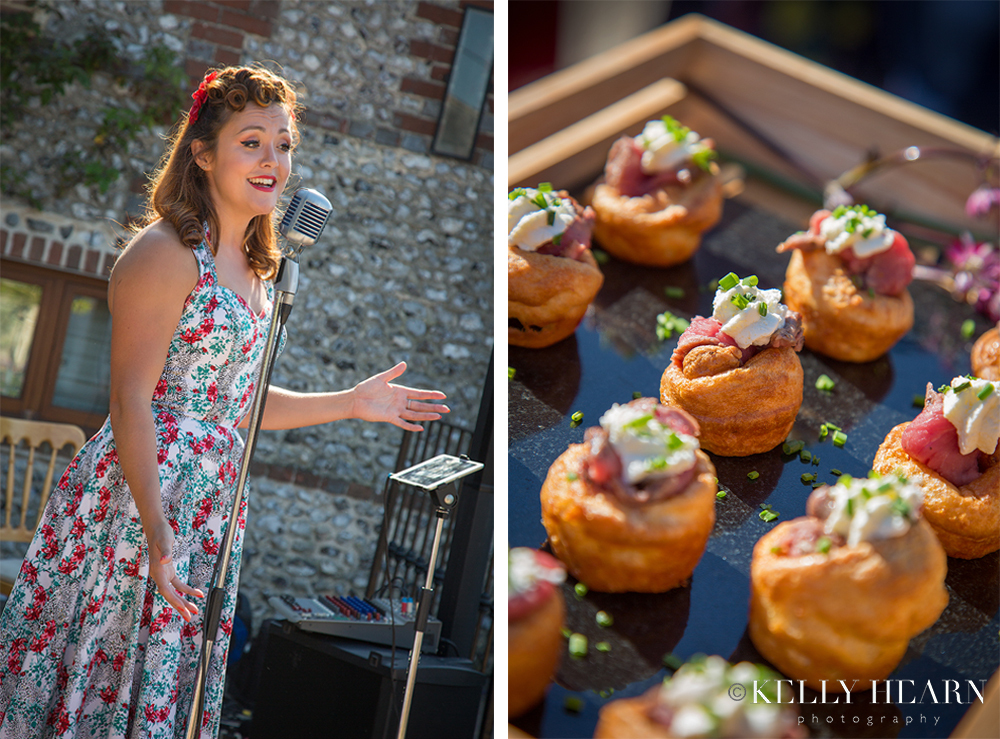 Whilst outside sipping the bubbly stuff and sampling Nibbles2Nosh's appetising canapés, guests enjoyed the exquisite dulcet tones of Miss Amy Baker, a talented jazz vocalist. This was just a small taster after the ceremony, as even more delicious food and delightful music was still to come at the sit-down wedding breakfast. In the spacious South Barn, tables were beautifully set with bespoke green glassware to compliment the table florals and featuring Rose Cottage's stunning statement candelabra wreath hanging from the high beams.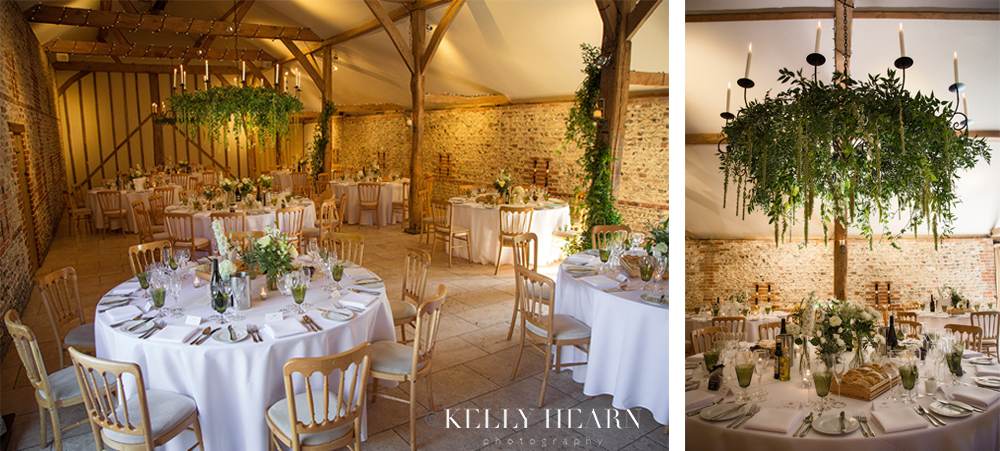 Charlotte and Dom were able to enjoy the warm rays of sun right to the end of the day and appreciate the gorgeous scenic grounds in which Upwaltham sits. They took a gentle walk up the hill behind the barns whilst the venue underwent its transformation for the evening party, and guests enjoyed having a drink to uplifting caribbean sounds played by the brilliant steel pannist, Alex Clifton.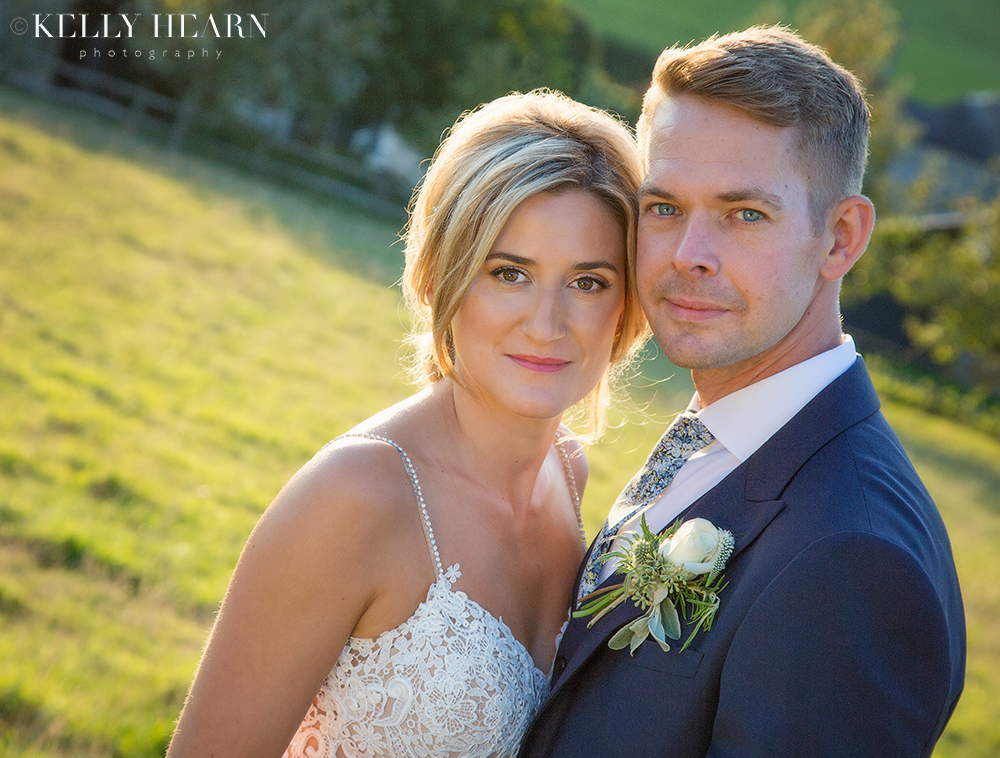 This feel-good time in the courtyard served as a lovely warm-up for the evening, where new friends and family arriving caught a glimpse of the happy summer vibes before heading in for some serious dance floor action!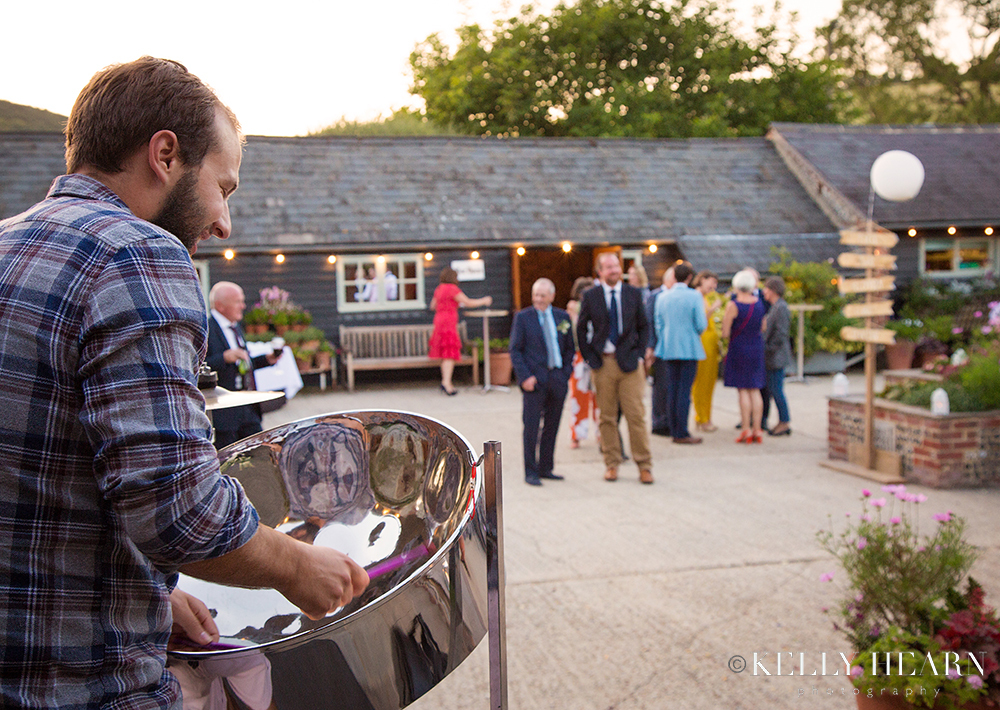 Ensuring every guest had an opportunity to experience great tasting food, the Truly Scrumptious Street Kitchen van arrived ready to serve incredible wood fired pizzas and, as the name suggests, truly scrumptious gourmet Belgian waffles, both of which were totally irresistible (even if you had eaten the three course wedding breakfast)! Along with the tiered cake of fine cheeses, there was no escape from amazing food offerings, no matter where you turned!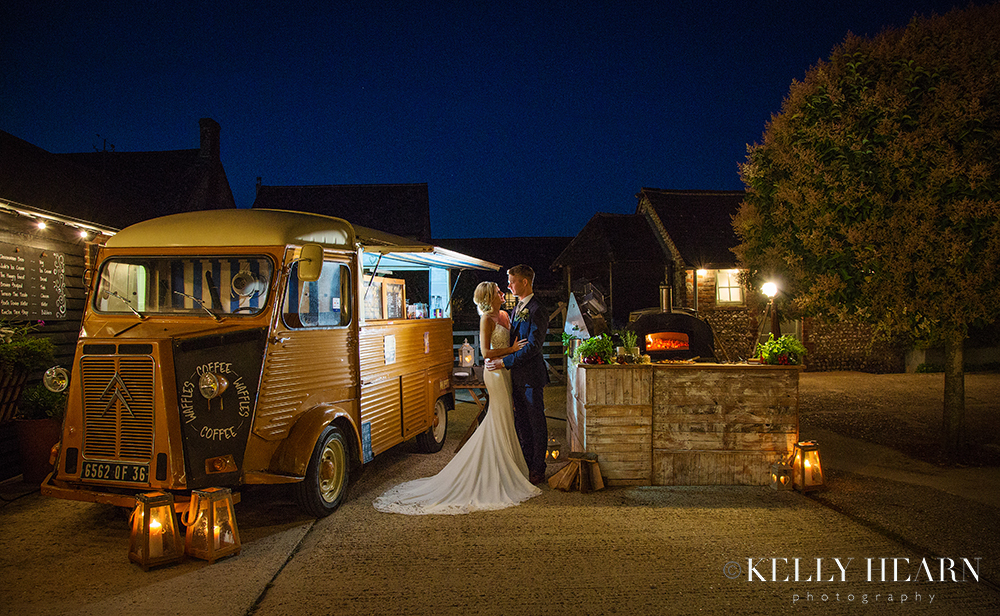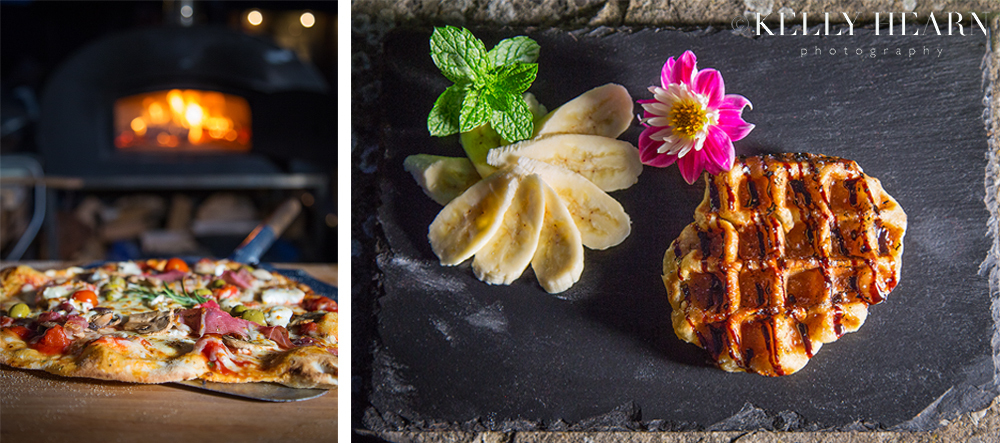 It had been a wonderful wedding full of treats and surprises with so many incredible local suppliers helping to bring their own magic to the day. Charlotte and Dom had thought of everything, even the natural 'lulls' that can occur at certain junctures in the day had been used to create great moments. Every guest was considered and made to feel special, whilst every detail defined with effortless style.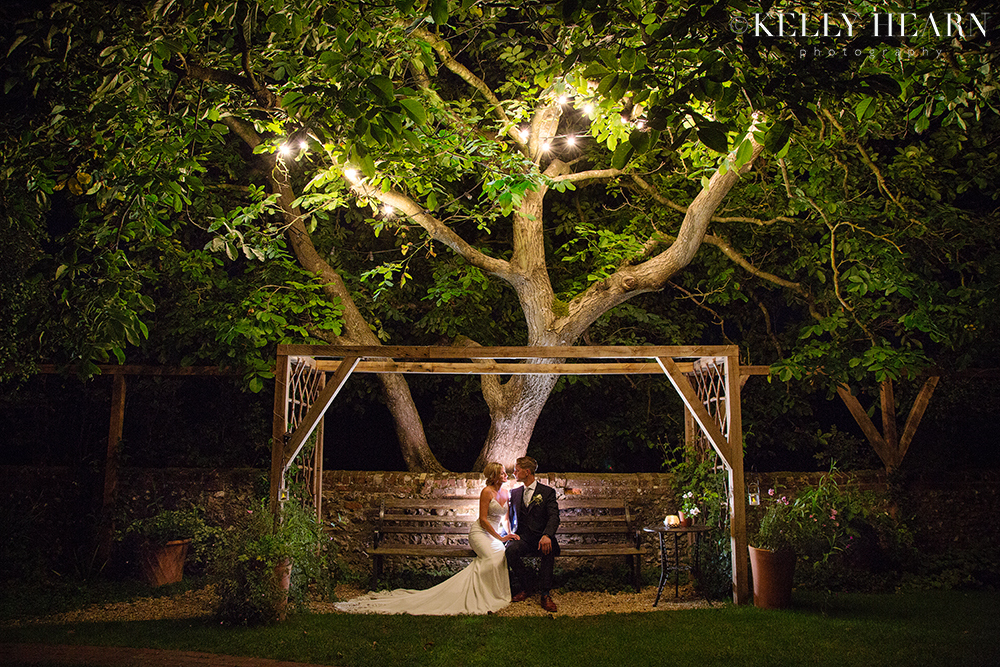 An outstanding venue, delicious designer menus using locally sourced produce, dreamy decor and more...this wedding truly showcased some of the best of what West Sussex has to offer.
Congratulations to Mr and Mrs Archer on a wonderful wedding day and thank you for having us all on board, we hope it was all you imagined and more!
Love Kelly x
Kelly Hearn A.B.I.P.P - A.M.P.A