Dreamy decor & delightful details
November 02, 2018
Kirsty & Dwayne's Summer Southend Barns Wedding
This is how the story begins...With Kirsty and Dwayne, a couple marrying at the rejuvenated and contemporary styled dairy farm of Southend Barns, close to the infamous Witterings beaches. Set back in the beautiful countryside close to Chichester these lovingly restored barns, which still retain bags of rustic charm, were full to the brim with delightful decor and details that personalised the space in a array of creative and fun ways. The theme of this wedding was largely characterised by the stunning setting and summer feel and whilst the weather was warm and mild, the sky was an unusual shade of white. Like a blank canvas it perfectly enhanced Kirsty's pastel pink motif for the day and the contrasting greenery of the ground's lush manicured lawns and gardens. This bride and groom had made every effort to keep their guests happy at all times; their thoughtful attention to detail ensured that they had a thoroughly relaxed gathering of all ages, entertained from start to finish!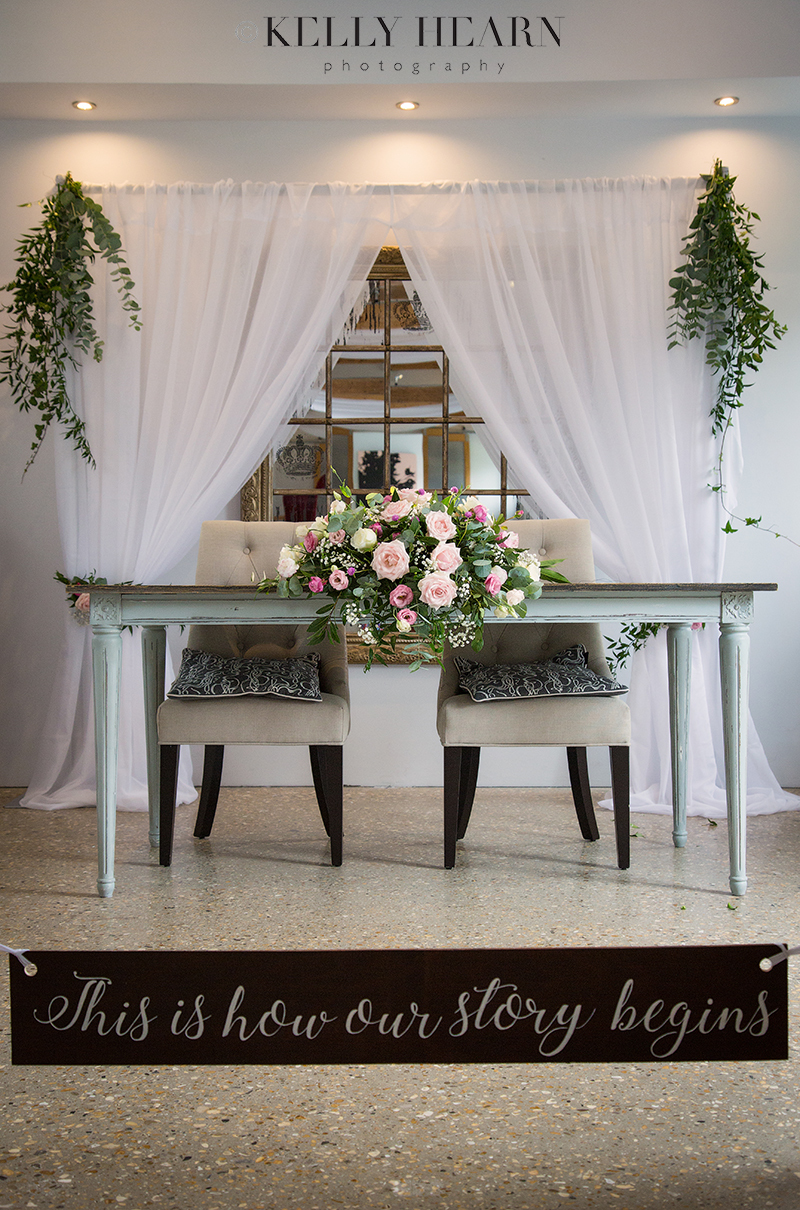 I first met the whole family back in the spring when Kirsty and Dwayne chose to have a portrait shoot with their children in the bluebell woods. Having already got to know each other a little during the portrait shoot, I was pleased to be reunited with Dwayne and the couple's children on the morning of the wedding. Having arrived ready to photograph the groom during his preparations I noted that no corners had been cut. As a little surprise for his bride, Dwayne had chosen to go all out and don a tuxedo and bow tie leaving no doubt in anyone's mind that this was going to be the most prestigious event he would ever be attending; a true red carpet moment for him and his Mrs-to-be! Groomsmen alongside that morning were also looking dapper in their blue three-pieces and had been generously gifted with personalised cut crystal tankards as special tokens of thanks. It was a great fun start to the morning and we had a laugh capturing some getting ready moments. From what I could see so far, nothing on this wedding day was going to be done by halves, it was going to be epic!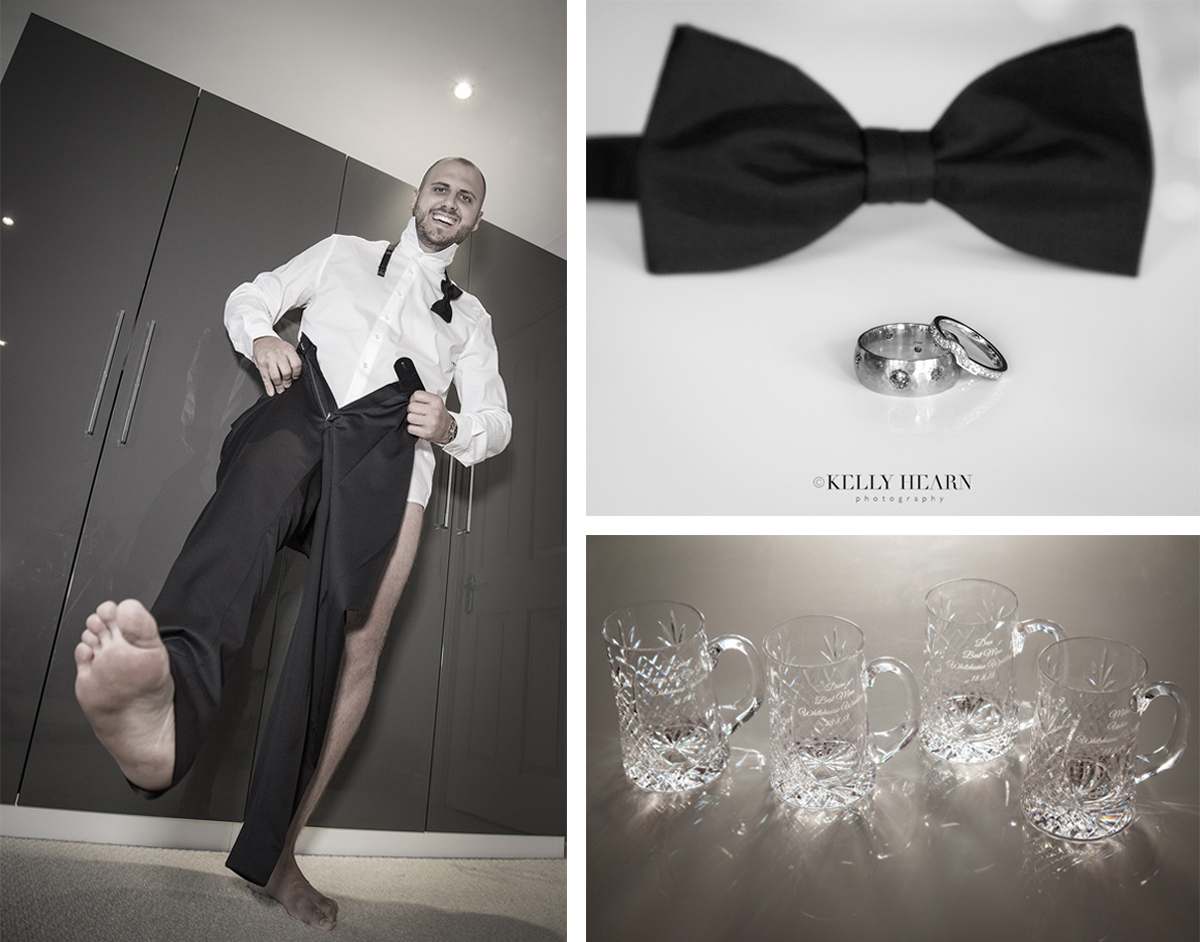 I made the short trip over to the wedding venue where Kirsty was to be found in the Bridal Suite known as The Milking Parlour where professional makeup artist Charlotte Lousie Makeup Artist was in the midst of some flawless bridal makeup application! Kirsty looked radiant and effortless, soft and romantic, echoing her delicate bouquet of soft pink florals. Designed by Nell's Blooms, Kirsty's bouquet was comprised of classic pink and white roses interspersed with pretty gypsophila and eucalyptus, a design repeated throughout the wedding in the venue's abundant floral arrangements and bridesmaid bouquets.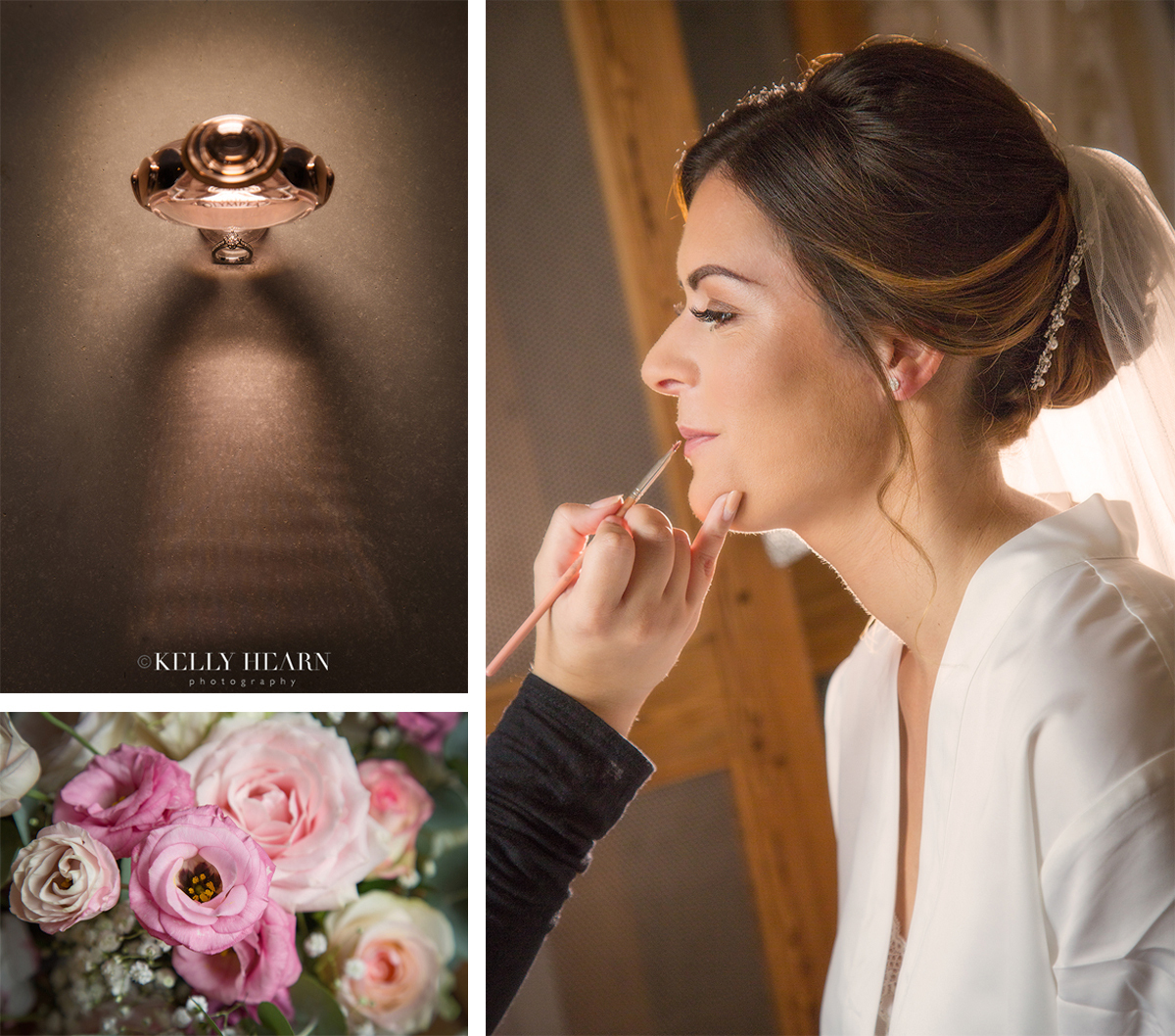 Kirsty looked chic and elegant with hair in an up-do designed by award winning Jazz Rawlins. The exquisite bridal gown's mermaid style was figure-huggingly favourable with its sweetheart lace appliqué illusion neckline, flattering to the décolletage. Delicate buttons ran down the sheer sweeping low backline with touches of lace accenting the shoulders and sleeve. This slinky feminine number was a fantastic choice for Kirsty who managed to bring class and romance together seamlessly with this grown-up sophisticated look.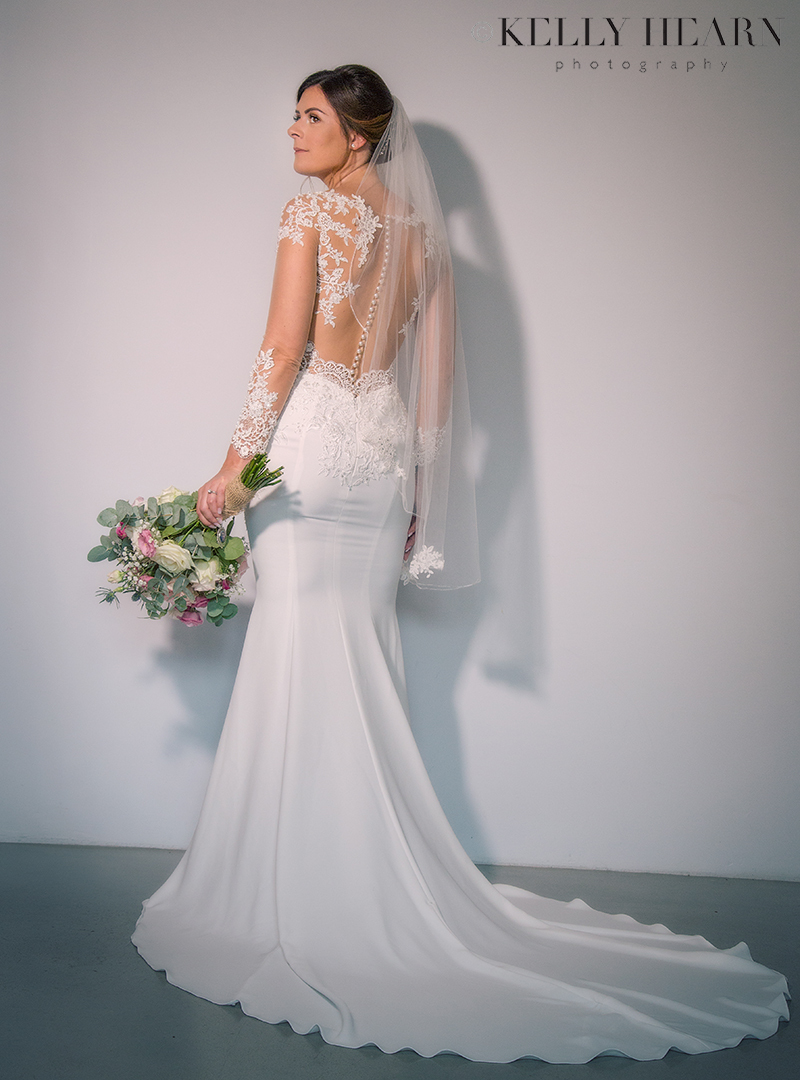 Walking across the courtyard past large urns of pretty pastel flowers, the bridal party, (including three pageboys, one flower girl and four adult bridesmaids), followed the bride in an orderly sequence beneath the grandeur of the venue's three peaks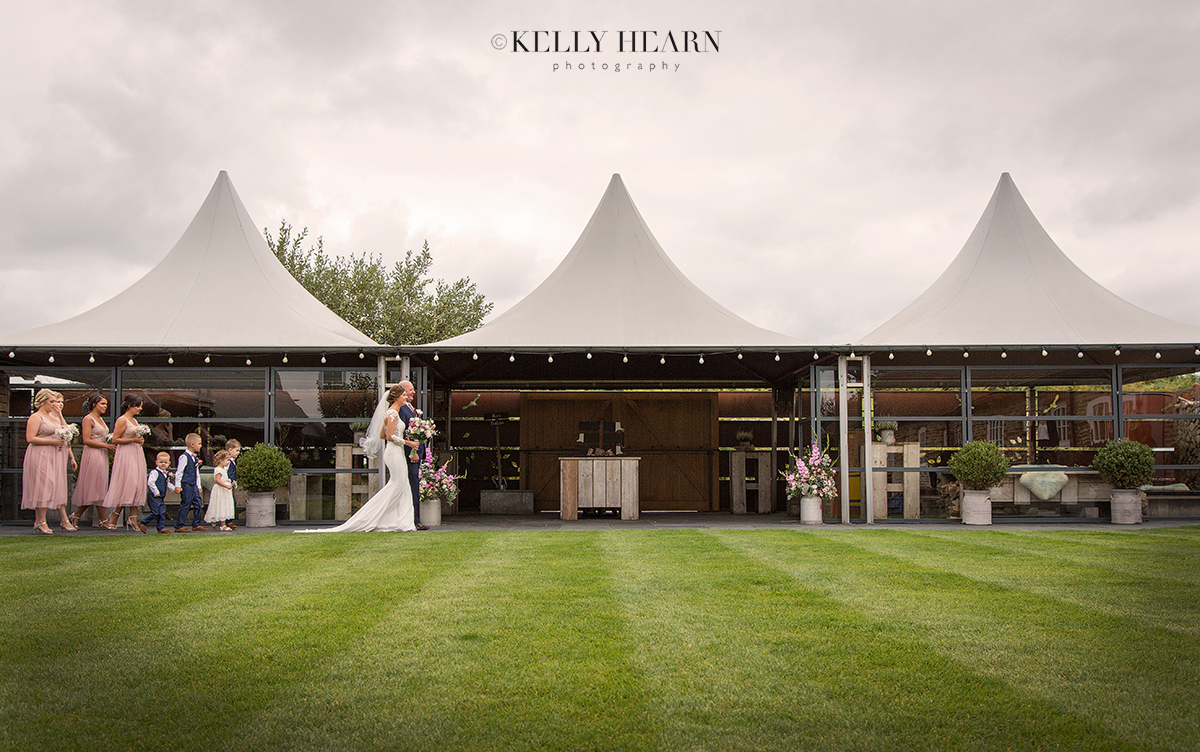 Upon reaching the beautifully bedecked Dairy Barn, a heartwarming ceremony was about to take place. The simple room of white boasted high oak beams, draped with soft white chiffon whilst eucalyptus hung down in wild bunches. Miniature posies of gypsophila dotted with pink roses tied with organza ribbon decorated the ends of alternate oak benches, with a feature arrangement as a coordinating centrepiece on the altar table.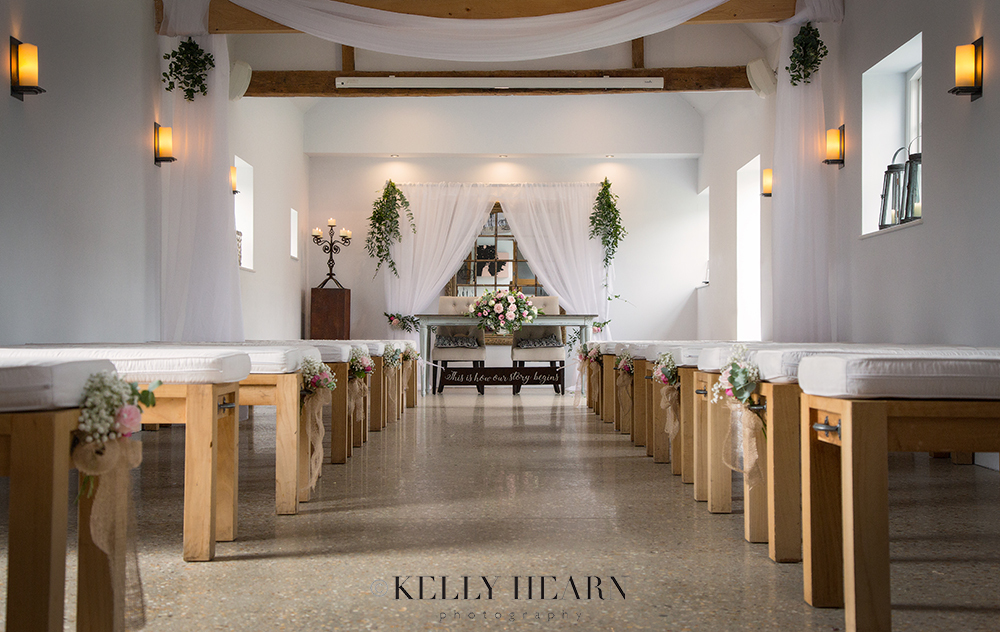 With their mums as their witnesses, laughter echoed through the room as the vows had been solemnly declared and the relief of rings exchanged had meant finally this couple were officially Mr and Mrs Whitehouse!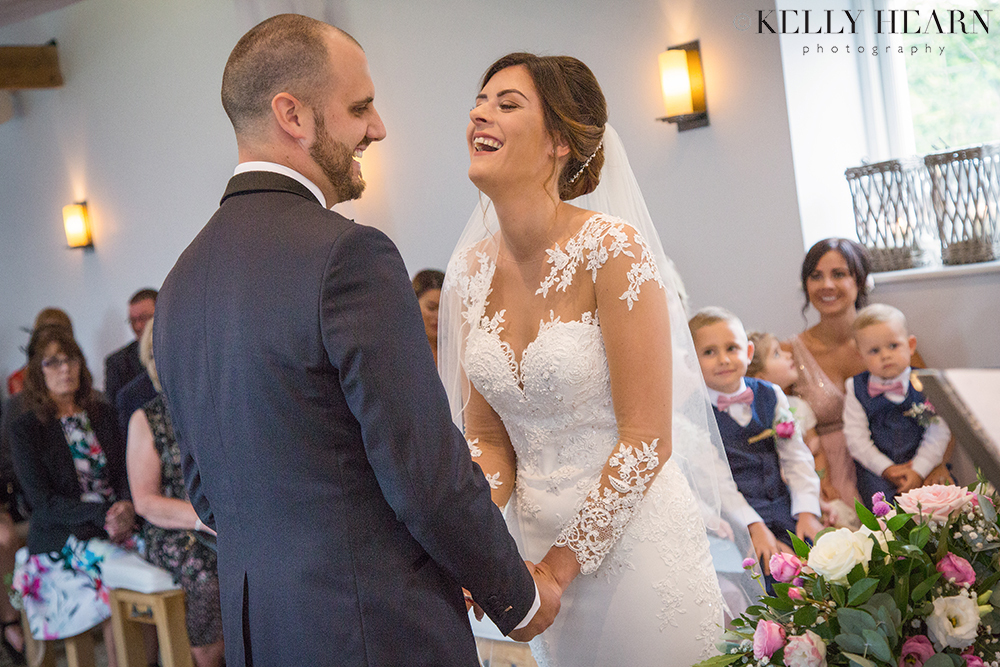 With a happy round of applause emanating around the idyllic softly lit room, Kirsty and Dwayne sealed their vows with a loving kiss.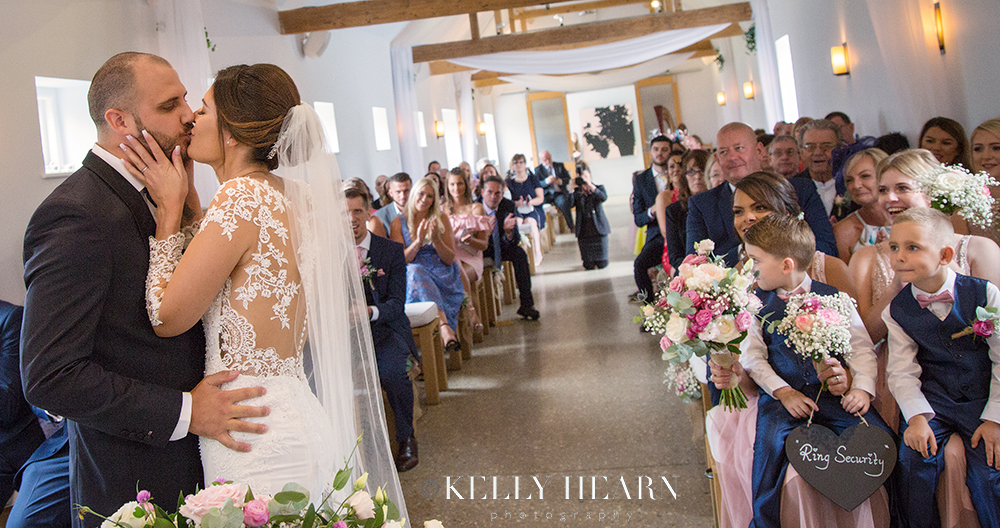 The serious stuff was complete and it was time for for some fun and games out on the lawns! With the carnival tones of AC the Steel Pannist smashing out some happy summer vibes, guests of all ages were trying their hand at some classic english fair games such as Hook A Duck, Beat The Buzzer and Giant Connect Four.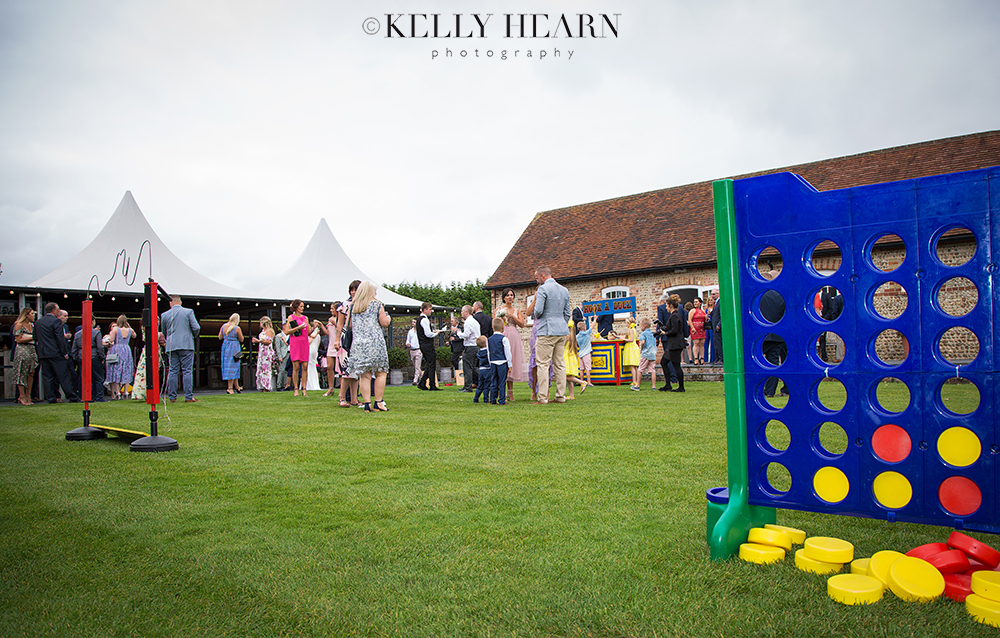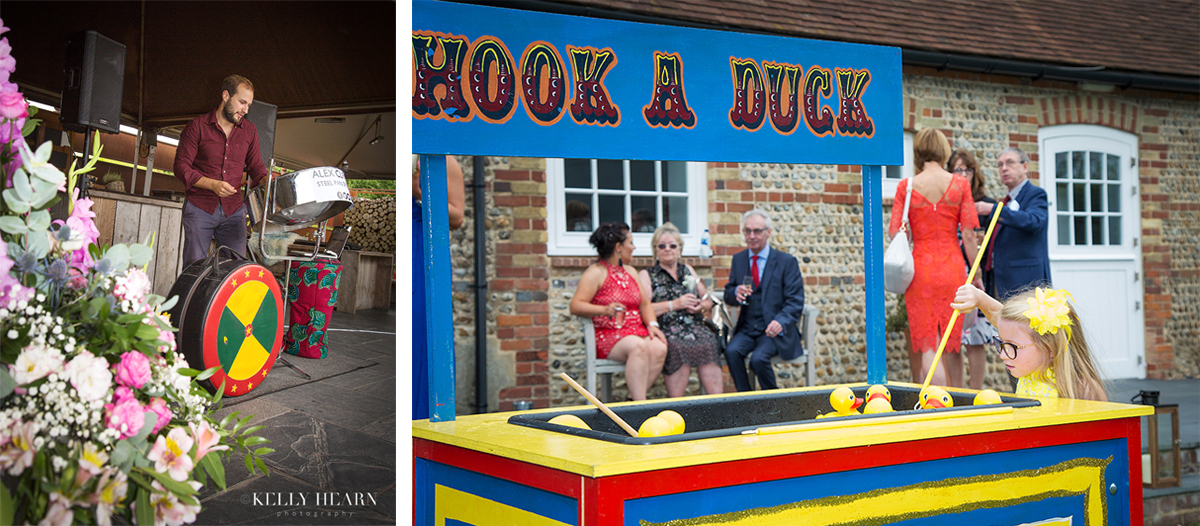 A few of the children had discovered the sweetie bar and were having great fun running to and fro, attempting to hide handfuls of treats whilst the grown-ups were far too busy sipping champers and mingling to notice! I enjoyed capturing their guilty little faces as they spotted the camera from afar but continued to run back and forth regardless! Dwayne and Kirsty's son Parker seemed to be leading the way with the mission!


Eventually scooped up by the bride, daughter Marnie enjoyed a little cuddle with her glamorous Mummy in a special quiet moment amidst the ambient buzz of lawn games in action and chattering guests.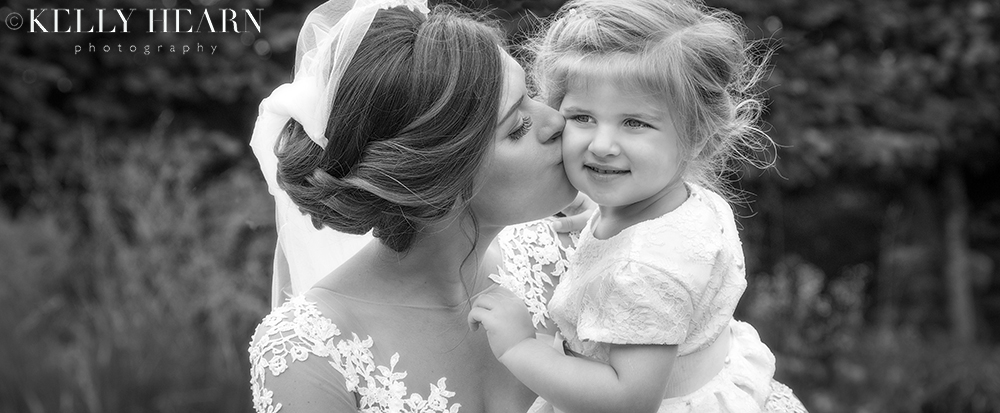 The group shots turned out to be a fabulous opportunity to capture Dwayne's larger than life personality and Kirstie's sweet yet cheeky side. We soon discovered this when we ventured into the gardens with the bridal party and before we knew it, Dwayne had jumped into the arms of the groomsmen to replicate, (tongue-in-cheek style), a classic and well known bridal lift shot!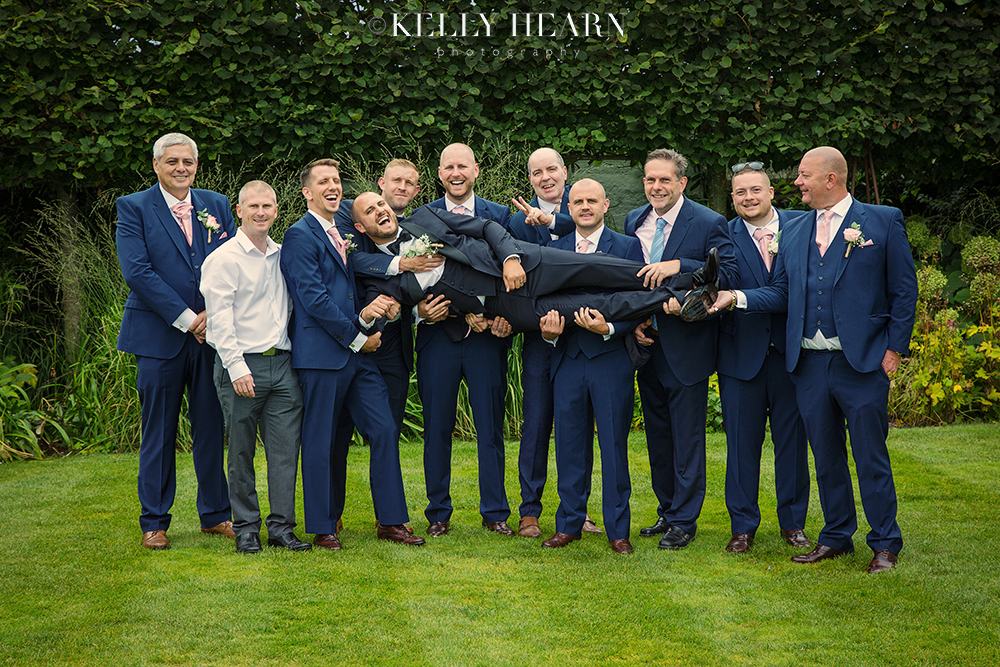 In turn, Kirsty stamped her own humour on her bridesmaid portraits by mimicking a girls night out selfie-style shot. Showing off how well she worked that bottom-hugging dress, this group of ladies boasted a little girl-power vibe that was a good fun addition to the more classic shots we also captured. The symmetry of the composition and backdrop along with the reflection in the water, also helped to add some artistic elements required for the image to remain an all-rounded pleasing capture of this group.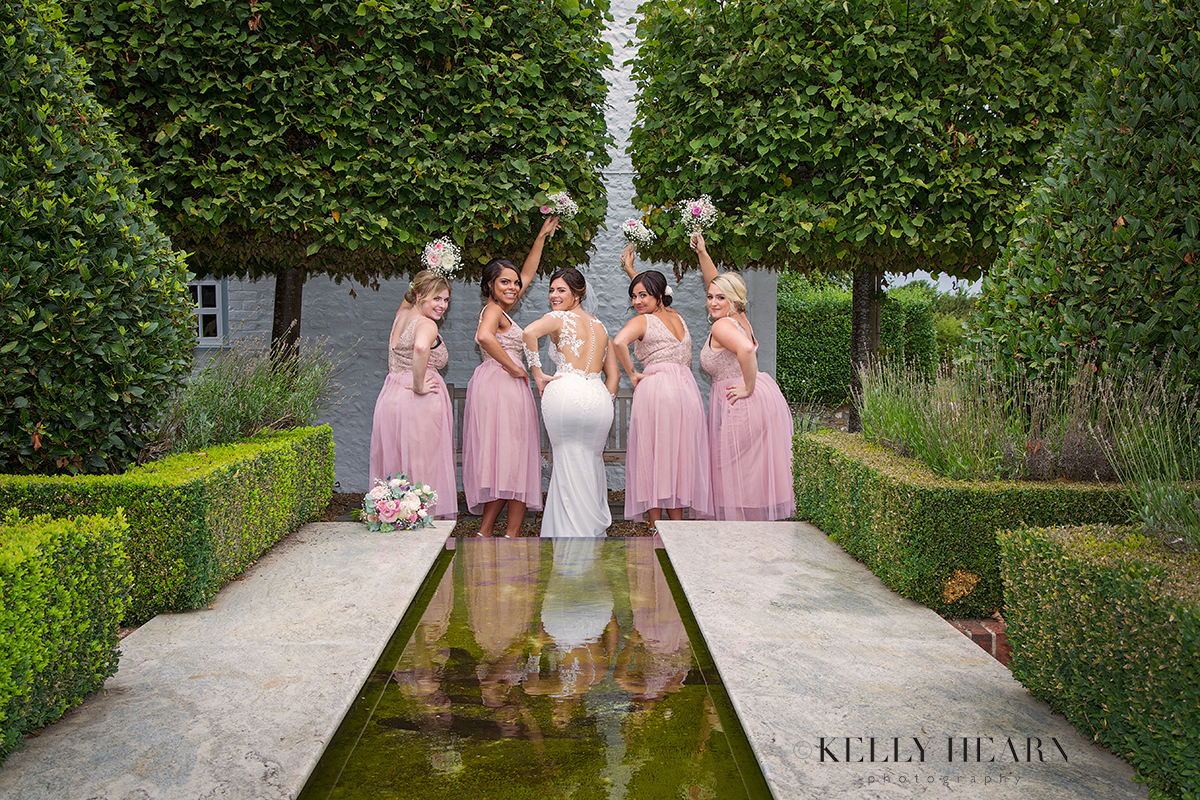 Mixing attitude and swagger with elegance and beauty this next portrait was also a successful character capture of both the newly-weds, reinforced by the strong shaping of the landscaping and sculpted garden which framed the couple in a modern and streamlined way.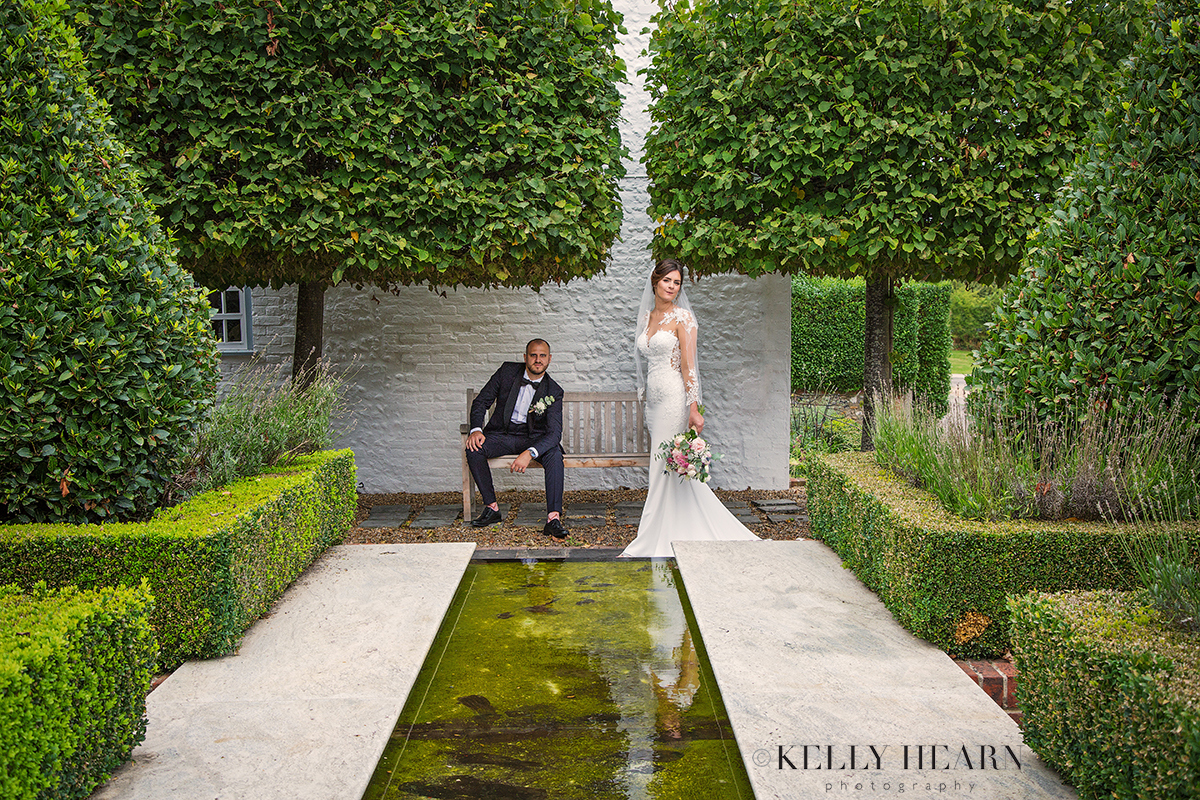 Back in the venue, guests were ready to embark on a delicious wedding breakfast barbeque. The Threshing Barn was adorned with elegant blooms, candles in stemmed glassware, chair sashes and sweeping drapery from beams. Decor experts To Have & To Hire supplied all this and more, (including the lawn games), and had also decorated the Dairy Barn so beautifully for the ceremony. Accessories also included themed signage, light-up letters and more personalised trinkets, all working together as one complimentary rustic and dreamy theme. A standout feature were these stunning blossom tree arches which were the breathtaking backdrop to the top table.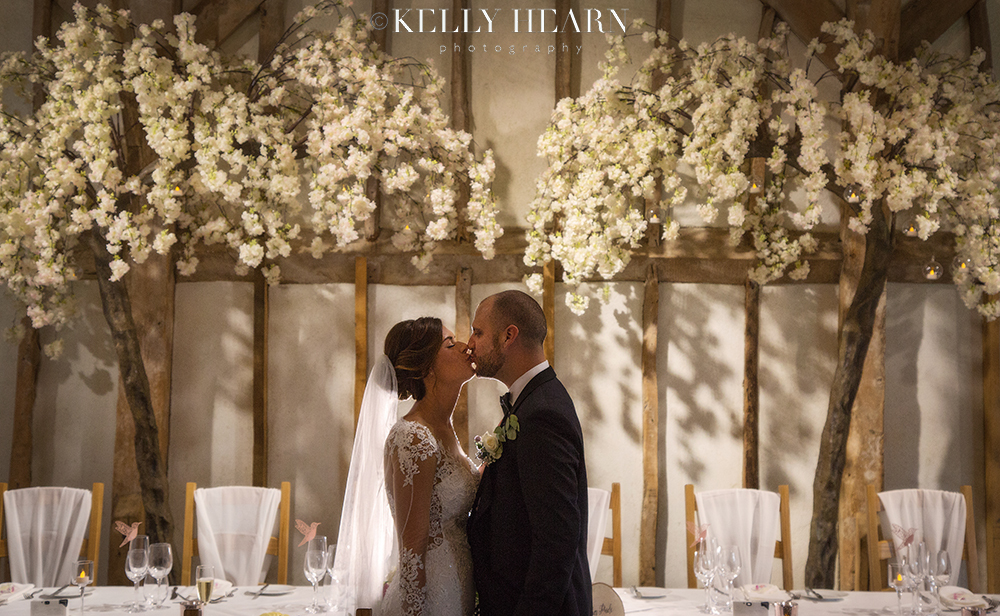 After the speeches and cutting of the semi-naked cake (created by Sabina's Cakes) the venue was beginning its transformation ready for the evening party. Kirsty and Dwayne were literally full of smiles from the day and lit up by their initials as they checked out the chequered dance floor!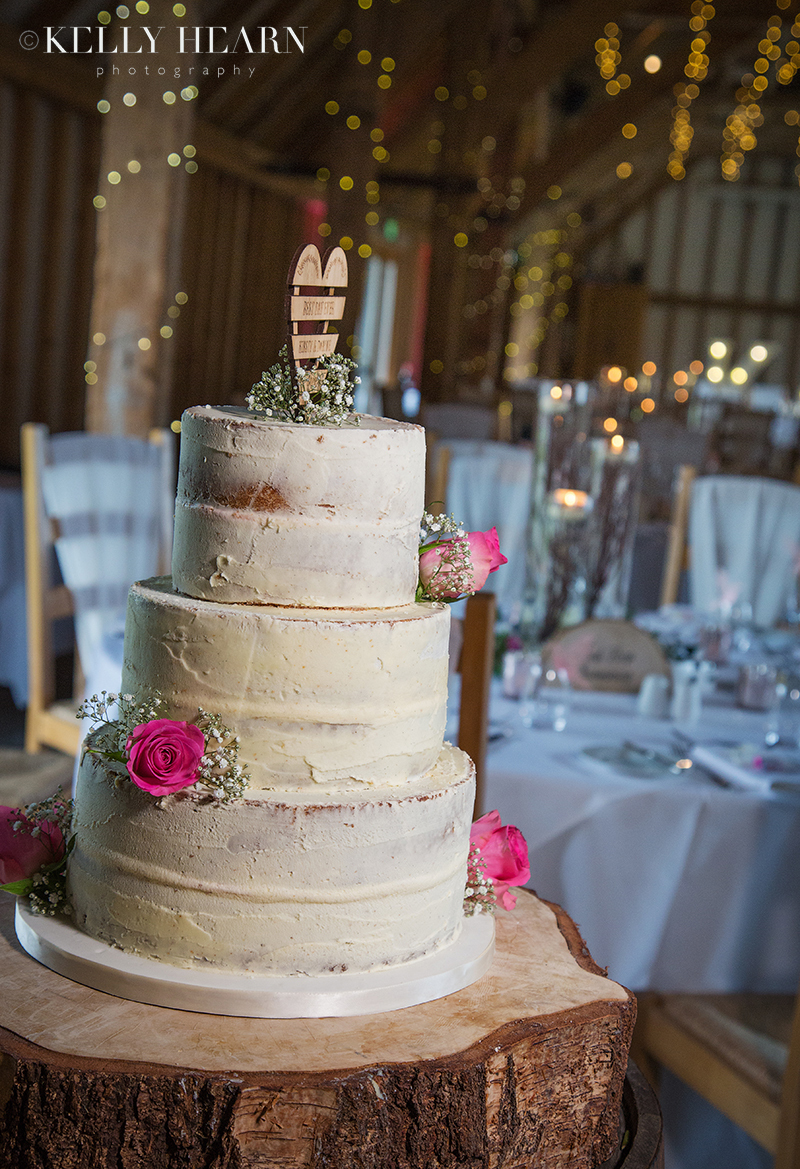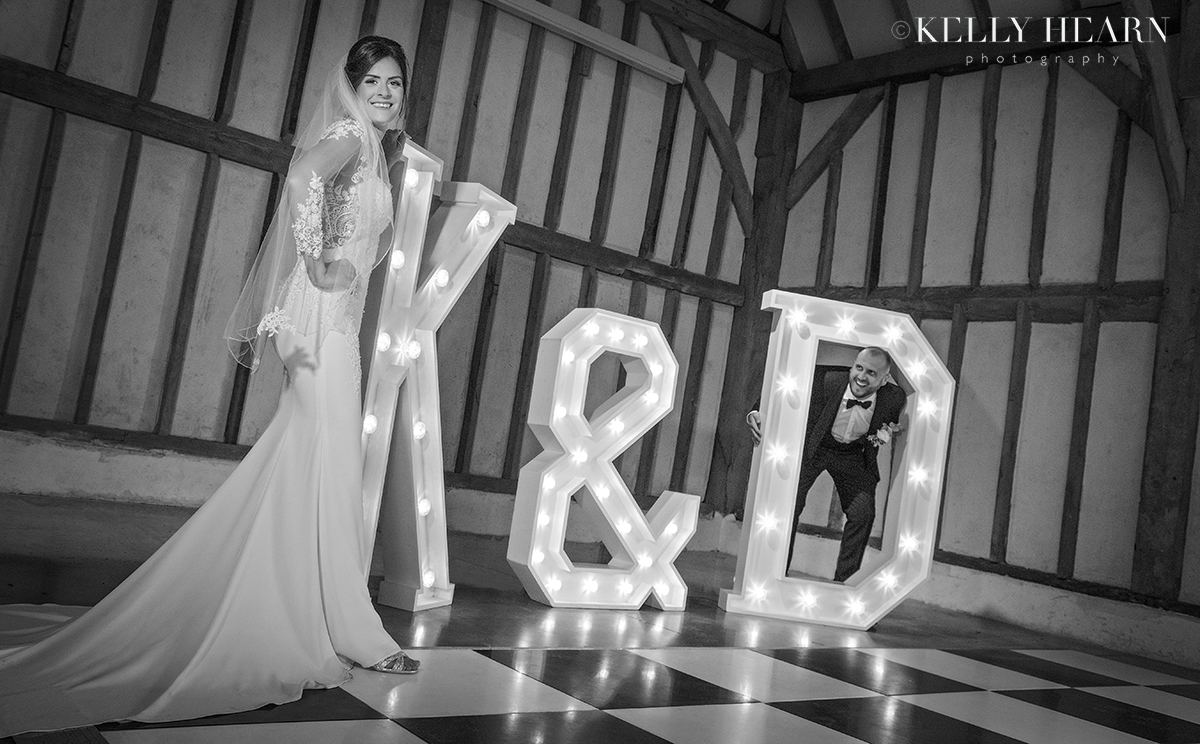 Before the first dance commenced there was time for a couple of early evening shots out in the neighbouring fields, adjacent to the barns. Here the ladies tossed their bouquets into the air with gusto in a jovial twist on tradition. I often think the energy, movement and facial expressions in spontaneous shots like these are always fun to study and enjoy looking back on with fond memories in mind!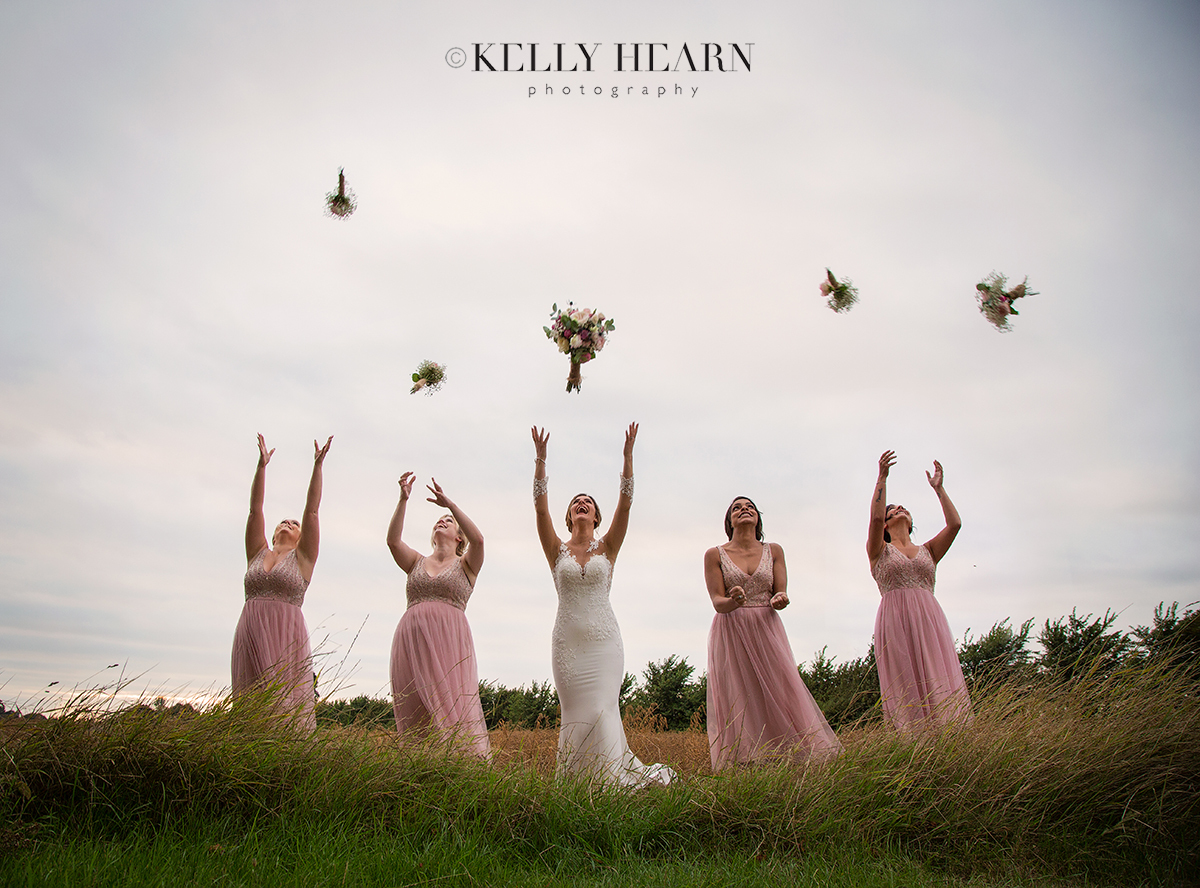 Kirsty and Dwayne also found a few moments to themselves on this dusky evening to reflect on the day so far and have a private giggle whilst I hung back behind the lens.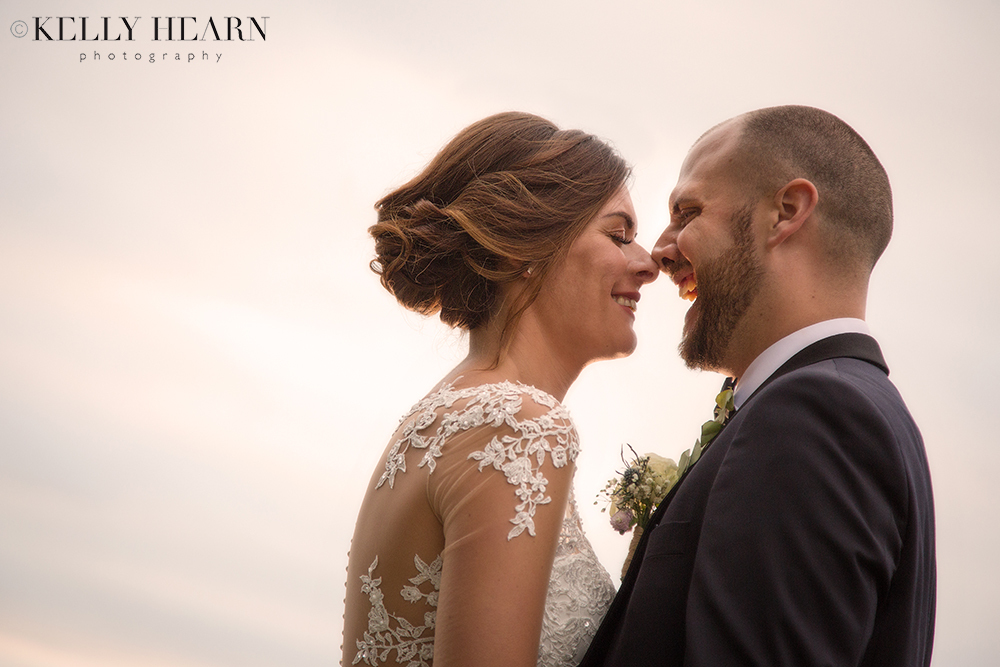 For the final section of a totally show-stopping day, Kirsty and Dwayne hit the chessboard style dance floor for that all important first dance. With Toast DJ Doug on the decks and live Toast saxophonist Rico belting out the tunes, the vibe was soon club-esque and as they were due to be heading to Ibiza for their mini-moon, this was like the warm-up for what was to come!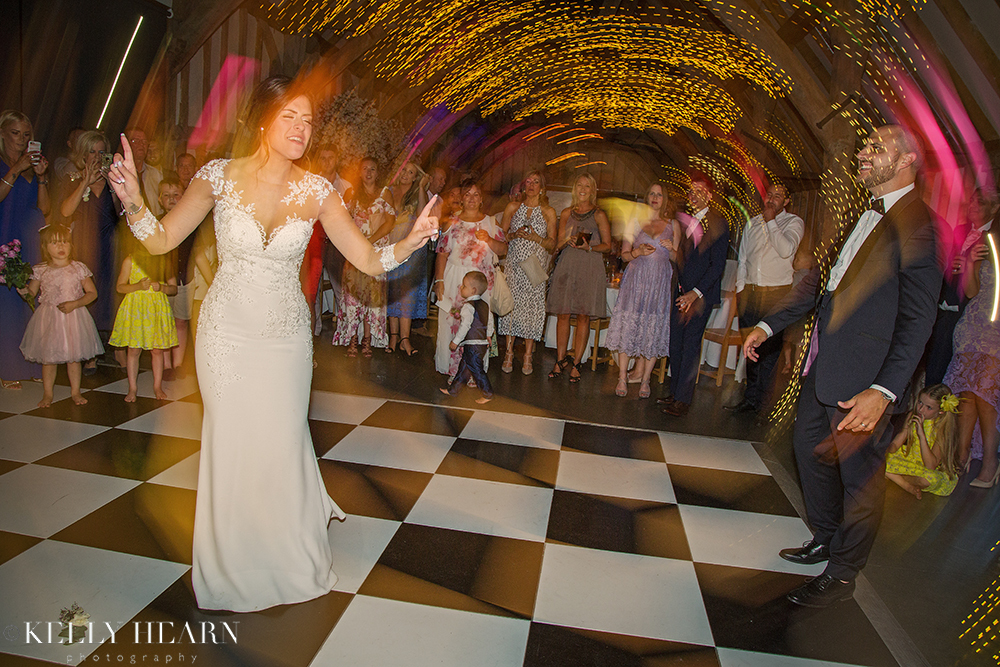 Kirsty and Dwayne, having an eye for detail to create that perfect look and ambience, whilst keeping guests happy and entertained all day is what you both managed to achieve in abundance on your wedding day! I loved your commitment to creative photography and your energy for making it happen! Thank you for trusting me in the process, I think we made a great team and hope you will look back on your album with great memories and smiles!
Mr & Mrs Whitehouse, congratulations on a magnificent day. Wishing you a future filled with happiness!
Love Kelly x

Kelly Hearn A.B.I.P.P - A.M.P.A