Boho Bride, Giggling Groom!
November 28, 2018
Greer & Dan's Southend Barns Summer Wedding
For bohemian bride Greer and dapper groom Dan, making a last minute decision to marry outside in the open air was perfectly fitting for their vintage-rustic flavoured wedding. Both the ceremony and reception were to be held within some beautifully restored barns in the grounds of rural farmland set in the heart of West Sussex. On that summery September day the bountiful countryside surroundings provided the essential and naturally beautiful setting that was saturated with dreamy moments as the low warm sunlight seemed to flood throughout every scene. With the sun on their side, this free-spirited couple seemed right at home surrounded by pretty blooms and exposed oak beams at every turn, but the warmth in the atmosphere can be largely credited to the charm of their vibrant personalities which truly shone throughout the day.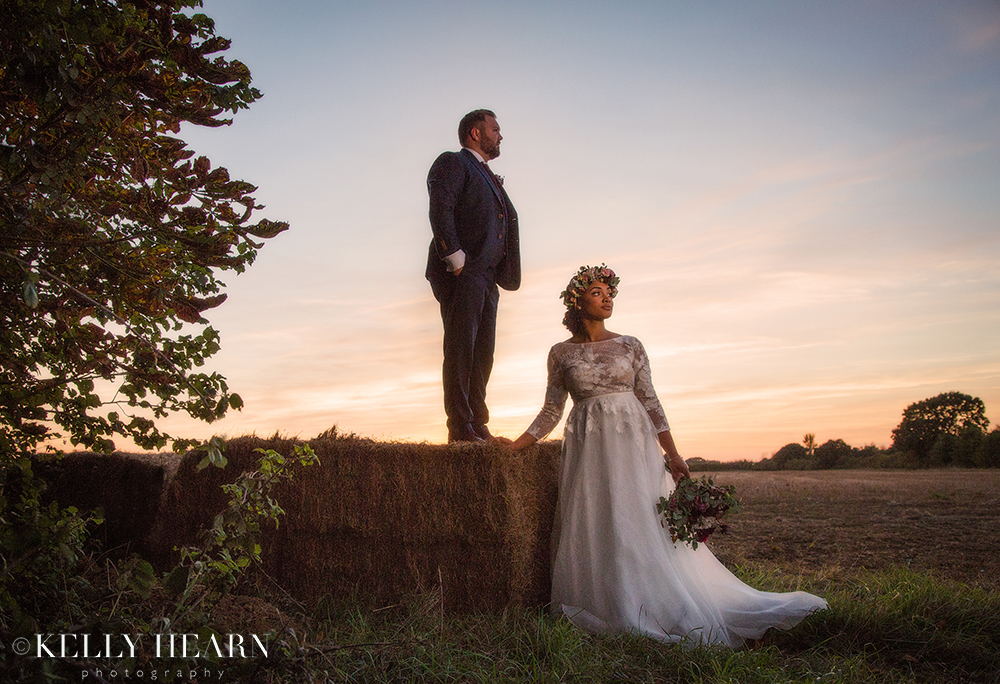 Having had a pre-wedding family shoot with the couple and their young son a few months previously, I'd already learnt a few things about the pair before arriving to shoot their big day. As I met Dan on their wedding morning at the impressive and historical Portchester Castle, I already knew about the couple's fear of displaying too much romance or gushiness, and also about Dan's obsession with chocolate yule logs…(I know…?! Don't ask!)

One thing that was clear however, was that these two would definitely be up for lots of laughter and fun. With this in mind, I was excited to meet the groom and his sidekicks to create some unique pre wedding portraits in this interesting architectural setting.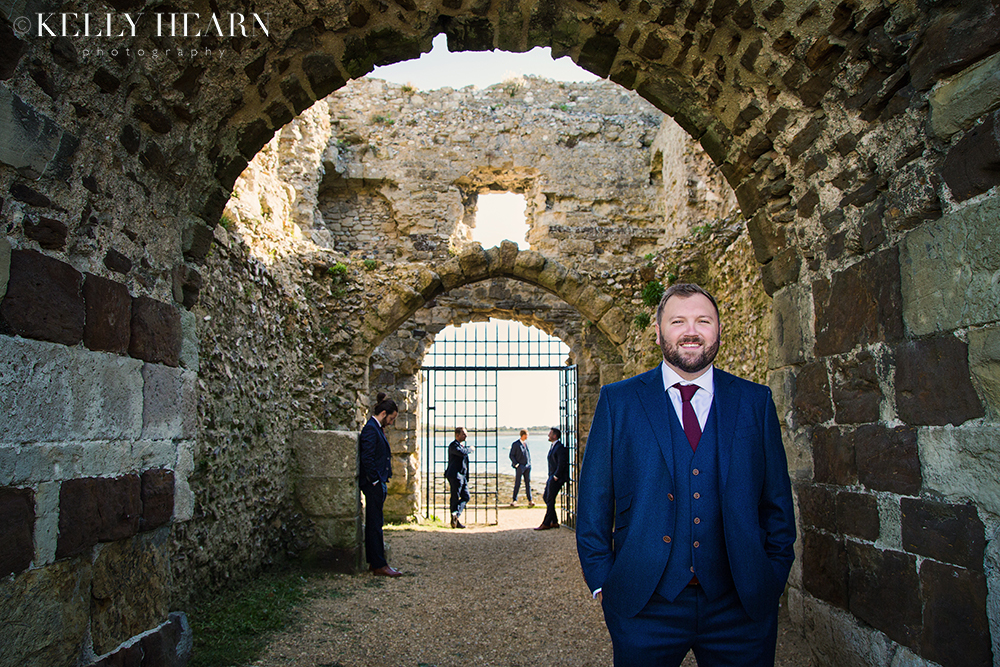 Back at Southend Barns near Chichester, bride Greer was also in great spirits as she had begun the morning with her two sisters who were assisting her with her 'anti-traditional wedding' campaign! I'm only kidding of course, they were suitably enjoying all the weddingy things that by tradition occur during bridal preparations (like donning matching kimono silk gowns), but they were equally enjoying not taking themselves too seriously whilst rocking the jeans and kimono look!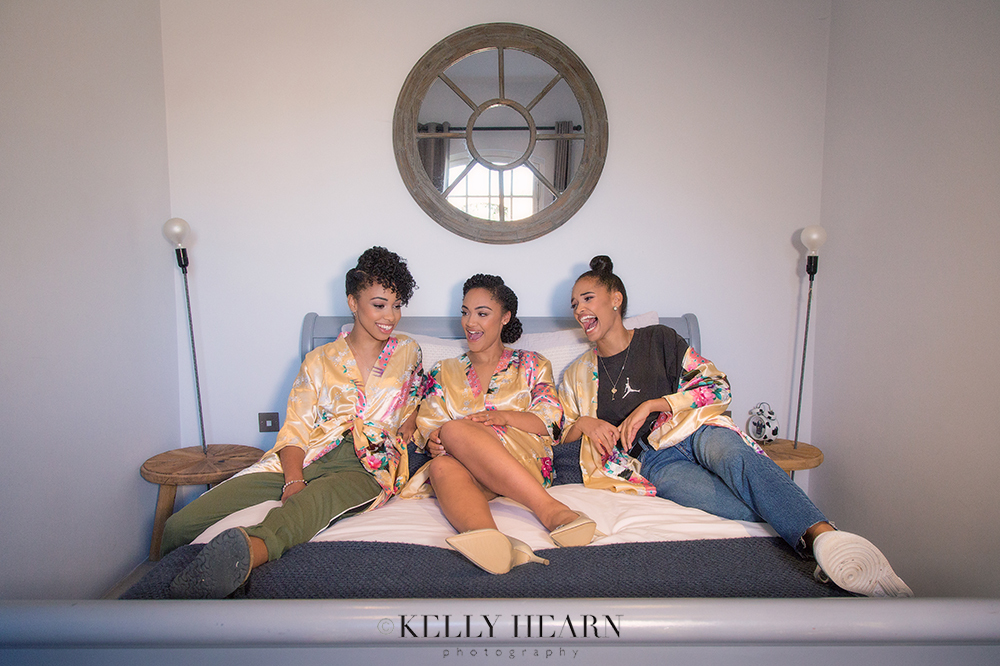 Just a glance at Greer's bouquet revealed to me that this bride was feminine, bright and spirited. Having chosen strong raspberry coloured tones contrasting with soft delicate pinks, her flowers (created by Lisa at Lily Lupin Floral Design) were a stunning combination of vibrant dahlias and pastel roses. These tones were reflected in the bridesmaid bouquets, Greer's lavish boho flower crown and were even used to accent the stunning semi-naked three-tiered wedding cake seen later at the reception. Against the stacked cut logs, Greer's bridal shoes looked chic and elegant, as did she in her beautiful bespoke bohemian gown.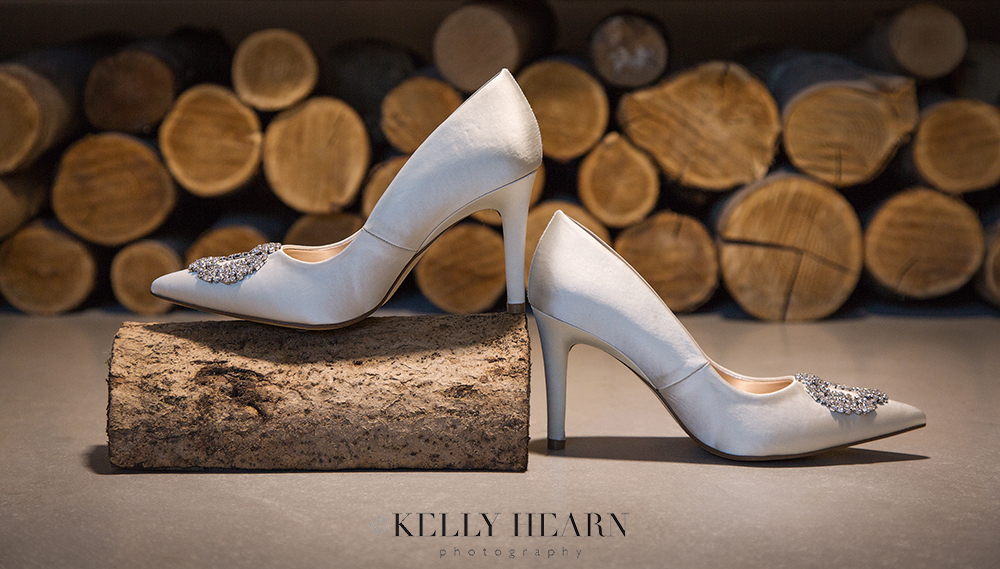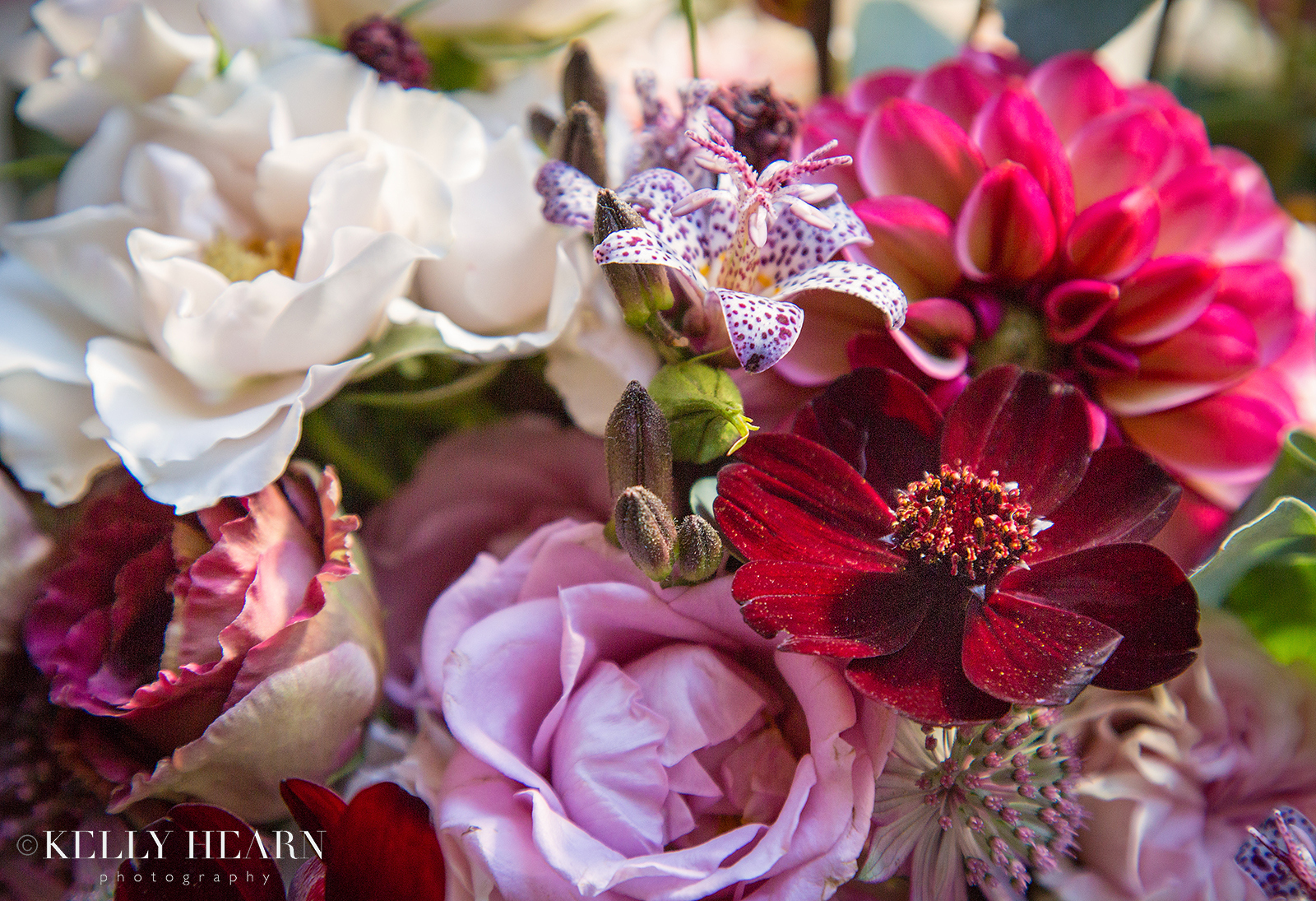 The contemporary styled interiors of the charmingly restored barns leant themselves well to Greer's theme. The plain muted walls worked as the perfect blank canvas by which to photograph this bride and the detail of her gown, whilst the beautiful furniture was also in line with Greers rustic inspiration, serving to enhance many of the images that morning.

It was just before his beautiful Mummy was required to grace the aisle, that the couple's handsome little son Hugo joined her for a special page boy/mummy-son moment in the bridal suite.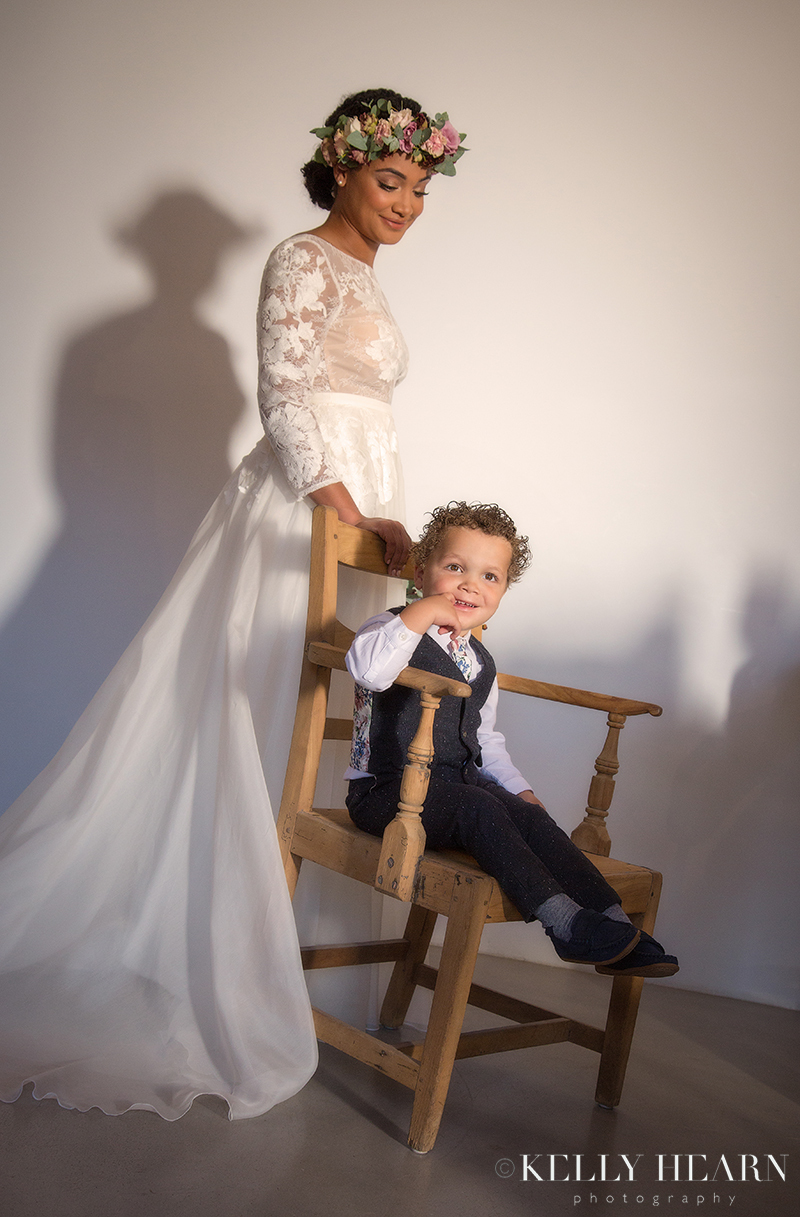 Whilst the day was full of romance, it also felt utterly whimsical as this couple amused each other and their guests with their down-to-earth approach. It was refreshing to watch Greer and Dan make their vows personal with their lighthearted natures under the canopy of the Secret Garden's oak gazebo. They exchanged cheeky 'well done' teasing comments to each other as they 'got through' the most serious part of the ceremony and the giggles and belly-laughs continued as rings were exchanged with the relief of the official marriage ceremony being completed!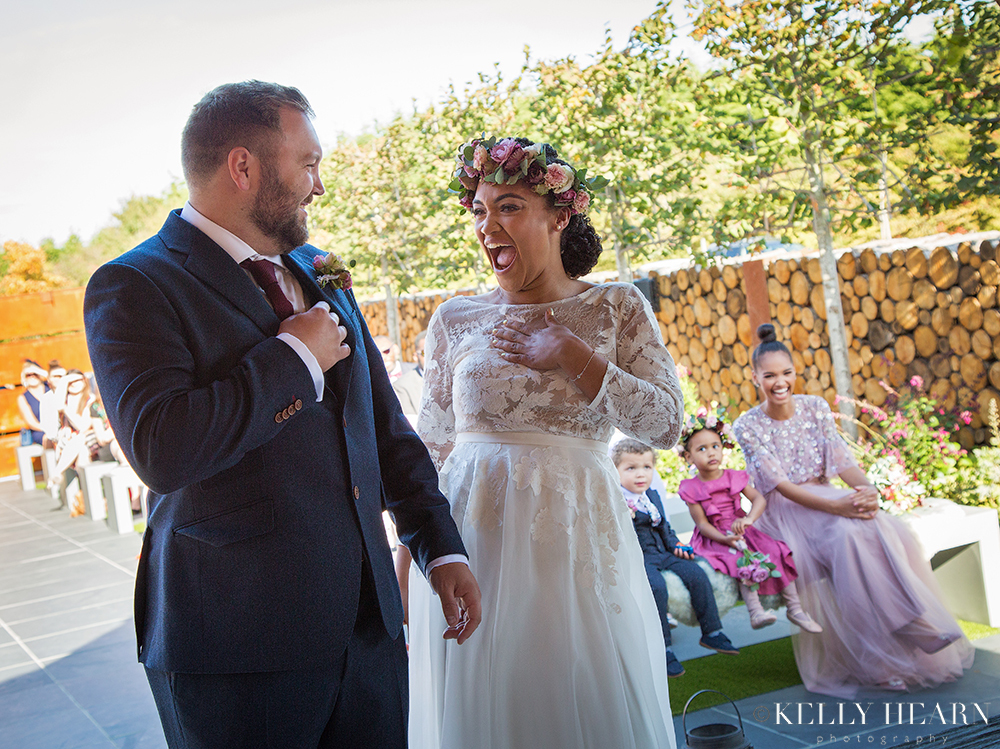 The smiles continued as the newly-weds made their way back down the aisle, bathed in the warm sun beams that illuminated their path and showered in rose petals thrown fervently by delighted friends and family.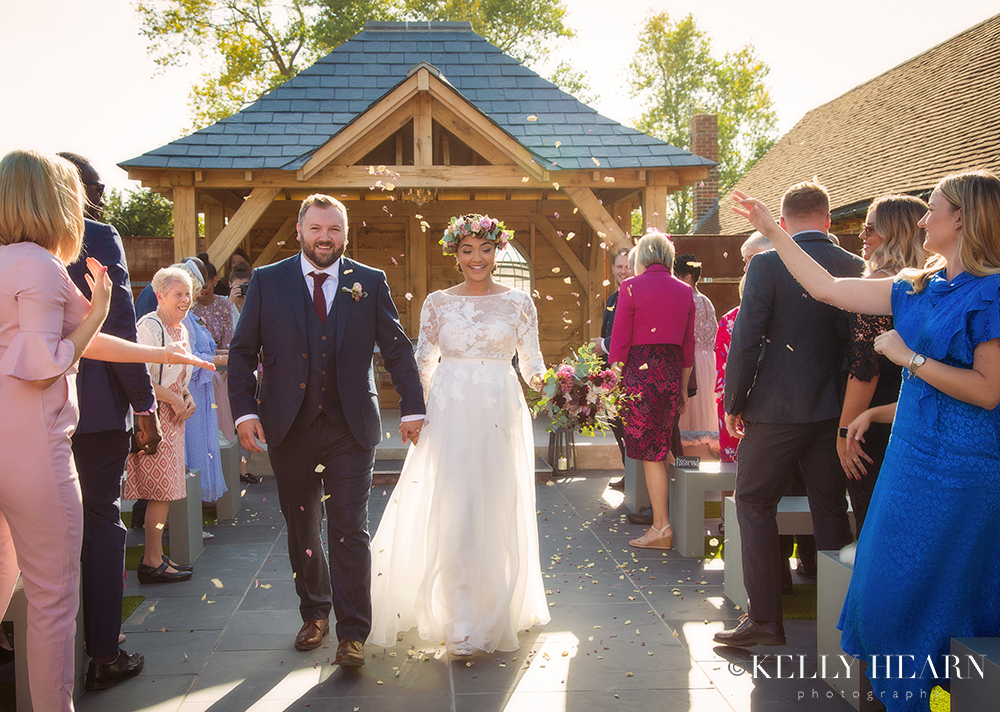 This magical light made for an idyllic scene of romance and wonder, almost like something out of a movie

Having exited the ceremony to the courtyard outside, guests sipped celebratory bubbles and congratulated the happy couple whilst I captured some serious cute-factor! I witnessed Hugo and his little flower-girl friend playing together on the lawns and oh my, were they adorable and just like a mini version of the new Mr & Mrs Bogard!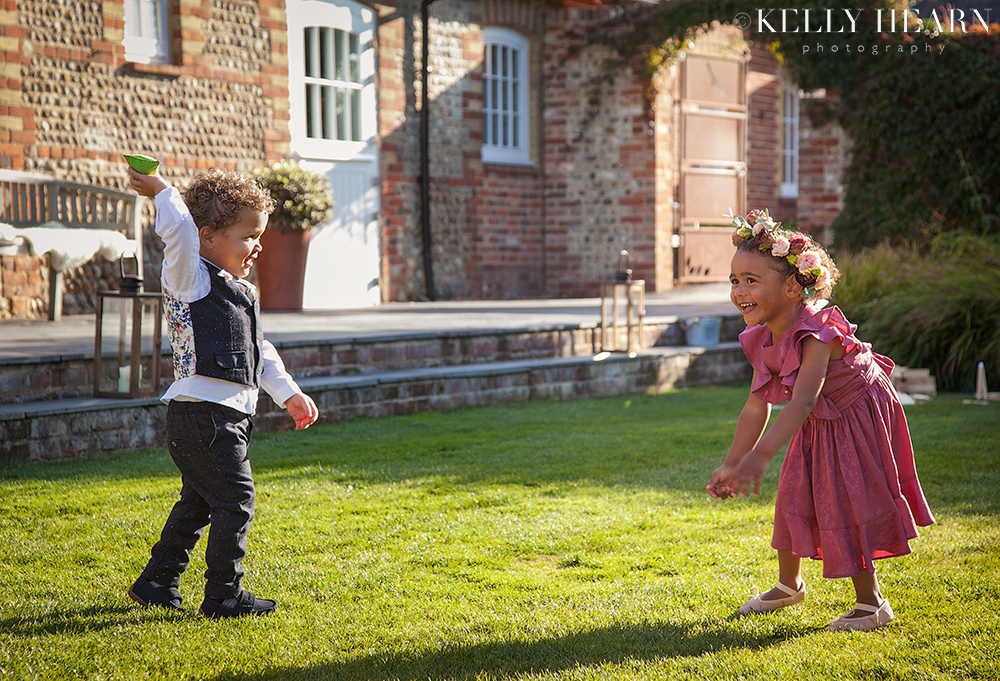 They even shared the same giggles and big smiles!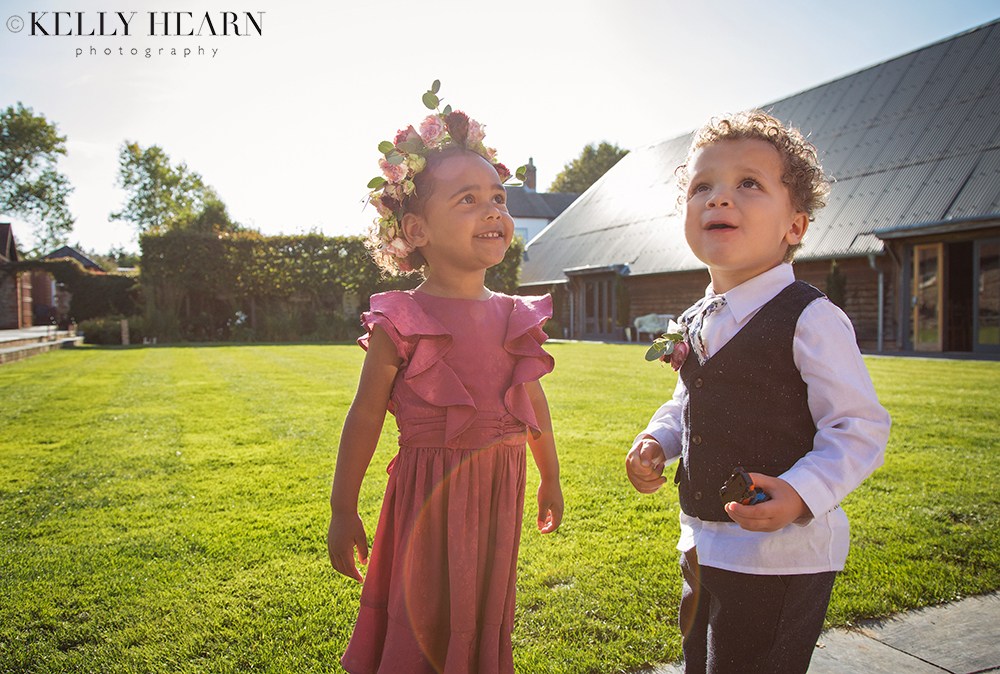 The bride and groom's friends, who were all in great spirits, gathered together cooperatively for group photos. The girls were happy to strike a pose whilst the lads were happy to piggy-back race (as lads do…)! Sadly Dan didn't quite make the racing part, not even making it over the first hurdle (being his best man) and so not getting too far! As far as the bridesmaids go, Greer's lovely sisters were continuing to boycott being too 'weddingy' and despite looking like bridesmaid goddesses in their antique pink tulle gowns, were getting up to antics and laughing raucously in the background!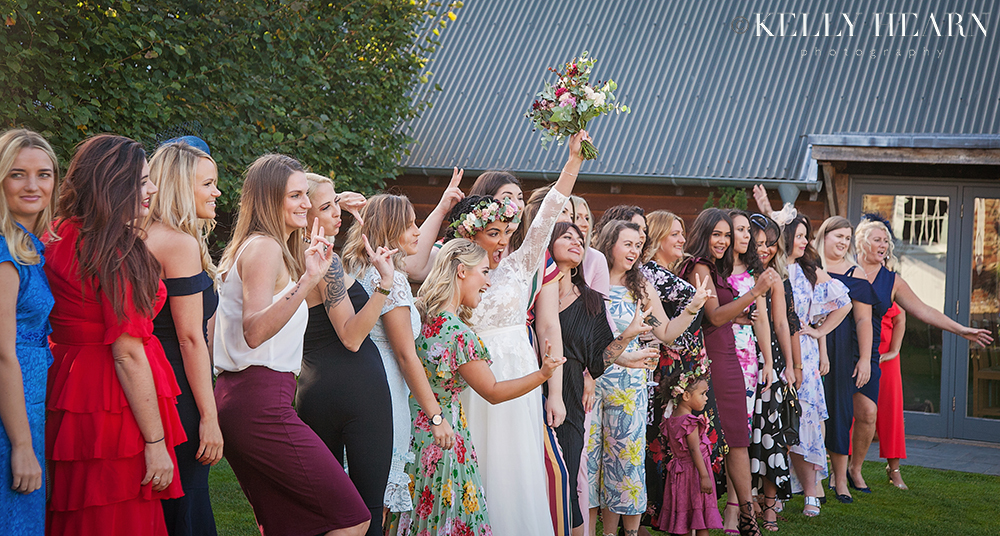 In a moment of composure, the bridal party turned into vogue-esque models for this next image! In the balmy late-summer light, set in the symmetry of the Secret Garden ceremony space, this group created a little piece of art within this next composition!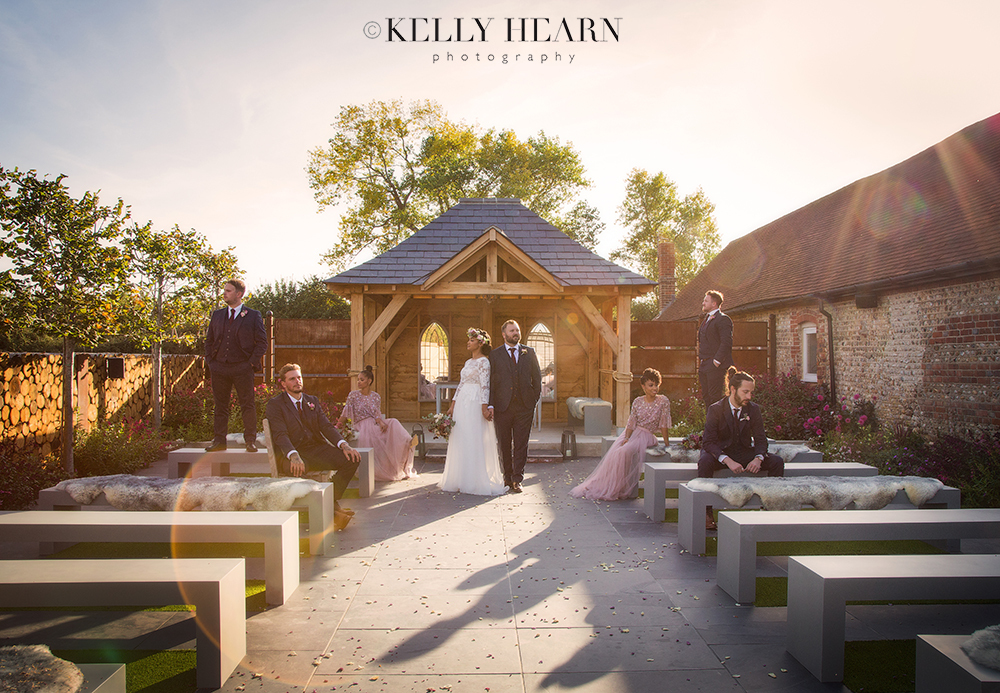 Greer's bridesmaids also went back to being on best behaviour for this next stunning sister image! What a gorgeous trio of ladies!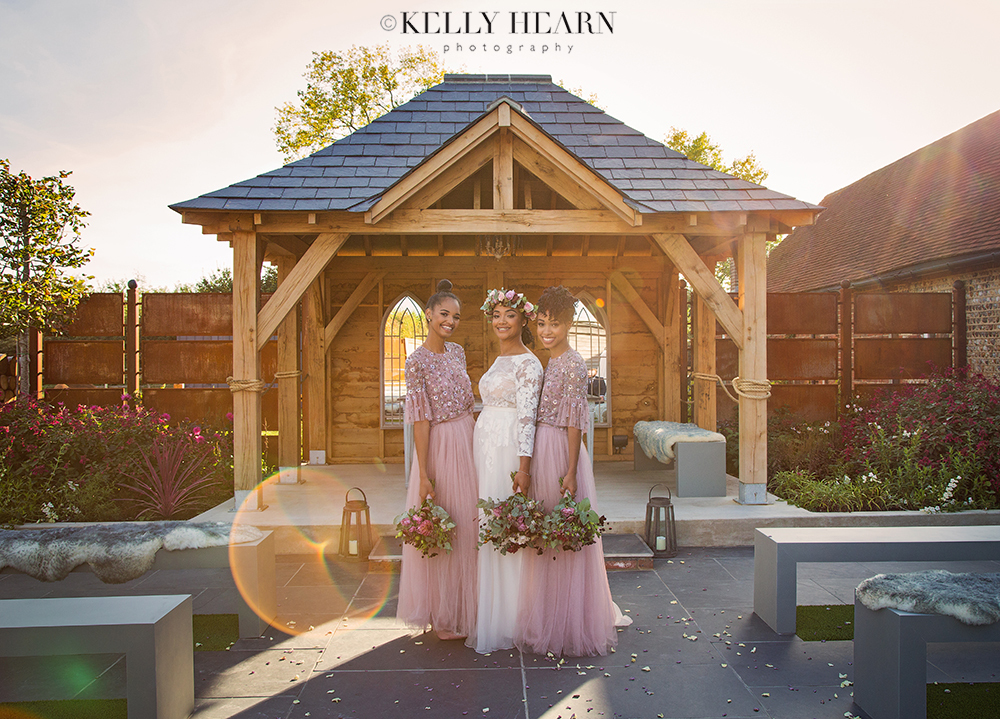 In the Threshing Barn, rows of long reclaimed wooden trestle tables were lined up decorated with an abundance of greenery. Despite the scale of the barn which easily accommodated many guests, the candlelit space felt cosy and intimate with a festival feeling that saw natural oaks and elements of the woods literally brought to the table.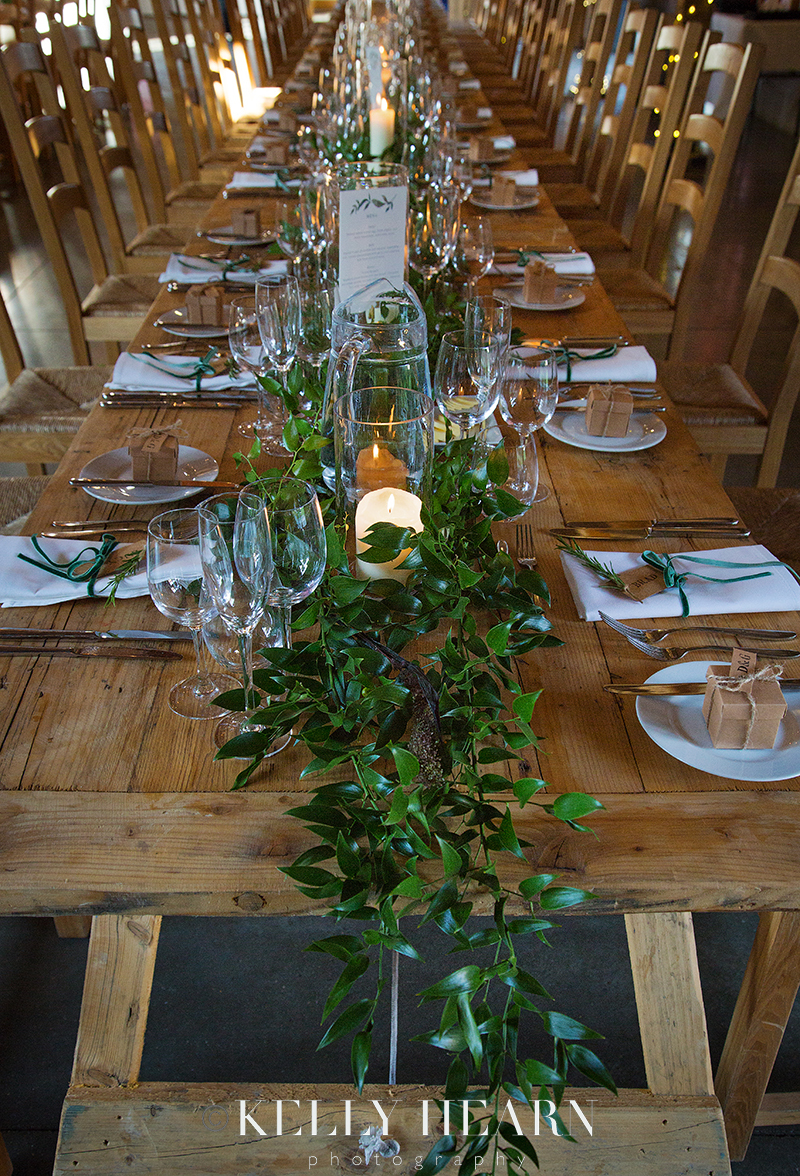 Bringing the outside in was an effectively elegant styling choice which suited the barns brilliantly. This table layout worked brilliantly in bringing a sense of togetherness to dining guests and complimenting the couple's rustic/boho theme as seen throughout the day.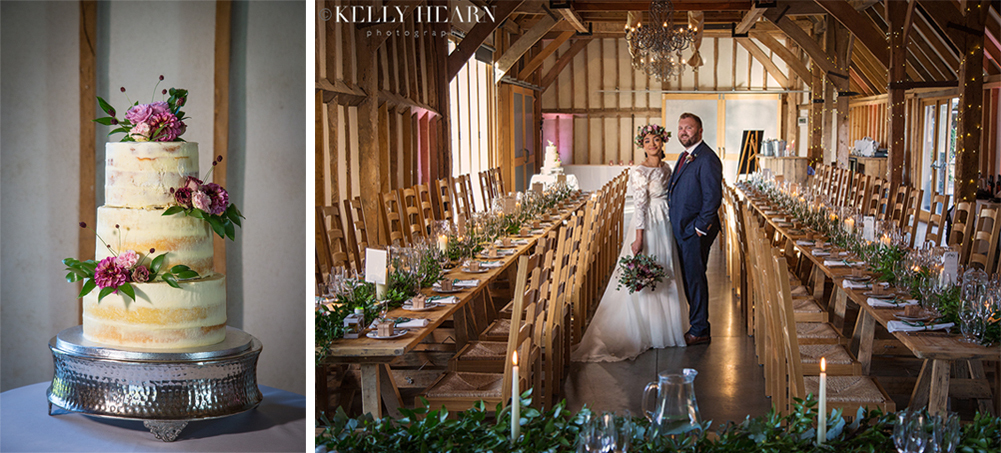 In a quiet moment after speeches whilst the room was being prepared for the party, Dan, Greer and I ventured out to the adjoining fields where leaves were beginning to turn golden and autumnal. We witnessed the breathtaking transformation of the sky as the coolness of blue met the warmth of the fiery peachy horizon. Here the couple were able to look out and reflect on what a truly great day it had already been, whilst dreaming the amazing days yet to come as husband and wife.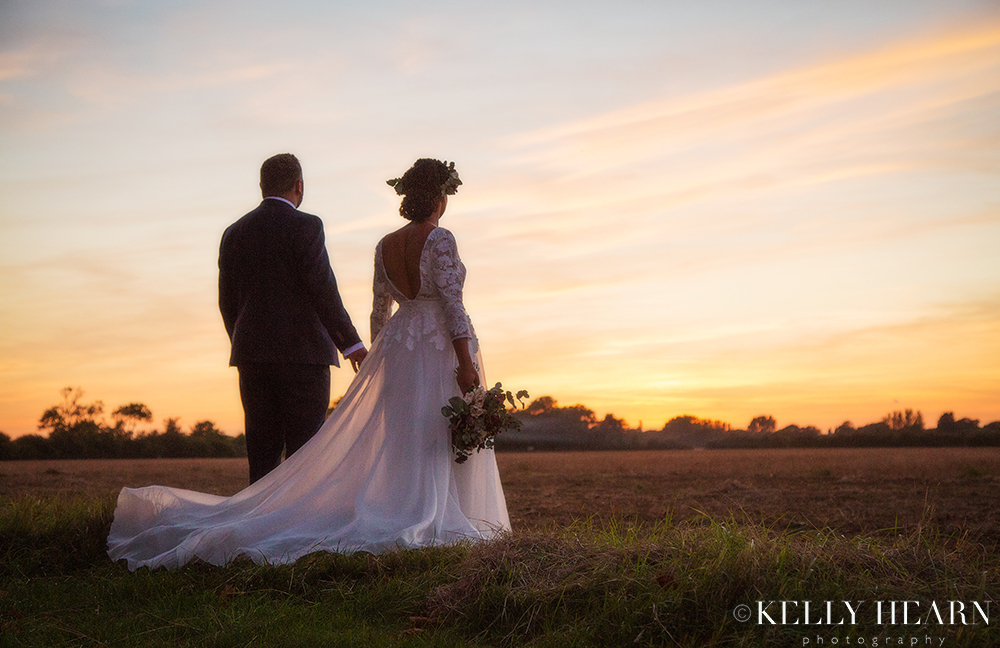 Congratulations Mr and Mrs Bogard! Fun, laughter and happiness - your day was filled with all these and more! Your ability to keep things lighthearted and easy made everyone involved so comfortable and totally at home in your presence! You created a rustic country wedding full of ethereal boho flavour which was inspiring and effortlessly beautiful. Whilst you brought the outside in, you were both lovely from the inside out, and I was honoured to photograph your day, so thank you!
Love Kelly x

Kelly Hearn A.B.I.P.P - A.M.P.A