Mellow Yellows & Secret Sparkle
September 19, 2018
Rachel & Stephen's Upwaltham Barns Summer Wedding
I was delighted to be asked to photograph Rachel and Stephen's wedding day having already photographed a family member's wedding a couple of years back. It was lovely to see some familiar faces and to once again be part of an exciting celebration that had brought many friends and family members together once again. The cheerfulness of the day was almost radiating out of the couple whilst reflecting through the sunny yellow themes that Rachel had chosen. The stunning country setting of Upwaltham Barns on that vibrant mid-July day remained the perfect location for the nuptials, combining rustic charm with the season-inspired soft summery mellow hues and hints of sparkle seen throughout the decor and styling.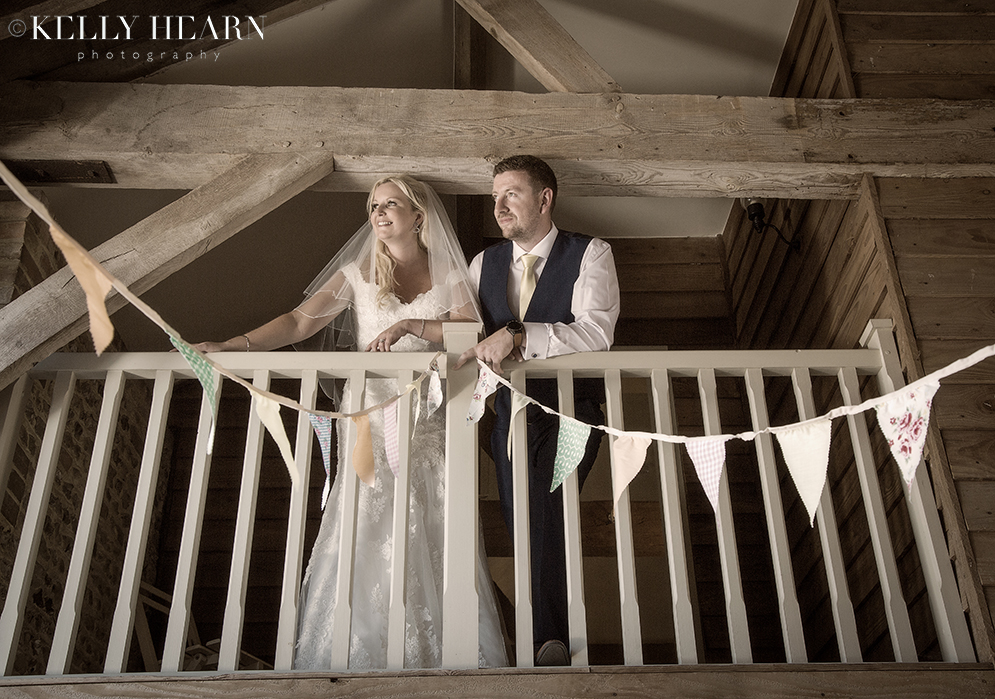 I started my day photographing the bride at her mother-in-law's home where a few details I noted were revealing quite a glamorous side to Rachel! I spotted some silver glittery heels and a bottle of Gucci perfume which I purposefully placed on the leopard print sofa which to me created fabulous images of juxtaposition; the leopard print and sparkle against the romantic idea of the English country bride (soon to be dressed in delicate and elegant white lace and carrying a beautiful bouquet of flowers) was a great contrast and a brilliant hint at Rachel's personality!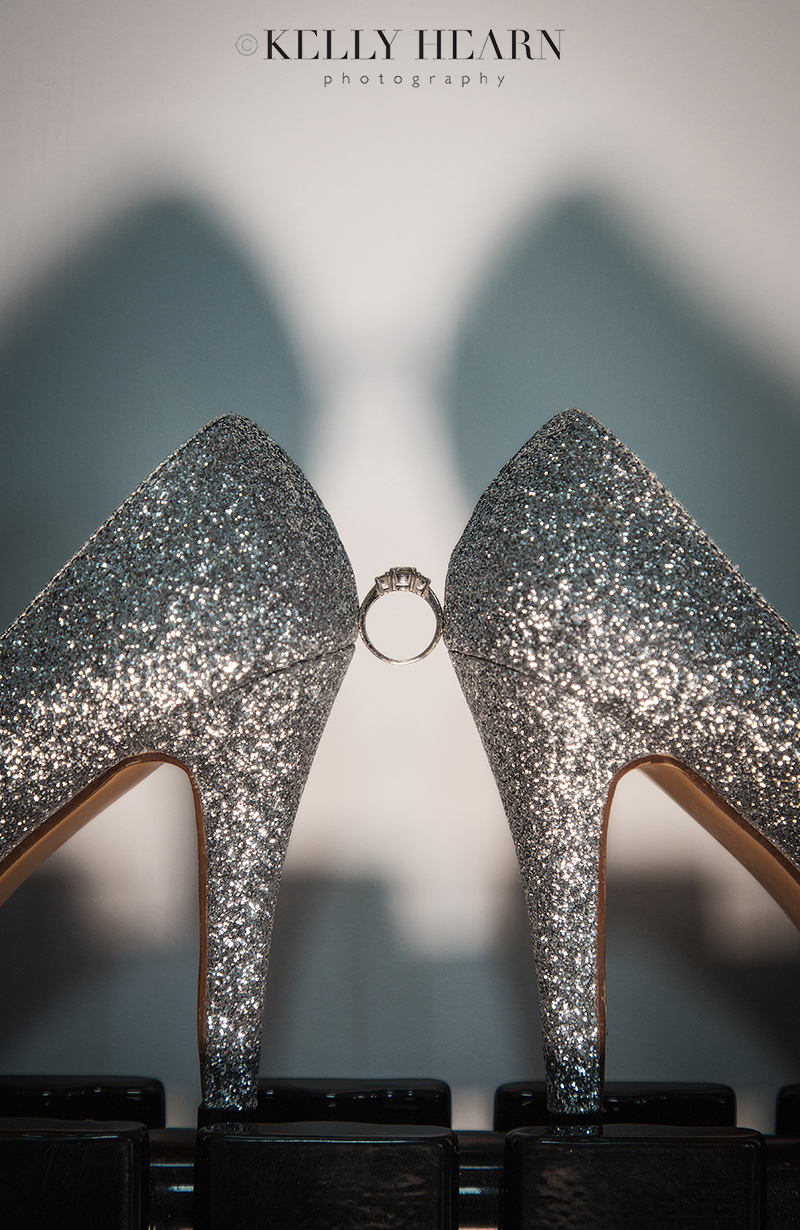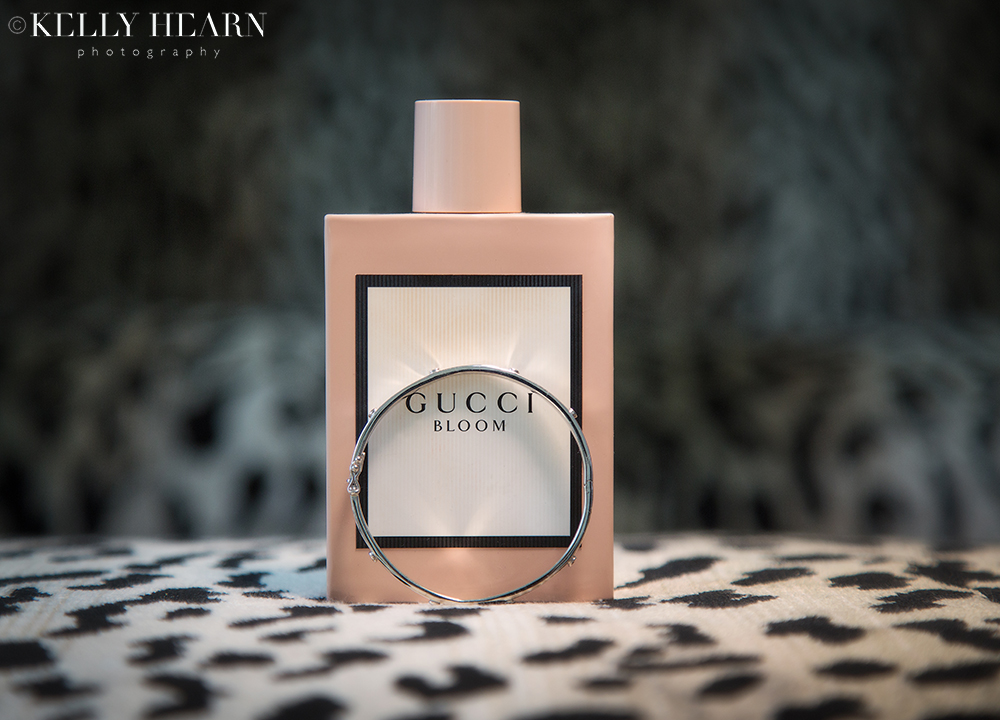 Sunflowers were the choice of signature stem for the wedding and Rachel's bouquet (created by Driftwood Flowers of Chichester) and was the perfect reflection of summer. Little pops of blue amongst the bold yellows and greenery offered that slightly wild meadow feel whilst the sunflowers themselves were the classic iconic flower to inject the boldness of summer into the day. Rachel could be nothing but cheerful as she had flawless make-up applied by Jo from Jenna West Makeup and had her hair perfected by Holly Warbridge. It wasn't long before she was ready to get into her bridal gown of dreams and into those knock-out sparkly shoes!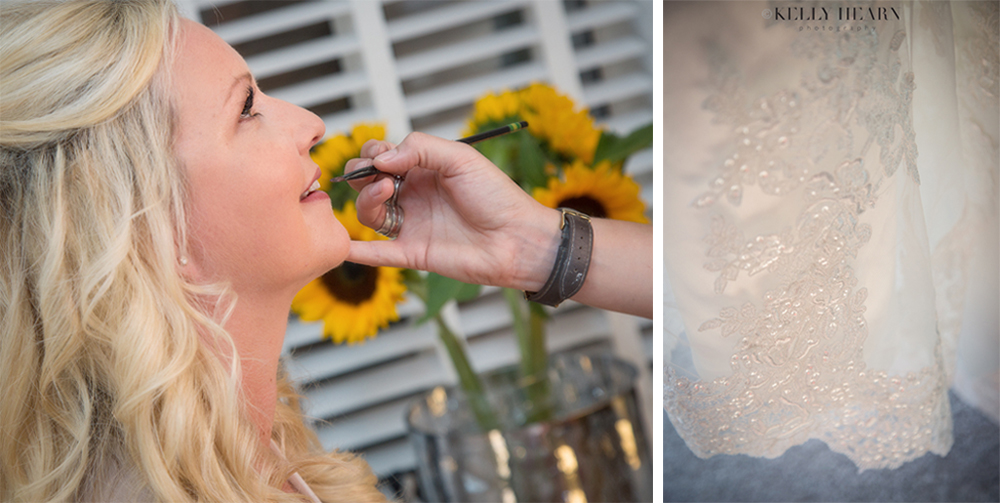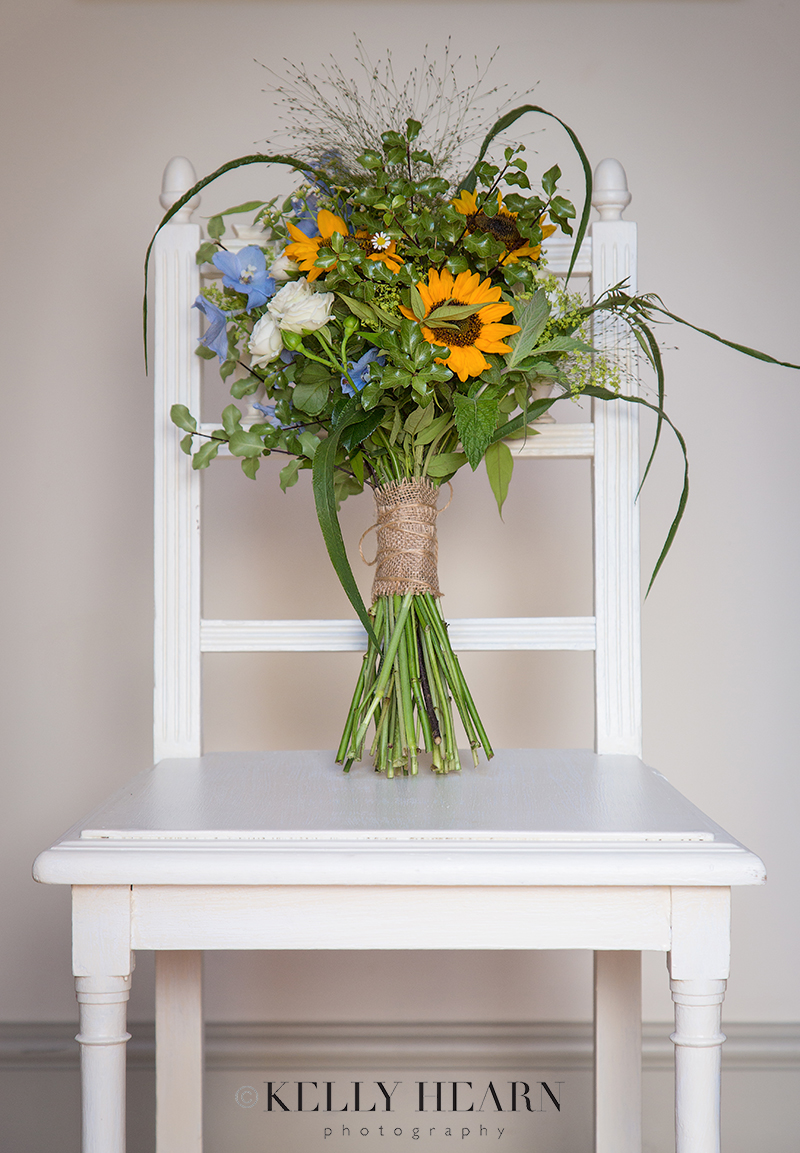 Every bride needs assistance and Rachel had three good friends at hand (back from days when she used to dance) helping her into her wedding dress. The lace covered fit-and-flare gown was off the shoulder with flattering cap sleeves and a traditional lace-up back. The little diamanté detailed belt was a delicate addition bringing that element of glam and sparkle which subtly tied in with Rachel's glittery shoes.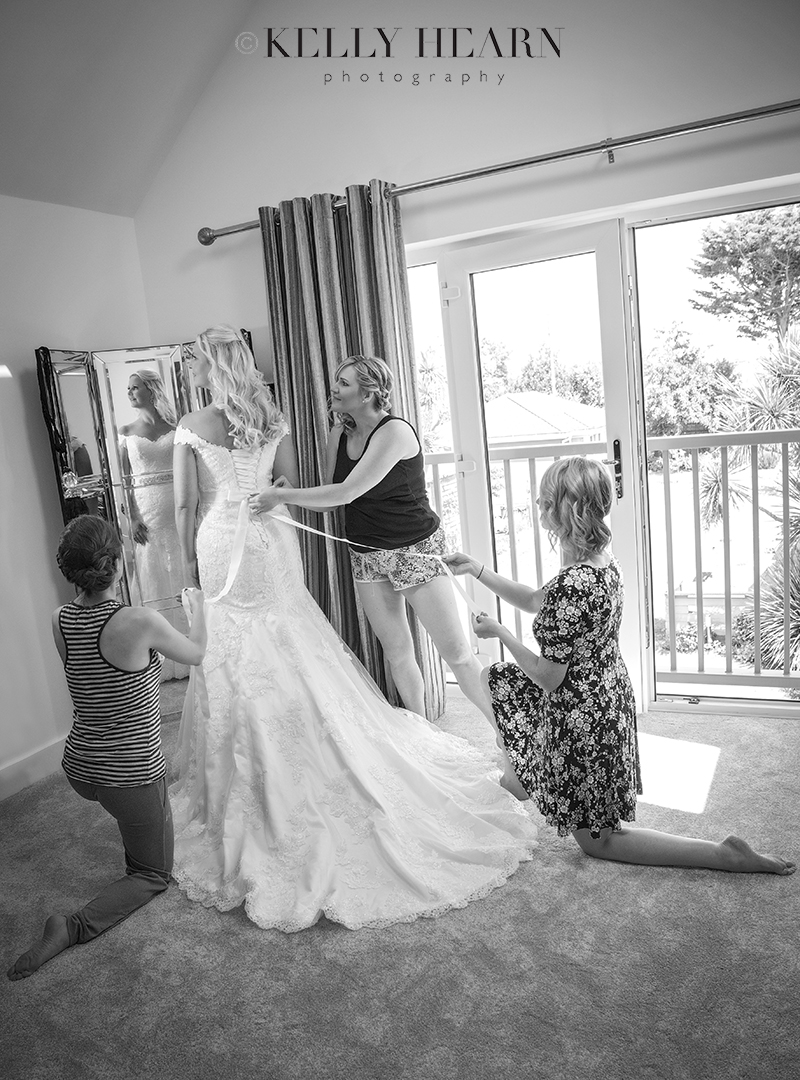 Over at the wedding venue the boys were already suited up in modern blue three pieces whilst the girls finished getting into their outfits in the venue's beautiful Jasmine Cottage. Toning in with hues of yellow, the bridesmaids wore soft lemon floor-length gowns and carried smaller hand-tied coordinating posies of sunflowers, like miniature versions of Rachel's bouquet.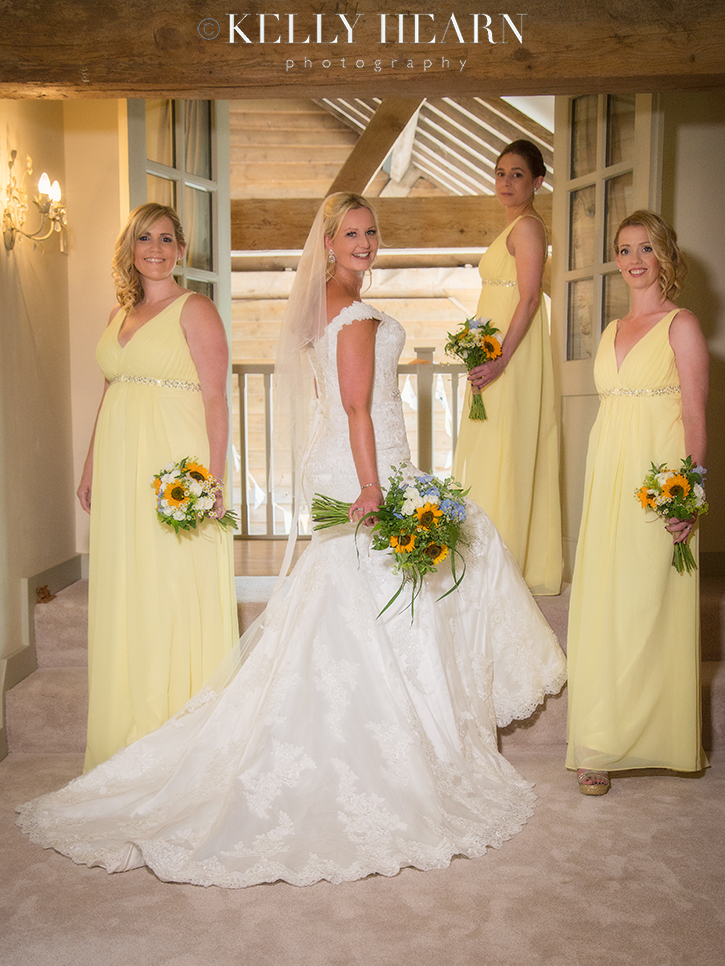 The Moroccan-style snug was the perfect little hide-out for the guys who had a few minutes to kill before the ceremony. Stephen, who was looking very smart, was joined by his best man, brothers and also the couple's five year old son, Jacob, who totally looked the part - just like a mini Daddy!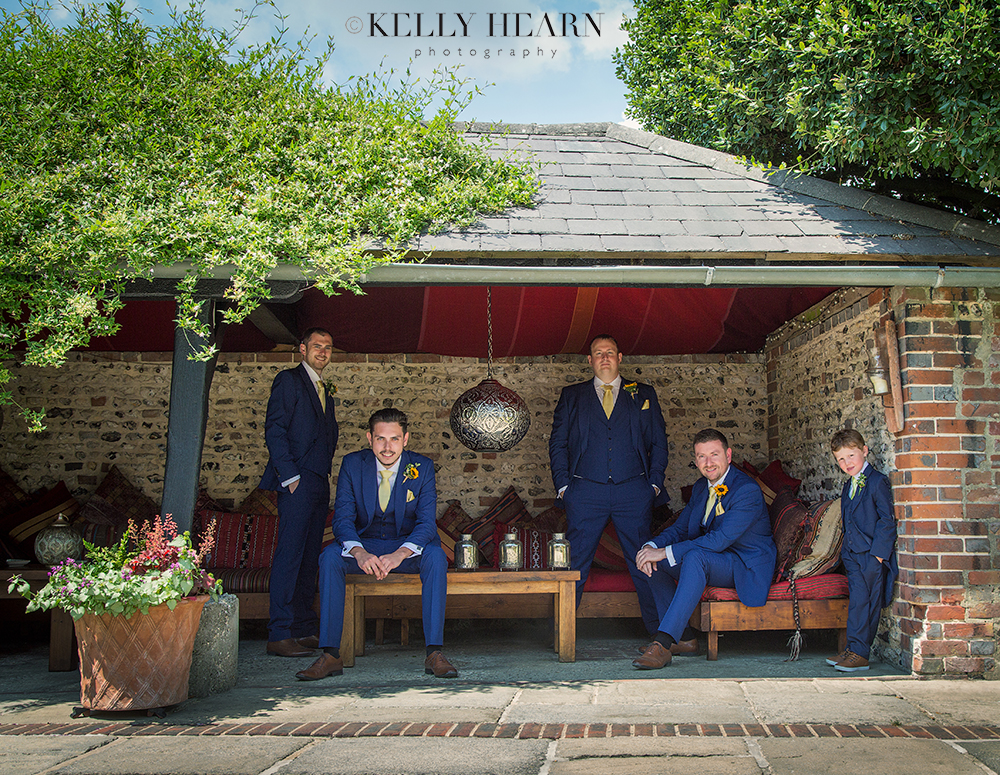 It was soon time for Rachel's short journey from the bridal suite to the aisle and her father was ready and patiently waiting to see his daughter appear at the door as a bride!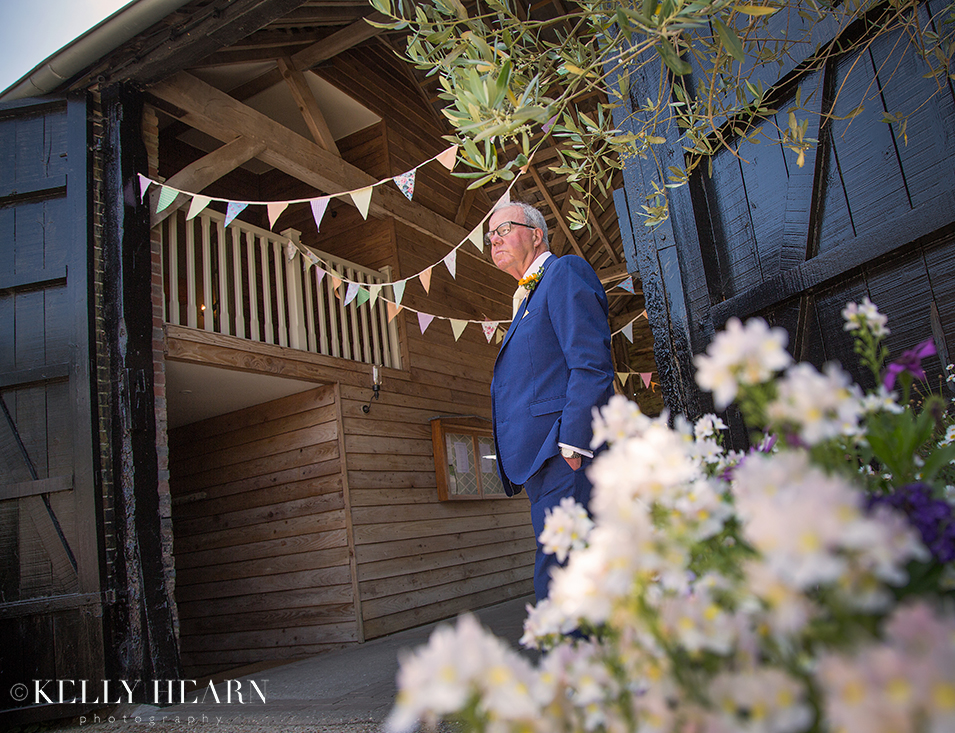 I have mentioned this moment in blogs before because I always find it such a touching scene. It is very moving to see the emotion on the Dad's face as he sees his little girl, all grown up before him, minutes before walking her down the aisle to give her away; such a significant moment and one I love to capture.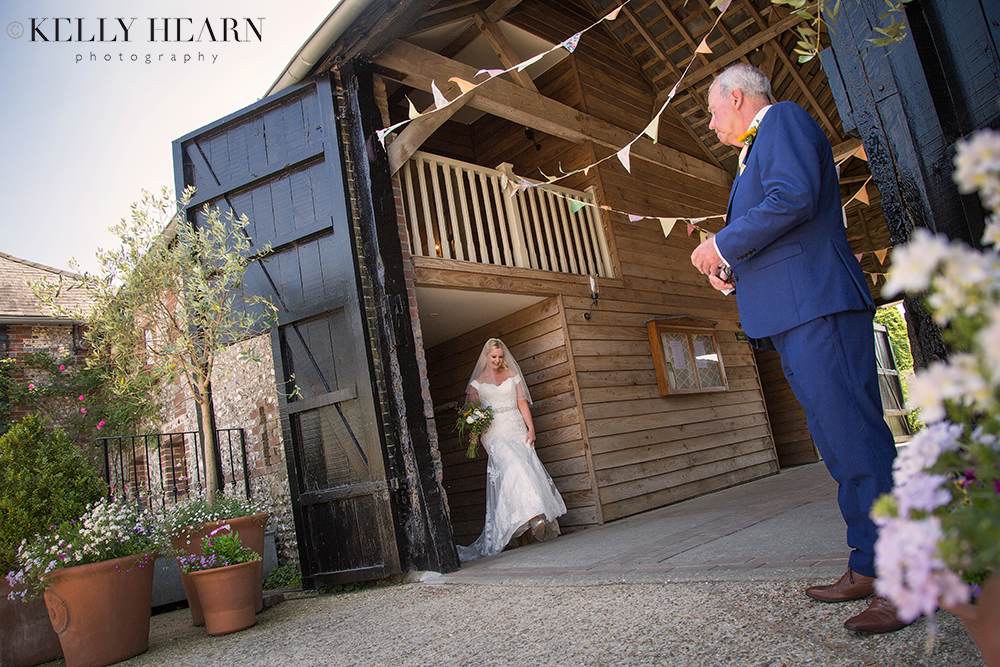 As the couple stood calm and poised during the ceremony, it occurred to me that Rachel had all the important guys in her life standing right with her on one of the most special days of her life. A lovely moment was seeing this bride surrounded by her son, her groom and her father - all three with a huge amount of love in their hearts just for her; a special scene I thought.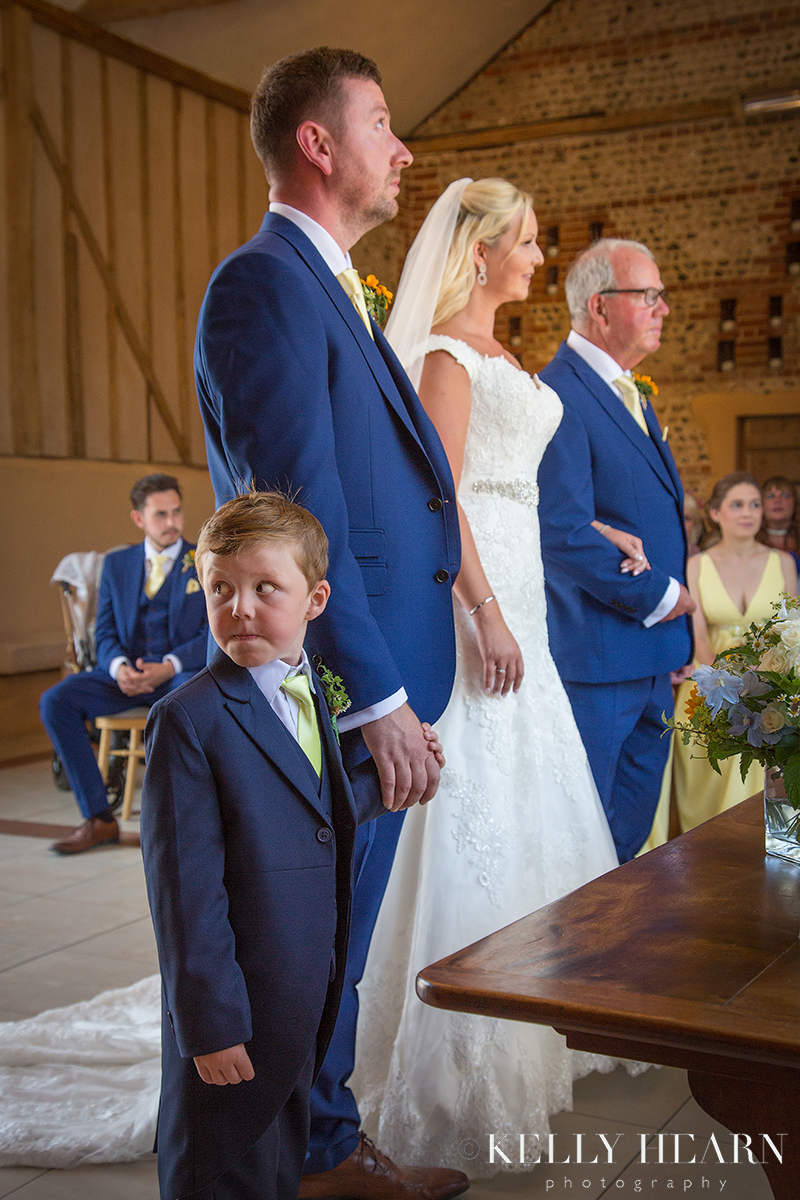 The bunting-bedecked courtyard was full of buzz and chatter after the ceremony as guests congratulated the newly-weds and enjoyed some refreshing drinks and delicious BBQ style canapés provided by the venue's catering team Nibbles 2 Nosh. In the background, Hannah Renton sang some melodic and upbeat acoustic pop numbers and as the sun shone down, the atmosphere was cheerful and vibrant.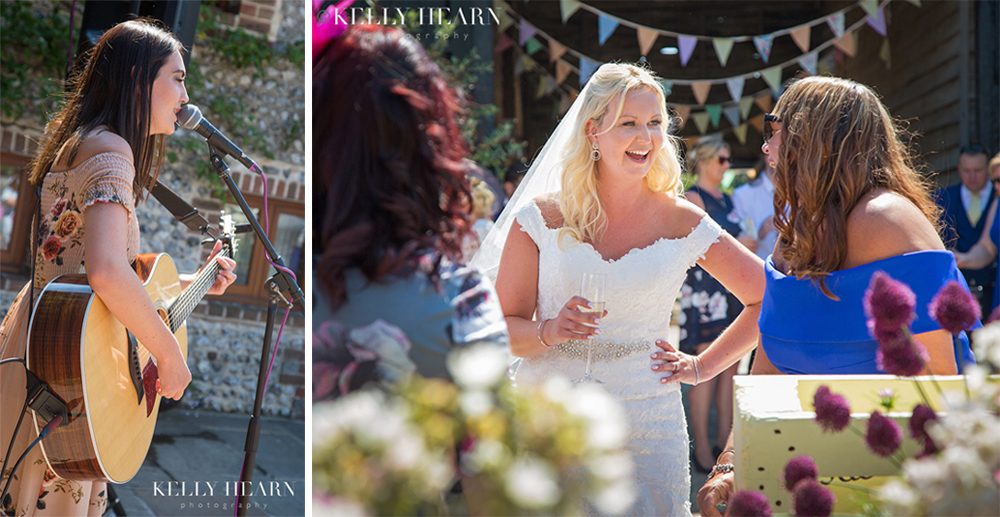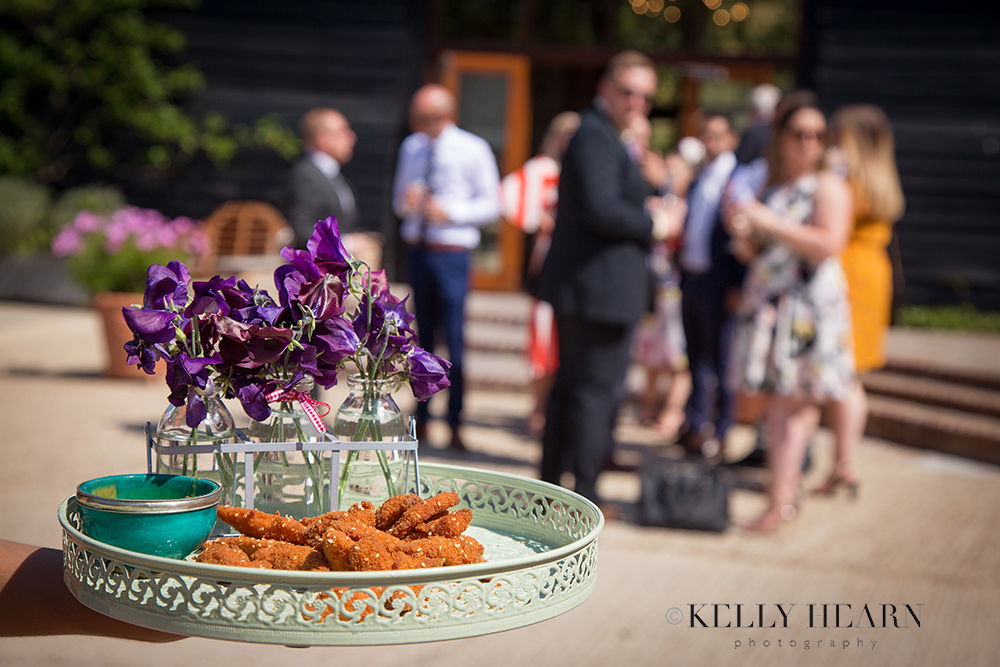 Stephen, Rachel and I escaped the merry scene of mingling guests in the courtyard to briefly take a look in the South Barn before it would be filled with people ready for a feast! It was set up beautifully and offered a calm relaxed ambience with its soft lighting and muted rustic colour tones. Hanging against one of the old flint stone walls was a table plan. It was created out of brown paper bunting coordinating with the general country bunting theme throughout the day and was a lovely original way to guide guests to the right seats!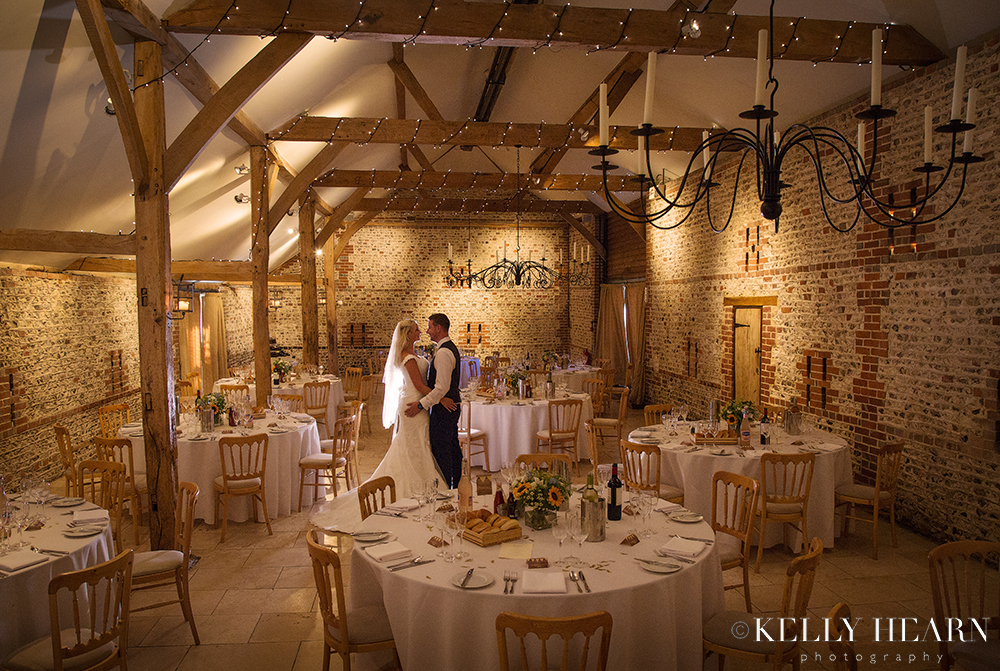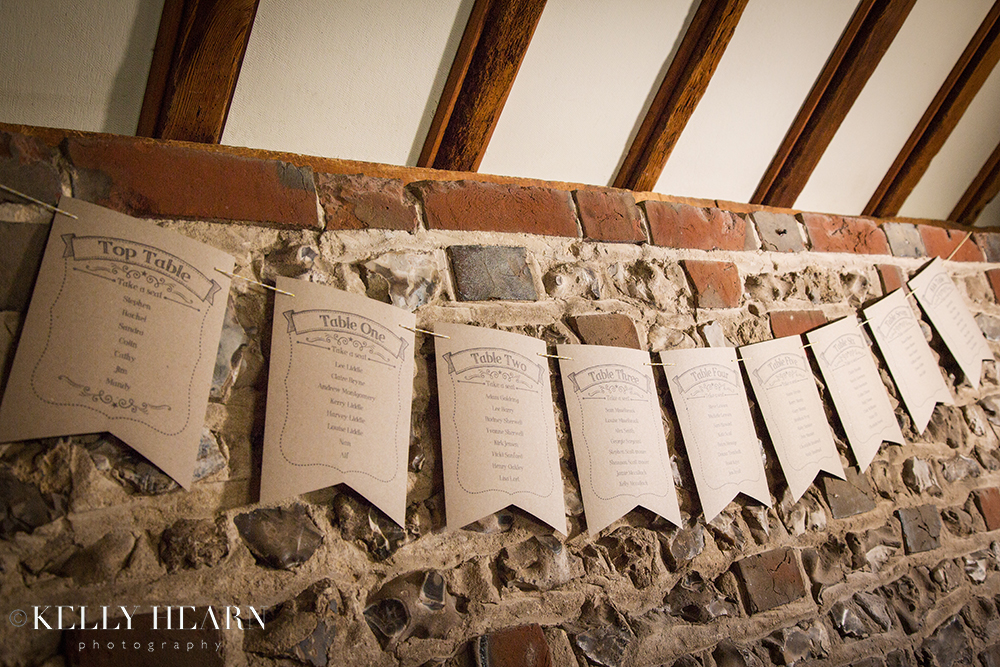 After a delicious BBQ the sun was soon to be at its prime golden moment so I took the opportunity to gather the bridal party and set them climbing up the hill behind the venue. I'm sure they would have burnt off a few welcomed calories by the top and we made it just in time for that perfect pastel light! The pale yellows of the bridesmaid dresses against the backdrop of sun-baked long grass and scorched distant fields made for a whimsical and dreamy golden colour palette.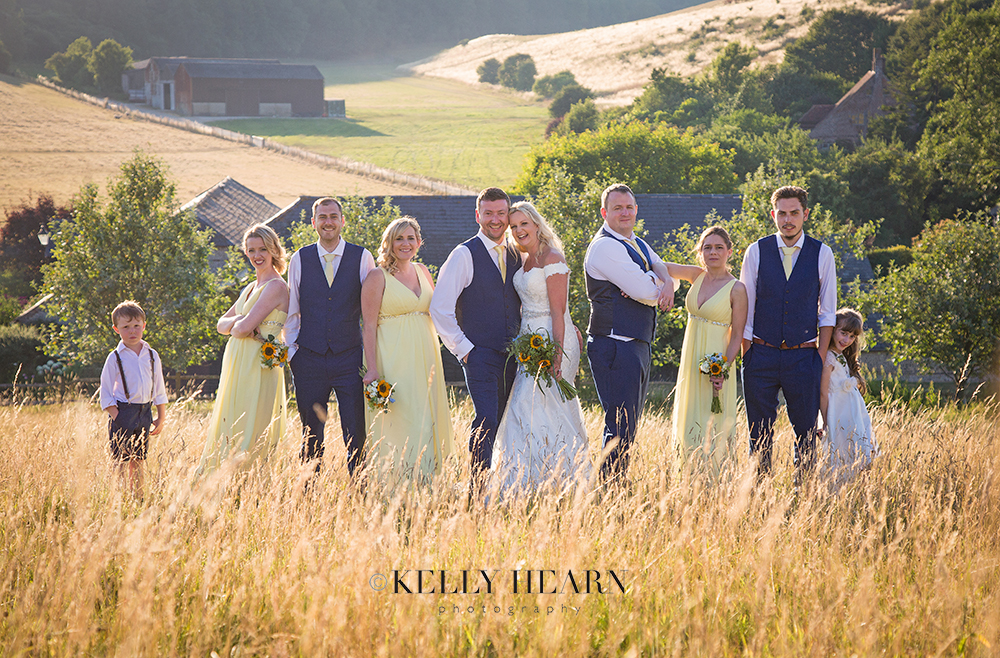 During some family photographs Jacob had a hint of the 1940's about him as he stood in the field in his shorts and braces with a plaster on his knee. He really stood out as the star of this next image with his strong vintage style and presence, whilst his newly-wedded parents took a quiet moment together in the balmy distance.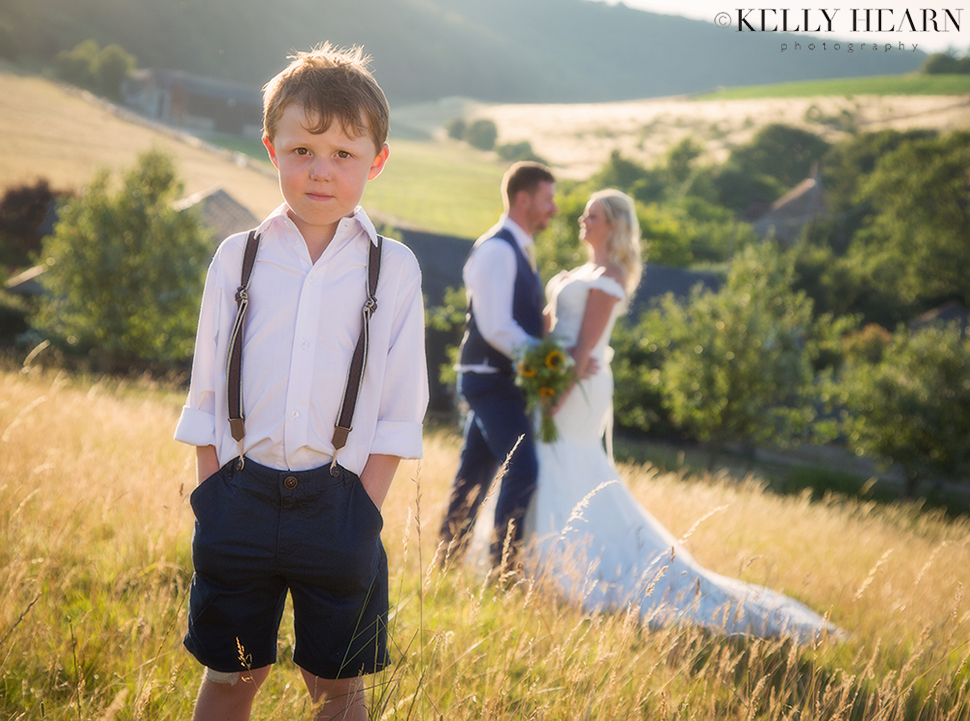 As the family walked back down the hill hand-in-hand, I couldn't help but think how beautiful the day had been and what a perfect evening was drawing upon us. The little family filled with joy, naturally injected brightness and cheer into their day with their smiles, fun and relaxed approach. The uplifting colour theme had been matched by nature's provision of sunshine and warmth which made for a memorable day for this perfect match of a couple.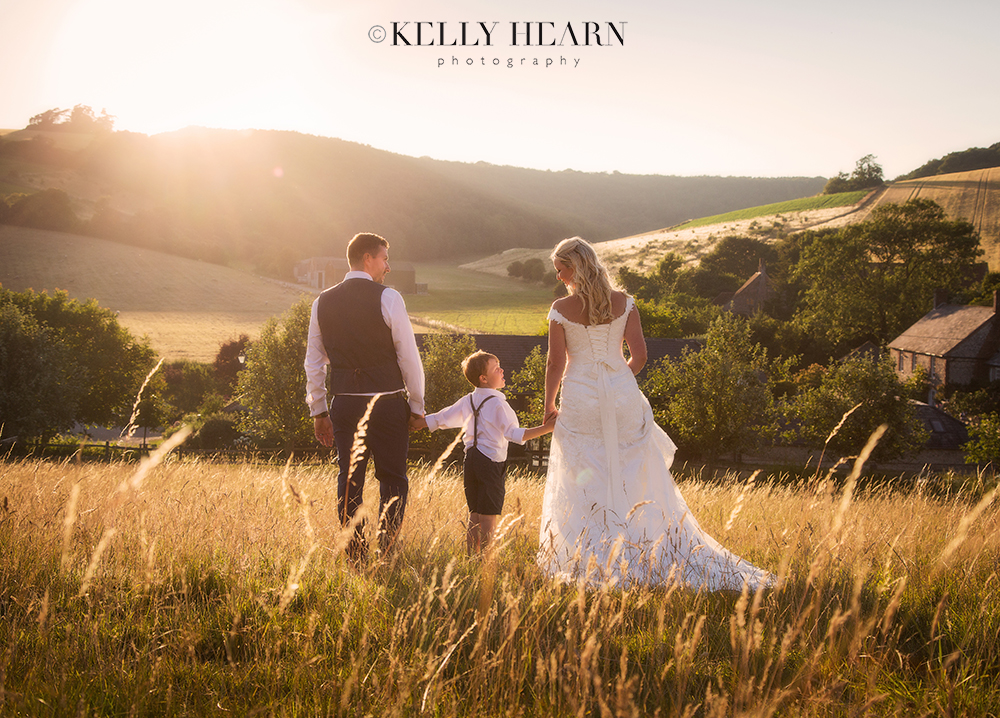 Rachel and Stephen, congratulations on your joyous day full of soft pastel light and happy hues! Thank you for having me back to capture some special moments for you. I hope, as with your memories, these special moments will be treasured like gold! May you enjoy a long future together that is always full of cheer and may you always remember to include those hints of sparkle!

Love Kelly x