Flowers In The Rain
February 12, 2018
Jess & Tom's Upwaltham Barns September Wedding
For those who adore flowers, Jess and Tom's floral inspired wedding day captured the rustic and romantic late summer ambience with an abundance of fresh blooms and various floral details adorning the venue and theming outfit style selections. This positively creative couple celebrated their nuptials at a unique scenic countryside barn venue, where the little bit of September rain was embraced and where the fun and celebrations continued long into the evening.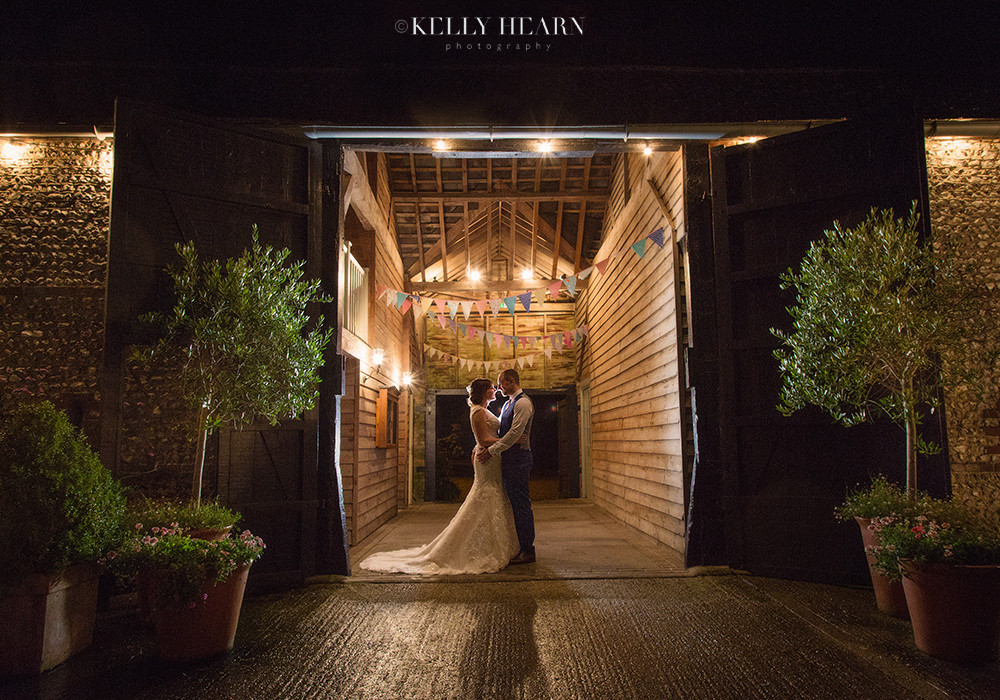 Flintstone Cottages are just a few miles from Chichester and can be hired out as luxury self catering accommodation and it is here I met Tom for his pre-wedding shots. Ensuring all necessary and important preparations were underway, this groom was in bed (with his best man) when I arrived, dutifully going over his speech and clearly delighted at how funny it was! Meanwhile, ushers were ironing shirts and checking the wedding rings were to hand, ready for the big impending "I do" moment.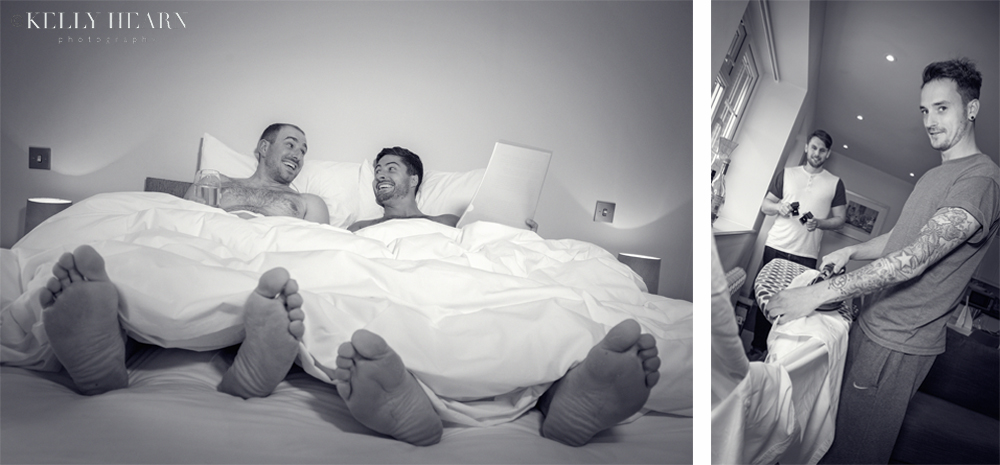 Later at the wedding venue, the guys were looking dapper having donned their modern blue three-pieces and brown brogues. Tom's bespoke tailored number looked sharp and contemporary, his subtle floral tie with a touch of pink injecting a bit of life into this season's popular menswear trend. There had been a touch of rain outside but it wasn't enough to stop us venturing out into the barn's courtyard where a handcrafted wooden sign handily spelt out the order of the day in the background.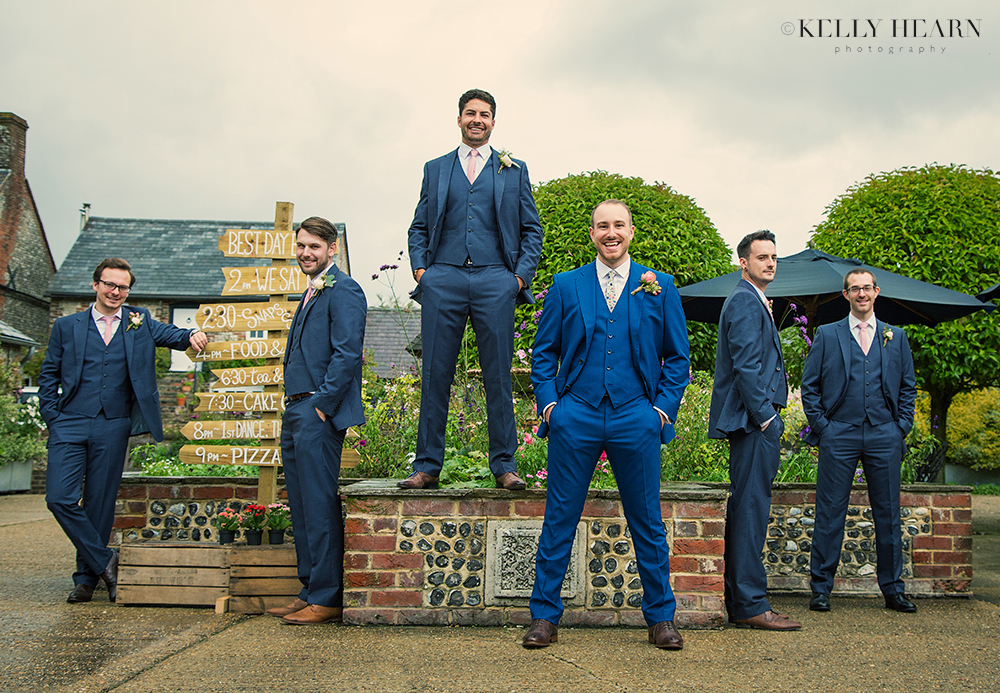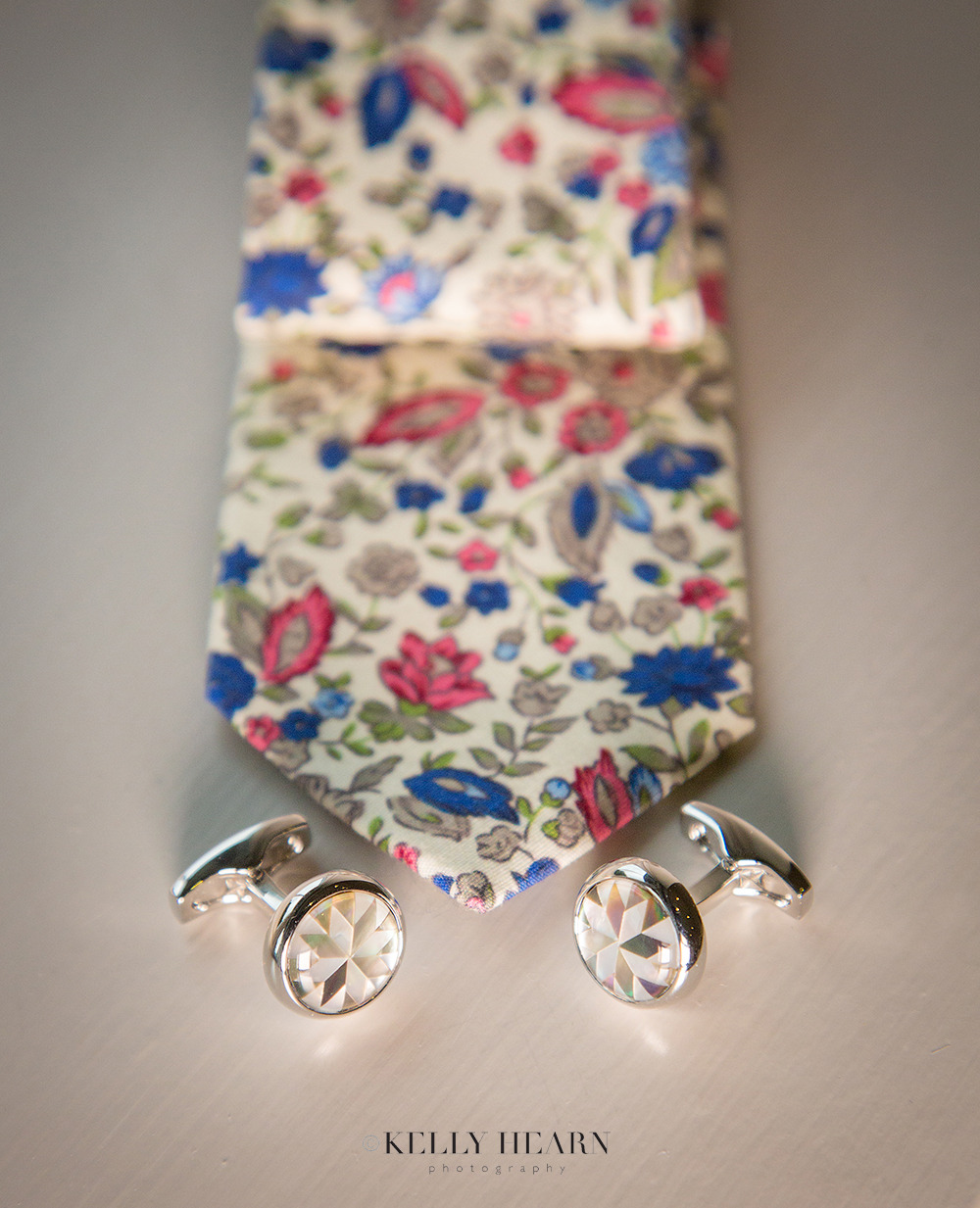 I found Jess and her five bridesmaids (her cousin, and four close friends) residing on the elegant french antique bed in Jasmine Cottage, the beautiful bridal suite at the couple's venue choice of Upwaltham Barns. In matching floral kimonos, this close group of maids were coordinated even before they got into their actual outfits for the day - lovely mint-based floral fitted shift dresses! Aware that we were beginning to enter into autumn, the acknowledgement to all things summery was both pleasing and comforting as we all clung to the warm season's remnants as best we could. Helping this along was the sheer energy and life offered by the vibrant hand-tied bouquets of pinks and peaches which perfectly complimented the whole bridal party look. Designed and created by Sussex florist Tigers to Lilies, these exquisite and artistically arranged seasonal florals really were central to the success of Jess's overall floral theme.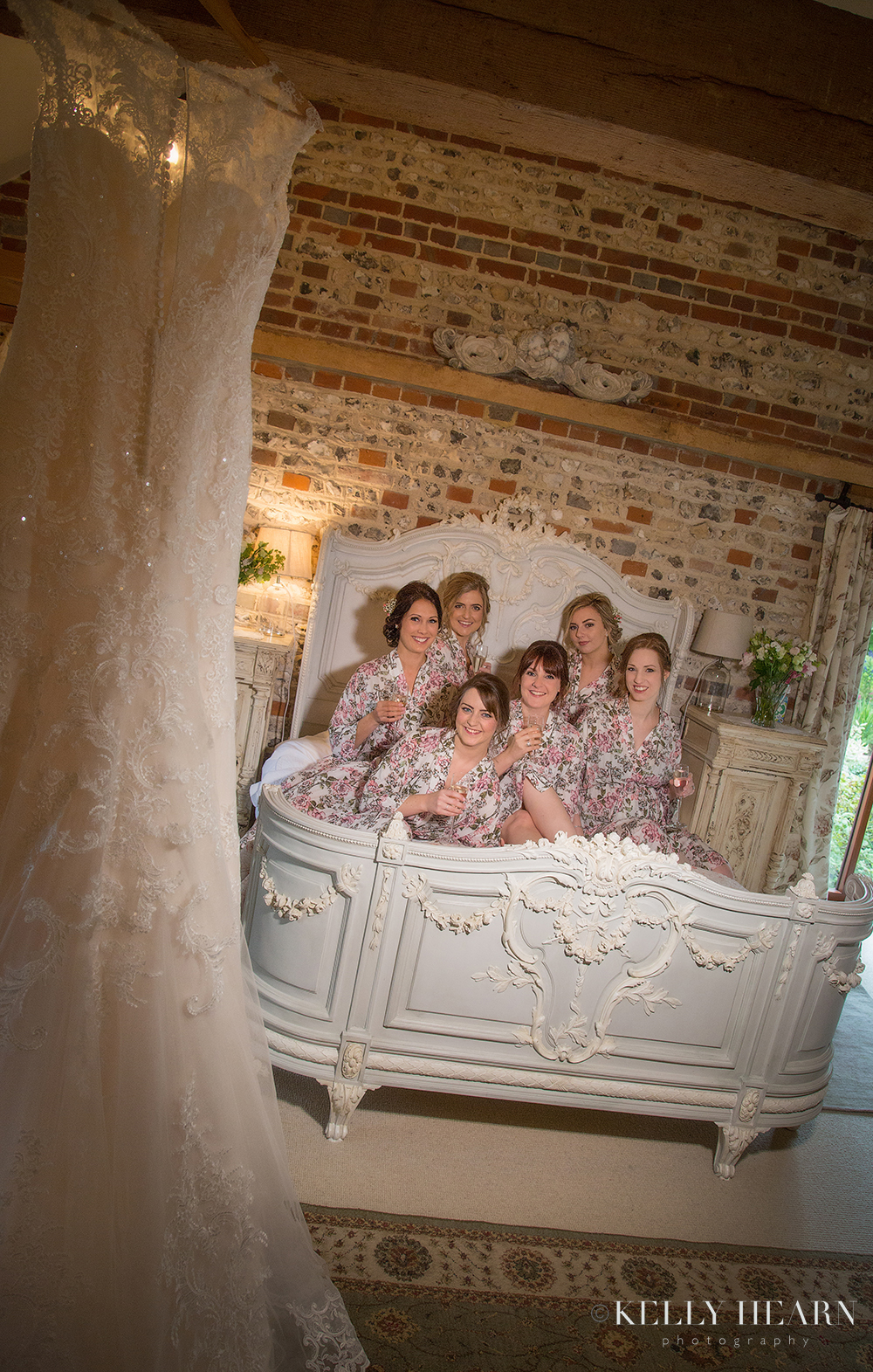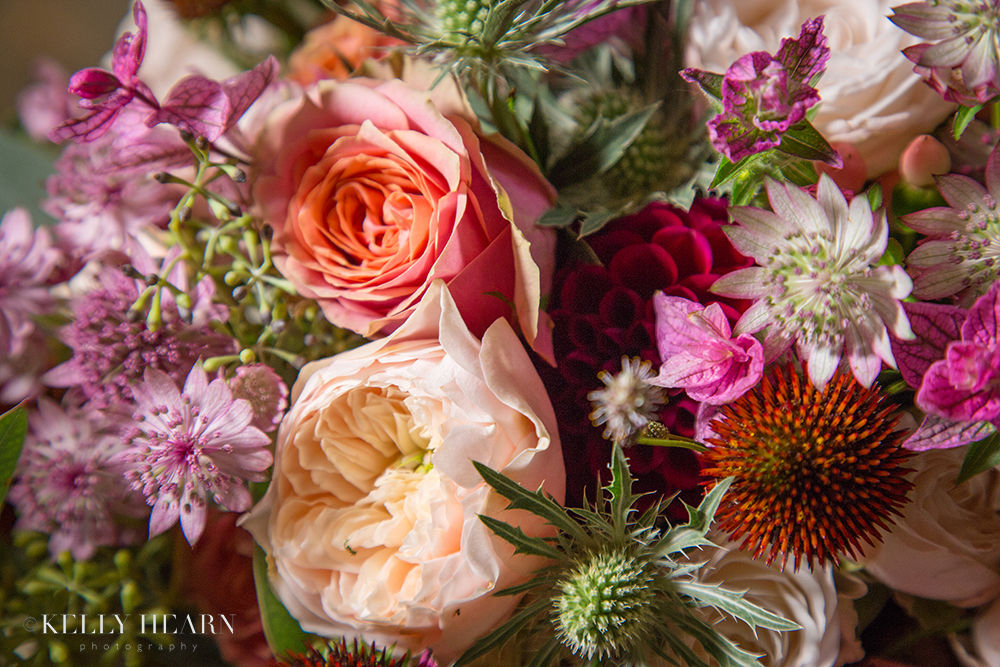 As I took a moment to photograph Jess I thought how fantastic she looked and particularly how well her chosen gown suited and fitted her so perfectly. Her makeup was beautifully done by maid of honor Amy (Amy Newman Beauty) and hair had been perfected by Charlotte at 'Polka Dot' and she wore a beautiful mermaid silhouette style fitted gown, with illusion lace neckline and cap sleeves. Her long lace train flared elegantly behind her, a feature many brides are currently loving and a trend that really seems to be getting back onto the bridal radar I've noticed! Jess wore that dress effortlessly as she relaxed in the bridal suite and it was clear she felt at ease, comfortable and very happy!
The couple were reunited at the end of the aisle during a lovely ceremony and with lots of support from friends and family. Both mothers were honoured to act as witnesses, whilst the rest of the crowd clearly enjoyed photobombing the naive newly-weds during the very important signing of the register formality!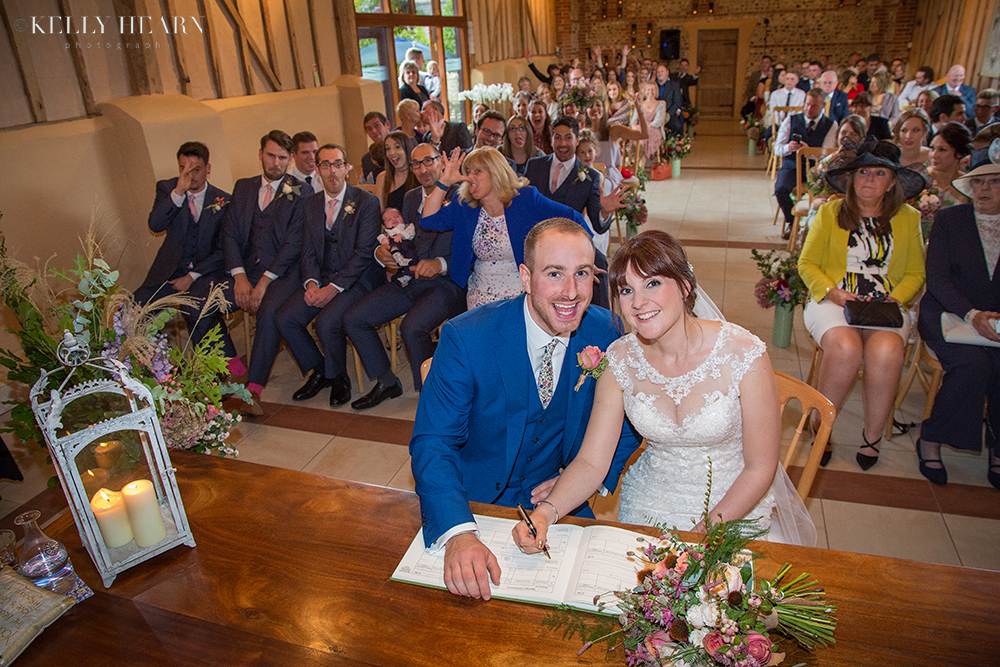 In between the day's intermittent showers, I took the opportunity to gather the bridal party together where we could properly appreciate the floral bridesmaid dresses alongside the bouquets, buttonholes and Tom's floral tie.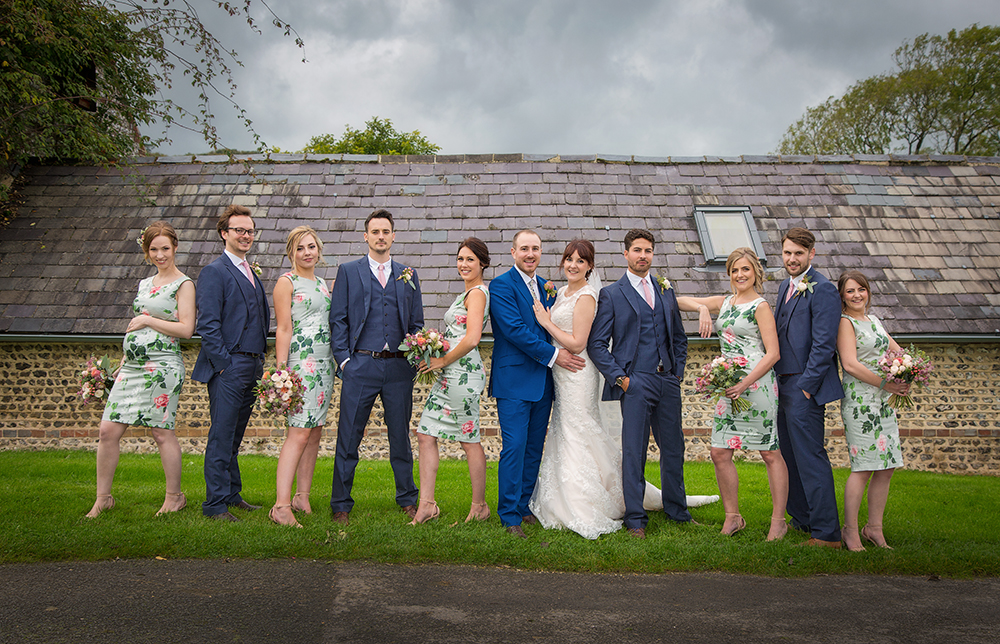 Thinking on my feet I decided to whisk Jess and Tom up to the top of the hill behind the venue before dinner. There was a shot they'd been secretly hoping to capture when we had discussed their photographic wish-list prior to the wedding so I had this in mind. Once at the top, instead of being greeted by a golden melting sunset or bright blue sunny sky backdrop, we were dealt instead with moody grey clouds and a spot of rain. A couple's disappointment, however, is often my opportunity! When the sun doesn't shine, I like the challenge of the interesting weather conditions which can be fabulous for capturing something a little more edgy, atmospheric and dramatic. As we were setting up the shot, suddenly before my eyes, Jess was hitching up her dress to reveal she was donning a pair of wellies! And of course, you've guessed it, they were floral!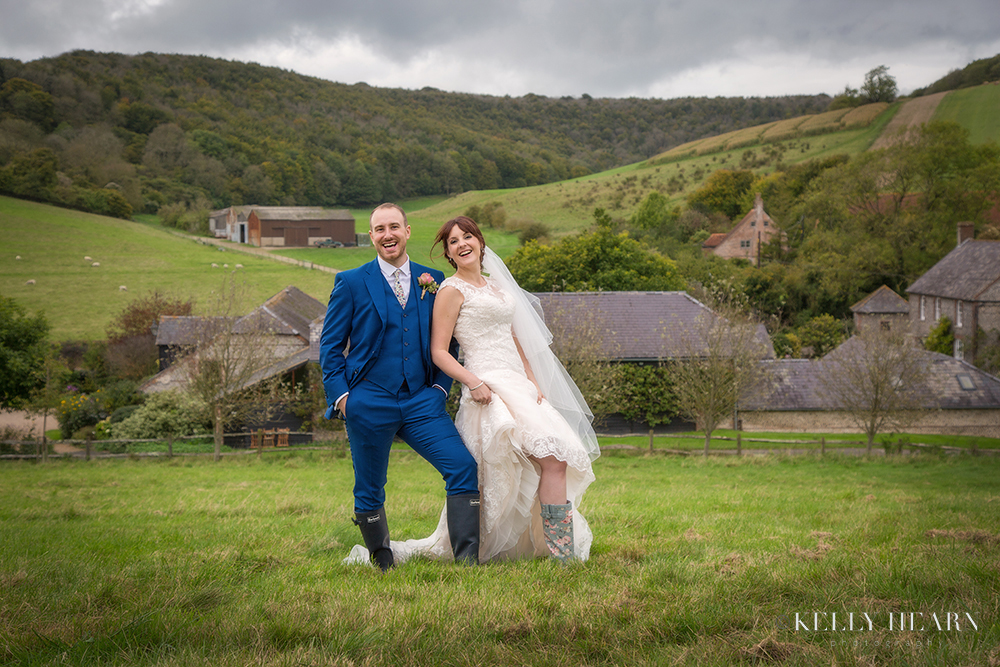 Back in the warmth of the barn and having regained appropriate footwear, the happy couple sat with guests to enjoy a delicious buffet of seafood platters, continental meats, an array of salads and fresh speciality breads, wonderfully put together by Nibbles2Nosh. The details were well considered amongst the floral vintage bunting hanging from the old oak beams and the beautiful peachy pink flowers dotted around the tables. As gin lovers, Jess and Tom had cleverly used funky Hendricks bottles as part of the table decor and to include a little participation, a little framed photo gallery featured which encouraged guests to take a polaroid, sign it and hang it on the wire in the frame. The little instruction board was one of many hand-scribed pieces by Jess, whose personal touch was a lovely special addition to the decor.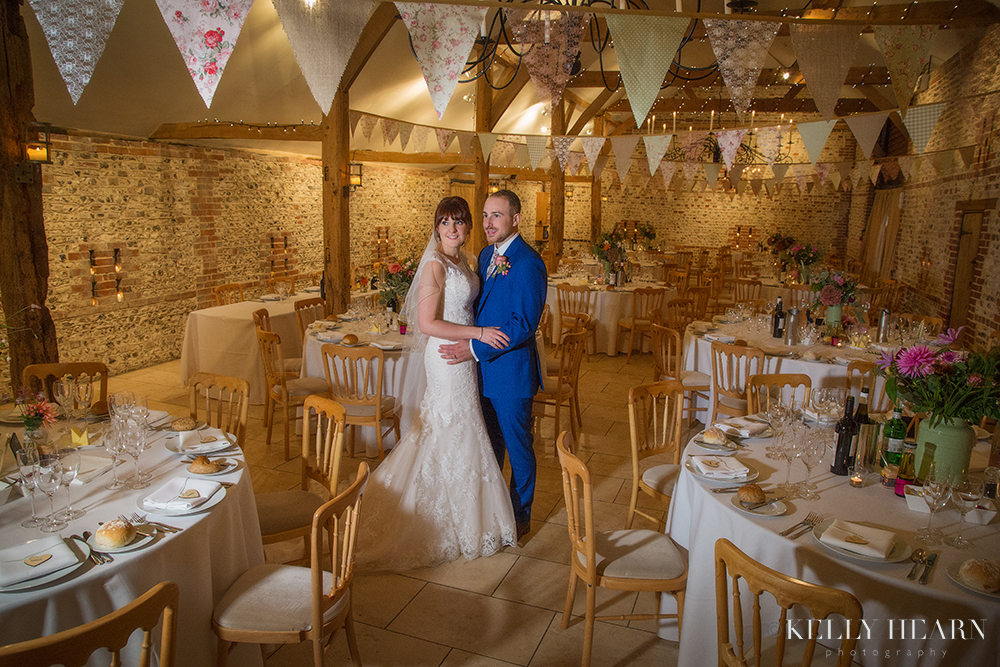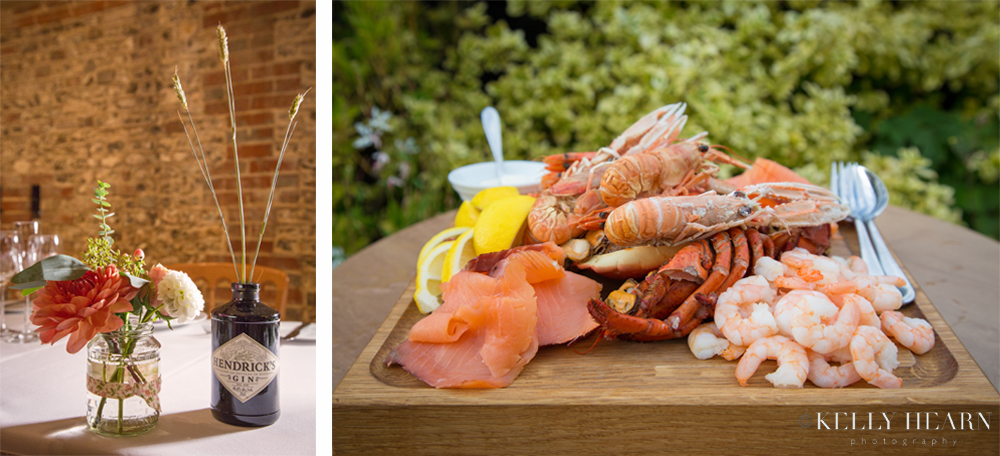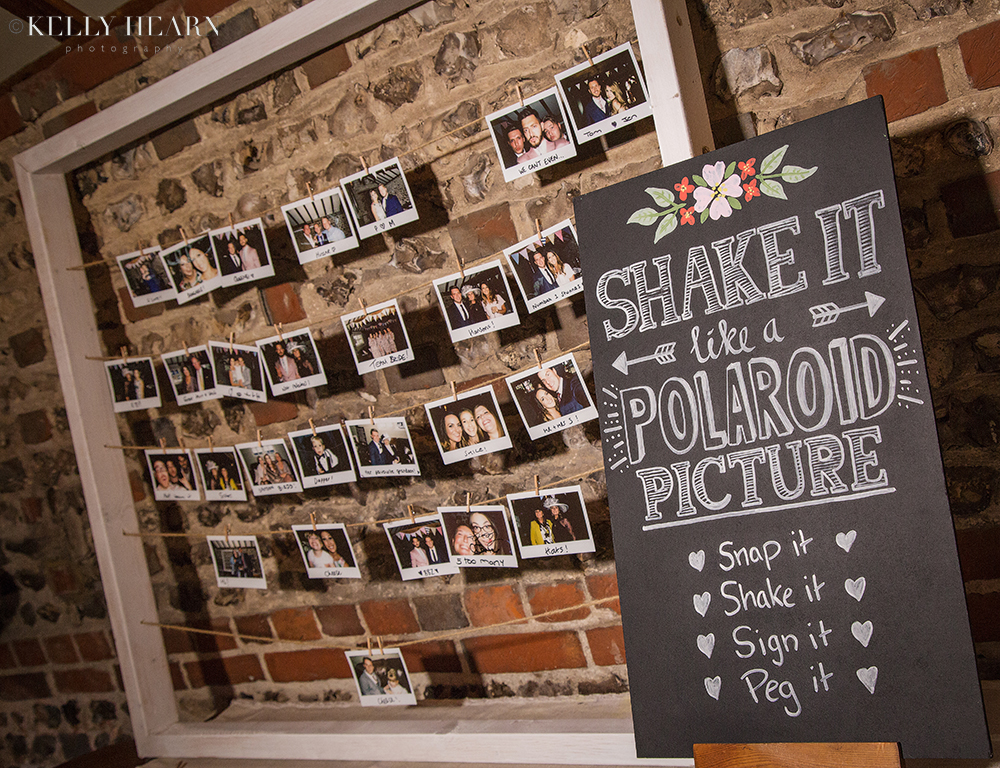 It wasn't long before chocolate brownie wedding cake was being consumed and the band were setting up for the party. Jess and Tom had really thought about provisions for the evening reception and along with great live music was a really cool authentic wood-fired pizza van! Not only did it feed those who were getting peckish after a bit of dancing, but it also doubled as a great prop for me to be able to capture the couple under shelter whilst the rain drizzled away! I do like to use these things to my advantage, and why shy away from a dark rainy night when so much fun was to be had?!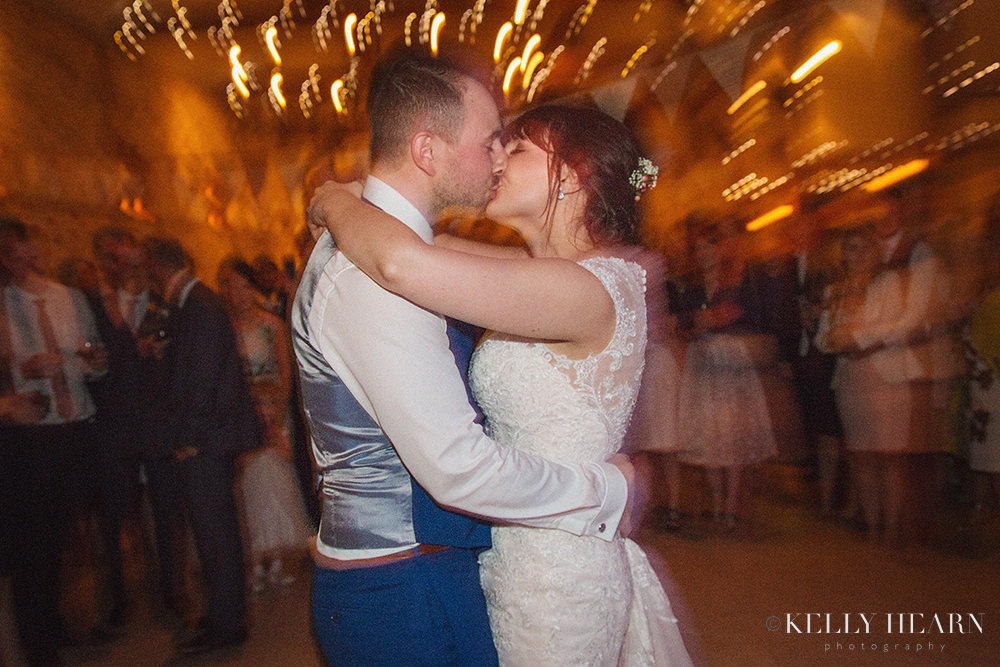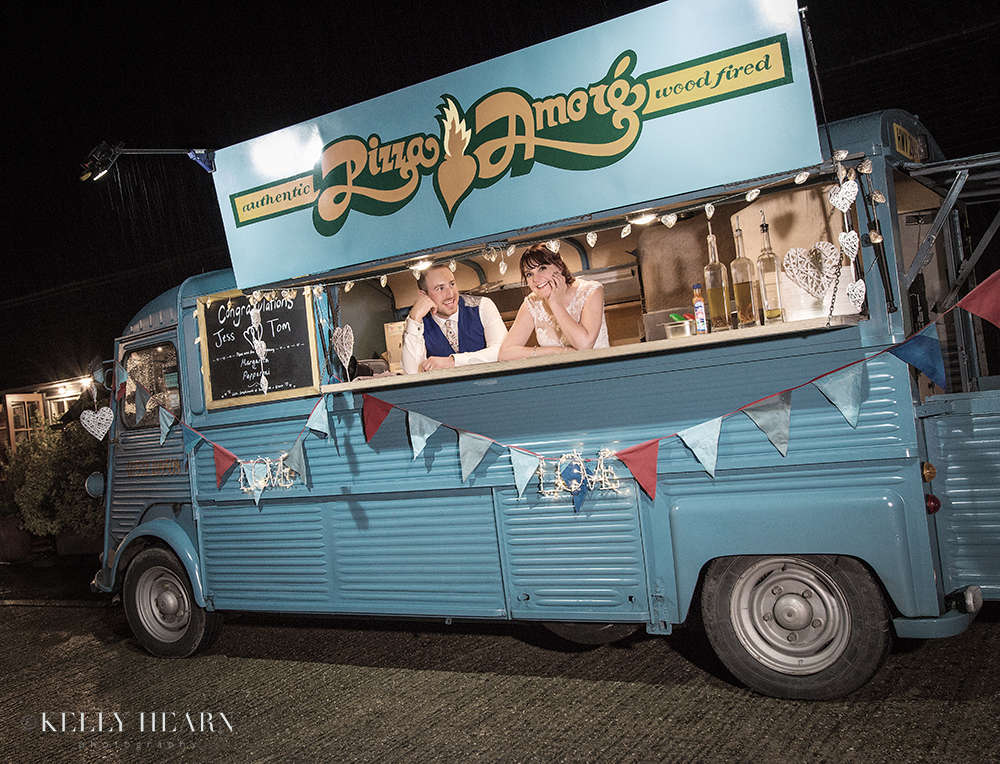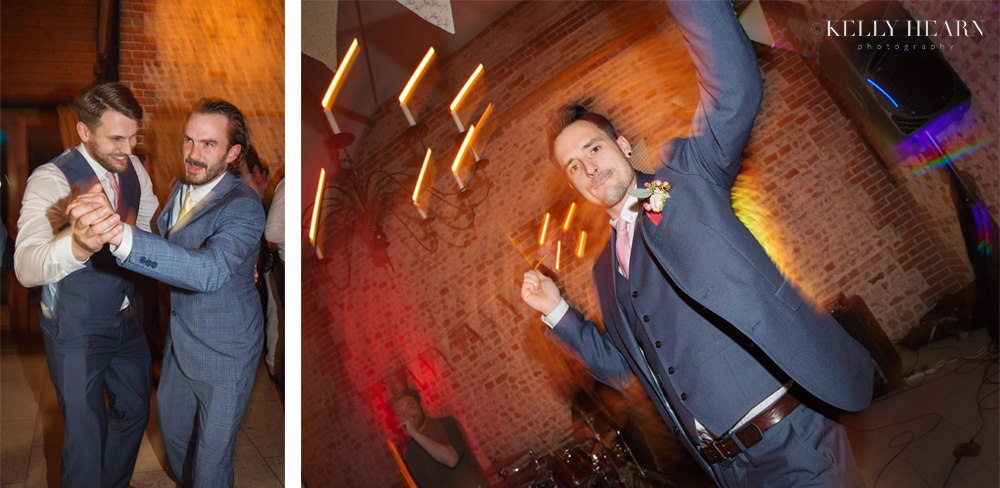 The 'blessing' of dampness continued into the evening and so our final photographs were aided by a lovely white umbrella. Under this, the new Mr and Mrs sheltered briefly for one final embrace before heading back to the dancefloor with family and friends. This unpredictable British phenomena we so love to discuss daily, must be seen as a gift. During a wedding, there's so much creativity to be found in the atmosphere you get through the lovely reflections on the ground, the powerful skies, the theatre of the rain itself captured in great lighting or by a moon beam... And I think Jess and Tom, with their summery floral theme and country rustic venue, really found the joy of the seasons all rolling into one!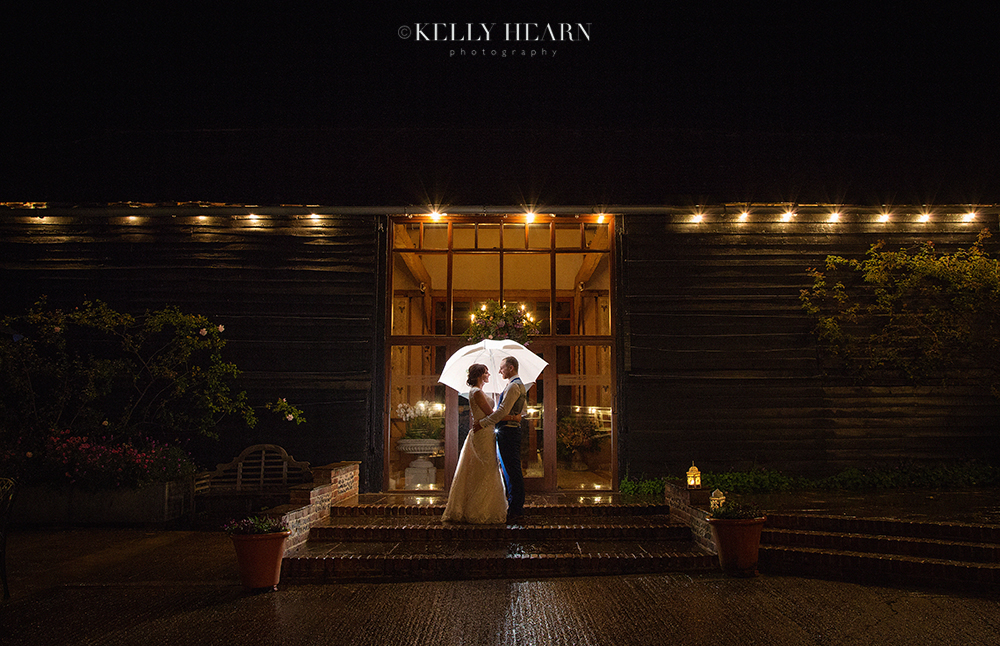 Congratulations Mr & Mrs Carter! You embraced your floral-inspired wedding day in all it's September glory; you got wet, muddy, wore wellies, ate pizza and danced all night! I loved your fun ideas and togetherness in it all and how you still managed to look classy and chic throughout the entire day! It was an honour to capture you both in all weathers! May your future together be both unpredictable and awesome, as was your big day!

Love Kelly x
Kelly Hearn A.B.I.P.P - A.M.P.A