Romance, Rain, Rugby & Roses
October 17, 2017
Kate & Michael's Walled Garden Wedding
It was a July summer's day when teachers Kate and Michael chose to graciously leave their sunny weather expectations at the door, so as to embrace the slightly grey rainy wedding morning that was dealt to them. These two had such an amazing outlook enabling them to welcome creativity and make the most of the drizzly circumstances and considering Kate and Michael were forced to change their outside summer ceremony plans, their flexibility to rearrange everything at the last minute was simply admirable. Highlighting just how much of a wonderful positive perspective they had, was also how they generously trusted me as their photographer to capture many amazing memories whilst in the most fun way possible! Despite the unreliable English weather, Kate and Michael certainly chose to see every moment that day as precious, which I believe was truly the key to the obvious joy they reflected in their images.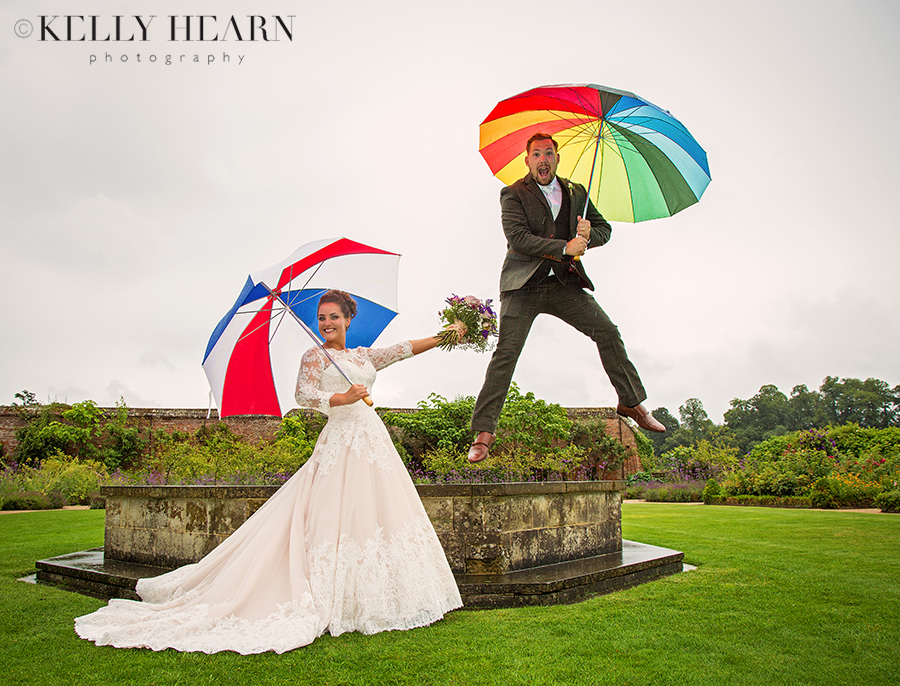 To set the scene, creative Kate had chosen calming and romantic sunset shades of purple as the colour theme for the day. She had selected an ombré of shades ranging from pale pastel pinks right through to vivid violet tones which were showcased beautifully in Kate's hand-tied wedding bouquet by Angel Like Flowers, the culmination of the whole day's colour palette displayed in just one stunning detail. As other outfits and elements of decor came into the picture during the day, it was clear that Kate had an eye for design and a specific look in mind which she achieved very successfully through all her innovative input.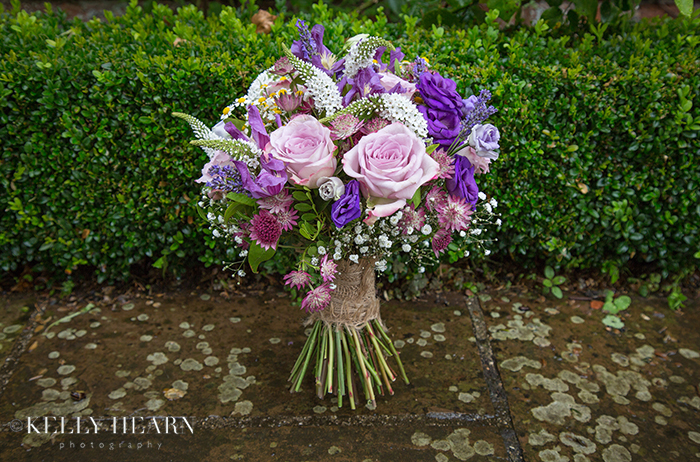 All ten(!) of Kate's bridesmaids, donned violet floral satin kimono gowns during the morning of getting-ready preparations, setting the scene for the day's vivid colour palette before changing into their dresses which follow the theme of graduating purples. Handcrafted by Kate's Maid of Honour and also the bride herself, each bridesmaid was given a bespoke bouquet made out of book pages in pastel hues to match the bride's bouquet. These clever keepsakes which were creative and timeless gifts, brought a hint of a vintage vibe to Kate's overall wedding styling. The big group of 'Kate-supporters' were a lovely lively bunch who helped make the morning of hair and make up fun, giggly and very memorable and whilst Chichester's ID Makeup, Hair & Beauty worked their beautifying magic on the girls, we captured one of Kate's creative ideas which was to incorporate some helpful signs to highlight her individual connection with each important member of her entourage!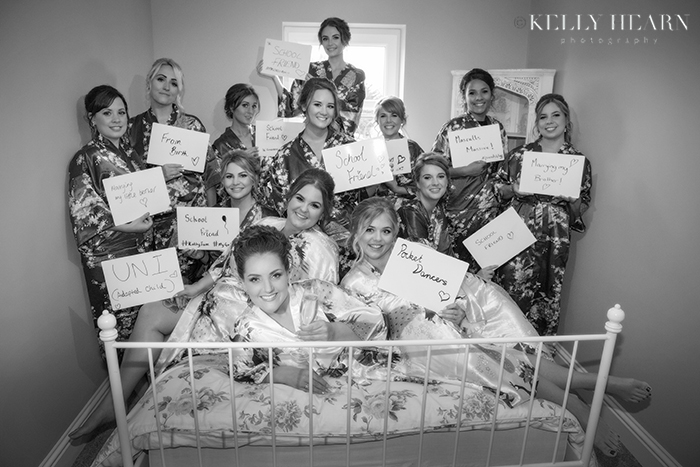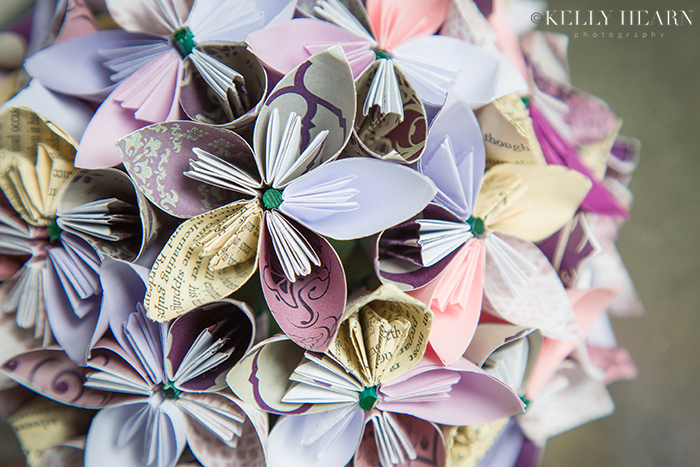 Kate looked stunning as she stood beaming in their south coast family home where all the ladies had been getting ready that morning. Mum stood proudly by her side, coordinated elegantly with her daughter in a soft pink lace dress. Kate's outstanding wedding gown by Madeline Gardner New York featured a timeless french Alencon lace bodice and wide hemline, organza skirt and a classic sweetheart neckline. Combining to create a feminine and romantic look, this ivory and blush number was finished perfectly by a little Alencon lace bolero jacket with flattering v-back and three-quarter length sleeves. Coordinating perfectly, Kate wore soft blush pink Harriet Wilde platform shoes with vintage leaf embellishment to the heel which brought a touch of silver and gold, mirroring the metallic tones of the couple's wedding bands.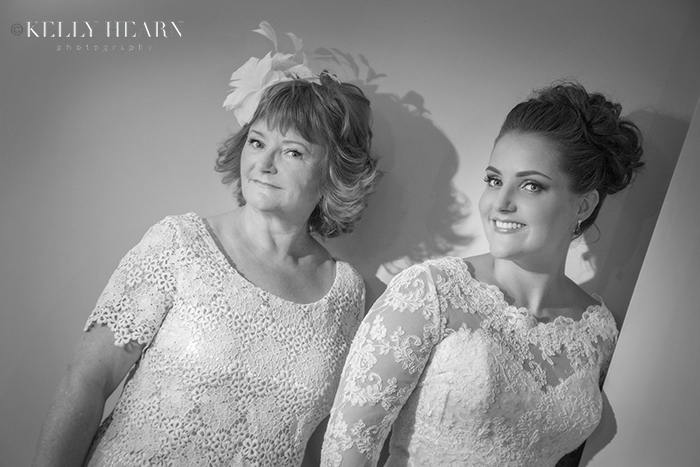 Soon it was time for Kate to meet her groom at their chosen historic venue, The Walled Garden in Cowdray, Midhurst, adjacent to the Cowdray ruins and within walking distance from the thriving West Sussex market town. The plans to marry outside in the beautiful scenic gardens were rudely interrupted by some unwelcome July rain, however, the party soon relocated to the elegant Castle Room which boasted impressive views of the ruins outside and had a lovely cosy warm feel. Not allowing any spirits to be dampened, Kate and Michael did not stop smiling as they continued to marry in a 'show must go on' style!
With vows soon done and dusted and with a big 'whoop!' from the guests, the room enthusiastically joined in joyful song to Jason Mraz's 'I'm Yours', as the new Mr & Mrs completed the formalities!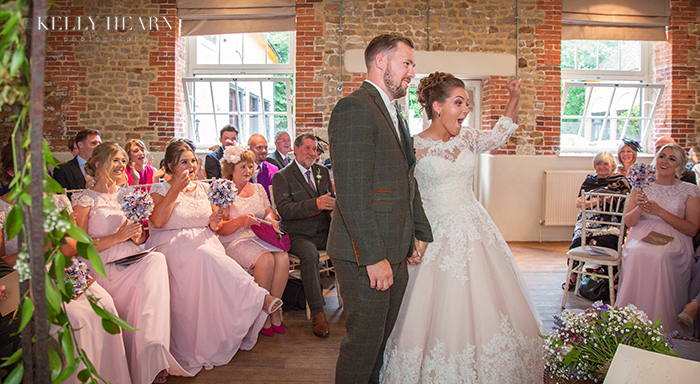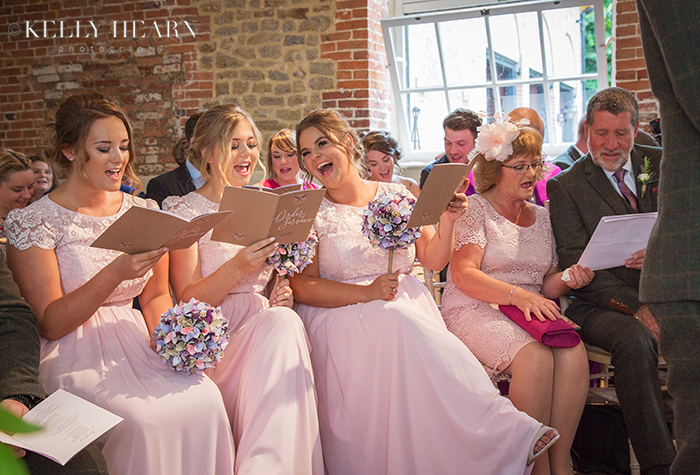 The bridal party were practically singin' in the rain as they daringly ventured outside for some photographs together after the marriage service. As group pictures go, I like to make sure everyone is enjoying themselves as much as possible despite a bit of drizzle and temporary discomfort. Michael and his groomsmen did not disappoint as they kept up the energy levels and did their best Gene Kelly impressions, working those umbrellas for the camera!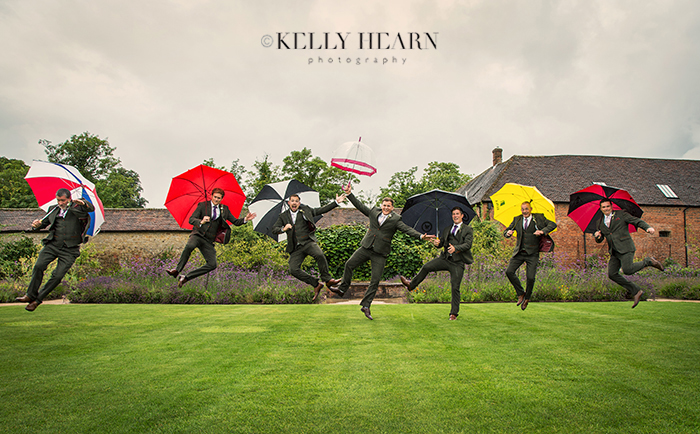 Meanwhile, although traditionally we may expect a uniform look for bridesmaids, Kate's bridesmaids were working the eye-catching ombré dress trend to perfection in romantic shades of pastel pink, lilac and violet. Wearing long gowns with dainty lace capped sleeves, we found that there were many exciting combinations of dresses to pose and re-pose. So many options!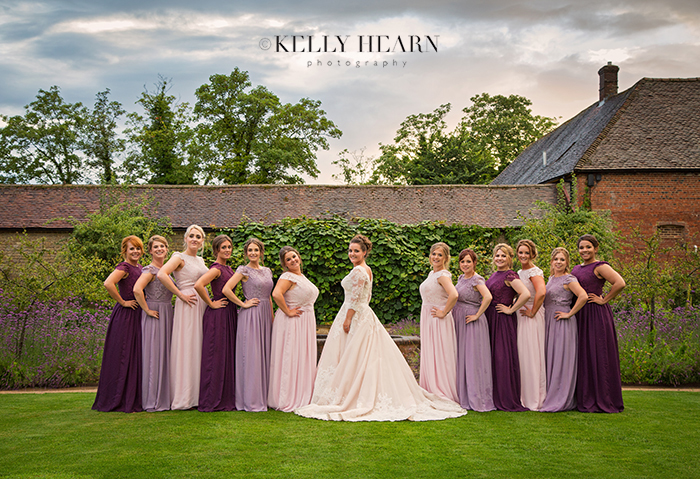 As the weather started to clear up a little I was able to capture the newly weds in the gardens with the pretty violet wild flowers in the foreground. I love these kinds of unplanned yet complimentary elements which serve to enhance a couple's pictures as a set, and help bind them together as part of the broader theme of the day. These little colour details working throughout the set make for a really tonally pleasing album!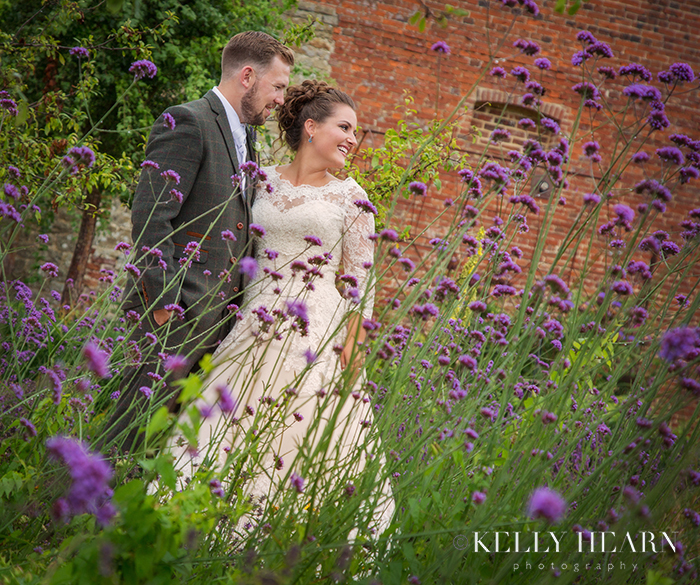 Bringing some contrast to the soft and romantic images, we were able to use the remains of the Cowdray tudor manor house as a magnificent backdrop to some portraits of Kate and Michael. The strength and greatness of this building gave a powerful feel which reflected strength of character I had seen in this young bubbly couple. I do like to set people to backdrops which help to reveal different parts of their personalities and show them in, literally, different lights. We are, and so should be shown in many different dimensions!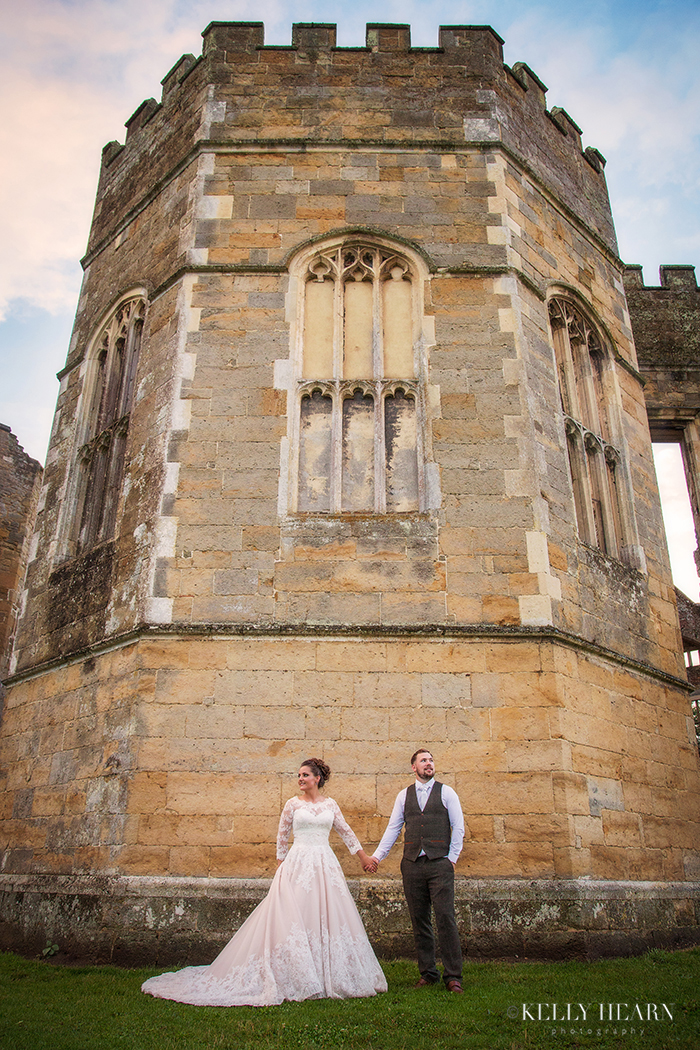 Another significant tower had soon caught my eye when back inside and the cutting of the cake was upon us! After a buzzing and enjoyable reception with a yummy selection of BBQ dishes provided by Buns to Banquets, guests couldn't wait for a slice of the vintage-esque Victoria sponge and chocolate sponge layered naked cake. Prettily decorated with seasonal berries and lavender it looked seriously delicious and I loved that the hint of mauve was included in it's presentation to stay on theme. The fact that there was also a choice of flavours all in one cake was genius! And for those without a sweet-tooth, there was even a cake of cheese on offer alongside a giant pork pie! The choices were endless!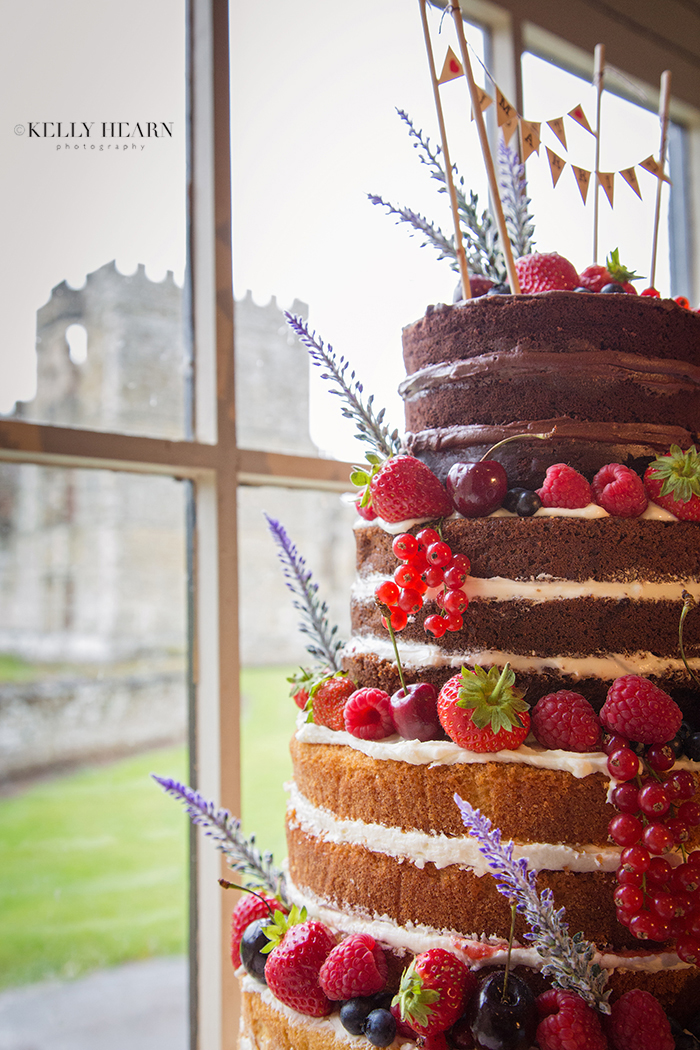 Evening guests began to trickle in and Kate and Michael took to the dance floor and performed a very professional, well choreographed first dance, surprising and entertaining everyone in the room! Considering Michael is a rugby player he was very light on his feet….(I should have really expected this having seen his Gene Kelly moves from earlier in the day)!

Talking of rugby, we couldn't go the whole day without a salute to Michael's 'other' passion in life aside from his new wife!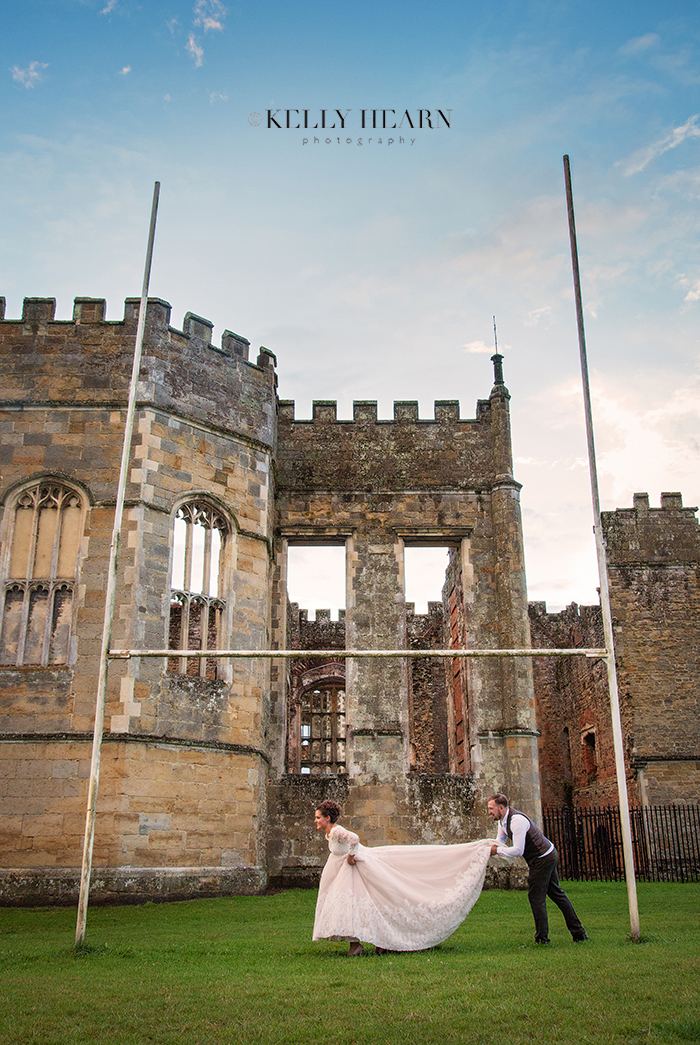 What a brilliant day full of vintage charm and romance, seamlessly coordinating colour schemes and historic settings which felt both superbly grand and intimate all at the same time. The day could be summarised as traditional yet modern, rustic yet polished, classic yet youthful, sincere yet fun!  With all these contrasts, and having embraced the rain and gone with the flow I felt Kate and Michael really did get the best out of their very special wedding day. 
Congratulations Kate and Michael! Thank you both for allowing your creativity and personalities to shine through so I could capture it all on camera. 
Love Kelly x
Kelly Hearn A.B.I.P.P - A.M.P.A