A Jolly Good Time
July 20, 2017
Nic & Steve's Southend Barns Spring Wedding
With regards to weddings over the span of my career I thought I had seen them all. That was until Nic and Steve invited me to photograph their unique and special day where I happened to stumble upon the fact that their wedding theme, (including colour-scheme that steered the outfits and venue decor) had (loosely) been based upon a soft toy squirrel and the well loved animated feline character, Garfield! Needless to say, I immediately knew this wedding day was going to be full of originality and creativity and it was the subtle quirkiness and fun that made being part of Nic and Steve's day an absolute delight to capture on camera.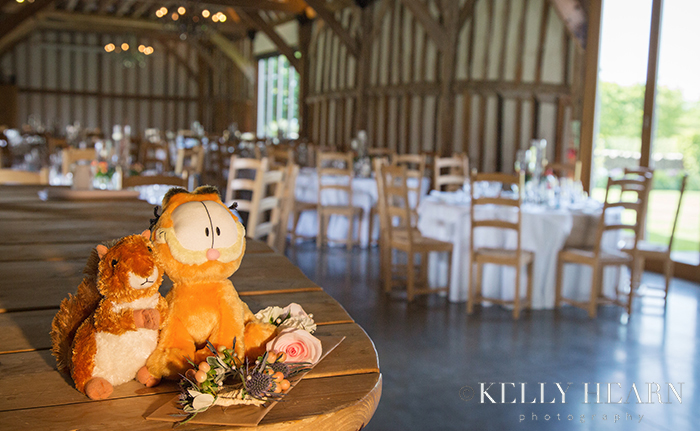 The wedding was being hosted at one of my usual stomping grounds, the contemporary yet rustic, lovingly restored dairy farm in Chichester known as Southend Barns.  In the Collecting Yard, an under-canopy outside space, Steve was to be found with his best man, propping up the bar shortly before the wedding was due to commence in the ceremony room. Potentially the bar could have been propping up Steve, (I'm not sure how nervous he was actually feeling!), but from where I stood, this groom was looking chirpy, relaxed and excited to see his bride!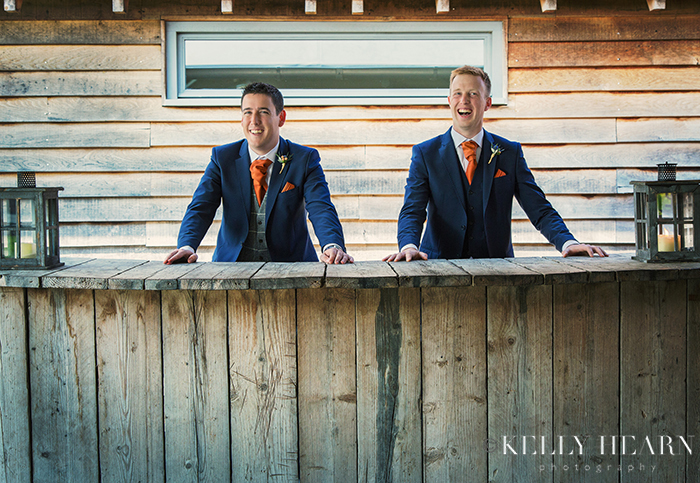 Nic had been getting ready in the bridal suite and there I photographed a few of the details that highlighted a bit of her style. By grouping same-shaped objects within the one image we create a pattern that becomes pleasing to the eye. The effect is found here in this composition of circles as Nic's wedding ring sits against her Chanel perfume against a background of piled cut logs.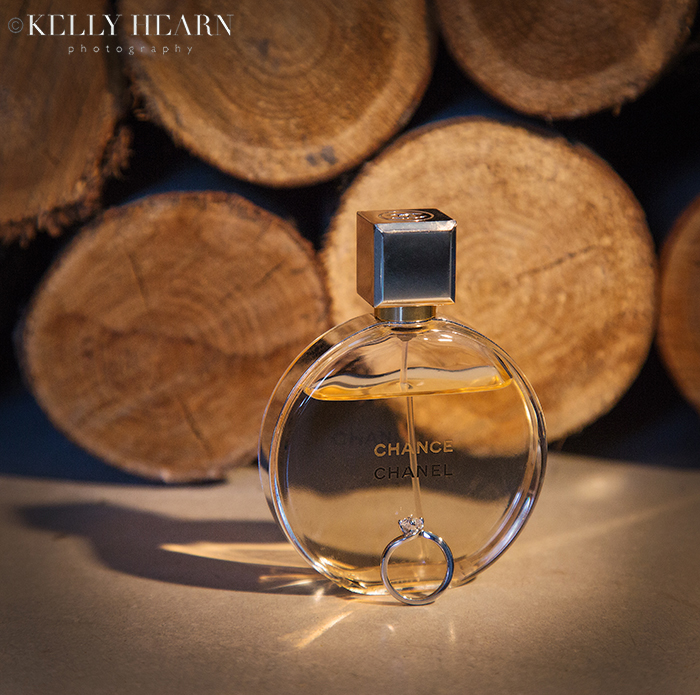 Nic's stunning bouquet designed and created by Rococo Florist in Chichester, consisted of contrasting florals in bright oranges and blues. The orange theme, (I believe to be inspired by Garfield(!)), was zesty and striking and was also the accent colour worn by the groomsmen whose ties and pocket squares were in the same vivid tone, making a striking impact against their blue suits.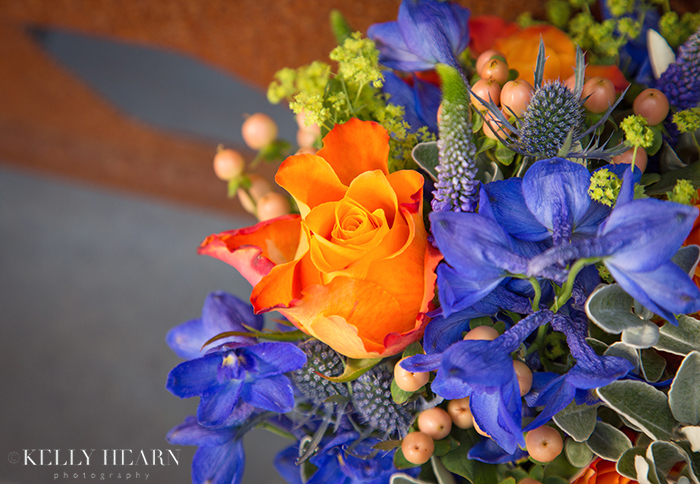 It wasn't long before Nic's journey to the altar was in motion and she made her grand entrance (only a little bit fashionably late)! Steve may have been watching the clock a little but with excited anticipation he finally turned, delighted to see his stunning bride making her way to be by his side.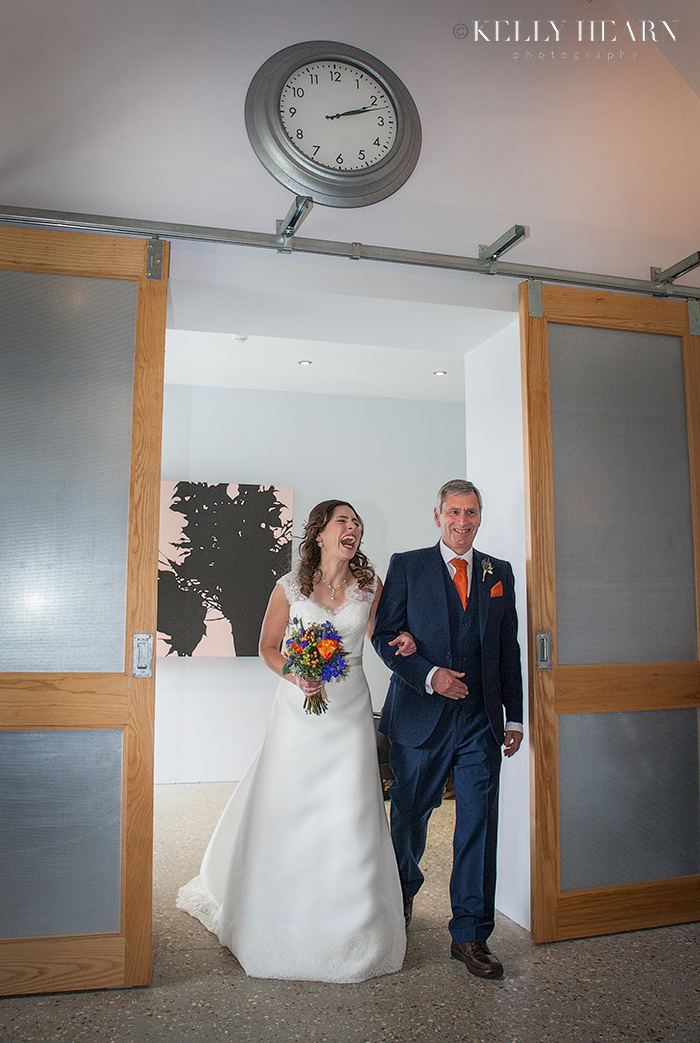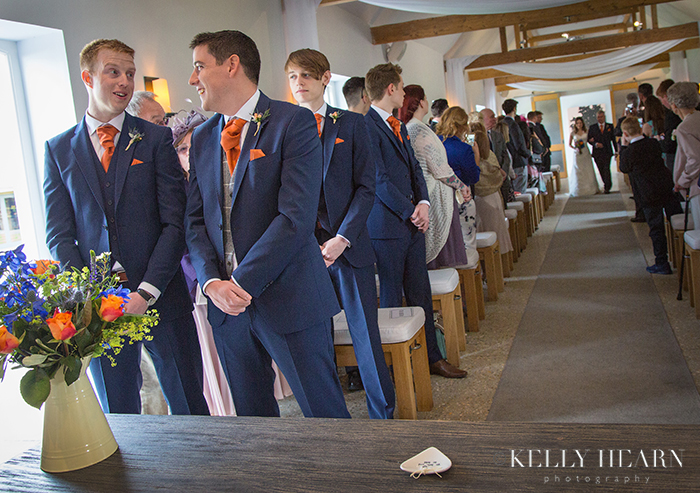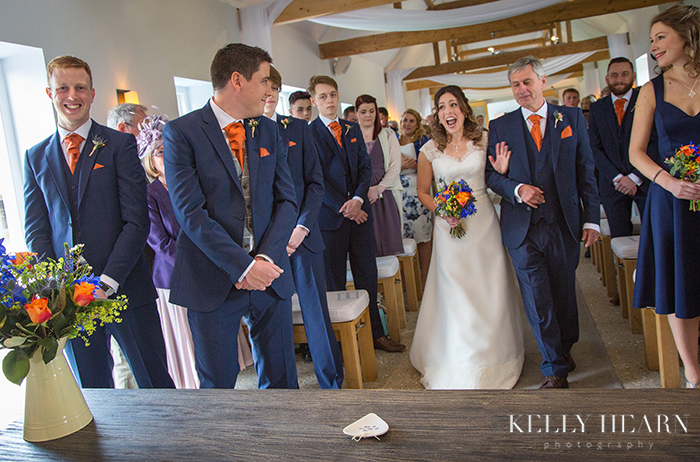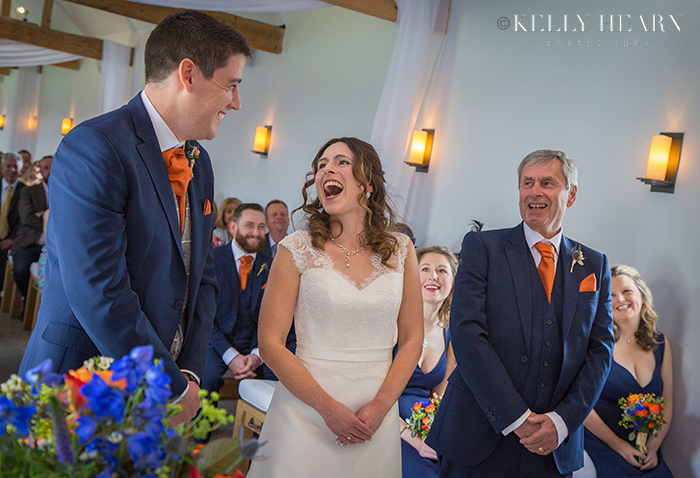 After a relaxed and happy service, Mr and Mrs Jolly certainly were living up to their name, greeting guests on the lawns and celebrating with a glass of something bubbly. Having stolen them away for a few portraits in the gardens, the bridesmaids soon joined the couple, looking sophisticated in their navy blue dresses which perfectly complimented the groomsmen's attire. Posies of oranges and blues to match Nic's bouquet tied the look overall together seamlessly.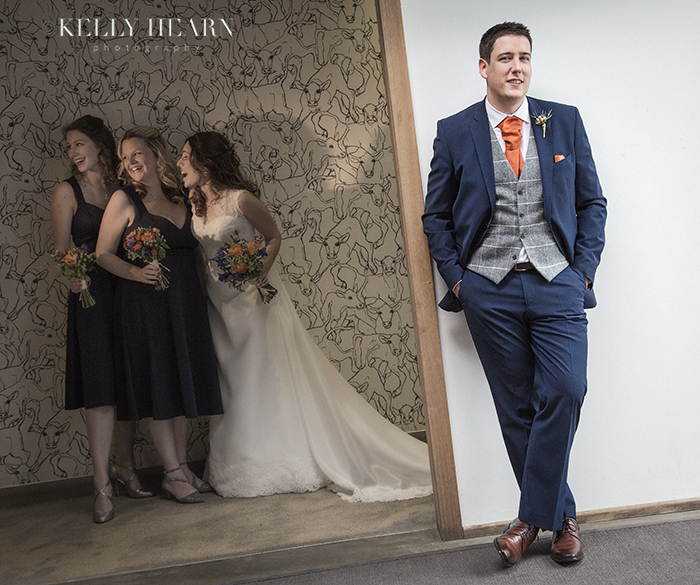 Even the confetti thrown over the newly married couple was complimentary to the chosen colour palette, as I noticed the remnants of the orange and
blue petals which had fallen delicately over Nic's elegant lace-detailed train.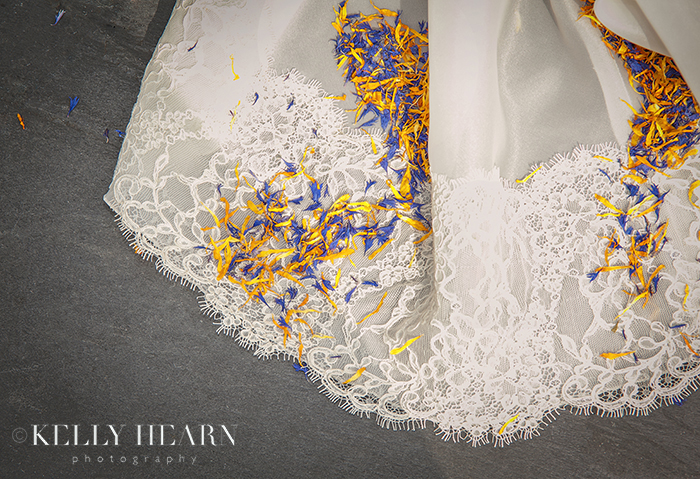 As for any bride and groom, getting photographic evidence of family and friends gathered together is a must, we therefore made sure we had captured these all important shots of loved ones before grabbing a delicious 99 Flake from the Vintage Sussex Ice cream van. This was a lovely treat for the wedding guests and a nice traditional English addition - very fitting for the modern/rural venue Nic and Steve had selected set in the beautiful Sussex countryside.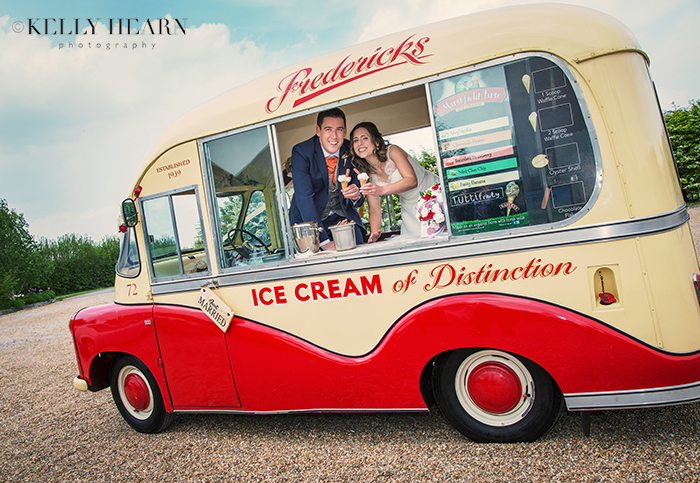 The reception held in the Threshing Barn was tastefully decorated with hessian table runners and tall glass floating candle holders containing decorative twigs supplied by To Have And To Hire. Also simple milk bottle style vases containing flowers in the bright orange of the day. Guests found their tables marked out for them on an unusual alternative style of table seating plan which consisted of a stack alcoholic spirits, each with a personalised label listing guest names. I did wonder if guests got to consume their individual table plan(!), then I spotted matching bottles signifying which table was for who, and even miniatures at each place setting - of course, a fantastic favour idea!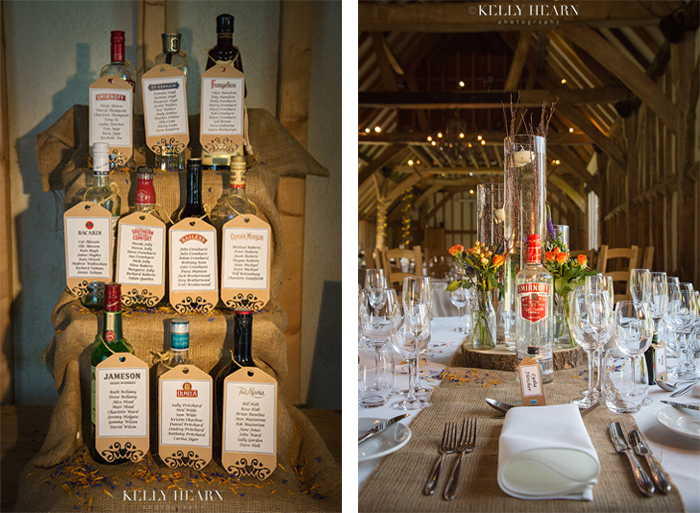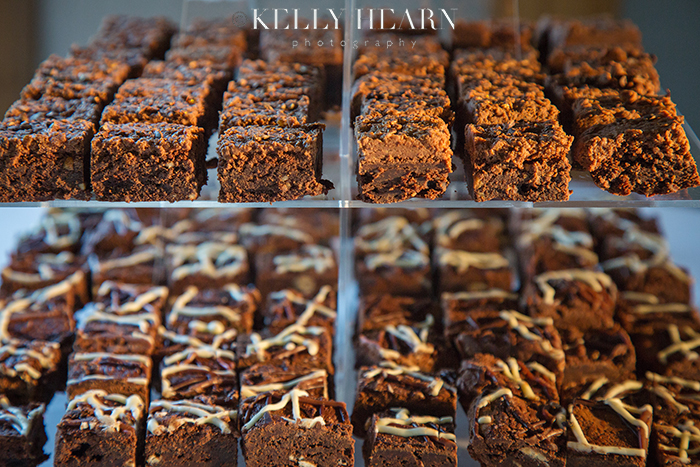 Whilst there was luxurious chocolate brownies and an impressive wedding cheese cake on offer for guests at the end of the meal, the couple also enjoyed cutting a traditional wedding cake topped with their favourite icons - Garfield and the squirrel! I never thought a lazy orange cartoon cat from the 80's would feature in such a way at a wedding but I loved the originality and classy way in which he was incorporated! Nic and Steve knew how to not take themselves too seriously even on, arguably, the biggest day of their lives and I think many of us appreciated their good humour and fun approach!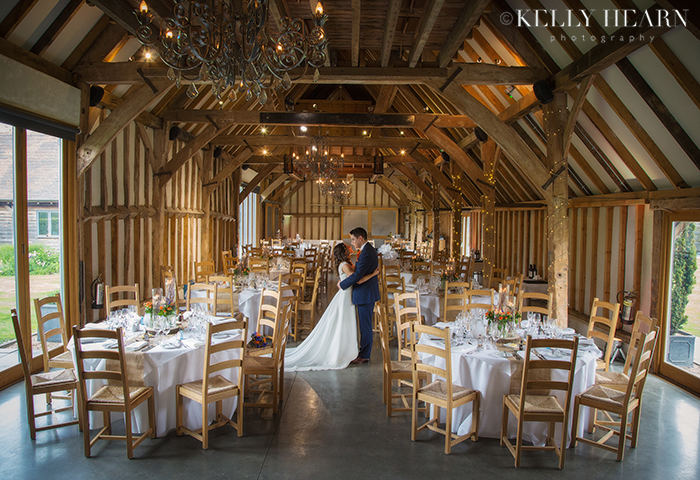 What a joy-filled happy day in May it was, and so lovely to see so many adoring family members and friends celebrating the marriage of this lovely entertaining couple. Mr and Mrs Jolly, thanks for inviting me to photograph your wonderful day with its striking and adventurous theming and stylish flare. Wishing you every happiness together as you move forwards with your lives together into the unknown. But one thing I do know for you; the future's bright!

Love Kelly x
Kelly Hearn A.B.I.P.P - A.M.P.A