Love's Perfect Balance
May 26, 2017
Sue & Paul's Southend Barns Spring Wedding
On a sunny spring day in late March 2017 I had the pleasure of photographing Sue and Paul as they married at West Sussex's modern yet characterful Southend Barns. This fun-loving pair brought the party with them, dousing the day with good humour, smiles and warmth - ensuring every guest could look back with fond memories having been thoroughly considered, looked after and entertained in various thoughtful and creative ways!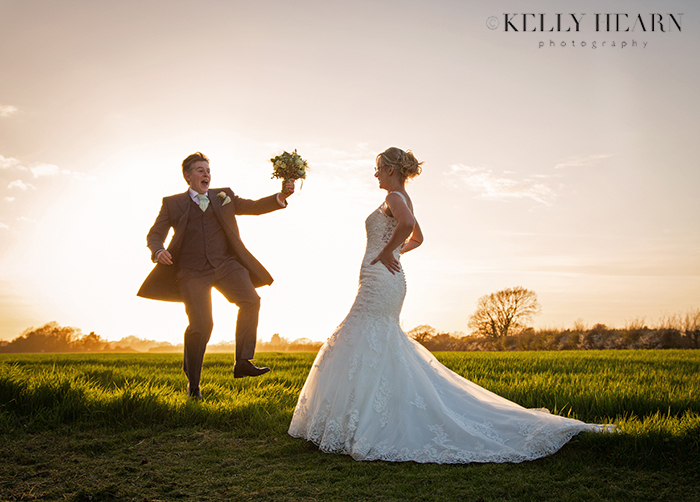 With an engaging lighthearted approach to the wedding, Sue and Paul successfully balanced tradition with contemporary ideas, ensuring all of the expected wedding fundamentals were in place but with a really good measure of personality thrown into the mix. Interestingly this sense of balance is seen throughout the design of the barns and was also something that unfolded photographically. This reflected throughout several of the images captured that day, starting with the venue on my arrival.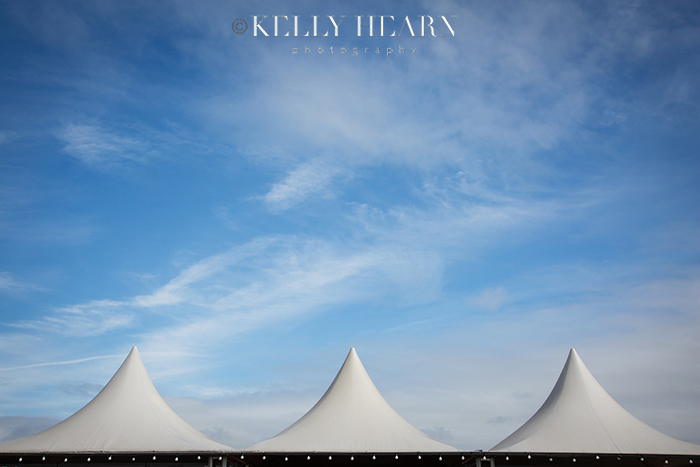 Southend Barn's unique and striking man-made canopy between the Dairy Barn ceremony room and collecting yard is a fantastic feature of the venue enabling a bride and groom to enjoy the gardens no matter the weather. Whilst the canopy provides a perfect example of symmetry, (fortunately for Sue and Paul that day) the blue skies and not-so-uniform wispy clouds that were scattered through that turquoise canvas, set the most dreamy scene for the day ahead.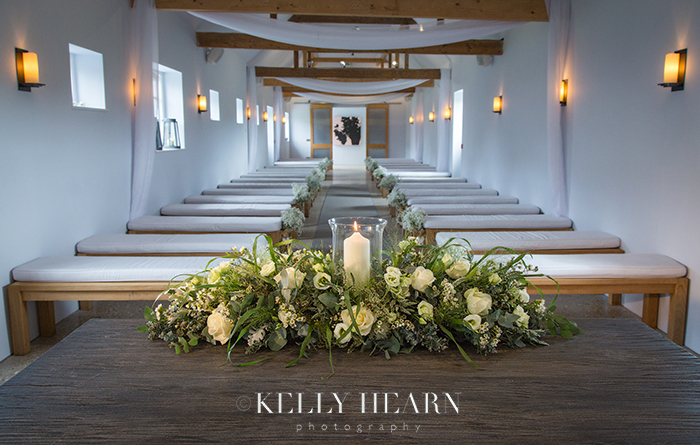 Before guests started to arrive I took a sneaky peek at The Dairy Barn where the vows would take place. It has a carefully designed layout with a lengthy aisle for the perfect bridal entrance and an impressive high vaulted ceiling with exposed oak beams from which delicate drapes hung, provided by 'Hire Your Day'. The cushioned wooden benches either side of the aisle were set out in perfect rows. Even the table floral centrepiece with it's central candle sitting amongst the white rose and foliage worked perfectly in helping me to capture that symmetrical shot.
Excited to photograph the bride, I met Sue as she was getting ready in the bridal suite known as the 'Milking Parlour'. Her beautiful ivory gown hung in the window with the warm sunlight filtering through the delicate layers of lace, showcased again by the beauty of symmetry.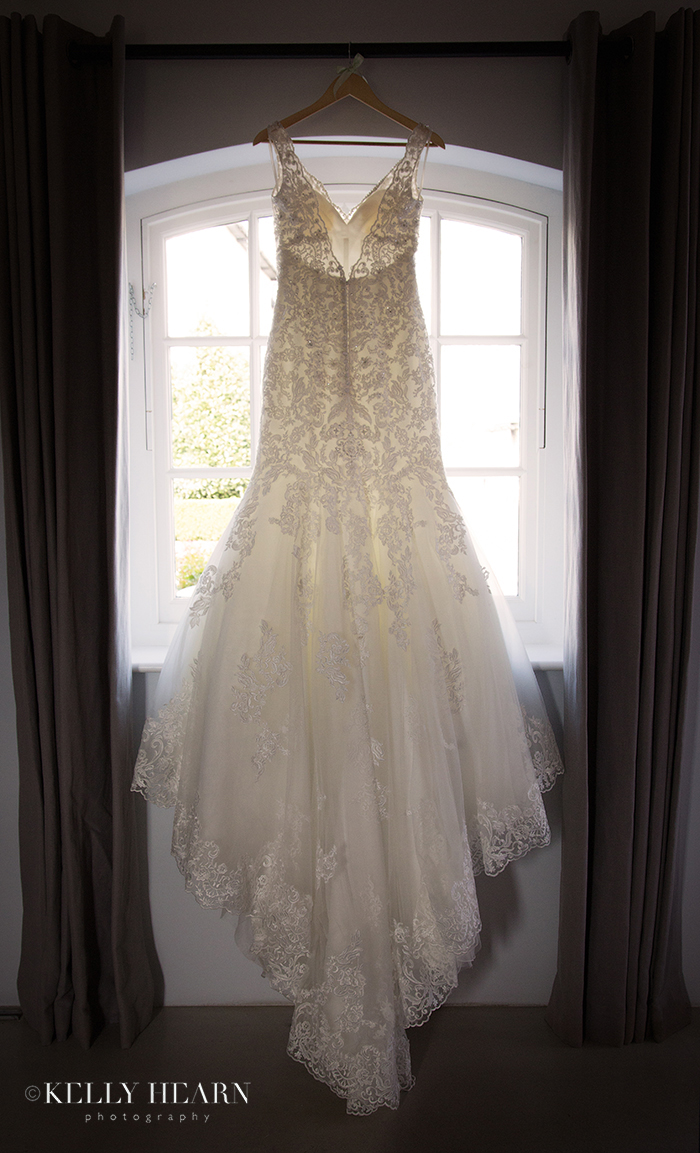 Symmetry is a powerful photographic tool that is, by default, really pleasing to the eye and feels somehow familiar and comfortable to us. So much in nature (including ourselves!) has symmetry in its design and because our brains inherently love balance (as it's easy to process), we are more drawn to anything aesthetically symmetrical compared to an off-kilter alternative. In the minutes that I have to work with a bride as she prepares for her big day, I like to find the details that most matter to her and capture them in the most creative and interesting way I can. Often composing a shot using symmetry is a way I will achieve this, and for Sue's Jimmy Choo's and stunning sparkly necklace, this technique showed both together, slightly unconventionally, but hopefully in a way which our brains appreciate!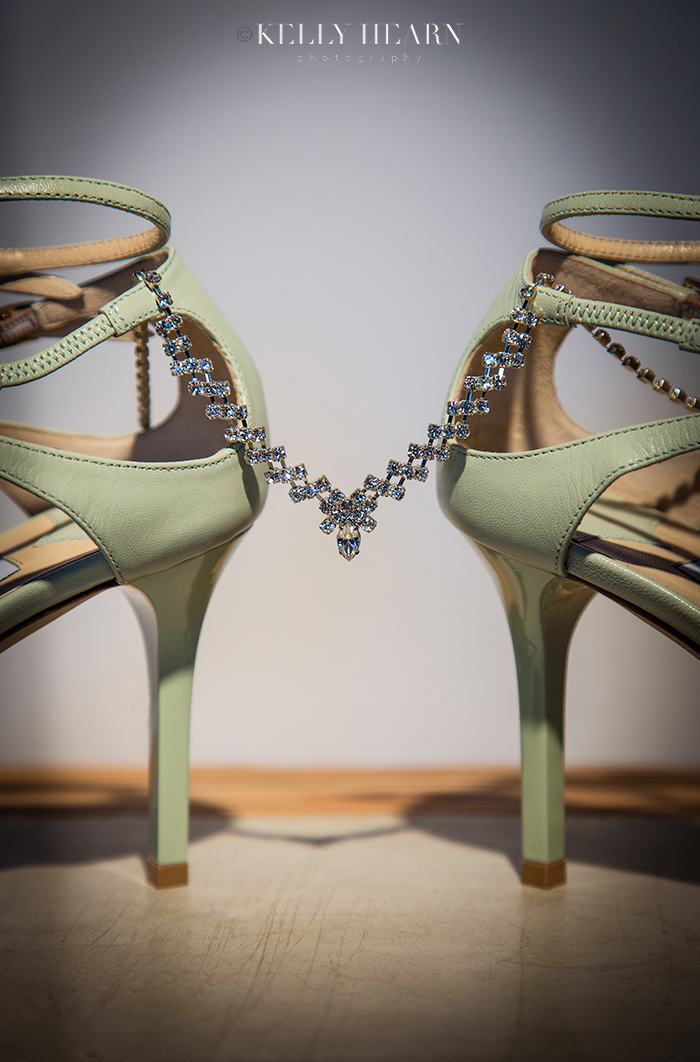 Reflection works in a similar way to symmetry and I thought Sue looked beautiful in her portrait reflected in this big whitewashed mirror that hung in the bridal suite. Professional make-up artist Lucky Kang from Elegance Makeovers created Sue's flawless look whilst her style was completed with a delicate bouquet in a palette of whites, greens and subtle blues, designed by Gracie at The Flower Gallery.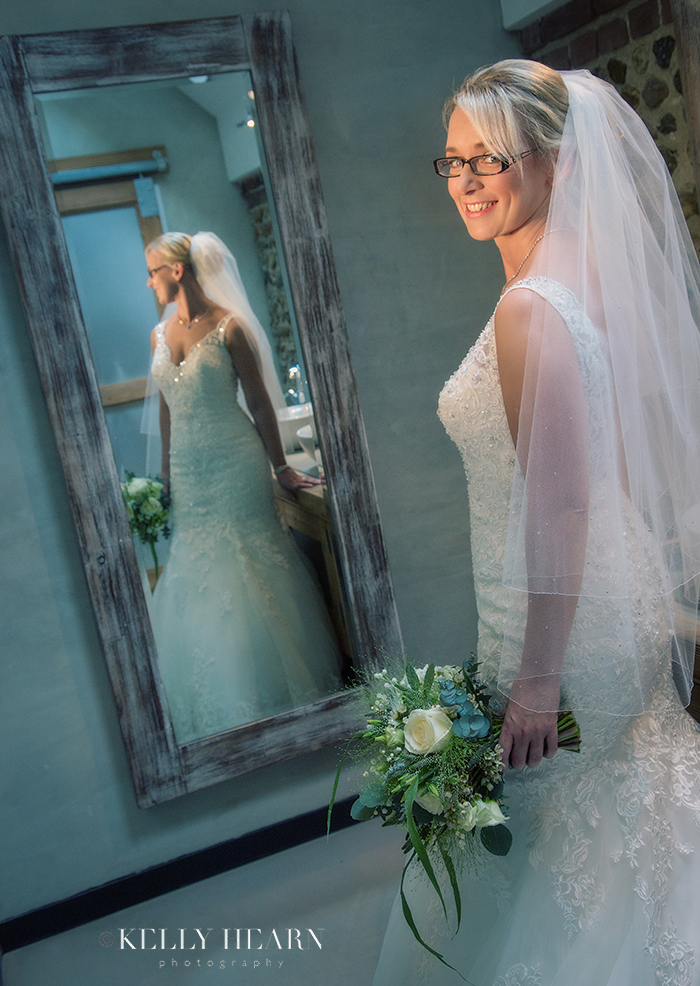 Before the official proceedings began, I went to meet Paul who was sat out in the collecting yard with his groomsmen anticipating the exciting day ahead. The log-pile wall feature against the dark fabric of the sofa gave me a striking backdrop against which to symmetrically arrange and photograph this groom and his trusty sidekicks, moments before seeing his beautiful bride grace the aisle of the Dairy Barn!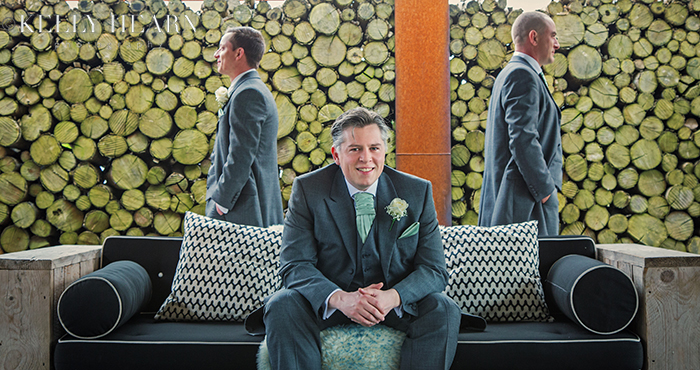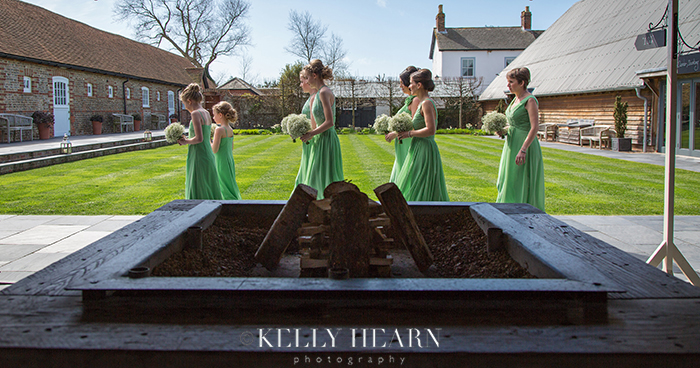 Ahead of the bride, an entourage of bridesmaids (including four nieces, two friends and a sister!) crossed the courtyard dressed in floor-length bright mint green dresses. The vivid yet fresh tone complimented Sue's own shoe choice and bridal bouquet as well as the flower displays dotted throughout the venue. It was a stunning entrance from the bridal party and truly brilliant to see Paul's face as he watched Sue come down the aisle arm-in-arm with her Dad. What a lovely heartfelt reaction!
Drinks and chit-chat followed the happy ceremony as guests scattered throughout the courtyard and pristinely looked-after gardens, hoping to steal a minute or two to congratulate the newly-weds.  This is always my opportunity to capture some candid moments, the beauty in them being that the subject has no idea you are there and so are captured without a posed appearance or self-awareness. These natural shots add such great context and personality, also giving the bride and groom lots to smile about when they view the images a little while after the wedding!
I love the amusement gained by the comparison of these next two shots; in this scenario it seems that things don't change just because you grow up!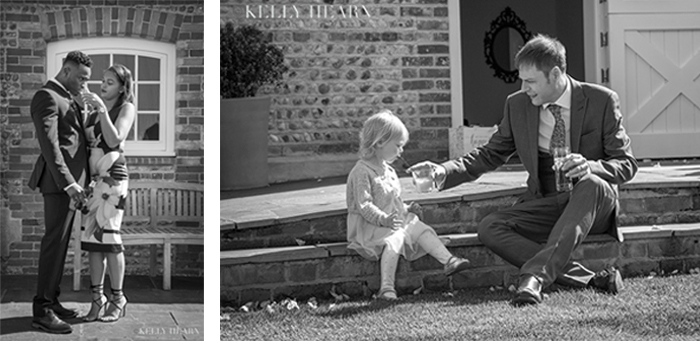 ...And how product placement can accidentally say a lot about the people in the photo!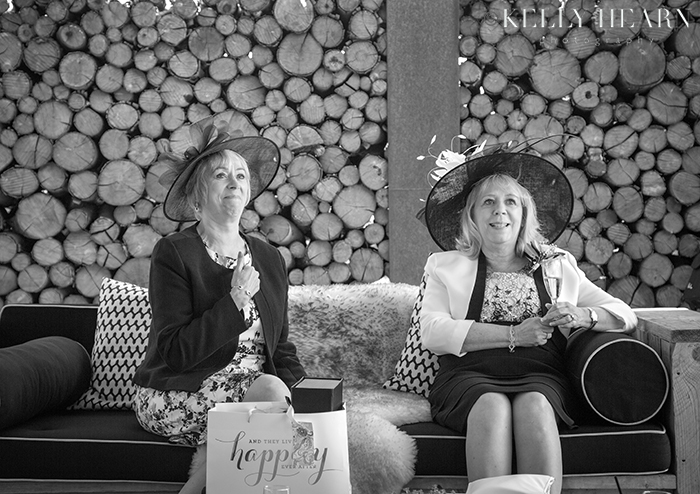 Later in the evening more symmetry ensued as I found a great spot offering a wonderfully symmetrical backdrop, ideal for the couple to have some portraits taken whilst guests continued to mingle.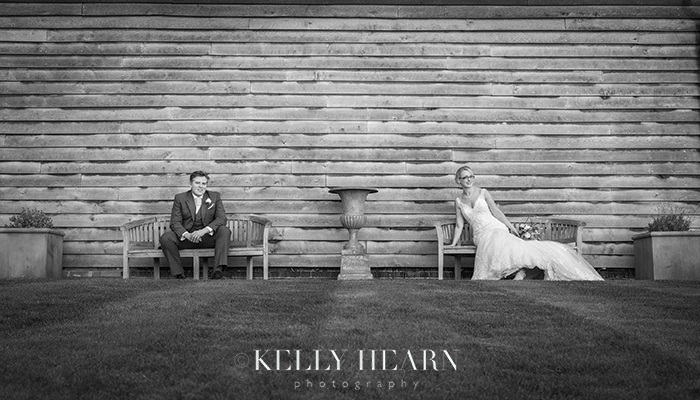 A lively reception followed where we all saw a little bit more of Sue and Paul's individual touches and cheeky personalities come to life. At each guest's table setting was a favour containing TicTacs, cleverly labelled 'Mint to be Together', (I liked how this was both amusing whilst also being one of the most practical favours I have ever seen)!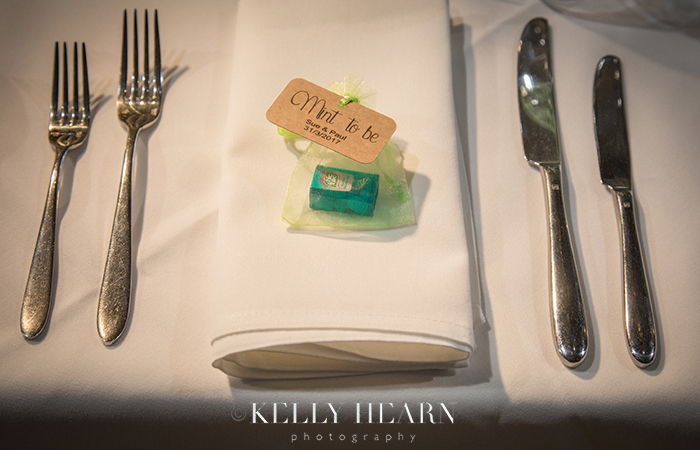 I also spotted something concerning an important tradition that had caused some pre-wedding controversy between the couple - the wedding cake! Whilst Paul was very happy with the idea of having a traditional white wedding cake, Sue (Star Wars super fan) of course wanted a Star Wars themed cake (as one does on their wedding day)! In the end they compromised and decided to do both. (But all in one cake)! This ingenious design was created by Louisa Bland at LouBcakes and showcased a snippet of Sue and Paul's wonderful quirky humour!
Getting guests into the party mood before Sue and Paul's first dance was entertainment extraordinaire, DJ and Master of Ceremonies, Brian Mole. A funny Mr & Mrs quiz and other inventive and interactive games got guests warmed up and totally ready to hit the dance floor.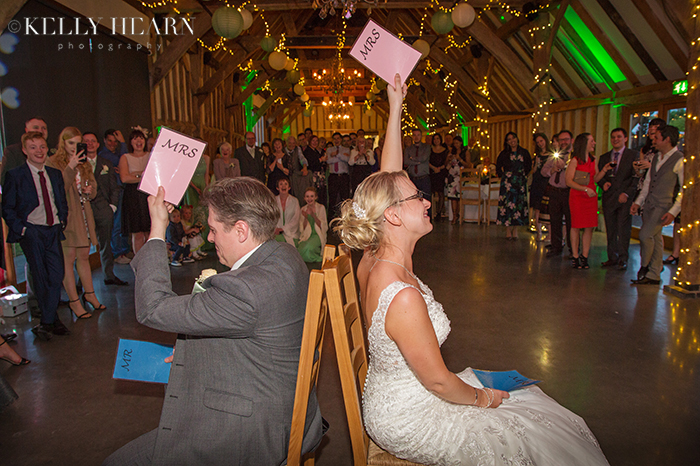 The evening was drawing in and Sue and Paul came out into the courtyard for a few end-of-day portraits, which I like to try and do away from the hustle and bustle of the dance floor. Just having that moment out in the crisp fresh evening where the blue sky was beginning to deepen and the moon was shining bright overhead was perfect for reflecting a little on what this amazing day had really been all about.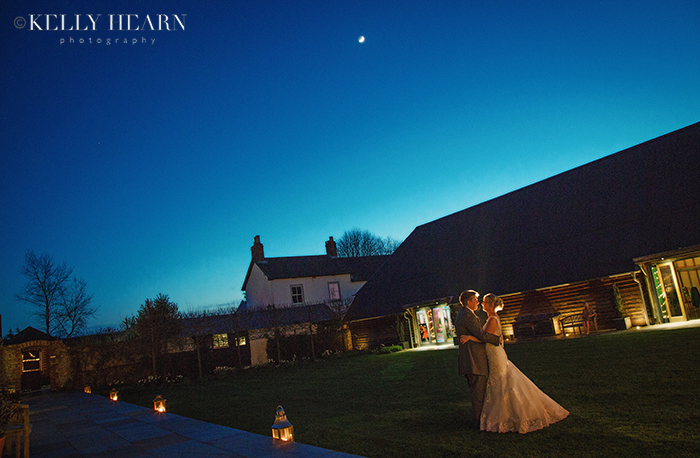 Congratulations to Mr & Mrs Cockley! May your commitment and fun together long continue and may you find life's perfect balance as your love for each other and future unfolds!
Love Kelly x
Kelly Hearn A.B.I.P.P - A.M.P.A