All Made Up About Those Wedding Pics!
July 20, 2016
How fantastic professional makeup and photography can work together to make you look flawless for your wedding day pictures
Over the many years that I have been photographing brides, a common and natural worry that I hear is, 'I really hope I look good in my wedding photographs?!'

Knowing that your wedding pictures will always be looked back at for years to come, provides a big pressure and every bride hopes that this will be the one day in their lives that they will look and feel beautiful! The dress, the shoes, the hair, getting them right are definitely the first steps to feeling pretty amazing, and if necessary, can be easily changed, adjusted and tailored to suit. But what about the thing that's a little harder to tweak, assuming we do not have the budget and/or inclination for major surgical cosmetic alterations?! You've guessed it. As we are stuck with the one we've been dealt, we kind of need to know how to make the best of our face right?! 
As a wedding photographer there are many tricks of the trade that can really capture a bride's best features in the most flattering ways. And afterwards in editing we all know that a little Photoshop can work wonders to magically cover over our little imperfections! However, heavy editing shouldn't ever be necessary and in my opinion, the more natural and real the photographs, the better.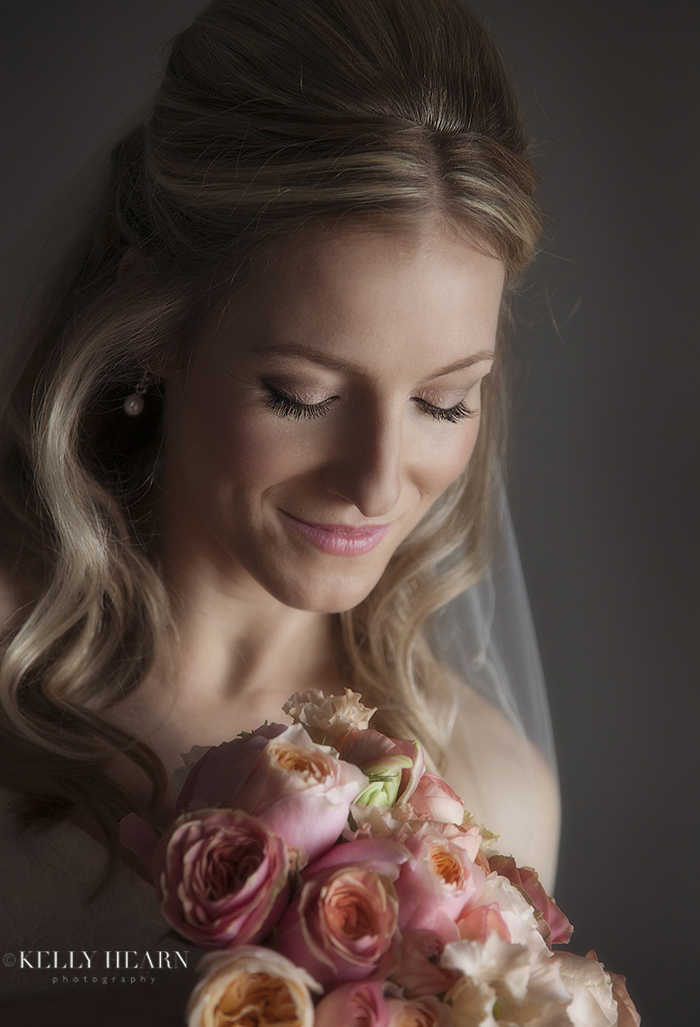 Frequently at weddings these days I find myself working alongside Chichester based professional makeup artists Lucy and Lauren from the award winning ID Makeup, Hair & Beauty. With their experience, knowledge and expertise when it comes to precise application of fabulous makeup products, ID always create a look that enhances each bride's natural beauty, ensuring they appear radiant looking their absolute best. In combination with some well thought-out lighting, positioning and angles my aim as the photographer is to maximise on bringing out the bride's best features as already defined by the makeup, to ensure the resulting images are ones that the bride will truly be proud of. The images in this blog are all testament to ID's success with providing brides with natural beautiful makeup on their wedding day and whilst we talk about a few of their best tips for bridal makeup, I will be offering a photographer's perspective on how this works for the camera too.

ID believe that there are some key benefits to using professional makeup artists on the big day, mainly that it's one less responsibility and pressure for the bride. She can sit back, be pampered and relax when butterflies are in full force, allowing the makeup artists to choose the right products and techniques to bring out her best features. 

Here Lauren and Lucy are working with bride Holly and her Mum who enjoyed the beauty preparations together.  I have seen that the combination of fantastic makeup and great photography can do great things not only for a young fresh face but also for the maturer lady who also wants to look equally fabulous. For the maturer brides and mothers of brides, the ID team use lovely hydrating products as well as some clever application techniques, that give the appearance of lifting, contouring and creating definition to enhance those best features - namely the lips and eyes.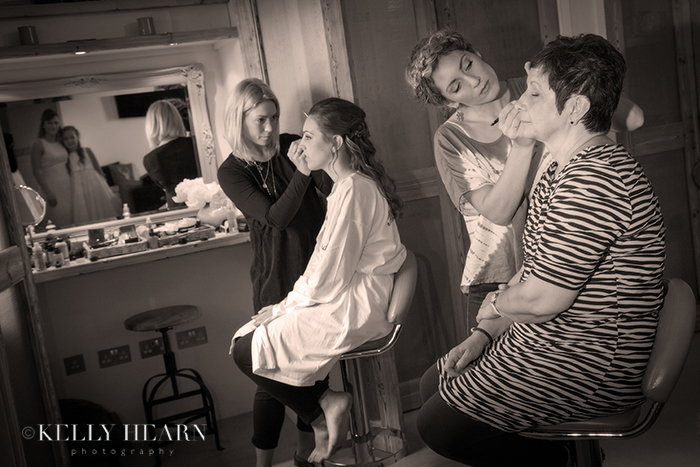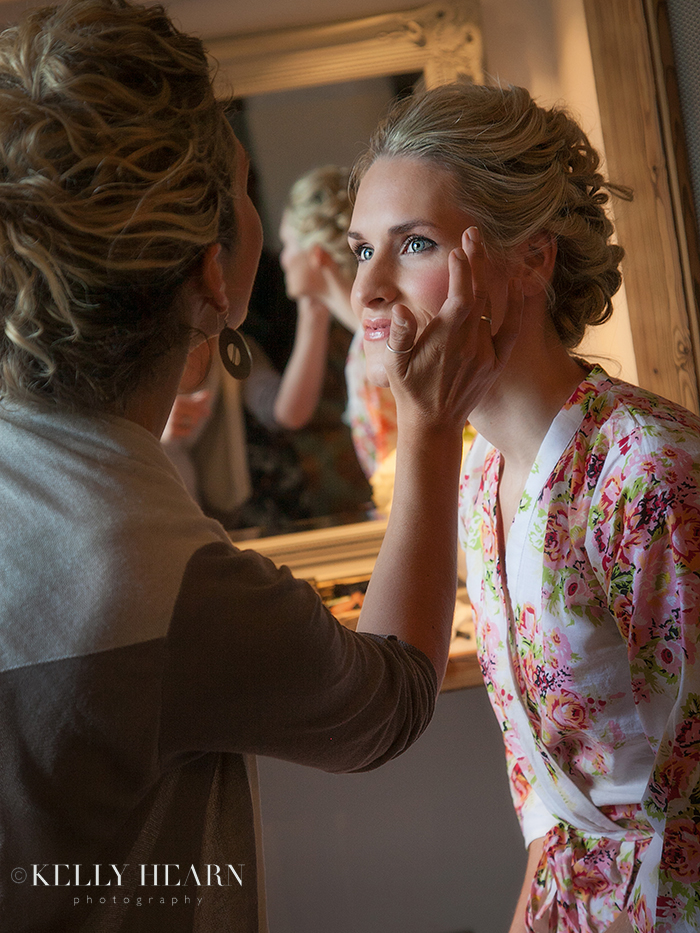 As for the lovely Jo above, and likewise for Holly and her Mum, the girls from ID maintain that bridal makeup should always be applied by a window, in natural daylight. I'm sure we've all heard that advice, "you've got to trowel it on for the photography because the camera flash will bleach you out!" Lucy from ID dispels this myth for us, "We always look for natural light to apply our makeup as the colours will appear true. I'm sure we've all had the department store experience of buying the 'right' foundation and after stepping out in the sun we see that it's totally the wrong shade. Natural light doesn't lie." But what about makeup for indoor photography? Lauren adds, "Spotlights are great for seeing the finished look and seeing if we need to add any more depth or colour to the makeup."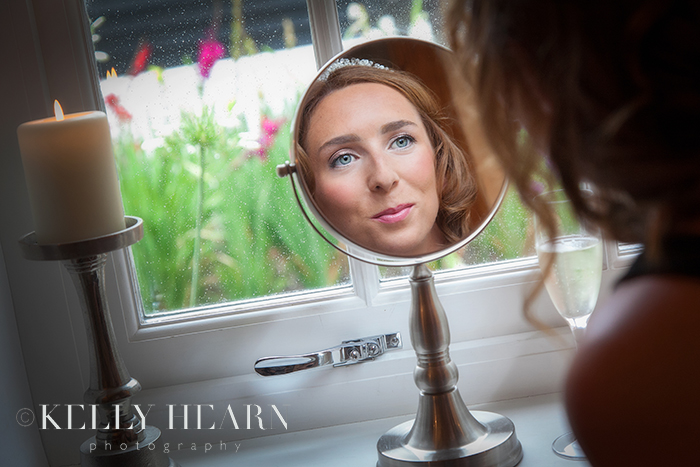 With regards to creating the flawless base we asked if there are any make-up 'avoids' and the ID girls offered the following tips; "Do not use anything above a factor 15spf for your base as this could result in a beaming flash on camera. If you are going to have a fake tan always try it before the wedding day and don't be swayed to go darker than you normally would. You still want to look like you!" Considering the look in daylight is the key, as outdoor photographs will be very telling if the shade of tan used is a little unnatural. This particularly can become obvious when a bride is posed next to a groom who has had no tan applied and as a result we see quite a contrast in skin tones!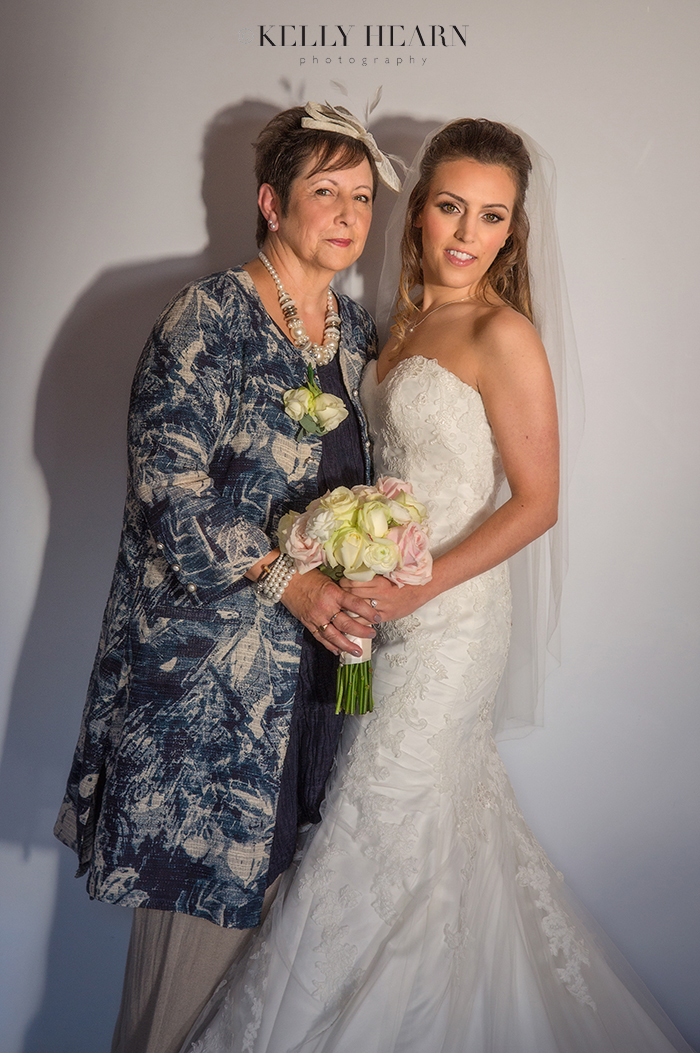 Although wedding photographers differ, I personally tend not to use a flash overly, but as much natural daylight as possible as it can add so much to an image and really help capture the vibe and realness of a particular moment. Just like natural light doesn't lie, nor does the camera, and these days what you see in the pictures is pretty true to how things look in the literal cold light of day.
When indoors however, I may use a video light, particularly in portraits to add warmth, and to light the subject softly, even to add a subtle touch of drama if required. A bride should never worry about looking her best in the wedding pictures even on dodgy weather days as using lighting techniques can be really flattering when both the light and the subject are angled and positioned correctly, which is my job to direct on the wedding day. Even on the worst of dark rainy days there are opportunities to capture some amazing atmospheric shots, to be creative with umbrellas for example, and capture a bride looking stunning!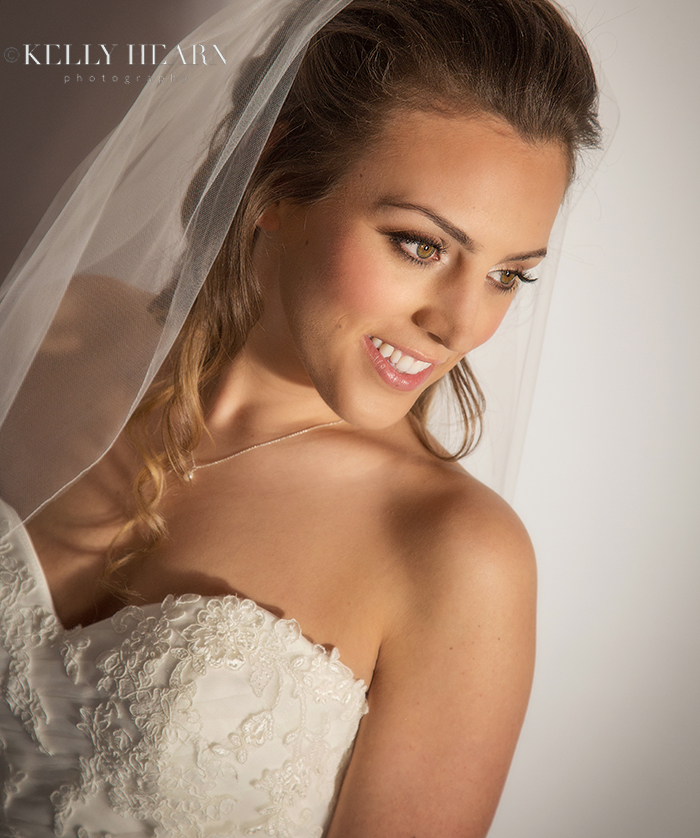 When talking features, often a bride's eyes can be a real focus for both ID and myself on the wedding day, and although already naturally stunning and photogenic, our brides in these portraits are classic examples of how makeup and clever lighting can result in that flawless look.  At ID, they know how to apply the correct products to suit and bring out the best in a bride's features and complexion. From the choices of the primer, foundation, concealer, blusher and highlighter every layer is a thought out process. They spend time applying all these products in fine sheer layers so the skin appears brighter and youthful without feeling or looking caked in makeup.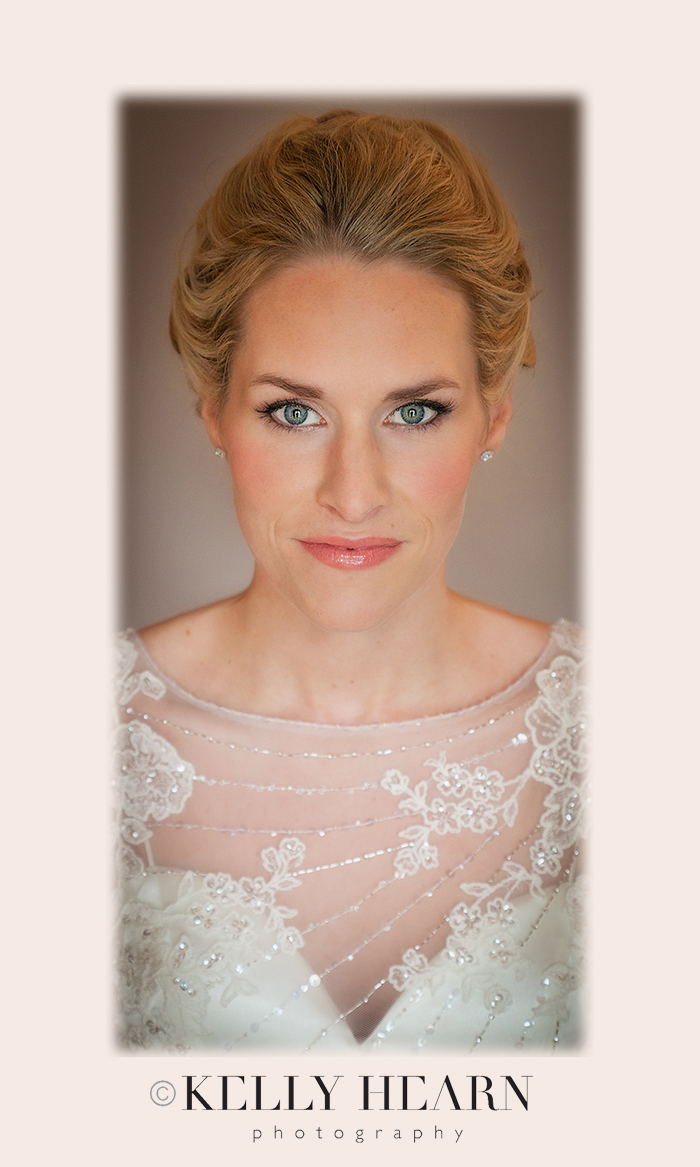 In Jo's portrait above, the bold front-on shot works well due to the height of the lighting and position of the camera, her bright blue eyes becoming the main focus of the shot and drawing you in.
Capturing the warmth in this next image as the setting sun offered a milky glow, we can also see that Holly's makeup proved to look totally natural and fabulous on camera. As the day progressed, the makeup stayed looking defined and beautiful as seen in the indoor shots and those outside, the composed portraits and the more fly-on-the-wall style pictures.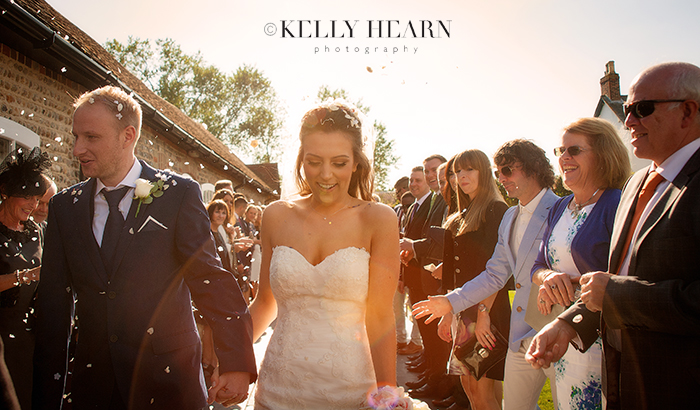 In this next portrait indoors under slightly dim lighting, Jo's face is gently illuminated by a video light where we can see her features looking strong and beautiful. Even from a distance the makeup has the exact right balance to enhance Jo's lovely cheekbones, and strikingly blue eyes. The ID makeup artists specialise in colour analysis and can see the tones and shades that suit the individual, always considering the colour and texture of the dress, flowers, bridesmaids dresses and hair colour so that the makeup look is totally complimentary to a bride's wedding style but always most importantly to her natural colourings.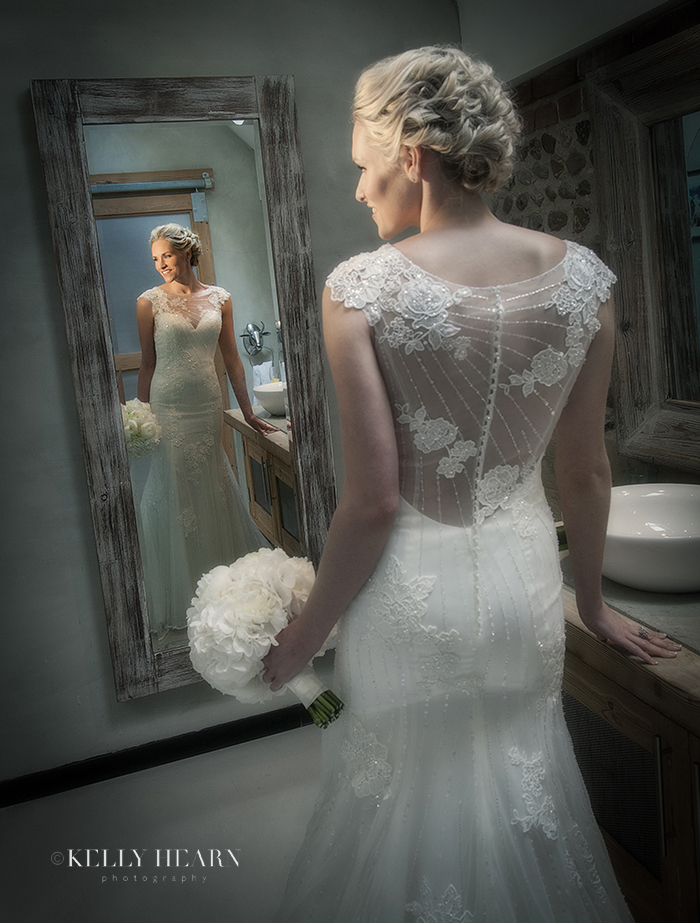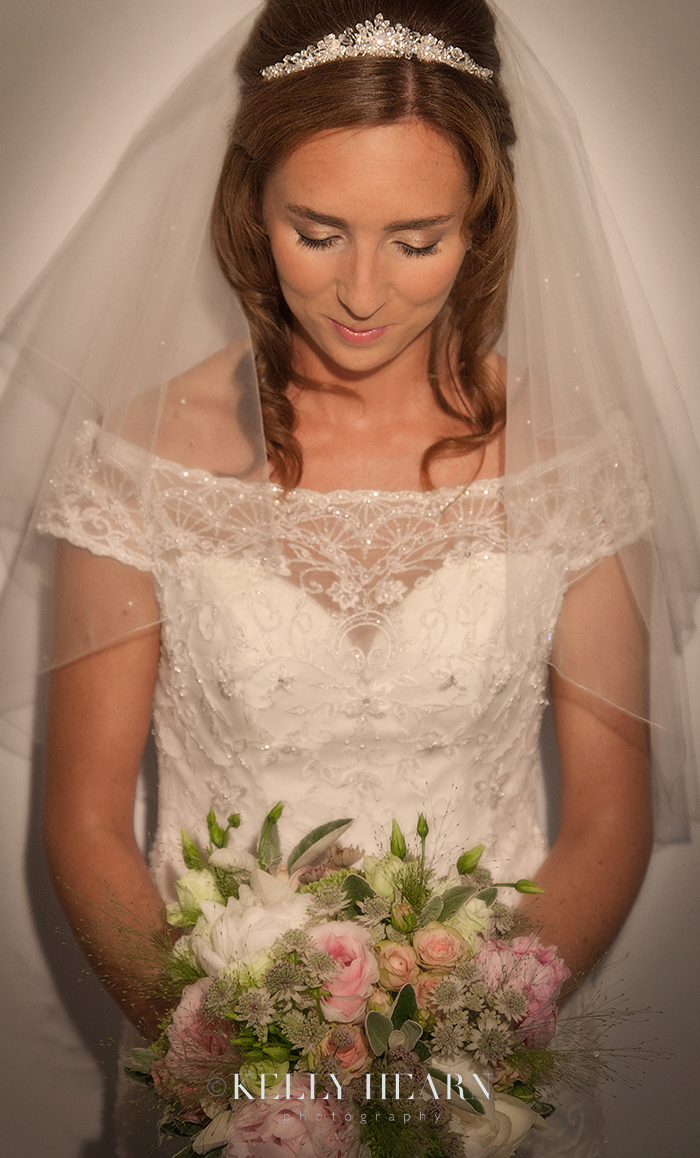 In photography even the subtlety of the tones of a bride's makeup are important in looking at viewing the wedding day as a whole, and with the mindset of designing a wedding album where all the images work together harmoniously. The detail and colour represented in the bride's makeup needs to be complimentary to her chosen colour palette for the day, so that when viewing the chosen wedding photographs together, the tones throughout the selection blend and reveal that theme to the viewer of the album.  Also worth considering is the fact that a bride may choose to have some images in black and white to work alongside the colour photography. I find it really helpful when a makeup artist works hard to bring good definition to a bride's face as it is then very complimentary to a black and white option should she choose this when selecting her favourite images for a final wedding album.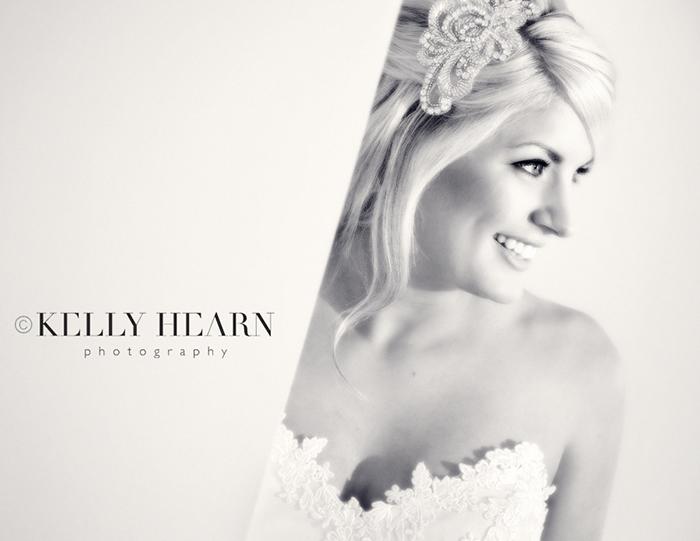 For brides who love a professional overall feeling to their wedding day, as well as a bit of tlc, treating their bridesmaids to a bit of pampering and allow them to be professionally 'made-up' alongside them on that special wedding morning is brilliant way to have fun together. It will also ensure a polished look to the overall bridal party which in turn compliments all the detail that the bride has thought about and included in the day itself, particularly when considering her choice of flowers, outfits and decor.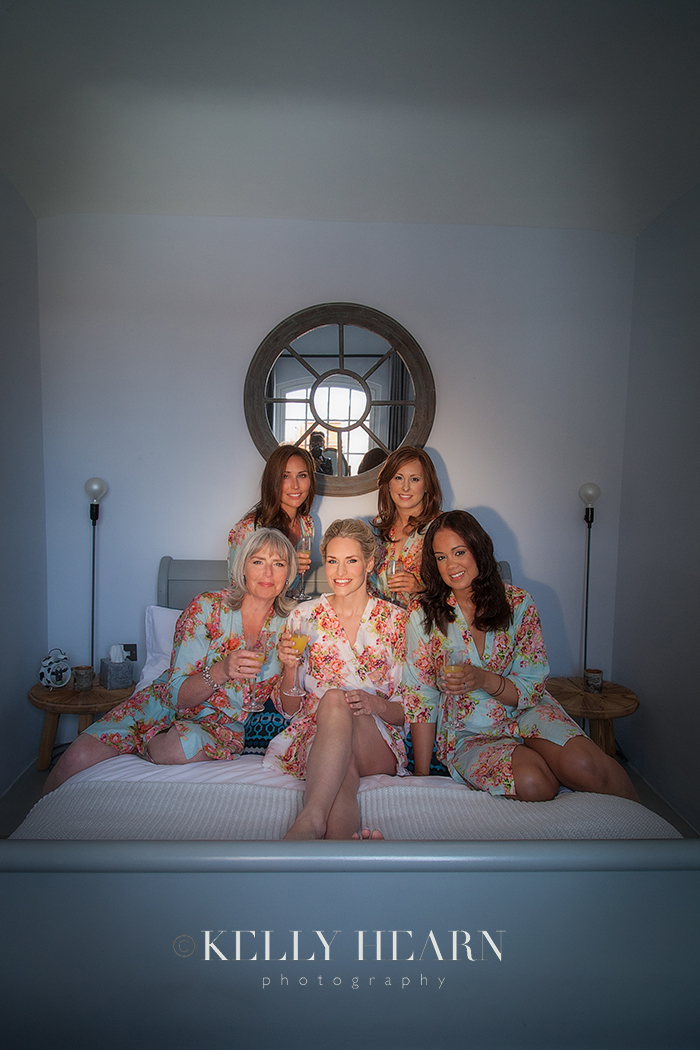 Whilst at ID they would ensure every individual's makeup was uniquely tailored to them and their natural colourings, there would be the benefits that everyone would have similarly flawless blemish-free skin, quality lasting products and that the application would be consistent and subtly toning in with the bride's theme. Although not an essential requirement by any means, photography wise all this helps to create aspirational images that blend together and help offer a professional almost high-end wedding magazine-worthy feel to the finished album.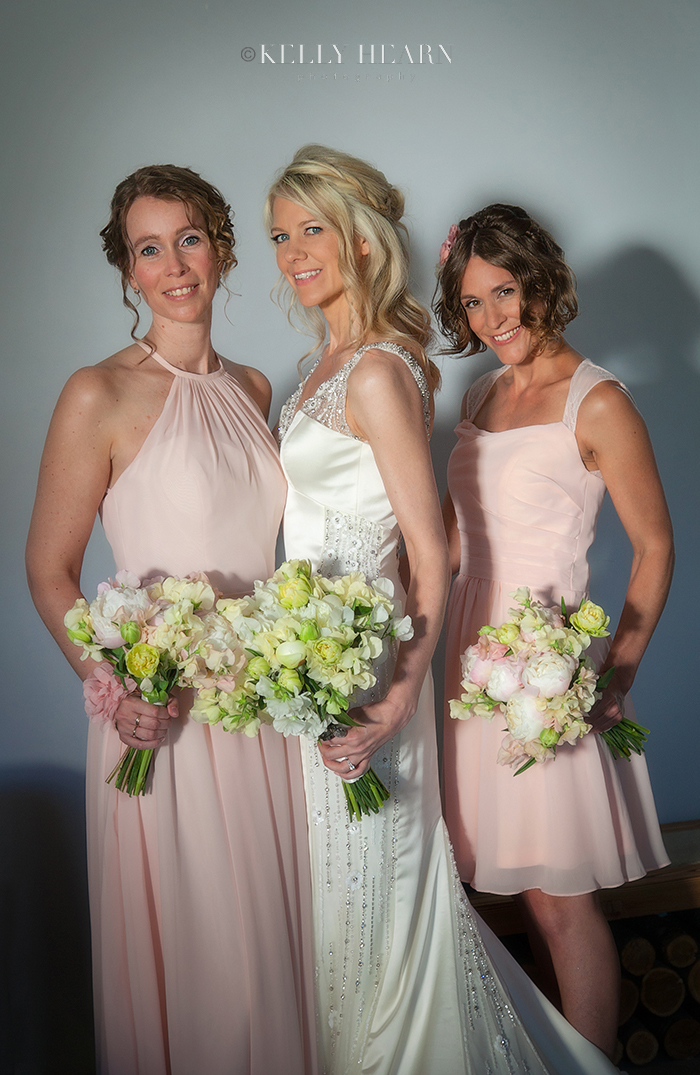 Finally when it comes to looking good and staying that way, there are challenges for the bride, the makeup artists and the photographer alike when considering the wedding day as a whole. Protecting the bride from looking too bedraggled by the end of a very long day is in all of our best interests! 
So I asked the girls at ID, what exactly are the best tips for keeping the make-up in place through smiles, tears, hugs, kisses, possible hot sun, rain, and through some possible crazy sweaty dancing at the end of the night?! Lauren at ID offered some brilliant advice; 'Always apply your makeup in sheer layers, building gradually as it will last so much longer. Powder and set the makeup and top up with your lipstick as you will be doing lots of kissing! We recommend purchasing a pressed powder for the day to eliminate any shine where you don't want it. We think cotton buds are a brides best friend when it comes to keeping your makeup in place but if the tears are flowing dab that tissue, don't wipe. Also let's not forget the trial, we always recommend a trial prior to the day so you can see how your makeup lasts before the day itself, we also recommend a dance off for a true test of longevity!' 
I personally love this advice! And why not have your makeup trial combine with the day of your engagement photo shoot so you can see it all working together as it would on the big day?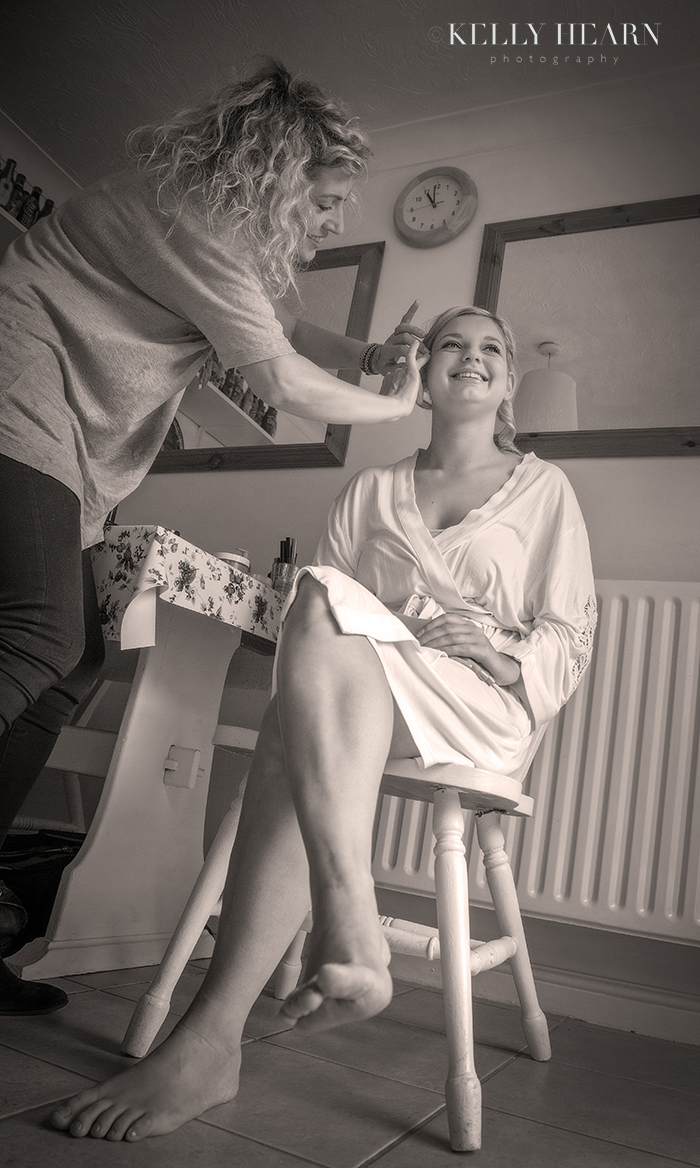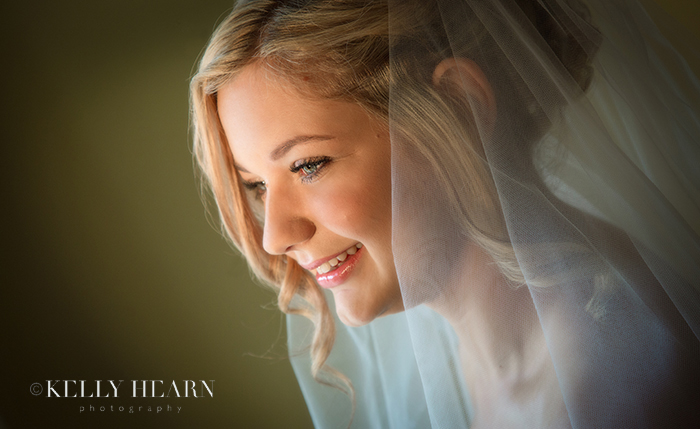 I've shot weddings in literally all kinds of weathers and I always like to see the challenges as great opportunities for some really creative, unusual and beautiful photography. The obstacles will inevitably come and there are always ways to overcome them and bring the best out of people in these times, whether that be with great makeup, good lighting or a joke or two to make them smile.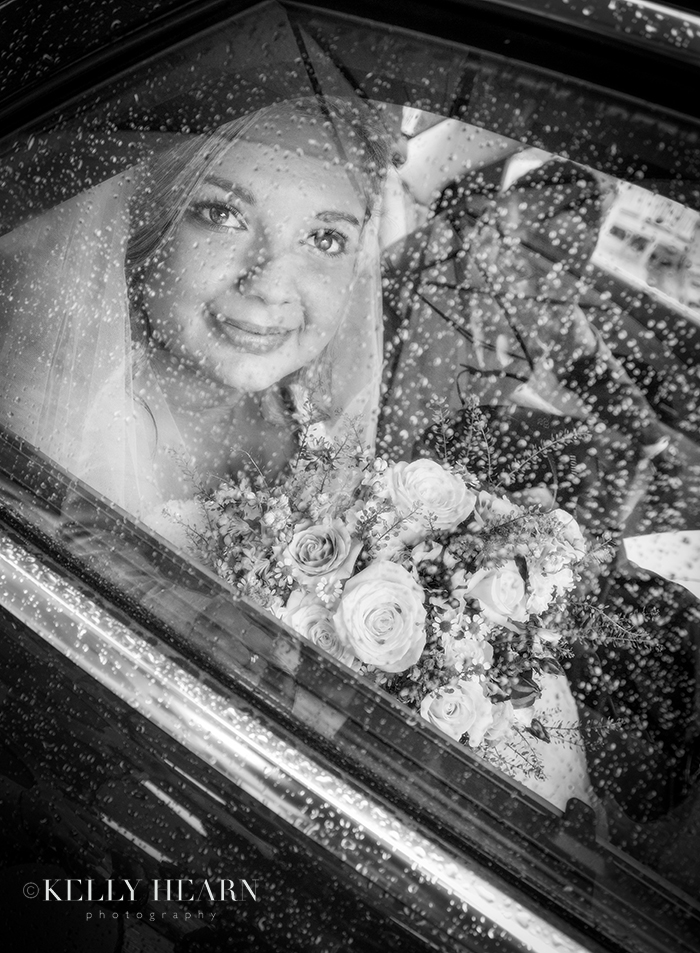 That's what I love about my job and capturing the very best in people. I know too that the girls at ID are all about bringing out the beauty of every individual they meet. I am looking forward to working together more and more and hopefully helping every bride we work with to look and feel amazing on their special day!
Thanks to Lauren and Lucy at ID for your great tips and advice. If you like what you see, you can find out more about what they get up to here: www.the-id.co.uk 
Kelly Hearn A.B.I.P.P - A.M.P.A