​Unique - C'est Chic
February 03, 2016
Katherine & Dave's Southend Barns October Wedding

Katherine and Dave married in mid October - a lovely season to capture photographically as the vibrant summer colours start melting into warmer, softer tones.
The inviting autumnal setting was a fitting detail as the couple I was photographing had inclusive warm personalities ensuring all the guests and I felt very welcomed and at ease. Somehow there was a softness about the couple which allowed for a lovely calm and friendly atmosphere that day. What stood out to me the most was that this wedding was one of great taste, balance and organisation and it was clear a sense of structure had been created through all the little personal details that the couple had so carefully put into place. The couple had even chosen a Master of Ceremonies, who was a close friend of Katherine's, to help the proceedings flow, which was a great touch.
Dave and his groomsmen were at Crouchers Hotel that morning, a popular country hotel local to the Sussex wedding venue of choice; Southend Barns. When I arrived I found the boys dressed smartly in blue suits and tan brogues - both which are definitely style choices of the moment, and they were certainly wearing them well! Here is Dave and his brothers in the bar area in their on-trend attire. For an eye-catching composition I set them in a pose that offered some symmetry which is pleasing to the eye and complimentary to their overall smart and well considered styling.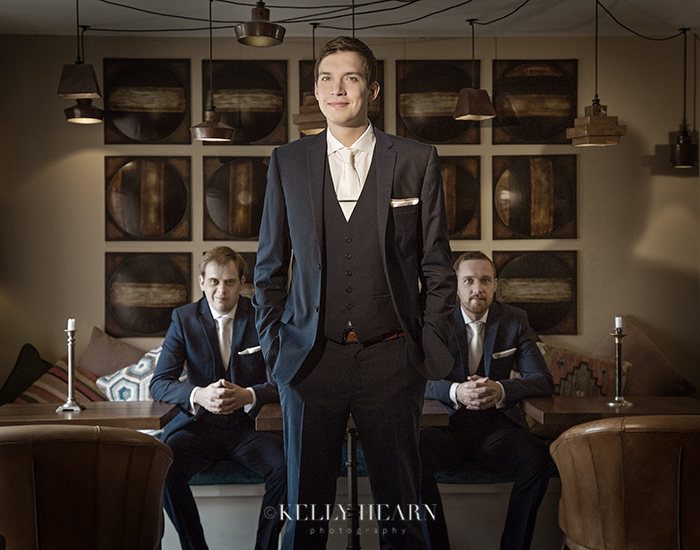 Over at the Blacksmiths - a beautifully renovated pub just down the road from Southend Barns, Katherine was having her hair and makeup perfected by the ladies from Wedding Industry Award winning 'ID'. Katherine then completed her look at Southend Barns where she changed into her delicate bridal gown in the luxurious bridal suite 'The Milking Parlour'. Katherine's style was simple and elegant; she wore a strapless gown with buttons running down the back and fitted ruching around the bodice which showed off Katherine's amazingly neat figure. Katherine wore her hair to the side in glamorous long flowing curls and her overall look was finished beautifully with a bouquet of white roses and hydrangeas designed by Sussex based Albert & Arthur.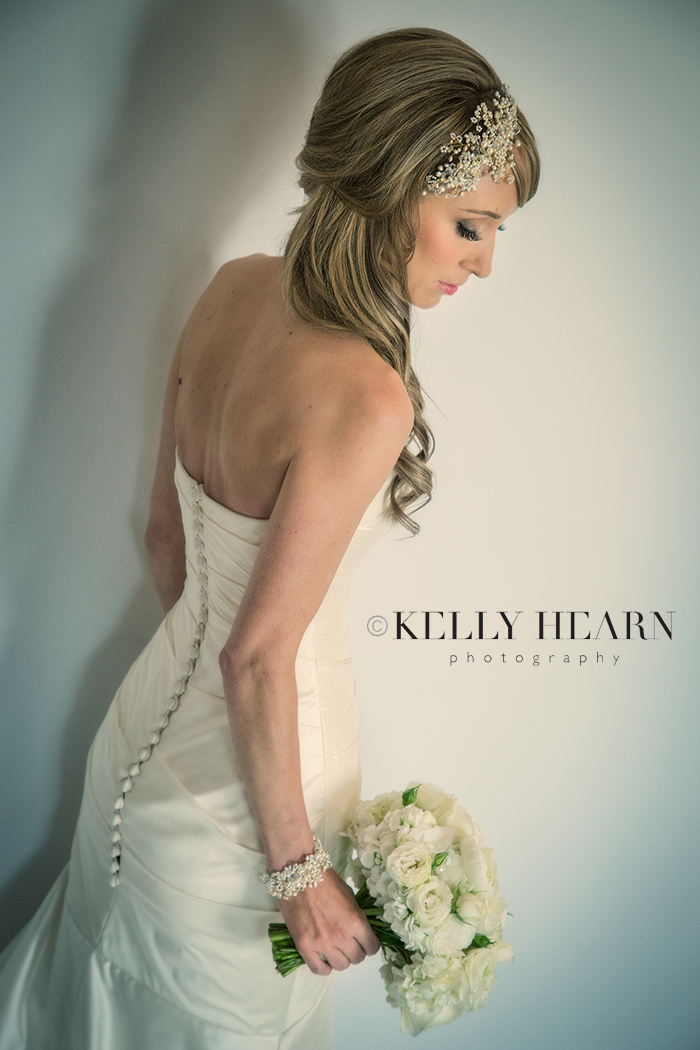 This portrait of Katherine shows how her eye for detail enabled her to put together a very unique, classy but well balanced look. A wedding planner herself, it was evident to me that Katherine's experience of putting such details together for others had stood her in great stead for her own day. I imagine that nothing less than totally immaculate presentation of every detail was the standard required by this professional eye.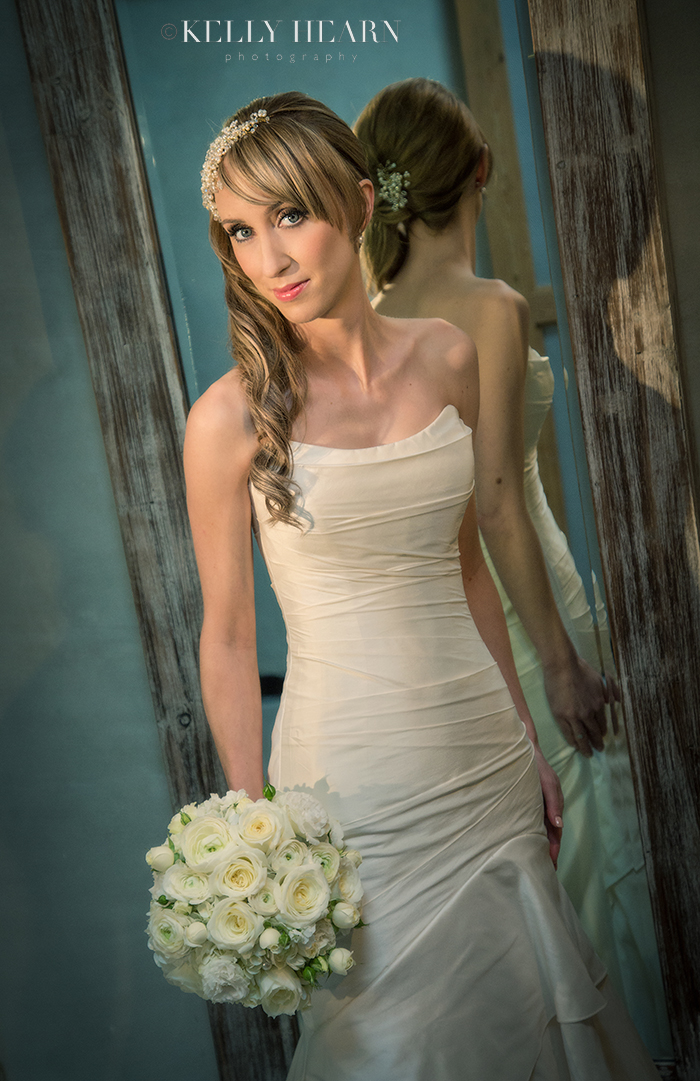 We saw a continuation of Katherine's stunning choice of floral design as they overspilled into the decor at the venue. She had chosen the pretty white roses and hydrangeas to decorate the ceremony room; 'The Dairy Barn' scattered in petite silver pots and also slender glass vases cleverly attached to the sides of the rustic wooden bench seating.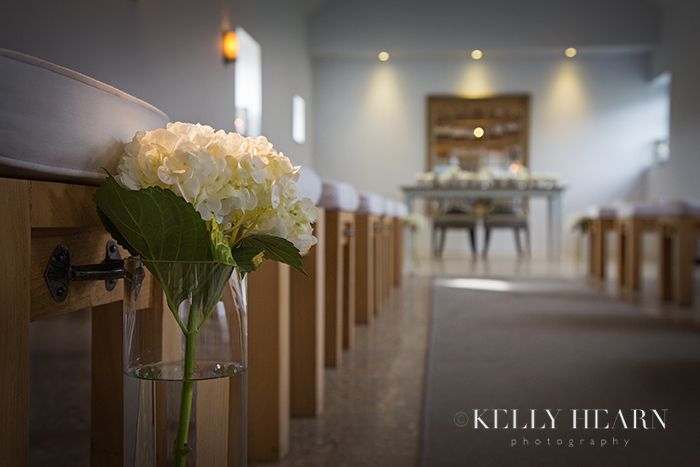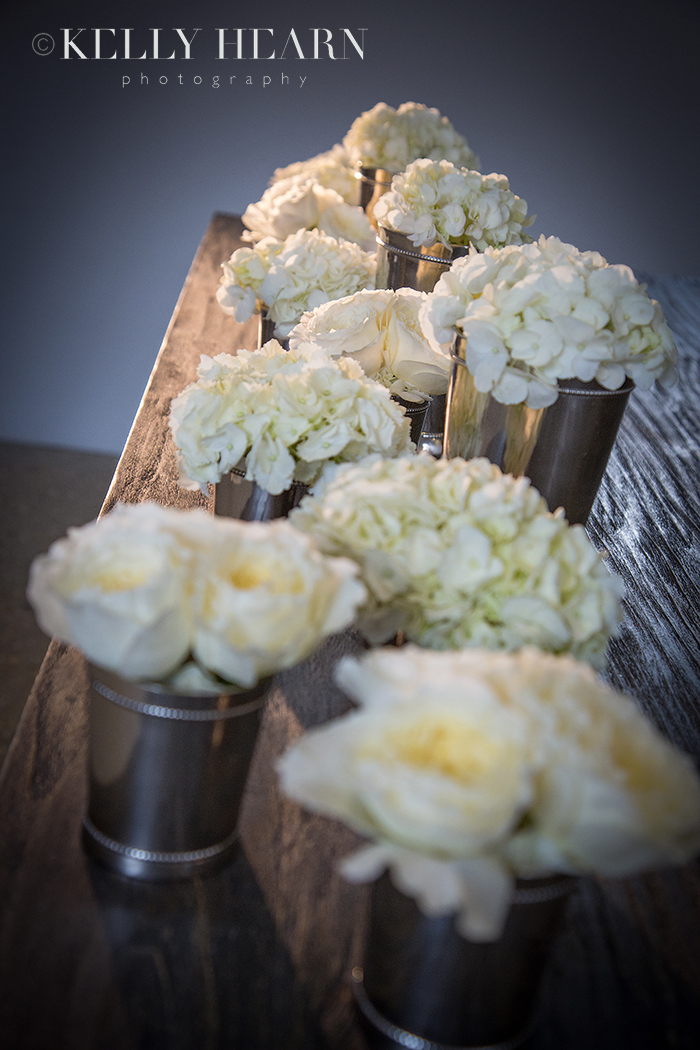 It was time for the couple to be reunited and seeing the anticipation in Dave's face as Katherine began to walk down the aisle was a fantastic moment! (I believe he caught a sneaky glimpse of her in the mirror in front of him on the Dairy Barn wall - what a sweet treat!) They shared some heartfelt vows which were witnessed by both the mothers of the bride and groom which was a lovely personal touch, yet another inclusive and thoughtful element of the day. To end a wonderful ceremony, the couple sealed their promises with a kiss, creating an idyllic romantic moment set in the soft lighting of the barn.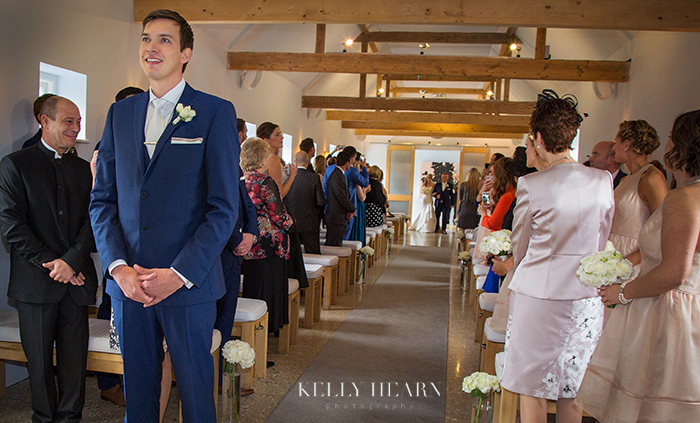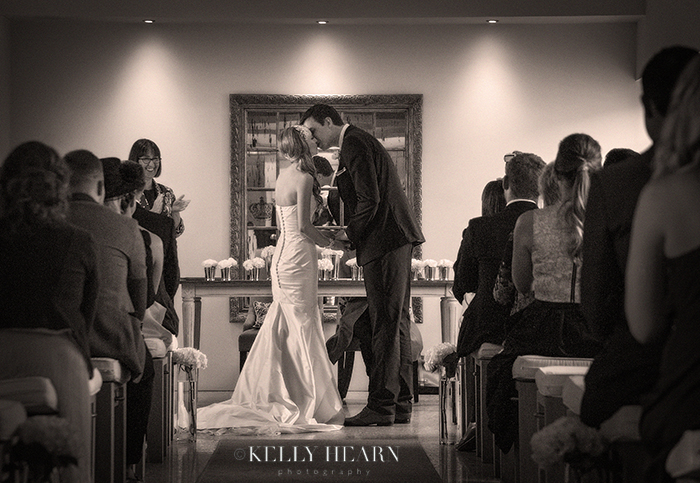 Before sitting down to a mouthwatering meal, there was some time for friends and family to mingle and have a good old chin-wag. I gathered the bridal party together for some group shots, making the most of the great array of backdrops that Southend Barns have to offer, including the artistically manicured lush green gardens and of course the famous white roof 'peaks' which are a well known and distinctive feature of the venue. Katherine's bridesmaids wore a soft champagne colour which brought a lovely feminine touch and a complimentary contrast to her overall classic white theme.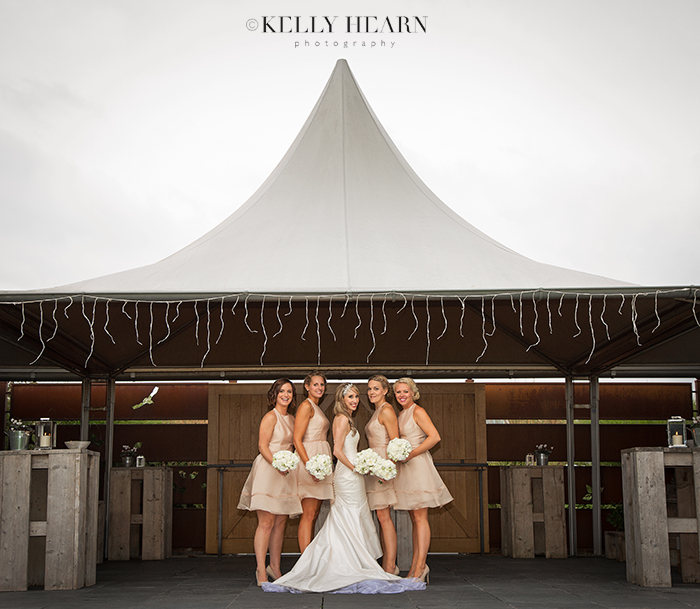 Capturing the newly-wedded couple together was fun as we strayed from solely traditional poses and explored some quirkier ideas - which to my delight, Katherine and Dave were very upbeat about going for. Using different heights, perspectives and textures really worked well for this fun couple who made the perfect picture, framed by the natural colours and shapes around them. For me, these shots reflected again, the structure and balance seen throughout the wedding as a whole - as driven by Katherine's natural knack for simplicity, class and chic style.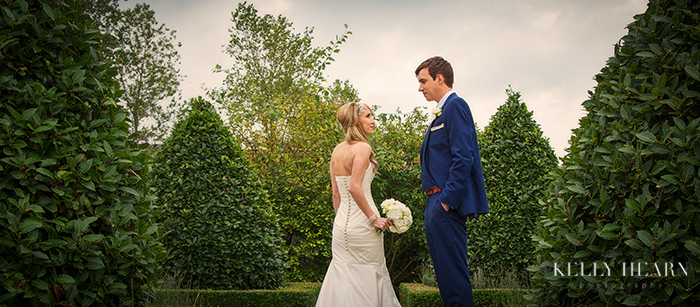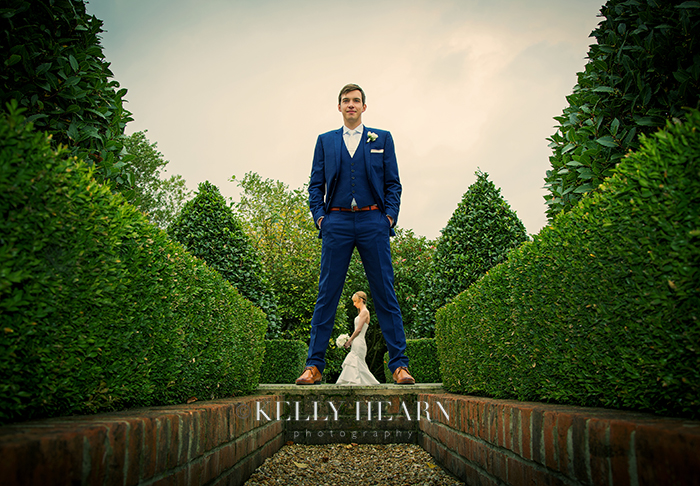 Back inside the barns the table plan was a framed world map outlining who was to be sitting where, giving us all the gentle hint of a travel theme for this couple. The tables themselves were cleanly and crisply decorated, maintaining the use of shades of white in the beautiful floral arrangements which were accompanied by soft glowing candles in simple votives.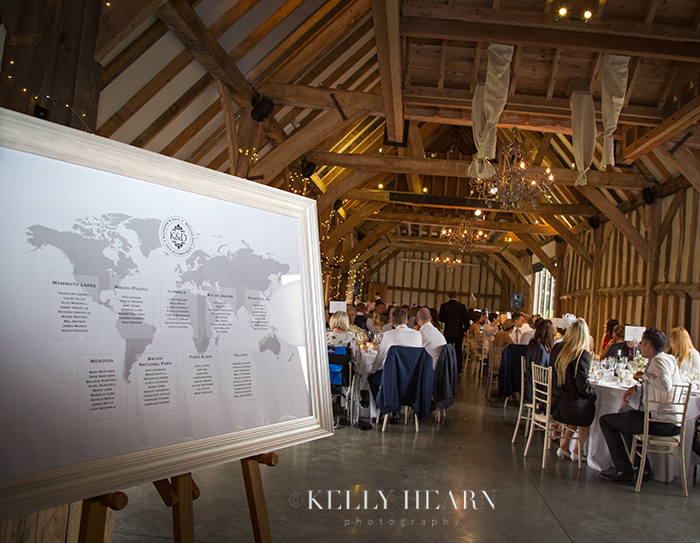 The menu from Field & Fork always promises good hearty food made from locally sourced ingredients and presented neatly and professionally, and this outstanding team certainly delivered for Katherine and Dave. Here you can see the main course of rump of lamb with sweet potato fondant, green beans and savoy cabbage and the pudding of raspberry creme brulee with shortbread biscuit which I was lucky to sample and needless to say the whole meal was truly delicious!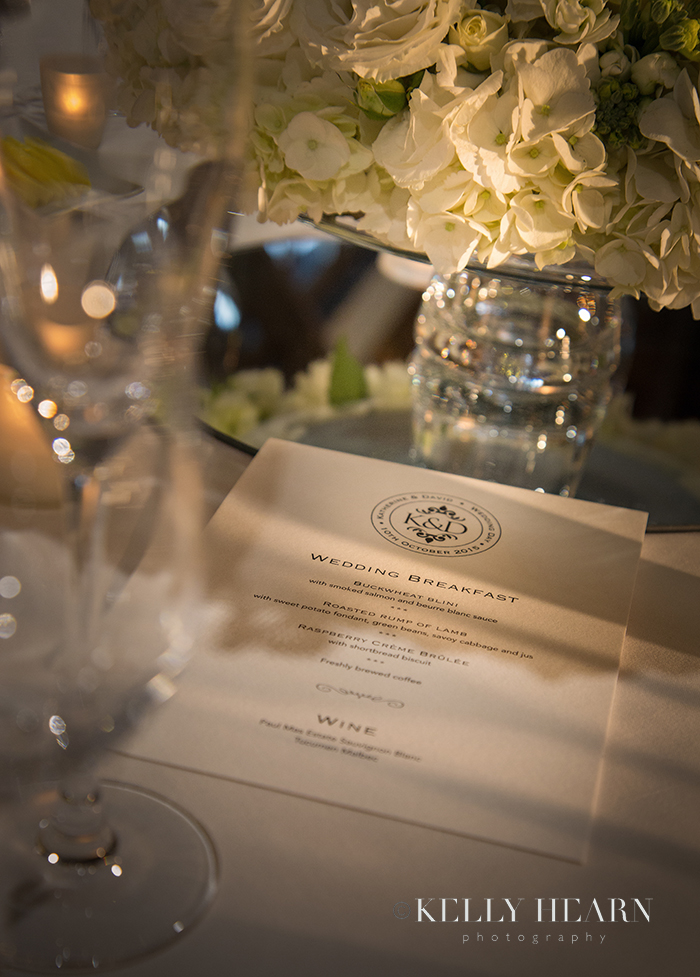 The wedding cake was like a work of art, displayed very elegantly amidst cylinder vases of matching florals with a backdrop of stand-out white round balloons. I could really see how much thought Katherine had put into the visual details all tying together and her expert creativity helped to show off the cake with the upmost sophistication.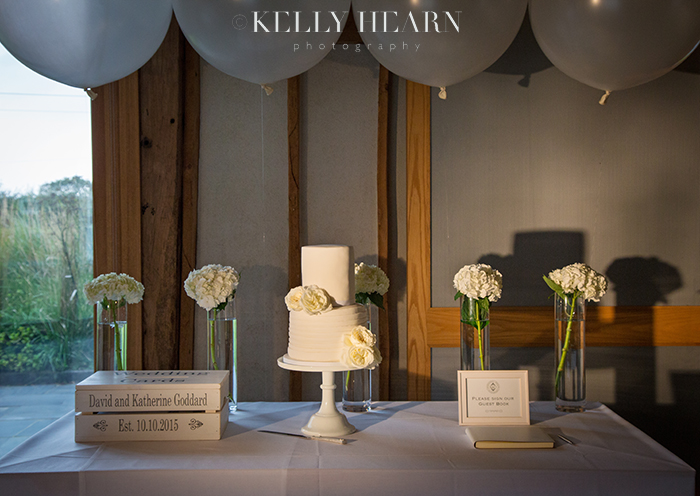 After a gorgeous meal and very amusing speeches, the couple were soon hitting the dance floor, ready to let loose. And it wasn't just any old dance floor. Katherine and Dave had chosen a white twinkling, sparkling dance floor which really added a perfect amount of glamour to the evening party.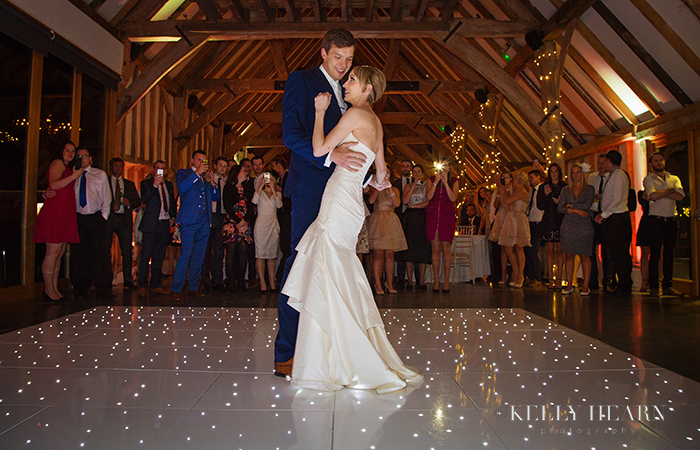 Having an October wedding means that the night does start to draw in earlier which makes for some lovely cosy outside images, if you can encourage the new Mr and Mrs to face the chill! Thankfully, I think the open fire outside was a comforting pull and cosy fairy lights twinkling in the background made up for the shock of stepping out into the dark autumnal night. I took some final shots of the happy couple together against the magical light of the evening before they returned to enjoy the rest of what had been a wonderfully unique and stylish wedding day.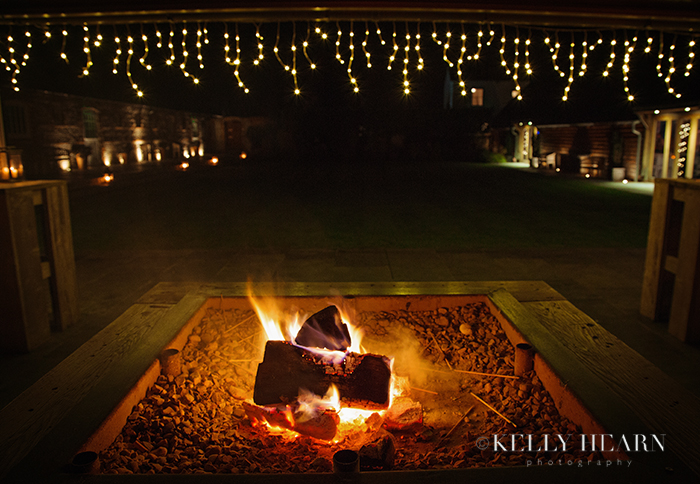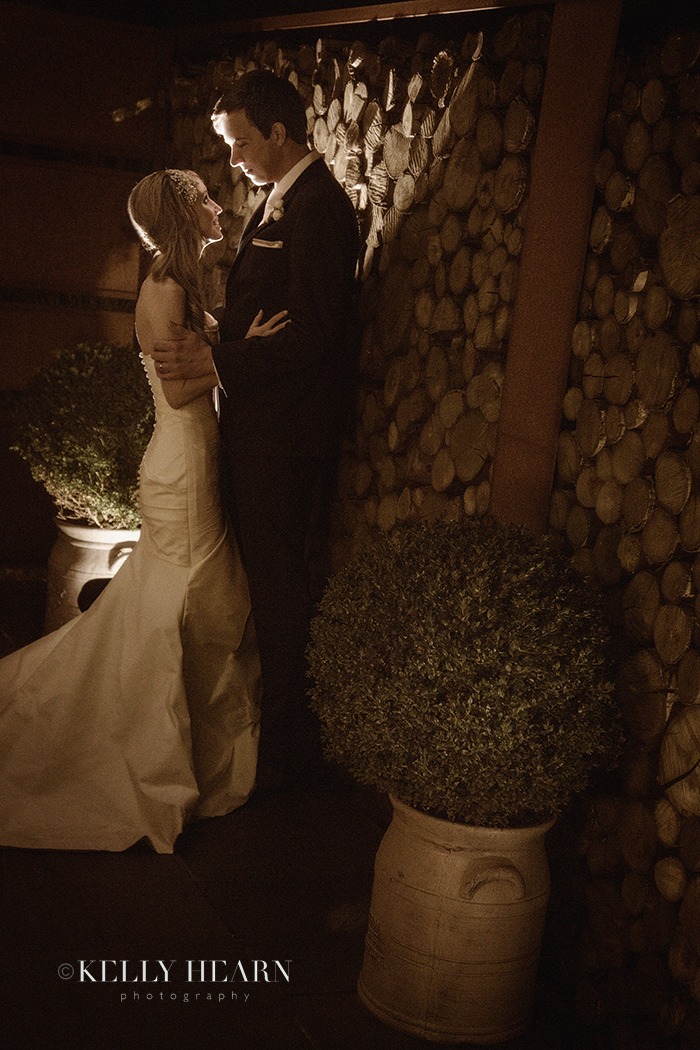 Thank you Katherine and Dave for allowing me to be a part of your very sophisticated, well organised wedding day that embraced us all in warmth and kindness.
Love Kelly x
Kelly Hearn A.B.I.P.P - A.M.P.A