HOME IS WHERE THE HEART IS
August 02, 2022
Kelly and Tom's Lovely Summer Wedding in Bosham Church and Sunny Southbourne

Southbourne residents Kelly and Tom kept it local when tying the knot this summer making them the closest wedding of the year to our Southbourne-based offices - handy for our short commute to and from their truly beautiful day!
This lovely couple combined the stunning Holy Trinity Church set in the heart of coastal chocolate box village Bosham, with a marquee set in Kelly's Uncle's apple orchard situated on the stunning West Sussex coast giving the day a heart warming and perfectly rustic summer's day vibe.
It was fabulous to be able to photograph in such familiar and much loved surroundings and bump into so many local faces all dressed up and ready to celebrate with Kelly and Tom.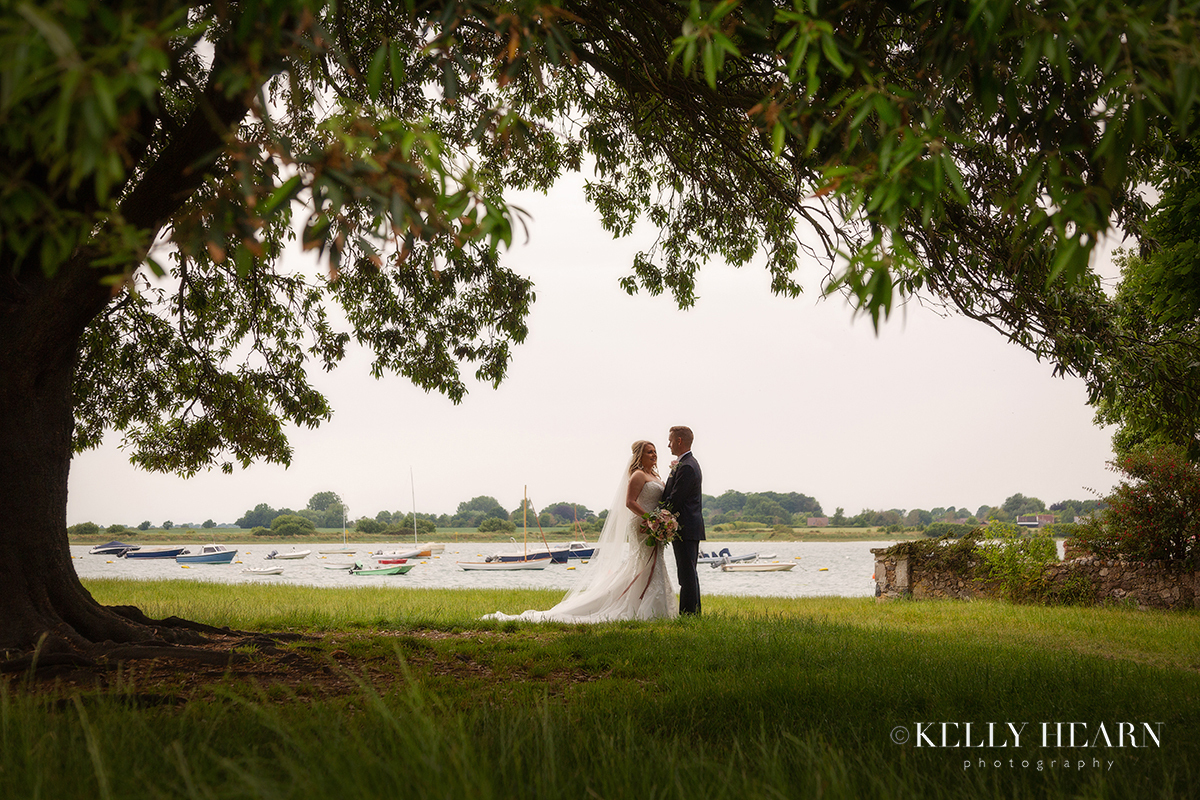 HERE'S THE CHURCH AND HERE'S THE STEEPLE...

Kelly and Tom's choice of this Grade I listed church had a wonderful family connection with Kelly's parents having also exchanged their vows there.
Their choice of classy outfits were perfectly suited to the grandeur of a church wedding with Tom looking sharp in his stylish navy three piece suit with grey waistcoat and Kelly looking radiant in her gorgeous bridal gown with long flowing veil.
With the steeple being such an iconic feature of the local skyline we just had to capture the pair sealing the moment they stepped out as Mr and Mrs with a kiss under this famous quayside structure.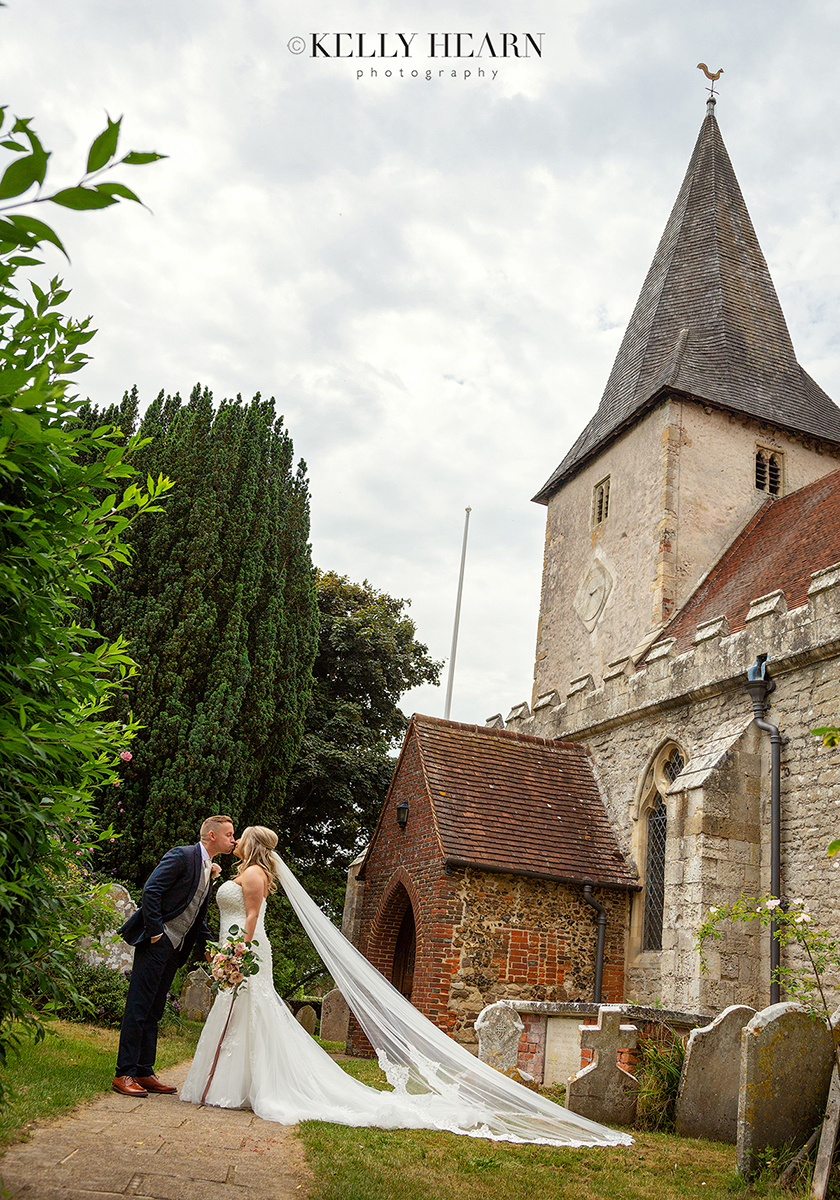 OPEN THE DOORS... AND HERE'S ALL THE PEOPLE!
The warm ambiance generated from the happy guests filled the church as they looked upon the glowing bride and groom becoming husband and wife under the monumental stone arches lit by the impressive tracery windows. The love and happiness in the air set the tone for this fabulous family affair and the smiles of joy carried on right throughout the day.
KELLY'S WING MEN

Using the churchyard's stone paved paths and surrounding quaint winding roads we were able to capture two poignant moments of the day as Kelly walked together with her 'wing men'.
Firstly, a special moment was shared as a proud Dad walks with his daughter, arm in arm into the ceremony…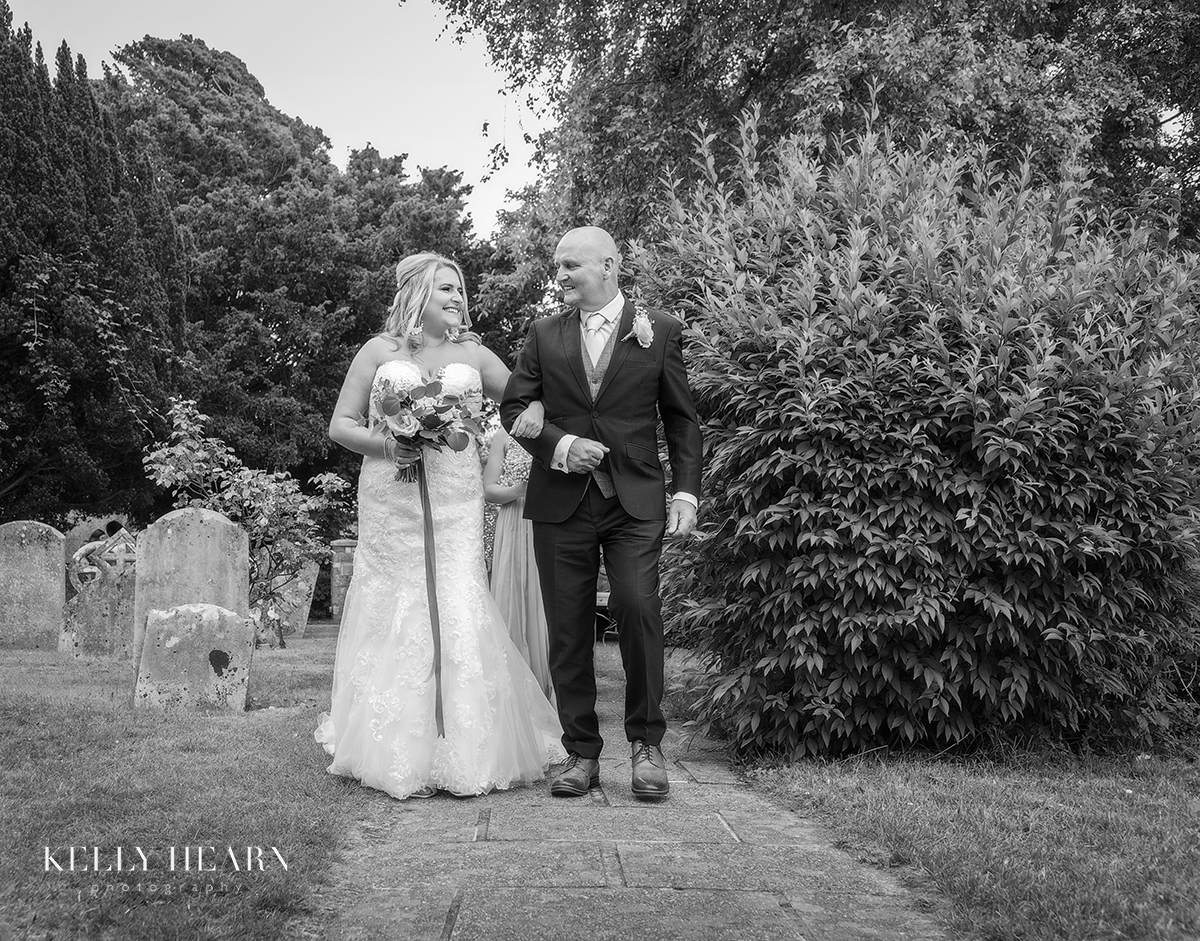 …followed by the newlyweds strolling away with the excitement for the rest of the day's celebrations, and their future together ahead of them.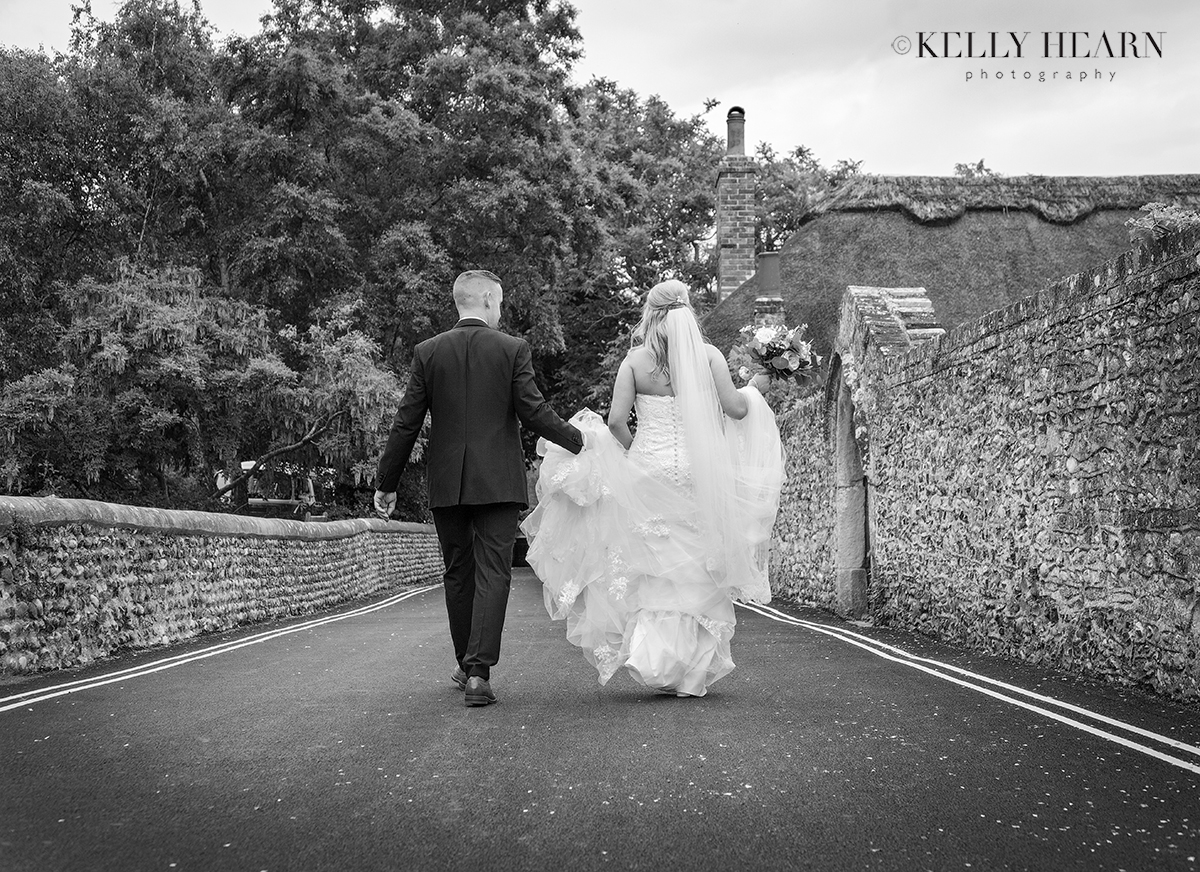 FAMILY FLEET, FAMILY FARM
Back down on the farm Kelly, Tom and their bridal party arrived in true vintage style in Kelly's Dad and Uncle's vibrant funky VW campervans weaving in further significant family elements to the day.
These two fabulous classic motors were perfectly suited to the day's rustic setting and brilliant for lending a splash of colour and personality to their images as we worked to pose the bridal party in their full regalia around them.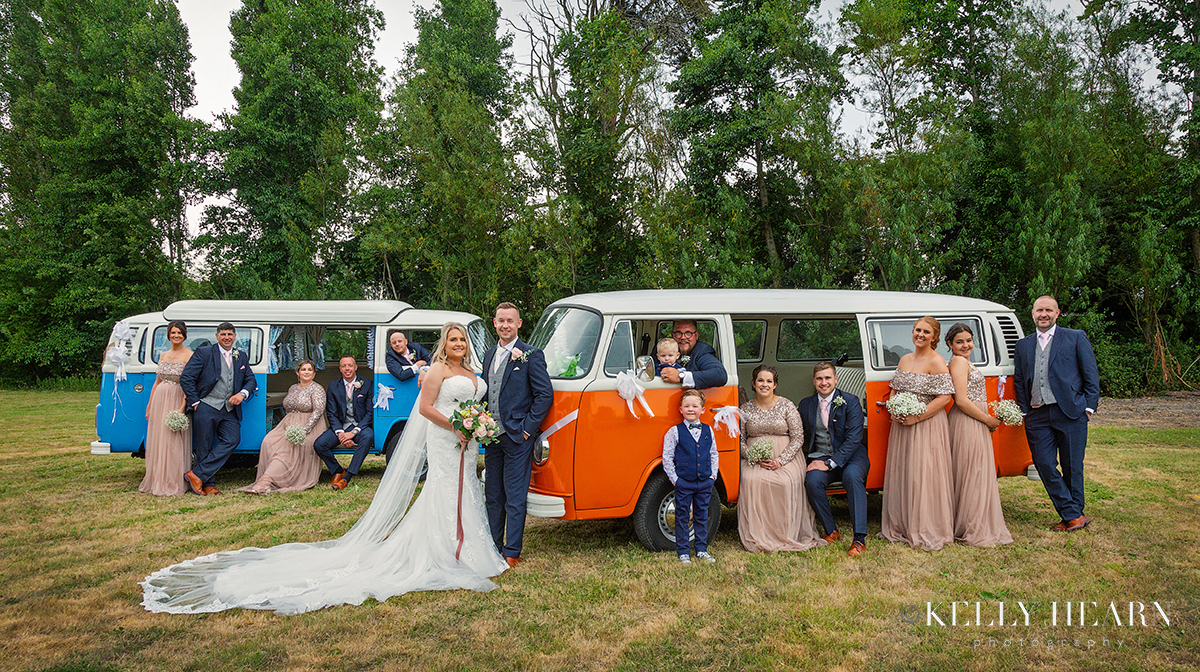 They also provided the perfect location to capture Kelly and Tom with their cheeky little son who loved taking the front seat with his Daddy!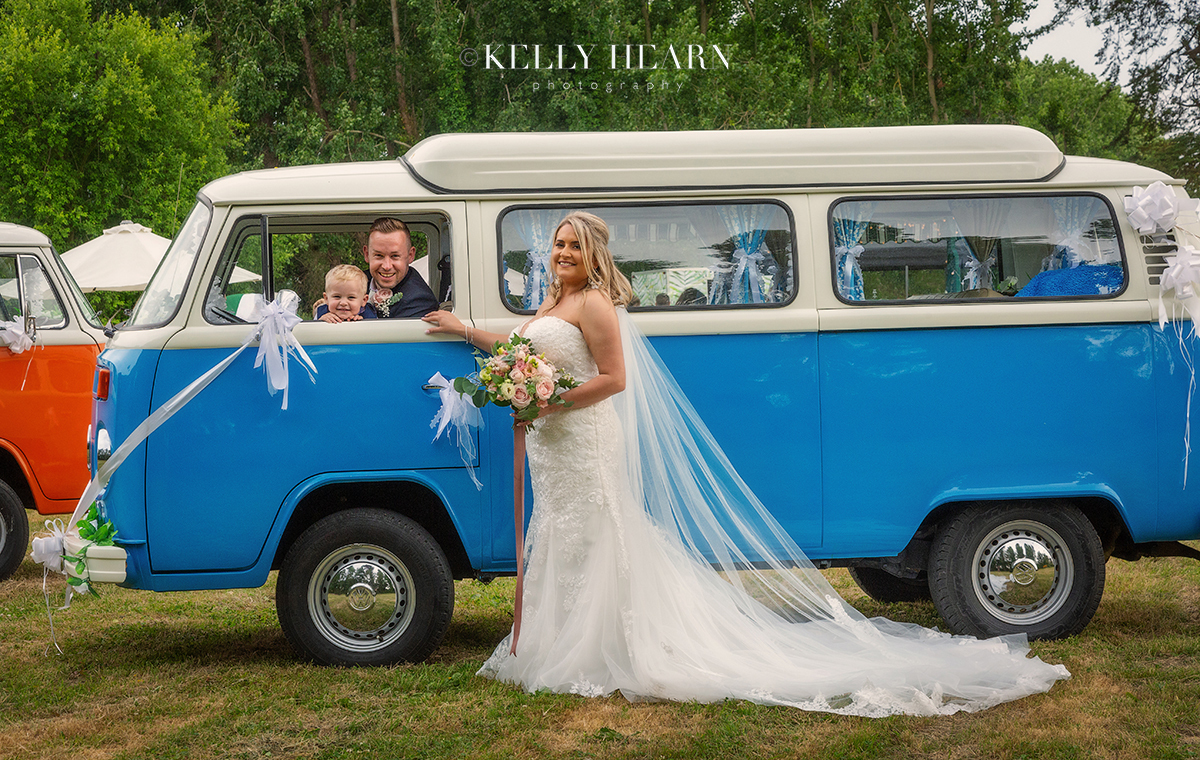 RUSTIC AND ROSY
This creative pair cleverly weaved a nature-inspired theme through their marquee wedding breakfast under dreamy drapes and twinkling lights. There was a tasteful glimpse of 'outside in' with touches such as wooden table centrepieces and jam jars adorned with garden twine holding classic English country summer blooms complemented by edgy eucalyptus.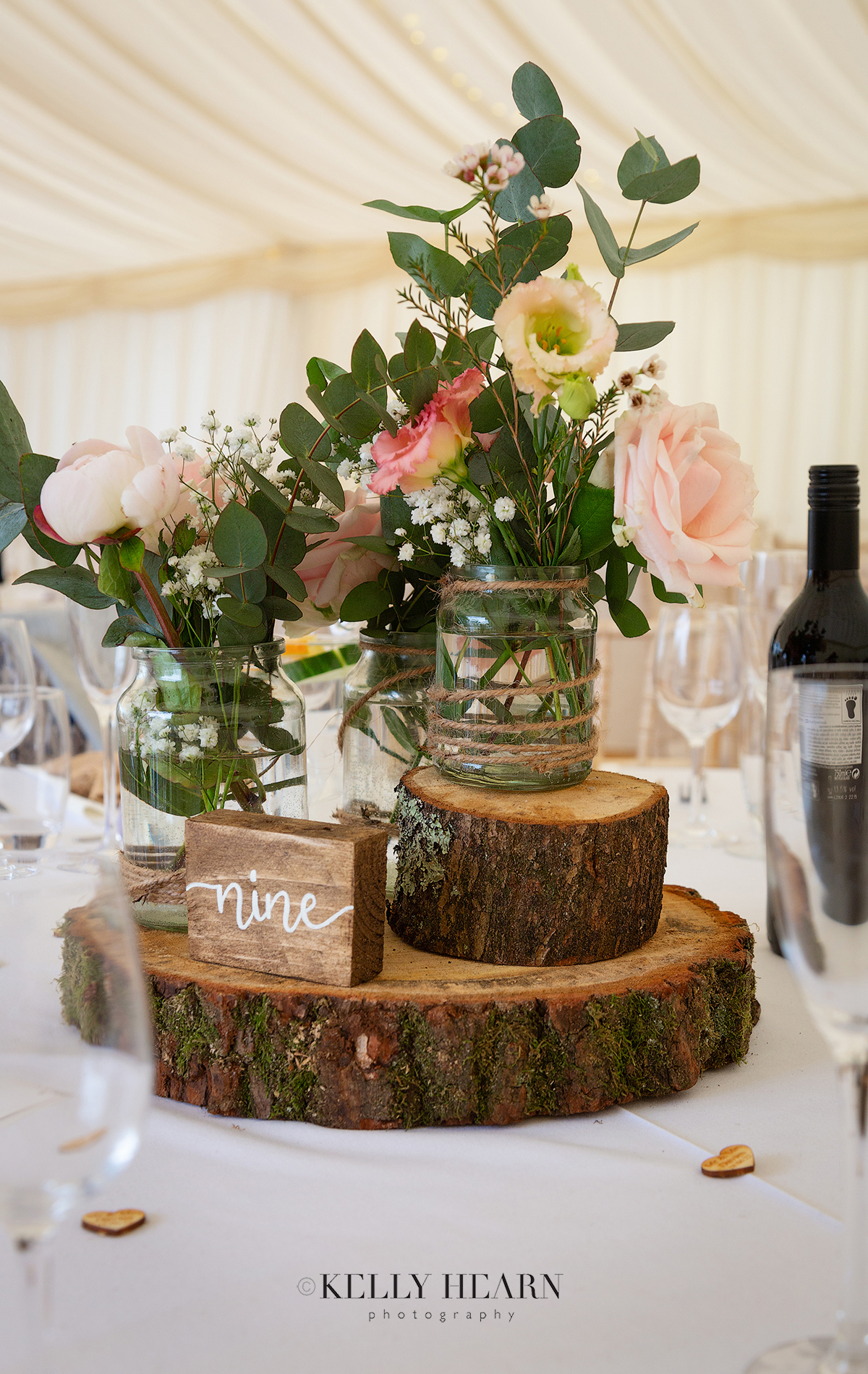 This theme remained strong throughout the day and was also reflected in Kelly's perfectly formed elegant bouquet with its mix of subtle pinks and greens.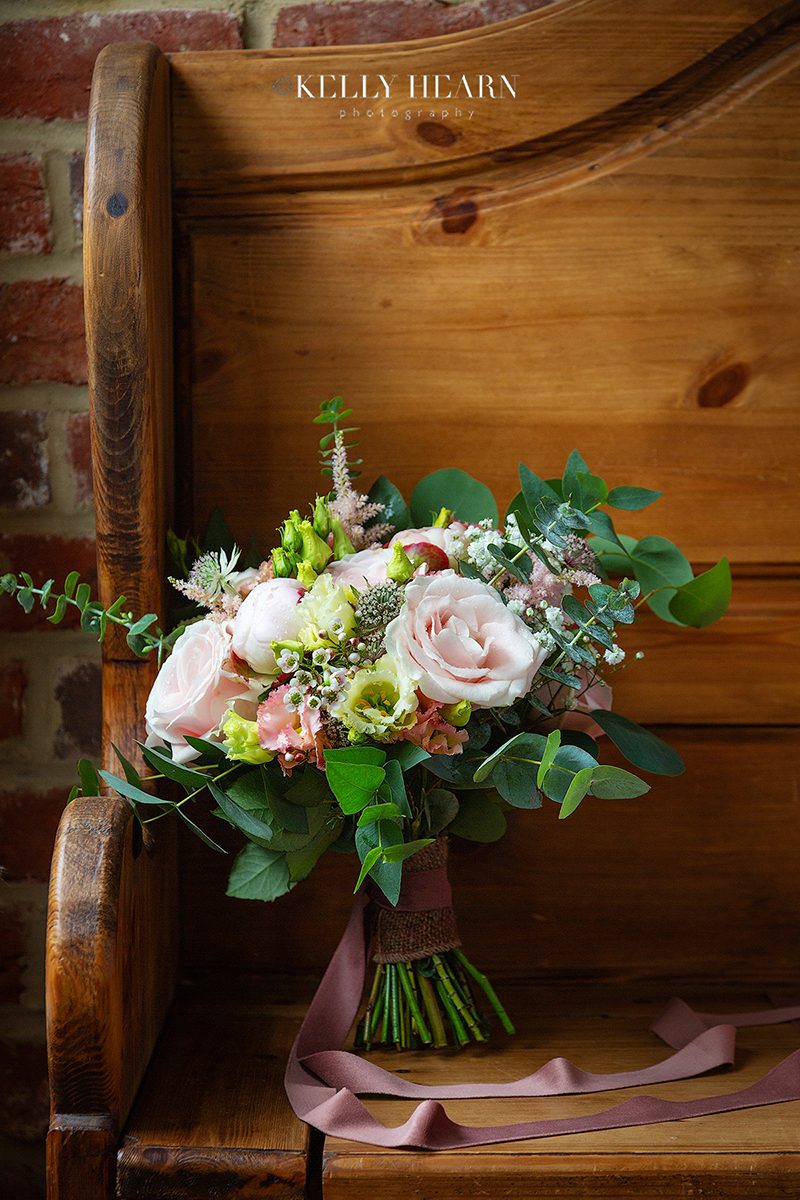 We made sure to take a moment to capture Kelly and Tom before their guests entered to showcase the result of all the time and effort they had put into creating such a relaxed, peaceful space for their loved ones to enjoy, celebrate and party with them.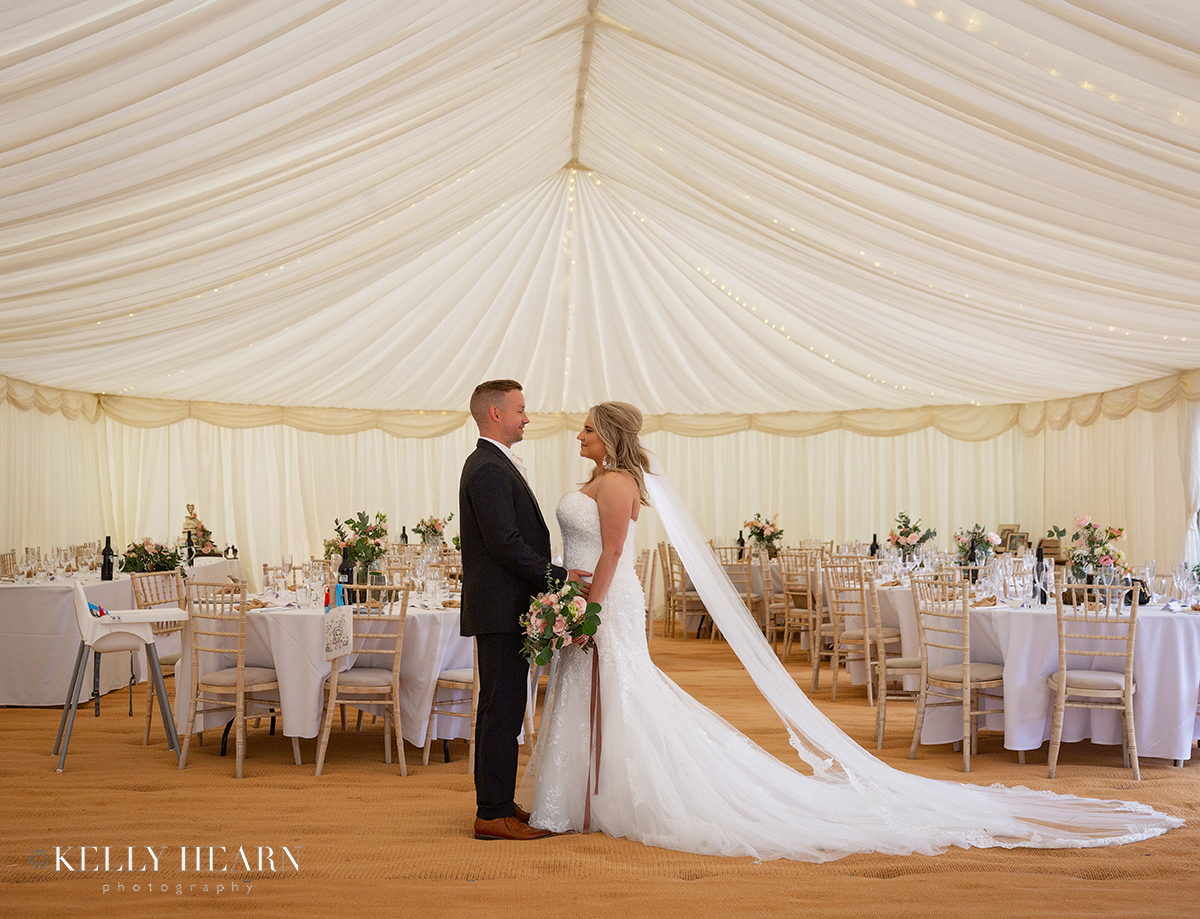 Kelly and Tom, we loved that your special day was so happy and relaxed and that you were able to hold it so close to your home - you will only ever be footsteps away from reliving all of those precious memories that you made on your big day.
We wish you a fruitful future and hope that you continue to be surrounded by a field of dreams.
See you around soon!
Kelly x
Kelly Hearn A.B.I.P.P - A.M.P.A
Dress - Minsters Bridal
Suits - Charles Gale Clothing
Flowers - Blooms Emsworth
Makeup - Jenny Soper
Caterers - Coastal Kitchen Catering