TWO WEDDINGS ONE LOVE
November 11, 2021
Amy and Dave's Two-Part Summer Wedding at Lyminster Church and The Walled Gardens Cowdray
Keen to tie the knot but equally keen to party with all those they love, Amy and Dave made it work in the face of adversity as they planned their big day around the restrictions of the pandemic. This determined couple decided on a dual date wedding and totally smashed it!
15 was definitely the magic number, as they organised 15 guests on the 15th of May for their wedding ceremony, followed by a blessing and party three months later on August 15th.
We made sure we kept in touch with Amy and Dave to support them as they tailored their plans in the run up to their big days and when Amy said she was going to have a different style dress for each occasion they loved my suggestion to reflect this in their photography.
For 'Part One' they totally rocked the contemporary industrial look with Amy's on-trend pairing of laid-back leather biker jacket with flowing gown and veil from Ghost, and Dave's modern three piece suit in stylish blue and grey from Moss Bros.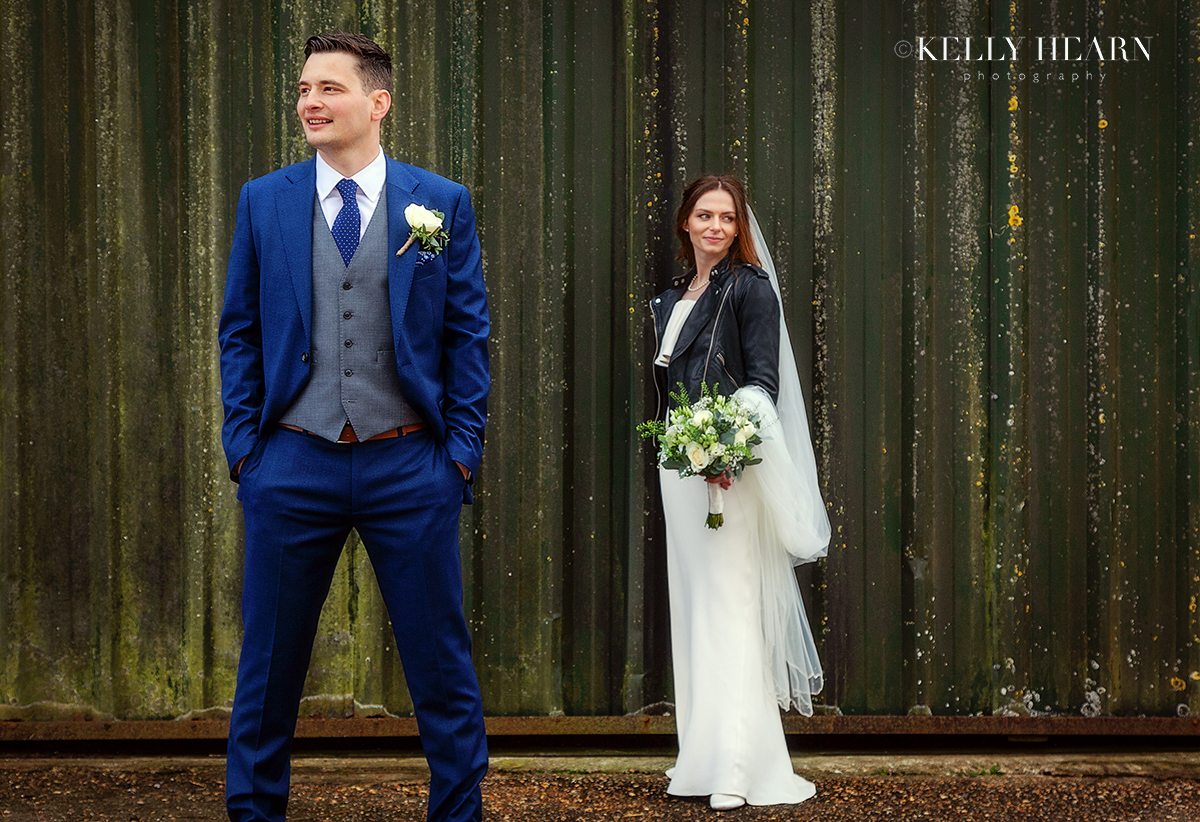 'Part Two' took on a more classic and dreamy style led by Amy's gorgeous mermaid cut gown with intricate structured bodice and floaty chiffon skirt from Proposals Chichester. It was a perfect fit for their chosen venue; the charming Walled Garden at Cowdray, West Sussex.

Hats off to the talented Charlotte of Polka Dot Hair and Makeup for creating Amy's look to suit both dress styles - she looked simply gorgeous!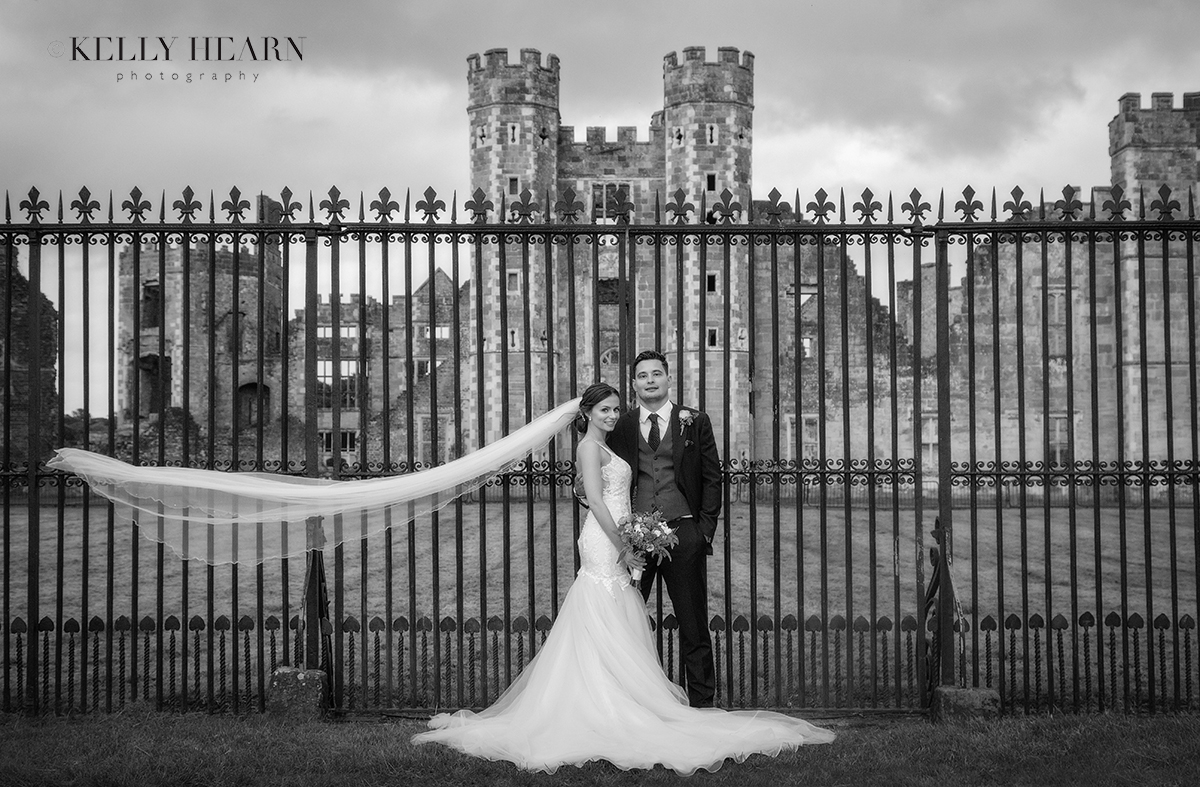 Both venue choices were steeped in heritage.

The Anglo-Saxon church of St Mary Magdalene in Lyminster provided such a picturesque place for their initial wedding, and was Amy's local childhood church having grown up nearby.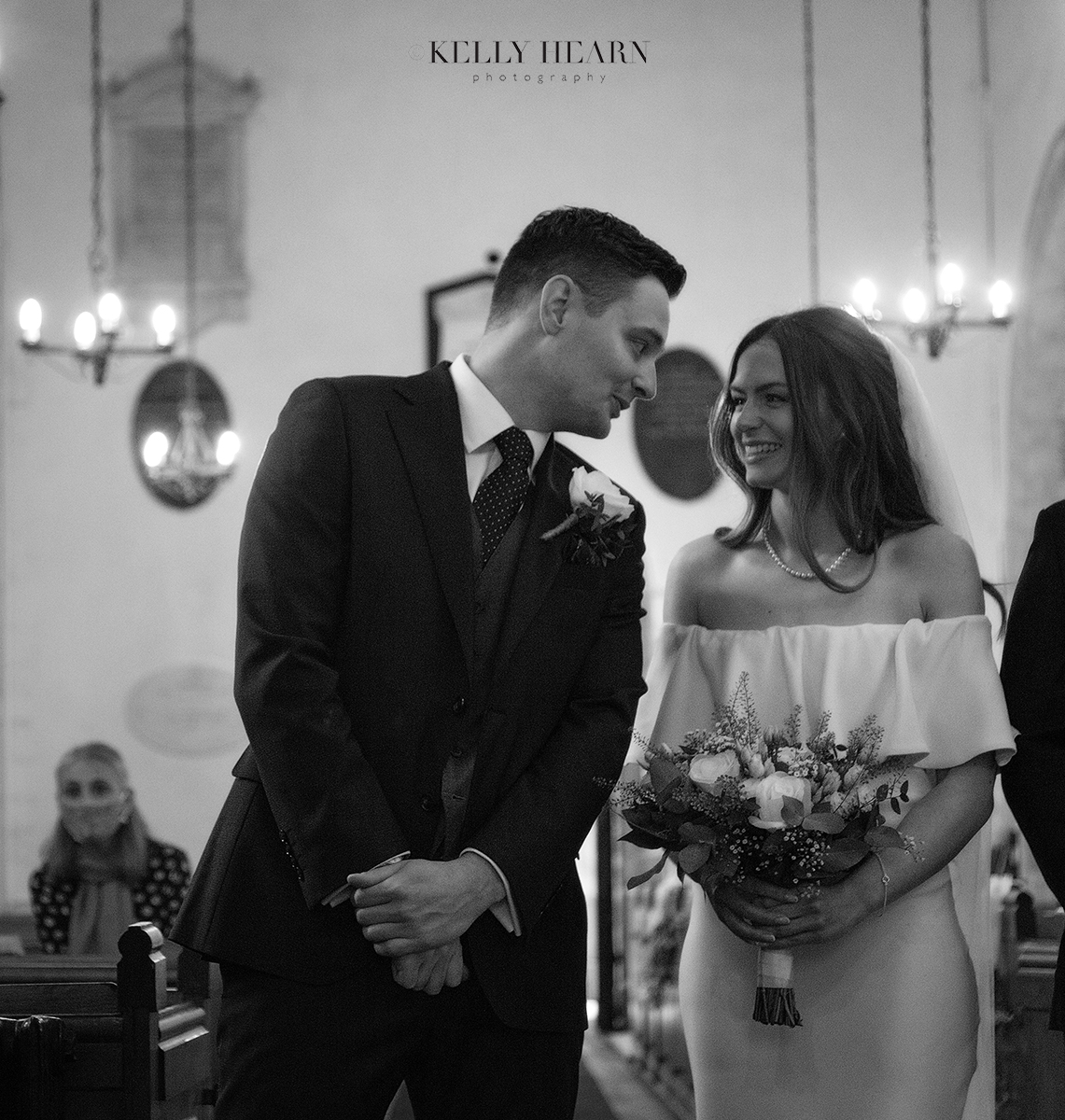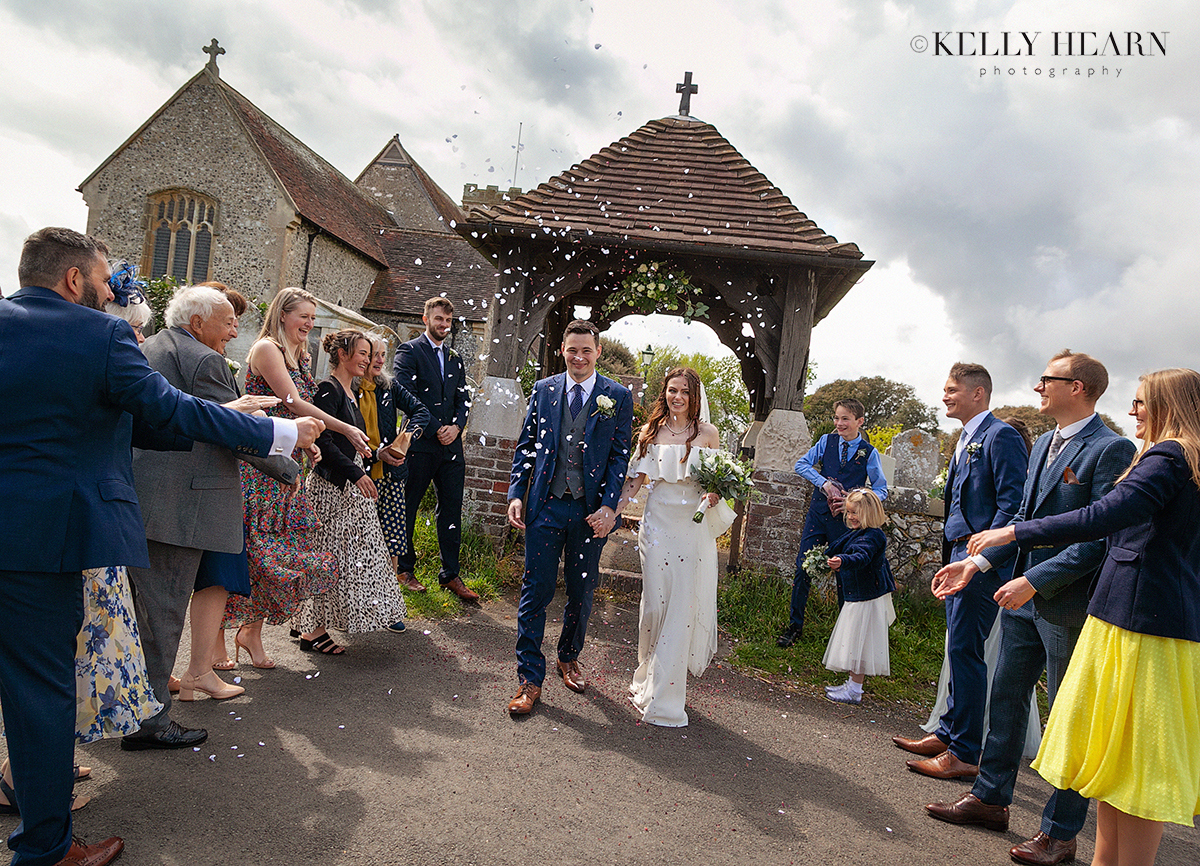 After hearing of the personal importance of the Church I did a recce of the surrounding area and found this amazing gate on the nearby farm that Amy's Father had built years before!

We knew instantly that we wanted to incorporate it into their images, not only would it give them an extra special meaning, but it made an awesome backdrop in keeping with the modern and stylish look we were aiming to achieve.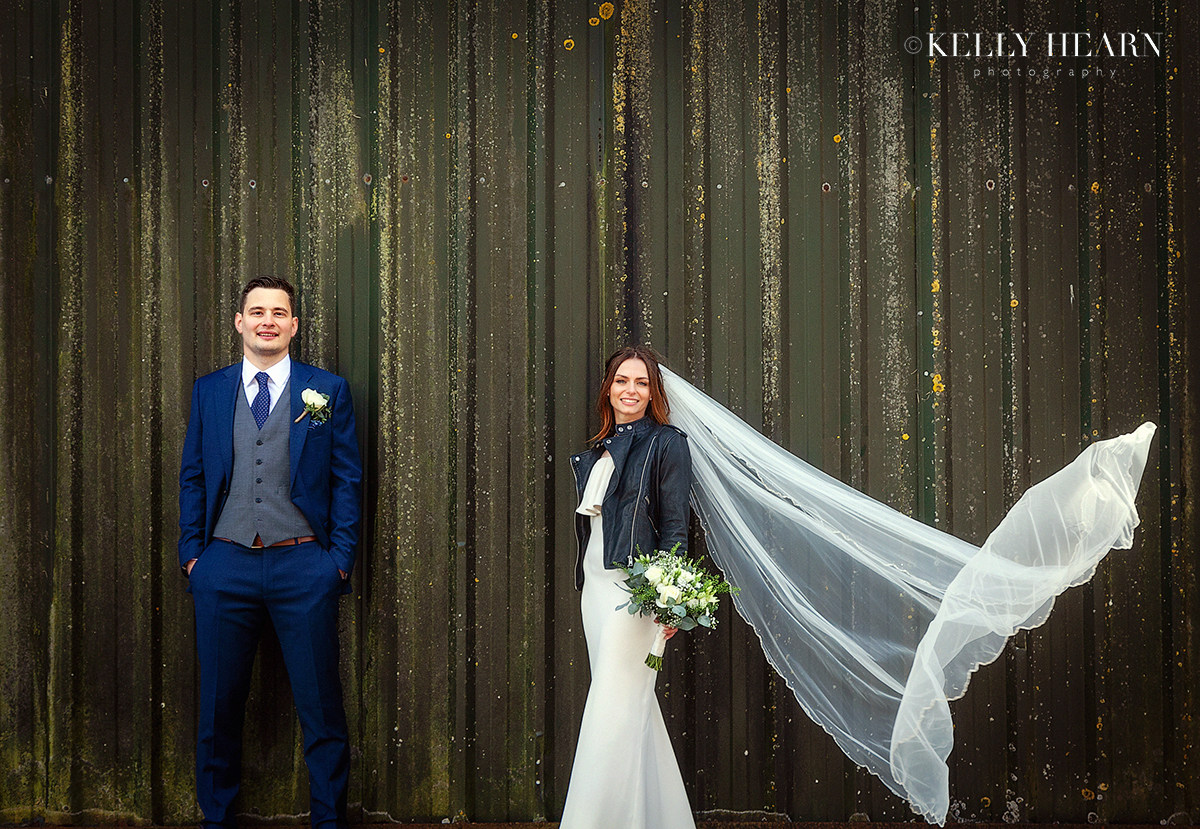 At the end of this short but sweet day they were driven off as Mr and Mrs in this vintage Silver Cloud Rolls Royce from West Sussex Classic Wedding Cars completely setting the tone for their 'Part Two' to follow.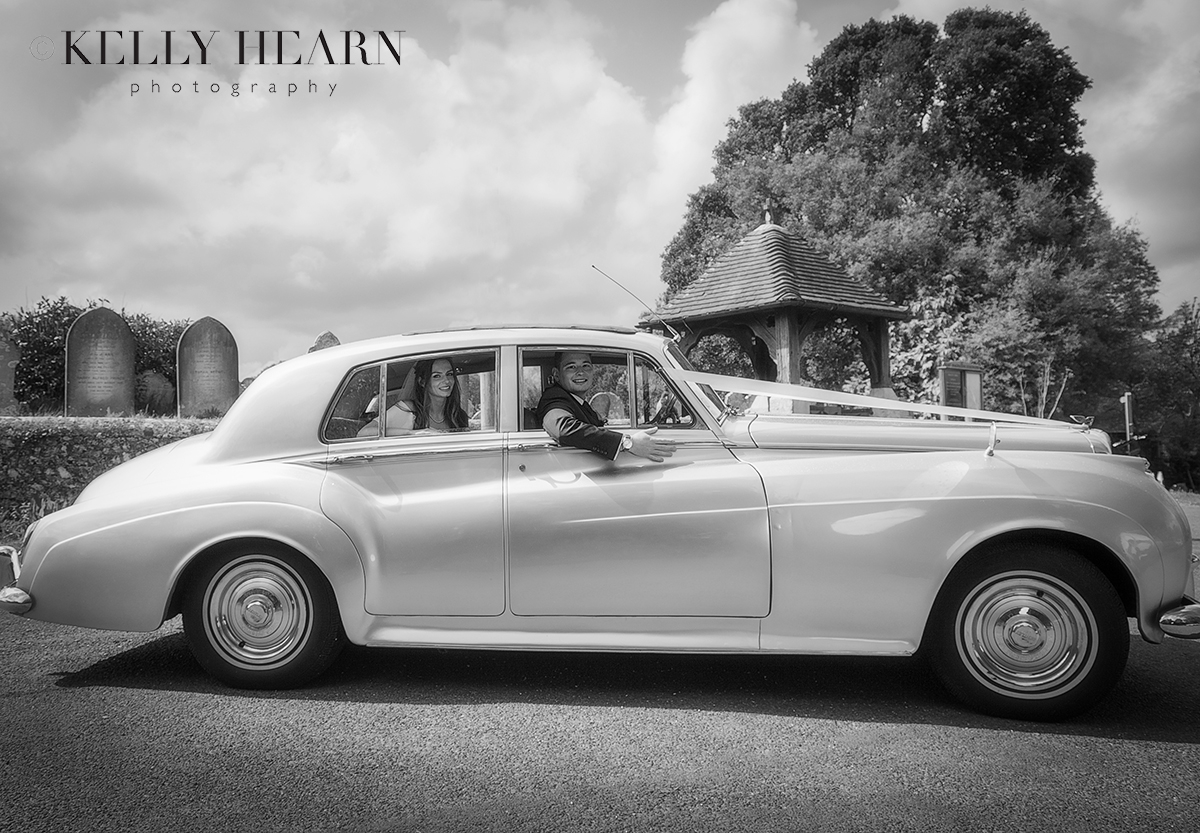 When that August day arrived we were excited to be part of their morning pre-wedding routine. Amy glammed up in The Walled Gardens stunning Bridal Suite with her four childhood-friend bridesmaids while Dave got ready locally with his groomsmen. We felt it was an important part of the story of their day to capture them both 'nearly ready'. Two timelines about to merge into one, a reflection of each other as they prepared to meet at the altar.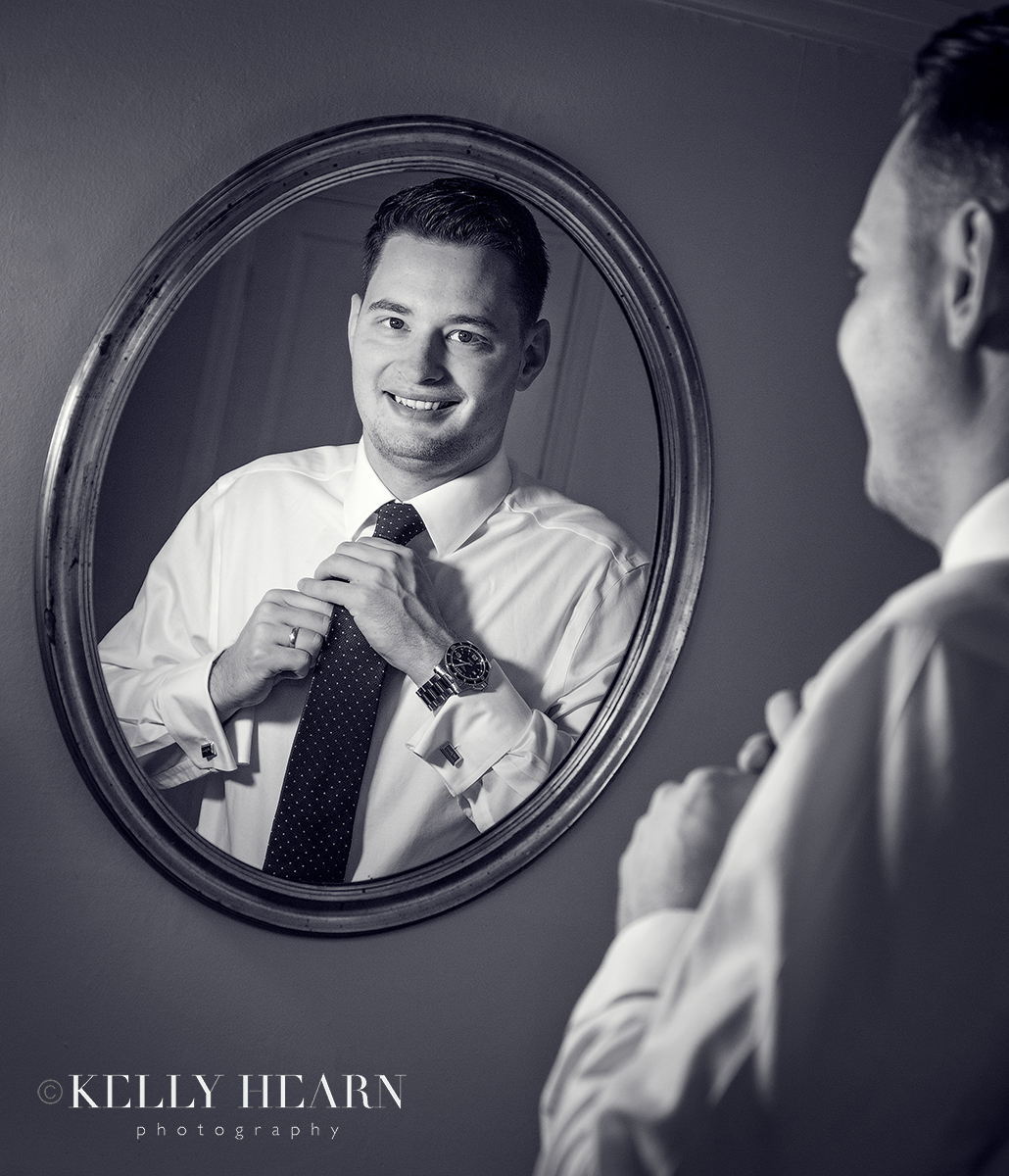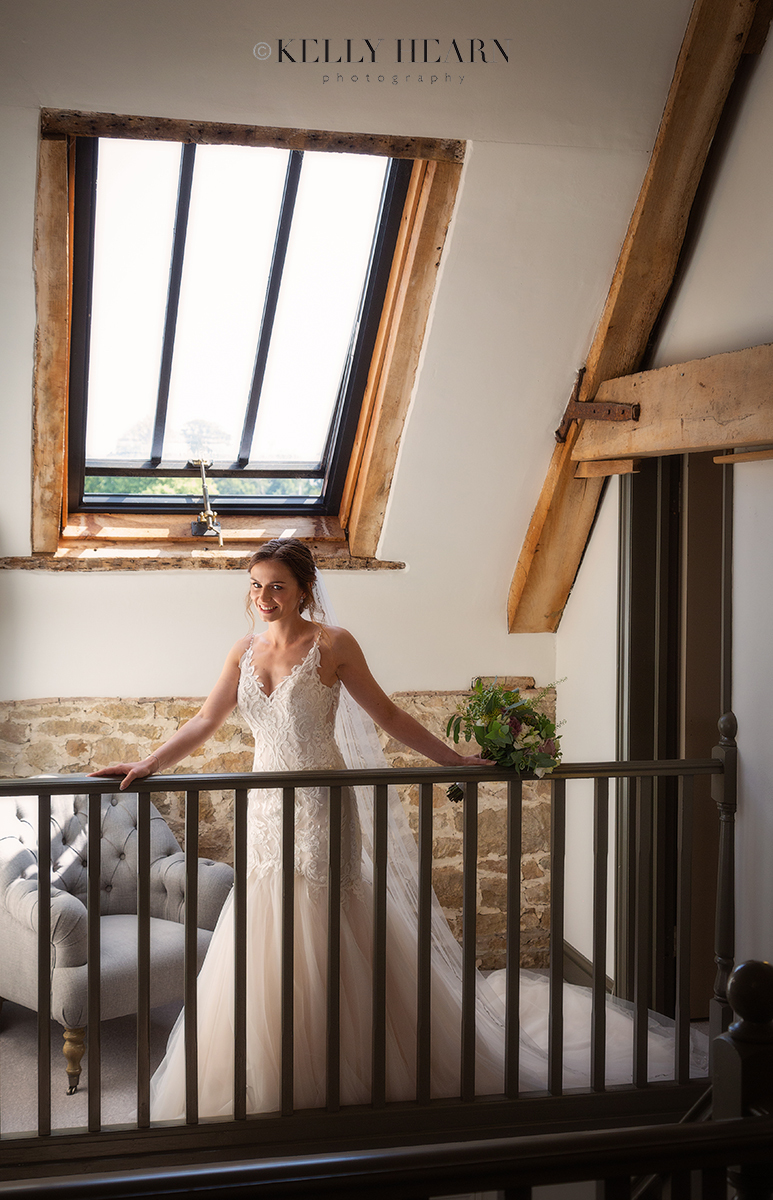 Amy kept the custom of her Dad walking her down the aisle for the blessing as he had done for the wedding, reliving the happiness that this tradition brought to them for their friends and family to experience. These black and white entrance and exit shots both serve to preserve these two poignant and precious moments in time forever.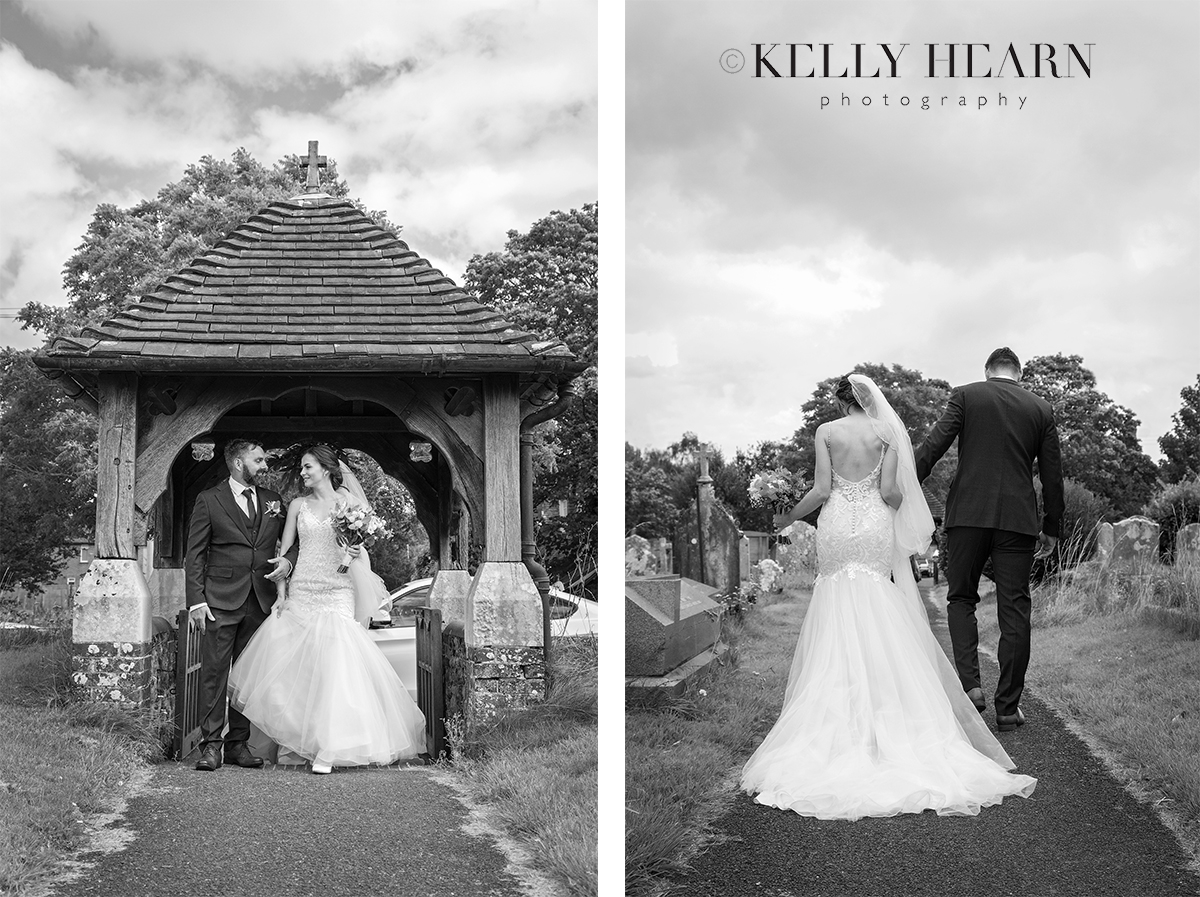 The lush green manicured gardens of The Walled Garden with its impressive landscaped lines and delightful flora made a superb place for the happy couple to celebrate with their family and friends, some that they hadn't seen for a while. It was such a joyous occasion and made for a brilliant group shot - definitely worth hanging out of a very high, very small window!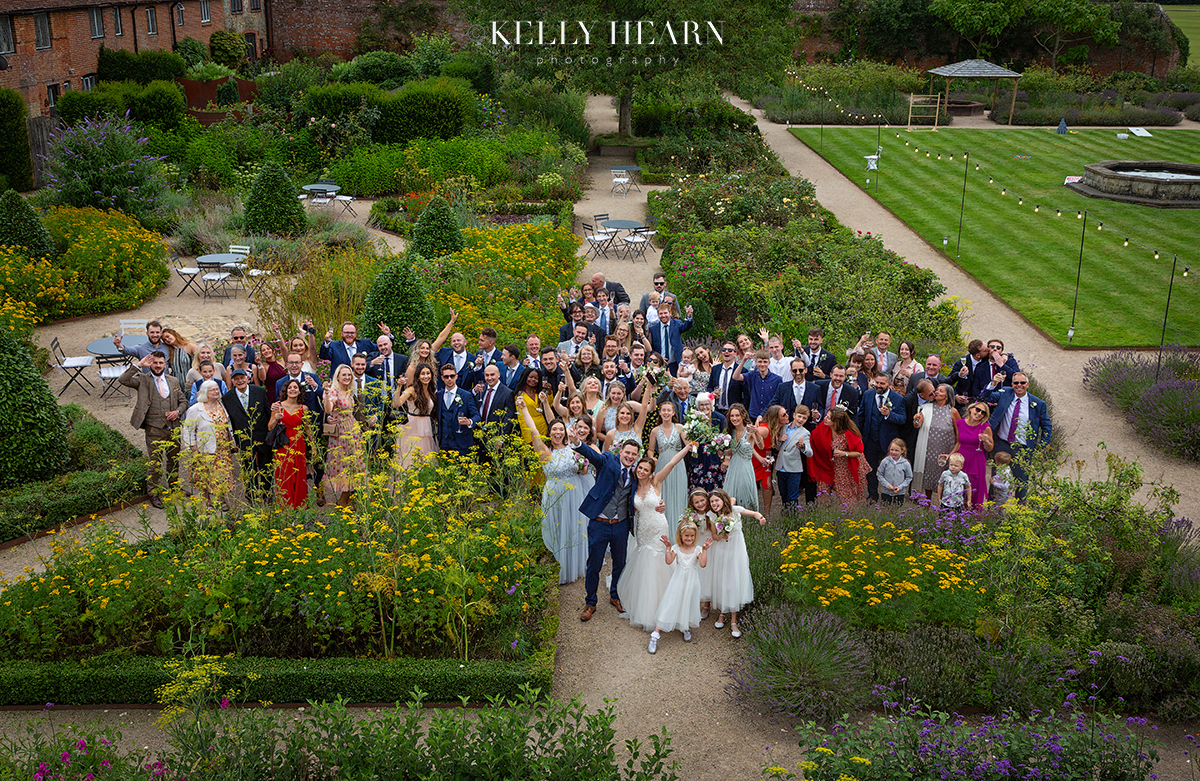 ...whilst my trusty assistant hid among the low lying foliage to capture the happy gathering from a different angle getting a closer shot of the bride and groom and these three cheeky little faces!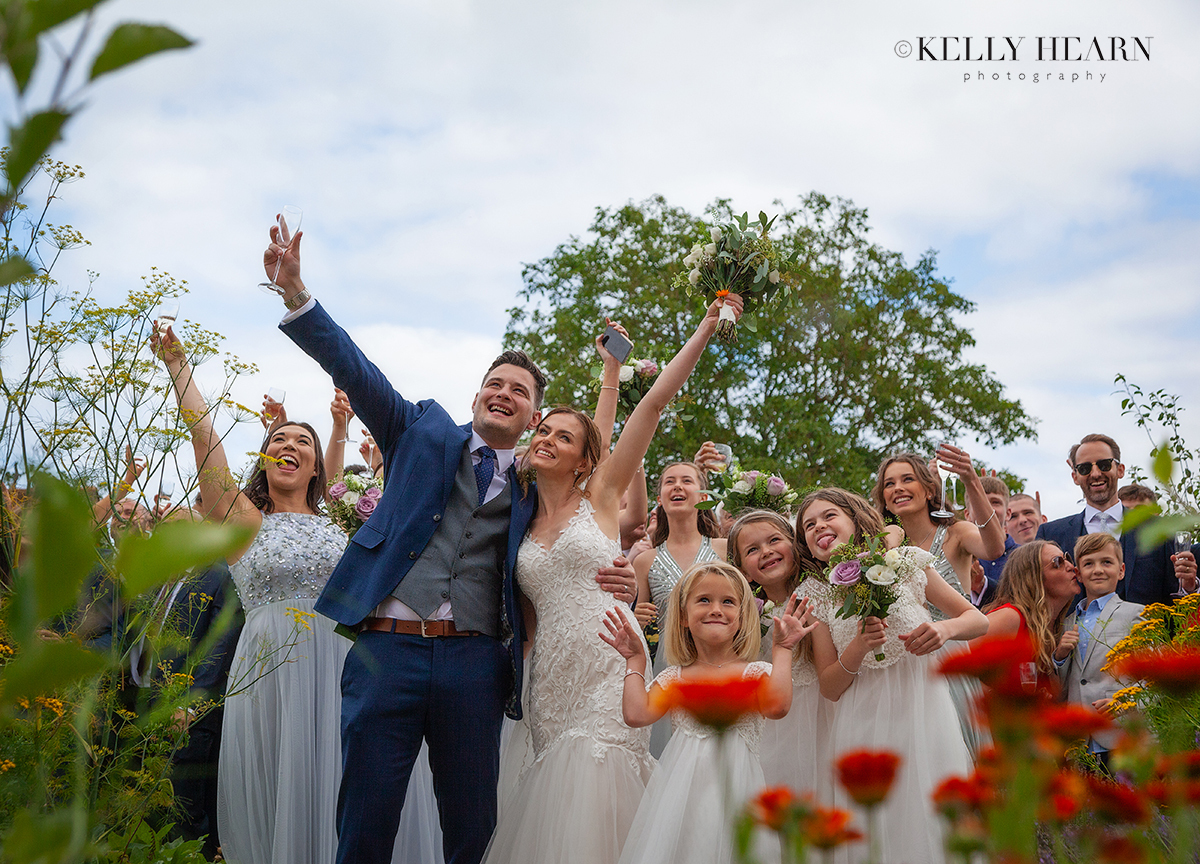 It was a delight to weave our way around the private gardens taking full advantage of the many photographic opportunities in the surrounding grounds.

We wanted to capture as much of the venue as possible whilst injecting interest and excitement into Amy and Dave's album with as many colours, textures, light and forms as we could find. So we utilised some excellent 'props' in each location; this water feature made for a delightful centre piece around which we posed the bridal party with the bride and groom taking centre stage.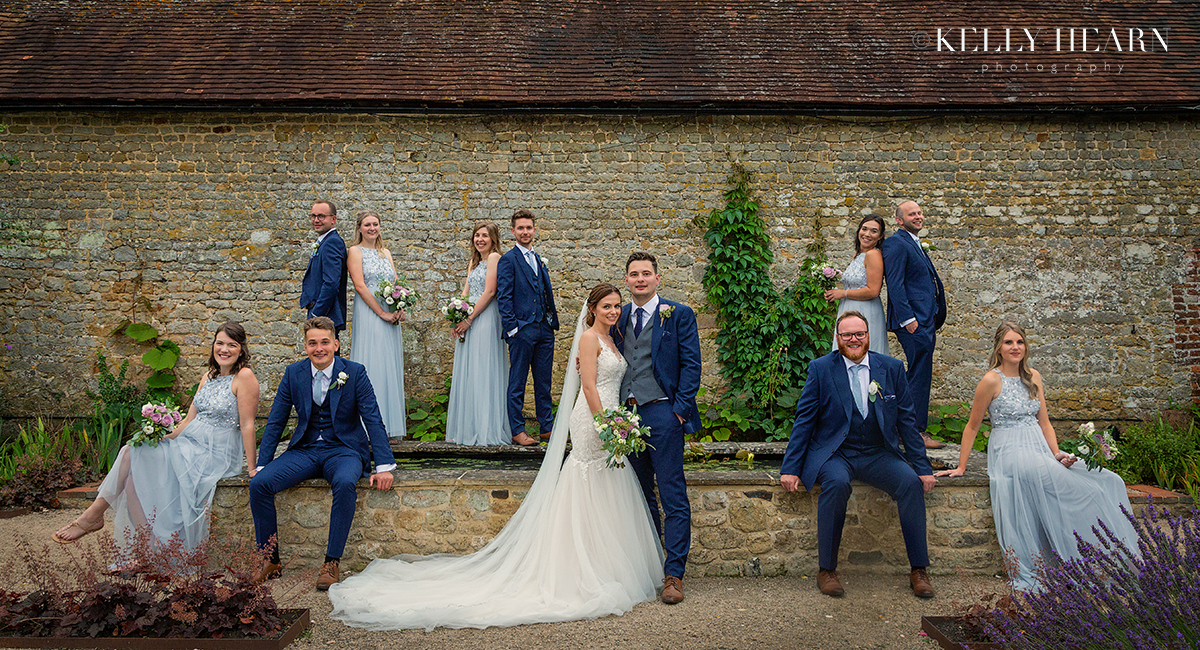 Whilst the gate seemed perfectly placed to capture Amy and her bridesmaids sharing the magic of the location in front of the stunning ruins and looking gloriously elegant in their powder blue, floor length dresses holding their bouquets expertly tied by Hedge Rose Chichester.

It was lovely to see that Amy had the same style bouquet as her ceremony but with a subtle twist... a pop of lilac this time which worked delightfully well with her besties' attire.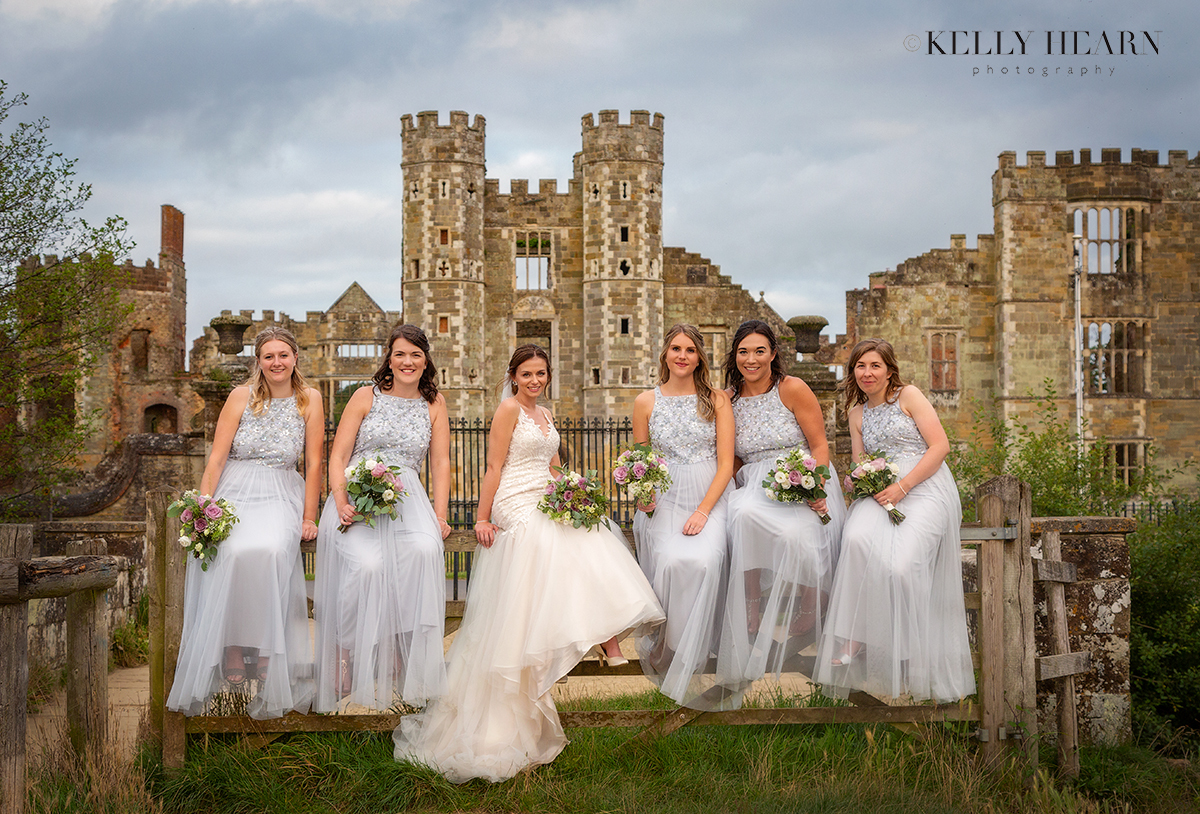 Finding another angle to incorporate these awe inspiring ruins we made sure to also incorporate Dave's beloved and seriously stylish car, without letting it quite steal the show. I took a low angle to frame the newlyweds against the dramatic backdrop of the low setting sun, magical cotton wool clouds and momentous architecture of the ruins.

We love the juxtaposition between the swanky modern motor vehicle and the Tudor, timeworn structure behind.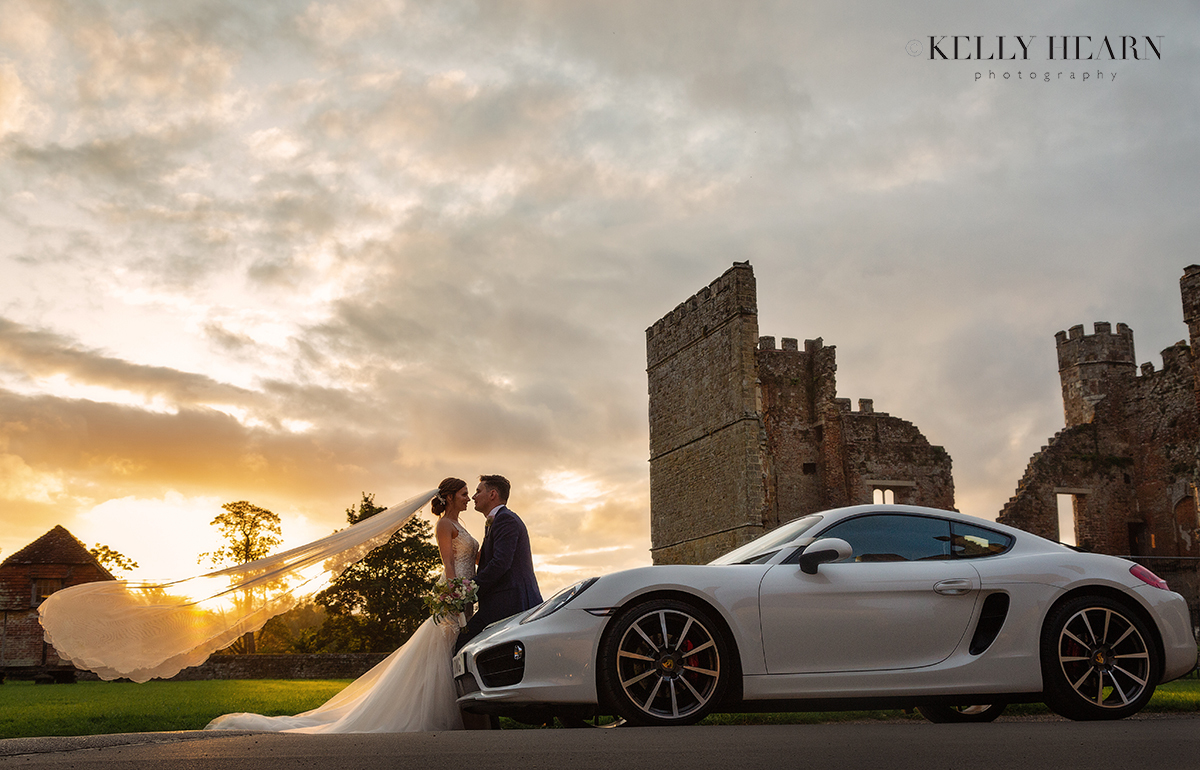 With the sunset still giving as it shone softly through the frame of the beautiful solid wood doorway we used it to illuminate Amy in her exquisite dress and showcase her beautiful train. Amy had fallen in love with the idea of a bridal shot in this location when she had first viewed the venue and was delighted when we made it happen.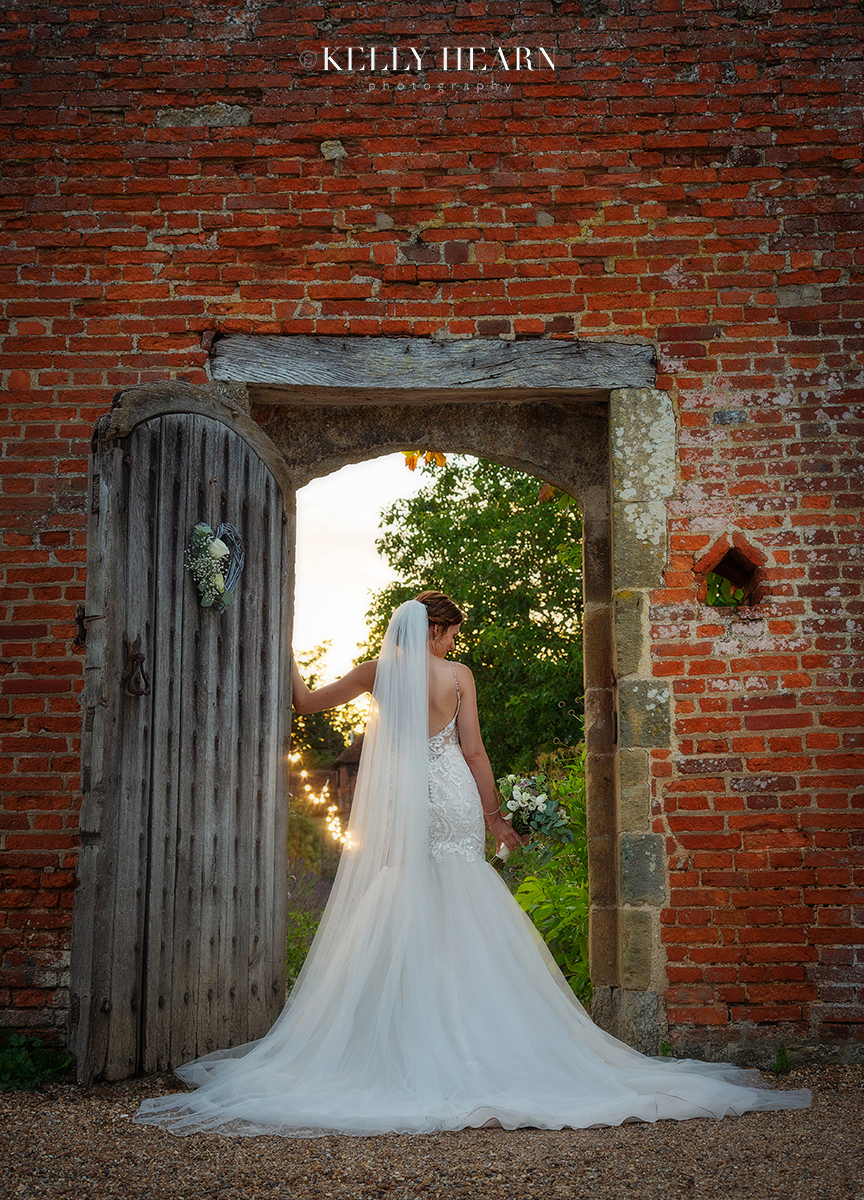 As the day came to a close, the sky turned to midnight blue and the festoon bulbs offered a magical glow to create a romantic light in which Amy and Dave could share a special moment together - the perfect end to two perfect days.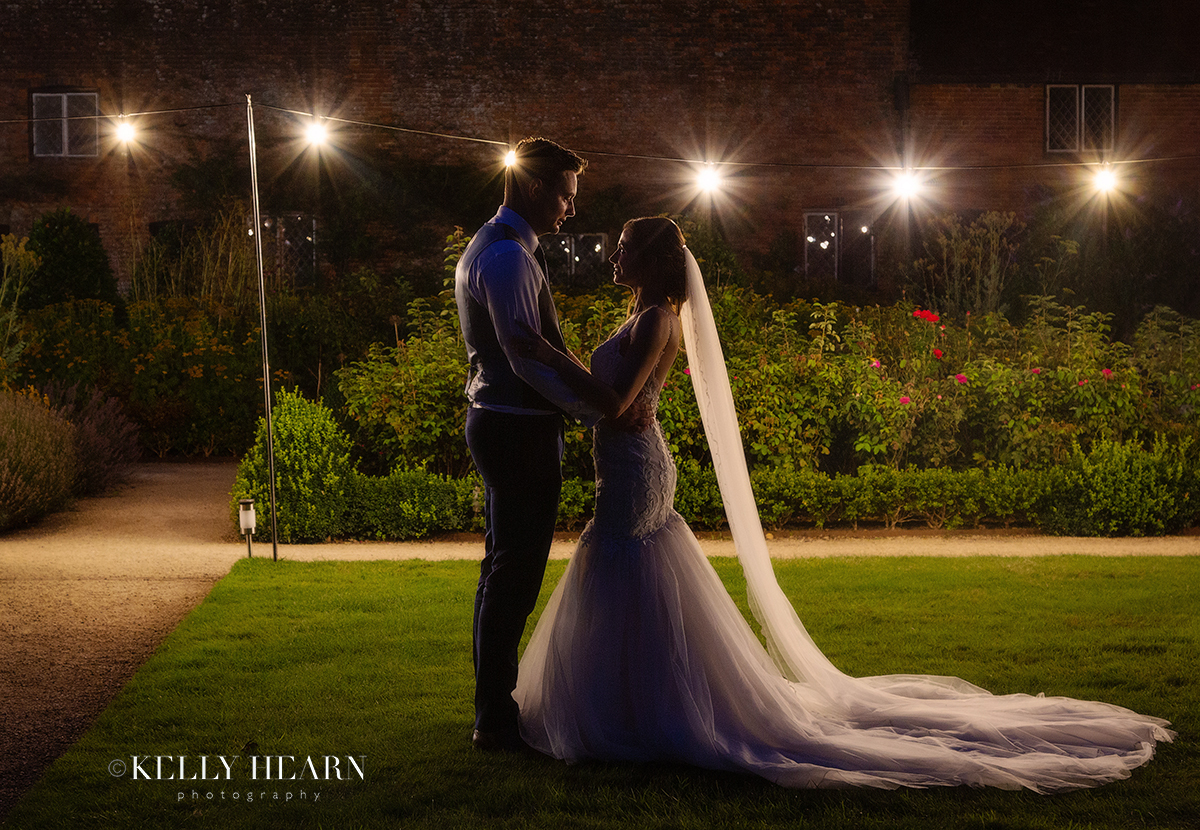 Amy and Dave, It was just so lovely to be part of your ceremonies and celebrations, both during the run up and on the days themselves. We admire your tenacity and style in making them both the relaxed and enjoyable occasions they were.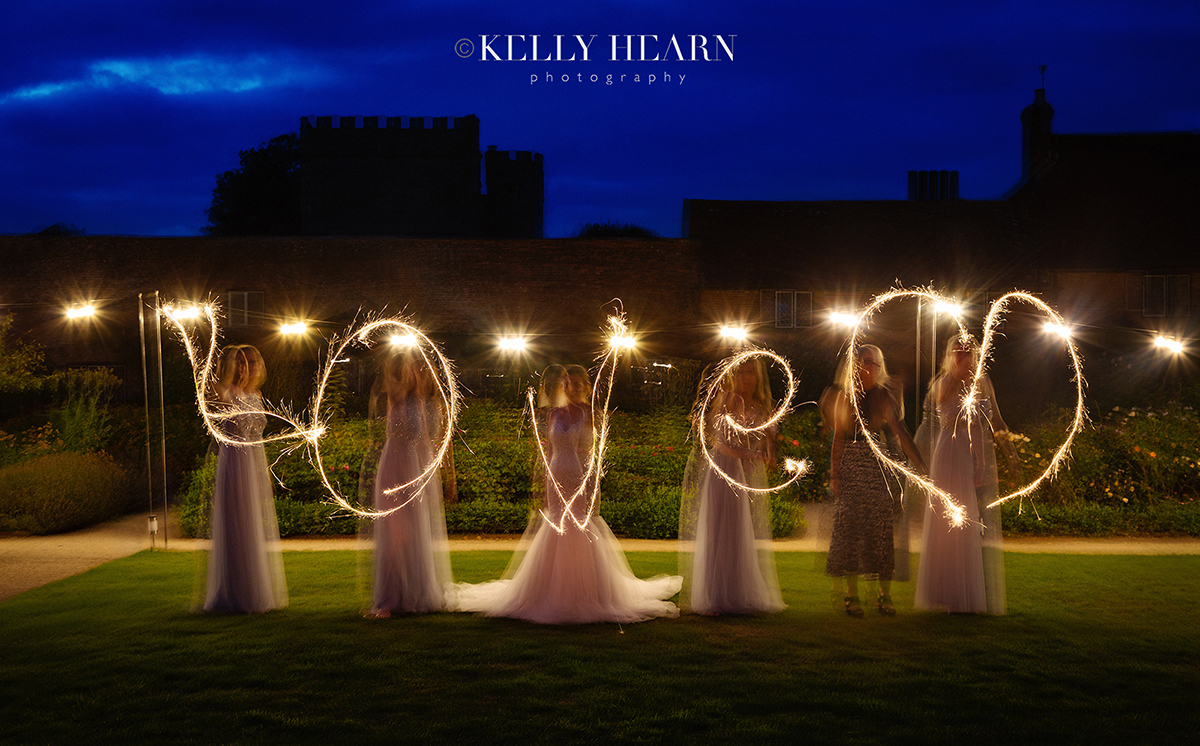 We wish you all the best for a 'Sparkling' future together.

Kelly x
Kelly Hearn A.B.I.P.P - A.M.P.A