FLOWER POWER
November 30, 2021
Jade and Ayden's Summer Upwaltham Barns Wedding

Jade and Ayden's wedding at the gorgeous Upwaltham Barns in West Sussex proved to be a seriously stylish affair. With an abundance of florals and harmonious neutral tones weaved throughout the day all brought lovingly to life with a plethora of warm and joyful emotions.
This show stopping pair certainly didn't hold back when it came to decorating their dream venue with flowers and foliage - the stunning arrangements of epic proportions, expertly created by the very talented Lucy at The Floral Artisan, were simply stunning - perfectly suited to the gloriously August sunny day and the grandeur of the barns.
A lofty cascading wisteria canopy combined with Jade's graceful Pampas Grass Bouquet and shoeless feet struck a bohemian chord as we captured the couple against the complementing rustic flint and beam interior with Jade's impressive train and 165" veil splaying to balance out her dress and the blooms overhead.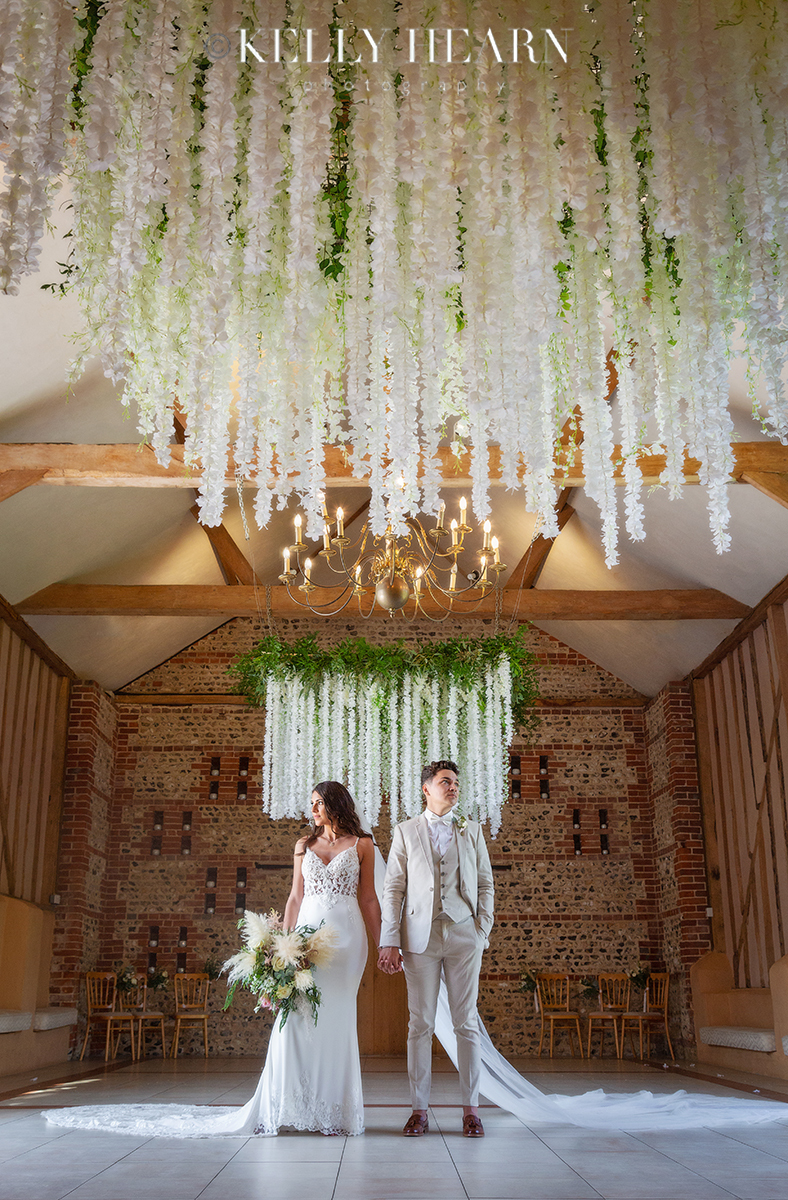 FLORAL STATEMENTS

We were met by impressive floral installations in various locations throughout the barns.
This huge heart-shaped wreath of roses and greenery greeted guests on arrival delivering the 'WOW Factor' and offering a glimpse of the beauty and love in store for the day. We felt that it deserved its limelight so photographed it at dusk to give it prominence against the dark wood and evening sky.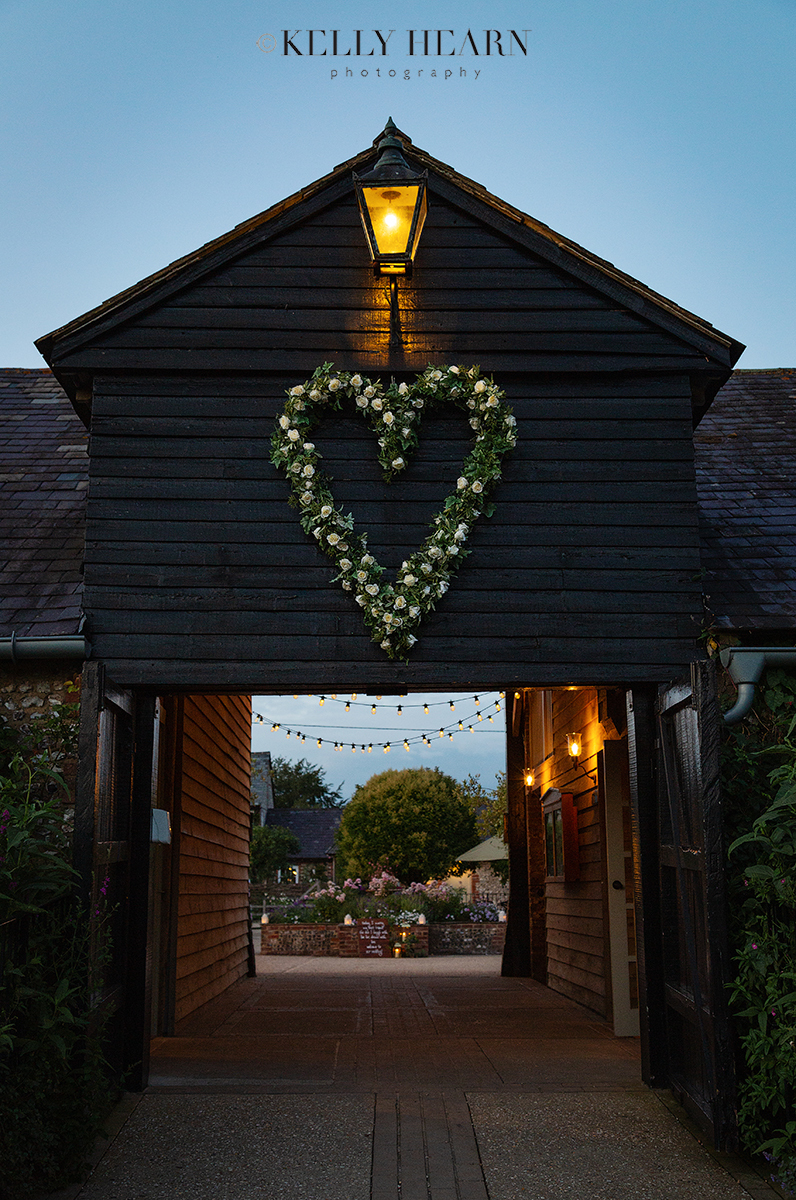 Using a contrast for photographing the doorway into the East Barn helped to accentuate the light and airy feeling of the waterfall of wisteria hanging high within.

The shadows draw your eye to the aisle, all beautifully set with delicate row-end posies and ready for the newlyweds to grace on that short journey to becoming husband and wife.
A cherished and tranquil moment in time, from which to reminisce upon the beauty of the ceremony room, just as they had visualised it, before it was filled with the affection vibes of their loved ones.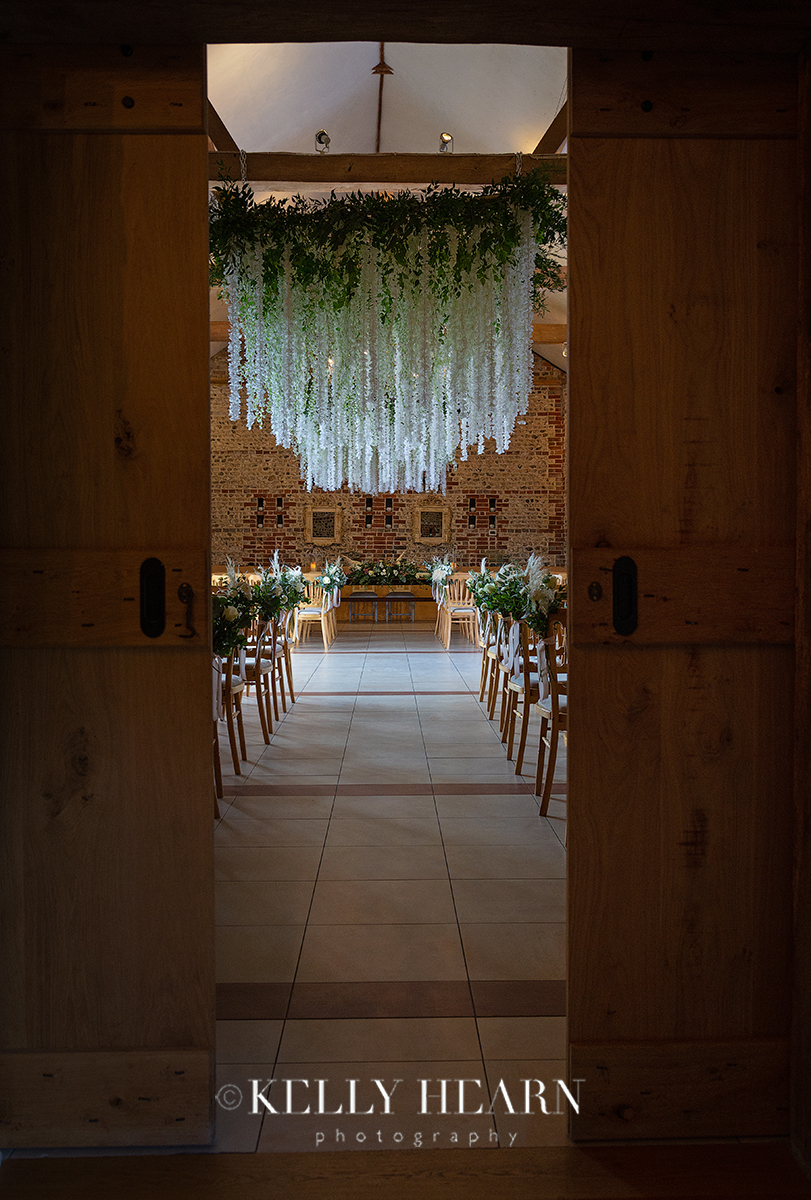 This string of verdant foliage made for a stunning frame under which to capture the new Mr and Mrs whilst trimming the contrasting dreamy white drapes echoing the form of Jade's flowing veil as it cloaks the steps up from the courtyard.

A fine spot to take one of their final images of the day; outside the room where they had taken their vows.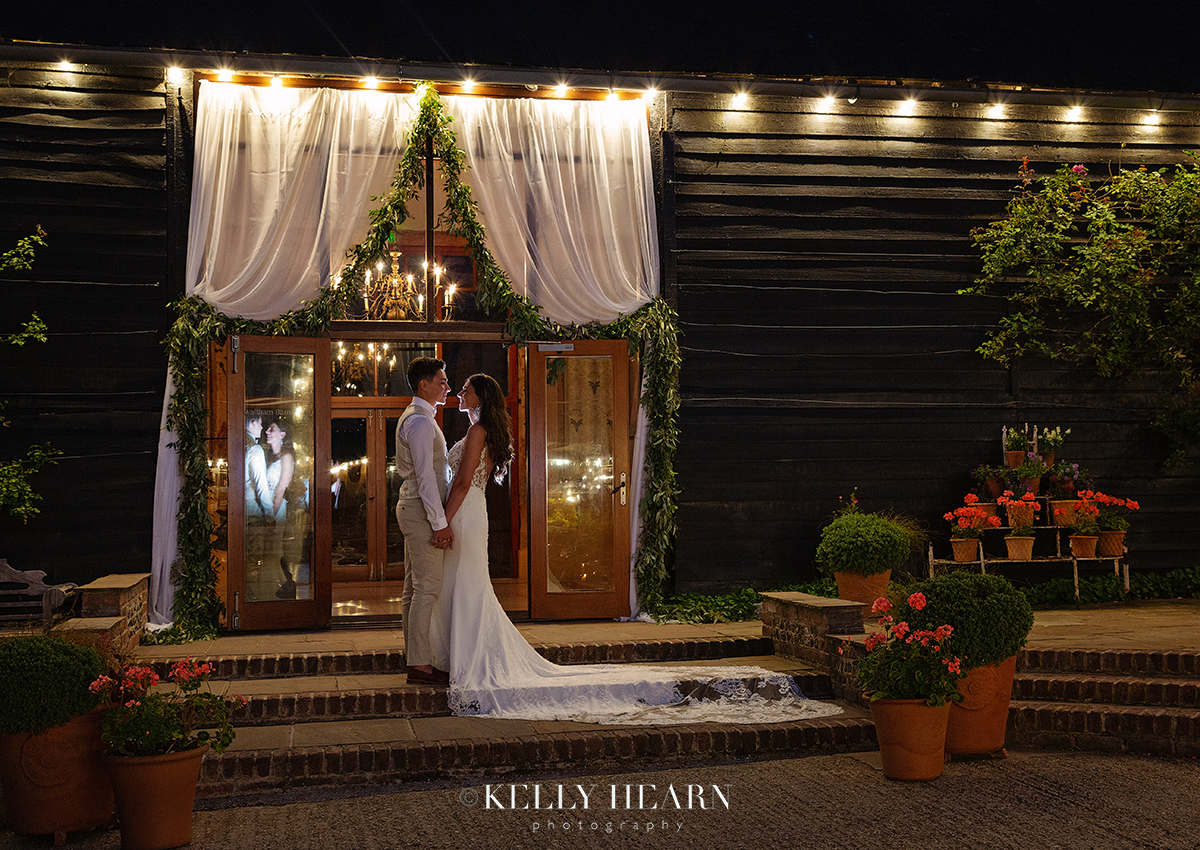 Inside the South Barn guests were treated to a scrumptious dinner by Nibbles2Nosh. Sat under the crowning glory of yet more feats of floristry which adorned the candle chandeliers above.

The delicacy of the low table displays dressed with pillar candles giving the room a lovely cosy ambience.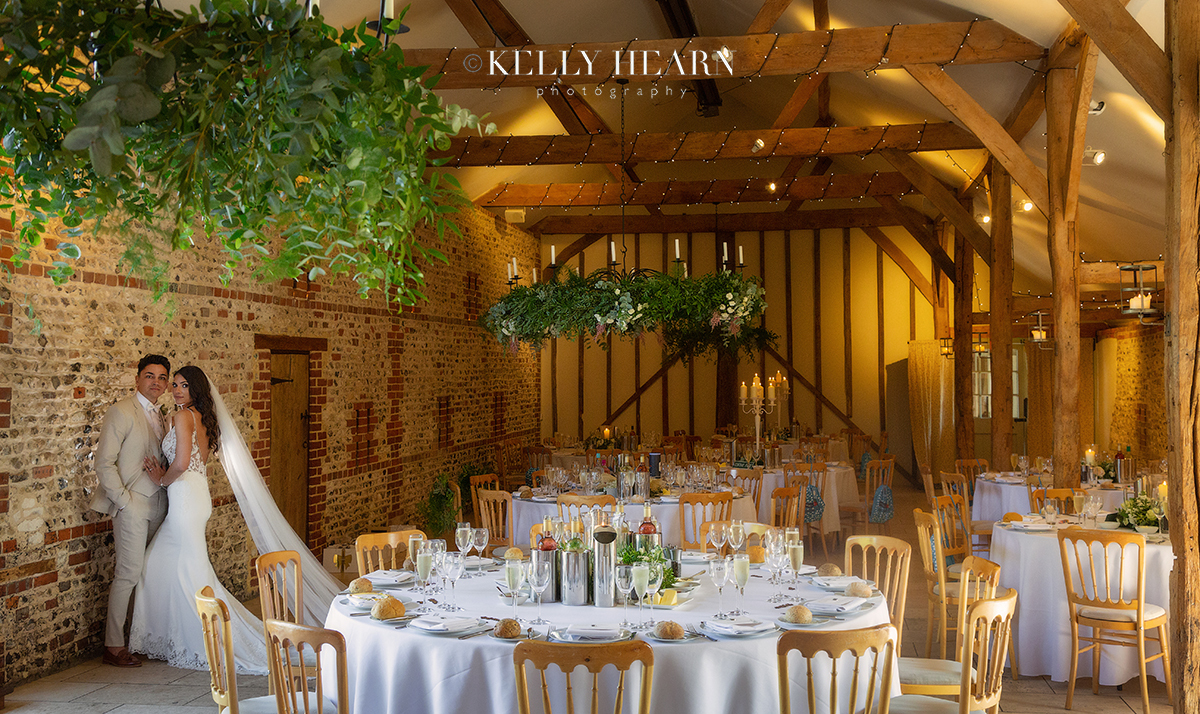 GRAND VISIONS

We feel that this image upon the iconic Upwaltham hill brings together key aspects of their chosen details, encapsulating their visions for their big day, the big bridal party, the bohemian bouquets, the neutral colour scheme.
The delicate palette chosen for their outfits really work with the summer hills which tie in beautifully with the green in their bouquets. The bridesmaids looked so elegant in their asymmetric floor length 'The Evita' dresses from Rene K Couture and their flower girl looked uber sweet in her John Lewis Dress and Dr Martens. We love how the males are all rocking the neutral tones with the page boys in shorts and men in suits from ASOS - all looking super smart with bow ties.
Jade's vision was to have the full bridal party in white and soft tones. This was beautifully complimented by her bridal Hair & Makeup created by Holly Louise at HL London. Her long flowing locks delivered a stunning image alongside the detailed and delightful hair up designs made for the Bridesmaids by Emily Joanna at E.J Events Hair and Makeup.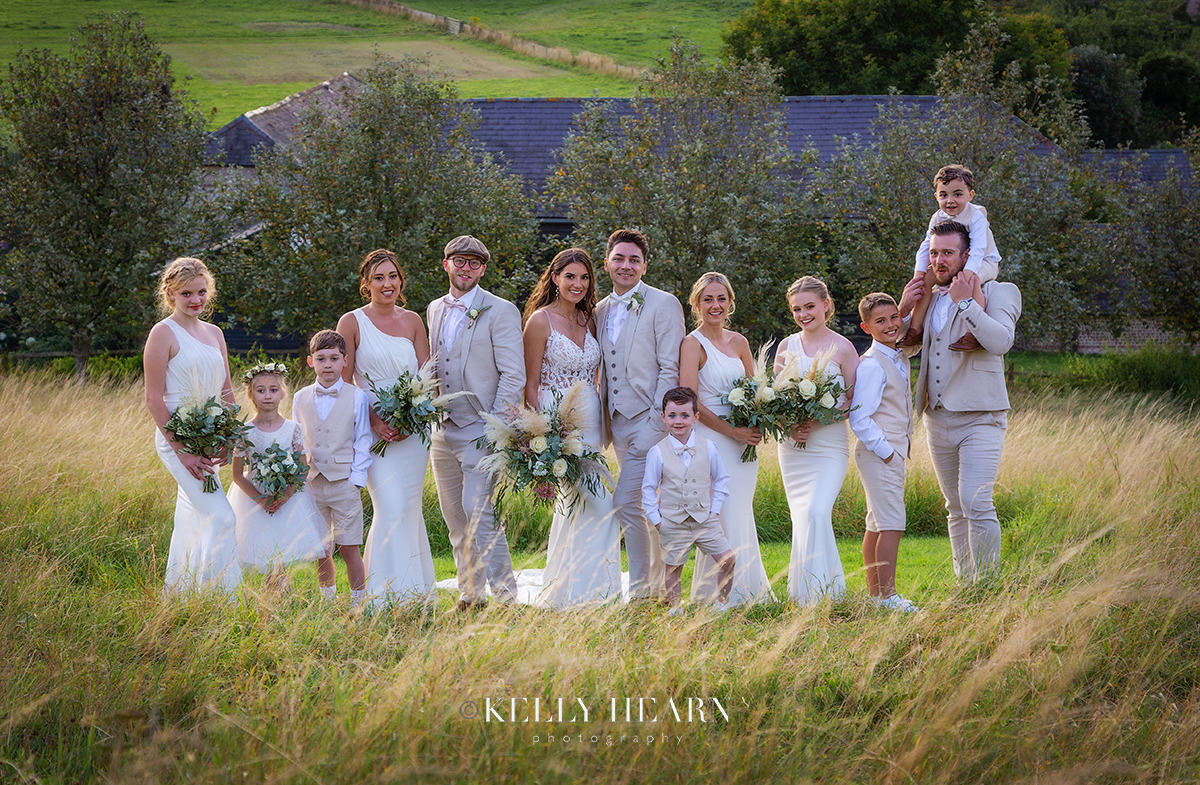 We knew it was important for Jade and Ayden to surround themselves with their close friends and family. Their adorable son, who was an extra special little cheeky chappy, looking mighty fine in mini country chic, dressed like his Daddy and in one of the best men's flat caps adding an extra burst of joy and happiness to his Mum and Dad's Wedding Day.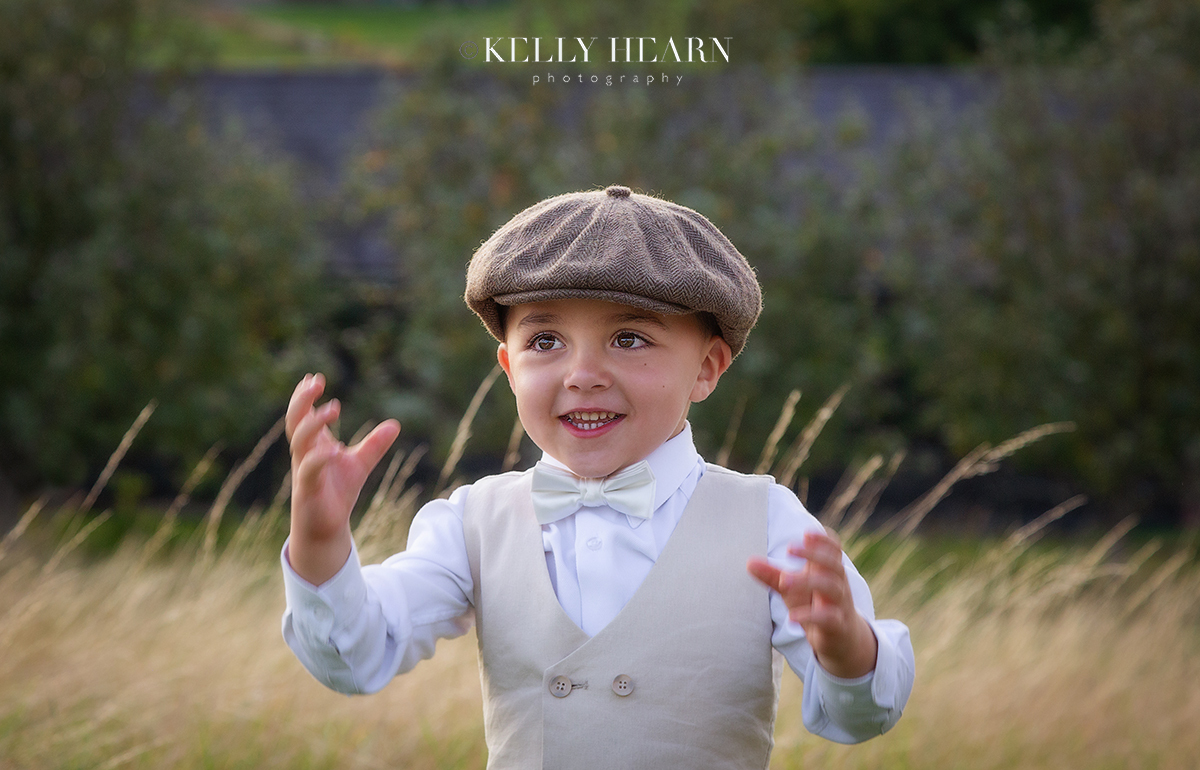 Jade's elegant designer dress by Enzoani - McKinley from Brides Visited was definitely part of the bigger picture from day one; a long trained dress accented by an equally impressive veil that worked so beautifully in so many different ways in their photography, here's just one of the images from their album that shows how we were able to work it into their story.
Using it as a literal connection between the couple it was a good job that Ayden was only too happy to help when it came to navigating the veil!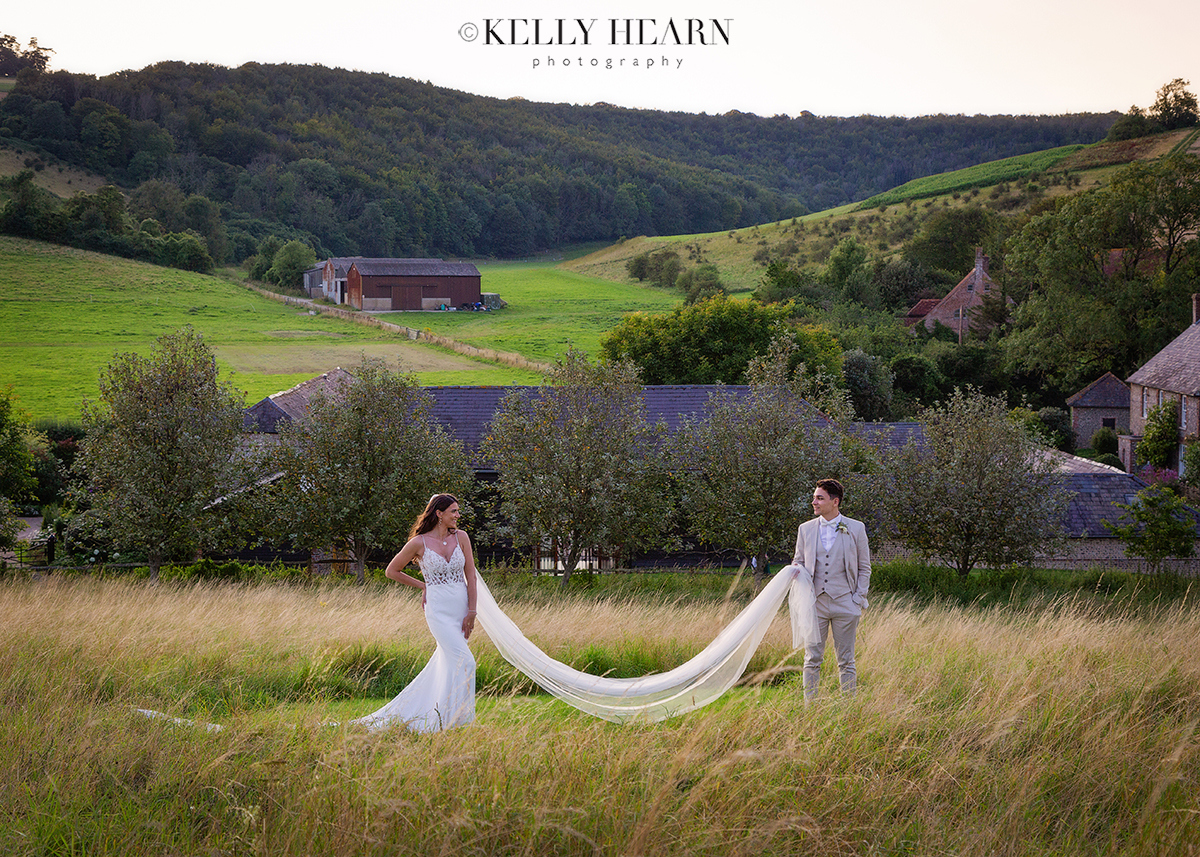 The hill shots meant a lot to Jade and Ayden. It was the spot that we photographed them on their 'Would be Wedding Day' originally planned before the pandemic hit:

You can read all about how we styled out the photography on this beautiful afternoon here: SILVER LININGS: Jade and Ayden's 'Would Have Been Wedding Day' Celebration
LOVE AND LAUGHTER
They chose a classy delicate colour palette for their theme which worked as the perfect backdrop for a day filled with colourful and vibrant emotions.Jade and Ayden had really thought about how they could include the special people in their lives to invoke a buzz of emotions during their big day. We made sure we were ready to capture them as they unfolded.
The ardor and joy that came when both Jade's father and Grandad witnessed Jade in all her bridal glory before walking her down the aisle was priceless.
Here we captured the raw, happy tears of that moment as it happened. Then equally as poignant and with incredible style we caught the three of them making their way across the charming gardens to unite Jade with her groom.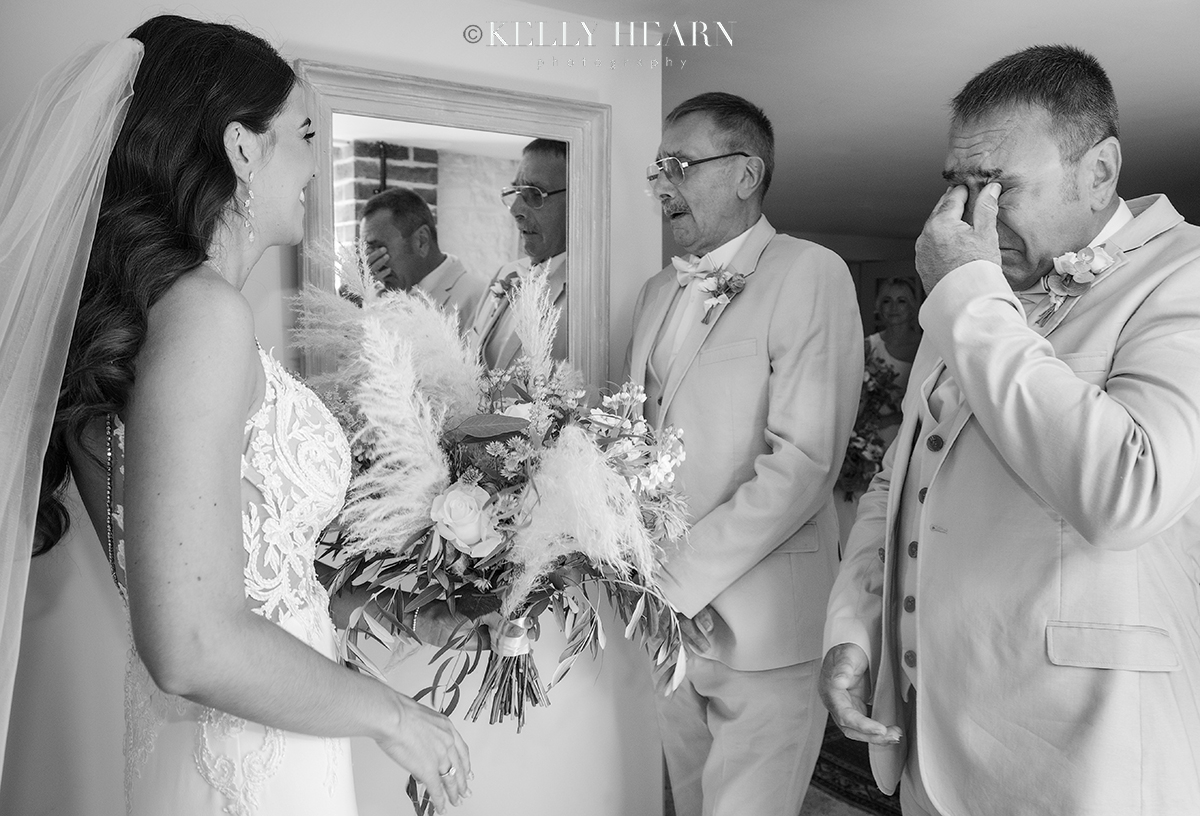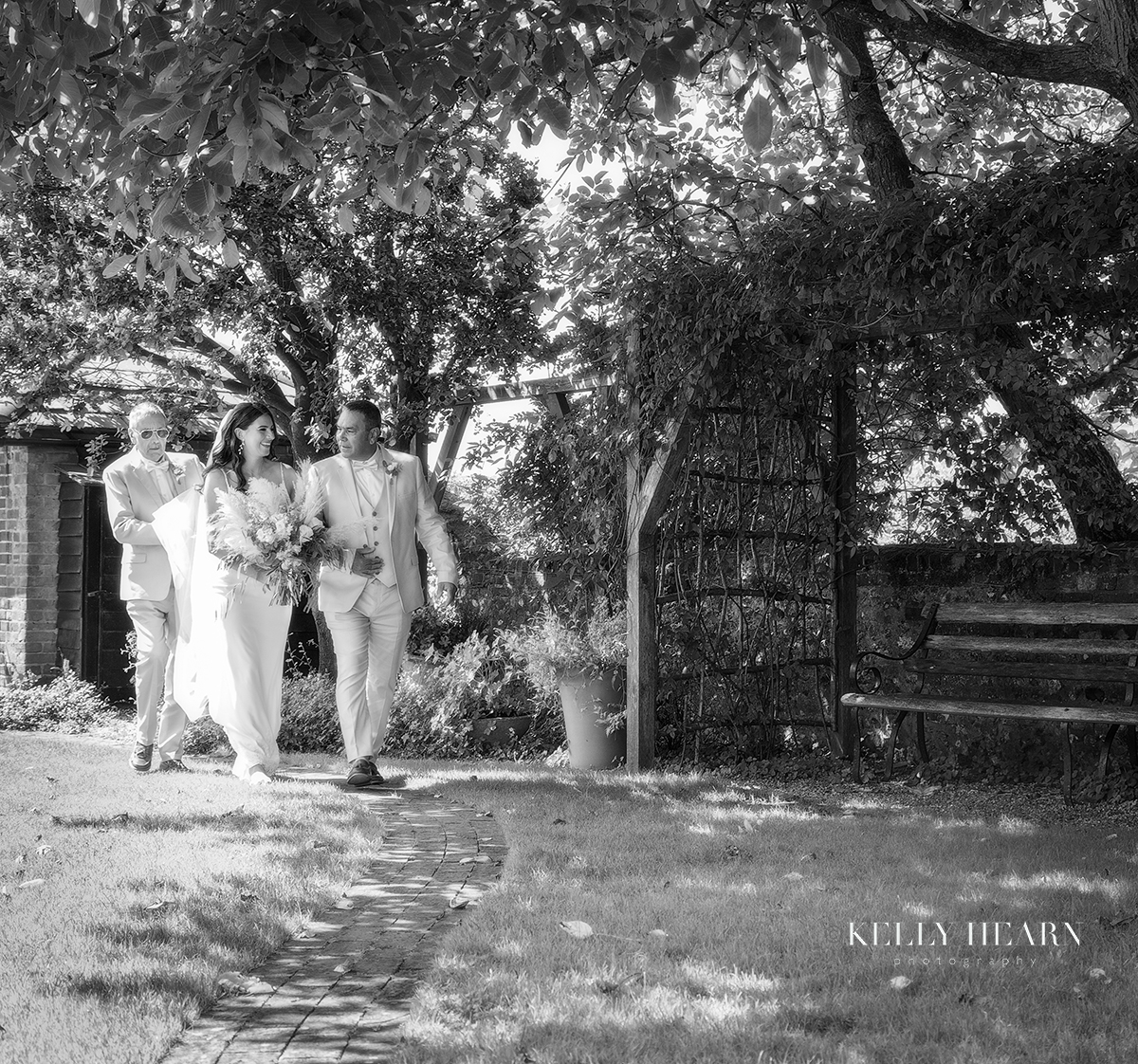 Jade and Ayden kept emotions running high as they shared their heart warming handwritten vows - a moment that they have waited a long time for. These two certainly knew how to bring a touching sentiment to their day!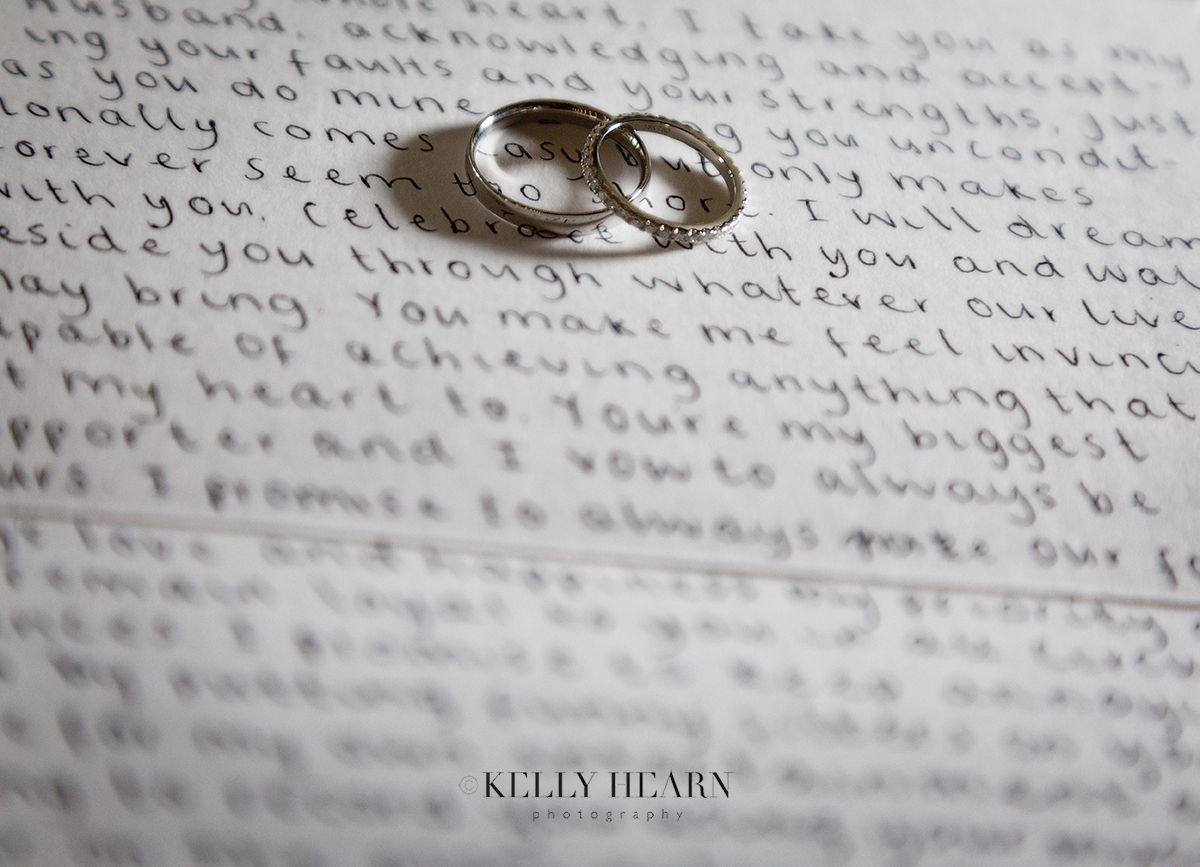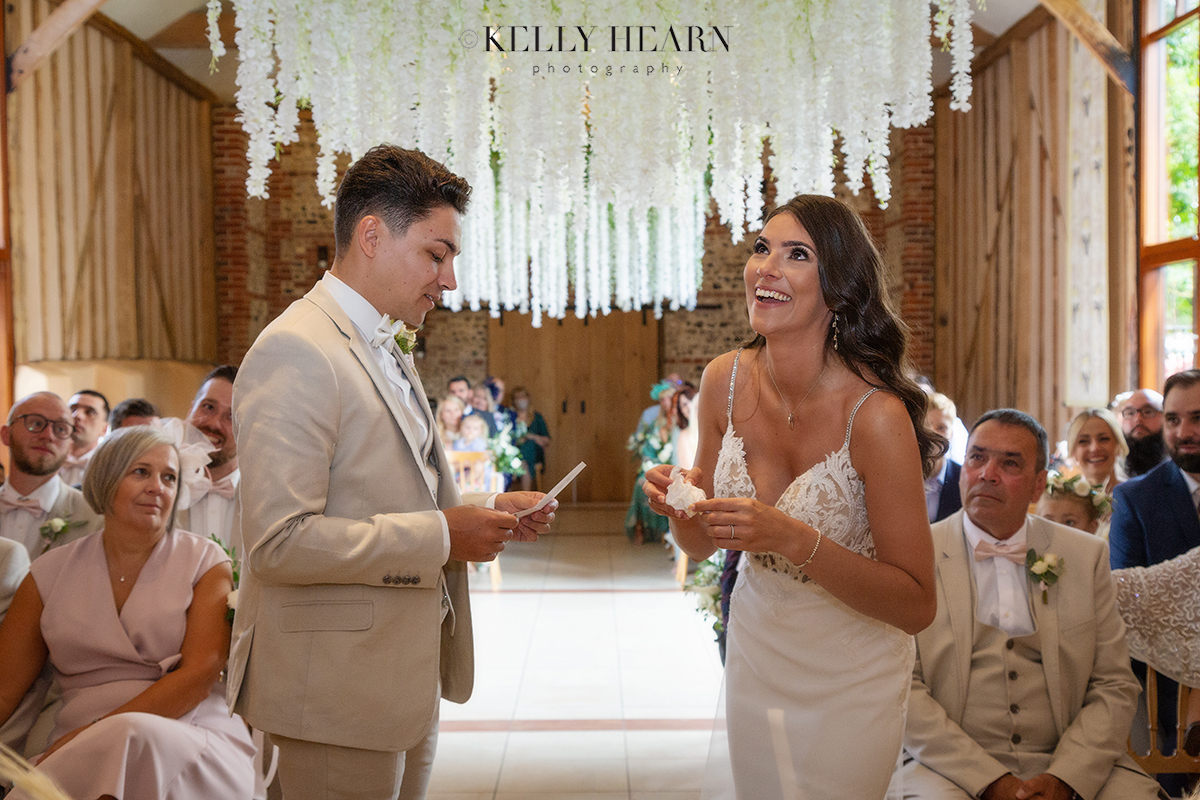 As stories were shared during the speeches and special moments unfolded the room filled with laughter, fond memories and happy tears.

We use this time to capture the guests and their shared emotions as they naturally occur. These images always create an important part of any Wedding Day and Wedding Album. We like to blend these photos with the more staged or show stopping ones, in the knowledge that they both can deliver stand out photography moments for every couple.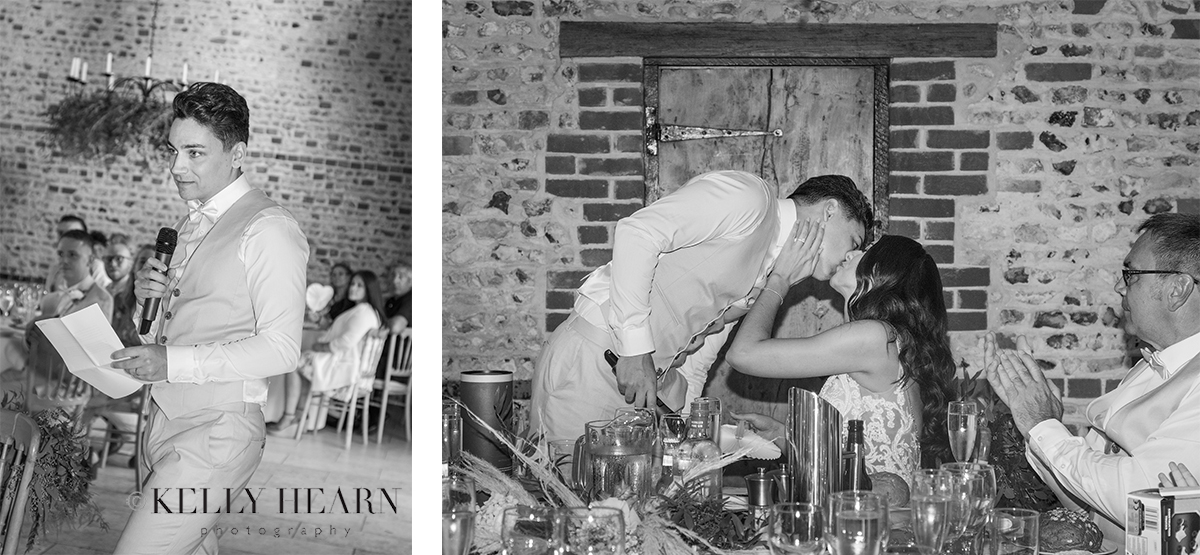 With spirits already high the singing waiters from Silver Service Singers did a fabulous job at injecting even more laughter and energy into the room, getting everybody up and out of their seats dancing, highlighting the fun and love that this couple share with their closest family and friends.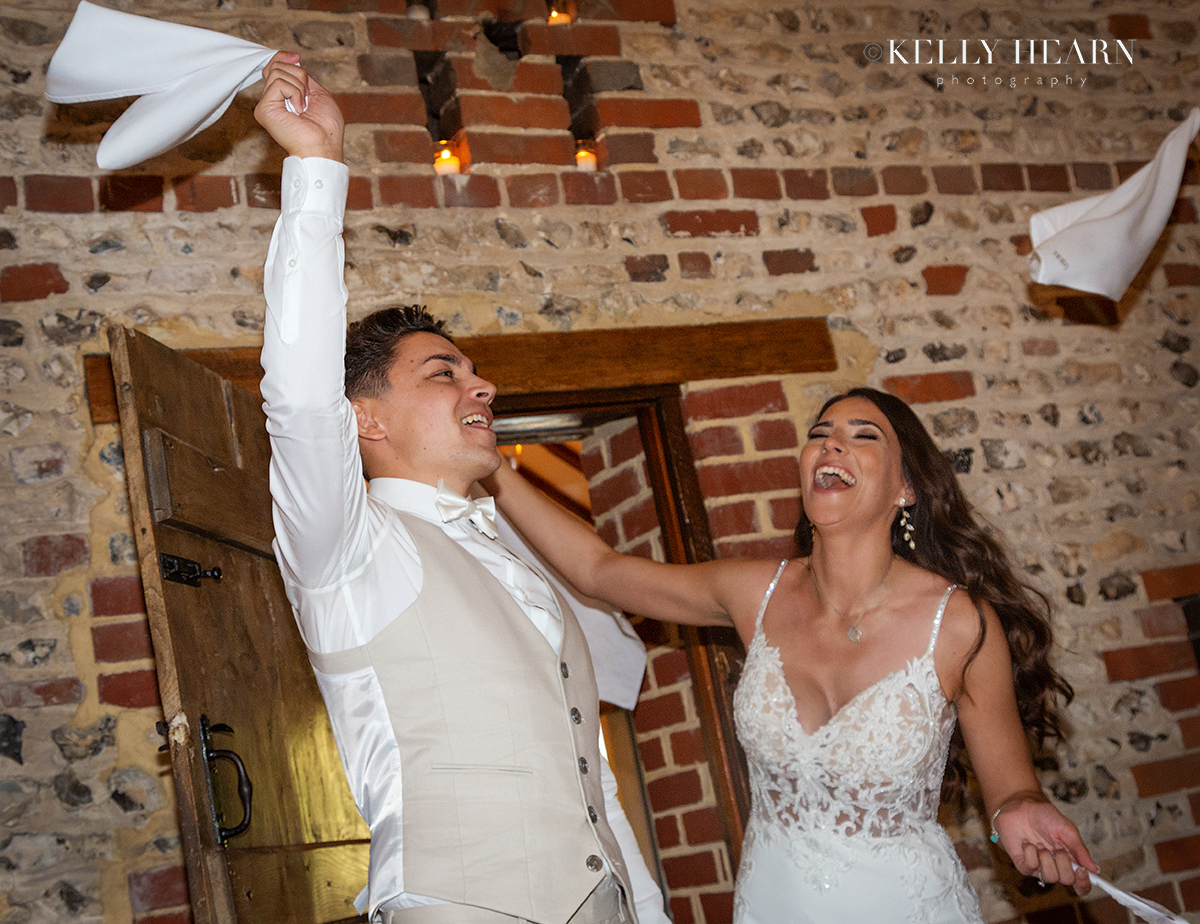 Jade and Ayden, this image says it all! We hope you share many more years of laughter, arm in arm together with your gorgeous son during your journey in life together.
Kelly x
Kelly Hearn A.B.I.P.P - A.M.P.A