LOVE FINDS A WAY
September 20, 2021
Becky and Aaron's June Southend Barns Wedding

There were three stars to this heartwarming summer wedding at Southend Barns back in June.
Becky the beautiful bride, her charming groom Aaron and their super-cute, 'Superstar' daughter Marnie who played a special part in filling their day with extra love and memorable family moments!
Aaron looked sharp in his polished two-toned suit with light pink tie from popular Hampshire based Astares Menswear.
Becky was simply stunning in her Pronovias gown. This was accentuated by a dreamy long bespoke customised veil by Anya Bridal creating a truly unique look for this beautiful bride. All complimented with makeup created by Beauty HQ and perfectly tailored outfit matching hair by Yasmin's Hair Lounge.
Marnie clearly enjoyed the limelight in every moment whilst getting ready in her robe and rollers amidst the plush serenity of the barn's Milking Parlour bridal suite before donning her adorable little dress.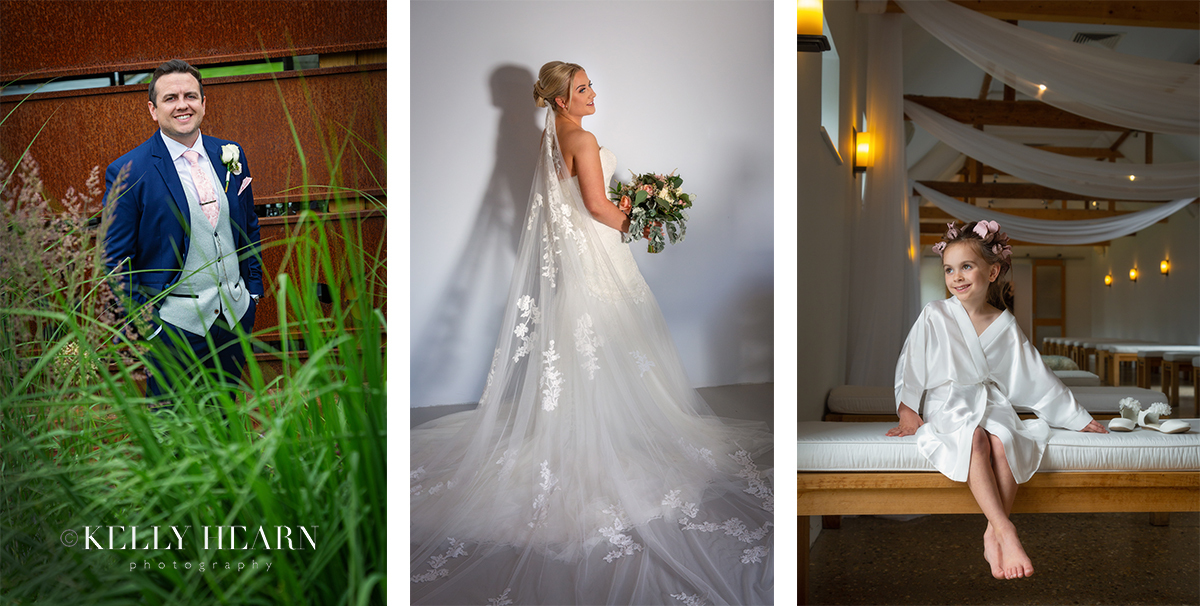 Surrounded by their nearest and dearest, throughout the ceremony and celebrations there were plenty of unmissable moments to capture the affection shared between the three of them.

Becky and Aaron tied the knot outside in Southend Barns picturesque Secret Garden. Being coated in petals tickled Marnie pink as she walked down the aisle together with her newly married parents.

This action shot encompasses the fun and laughter shared between them as they take in their friends and families elated reactions!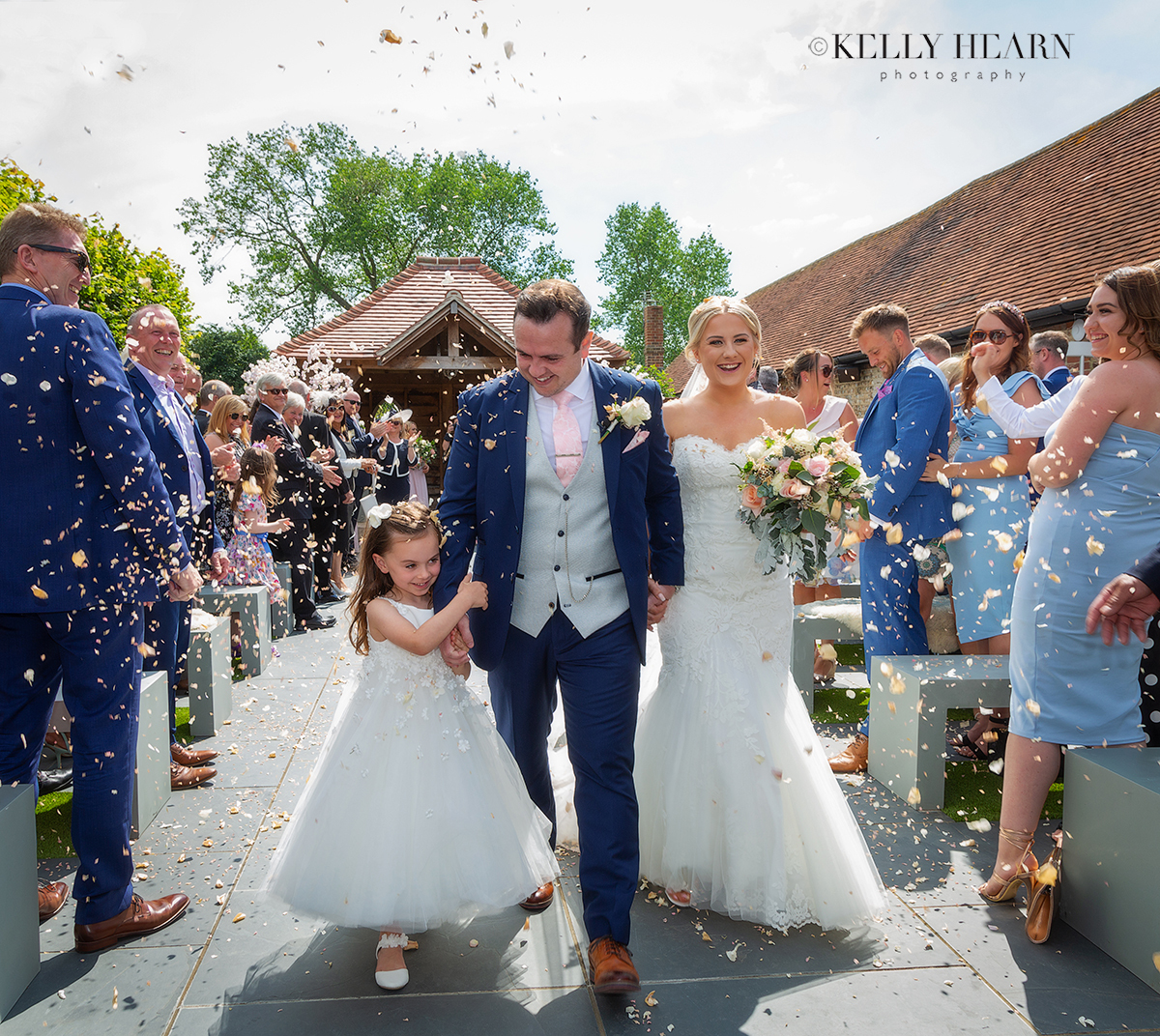 Marnie was just as happy to share a more peaceful moment with her Mum and Dad among the tranquility of the lush fields surrounding the venue, eager to lend a helping hand with Becky's exquisite veil as they basked in the romantic light of the sunset. A moment to treasure.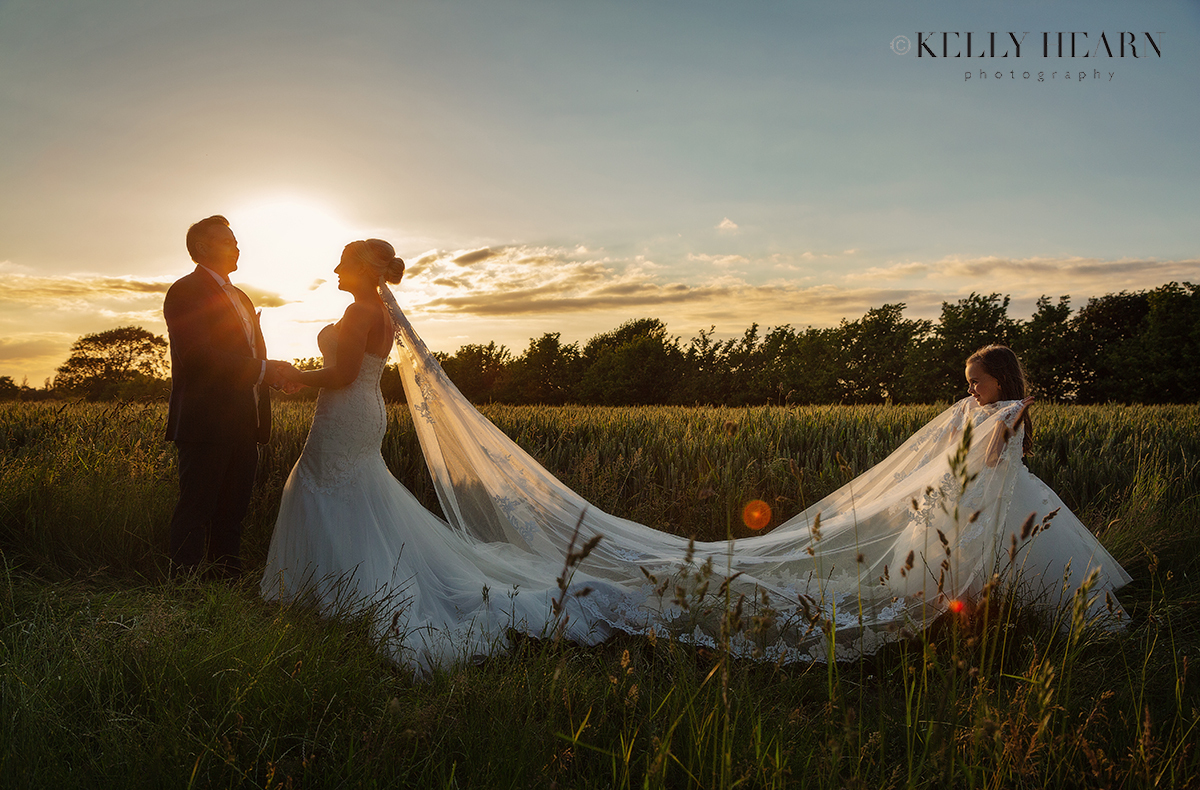 When it came to the first dance, that extra pair of dinky feet certainly injected a lighthearted and playful style to their moves. They spun and twirled upon the soft green grass, Aaron's two favourite ladies on his arms!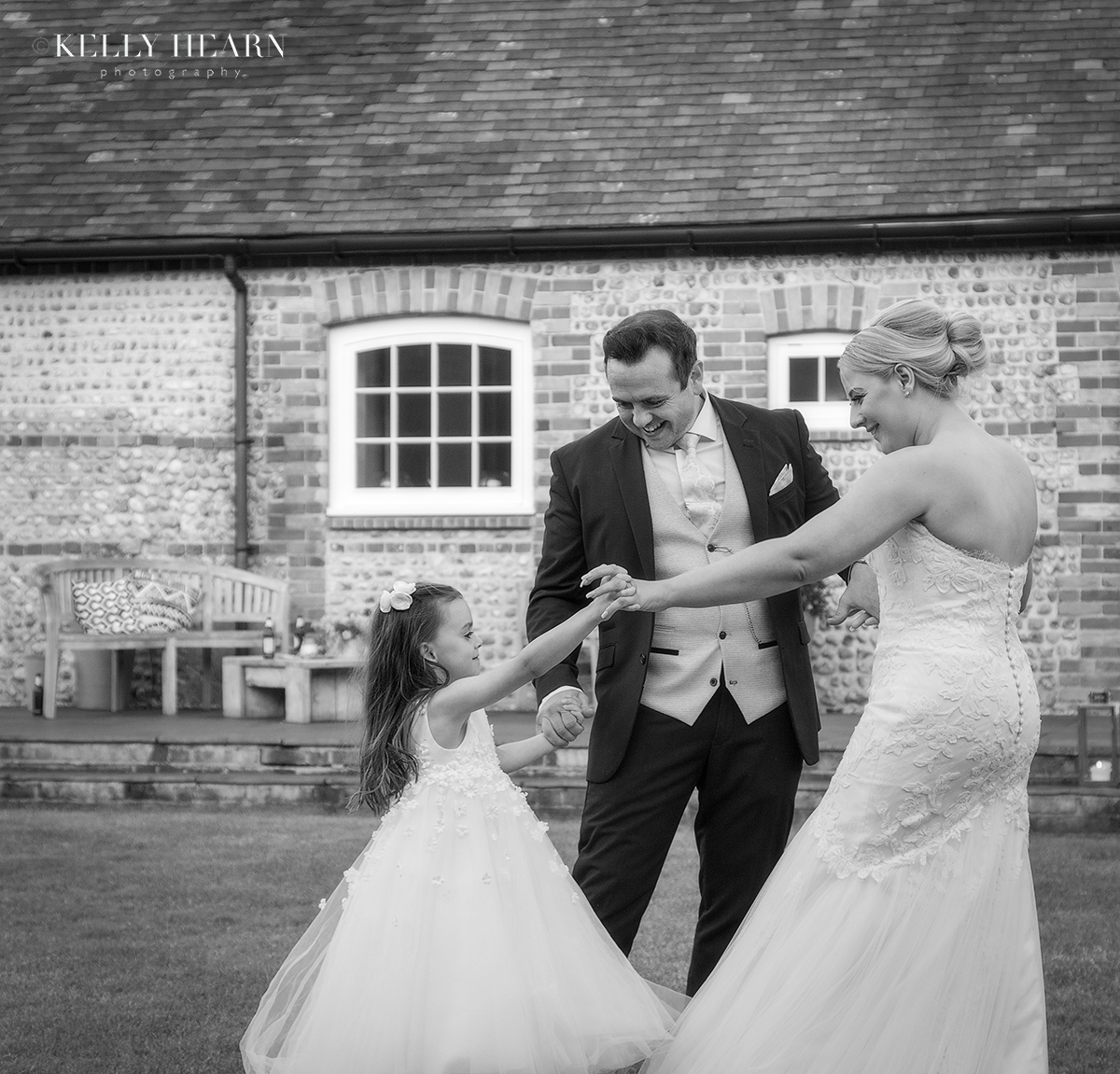 On their special day this delightful trio were undoubtedly surrounded by love and friendship. They were well supported by the members of their bridal party who did a fabulous job of showing off the couple's well planned finer details, style and colour scheme.

The ladies' each had a tailored bouquet created by Blossoms of Portsmouth, whilst the gents rocking matching blue suits enjoyed their time to shine!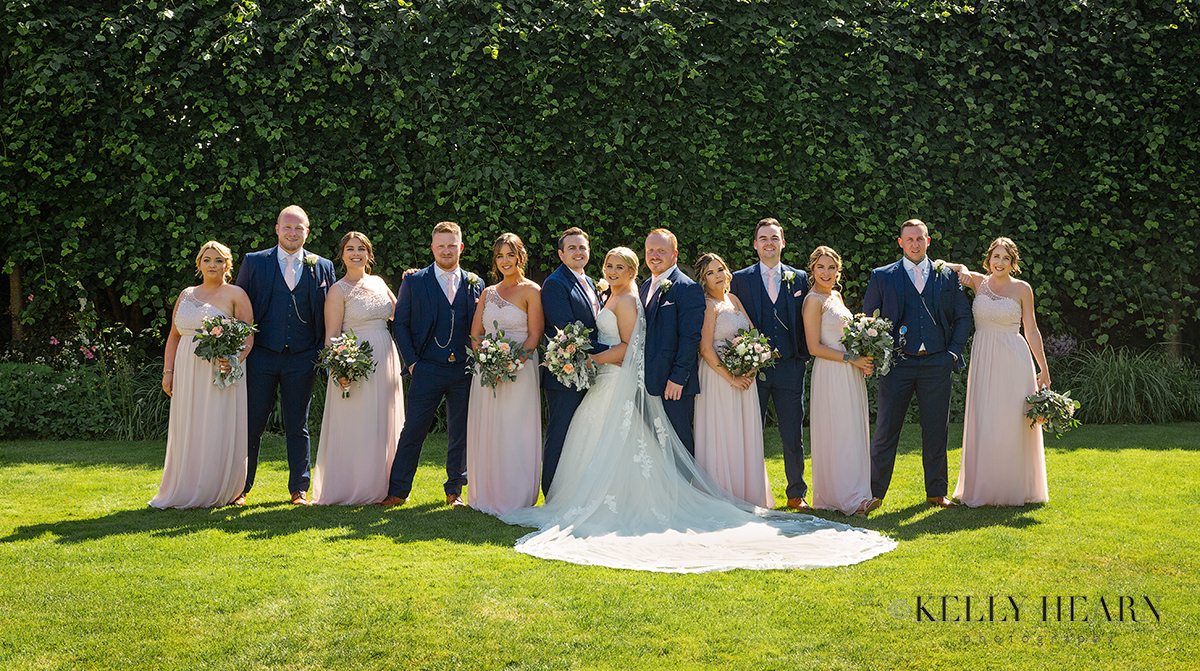 The classy Southend Barns' Champagne Rose Styling package with it's rose gold and blush pink adornments and silk flowers coupled with the dreamy blossom trees, twinkling fairy lights and on-trend neon sign from To Have and To Hire created their perfect scene in which to celebrate.

Becky and Aaron's well chosen finer details did a marvellous job inside their venue, elegantly enhancing and personalising the romantic Threshing Barn.
It was also the perfect place to capture the gorgeous pair taking a little moment together, just the two of them, before their guests took their seats and filled the room with celebratory buzz.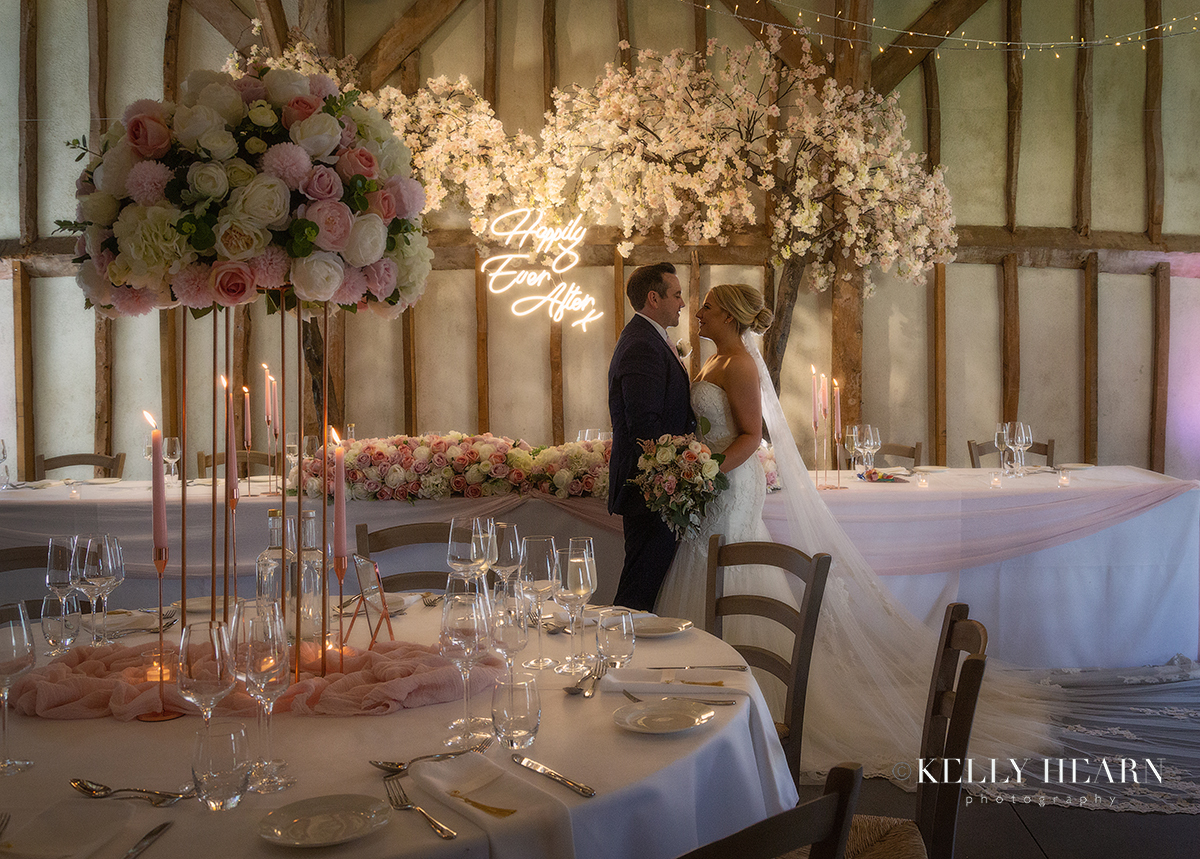 Later in the romance of the surrounding fields and lowering sun we found an al fresco location for another idyllic stolen moment together. We captured the loving connection between them as Becky's veil blew in the breeze with the blissful light streaming through.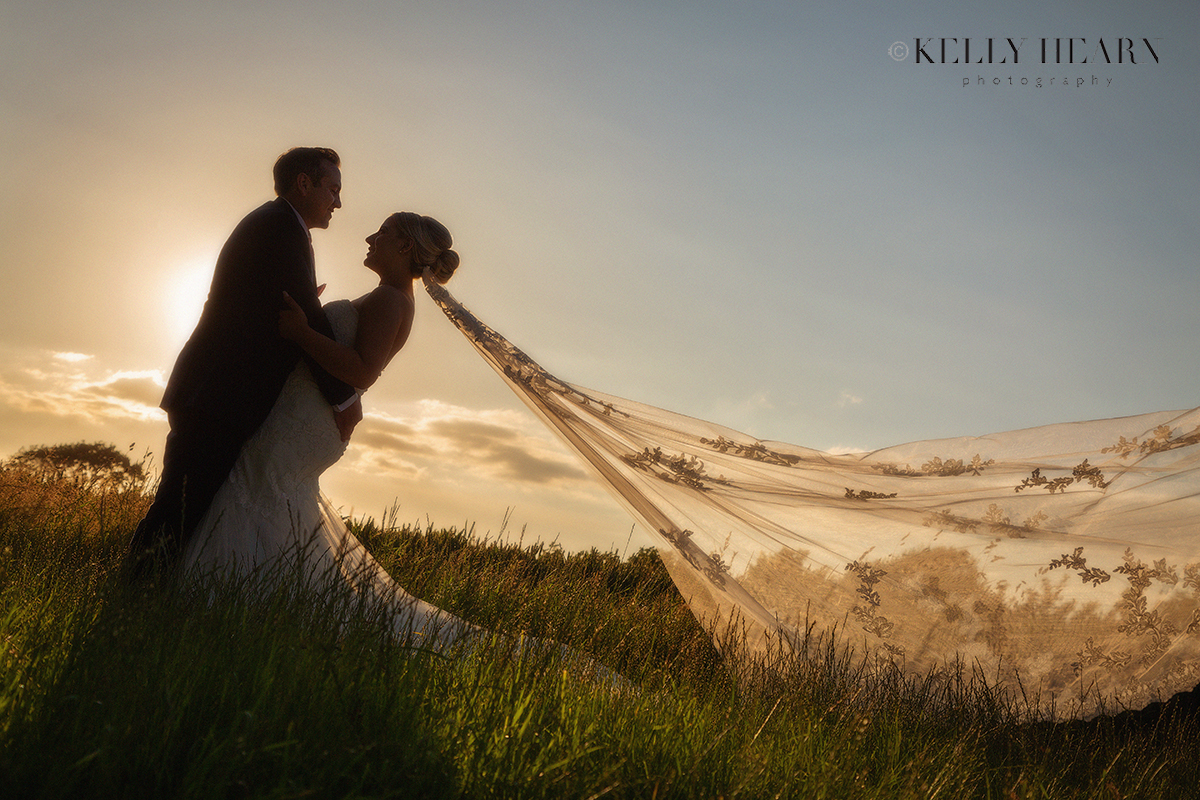 Weeee! Back to family life!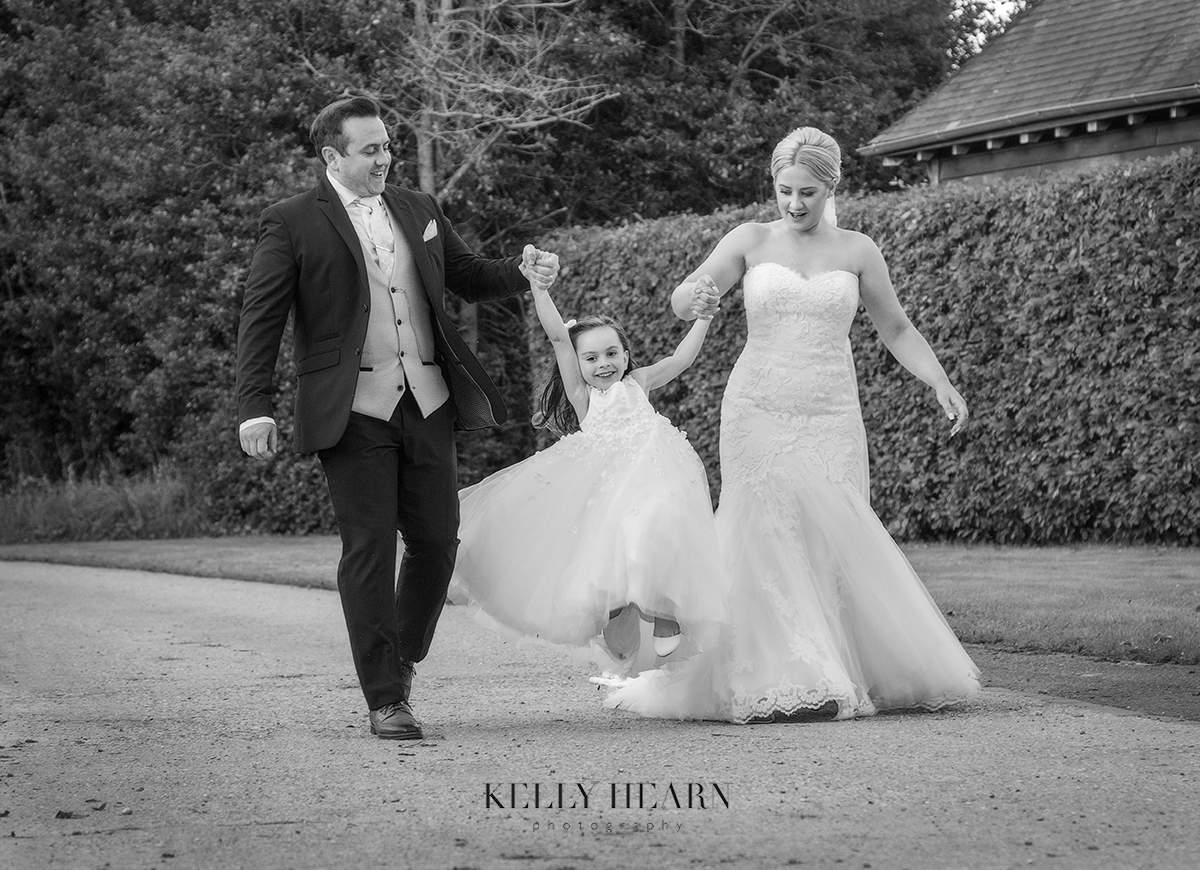 Becky and Aaron, we feel that this image sums up the fun and happiness of your lovely family and we hope that you share many more memorable moments together just like this. It was an absolute pleasure to be part of your big day and we hope you enjoy sharing your album together for many years to come.

Kelly x
Kelly Hearn A.B.I.P.P - A.M.P.A