​Love 'Rains' on the Brownes
May 02, 2020
Chloe & Simon's Farbridge Wedding
With Storm Dennis in full force Chloe and Simon were fortunate to have chosen a venue whose interior boasts charm and charisma for their wedding back in February. As the heavens opened this bride and groom stood strong together, taking themselves out of the storm and into the cosy surroundings of their magical winter wonderland.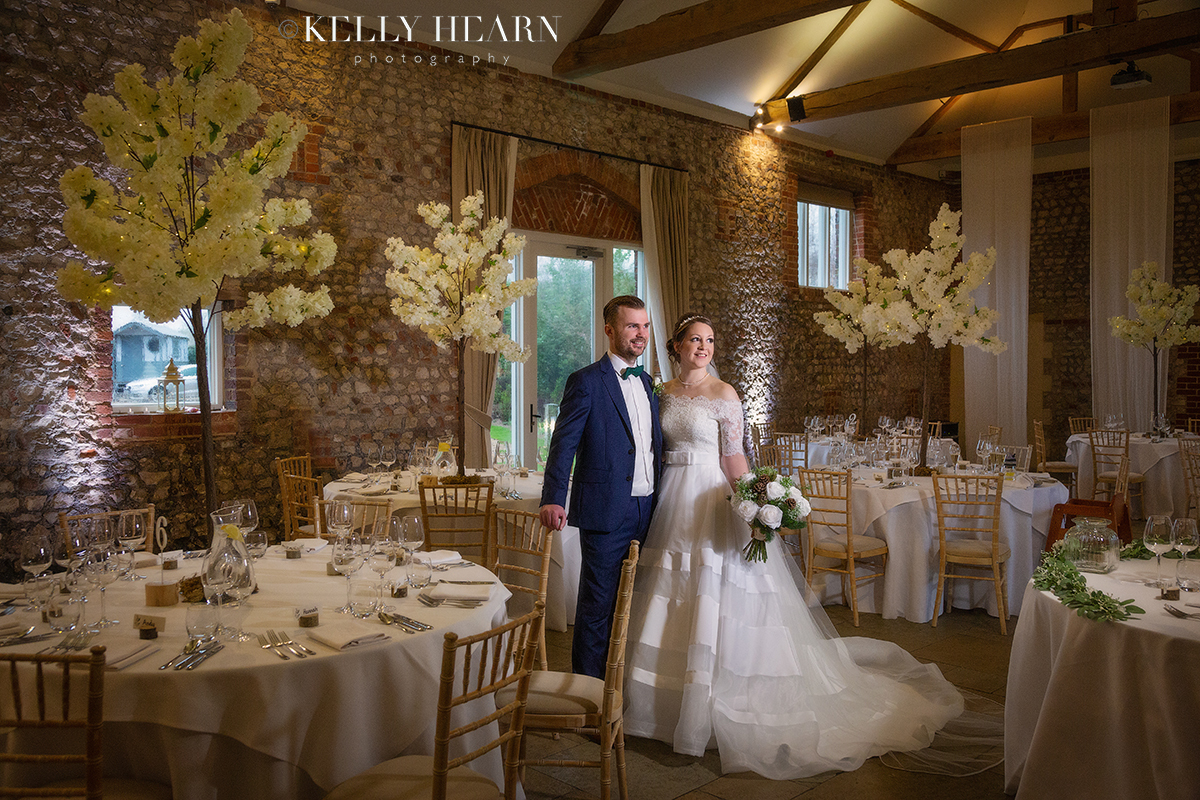 Just like our couple we stood up to the weather and used Farbridge Barns to its full potential looking for different angles, views, locations and compositions to ensure we captured the magic of this special day even without the luxury of using the venue's picturesque grounds. Chloe and Simon did a splendid job of making the venue their own by furnishing it with some delightful touches.
Guests eagerly awaiting the ceremony bustled to enter the Meadow Barn through the peak-arched doorway which the couple had framed with stunning blossom trees and dressings supplied by Heavenly Scent, gracefully echoing the lines of the vaulted ceiling ahead. Dreamy light white drapes and bang-on-trend festoon lights hung from the barn's rustic wooden beams, whilst ambient white lanterns lined the aisles. The couple tied the knot against a backdrop of luminosity. So romantic!
This enchanting theme continued through to the light and airy Lavant Barn. The dreamy white blossom trees atop each grand, round dining table and the lush green forest foliage were perfectly set off by twinkling fairy lights immersing the newlyweds and their guests into a fairytale whilst enjoying celebratory drinks and a sumptuous wedding breakfast.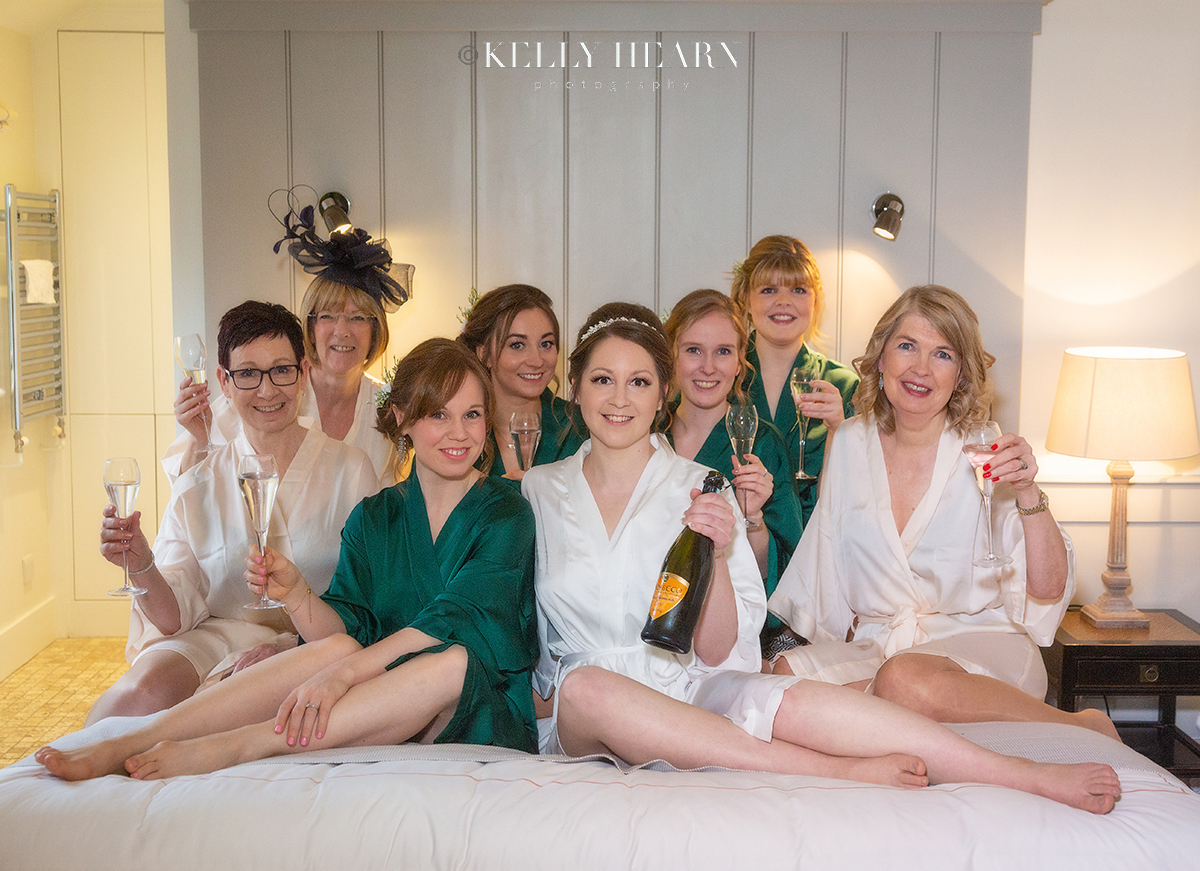 A gorgeous deep green and heavenly white colour pallet was the central theme as Chloe and her 'Team Bride' pampered themselves in Farbridge Barn's luxurious Private Suite. We love how this image of the ladies popping their first celebratory cork of the day whilst styling out their cleverly coordinated silk gowns perfectly mirrors Chloe's beautiful bouquet of classic white roses, delicate gypsophila and that all important hint of green in the foliage.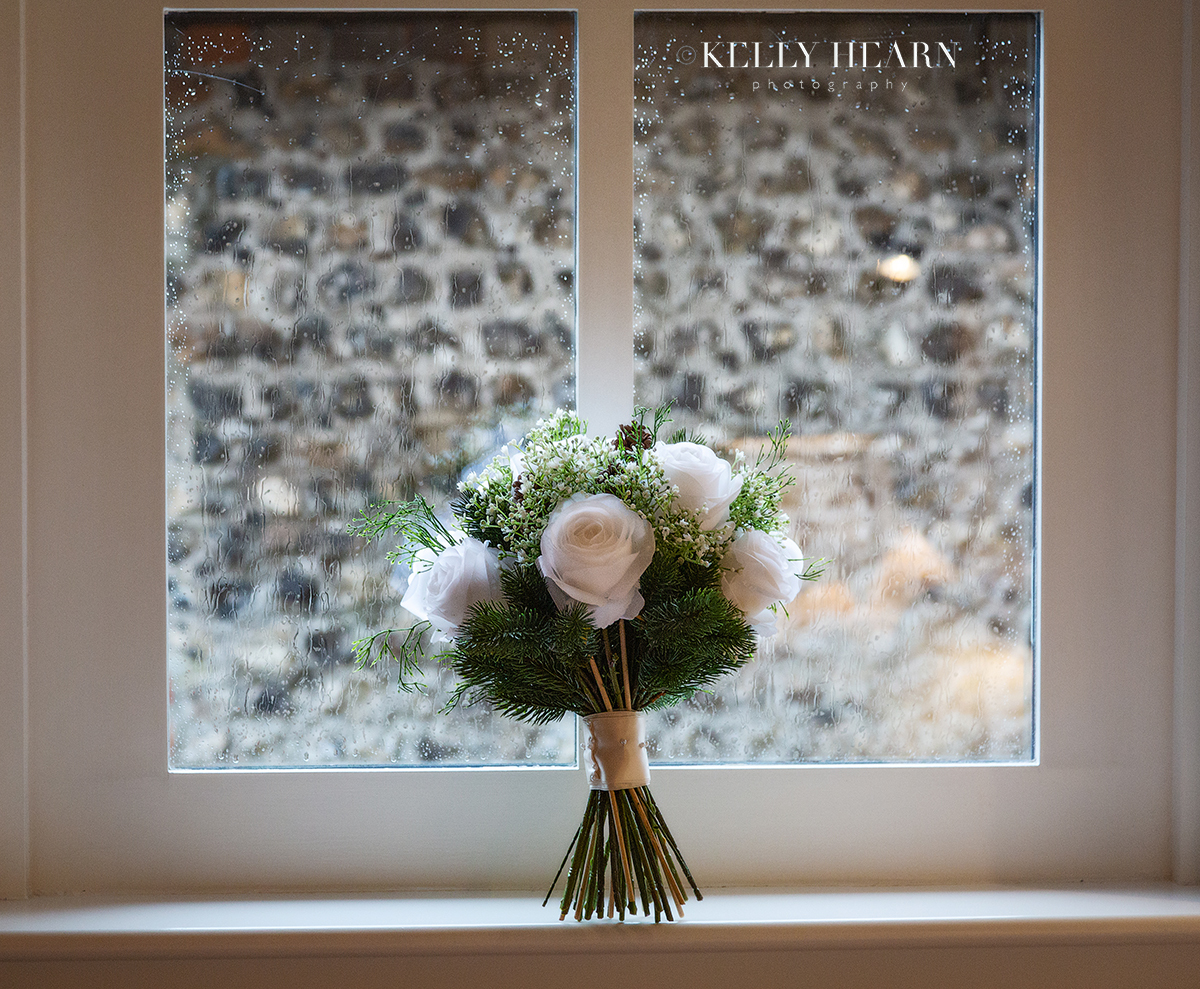 We just couldn't resist capturing the bouquet against a glimpse of Farbridge's characteristic flint work. There is definitely something cosy about being this side of the window as heavy raindrops run quickly down the glass on the other side.

Another poignant moment we owe to the weather was the humorous 'Bridesmaid-esque' film scene when these four stepped out of the Ladies toilet cubicles while a glammed-up Chloe awaited... Something we just HAD to re-create to remember the laughter we all shared on the wedding morning.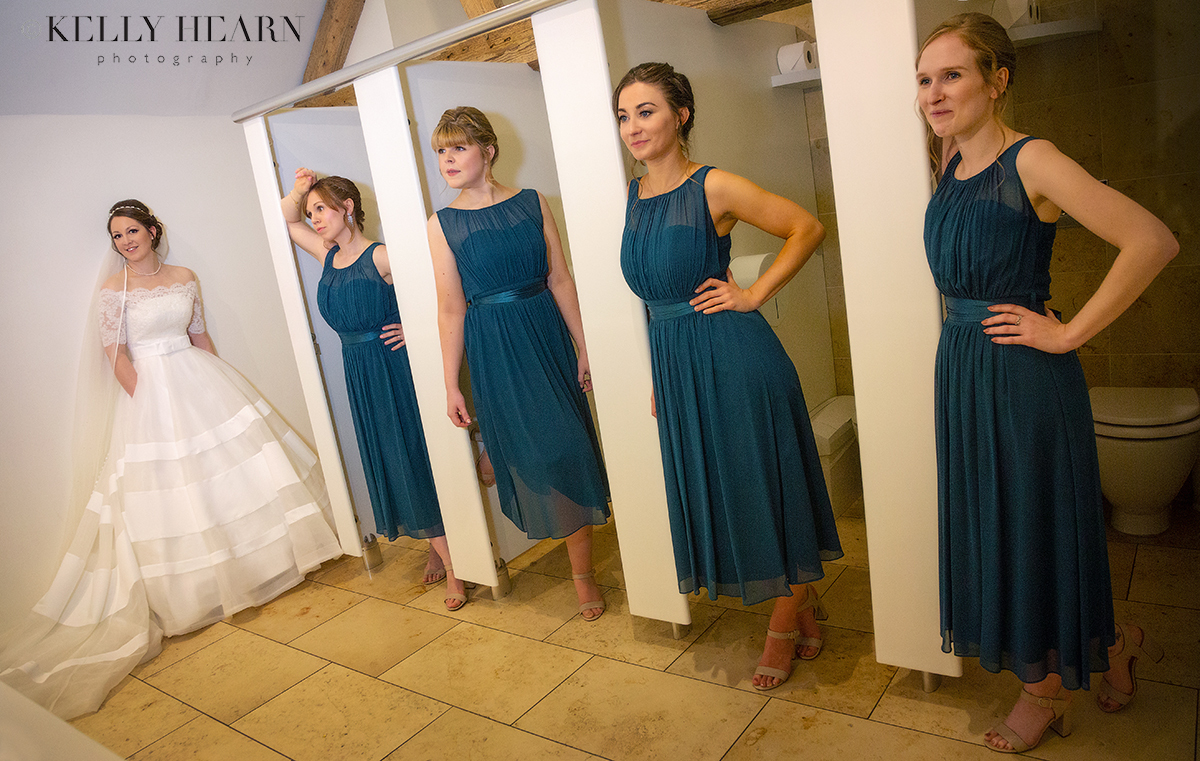 Not being a fan of the wet look – who would be on their wedding day? This bride wasn't going to get caught out in the rain on her walk from the Private Suite to the ceremony. As quick as a flash, the Farbridge staff created a gorgeous pop up boudoir inside the barns' Ladies toilets complete with draped sheets (to cunningly hide the cubicles), ambient lighting and scented candles – a haven for adding the finishing touches to her sleek, elegant look.

And so, with hair perfectly in place thanks to Nicky's Hairdressing, and makeup flawlessly applied by Charlotte of Polka Dot Hair and Makeup, Chloe threw caution to the wind. She grabbed a cardboard box (handy those!), put it over her head and made a dash across the courtyard, providing plenty of laughs for these special ladies who never expected to have to ready themselves in a wedding day toilet!
We applaud our bride and the venue for their flexibility and working together and we laughed in the face of adversity turning it into an opportunity to tell the humorous story behind Chloe's polished bridal portrait.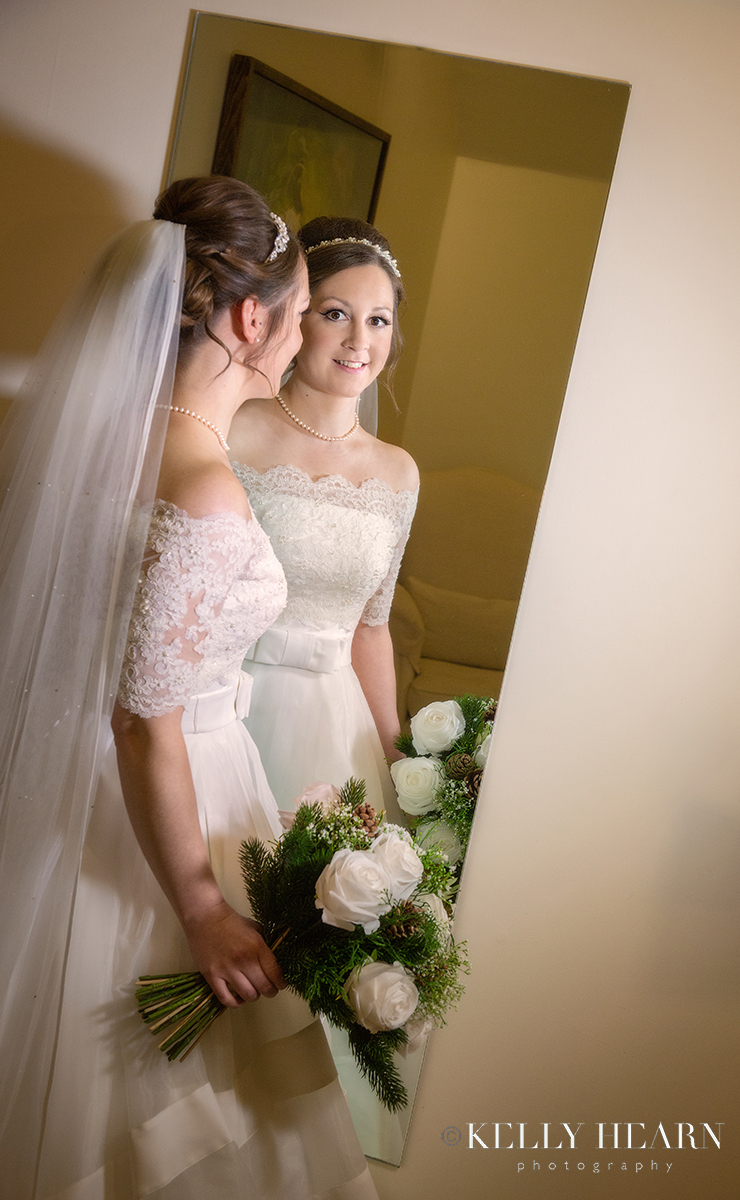 Chloe looks an image of elegance as her stunning reflection bounces back to us, a vision of calm and happiness giving a well deserved focus to her gorgeous gown from Creatiques Bridal Boutique beautifully set off by her delicate veil and sparkling tiara – who'd have thought such an image could be captured in the Ladies' loos!

Oblivious to the ladies' shenanigans just metres away, dapper groom Simon and his groomsmen took the wedding morning in their stride. Styling out his classy suit from TM Lewin it was no surprise that he was sporting accents of the green and white in his bowtie and buttonhole staying true to their chosen colour pallet.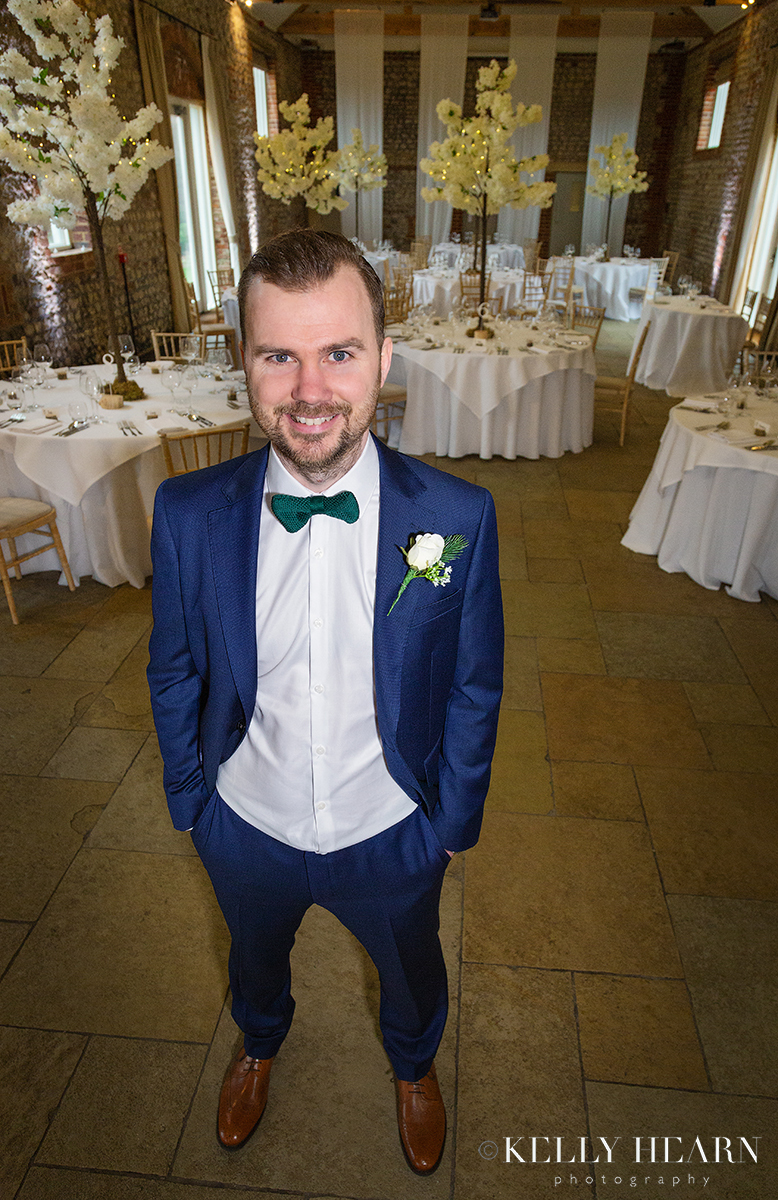 This is always such a great time to capture a groom with that distinctive look of excited anticipation before he meets his bride to be. A stylish groom calls for a contemporary portrait and so with a wide angle lens I changed the perspective of this image making for a non-traditional take on a classic stance.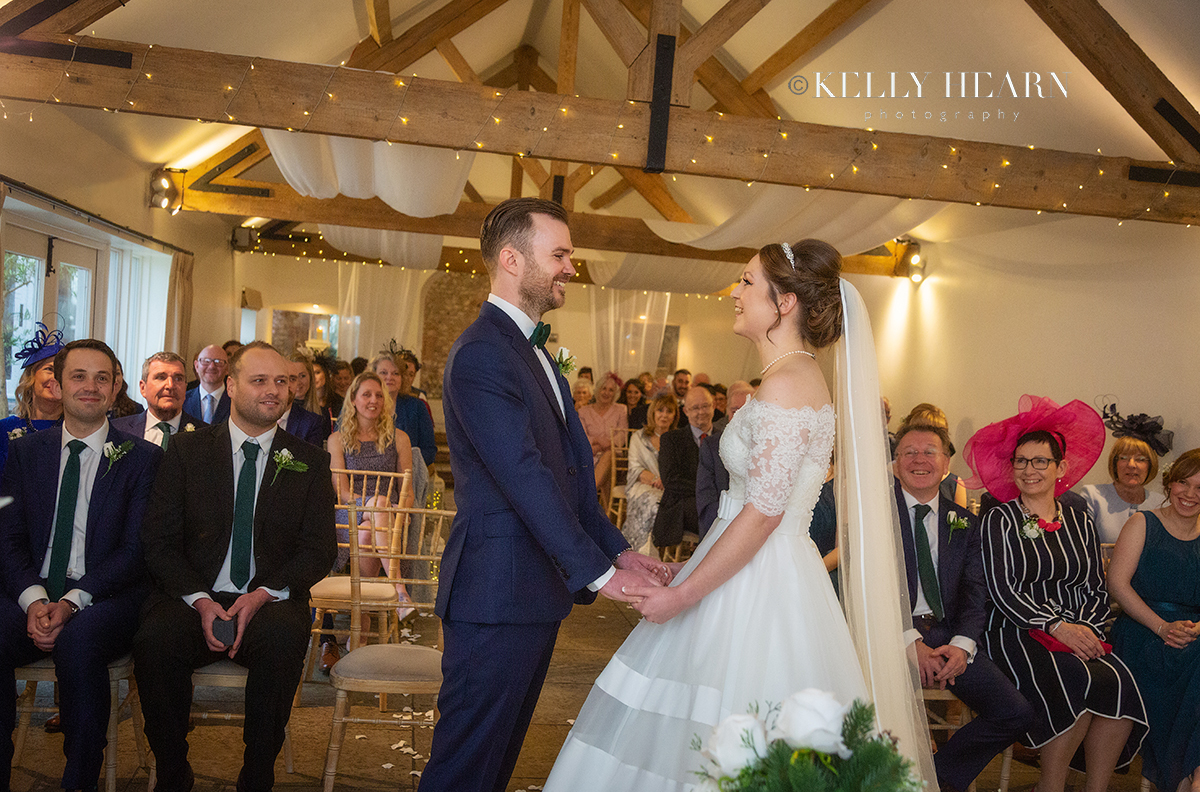 The moment that everyone had been waiting for, Chloe and Simon united to take their vows brimming with happiness as their guests looked on with equal joy at the soon to be Mr and Mrs Browne.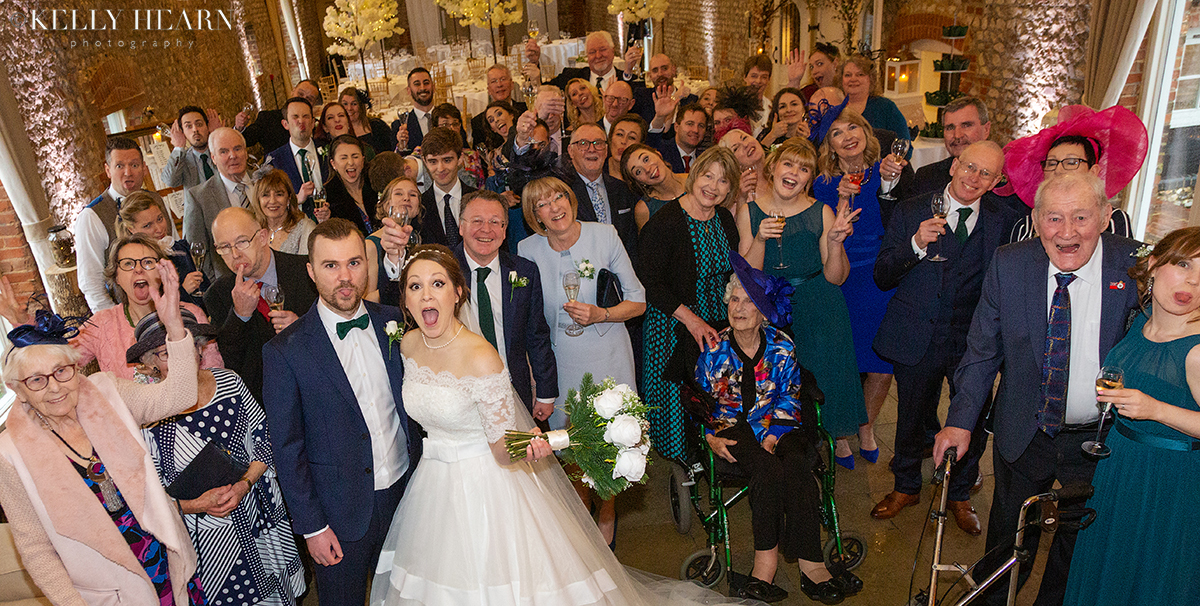 Woo hoo! They did it! Time for some silliness in a group shot - something usually done outside where you have the luxury of space and a pair of trusty stepladders. Always one to rise to the challenge I climbed up onto the venue bar to get every one of these cheeky guests into frame... adding my own element of comedy!
As the celebrations unfolded we found lots of lovely locations around the barns to capture the happy couple whilst showcasing all the hard work they'd put into dressing them. This resulted in a selection of bride and groom portraits each with their own distinctive look and feel.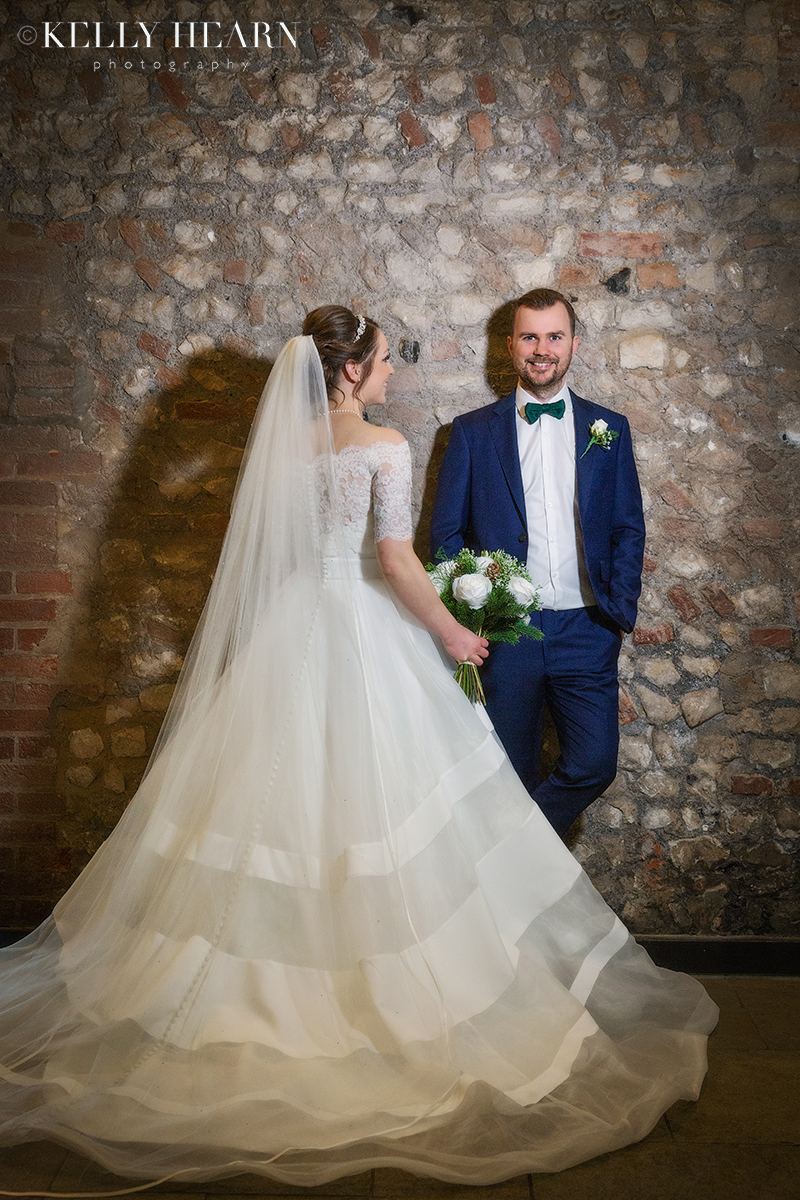 The mixed hues and texture of this barn's coursed flint and the beautifully repointed, exposed brickwork provided a gorgeous backdrop for this stylish couple. A chance for Simon's statement blue suit and Chloe's show-stopping dress with classic full skirt and intricate lace body to really shine and showcase their green and white embellishments.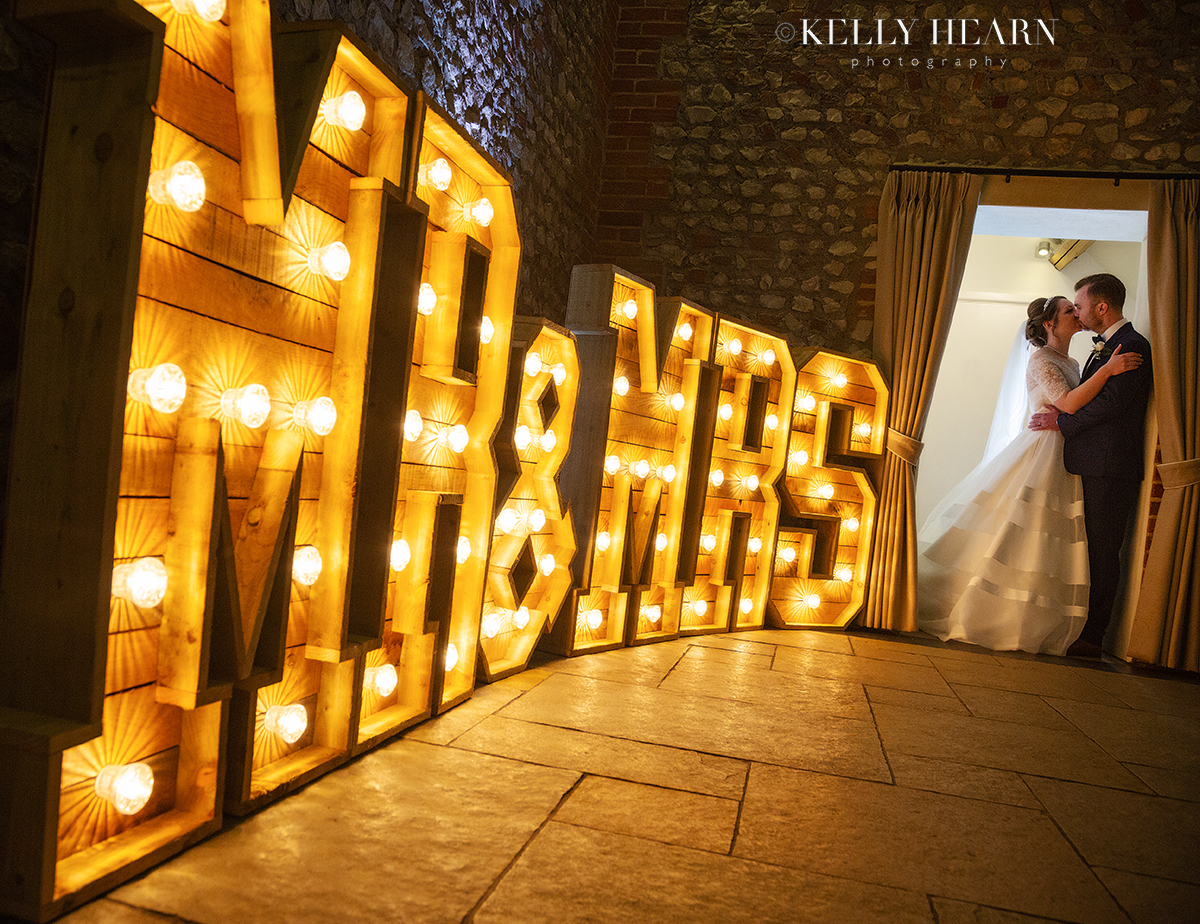 This funky Mr & Mrs mega letters prop is a nod to the glitz and glamor of the evening celebrations that followed. As epic as they are, they still don't manage to take the limelight away from the real Mr and Mrs, we love how they lead your eyes directly toward the happy couple taking time out to share a romantic moment together on their big day.
The romance ensued as finally we framed the couple gazing into each other's eyes beneath the beautiful blossom arch which, with a change of lighting helped create this dramatic look. Without moving outside we still managed to create that classic night shot to round off the perfect end to a perfect day.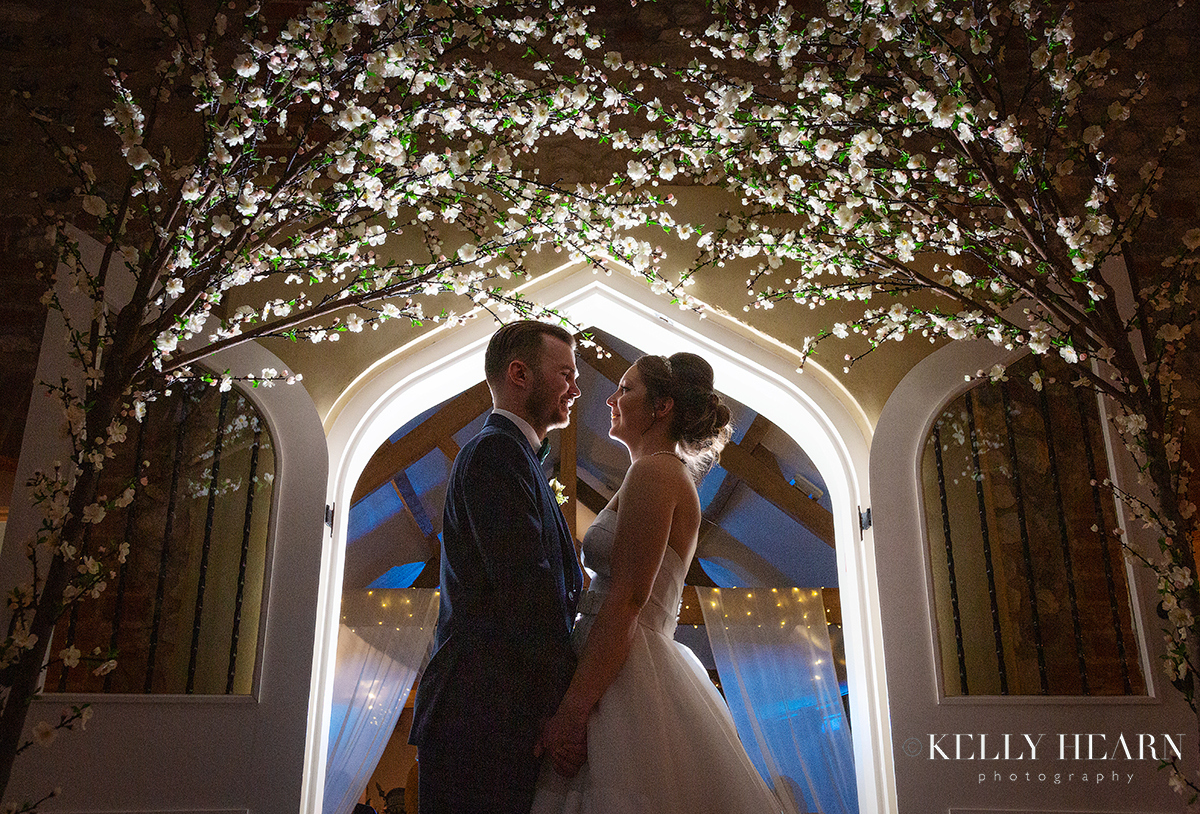 Congratulations Mr and Mrs Browne, it was an absolute pleasure to be part of your day. We really admire how you tackled the challenges that Mother Nature supplied on your wedding day and how you took everything in your stride and turned to humour to style it out.

There is a saying that goes 'a wet knot is harder to untie' and we are sure this will be true for you as you stand strong together throughout life. Wishing you all very best for a bright and happy future together.
Kelly x
Kelly Hearn A.B.I.P.P - A.M.P.A