Pumpkin spice and everything nice
December 20, 2019
Laura and Ben's Autumnal Southend Barns Wedding
I was absolutely thrilled to be asked to photograph Laura and Ben's special day and had really looked forward to it after having had such a great time at their engagement shoot a year earlier. This adorable couple demonstrated their creativity and love of autumn through the use of smoke bombs at both their engagement session and throughout their wedding day at the beautiful Southend Barns in West Sussex. Although there were a few showers as the day progressed, we worked with it and it added a new spin to their images. Using the bombs was certainly fun and truly memorable; we all laughed as Ben's two best men ran around wafting smoke and trying to discern the wind direction! There was a nod to the changing leaves picked up in the warm yellows of the smoke as our couple shared a cosy, poignant moment underneath their sunlight splashed umbrella.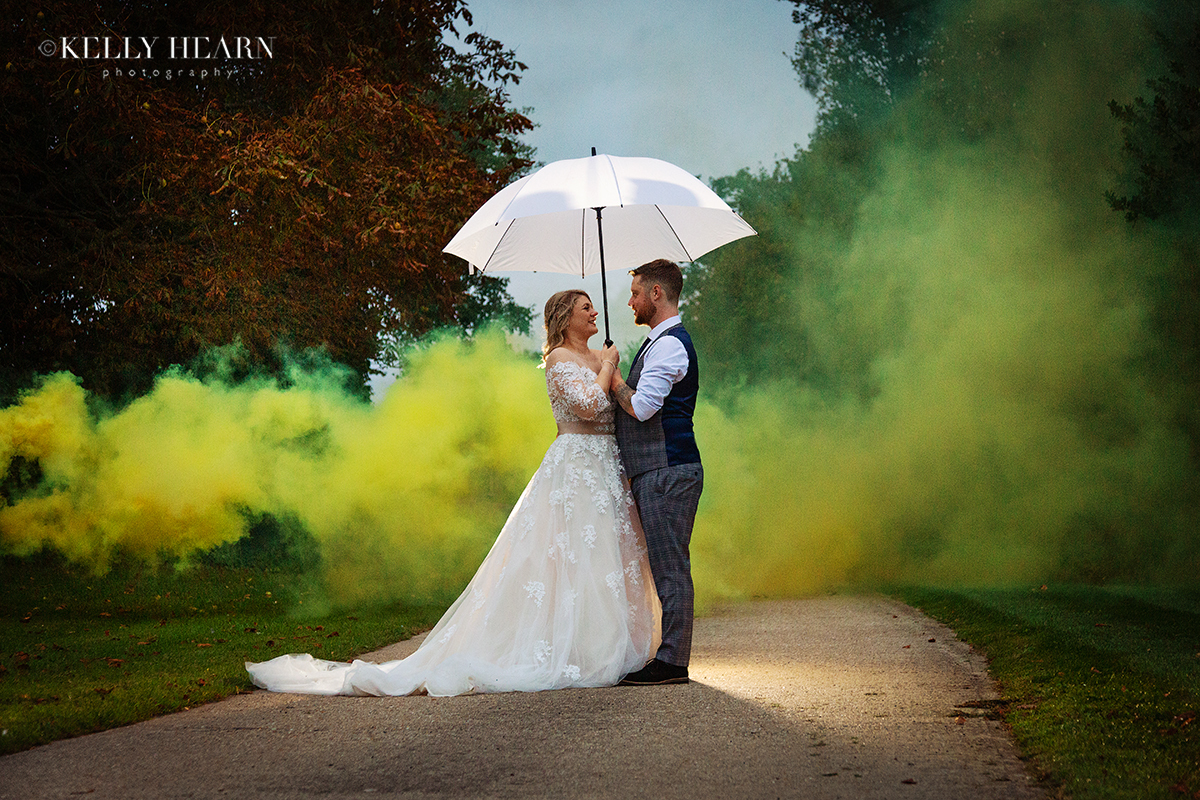 Laura and Ben took their inspiration from rose golds, coppers and strong, warm autumnal colours, which were picked up throughout the day. Laura's beautiful wedding ring, designed by Lucy With Diamonds of Chichester, reflected this glorious time of year in on-theme rose gold engraved with autumnal leaves. Ben's ring was equally full of detail in copper tones with a woodland theme. The strong floral lining of Ben's suit was perfectly balanced by the beautiful deep burgundies and dusky pinks of the gorgeous bouquets. The use of eucalyptus within the foliage gave an interesting shape to the bouquets, which were peppered with pheasants' feathers, adding another layer of autumnal warmth. Absolutely stunning!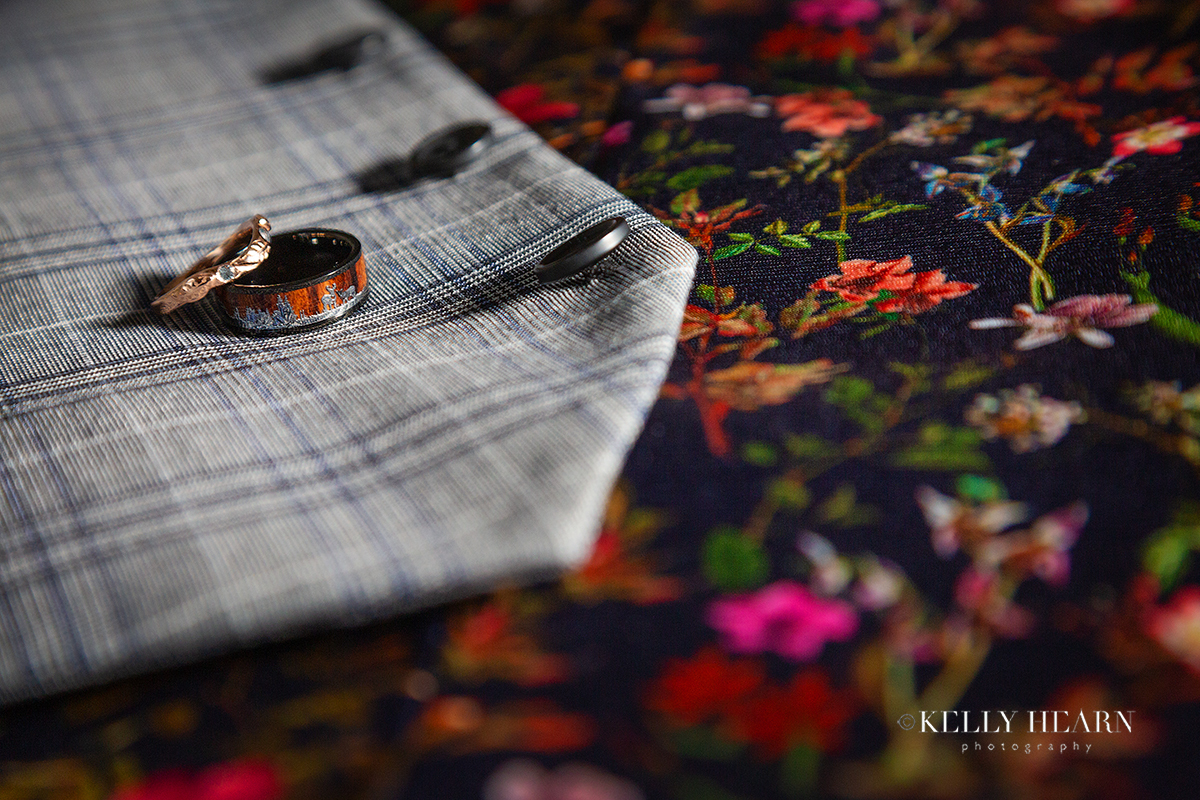 Working with Ben's personality and style, his rolled-up sleeves were a perfect blend of casual and formal, and exhibited his incredible tattoos alongside his rose gold toned watch, a wedding gift from his beautiful bride.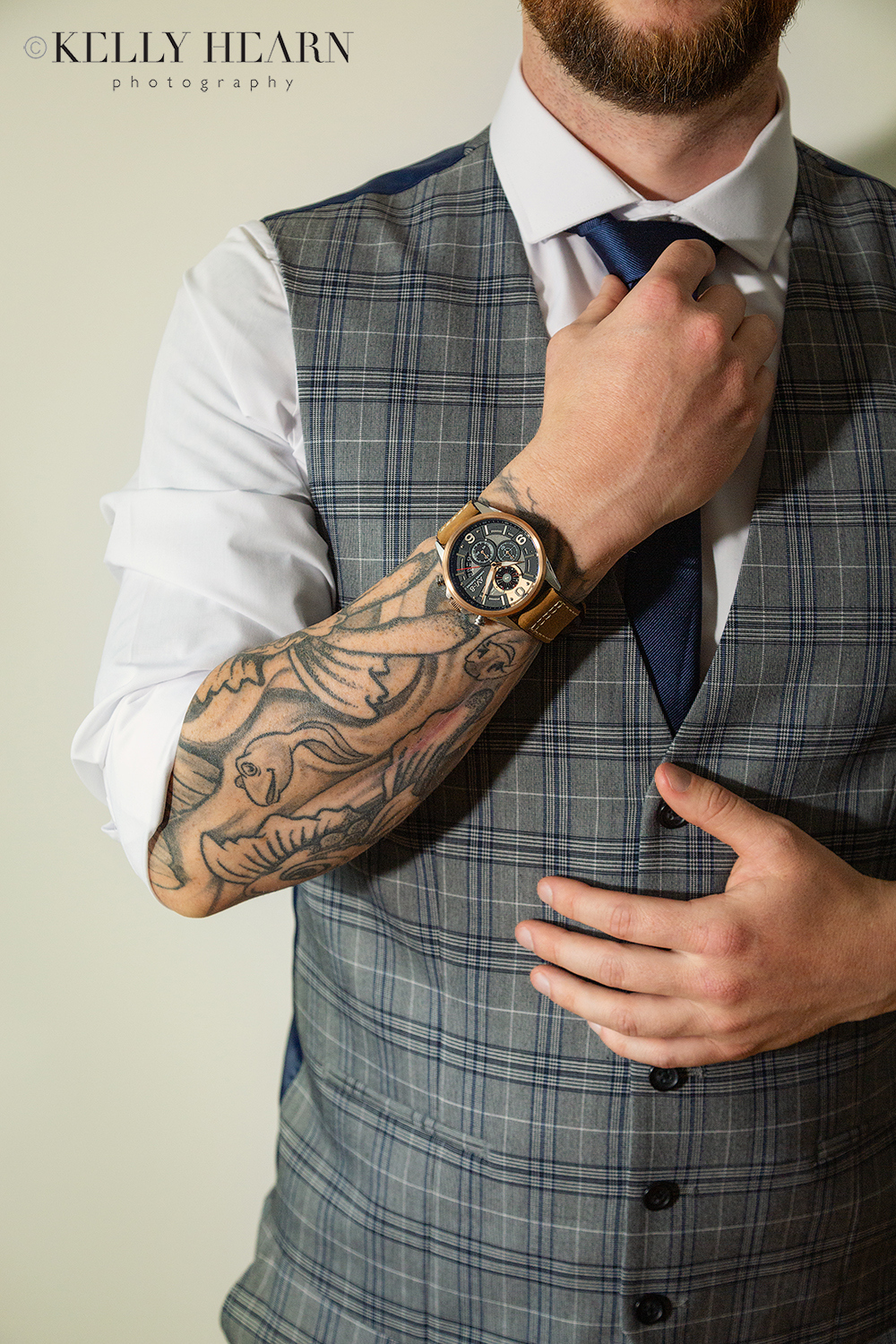 As the chaps got ready at best man James' parents house, the Oxford blue garage door worked as a great backdrop to this humorous moment and we just had to capture the bold statement flat caps and stylish artistic socks! The low angle of this shot leads us in towards the socks, and we end up with the smiling faces and jaunty caps of these debonair cheeky chappies!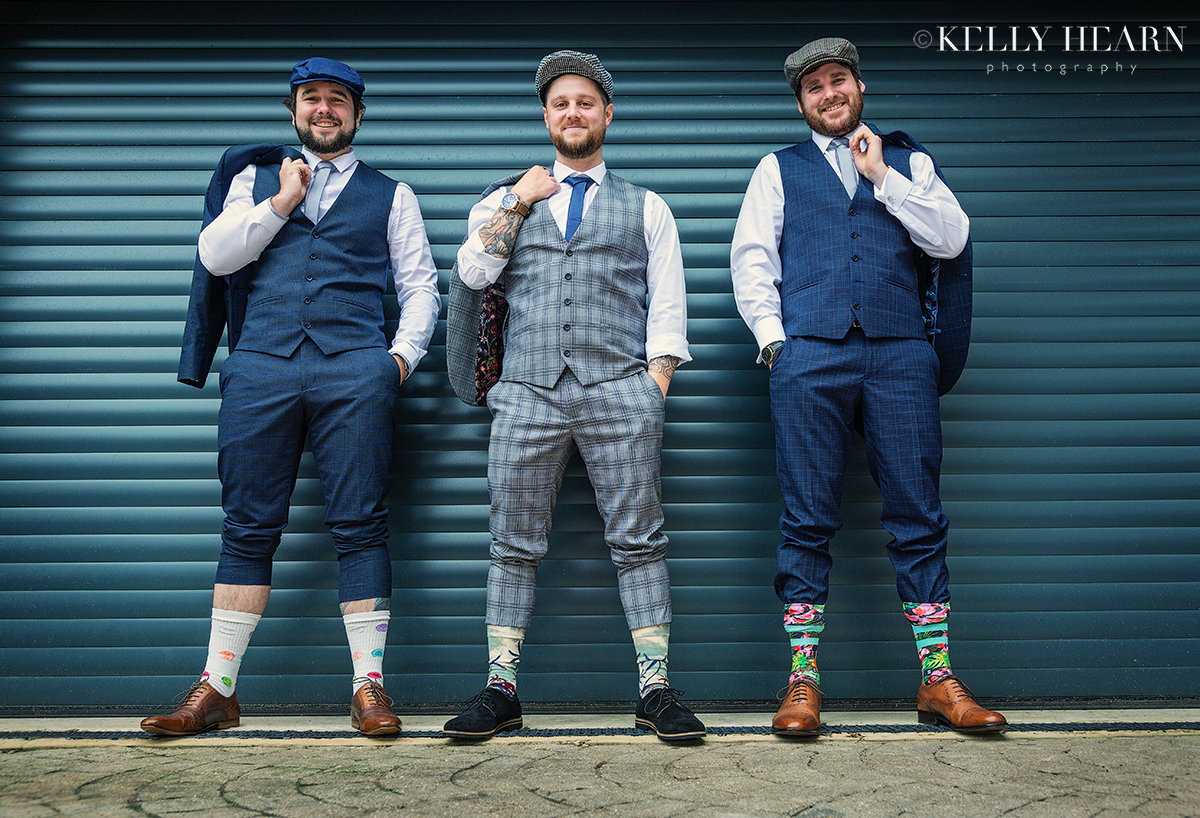 Laura and her bridal party spruced themselves up for the celebrations in the onsite bridal suite, The Milking Parlour, and the incredible Charlotte from Polka Dot Hair and Makeup was on hand to bring out those warm coppers and deep reds through Laura's flawless look. I love how the backdrop compliments these colours as our radiant bride's reflection shines back at us with joy and serenity as she prepares for her big day.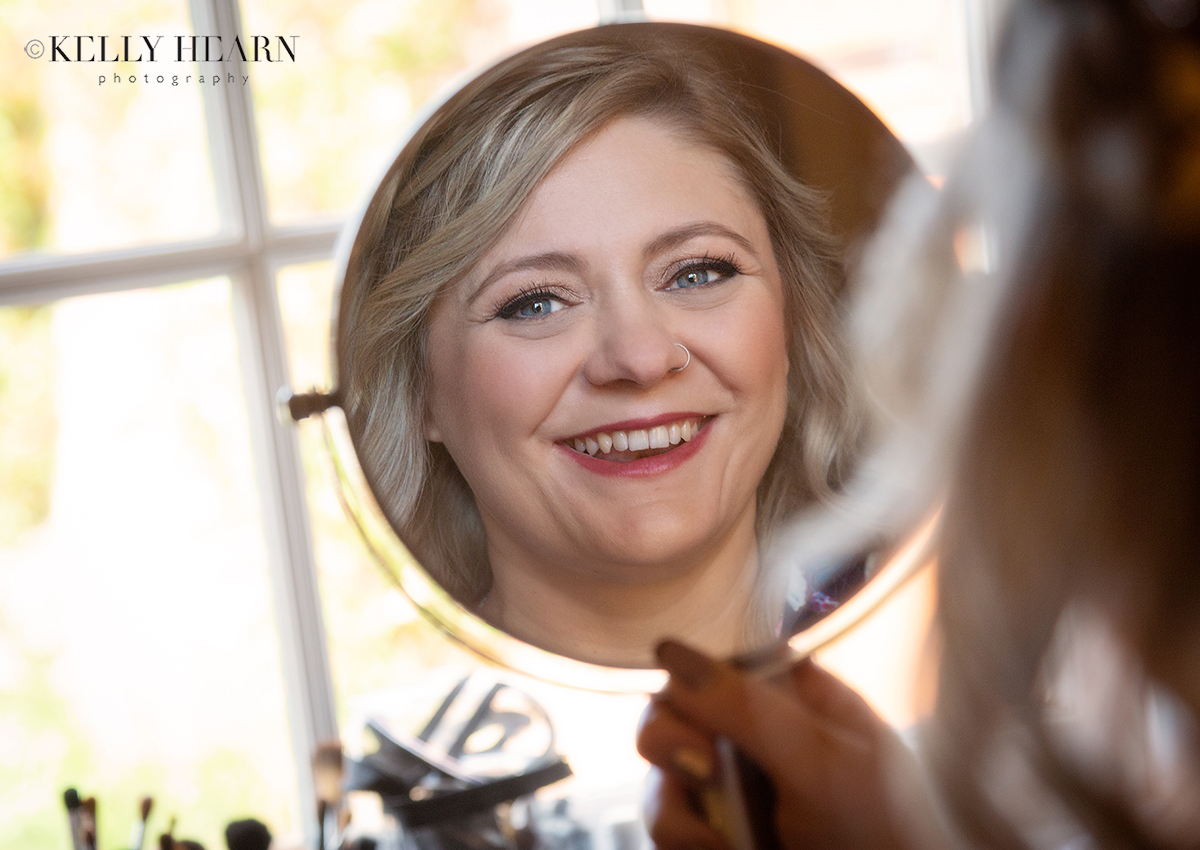 Laura really was a vision dressed and ready to meet her man in her exquisitely textured lace dress. The layers of delicate material in this gown built up the colour palette seen in the slightly peachy colour of her palest roses complemented by delicate loose curls and a copper-toned hair vine adding a hint of sparkle. Her classic yet creative style was topped off with a double tier, chapel veil, and both she and Ben's style suited their characters so well, I couldn't have imagined them dressed any other way!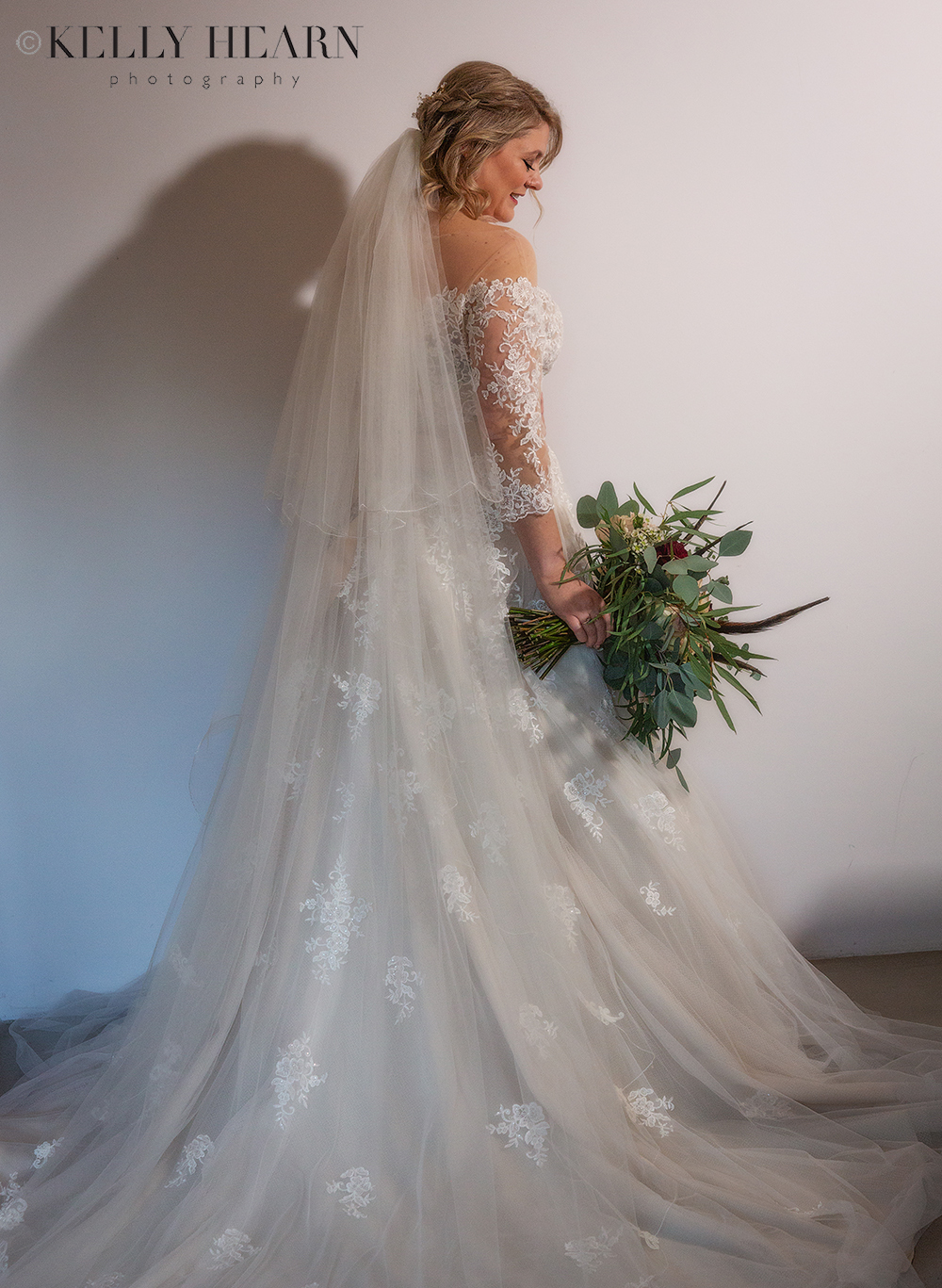 Laura and her father swept down the pumpkin-lined aisle of the elegant Dairy Barn, delicate copper leaves draped from the timbered ceiling, where she was met by Ben and their dog Merley, who was performing his duty perfectly as ring bearer! After a heart-warming and personal ceremony (including a Harry Potter reading from best man Rowan), Mr and Mrs Matthews walked out through a haze of confetti petals into the autumn glow, ready for a celebratory drink. The guests mingled in the lovely rustic grounds of the barn, and the sun was kind to us as we found the perfect moment to capture the fun of the new couple and their loved ones and little Merley was checking everyone was enjoying themselves!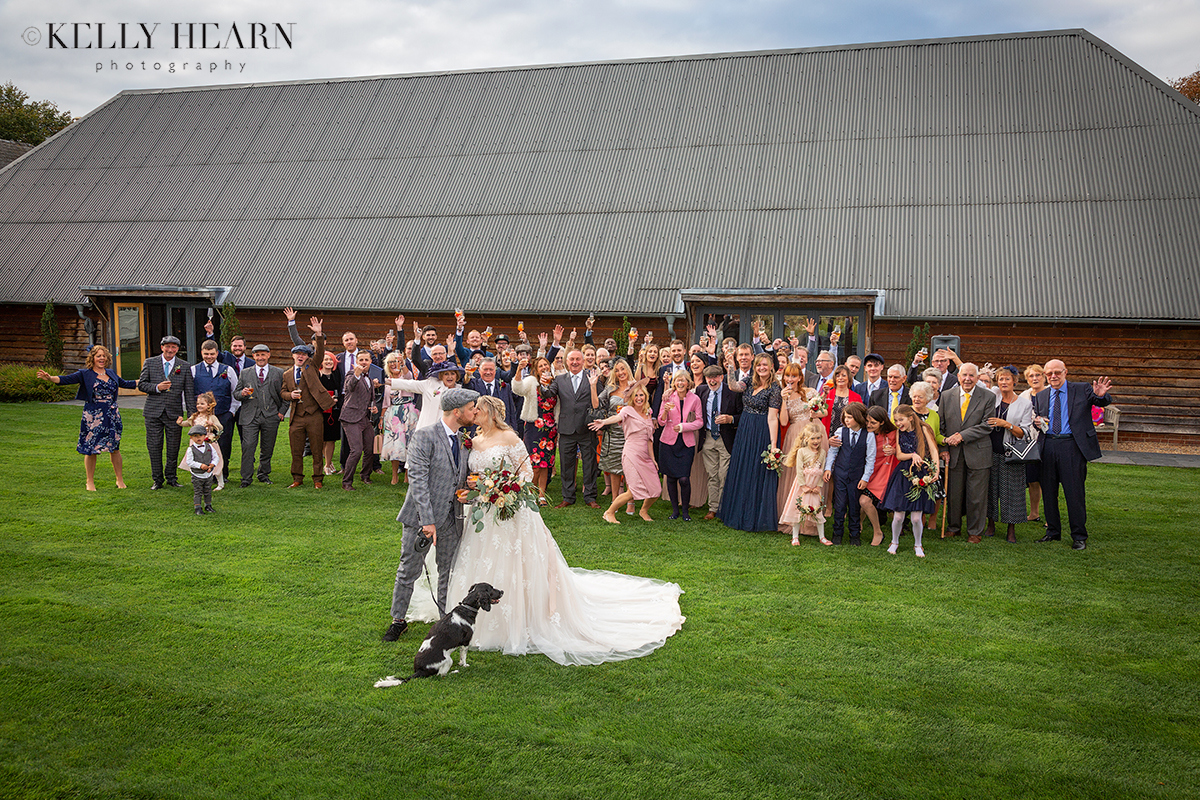 It's always fun when a furry friend gets involved in the celebrations, and when we took the opportunity to capture the first family photo Merley was really working the camera, allowing the bride and groom to share a romantic moment. What a showstopper!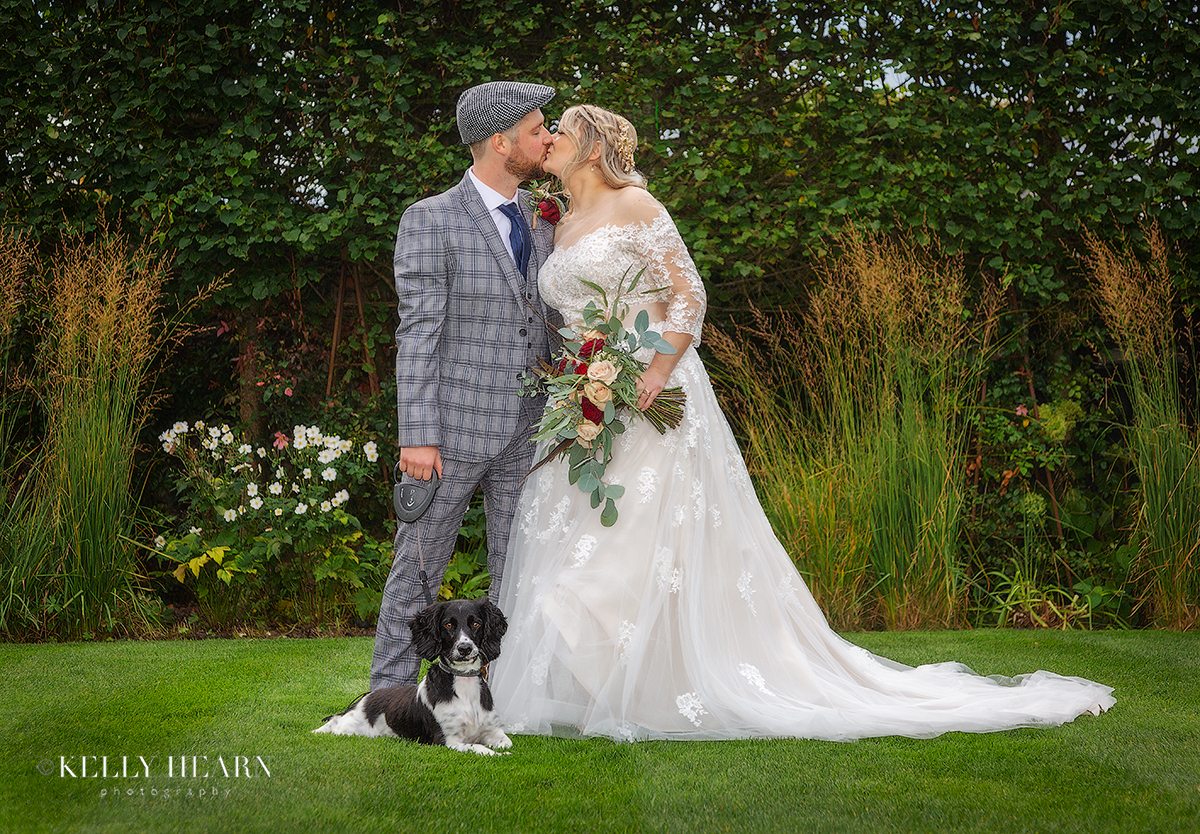 Bringing the whole team together, and using the central water feature to lead us to the newlyweds, all the colour themes were brought together, with the pop of burnt red bursting from the buttonholes balancing the cool navys and greys of the chaps and the Maid of Honour. The pinky peaches of the bridesmaids were again picked up in the dusky roses and amid the lush green foliage we could just see the hint of orange as the leaves were starting to turn.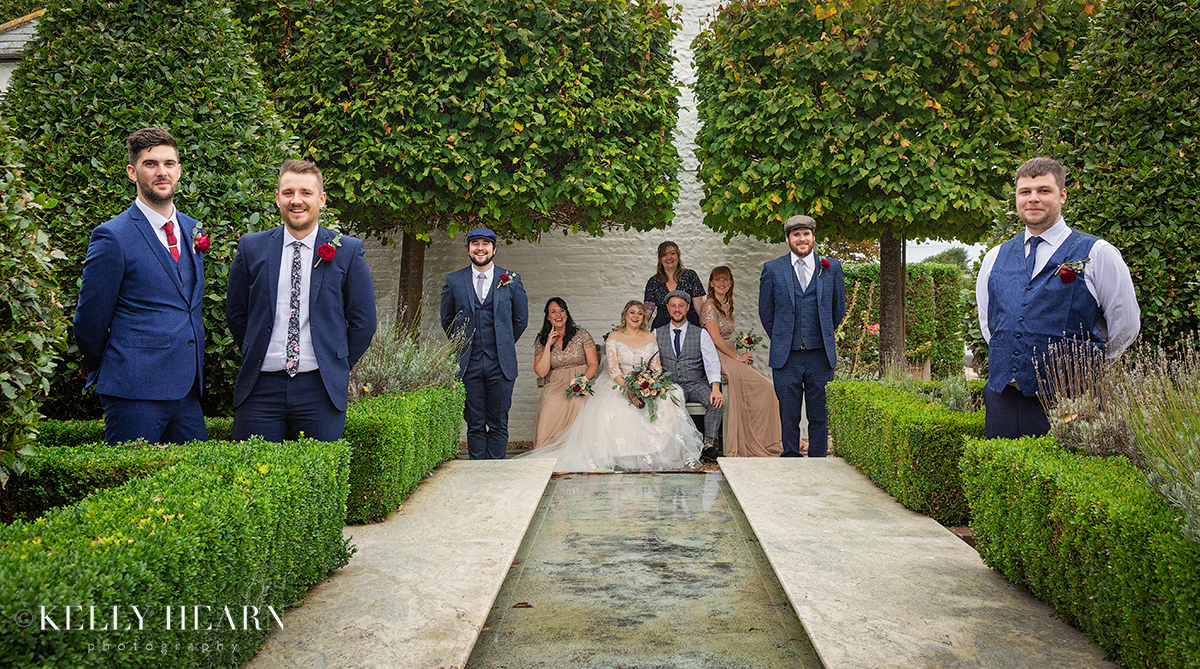 We took a moment for some more posed images of our special couple and found a perfect spot away from the busyness of the day; the cream and charcoal barn in one of the manicured gardens nestled among the soft autumnal grasses which complimented all the tones of the day. Ben and Laura's casual pose perfectly reveals how relaxed these two are in each other's company.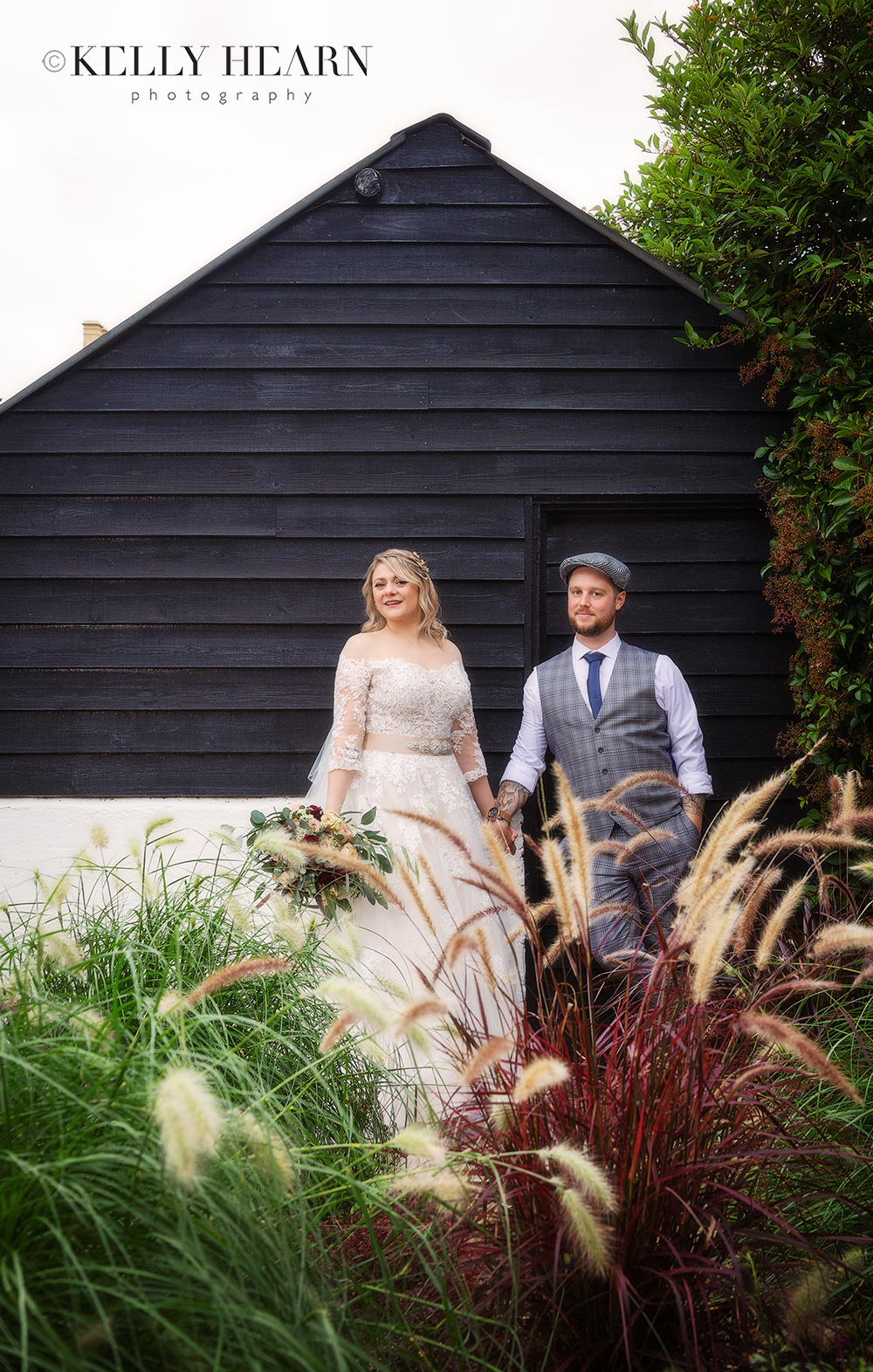 The Threshing Barn was beautifully decorated with fairy lights wound around the rustic wooden beams, and rich green foliage lining the top table. Domed bell jars adorned each table, filled with star lights on copper wire, moss and miniature white pumpkins, a really classy way to keep this autumnal theme running through the whole day. Laura and Ben had been hard at work creating copper sculptures out of bike wheels, an ingenious, personal touch and a nod to Ben's love of cycling, as well as a great focal point behind the top table.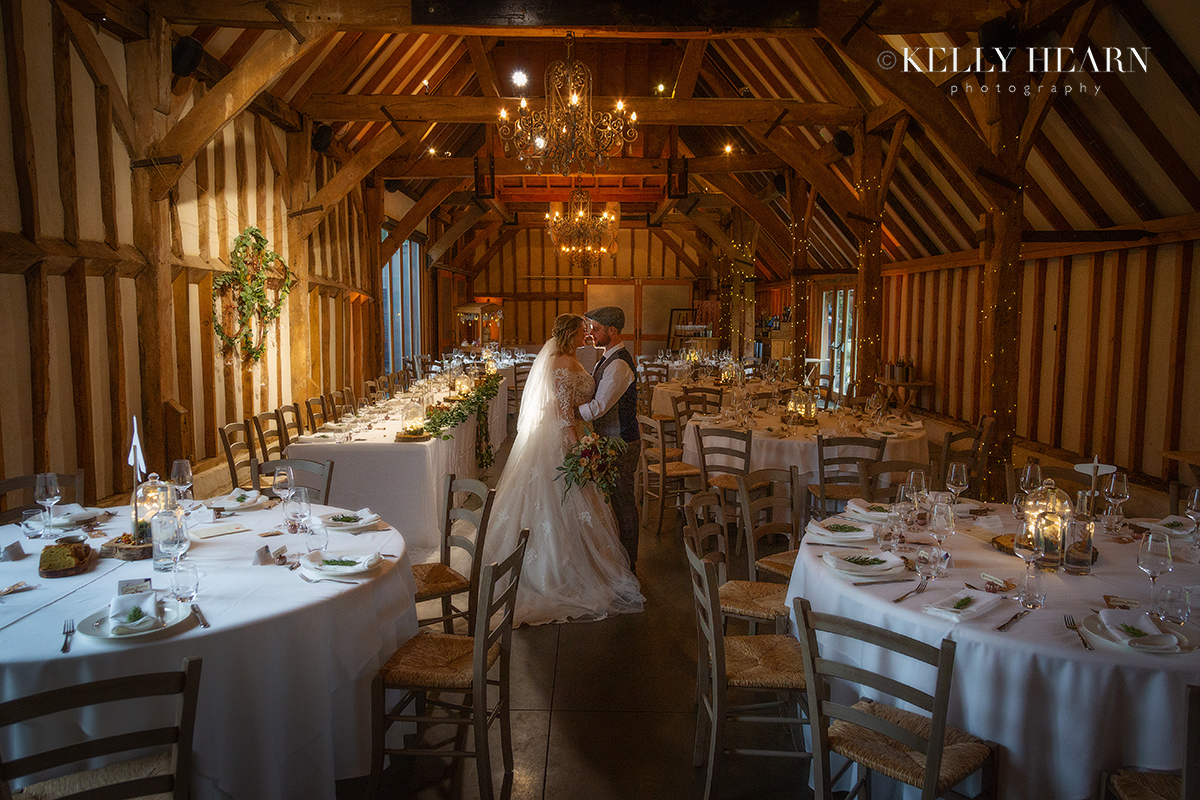 Laura's mum had also been busy creating handmade pumpkin place settings; the delicate copper and rose tones balanced by sprigs of rosemary that lightly fragranced the tables and reintroduced the green in the colour scheme. More handcrafted pumpkins bedecked the incredible semi-naked, three-tiered cake, draped with eucalyptus and personalised cookies, and topped with Día de Muertos bride and groom, a gift from Laura's mum - a great personal touch!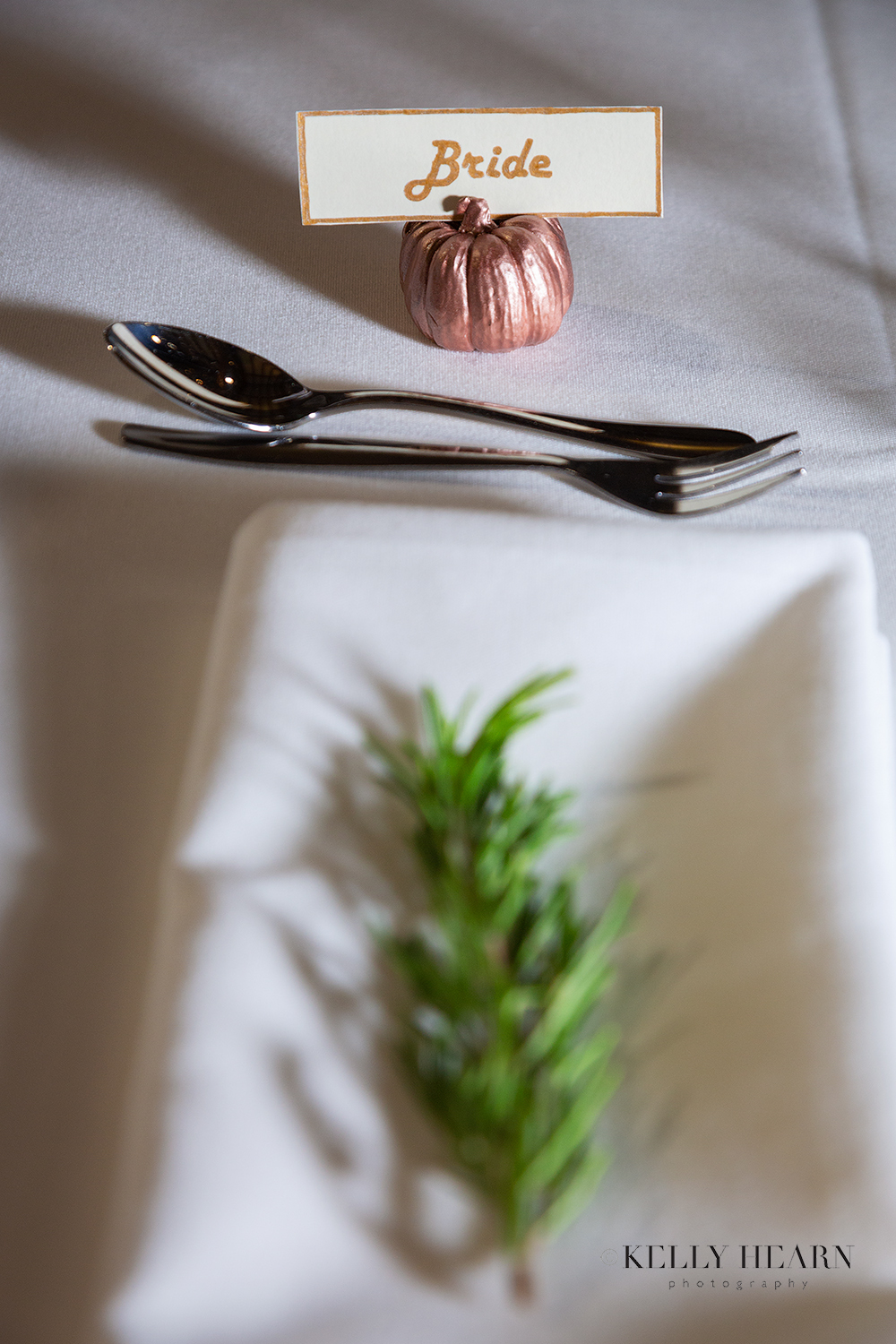 A delicious feast was enjoyed in the warmth of the Threshing Barn beautifully prepared by Roots Catering, as the guests laughed their way through some very comedy speeches, which got the party flowing before everyone hit the dance floor and really let their hair down. The first dance was a real highlight, and here the orangey lights draw us in to our star couple, showing off the movement in their dance and the fun of this delightful couple.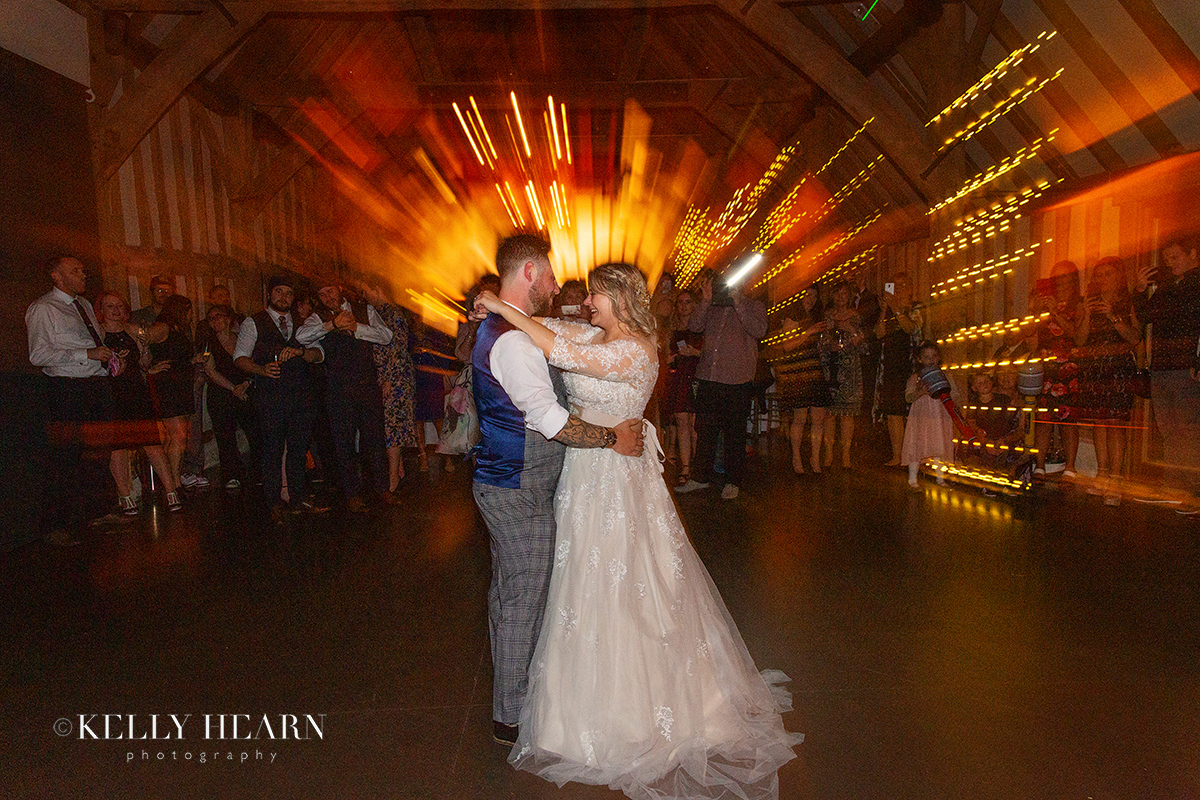 We held back a smoke bomb as we wanted to use them in a variety of different ways, and Laura and Ben braved the rain as we captured this romantic shot, backlit against the trees, with the windblown grey smoke creating a misty night-time feel as the couple enjoy this moment of connection.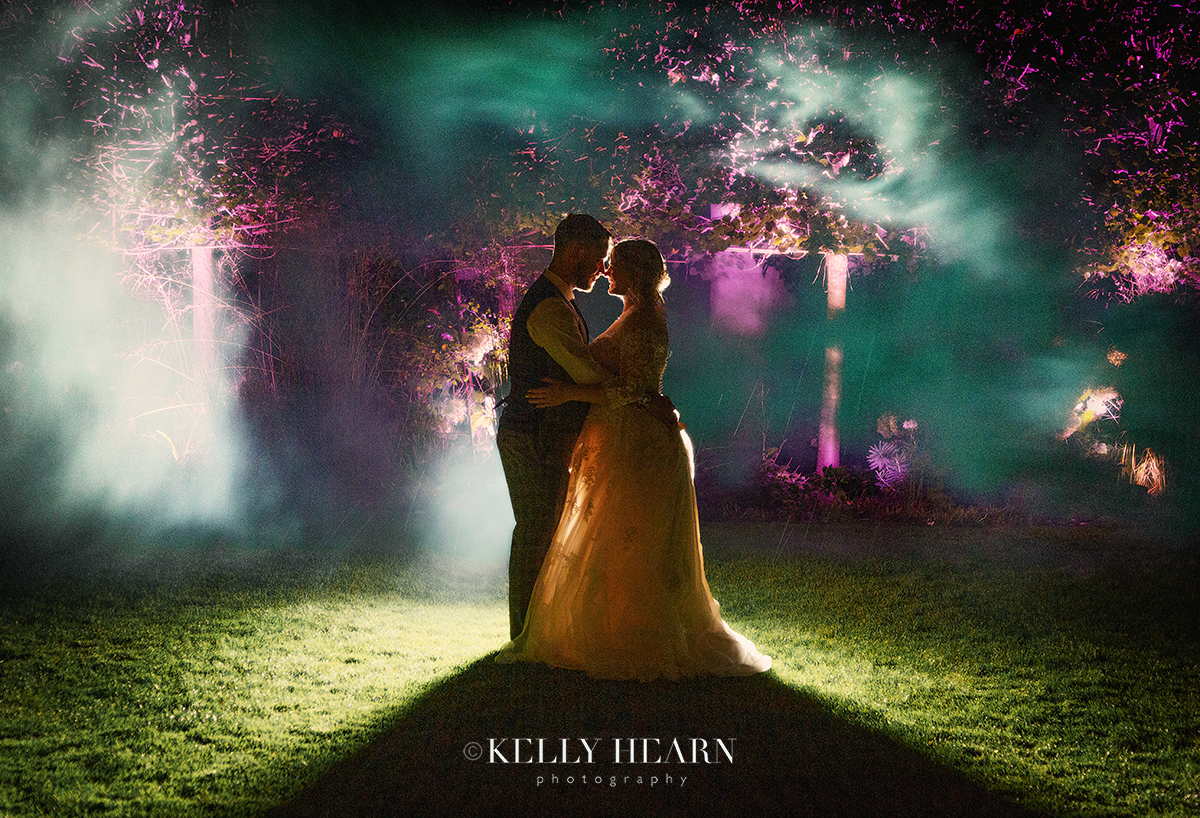 Laura and Ben, your spicy autumnal wedding was packed with fun, personality, and romance, and your creative approach to your day yielded some really special moments. Your deep love of autumn, cycling, and of course the lovely Merley made your day so personal, and tied in perfectly with your strong colour themes. You really worked with your chosen time of year, and it suited you both perfectly. I hope that you enjoy reminiscing whilst looking through your images cuddled up with Merley and maybe with a warming bowl of seasonal pumpkin soup! Thank you for being so enjoyable to work with, and I wish you both a lifetime of happiness!

Kelly x
Kelly Hearn - A.B.I.P.P-A.M.P.A