The Promises of Spring
May 30, 2018
Amy & Adam's Springtime Tithe Barn Wedding
Spring was in the air for Amy and Adam on their calm muted-sky wedding day in Hampshire this April. The couple's choice of traditional English country venues, combined with subtle Easter themes, made for an inspired quaint picture-book of a day. Delicate pastel spring flowers, historic flint-clad buildings and stunning sunset skies created a beautiful backdrop of tradition and romance; the perfect setting for this loved-up pair to tie the knot.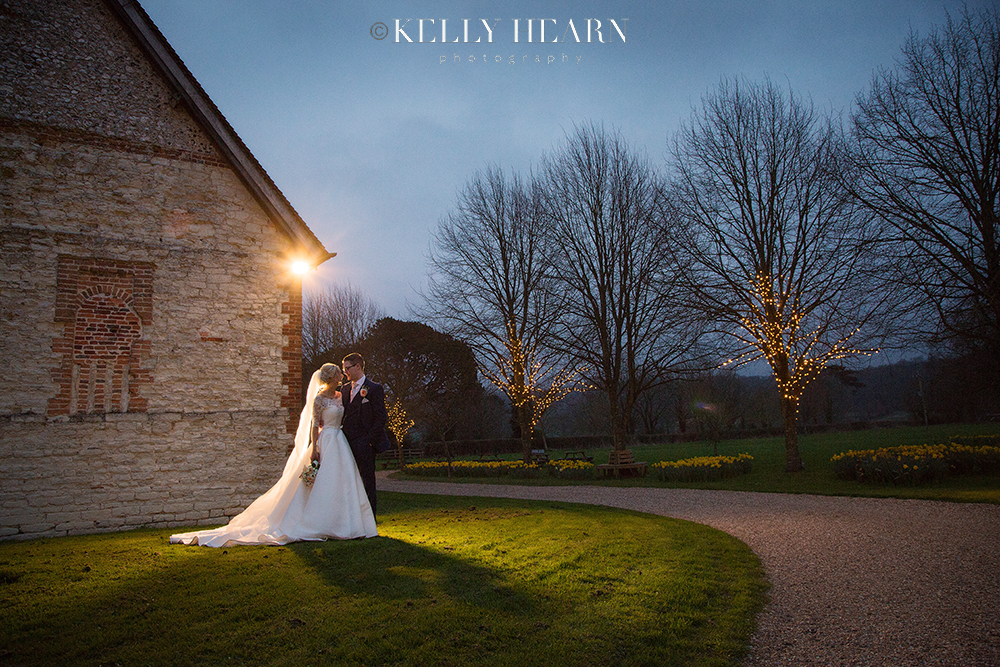 Whilst Adam was carrying out his pre-wedding duties by helping to set up the venue, Amy was staying at The Royal Oak Inn in Lavant with her bridesmaids. This country pub nestled at the base of the South Downs is well known for it's delicious locally sourced food and also boasts its own accommodation in the form of a few ensuite bedrooms and three cosy cottages for the perfect country stop-over. When I met Amy in one of the cottages, she was getting into her gorgeous wedding gown and I noticed the pretty accompaniment of her bridal bouquet (by The Flower Bazaar), an array of Easter-inspired pastel yellows and peach florals, sitting pretty on the window sill.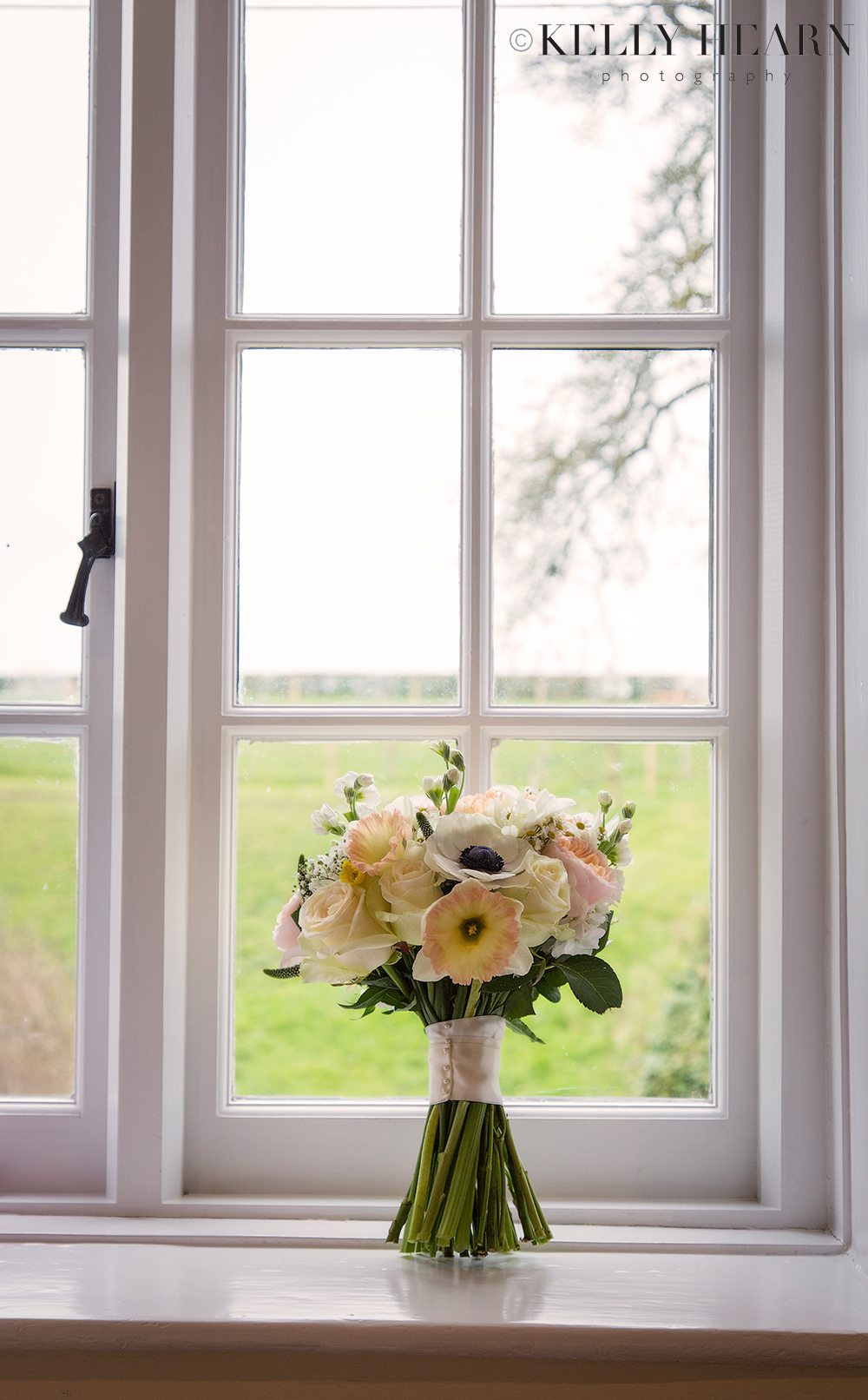 Amy wore a classic beautiful strapless sweetheart ball gown, with cinched belted waist and full satin skirt. Amy's feminine styling was enhanced by the addition of a pretty lace bridal bolero which added finesse and elegance, along with her beautiful makeup (by Becca Gray), sophisticated updo and long dramatic veil. Amy looked exquisitely chic and as I captured portraits of these precious pre-wedded moments, she looked so delighted having embraced becoming this beautiful timeless bride.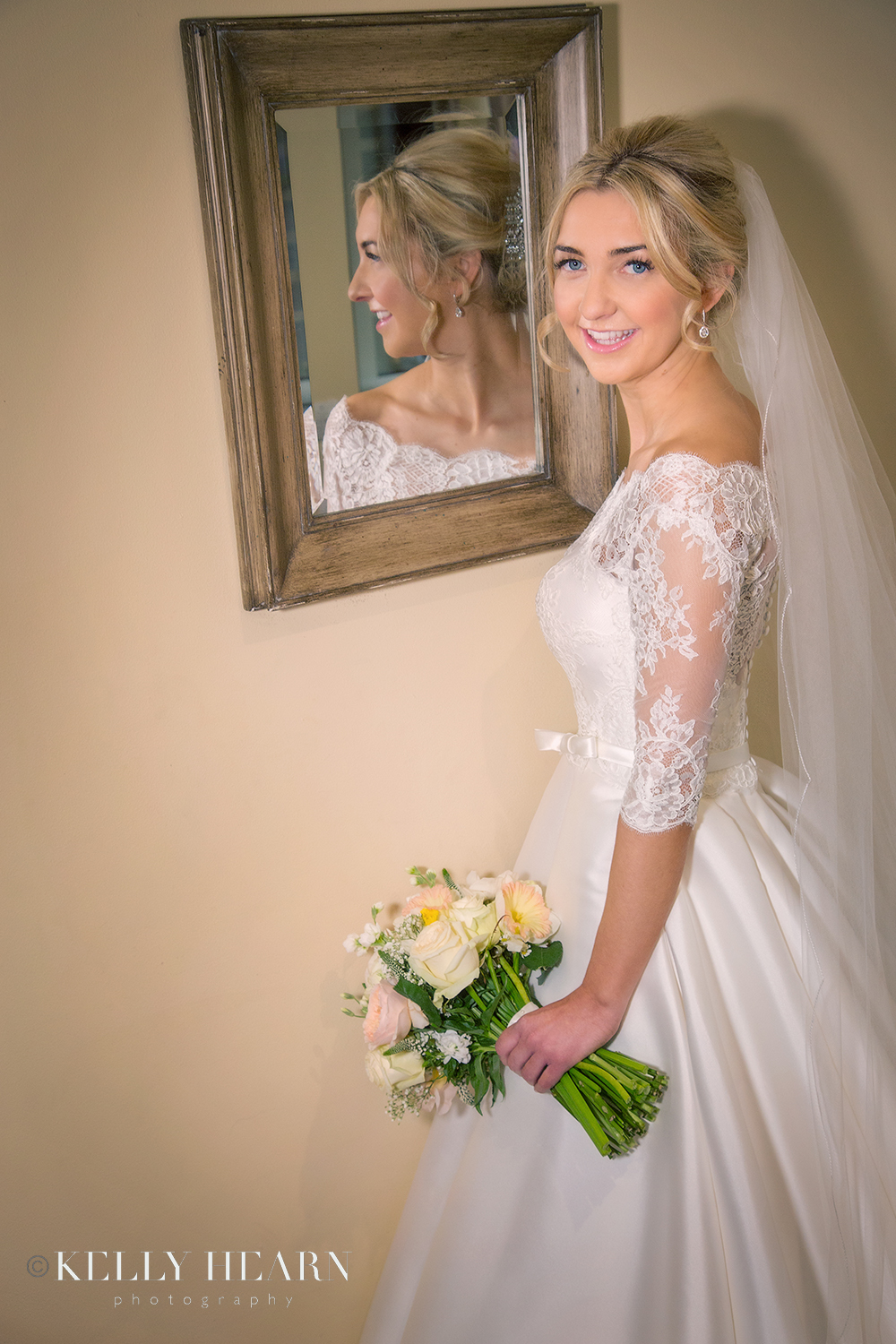 I met Amy's groom, Adam, outside St Mary's Church in Buriton, Hampshire. Dating back to the 12th century, this charming village church complete with feature stained glass window offered a traditional setting, providing an intimate and meaningful atmosphere for guests to witness the nuptials. This groom added a young and modern perspective to the scene as he wore a blue suit (as on trend), brown brogues and style-enduring black rim glasses. Being a young contemporary looking guy, Adam's up-to-the-minute style made for a successful contrast against the historic aspect of the old classical church building.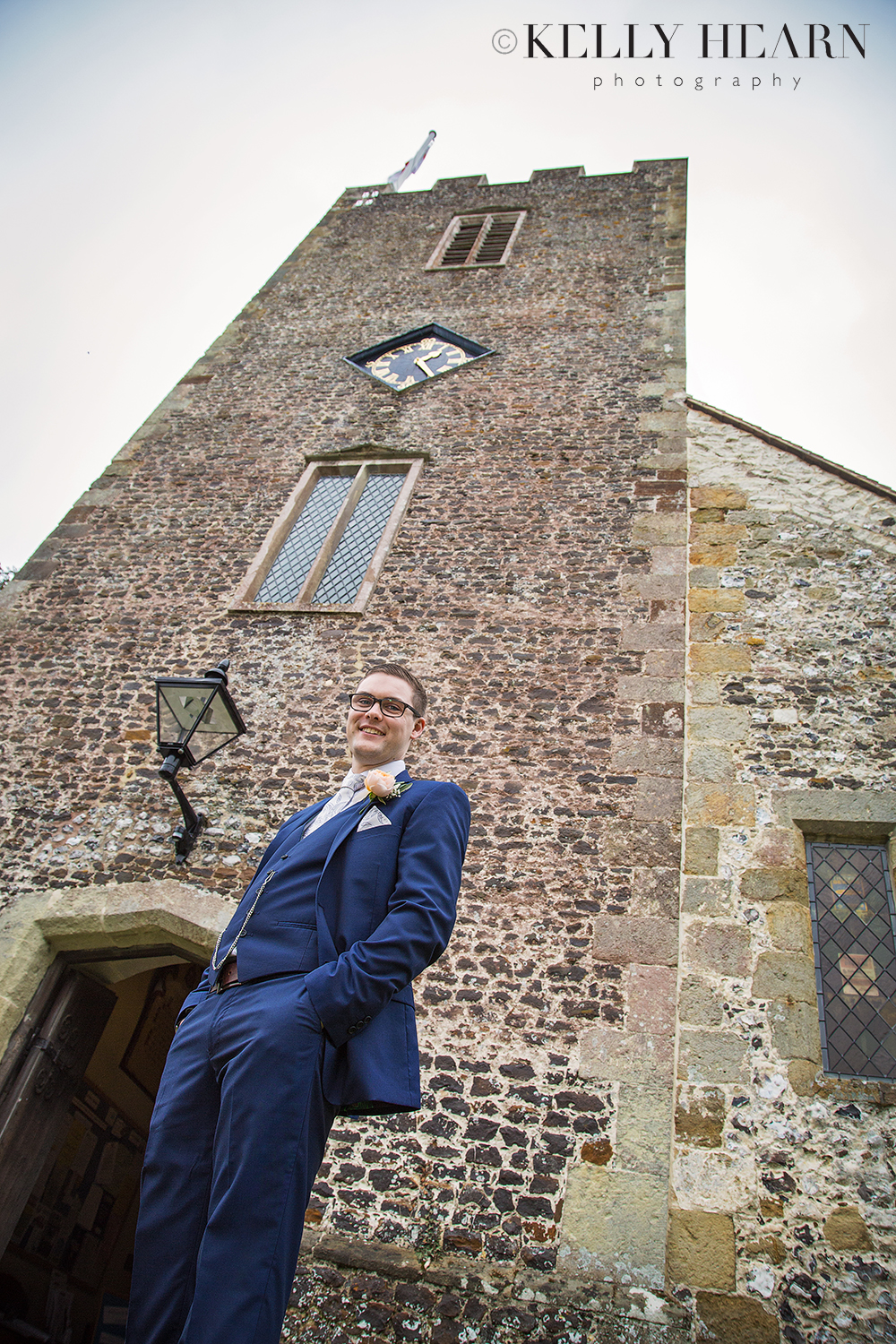 Inside the church it wasn't long before bride Amy was ready to grace the aisle. Groom Adam was checking his nerves as he waited for her arrival with best man at his side checking for steady hands as glamorous bridesmaids filtered down the aisle, followed by the radiant bride, a beaming Amy!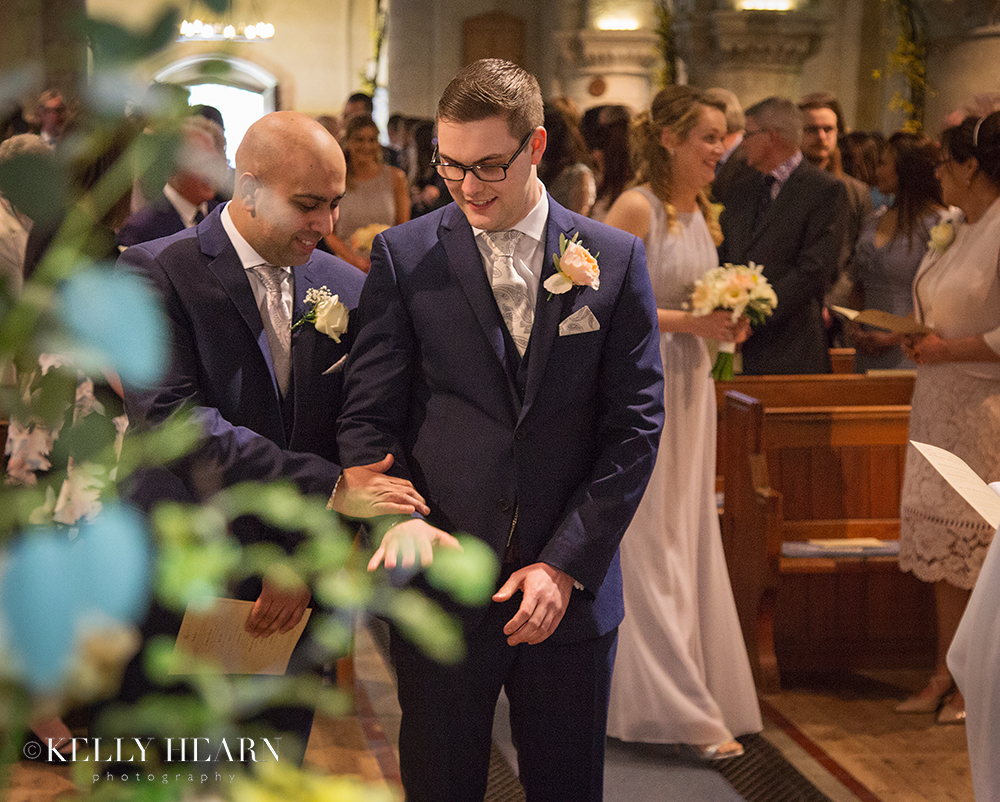 She continued to smile with joy at her groom as she joined in the singing and exchanged vows and rings with her soulmate.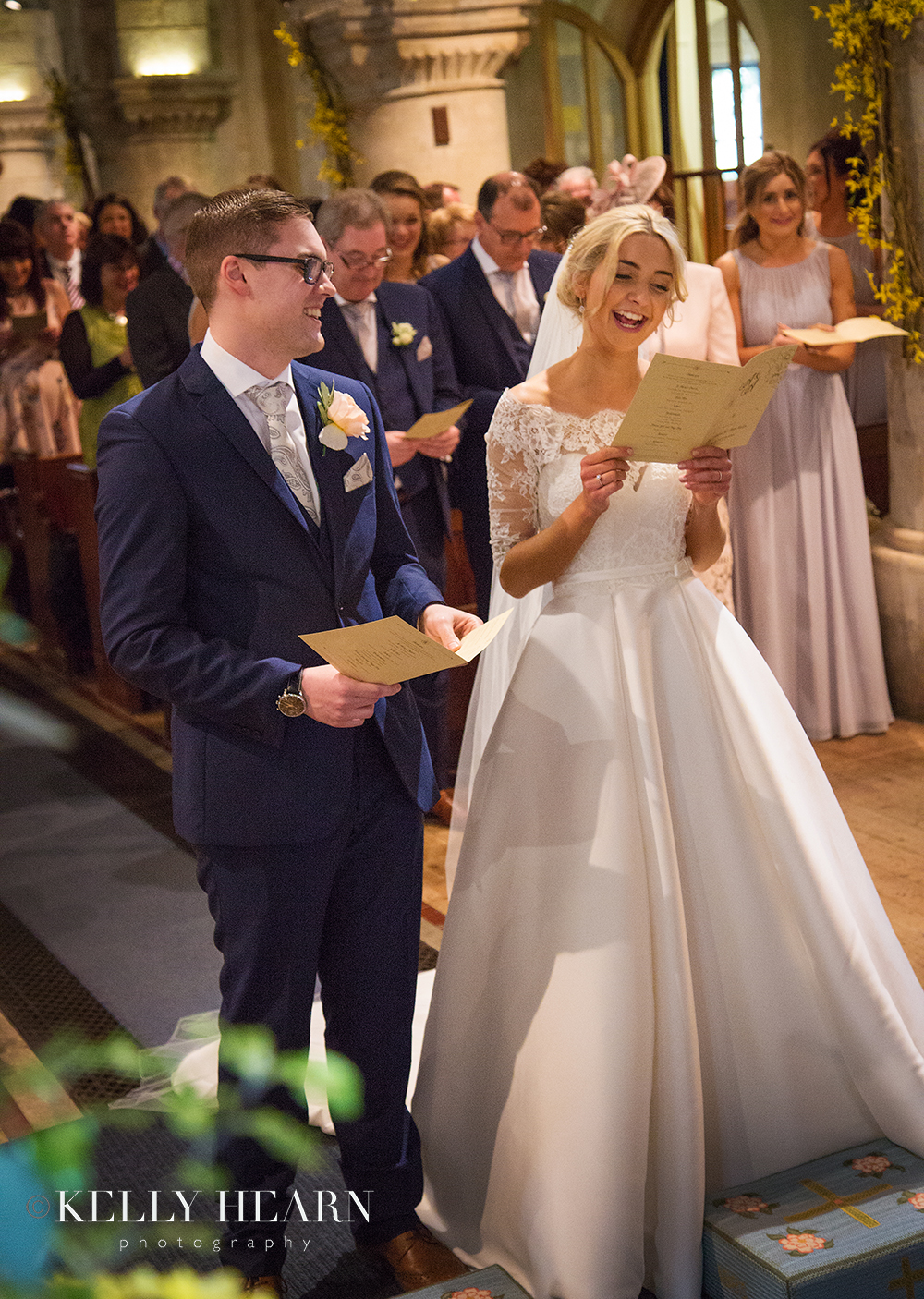 As the couple knelt at the altar for a prayer of blessing, the significance of their commitment was like it was reflected by the grandeur and splendour of the vast church interior. Cool sunlight illuminated the tapestry of bright colours in the large stained glass above their heads, as attentive guests from their pews looked on.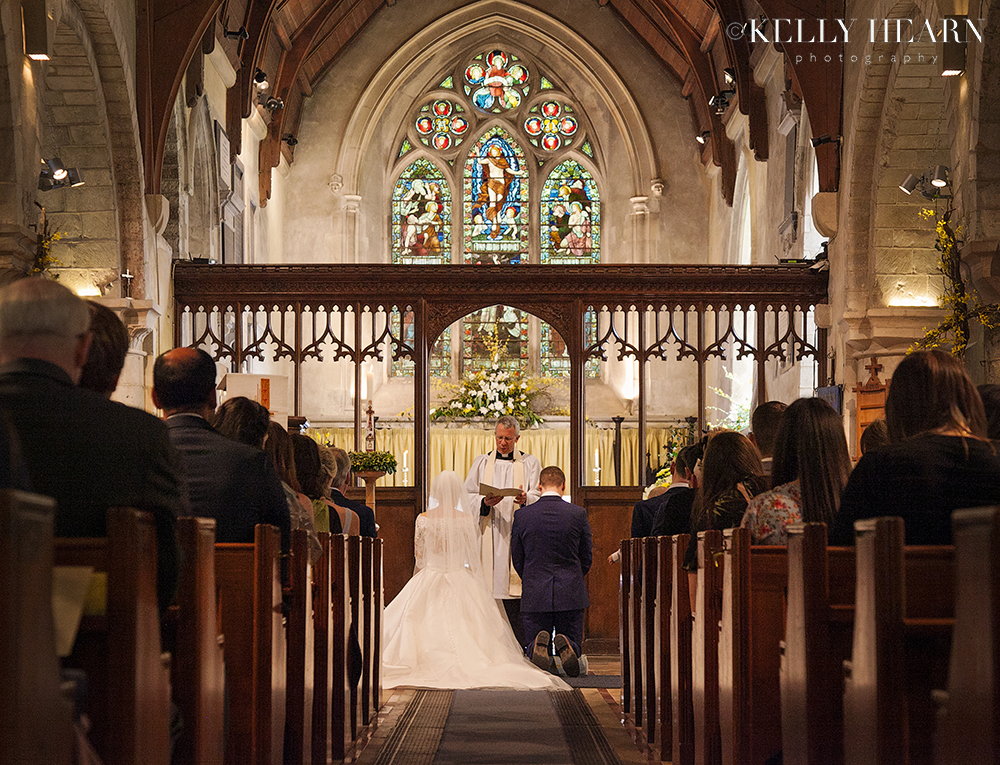 As tradition requires, the new Mr and Mrs needed to sign the register in relative privacy, and I very much enjoyed watching the process of them squeezing into this tiny cupboard-like room for the formality! Given the size restrictions, I had to think outside the box (or the cupboard!) in how I was to present this official moment. Standing back, the ornate archway seemed to frame the happy couple perfectly and give the image context and importance.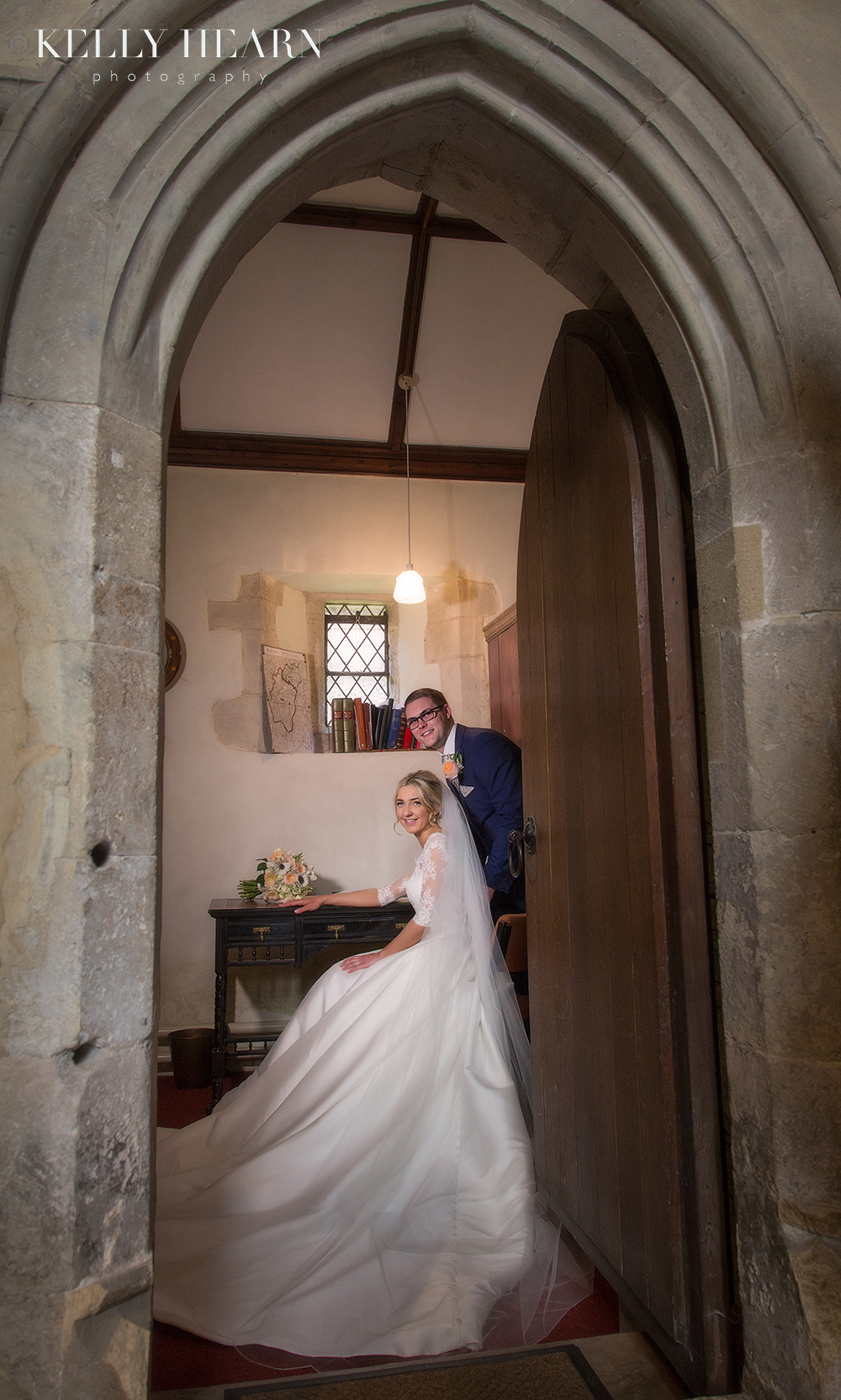 Now legally bound, it was time for the newly-weds to exit the church and meet guests who were ready outside to congratulate them. As Amy & Adam left through the ornate doorway, they stole a kiss as they were romantically silhouetted under the arch.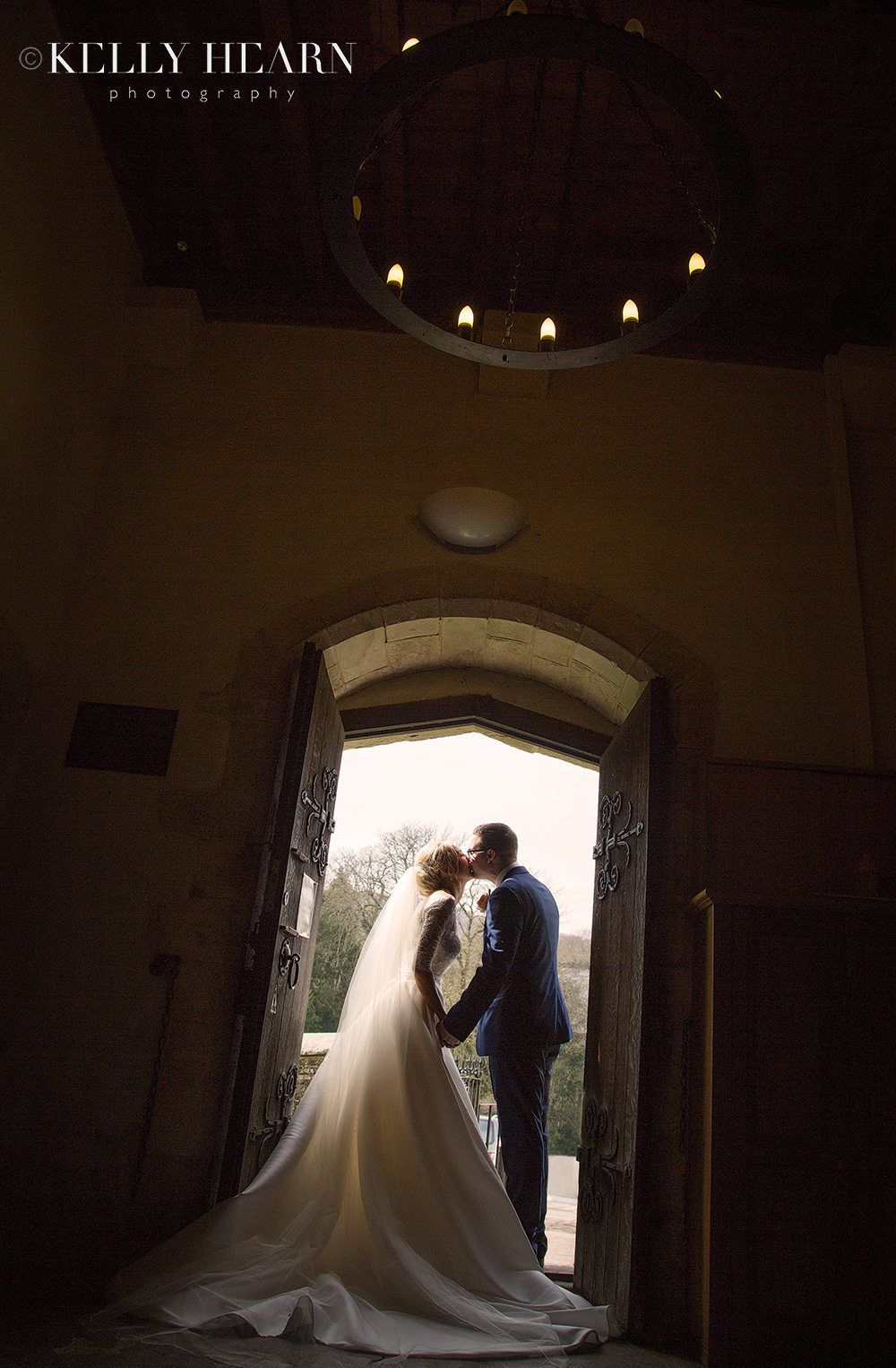 The happy couple jumped into their funky wedding transport to be whisked off to one of my favourite rustic barn venues in Hampshire, Tithe Barn. The mint green and white classic VW camper added a fun vintage touch to their travels and catered perfectly for Amy's dress with its ease of access! The spacious interior allowed for her substantial gown, helping it to remain crumple-free, whilst her and Adam enjoyed a relaxed and comfortable ride courtesy of Vinnie's Vintage Hire!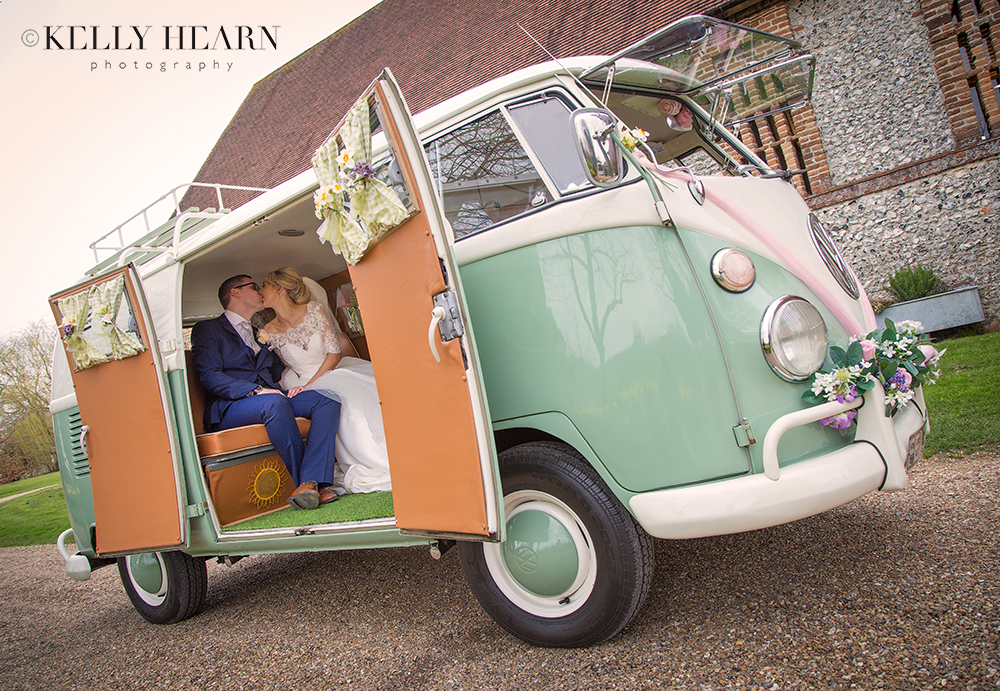 Upon arrival at the breathtaking Tithe Barn, we gathered bridesmaids and groomsmen for the all important group photographs. Amy's six bridesmaids wore sleeveless floor length, dove grey maxi dresses with soft satin belts and delicate sheer necklines. They carried coordinated posies to match in with Amy's hand-tied bouquet, a sweet design of easter pastel colours. Amy was thrilled as nature perfectly complimented her chosen palette, by providing a background setting awash with bright yellow daffodils in bloom!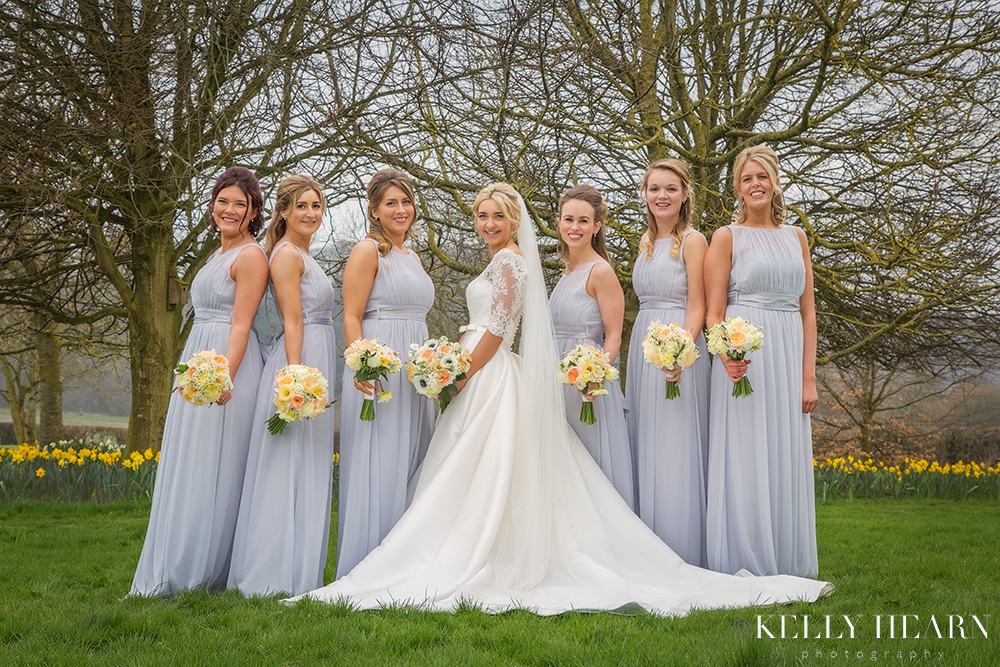 Inspired by the architecture of the flint barn, the guys took a more structured approach to their group photography, almost emulating the strong upright shapes in the window designs behind them as they made up their unique composition.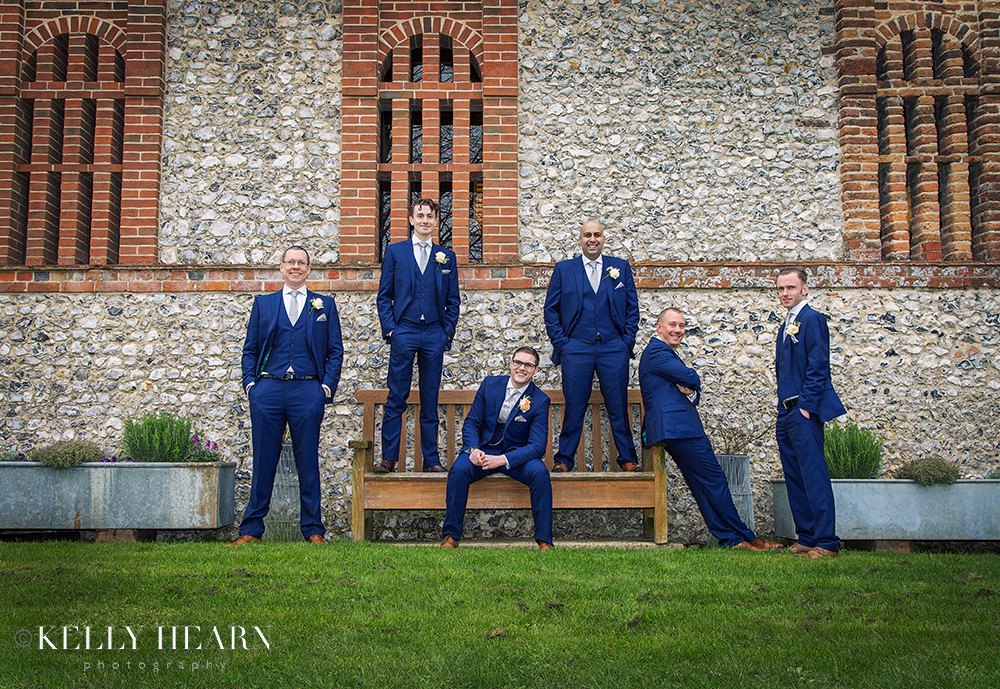 The textures and tones of the old flint walls and red brickwork, alongside the strength of the vibrant colour green in the grass, made for a really interesting backdrop to some of the portraits. The impressive grandeur of the Grade II listed barn offered a lovely contrast against the modern fresh look of this fresh young couple.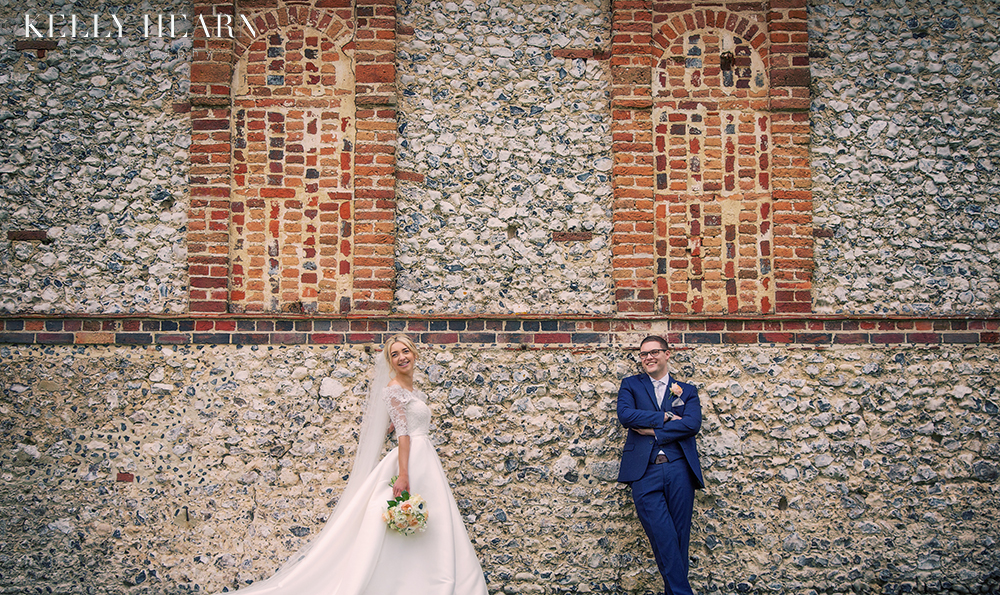 The interior of the barn is almost more impressive than the exterior, and so uniquely spacious that from the balcony up high I was able to capture the entire wedding party without missing a face!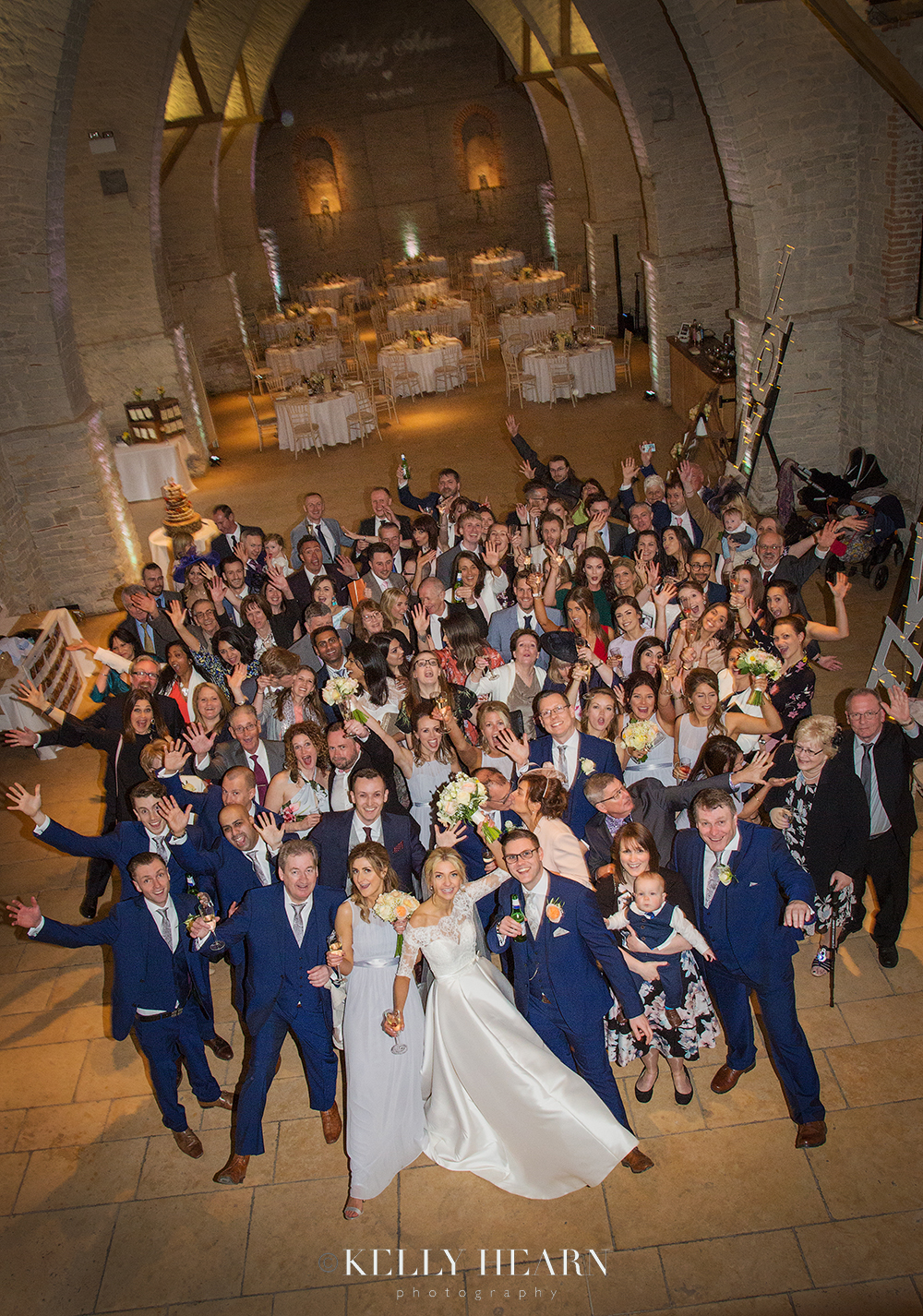 The reception tables were laid up simply and elegantly with subtle up-lighting highlighting and enhancing the stunning arches and architecture in the room. A lovely design touch included an eye-catching projection of light message which stated; 'Amy & Adam, 7th April 2018', like a large illuminated bespoke stamp on the wall.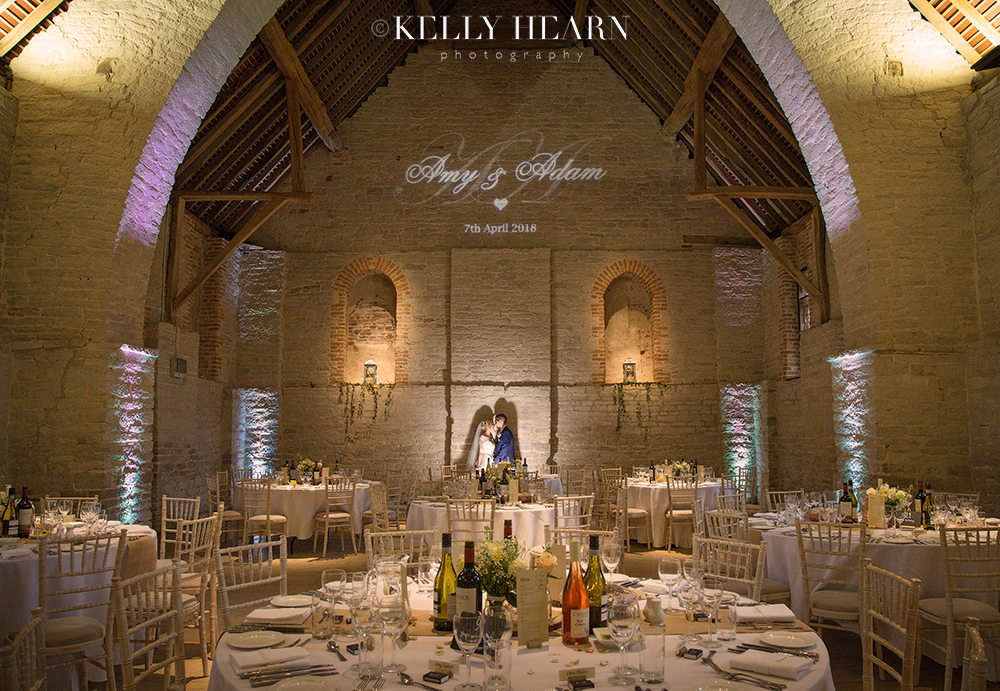 As guests found their places at the tables inside, I had noticed that outdoors the sky was turning. Amy and Adam made it back out into the gardens with me just in time for the most incredible pink ombré sunset. This was the perfect romantic moment for a little embrace and to reflect on the day so far.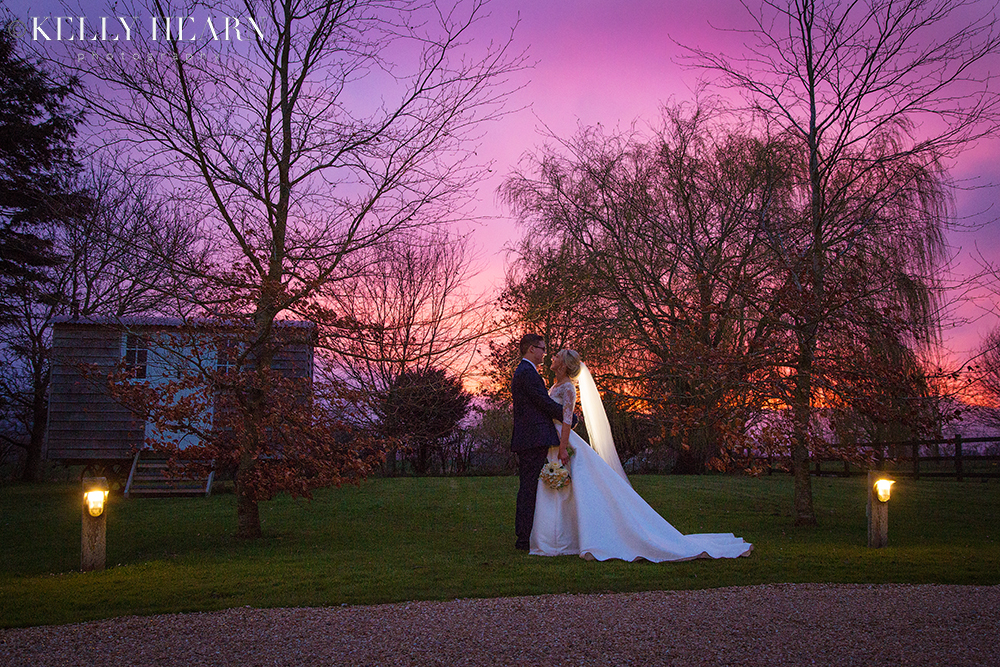 The reception was full of fun and engagement, especially as a sweepstake took place for guests to place bets on the length of the speeches. This lighthearted section of the day was filled with laughter and cheering resounded as the winner was announced. Even Adam and Amy's beloved little baby nephew stayed awake long enough to appreciate all of the speeches!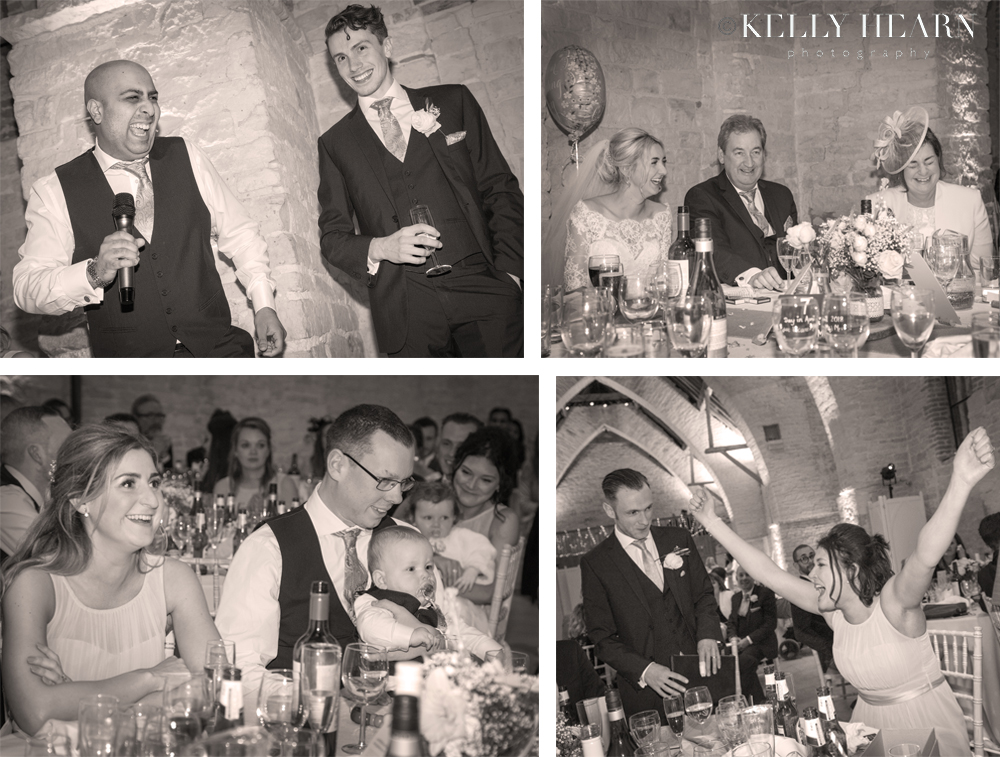 As with Easter, this wedding day had literally been full of promise. This springfest of pastel hues gave Amy the April feel she so loved whilst nature's timing only served to compliment this palette of sorbet tones. It was clear to me that this couple had put so much thought into the day to make sure everyone felt included and special, with family and friends top of the priority list. The support for these two becoming an official Mr and Mrs was tangibly lovely and wonderful to see, I could see how highly regarded this pair were by so many.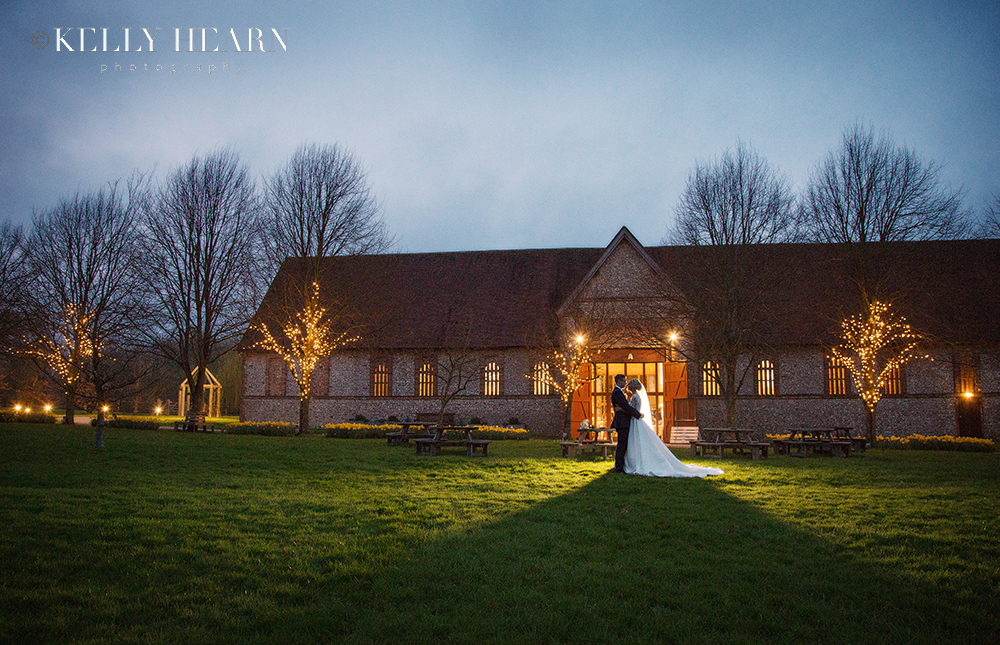 Mr and Mrs Naxton, thank you for inviting me to be part of your special day, I hope your marriage continues to blossom and bloom as you grow together! Congratulations!
Love Kelly x
Kelly Hearn A.B.I.P.P - A.M.P.A