Catching The Love Bug
February 23, 2018
Claudette & Aaron's Southend Barns Winter Wedding
I was delighted to be back at the charmingly restored dairy farm buildings of Southend Barns in West Sussex, photographing my last wedding of 2017 in the low November afternoon sun. Long shadows stretched out over the green stripes of the neatly mown lawn in the courtyard as wispy clouds brushed across the clear blue sky above the infamous three canopy peaks. Claudette and Aaron's wedding day was pretty en pointe weather wise and I was excited for all the little magical moments, that I felt certain, we would all experience on this crisp wintery afternoon.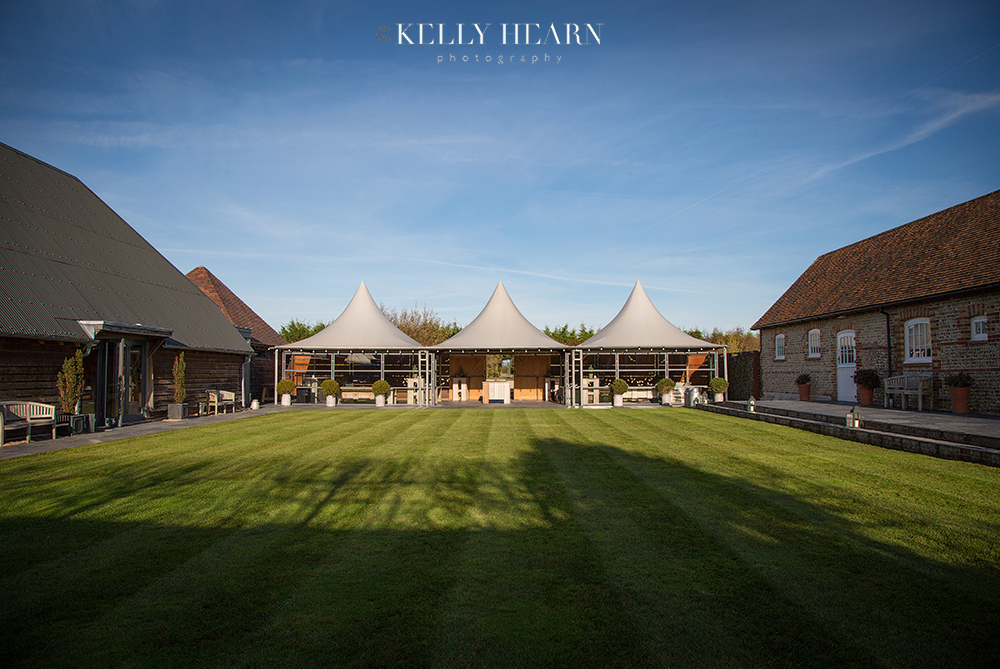 The venue was looking stunning and having a sneaky peek inside the ceremony barn I saw a serene and hushed picture, a quiet anticipation of nerves and excitement filled the air, that would soon turn to a buzzing and bustling ambience as guests would arrive and start to trickle in. The calm and neutral space was laid out beautifully with luxurious blue tinted sheepskin bench throws, awaiting the bottoms of chilly guests whilst pretty posies of flowers added that pop of rose colour as they elegantly lined the aisle.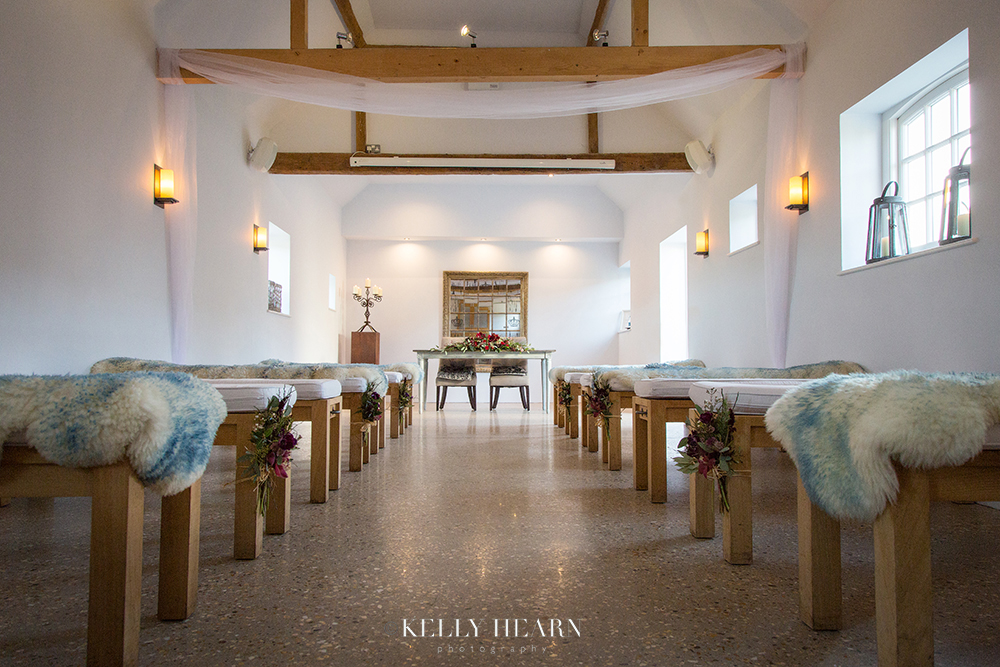 Having had a few moments to take in the lush surroundings I soon found Aaron waiting out on the front drive by the barn's entrance. Having arrived in style in his faithful Bug, Aaron (a bit of a car expert) couldn't have been happier to have his classic VW Beetle by his side, at the start of the most important day of his life!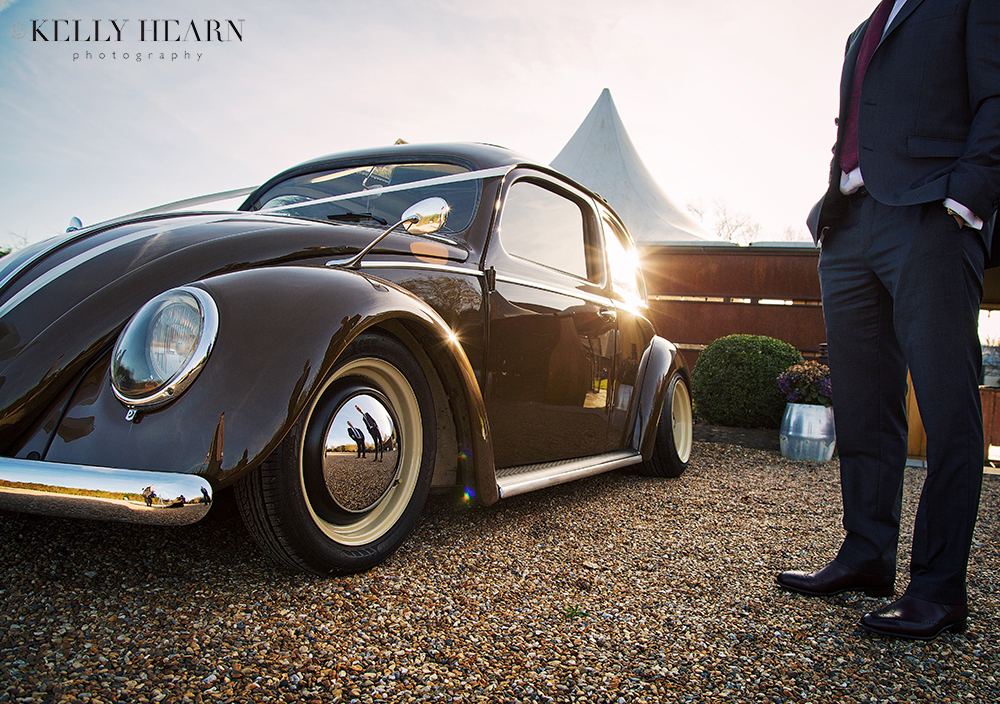 Standing proud, Aaron helped tick many photographic technique boxes as he completed this triangular composition by becoming the 'second' of three peaks, whilst also being key to creating a pleasingly symmetrical shot! Aside from his helpful modelling skills, it seemed that his car was like a welcomed support act for the groom, providing perfect preparation for Aaron in advance of being photographed with the main act, of course, his lovely bride!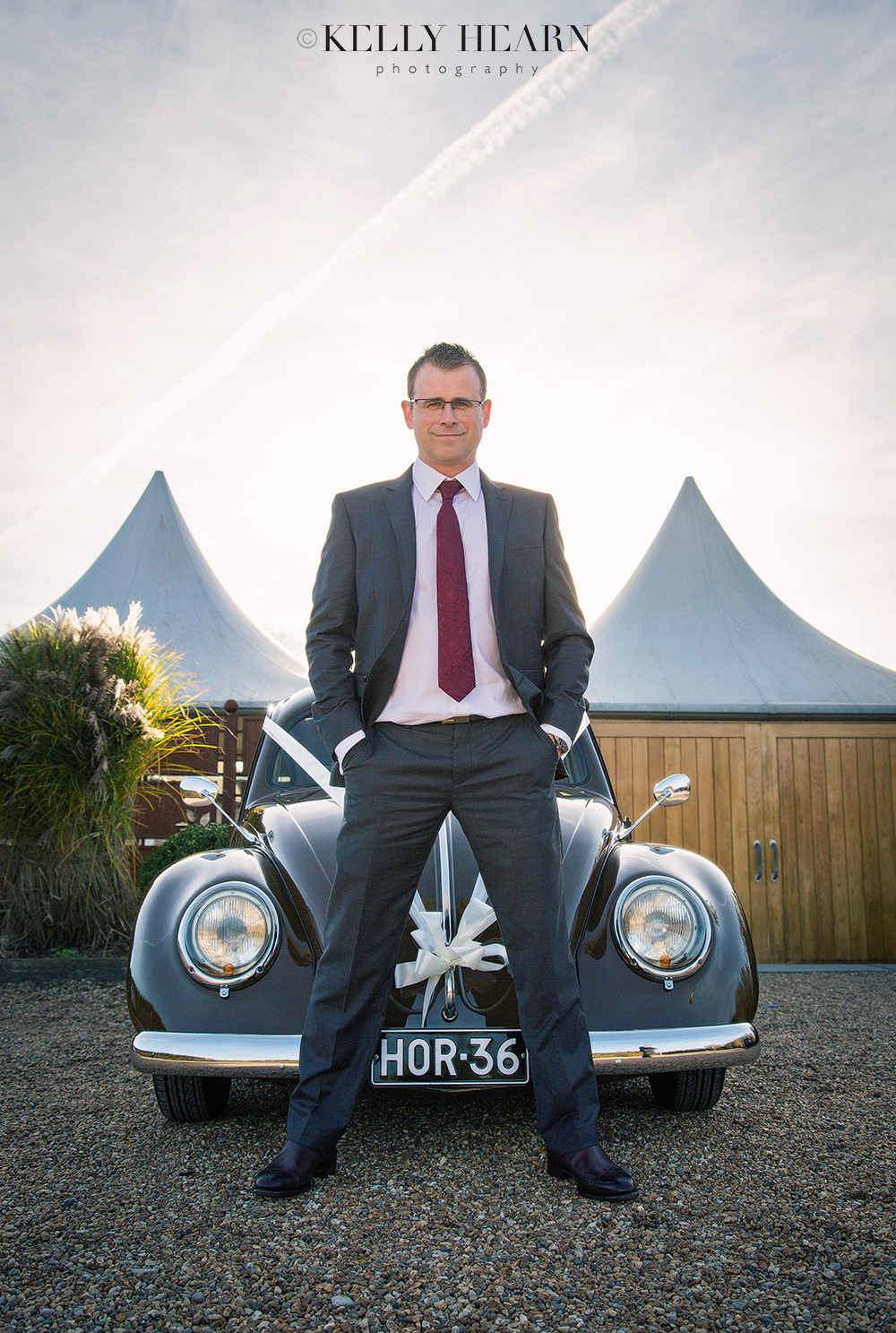 Meanwhile Claudette was being pampered in the bridal suite by the lovely Charlotte from Polka Dot Hair and Makeup who was perfecting an elegant and tousled low do in the brunette's hair.
There was a lovely peaceful atmosphere as Claudette enjoyed the special time she had getting ready with her close friend, and in the company of her and Aaron's gorgeous little boy, Benjamin.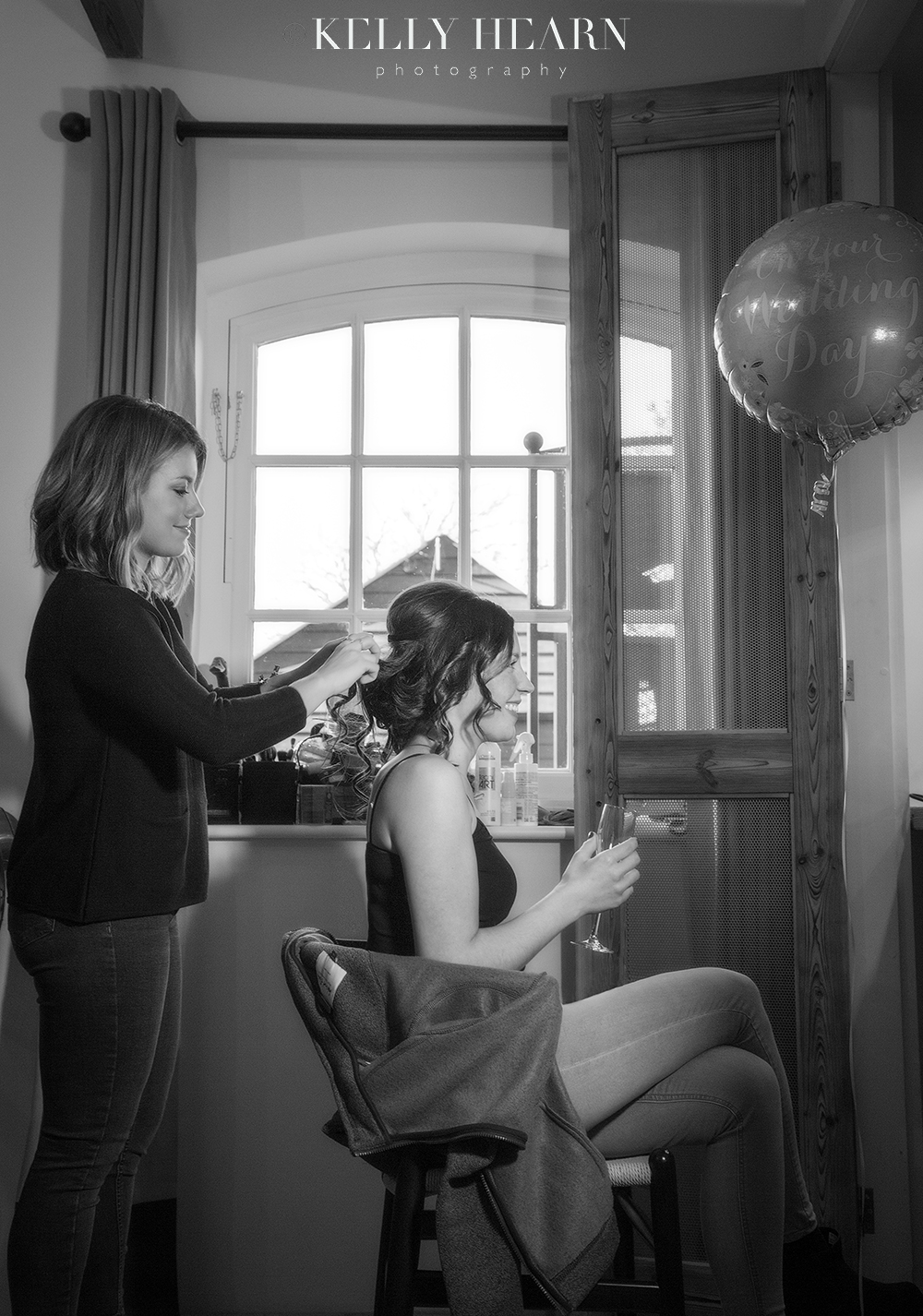 This cute little page boy looked so smart in his waistcoat and totally adorable as he stood holding a wedding balloon for his Mummy.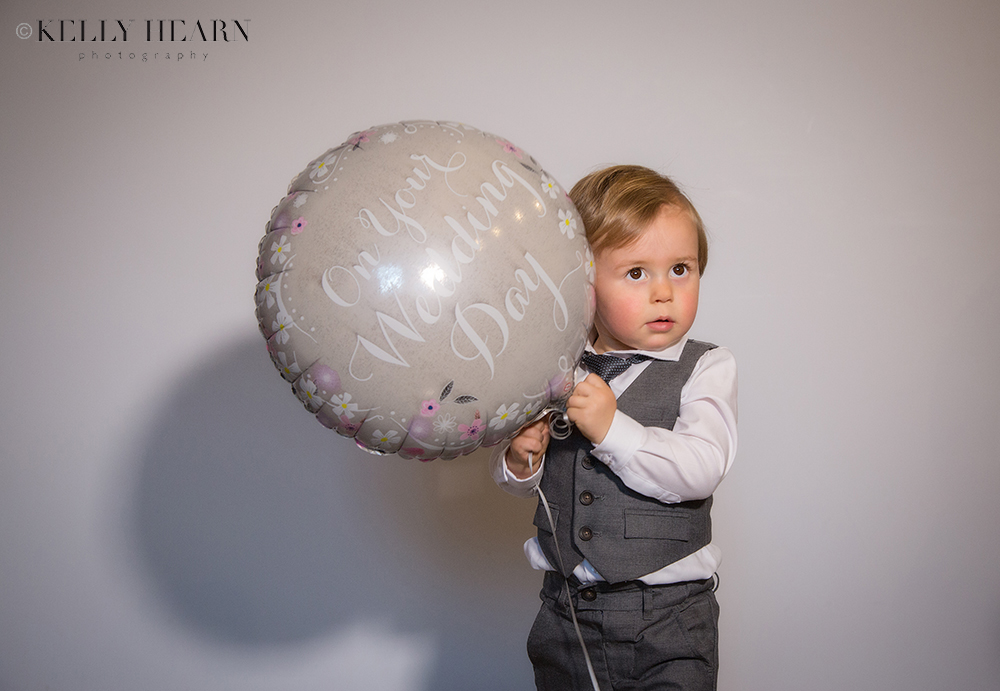 Claudette looked truly radiant in her romantic lace covered fit and flare gown with double keyhole feature back. Boasting a plunging neckline, pretty scalloped edging and detailed button-down back, this bride embodied classy vintage style. Finished with a beautiful bouquet designed and created by The Flower Studio in Portchester, many types of deep red toned florals including roses, orchids and hibiscus, revealed Claudette's striking colour palette for the day.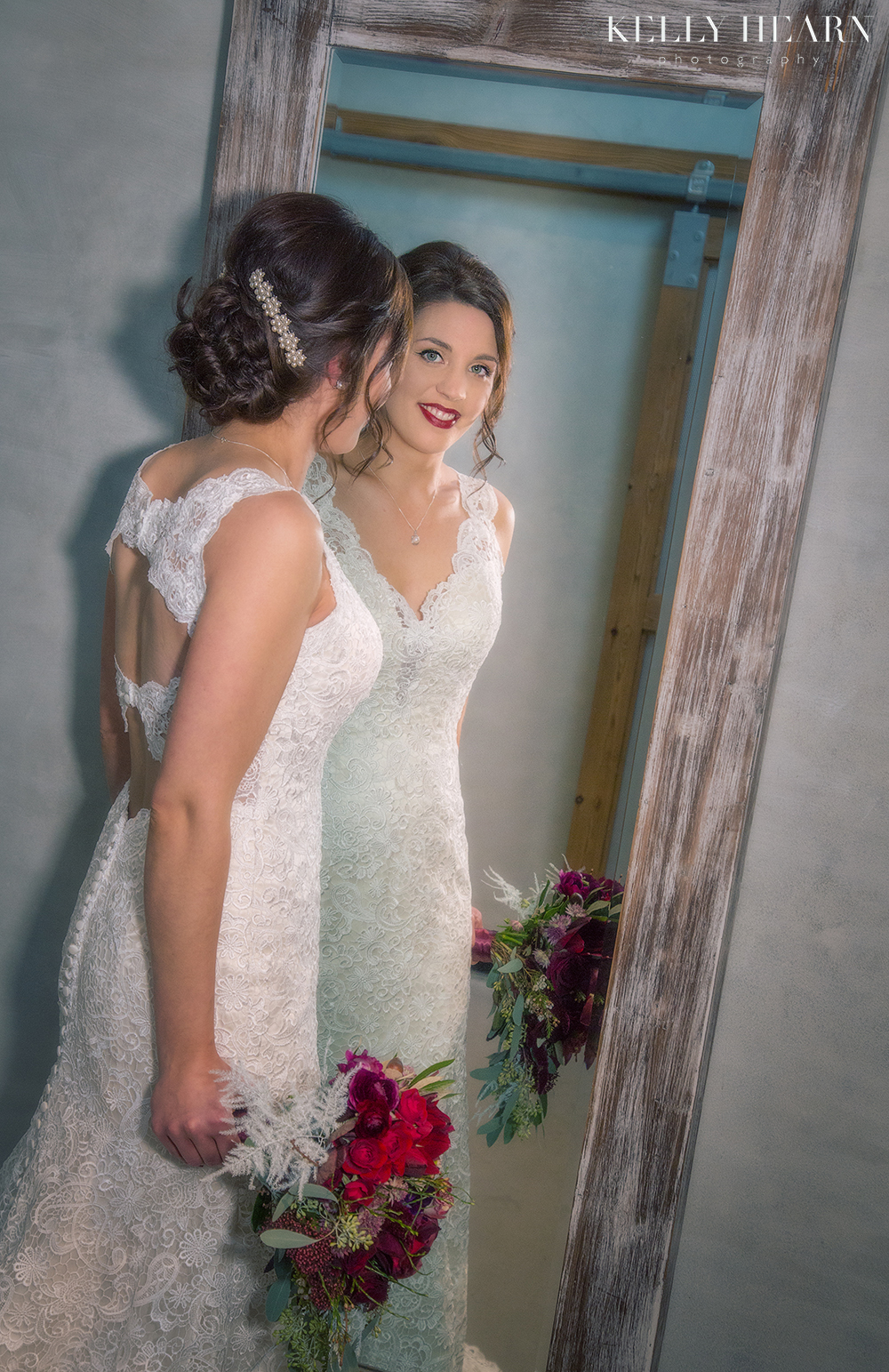 It wasn't long before the bride was happily reunited with her groom at the end of the aisle. As the last of the sun glimmered behind the rooftops, delighted friends and family showered the newly-weds in confetti as they exited the Dairy Barn as the new and more formal, Mr and Mrs McCarthy.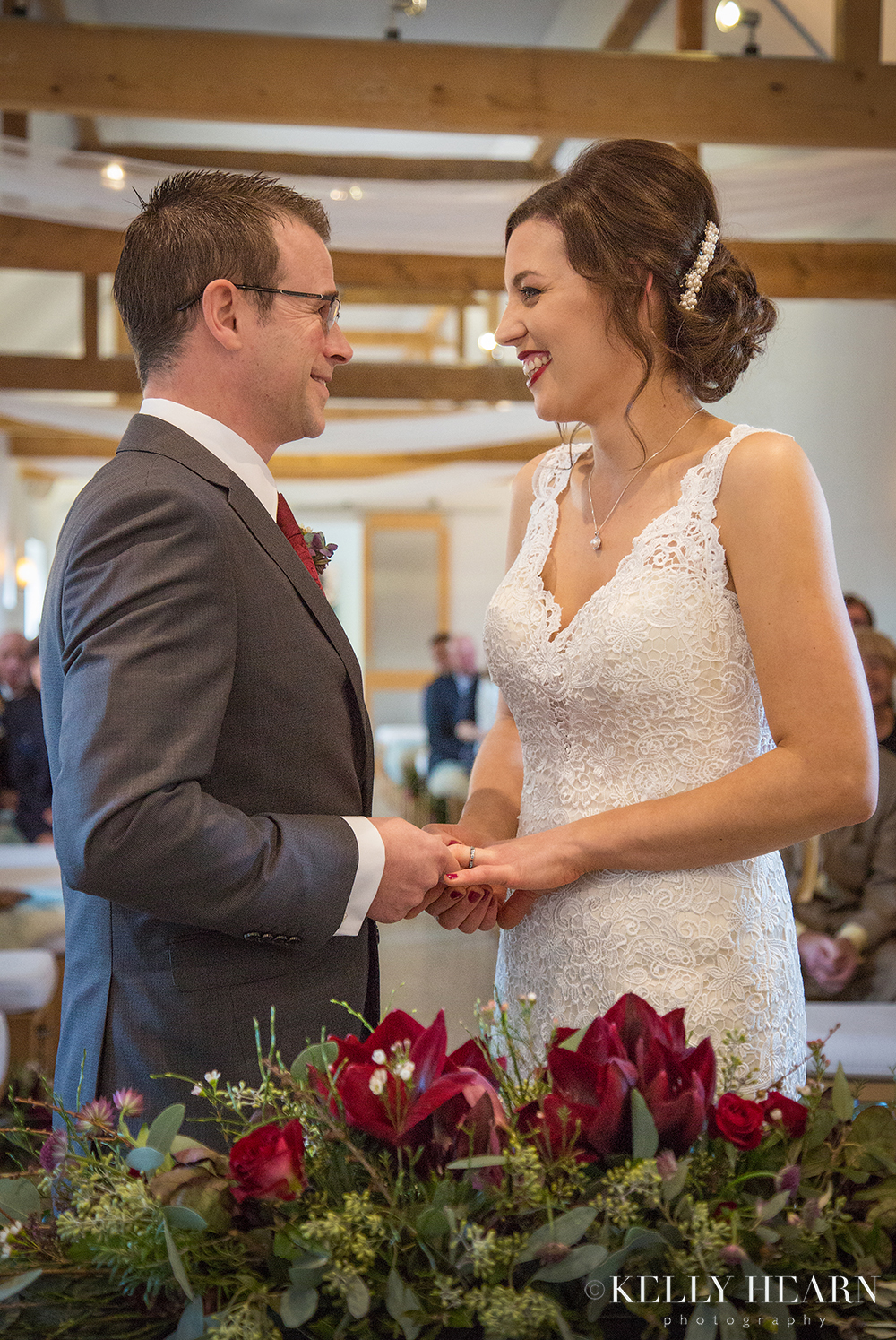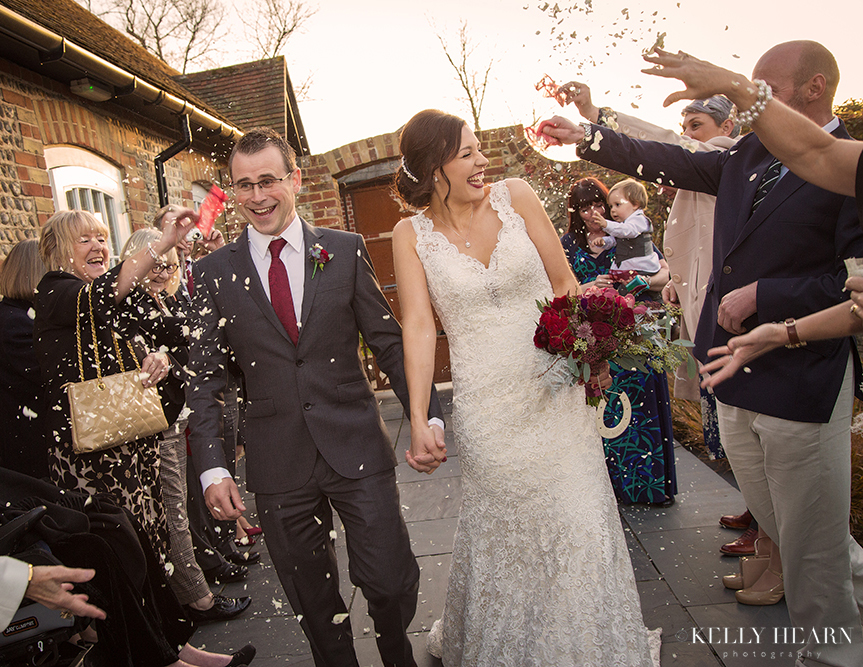 During a wonderful time of mingling, the couple caught up with guests in the cosy courtyard, warmed by the glowing firepit and outdoor patio heaters. In such an inviting and snug space, drinks lingered and happy chatter continued as bubbles were sipped and glasses were clinked.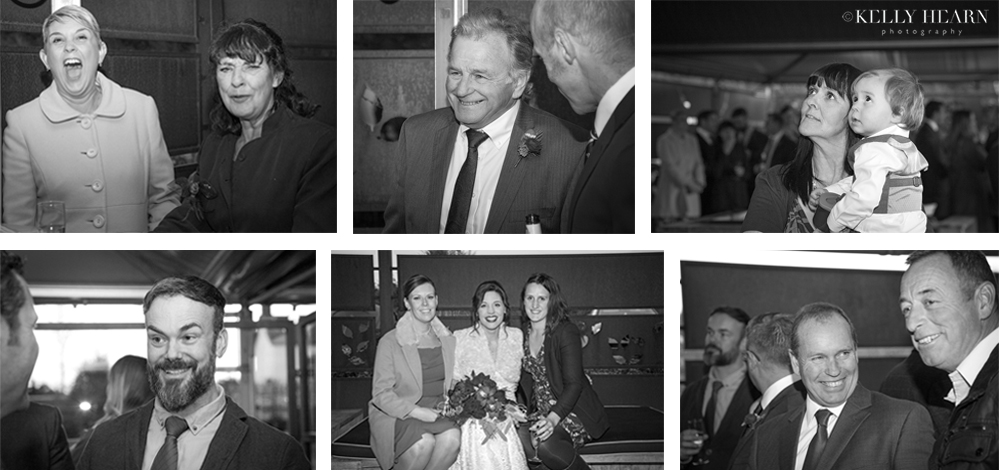 Before the late afternoon light disappeared completely, I tore the just-marrieds away from company to escape to the neighbouring field to capture the sun setting just as it was creating a lovely golden wintery flare over the horizon. I loved Claudette's joy and laughter as she braved the chilly outdoors whilst we captured some memorable portraits of this loving pair.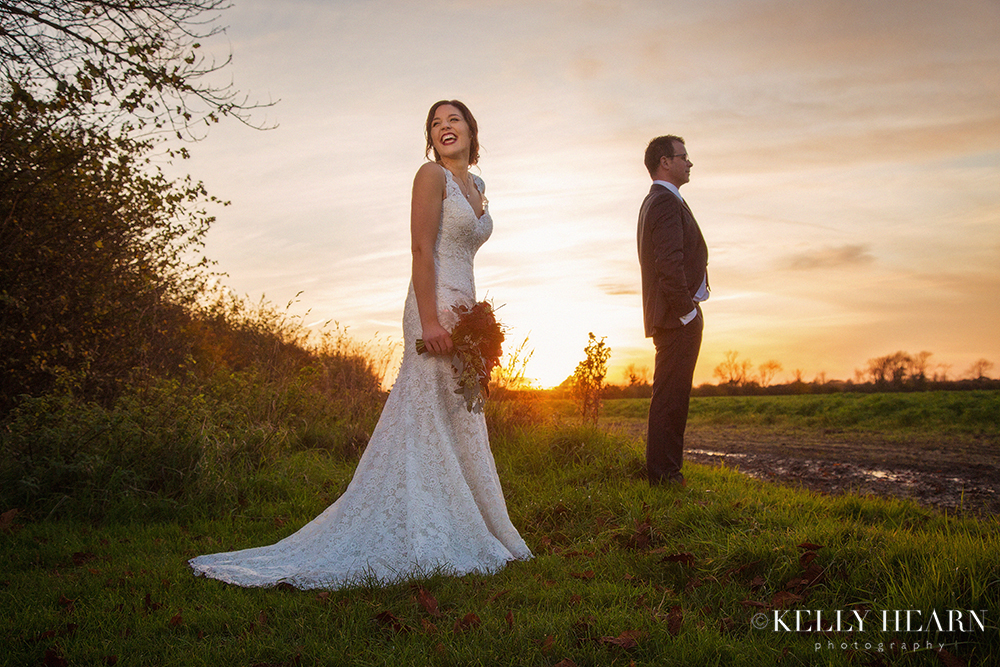 Back at the venue we embraced the aftermath of the sun's disappearance, being sure to soak up the pink and blue streaky skies before they faded to a nightly deep blue. The family portrait at the end of the daylight hours would not have been complete without the lovely little Benjamin and, needless to say, Aaron's beloved Beetle!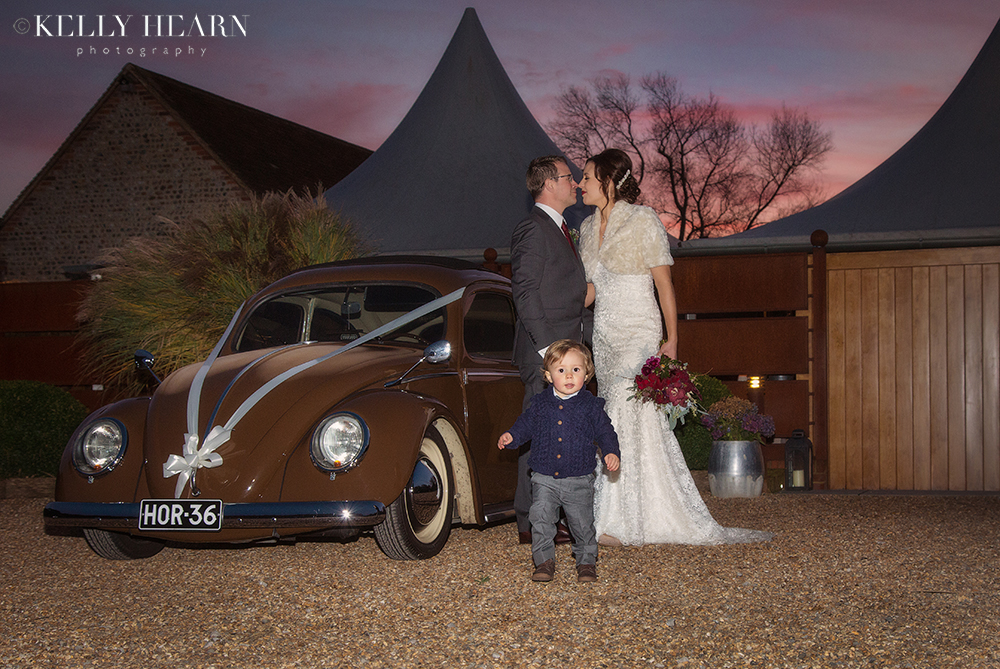 Back inside the comfort of the barns, the gorgeous oak beam-laden room was ready and waiting to be filled with food, drink and laughter as they celebrated what had so far been a wonderful day.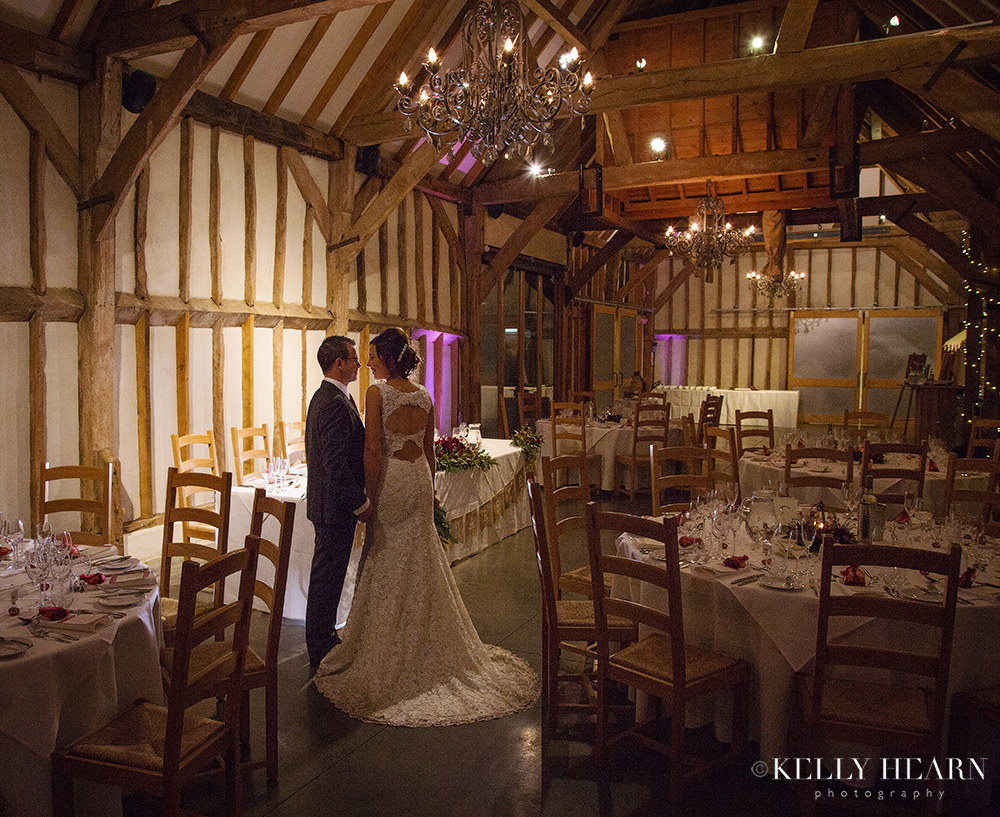 Tara at Foxwood Wedding Cakes had provided a stunning creation, perfectly topped with a delicate garland mirroring the fresh florals seen in Claudette's unique and attractive bouquet. This cake was pretty as a picture and perfectly summed up the deep red colour theme with it's hints of mint foliage which daintily broke up the punches of red.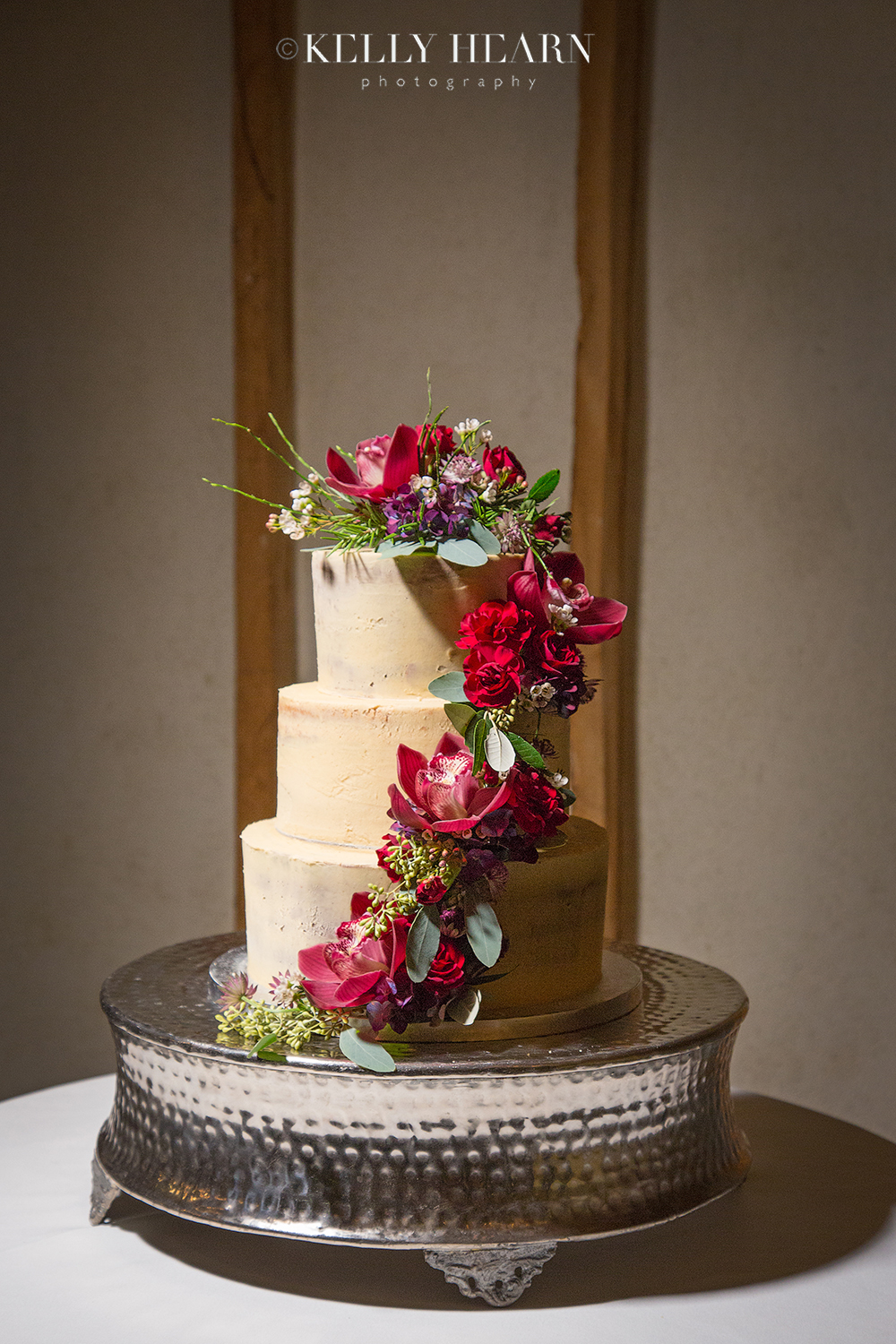 The evening continued with a high energy party featuring live music from The Deloreans before we once again ventured out into the night to capture a final magical moment! Often the evening can be forgotten when it comes to photographing further wedding portraits as the couple and guests are far too busy partying and dancing the night away (as they should be of course!). However, if the couple did want to add a little extra sparkle and wonder to their collection of images, venturing outside at night time can really enhance a wedding, especially a winter one where the evening draws in early, yet there are still so many hours of the occasion actually left. In a little wooded area outside in the grounds of the barns, this romantic backlit shot made for a dramatic, more intense style of picture which really suited Claudette and Aaron and became a rather breathtaking final shot for their album.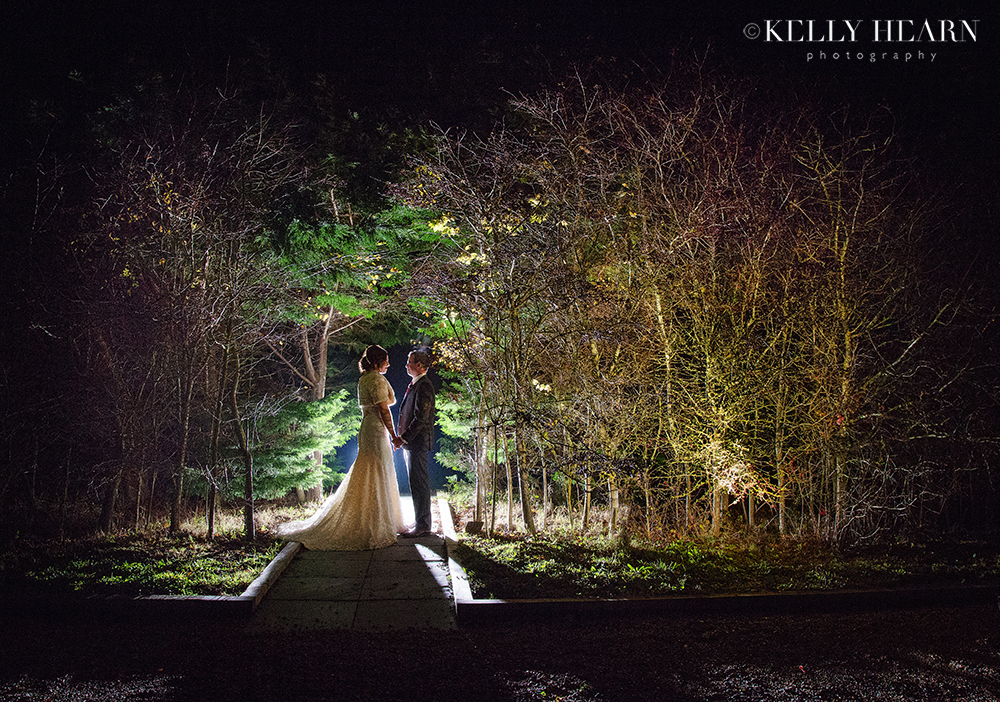 Thank you Mr & Mrs McCarthy for allowing me to capture your special wedding on that fresh November day and for making it a happy and memorable note on which to end my photographic year. Your calmness and kindness made it a pleasure for me to spend the day with you all and I wish you both, little Benjamin and of course the VW(!) all the happiness in the world.
Love Kelly x
Kelly Hearn A.B.I.P.P - A.M.P.A