Skies and Larks
January 10, 2018
Sue & Neal's Skylark Autumn Wedding
Sue and Neal married at Hampshire's Skylark Golf & Country Club, enjoying a blessing in the modernised Grade II listed character-filled rustic barn which was in every essence both impressive yet warm with charm. The couple's exquisite wedding reception took place in a contemporary setting, the newly renovated country club's very own bar and restaurant where guests enjoyed the comfort of the freshly rejuvenated dining space overlooking the club's glorious countryside grounds and expansive 18 hole parkland golf course. Just as the pastel colours in the sky merged and mellowed that day, so it seemed that the laughter rolled on from sunrise to the final sunset, making for a fully memorable and joy-filled occasion.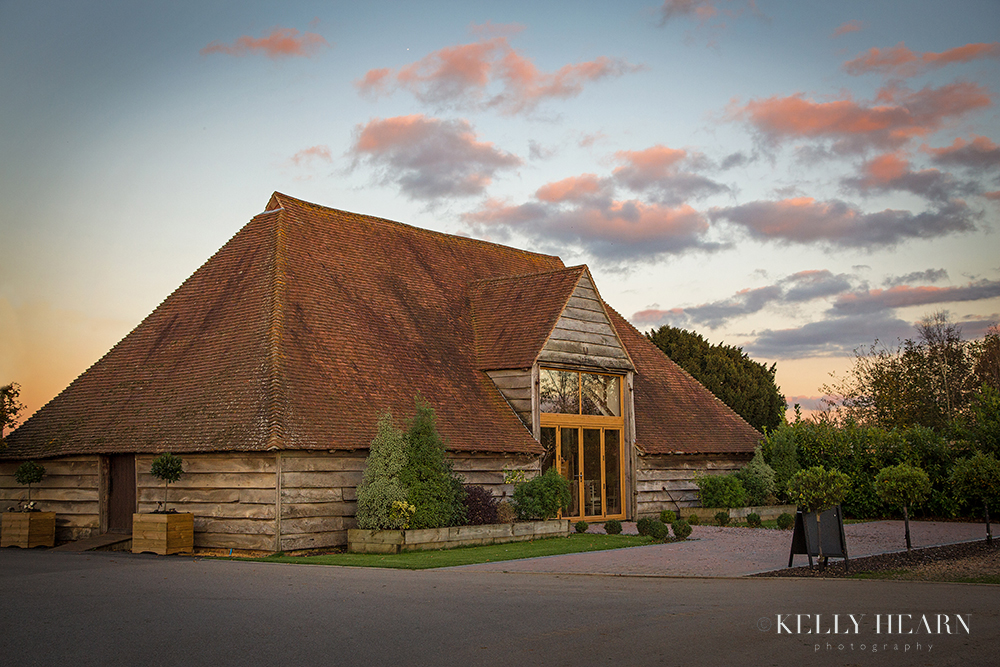 That morning I found groom Neal to be getting ready at groomsman Ben's home, putting on cufflinks which were a special wedding gift from his bride-to-be, Sue. Given alongside these, a trendy brown leather hip flask had been personalised with the couple's initials, engraved so as to remain a precious keepsake and reminder of the big day. In navy suits provided by Astares formal wear, Neal and his groomsmen perfectly coordinated with Sue's chosen colour palette right down to the burgundy ties, her theme governed by the choice of stylish wedding stationery which was to be seen throughout the day.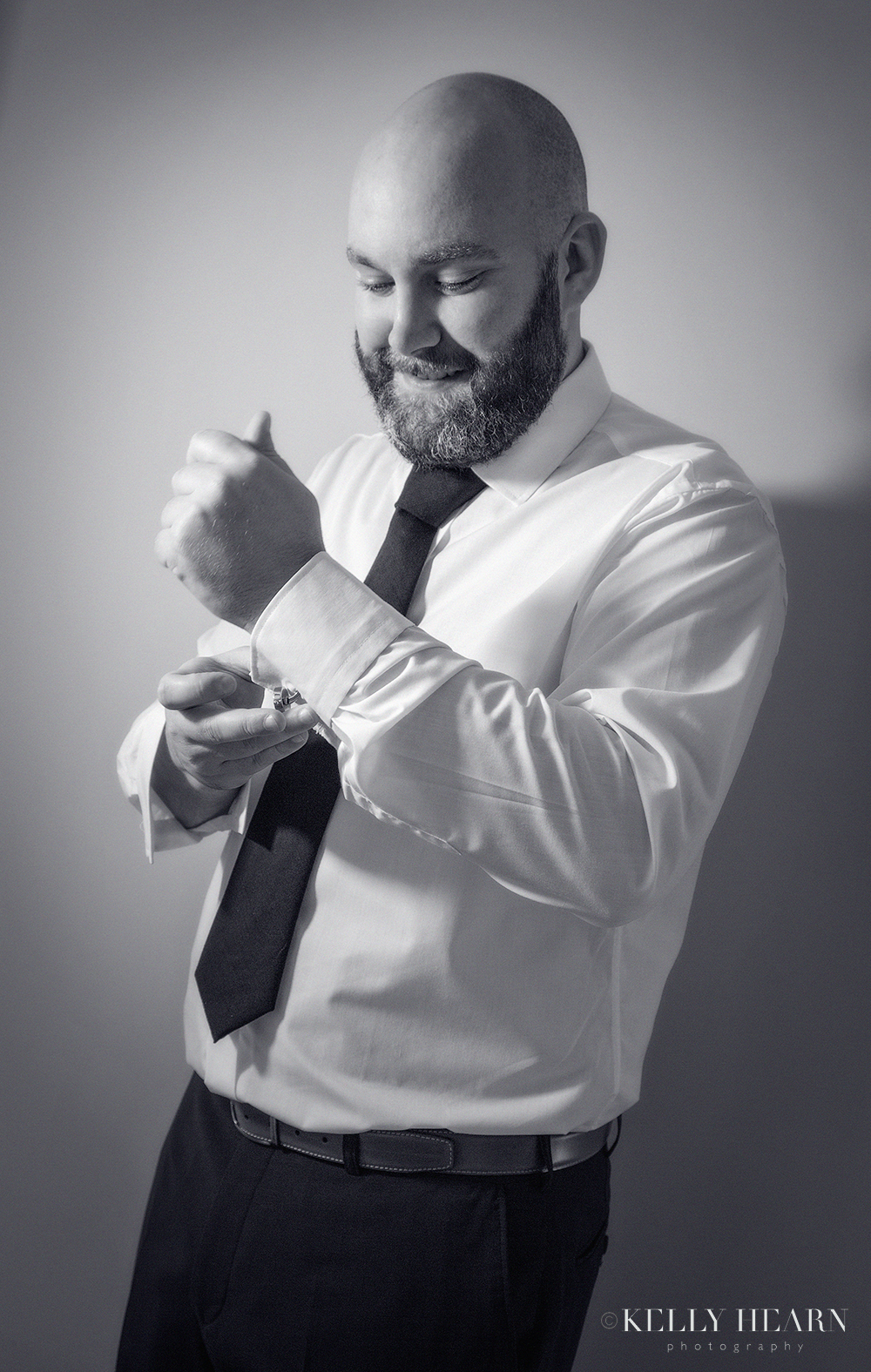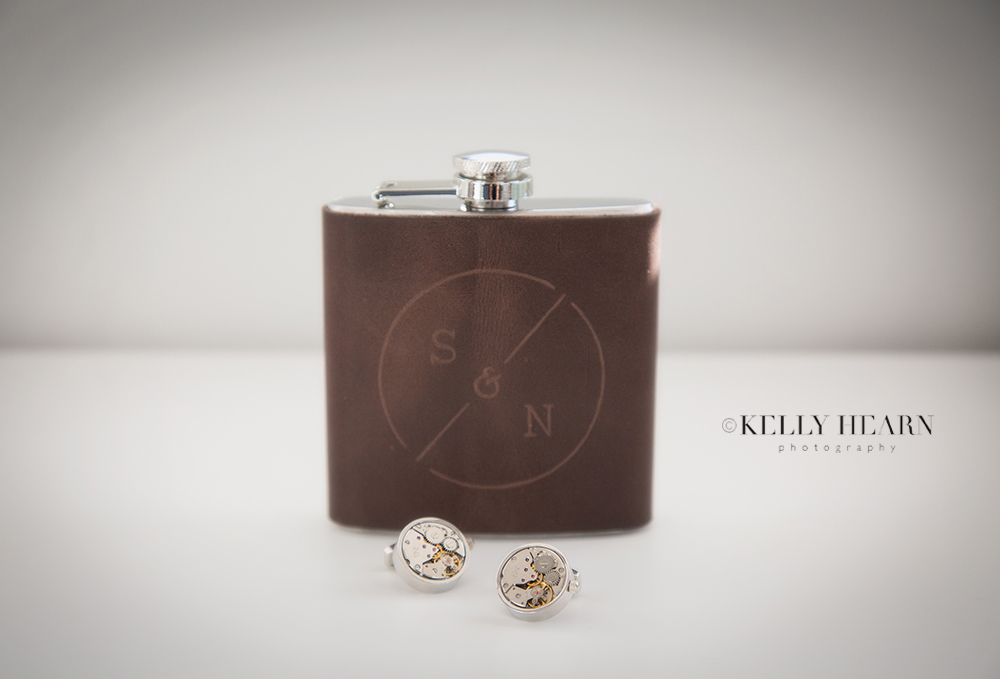 Over in the couple's Hampshire home, the bride was to be found with her two best friends and bridesmaids also getting ready and feeling excited for the day ahead. With enchanting details of an ivory lace covered gown and sparkling blush pink diamante hair vine, Sue's elegant choices were enhanced by a beautiful bouquet of soft blush pink roses which were designed and hand-tied by Blossoms of Portsmouth. This classic and timeless choice of bouquet complimented her navy and burgundy contrasting theme, adding a touch of sweet romance and luxury to Sue's overall styling.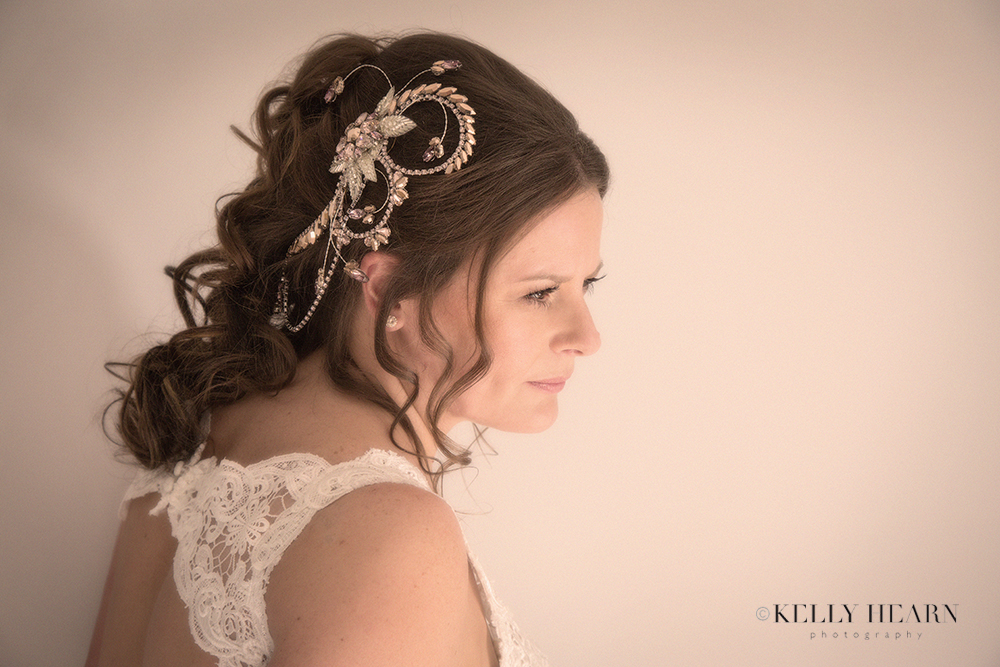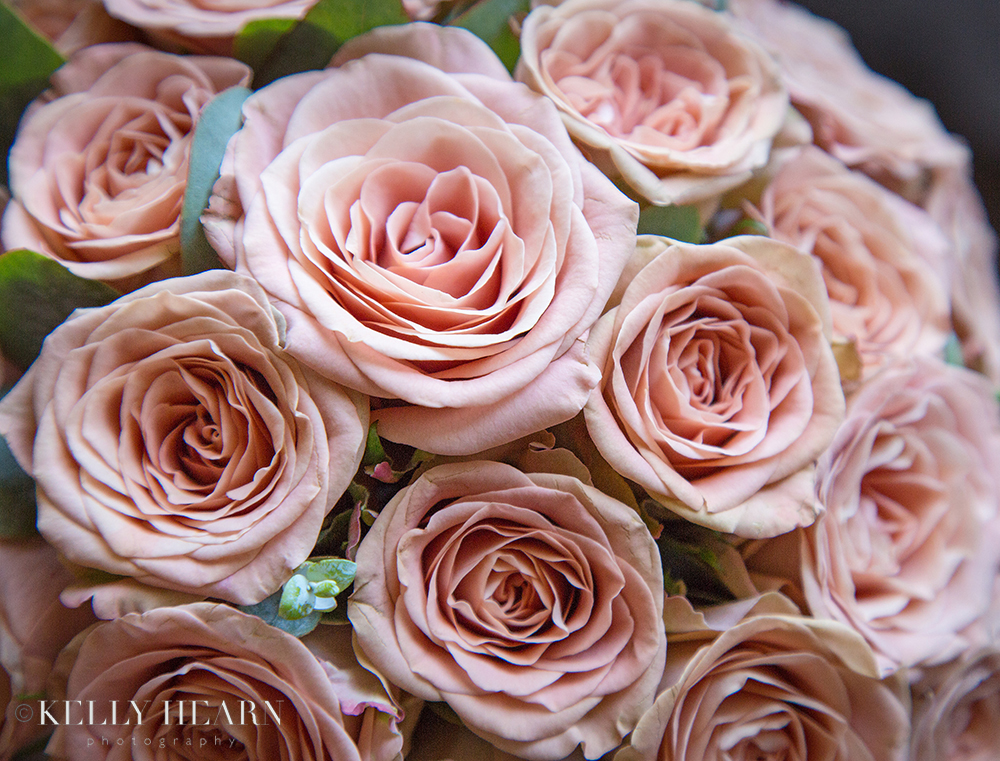 As bride Sue entered through the door into the grand beam-lined barn, the laughter and joy at seeing Neal broke any tension and nerves as she graced the aisle to meet her groom. Expectant guests filled the room, seated on classic white Chivari chairs finished with pink organza sashes. Their anticipation of Sue's arrival was softened by her laughter at the door and the following heartfelt ceremony which followed. It was truly endearing to witness these two tie the knot with beaming smiles all over their faces!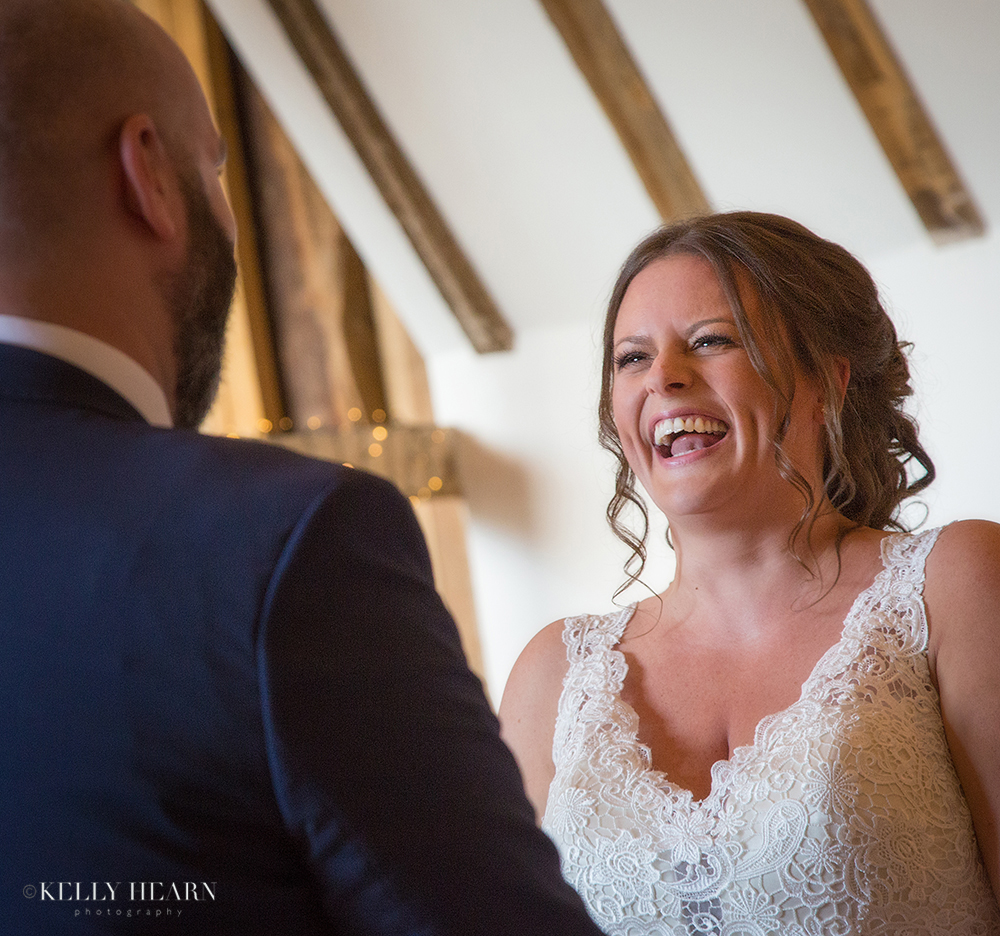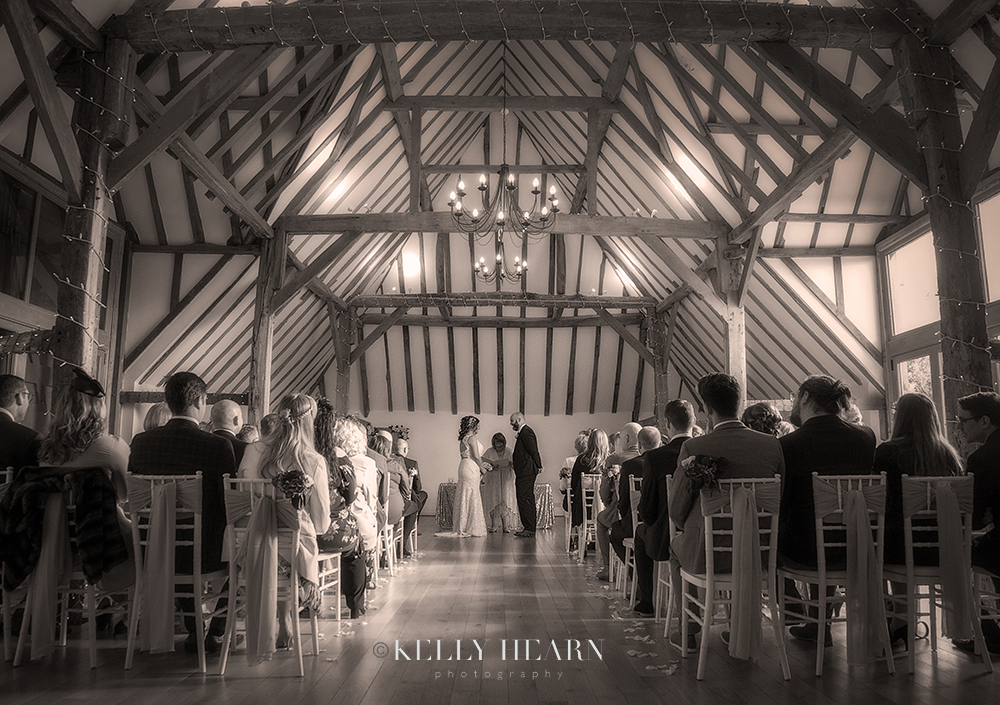 Neal's close friends celebrated outside with a whoop and a jump whilst Sue's female entourage styled it out in a more glamorous fashion!

Capturing some group images of the newly-weds' dearest friends was high on our agenda and whilst traditional group compositions have their place, it's always nice to have a bit of a laugh whilst capturing the couple's cherished guests. I believe these silly moments are best experienced and preserved as the fun memories in the mind and heart, as well as in the final cut of the wedding album!


Soaking up the last of the autumnal lowering sun with it's warm glowing rays, we ventured to the nearby meadows for some romantic and relaxed images of the bridal party whilst also capturing the bride and groom enjoying a minute of peace and reflection by the water's edge.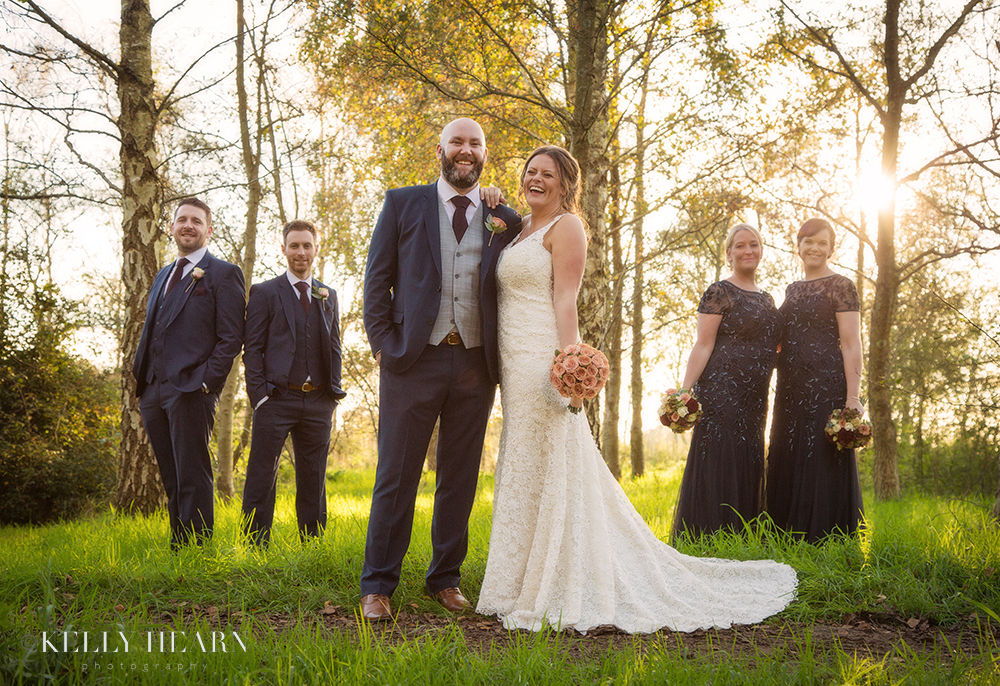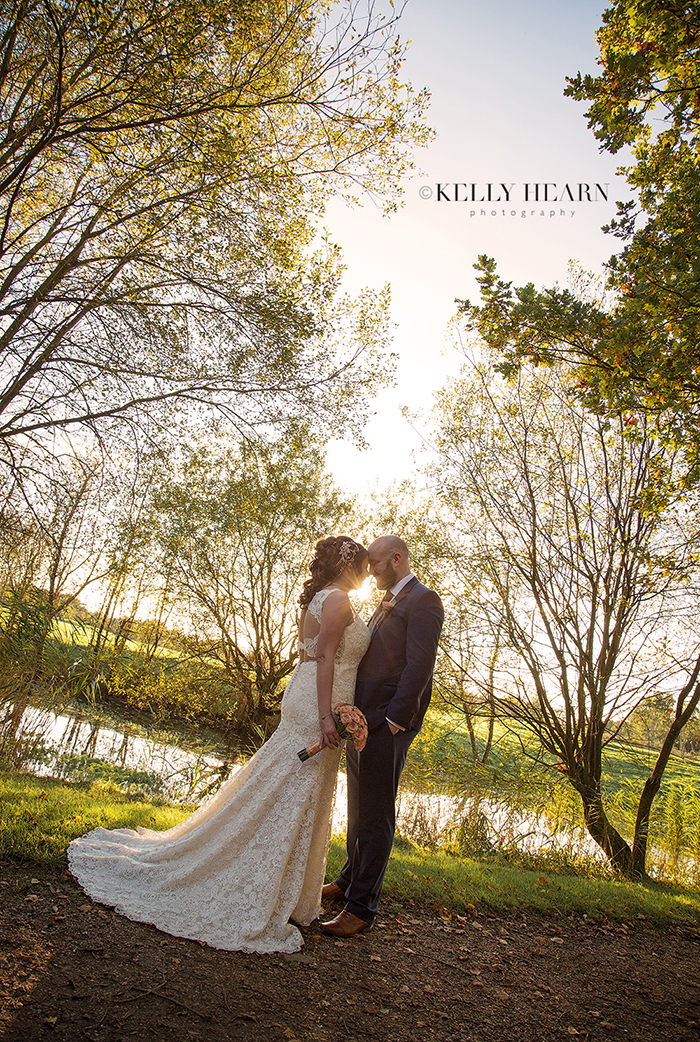 Hitching a ride back to the country club's restaurant and bar, Sue and Neal travelled in style in the back of a golf buggy through the scenic manicured grounds of the large green golf course. The white canvas of a reception room was ready and waiting, laid up and beautifully dressed and bedecked in theme colours ready for guests to be seated.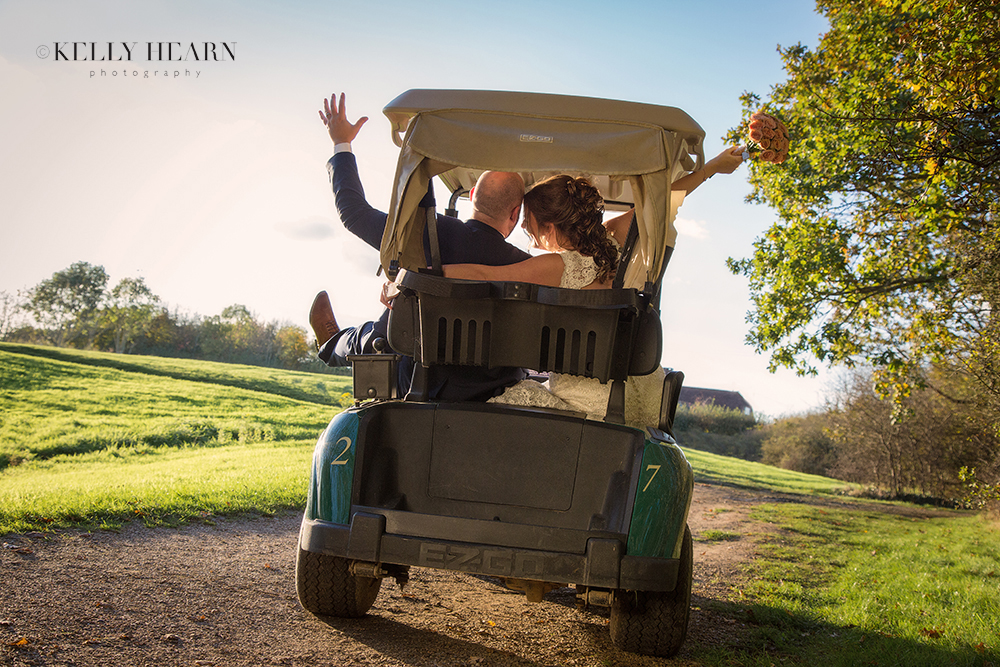 Navy table cloths and table arrangements of deep red and pale pink roses emulated the contemporary floral design seen on the table menus, the colours and design which also provided the inspiration for the navy bridesmaid dresses, navy groomsmen suits and floral decor choices. Golden laser cut wooden table place names imitated the font of wording seen on the stationery and was a lovely creative touch helping to tie the whole theme together seamlessly.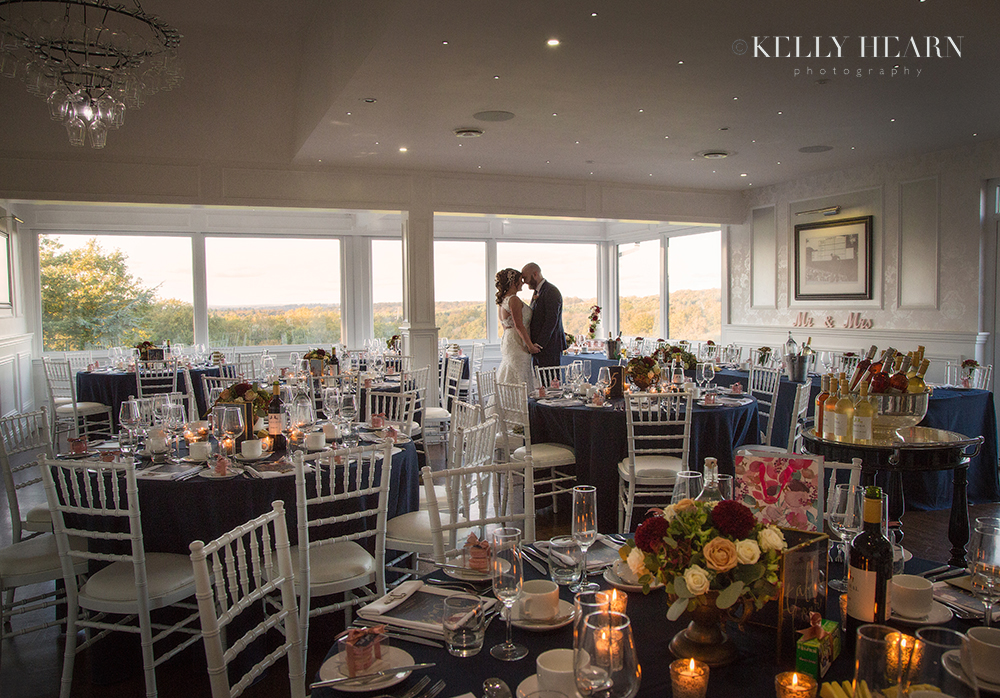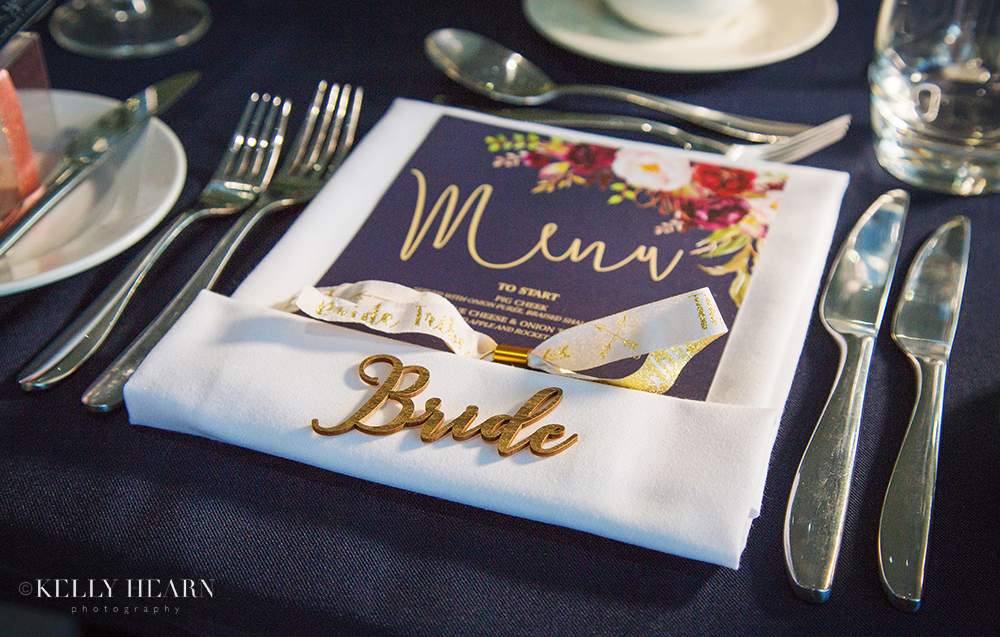 A three tiered white iced wedding cake crafted by Tartufi Cakes showed off an elegant garland of fresh roses which also helped to cement Sue and Neal's theme, and my, it certainly looked as delicious as it did pretty.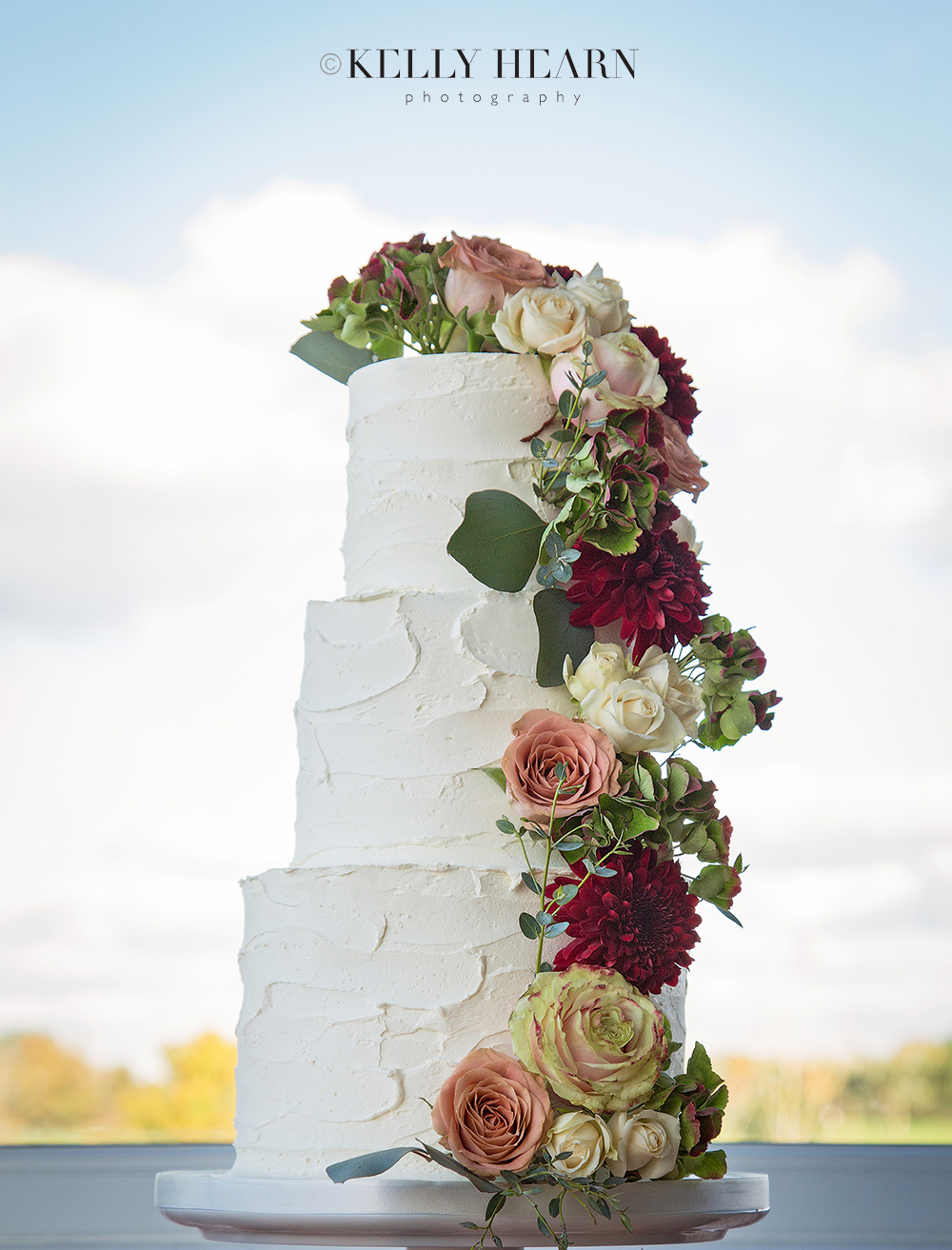 What I loved about this venue was how it worked well for us through every changing hour of sunlight, through dusk and then long into the evening. Sue and Neal escaped briefly outside with me whilst guests were happy dancing the night away and we returned to the barn entrance to capture some magical glowing evening shots.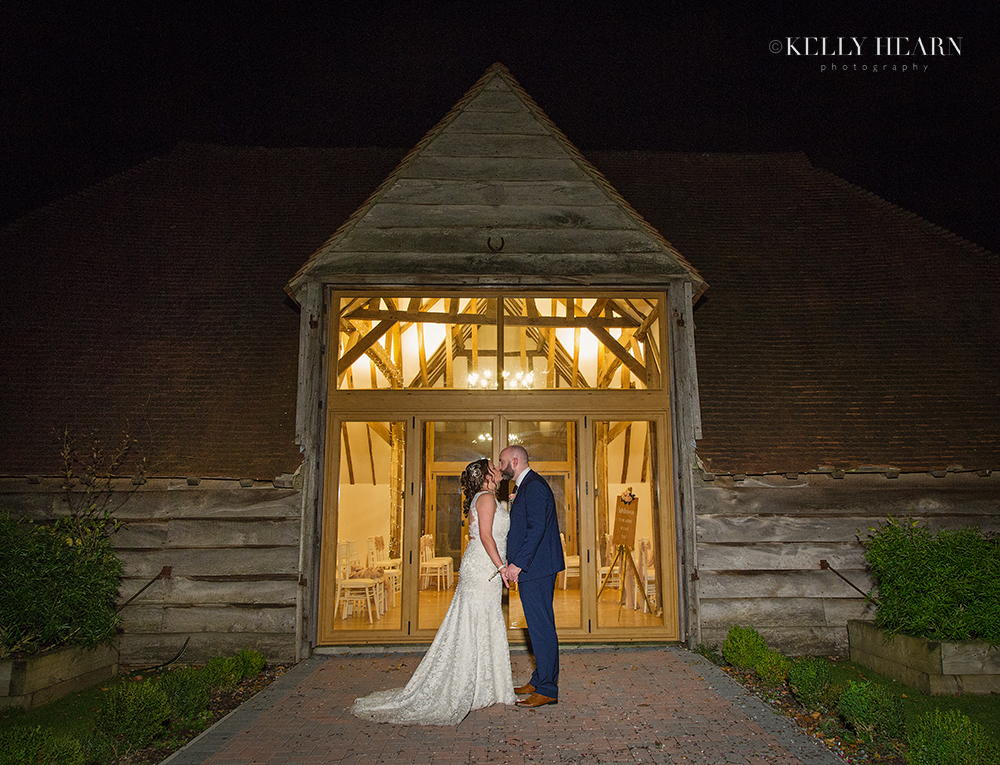 As the moon shone through the clouds, the venue's landmark skylark silhouette glowed in the background as the couple stood together for their final inspiring photographs, the impressive shadows adding drama to the scene and creating a epic atmosphere as the day drew to a close.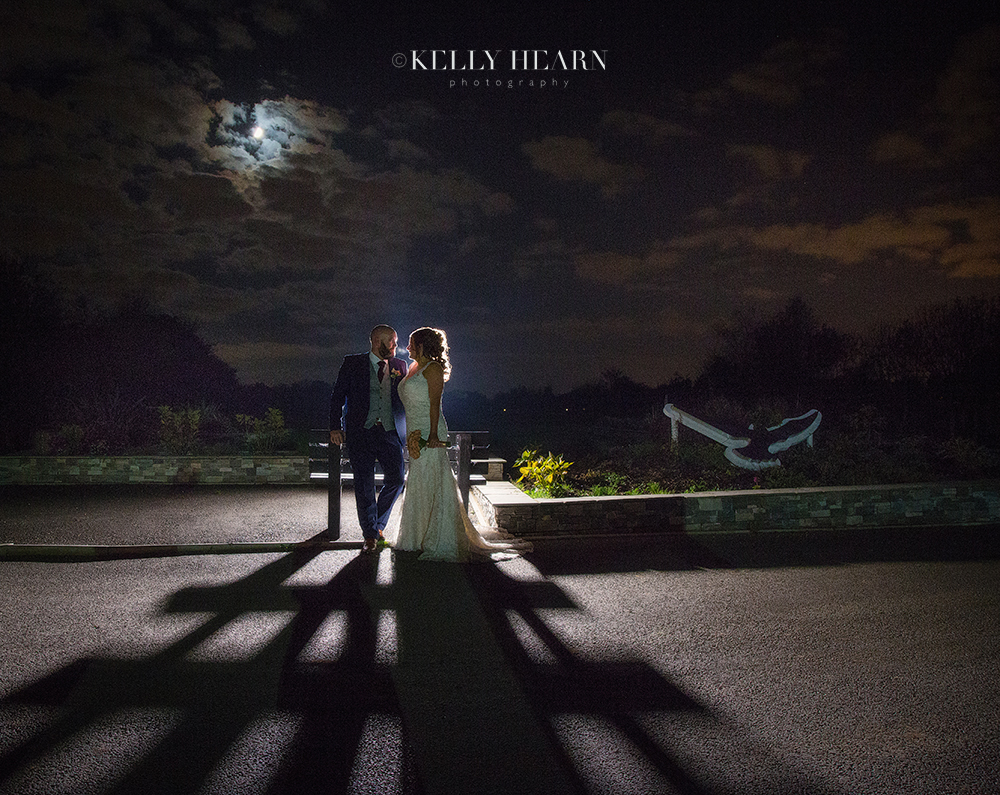 Mr and Mrs Hills, thank you so much for inviting me to photograph your relaxed and fun day full of laughter and smiles. May your future be full of many more landmark moments, ever-changing skies and promises fulfilled. Congratulations!

Love Kelly x
Kelly Hearn A.B.I.P.P - A.M.P.A