Just peachy
November 20, 2017
Rachel & Rich's Summer Southend Barns Wedding
Rachel and Rich married early September as the outdoor bright summer tones were naturally and beautifully conceding to reveal warm autumnal tones. In perfect synchronicity, this couple's peaches and cream colour theme was totally on point for this late summer's day in 2017 and showcased a feminine touch that any future bride would aspire to match. Large peach peonies, seen in the bouquets and floral decor nestled amongst ivory and pale pink roses, established the day's colour palette across the beautiful old barn venue, helping to create a soft, romantic and elegant ambience.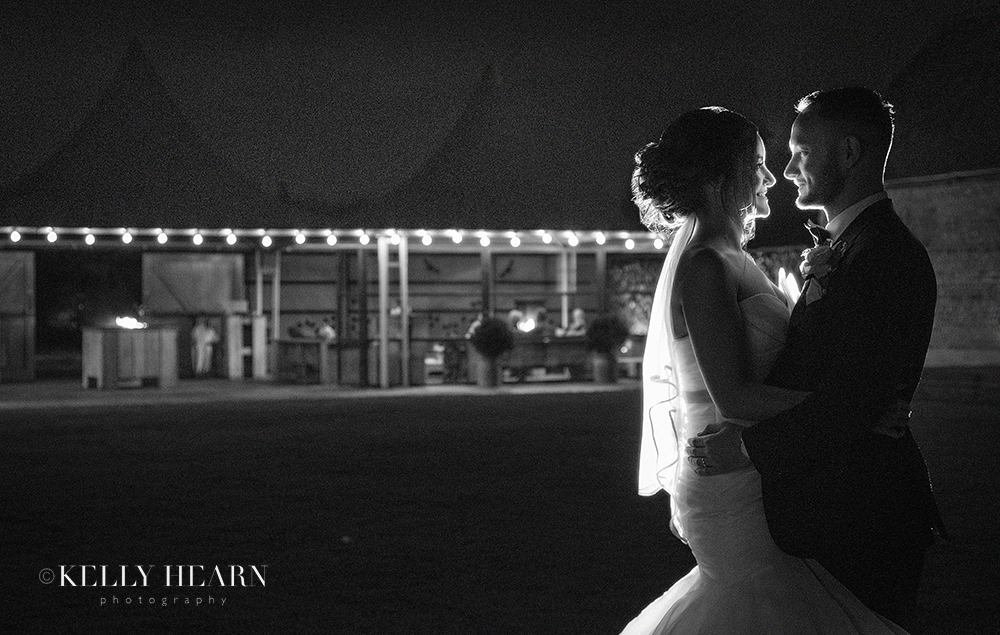 Marrying at the South Coast location of Southend Barns and being local to the seaside, Rachel along with her family and bridesmaids rented a beautiful beach-facing property in which they stayed before the wedding to celebrate, relax and soak up the sea views together. On that cool crisp wedding day it would have been almost rude not to boast of the coastal beauty that accompanied that lovely morning of preparation; the soft blue and grey tones of the seascape merging into sky creating soothing backdrops to Rachel's muted peachy bridal accessories. With Rachel's bouquet hovering above the water and her pretty shoes sat balancing on the wall, it was almost as if she'd jumped right over to go and have a quick dip in the blue!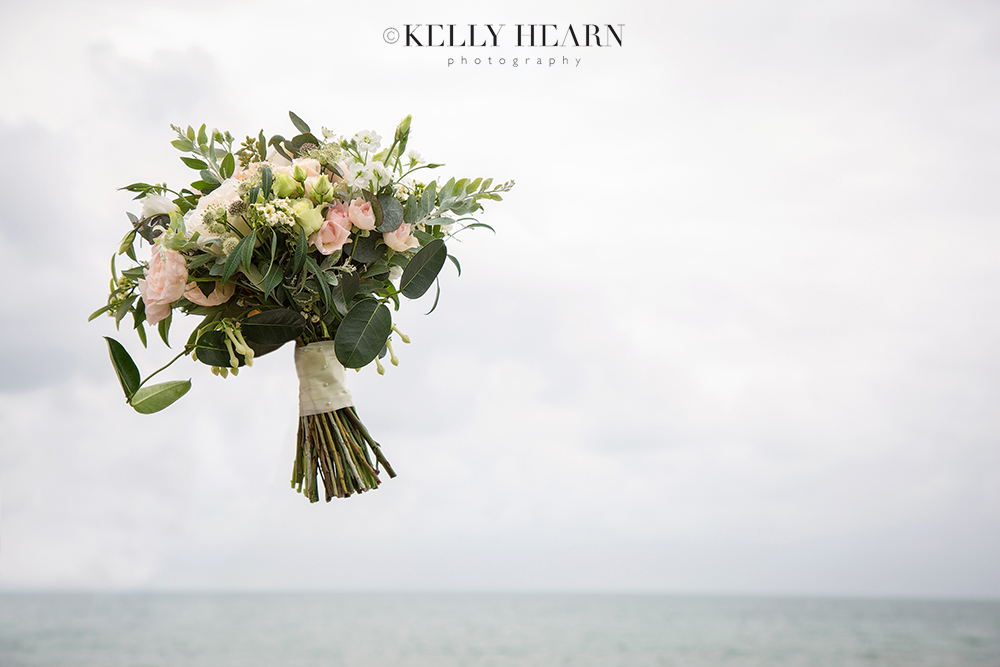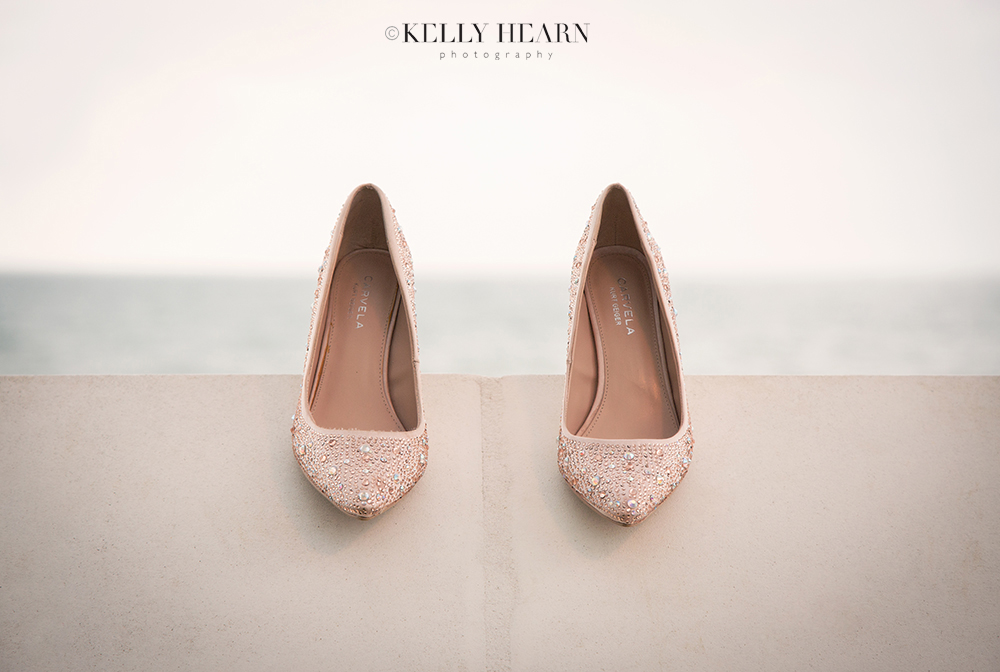 Rachel had her amazing friends to apply her makeup and style her hair whilst her Mum was on hand to help with getting into the beautiful trumpet style gown. With a fitted ruched bodice and flaring organza layered skirt, Rachel looked stunning as her Mum tied a delicate little peach waistband around her, complimenting her bridesmaid's long peach gowns and her pale coral peony bouquet, designed and arranged by Rose Cottage Flowers.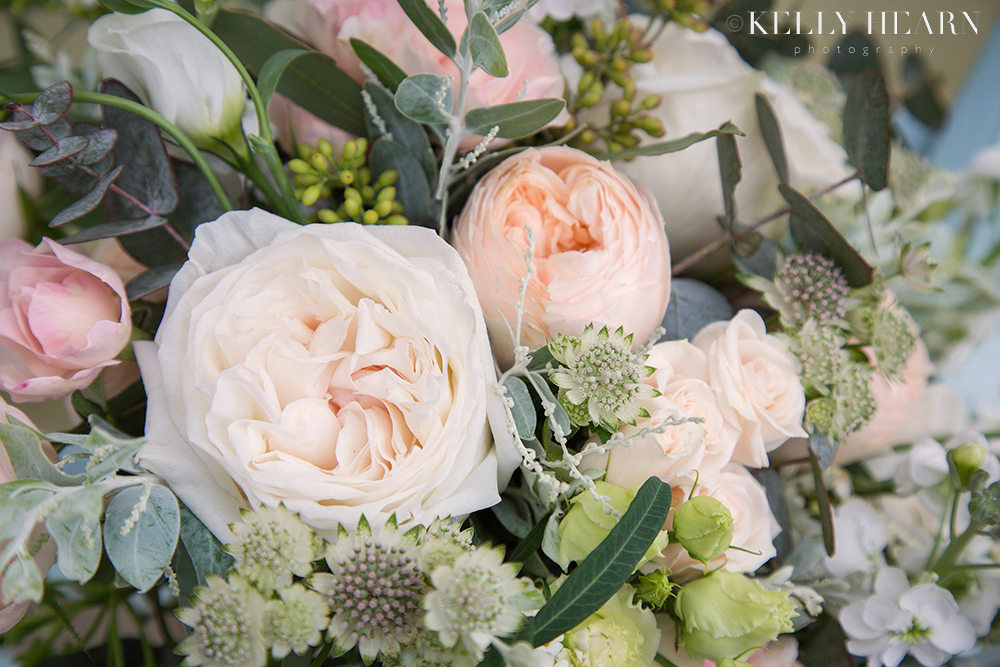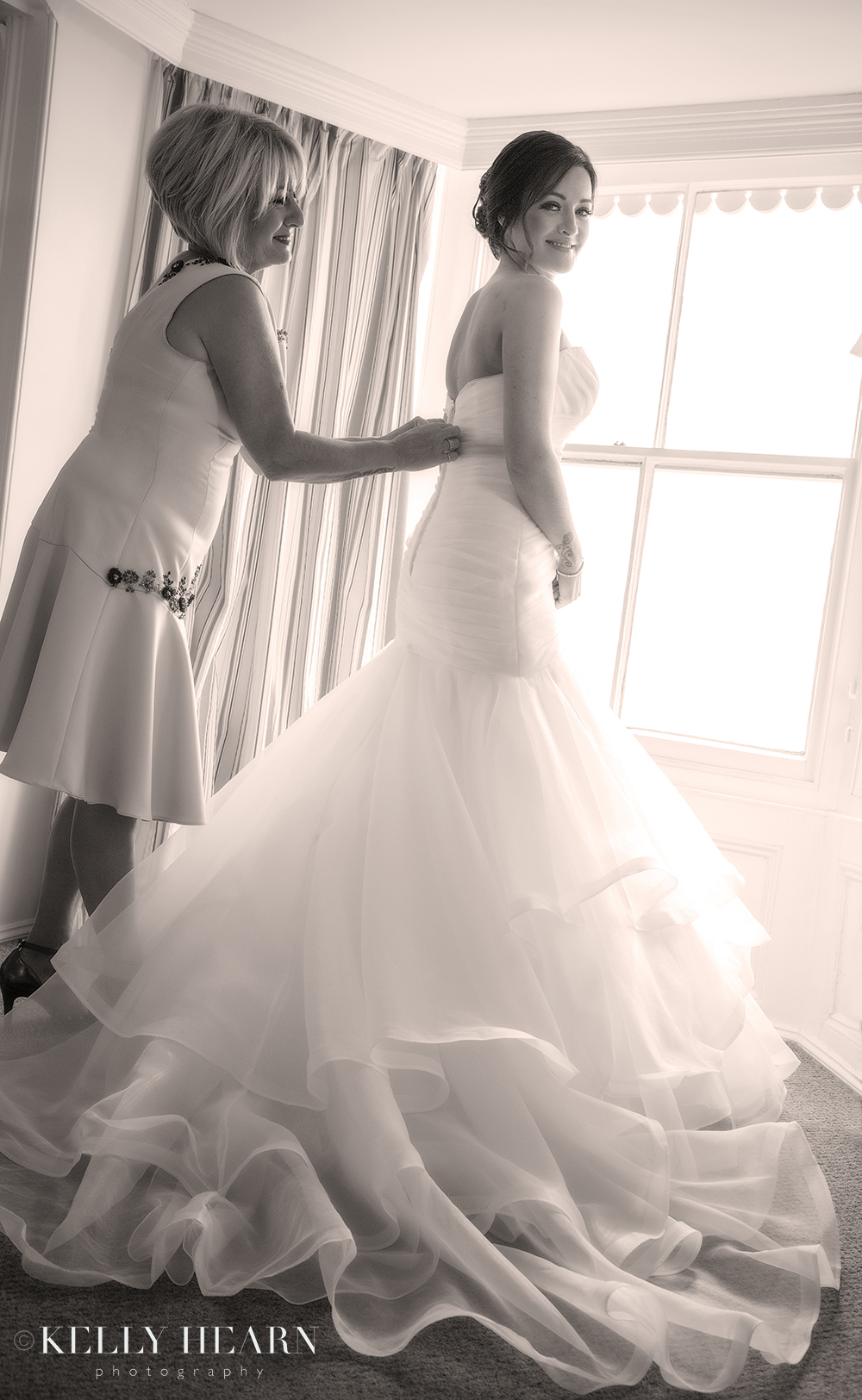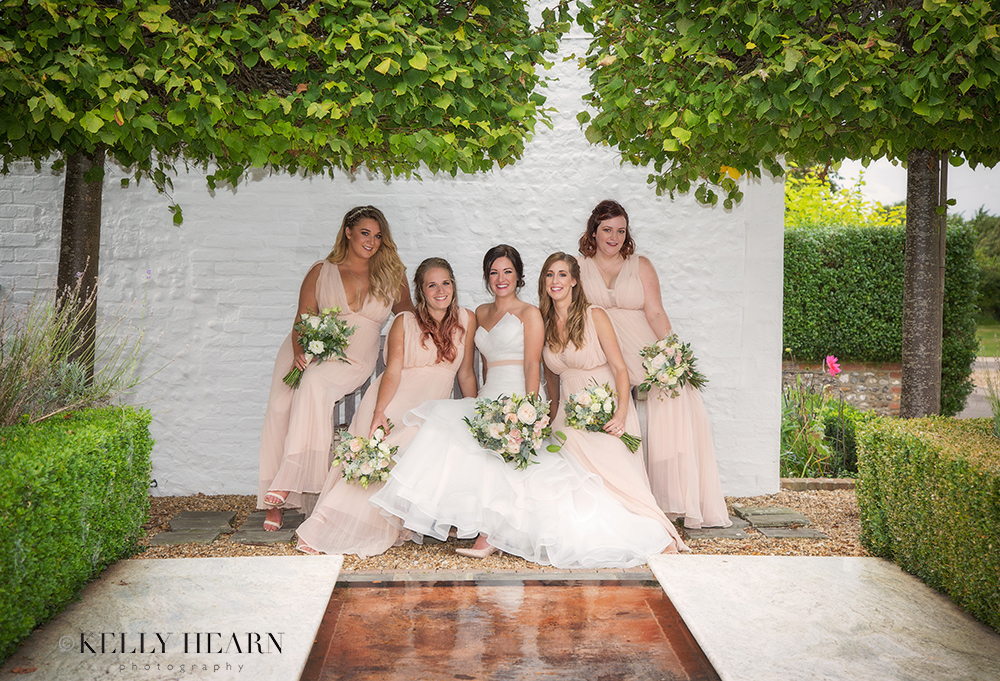 Rich was also up to his neck in flowers over at the barns as he was getting ready with his best man and groomsmen, securing the all important button holes! Donning grey check double-breasted waistcoats and bowties, these guys stepped up the modern navy blue suit with skinny trousers by adding some traditional value with these details, and they looked strong! Their unity and group solidarity was aptly represented here in the triangular composition of the following group shot where Rich is surrounded and supported by his trusty entourage of groomsmen and some very sturdy looking triangular shaped trees!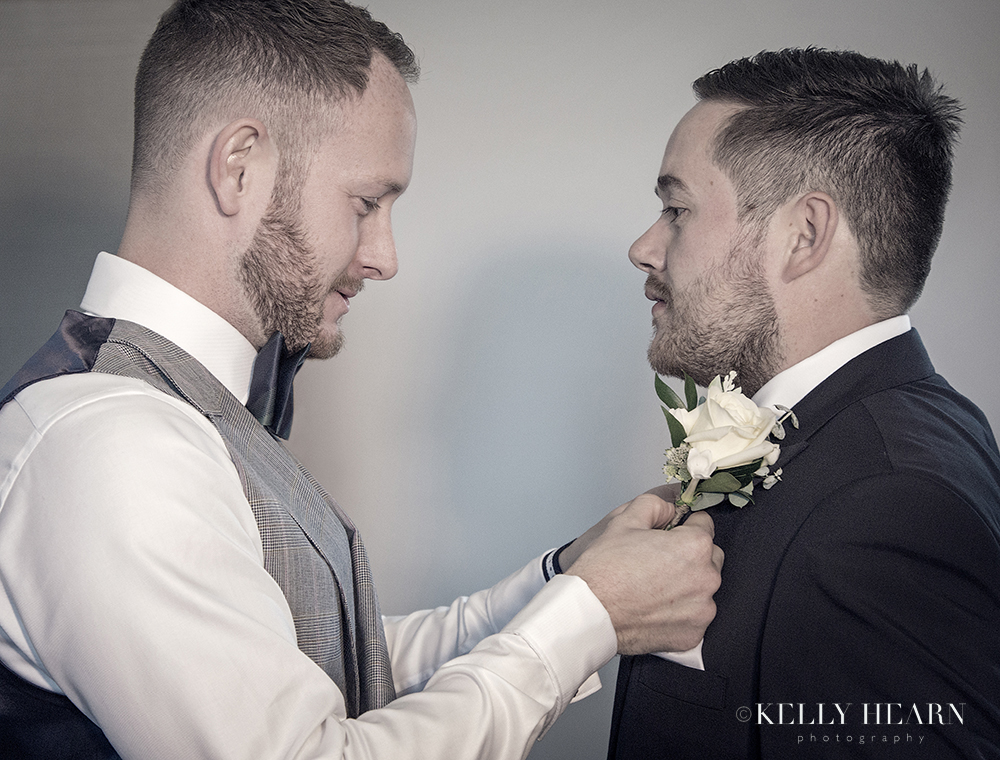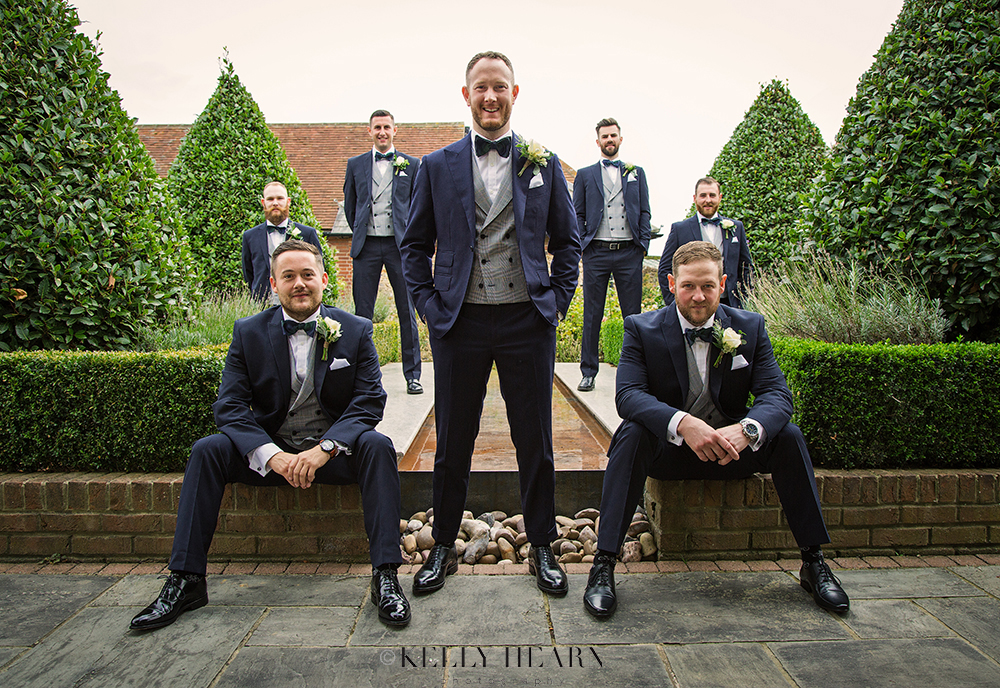 Before we knew it the couple were exchanging vows, wistfully hand-in-hand and gazing into each other's eyes as family and friends witnessed the metaphorical knot being tied in the Dairy Barn. Both mums were honoured with the privilege of reading at the ceremony, making for a close family focussed service with a warm and tender vibe.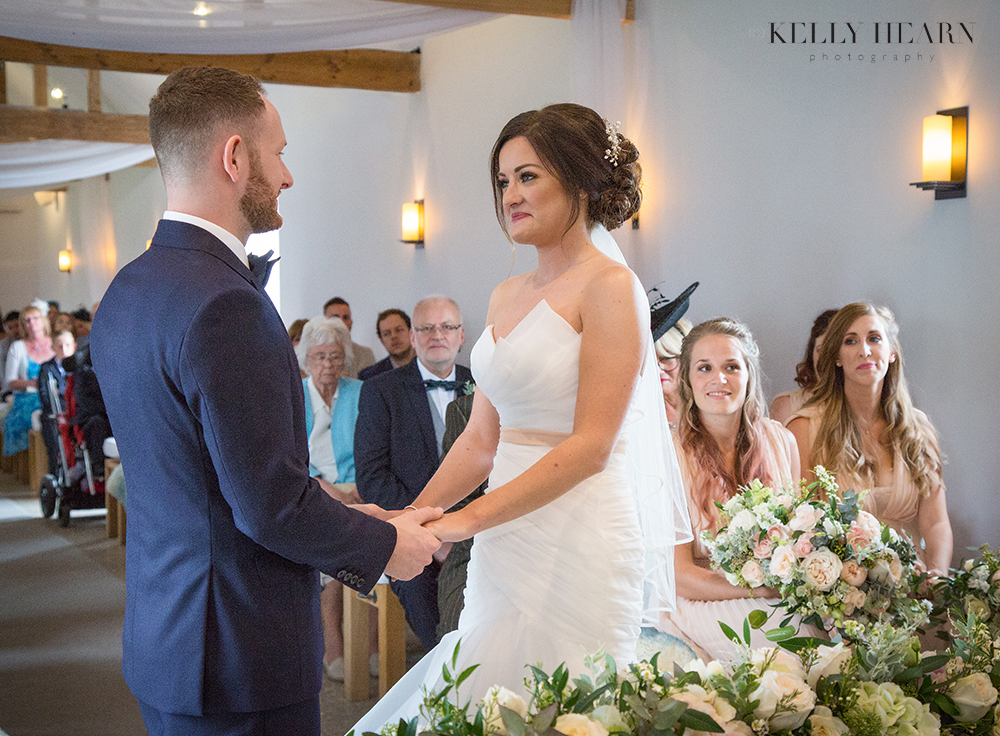 Now newly married, it was lovely to be able to capture the groomsmen standing by their long-cherished mate, and his new titled wife! Again, the strength of this group is echoed in the symmetry of the shot, and I loved how the strong shapes of the garden's manicured trees and hedges reflected a kind of stability and form amongst this group.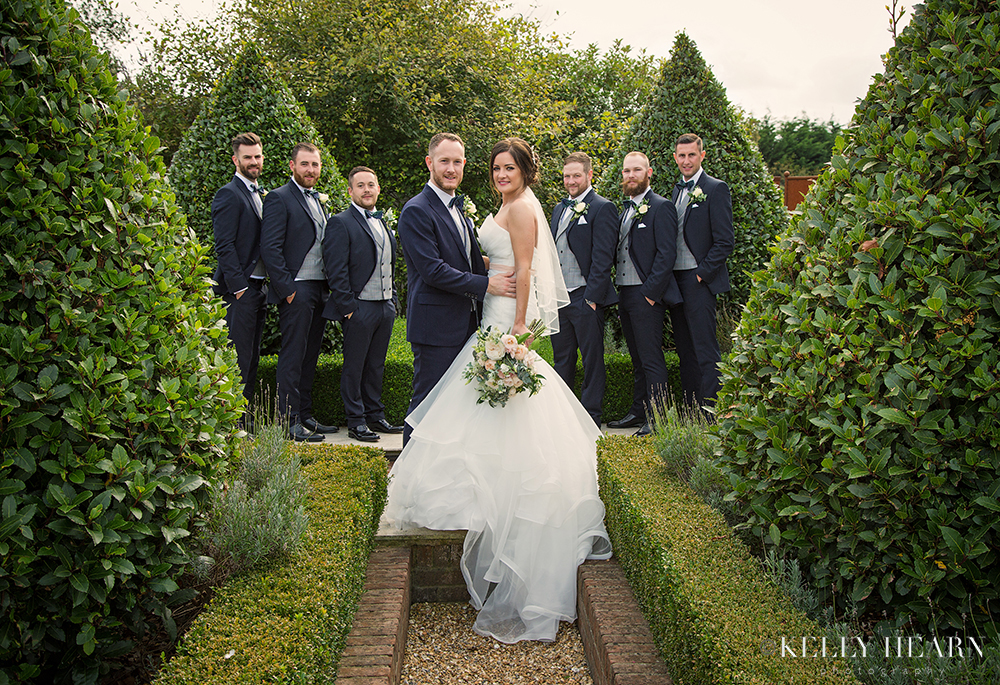 Taking a freer kind of approach to their group pictures, the bridesmaids were let loose in the barn's neighbouring field where they giggled and laughed and threw bouquets in the air without restraint - giddy with excitement at their long-time good friend's new-found married status! (well, girls will be girls!)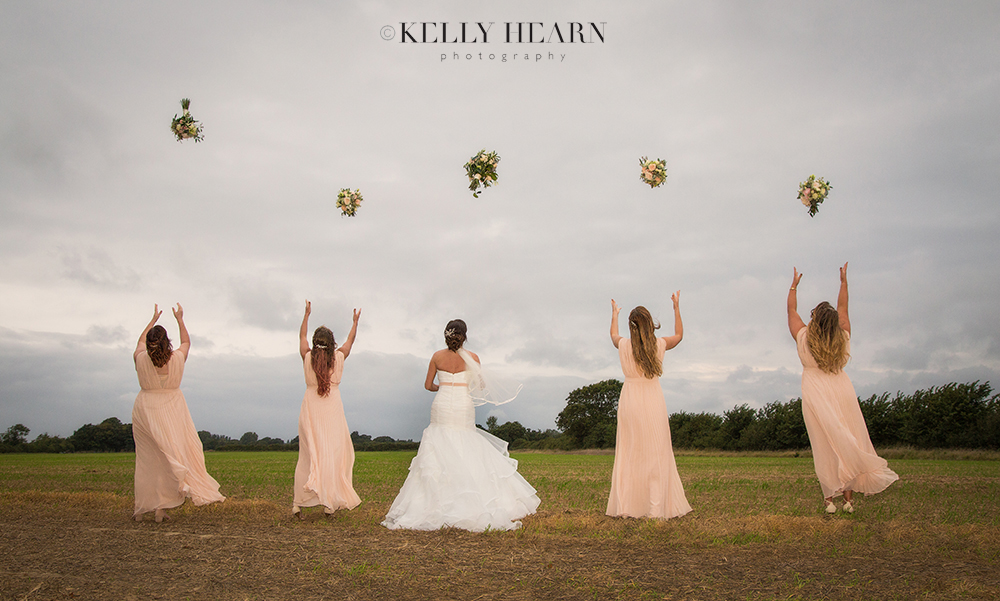 When it came to the reception, so much thought and care had gone into the details which was apparent in how everything tied together seamlessly and with effortless style and elegance. The table plan was decorated with a handcrafted floral frame, lovingly made by Rachel herself. It perfectly reflected the flowers in the bouquets, table arrangements and top-table garland, with the colours in keeping with the peaches and cream theme. A delicious looking three-tiered semi-naked cake was also decorated in the matching florals and greenery and was presented with a touch of rustic charm as it sat proudly on a simple wooden log slice. On similar log table centrepieces, Hendricks gin bottles displaying coordinating flowers and varying photos of the couple themed each table uniquely.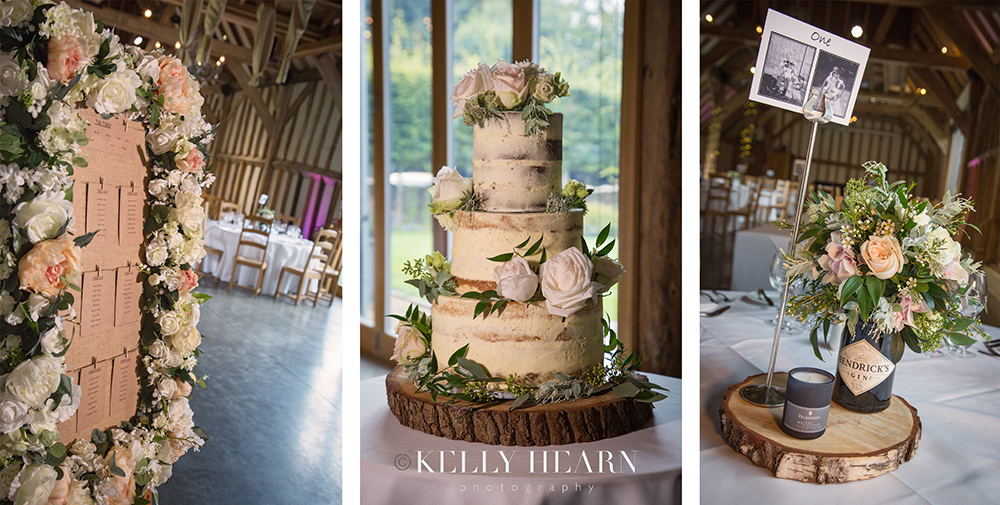 The Threshing Barn where the reception was held, is an old barn full of old original oak beams and Rachel and Rich had included little thoughtful touches that successfully added to the rustic feel of the day. The hand-stamped brown luggage tags tied around napkins with hessian string acted as name places and were finished with a little sprig of fresh rosemary, whilst endless breathtaking flowers seemed to adorn every area of the lovingly restored historic space.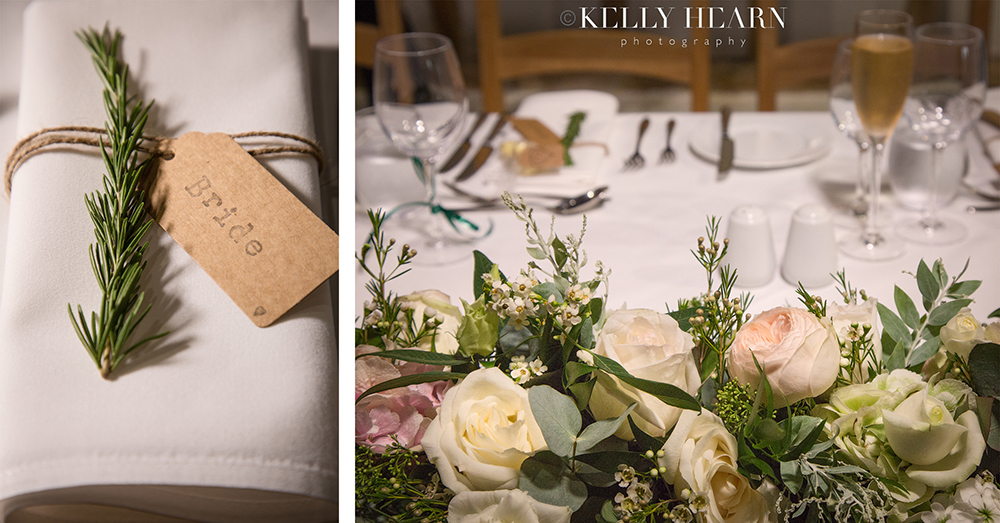 After a fantastic meal and following tradition, next on the agenda were of course the speeches. Unusually, the top table consisted of all the groomsmen and bridesmaids as Rachel and Rich had decided to go against this one tradition and chose to sit with their siblings and friends. So, it was fun to see various speech-makers pop up in their seats around the room to deliver some very funny and highly entertaining words to Rachel and Rich, evoking various reactions including laughter, horror, embarrassment, and surprise! A couple of cheeky one-liners definitely left a few of us guessing!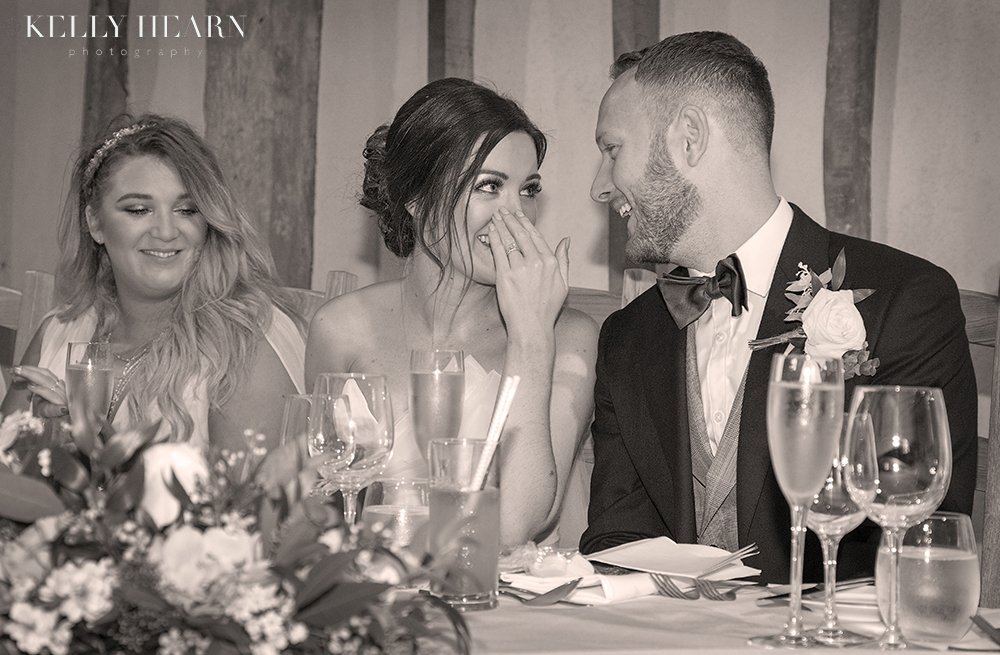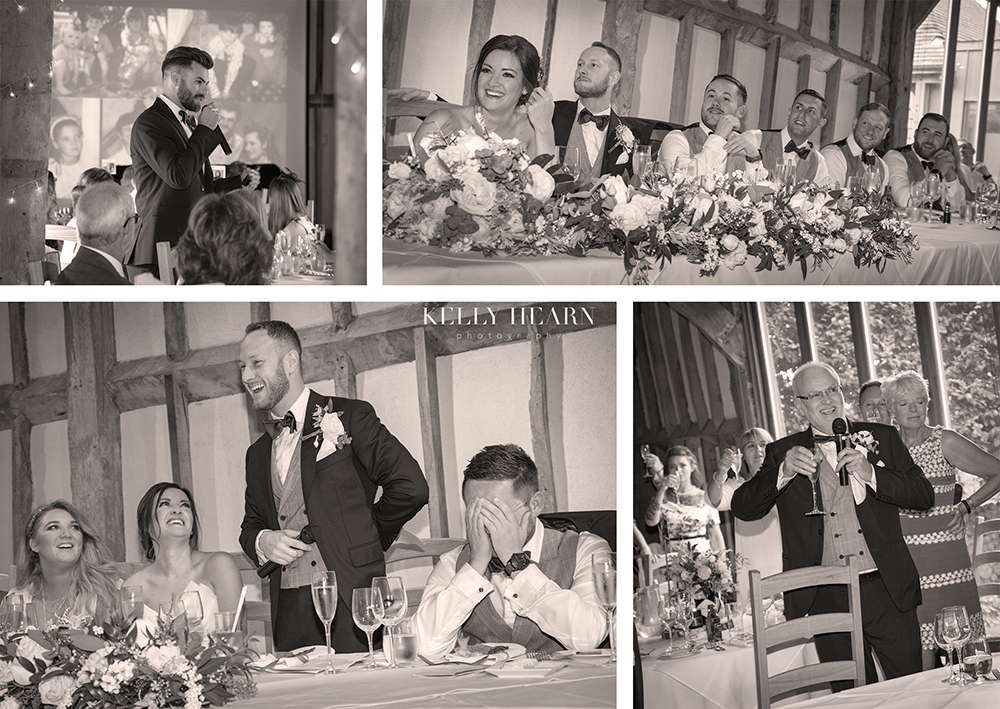 So as this slightly windy wedding day came to a close it was clear to see how the happiness of Rachel and Rich was so authentically celebrated by all those around them. The banter and laughs enjoyed by so many friends and family who joined them on that September day, will remain in all our memories I'm sure, as well as in the images captured that will hopefully be reminders of great times forever more.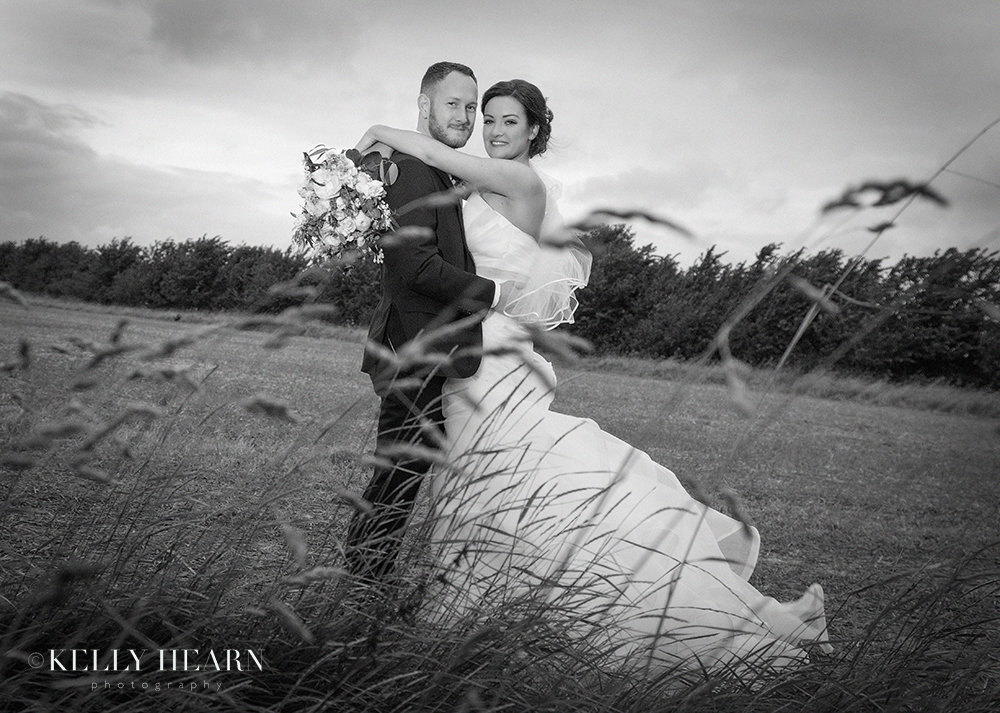 Congratulations Mr and Mrs Harmer, it was a lot of fun to be a part of your special day and I wish you every happiness for your future together and that everything is, well,... just peachy!

Love Kelly x
Kelly Hearn A.B.I.P.P - A.M.P.A