Another Fabulous Wedding Experience Evening with Nibbles 2 Nosh
March 17, 2017
Nibbles 2 Nosh's Wedding Experience Evening took place at Upwaltham Barns in West Sussex, an award winning wedding venue that is very close to my heart. As it is such a popular venue, over the years I have photographed there time and time again and in the summer it almost feels like my second home! The work ethic of the team is always such a pleasure to be part of - the staff are efficient, professional and nothing is ever too much, but you can really tell it is run by a family who are passionate, caring and full of consideration, warmth and fun.

I feel very honoured that the team have asked me to capture their 'Wedding Experience Evening' for the last four years now, and I am always really happy to be involved. The evening is a chance for all future Mr and Mrs to get a real feel for this incredibly gorgeous and versatile venue; to see it decked out in all its finery and think about how they might like it to look, feel and sound, and most importantly sampling and choosing the tasty delicacies they will be feeding their guests. I find the evening a real celebration of all the hard work the team put in, a lovely chance to check out new touches and changes they have made, meet new and inspiring suppliers and of course to meet all the excited couples planning their big days.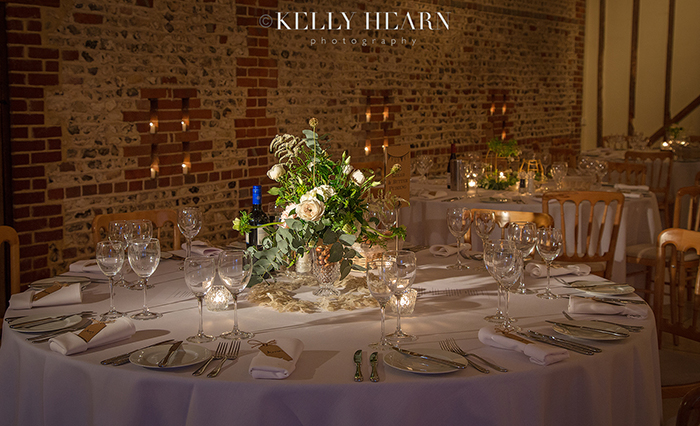 The food is a central part of the experience, lovingly created by the mother and son led kitchen team at Nibbles 2 Nosh. I love getting there early to observe all the behind the scenes action and capture a few shots of the gorgeous spread before it gets cooked and displayed. Here, canapes are being constructed, prawn and chorizo lay in well ordered rows ready for the oven, goats cheese is stacked and fluffy mini yorkshires are introduced to crispy delicious bacon.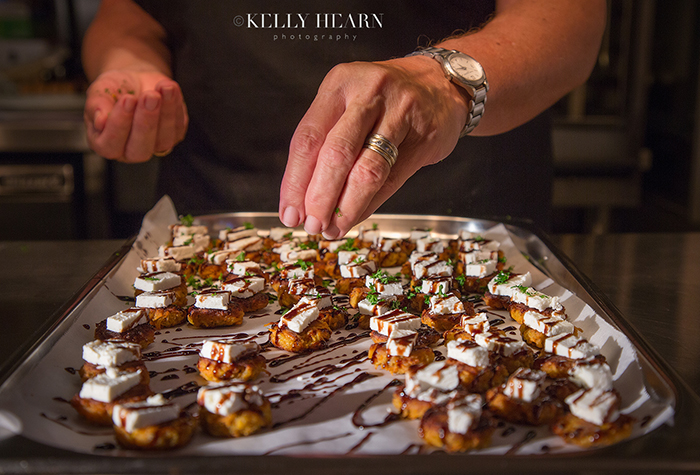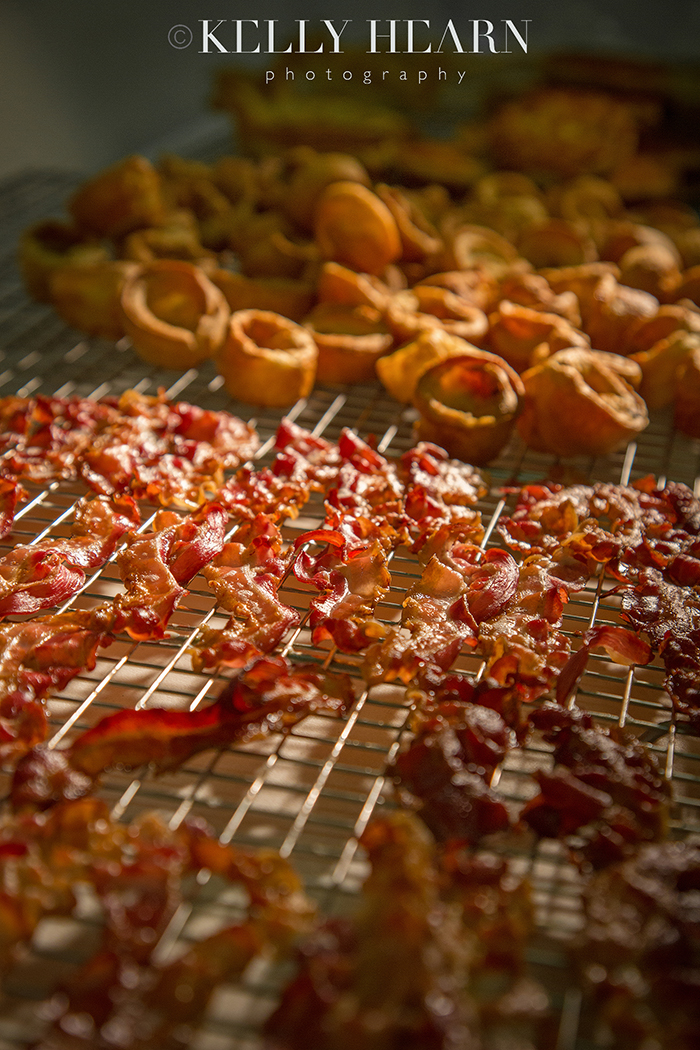 The team are constantly on the look-out for fresh combinations not only in the taste department but also in how they present the food. One of the many new touches for this season will be the canapes being served on these rustic and charming wooden trays, each framed with an elegant flower.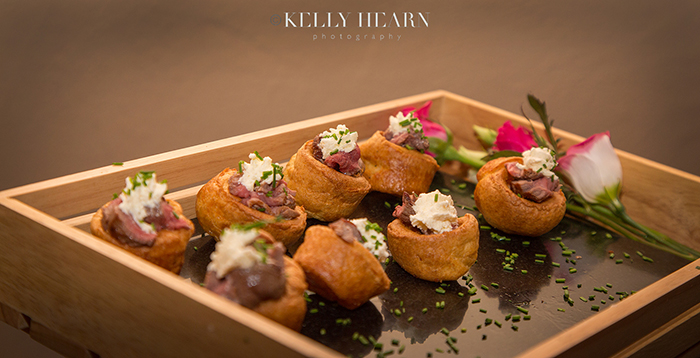 Another new addition to the venue itself is the gorgeous wooden floor laid down in the bar and indoor snug. Striking, simple and with a real country rustic feel, Upwaltham's Nicola and Tim are always at the cutting edge of what is on trend, while managing to maintain a feel of warmth and personality.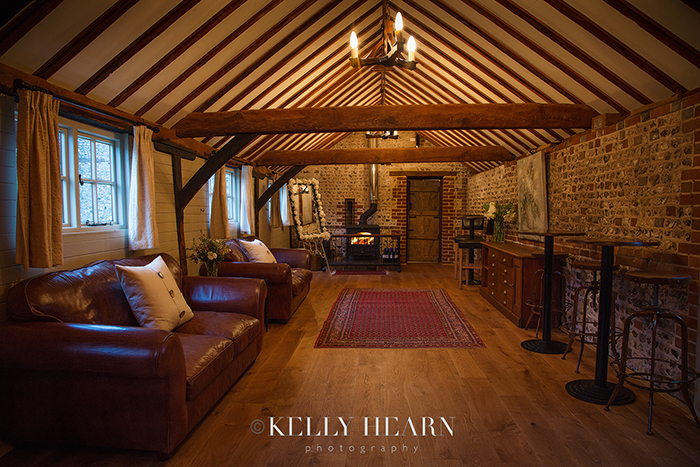 As the rooms filled up and came alive with the buzz of planning, laughing and mingling, the couples had the chance to catch up with venue managers and wedding coordinators including Nicola and Kate who are part of the family team that oversee the running of the barns. (For a little more detail on the team, see this blog http://kellyhearnphotography.c... )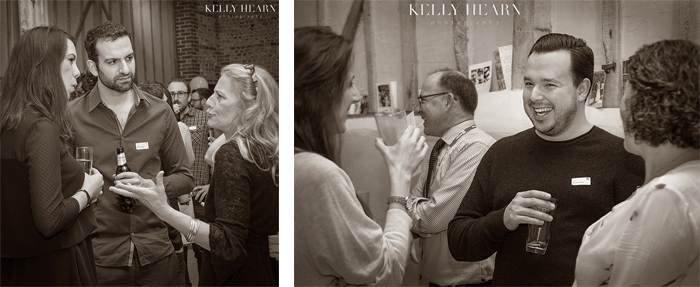 For me it was lovely to catch up with some of the clients who had booked me to photograph their weddings and have a chance to try out some more quirky shots! In this next image of Tom and Jess, I love the way they enthusiastically embraced my idea of peeking through the Upwaltham Barns emblazoned window, their faces showing their excitement and anticipation of this being their wedding venue!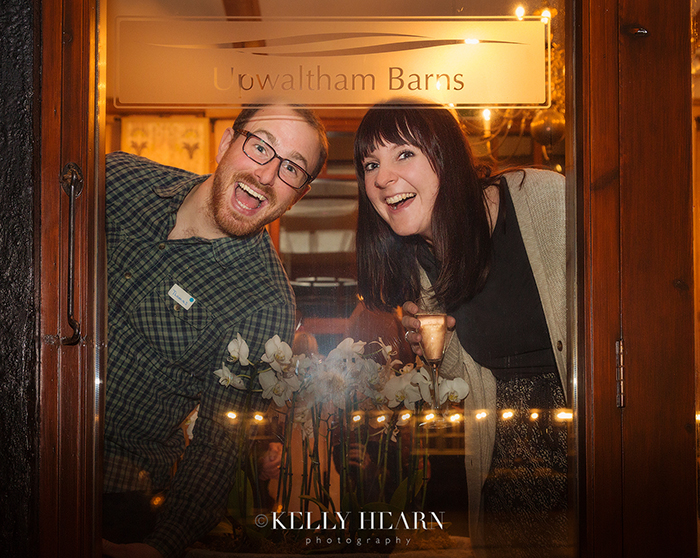 Also available for plans and chats were various suppliers and designers who work to put those delightful finishing touches to the big day. Florists Wild and Green, Quirky Covers, Vintage Tea and Pinks Vintage Ice Cream as well as Wedding Rose Videography were all keeping an eye on procedures and had brought a sprinkle of their magic to the barns. Not forgetting Upwaltham's very own bar manager Steve who was on hand to talk wine.
The South Barn (where guests are seated for the reception) was used as a showcase for couples to ooh, ahh and marvel at all the different ways they could add personal and magical touches to their day. The ceiling was a work of art; Colour Pop Occasions had suspended gorgeous white umbrellas which set off the crisp white tablecloths and green foliage interspersed with twinkling suspended tealights to add a touch of woodland mystery. Each table was decorated differently by florists Wild and Green; some with more geometric shapes complementing the wire and glass dangling decorations; others with a softer feel; roses, ferns and prettiness abounding.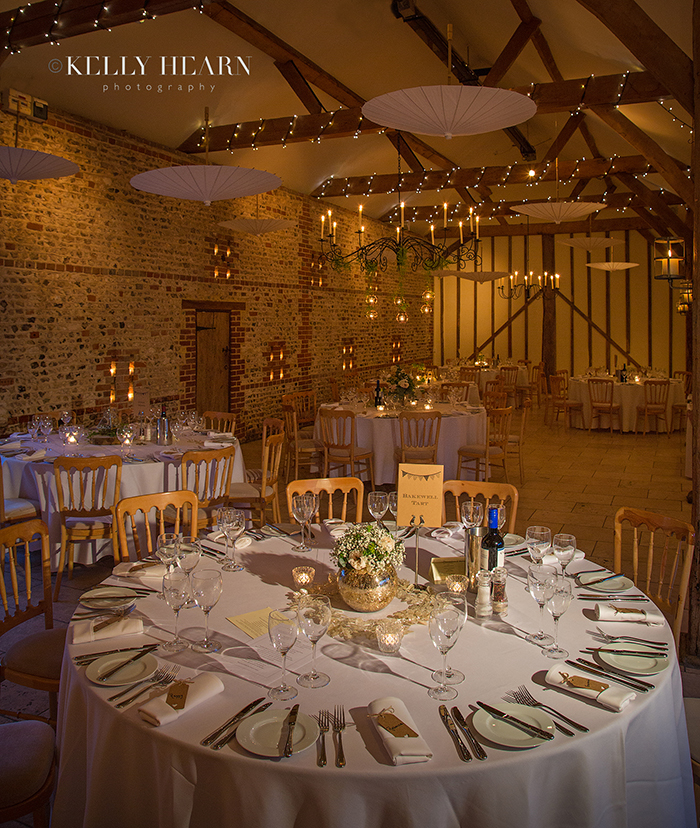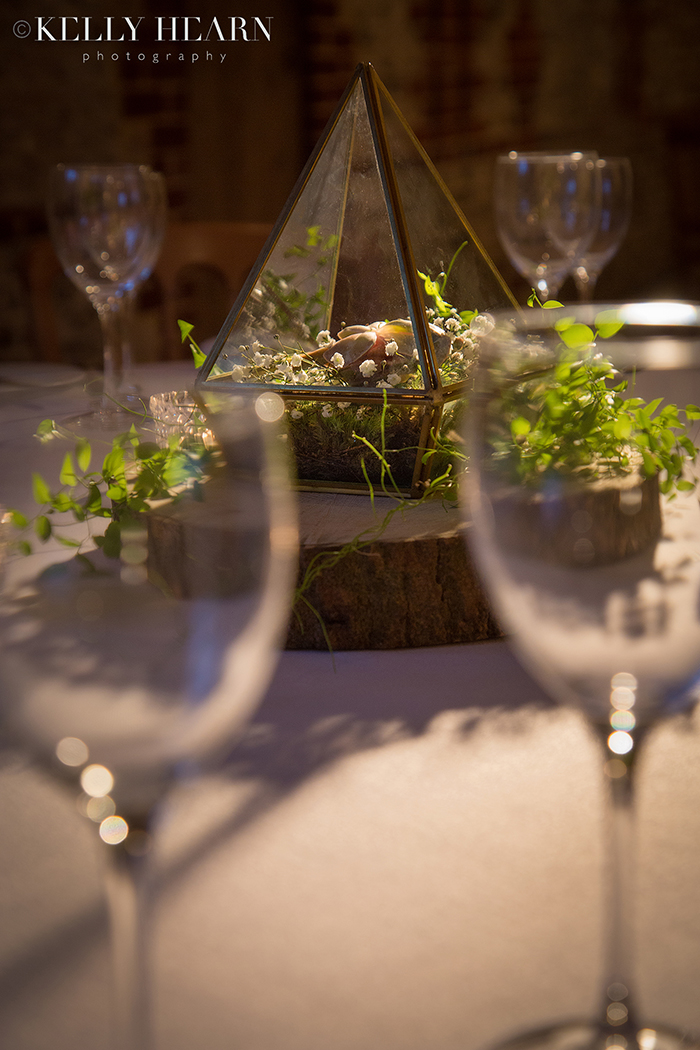 Outside, the darkness closed in and I captured the barns' exterior glowing beneath the deep blue sky. At the side of the barn sits Terence the ice cream van, whose owner Katy was happy to indulge me in a joyous little portrait. Back inside amongst the crowds, I then set to capturing the atmosphere in a more candid style, photographing florist Emma and vocalist Miss Amy Baker in action.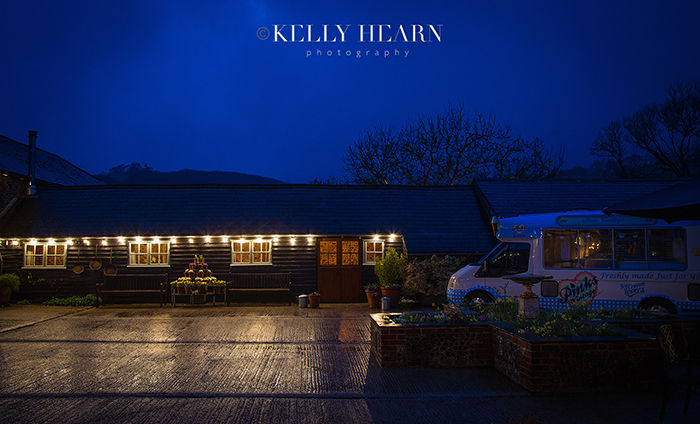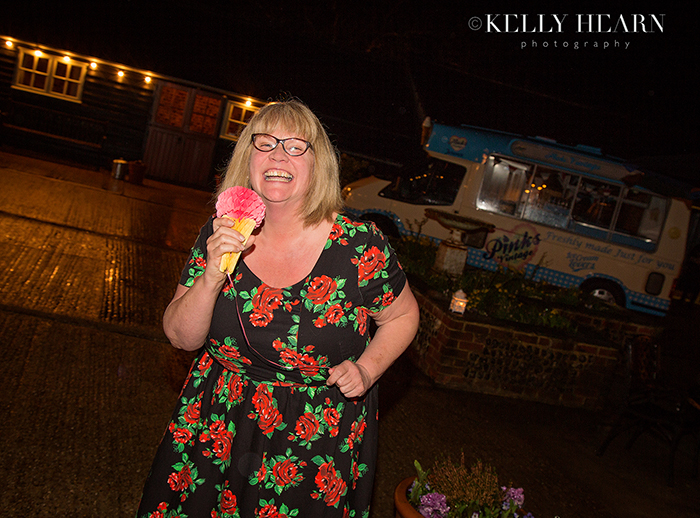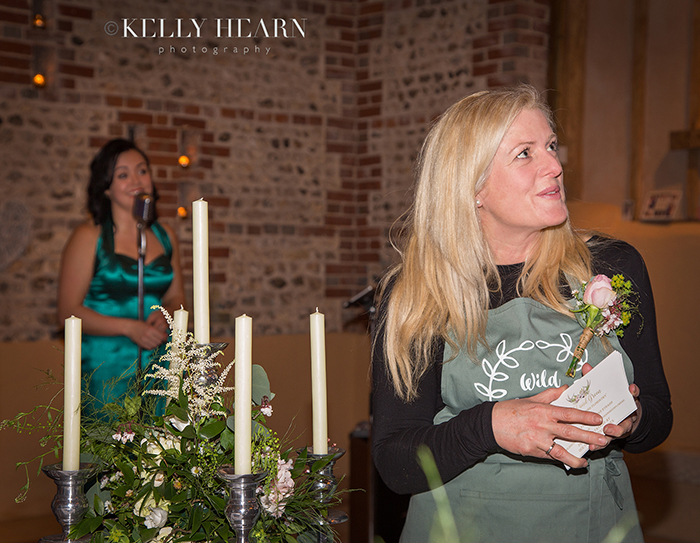 While guests had a chance to deliberate what beautiful decor they might chose, Claire and Simon, the mother-son maestros from Nibbles 2 Nosh, were busy putting finishing touches on the stunning food.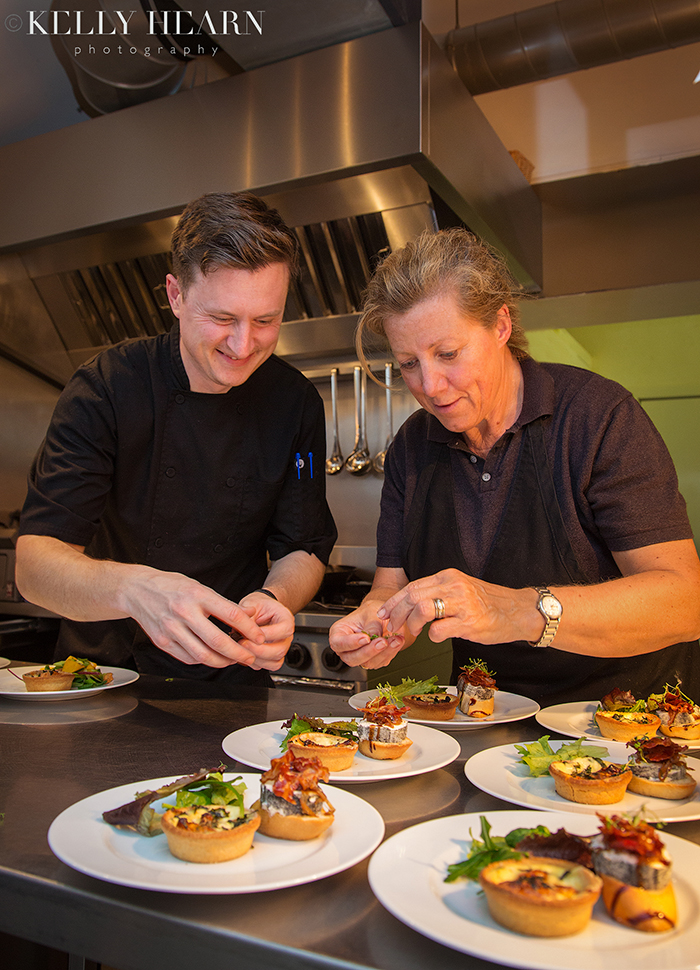 The results were a triumph! A small but mouthwatering selection is shown here; a sumptuous trio of starters, the veggie nest of balsamic veg on wild rice, medallions of lamb on a potato rosti with a mint and chilli dressing and a little taster plate of the amazing deserts they do so well. I enjoyed being creative in photographing the main courses. Noticing how colourful and textural they were in their layered stacks, I lit them from above to emphasise their depth and dramatic contrast in colour.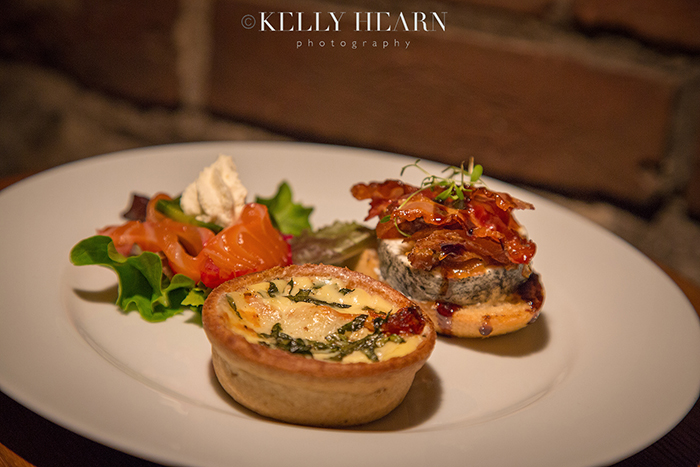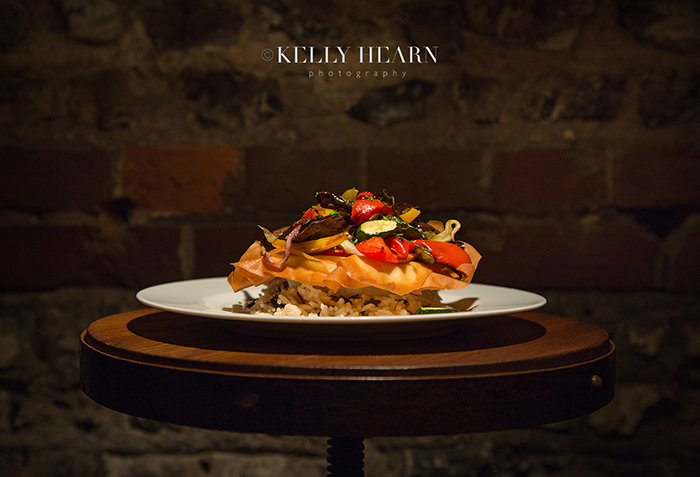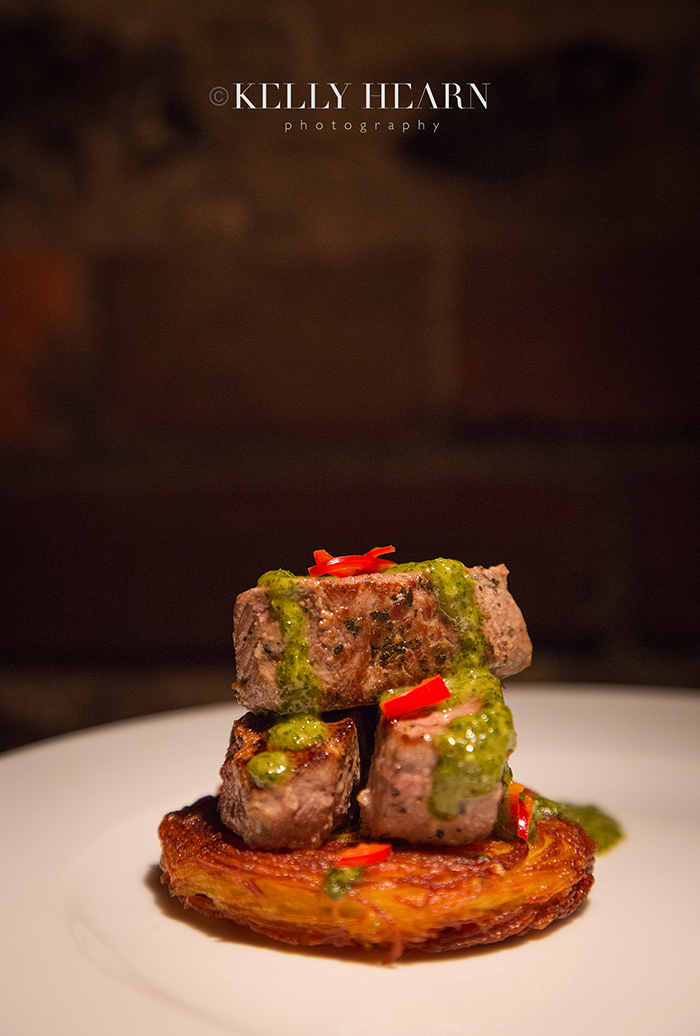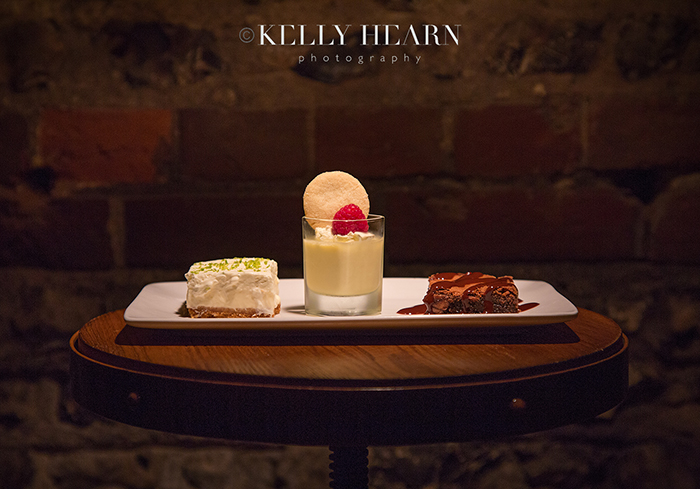 The couples were seated according to the dates of their weddings and you could feel they really started to relax and enjoy each other's company and ideas. With the DJ skills of Boombox Disco and the food flowing, I managed to capture some magnificent expressions from some of the interesting looking conversations taking place!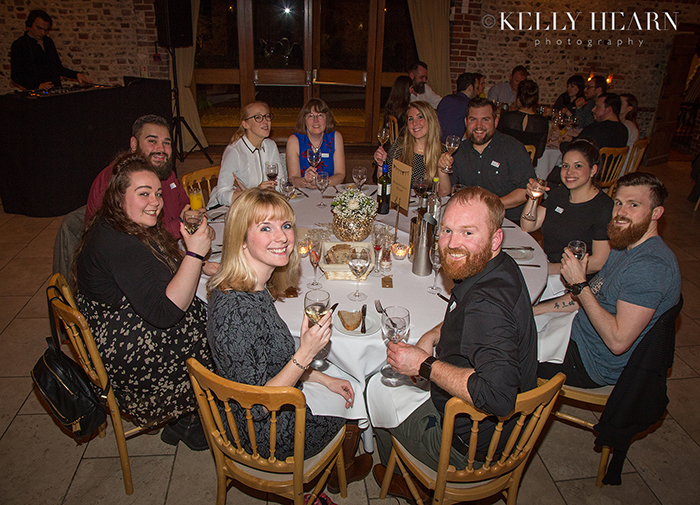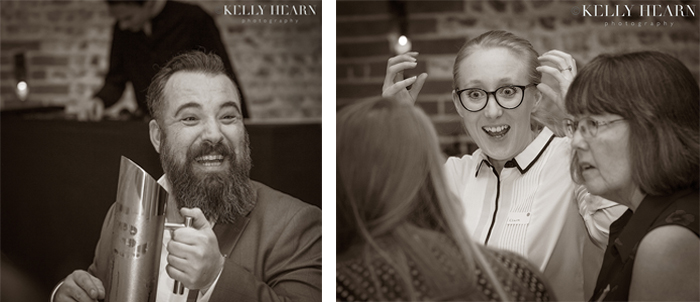 As the satisfied and smiley guests made their way home, the team remained meticulous and accommodating to the end, only taking a well deserved rest on the tempting and comfy sofas in the outdoor snug once all the couples had left.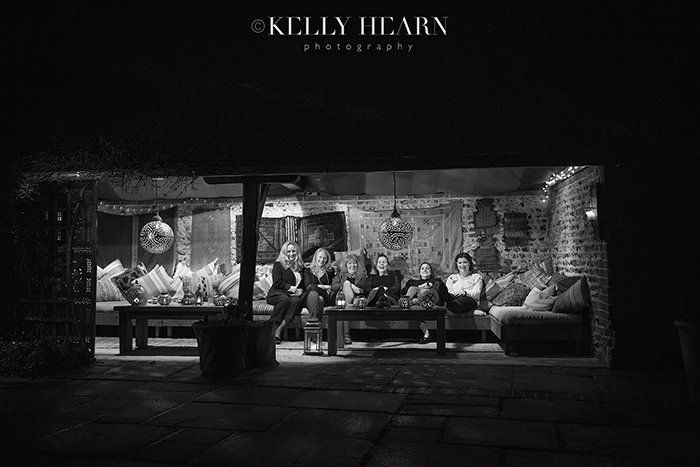 I love how relaxed and chilled the team look here, and this for me is the reason the Upwaltham Barns run so well. These guys work super hard, no stone goes unturned and they are unrelenting in their attitude to quality and good service. But beneath this is the fact that they have a great sense of fun and team spirit between them! I feel so lucky to work alongside this team so often, and long may it continue. 
Wishing everyone well for the 2017 season, and may all the lovely couples attending have incredibly magical wedding days.
Love Kelly x
Kelly Hearn A.B.I.P.P - A.M.P.A