​A Wedding Experience Evening with Nibbles 2 Nosh
March 08, 2016
Nibbles 2 Nosh - Caterers to Upwaltham Barns
2nd March 2016
Last Wednesday evening was a date firmly etched into my diary; I had the pleasure of photographing one of Nibbles 2 Nosh's 'Wedding Experience Evenings.' I have been asked to photograph two of these evenings before, and I always look forward to them. They are an opportunity for couples who have booked Upwaltham Barns as their wedding venue to experience a 'sneak preview' of their big day, and consider decor, music, and of course, what food they might be serving up to their lucky guests. The evenings are always such a pleasure to attend; impeccably organised, beautifully laid out and great fun for me. I shoot a large percentage of my weddings there, and now know many of the lovely staff and am really starting to feel like part of the team.
The atmosphere they create at Upwaltham Barns is one of effortless efficiency, coupled with warmth and attention to detail. The fact that it is a family run venue really shows; Tim owns and manages the venue alongside his wife Nicola; his sisters Claire and Kate are the Nibbles 2 Nosh catering manager and wedding co-ordinator respectively; and brother Steve is the bar manager. They work together like a well oiled machine, but with immense pride and consideration, not only in managing and looking after their staff but really going that extra mile for their guests. Together they are friendly, accommodating and fun, and I feel very lucky that they keep inviting me back to be a small part of that!
The last time I photographed a wedding there was back in December and the team had been hard at work since renovating Jasmine Cottage where brides often prepare on the day and the couple spend their wedding night, and adding new details to the bar and outdoor areas. I can safely say they have done a fabulous job! The atmosphere was tranquil yet full of focus when I arrived before the guests showed up, at around 4.30pm. I managed to capture a few images of this 'calm before the storm'; here is the lovely Donna striking a pose beside her newly emblazoned chalkboard, and a couple of the team lighting tea lights to set the ambience outside the barns.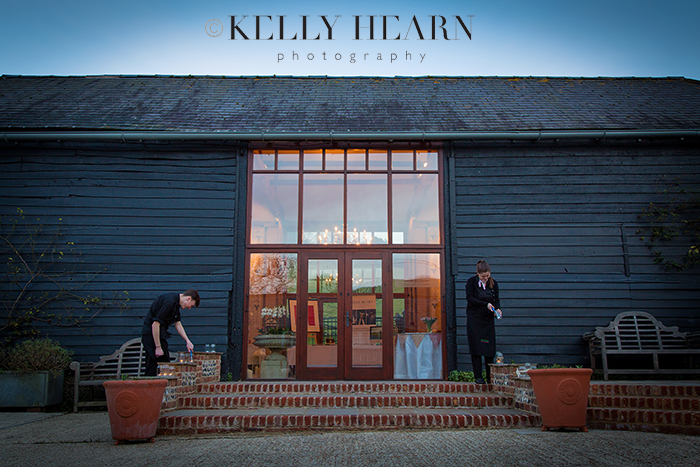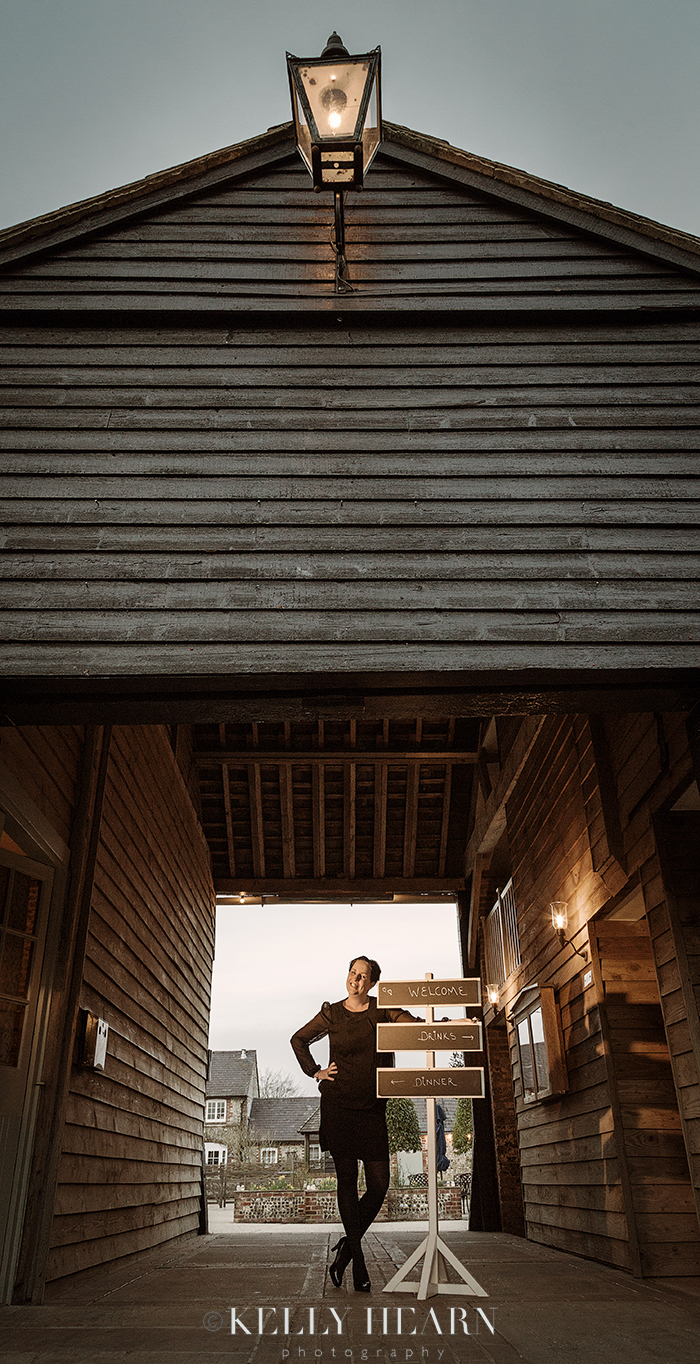 I sneaked a quick peek at the South Barn on my way to visit the catering team and, even though I have seen it so many times before, it never ceases to take my breath away.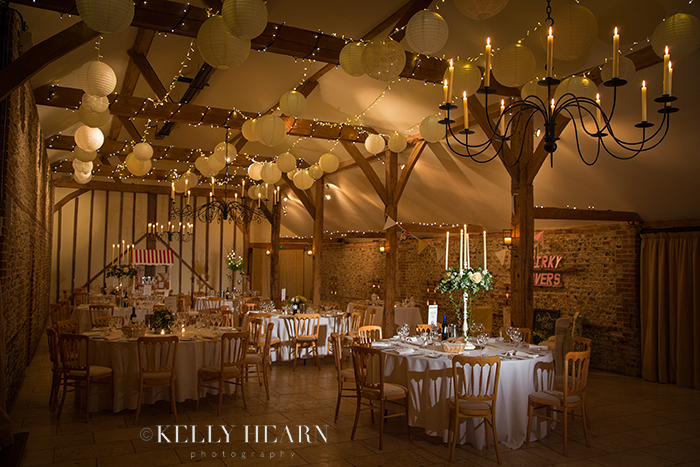 There was a hive of activity in the kitchens as Nibbles 2 Nosh prepared to wow the guests with their culinary genius! Here are catering manager Claire, her son Simon and staff member Luis whisking up some mouth watering creations!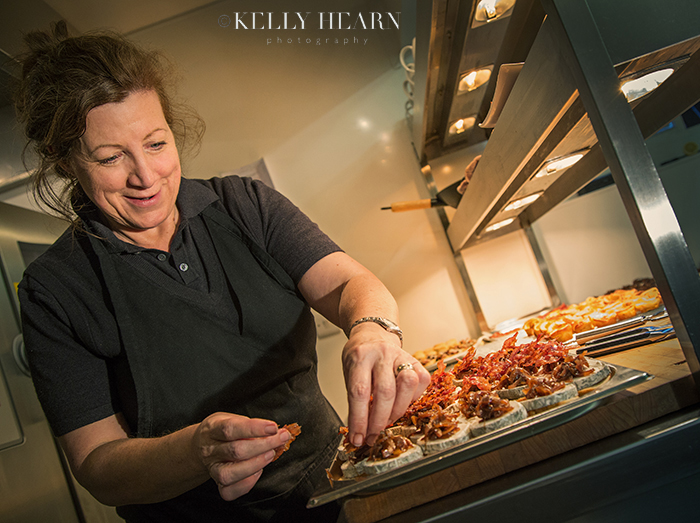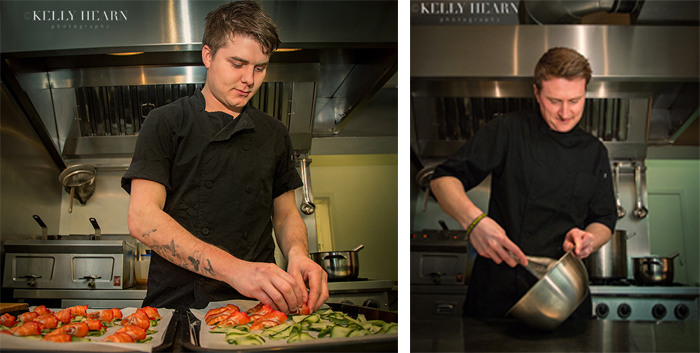 The starters and canapés they were preparing were magical… goats cheese with pancetta, filo parcels, parma ham rolls and cheese scones were among the treats being delicately created with precision and focus.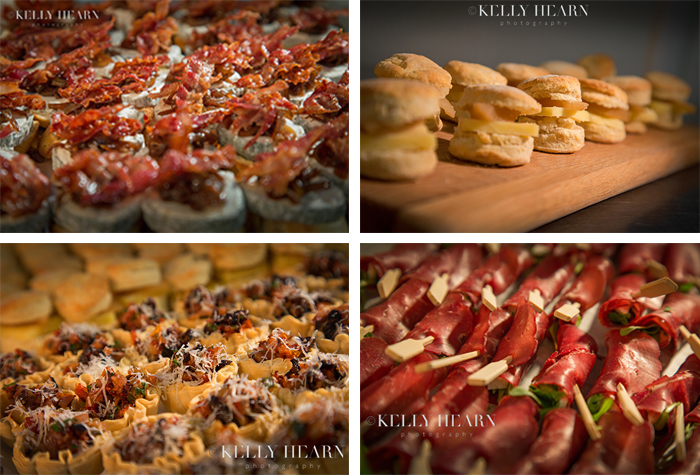 Next I made my way over to the newly styled Jasmine Cottage. Nicola, Claire's sister-in-law and owner of the barns alongside Tim, had done a stunning makeover of the place. Nicola and Tim are your first port of call if you decide to consider Upwaltham Barns as your wedding venue. They are warm and welcoming, and Nicola's attention to detail is second to none. You can see here everything from the dressing table to the bed and even the newly styled tea shelf effortlessly oozes opulence and charm.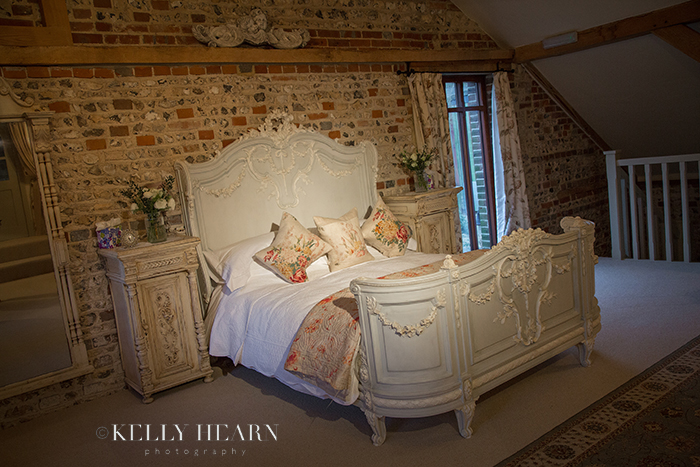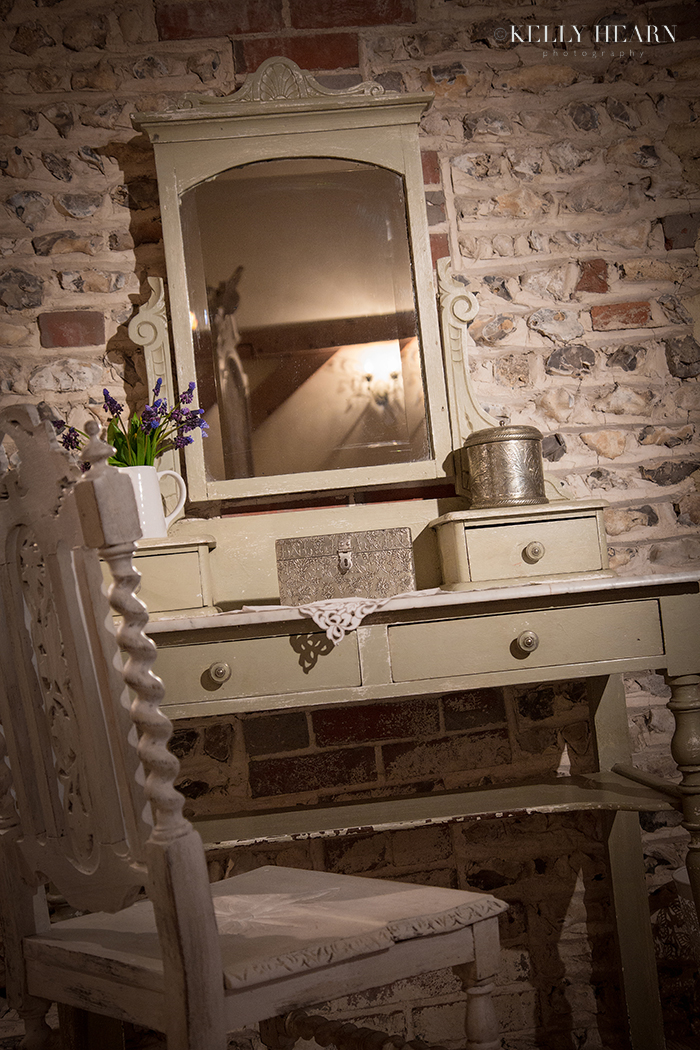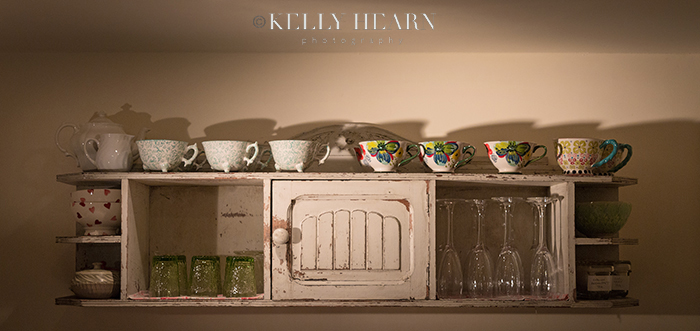 They had added a beautiful new mirror to the bedroom as well, so my assistant Kel and I decided to show it off here, as well as revealing the 'faces behind the lens!'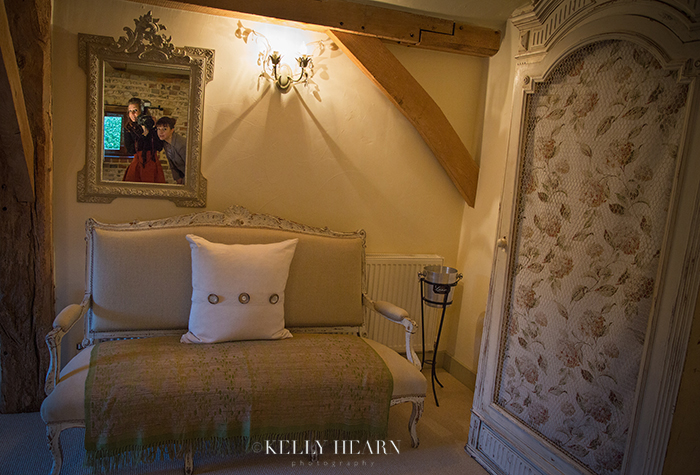 Back to the South Barn to meet another of the family team, Steve, who looks after all things drinkable and was proudly showing off the new lighting over his bar. I love the quirky yet classy bulbs; very on-trend with that bright filament.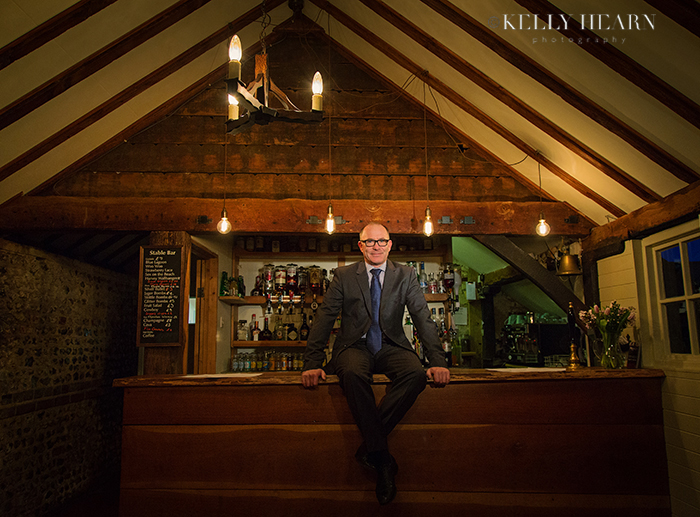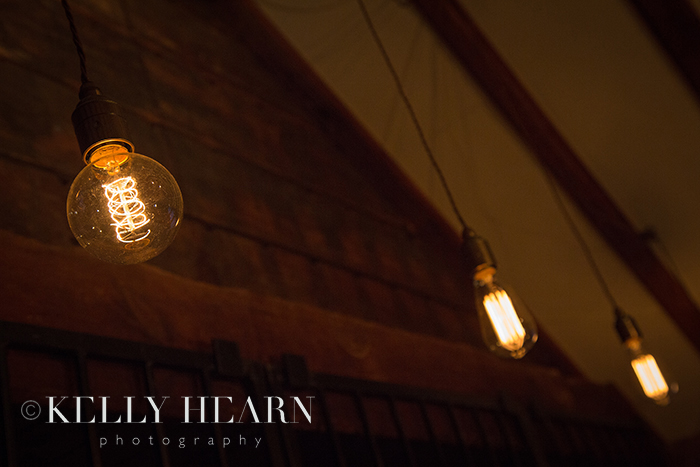 The final sister of the four siblings is Kate who works closely with the Nibbles 2 Nosh team, ensuring that all who celebrate here have their vision realised! You can see Kate on the far right hand side of the image here with her team of wedding co-ordinators. From the left we have Helen, Donna and Charlotte who, alongside the wonderful Nicola, were on-hand to chat to all the attending couples throughout the evening and make sure events ran smoothly.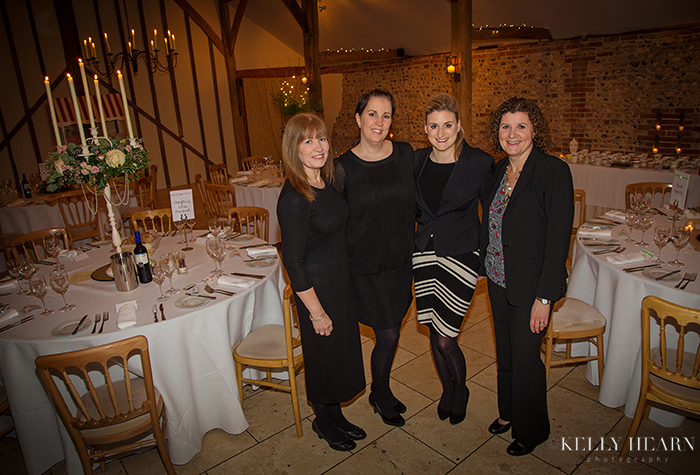 The games were nearly ready to begin so I nipped outside to capture the ambience of the gorgeous Moroccan snug with its new patio heater and fairy lights, as well as the view looking into the barns before the hustle and bustle began. I always love shooting these areas at weddings; you can see how that sumptuous deep blue sky perfectly complements the red of the snug and the magic of the twinkling tea lights beside the barn.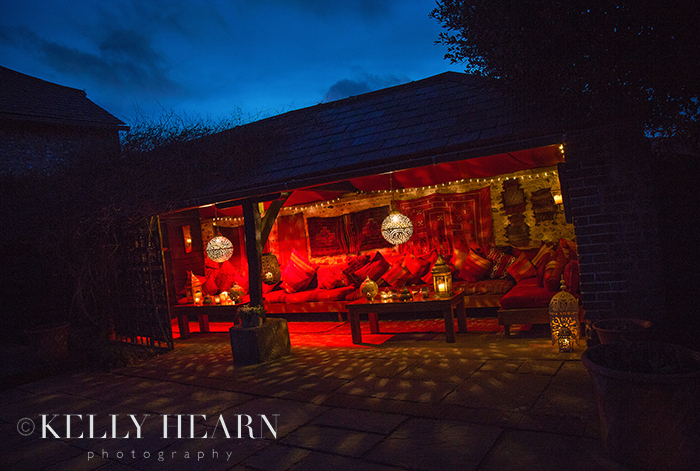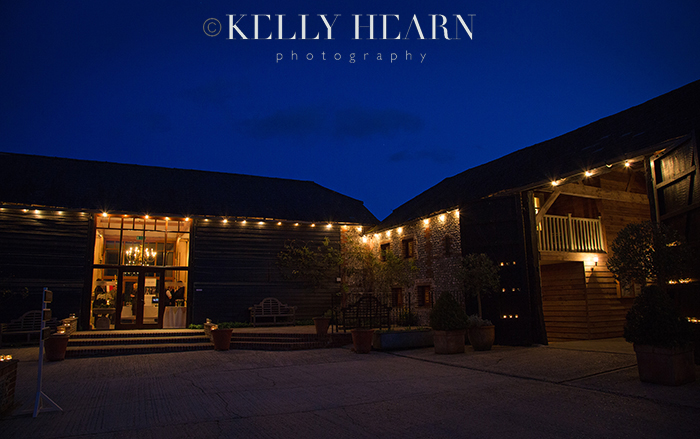 Just before the off, I persuaded front of house maitre d' Marsha to take a quick seat in this atmospheric and cheeky shot.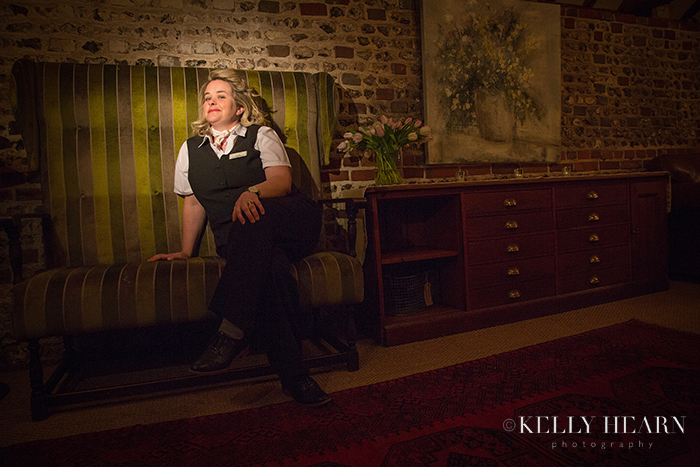 As guests began to arrive they were greeted with bubbly and canapés by the smiley and professional staff.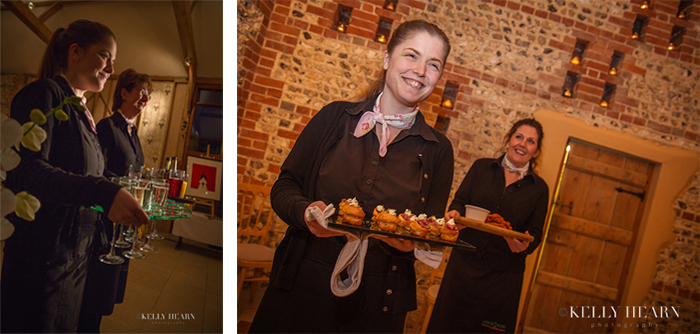 The atmosphere started to hot up as guests excitedly began to discuss their dream weddings and gather inspiration from the team. Entertaining us all were Damian, the Toast Functions magician, and gorgeous vocalist Miss Amy Baker.

The future newlyweds were a great bunch of people and I managed to capture some natural, mingling shots as well as convincing a few of the guests to indulge me in a spot of silliness!

Two of the couples even ventured outside with me to show off the warm light streaming through the large barn doors (and some extremely high heels!) and the newly built steps outside the ceremony barn.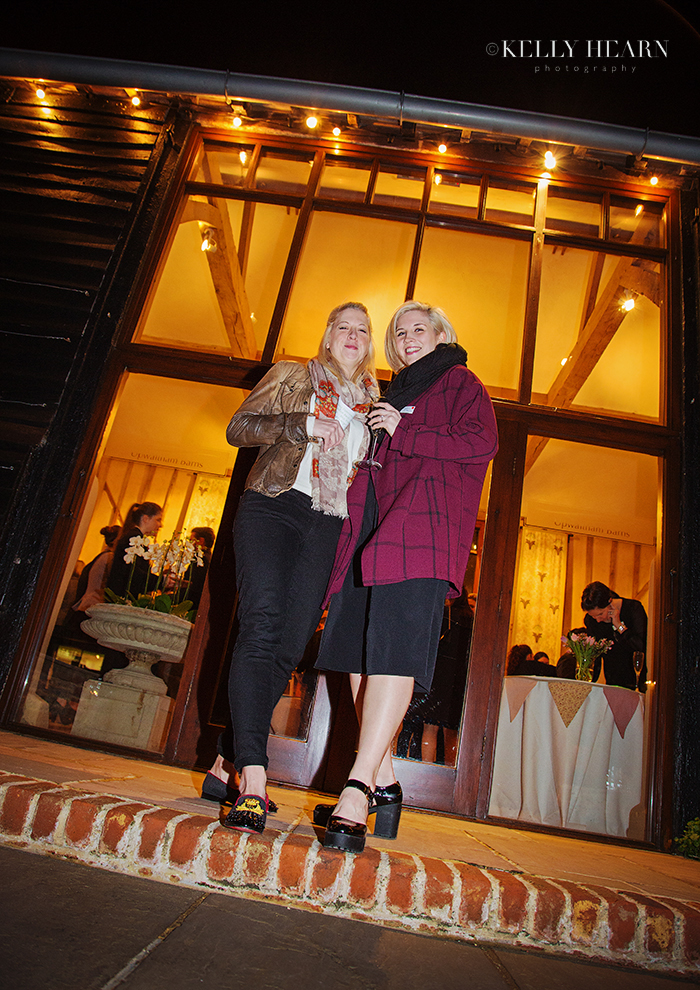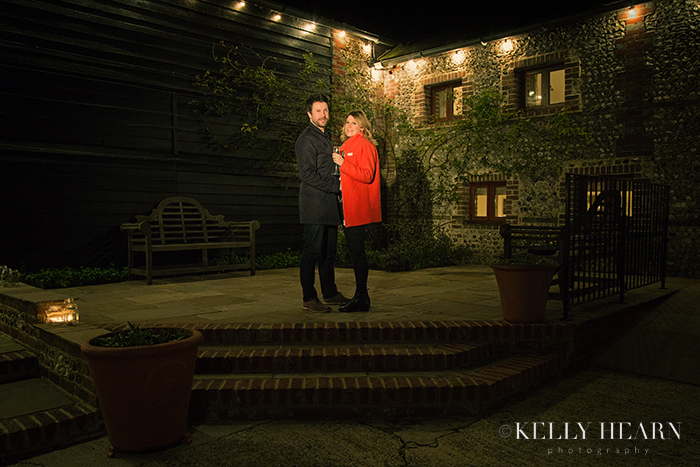 The couples then made their way into the South Barn for the climax of the evening. The team at Nibbles 2 Nosh had worked so hard to create an amazingly magical feel from top to bottom, with a little bit of help from their friends! They had invited various suppliers that they work with regularly to showcase their skills, and the guests were absolutely bowled over.
To Have and To Hire Weddings and Events had added huge lanterns interspersed with fairy lights suspended from the stunning beams in the ceiling. Just that detail alone made the whole place look totally different from the weddings I had photographed before. Each table was different, allowing couples the opportunity to see which 'look' appealed most to them. Wish Upon A Card provided the wonderful table plan and stationary with their simple, elegant designs.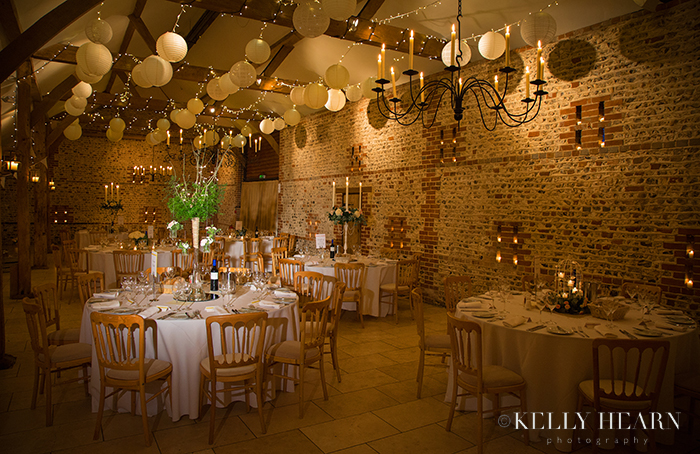 The table centrepieces were lovingly created by Someflower, an amazing Hampshire-based florist. See how she has carefully considered the heights of her decorations, making them either nice and high, or very low, so guests can maintain eye contact whilst either talking under, or over them! Each piece was so different, from the classic rose or candelabra to quaint birdcages, 'on-trend' stacking wooden boxes and my favourite; gorgeous hanging glass jars filled with flowers.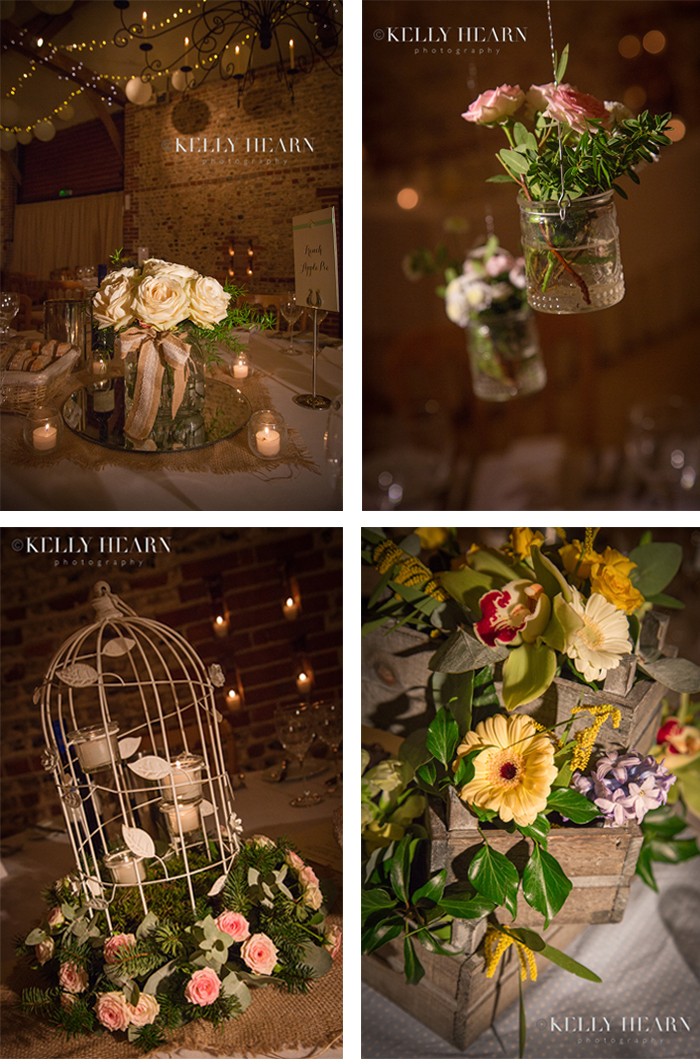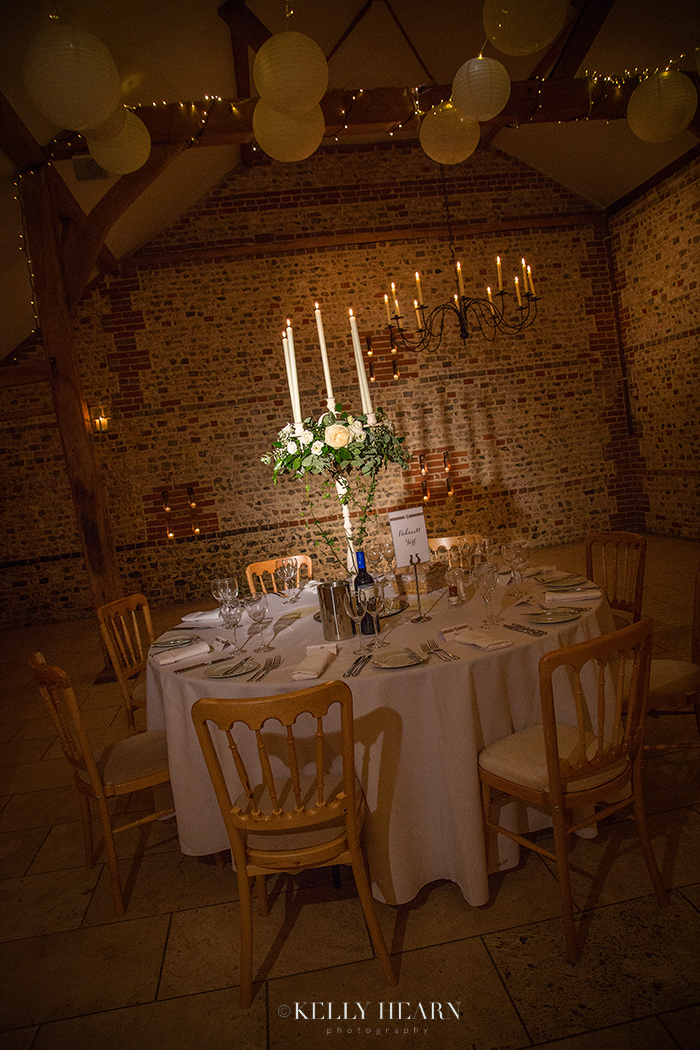 Quirky Covers provided a unique alternative to your classic white seat cover. I think these wonderful designs blend so well with the rustic country charm of the barn. Tea and coffee was served out of perfectly quintessential English tea cups by Vintage T, who hire vintage china and accessories, and I loved their 'Isn't Love Sweet' little treat jars.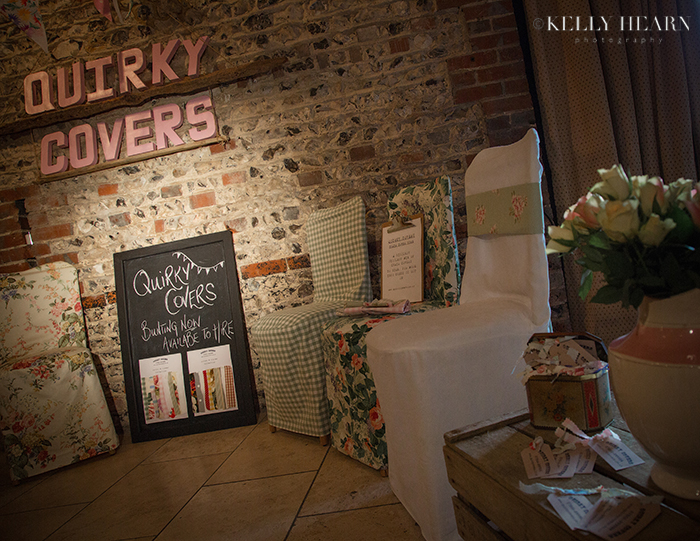 The room was full of cheer as the team took care of their every need. Background music was provided by Doug, a DJ with Toast Functions who are not only able to sort out music and magic but also anything from a photo booth to a fire juggler, should you require it! Doug did a great job playing a mix of music from soul to modern pop, slowing it down towards the end to make the most of the romantic atmosphere.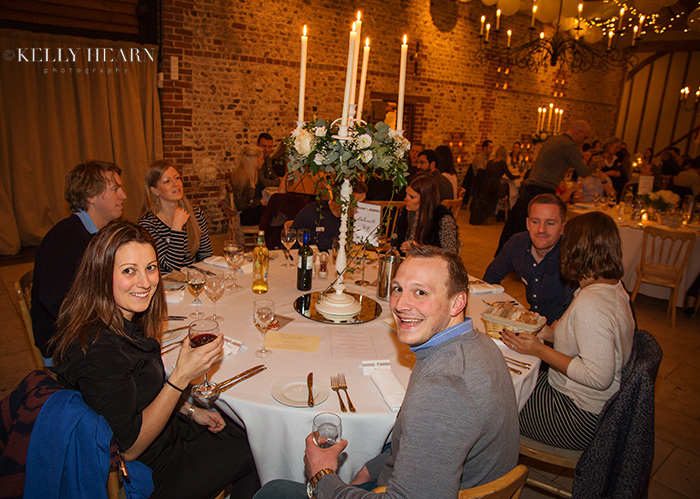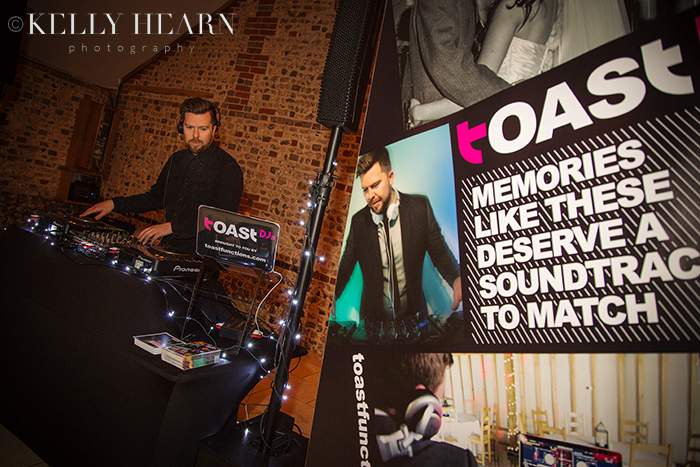 And now, the pièce de résistance; the food! I captured the waiting staff as they bustled in with the dishes, using some blur to get that feeling of motion.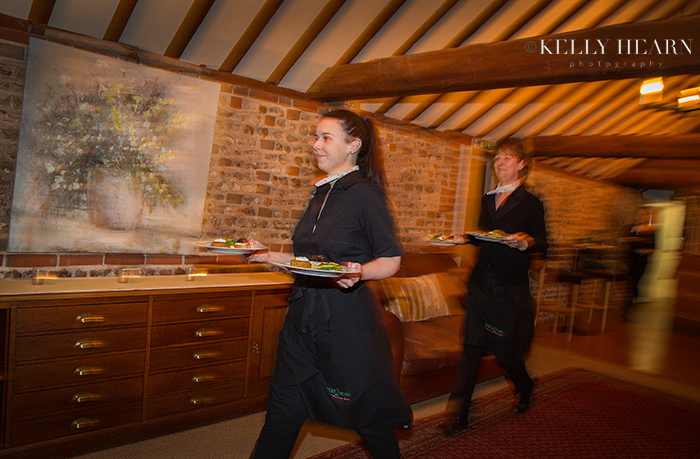 Claire and the team had worked wonders, serving a cacophony of both veggie and meat dishes. I was treated to a trio of starters; toasted goats cheese crostini with pancetta, beetroot gravlax with horseradish cream and homemade lamb kofta with tzadziki, followed by a sample of two mains; roast chicken with potato puree, and medallions of lamb on a potato rosti with mint and chilli dressing. Mouth watering! I must admit I have a bit of a sweet tooth and the Nibbles 2 Nosh chocolate brownie has always been my absolute favourite. The other two desserts were a dreamy lemon posset and a baked elderflower and lime cheesecake. The latter was sublime and totally blew me away, as I am not normally a cheesecake person! I have to have a serious think about my dessert ranking order again now; what a nightmare!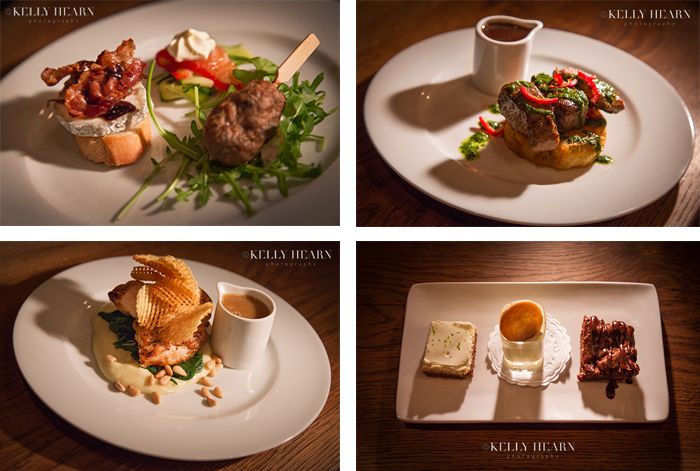 I wanted to end the blog with a final bit of fun and include the image below. During the evening I gathered all the guests and staff together for a group photo out in the courtyard. What a bunch of lovelies! Many thanks to everyone who attended for being such great sports - I know not everyone is a fan of being photographed but I hope we managed to make you giggle!
I wish you all a wonderful wedding day. Huge thanks to Nibbles 2 Nosh and all the team at Upwaltham Barns who never fail to make photographing there a real pleasure. Look forward to seeing you soon!

Love Kelly x
Kelly Hearn A.B.I.P.P - A.M.P.A