Rolling In The Aisles!
February 17, 2017
Vicky & Grant's Wonderful Wintery Wedding
Vicky and Grant tied the knot at the most festive time of year when spirits are high and everyone is feeling the excitement for imminent celebrations. The welcome feeling of relief for momentarily stepping off the treadmill paves the way for jolliness and the letting down of hair, which is exactly what is needed when it comes to a wedding! On a clear crisp December Thursday, (just shy of Christmas Day), Vicky and Grant gathered family and friends at Chichester's Southend Barns - an ever-picturesque backdrop no matter the weather or season. This couple approached their wedding day, (and the photography!), with some good tongue-in-cheek humour, ensuring that fun and enjoyment were high on the agenda. That was a sentiment certainly shared by guests and one which they achieved in volumes!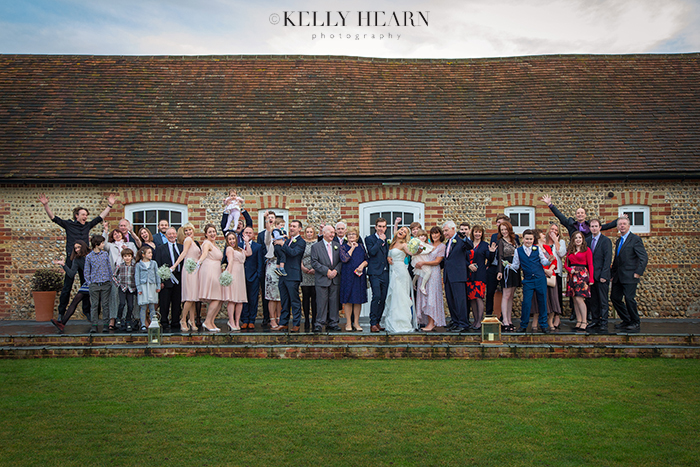 Grant was with his groomsmen getting ready at The Blacksmiths when I went to meet him the morning of the wedding. This ideally located pub is a stone's throw from the barns and has the same owners - Mariella and William - who are pleased to recommend this lovely quality accommodation to the wedding party and guests to enjoy. I took the opportunity to photograph the guys as they were settling their pre-wedding nerves in the bar!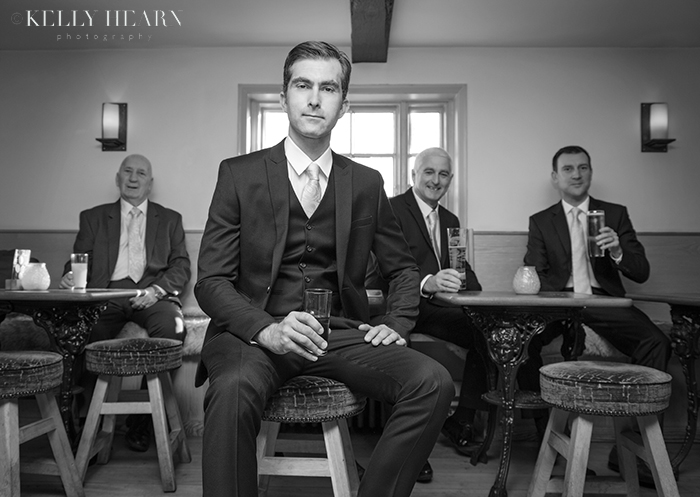 Out in the fresh air on the other side of the bar's windows, a humorous slant on this next image is open to interpretation. Maybe it shows Grant to be looking almost regal like a king on a throne, with two body guards behind and to each side something reminiscent of two wall-mounted stag heads! But however you choose to interpret it, the impression created gives a sense of importance to Grant (as should be the case when one is about to be wed!), whilst the groomsmen are there upholding his cause. Why not throw a bit of curiosity into what can otherwise end up a starchy and predictable group shot?!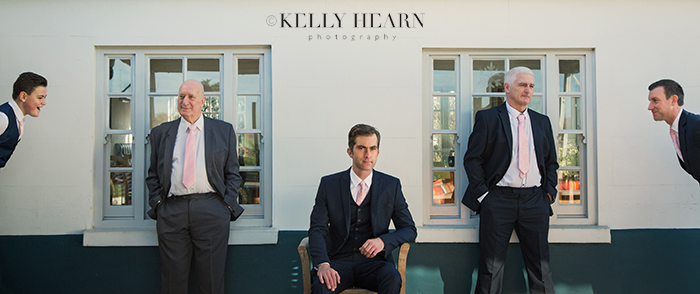 Over at the barns I found Vicky with her very own entourage, including three bridesmaids and a flower girl! She was looking stunning wearing a long fitted lace-covered gown with sweetheart neckline and belted waist. Her hair was very natural with long loose curls, accented by a beautiful detailed bridal headband and her make up sheer and radiant, subtly highlighting her lovely features. Vicky's elegant shoes finished the look perfectly bringing together a bit of lace and sparkle, whilst her bouquet from Chichester's 'The Flower Gallery' combined classic white roses with dainty gypsophila, making for an overall chic and timeless style.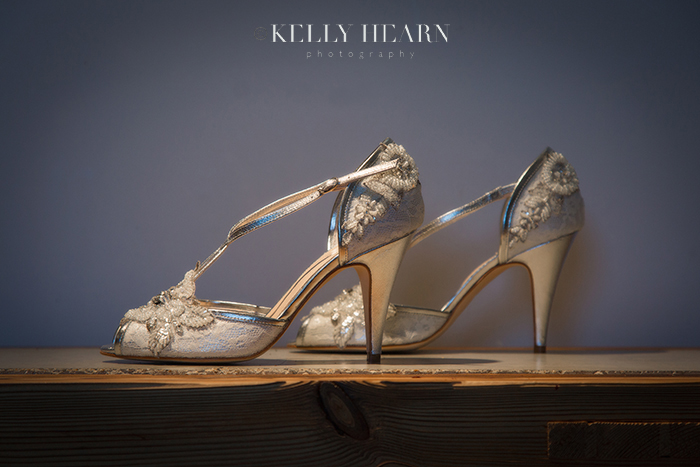 With bridesmaids also ready and looking pretty in pastel pink, the girls were enjoying a drink or two, and having a right good giggle…and who was I to stop them?!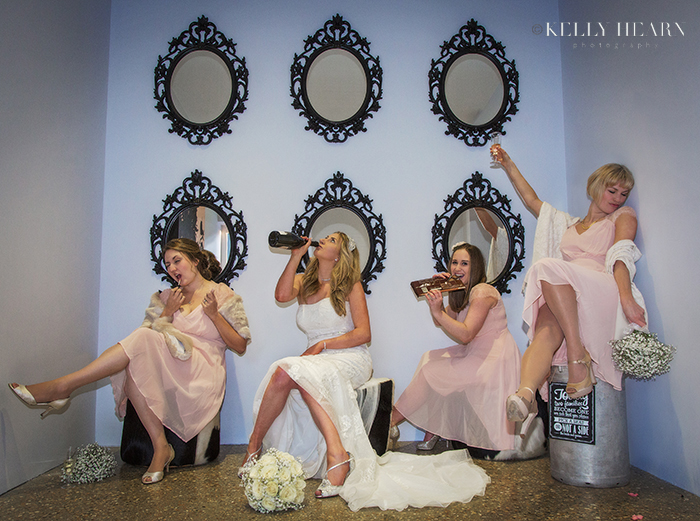 Utilising all my wedding photographer powers I miraculously managed to get them to 'pretend' to be sober enough to capture this shot at least!...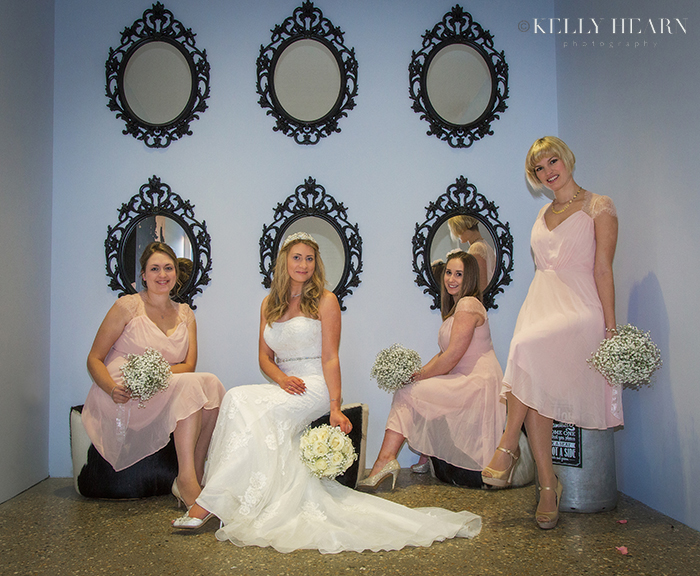 I loved that Vicky had some creatively crazy ideas for the wedding photography (as above!) and was so keen that her sense of humour came through in the pictures. Romance was not lost in the quest for comedy however, and Vicky graced the petal-dressed aisle of the ceremony room with elegance and class. After a heartfelt and touching service where a few emotional but happy tears were shed, Vicky's mum (with a huge stash of confetti in hand) was first to dive in for a congratulatory hug with the new Mr and Mrs Simmons! As the newly weds returned back up the aisle, they caught sight of the many beaming faces of guests who showered them in smiles as well as a good amount of confetti!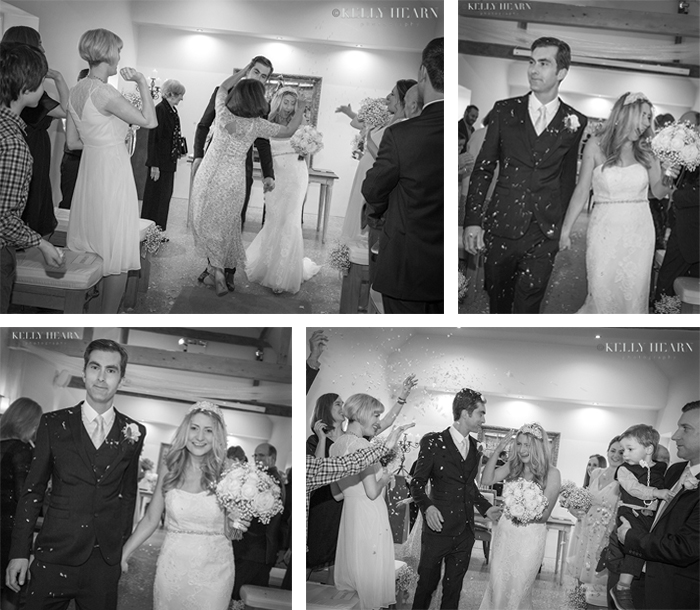 The sky was clear and white as the bridal party gathered outside to greet guests and sip some celebratory bubbly. It was lovely to be able to use one of the barn's peaks as a backdrop to some group photographs which I can't do in the summer lighting, but which works really well in winter due to the position of the sun.  It is for reasons such as this that the changing seasons can really work in my favour, allowing me to capture a variety of backgrounds at the same venue, yet offering me new and different perspectives all through the year. 

(I also love a little imperfection because of the reality and humour it can bring to a scene; spot the toddler in this shot who really was not bothered about appearing in the family portrait)!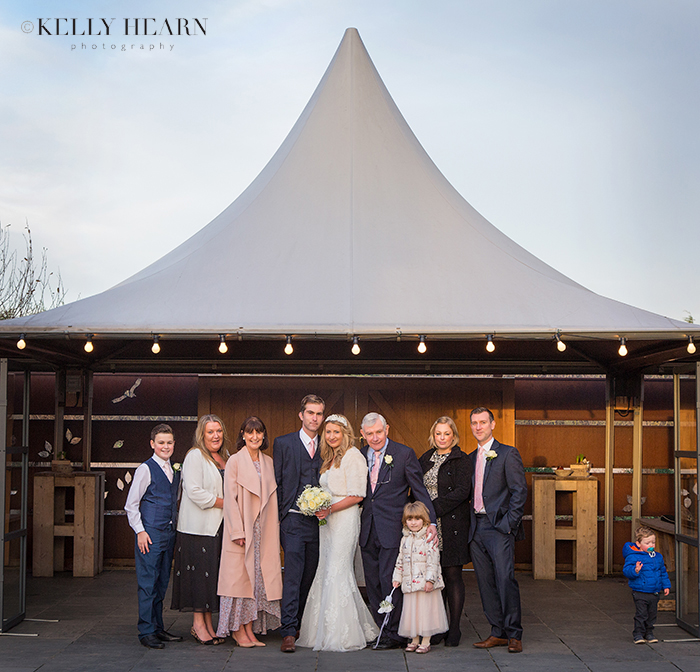 The sun started to sink quite early and pink marshmallowy clouds were scattered through the sky as we used the dwindling daylight to photograph the bridal party in the neatly manicured grounds of the barns. Around the simmering fire-pit guests mingled and chatted looking out over the tranquil lawns in the outdoor lounge area known as the Collecting Yard.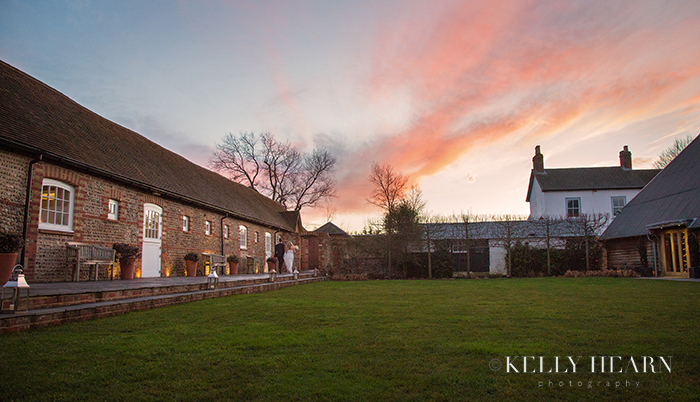 It was whilst photographing the bridal party that we made the decision to abandon these shots midway through so as to capture Vicky and Grant against the magnificent sunset in it's most glorious moments.  It is always worth boycotting the schedule to achieve these once in a life-time truly romantic images!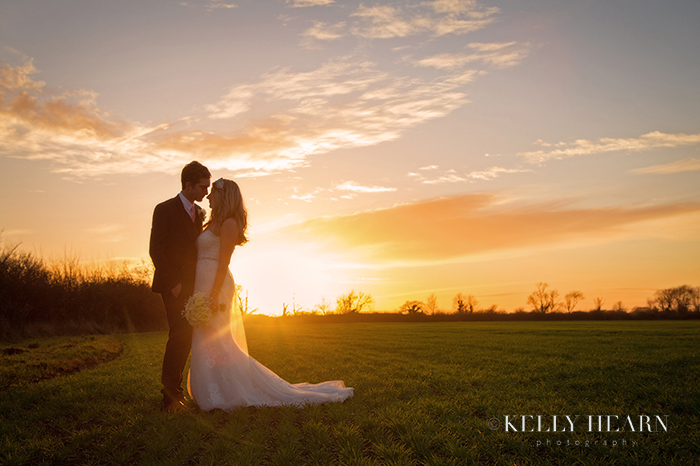 Back in the barn the reception venue was feeling warm and cosy, sparkling with subtle wintery decor, complimented by a large Christmas tree, bedecked with golden baubles and twinkling fairy lights. The tables were adorned with tall candelabras dripping with pearls and crystals, and a hanging heart revealed each table number.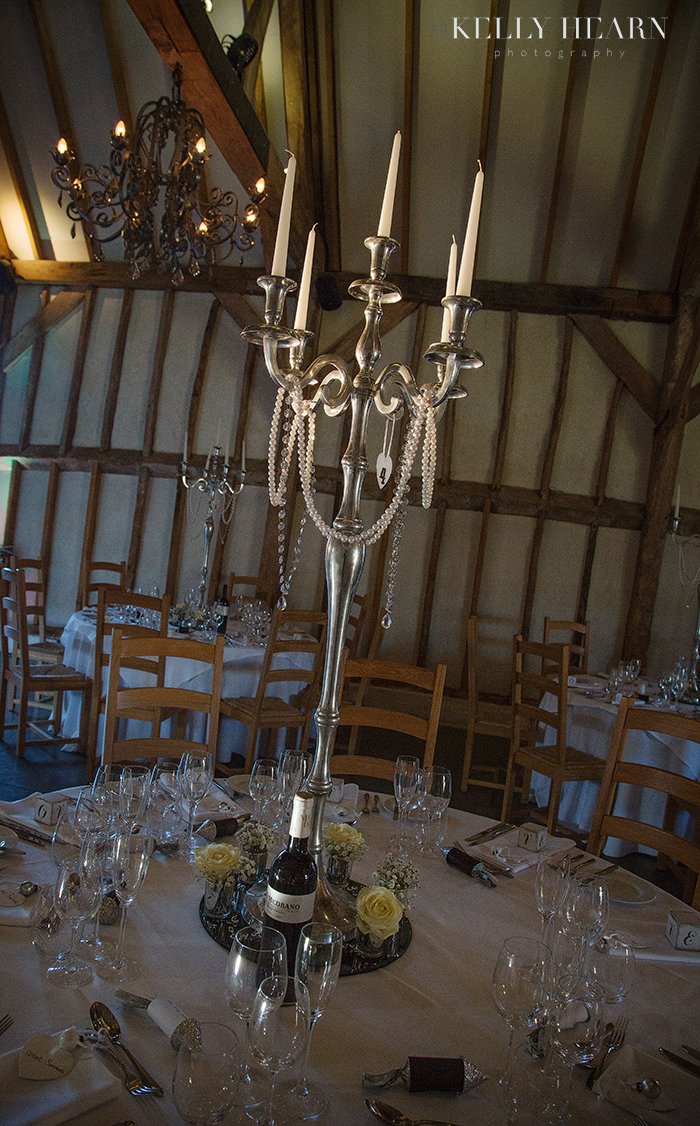 The theme of whites and greens was to be seen in bouquets, table arrangements and even decorating the semi-naked cake which was expertly iced to look like it was covered in lace, a hint to Vicky's lovely wedding dress.
Vicky and Grant had a wonderful menu and between the smoked chicken salad starter and main course of lamb shank and seasonal vegetables, we made time for just a couple more photographs outside in the Collecting Yard. The sky had turned an an incredible blue colour and it was quite awesome to see venus shining brightly above. Despite it being a cold and chilly night, the red light from the patio heaters seeping through the walls inside the yard gave a wonderful contrast to that royal blue night, lighting up the newly weds in it's rosy glow.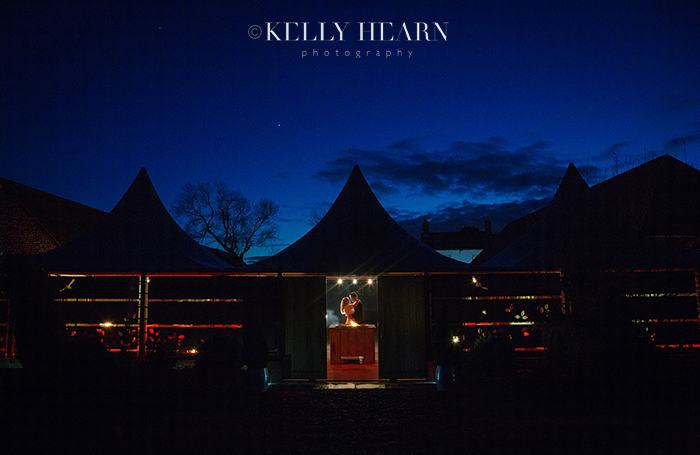 This wedding was full of creativity whilst remaining simple, elegant and classy.  A perfect blend of romance, humour and fun in an idyllic setting on a crisp December's day. What a wonderful winter wedding! Wishing you many congratulations Mr and Mrs Simmons and thank you for having me on board, I am still smiling thinking about all the comedy moments!
Love Kelly x
Kelly Hearn A.B.I.P.P - A.M.P.A