A Life Story in Pictures Continued...
April 02, 2015
Chapter 4.
So back in March 2014 you may remember reading all about Nikki and Glenn and their 'Life Story in Pictures'. As another chapter has developed I thought I had better keep you updated! Capturing this family's journey as it unfolds has been a delight and such a privilege to watch and share.
The story began with Nikki & Glenn's engagement which I shot locally in the winter of 2011. This was followed by their beautiful summer wedding at Stansted House in Hampshire. I then learnt several months on that they were expecting, and were keen to capture this amazing time in pictures, in anticipation of their first child being born. So that's where the story was left and we have all been wondering ever since what happened in the next chapter…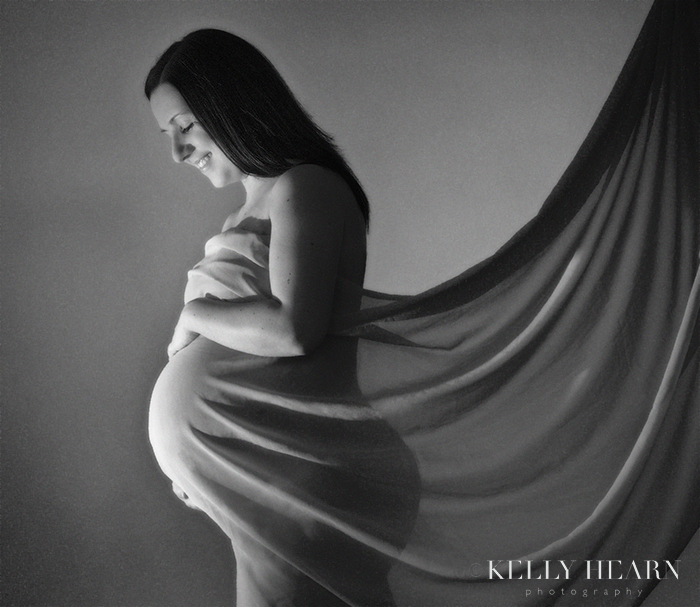 Well, in winter 2013 Nikki and Glenn became the proud parents of a beautiful baby girl! After a year of settling in with their new addition I once again had a call from the couple requesting a family portrait shoot and I was very excited to meet their lovely daughter Freya who had just turned one. I was really delighted to hear that she'd just begun walking and knew we would have lots of fun letting her explore her surroundings whilst we captured some precious childhood moments.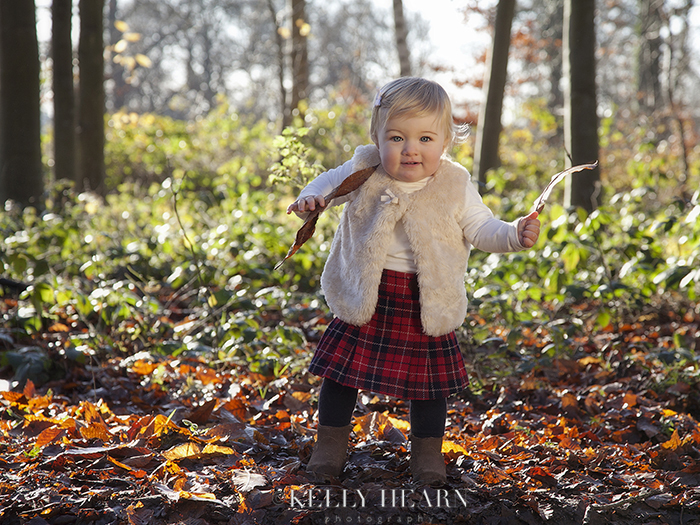 As a parent myself I really see how fleeting the developmental stages are with a little one and how so easily we forget all the quirky little things which they say and do as they grow up. The 'just walking' stage is a major mile-stone for any new parent to watch and the joy it brings watching your child becoming that little bit more independent is just priceless! Little Freya pulled out all of the stops and showed us just what she could do on this photoshoot, a very cooperative client she was!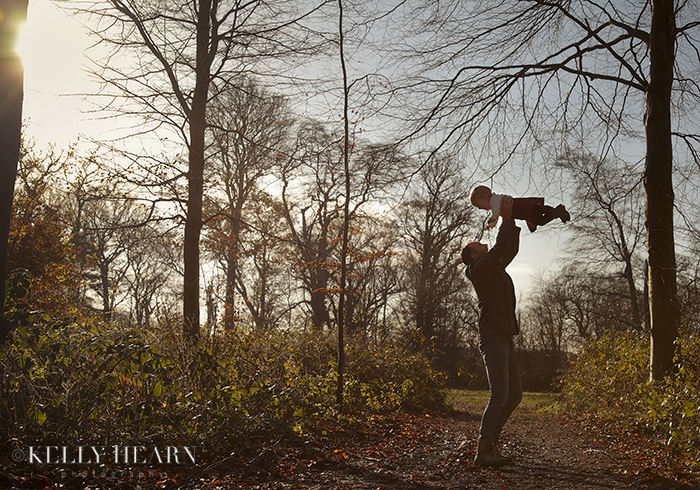 We ventured to Stansted woods in Hampshire in December 2014, a significant place for Nikki and Glenn as this is the same area that they were married and I am glad they made this link with Freya as it seems to cement the jigsaw pieces of their personal story together so nicely. It was a lovely time of year as the trees were still full of golden colours whilst the low sun trickling through the leaves made for a really soft and glowy backdrop.
Freya's Dad, Glenn, did what dad's do best and threw Freya up in the air, making her both terrified to be dropped but laugh hysterically in the relief of being caught safe in her father's arms. This was a special Daddy-daughter moment that we felt summed up their relationship beautifully.
In this Mummy-daughter shot, both girls spontaneously looked at Glenn, the number one man in their lives of course - another lovely moment captured.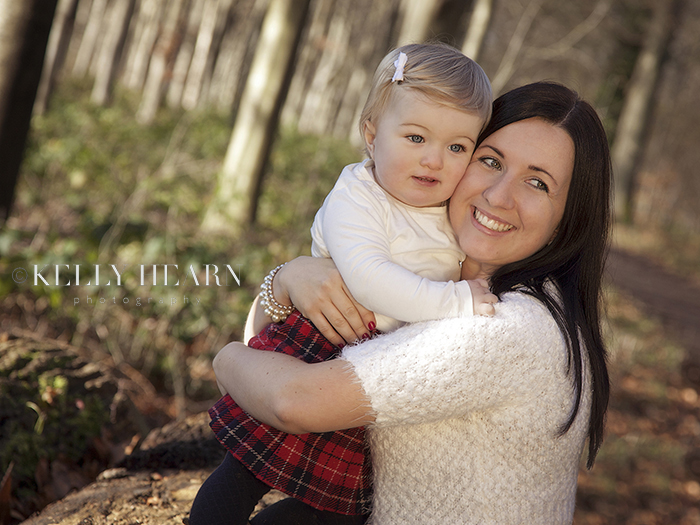 Held steady hand in hand with her parents, Freya's early days of walking needed to be seized! For many parents this back-breaking stage feels like forever when you're in it but as it really is so short-lived, I felt it was only right that Nikki and Glenn should remember this part in their pictures too!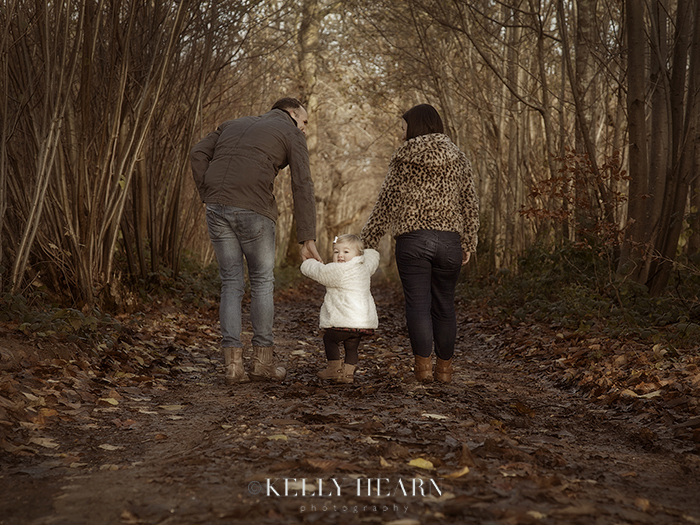 Freya has great character, is full of fun and enthusiasm and not at all shy with the camera. With determination she made her steps across various textures of fallen twigs and crunchy brown and orange leaves, her concentration holding as she went.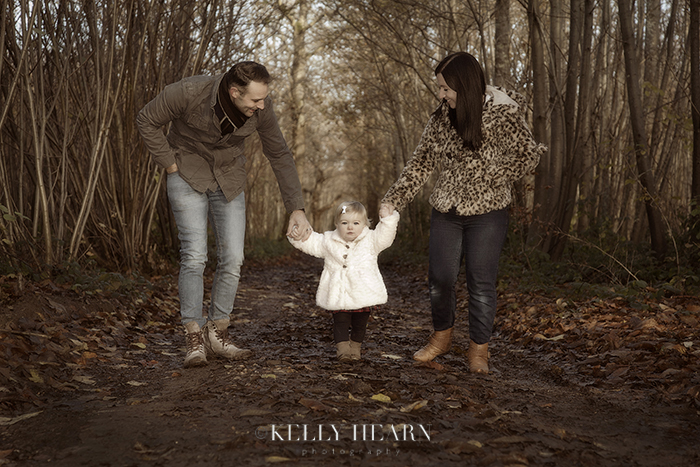 Finally we decided to let her loose and see what happened. She was so thrilled she came stumbling at us with arms up in the air in sheer excitement! It was so sweet to see her so proud of herself! What a star.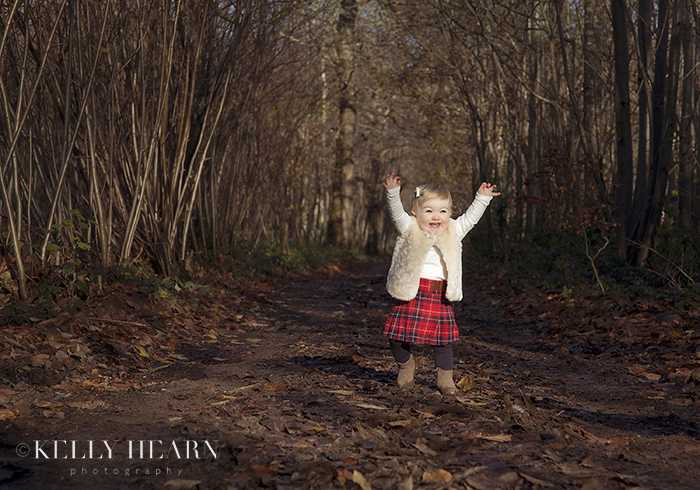 Well I loved this shoot in the stunning woodland location and I had a ball with this delightful little girl. I am hopeful that I will see this family again and be able to update you on another chapter of their 'Life Story in Pictures'. Until then, Nikki, Glenn and Freya, I wish you so much happiness, you are such a lovely family.
Love Kelly x
Kelly Hearn A.B.I.P.P - A.M.P.A