A summer wedding at Southdowns Manor
August 27, 2014
Ginny & Tom
I've been really excited for the onset of summer and to shoot some weddings that capture the British countryside in all it's green and golden glory. I first photographed Ginny and Tom for their engagement and this is where I learnt of their choice a wedding venue that would enable me to steal that summer feeling for a little longer. Southdowns Manor is a newly refurbished wedding venue set in the beautiful South Downs National Park and I was pleased to have the opportunity to do a shoot in a location new to me. Originally a 19th Century two storey house, the Manor's charm and rich history combined with the surround of acres of mellow cornfields were to provide me with a perfect July backdrop to the lovely couple's wedding day.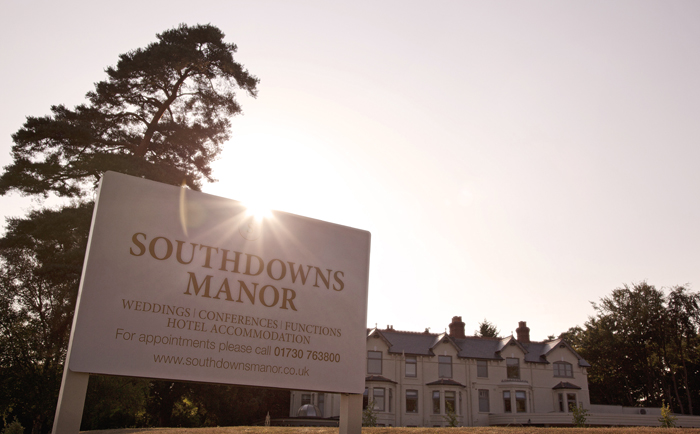 As with most of my wedding shoots my first stop is with the men. I entered Ginny and Tom's new beautiful home where I was to find the groomsmen in various states of dress (or undress!). It is always a challenge to capture groups of people getting ready amidst the hustle and bustle, nerves and anticipation of a big event but these guys were very helpful and cooperative!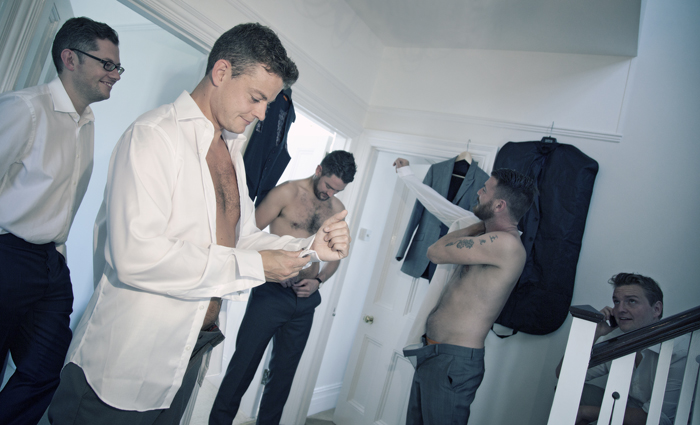 I used the natural light and features of the house to bring a bit of shape and character to the images, and working with a bunch of men a bit of humour is always required! The bannisters served us particularly well in inspiring some creative shots using height and perspective. The ushers in this shot below appear gigantic compared to Tom who is looking very slight, squeezed in between them. I like creating these sorts of images as the memories of setting up shots like this for those involved will be funny and lasting, and in turn the effect in the images are a mildly comical way of capturing those important people on a wedding day.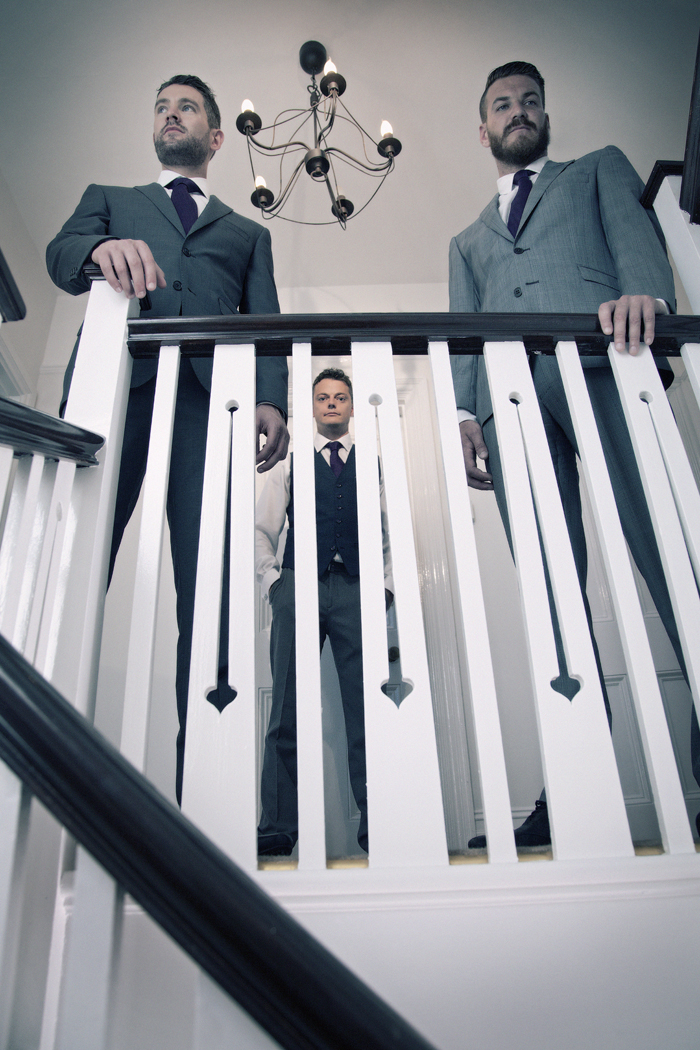 Over at the Manor, the boutique guest rooms are all bespoke with each one differently but luxuriously decorated. I went and found Ginny in the Bridal Suite getting ready with her bridesmaids. Ginny's sister was to be a bridesmaid but unfortunately hadn't made it to the Manor as very early that morning she discovered that she needed to get to the hospital rather promptly to have her baby! The shot below shows Ginny's niece holding up a phone that had just received a picture of the newborn baby, a brand new little sister for Ginny's niece!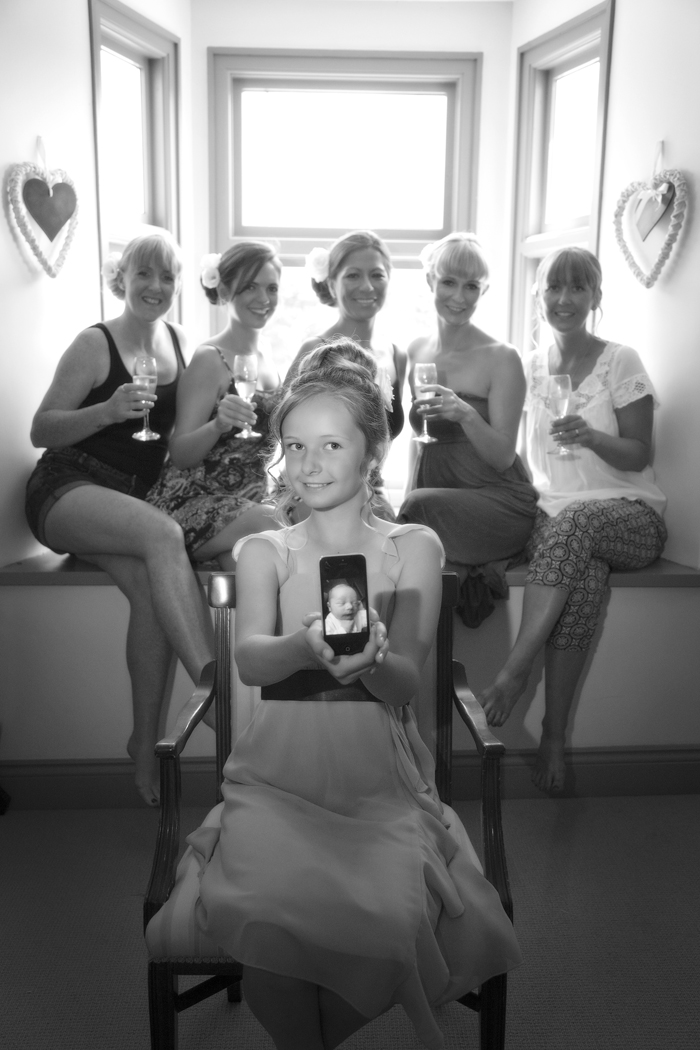 What is most amazing about this story is that just a few hours after giving birth, Ginny's sister actually arrived at the wedding with her new baby in tow! Talk about how to to outshine your sister on her wedding day! Of course Ginny and Tom naturally were just thrilled to meet their new niece and also to know they'd be sharing their anniversary with her birthday! What an unexpected and amazing surprise for everyone, never to be forgotten!
Anyway, back to getting married(!)…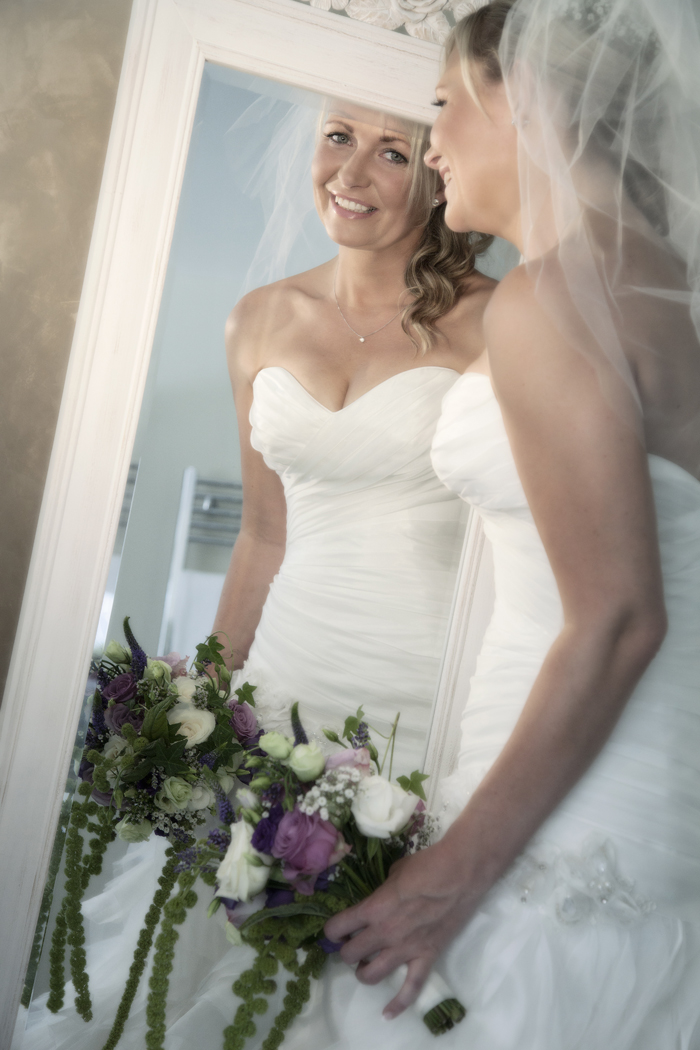 Ginny looked stunning, Tom very handsome and the ceremony was evidently full of love.
After the ceremony I whisked the couple away to find some other areas of the venue to photograph the newly wedded pair. The slight 1920's feel to the chequered flooring, classic furniture and general decor of Southdowns Manor balanced modern with classic really elegantly.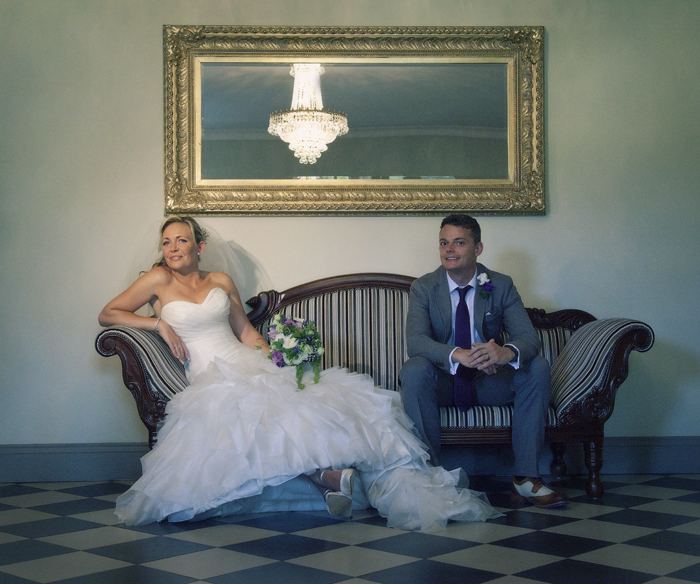 The reception room was beautifully decorated and was like a canvas of Ginny's creative ideas, with her hand crafted table stationery and all incorporating her chosen palette of purples and lilacs. As a designer Ginny had hand drawn some delicate illustrations based around a theme of African wildlife which she used for the table planner and other wedding stationery. The couple had fantastic memories together from having got engaged in Africa, hence the theme, and it was lovely to see these little touches stamping Ginny and Tom's personalities on many details of the wedding day.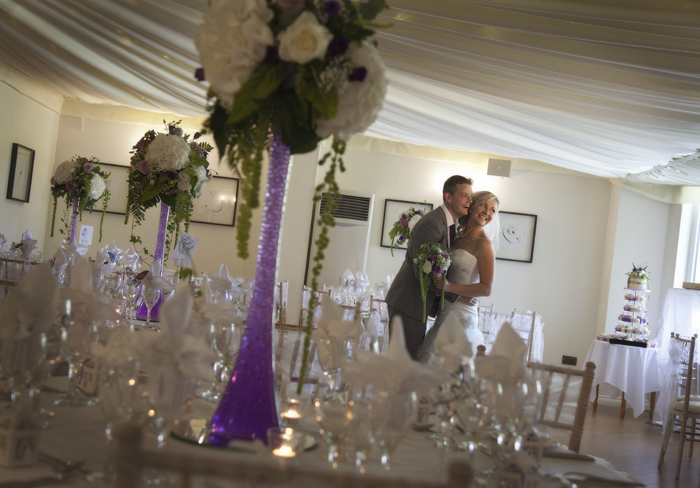 I stole the bride and bridesmaids away after the reception for a few pictures before the evening's entertainment began. In the Bridal Suite was a fantastic round bathtub into which we put Ginny along with all the dangling legs of her bridesmaids! It was a fun picture and having the girls all dressed in different shades of purple really was effective and tied Ginny's colour theme together perfectly.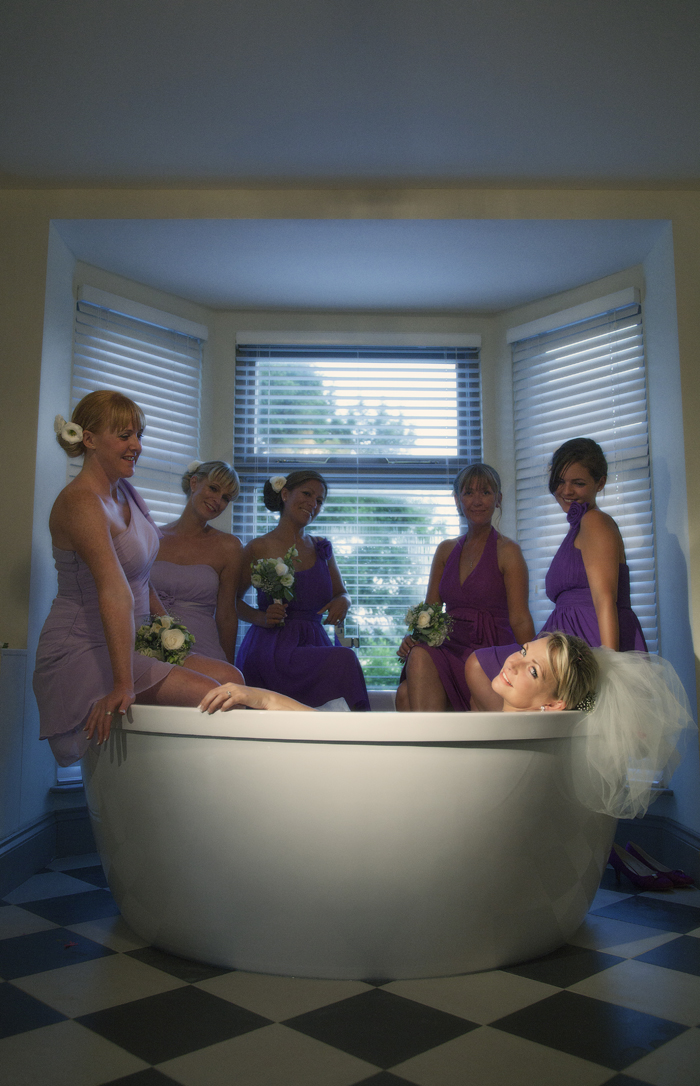 As the sun was setting we ventured out into the corn fields to capture that essence of a warm summer evening before it faded. The light was low and shimmering over the corn and Ginny and Tom were amazing at finding that natural glowy light which highlighted them in the natural relaxed happiness of the day. It's these summer moments that are so fleeting, especially in our British climate and thereby so precious! I'm glad to have caught some for Ginny and Tom.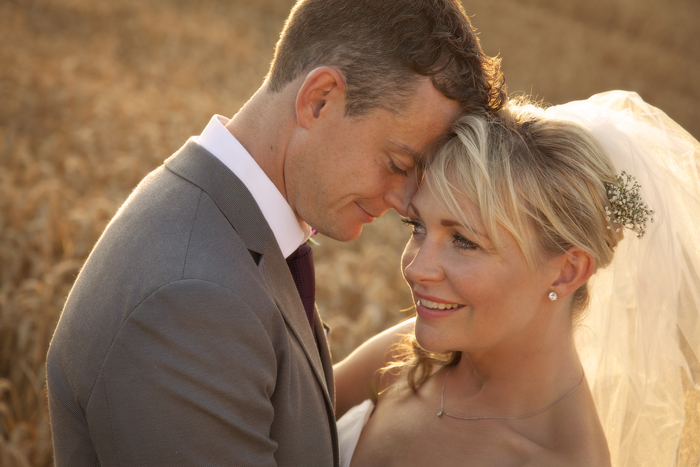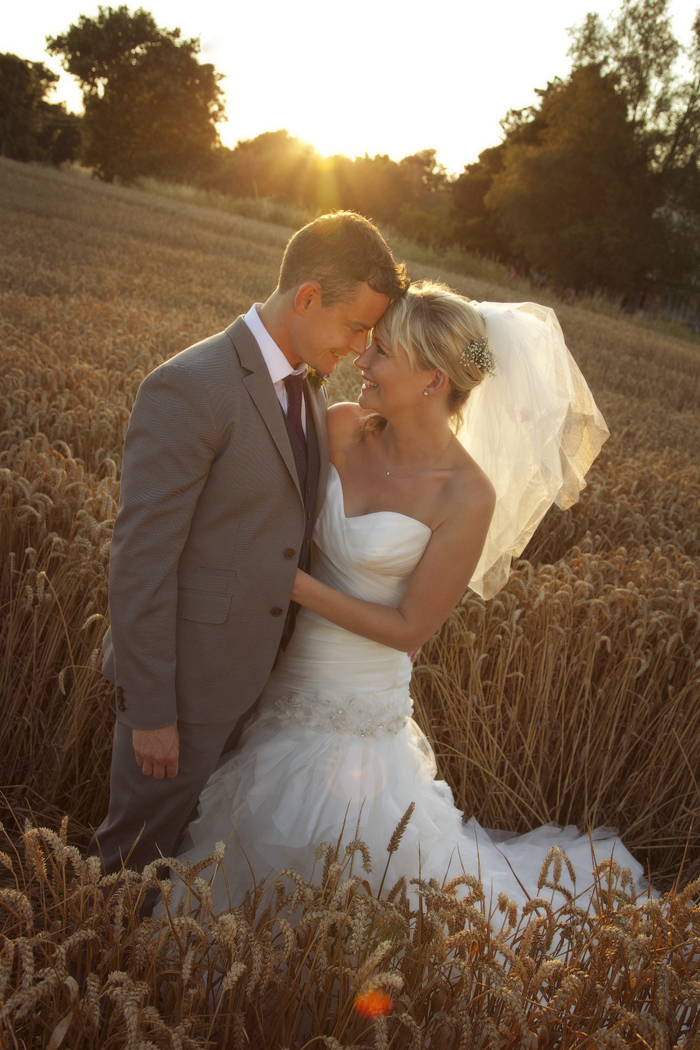 It had been a day filled with excitement, surprise and laughter and I loved being a part of it.
Congratulations to Ginny and Tom on a wonderful wedding day and wishing you a happy future together.
Kelly Hearn A.B.I.P.P - A.M.P.A