THE CATHEDRAL OF LOVE
January 24, 2023
Nicola & Will's Autumn Chichester Cathedral and The Goodwood Hotel Wedding
There was enough love on Nicola and Will's beautiful October wedding day to fill the whole of Chichester's magnificent city centre cathedral right to the top of its towering spire. This historic building made the perfect location for this lovely couple to tie the knot with its stunning interior, incredible architecture and strong links to Will's childhood.
Chichester Cathedral was a huge part of Will's life as he grew up having become a Probationer at a young age and subsequently a Chorister. He was in regular attendance performing at weekly services and many celebrated occasions including the famous Christmas Carol, the prestigious Southern Cathedrals Festival and even touring internationally.
This breathtaking venue certainly provided plenty of magnificent portrait opportunities for the newlyweds as we captured them around its iconic, tranquil grounds and in front of the postcard-perfect profile with the crisp leaves lending hints of the season whilst tying in very nicely with the couple's autumnal colour palette.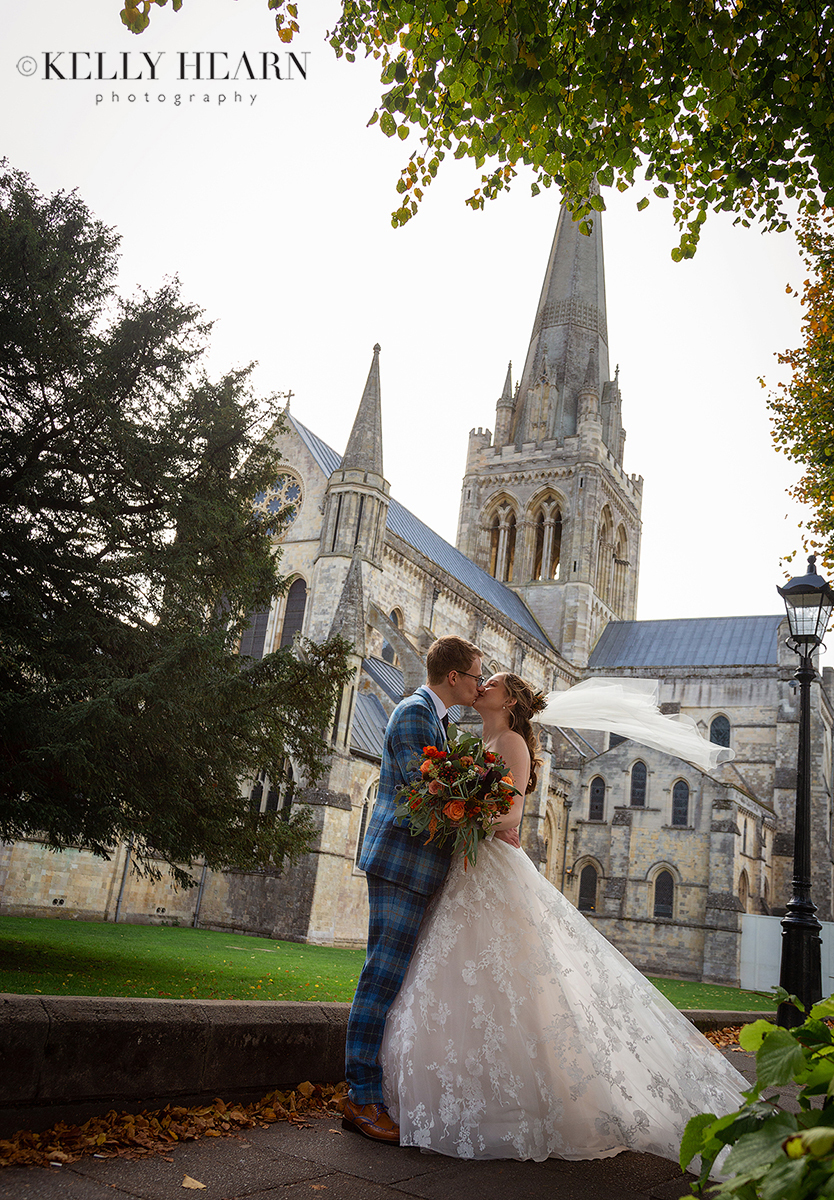 MAKING AN ENTRANCE

The Cathedral also boasted a plethora of amazing and contrasting spaces inside which we used to capture Will while he waited patiently in the wings for his bride to arrive.
As well as producing some fabulous stand alone portraits, these pre-ceremony images are priceless when it comes to telling the story of the wedding day in an album. The bride and groom don't often get to witness each other's excitement of arriving or anticipation of being united so when it is revealed through their photography during their viewing it is a delightful moment for them both.
Suit by Marc Darcy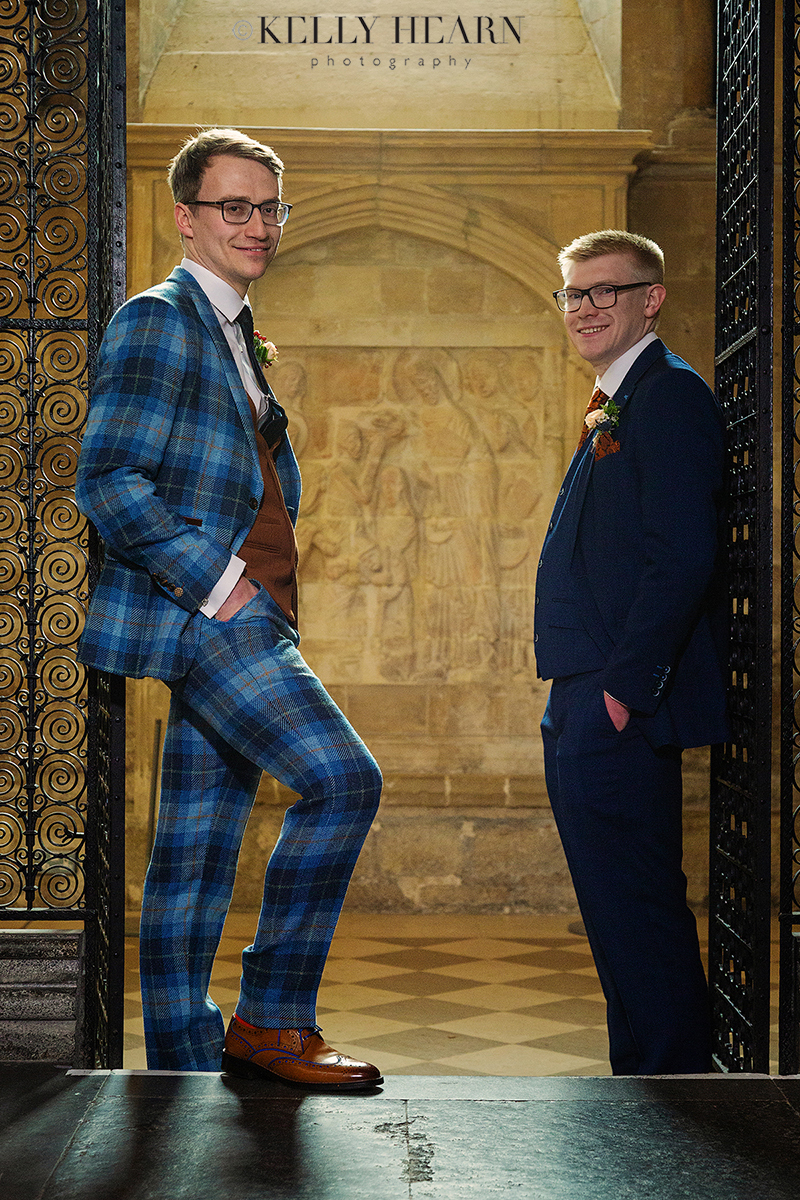 This image tells Nicola's side of the story and goes hand in hand with Will's portrait despite being shot in two different styles; a calm and composed moment for the groom as he styles it out with his best man and then a more natural moment of the bride with the wind blowing through her delicate veil and hair as her Dad helps her out of the vintage car.

Different experiences on the outside, but we can imagine they had very similar feelings on the inside.
Car by West Sussex Classic Wedding Cars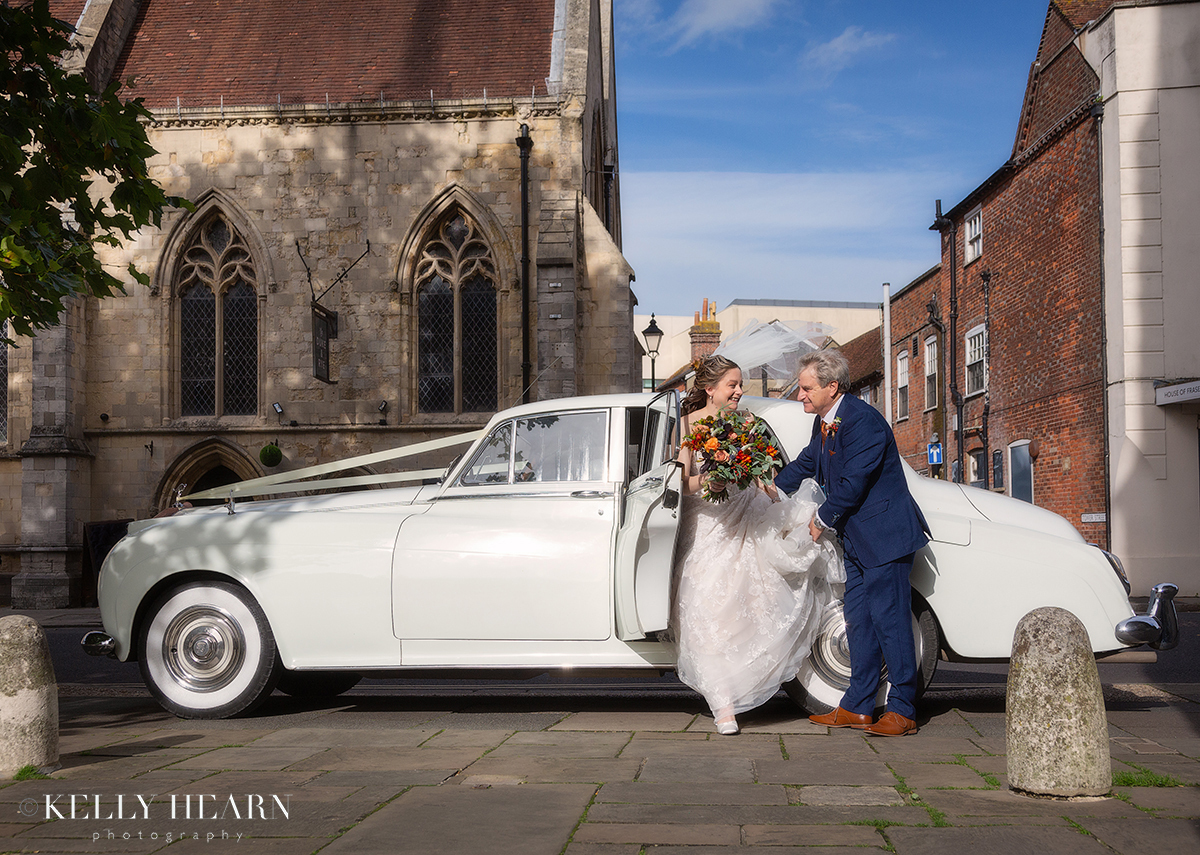 YOU SHALL GO TO THE BALL

The couple weren't originally set on having a fairytale wedding, but as their plans unfolded, this became the perfect style in keeping with such a grand venue and we think they pulled it off in the most classy way.
Nicola looked simply radiant in her vintage inspired ball gown with its sweetheart neckline and structured illusion bodice featuring chantilly lace all with a modern twist set off by her dreamy chapel length train.
Dress by Justin Alexander from Chilham Bridal - Hair and Makeup by Sarah Elizabeth Hair and Makeup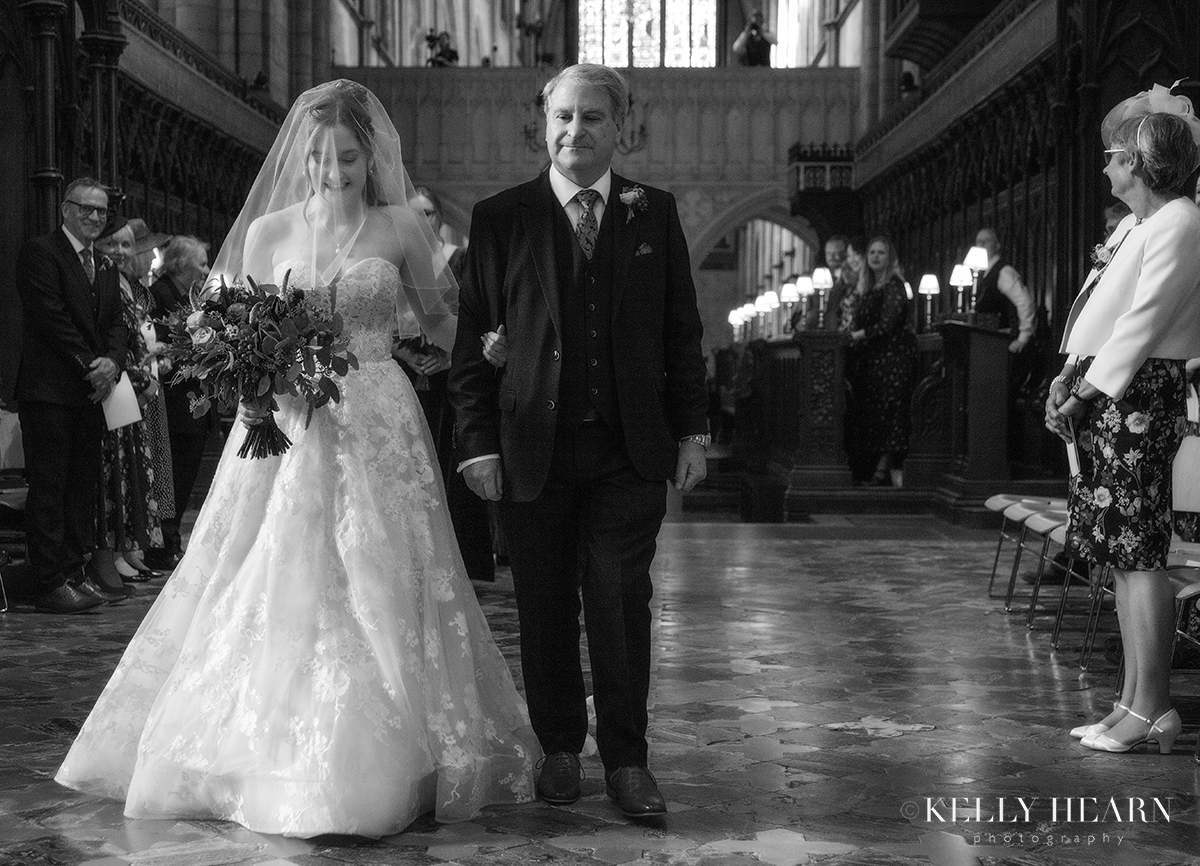 A COLOURFUL LIFE

With this creative couple's background in fashion and design their choice of bold colour combinations flaunted their personalities, style and attention to detail excellently. The dark forest greens and burnt oranges with the navy blue all worked impressively together whilst reflecting the season.
They further put their unique stamp of style on their day with their choice of outfits and details. The hues and tones of Will's statement patterned three piece suit and tie perfectly complemented those that were worked through Nicola's bouquet.
Both stayed true to their individual styles whilst coming together harmoniously - a match made in heaven.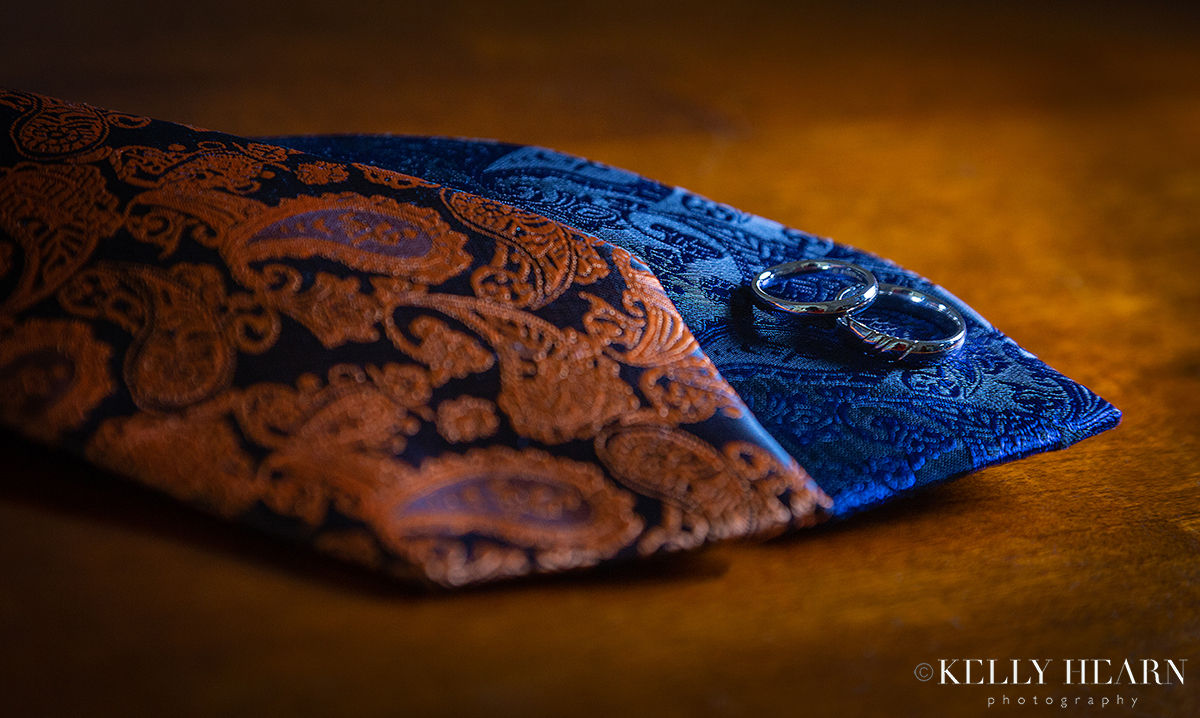 Flowers by The Floral Artisan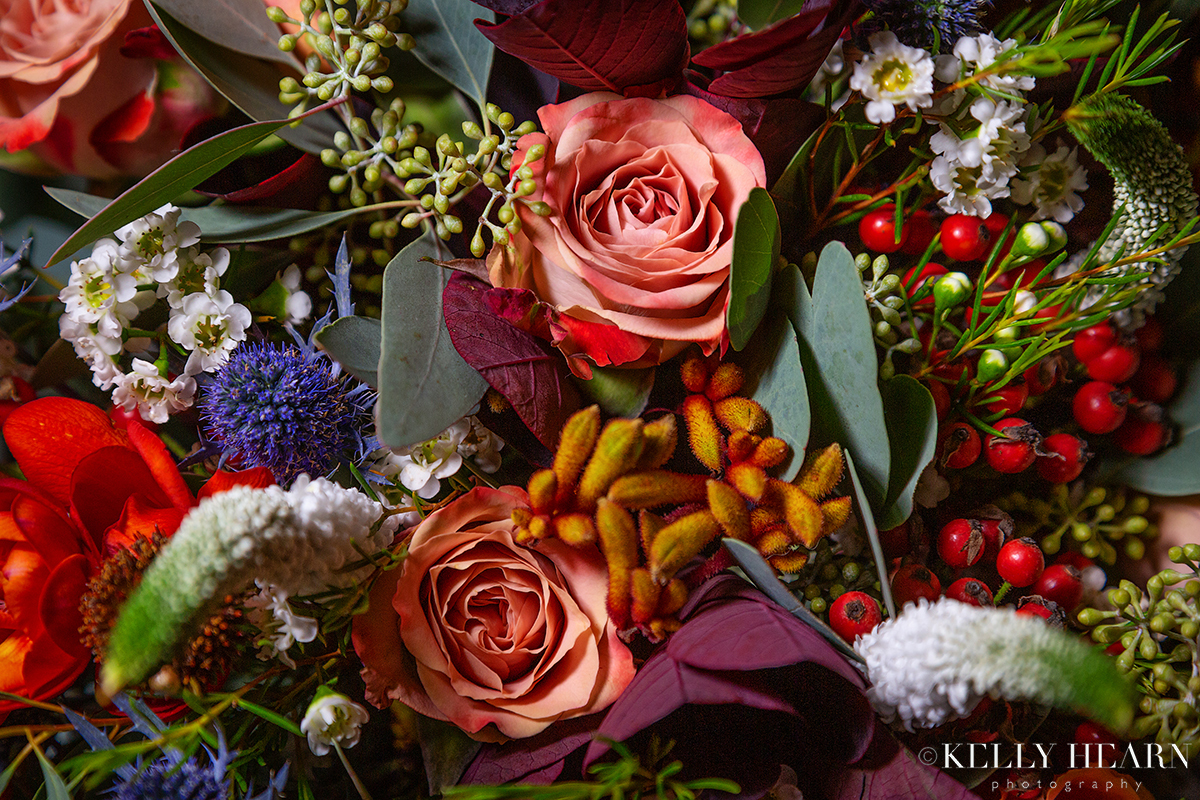 INTERIOR MOTIVES

With an interior this spectacular it was our aim to capture as many of the cathedral's iconic spaces as possible for Nicola and Will to recreate their special day entirely in their wedding album.
From saying their vows at the High Altar, the spiritual heart of the church, with its vibrant seven panel tapestry, to using the ornately carved three-tiered wooden stalls of the Quire to showcase the bridal party - we truly went to town!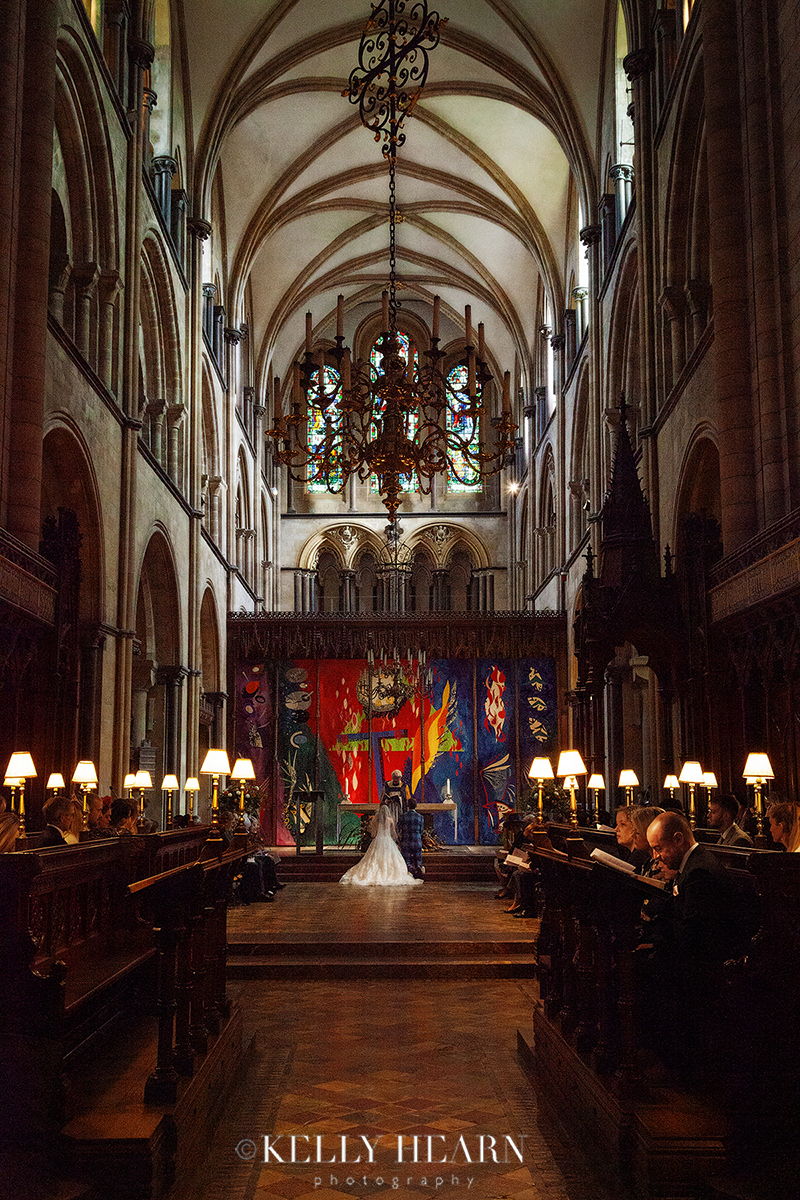 The autumnal vibe in the bridal party's outfits and details worked brilliantly with the style and tone of the dark wood and the warm glow of the lamps making for a dramatically charming portrait of the bride and her bridal party.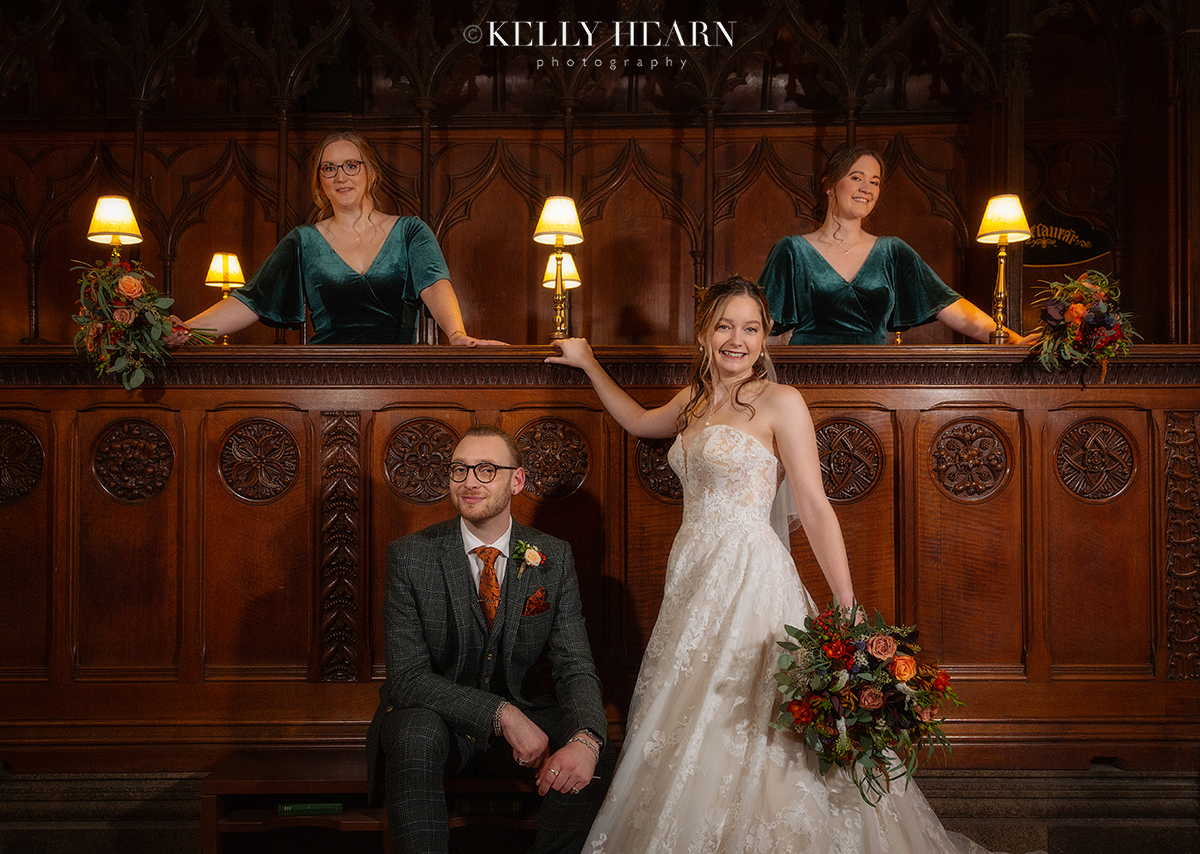 Taking a little quiet, peaceful time in the Lady Chapel made for an aptly poignant moment and photographic memory for Nicola and Will - and an opportunity for the groom to fully take in the vision of his graceful bride.
The chapel was a truly magical location with its glorious glass stained window and we took advantage of the ancient stone arches to frame the couple as they were drenched in the golden light of the opulent chandelier.
We created a modern look to this classic setting by backlighting Will's cutting edge stance so that he's framed from the background, and gave Nicola an confidently elegant pose with a beautiful quality of light on her face so your eye is naturally drawn to her.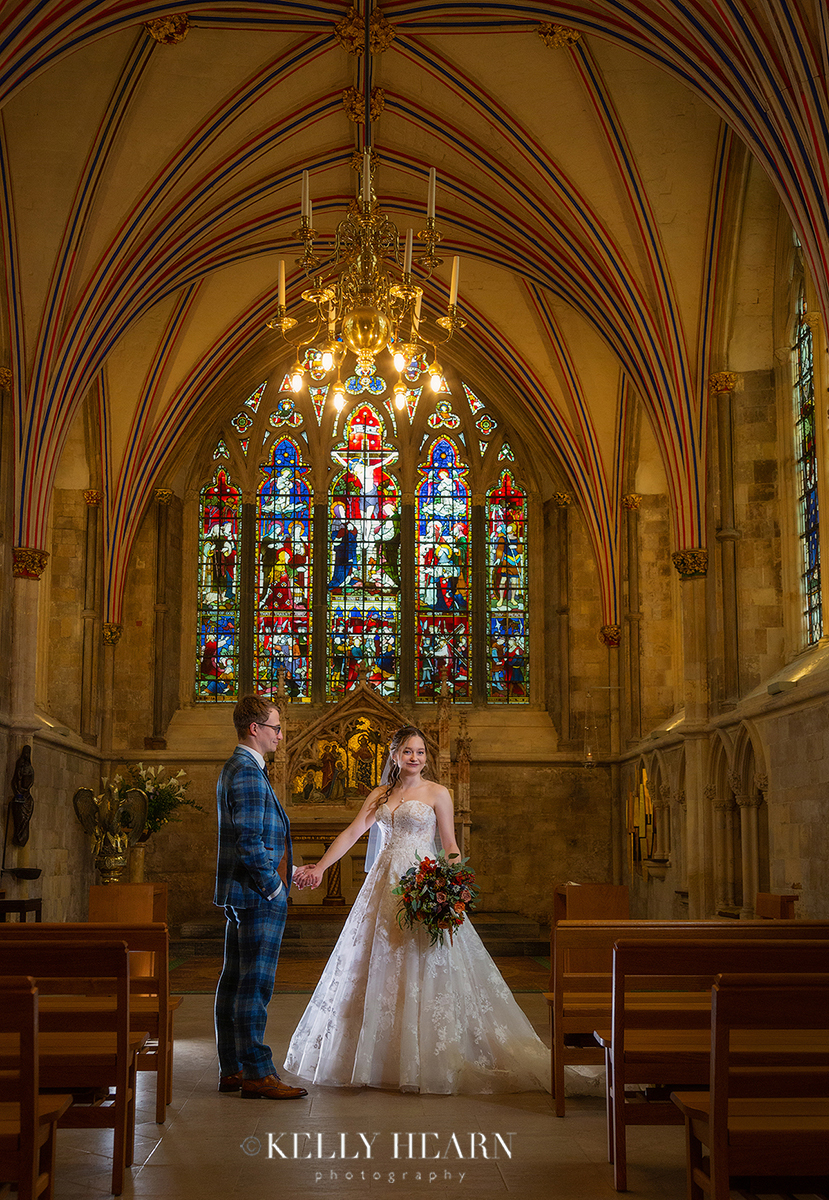 Outside the Cathedral, the cloisters were on the top of the list of places that Nicola and Will dreamed of in their imagery. As the couple sat sharing a gaze the monumental stone arches framed them splendidly.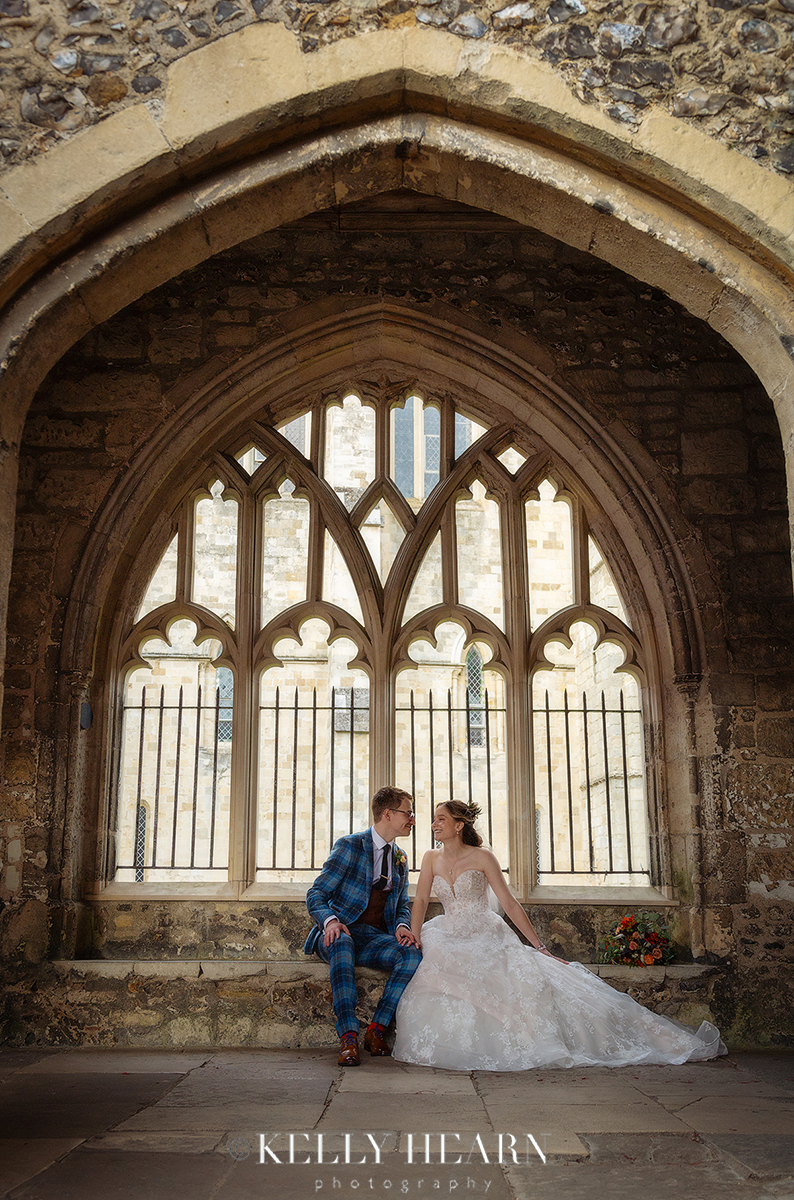 LET THE PARTY BEGIN!
With the unforgettable ceremony complete it was off to The Goodwood Hotel, another of Chichester's renowned venues surrounded by the picturesque West Sussex countryside, where they were met with delicious drinks and a fantastic feast surrounded by all of their personal touches. There were seasonal pumpkins adorning the tables adding a further fairytale reverie and giving a seasonal nod plus much loved video game-inspired table names and music.
The tears of laughter from the speeches filled the room with a buzzing atmosphere as joyful memories were shared - the perfect way to kick off the evening's reverie with their closest friends and much loved family.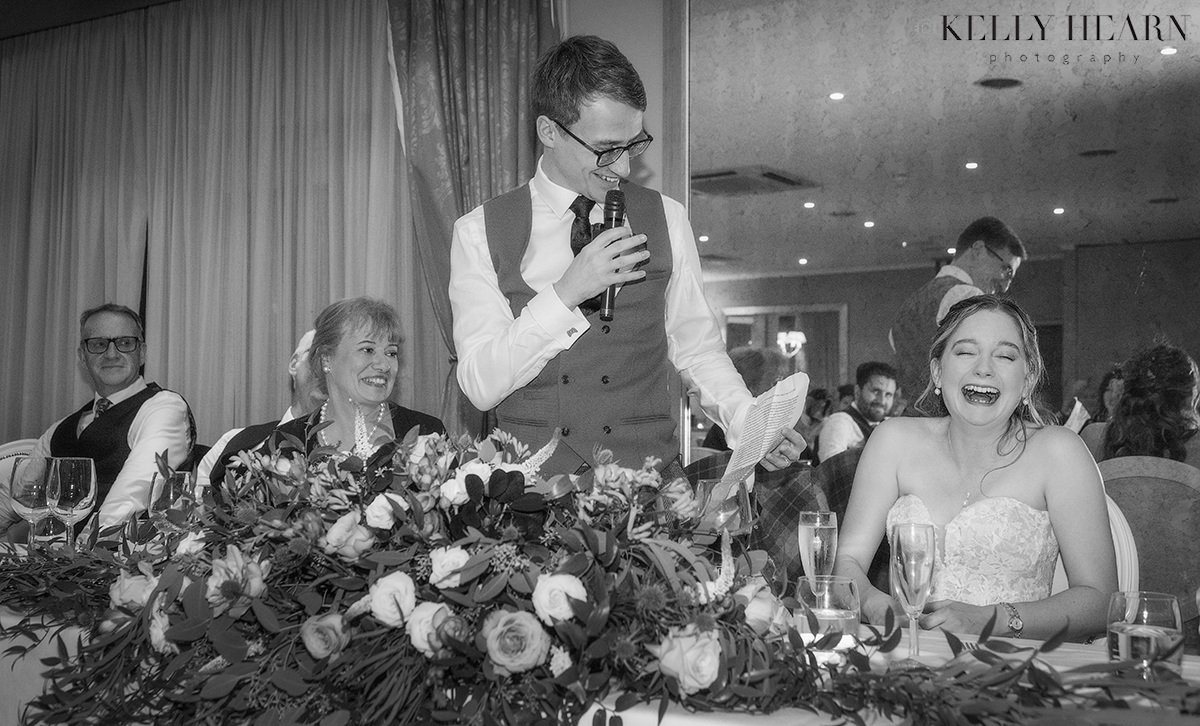 With the cosy dark night drawing in an outdoor image set before the warm glowing Goodwood Hotel seemed like the fitting end to this wonderful day and perfect for bringing their album to a close whilst giving the new Mr and Mrs Stentiford the chance to steal a moment together alone again before hitting the dancefloor.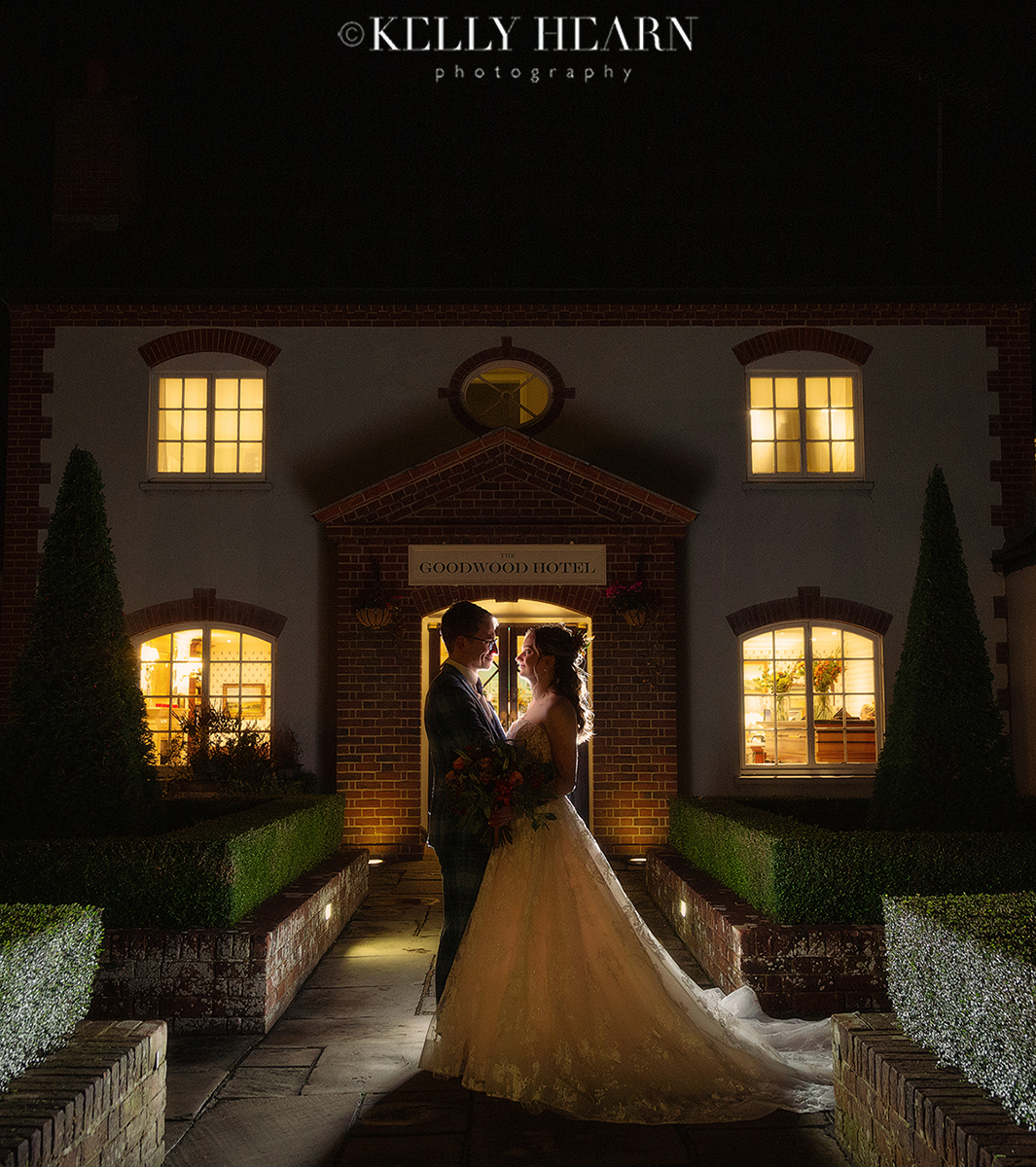 Nicola and Will you have definitely set the scene for a wonderful future together. With all the incredible backdrops that your chosen venues gave you, personalised by all of your creative touches. It was a complete joy to capture the special moments of your big day and share in the love, laughter and magic of your ceremony and celebrations.
Kelly x
Kelly Hearn A.B.I.P.P - A.M.P.A