A WINNING TEAM!
November 04, 2021
Katie and Stuart's Summer Tithe Barn Wedding
Katie and Stuart pulled out all the stops to personalise their August wedding at the beautiful Tithe Barn, set in the heart of the South Down National Park. They happily wove accents of their favourite things through their choice of details making it a unique day of special meaning.
Both being PE teachers and having met through their love of basketball, sport was top of the leaderboard for their choice of themed personal touches.
As were their fondest refreshments which included their alcohol themed table plan for getting their guests in the party mood and a welcome Pimms. There was also a choice of delicious handmade ice creams from the scrumptious and oh so kitsch Caravanilla for guests to enjoy as they mingle and celebrate on the lawn in the dazzling summer sunshine.
Not only was this cool choice a great fit for a summer's day but the retro caravan's design tied in perfectly with Katie and Stuart's seasonal pale green and white colour scheme and gave their guests a boost of energy before taking part in a spot of volleyball on the lawn!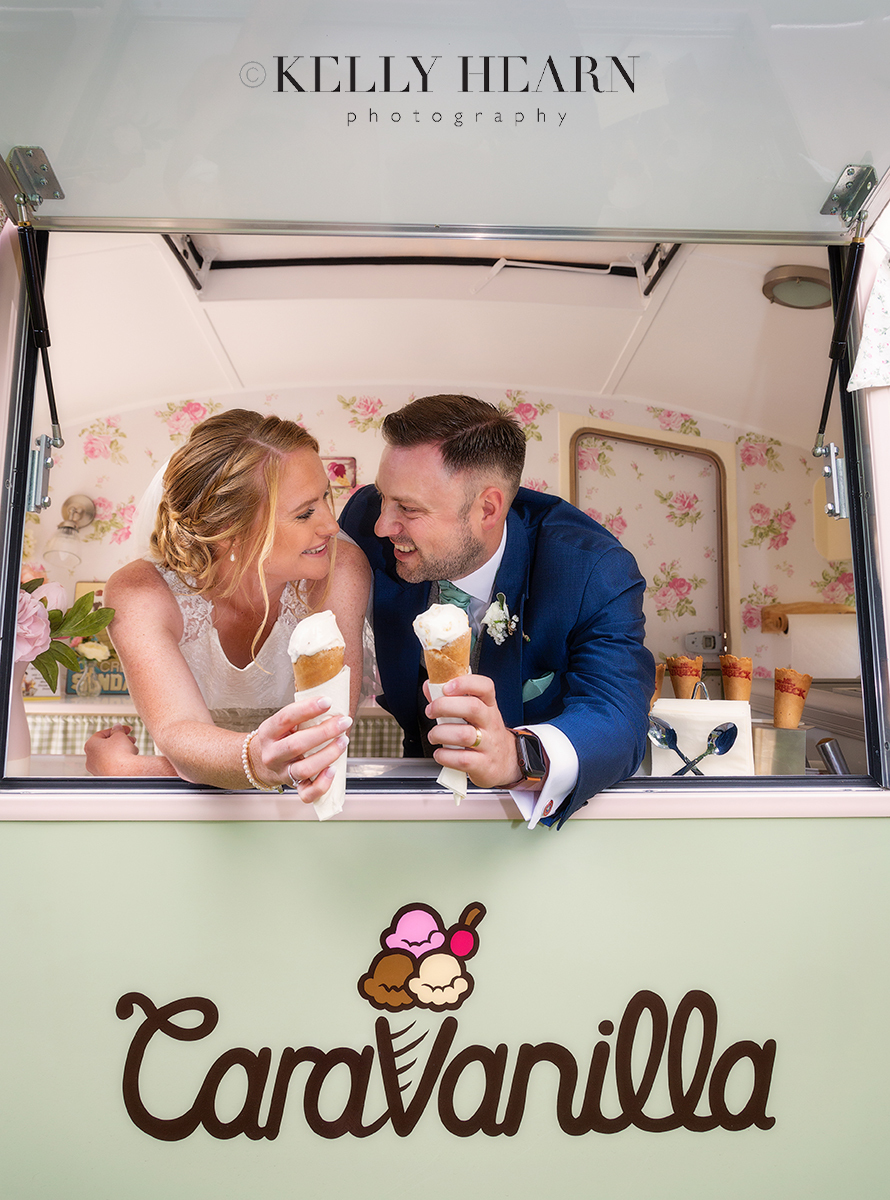 One stand out photography request with a personal significance was to stop at Petersfield Lake en route from the church in Buriton to the barn in Ditcham.

We recreated an image that Stuart's parents had taken on their wedding day and still takes pride of place in the family. Stuart loved the idea of capturing generations of Hardyman weddings in this picturesque countryside location.
We put our own KHP spin on this recreation and framed them in the lakeside's verdant foliage with the backdrop of soft pillowy clouds and tranquil waters.
As the two of them took a moment of wedded bliss together we took a moment to detail Katie's stunning fit and flare gown with exquisite lace detail and Cathedral style train from Anya Bridal and expert hair 'updo' created by Karen Clarke. Along with the dapper Stuart in his three piece, two tone tailcoat suit from Charles Gale. They certainly turned heads.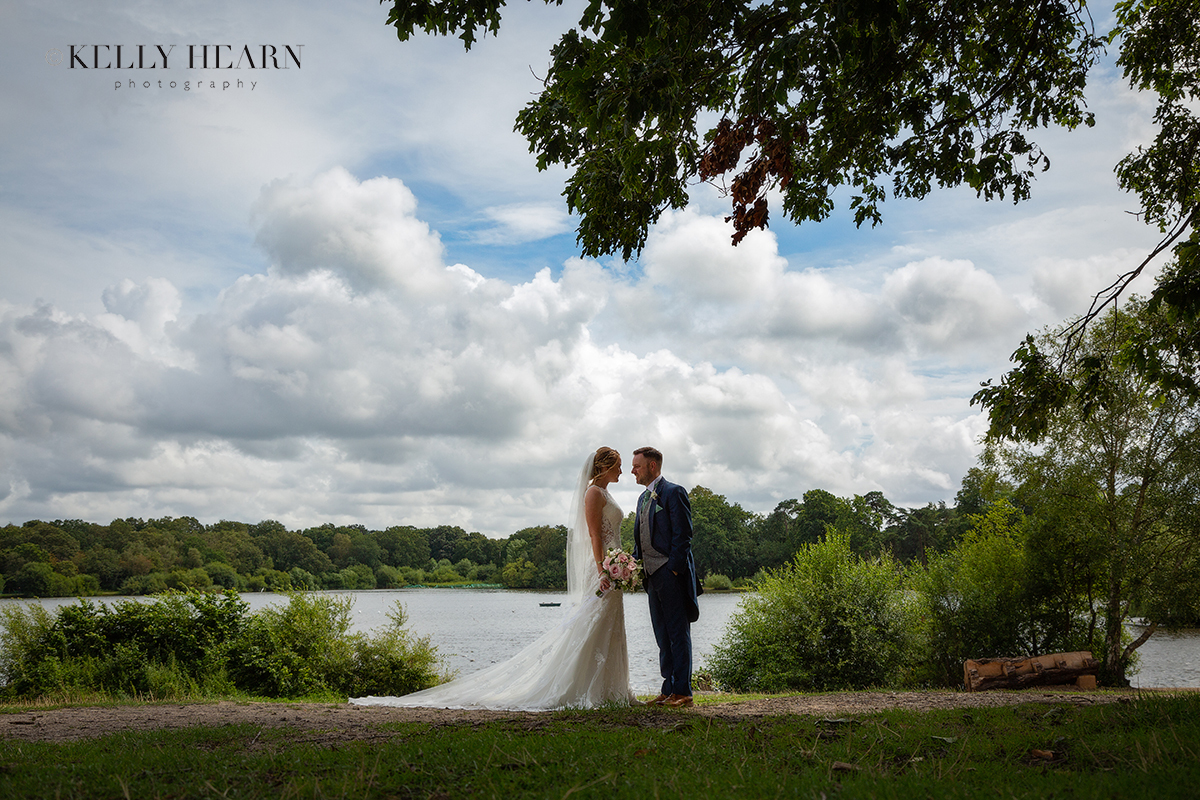 There was a precious moment for Katie when her Dad stepped into The Old Milking Parlour bridal prep room at Tithe Barn and caught his first glimpse of her as she stood dressed and ready for the day, his expression was priceless.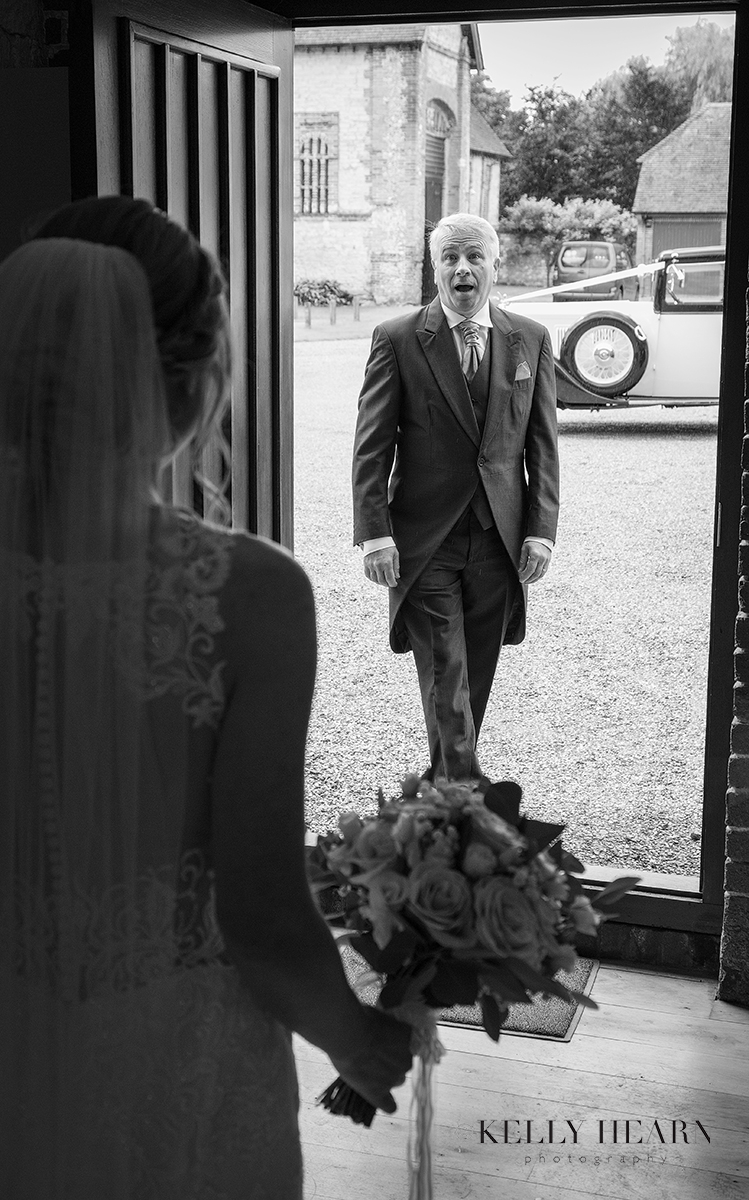 The joy of this image was preceded by the excited hive of activity as Katie and her bridesmaids glammed up and donned their dresses. They were all too pleased to show off their personalised colour themed silky pjs on the plush leather Chesterfield whilst showcasing this gorgeous bridal prep area with its style, textures and hues all beautifully in keeping with the venue.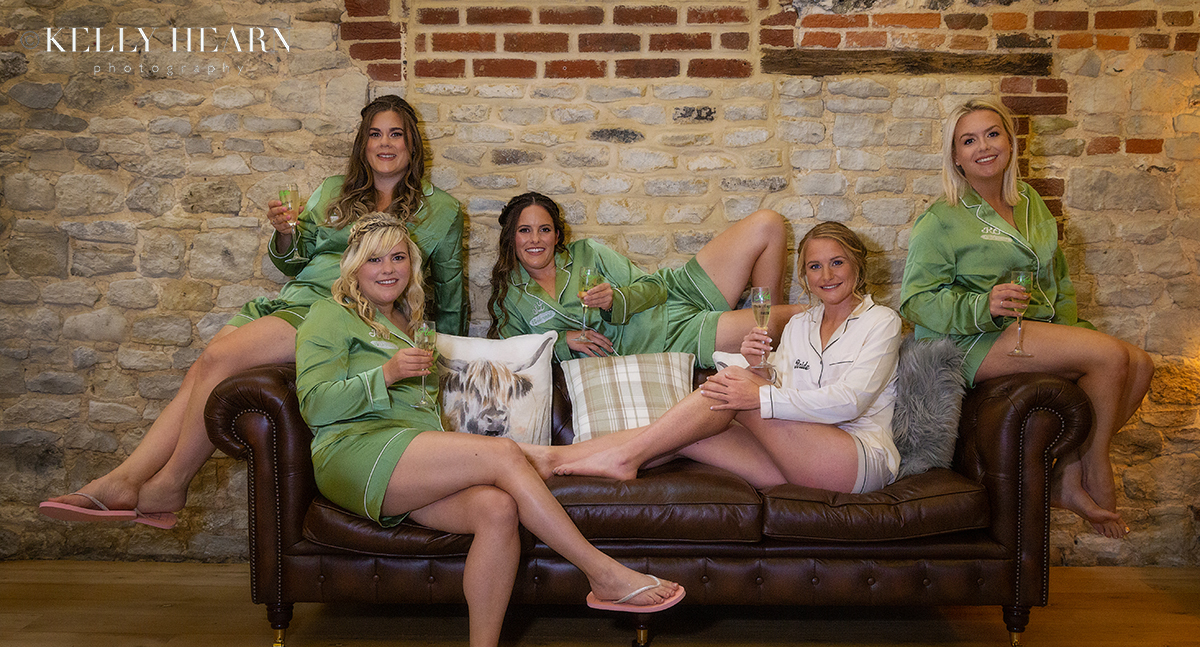 We made sure Stuart also got his morning close up. The classic architecture of St Mary's church in Buriton was calling out to be included so we went for a wide angled shot showing off both Stuart and the church's entrance and ancient looming tower with the clock face serving as a permanent reminder of the time they tied the knot.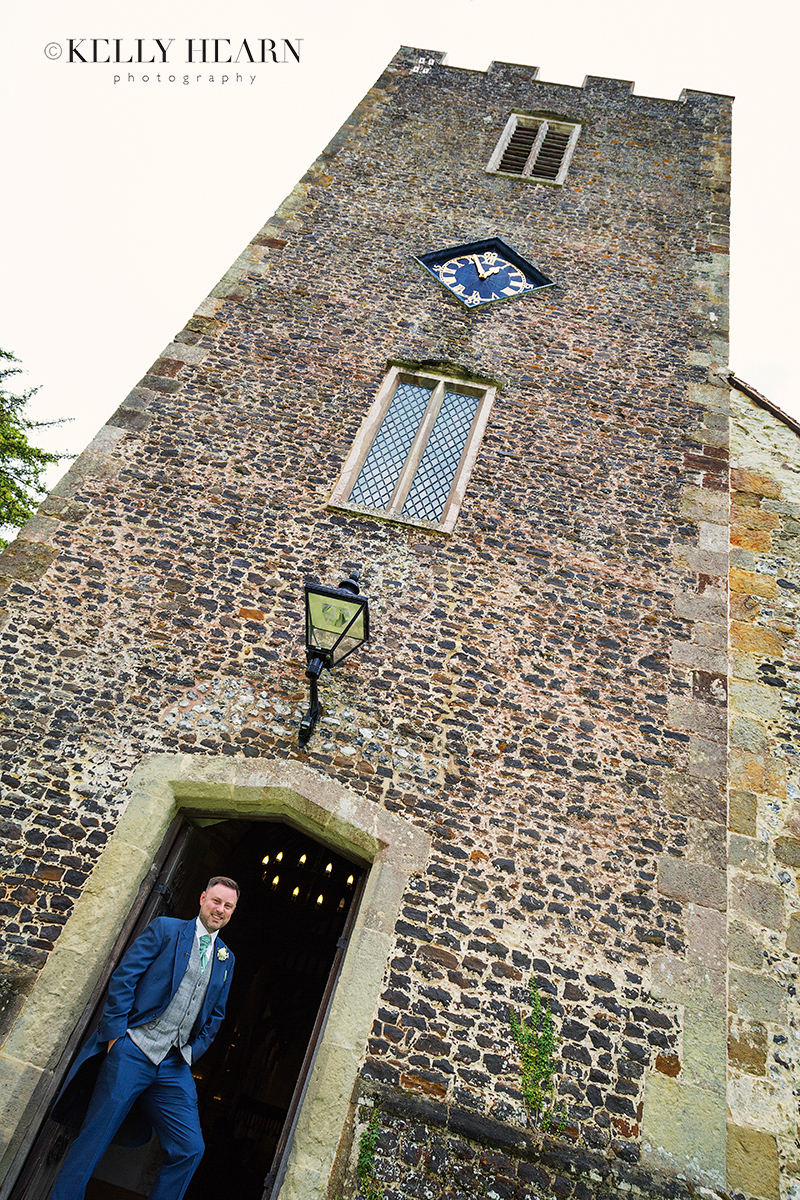 Not only does this charming church boast a dramatic exterior but the inside is equally as impressive with its curves and colours, tones and textures and remarkable stained glass window. We can easily see why this was the ceremony location of their choice.

Architecture and angles often play an important part in a couple's wedding photography and at Tithe Barn there is nothing more iconic than the balcony shot; an image that Katie and Stuart had imagined for themselves as bride and groom since booking their dream venue.

The grand brickwork arches and rustic rafters dramatically frame the couple as they take in a view of each other and the beautifully embellished, flagstone floored barn beneath them. We thought they may pole vault up there, but they opted for the stairs...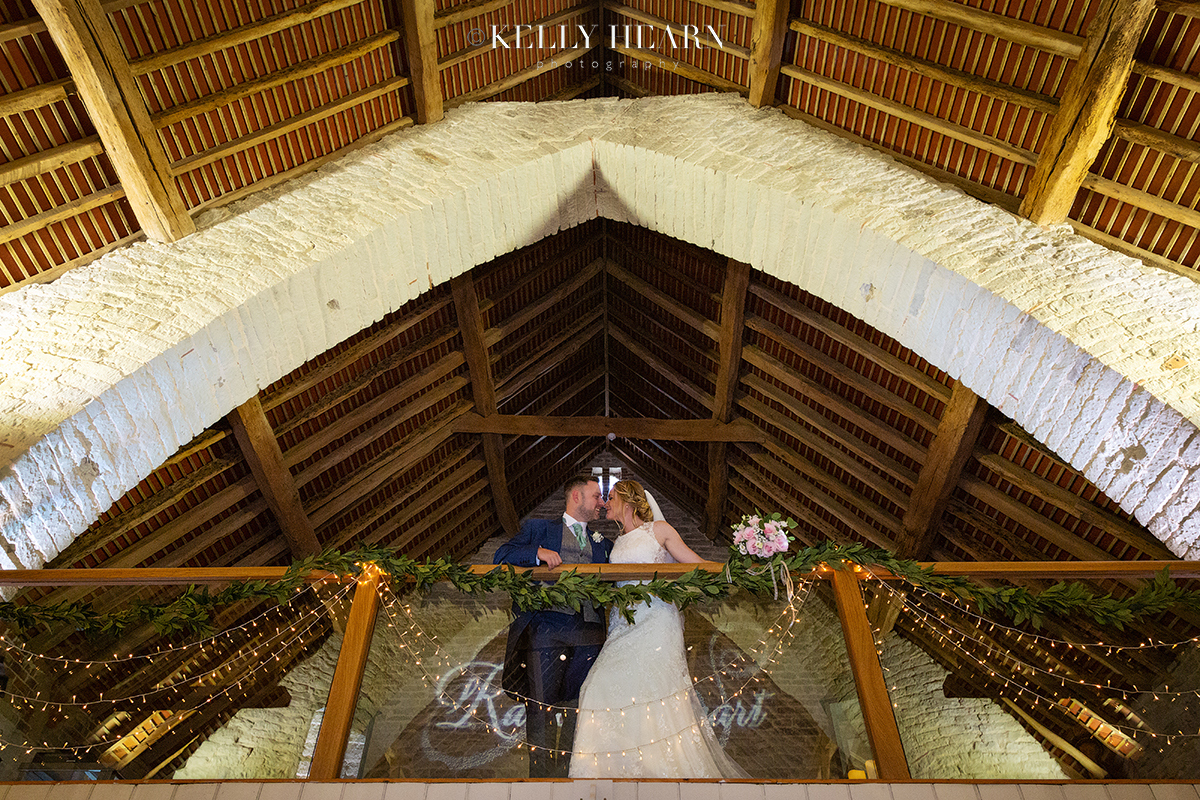 There was some fine jumping action during the group shots as we were keen to show off their active natures and versatile moves! Stuart revealed his competitive nature as he jumped higher than everyone else in this bridal party shot - or was there some foul play involving using my step ladders for a bit of extra height?

We'll leave you to decide whilst we admire the ladies in their dazzling dresses holding their delicate bouquets skillfully tied by Someflowers.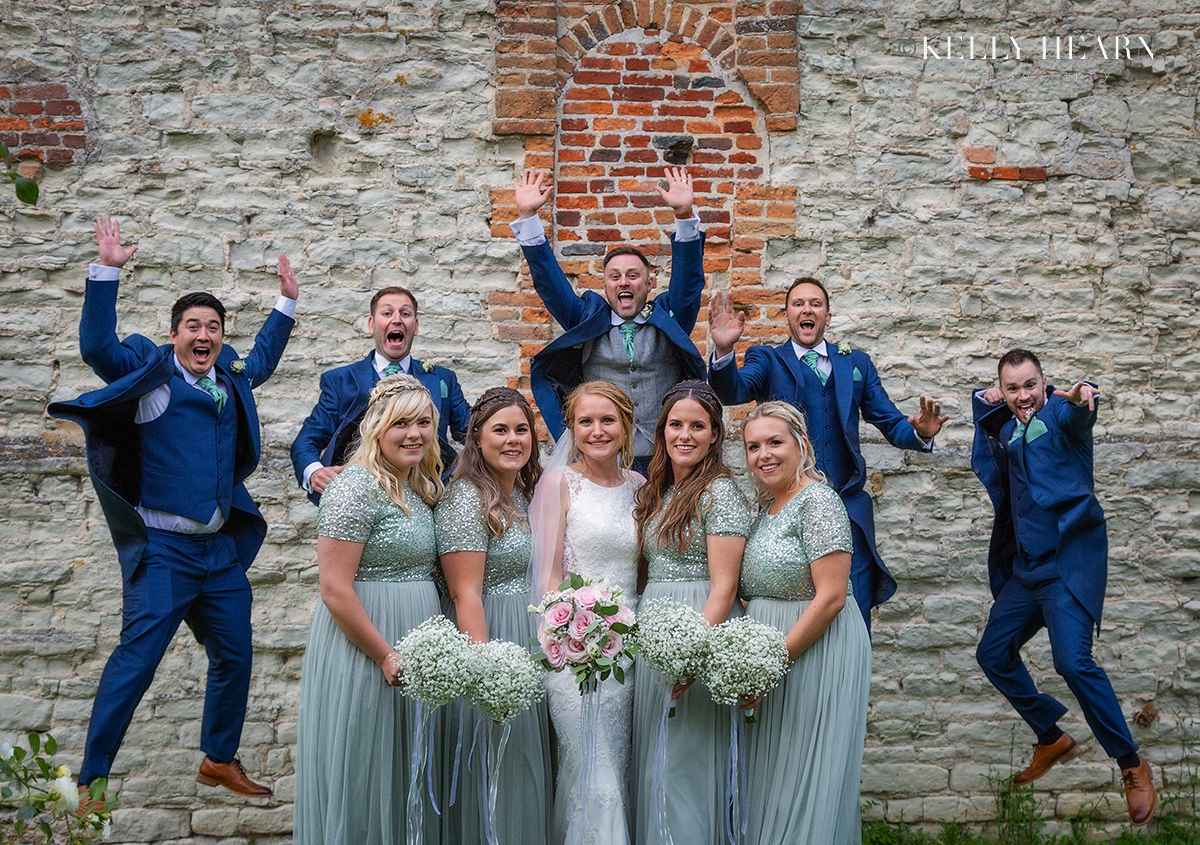 This lively couple even spelt their 'LOVE' of sport out to each of their guests with these cute sports ball themed confectionery cones as favours - providing a little more energy for the dance floor to come.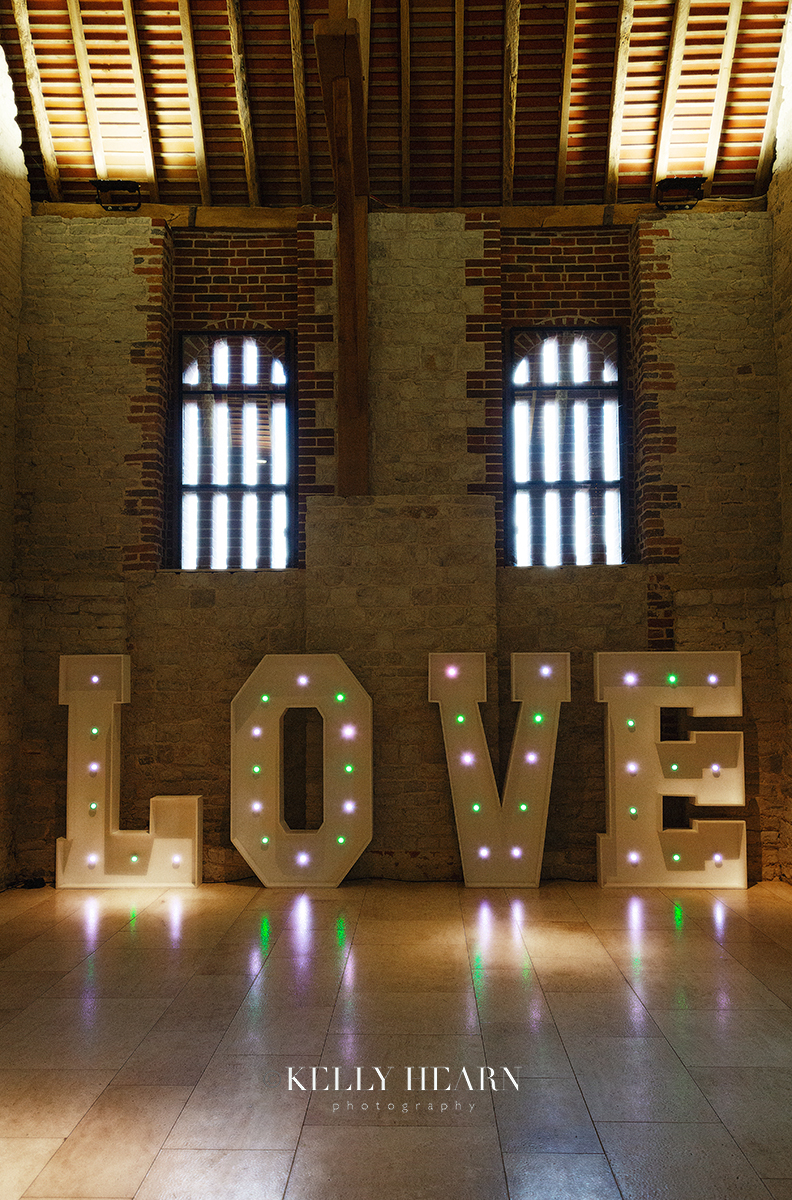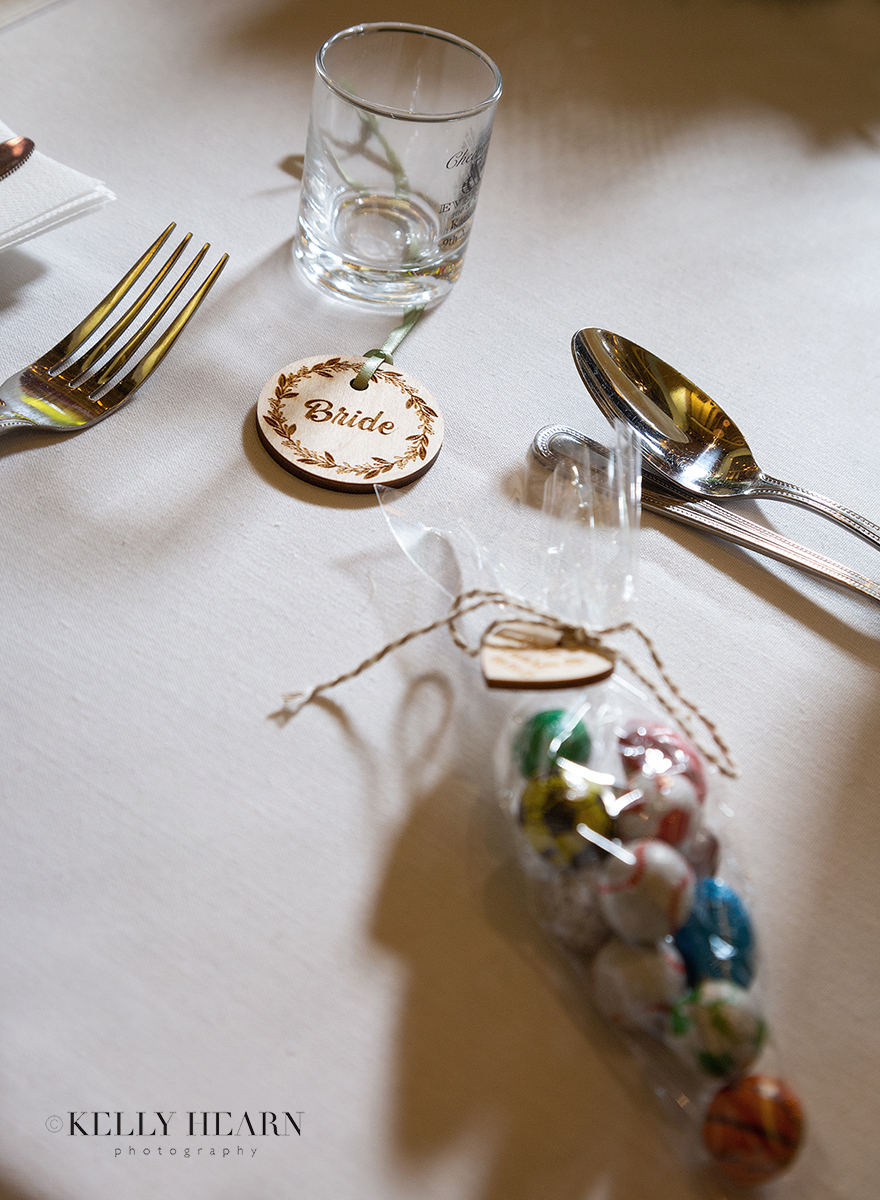 We continued to capture the movement and motion of Katie and Stuart's shapes into the evening with them showing off their dancing skills as the sun went down on the surrounding fields before joining the guests back inside who had some more nimble moves in mind.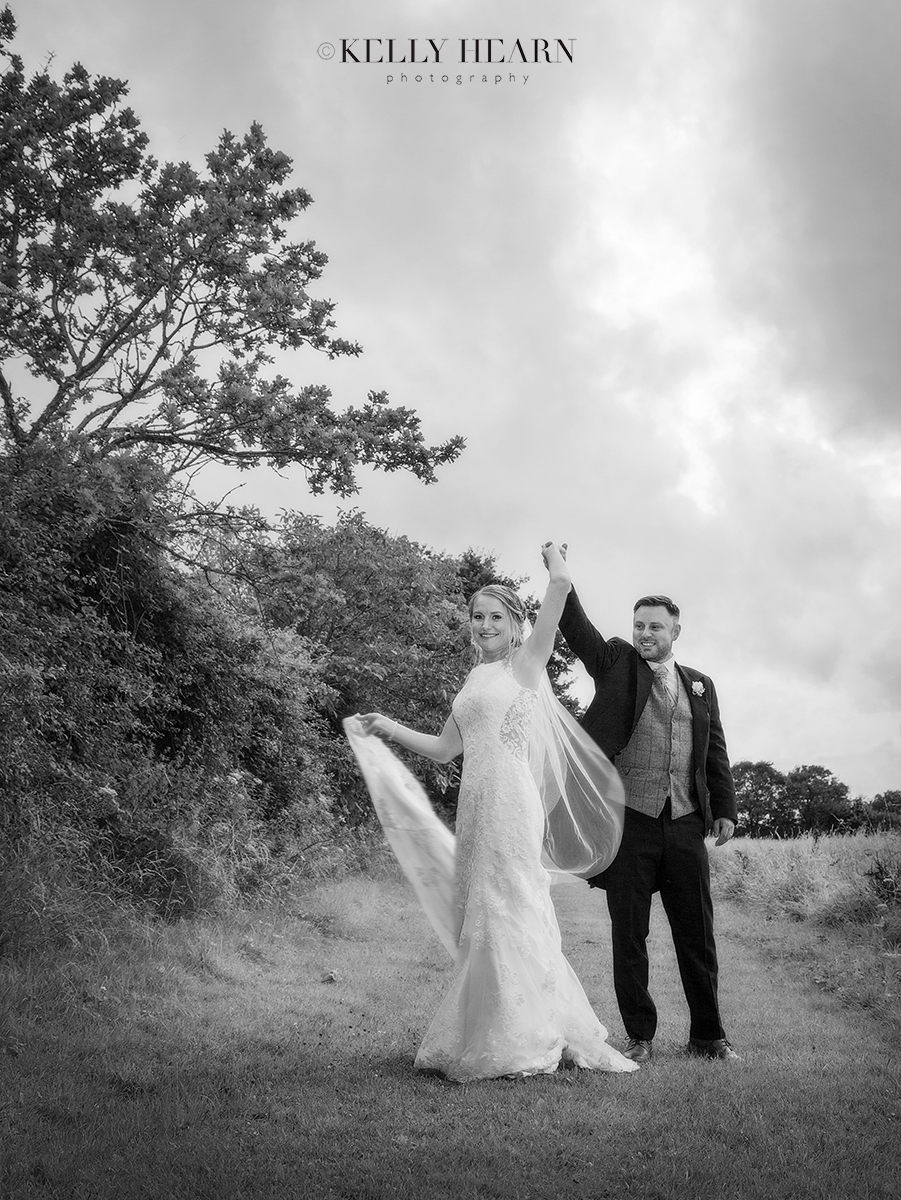 Ladies and Gentlemen we give you… Human Limbo!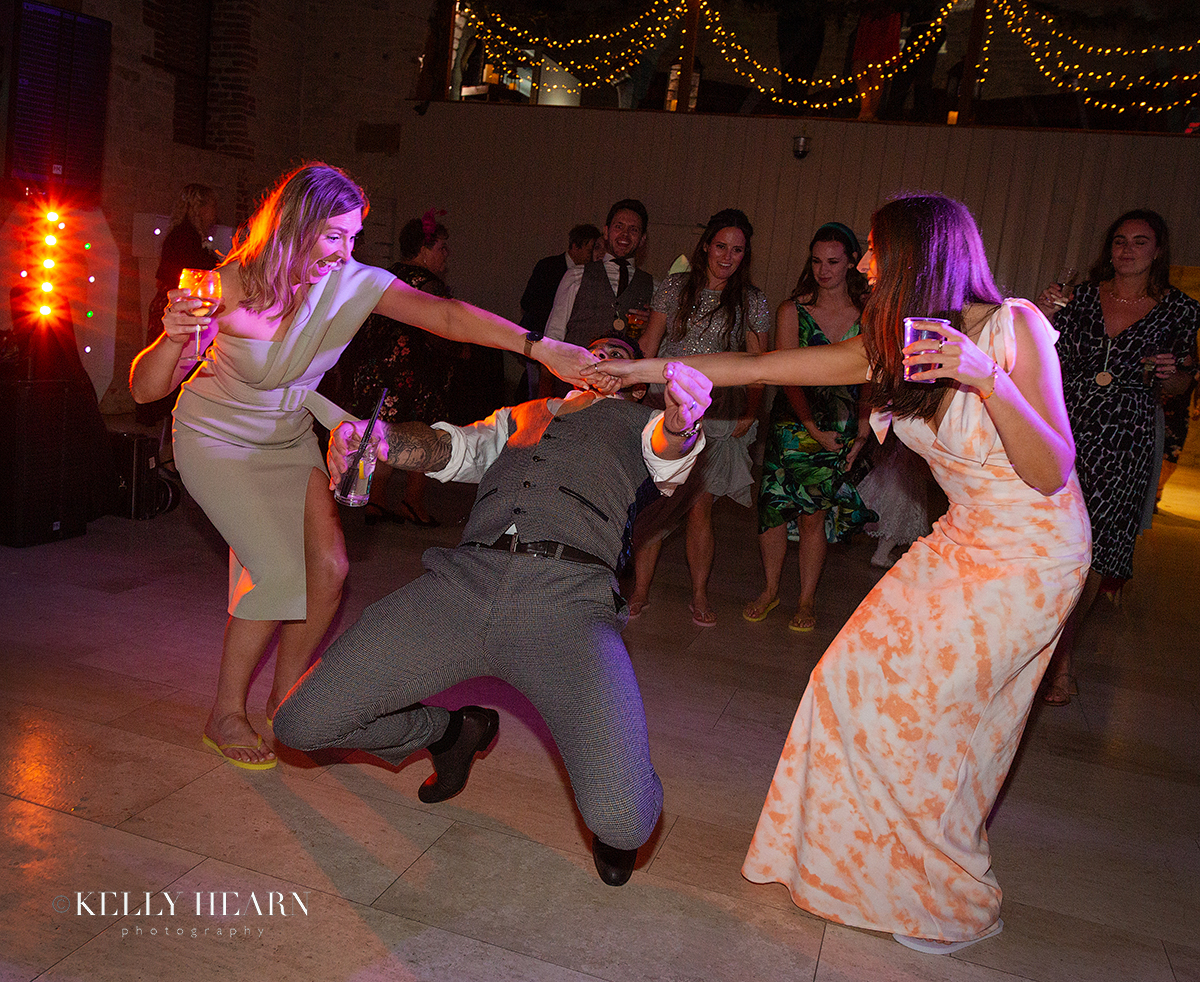 Before we left Katie and Stuart to see 'How low they could go' we made time for one final shot against the magical backdrop of the Shepherd's Hut. Working with the space between them we wanted to draw the viewer into the image using creative backlighting to highlight Katie with sharp striking lines and a soft focus on Stuart as he symbolically walks into her life.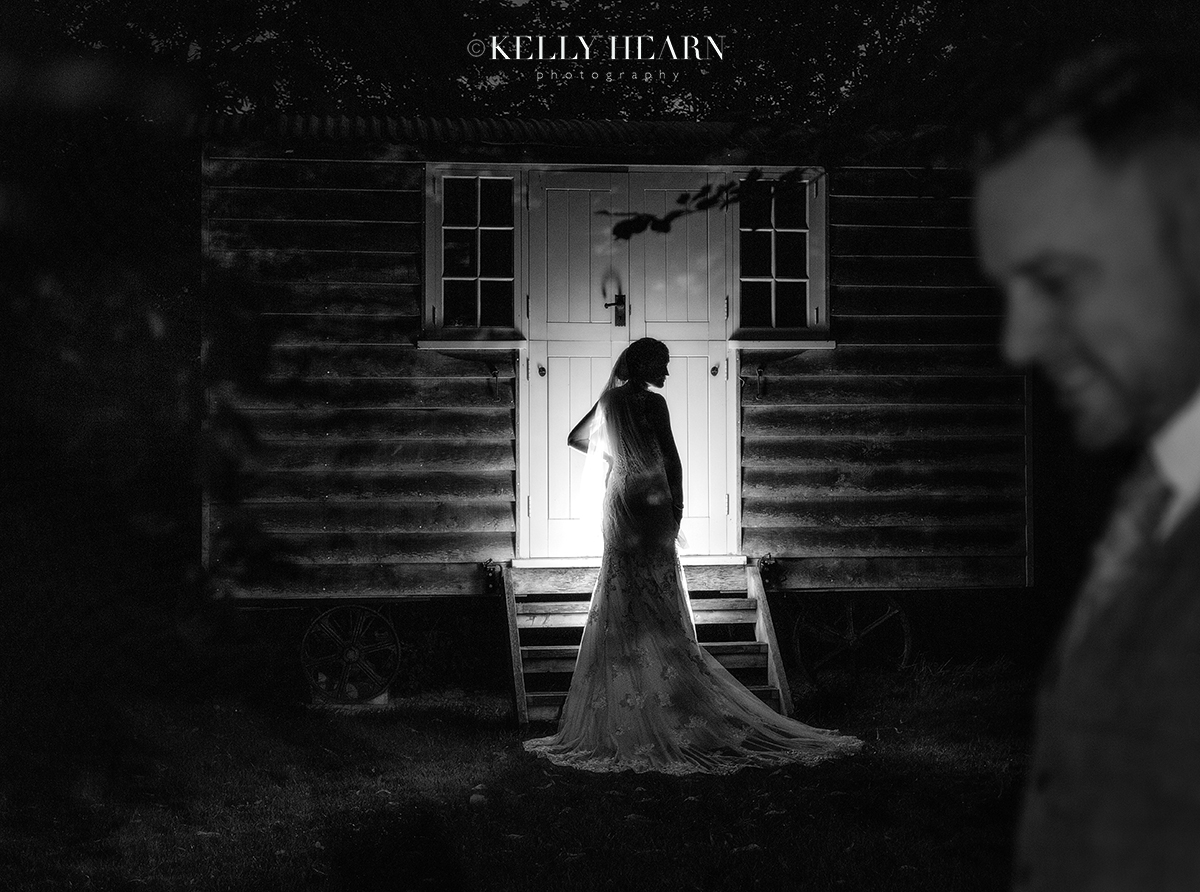 Katie and Stuart we totally loved how you created such happy vibes and positive energy on your big day and wish you all the best for a long, active and not too competitive(!) life together.

Kelly x
Kelly Hearn A.B.I.P.P - A.M.P.A