It's a Family Thing...
March 19, 2018
My take on family portrait photography
"Never work with animals or children", they say. Well I do both. And I love it! My job is truly a privileged one which I will never tire of! If you have followed any of my previous blogs you will have noticed that much of my time is spent capturing brides and grooms-to-be, making the biggest commitment ever on arguably the most special and important day of their lives. This is an awesome honour for me to capture and, despite nearly two decades of photography under my belt, I still feel blown away every time a couple ask me to photograph their big day. Between weddings however, I am often found photographing glowing bump-laden mums-to-be, squeaky-new newborns, mischievous toddlers, sometimes harmonious / sometimes chaotic sibling combinations and character-filled families taking all forms, shapes and sizes. Sometimes the 'family' portrait shoot simply involves a single beloved pet, yet each and every opportunity to capture bonds of love between those considered precious, cherished and adored by their loved ones, is unique. It demands thoughtful preparation, good timing, the right environment and professional handling - to mention just a few of the key elements that need to be right when considering booking a portrait shoot. In this blog I will aim to unpack these elements a little to give you a headstart if you are thinking about why, how and when to have portraits taken. You need to feel confident about making the plans to capture your developing family in photographs and not fear the task and then miss the moments. Such crucial stages will be fleeting, can never be re-lived, and equally should never be forgotten, which is why now is the perfect time to get planning.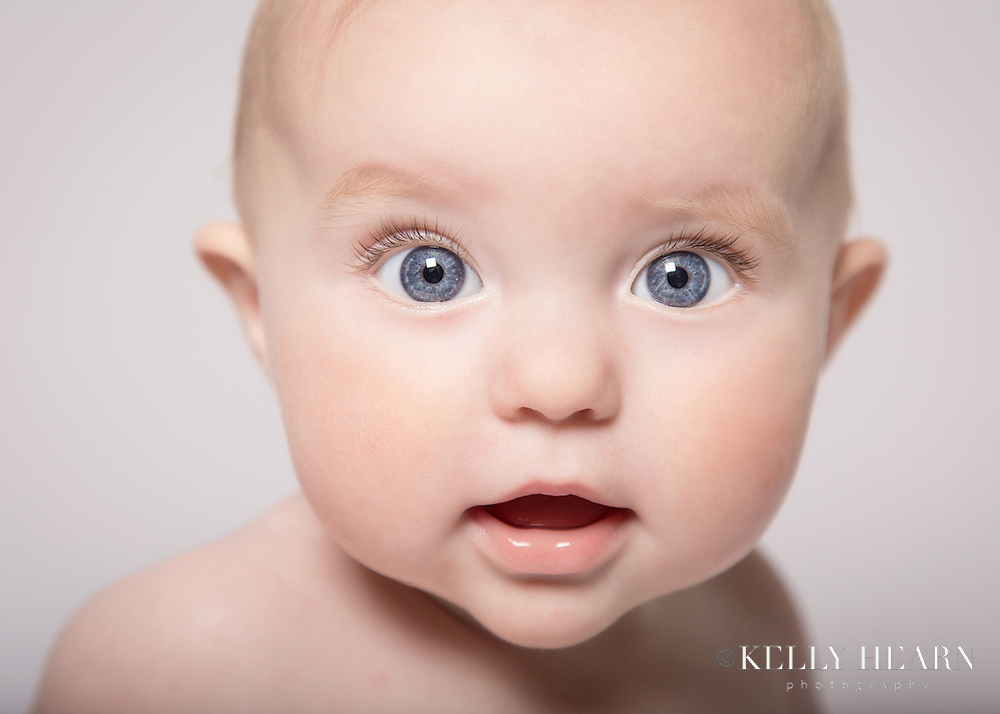 Have you ever heard someone say, "It's a family thing…"? Usually this is referring to a unique characteristic/trait/tradition that occurs in a family, and is really only ever fully understood by the people within that unit. It is something inherent to the identity of the individual family member who knows and feels that they belong with these other people (whether they like it or not!). The 'family thing' is a unique bond that, when captured and treasured in photographs, offers a bespoke and creative reference which helps to pinpoint key developments, life stages and poignant moments in family life. All these combine to create our own very personal life stories in images which are so fantastic to look back on over the years. These captured glimpses can trigger memories, tears, laughter, joy and provoke enthusiastic story-telling whilst conjuring up a whole host of emotions. Photographs are all about being able to return, feel nostalgic and enjoy the roller coaster of emotions over and over again. But where to start with this journey of pictures? Of course the beauty of every family is their unique structure and evolvement which thankfully is a diverse and creative thing. Whilst typically an engagement shoot might often be where I meet many of my clients for their first shoot, followed shortly by a wedding, there are no rules. Pets, babies and children all come at different times around such landmark moments and so basically, the journey starts wherever you want it to.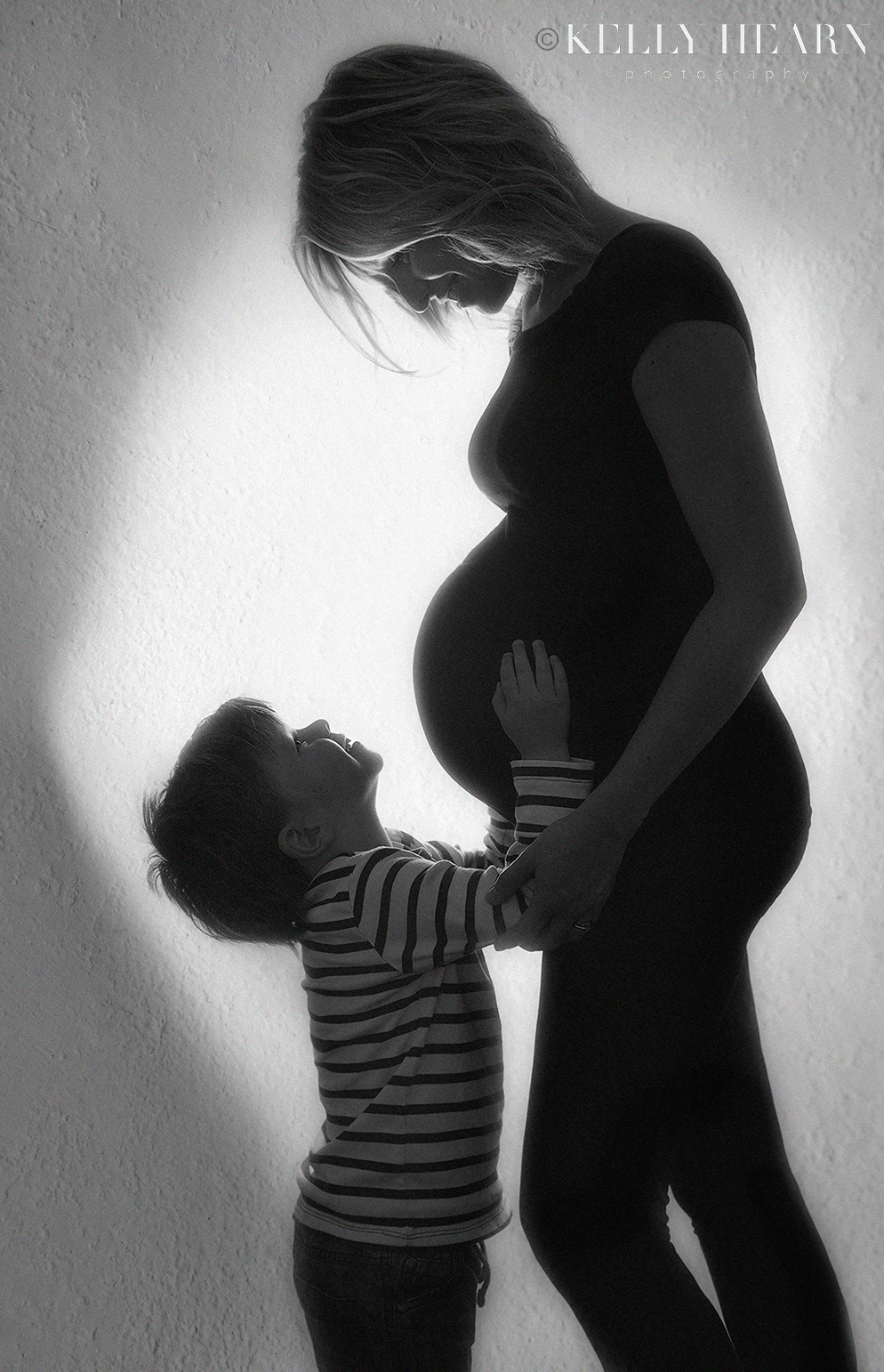 For the sake of this blog I will begin with the newest of life. Most maternity portraits are booked for the third trimester when the bump is nice and obvious but ideally before mum-to-be is feeling hugely uncomfortable or too much like a beached whale(!), (so usually between 28 - 36 weeks, although I have photographed a few last minuters at nearly 40 weeks)!  The location options are endless but I do think a studio shoot enables a warm and comfortable environment. Being inside will enable lighter clothing to be worn which is better for seeing the defined shape of the baby bump and to prevent our unreliable english weather from limiting the options. A variety of lighting and props will ensure there are many natural and flattering ways to be captured, whilst bringing a partner or the bump's siblings along can open up opportunities to capture the early family bonds, excitement and anticipation of meeting the new addition. This might also be a great time to consider getting ultra organised and considering booking a newborn shoot whilst not-yet overly tarnished by the haze of sleepless nights that can occur in that whirlwind first few weeks!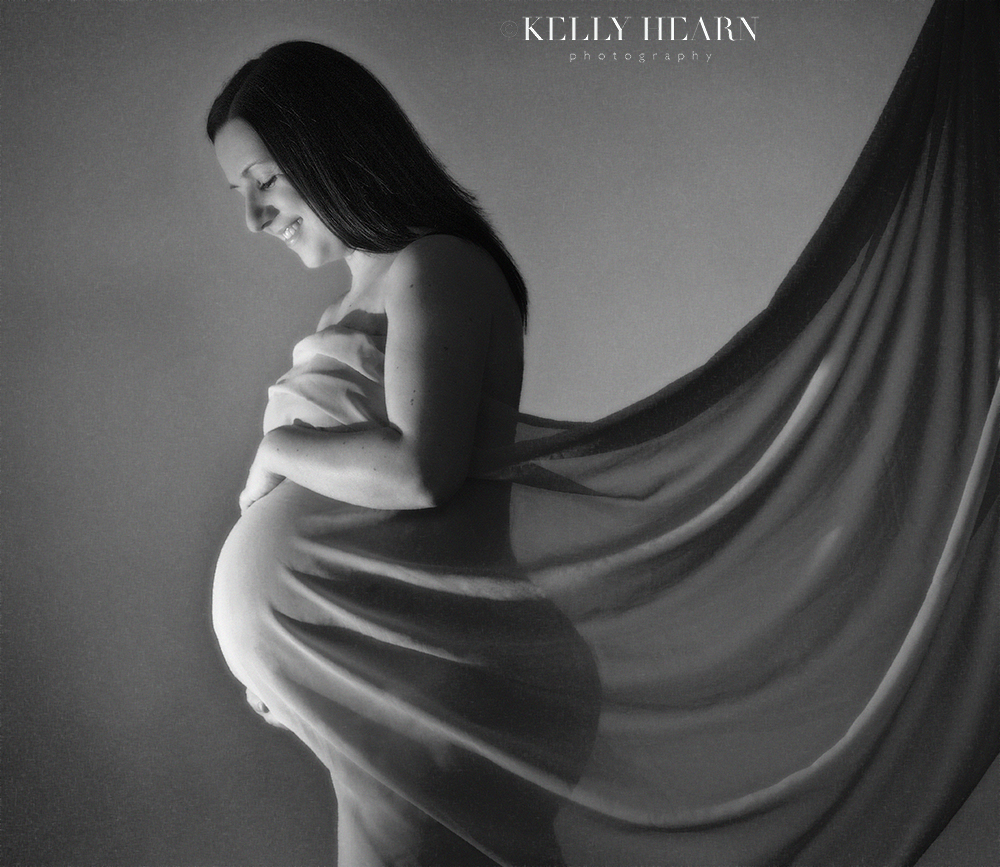 Capturing a newborn in the first two weeks, before they have a little growth spurt, is rather magical. The newbie will most likely be mostly sleeping and still curled up as if still in the womb. Many photographers use this 'bendy' stage to pose a new baby in, on and with props, whilst wearing costumes or donning accessories of varying descriptions. Whilst these creative and quirky shoots remain very popular and often retain a certain 'cute' factor, my personal tendency is to want to capture the newborn as naturally as possible in a timeless and classic style which highlights their tiny perfection in all its fragility and newness. Safety is paramount for these mini people and it should always be a huge consideration when allowing a photographer to handle your new baby. Experience, knowledge and professionalism is essential when it comes to positioning a newborn correctly and being aware of the impact of movement, temperature and flashes of lights. Occasionally a carefully selected prop will be meaningful to a parent and when used cleverly, can even help showcase the newborn - perhaps by offering some contrast by which to see how tiny the baby actually is, as is the case in the portrait below. When a baby is safely and naturally positioned, the result can be a winning combination of natural and creative.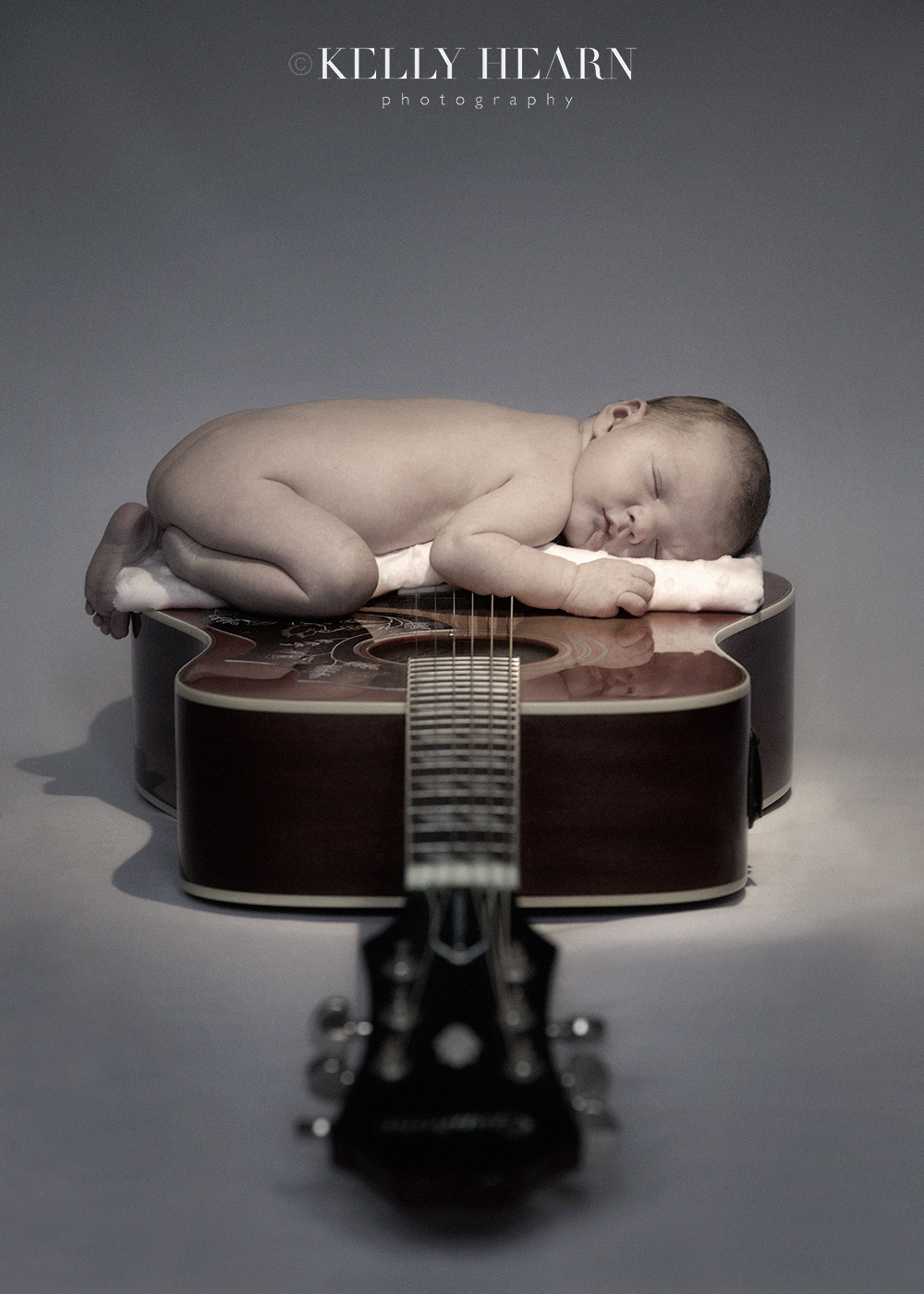 Capturing the tiny features of a newborn is another beautiful way to remember a child's delicate and fascinating start to life. The wonder created by the scene of a little finger wrapped around a parent's finger, or a pair of feet cupped in a single hand is unparalleled.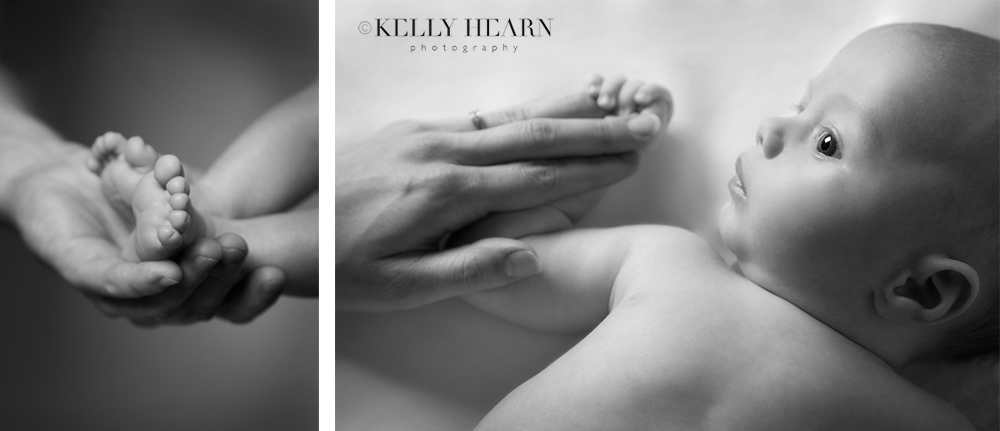 As the baby grows a little and reaches the three month mark, I often suggest this being a good time to get them back in front of the camera. Now a little filled out, with sparkly wide awake eyes and engaging character twinkling through, this is a wonderful stage where the connection with the parents is now evident and simply heartwarming to witness. I am often asked, 'What should we bring? How do we prepare for the shoot?' It's pretty simple. Don't bring your baby hungry - make sure they've had a good feed and are winded, but be prepared to feed some more if baby requires it! For classic portraiture I usually photograph babies stripped off to their birthday suits or down to the nappy. The studio will be warm and toasty, and I have various blankets, props and toys on hand. Spare nappies and wipes are a great idea, as literally - anything can happen at any given (usually inappropriate) moment! Over-tiredness can send that little one stir-crazy so try and ensure a nap has been had before the shoot and that the baby's usual dummy or comforter is at hand to help soothe away any potential over-tired meltdowns! Lastly, one thing I always maintain is this; if in doubt, you must be prepared to sing!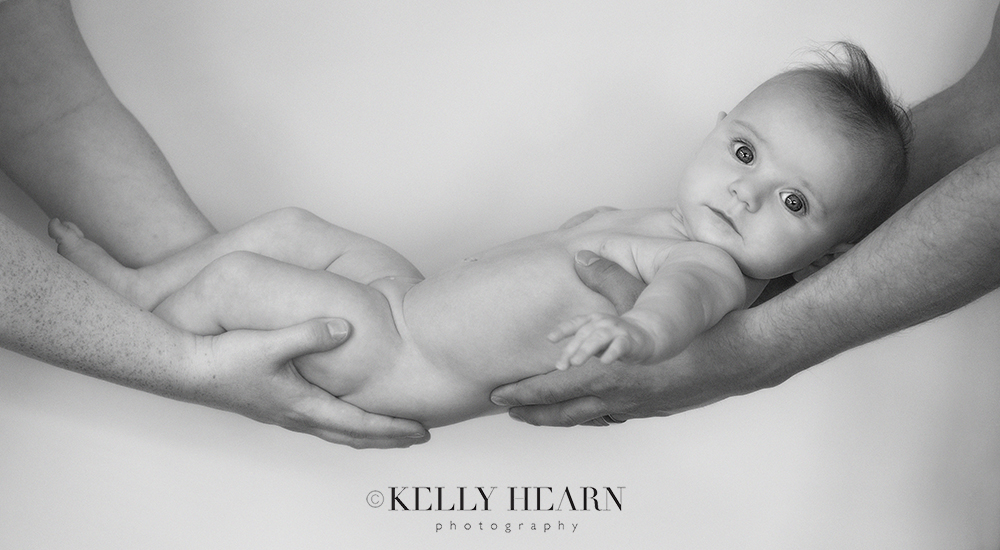 Dads can often feel a little on a fringes of the maternity/newborn stages of parenthood but at around the three to six month point I have seen many fathers connecting with their babies beautifully and find this to be a wonderful time to photograph these newly blossoming relationships.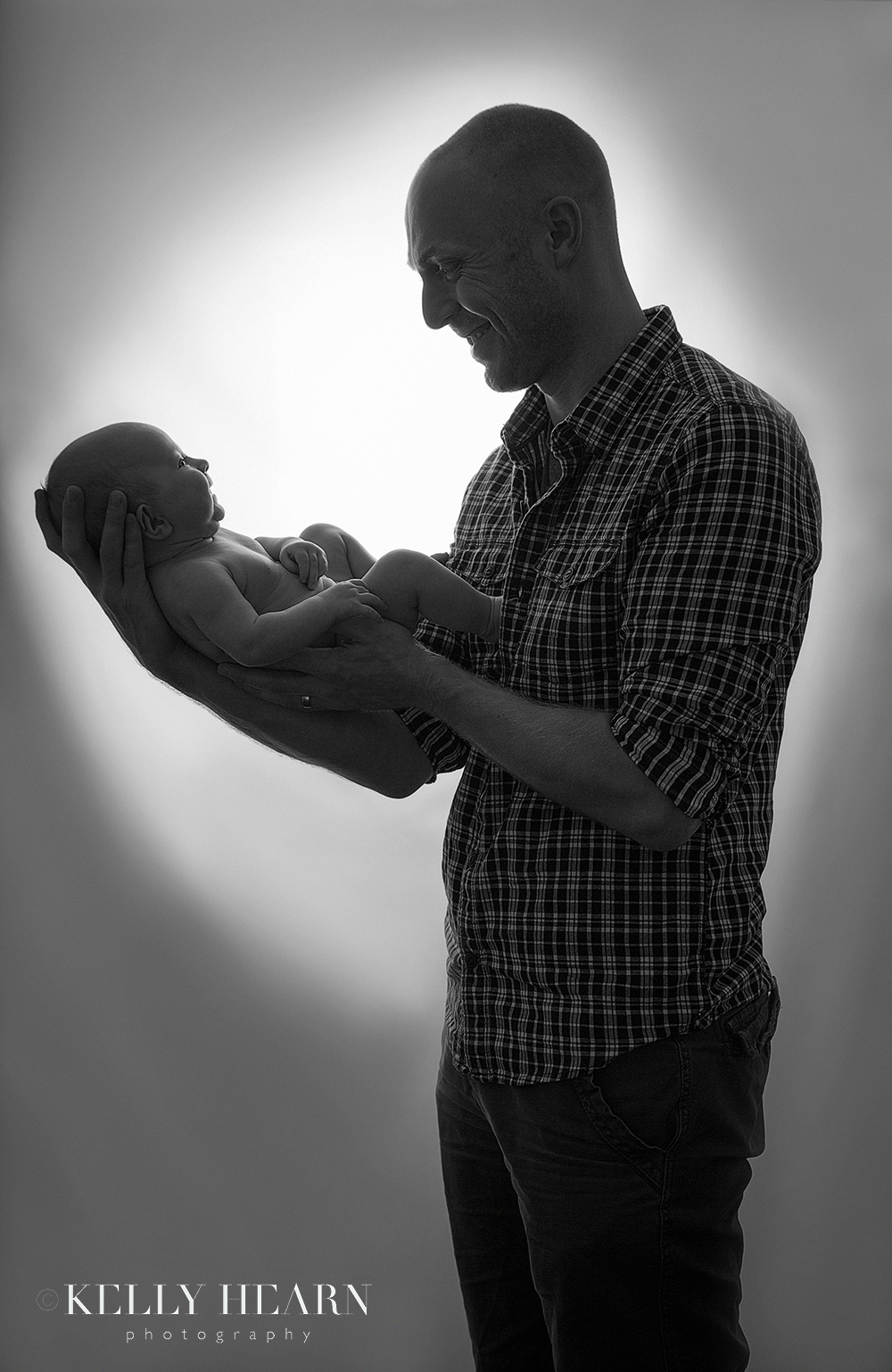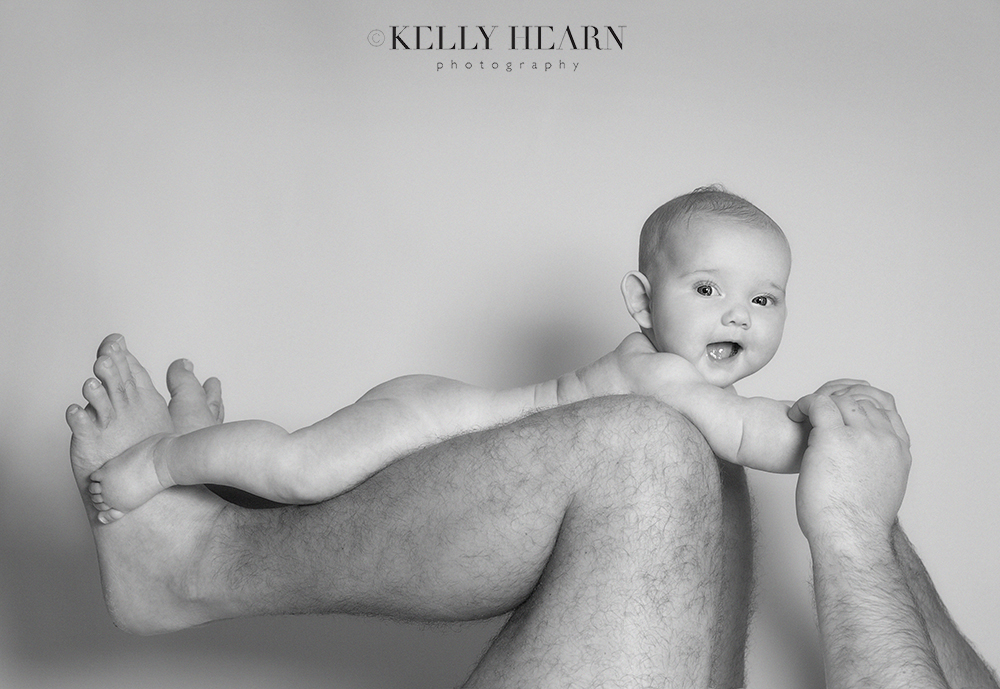 At around six to nine months we see another significant developmental stage occur as babies learn to sit up independently. The transition from the tiny delicate newborn bundle to a giggling, smiley, bright-eyed little human is just amazing. Capturing that little personality is a joy, especially when seeing them interacting with their family who are now very at ease with this extra little character in the mix. I sometimes find that mums want to be in the pictures to show their connection to their little one, but being in a post-natal stage themselves don't always feel ready to be photographed. Capturing details therefore is an ideal way to create that sentiment and closeness without always having to be fully in the photograph.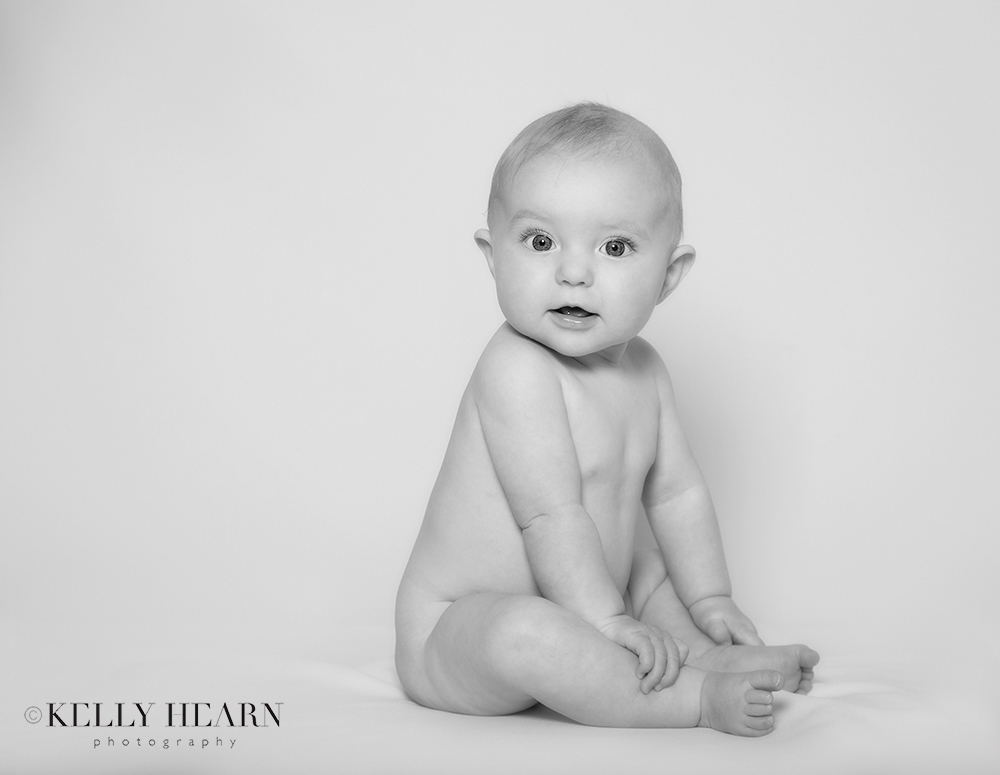 At around 18 months to two years old your baby is turning into a toddler and a whole new world is opening up for them to explore. Location is the key for portraits of this age group and it's good to be mindful that the nature of your child will enable them to experience different locations in a very individual way. Beaches are fantastic for tots who love to run free in wide open spaces and aren't afraid of the varying textures of sand or stone under foot. For children who need a little more feeling of safety perhaps a woodland area with a path to follow or a log to play on, might be preferable where there are some visual boundaries helping them not to feel too exposed or vulnerable. Despite always being mindful to be discrete and calm with regards to the camera, even in a favourite location a toddler may not want to comply with being photographed. I always advise parents to have snacks on hand, a favourite toy for distraction and to be prepared to allow for enough time for the child to become accustomed with the surroundings and comfortable enough to explore and investigate the scene.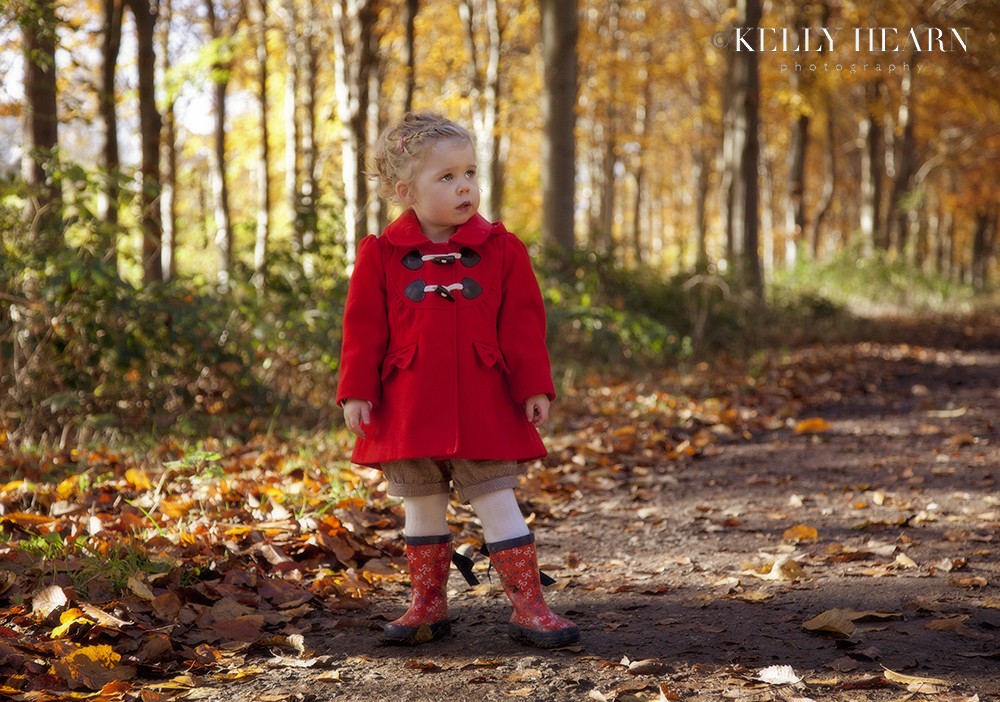 Benefits of a location shoot include the freedom for a toddler to play in nature and be photographed documentarily during any chosen season and in virtually any weather. When choosing the best environment for them to be photographed, you may want to consider the season and colour tones of the scenery and how they may compliment the child's own natural colourings so as to ensure that their unique little style and personality will be enhanced by the surroundings. You can find warmth and coolness in most seasons so never assume that warm colours requires a warm season for example. The golden tones captured in a cornfield in the summer can also be found in the forest in autumn, whereas on the beach you may find cooler blue tones in the sea and sky as much as on a frosty winters day in the woods.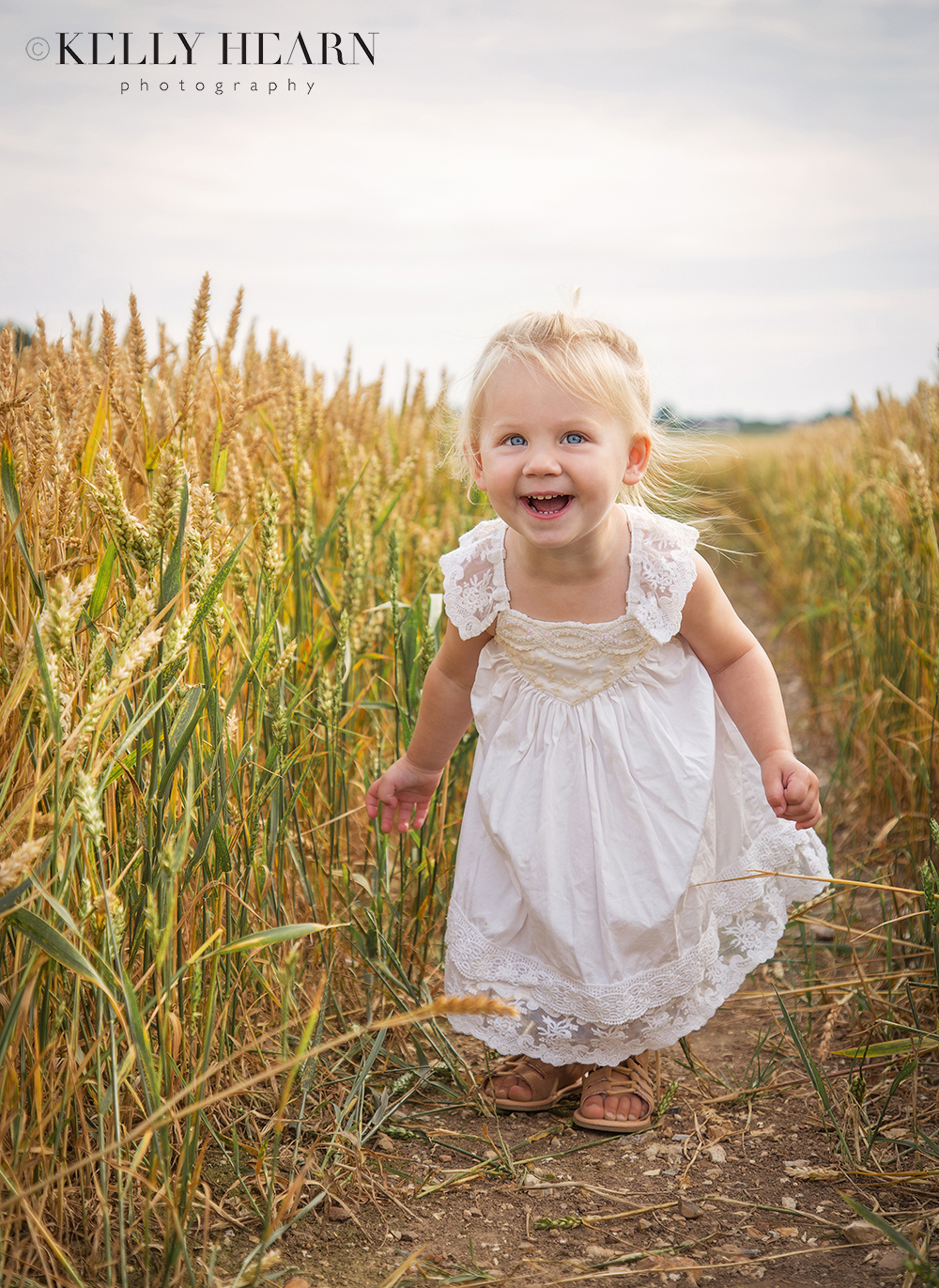 As the toddler continues to grow, the 'landmark' stages become less defined and before you know it you have a full-fledged child! Upon this realisation I made a point to photograph my own daughter, Lola, at the time she had lost her two front teeth. On the one hand I was able to capture the quite mature version of her which I felt revealed the naturally cautious, thoughtful, analytic and composed parts of her personality. This image for me, caught the sense that she can be an old soul on young shoulders, responsible and careful, but always considerate and always kind.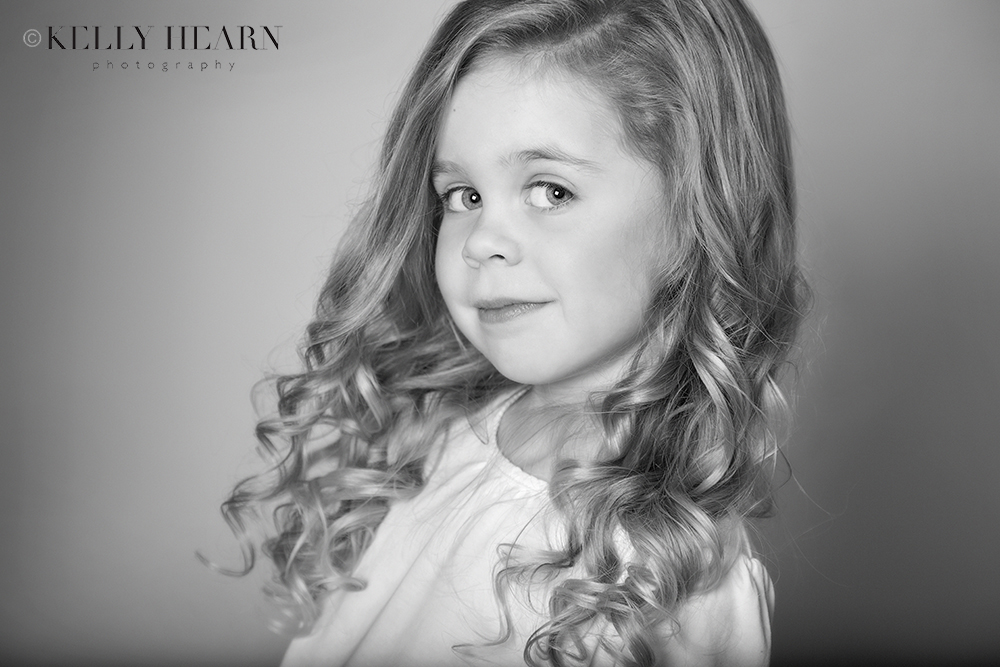 On the other hand with a different image you see this young bright face with missing teeth within that big smile and a carefree twinkle in those innocent eyes. The old soul is gone and the cheeky child of six who is full of fun, giggles and laughter comes through. Both pictures are fully Lola and both taken in the same session. I know as her Mum I know her different sides inside out, but I was really pleased to have captured what I know of her, in pictures. It is always my intention with every portrait shoot to capture the different sides to a character and also importantly the small nuances so well known by the family that make them 'them'.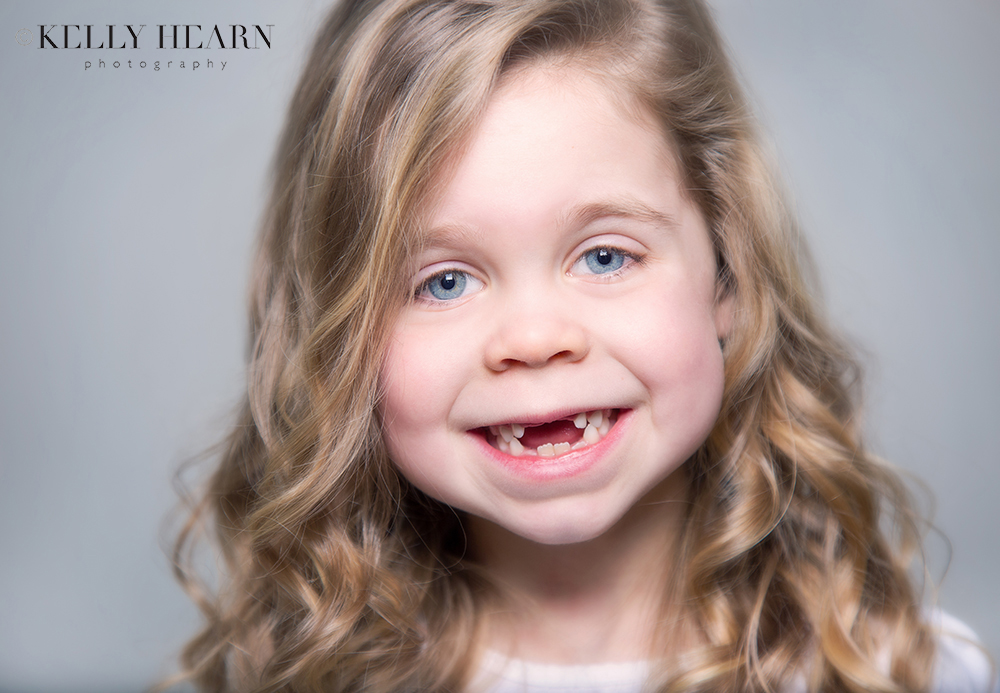 As the child moves towards tween-age years and are able to take instruction and be posed, the opportunities for creative location shoots are abundant. As their characters develop, so does their sense of style and awareness of how they want to present themselves. Get the location, weather and personal styling right and this is a fantastic stage to work with and great fun all round!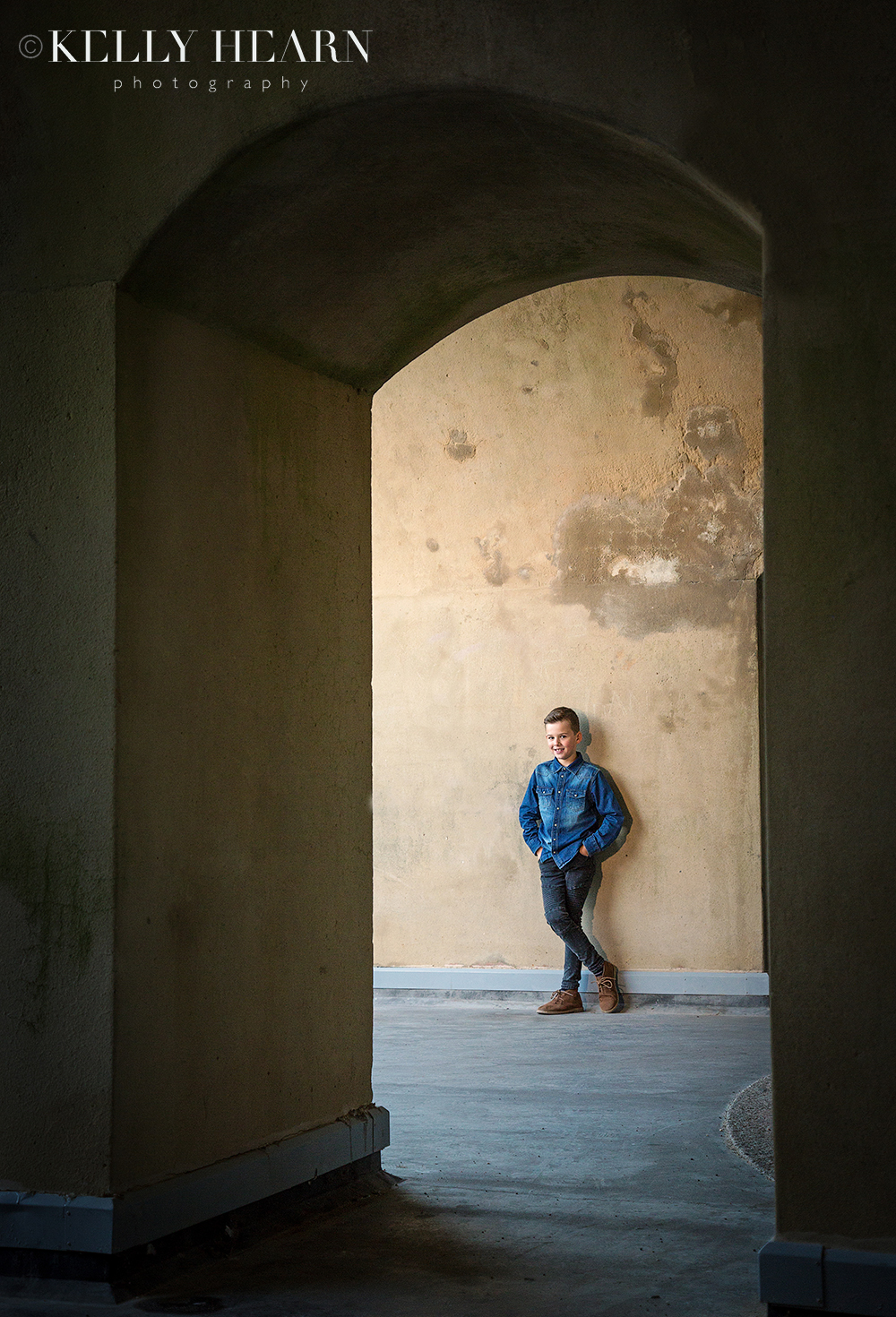 Capturing siblings or cousins together will be at its best if the children are having fun and feel relaxed in the chosen environment. It may be useful to select a location they are already familiar with, or one that you feel they will immediately engage with and be comfortable exploring. The youngest sibling may need a little more reassurance and a sense of security to begin with and it may be helpful to have an older sibling already prepared to be the 'helper', armed with a little game, song or a simple distraction if needed. A quick game of hide and seek with a toy or a treasure hunt with some snacks are often the kinds of icebreakers that can help little ones warm up and settle into the scene.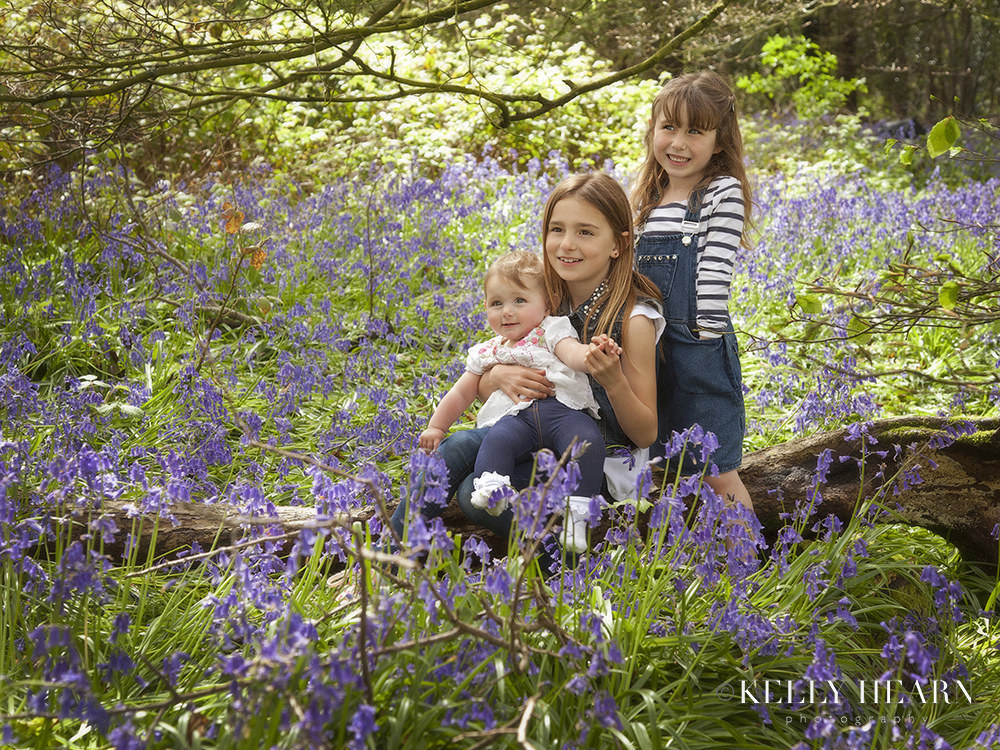 A location may be selected to suit the subjects - the personality of the children determining the suitability of the backdrop. A strong and characterful child for example may be best presented against the strong bold shapes and colours found in the woods in winter as opposed to the open white-washed scene of a beachscape. These kinds of decisions can only be made by a parent who really knows their own child! Photographing girls in the bluebell woods in springtime or the lavender fields in the summer is often a deliberate suggestion I make, as I find the soft colour of this carpet of tiny flowers to be a pretty and delicate backdrop with an essence of femininity, that for me, somehow suits girls together and is a lovely way to capture a bit of something English. Whether choosing by a child's personality, by favourite season or sentiment of a location, capturing the dynamic between siblings adds another fascinating layer to the family story.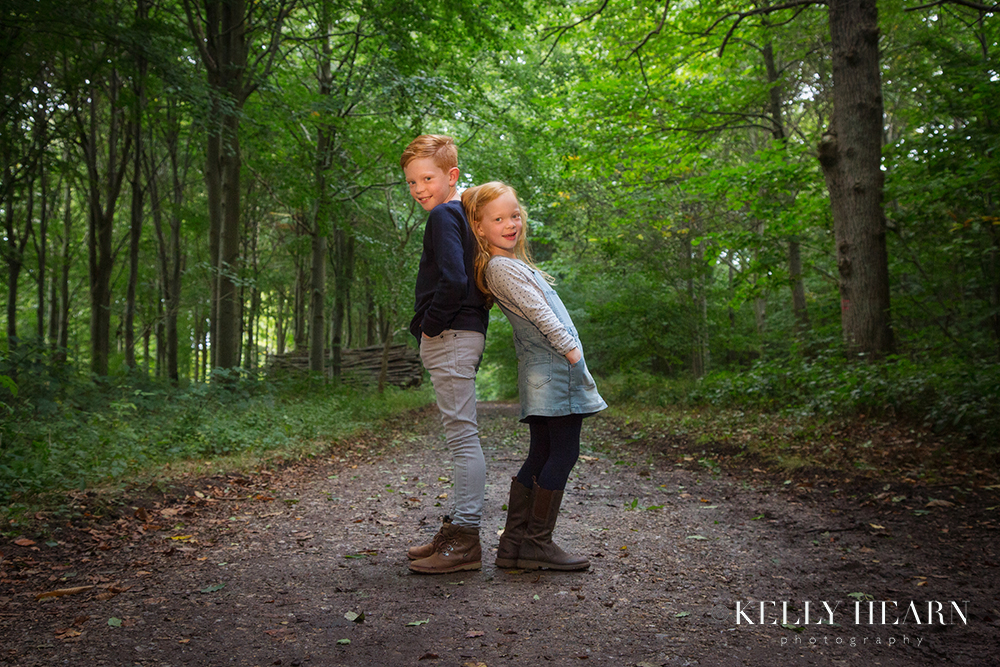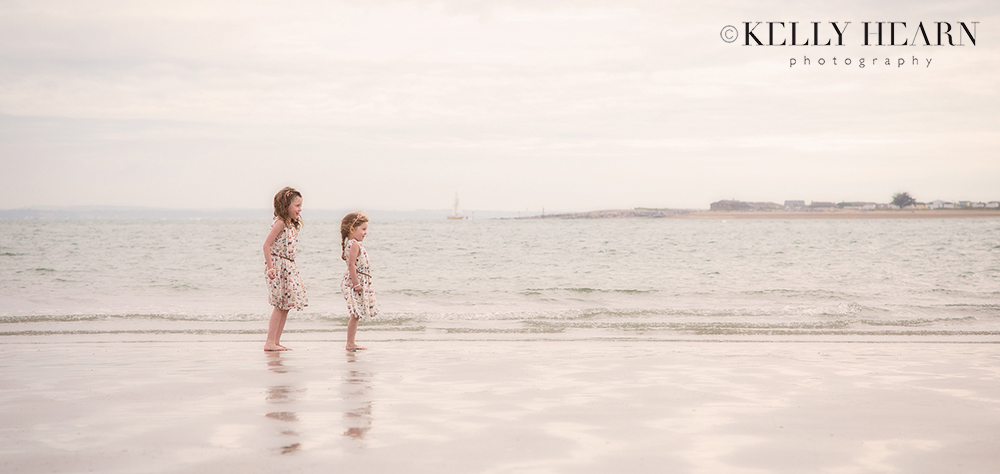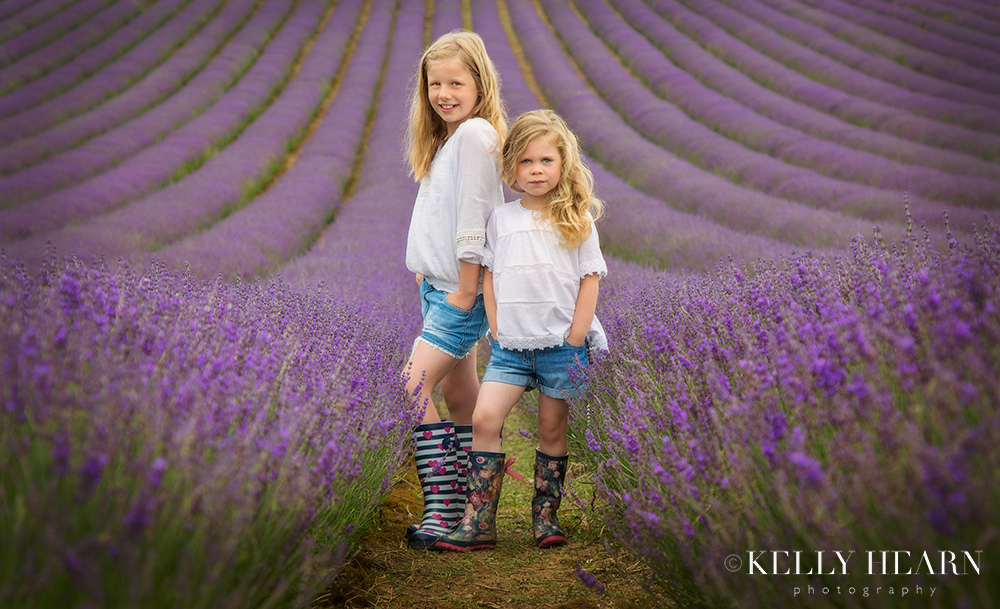 When bringing family together to be photographed, what is most important is connection. This is something I love to capture and goes a long way towards creating the best images that end up on the walls of homes. Just like in life, connection usually happens where eyes meet, hands get held, laughter occurs and smiles are shared. The trick is creating the environment to allow what is natural between families, to shine through.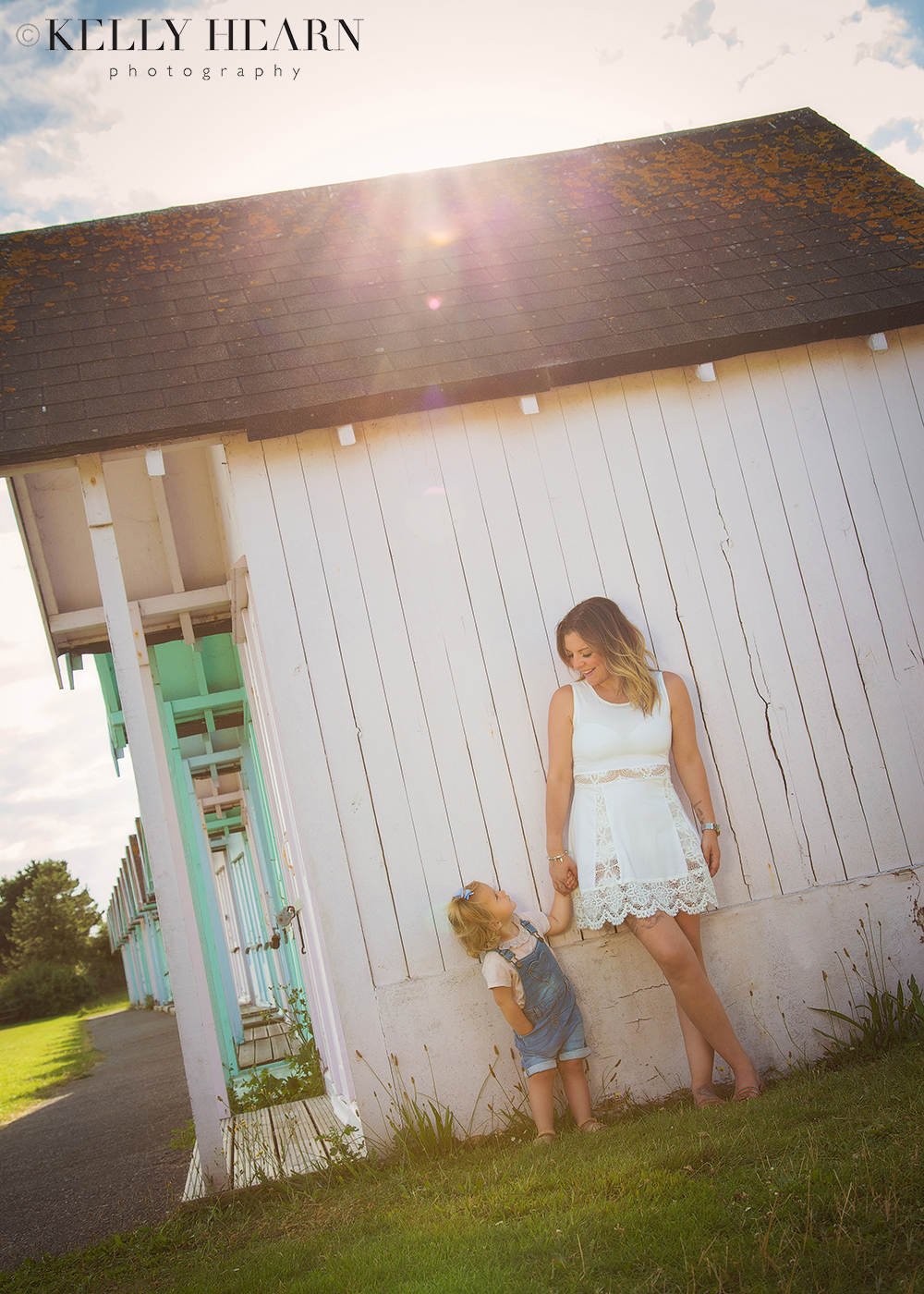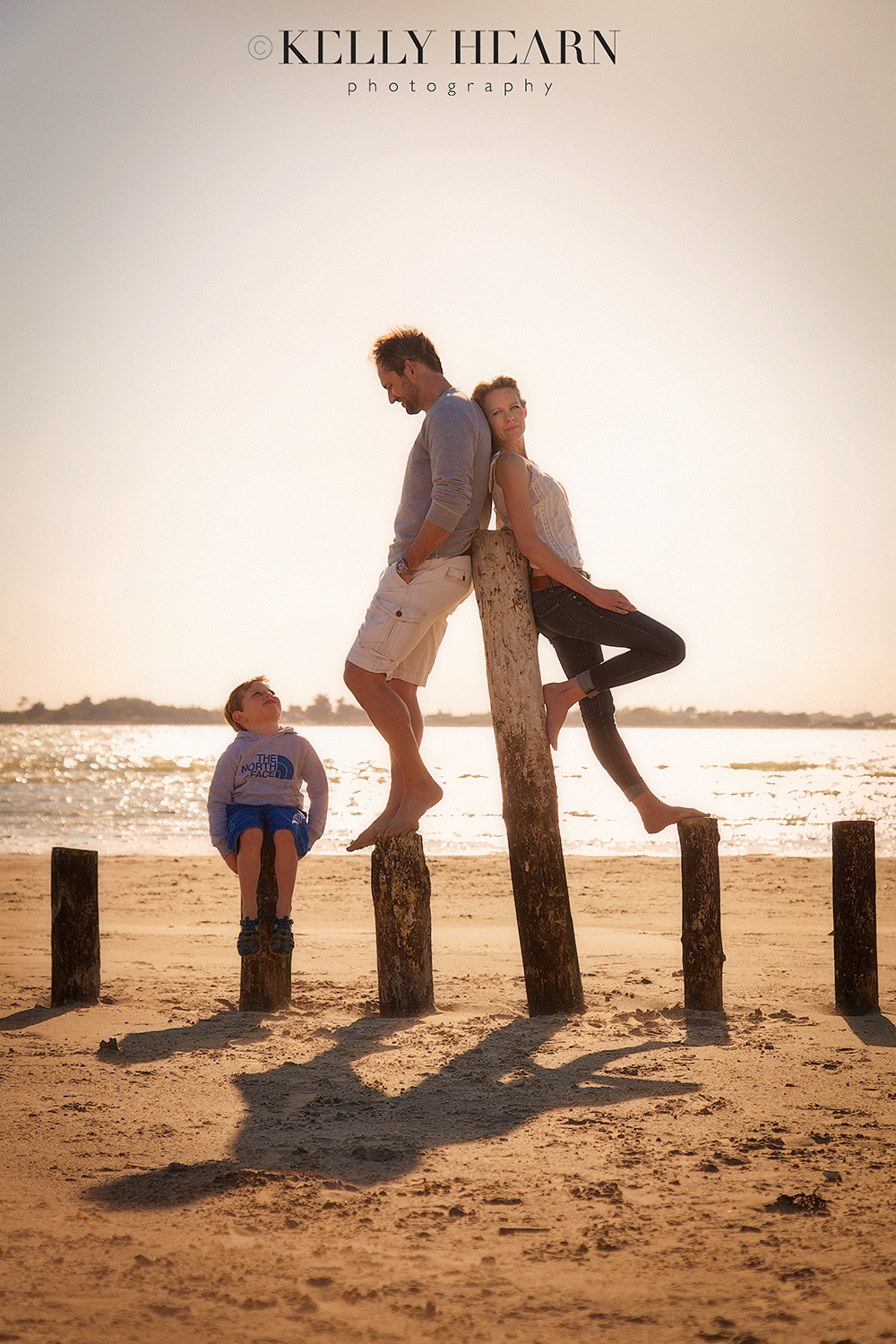 Connections captured are the main guts of the image where the emotion lies, whereas the backdrop, weather, lighting and the styling all contribute to the overall feel, tone and context. When booking a portrait, a practical consideration helping tie these elements together is definitely the coordination of clothing. To be complementary to each other is well worth some thought, being aware to hold back on choosing fabrics with colours or prints that are too bold, overpowering or dominating. If these portraits end up on your walls it is a bonus if the colour palette coming through in the photography also is neutral enough to tone in with your decor!

Families come in all shapes and sizes and if your four-legged friend is also your #furbaby and most beloved family member, then why not arrange for different stages of their life to be logged in pictures? Portraits can be as classic or creative as you like so whatever form or structure your family takes, it is never too early or late to gather precious images so as to remember those golden moments. For all those significant landmarks, or even just because, having beautiful pictures to look back on will bring years of joy and memories. 
It is finally worth mentioning that when treated properly (i.e. handled and edited with great attention to detail, love and care), a classic portrait will be a high quality, timeless and treasured possession that really does last the test of time. This post production after the shoot is vital ensuring your images receive the delicate enhancing and care they deserve. A far cry from the embarrassing snap-shot photo albums stashed in the loft, framed portraits or a life-book album could be the perfect way to capture the unfolding story of your lives in a really stylish and elegant way. So don't miss the moments - capture, keep and forever enjoy them. 
To find out more about booking a portrait session, get in touch with me on [email protected]