Vintage Style at a Boho Barn Wedding
February 02, 2018
Melissa & Gareth's Upwaltham Barns Autumn Wedding
On a fresh August day in Bournemouth, I had the pleasure of photographing a lovely couple who were engaged to be married in the following October. Bride-to-be Melissa was blown away by a doting Gareth, who had led her up to the top of a magnificent hill boasting a backdrop of breathtaking views. Whilst on bended knee, he captured her heart with his thoughtful and romantic proposal. The rest, as they say, is history! Having later booked me to be their wedding photographer, it was decided that an engagement shoot was an ideal opportunity for a little pre-wedding photographic warm-up. The couple accompanied me up to the top of the very same hill where the engagement had taken place and there we stood and marvelled at the views. They reminisced as they unwrapped the heartwarming proposal story and, like Melissa, I too was blown away (but this time literally)! - The wind on that hill was so ridiculously strong we did all we could to not get blasted back down onto the beach! Yet somehow we did end up there, a touch windswept but still in one piece, and there I was able to capture Melissa and Gareth, standing apart, individually strong, yet together against the bold yet dreamy melting amber sky.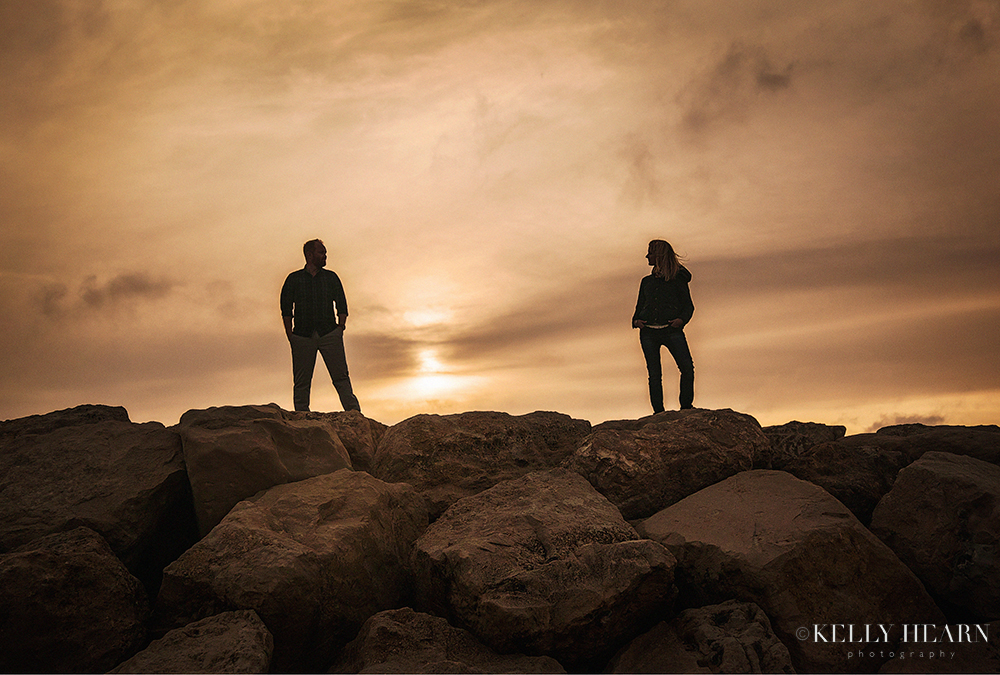 It was as if the elements were determined to be involved once again when on their wedding day, the bright sun had aligned perfectly to burst through between them, like a force of nature as the glowing sun was setting in the distance. As with this moment, the day had been idyllic throughout - full of thought, symbolism and fun which Melissa and Gareth had creatively interwoven amongst the 'expected' traditions that one would encounter at a British wedding.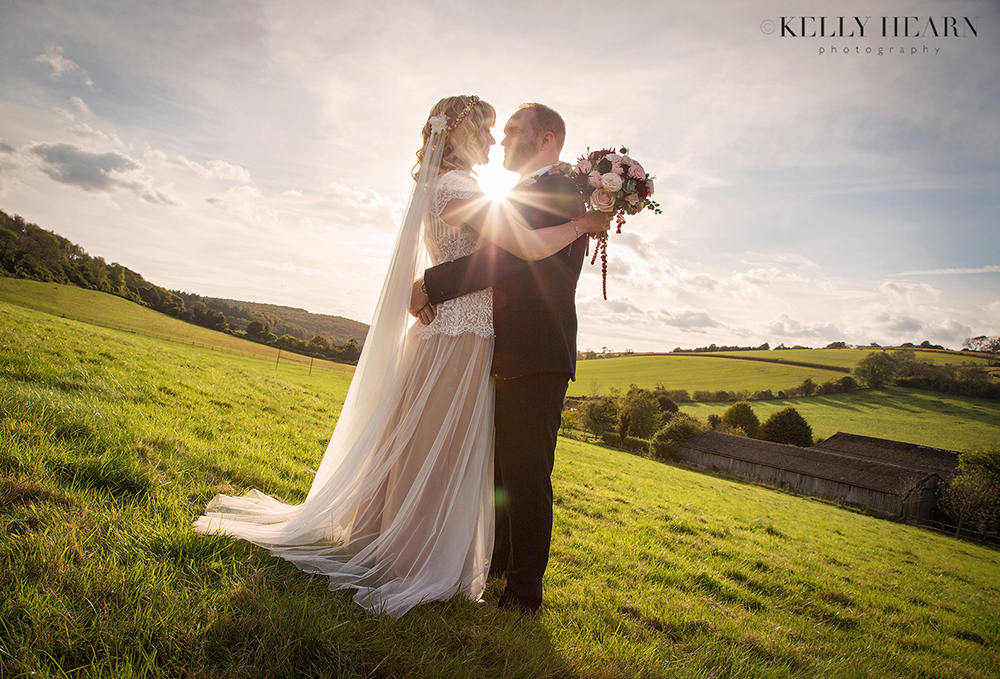 Marrying at the spectacular Upwaltham Barns, the rustic country setting was fittingly stylish; abundant with the splendour of autumnal hues and sympathetic boho-esque relaxedness. Strings of bunting brought that vintage summer-fete feel by day, and the large majestic trees outside were illuminated with garlands of twinkling festoon lights by night. The atmosphere was magical and intriguing, brought to life by Melissa and Gareth's detailed personal touches which echoed their characters and showcased little nuggets of both their personalities.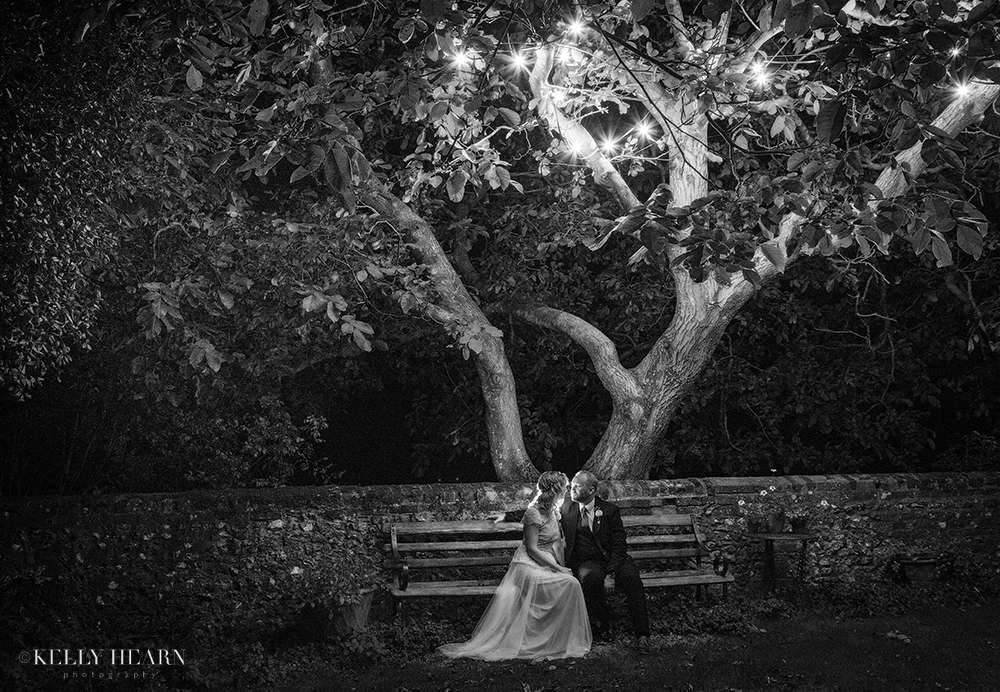 The beautiful keepsake gifts exchanged on the wedding morning were beautiful personalised bangles. Engraved inside and out, they promised 'Always & Forever', whilst on the reverse (and oh so romantically) the gps coordinates of the place where Melissa and Gareth first met were carved! As Melissa got into her gorgeous Katya Katya Shehurina designer gown, her mum was on hand to help with the final touches. This included tying the hand embellished Swarovski belt into a pretty bow at the back, a befitting task to complete in advance of Melissa being able to go and tie the knot! The pin stripe and decorative floral french lace against the soft tulle skirt epitomised elegance and vintage inspiration, perfectly suiting Melissa's overall theming and style.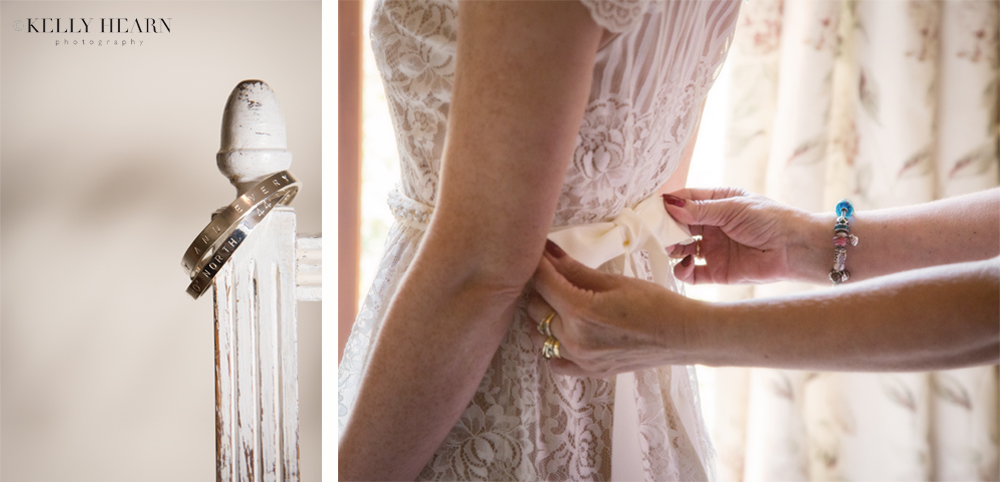 It is always one of my favourite moments when a father sees his daughter for the first time - as a bride. Melissa's Dad reached the top of the stairs where Melissa stood, with his hands covering his eyes, balancing the elements of surprise and expectation before removing his hands for his daughter's big reveal!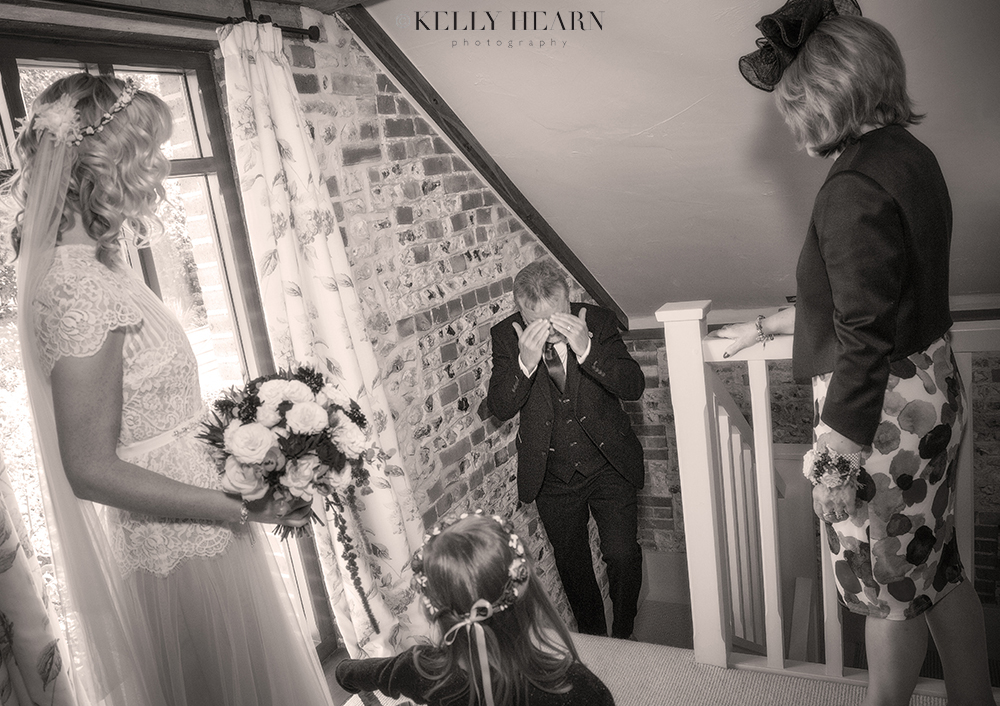 As Melissa stood in the bridal suite in her vintage-influenced french lace gown next to the painted armoire with its floral detailed panels, she looked radiant and almost ethereal. She held a neat bouquet, designed by Spriggs Floritst of Petworth, made up of classic red roses intertwined with romantic pinks. The autumnal tones complimented her chic, feminine bridalwear perfectly and provided the accent colour scheme which was selected to enhance the navy blue outfits worn by the groom, best man and by Melissa's bridesmaid.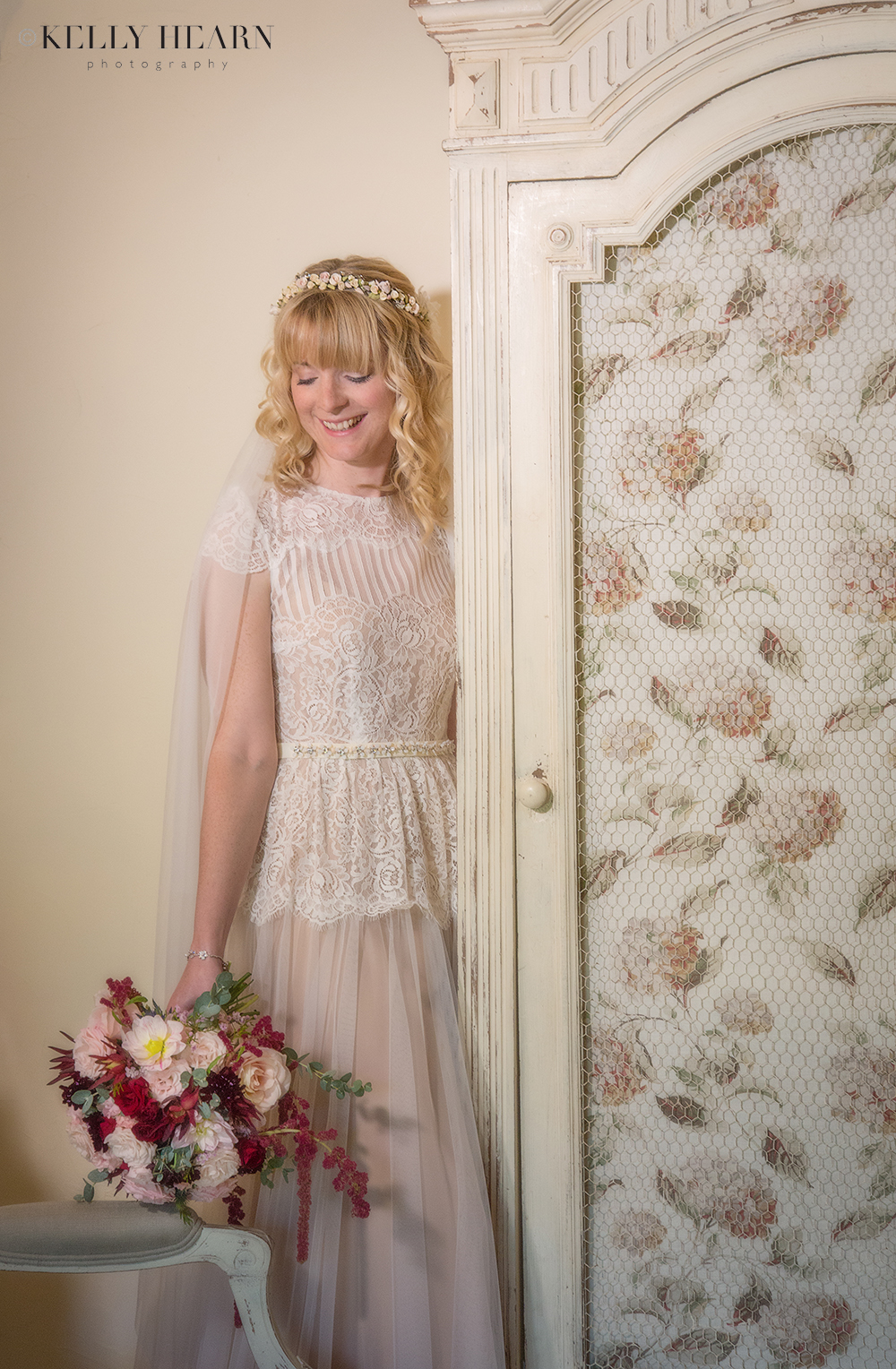 Gareth and his best man looked smart and contemporary in their three piece navy blue wool suits with deep red ties and pocket details; the subtle autumn theme enhanced by the berry-speckled leafy backdrop they stood against for their morning portraits.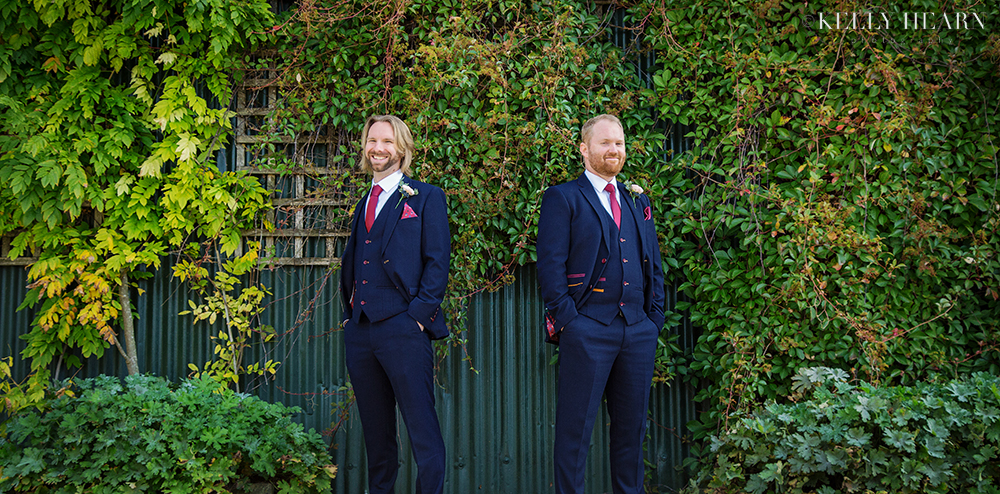 Even Melissa's Dad was coordinated in attire and totally looked the part as he led Melissa down the aisle to meet her groom. The look on this beautiful bride's face when she reached Gareth was a priceless mixture of nerves, excitement and cheekiness and the special bond between this couple was evident.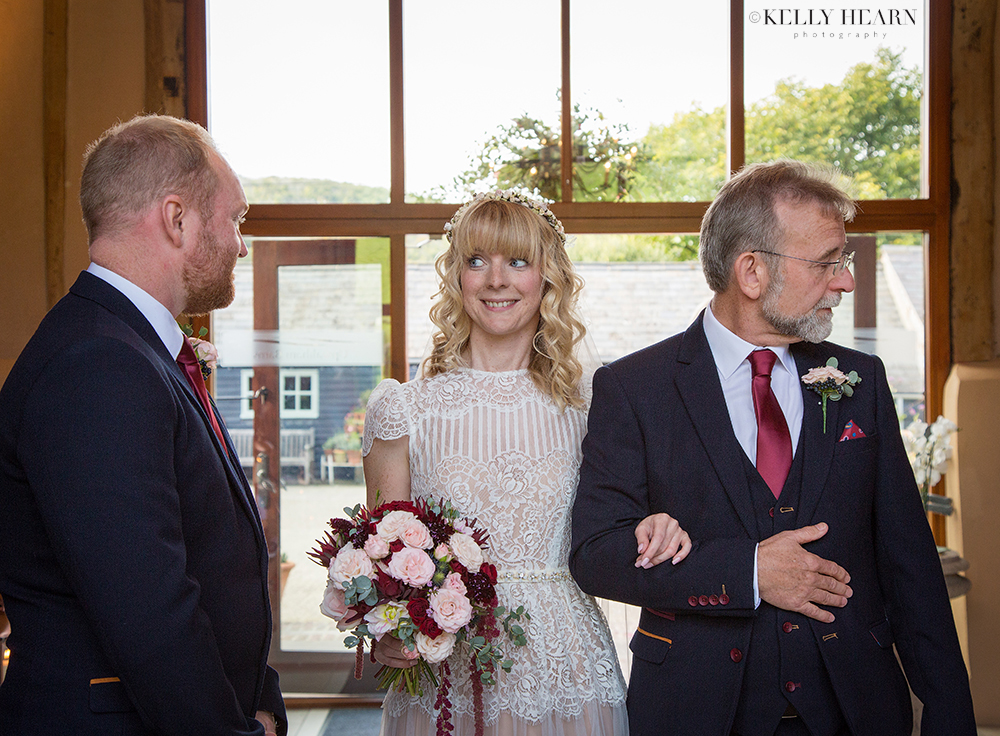 Gareth and Melissa incorporated a ring warming ceremony as a special way to involve their guests in their wedding. A length of aptly coordinating red ribbon was run along the rows of seats and the wedding rings were threaded on the ribbon where they were briefly held in the hands of each guest and 'warmed', before being passed along. Each guest had the opportunity to make a small silent wish or prayer for the couple as this tradition played out. It was a lovely sentiment that the voyage of the warmed rings ended up with the couple to be exchanged, having been on a journey of good vibes and blessings. I wondered if Melissa and Gareth were also conscious of a Chinese legend known as the 'Red Thread of Fate' which asserts that two people connected by the red thread are destined lovers, regardless of place, time, or circumstances. According to the myth this magical cord may stretch or tangle, but never break. When I spoke of this to Melissa and Gareth at their viewing, they hadn't heard of this tale, yet it seemed to perfectly 'tie in' with their ring warming and further enhance the more Western concept that these two were clearly soulmates and meant to be together!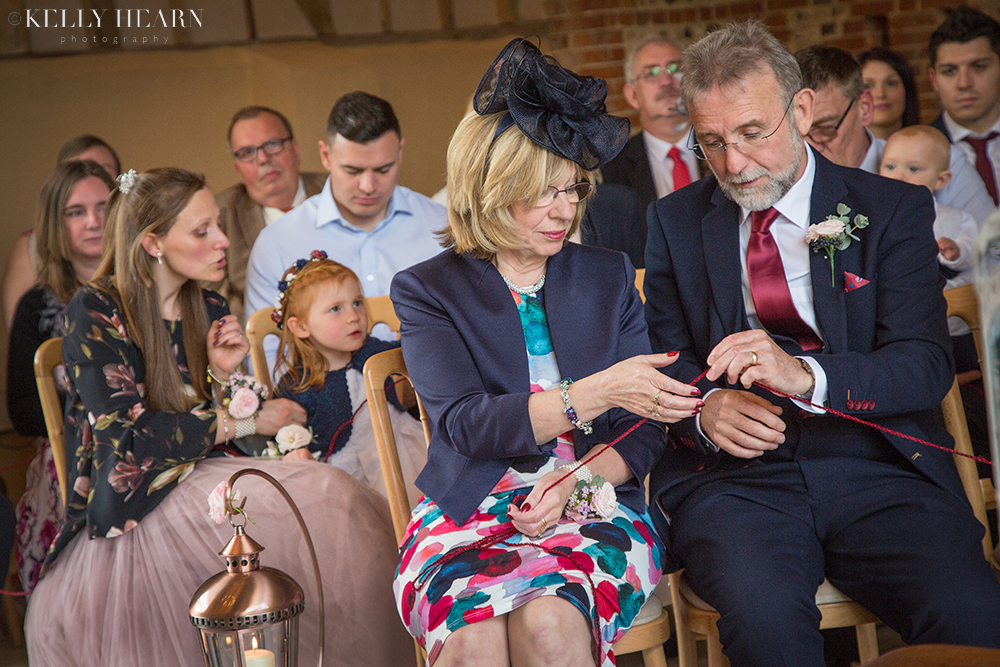 The creativity continued throughout the ceremony as Melissa and Gareth exchanged personalised vows that each had written for the other. Melissa read a beautifully written poem whilst Gareth also wore his heart on his sleeve, relaying his thoughtful and loving words with energy and feeling.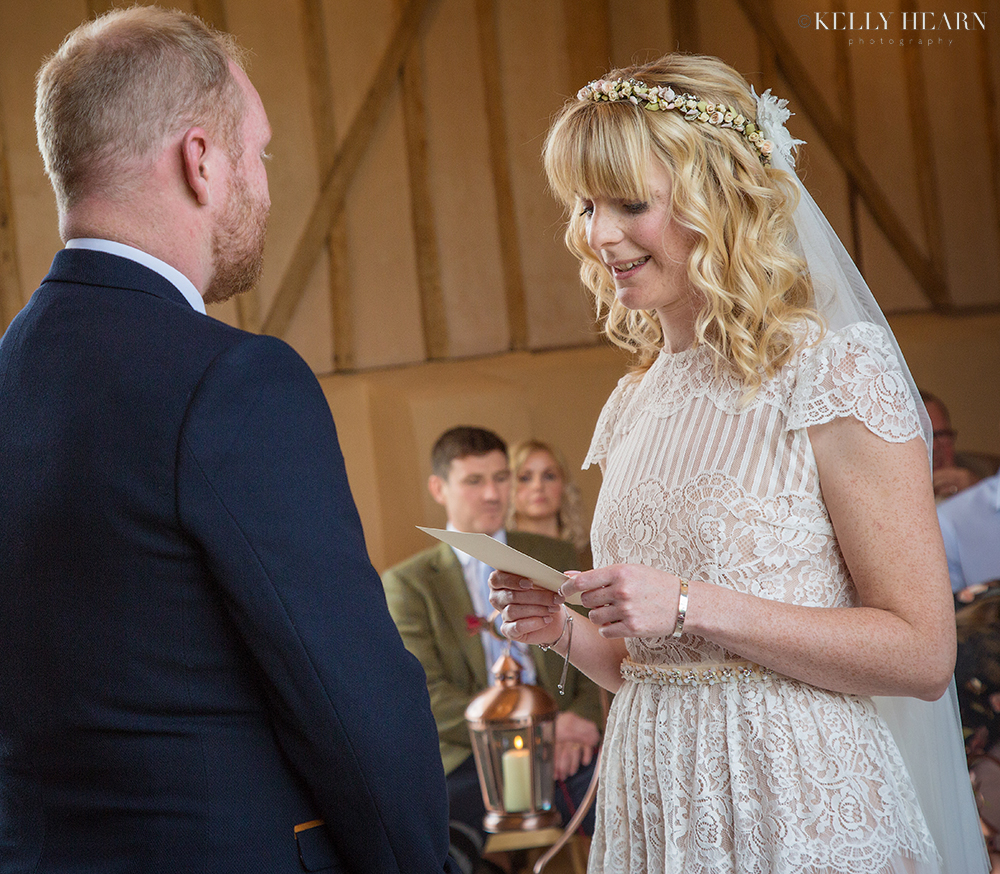 It was lovely to observe friends and family mingling outside in the courtyard after the ceremony, catching up in conversation and congratulating the newly weds. At this point there was the most beautiful quality of light with the low sun elevation creating a soft diffused glow. This gave a really pleasing feel to the scene which was already buzzing with happy chatter, the relaxed hum of laughter and clinking of champagne flutes.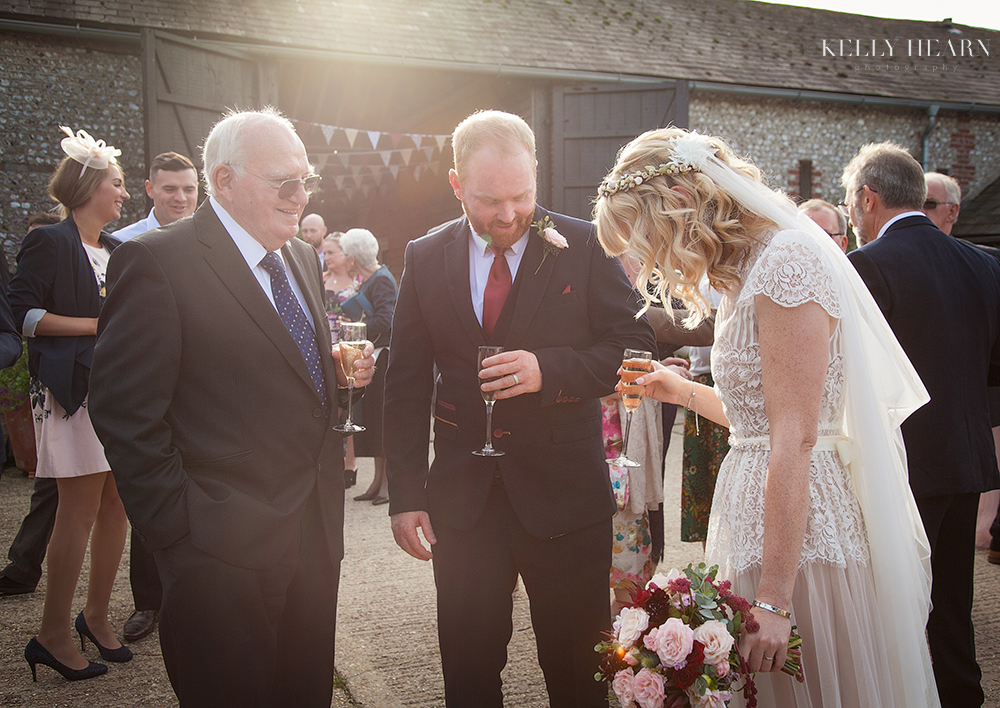 The seamlessly styled bridal party looked both harmonious and effortless in the group photographs. Their relaxed body language ensured no starchiness would stifle the images and I loved that their laid-back demeanour allowed them to be showcased very naturally and feeling at ease.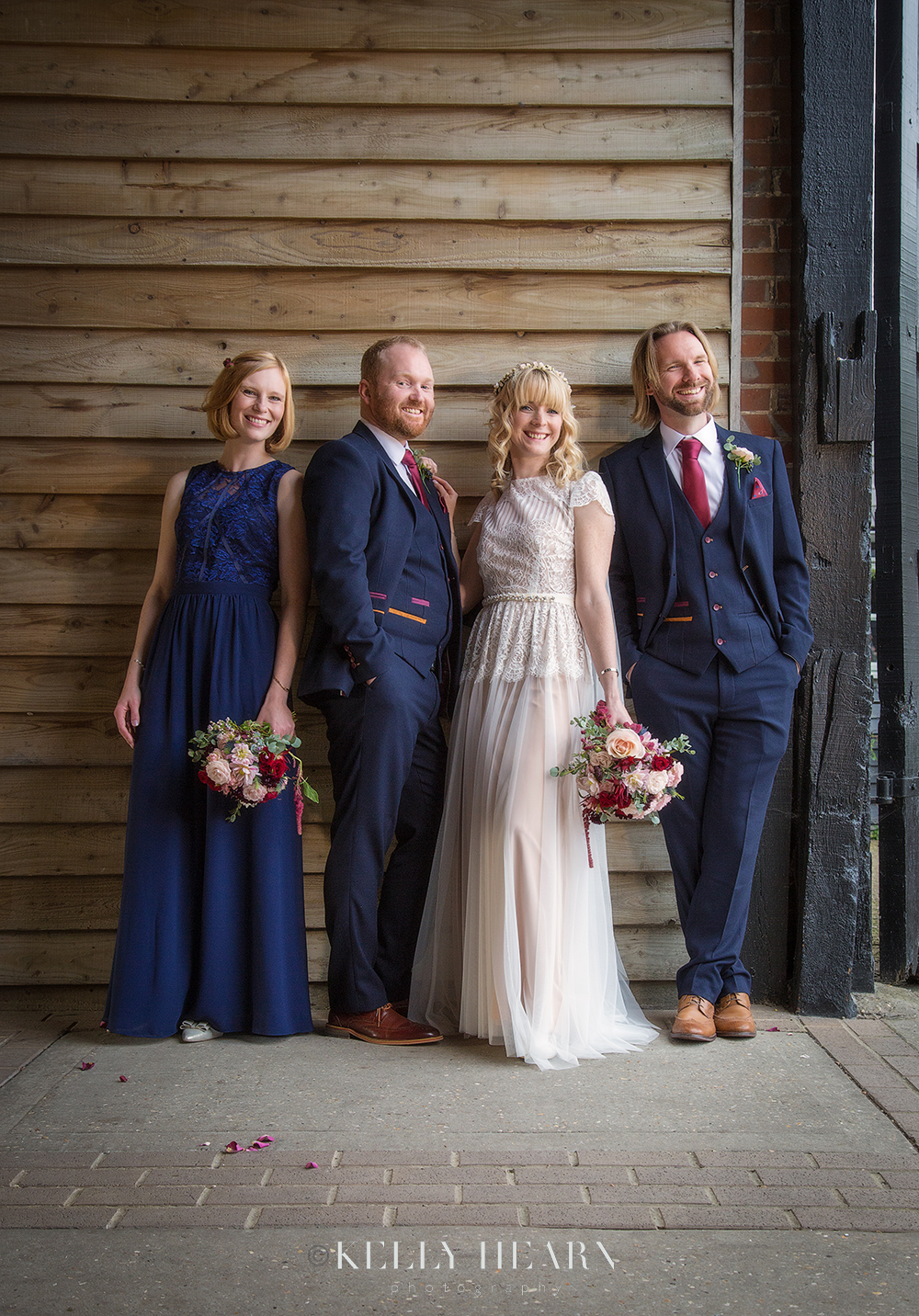 It is sometimes difficult for a wedding couple to feel truly relaxed and serene on their big day and especially when being photographed, but Melissa and Gareth were like professionals! We had a moment of nostalgia when we ventured to the top of the hill for some newly-wed portraits as we recalled that memorable engagement shoot and almost being blown away! This time in contrast to standing apart on the rocky terrain, the vast green landscape provided a calm setting where a subtle message of reliance came through as this bride and groom literally leaned on each other's strength for this newly married portrait.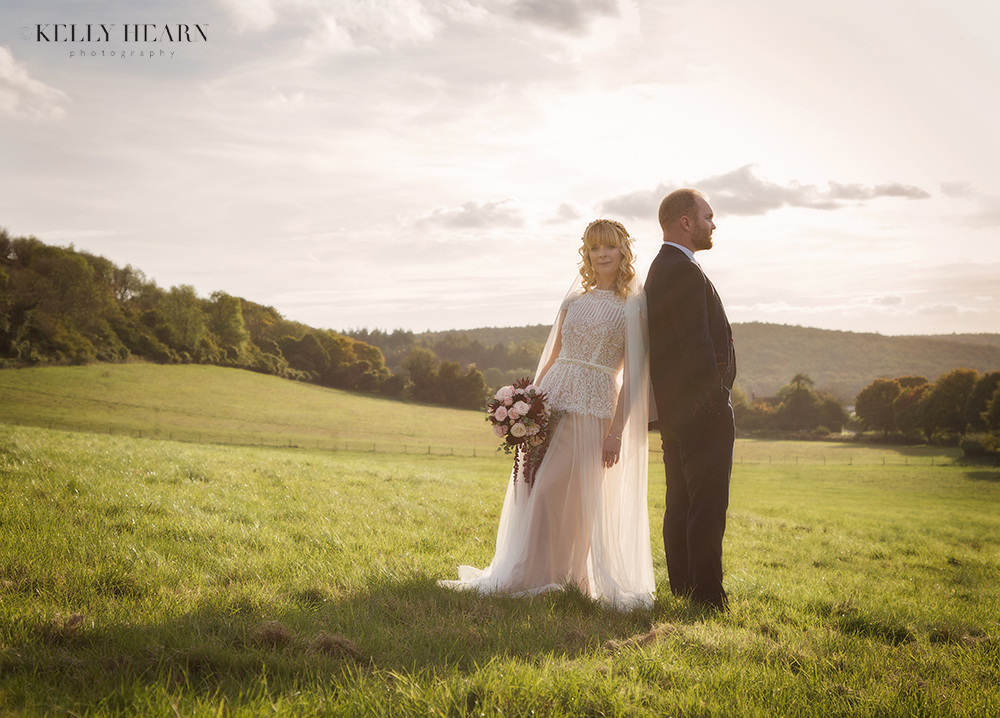 Back at the reception held in the stunning South Barn, vintage bunting lined the beams and dining tables boasted large Lazy Susan centrepieces, loaded with traditional antipasto for guests to help themselves to before the formal meal was to be served. Central to these revolving platters were creatively designed hanging bird cages containing flickering candles, with pretty autumnal florals nestled at the base. Amidst the feasts of cheeses, breads and cured meats this enchanted theming gave a true flavour to all of the inventive and lively ideas of this imaginative couple.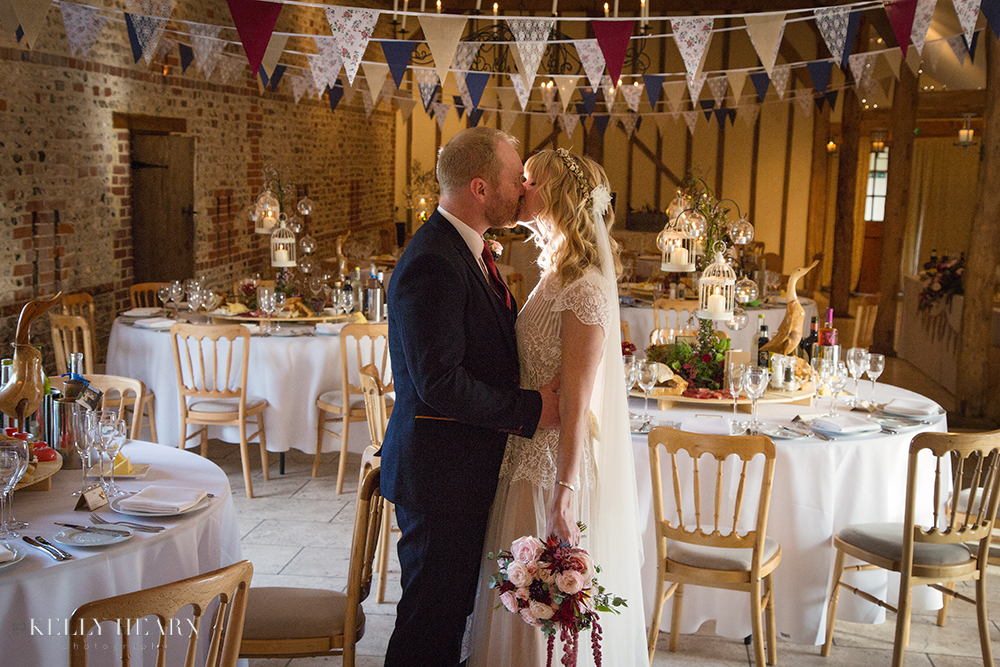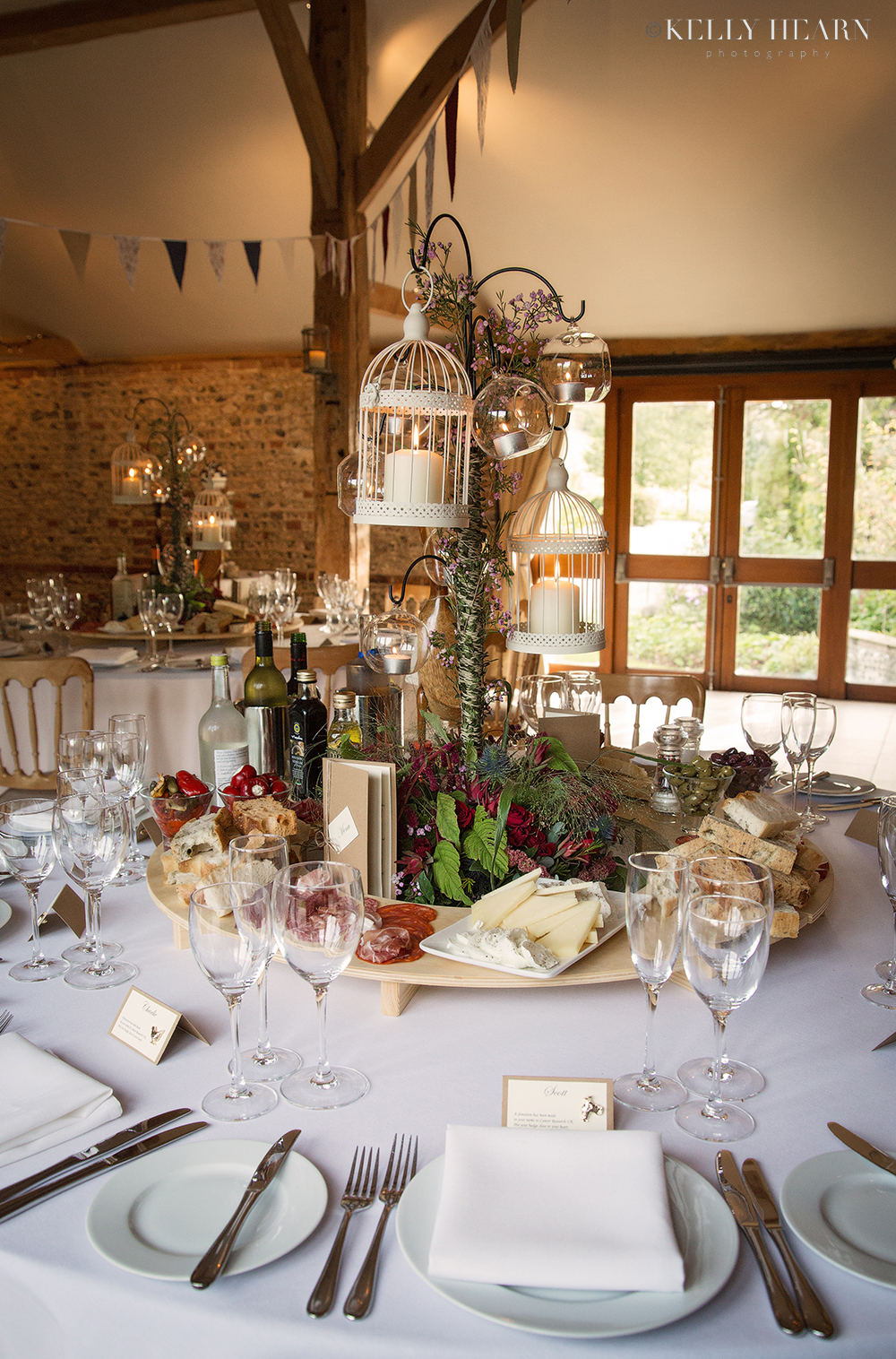 Further theming this wedding were a plethora of wooden ducks, each with a tag around its neck revealing its name, all of which curiously began with the letter 'D'! Long before the wedding, the couple spotted these ducks out somewhere and instantly fell in love with them, so much so, that they found themselves featured throughout the big day! They made for an amusing personal touch and were to be found in multiple places such as the courtyard, on the tables and even with the wedding cake! Another detail not to be missed embedded Melissa and Gareth's choice of colour palette. Carefully hand-decorated cupcakes showed off deep red and navy details with intricate lace icing to perfectly reflect the bridal party's outfit choices and styling.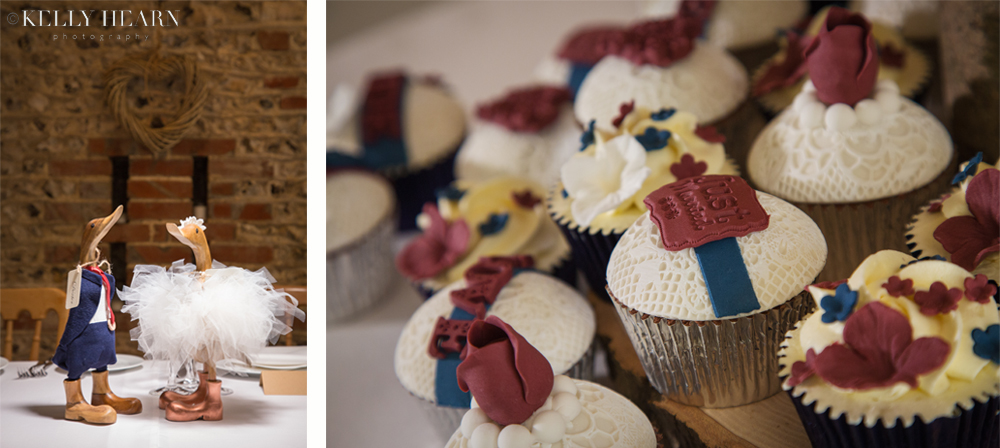 The South Barn transformed into a romantic party scene by the evening when Melissa and Gareth embraced for their first dance. This treasured moment was amongst one of many that day, and loving family and friends clapped and sung along in support as they danced the night away.

The final magical photographic moment for this bride and groom was captured under the white light of the full moon out on the courtyard at night. With barn lights twinkling softly above and lining the steps of the grand entrance, this perfect October night brought a close to the perfect wedding day.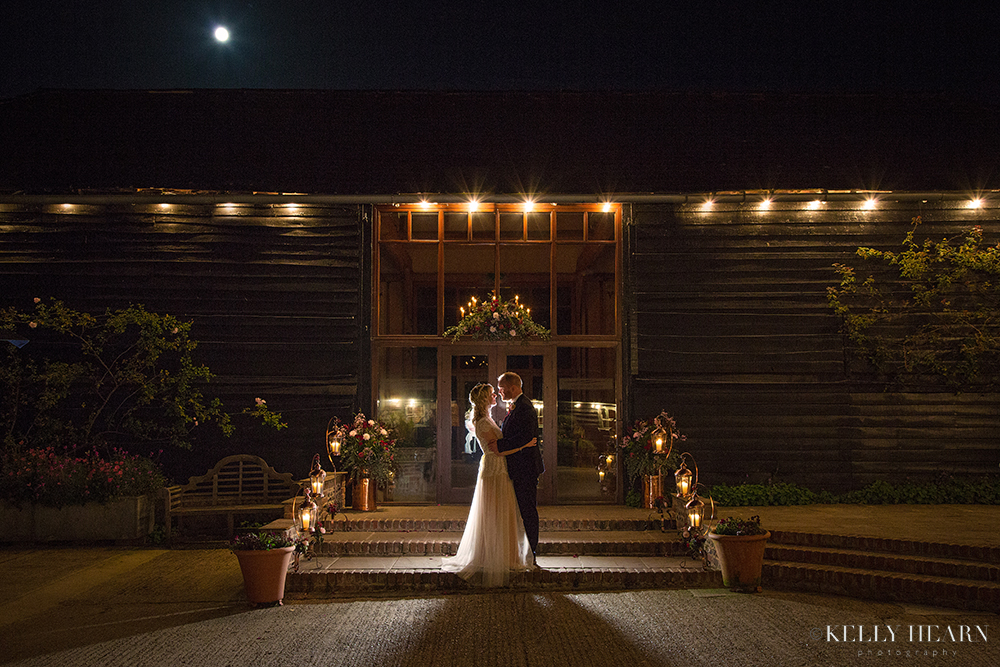 Melissa and Gareth, I loved your whimsical boho barn wedding in all it's vintage style and quirky creativity! It was a pleasure to photograph such a relaxed and fun pair in the beautiful rustic setting of Upwaltham Barns and I loved how your fun and engaging ideas made for a smooth and easy going day. Always full of smiles and warmth I felt welcomed and included in your occasion for which I will always remember. 
So, all that's left is to wish you a long and happy life - may your individuality stand strong apart and never fade, but may you continue to lean on each other long into your future together! Congratulations!
Love Kelly x
Kelly Hearn A.B.I.P.P - A.M.P.A