Breaking traditions, making memories!
January 16, 2017
Sarah & Bobby's Southend Barns September Wedding
If you could shout from the rooftops about true love when you find it, I think Bobby and Sarah would be the first to! They are clearly just made for each other and everything about their wedding told a wonderful story of love, commitment and finding utter happiness. It was an honour to capture this couple's special day in all it's vibrancy, energy and emotion and there were many unique and fantastic moments to be captured.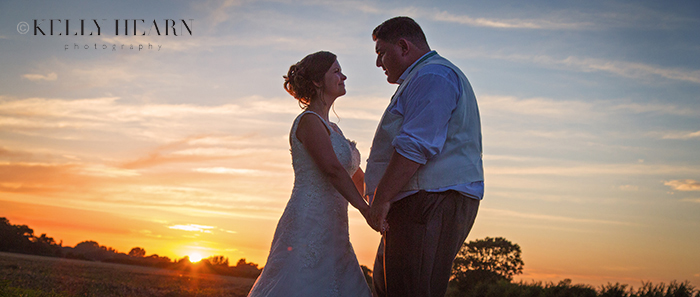 On the morning of the wedding I arrived at the stunning vineyards of the Tinwood Estate in Halnaker, West Sussex - a special place to Bobby and Sarah. Their fine taste had led them to treasure fond memories of times at Tinwood and so they were delighted to support this quality local business by buying the wine for the wedding day from Tinwood itself. Bobby also enjoyed making the most of the luxury accommodation located on the estate and was staying in one of Tinwood's luxury lodges overlooking the beautiful vineyards. Getting ready with his (three!) best men, Bobby seemed excited and prepared for the day ahead, not to mention fully equipped with amazing local wine to treat the wedding guests!

Sporting traditional morning tailcoats in mid-grey with ivory waistcoats and mint green cravats, Bobby looked suitably dapper and ready to wow his bride!
He showed me the couple's wedding bands which instantly revealed the connection between him and Sarah as I spotted that Bobby's was uniquely hand-engraved with Sarah's fingerprint. Tailor made by Carron Dymond of Dymond Jewellerey, the rings were completely bespoke and personal to Bobby and Sarah, a sentiment which ran throughout the day.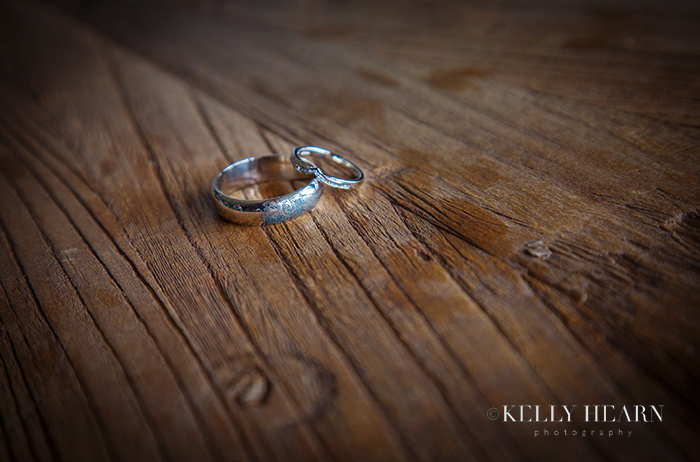 Outside the warm early sun was radiating down with the clear blue sky looking fresh above. The guys took to the picturesque vineyard for some pre-wedding pictures feeling satisfied that it was looking to be a lovely day for a September wedding.
The groom and best men were joined by Bobby's ushers where they obligingly posed for me against this brilliant tall backdrop within the vineyard grounds, which I was pleased to see tied in perfectly with the minty wedding colour theme!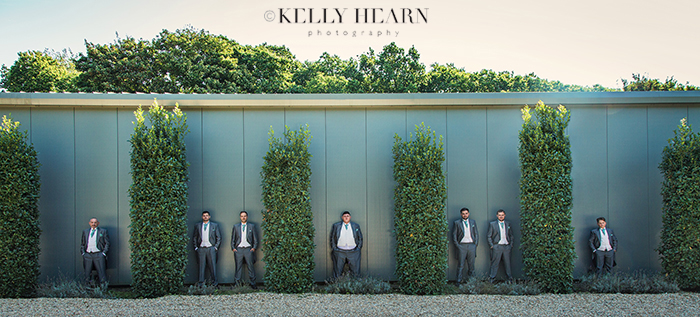 A few miles away at the ceremony and reception venue, Sarah was undergoing preparations as her dressmaker, Tracey Baker-Saxby, fitted her into the wedding gown. Within the luxury bridal suite of Chichester's Southend Barns, Tracey further enhanced Sarah's look by creating her bridal hair and makeup which completed her top-to-toe bridal beautification! She looked truly radiant and beaming!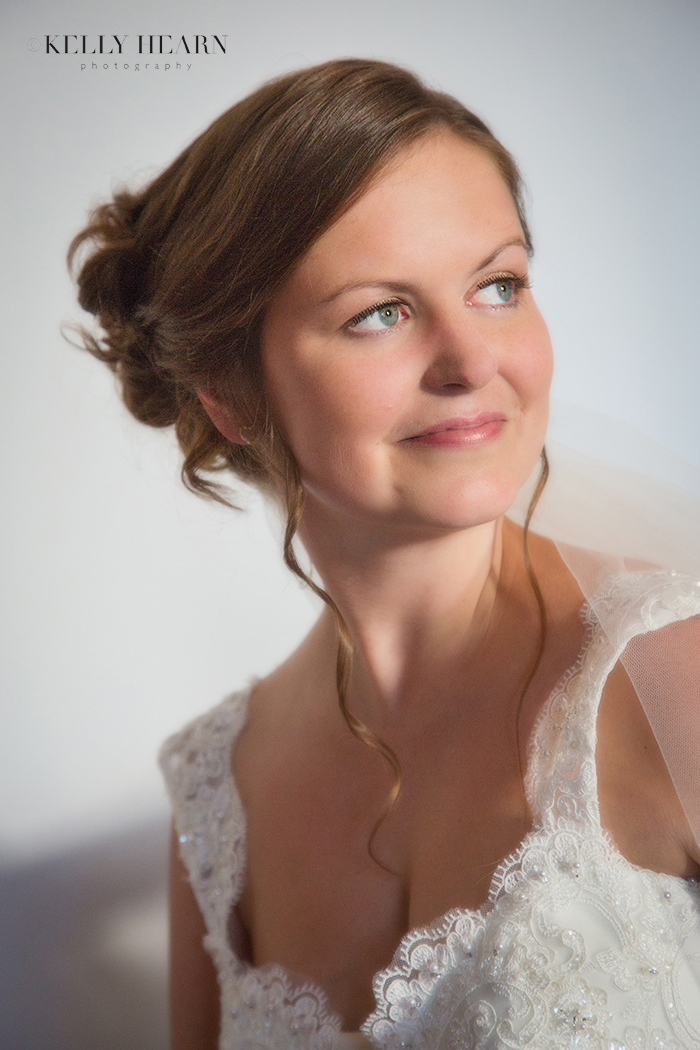 Sarah's sweet flower girls (Bobby's daughter Khloe and niece Izzy), almost looked like mini brides as they joined her for some portraits. Their little posies nicely complemented the bridal bouquet, matching in with the dusky pink and cream roses and minty green eucalyptus leaves, all designed by Blooms of Chichester.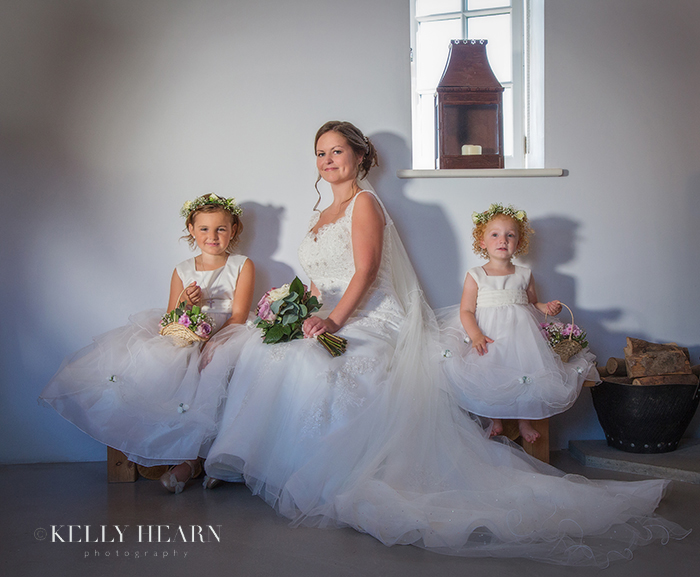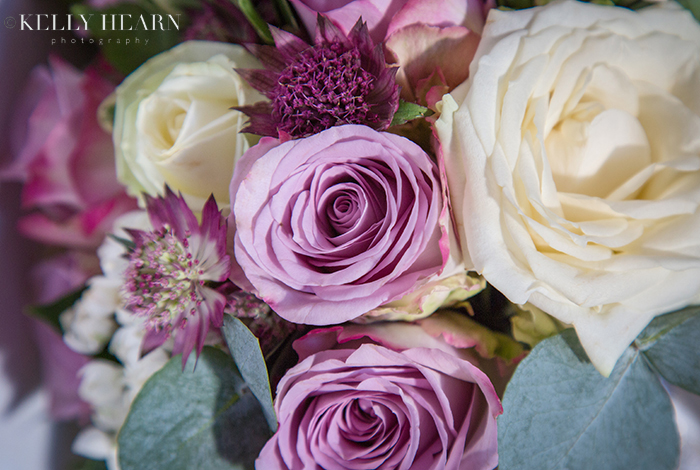 Before long the moment was upon us where emotions were running high particularly for Bobby, who was standing in those moments that seem like forever, waiting for his bride. Catching a glimpse in the mirror in front of him he then turned to see his daughter and niece, then the love of his life come gliding down the aisle of the Dairy Barn.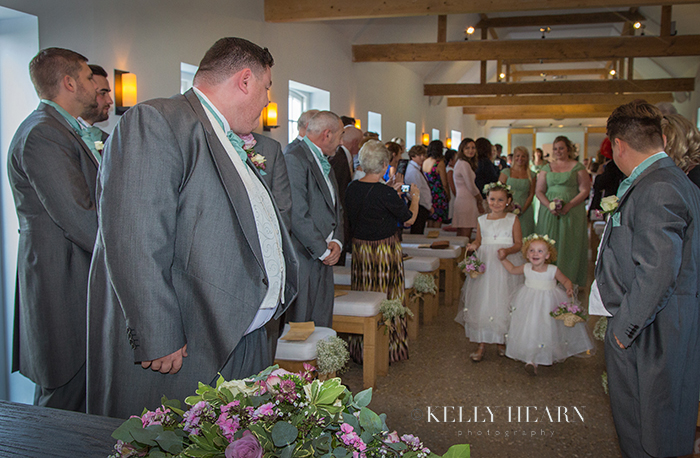 It was amazing to witness Bobby's powerful reaction as he turned, and that of the guests surrounding them as Sarah reached Bobby at the end, both their faces lighting up with joy. It was just magic! As Sarah's Mum gave her away, Sarah and Bobby grasped hands and the rainbow of emotion continued throughout the very touching service. Tears, laughter and joy to finish, it was heartwarming and we all felt involved!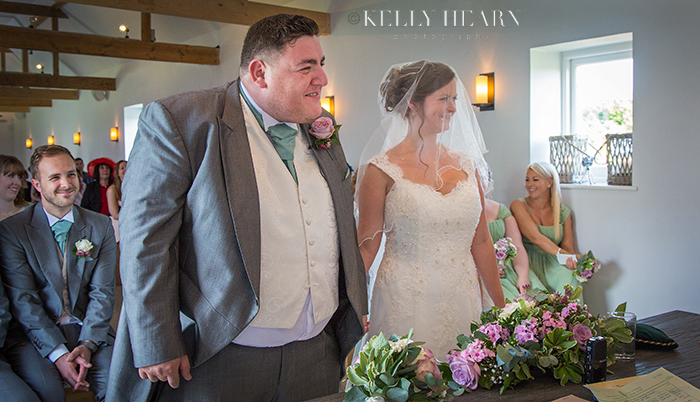 With vows done and dusted we stepped back out into the sunny blue-sky day where I took the opportunity to photograph the excited newly weds. I had noted that Sarah had artistic flare and she had a few ideas she wanted to experiment with, keen that some of the photographs be a little 'out of the norm'. We found this little shed which made for a lovely unexpected backdrop so we posed the new Mr and Mrs a little unconventionally too!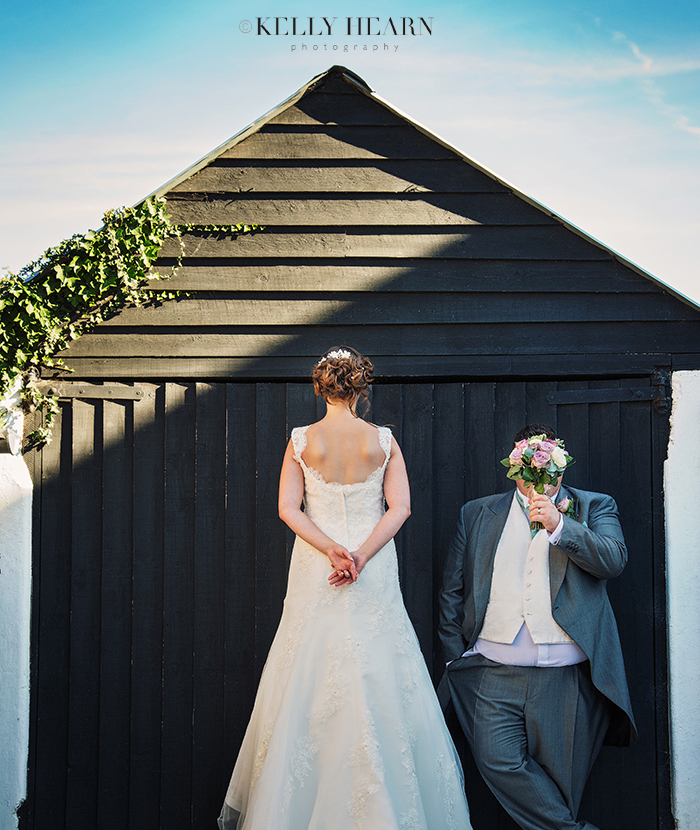 Traditionally at weddings the bride and groom always welcomed guests to the reception meal by receiving line. Bobby and Sarah turned this idea on it's head and sat guests down for them to welcome the wedding party instead! Using a professional Toastmaster (Gary Evans Weddings), each member of the bridal party and family were introduced to the guests as they entered the room and a little story was told about each person! As Bobby and Sarah sat on Directors chairs, applauding for each friend or family member, it was almost like watching a movie or awards ceremony and very amusing to see the expressions and reactions as each person came through! What an entertaining start to the reception!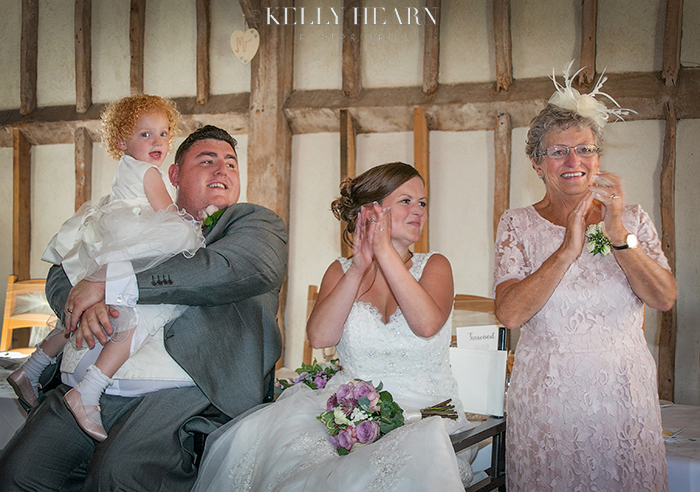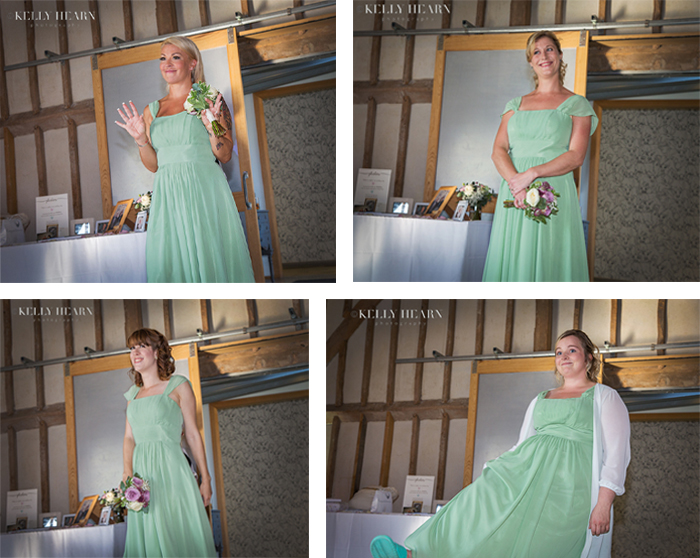 The menu looked a treat, with Field & Fork creating a delicious feast of bruschetta to start, roast chicken with seasonal vegetables for the main followed by a dessert of warm chocolate and pistachio brownie. A closer look at some of the table decor revealed that the table names were after special locations that the couple had fond memories of, and a table plan of hearts pegged to little washing lines mapped out who was to be seated where. I noticed yet more of Sarah's creative talent on show as I discovered she had cleverly handmade all the origami name places; dresses for the girls and jackets for the boys!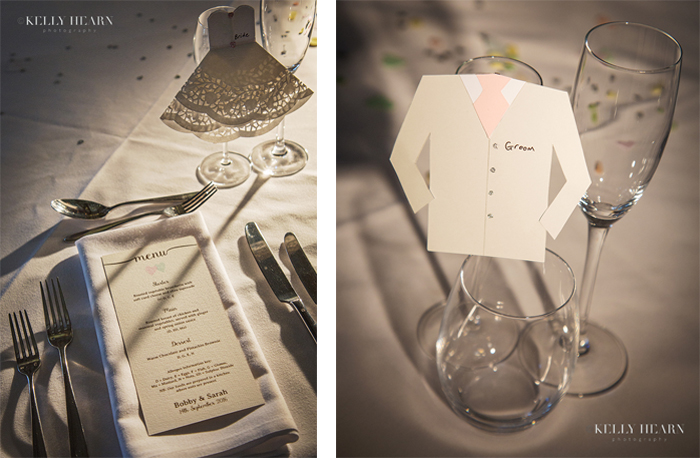 The wedding cake looked delicious, rustic and was pretty as a picture; layers of dusted sponge decorated with fresh fruit, little shortbread hearts, pink roses and delicate white gypsophila to tie in with the bouquets and various other floral display pieces around the barn.
Breaking tradition again, the first speech came from Sarah and just like the service, was full of emotion! More speeches followed and then after the food and fun of the reception the evening was drawing in and the sun was beginning to set. The light was so pretty we had to leave guests to mingle and pop outside to capture it. As the warm light softly melted into the background Bobby had a lovely little moment with his daughter; you could see without a doubt the affection that she had for her Daddy!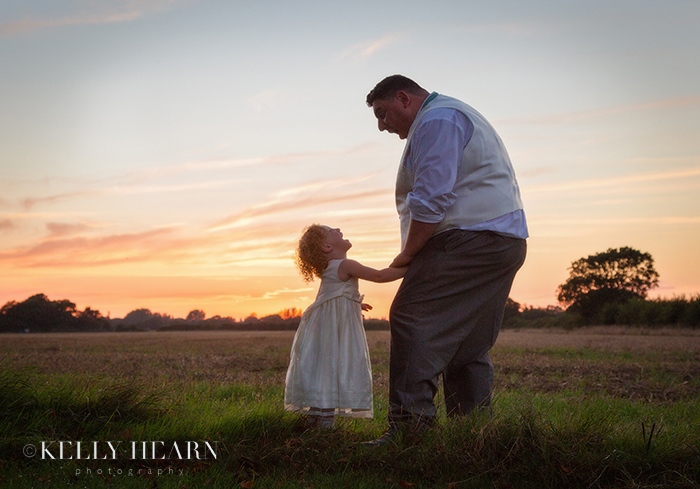 The sky now with a fiery horizon then offered a little romantic moment for Sarah and Bobby to reflect on the last few hours and take a breath to appreciate all the wonderful moments the day had brought them so far.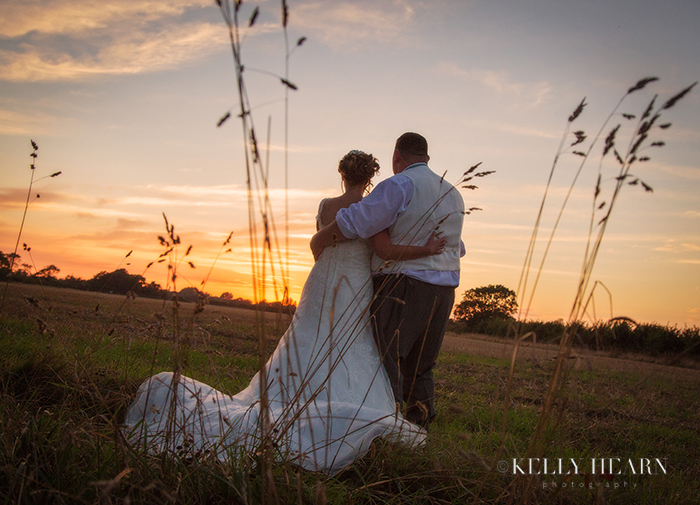 Back in the barn it was time for Sarah and Bobby to be seated on the Director's chairs again ready for a grand introduction from Gary for the benefit of any newly arrived evening guests!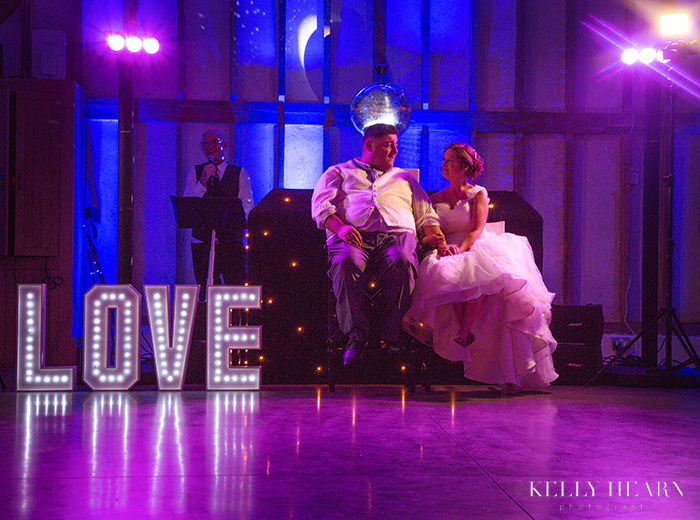 Before she knew it, Bobby was sweeping his new wife off her feet! Following the emotional first dance was another special dance for Bobby with his little girl; a precious moment for father and daughter. The letters of LOVE in the background couldn't have been more apt for this family and summed up what the day was all about. Sarah and Bobby had made an amazing effort to make everyone feel special and be included in their day and it was evident they really enjoyed celebrating surrounded by their nearest and dearest.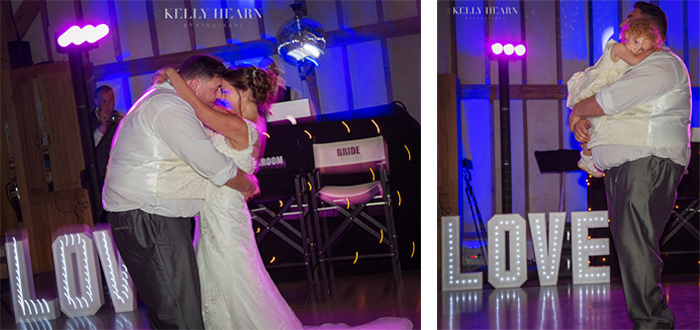 This wedding day was fully unique and crammed with personality, creativity and a sense of drama! It's great to see the personalisation of so many details of your day and how you bought some old wedding traditions to life by putting your own stamp on things! Thank you for the opportunity to photograph your special day and congratulations Mr & Mrs Demosthenis! 
Love Kelly x
Kelly Hearn A.B.I.P.P - A.M.P.A