Capturing the Moment
September 22, 2016
Matt and Jo's Summer Wedding at Upwaltham Barns
Matt and Jo are a couple with a long and delightful backstory worthy of its own romantic comedy. Their wedding in mid July was blessed with the heat and sunshine of a superb summer's day and was colourful, laid back and packed full to the brim with intimate and delightful moments.
I arrived at Avisford Park Hotel in Arundel to meet Matt and his best man Costa. I'd like to say it was a cool, calm and collected atmosphere but the room was super hot as the temperature outside just seemed to keep going up and up. We had a good giggle and decided to pay homage to that slightly sweaty morning with this cheeky shot; Matt brandishing a can of Right Guard as his only weapon while Costa coolly adjusts his dapper bow tie.
There were many parallels between bride and groom at this wedding (which may be why they work so well together!), the first being that both had chosen to have just their closest people with them while getting ready for the big day. I found Jo at Jasmine Cottage, the gorgeous bridal suite at Upwaltham Barns where their wedding was to be held. It was a lovely atmosphere as Jo was preparing with her two daughters and best friend Davina and even their hair and makeup were being done by a close friend. 

I decided to use the mirror as I had done with the gents to keep that reflective theme running through and show off the glamorous line of Jo's dress.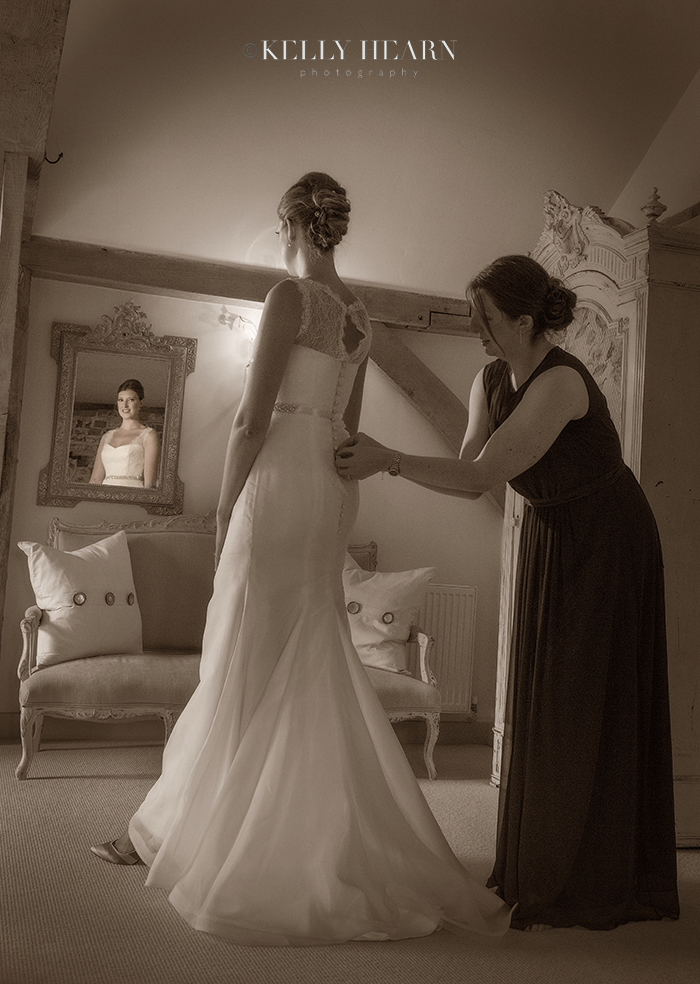 The couple had gone with a gorgeous combination of pinks, purples and blues as their colour scheme. The three bridesmaids represented a colour each in their dresses, and the bouquets were full of romance; prepared by Sussex-based Wild Willow who lived up to their name with a selection of deep and heady wild flowers. Here are Jo's daughters Finny (aged 8) and Paloma (aged 3) showing off their fairytale dresses while Jo reclines on the bed with that delightful bouquet.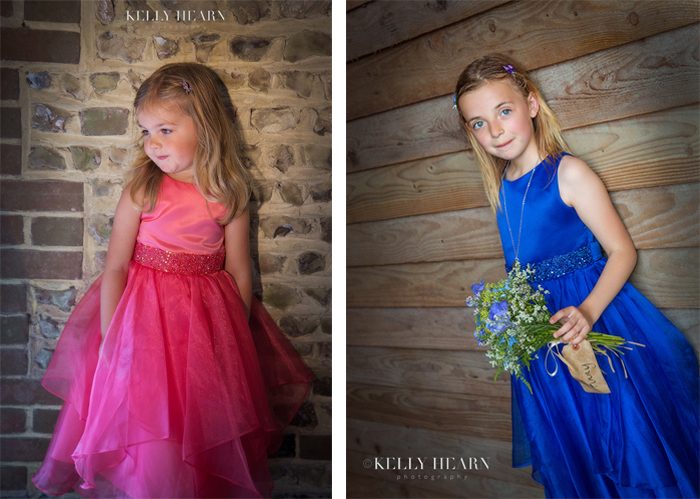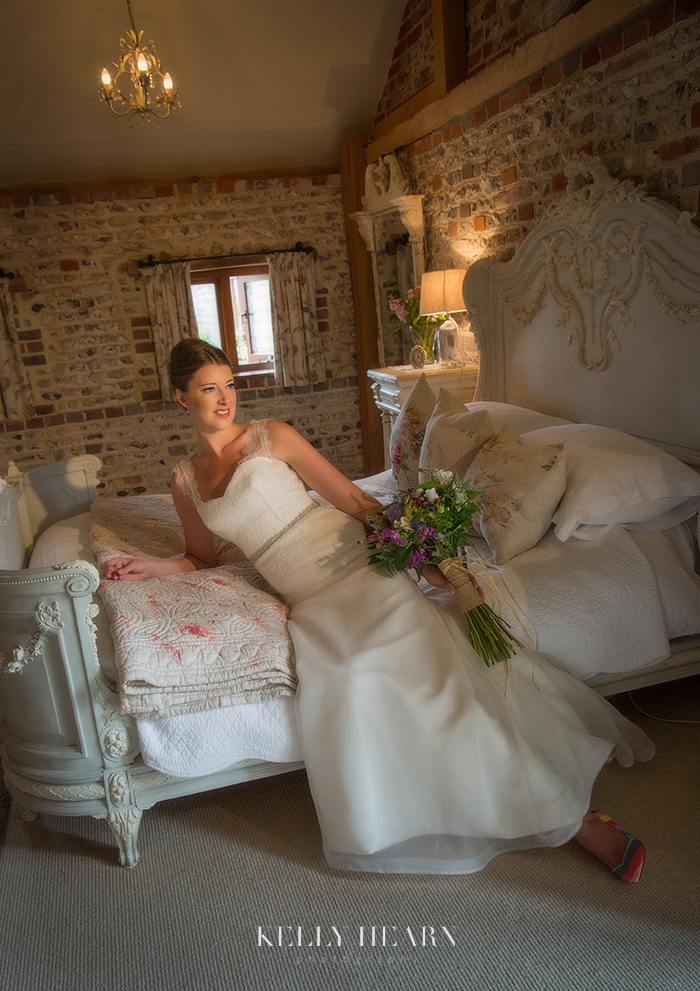 The colour scheme was prevalent once again when guests ventured into the barn for their meal. The cake was a three tired affair blocked in pink, purple and blue, elegantly topped with wild flowers, and Jo showcased her creative side with the table decorations, painstakingly setting paper and button flowers in vases of sand.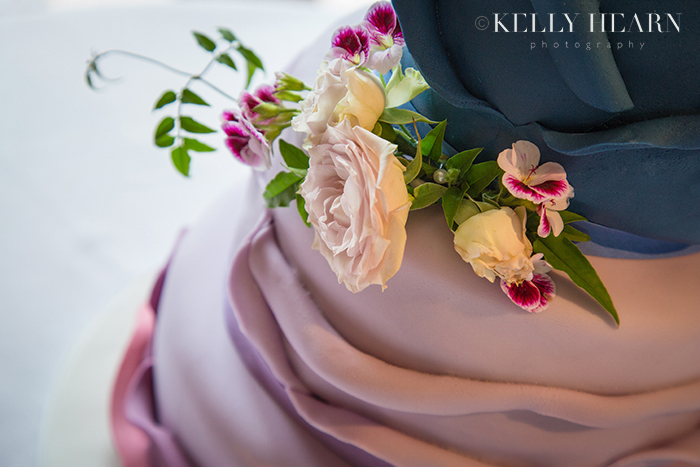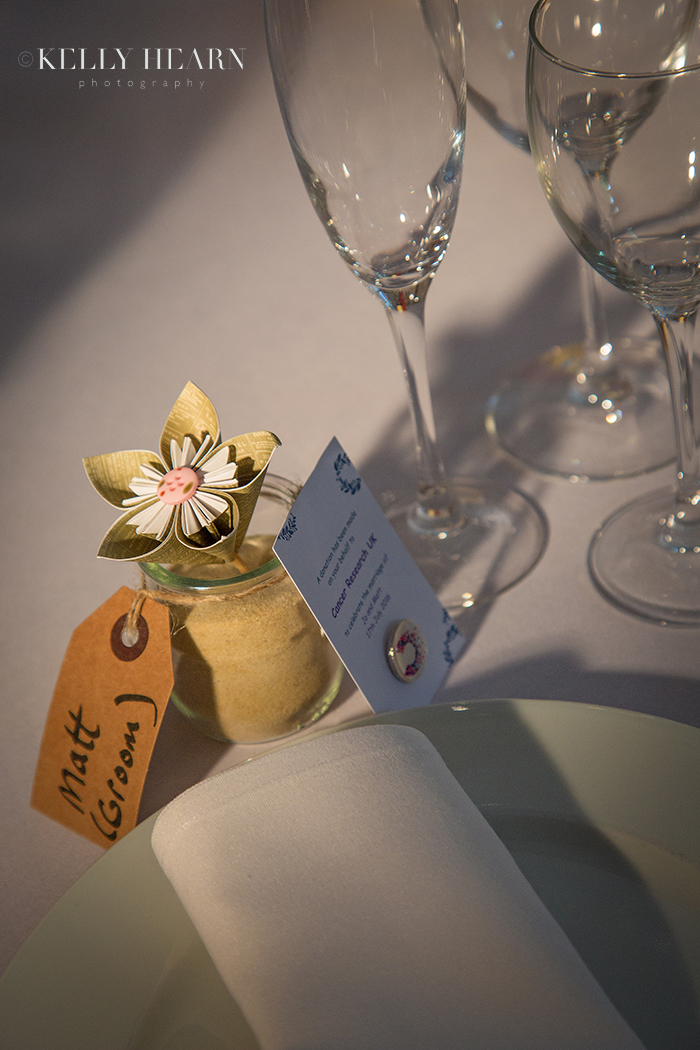 Back to the ceremony now which was full of emotion - Jo's dad in particular looked so proud throughout the entire day it was enough to make anyone blub! Here we have a beautiful shot of Jo stood in between the two most important men in her life - both of whom are gazing down at her with utter adoration.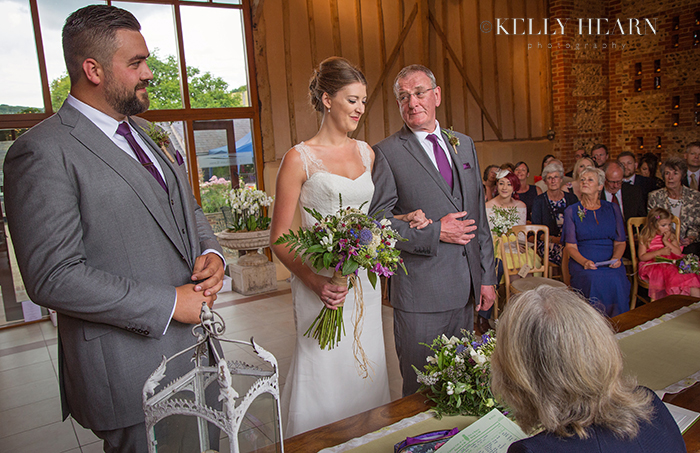 As a bit of a contrast I love this confetti shot, not only for the vibrant colours of the confetti tying in beautifully with the colour scheme, but that somehow it captures the confetti delicately framing Jo's smiling face while simultaneously giving Matt a right mouthful!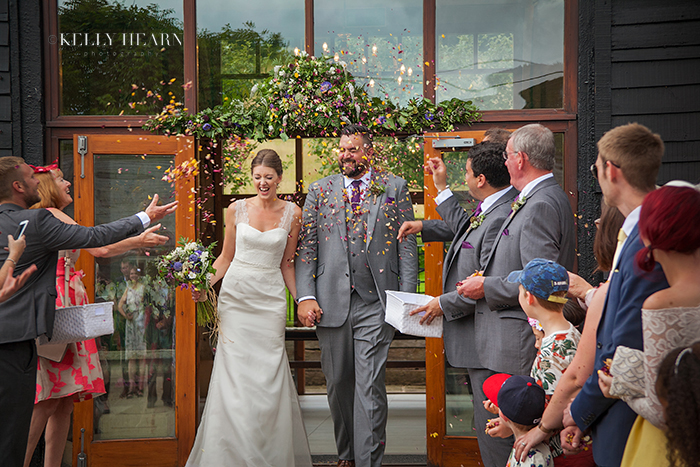 Weddings can be very traditional, or full of personal and quirky touches, but as a wedding photographer the aim is always to try to capture the warmth and emotion of the day. Often my day is broken up into very exact and well planned segments: the preparations, the arrival, the ceremony, mingling, speeches and so on, and it is important to document and record these events with formality as well as fun. However once in a while you stumble across a 'moment' completely out of the blue where everything just comes together. A burst of sunlight, or a person completely engaged in doing something you were not expecting to see. This is where experience and having awareness of what is going on around you (not just what is through the lens) comes in - a quick click of the shutter and that moment is captured forever - what a magical thing! 
Much to my delight four of those 'fortuitous moments' happened to crop up at Jo and Matt's wedding, and they are happily spread throughout the day - snippets of joy that give a little insight to what might have been happening behind the scenes while the 'main event' was taking place. The first magical moment came after I left Jo and her girls full of anticipation as they put the final touches to their outfits. I ventured outside to meet Matt and Costa again before they went in for the service.  Who did I catch trying to get a sneaky peek out of the window at her daddy?!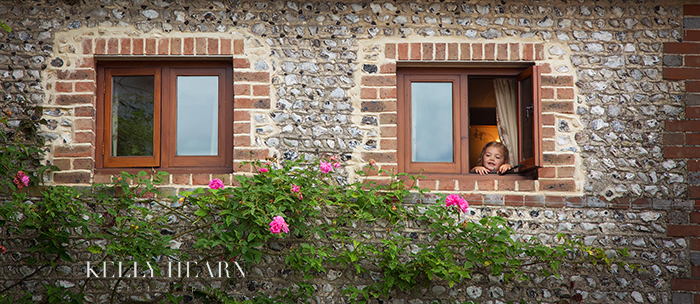 Upwaltham Barns is known for its stunning location and for most couples an afternoon or sunset shot in the fields out back is an absolute must. Matt and Jo were no exception and you'll see that classic shot later in the blog, but while they were enjoying an intimate moment together away from the hustle and bustle I couldn't resist this close up. It is clear that these guys really do know how to make each other giggle and this is a totally uncontrolled moment - you absolutely cannot 'instruct' people to laugh like this!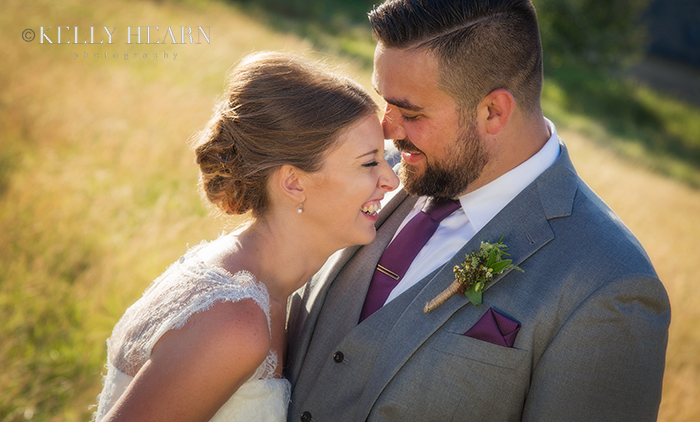 The next 'moment' is one of my absolute favourites. Jo and Matt had arranged a barbeque for their guests and the smell of grilled delicacies wafting around the lawn really added to the laid back atmosphere while guests caught up. Meanwhile, Finny and her friend had found the perfect spot to share out their sweeties and have a good old chat. As I approached the bench the sun came blazing through the trees behind and I couldn't have asked for more! For me this image represents pure and blissful friendship.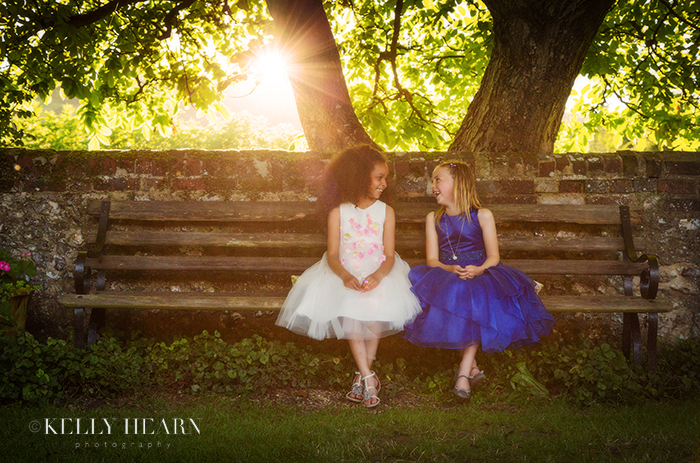 The final shot moves from pure friendship to pure unadulterated joy! I am often asked to stay on late to capture some dancing and frivolity, but this shot really says it all! I love how much movement you can see in this gorgeous lady's hair and yet the grin on her face is perfectly clear. With her arm in the air it is like a freeze frame of the perfect 'wiggle' shape!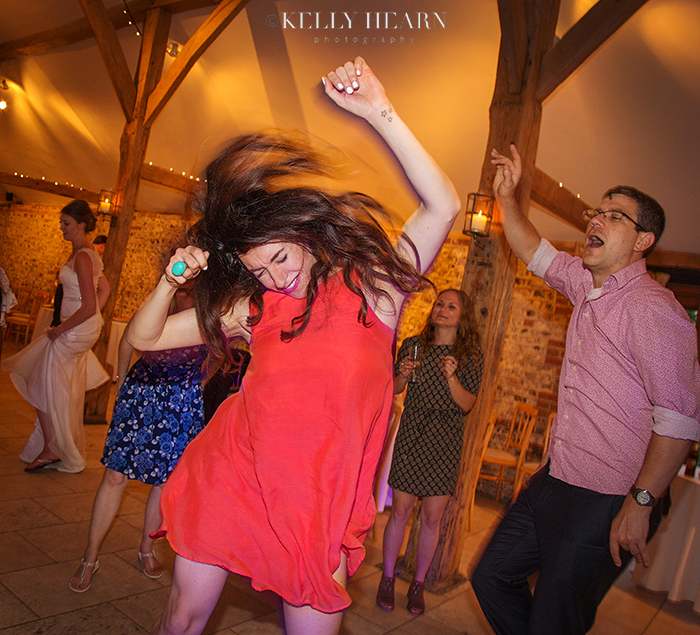 With those moments shared allow me to jump back in time once more to when guests moved through to take their seats for the meal. On their way in to the sublimely decorated South Barn they were treated to a very personal and charming 'storyboard' detailing the couple's life (so far) together. It was such a lovely, close wedding and special touches like this really do give you a warm and rosy glow inside!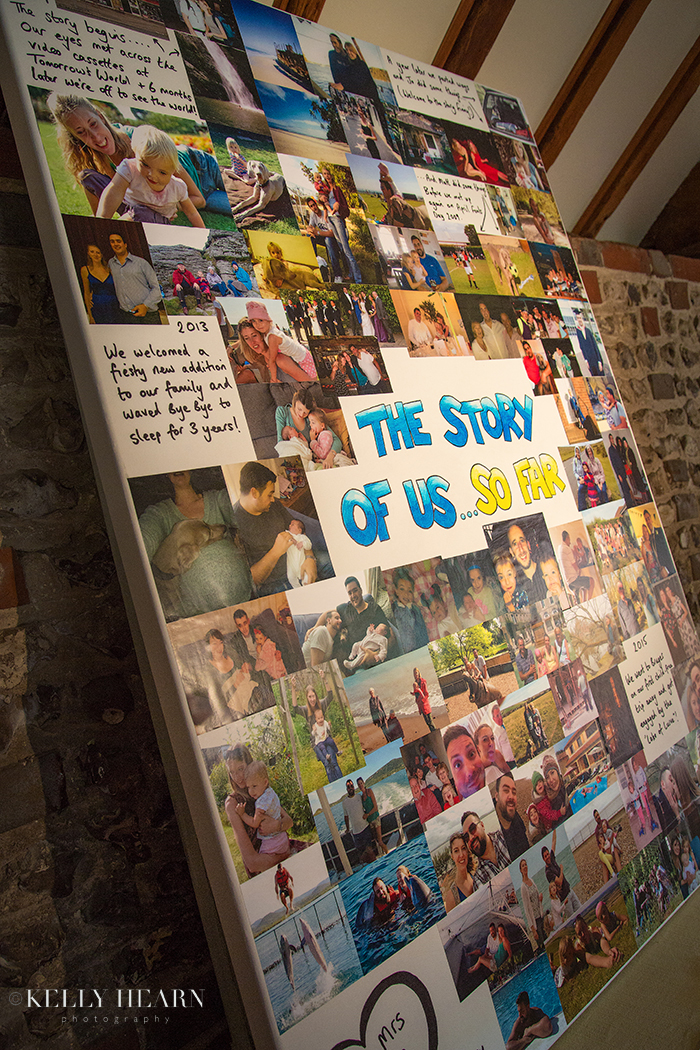 As promised; here comes that über-romantic countryside shot! The light is just perfect here casting a real warmth on the field and that fluffy cloud framing the two of them - luckily it wasn't doing anything other than drifting by!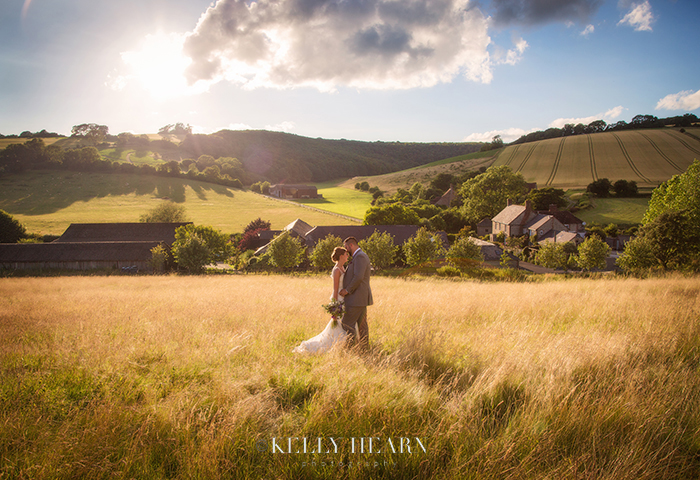 We wanted to show off just how dapper Matt was looking in his cool grey suit and brown brogues against the backdrop of the barn doors. However the addition of Jo's cheeky bit of leg here means she almost steals the show with her quirky choice of rainbow coloured shoes.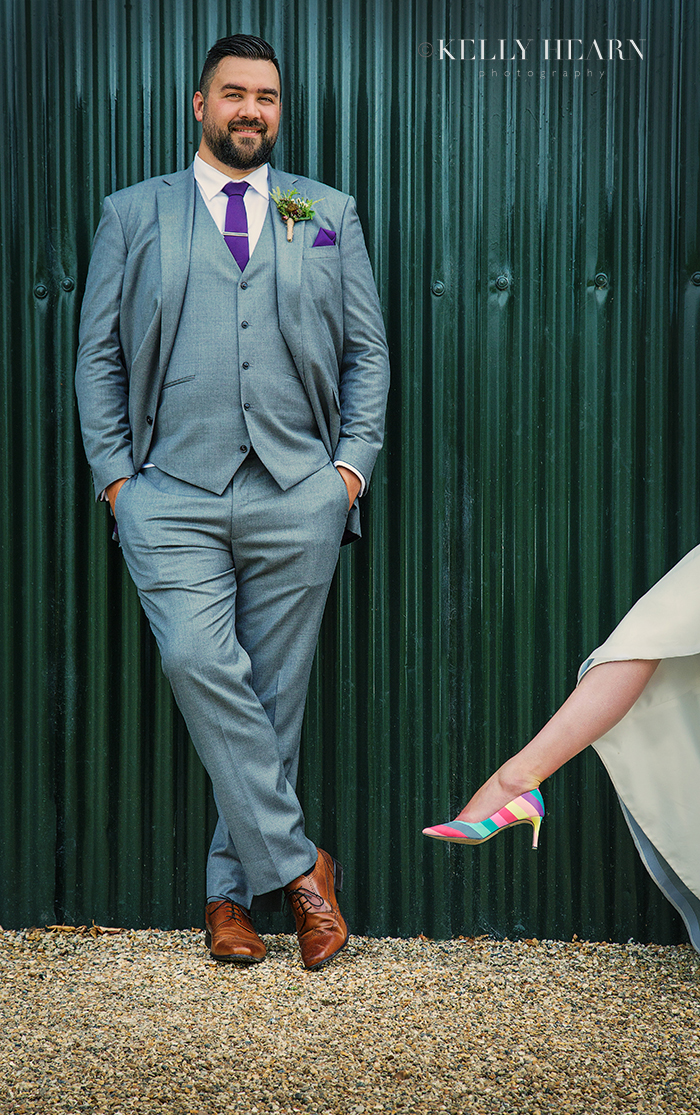 And finally! Another gloriously joyful dancing shot, this time showing once again how much fun and laughter these two newlyweds share. I like how you can also see the expressions of the guests behind as they enjoy the happiness of the couple's first dance.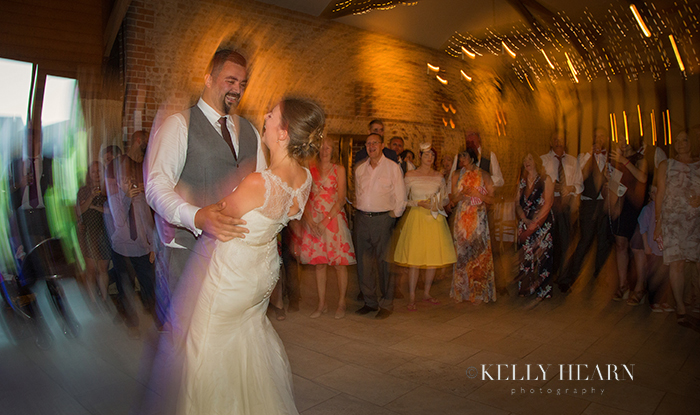 Matt and Jo, your wedding brought out the best of a glorious sunny day - relaxed, warm and full of magical moments which can only occur when there is true celebration at its heart. Thank you so much for allowing me to 'capture the moment' for you!
With love Kelly x
Kelly Hearn A.B.I.P.P - A.M.P.A