A wizardly wedding and magical baby
January 16, 2015
Lisa, Dan and Luna
Dan and Lisa got married in August 2012 at Old Thorns Manor Hotel, set in a beautiful country estate and golf course in Hampshire. As their wedding fell at a time when I hadn't even started writing blogs(!), I thought it only fair to pay tribute to their beautiful day now, as they recently returned to me for portraits of their gorgeous baby daughter Luna. To see Dan and Lisa with their beautiful girl is so wonderful and it's been an honour to be a small part of their family journey.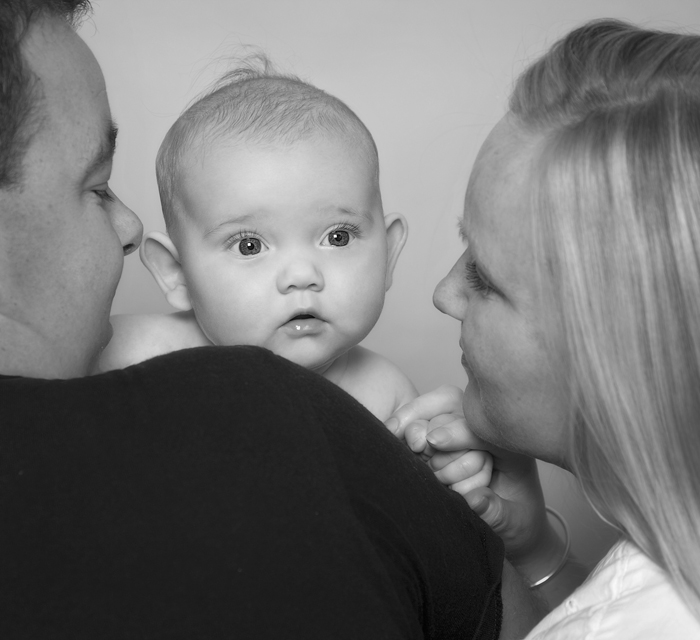 Dan will not mind me sharing with you that he is a self-confessed diva, which I first discovered on his wedding day when he refused to get dressed in his suit! Thankfully I love a challenge, and we still laugh about it to this day! Having already arranged a pre-wedding shoot and needing to photograph Dan and his groomsmen in a relatively short space of time that morning, I had to think on my feet. Bearing in mind I had a bride still to photograph before the wedding, Dan's obsession with wearing shorts all year round also didn't not assist the challenge of him getting into that suit! What demanded a bit of creativity for a photographer, actually resulted in a really fun picture of all the guys in various states of dress with Dan lounging casually in an armchair, not looking rushed in any way! This summed up Dan's personality from the start!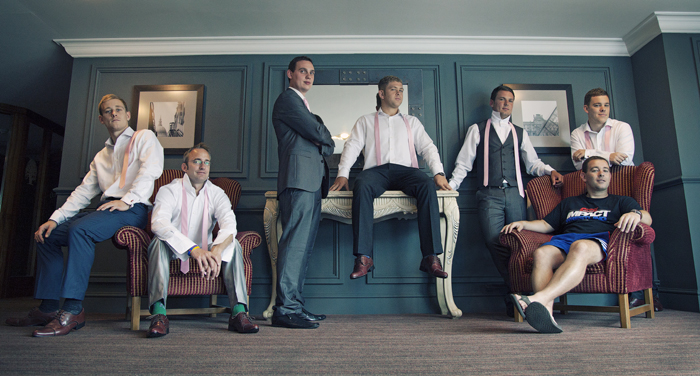 What can I tell you about Lisa? Well her love, and am I allowed to say, obsession?!, with all things Harry Potter became Lisa's unique stamp on the wedding day. This was revealed through various elements of clothing, decor, food and stationery. Combined with her theme of pink with white polka dots and mint green, the aesthetics of the day were full of interest and vibrancy with creative and fun hints of Harry Potter to be seen throughout. One pointer to the novels was to be seen in Dan's cufflinks which gave reference to the platform 9 3/4 at Kings Cross Station, (a magically secret platform) as featured in the stories.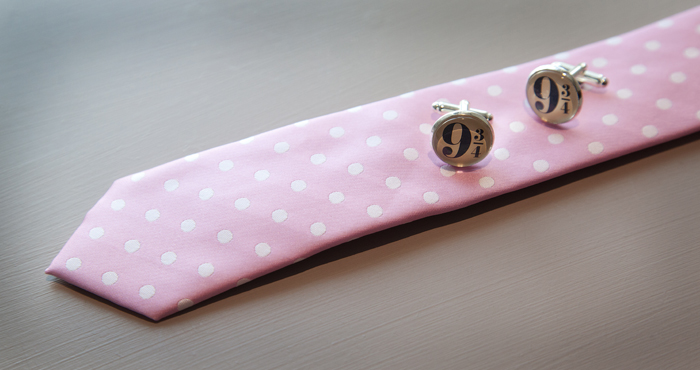 With the polka dots saved for Dan's tie and the wedding cake, Lisa's colour palette was really brought to life through the eye-catching mint bridesmaid's dresses and pretty delicate bouquets of pinks and greens.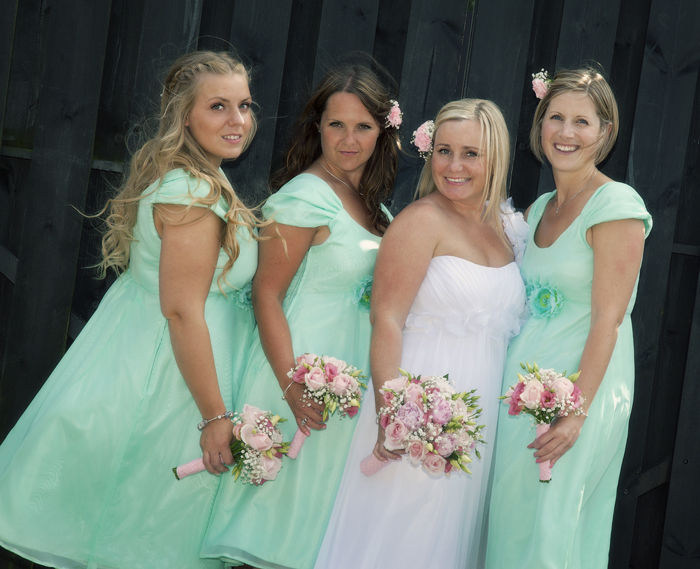 Another reference to Harry Potter could be spotted on the sweet cart, where bowls of UFO sweets were labelled with 'Honeydukes' which is a sweet shop located in the fictional village of Hogsmeade, in Scotland. Other details included an Owl Postbox positioned on a table for guests to place their gifts, (Owl post in Harry Potter is a wizarding system of sending messages using owls as the carriers, and Privet Drive was where Harry Potter lives). Needless to say, the room was full of clever notions to Lisa's passion for the Harry Potter stories.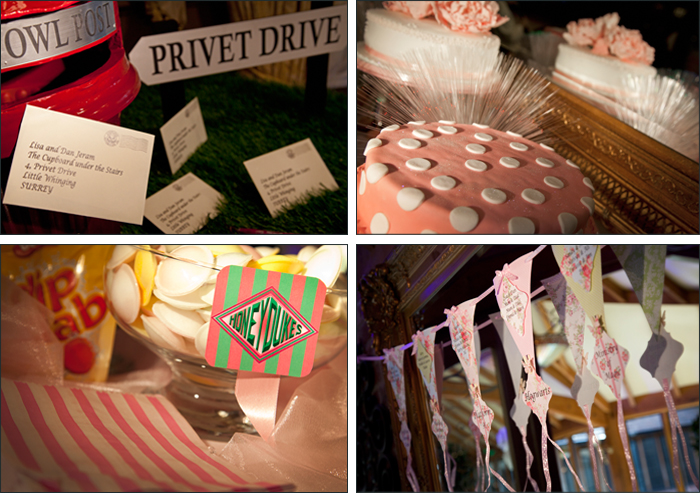 One of the couple's favourite images of the two of them on the wedding day typified their individual characters so well - Dan sitting on a 'throne' with Lisa by his side! Whilst working with a bit of a lighthearted touch and humour through many of the photographs that day, we did also take some time to capture a few quiet and romantic moments as the warm sun was setting in the grounds.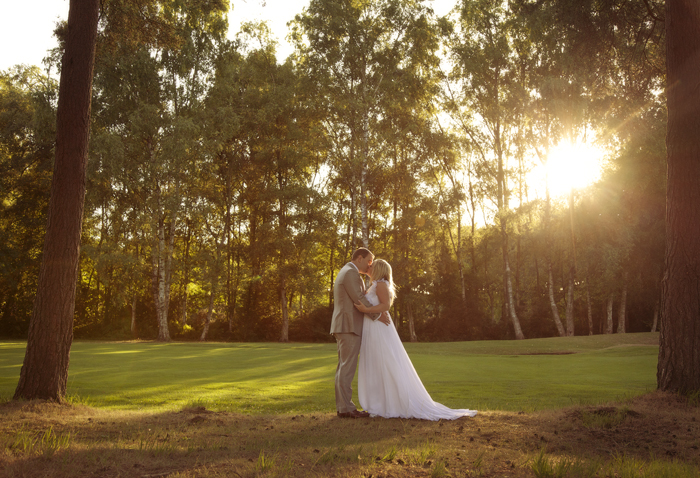 So a little while after shooting a beautiful wedding and wishing Lisa and Dan well in their married life, I heard some brilliant news. Baby Luna had arrived and they were keen to get some pictures of her and of their new family unit. During the shoot I had an idea that I wanted to try as one of the things that made Dan memorable to me was that he was always wearing shorts, no matter the time of year, or weather! I thought that getting his bare legs in a photo would pay tribute to the perennial shorts-wearing which is when we came up with this next shot.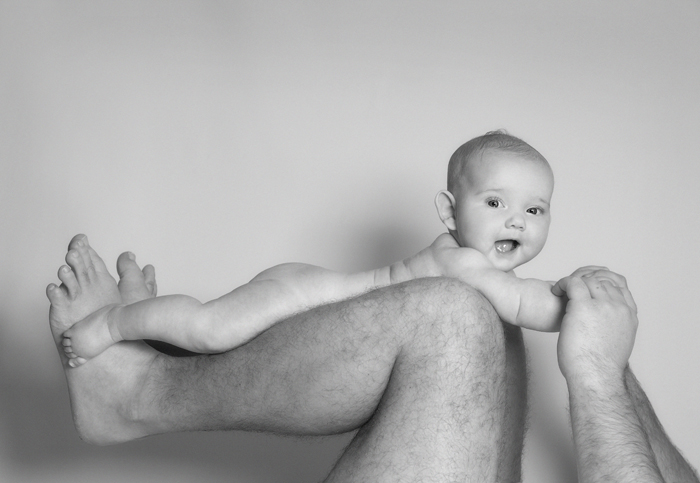 Dan commented at the time that having got his legs out, and laid on the cold studio floor, covered in a towel and balancing a baby on his shins must have been my pay-back for his diva-ish behaviour at the wedding where he had refused to get changed! I agreed that we were about even and even Luna found it funny!
This is probably my favourite photograph from Luna's shoot as she couldn't have done a better job at posing! She really was a model baby and it was lovely to see this little family making memories together.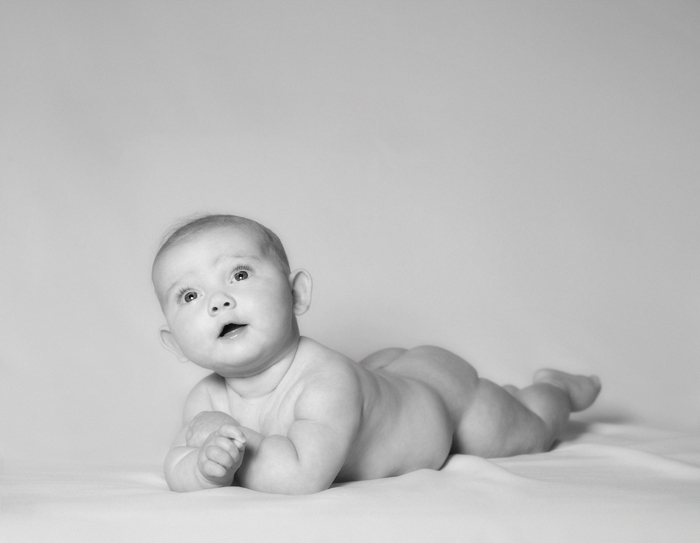 I look forward to seeing Luna a little more grown and hope she can star in some portraits again one day, (perhaps dressed as Harry Potter?!) Only kidding! Congratulations Dan and Lisa on a fantastic wedding day and for your scrumptious little daughter!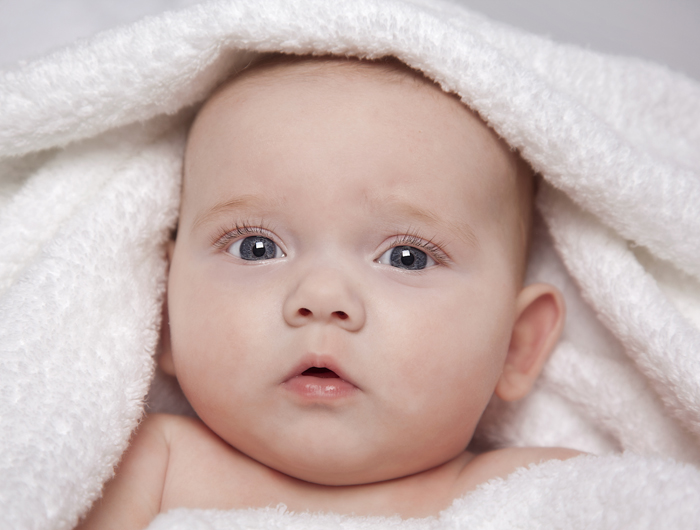 Love Kelly x
Kelly Hearn A.B.I.P.P - A.M.P.A