A Civilised Ceremony & A Rocking Reception!
February 28, 2019
Isabelle & Ollie's Southend Barns Winter Wedding
Guitarist Ollie and singer Isabelle married just before Christmas in the charming venue of Southend Barns, close to Chichester in West Sussex. Their enchanting winter wedding consisted of some awesome vivid contrasts - combining classic and idyllic English country wedding vibes with glitzy rocking themes! Whilst this winter wedding contained all the traditional elements one would expect, many superbly surprising and unexpected delights were thrown in, leaving guests captivated and entertained! Not a single dull moment on this fresh December day enabled plenty of exciting photographic opportunities for me, whilst brilliant memories were secured for friends, family and this fun-loving couple to treasure!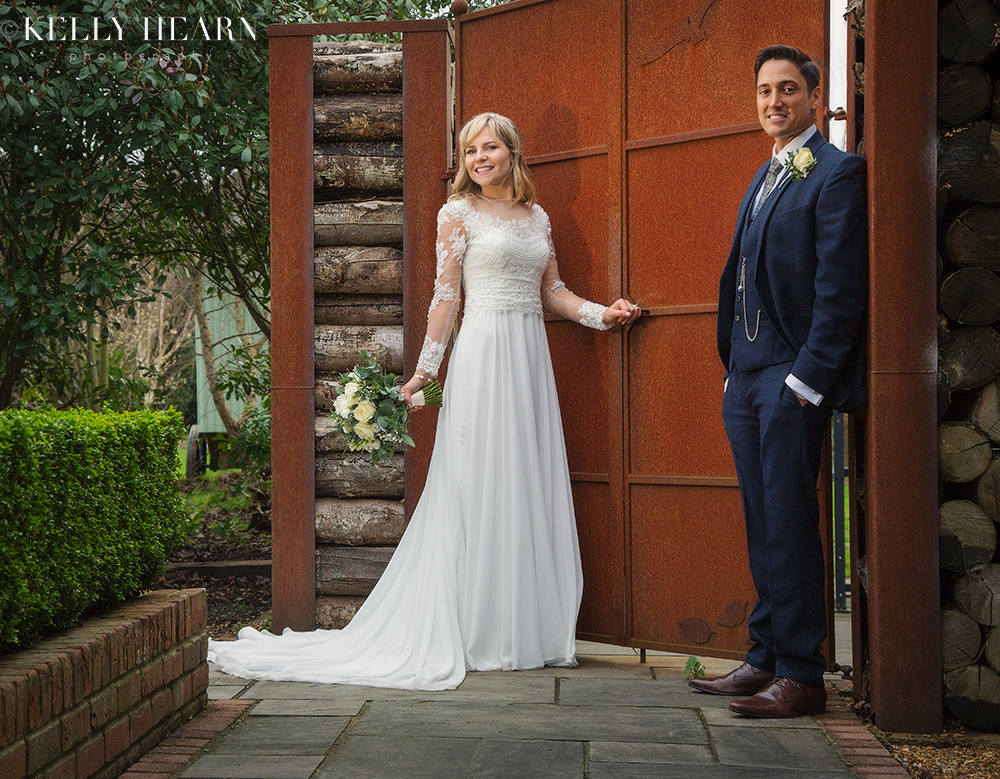 The morning was already feeling a little 'backstage-esque' when I arrived at the beautiful venue the groom had chosen to get ready in that wedding morning. In a lovely property based in the coastal location of the Witterings, Ollie was in the process of suiting up, whilst groomsmen were in various states of undress, casually occupying sofas without feeling the need to rush the donning of any formal attire! Eventually though the navy suits were on, the primping was occurring and the subtle gold accents seen in the ties were revealing the chosen colour palette for the day!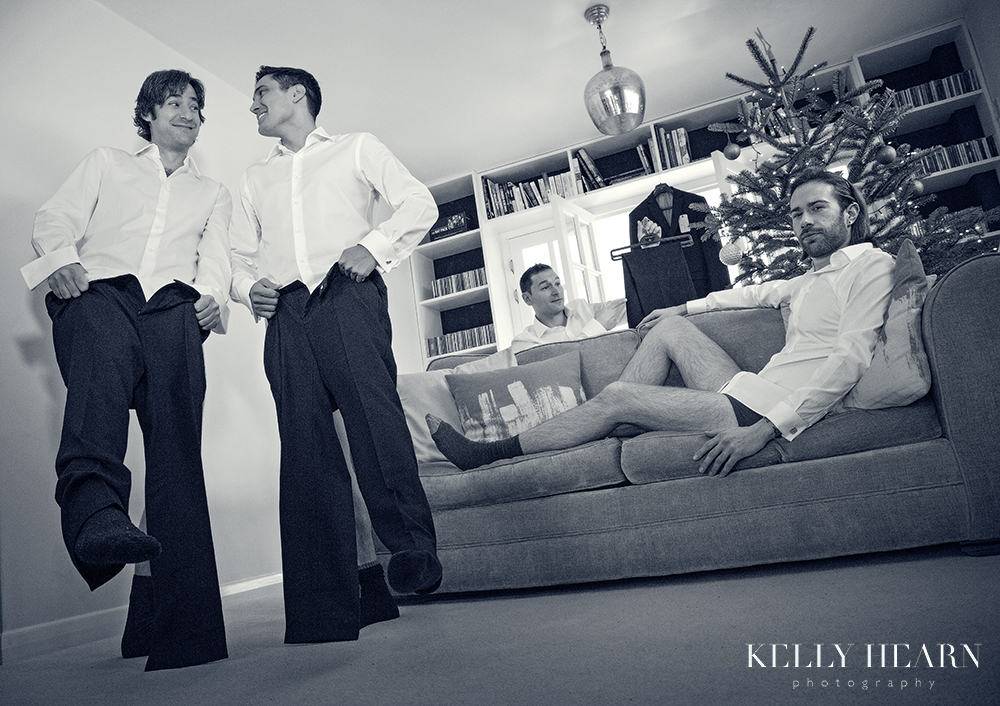 Over in the bridal suite at Southend Barns, Isabelle was enjoying her own 'backstage' style preparation! Charlotte from Polka Dot was arranging elegant waves and a chic diamanté band in her hair, whilst the bride applied her own fresh and romantic bridal makeup. A delicate dress hung up ready for its bride, revealing complimenting individual diamanté details which embellished the pretty lace sleeves and bodice.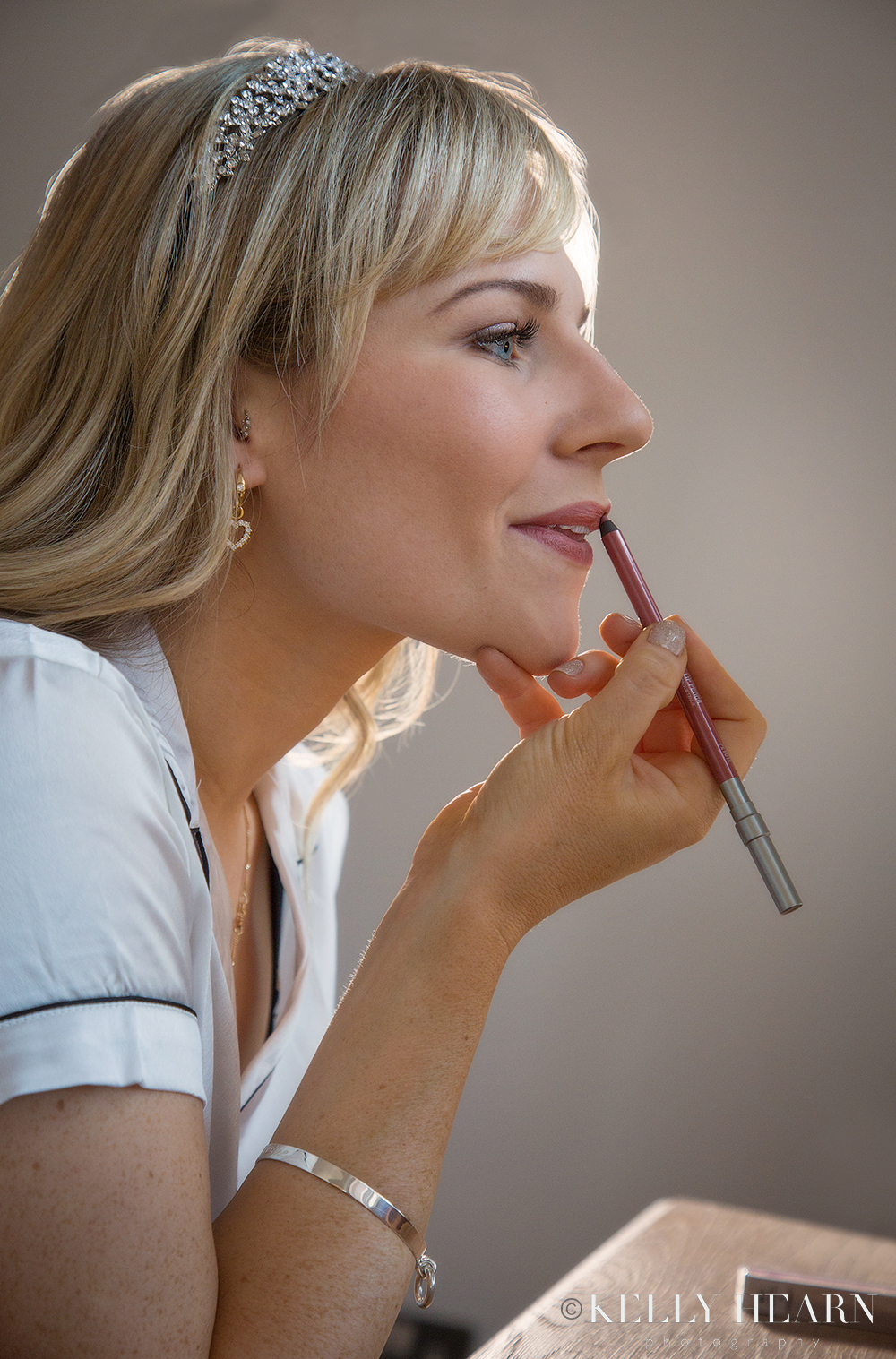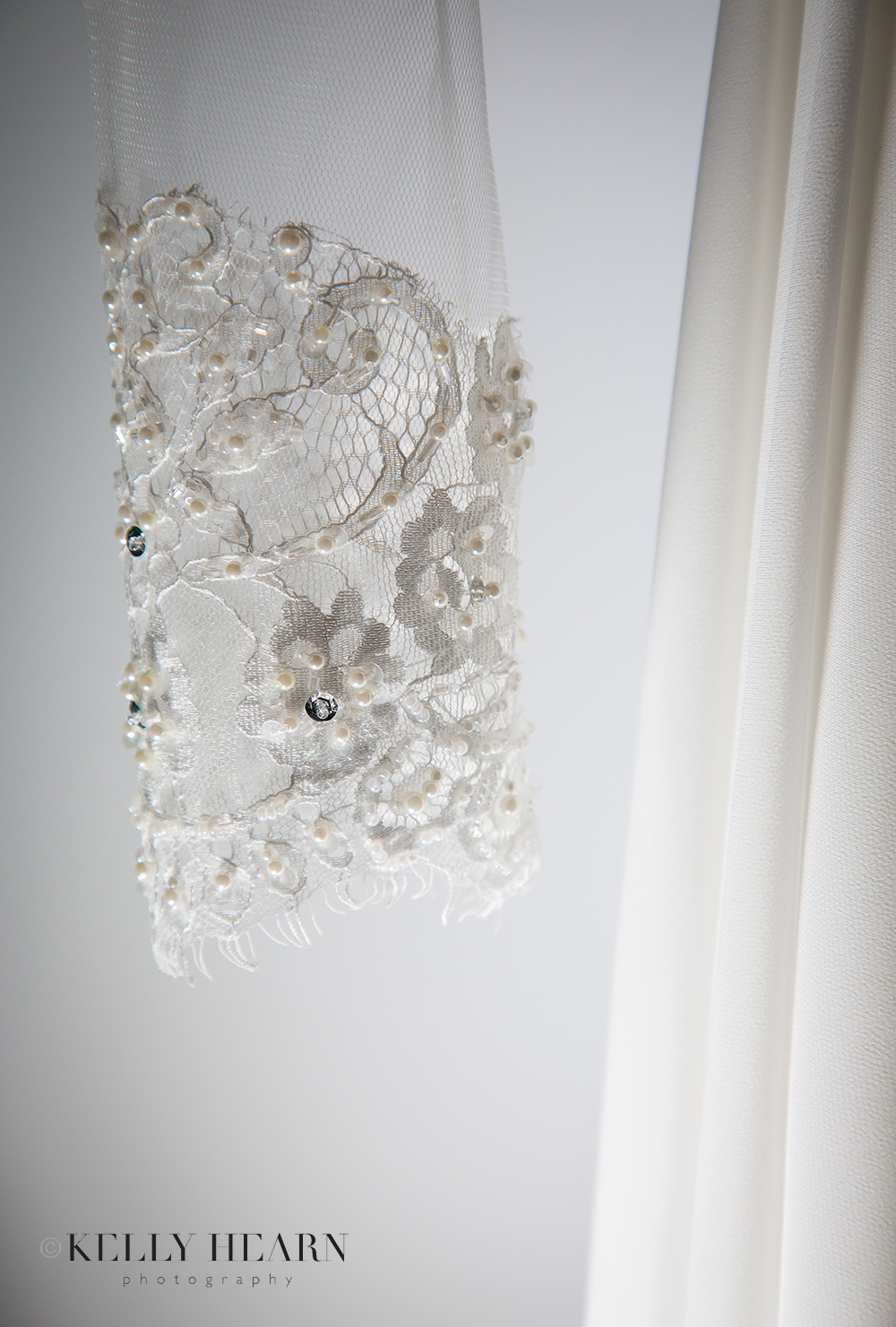 Isabelle's look was promising to be feminine and classic with just a subtle hint of glitz (and then I spotted her shoes)! This bride's heeled holographic silver boots were definitely offering more than a subtle hint of Isabelle's show-stopping personality which would be secretly worn under delicate layers of gorgeous floor-length white fabric (only to be shown off should the bride choose to hitch up a bit of skirt)! The stand-out footwear was also a little clue as to what was coming up later on that day, but all was to be revealed…!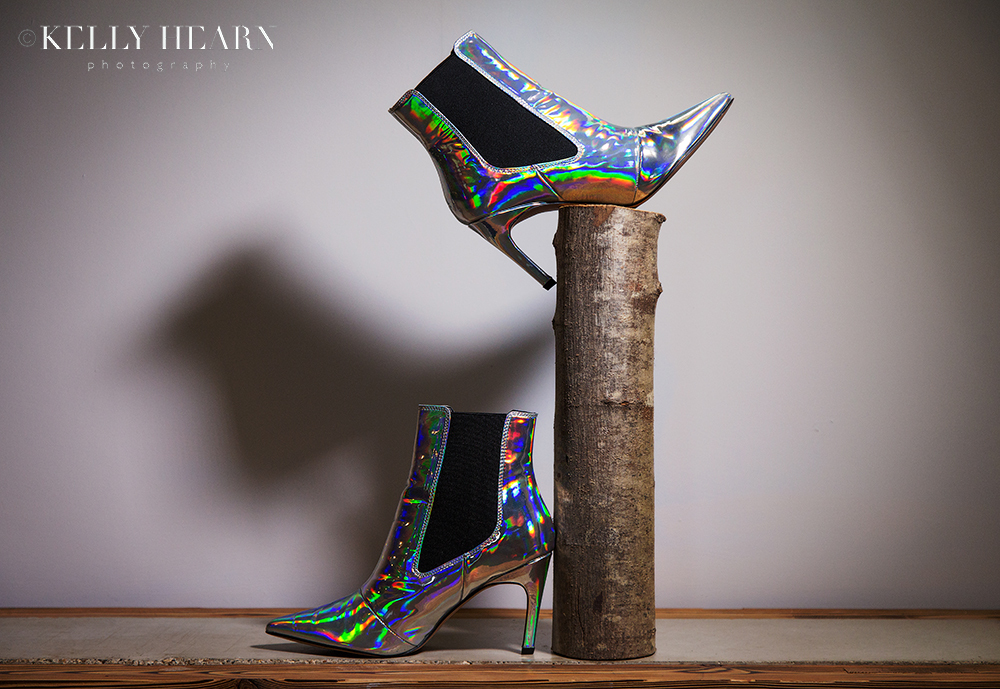 The beautiful Dairy Barn was ready for the arrival of guests who, unsuspecting of any unusually glamorous theming, would soon be enjoying the calm and dreamy atmosphere of the muted white and natural oak ceremony space. Bunches of Christmas mistletoe provided by florist Amberlilys hung from beams up above, whilst graceful white draping supplied by decor specialists To Have and To Hire adorned the vast expanses of ceiling space sailing from the original oak structures. Fluffy sheepskin seat throws and soft cosy lighting providing a warm inviting glow made for a truly serene scene.
Isabelle and Ollie were soon the blushing bride and doting groom standing at the end of the aisle in that romantic space. They exchanged heartwarming vows and rings whilst surrounded by loved ones who joyfully looked on as nuptials took place. Many friends and family had endeavoured to look the part, generously emerging themselves in the spirit of the wedding day by dressing in navy and gold tones in order to support and enhance Isabelle and Ollie's chosen colour theme!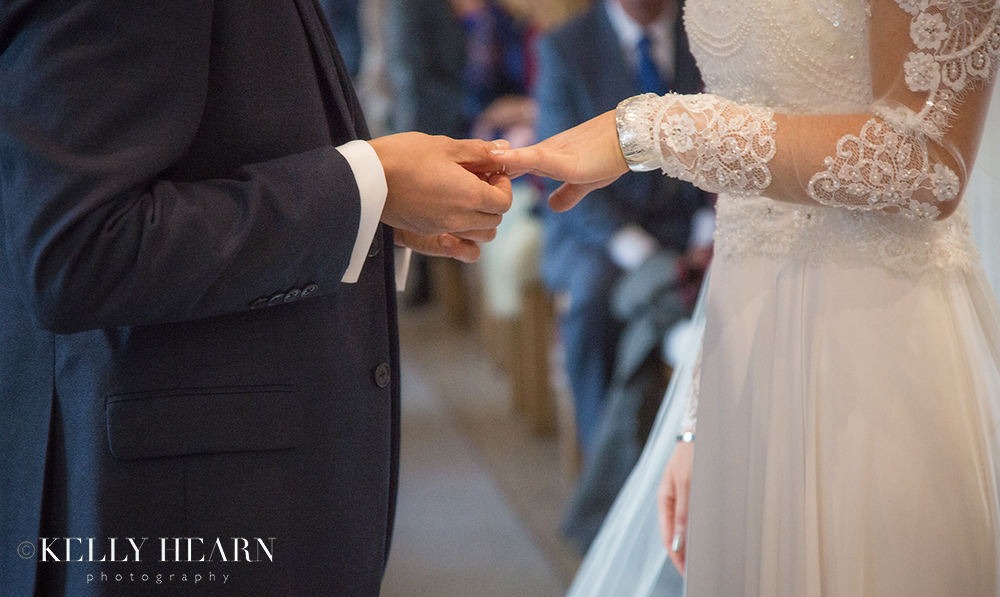 The room that had moments ago been so quiet and tranquil was now full to the rafters and buzzing with happy excitement! A joyful reaction erupted as the couple signed the register and shared a newly married kiss, having officially became Mr & Mrs Collins!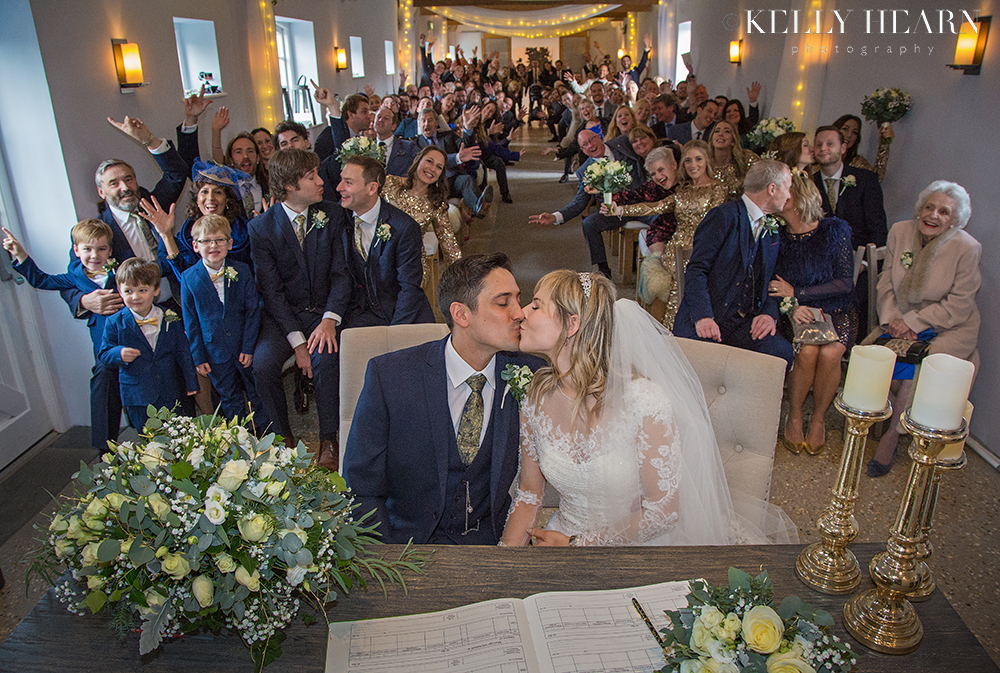 Against silvery skies the newly-weds stood framed by the renowned white peaks of the barns. The versatility of the venue offers an opportunity for any photographer who is fortunate to capture weddings there, in whatever weather is dealt, there are a variety of interesting backdrops in all parts of the grounds to work with. When a bit muddy underfoot, the front entrance with it's beachy gravel drive, green topiary and strong dynamic shapes works well for texture, adding interest to more structured group portraits.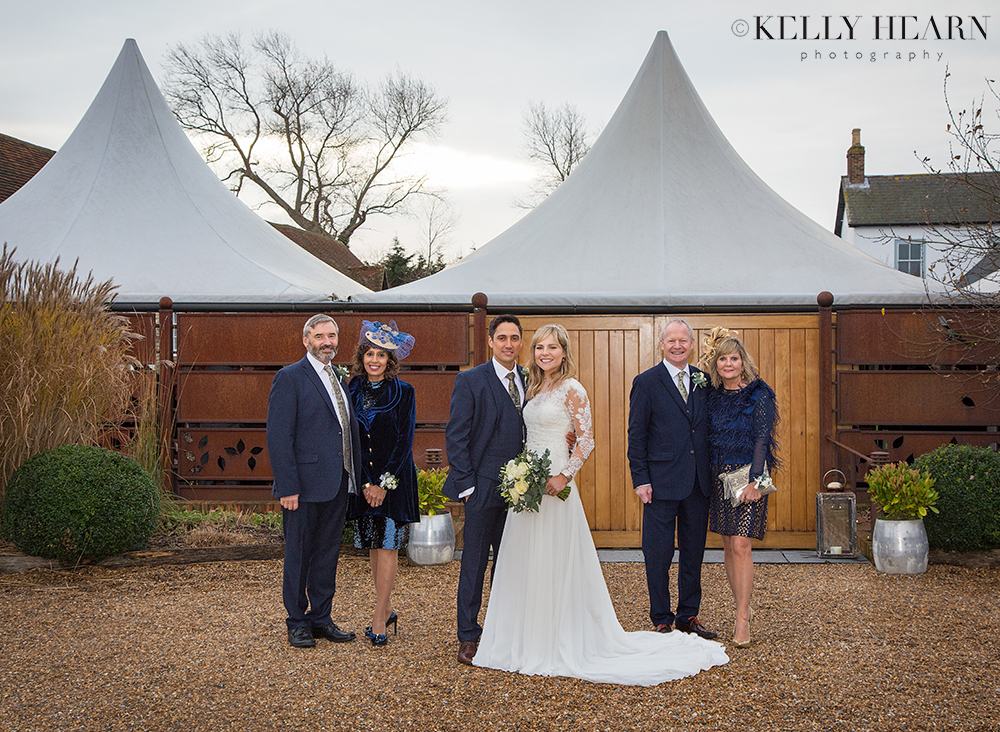 The gardens at Southend Barns are also superb for group images offering so much in the way of symmetry, features, colours and character. On this particular afternoon whilst guests were catching up with each other and sipping celebratory bubbles to the background sounds of brass band 'Smooth Horns', the gardens were the ideal spot for the bridal party pictures. I often remind brides and grooms that this little section of photography can, and should, be both fun and memorable - a part of the day to enjoy and not endure. I always see it as an opportunity for these groups of friends to have a laugh given that the majority of the wedding formalities are done and dusted!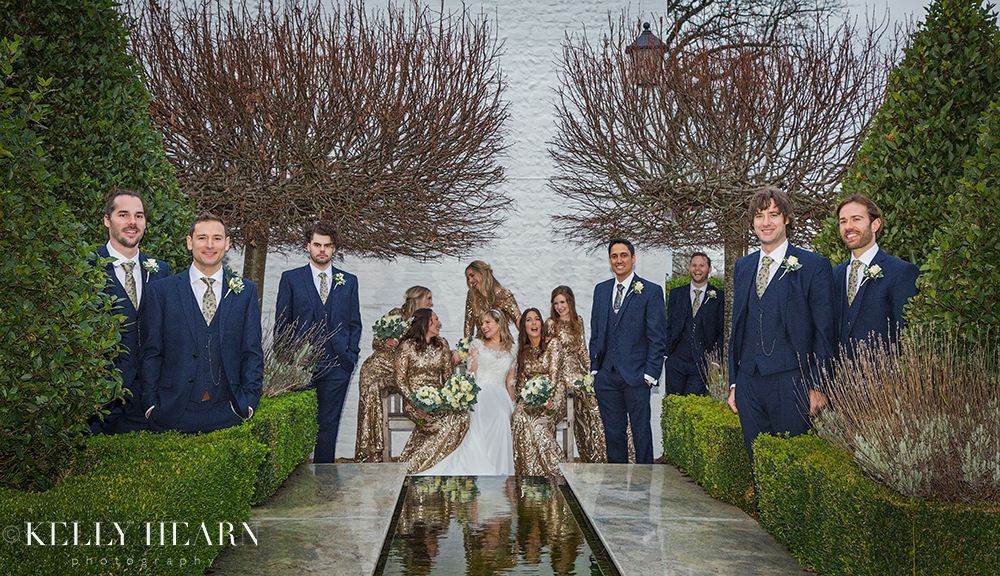 Whilst bridesmaids and groomsmen are carefully selected for carrying out special roles and duties throughout the day, the newly-weds in this moment have a chance to enjoy a little quality time with these important key people. Choosing to brave the outside chill with enthusiasm, Isabelle's bridesmaid group were all about maximising the glamour and living their best lives in these glittering golden gowns whilst against a palette of greens! When considering wedding photography (particularly for an album), it is these images that can often best show off a colour palette to a day, so I always believe it's worth taking time to achieve creative group shots, especially in such beautiful and enchanting settings.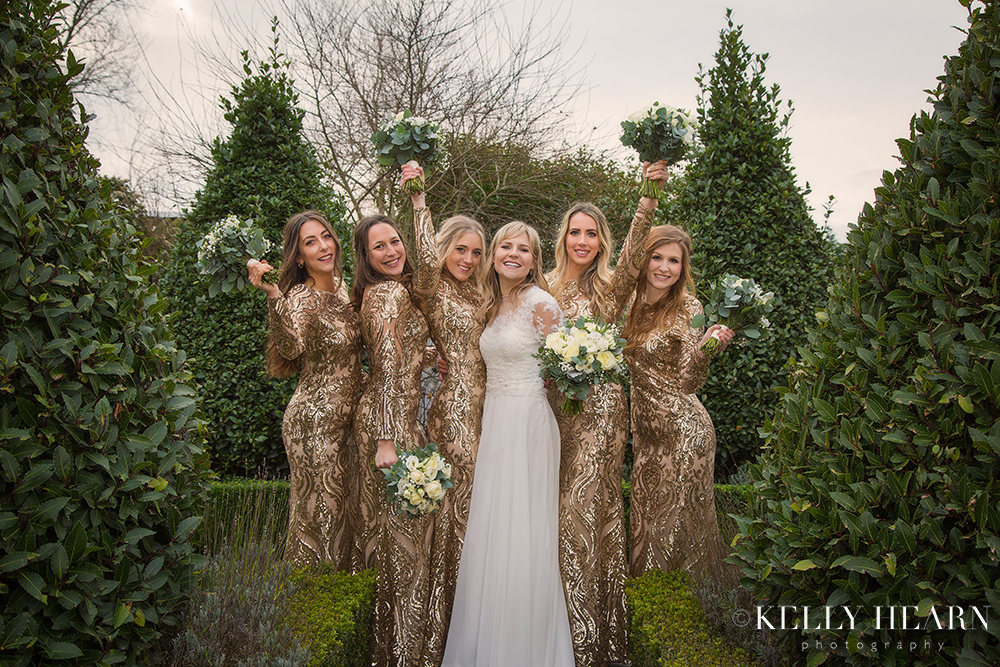 Standing bold and strong, the groomsmen also utilised this 'down' time to assert some individual personality in the variety of compositions we shot. The reflective water feature and bold shaping in the trees and hedges were excellent natural props helping us to innovate with compositions and show off each person's 'best' side!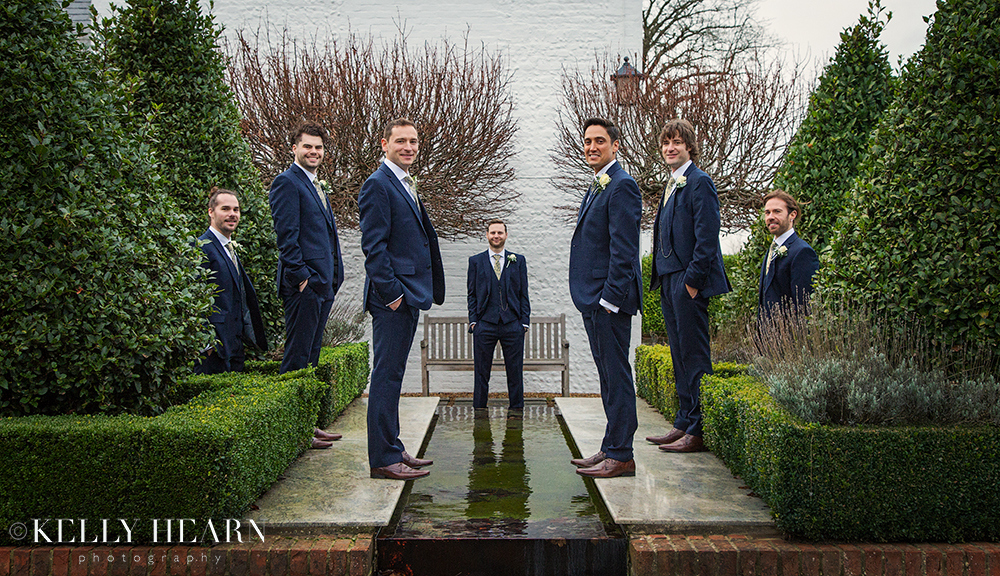 Back at the Threshing Barn, tables were laid up ready for guests to come and enjoy a delicious wedding breakfast. The room looked stunning as white table stationery with a touch of gold offered simple elegance, alongside tealights, delicate gypsophila and cool green eucalyptus, all displayed on mirrored centrepieces. White chair drapes tied with mini eucalyptus sprigs carried on the floral theme that had been earlier established by the pretty white and green handheld bouquets and impressive arrangements displayed throughout the venue.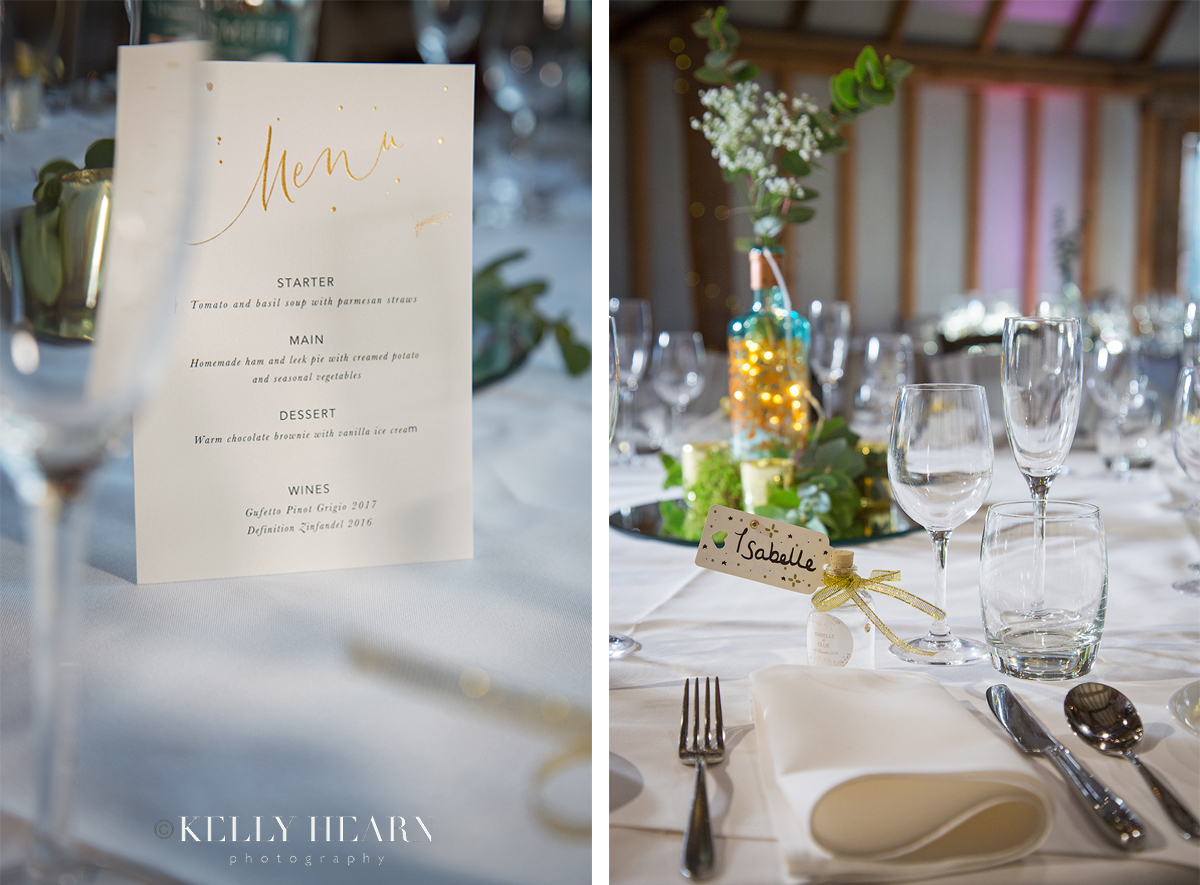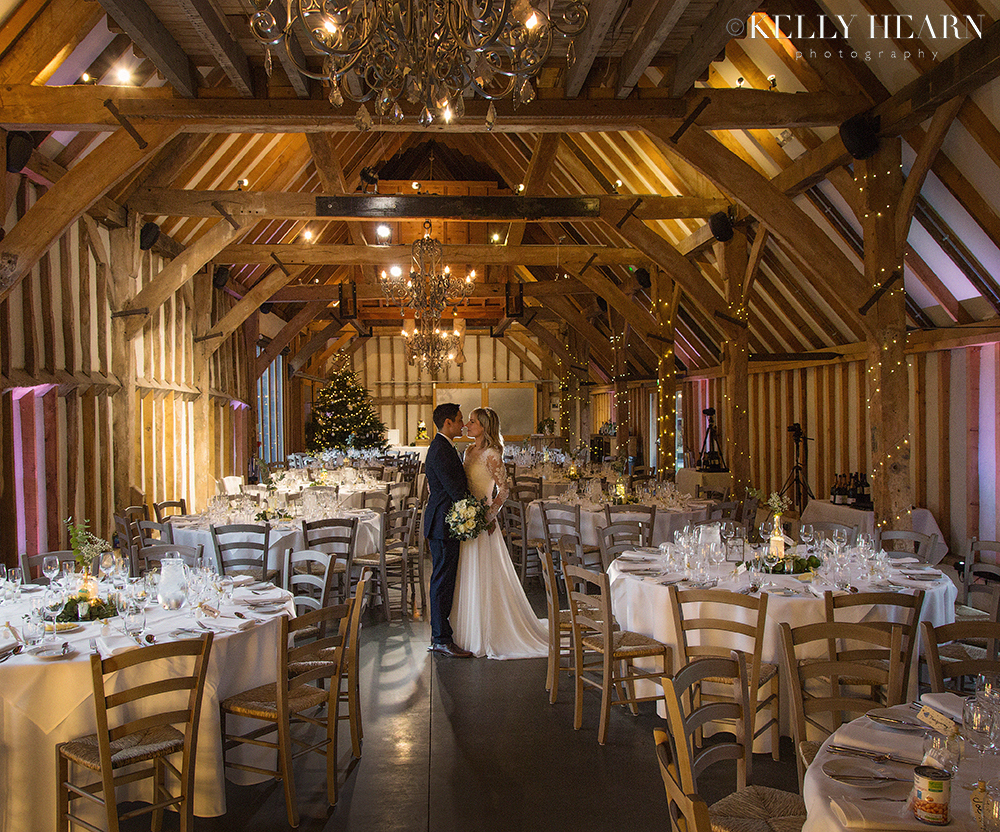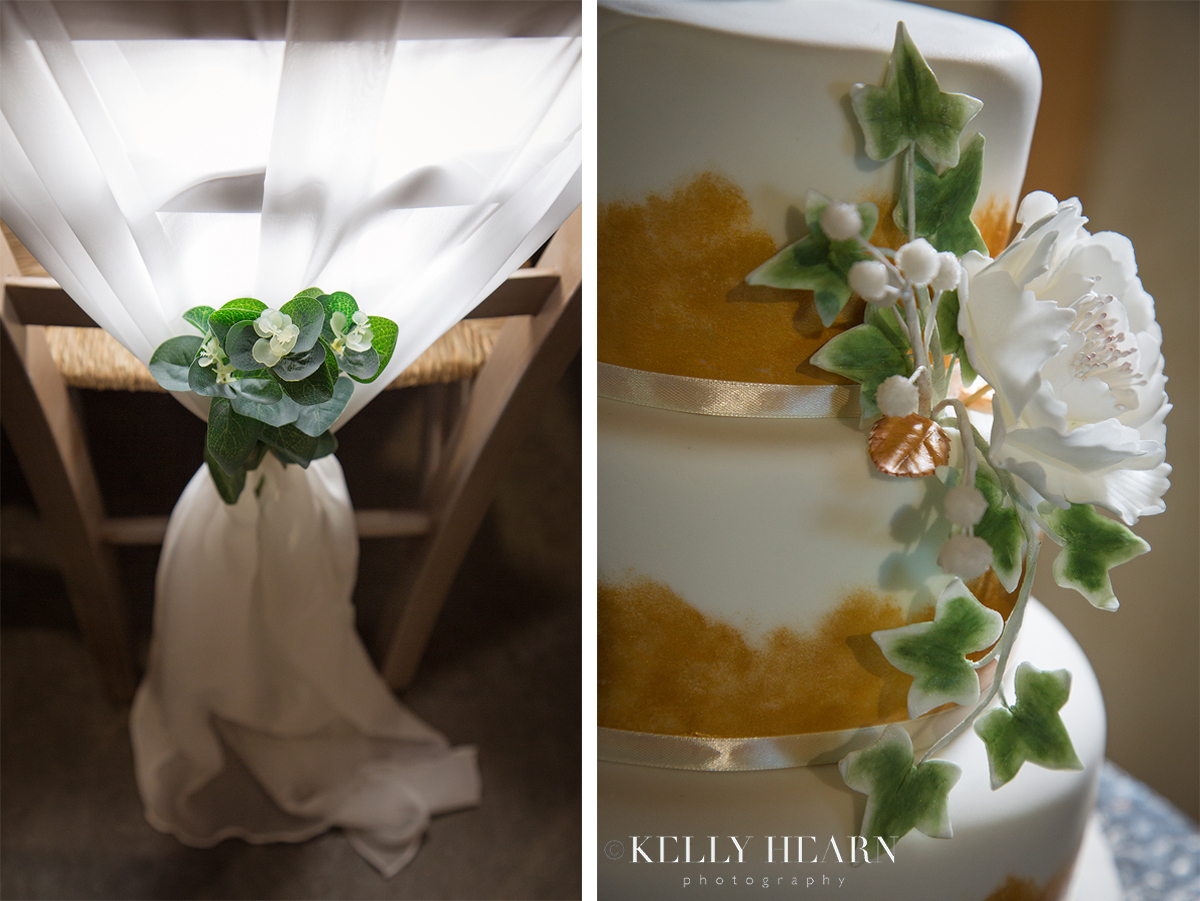 The wedding cake was a beautiful creation, carefully hand-crafted by Isabelle's sister-in-law (also a bridesmaid), who had brought the white, gold and green tones altogether successfully and with sheer skill! As the delicious cake was being enjoyed and speeches ensued, we were about to encounter a festive spectacle of the musical kind! Full points went to the guests who enthusiastically jumped up from their seats to partake in singing and actions to the well-known carol of 'The twelve days of Christmas'! This hilarious after-dinner singsong acted as a fantastic warm-up ready for what was to come!

To kick off the evening reception and to everyone's delight, professional performers Mr & Mrs Collins, backed by their band members (including Isabelle's guitar playing Dad), confidently took to the dance floor, not to sway to a first dance ballad, but to entertain their guests with some rocking upbeat tunes! Isabelle sung her heart out and Ollie soulfully played guitar, smashing out Stevie Wonder's 'Superstition' and MJ's 'Beat It' among other crowd pulling numbers that persuaded everyone to hit the dance floor. Wowing guests with their energetic set the wedding party were thoroughly 'warmed up' ready to dance the rest of the night away. Meanwhile Isabelle's dancing boots, still under the cover of her long bridal gown, certainly got some wear!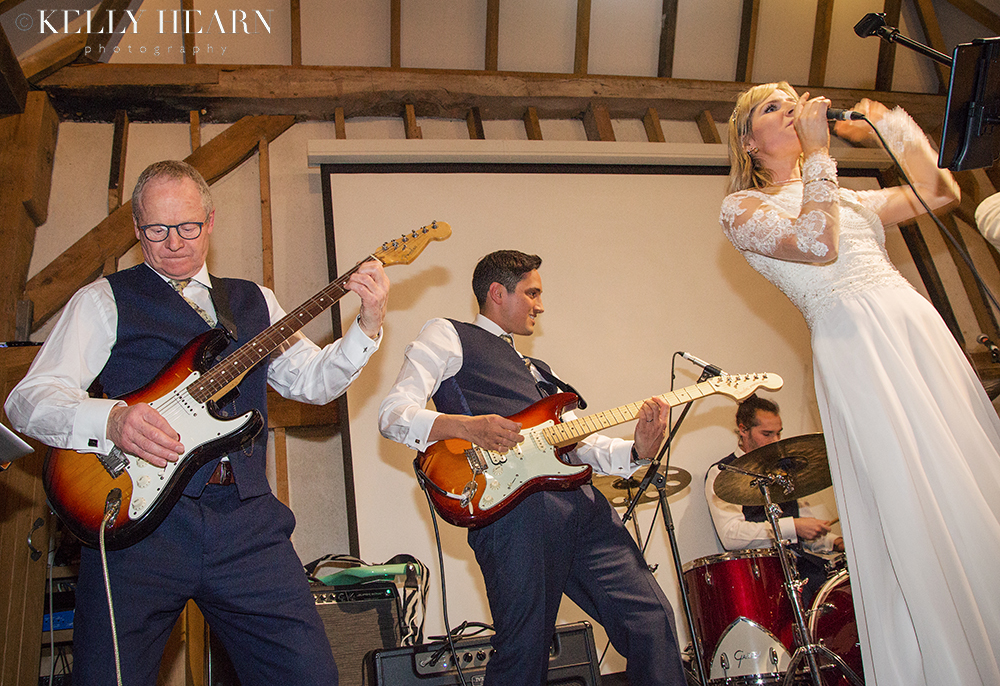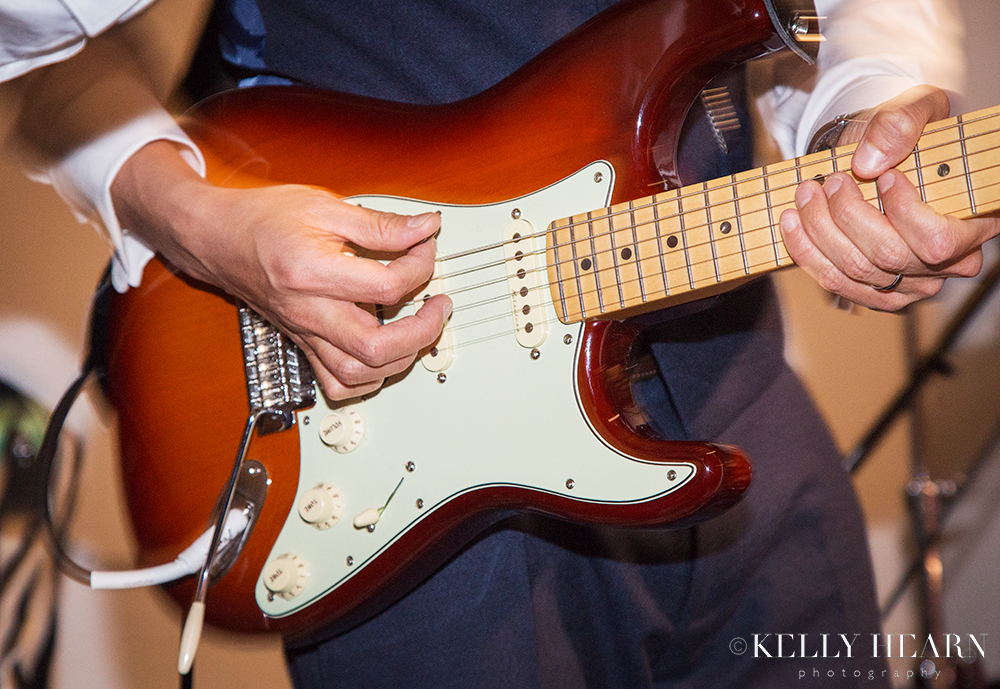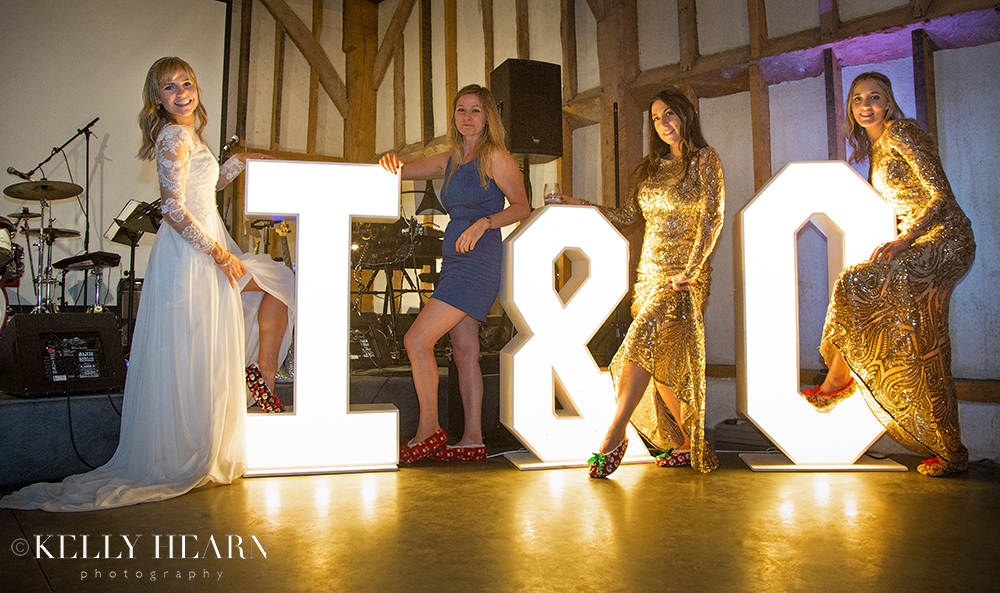 Congratulations Mr and Mrs Collins! Your traditional English country wedding was flavoured and enriched by your love for great music and a flavour of glitz, glam and soul! Your ability to incorporate and engage all your treasured friends and family paid tribute to your zest for life and fun personalities and I so enjoyed being a part of it all! I wish you much happiness with many sparkling, rocking and harmonious moments in your future together!

Love Kelly x

Kelly Hearn A.B.I.P.P - A.M.P.A