An English Country Happily Ever After
August 09, 2018
Emily & Zach's Southend Barns Summer Wedding
The last day of June this year was steaming hot, perfect for outdoor nuptials and particularly ideal for the exciting debut of the brand new outdoor ceremony area at Southend Barns. Emily and Zach had been planning their wedding for two years and so it was a wonderful surprise for them to discover they could marry in this newly created bespoke space. It had been sweetly named 'The Secret Garden' which was due to be finished and ready for use just in time for the couple's big day. Being a gardener by trade, this tranquil hideaway outdoor area particularly appealed to Zach who would really appreciate all of the rustic textures, including the lush green leafy plants and trees, wooden log feature walls and original flint stone barn walls. The couple felt hugely honoured to find out they would be amongst the first to marry in this beautiful garden space and of course it was a treat for me to have an additional beautiful backdrop to frame the bride and her groom exchanging rings and promises.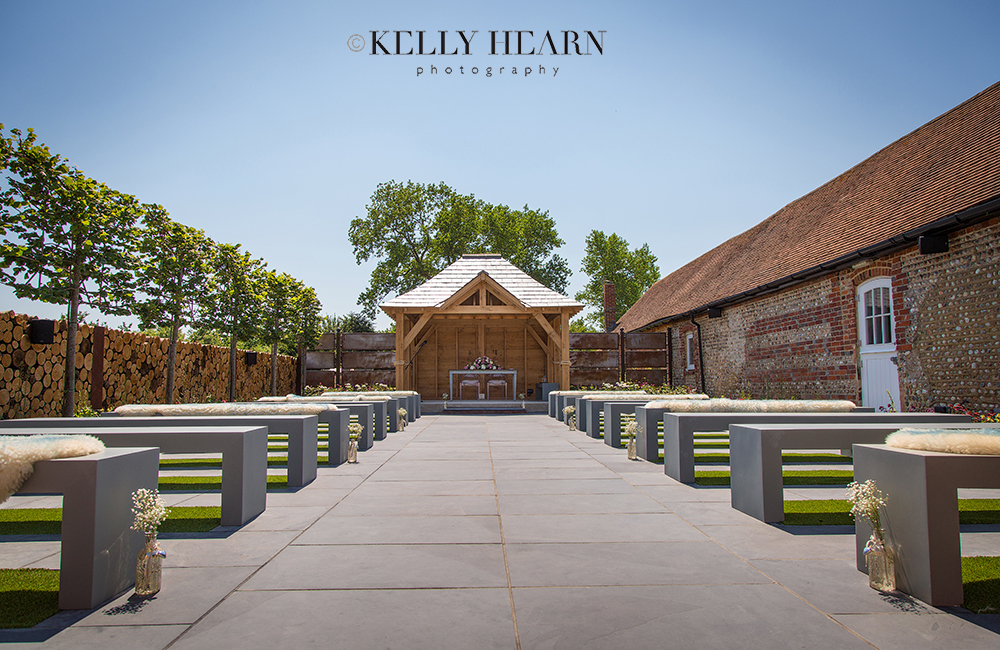 So back to the start. Zach, a lover of sunglasses and cool as a cucumber, rocked up in true country style to the barns in a Jeep 4x4 and with a bunch of ushers in tow. These guys were due to be getting ready on site and so after stopping briefly for a relaxed pre-wedding shoot, off they went to get suited up.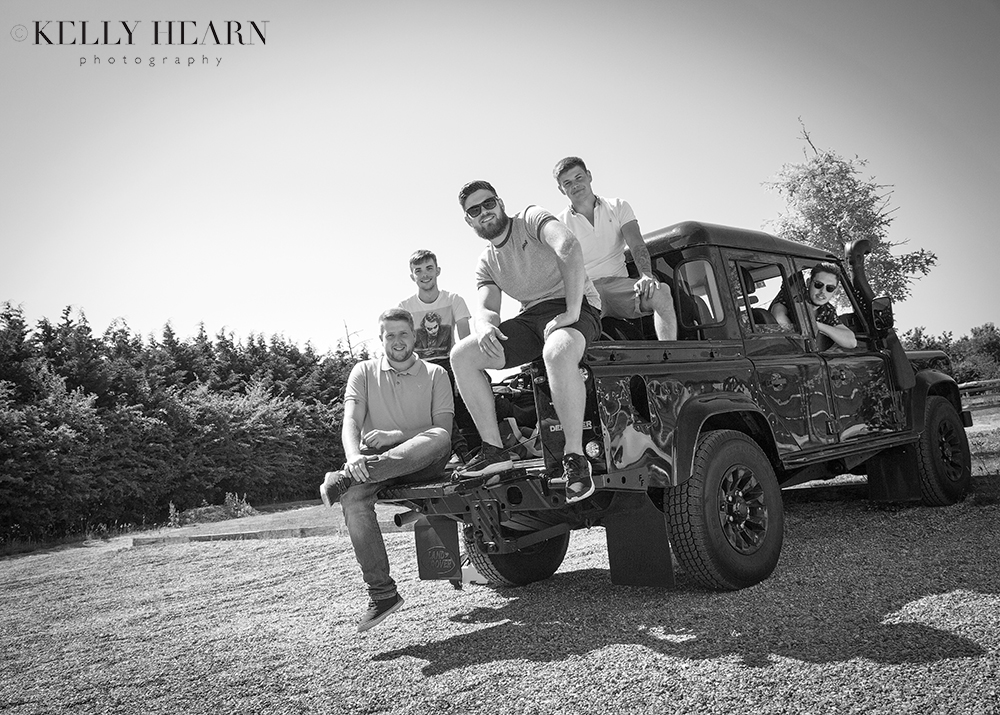 Zach appeared the ultimate hipster, with a classic pompadour hairstyle and neatly groomed beard. He wore a blue fitted suit by Astares of Chichester which was teamed with a smart tweed grey and blue check waistcoat and pink tie.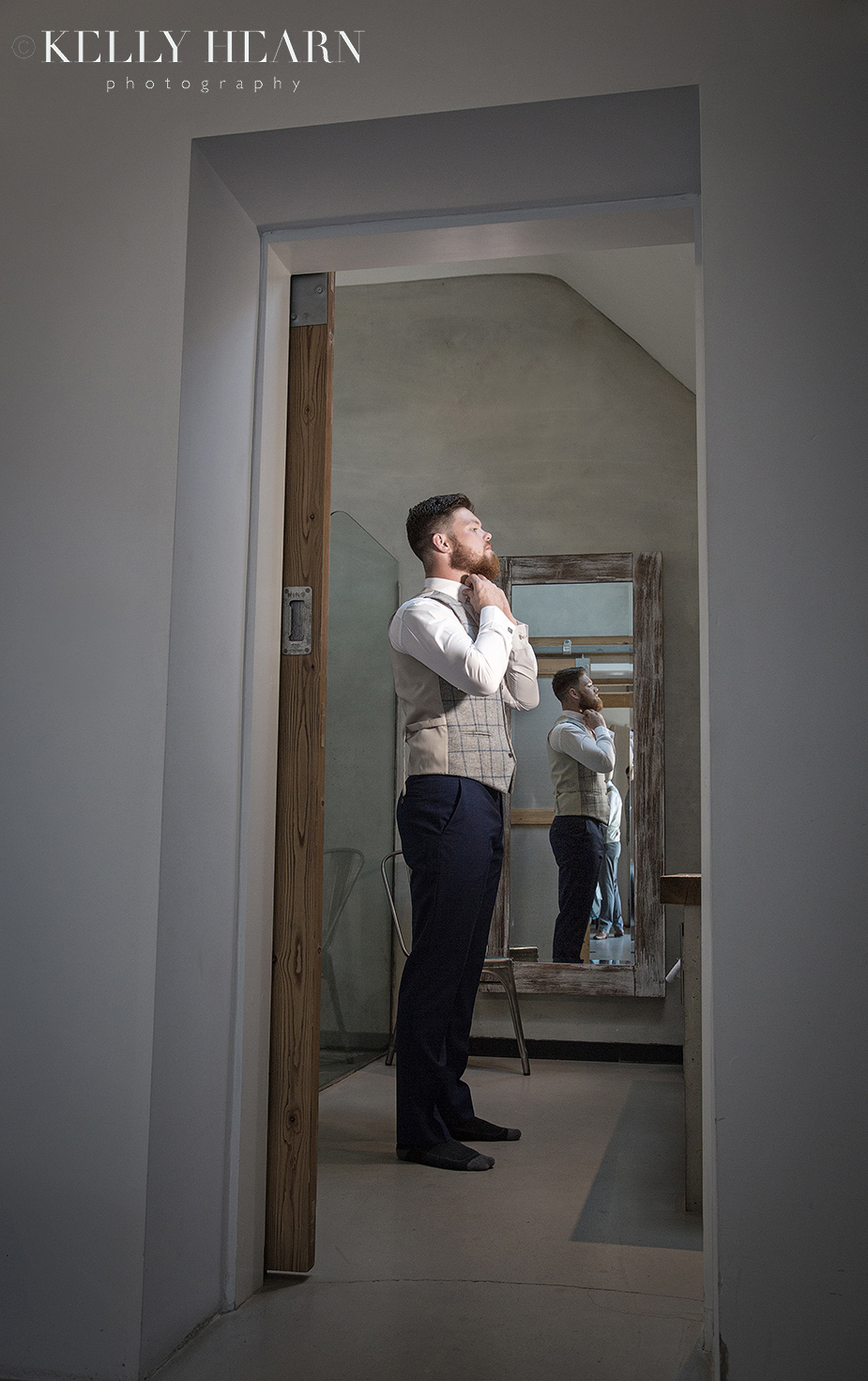 The rest of the party complimented Zach's style wearing grey suits with the matching waistcoats and ties, with on-trend tan brogues finishing the overall look. The strong shapes of the sculpted trees and hedges helped to frame the guys as they posed in the landscaped garden. Adding some interest, design and a little humour helped to put a modern slant on an otherwise traditional group image and offered the groomsmen a little space to reveal a bit of personality!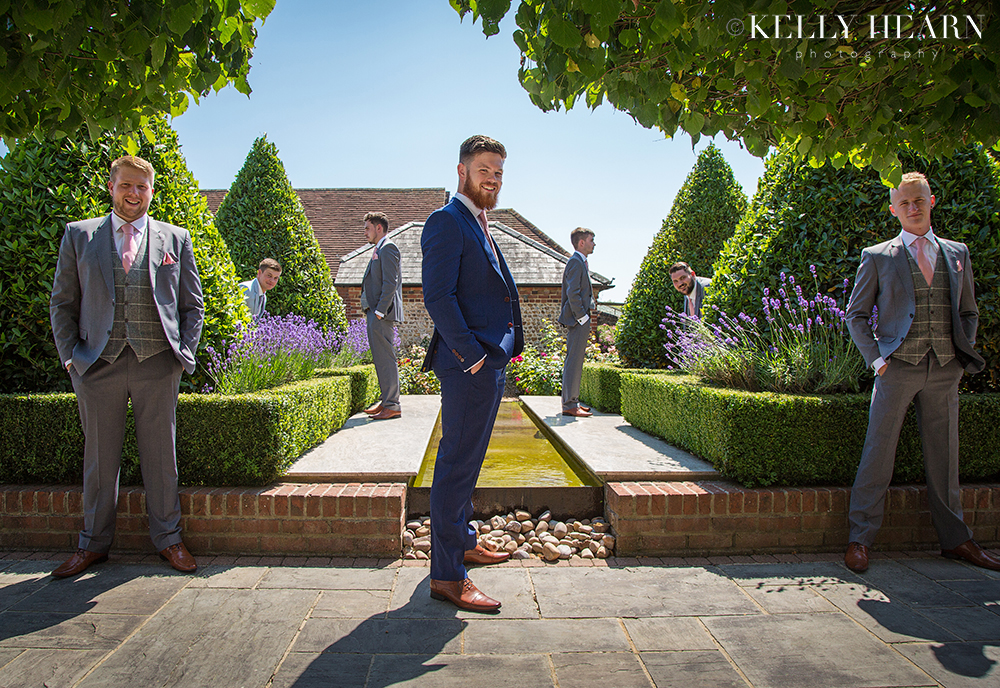 Meanwhile, tucked safely inside at her family home was Emily who already had her hair done by friend and hair dresser, Louise from Modern Classics and had Hannah Prior Beauty on hand doing bridal makeup. Being a self-professed 'one of the lads', Emily had already told me that she was not the classic 'girly girl', but she seemed to be embracing the beautifying process and was looking incredible as a bride!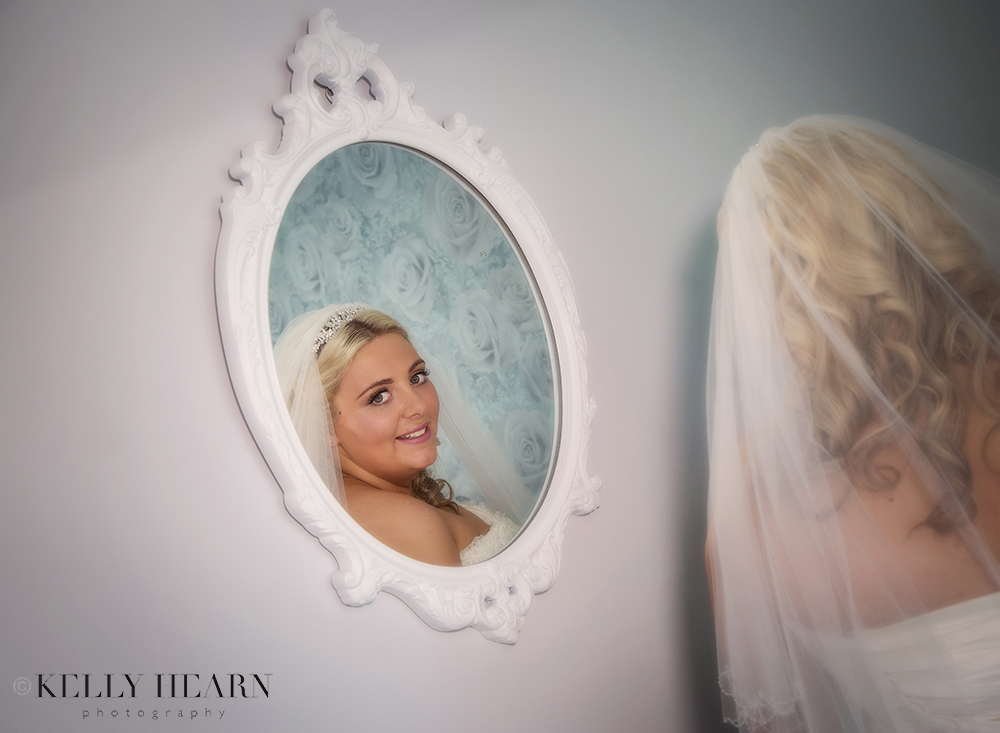 The laid back side of Emily's character was subtly expressed via her choice of footwear. Instead of classic bridal heels Emily went for personalised white Converse trainers with pink ribbons for laces to bring in a feminine touch! A great choice to reveal this slight Tom-boy side to Emily's personality as well as being the ultimate sensible choice when it came to comfort of course!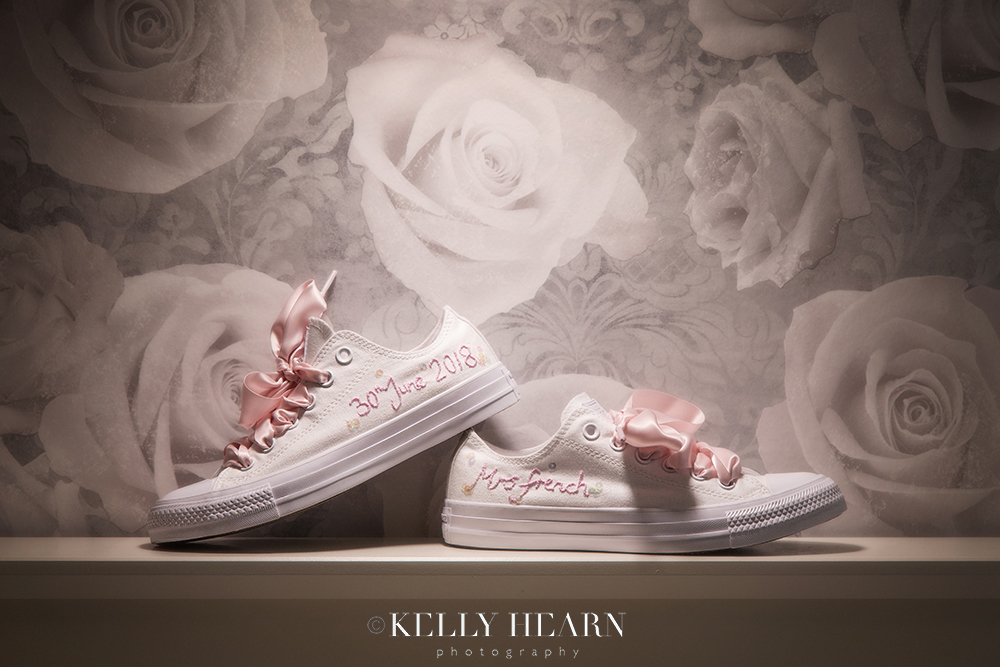 Descending the stairs to see her Dad for the first time Emily looked the picture of beauty. Her strapless gown had the prettiest feature of scalloped sweetheart neckline and the delicate beaded lace layer over the entire dress created a soft romantic and feminine look. In true Cinderella style, Emily boarded a horse-drawn carriage which took her in princess style to the wedding venue.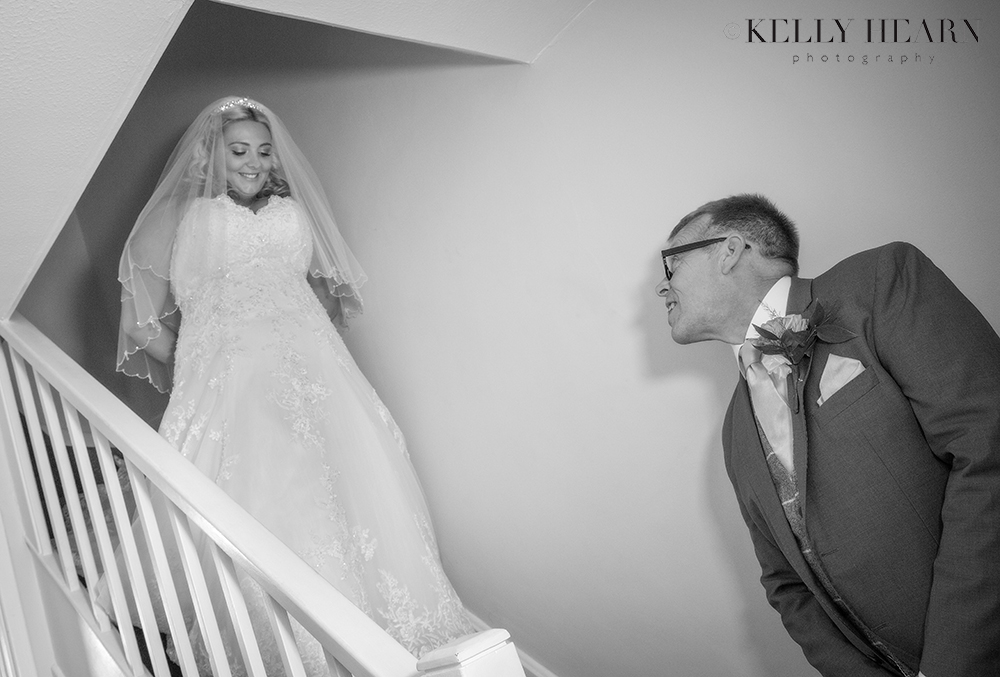 In the new Secret Garden outdoor ceremony area, guests were seated in the sun ready and awaiting the bride's entrance. Being out in nature on such a stunning day was a really special thing and family and friends were well aware that this was quite a rare and unique opportunity for an English wedding!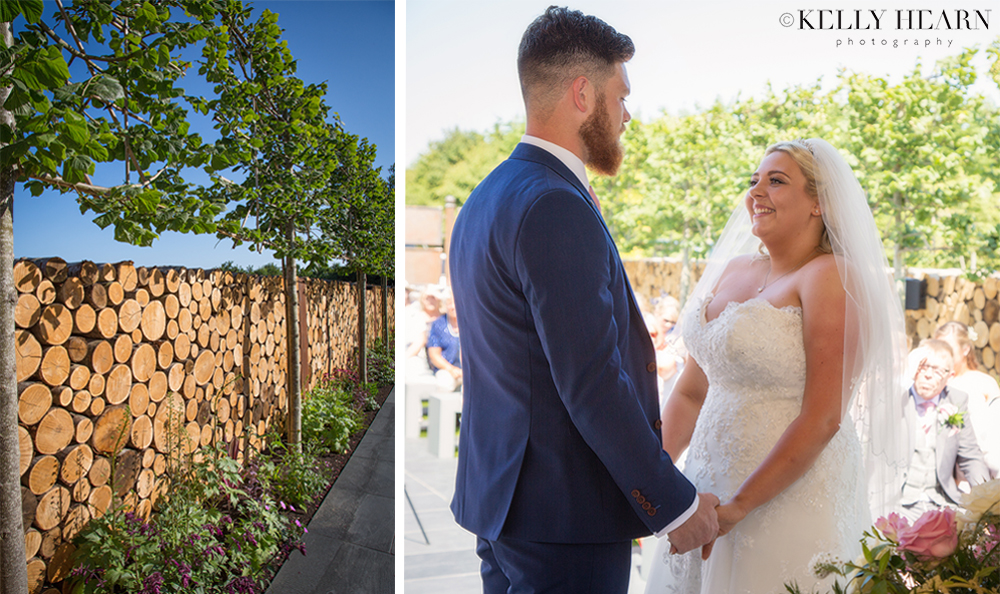 Emily and Zach made their vows and enjoyed their short journey back down the open-air aisle together as the new Mr & Mrs French. Thanks to marrying outside there was no need to arrange a separate confetti throwing moment as this was the perfect time and place to throw those petals!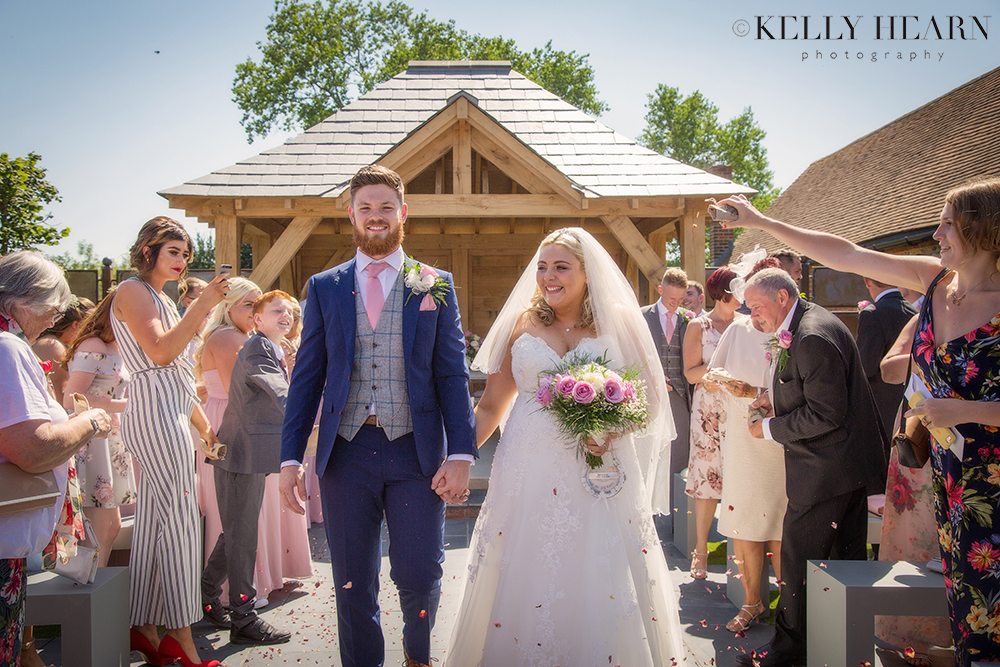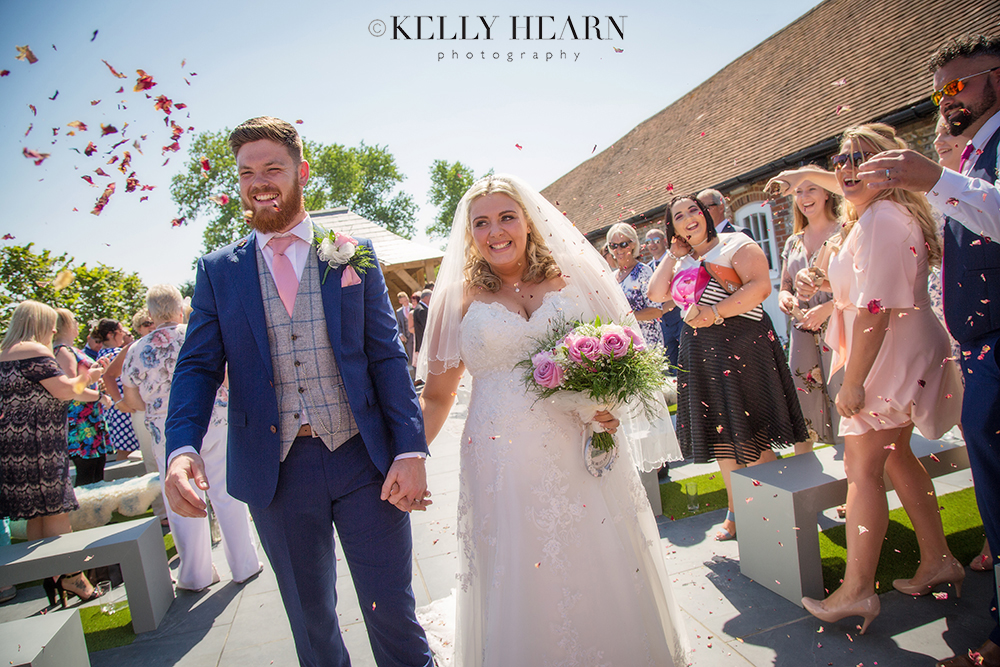 As guests sipped on celebratory bubbles, the beautiful horse and carriage, fit for a princess, awaited outside the barn's main entrance. It was a romantic scene to see the newly weds captured in front of this romantic mode of transport in all it's Cinderella-like style now that Emily had finally married her prince charming!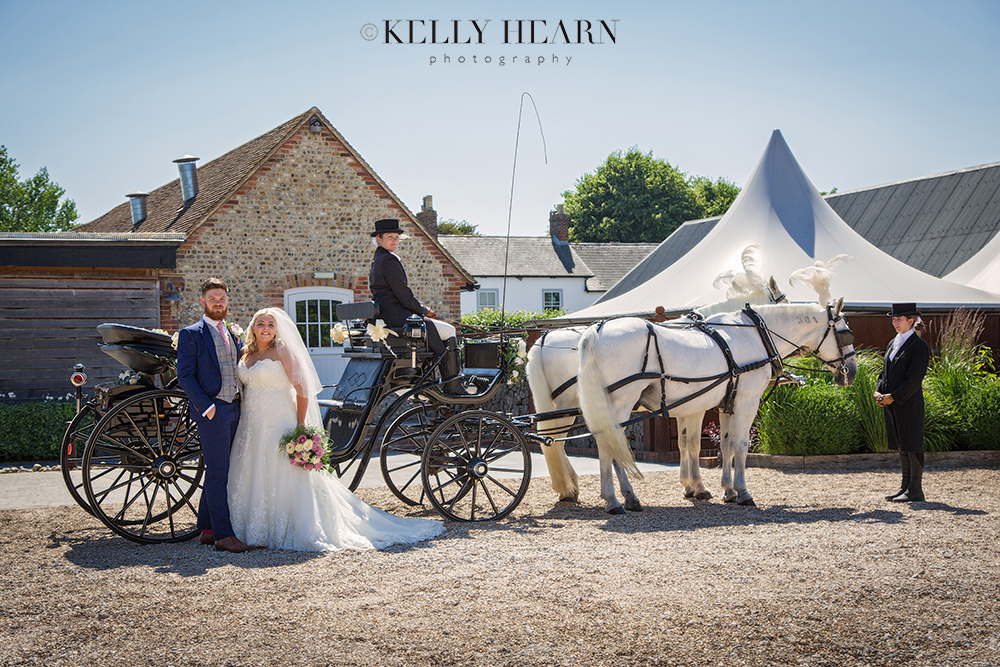 Back on the neatly manicured courtyard lawns, the bridal party huddled up for a photograph together. The bridesmaids were in pastel pink floor-length gowns with complimentary pink and white rose posies to tie in with Emily's bridal bouquet. The groomsmen's pink ties coordinated perfectly with Emily's chosen colour scheme helping to make for a very cohesive and charming looking group!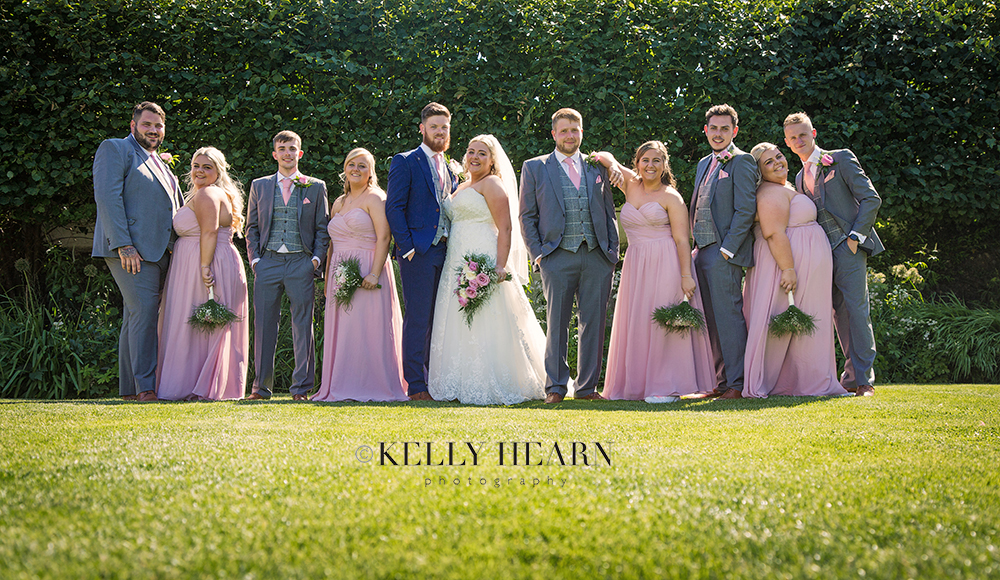 Making the most of the outdoors in the glorious weather, Emily and Zach also enjoyed capturing some newly-wed portraits amidst various shades and tones that the garden offered. There really was a feast of texture and colour with its vibrant greenery, pops of purple flowers, cool slate floor, rusty iron gate and neatly stacked rustic wooden logpile, all which made for a rather beautiful backdrop fitting for this rather lovely couple!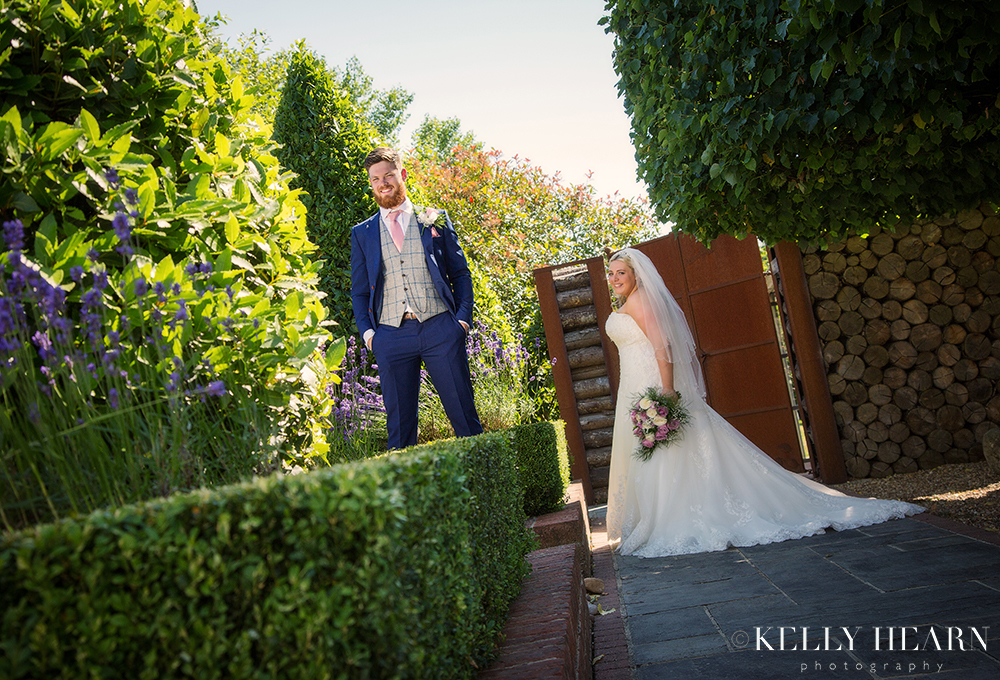 Inside the 200-year-old Threshing Barn, the couple had made attention to detail a priority, seen in the way that the decor had been designed and thought through. Each table had beautiful coordinating flowers spilling out of lanterns as their centrepieces, pink table runners and chair sashes tied in sweet bows decorating the chairs supplied courtesy of To Have and To Hire. Cookies baked by one the ushers were personalised with place names on and little rose-pink candle holders were dotted around adding a soft glow to the warm lighting in the room.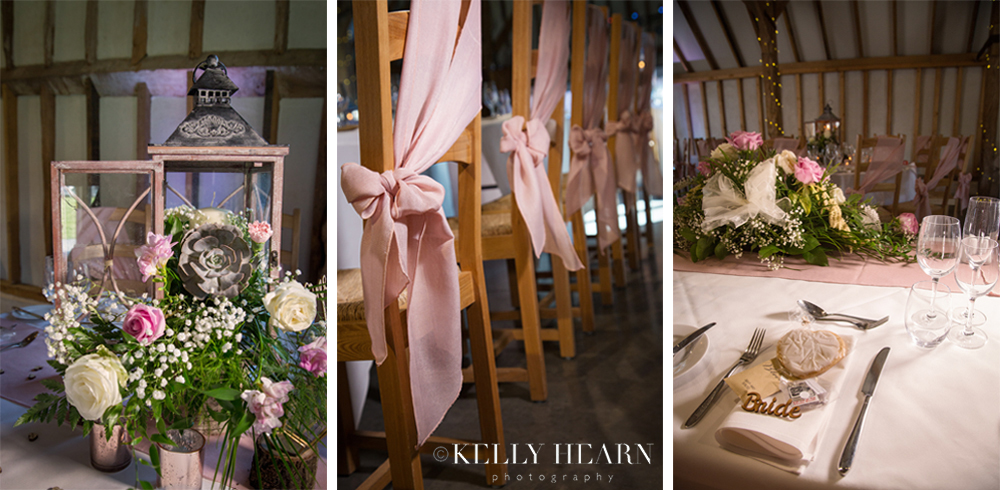 Having enjoyed a delicious meal with their guests, I took the couple outside at sun-down to find yet more delightful countrified spots to enjoy. Southend Barns has so many picturesque places to discover and magical moments seem to be plentiful in this place of beauty.

I just loved the textures of the long green crop in the venue's adjoining fields which helped create this gorgeous painting-like backdrop for Emily and Zach. I often think couples are very lucky to have access to these additional spaces which are all part of the Southend Barns grounds but somehow the venue's best kept secret! Originally being a dairy farm, the barns have stacks of character, charm and original features whilst having been carefully and tastefully restored to maintain a clean and modern edge. This styling so suits couples such as Emily and Zach who love the combination of rustic with chic.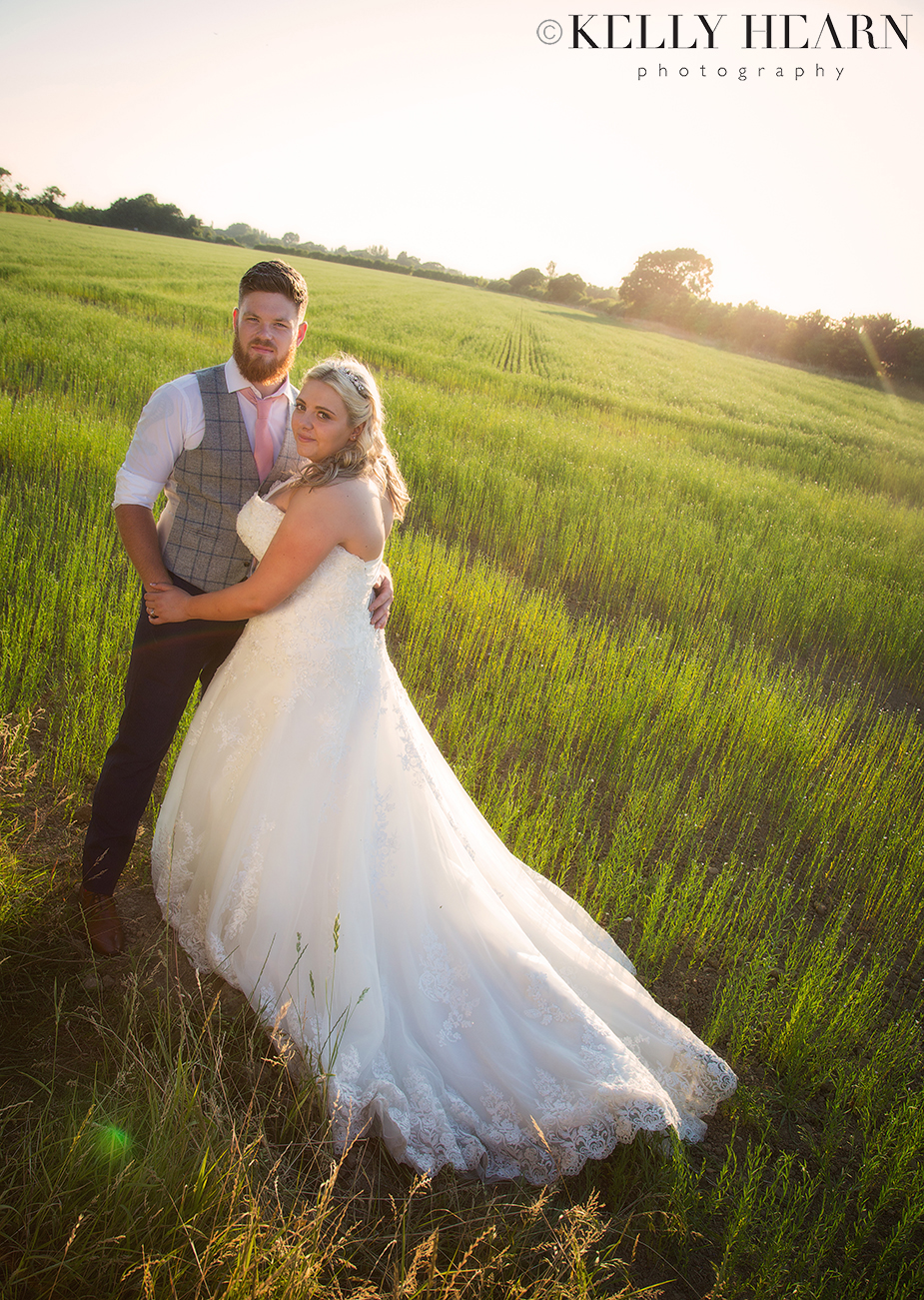 At times traditions are adapted to suit the couple and the cutting of the cake was one tradition that Emily and Zach decided would work best for them out on the lawns! In it's three tiers of deliciousness, I noticed how the detail on the cake (made by family member Aunty Tina) was immaculate. A lovely personalised touch was the hand-carved engraving of Zach & Emily's names and wedding date on the log slice stand on which the cake sat - a lovely creative idea and keepsake to treasure.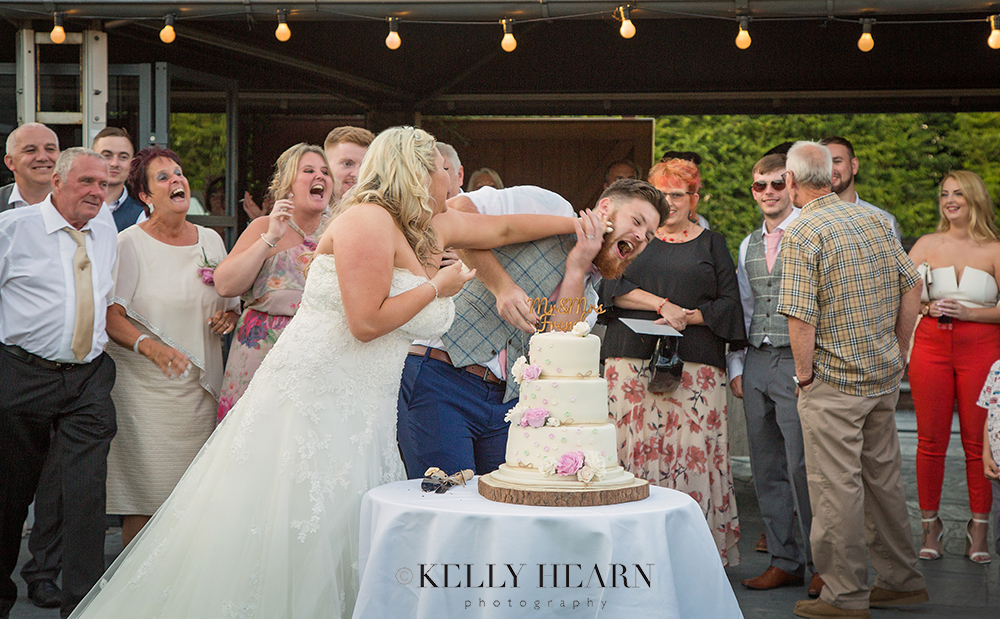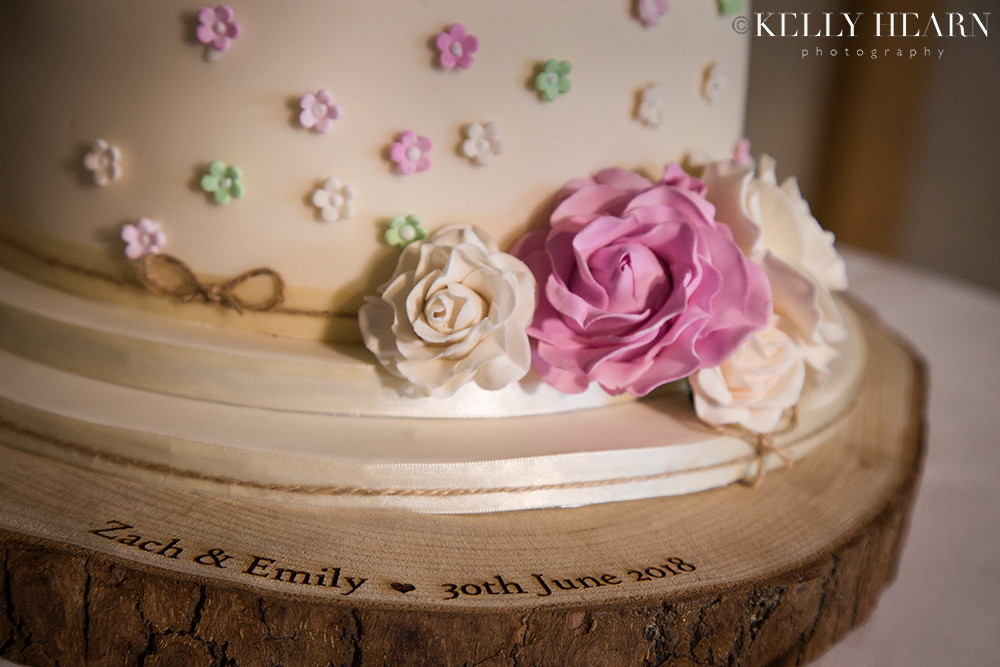 The evening ended on a high as bright fireworks shot up into the sky above the infamous three peaks of the barns, highlighting their defined triangular shape in pink. (This was very obliging really considering Emily's chosen colour theme for the day)!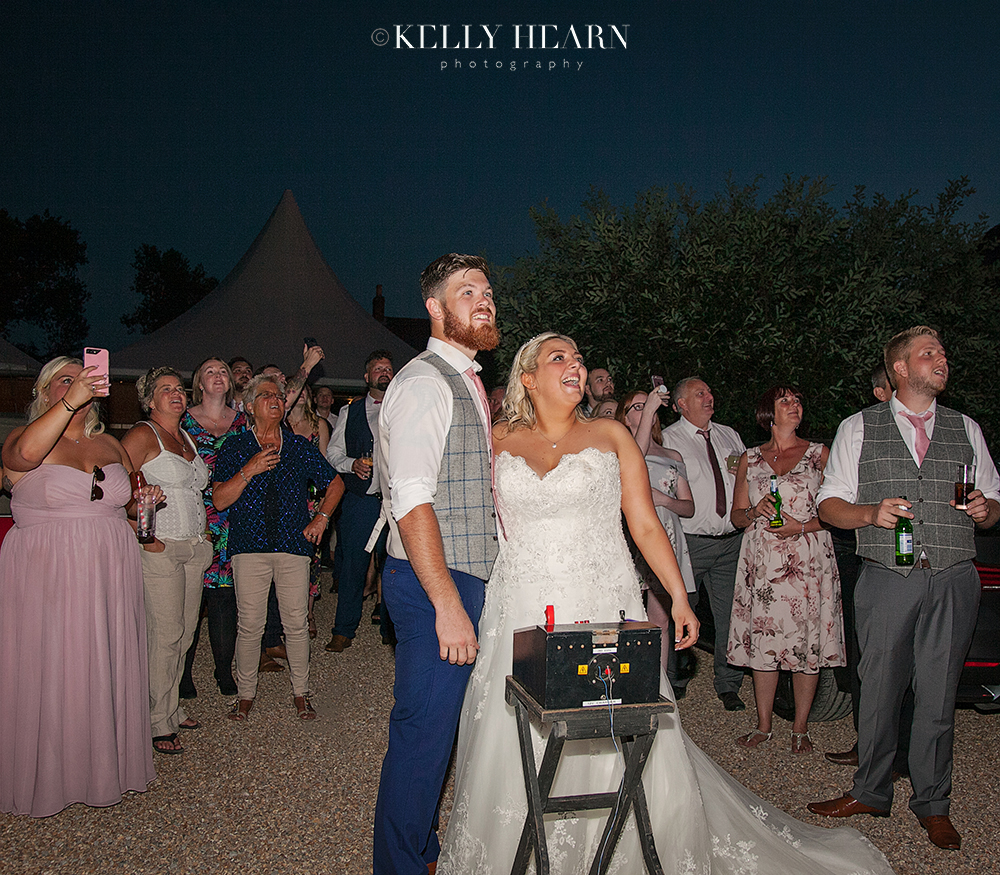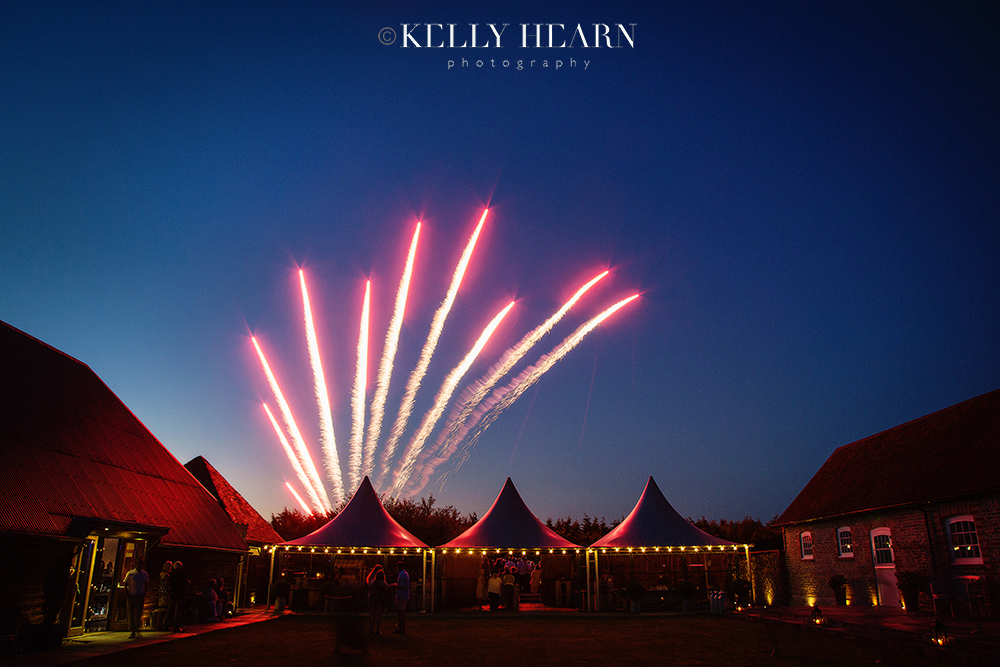 This contemporary couple in a rustic farm setting were really able to enjoy the great outdoors and what English countryside in June is all about. From tying the knot in the brand new ceremony space to ending the night on the lawns, there was hardly any time that this wedding party had to be indoors - which was definitely a highlight for everyone.

Emily and Zach, congratulations on becoming Mr & Mrs French on your very English summer's day! For one of the lads Emily you really were a lovely bride! I loved photographing you both immensely and wish you much joy as you live happily ever after!
Love Kelly x
Kelly Hearn A.B.I.P.P - A.M.P.A