And Finally...
June 28, 2018
Si & Helen's Upwaltham Barns Spring Wedding
On 19th May this year many of us were avidly watching the box to witness Harry and Meghan tying the knot and so becoming the Duke and Duchess of Sussex. Way before the announcement of this royal wedding however was to be a much longer anticipated occasion. Although no Duchess and Duke, Helen and Si held their very own Sussex celebrations sharing their wedding day with the royals! Having been together a mammoth 18 years, this vibrant pair felt it was time to celebrate the longevity of their love and commitment to each other, bringing much loved friends and family together for their beautifully English rustic country wedding day.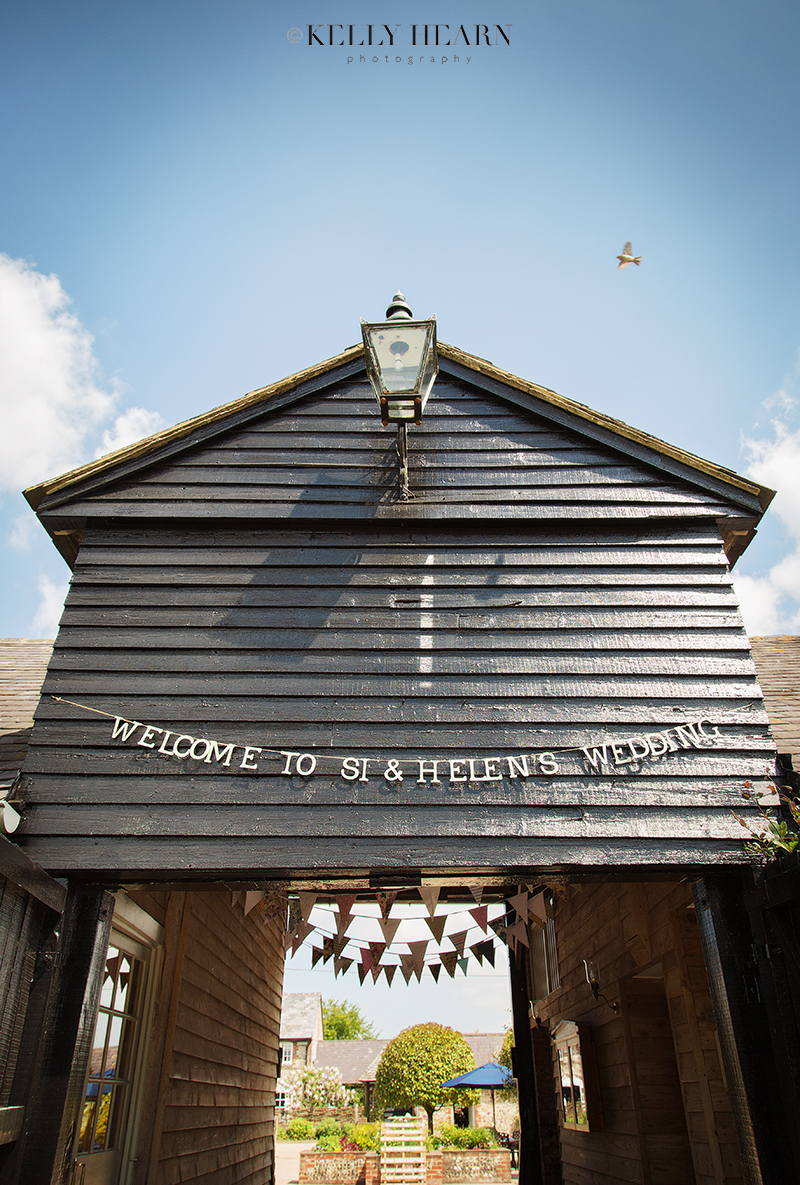 Upwaltham Barns was the exquisite venue of choice for Helen and Si. On this picture-perfect blue-skied day, lengths of traditional pastel bunting adorned the flint stone and wooden-clad barns whilst pretty pink peonies and roses dressed the entrance to the grand East Barn where the ceremony would take place. As guests took their seats in the beam-laden room and groom Si anticipated his bride's arrival, beautiful calming light streamed through the impressive floor-to-ceiling windows. As Helen made her way to meet her groom through the flower-bedecked open doorway which perfectly framed her, the back of her delicate lace gown with its intricately detailed train and dramatic floor-length veil was beautifully showcased.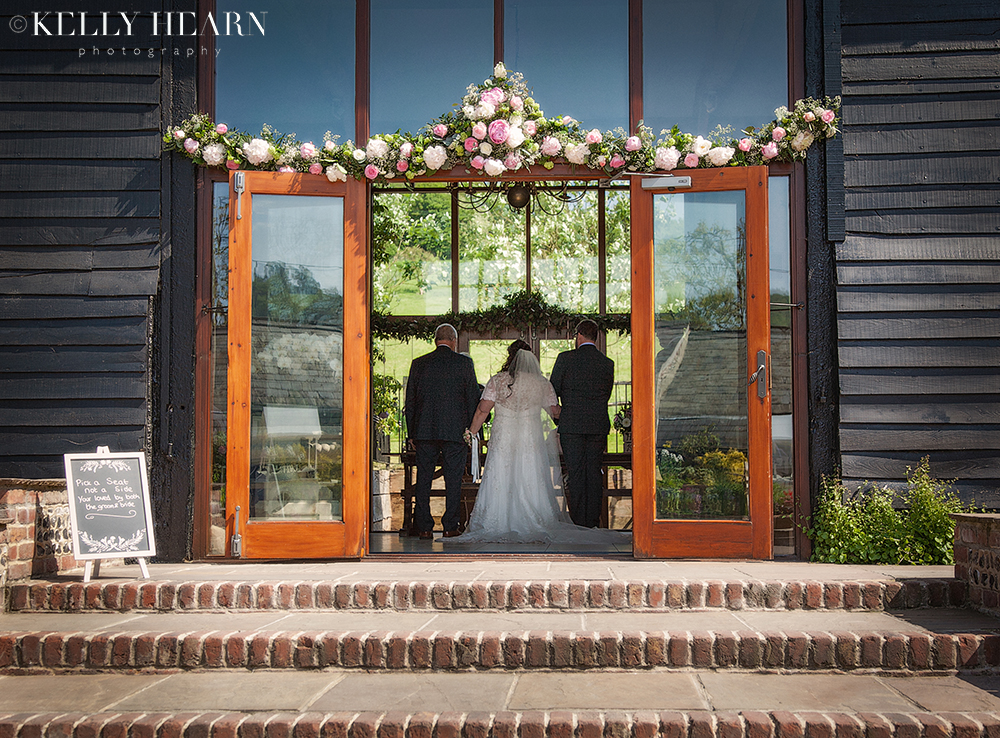 Adding to the enchanting atmosphere were eighteen flowers, dangling in front of the glass, with the backdrop of the lush green countryside behind. Each flower represented a year of the couple's relationship and so were beautifully symbolic as well as creatively decorative!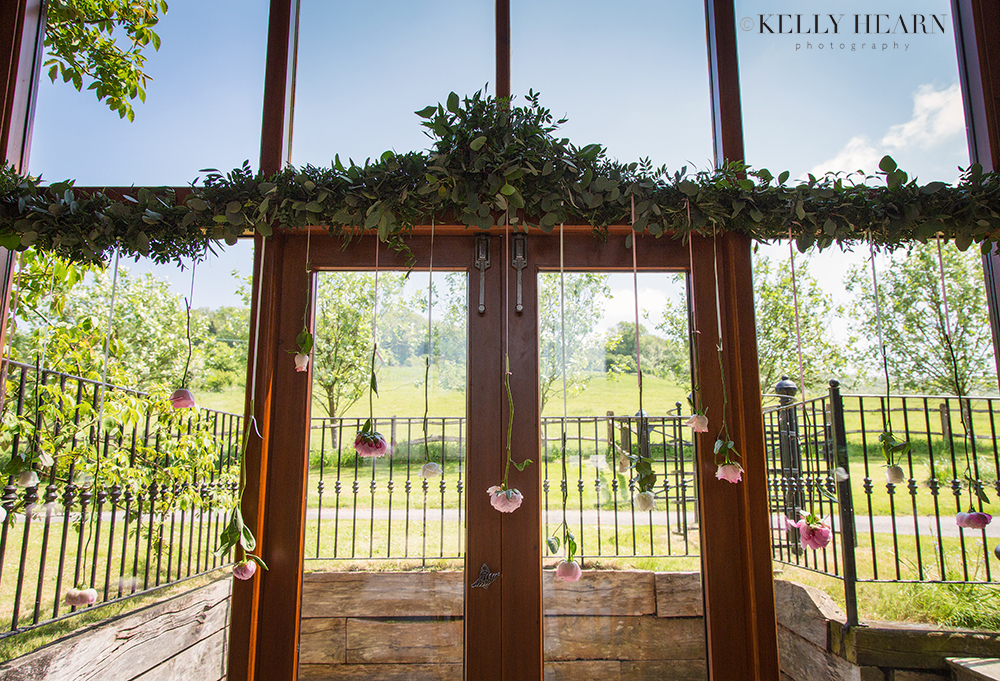 Si and Helen exchanged thoughtful vows which had been individually written and so were truly personalised. Seeing Helen's ability to make Si laugh even during the seriousness of vows was wonderfully uplifting and the pair set the scene for the day with their natural, relaxed and happy vibe.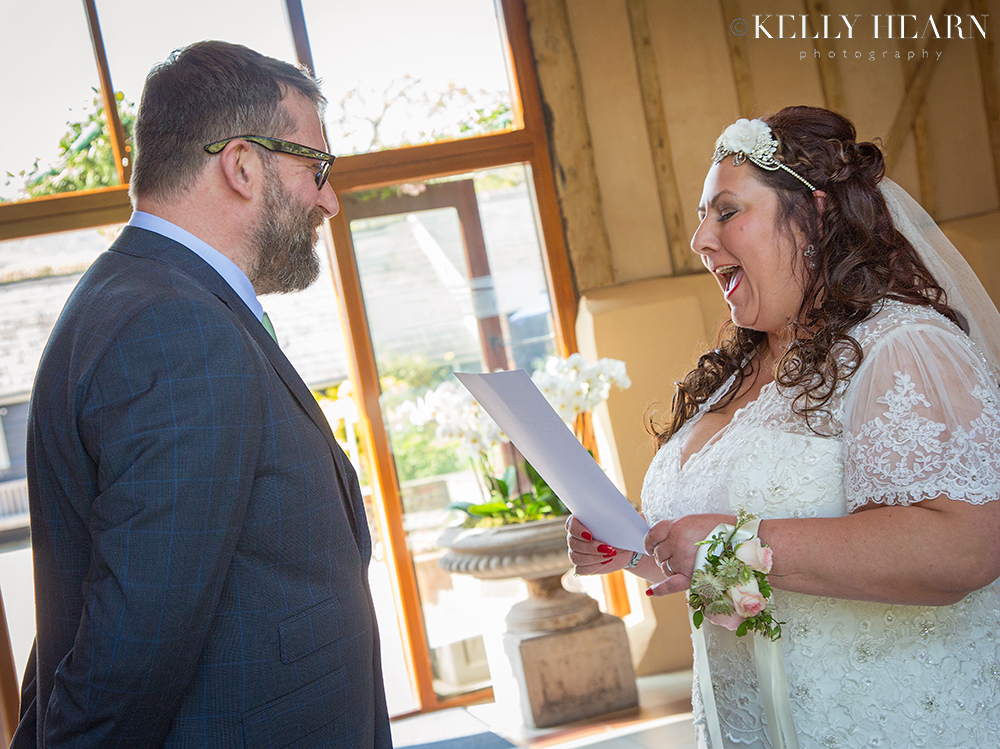 As the register was signed, guests gave a little cheer and a royal wave of their Union Jack flags in celebration of Mr & Mrs Capelin and in salute to the newly-wed Royals! (Don't we British love an excuse to enjoy being a little patriotic on such a perfectly English sunny day in May!).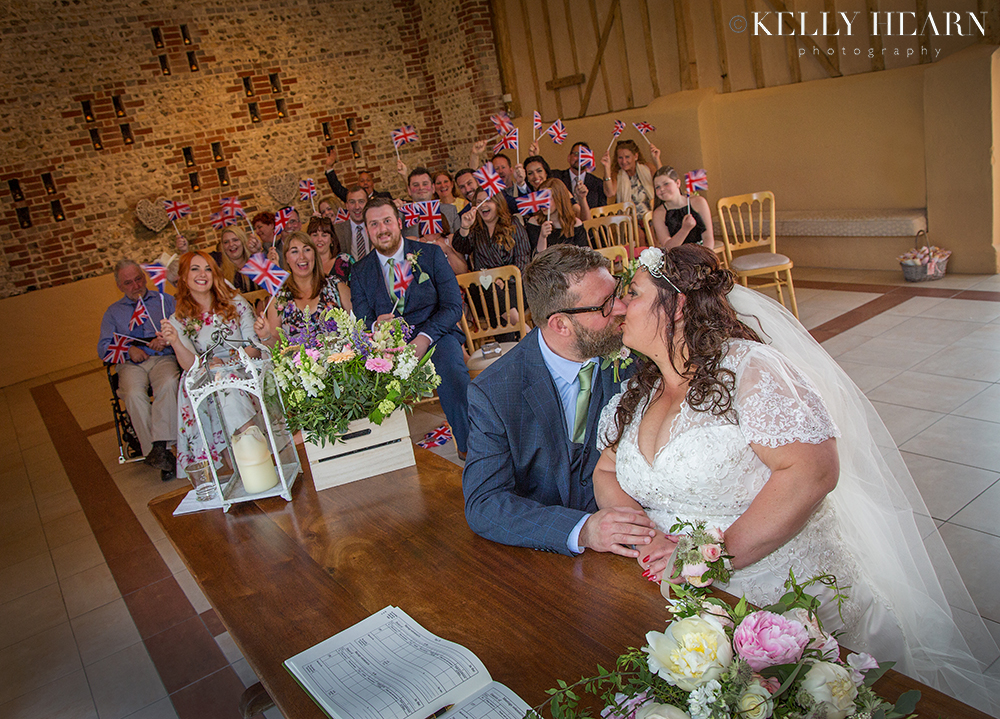 I enjoyed seeing the contrasts of strong and bold themes with the feminine florals and pastels on this wedding day. Si and his groomsmen demonstrated strong masculine compositions in their portraits, looking sharp in their blue suits and mint ties; Si's on-trend checked three-piece giving him prominence and a great point of difference in the group.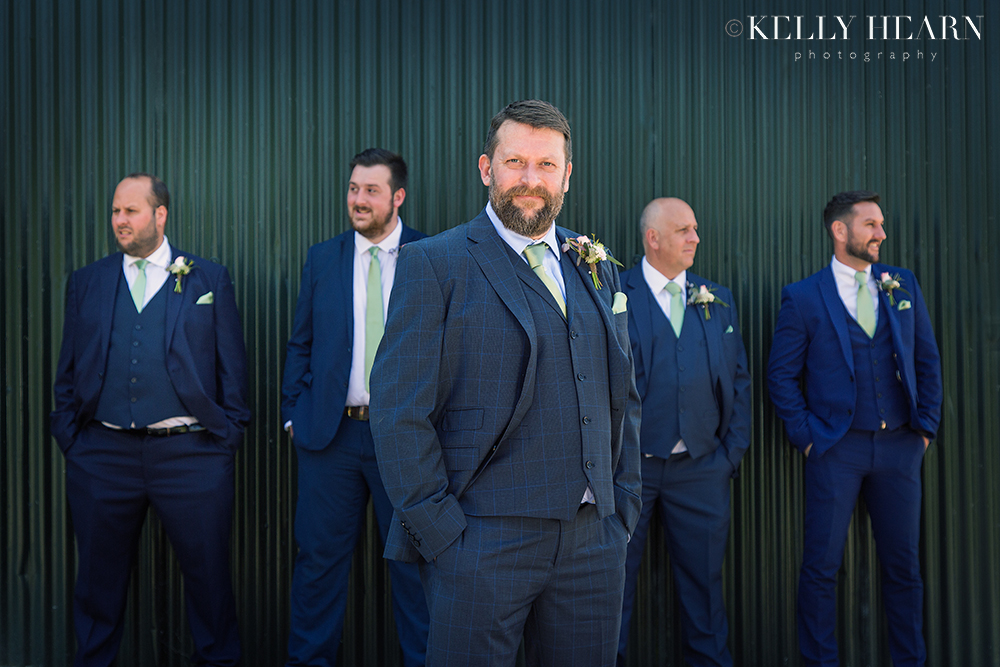 Helen's feminine styling brought together mint and lavender soft-hues for the adult bridesmaids whilst her granddaughter matched in with the bride in white. Helen's bouquet of subtle pink and cream toned peonies cascaded down and brought the pastel shades together into one beautiful complementary palette. Designed and created by Rose Cottage Flowers, the bouquets and floral displays throughout the wedding venue really gave the day a vintage touch and the rustic country feel that lends itself so well to these charmingly restored barns.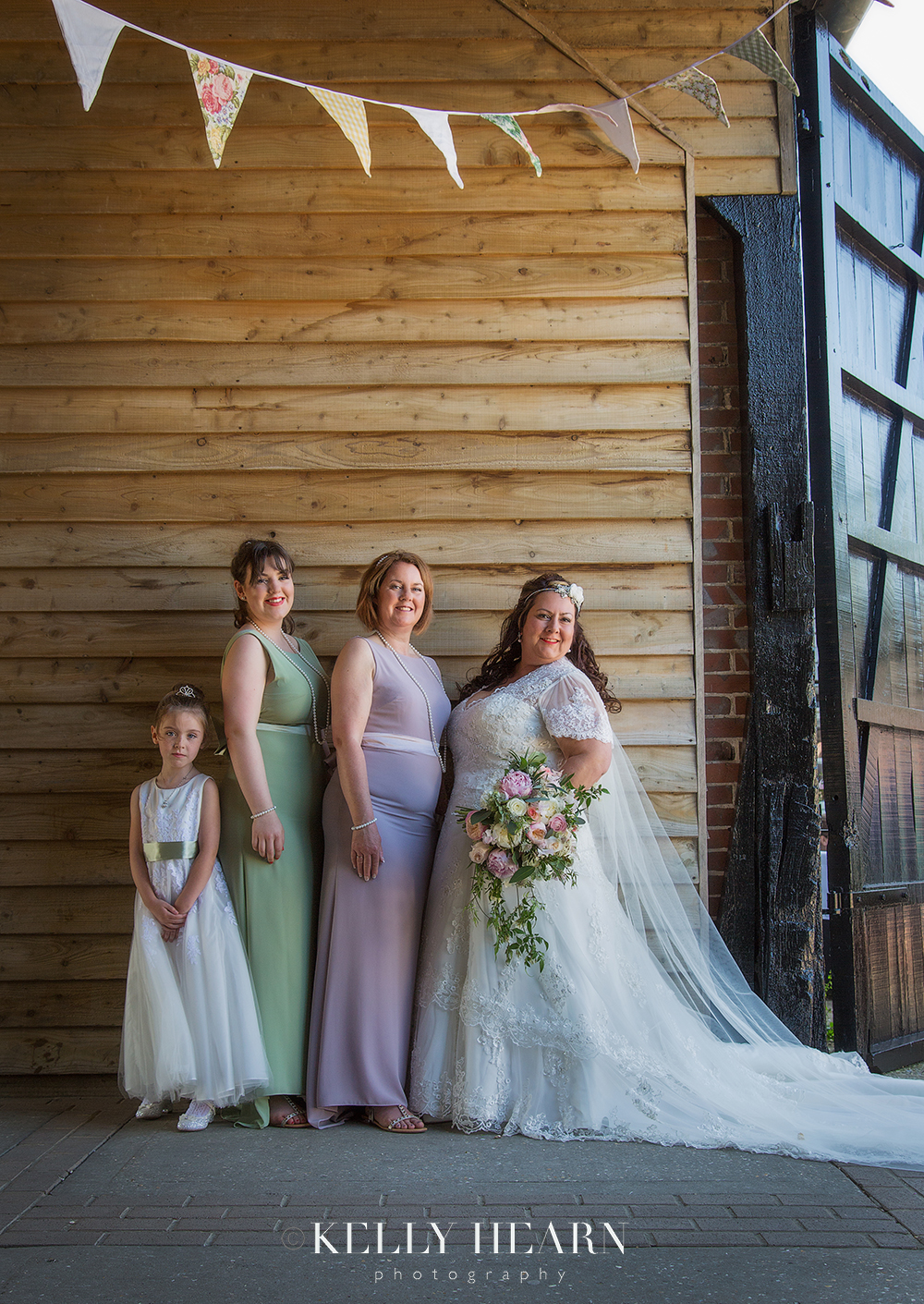 Wanting to ensure everyone felt fully included, Si and Helen had given the children aviator mirror sunglasses to wear helping them to feel special and of course super-cool! These mini-me's loved donning their shades and were not shy in posing for the camera in their awesome outfits!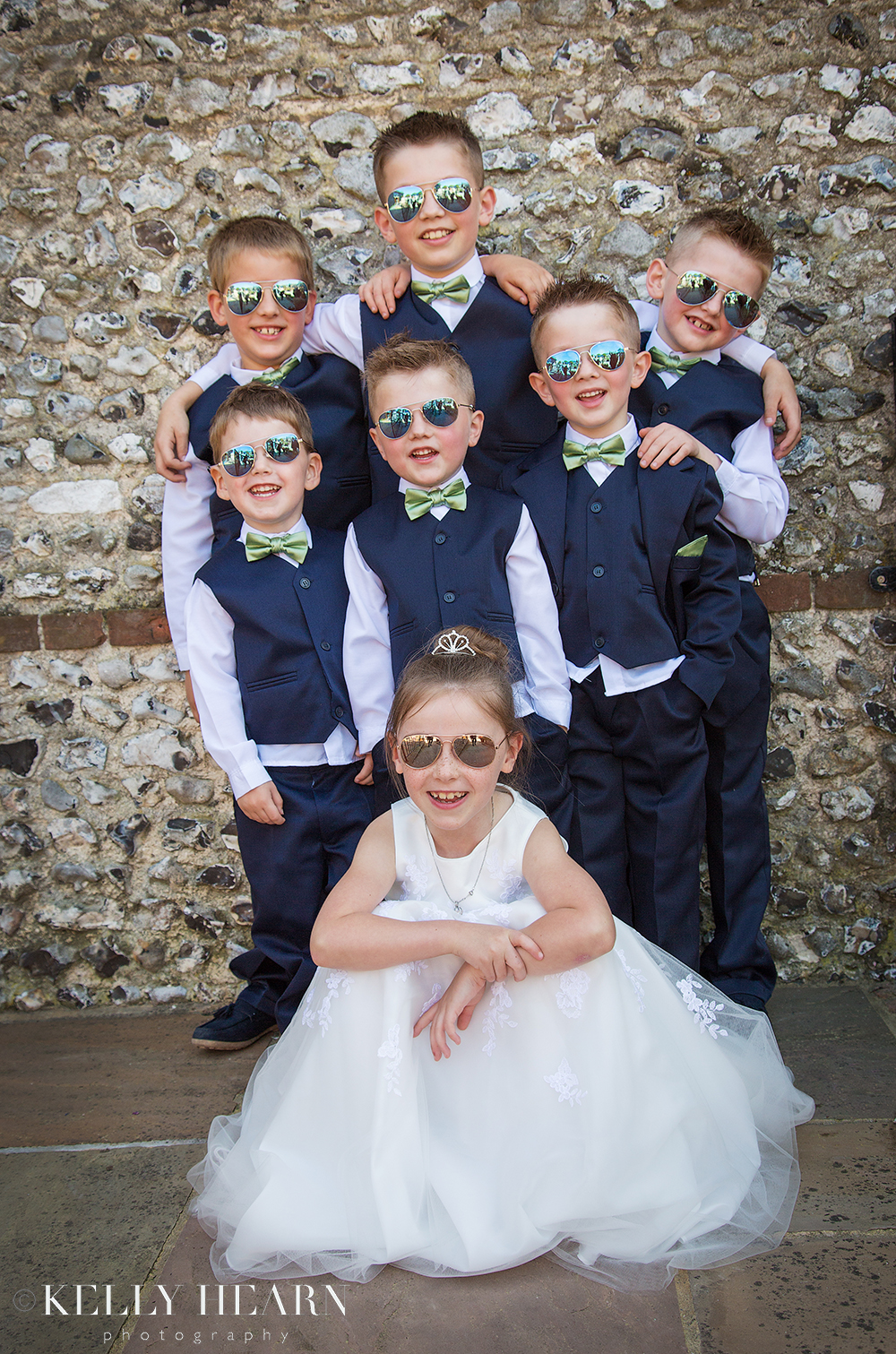 Often it is the details that really add a touch of magic to a wedding day and I could see that Helen and Si had put a lot of thought into keeping their guests happy and feeling relaxed and welcomed. Outside in the courtyard, drinks were being served and an old fashioned white cart was on standby, laden with exciting ingredients and tasty additions for those who wanted to 'pimp' their Prosecco!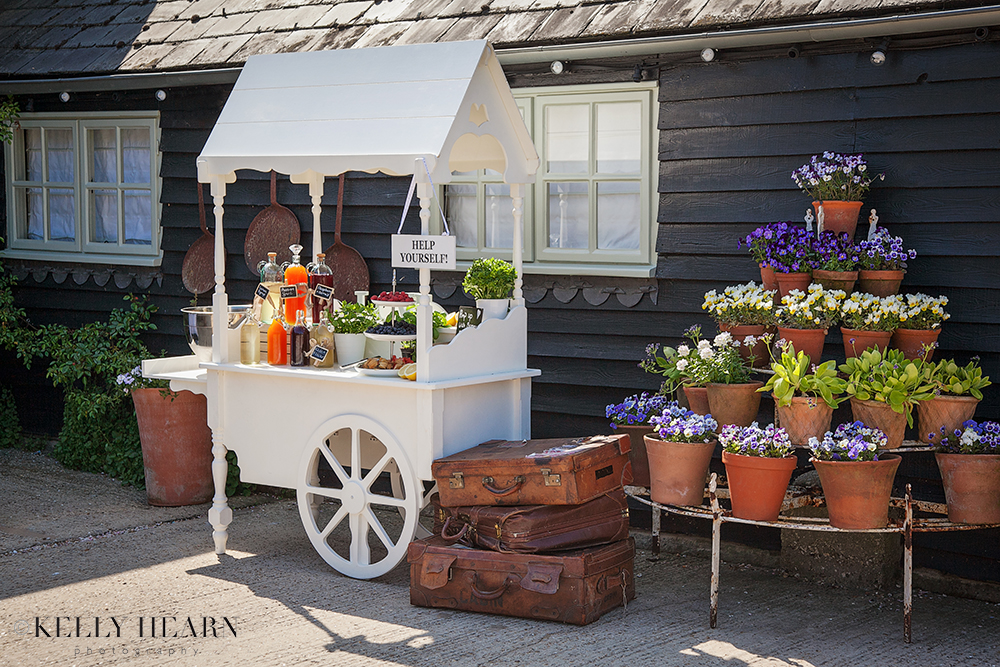 Inside the South Barn, the tables were laid up simply and artistically. Hand-wrapped hessian jam jars contained posies of pastel flowers which were pretty centrepieces to the tables and coordinating stationery in the form of menus and table names secured the rustic theme with an elegant bunting design. Giant light-up LOVE letters (from To Have & To Hire) made for a romantic backdrop and fine white Gypsophila hung from the candelabras whilst the tables plans were pegged onto a french painted ladder shelf decorated with delightful florals. Favours of 'Bee Mine' honey and Mr & Mrs seeds extended the countryside rustic theme and were a sweet little gift for each guest.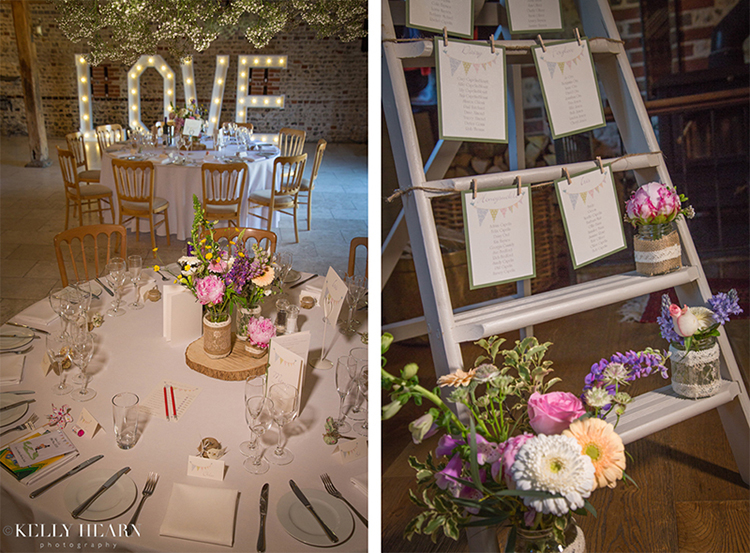 The peony-topped semi-naked cake cleverly made by Jenna Capelin, Helen's sister-in-law, revealed the sentiment of the day, "Finally…", owing to the fact that this Mr and Mrs had waited a whole 18 years to get married!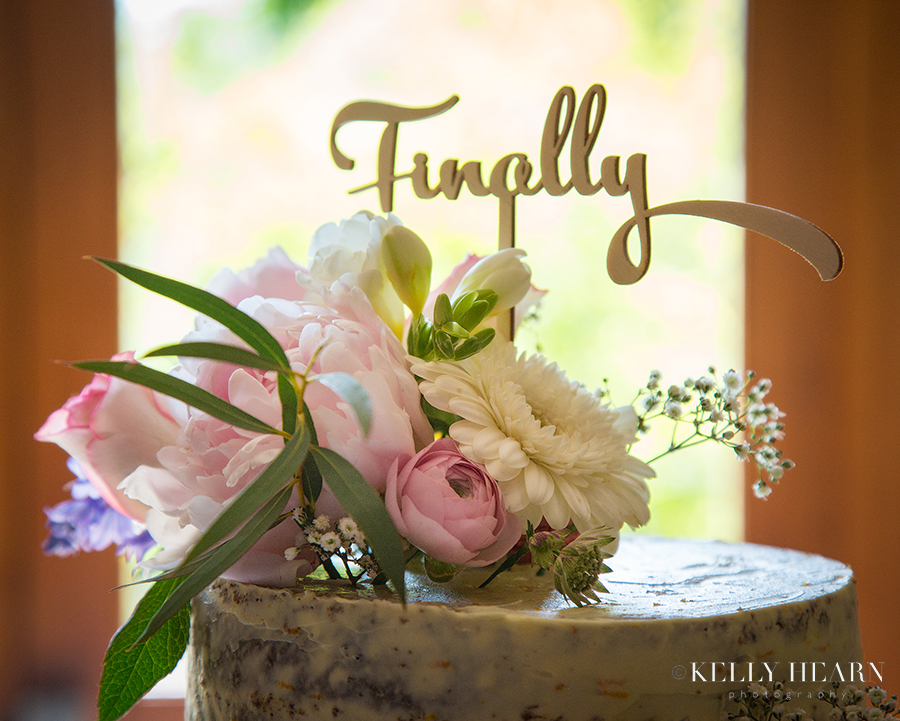 Some hilarious speeches followed the reception meal as Si and Helen had ensured all the guests had an opportunity to have some fun and let their hair down. Helen had secretly arranged for a singing waiter, (Rafael from Silver service Singers), to surprise Si, knowing the laughs that would follow. After the waiter 'accidently' and loudly dropped a load of crockery and cutlery to everyone's shock, Si reassuringly and kindly comforted the mortified waiter only to discover his guise when the waiter then randomly burst into song!
The laughs continued as guests did the conga, partook in a dance off and even ended up dancing on the tables! Helen's brother (of A C Entertainment) was DJ for the evening, keeping things in the family and helping to bring that close-knit vibe to the day. Safe to say, everyone was having a fabulous time!



As I always like to do at weddings, I managed to whisk Helen and Si away from the celebrations at sundown when the light was just romantically perfect! The breeze in the sky was gentle yet spirited enough to catch Helen's veil as the couple enjoyed a moment of reflection together away from the hustle and bustle.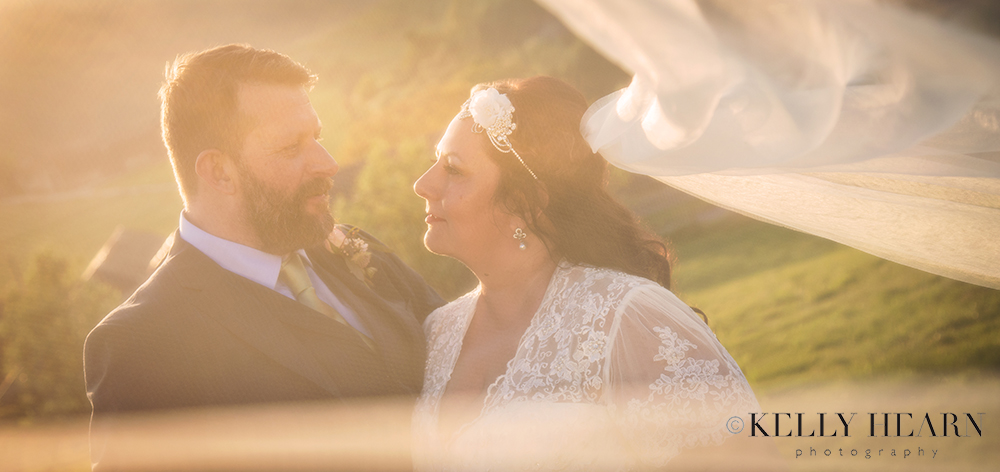 With the dreamy light and breathtaking landscape at our disposal, this was an idyllic moment to savour the romance and meaning of the day. As Si and Helen looked out at the view as if contemplating their future together, I couldn't help but think what a magical day full of joy it had been.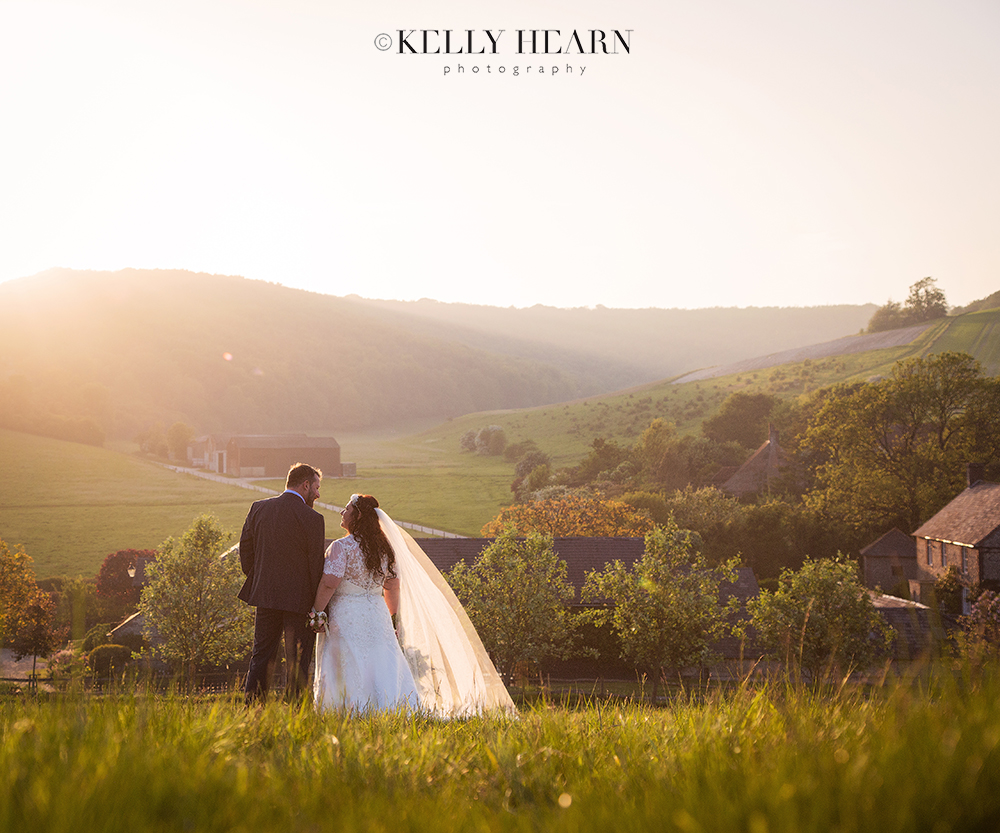 Congratulations Mr & Mrs Capelin! What a pleasure it was to photograph your lovely wedding, it truly was a 'royal' occasion and one that I will never forget. I thought the touches of humour and your thoughtful styling were very fitting to the beautiful venue and a wonderful reflection of your warm and fun personalities. I wish you the very best for the future and hope the next 18 years are even better than the first!
Love Kelly x
Kelly Hearn A.B.I.P.P - A.M.P.A