SNOWY WITH A CHANCE OF CHAMPERS!
May 13, 2022
Harley and Jack's Spring Upwaltham Barns Wedding
We were up against the elements on Harley and Jack's wedding day at the dreamily picturesque Upwaltham Barns set in the rolling West Sussex countryside in April. Just moments before we took this stunning image we were sheltering from a brief yet gusty snow storm!
Along with the excitement of the rarity of snow on a wedding day, Mother Nature also gifted a glorious sunset allowing us to orchestrate a scene encompassing this stylish couple against the venue's epic vista making their iconic 'Upwaltham Hill' image all the more precious.
We lined up the camera as the sun cast its rays onto Harley and together with the flare of the lens threw this happy bride into the limelight. The warming glow enhances the beautiful flow of her intricate lace dress and flowing train as it echoes the shape of her artistically styled curly updo, as Jack chases his bride across the lush grasses and together they chase the sun.
Dress by Bijou Bridal - Suits by Astares Menswear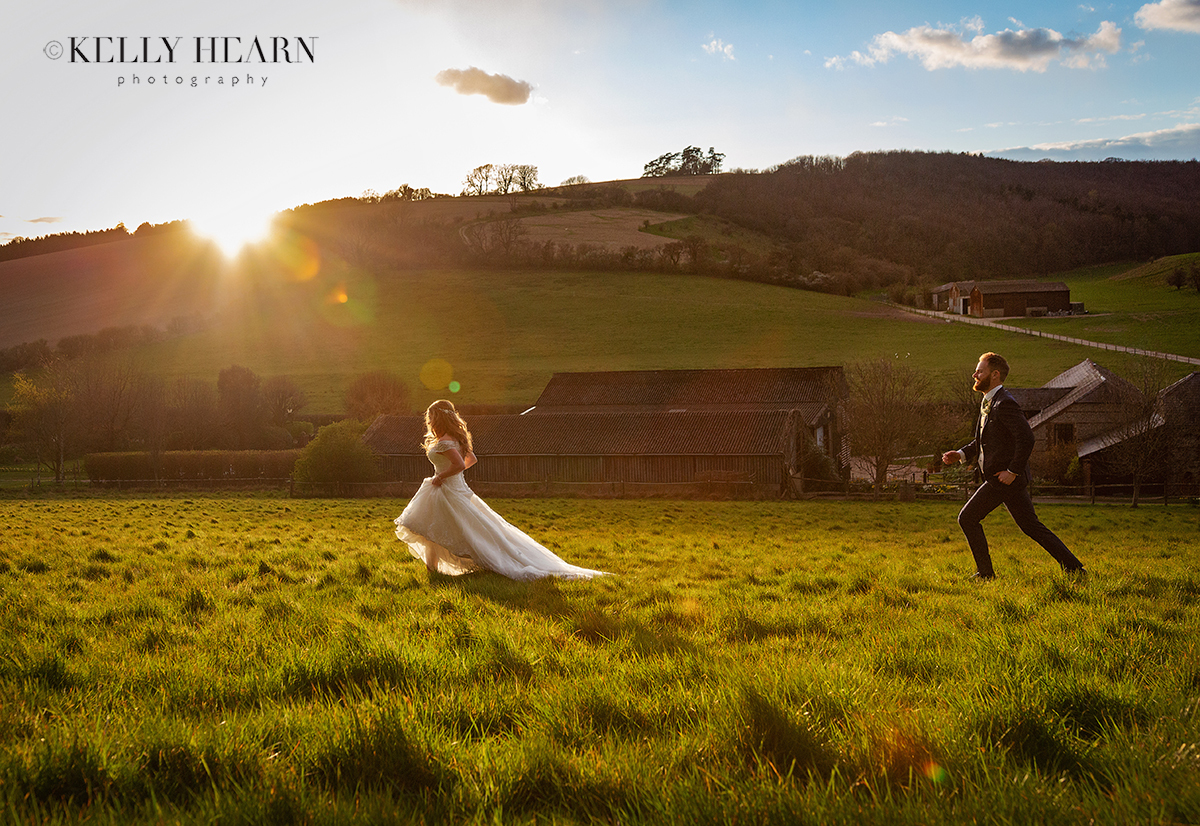 PINTS vs BOUQUETS

Photographing a couple with their bridesmaids and groomsmen before their ceremony adds an unforgettable element to a wedding album. It captures the bride and groom with their closest friends, and is also a great way for the couple to catch a glimpse of each other's Wedding Day mornings when they come to finally see the album together.
Harley and her girls struck a classic pose in the luxurious Jasmine Cottage holding delicate bouquets, whilst Jack and his boys opted for a pint of beer rocking the smart, edgy 'down the pub for a pint' vibe.
Both images are so telling of the difference between the bridal and groom preparations whilst showcasing the carefully planned colour scheme and themes that continued to be woven throughout this special day. This is always a priceless image for an album capturing crisp polished outfits before the guys loosen their ties and the girls kick off their heels.
Hair & Makeup by Rosebud Makeup and Beauty - Florist Jessica Lila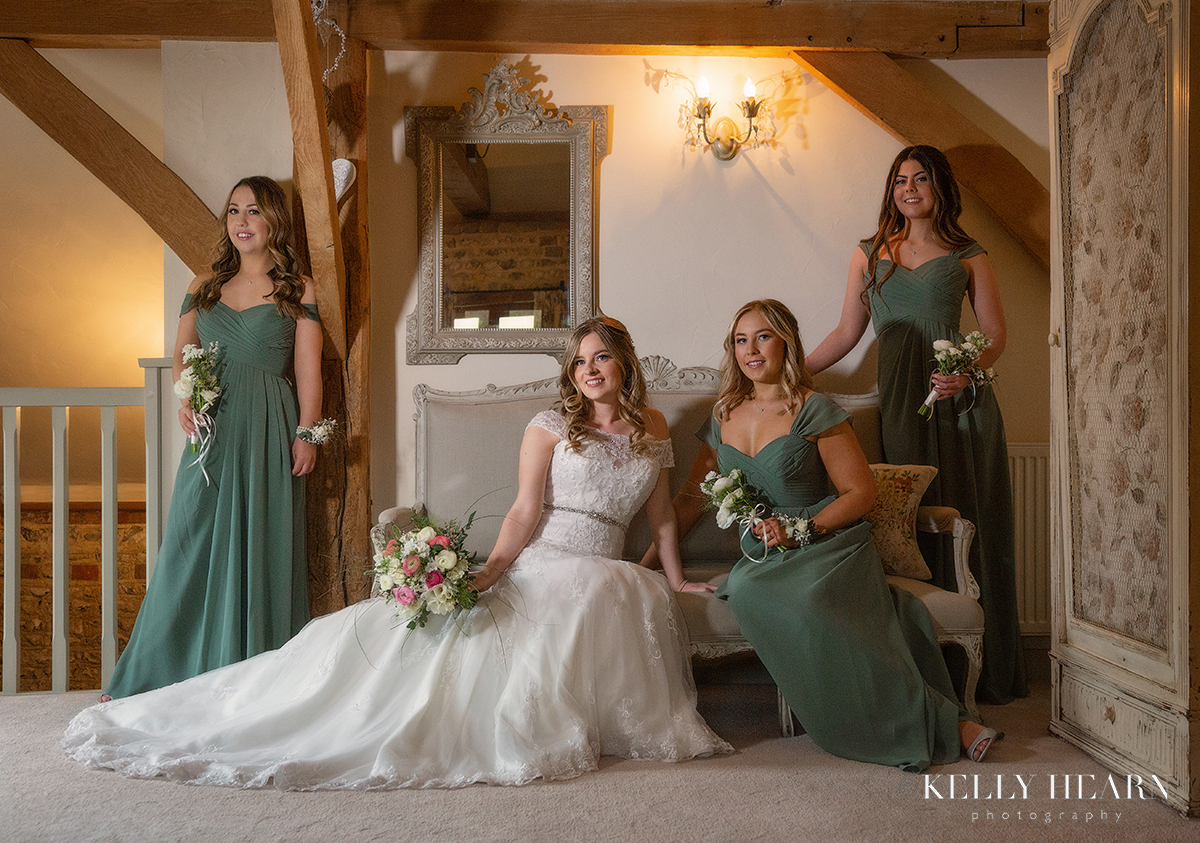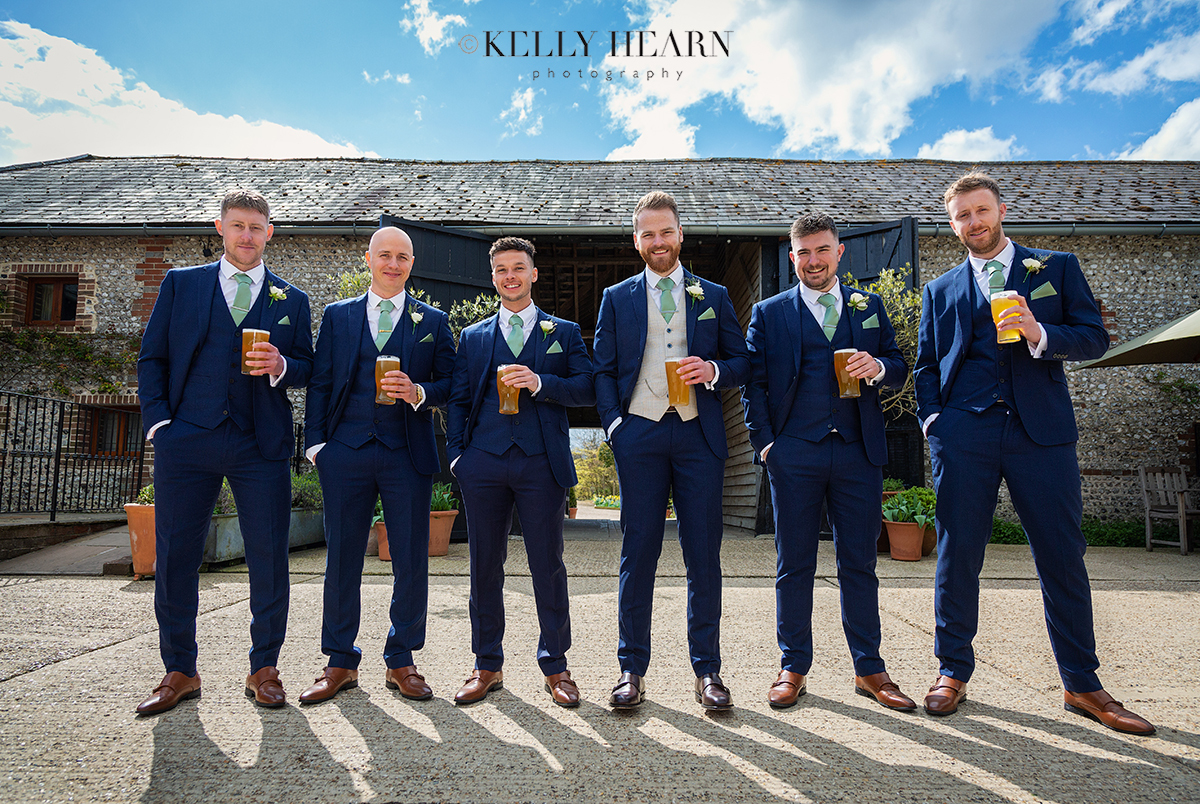 FATHERS AND DAUGHTERS

The moment that a father reaches the end of the aisle with his daughter is often full of emotion.
For Harley and Jack this was made extra special as two fathers stood proud together with their daughters having made their journeys to the front of the charmingly rustic East Barn. It was a joy to capture the loving dynamics between Harley and her father and Jack and their adorable daughter who added an extra element of delight as she witnessed the marriage of her Mum and Dad, whilst held in the comfort of her Grandad's arms.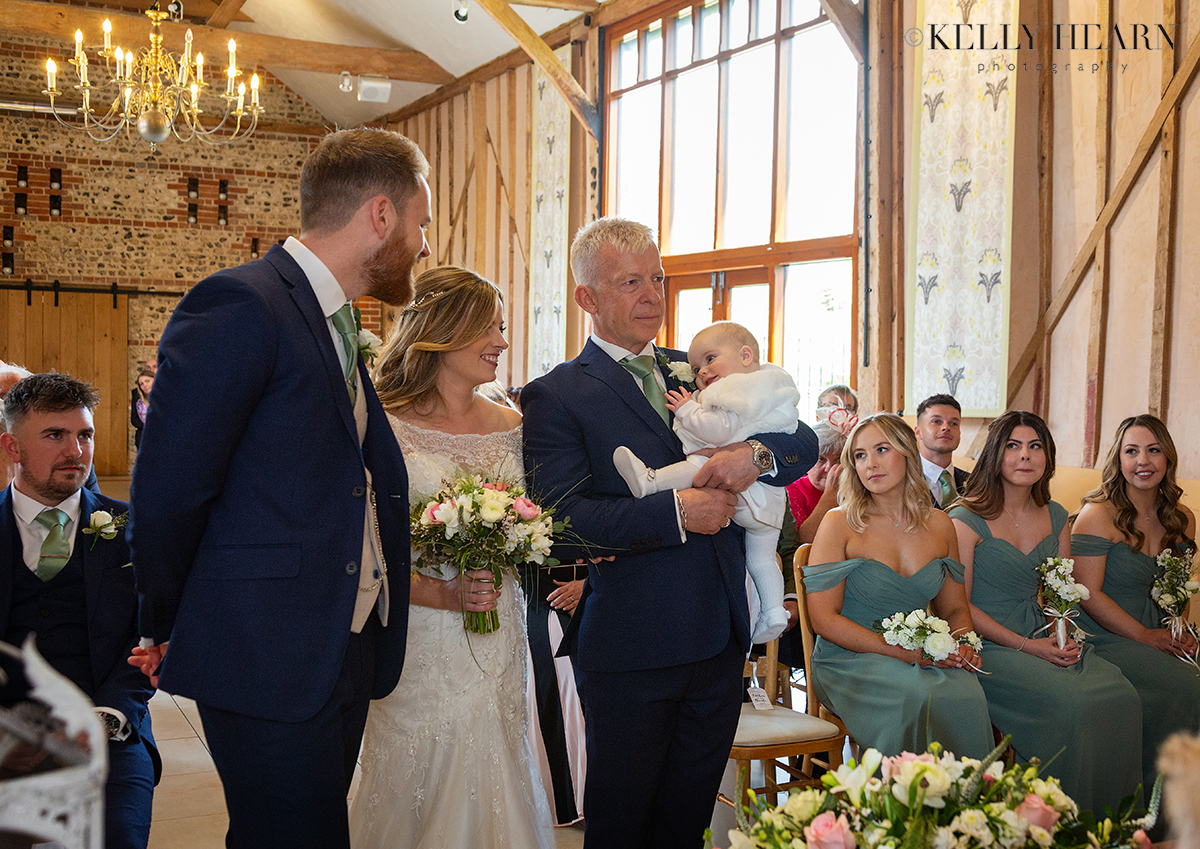 DIZZY HEIGHTS

We took a different slant on the balcony shot for Harley and Jack showcasing their 'bubbly' personalities as they swigged on the fabulous bottles of Champagne that they bought especially for their big day.
It was nice to see the couple taking a moment to look down onto the wedding scene that they had created as it played out beneath them, rather a regal scene even without drinking glasses!
As well as injecting humour into their album we feel that this image is symbolic in showing the newlyweds letting their hair down after all the energy they had put into over 3 years of planning and changed dates, in order to create their dream day.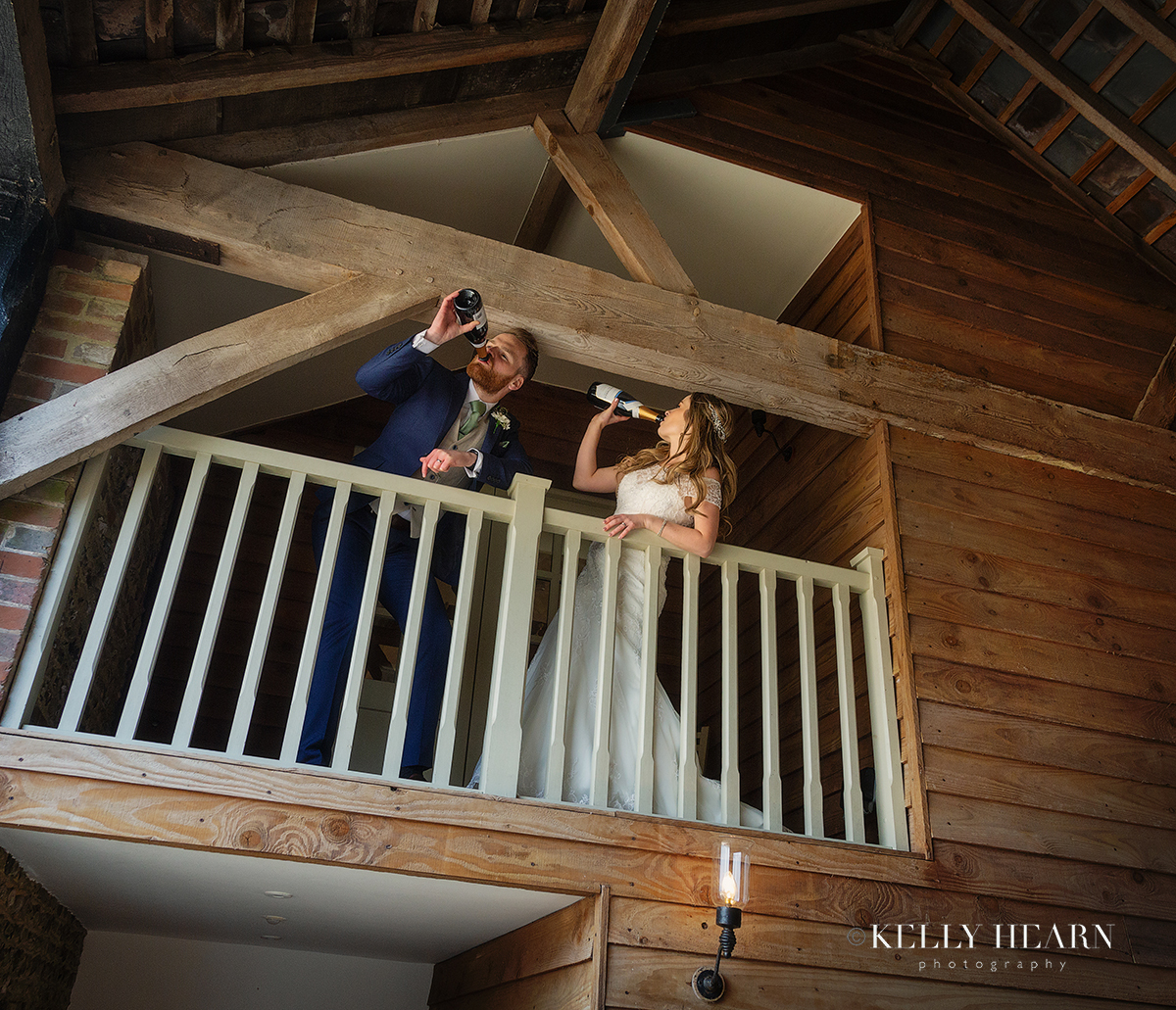 AND BABY MAKES THREE

In contrast, back down on the ground we found Harley and Jack embracing the magic of parenthood.
Taking time out for this family portrait with the Careys was a must. We wanted to capture the love, happiness and connection between these three, a bond that we have got to know so well over the past three years.
The gardens of Upwaltham Barns were perfect for this, the gorgeous landscaping lending a magical 'Secret Garden' feel for this memorable and precious moment.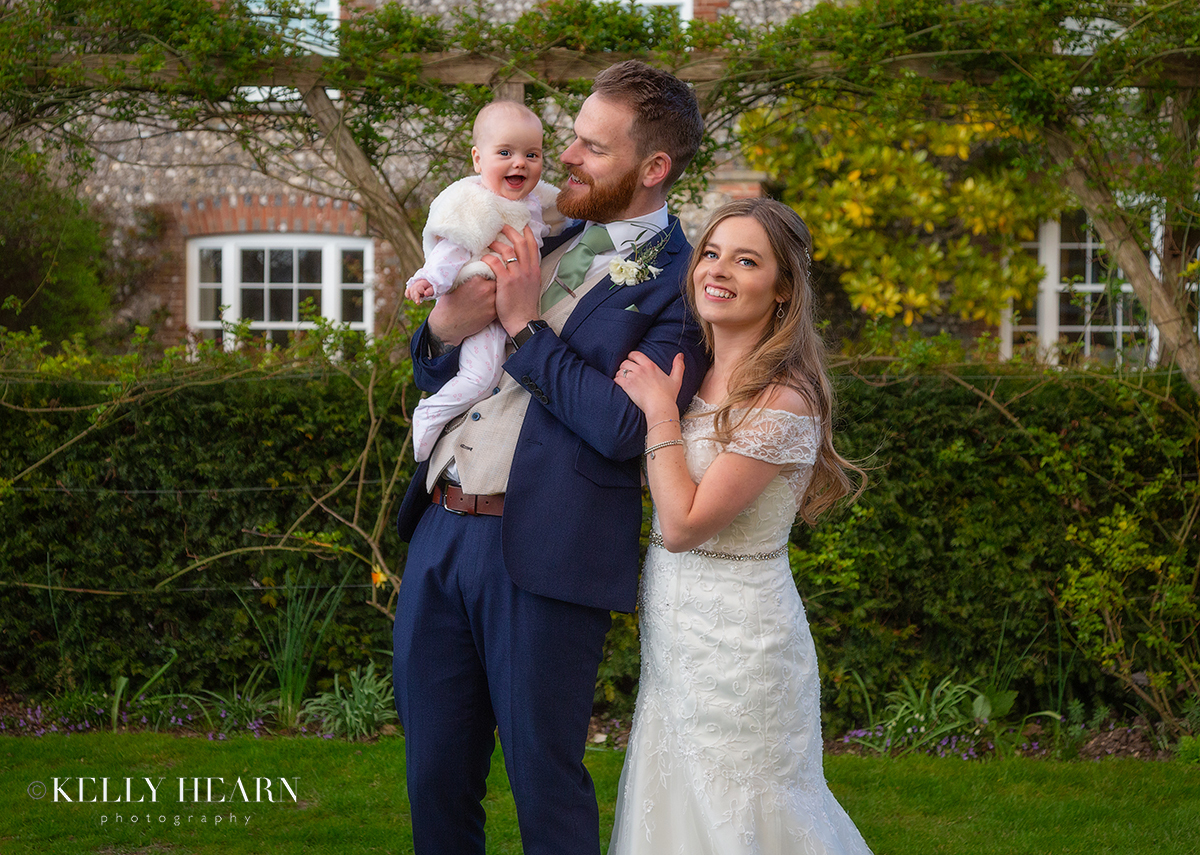 LASHINGS OF LAUGHTER

Naturally we took the traditionally posed family portraits to capture Harley and Jack with their loved ones, but the top table was the place to find an emotion-filled natural family portrait. You can almost hear the laughter coming from Harley and Jack's Mums as Jack stands proudly with Elouise delivering his wedding speech.
Like we always say, a picture speaks a thousand words and what you get from this image really sums up this family's emotions, sense of humour and joy of the day.

KICKING BACK

Taking a reflective moment alone in the magically illuminated courtyard, Harley and Jack showcased this incredible space by putting their feet up before joining their guests in hitting the dance floor that was already in full swing thanks to the amazing Toast DJ's.
There's something very real about the pose in this image, the two of them leaning on each other whilst resting their feet after the whirl of the day-long celebrations.
Entertainment - Toast Live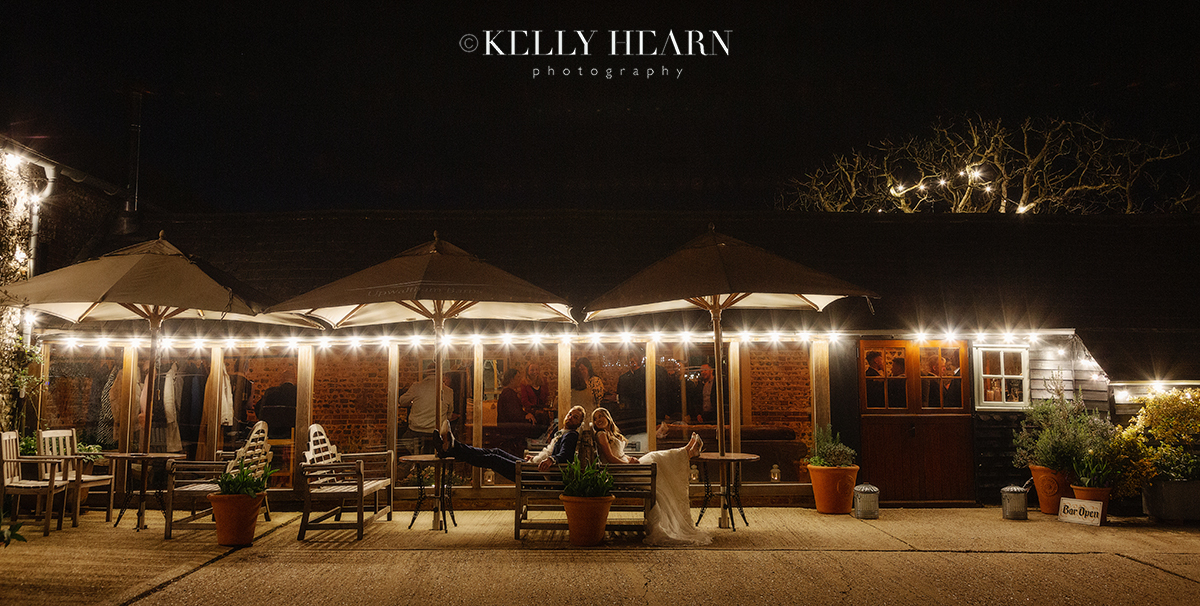 Harley and Jack, we totally loved capturing your personalities on your Wedding Day. From the very start, through to braving the snow storm, knocking back Champagne and kicking back in style. We hope you enjoy sharing your album with friends, family and of course little Elouise in years to come and wish you all the best for a very happy future
Kelly x
Kelly Hearn A.B.I.P.P - A.M.P.A