SOMETHING OLD, SOMETHING NEW
February 04, 2022
Laura & Michael's Autumn Upwaltham Barns Wedding

Following a heartwarming ceremony held at a local church, Laura and Michael arrived at their dream wedding venue in style! Riding in a pristinely restored cream and black 1960's Californian Deluxe VW Split-screen Camper Van from Splitty Wedding Hire.
This fine vehicle, aka 'Hector', fitted perfectly with the laid back rustic vibes of the gorgeous Upwaltham Barns nestled in the West Sussex countryside and made an awesome prop for which to arrange the joyful bridal party whilst showcasing their gorgeous colour scheme of light pinks and blues.
This couple's big day was a wedding of two halves, starting with the much loved and ever longed for romantic traditions associated with preparing for a church wedding, followed by the contemporary elements of a relaxed barn wedding reception scattered with personal touches to reflect Laura and Michaels fun loving and laid back personalities.
Bridal Traditions

Laura had always wanted to get ready for the big day in her family home, a tradition that provided many loving moments for me to photograph; memories for both her, and her family to cherish forever.
It was a delight to capture this traditional mother and daughter moment as Laura's mum helps her into her gorgeous white timeless classic A-line gown in a luxurious mikado fabric from All About Eve Bridal Boutique, with its tulle illusion neckline and stunning diamonte detailing.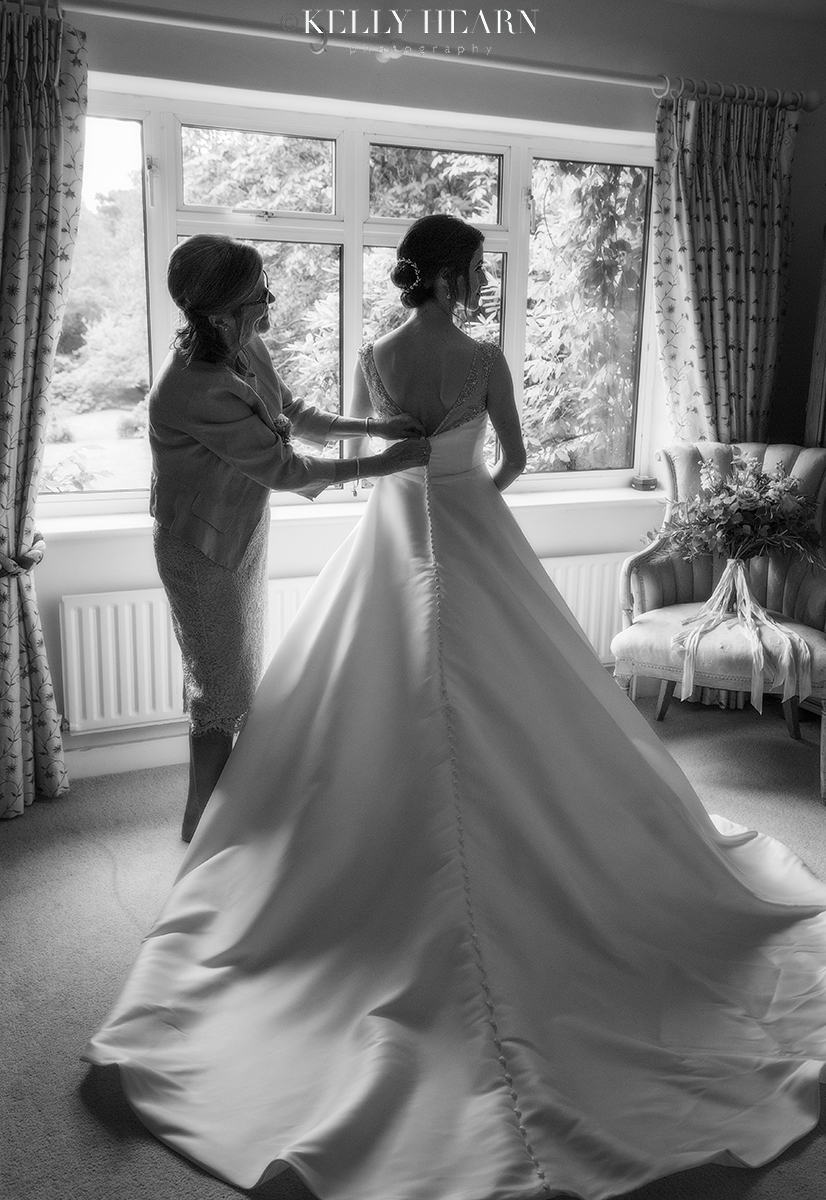 We loved capturing the father of the bride in the kitchen, the hub of family life, as he sat at the table surrounded by the beautiful bouquets created by The Floral Artisan, taking a peaceful moment to read a heartfelt note from his daughter before he saw her dressed and ready to leave the house to become Mrs Stoker.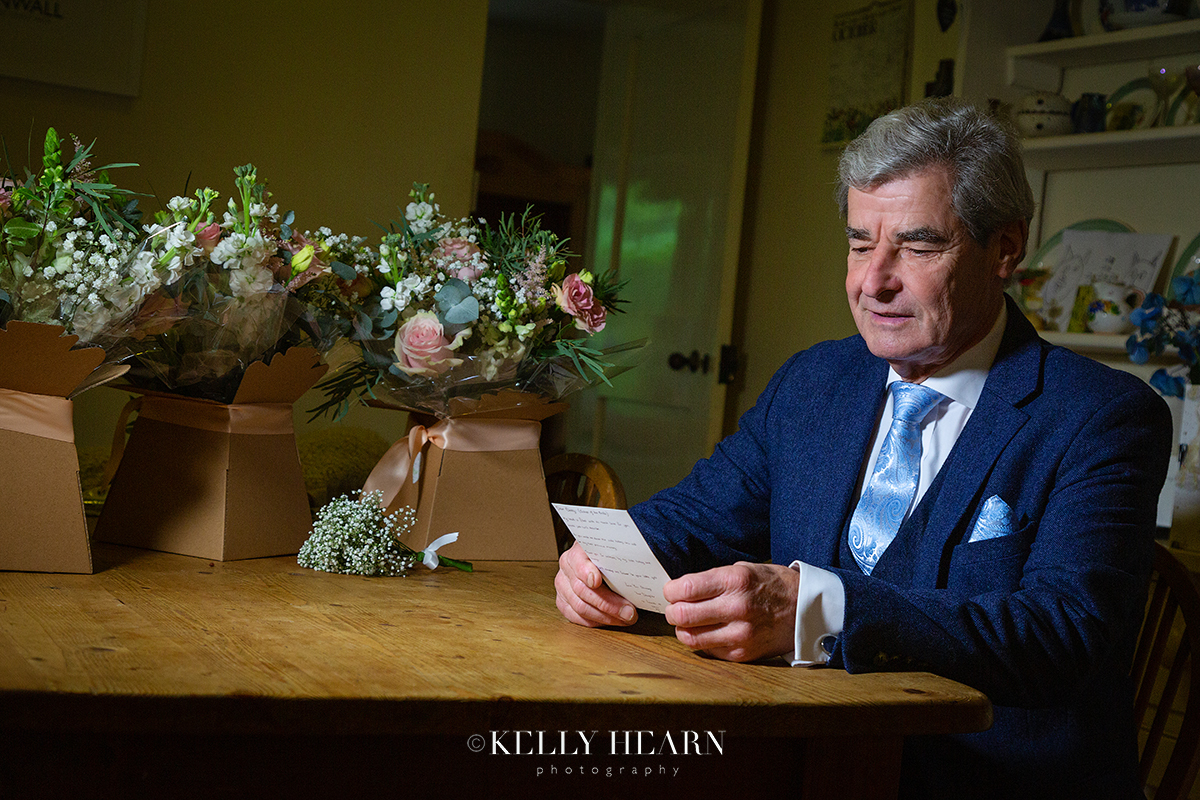 Carrying on with traditions, it was her dad that accompanied Laura to the church and down the aisle with life-long best friend bridesmaid on hand for that all important job of dress handling and back up support!
The welcomed October sunlight shone down on this trio as they were met by the priest of the charming rural church of St Anthony and St George in Duncton filling this image with a dreamy back light illuminating Laura's full length veil.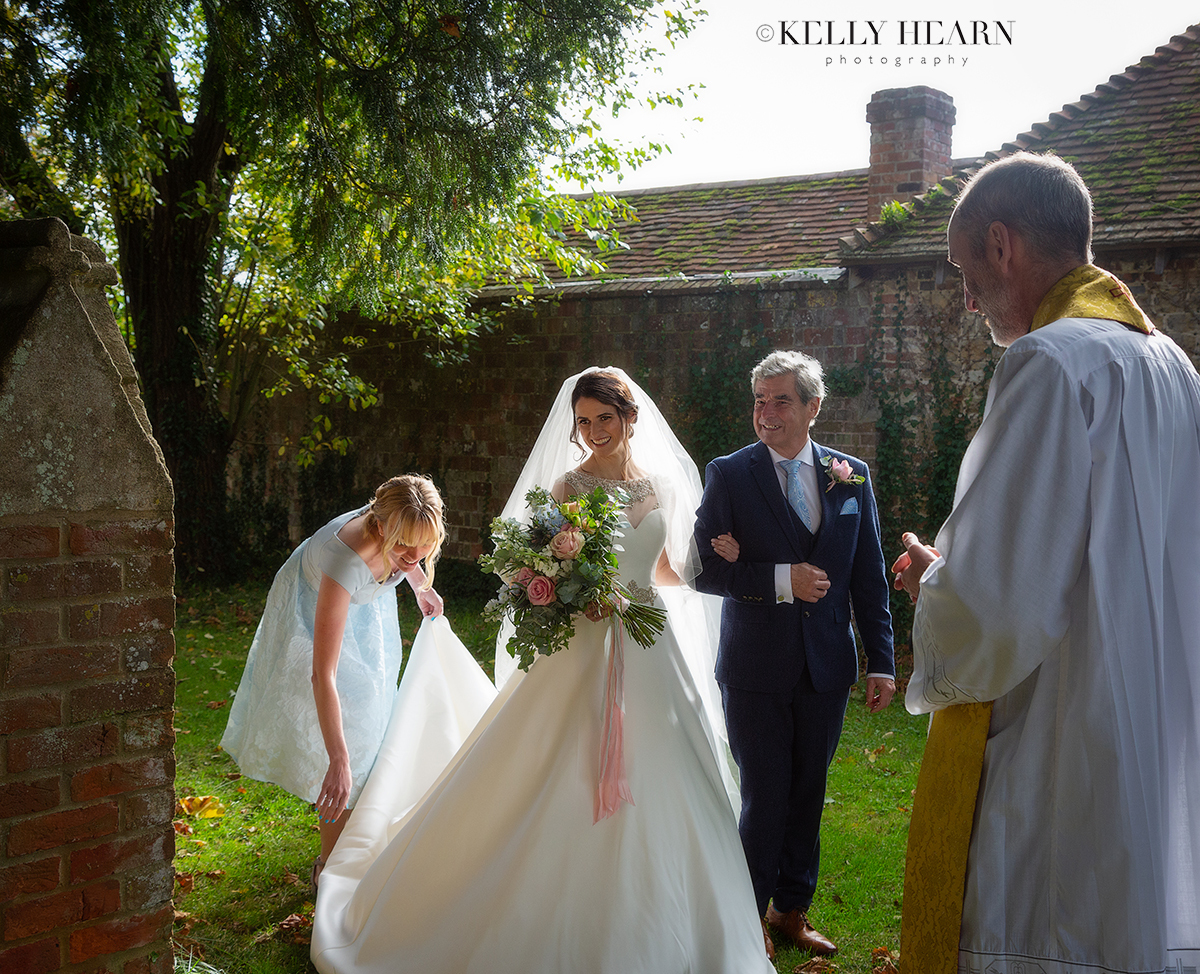 A bird's eye view of Laura and her Dad turning to take their steps down the aisle encompasses the entire scene playing out within the impressive nineteenth century architecture as the guests turn towards them making their way to the altar where Michael eagerly awaits.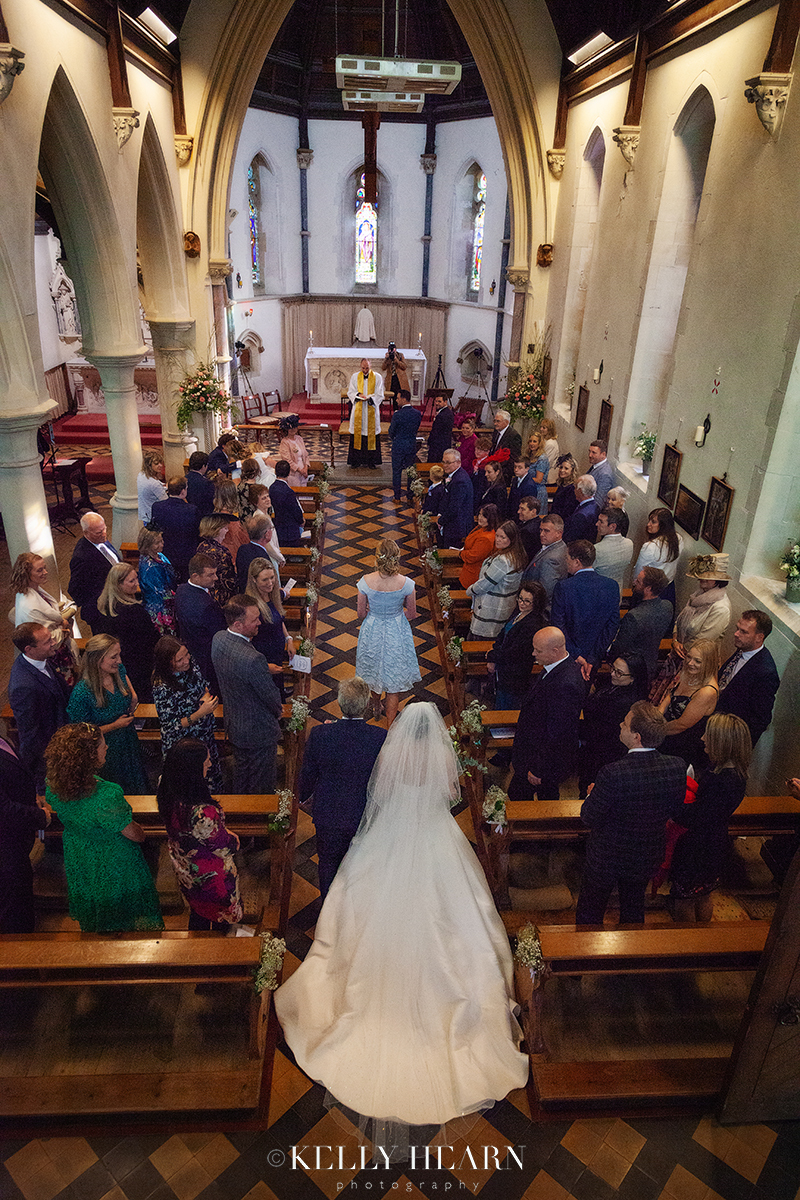 Church Traditions
As they met, the unmistakable happiness of soon-to-be newlyweds shone from their faces. The shared happiness was a fantastic reaction to capture as Laura and Michael turned to see each other; a real reflection of the lighthearted happy people they are. So happy together and surrounded by such loving friends and family, the joy on Laura's mum's face says it all.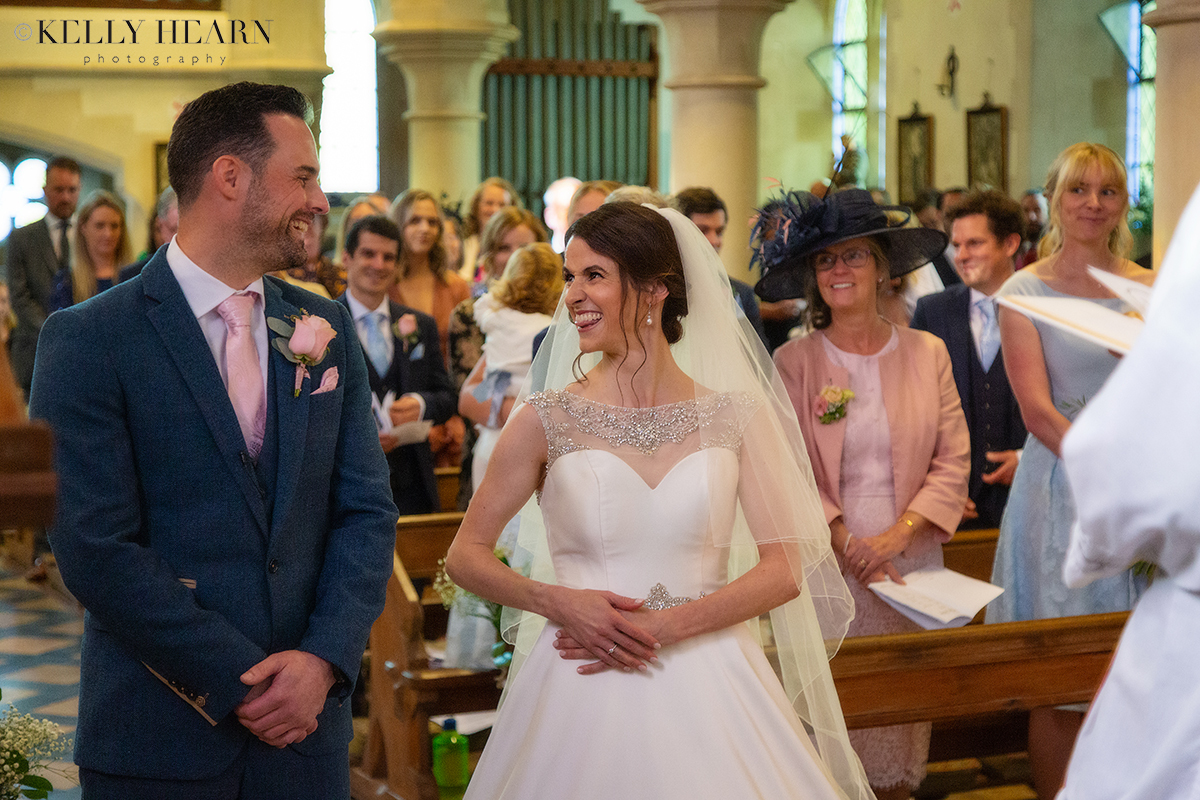 The interior of the church gifted a striking backdrop to capture Laura and Michael as they signed the register. I just couldn't miss the opportunity to fan the gown's gorgeous train out down the steps to showcase it, transforming this traditional moment into a show stopping one.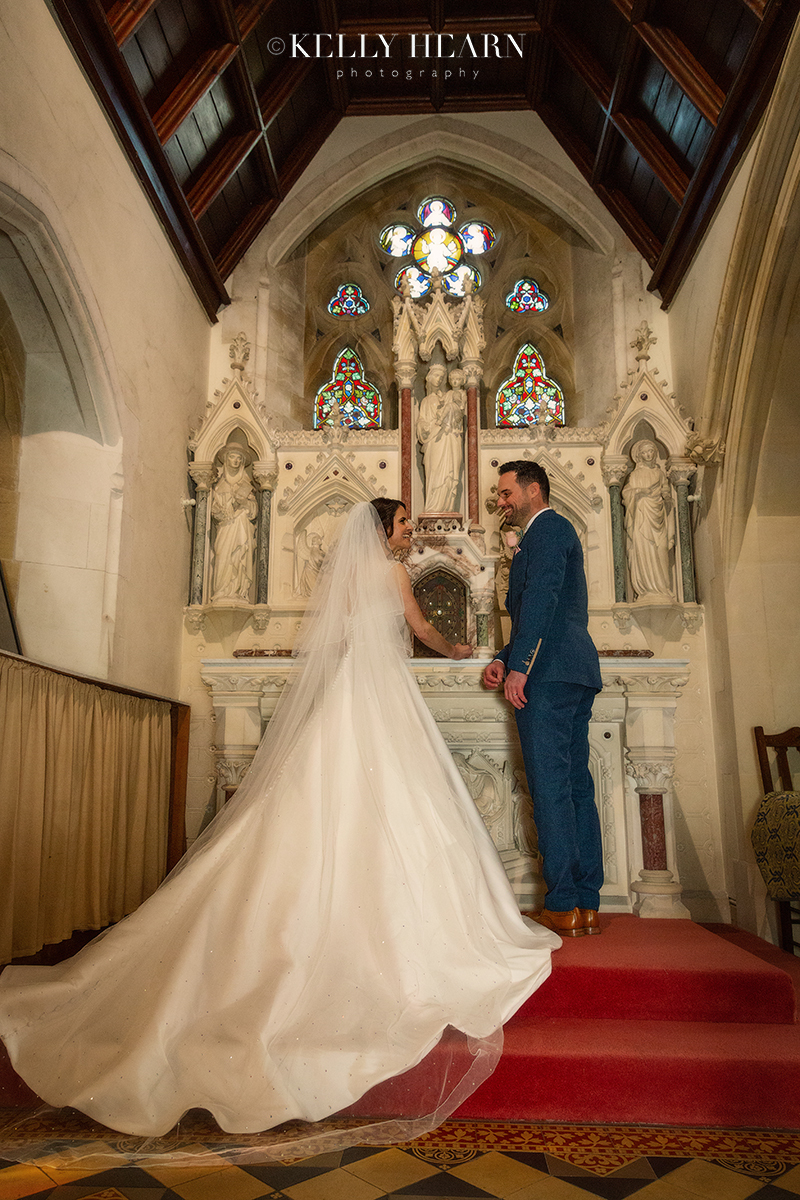 There is something special about photographing a couple in the doorway of their church backlit with the light streaming through. It's a poignant moment where the two take in their marriage ceremony together creating a classically beautiful image that never seems to date, due to the meaning, the architectural framing and perfectly natural lighting.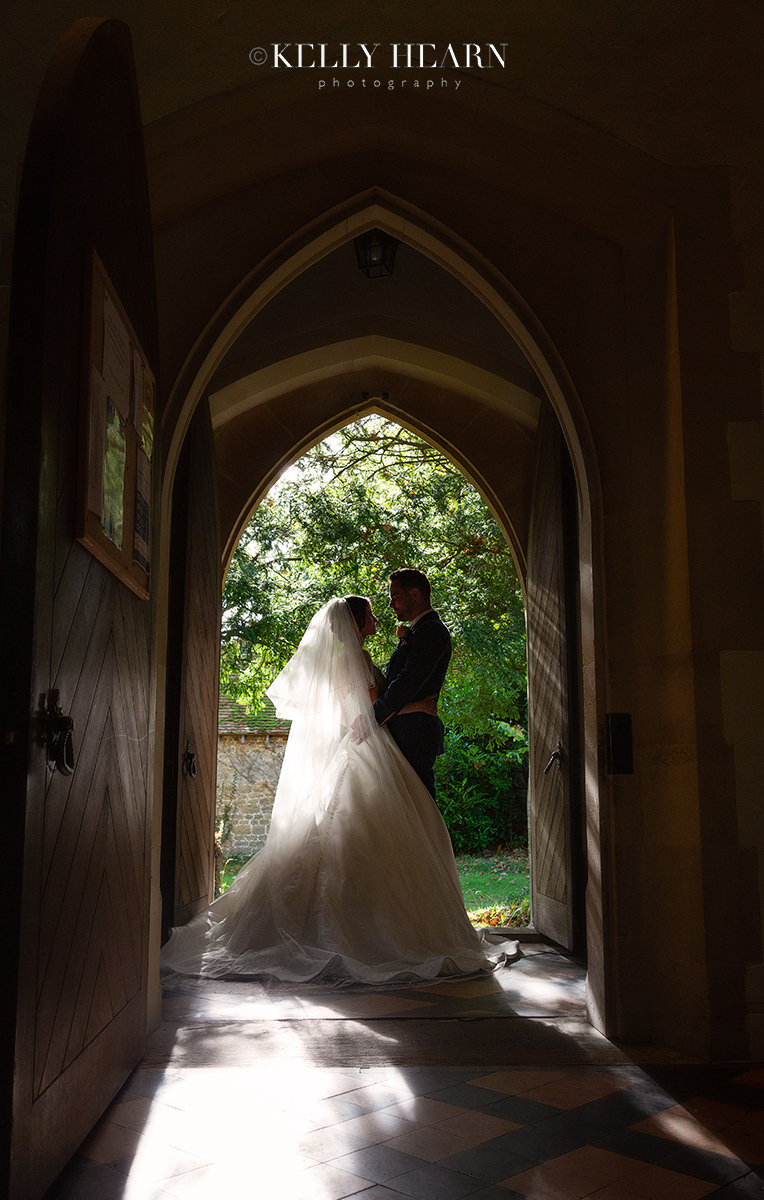 An age old tradition that equally fills both couples and guests with joy; the throwing of confetti. This wasn't just any confetti… this was lovingly homegrown confetti hand picked in Laura's parent's garden. There was certainly plenty to shower the happy couple with.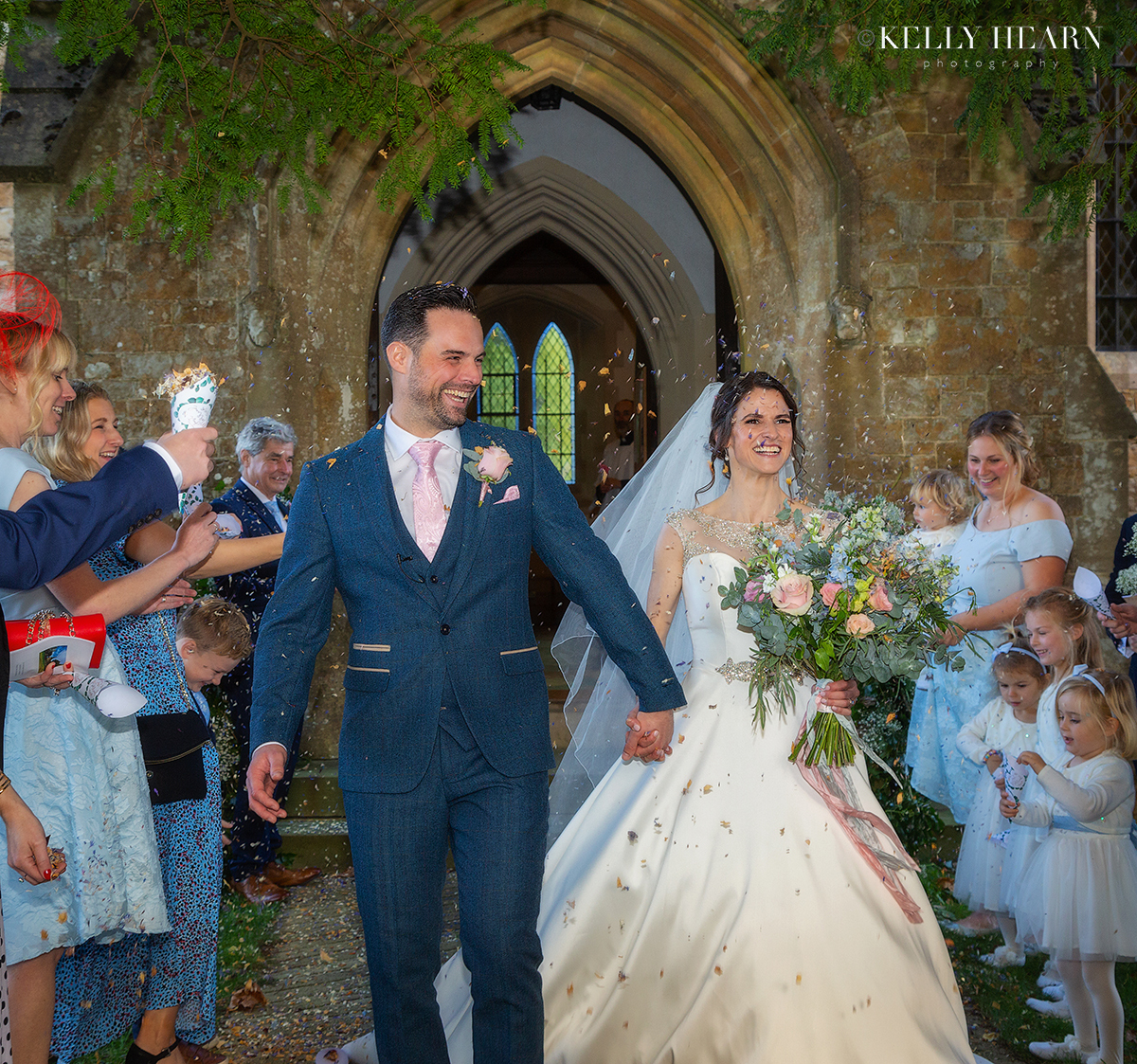 Bride and Groom Unveiled
We moved from church traditions to the customary climbing of the iconic Upwaltham Barns hill to capture their dreamed of hillside shots, which we achieved, but not without a little unpredictability.
Veils quite often have a mind of their own but when in cahoots with the wind, they can really cause a stir. This caused a lot of laughter and we definitely enjoyed rolling with the frivolity.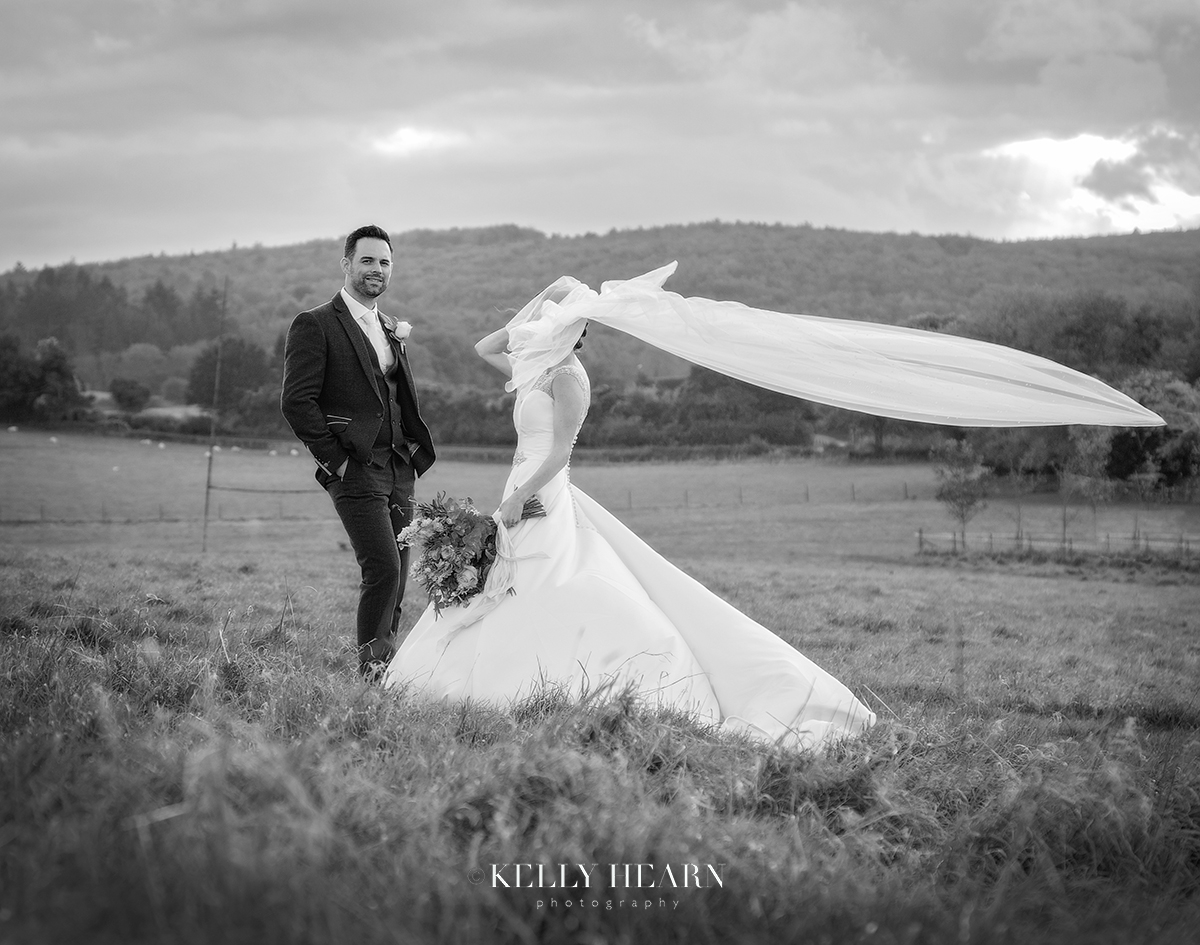 From this we were able to inject some unplanned fun into the images full of movement and motion bringing out Laura and Michael's personalities and showing of Laura's athleticism. She was like lightning even in the Hunter wedding wellies. Laura and Michael for the win!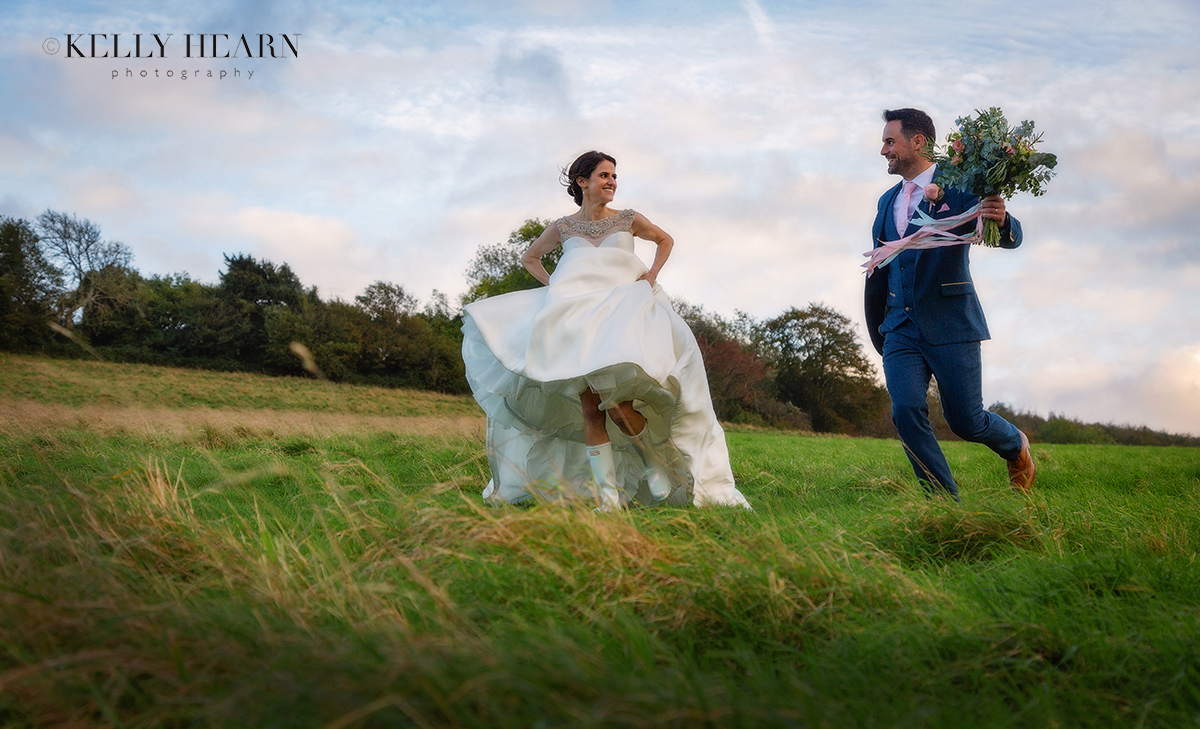 In The Still of The Night
Back down on lower ground in the barn's gardens, when the wind had dropped and the evening drew in, we harnessed a tamer veil incorporating it into this cinematic night time shot giving it the limelight it deserved. Using backlighting and movement, we captured this elegant and enchanting scene creating a striking piece of art featuring the new Mr and Mrs Stoker.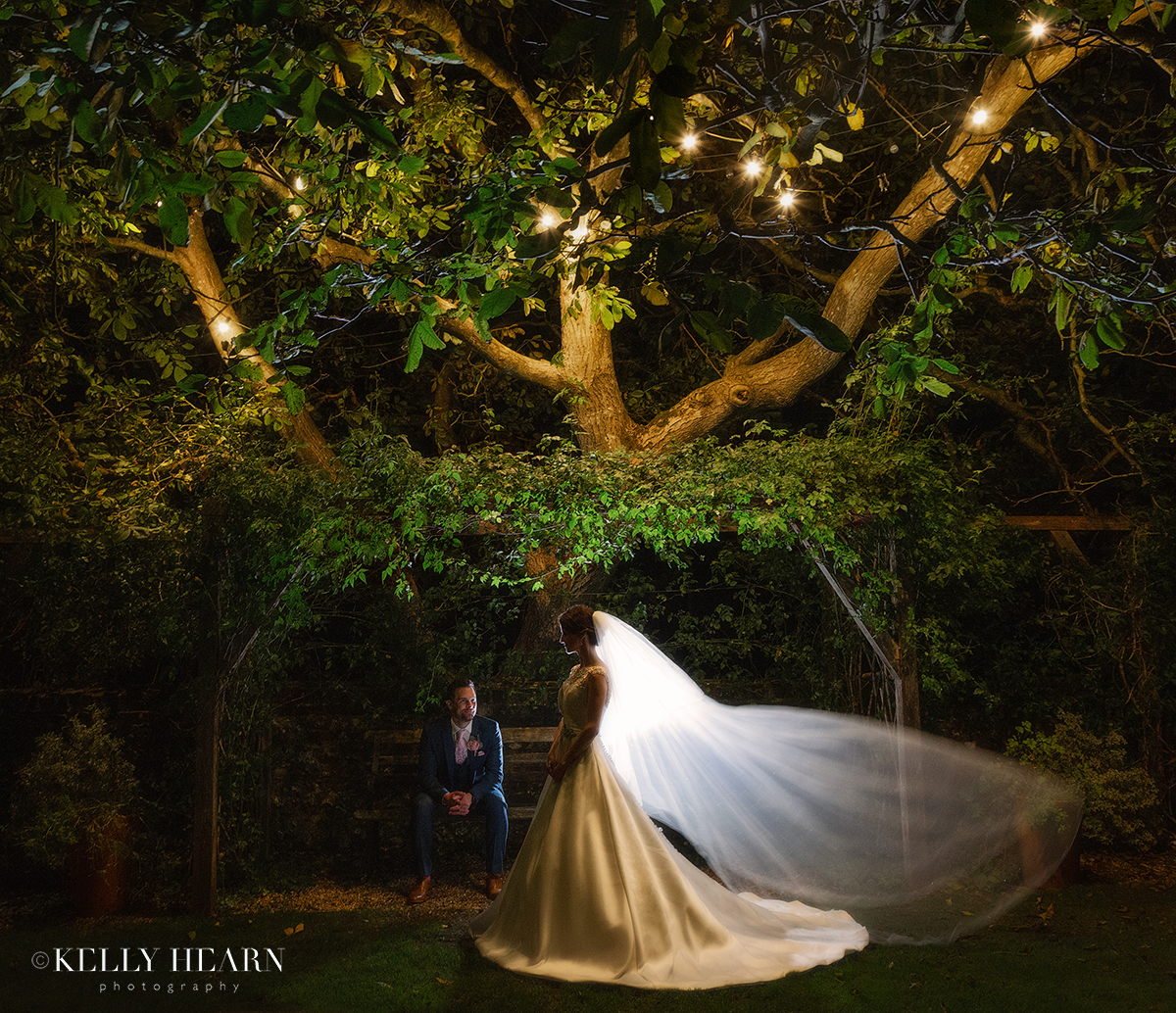 Continuing to enjoy the outside to the end, Laura and Michael thought on their feet when it came to their first dance which took place in the courtyard under the stars to reflect their choice of song. An October night it may have been but encircled by their friends and family beside the glow of the fire pit this couple had all the warmth they needed to share this moment of romance in comfort and style.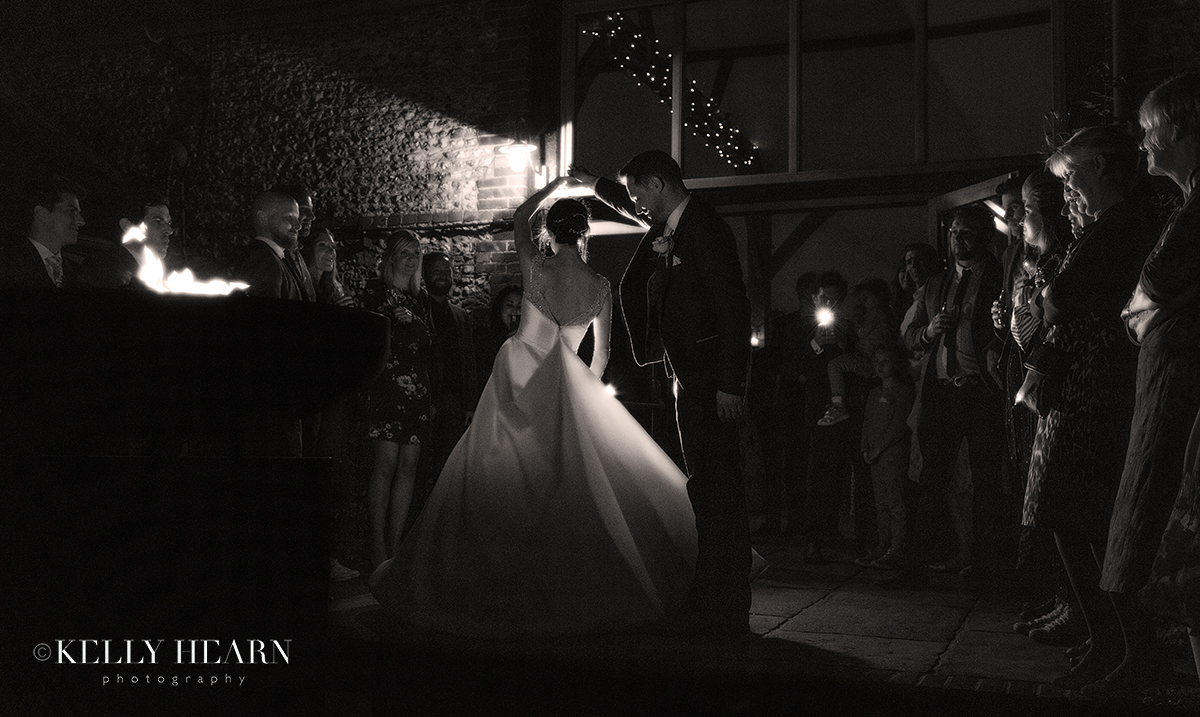 Laura and Michael we love how you infused both the traditional and non-traditional into your big day, to make it truly yours, and a day to remember always. It's been so much fun getting to know you and your guests and weaving your personalities throughout your photography. We wish you all the happiness for a long and happy future together.
Kelly x
Kelly Hearn A.B.I.P.P - A.M.P.A