A LOVE FOR ALL SEASONS
December 17, 2021
Nikita and Tom's September Tithe Barn Wedding
Nikita and Tom married at the stunning historic Tithe Barn set in the glorious South Downs National Park in September just as the summer was coming to a close and signs of Autumn were beginning to peep through.
It was a delight to see how their choice of colour palette and fusion of tones worked seamlessly with the blending of the two seasons.
We tried to portray this here as the happy couple stood before the pale summer hues of the industrial backdrop with Nikita in her delicate flowing gown by Creatiques Bridal Boutique and seasonal bouquet of fresh whites and greens elegantly hand tied by Someflower and Tom dressed to the nines in his rustic tweed suit from Astares Menswear with accents of crisp, warm oranges and tan shoes.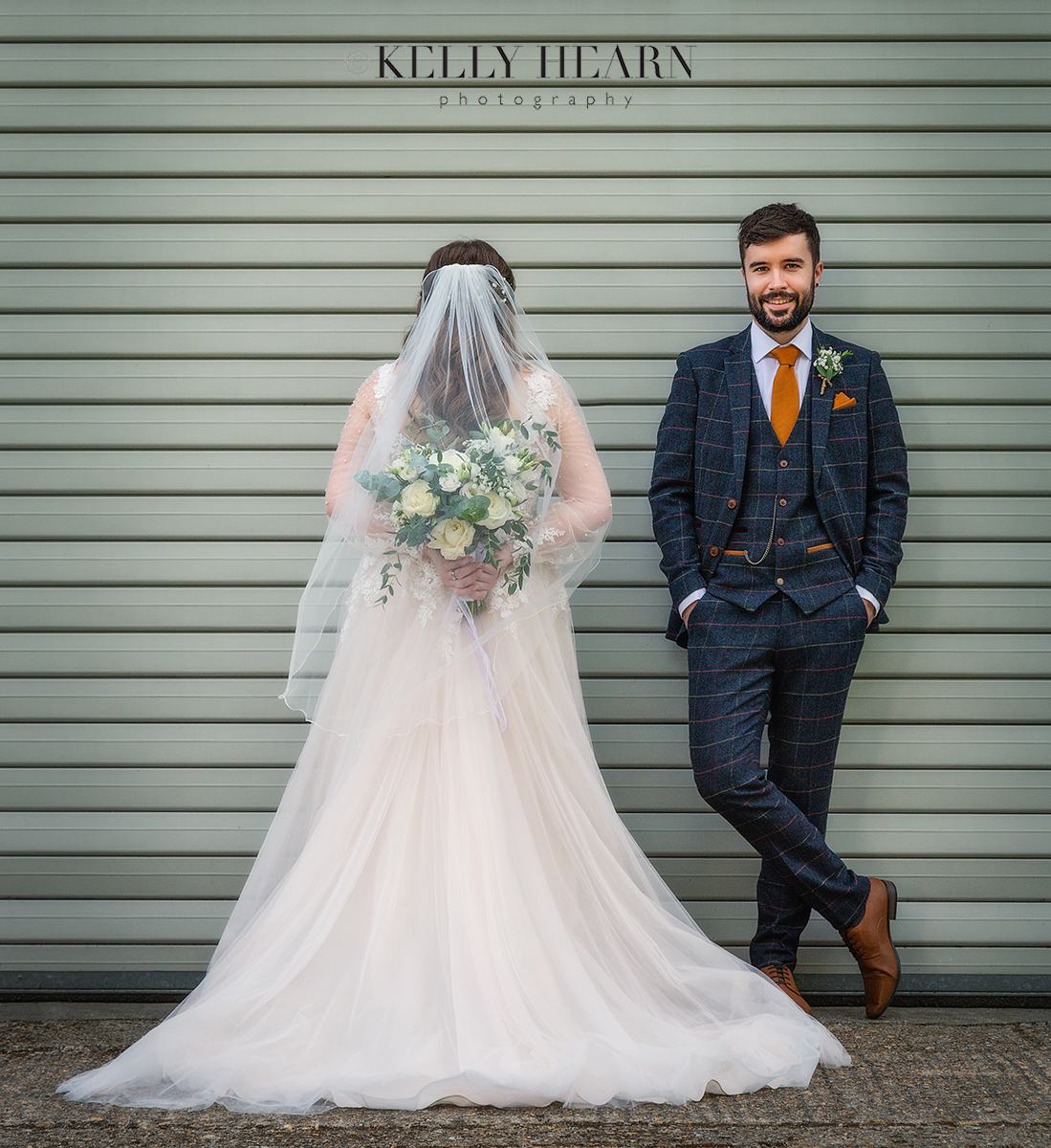 We wanted to show in their photography how the two seasons could come together as beautifully as the couple themselves, and how thoughtfully they weaved in aspects of their lovely personalities to their dream day.
Here Comes Autumn
Nikita's elegant dress gave a nod to 'summer/autumn' trend with its light, intricately embellished long sleeves. She chose two tones of autumnal forest and vintage pastel green for her bridesmaids; which perfectly balanced to create a really stylish effect.
We used the warm red and orange colours of The Old Milking Parlour's charmingly traditional brick and stone wall to showcase these stunning outfits before the ladies stepped into them ready for Nikita to go and meet her husband to be.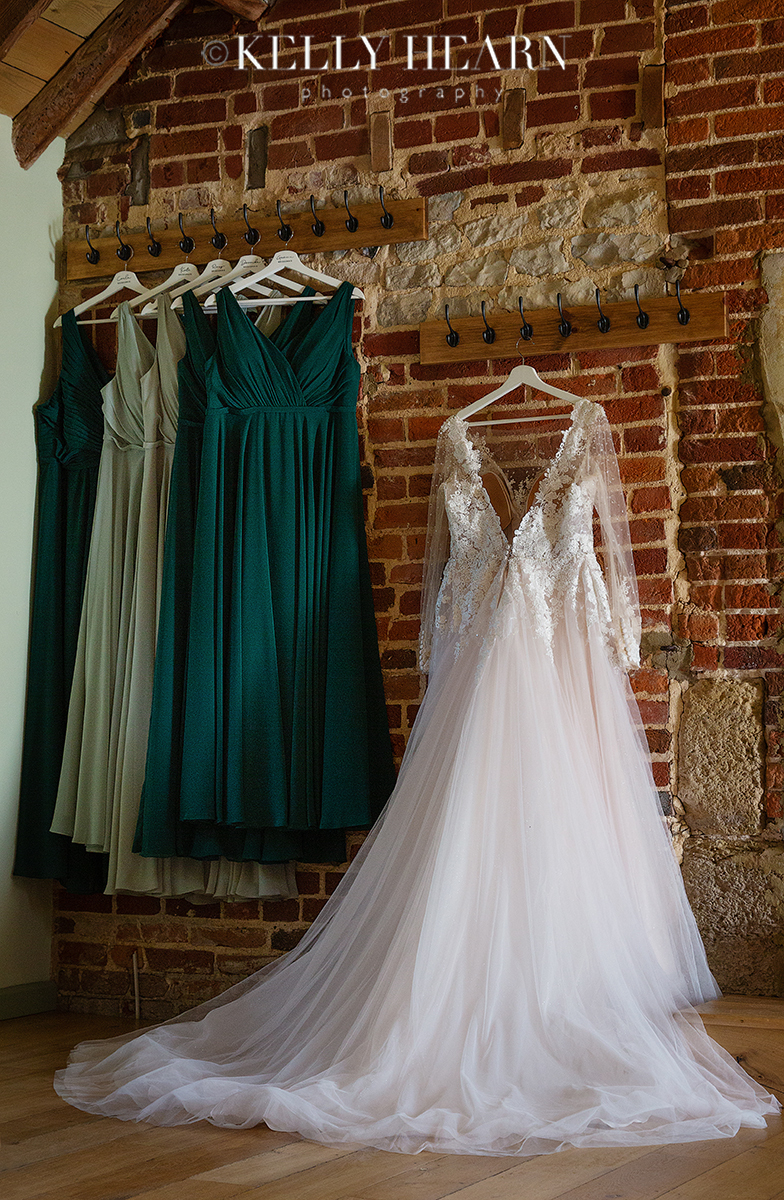 Their green and white colour theme also worked perfectly with the light earthy nature of the barn venue itself creating a classy timeless feel. The magical twinkling lights overhead and glowing floor candles were welcoming touches and added further injections of warmth into the day. All together it made for a simply breathtaking view for the bride to see as she walked down the aisle.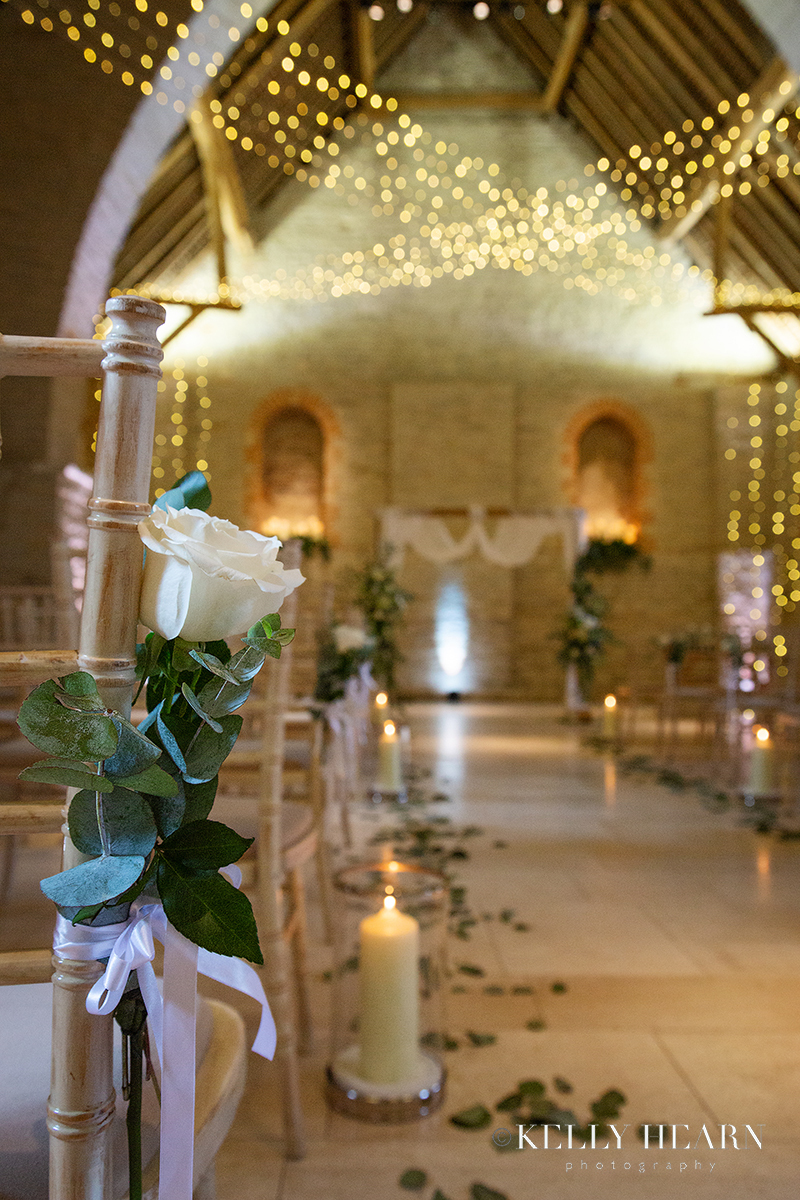 The aisle also made for an impactful place to capture Tom before the guests arrived to fill the room. We wanted to take a low angle on this portrait giving him a powerful stance and illuminating him in a symmetrical frame of criss cross lighting boughs, wall arch candles and solid, impressive Grade II listed arches.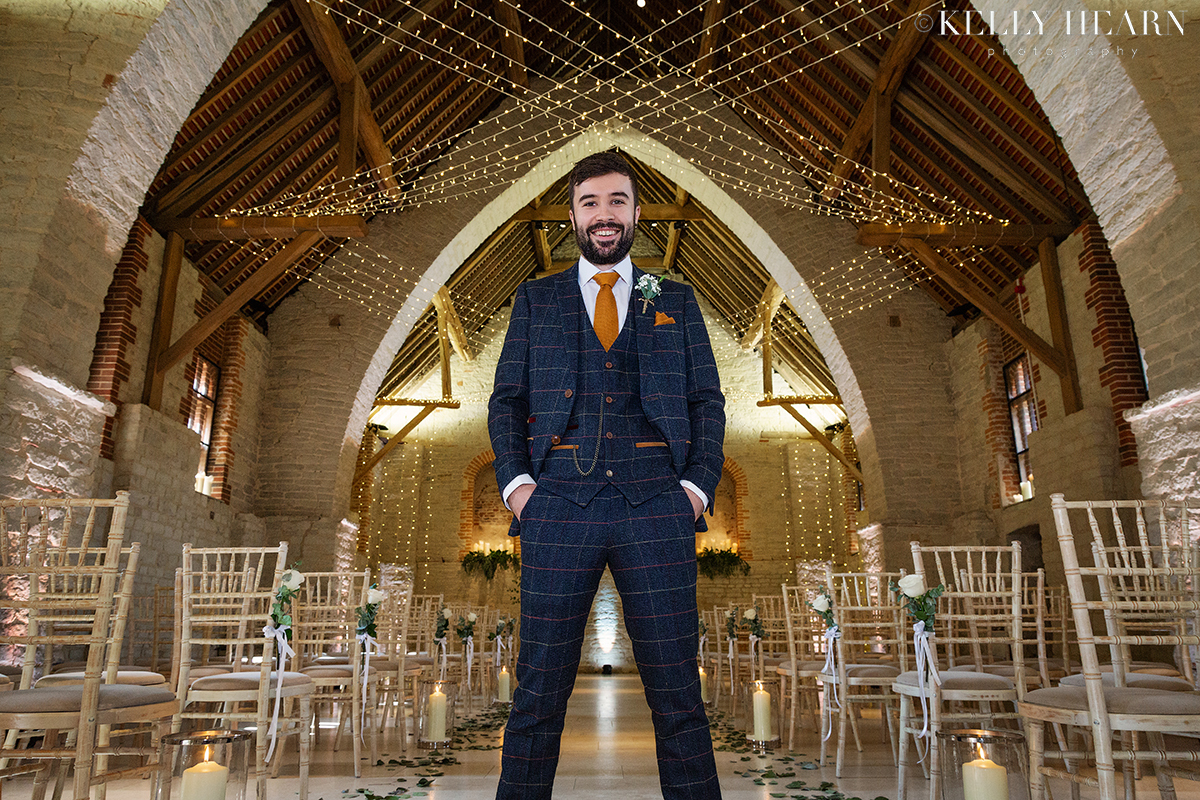 Changes Of Scenery

The dual-seasonal vibes were in full swing as the newlyweds were showered in confetti petals as they walked through their line of guests. A natural portrait where summer and autumn came together with the shower of petals from above and the crisp, golden 'first to fall' leaves under foot.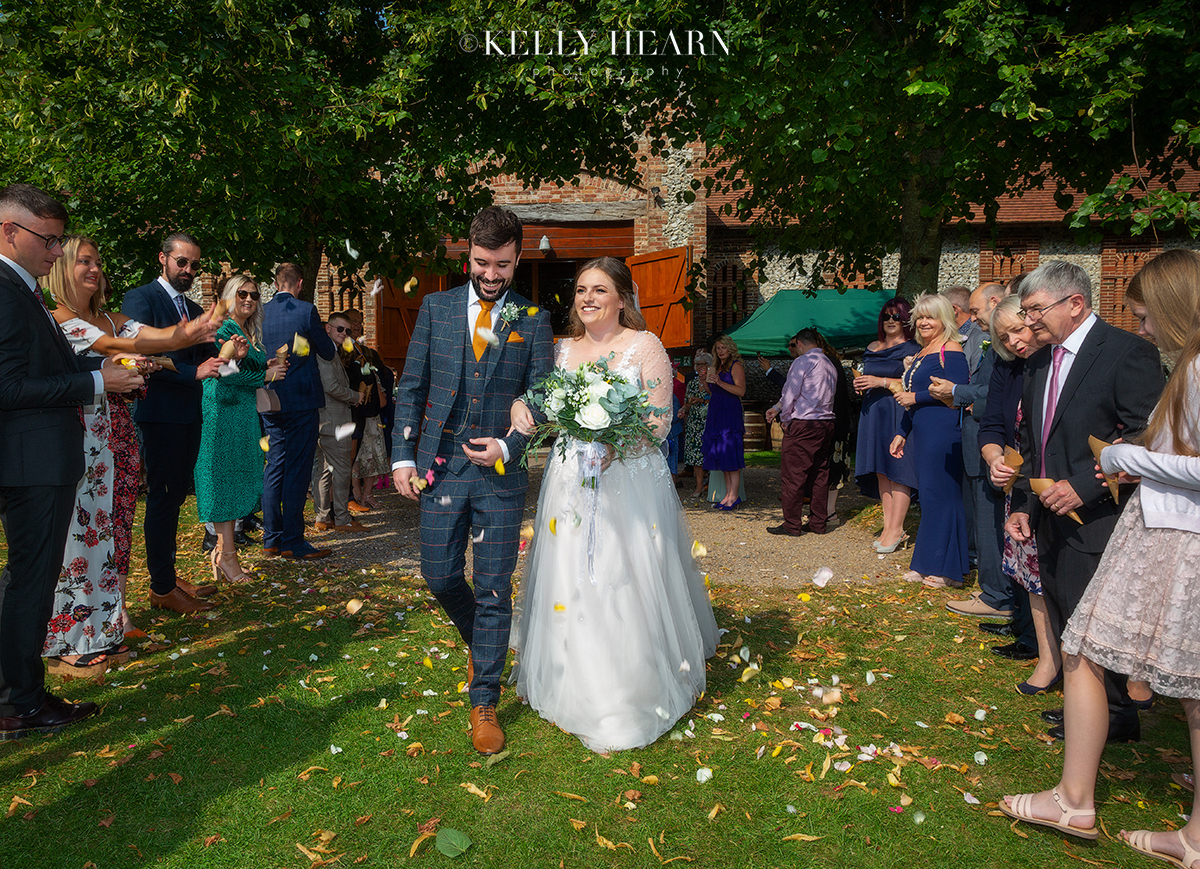 We also harnessed nature's tell tale signs to create some stunning portraits of the two of them. This tree's ever-changing autumn leaves and the sweeping stover carpet upon which Nikita and Tom stood made for an apt, rural frame of mixed seasonal cues as they took a moment together in the barn's surrounding fields.

Using black and white we can accentuate the landscape's textures and the combination of light and dark aperture drawing association between Tom's autumnal style and Nikita's summer look.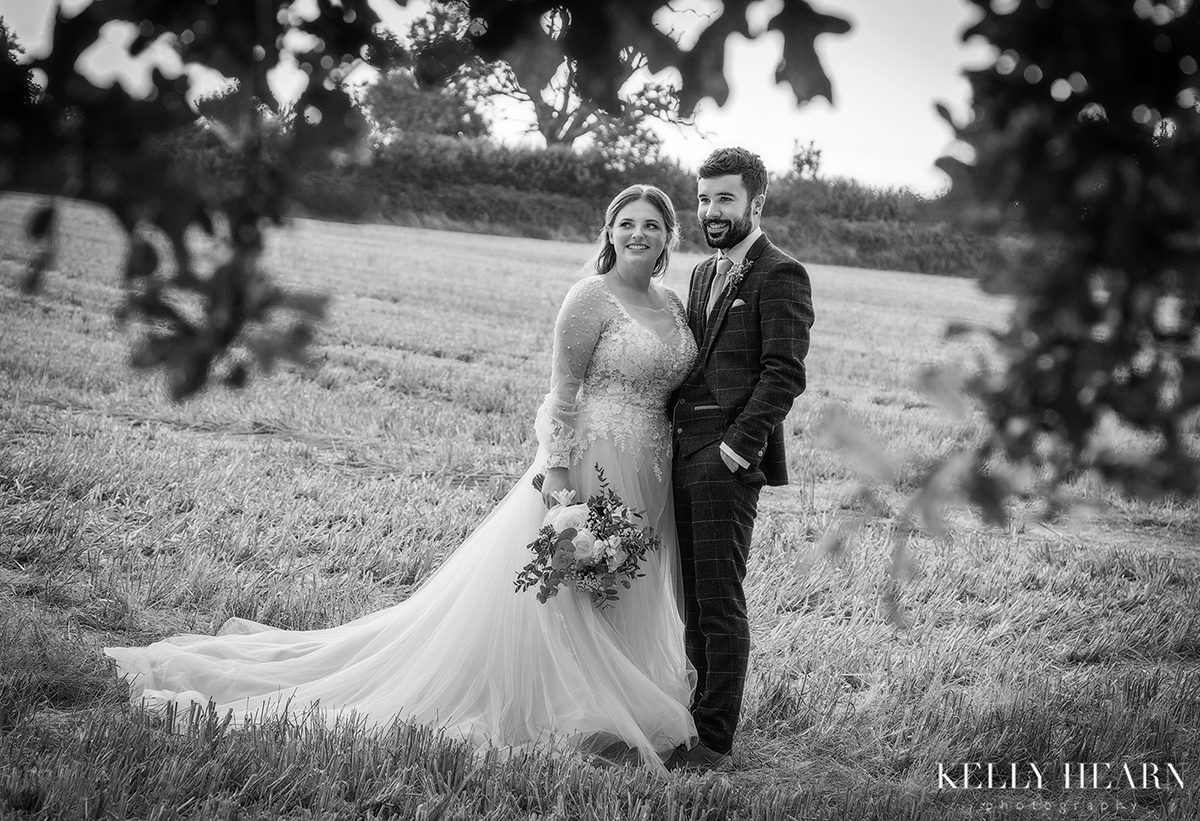 When planning their wedding we knew that Nikita and Tom wanted to use the contrast of settings that Tithe Barn has to offer. The natural, country relaxed feel and the modern, contemporary industrial look.

So we whisked them off to the awesomely imposing architecture of this agrarian building to add a little edge. When we changed location, we changed the perspective, but kept Nikita and Tom in the same pose; this really enhances the power of a backdrop and angle; one pose, two completely different styles of image.
We feel it's important to meet the couple's brief and love the contrast in the natural organic forms and industrial horizontal and vertical lines that feature in their album.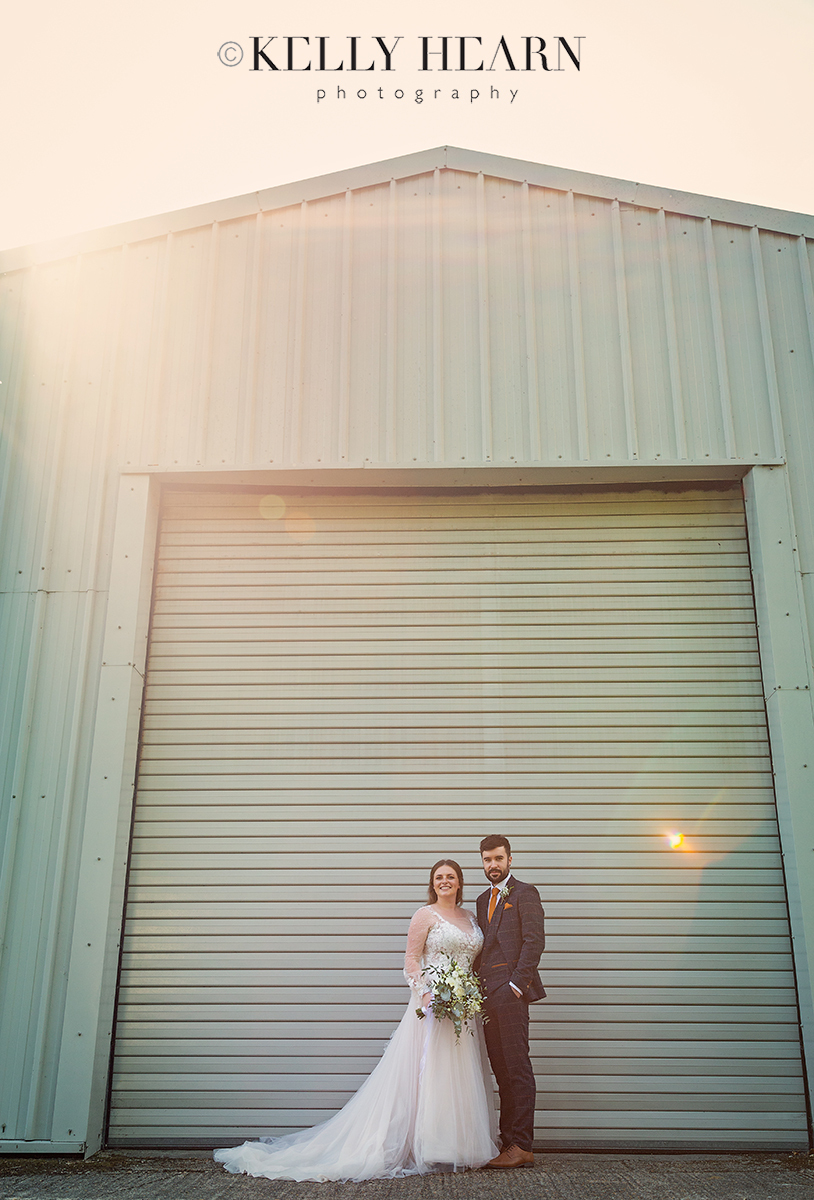 Adding That Personal Twist

Like the sun that day Nikita and Tom's identities shone through in their chosen details and it was a delight to see their dream wedding day come together. This laid back pair were keen to share the limelight with their guests and provide a relaxed, fun vibe which they could all equally enjoy.
Nikita set the chilled out ambience by arriving in a Vintage VW Campervan pristinely maintained and driven by Vinnies Vintage Vehicles. With the home comforts of the van and the comfort of her Dad, this bride arrived cool, calm and collected ready to walk down that show stopping aisle.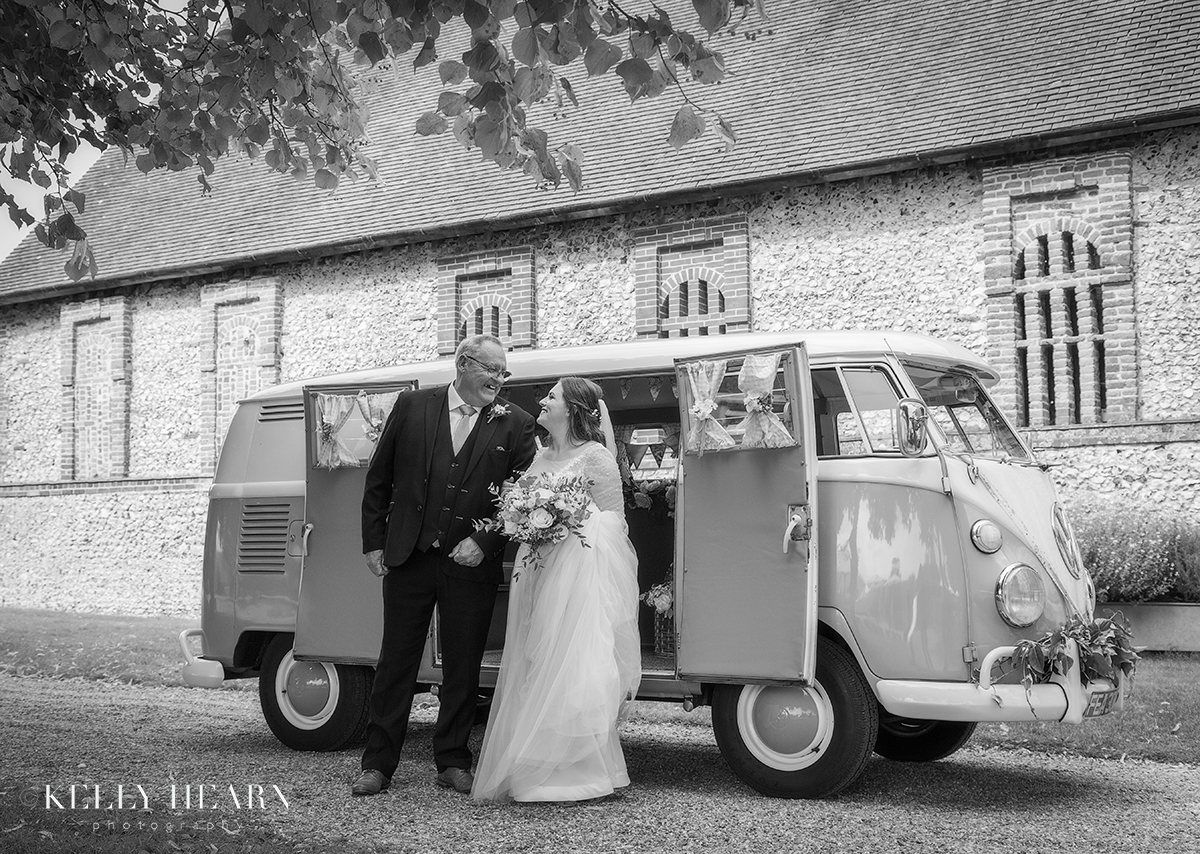 Fabulous Flexible Fare

Equally as show stopping was the big pan style wedding breakfast created by Fat Hog And Big Pan Catering. This culinary choice offered an informal and casual style of feast with an impressive and delicious selection to choose from.
Not only did it taste divine but it also added an incredible atmosphere to the lawn from where the guests experienced a sensory treat of smell and colour whilst watching it being prepared. Even the food had a cross-seasonal feel with the mix of crisp fresh summer salads and hearty warming options of stews, curries and paellas.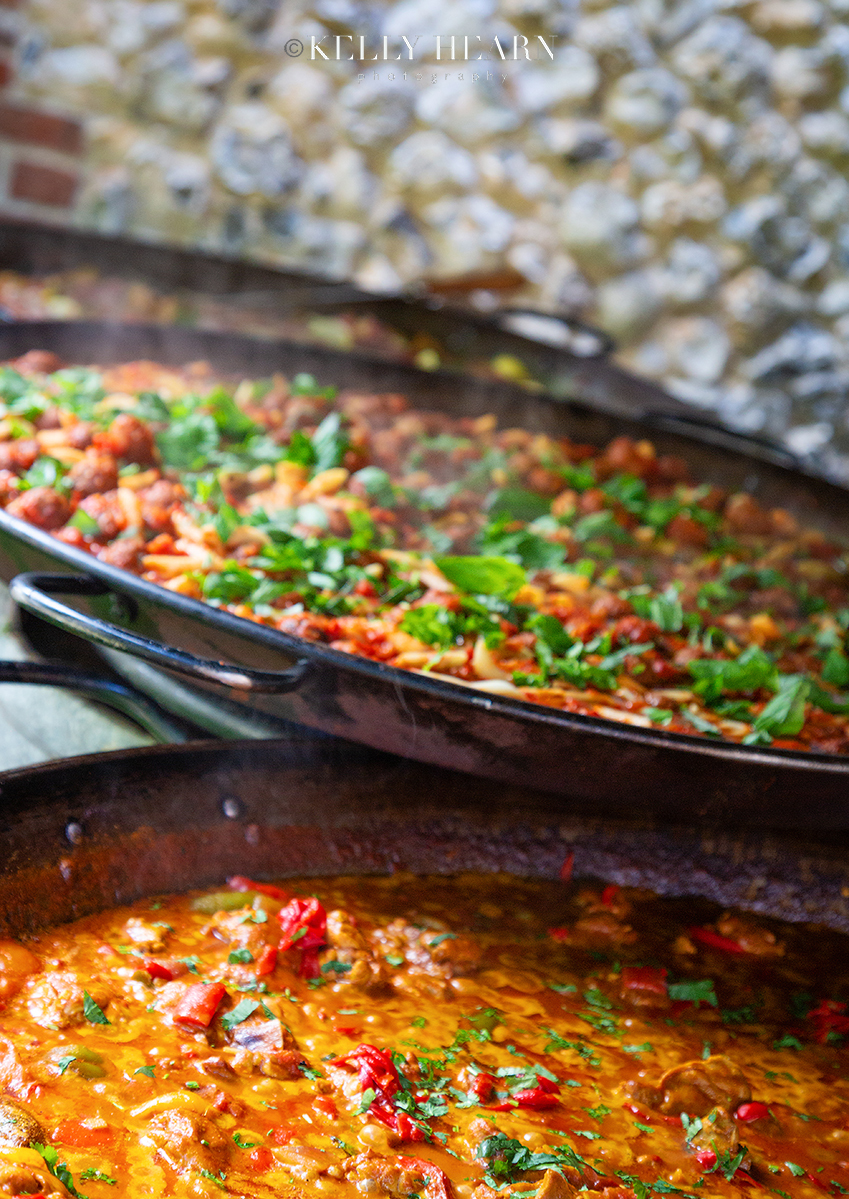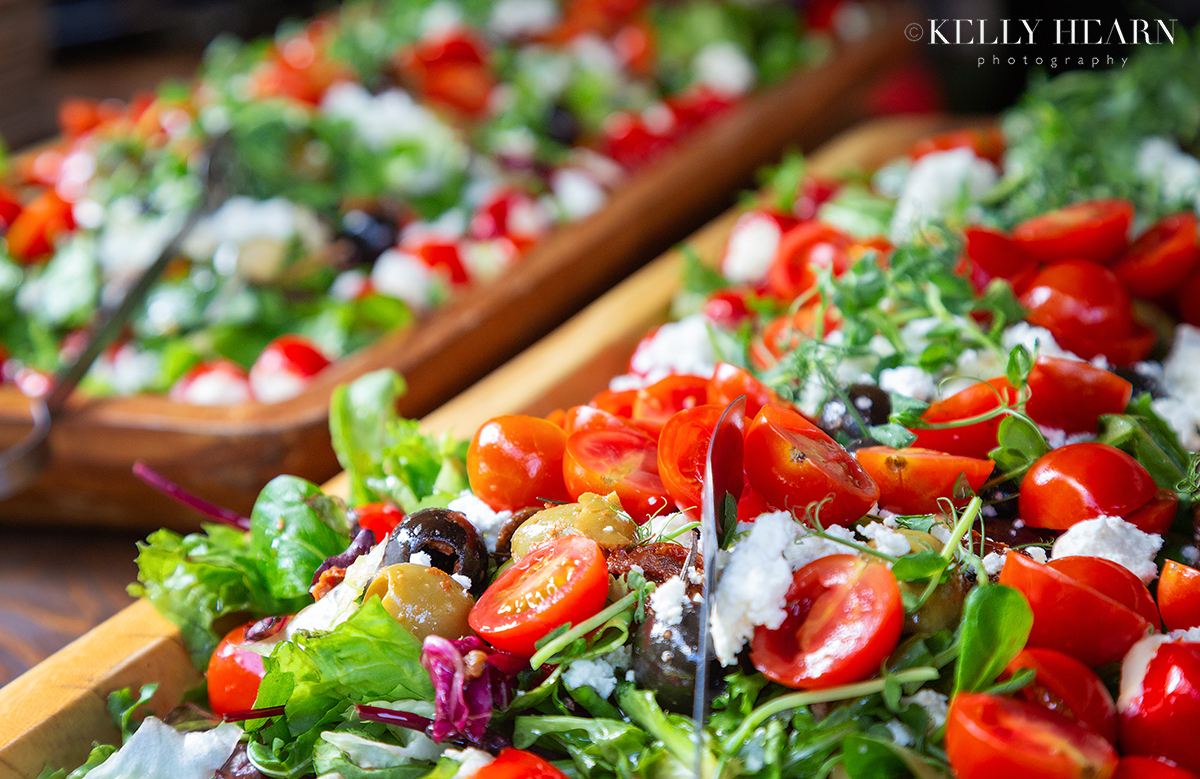 Now That's Magic!

Adding another sprinkle of magic to the day was Darren Lang who conjured up a host of mind blowing tricks to keep everyone on their toes and in wonder of his illusionary talent. Nikita and Tom just loved sharing the magic with their guests.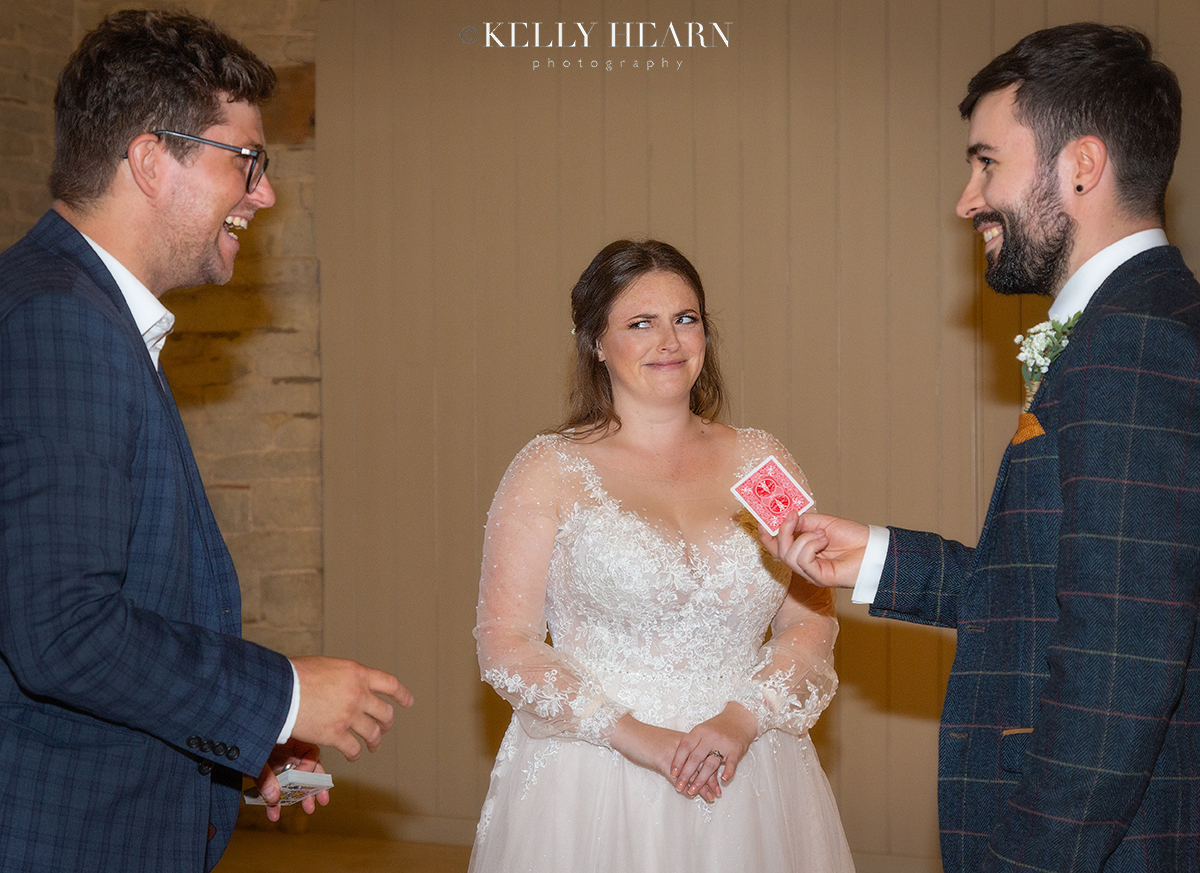 Indeed magic appeared in many forms throughout the day and we liked to think we captured a little of it here as the evening drew in and we photographed some gorgeous night shots of the new Mr and Mrs.

The patterns of the autumnal trees against the inky blue light of the summer's warm dusky sky create the perfect natural frame as the couple stand in the alluring light of the picturesque shepherd hut.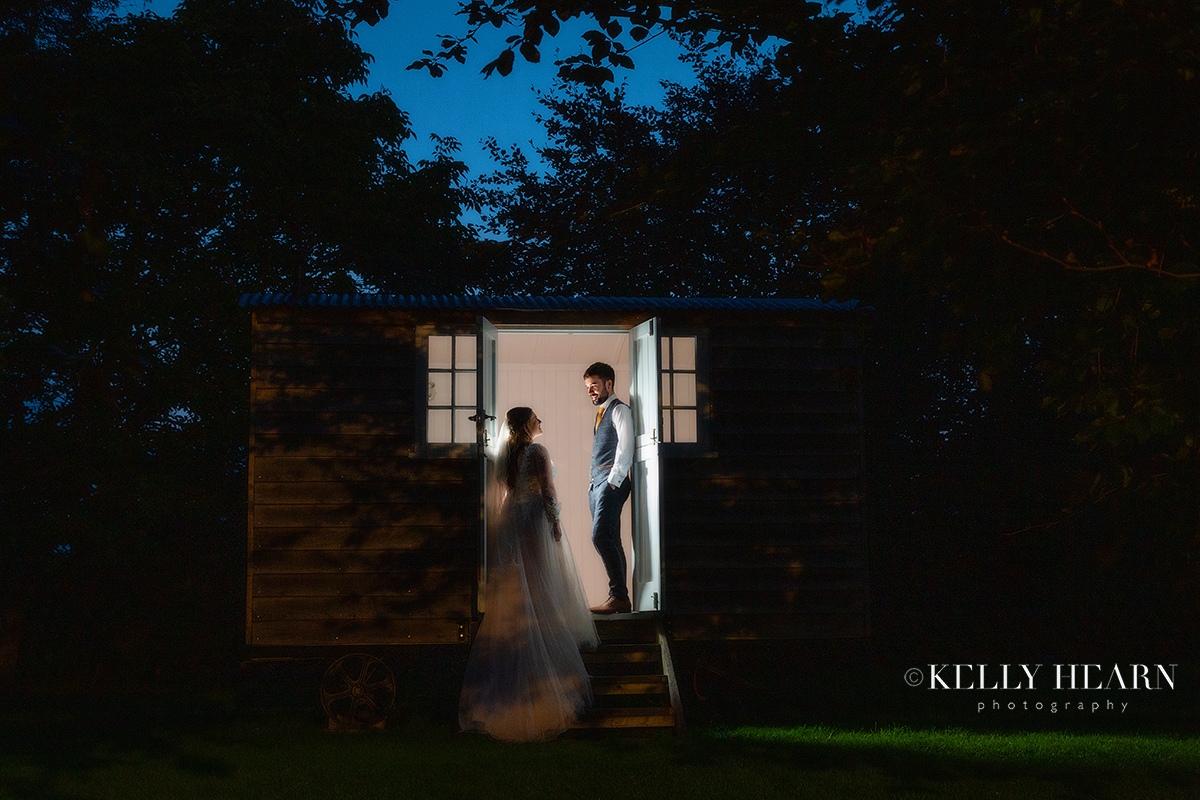 Nikita and Tom, we hope that your marriage will be full of seasonal glory and relaxed magic. It was an absolute joy to be part of your big day and we wish you all the very best for your future together.

Kelly x
Kelly Hearn A.B.I.P.P - A.M.P.A