LET THE SUNSHINE IN
October 01, 2021
Emma and Steve's Tithe Barn Summer Wedding
Steve and Emma's wedding at the gorgeous Tithe Barn in rural Hampshire was a bright and beautiful occasion. Their delightful sunflower theme was perfect for what turned out to be one of the hottest days of the year.
The sunflowers made for a wonderful pastoral pairing to the venue's Grade II listed barn with it's impressively lofty stone arches, exposed beams and traditional flagstone floor set in the heart of the Southdowns National Park.
This sunny floral choice combined with the super sunny weather proved to be a match made in heaven - just like the happy couple themselves.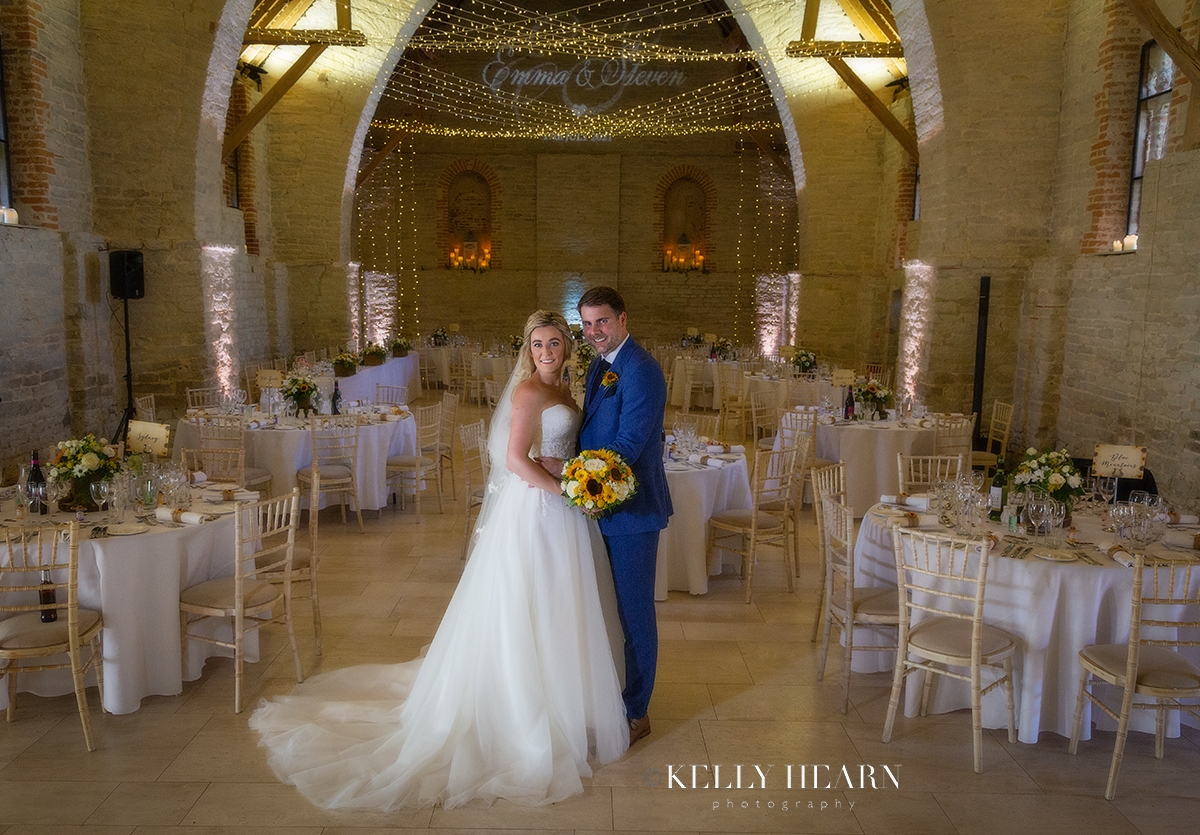 All in the Details

The Flower Studio in Porchester were bang on brief in creating splendidly strong and vibrant bouquets and buttonholes for the bridal party. Just look at Emma's eye catching bouquet - with its mix of vivid yellow, crisp white and lush greens.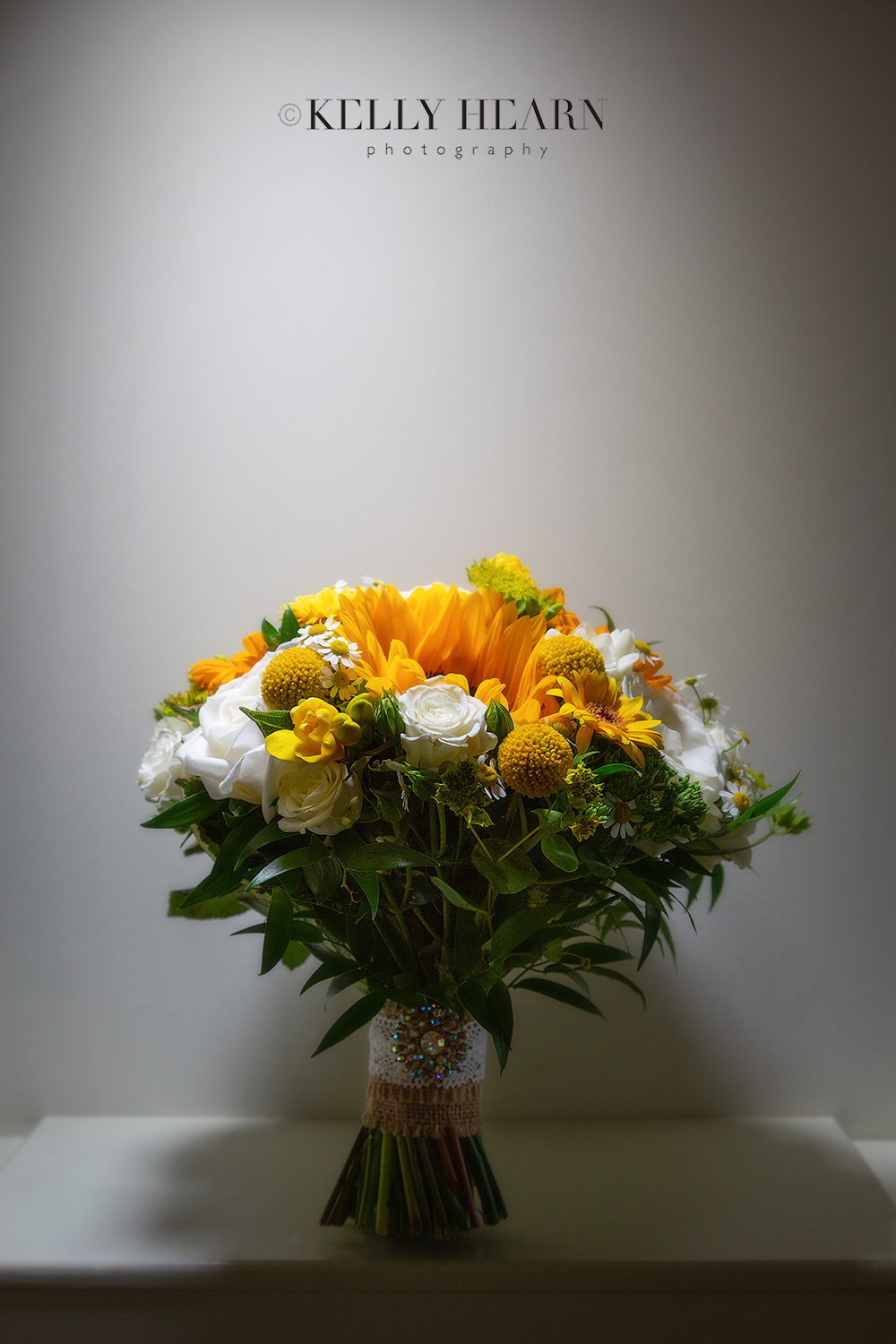 Shining just as bright were the decor details arranged by the creative Tom Tourelle Cuisine and floral arrangements from the brilliant Someflower's which combined to produce the perfect mix of subtle colour surrounding the bride, groom and guests as they ate, drank and made merry!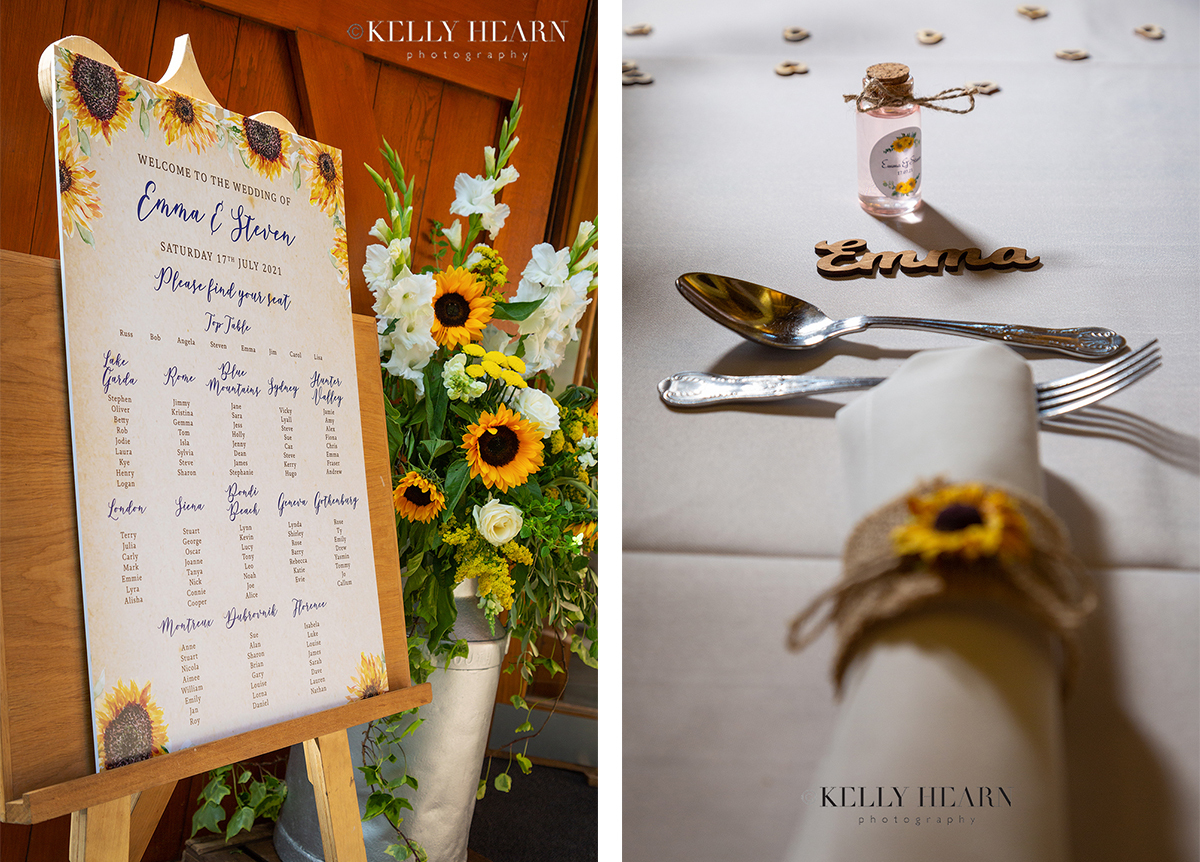 Equally subtle and charming was the perfectly themed wedding cake with its tastefully arranged sunflower and twine embellishments gracefully framed in stems of delicate eucalyptus all carefully crafted by the incredibly talented Sarah Louise Cakes.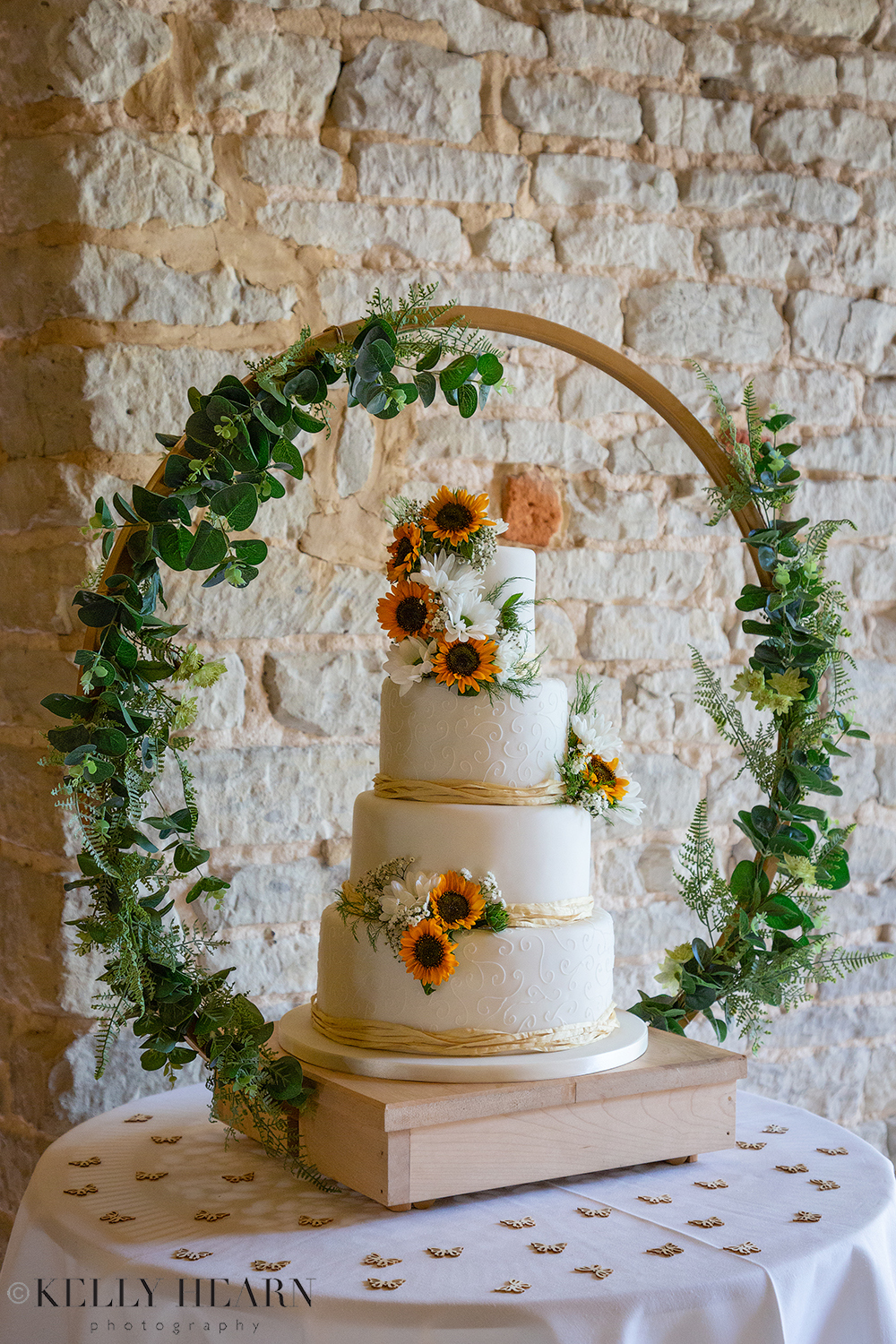 We felt that the sunflower theme was particularly apt being that Emma and Steve are such sunny, joyful people to be around.
They radiated happiness throughout the whole day, especially in the moment they arrived at their dream venue in anticipation of the celebrations ahead. There were vivacious vibes all the way from the church to the barn in this 1930's Style Beauford Convertible vintage car provided by the classy Allenby Limousines.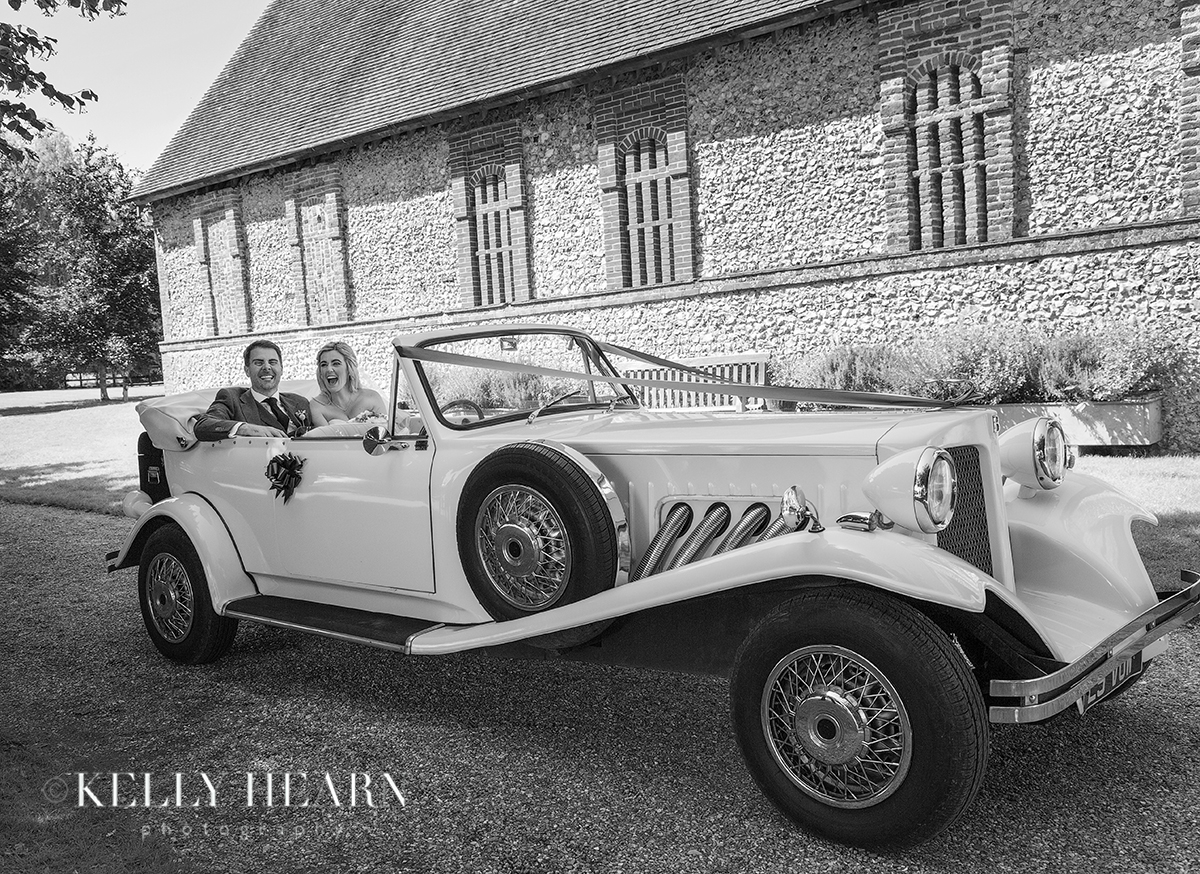 Where it all Began

Tradition was a poignant part of Emma and Steve's ceremony location choice. The beautiful St Mary's church at Portchester Castle carried special meaning to them as it's the same venue where Emma's Mum and Dad got married years before. Here we see Emma and her Dad under the Lychgate before Emma takes her turn down the aisle.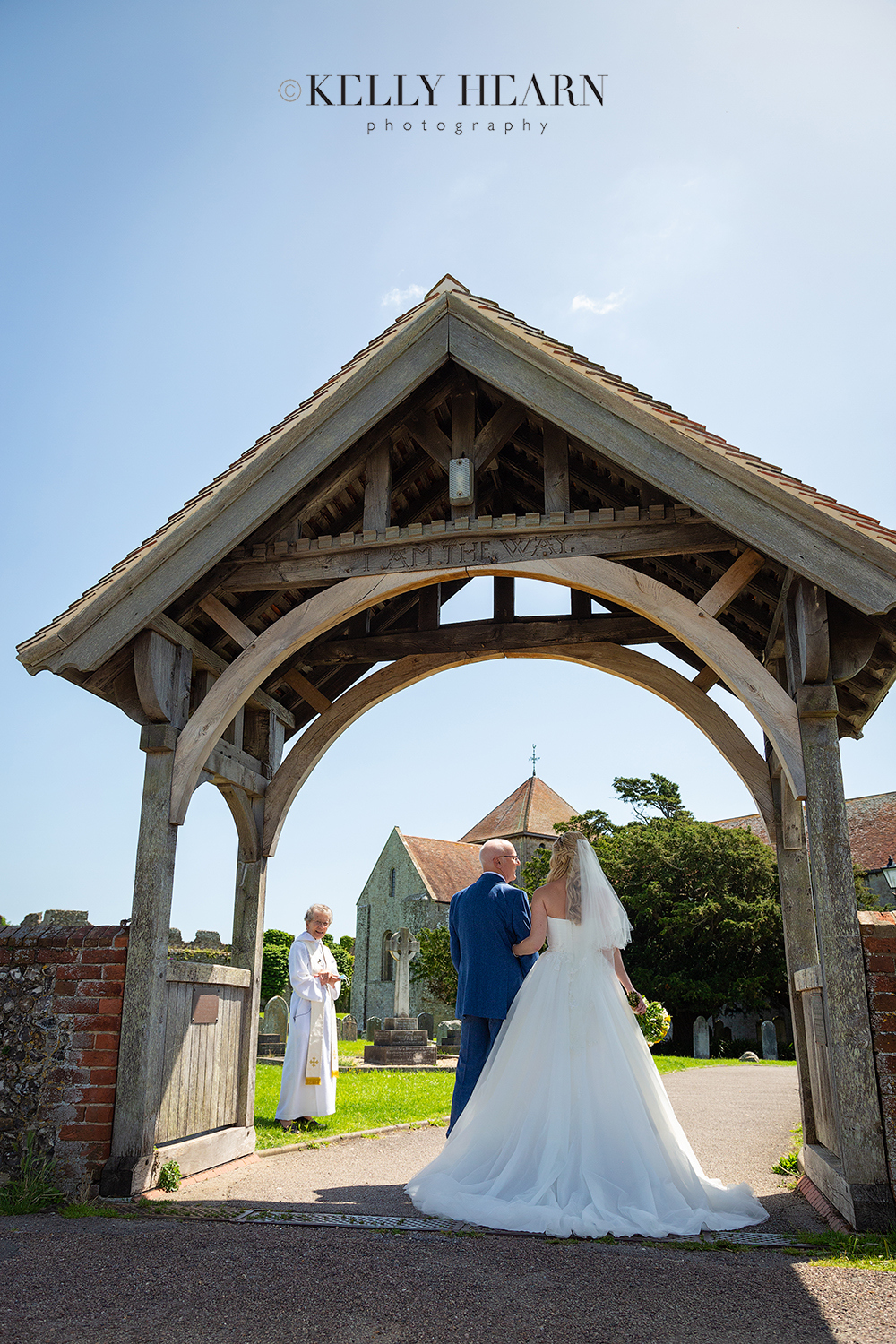 And it's where we began taking their first close ups as Mr and Mrs. This semi silhouette under the striking ancient arches of the castle walls with the sparkling calm seas behind, serves as a reminder of the Saxon shore fort's unique coastal location.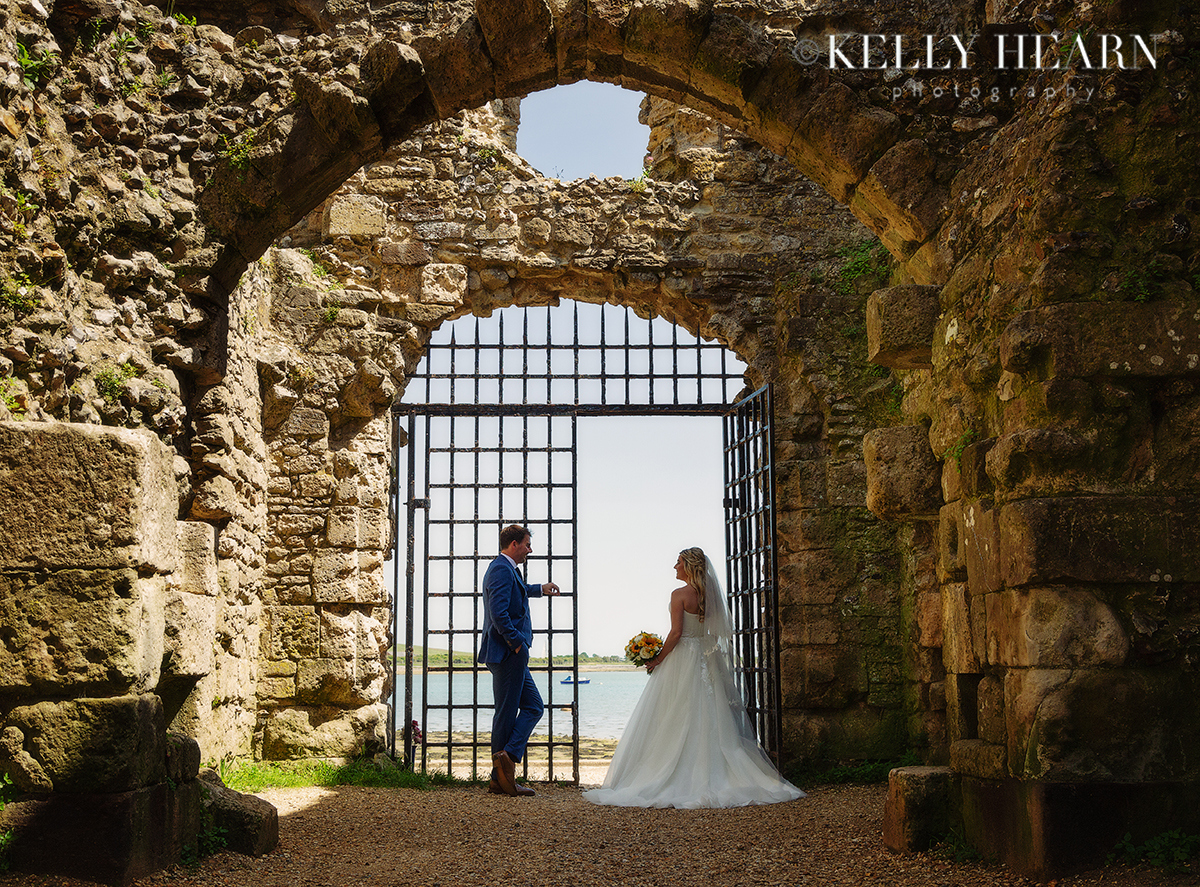 Sunshine Fun-Shine
Encouraging people's sense of fun is an important part of our wedding photography. We feel it helps us capture their true personalities.
We had no problem getting to know this couple when planning their photography, it was soon apparent they would be up for some interesting locations, quirky poses and creative set pieces to bring out their wonderful sense of humour...
...like when we gave Steve and his usher Ty a banana with their morning coffee whilst they lay in a state of undress, in bed together to open their gifts. It brought a few cheeky laughs to the morning and those laughs continued throughout the whole day.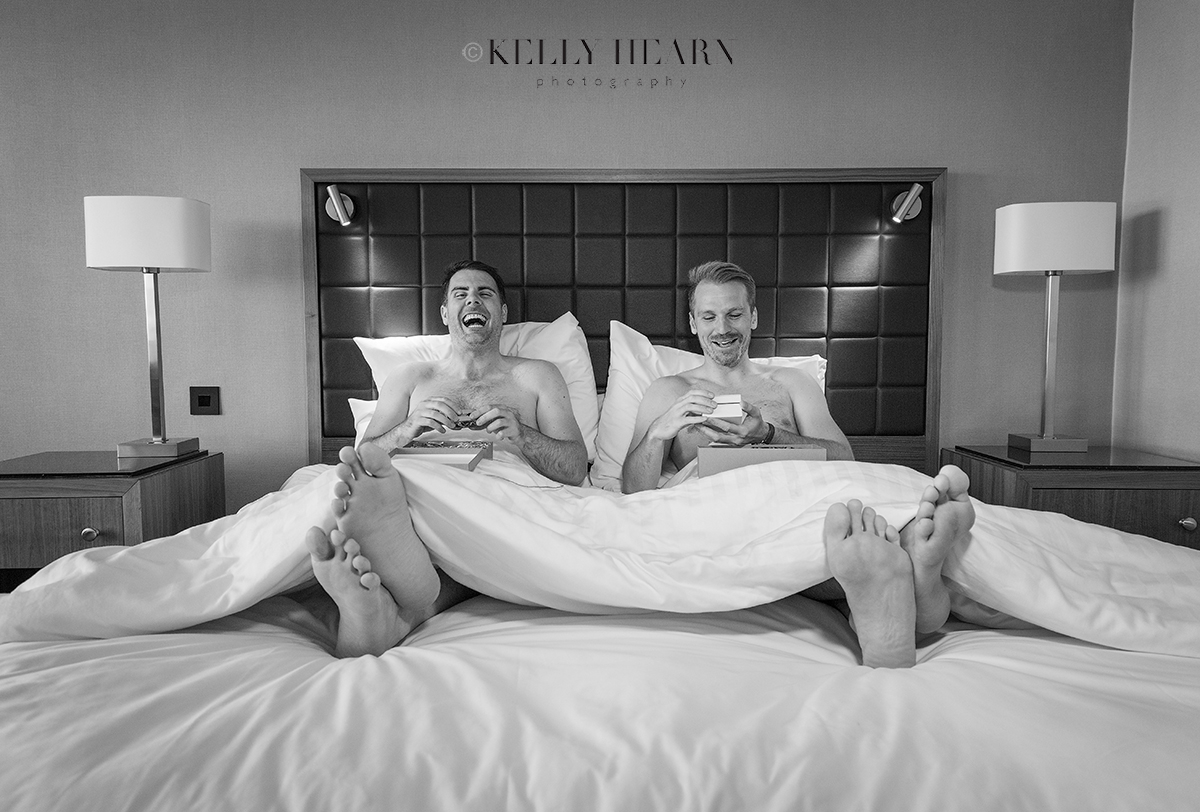 Girls just wanna have Fun!

We showed the playful side of Emma and her bridesmaids with this powerful pose in the lowering light of sunset before they reconvened later to throw similar shapes on the dance floor.
It was also a great opportunity to show off their frocks with Emma looking sensational in her Mark Lesley designed strapless sweetheart neckline gown, with lace and layered tulle from Creatiques, flanked by her besties in navy blue styling out their full length rounded halter neck gowns from ASOS.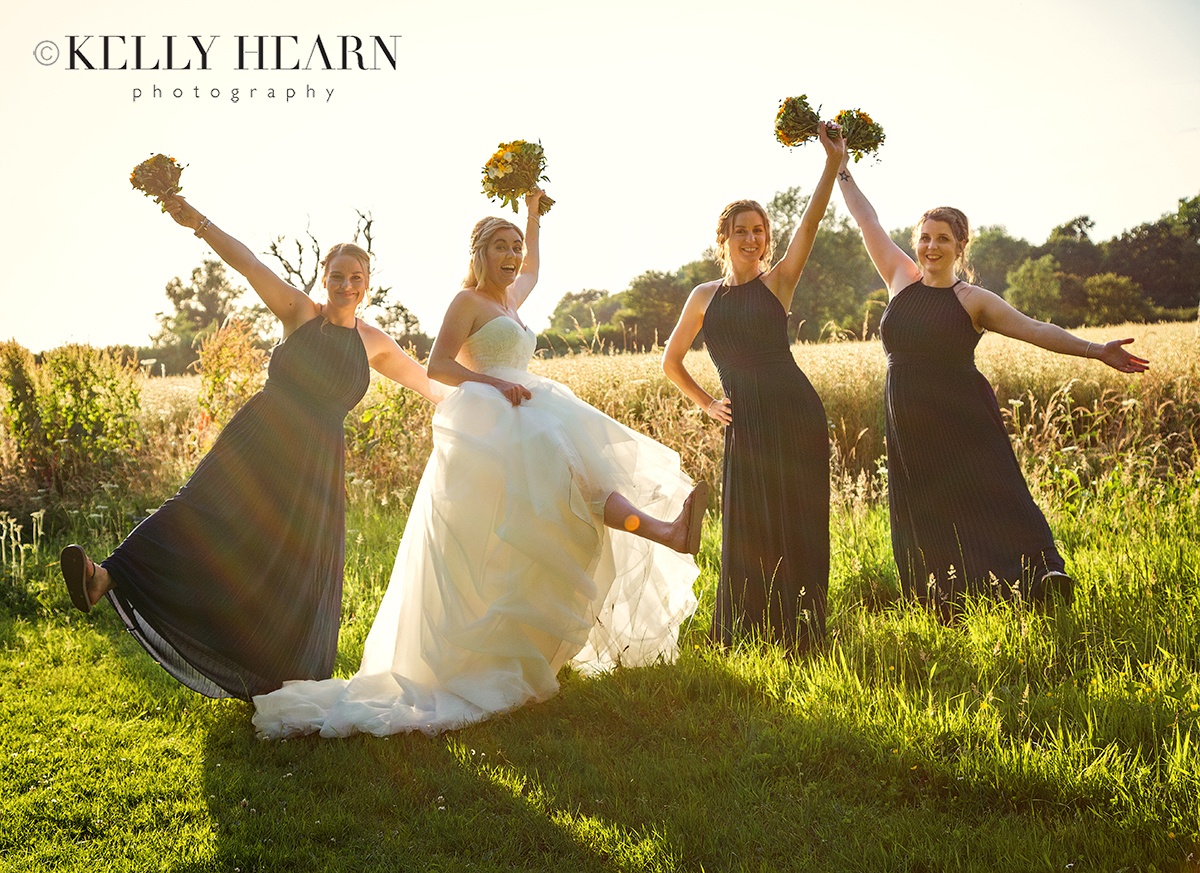 That was just before the boys jumped into the action adding an extra splash of blue with their stylish Moss Bros Herringbone Tweed suits and some impressive height too!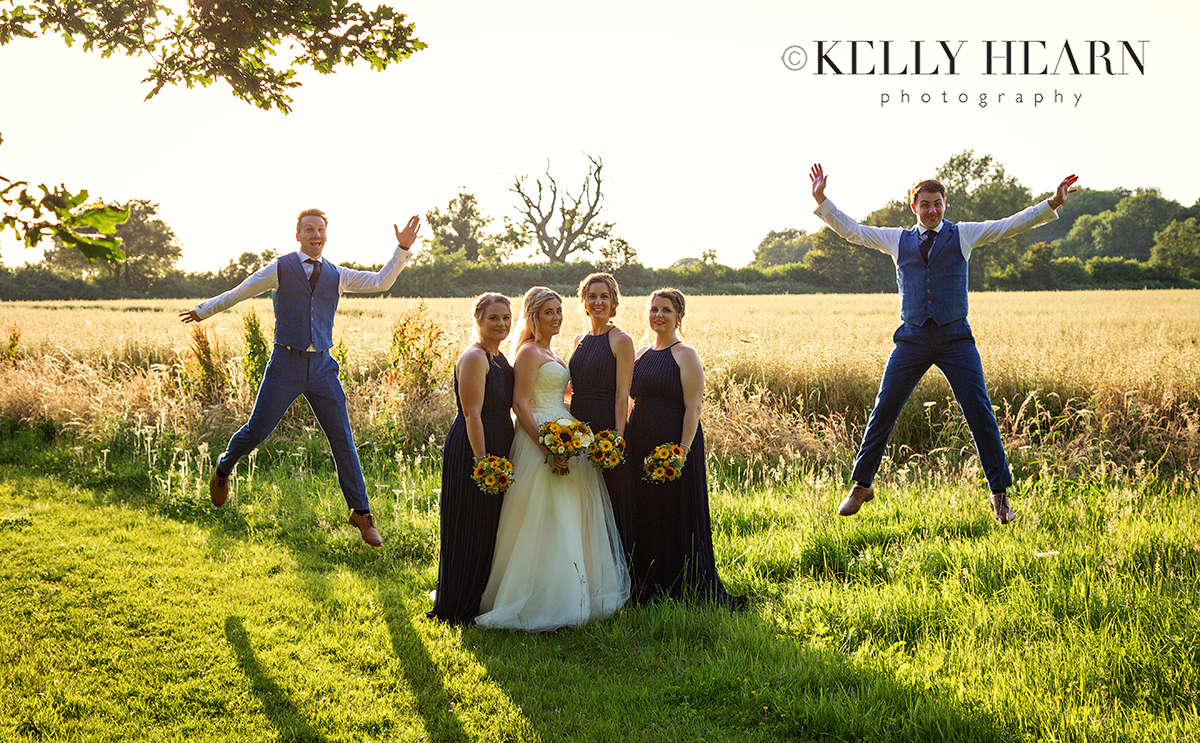 As well as fun in the fields, this balmy summer evening also gifted us with the opportunity for a romantic shot of Emma and Steve as the darkness fell. As they made their way back to the barn and the warmth of their guests amidst the twinkling lights and tranquility of the venue's idyllic grounds… even the sky got the colour scheme memo!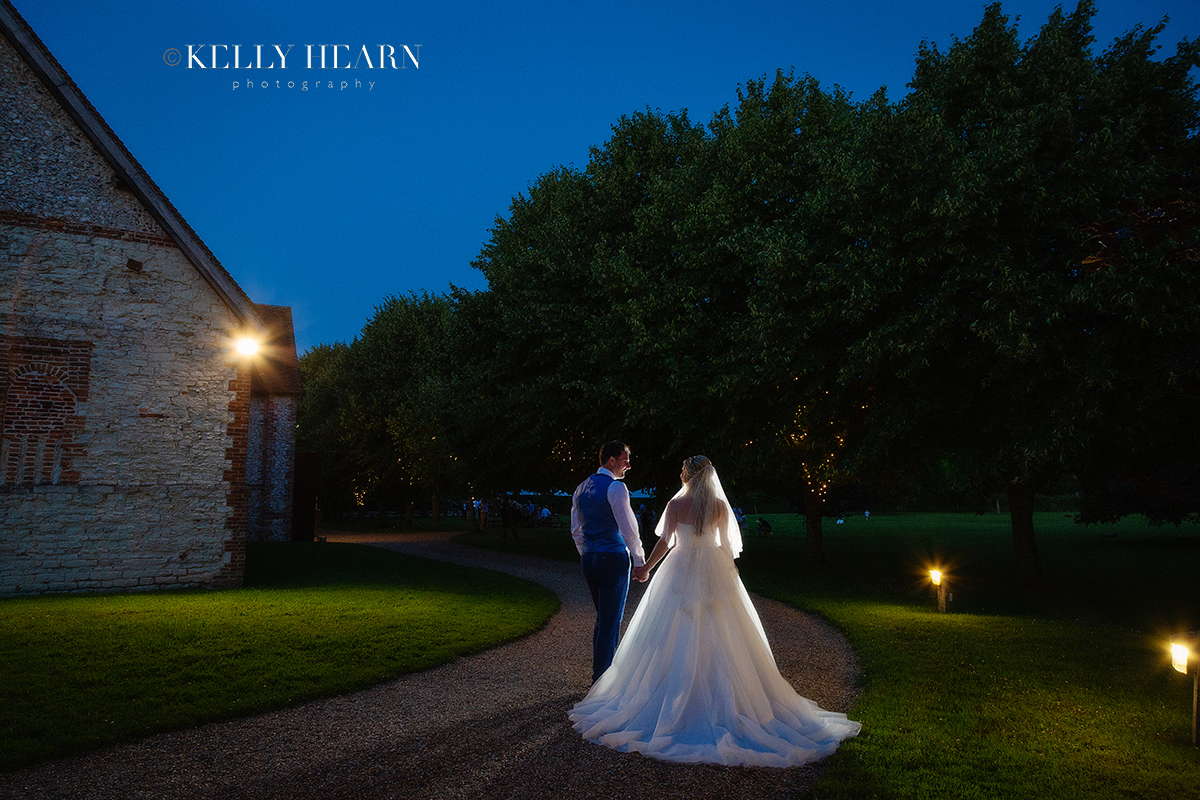 Emma and Steve, you are sunflowers personified; happy, fun-loving, beautiful and bright. It was such a joy to share your big day with you.
They say that sunflowers represent lasting happiness, and we wish you all of this for your life and future together. Long live the Bantock Banter!
Kelly x
Kelly Hearn A.B.I.P.P - A.M.P.A