EVERY DOG HAS ITS DAY
April 09, 2021
In Pursuit of Yappiness

For dog owners, happiness really is a walk in favourite surroundings with their four legged friends. Many want to capture these much loved memories forever. We have photographed a lot of cute canines in our time, each and every shoot being as unique as the bond between them and their owners.
There are many ways that we can photograph your precious pooch. Here we share just a few images that showcase our 'pedigree' in this arena (excuse the dog show puns!). If you have any ideas for a shoot with your pet or need any further inspiration we are always here to get to know you and your dog and to make sure we record your memories together perfectly.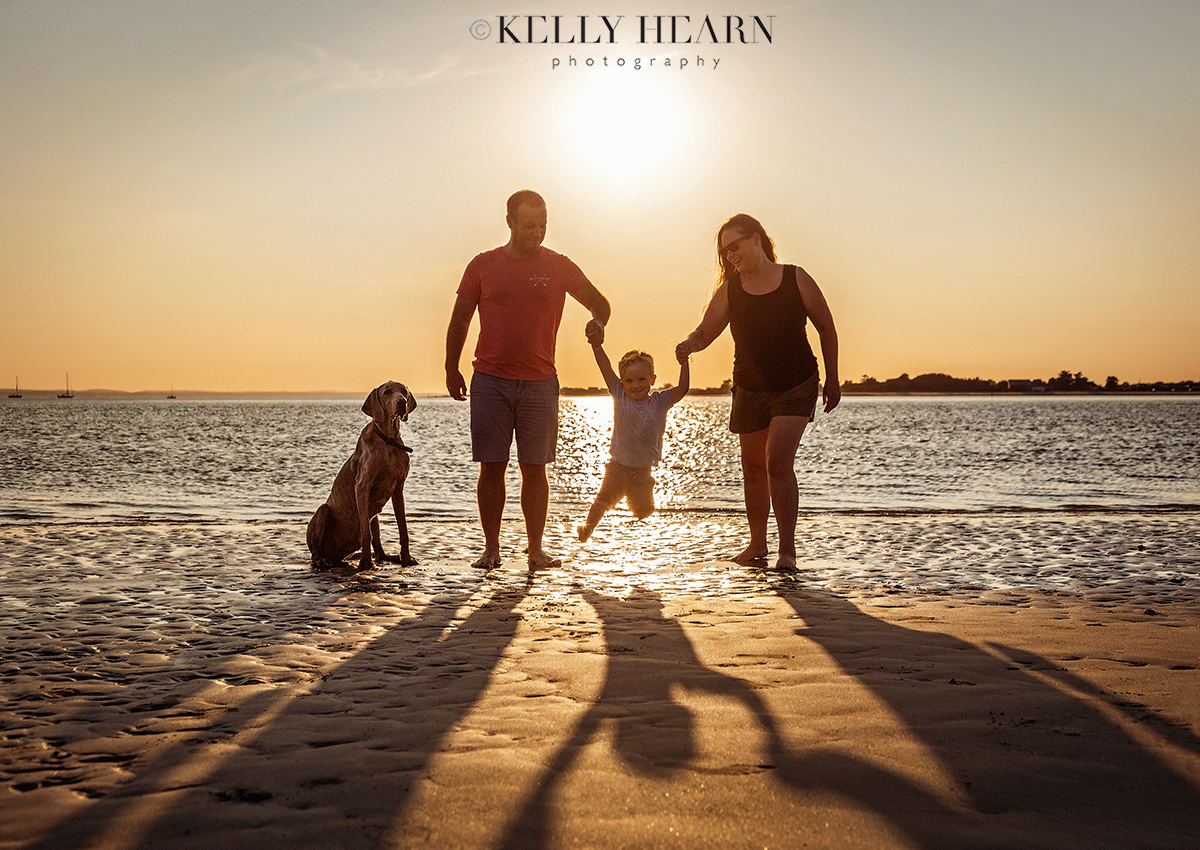 One of the Family

Capturing the antics of this loyal hound back in the summer was so much fun. A beachy sunset walk is a firm family favourite of theirs so we timed it just right to catch the four of them enjoying splashing around in the tide under the gorgeously warming orange tones of the lowering summer sun.
We started with some direction from us for those structured-but-natural-looking images. Then casually rolled with the family to catch some more natural unplanned poses as we followed this curious little cutie on his coastal explorations, his faithful friend never far away.
KHP Top Tip: Choosing a location that is loved by your family is a great way of making everyone, including your dog, feel at ease in familiar surroundings so that they are relaxed and ready for their close ups.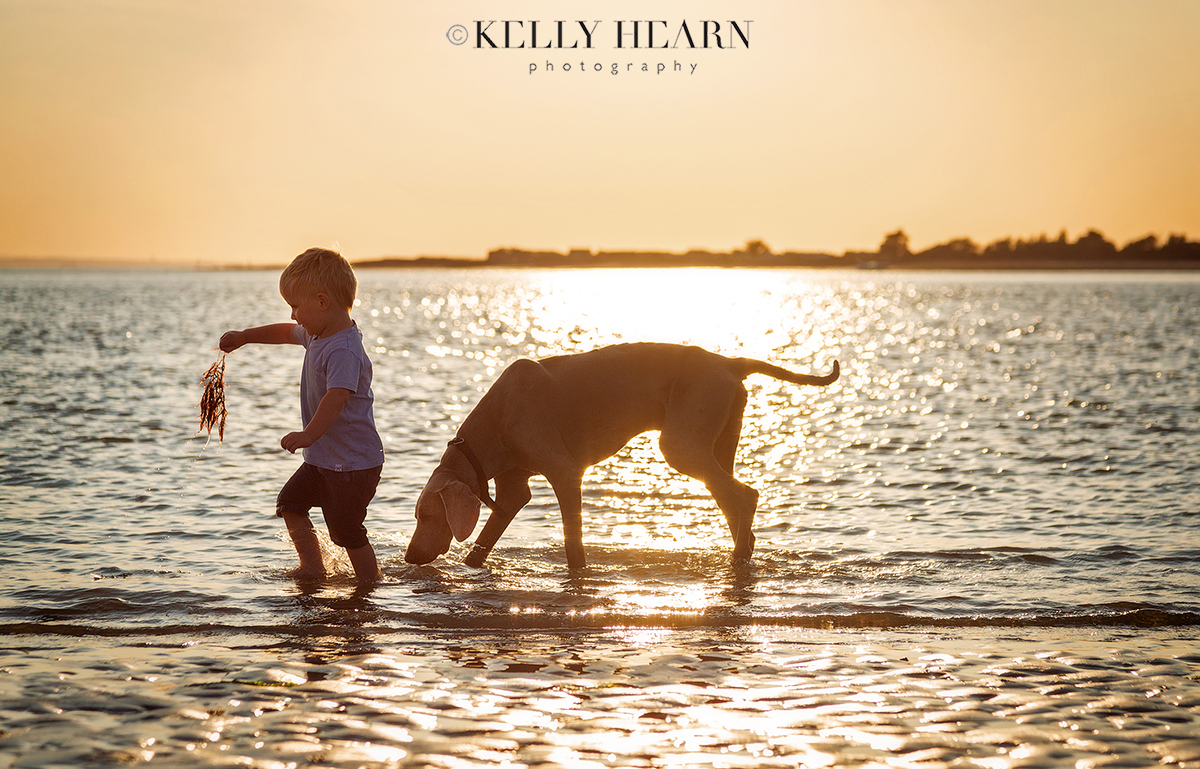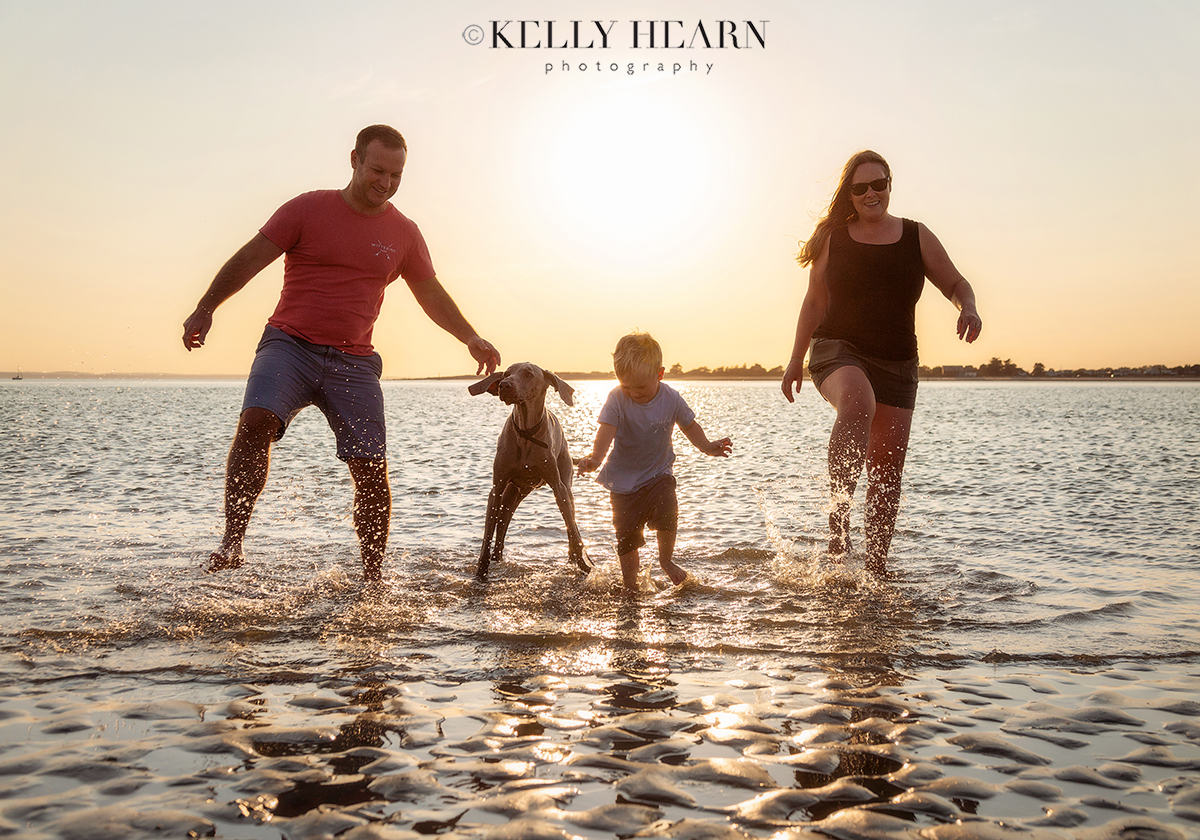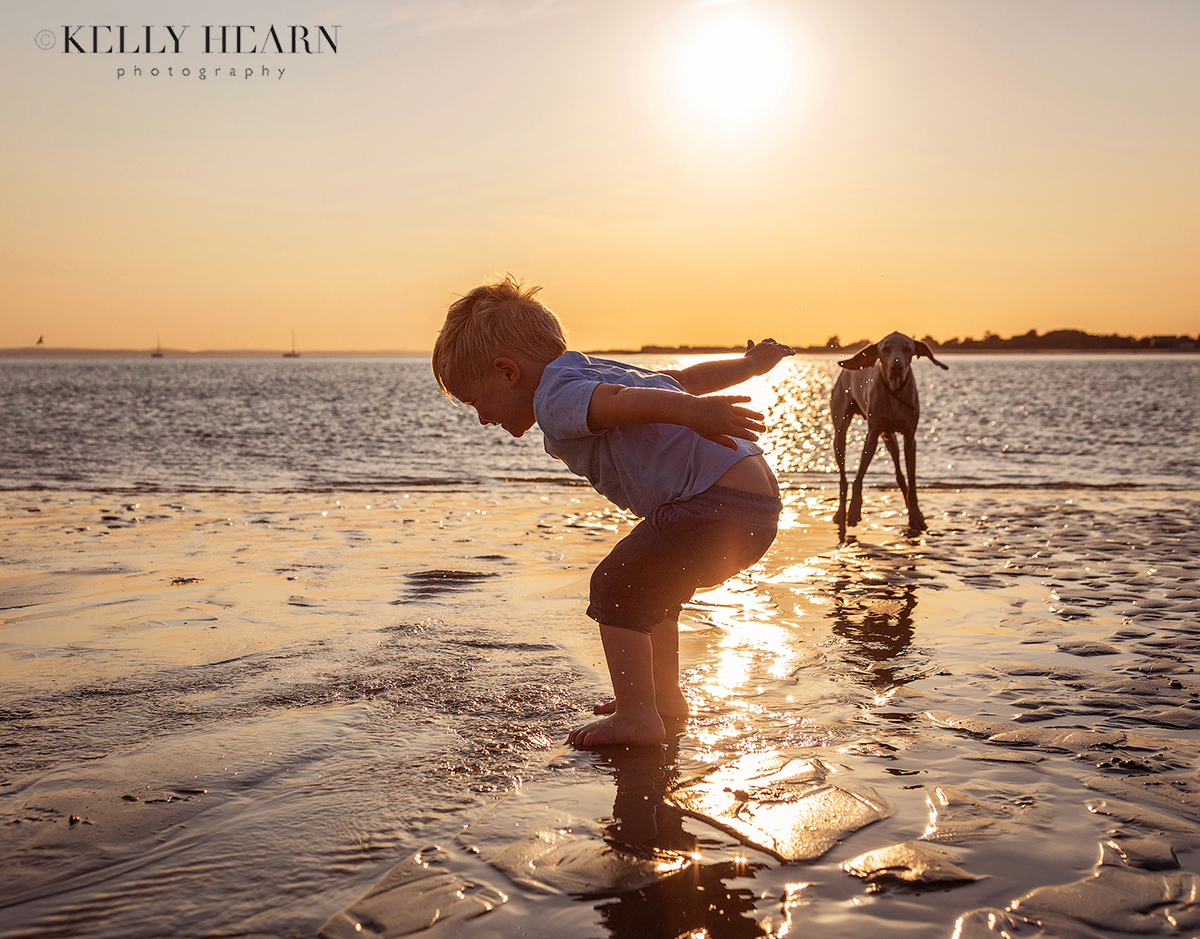 Staged Stages

Taking it from location-natural to studio-posed, this tryptic works brilliantly to tell the story of this young pup's growth and change.
For his first shoot we positioned him in the triangular frame of his owner's legs to lend perspective and a creative size gauge serving to illustrate just how dinky this adorable border collie was as he started out in the big wide world. We also feel that it portrays the notion of a 'Man's Best Friend' whom walks beside you in life.

We absolutely loved capturing Jake's first life stages so it was heart-warming to photograph him and his family as they grew in size…

…drum roll for the expected new arrival please! When it came to announcing their pregnancy news Jake's owners were keen for him to continue to feature in their life story images. So, we thought it would be really fun to stay with the leg theme on this couple's exciting announcement card!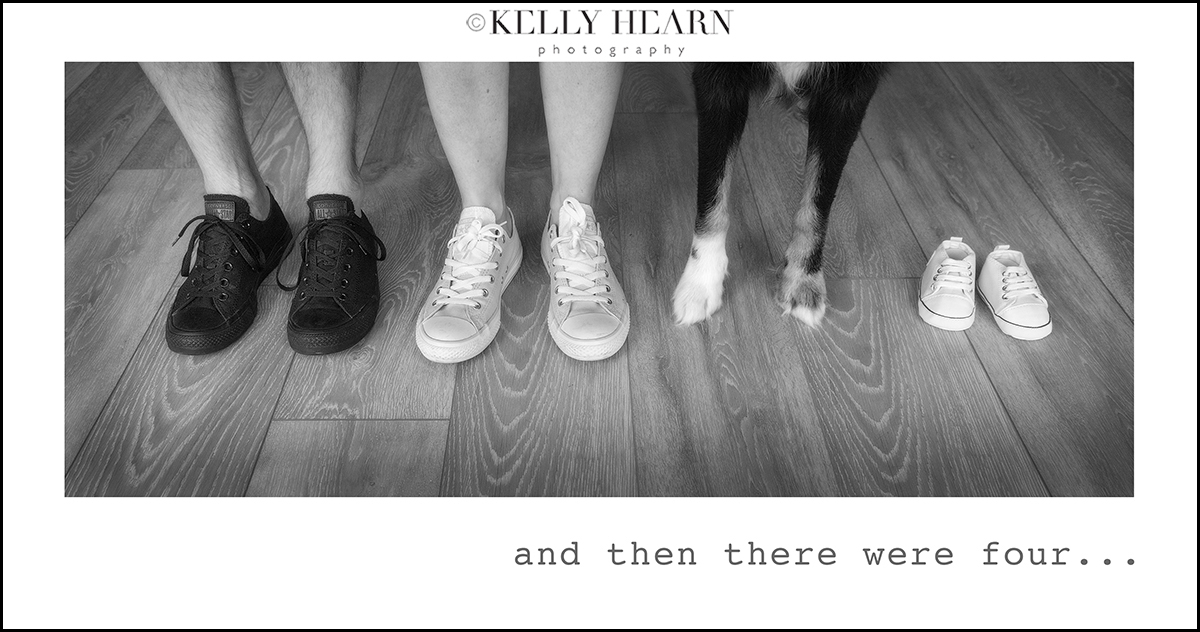 It was lovely to see all three of them again when his 'Mum' was in full bloom on their location pregnancy shoot, a spot where they love spending their time together.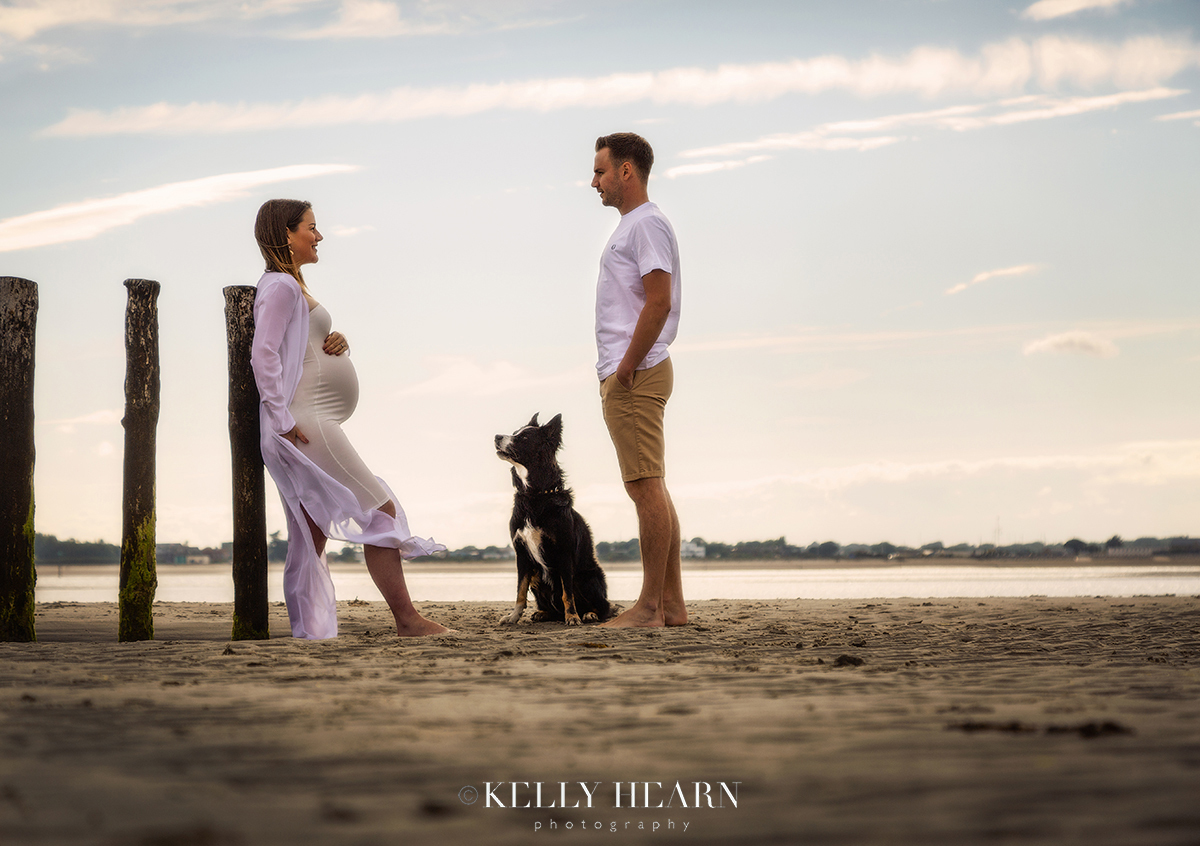 We regularly photograph this loving family and have had lots of fun capturing their newest member as he has grown from newborn to toddler and we can't wait for their next summer shoot to capture him running around with his furry sibling on the sands. Their 'Life Box' of images is a joy for them, and us, to look back on.
KHP Top Tip: Sharing your life journey story, ideas and vision with your photographer can be so valuable in feeding the creative process so that you get the perfect family portraits that you love.
Shine Bright Like a Dog Star
For this couple it was the autumnal woods with its crispy leaves and seasonal hues and tones that was their engagement shoot location of choice. Naturally, they wanted to feature their much loved cocker spaniel puppy. We're not sure they had bargained for just how much little Winston would steal the show!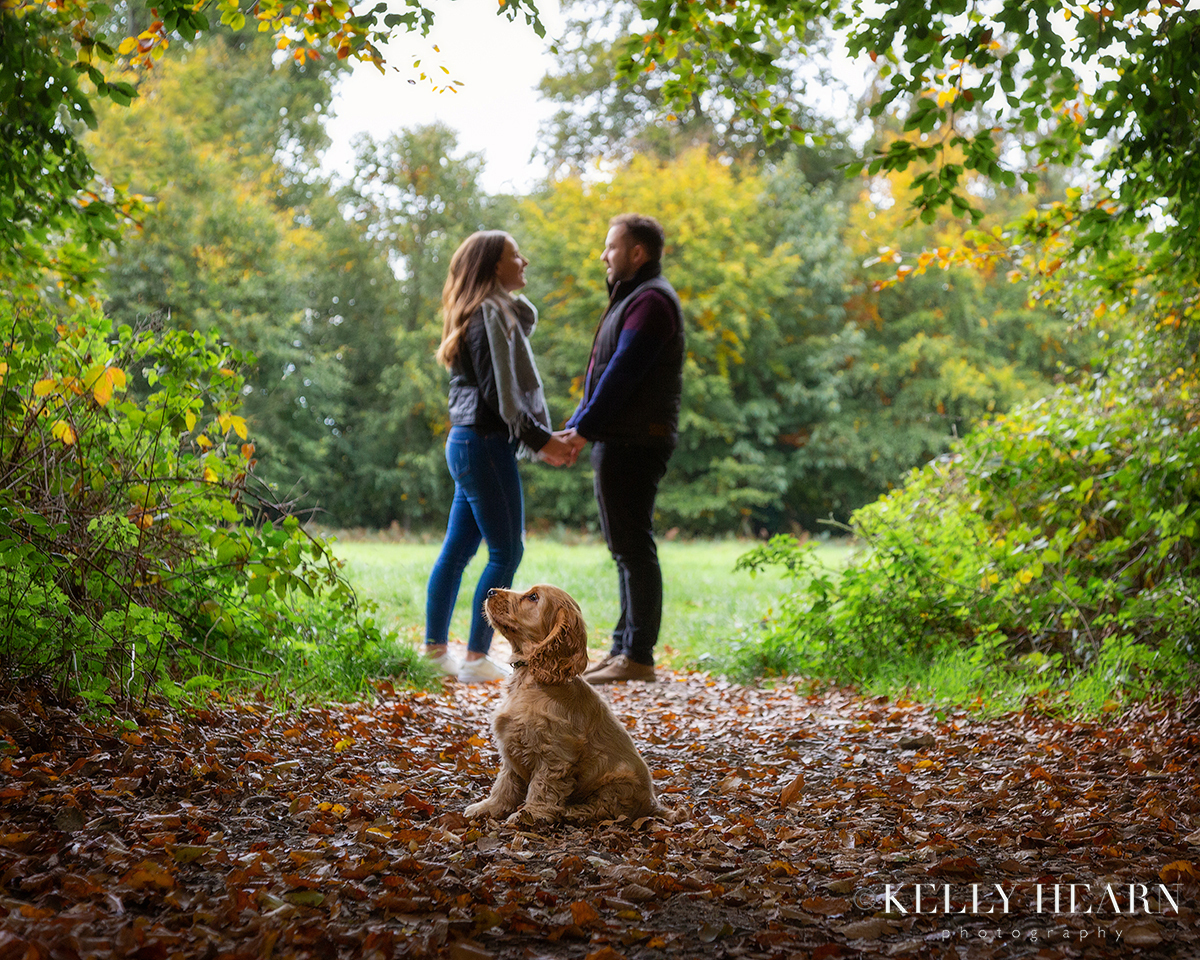 He definitely earned his close up – look how cute he is striking his puppy pose!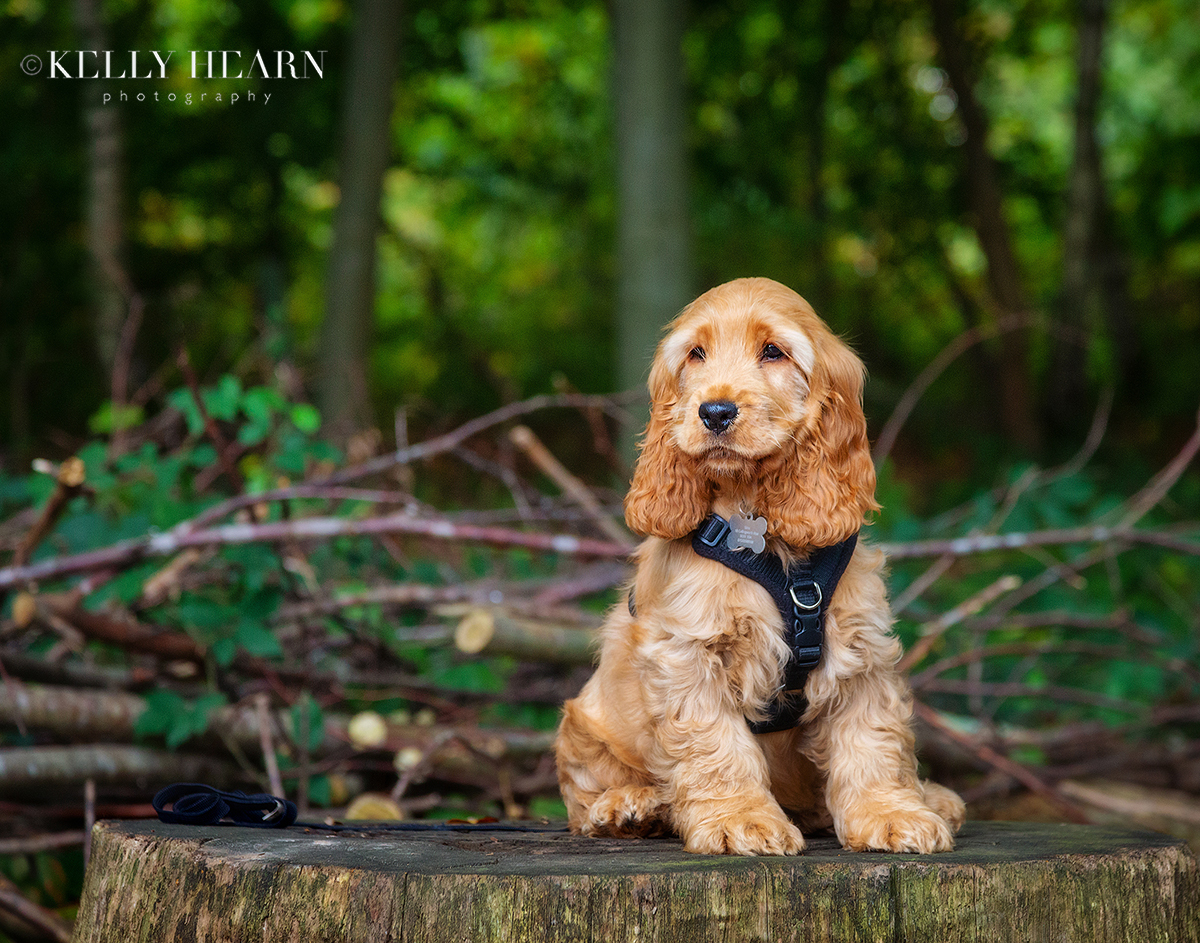 Whether posing them on a woodland prop, or using our fast footed nimbleness to catch them in the right place at the right time (or even pretending to be a cat – 'tis true!) we have mastered the art and tricks of capturing your hounds at their best (admittedly sometimes with a few treats up our sleeve!).

They Call It Puppy Love
This couple also shared the love on their woodland shoot with their super cute schnauzer and Scottie. We took some beautiful images of them capturing the love that they share with each other and their much-loved furry friends. Check out this cheeky duo Sky and Jet getting in on the engagement shoot action.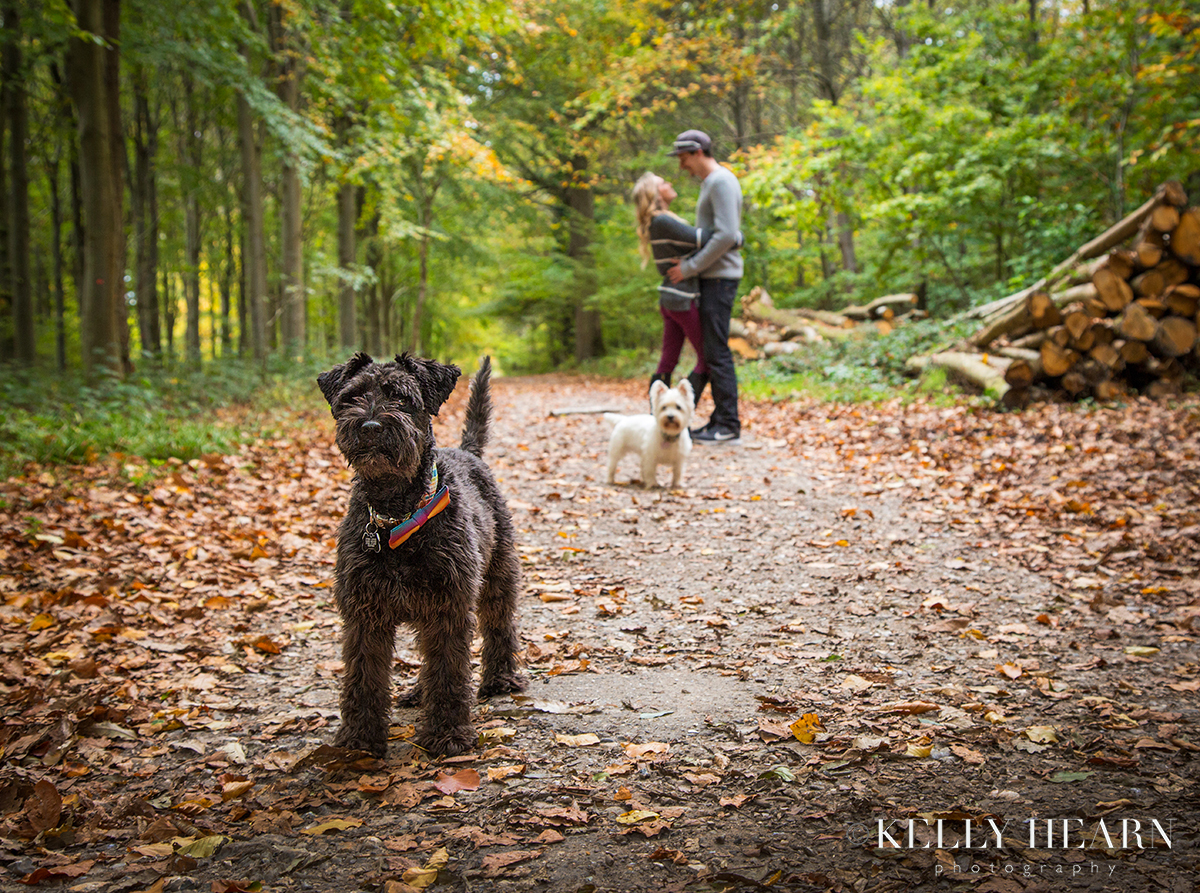 They also made a special appearance on their owners' Wedding Day!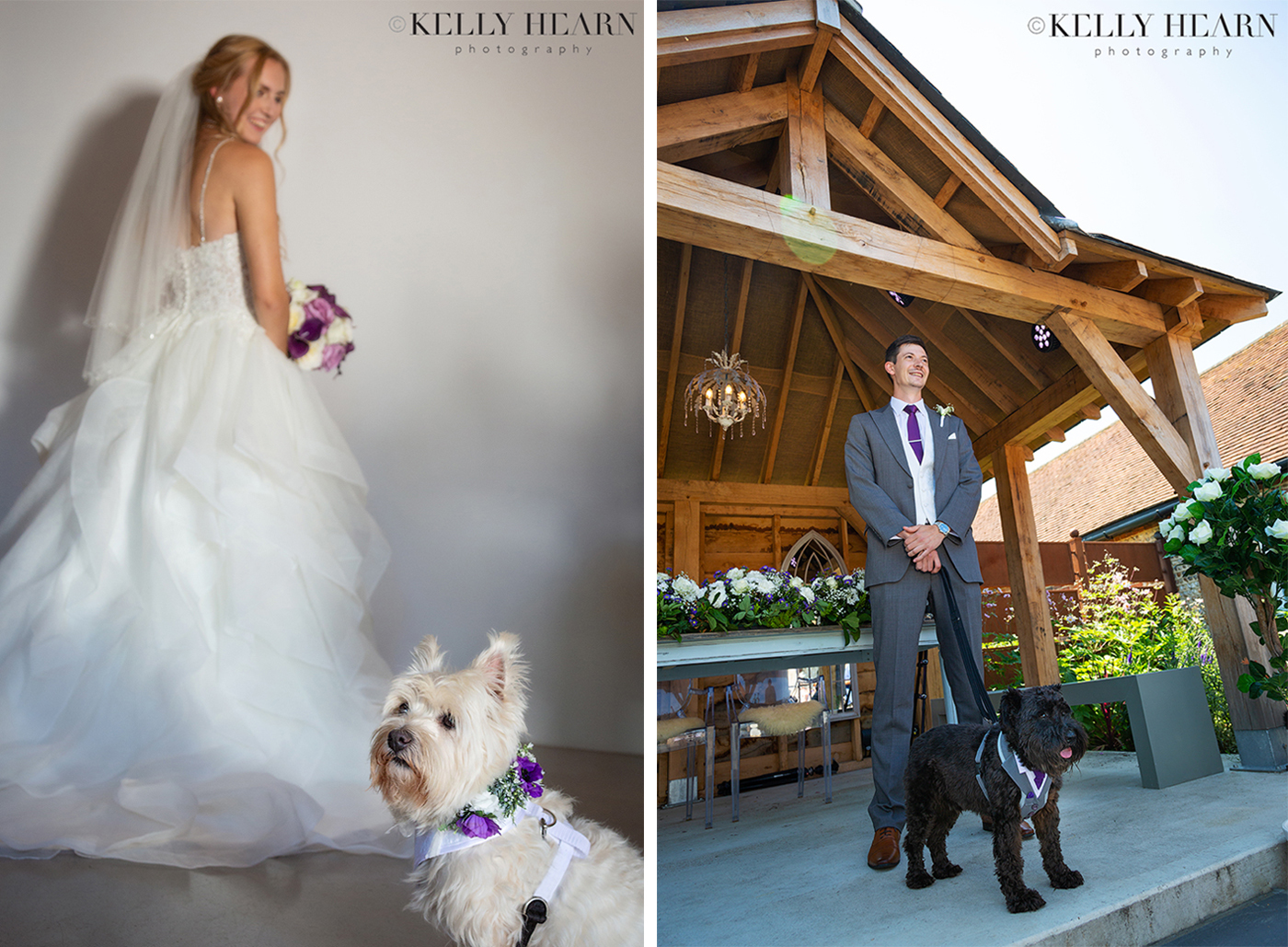 There was a surprise puppy appearance on one of our other couples big days in the form of this extremely cute labradoodle. Bruce was a wedding day gift for the Bride and certainly injected a lot of fun and laughter into the couple's photos (in true wedding vibe, he had a lot of love to give… shortly after he bounced over to the lens he bounced onto me furnishing me with lots of slobbery kisses!).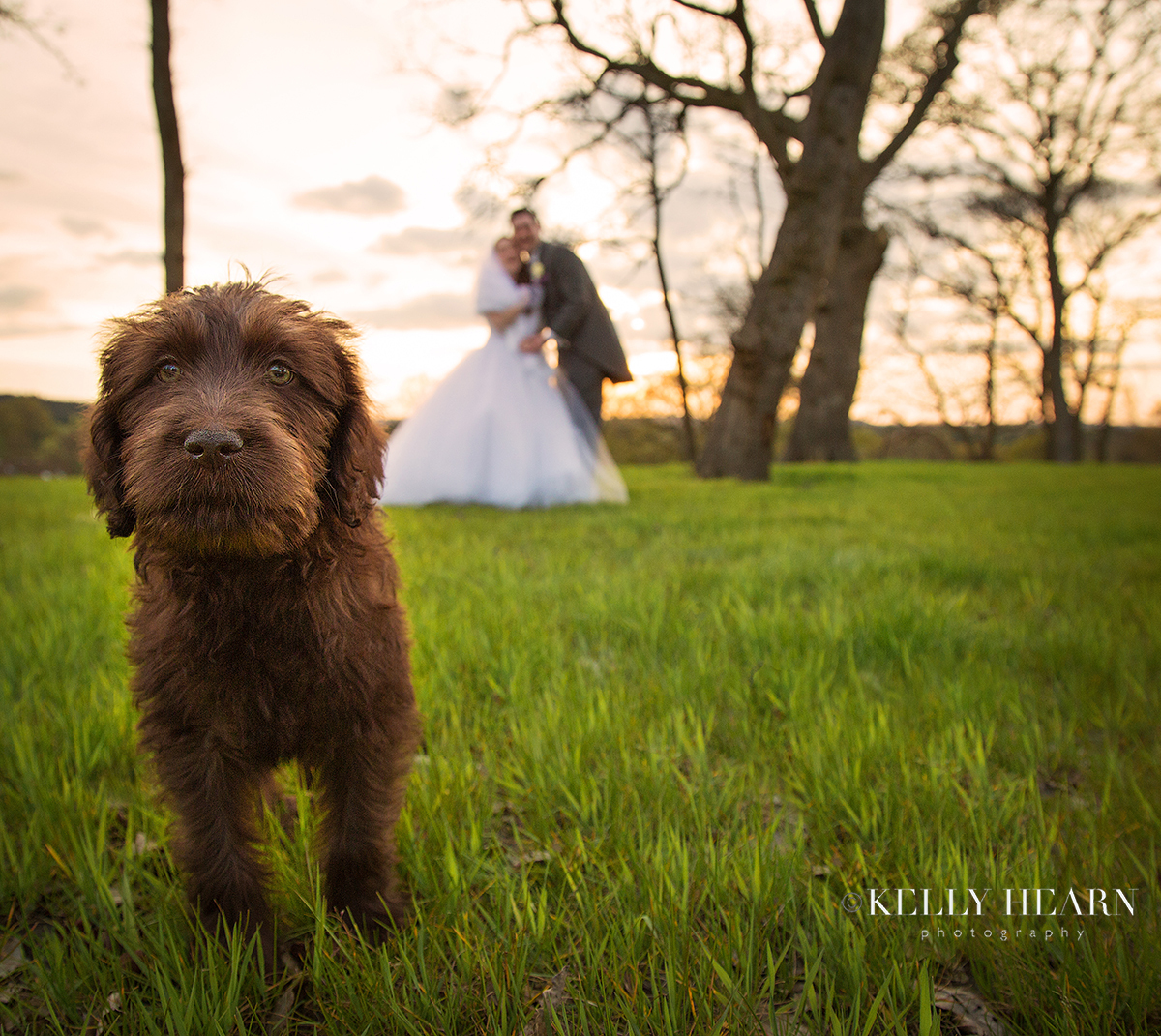 Street Dog

Your dog may even determine your shoot location. Little French Bulldogs have a big reputation in the city and Ruby is totally living up to hers in this edgy, urban location alongside her tween companion who equally rocks the funky backdrop. We felt this image just had to be in black and white for that extra metropolitan feel.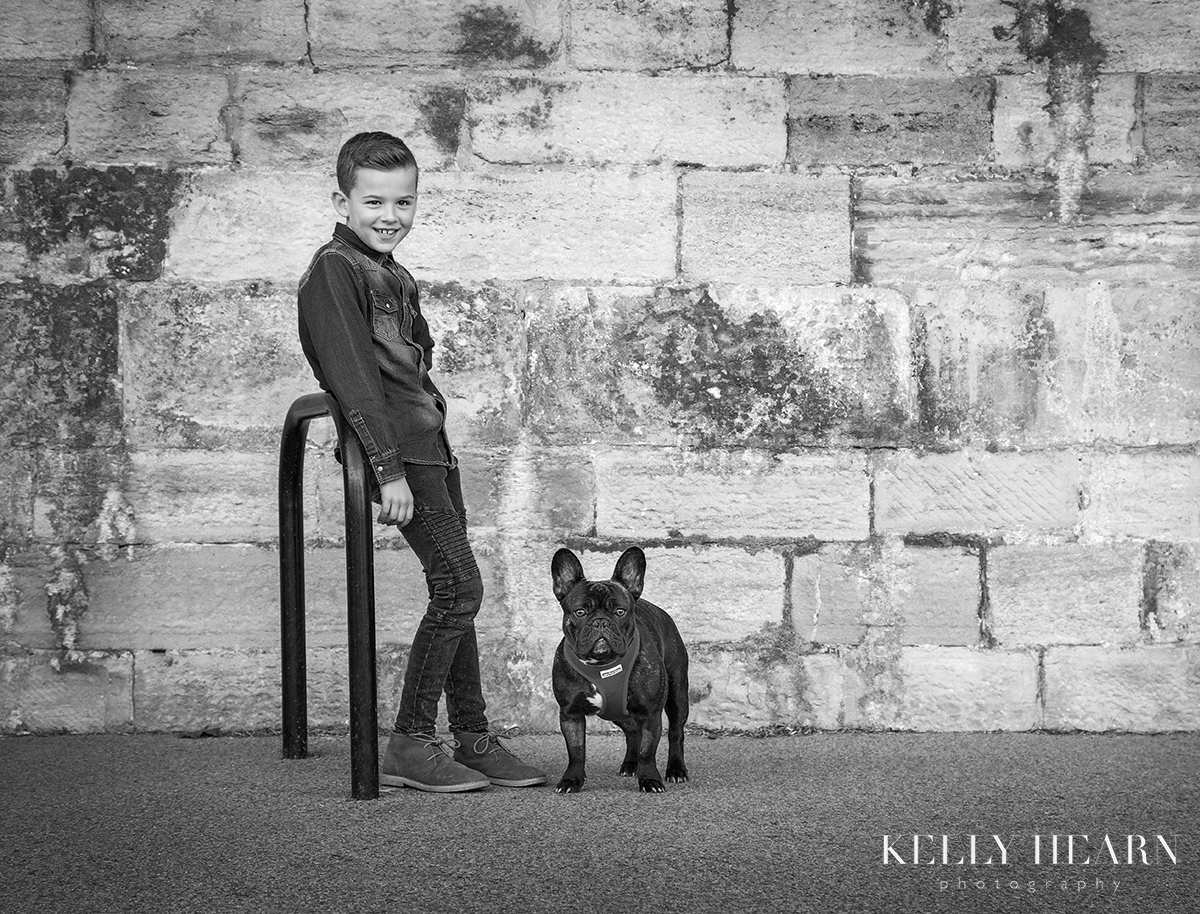 Pups in arms

In contrast, we kept this tiny pup warm and cosy in the softer studio environment in the comfort of her owners' arms – which, like the 'leg shots' above gives a great sense of scale serving as a reminder of just how micro she was. If you've not already met Peggy (a.k.a P-Dog) you may catch a glimpse of her through the studio window as she frolics around the studio grounds – looking much bigger now though!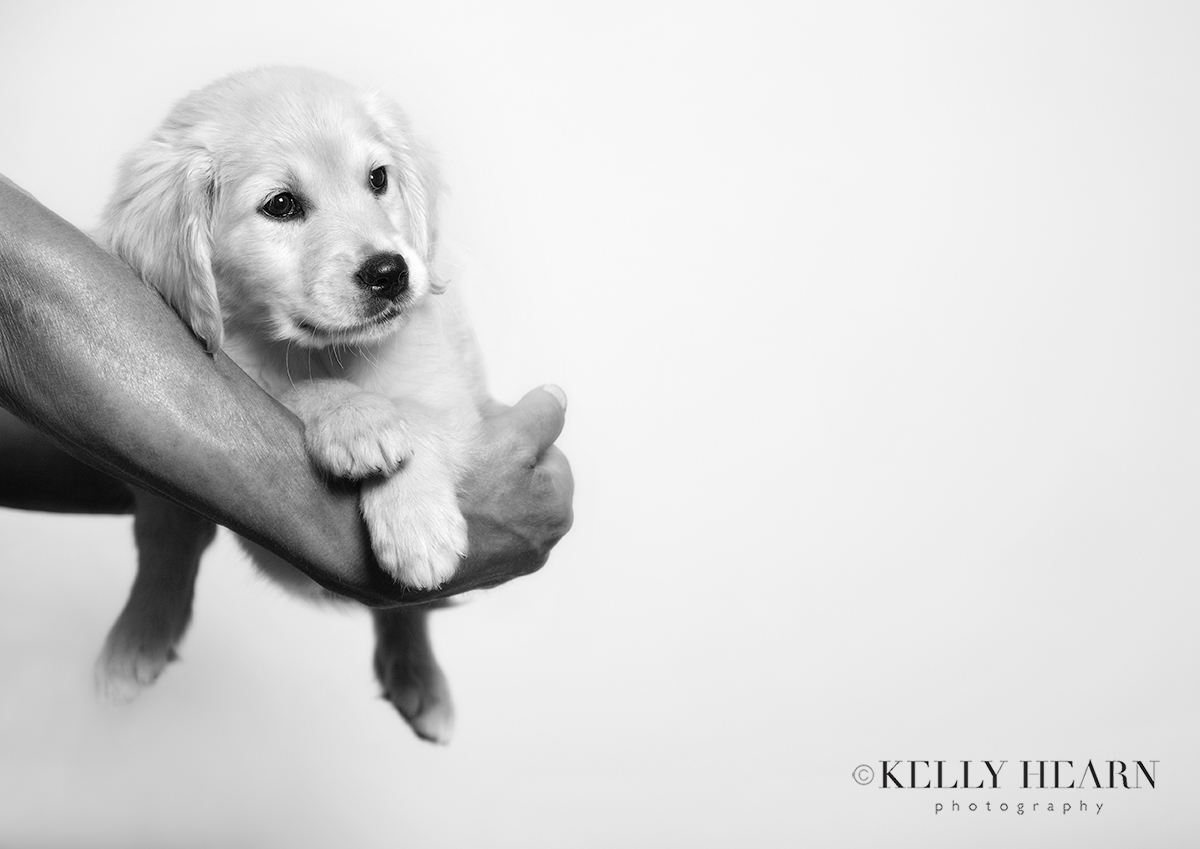 Ain't Nothing but a hound dog

And for those dogs who aren't so tiny anymore it's a delight to capture them out in the wild. This beagle Toby, just loved to run around on the beach among the tide catching seaweed then stand tall and proud of his achievements. A still shot like this really works well when we focus on your dog giving them a touch of grandeur!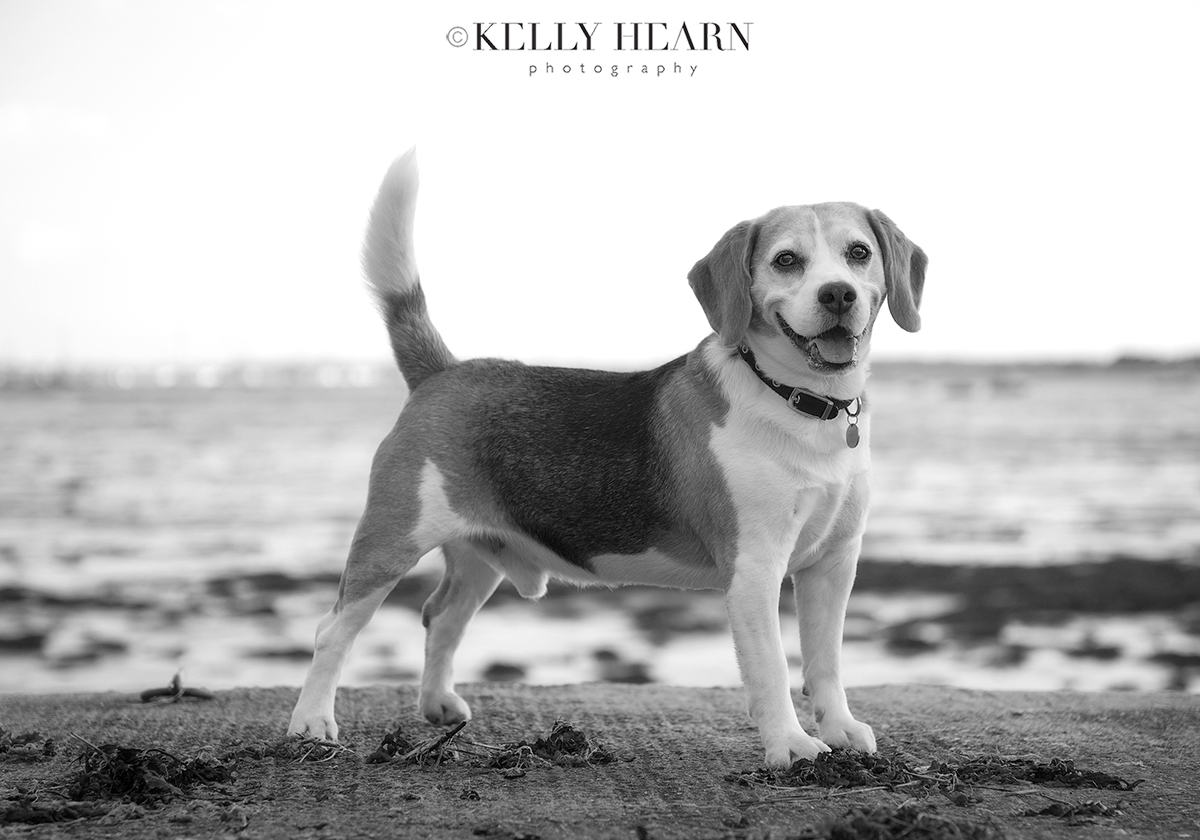 Women's Best Friend

Wrapped up winter day walks work just as well as clear summer days for a shoot and can almost be a testament to the unconditional love and dedication to walking your dog all year round, whatever the weather – love has no bounds for hounds!
The beach is also a favourite spot for this gorgeous golden retriever and his besotted owner, making a perfect location to capture the faithful relationship between them.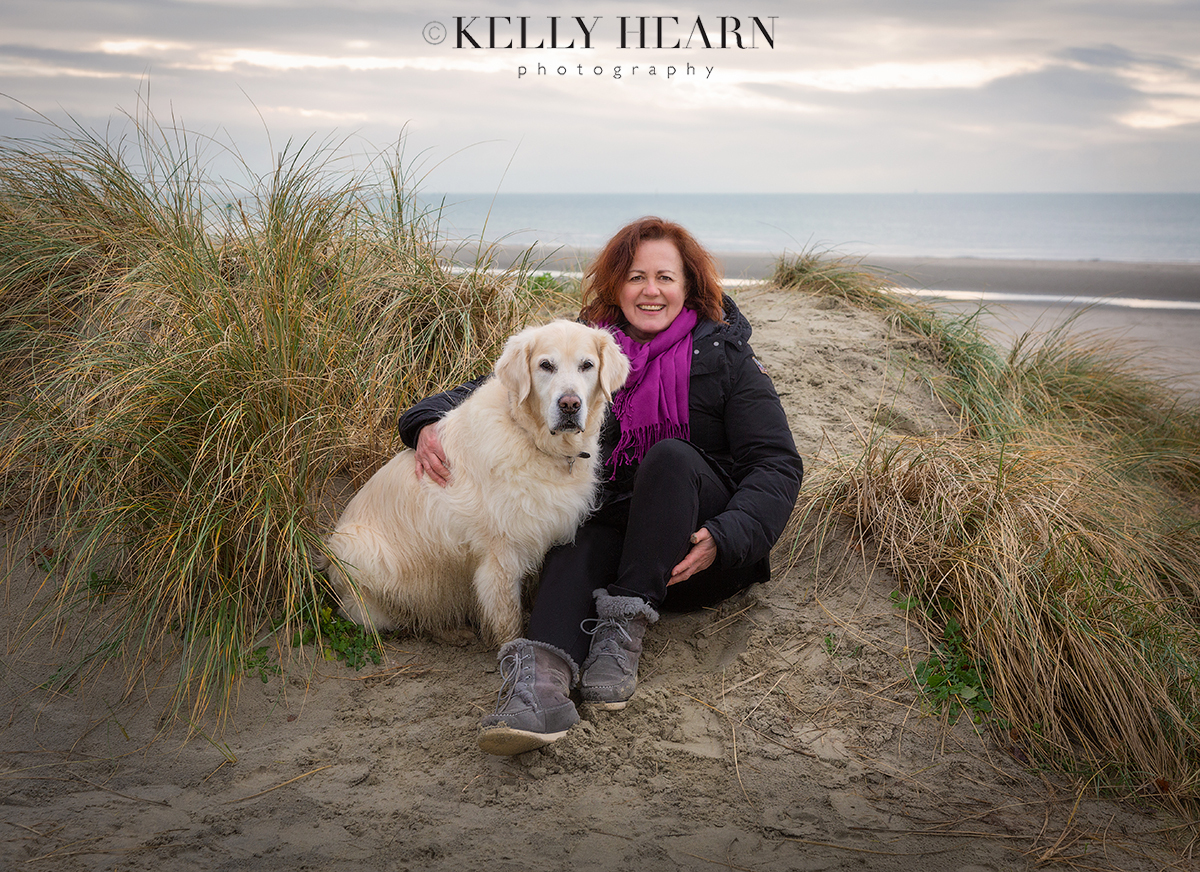 And as Bertie bounds across the soft sands you can really feel the energy, fun and purpose a dog brings to your walk.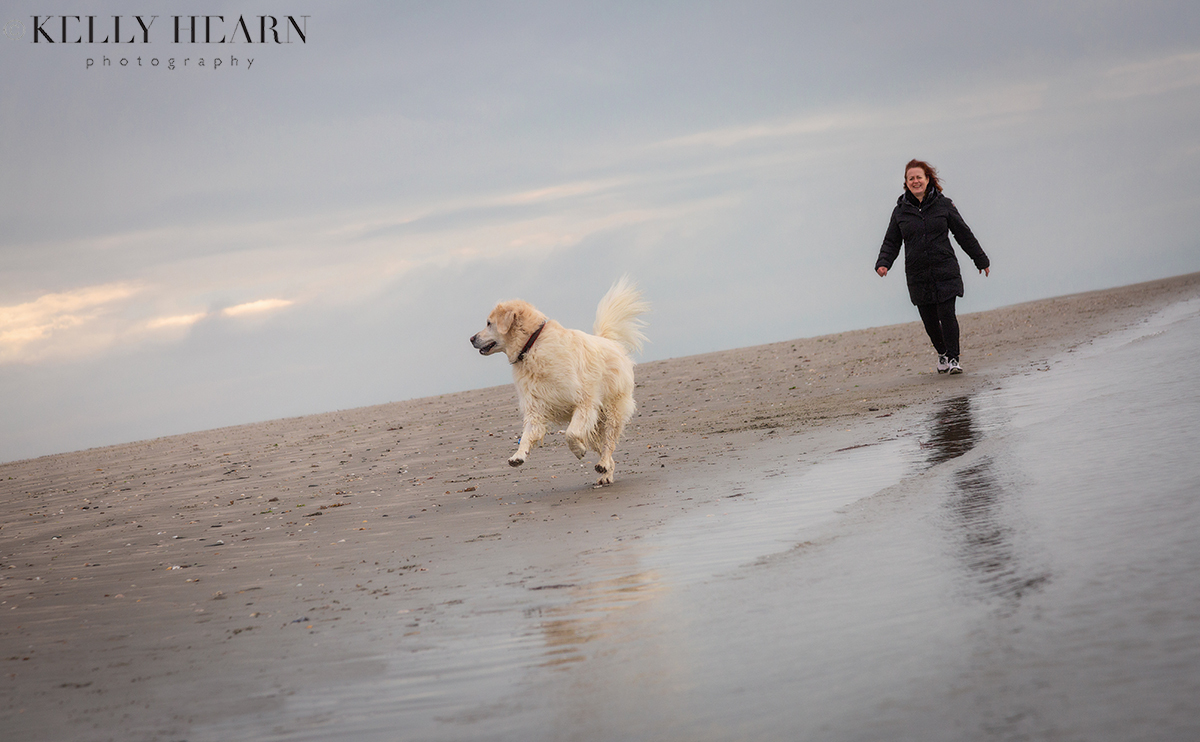 Paws For Thought
At the end of the day, when it's time for some calm, it's just so dreamy to be able to photograph our clients and their dogs in the peace and tranquillity of nature's surroundings. An evening walk on a summer's day with its beautiful sunset and lowering light can be the perfect setting to create that stunning look for a show stopping wall-hung image subtly incorporating your best animal friend.
We've created these artistic shots working with the light to capture that contemplative end of the day portrait. Here, the water on the sands are perfect for this couple's reflective moment accompanied by their much loved Cavachon and works so well with the pastel tones.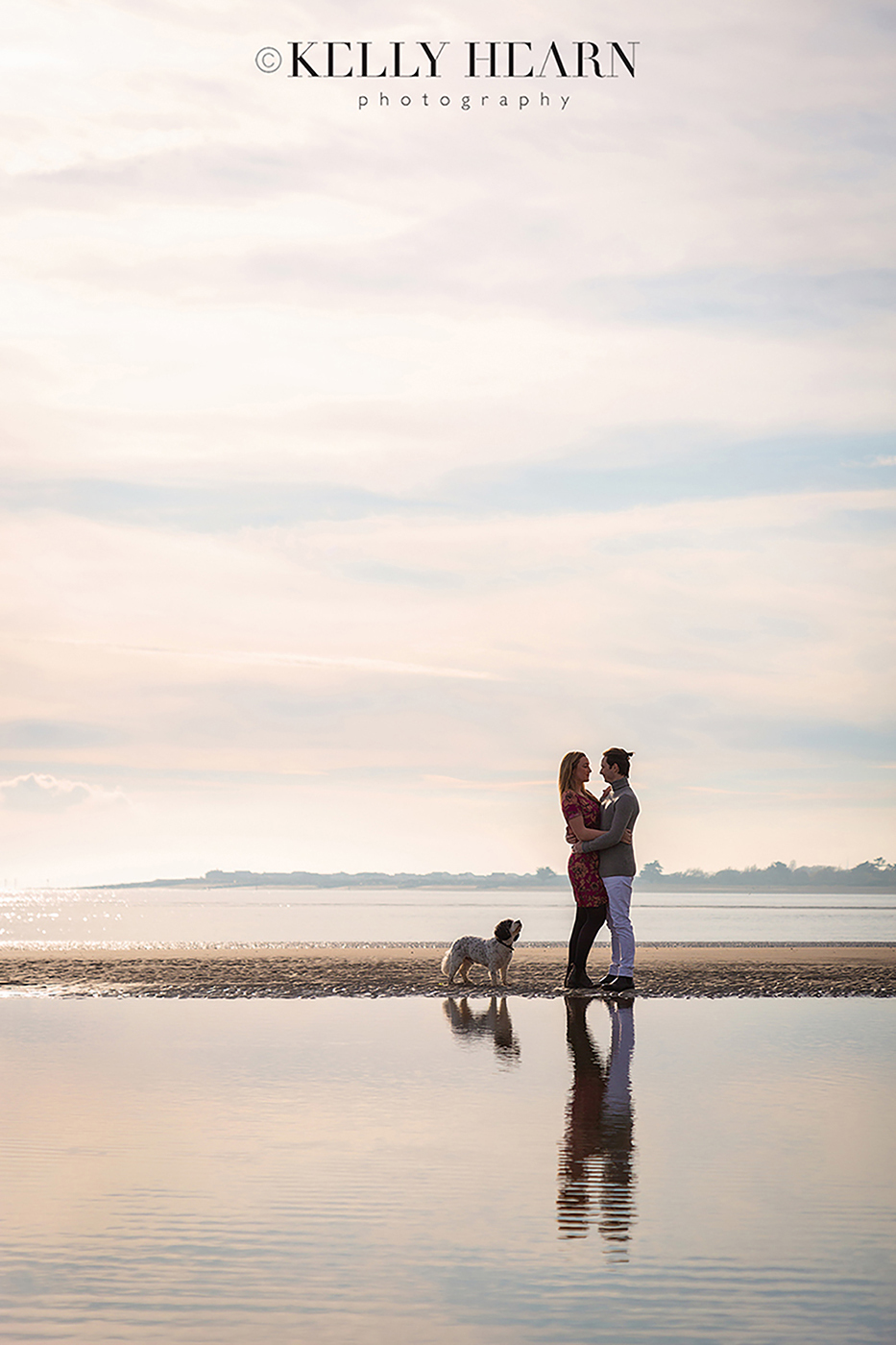 And these incredible skies provided a wondrous vantage for this loving couple as their dog seemingly takes equal pleasure in the view and the moment. All three of them delightfully framed by the foreground's lush vibrant flowers and grasses and the striking textures of the impressive clouds.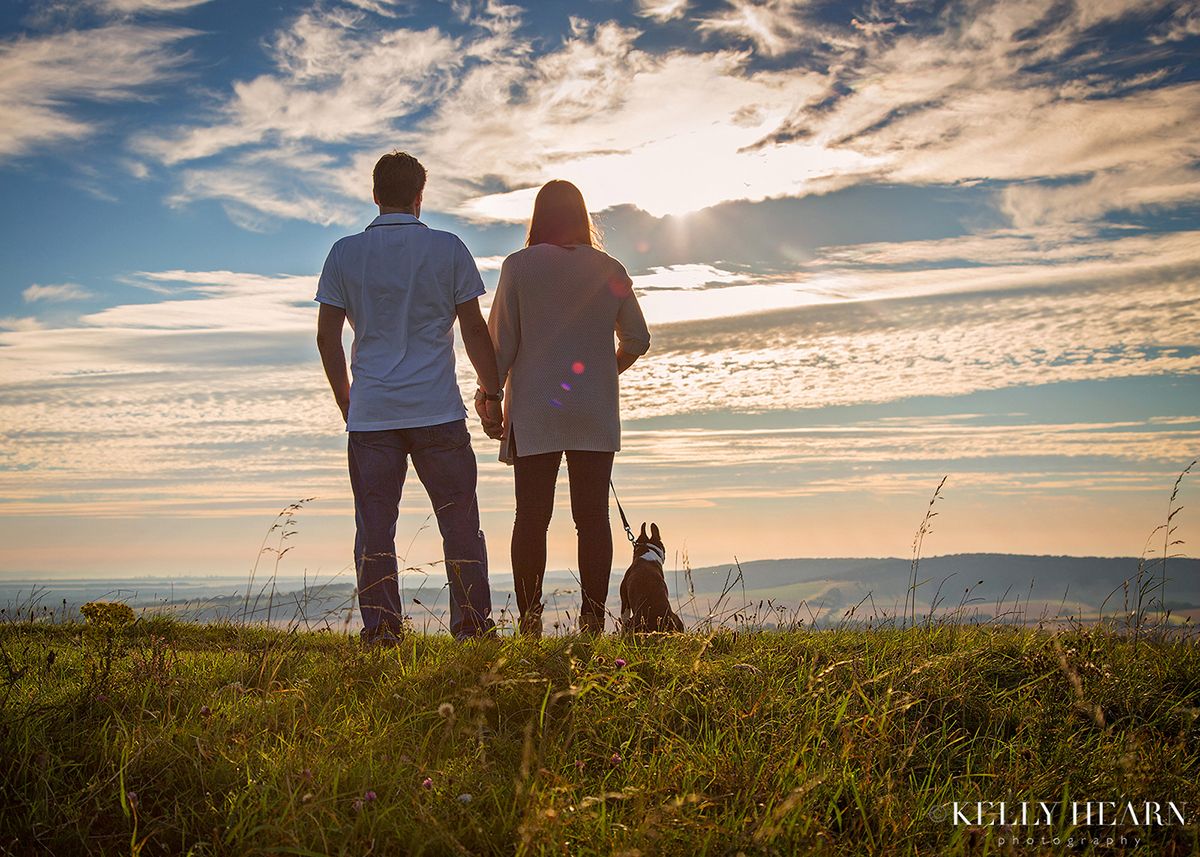 KHP Top Tip: The time of day can really determine the mood of your images, we can advise you on the best time to have your shoot to meet your brief.
Now Let The Dogs Out!
We hope you enjoyed looking through this selection of images as much as we enjoyed creating them. If you feel inspired to book your next shoot, or would simply like to talk through the possibilities just drop us a line at [email protected] We'd love to hear from you.
And if we see you out for walkies in the meantime be sure to say hello!
Kelly Hearn A.B.I.P.P - A.M.P.A