A twist on tradition with a pop of fun!
July 09, 2018
Katie & Matt's Southdowns Manor Spring Wedding
On a whimsical April day in Petersfield, Katie and Matt married at Southdowns Manor, a grand and stately looking venue sitting right on the borders of Hampshire, Surrey and West Sussex. Theming the day was a colour palette of romantic lilac and lavender, shades of purple aptly known to symbolise purity, love and devotion - a perfect choice for a wedding day! I'm pretty sure this delicate and sacred colour inspiration also helped to evoke calming feelings and relaxed happy vibes throughout the day, as both the bride and groom and their guests seemed very at home and nicely insouciant at this charming setting.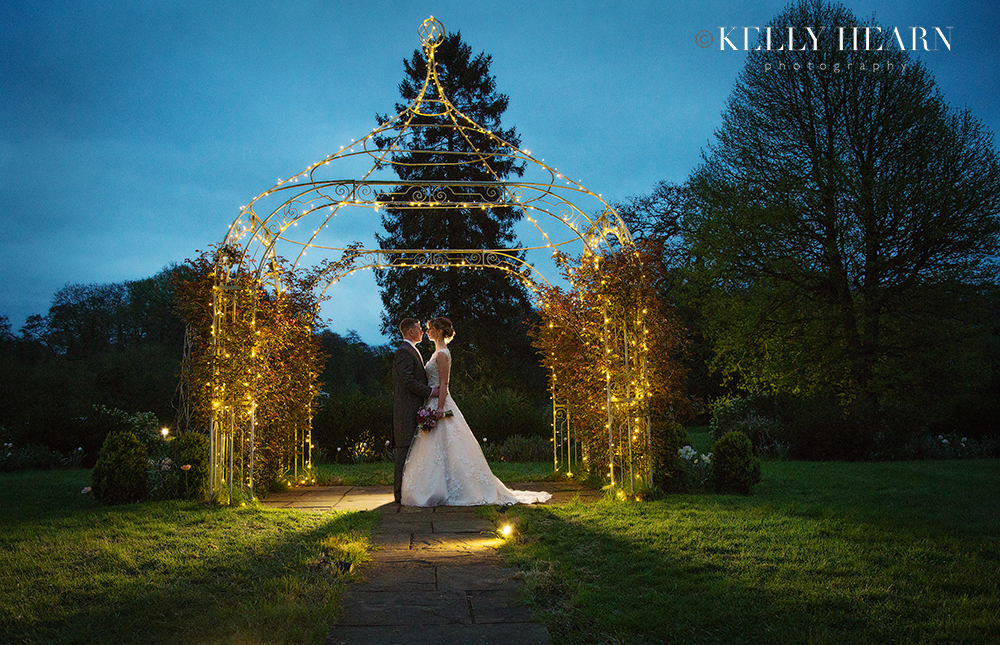 I started my day just a short drive away from the Manor at the green and tranquil location of Heath Pond. At this well-loved leafy spot, frequented many a time by the bride and groom, I met the groom's party who had been getting ready at home nearby. They were suited and booted ready to be captured in portrait before venturing over to greet friends and family and welcome them to the occasion. The lads' look combined effortless with classic style as they wore traditional morning suits in grey with tails, ivory waistcoats and lavender toned ties.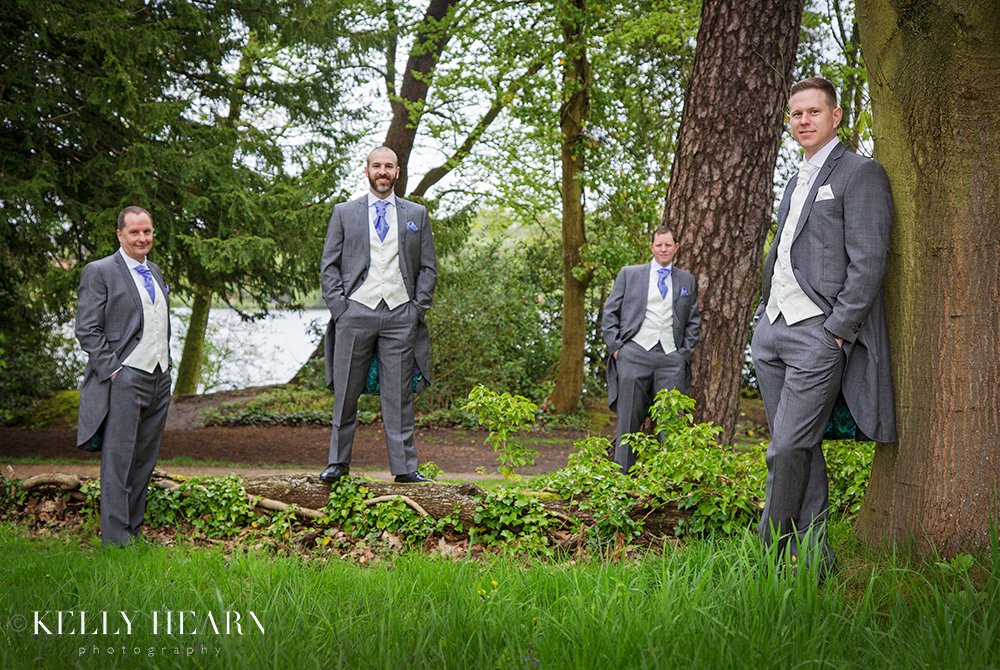 Meanwhile, the preparations for Katie and her three bridesmaids were well underway and they were making sure they enjoyed and soaked up every drop of the morning (literally!). With hair and make-up complete and whist donning pretty matching lilac kimono gowns, Tequila shots and a bottle of champers were helping provide some calming of nerves, fun and dutch courage for the day ahead. Despite drinking the bubbles and not sitting in them, the huge round bathtub in the bridal suite made for a great place for the bridesmaids to perch and make a toast or two to their much loved friend, before sending her off to get hitched!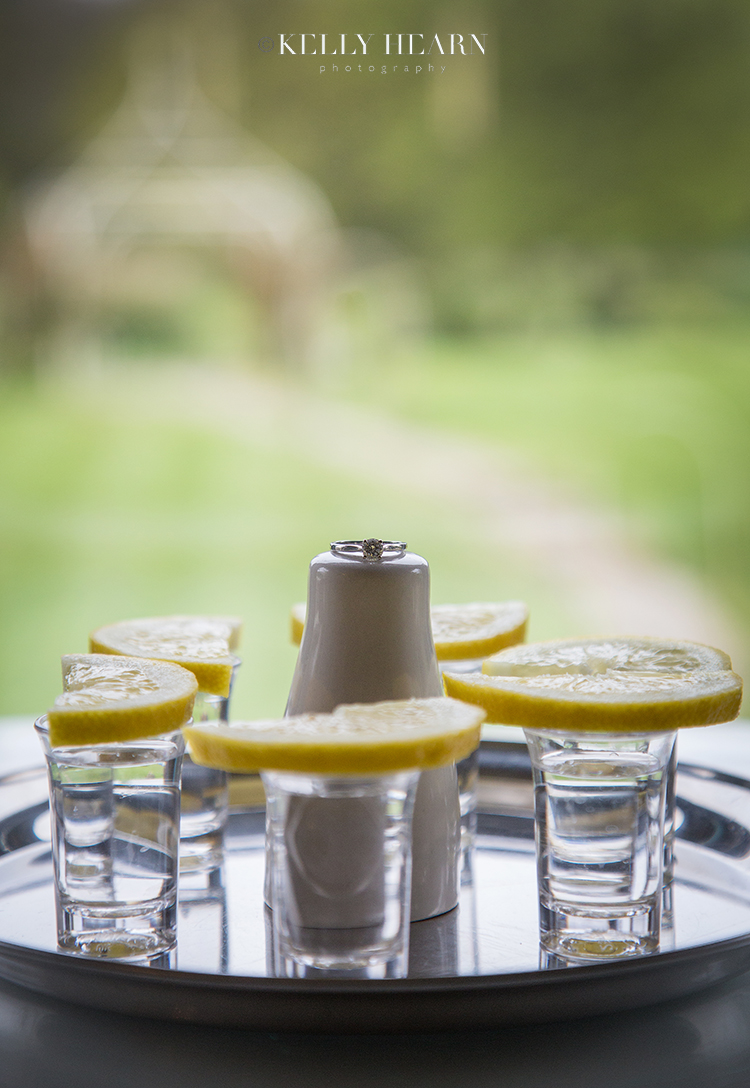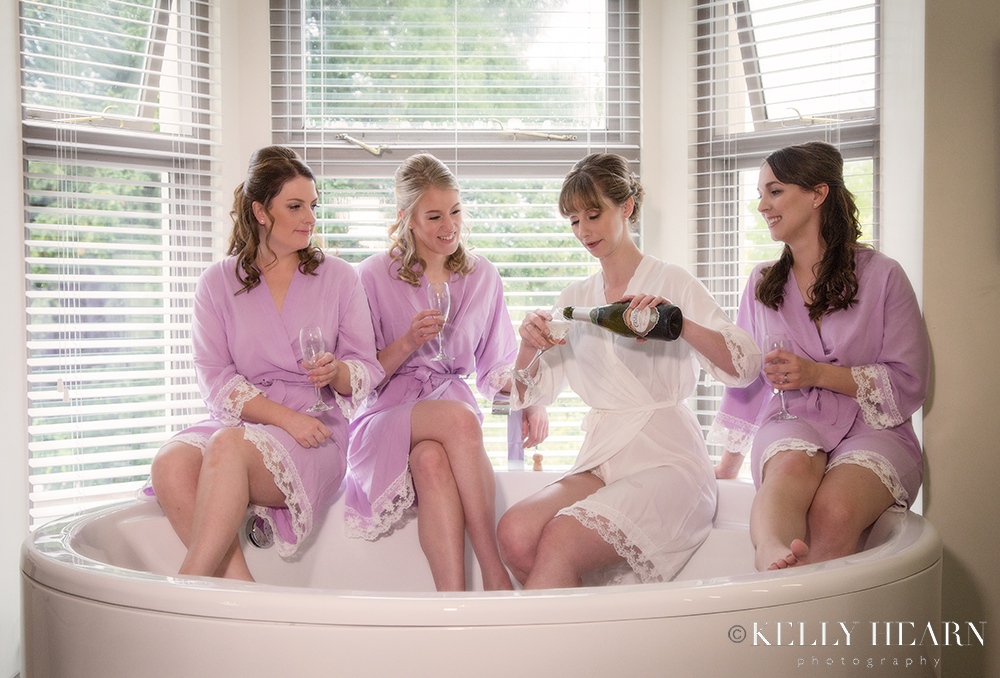 Having stepped into her beautiful lace covered gown, Katie had reached that poignant moment where she had suddenly become a bride! What made it extra special was that Katie's Mum and Grandma were there to be with her, three generations excitedly embracing the moment, their hearts swelling with love and pride.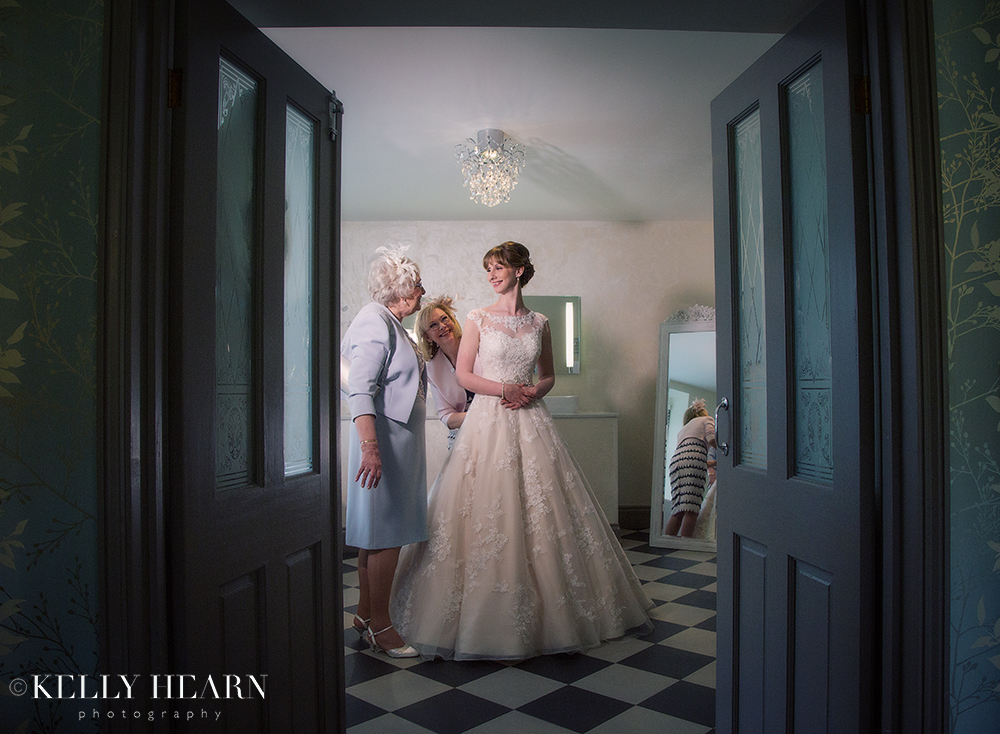 Completing Katie's look was a stylish bouquet of soft and vivid pink florals and lavender, created by 'Florescence', which contrasted the lavender tones of the bridesmaid dresses perfectly. It was time to grab the colour-popping bouquet from the bedside and get to the aisle!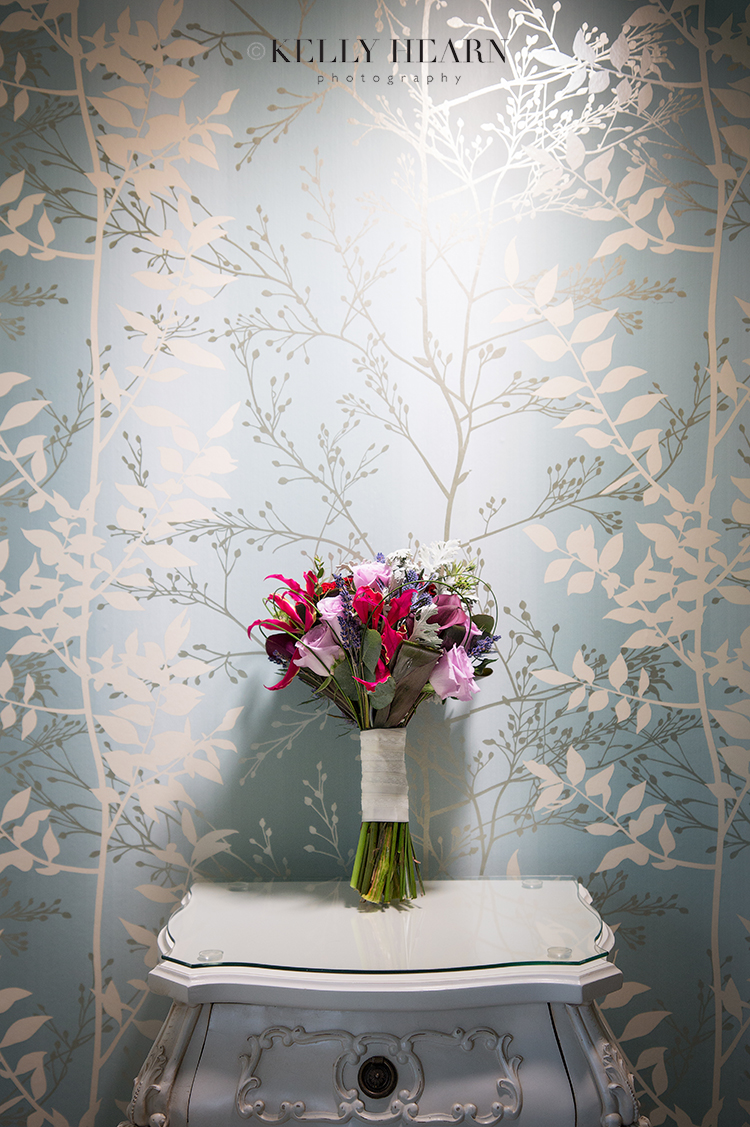 It's always good after the somewhat seriousness and intensity of the ceremony and vow exchanging to take a small sigh of relief that the official bit is done! A change of scenery and a chance to let off some steam always does a bridal party some good, so having caught up with guests and had a little celebratory drink or two I was keen that we had some fun capturing some shots of the newly weds with their besties!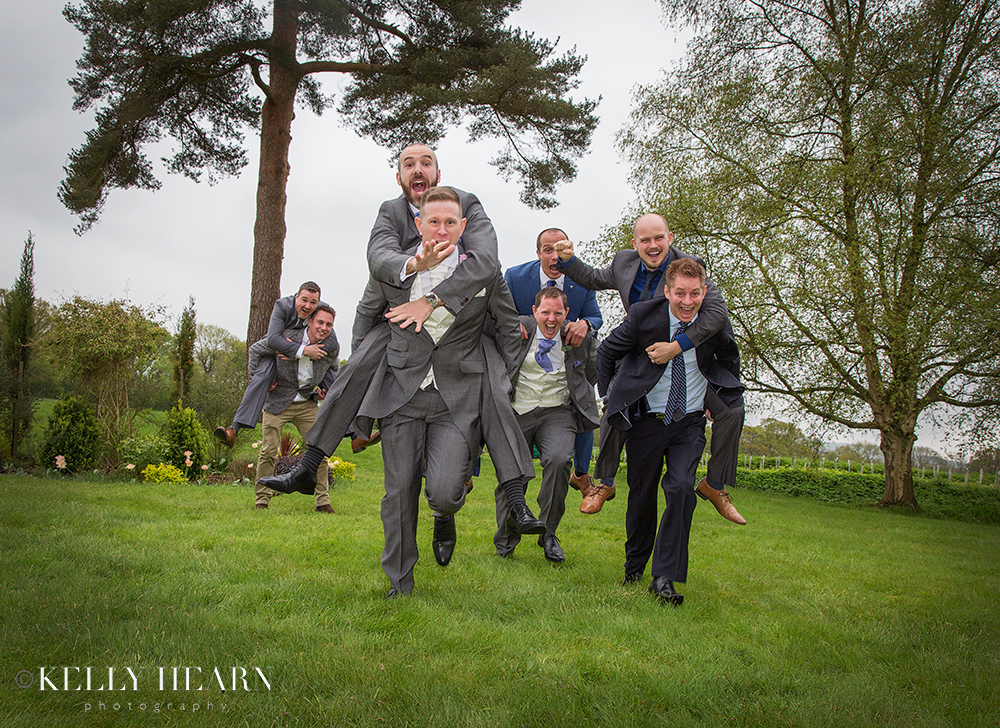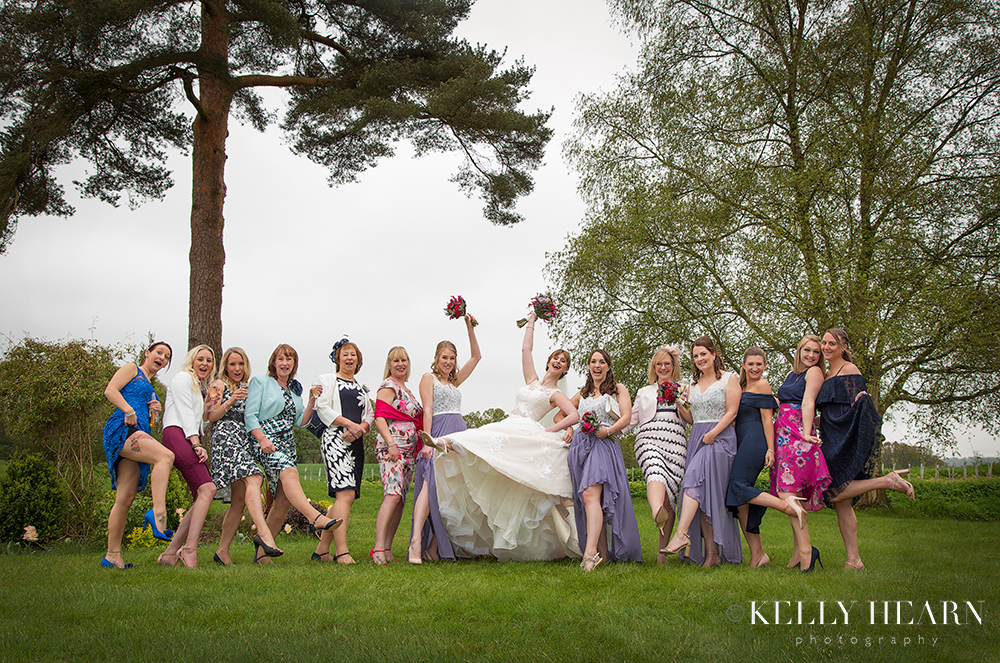 Why do boys (no matter how old) always seem to enjoy a piggie-back race?! I don't know, but they do - and you can see it from this picture of Matt and his mates! It also does seem, that us ladies when in a group, do love an excuse to hitch up a leg in Moulin Rouge fashion! I may never understand the psychology of it, but to be honest, I maintain that group shots at weddings do not need to be starchy and predictable. In fact, the opposite usually makes for the best memories and the most genuinely happy photographs, which are most often the ones that end up in albums!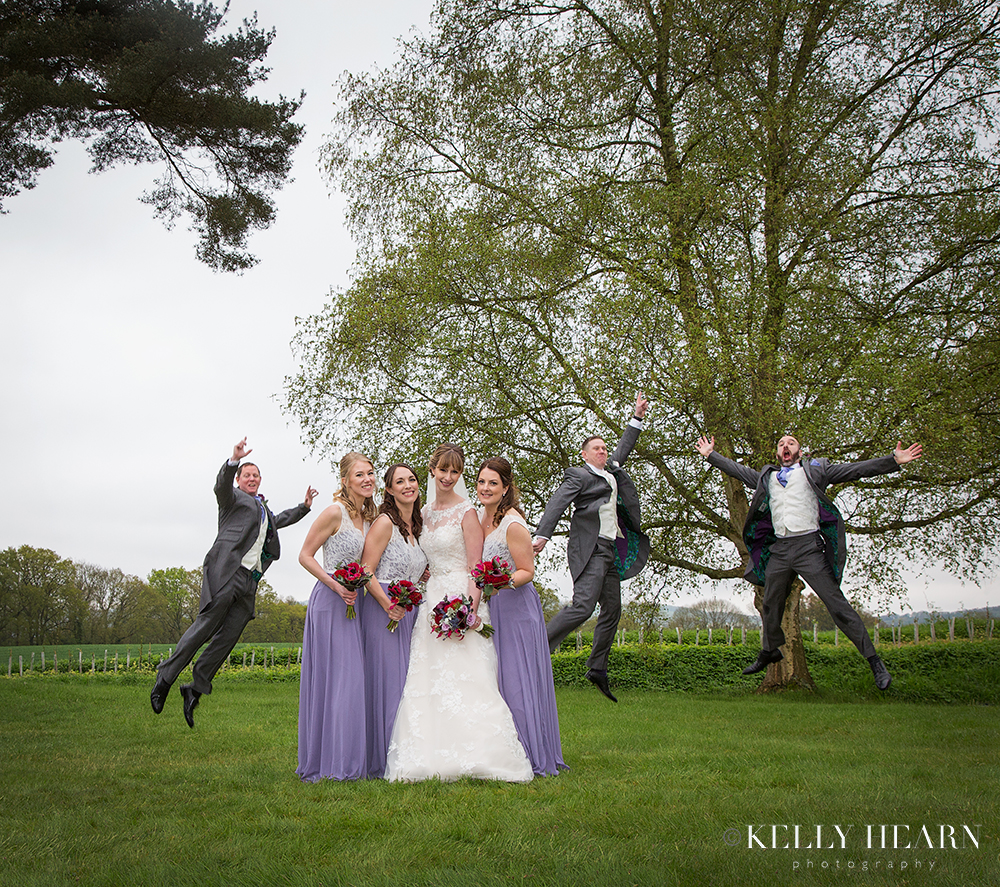 The elements of comedy in wedding photography can also filter through into a legitimate couple portrait whereby at first glance the subjects both look fantastic and classy. At second glance however, a viewer may spot an unusual pose or facial expression which brings the humour unexpectedly and the realisation dawns that this image does not conform to the typical wedding photo that one is expecting to see! I loved how Matt was prepared to take the self-deprecating stance and stand behind a bush for this image, nose squished against the glass, fully trusting in the creative process whilst allowing his bride to take the spotlight!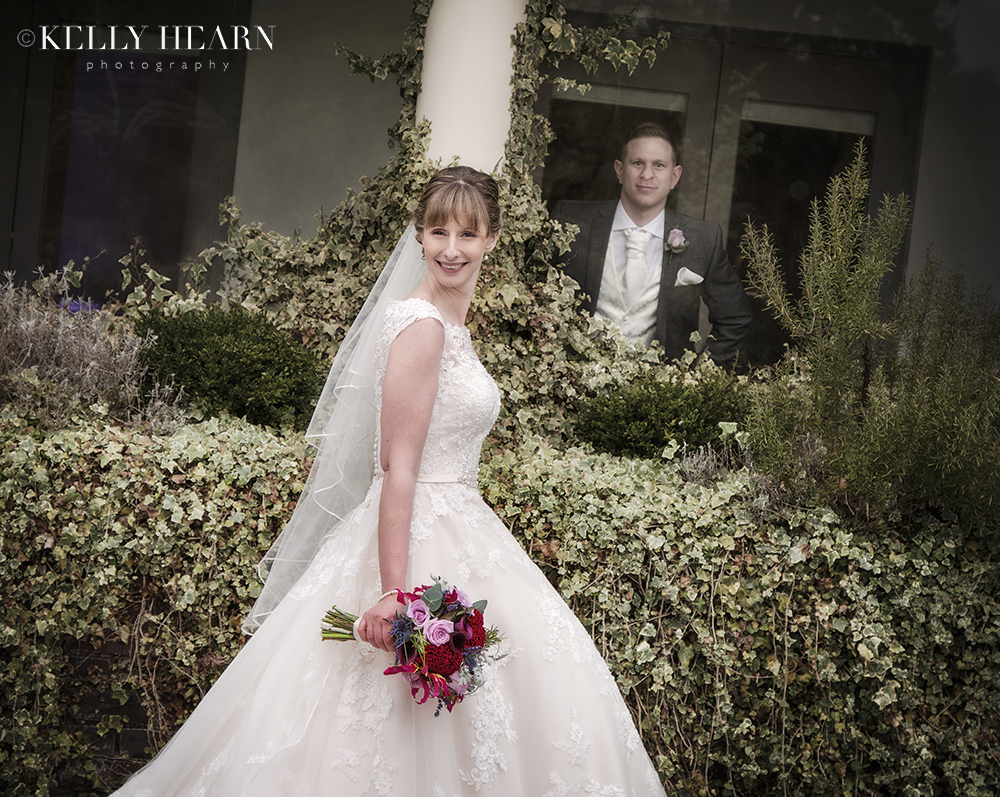 It's not just comedic compositions that can inspire a creative image. An unusual angle or perspective can add huge interest and drama to an image giving it impact and the wow factor deserving to a couple who are quite literally being showcased on their wedding day! Katie and Matt were brilliantly flexible and cooperative which made the opportunity to create interesting images for them a real pleasure. The variety of how they are shown throughout their wedding pictures is testimony to their fantastic positive attitudes on the day, willingness to try different things and to their trust in me as their photographer which enabled me to get the best out of them.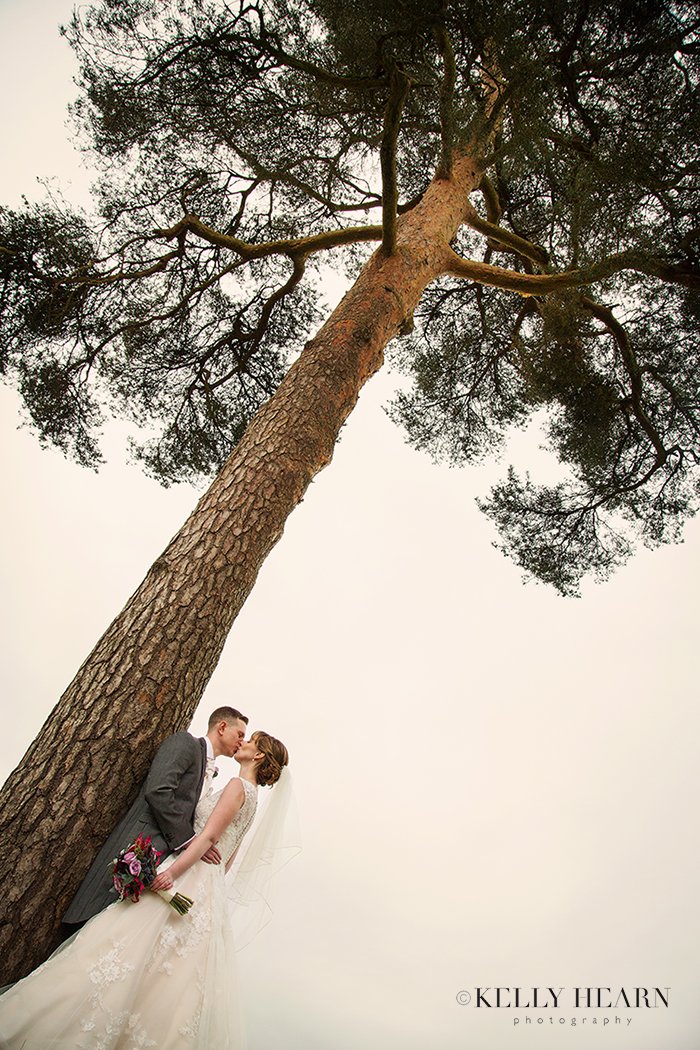 Back inside the venue things were feeling dreamy and calm in anticipation of the much looked forward-to reception meal. The soft uplighting was creating a mellow atmosphere and the lilac tones of the organza chair sashes were keeping the decor on theme, helping to seamlessly tie together Katie's colour-themed style details.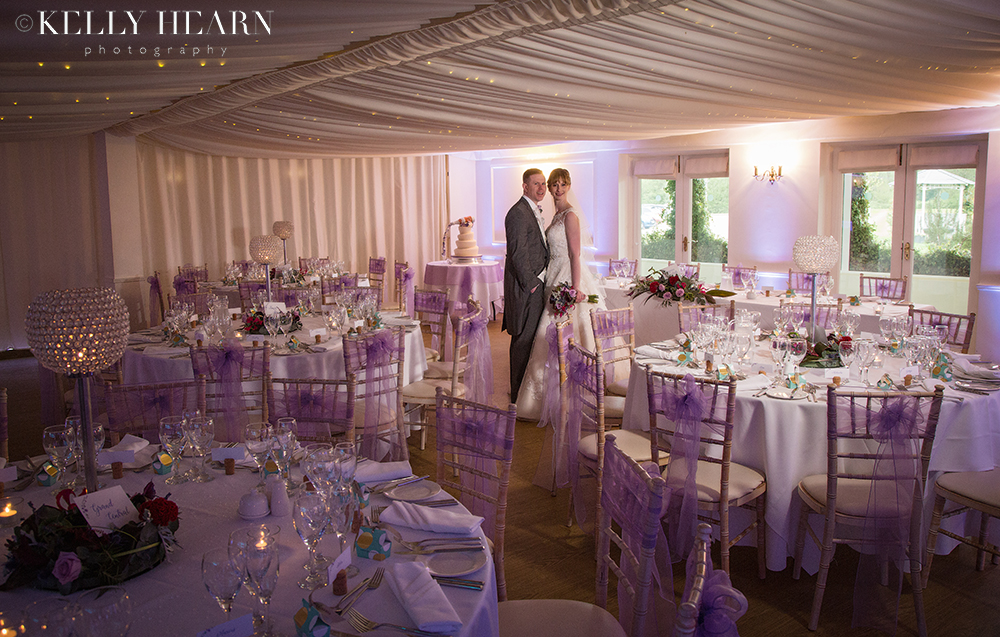 Katie's pride and joy (other than her new husband!) was her wedding cake. Cleverly designed and intricately made by 'Fondantly Yours' of Portsmouth, the intentionally wonky layers of this four-tiered cake were topped with a balancing champagne bottle which cleverly poured little delicate lilac and white flowers into a champagne glass! What a talent it takes to create something of this kind of engineering that is also beautiful and edible! Needless to say everyone was very impressed!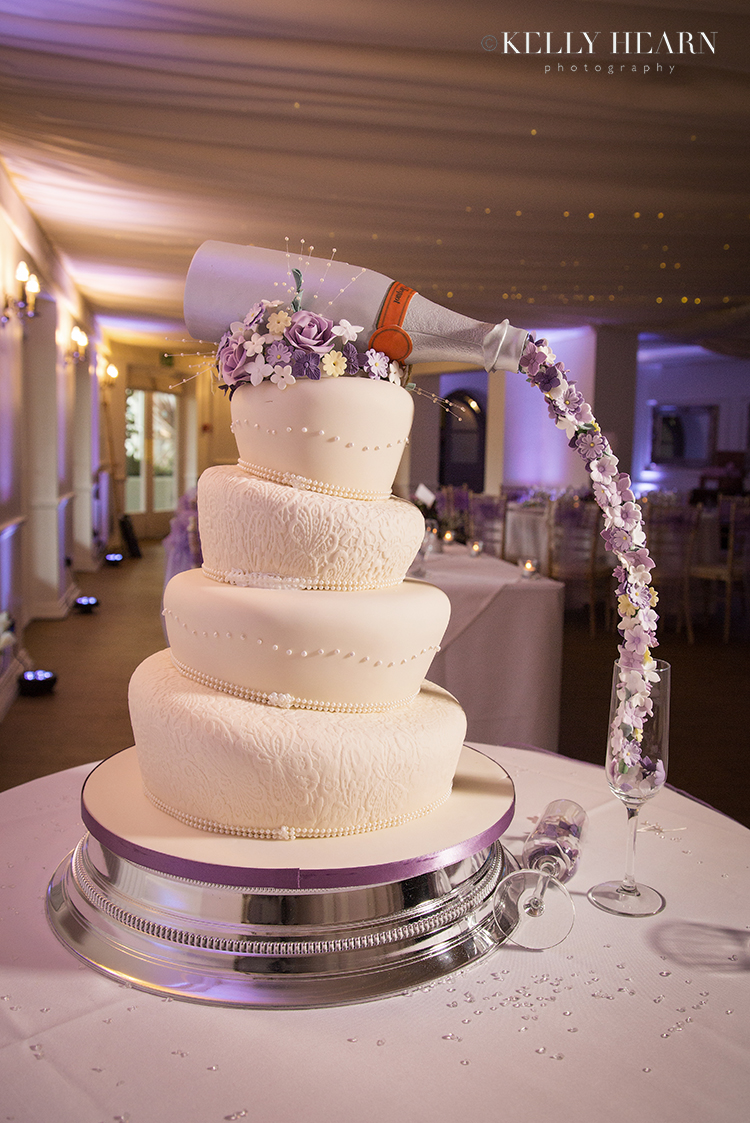 As tradition insists, before the magnificent cake could be cut, guests were to be entertained by some speeches. Heartfelt and hilarious, there were laughs and smiles all round the room with bride Katie speechless on occasions but being left with the hugest smile of all.



After what had been an awesome day of fun and laughter, smiles and good vibes, I could not leave the day without capturing some all important romantic night portraits of the newly married couple. Outside, the moonlit sky was a deep cyan blue, a striking backdrop against the couple who embraced in the fresh country air, tall green trees dwarfing them in the Manor's vast leafy grounds. This night shot certainly captured a magical moment and provided a rather magical ending to a perfect day!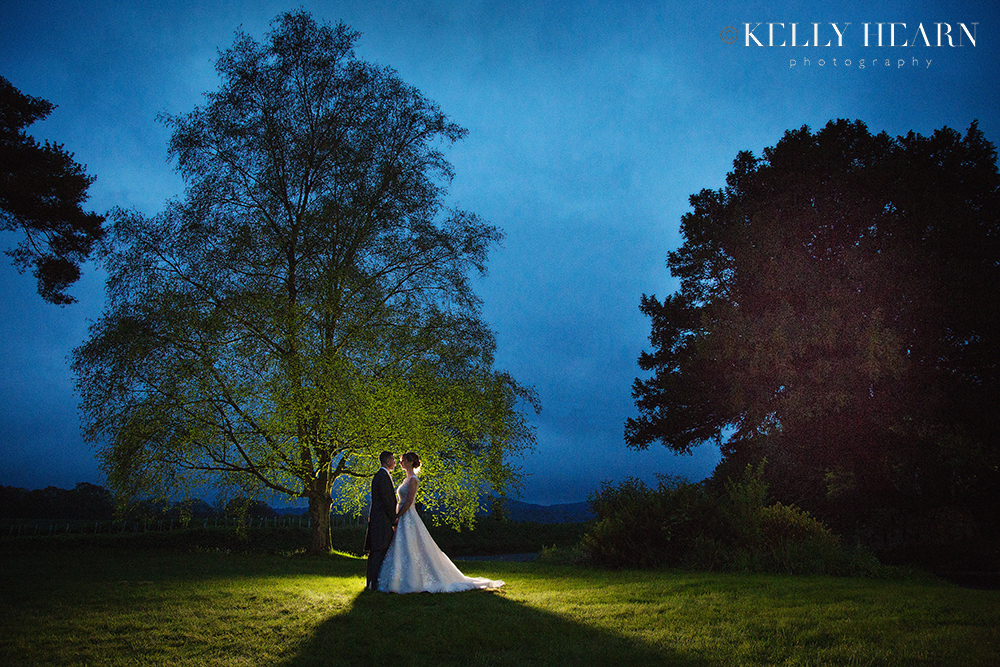 Congratulations to Mr & Mrs Doyle! It was such a pleasure to photograph you both knowing that you were totally up for enjoying the photography part of the day as much as possible! Your relaxed personalities were infectious and I really enjoyed how you mixed tradition with fun and how your wedding party participated in the creativity of it all with great spirit!

I wish you all the happiness going forwards into your future together!
Love Kelly x
Kelly Hearn A.B.I.P.P - A.M.P.A