A Magical Fairytale Wedding
May 17, 2018
Meg & Rob's Spring Wedding at Southend Barns
If you were to cross Harry Potter with Cinderella you would get the summary of the truly magical fairytale fantasy that was Meg and Rob's wedding day! Hard to imagine? Let me explain. Beautiful Meg's second greatest affection in life (first being for her groom of course) is for the Harry Potter novels, which whilst using as inspiration to creatively theme the wedding day, was probably never going to work with regards to inspiring her bridal gown! For, arguably, the most important dress of her life, Meg looked for guidance from a character from another style of literature - the ultimate in iconic fairy tale princesses. She chose to emulate a timeless heroine who represents strength, beauty and grace. She chose to be a real-life Cinderella. What was so memorable was that by merging these two sets of fantastical ideas, Meg and Rob's unique wedding story remained perfectly breathtaking, yet at the same time wonderfully unpredictable and romantic.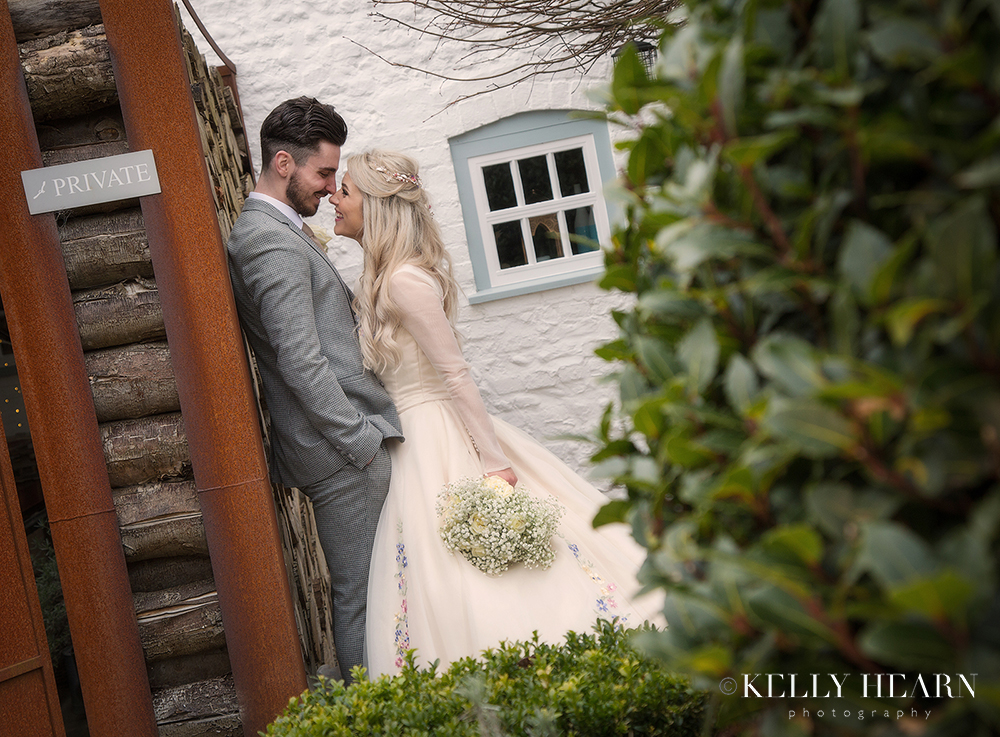 Prince Charming (aka Rob) was ready and waiting at the chosen wedding venue of Southend Barns. Well known for its rustic charm and character, it was the perfect setting for the nuptials; contemporary yet classic throughout all the various elements of decor, style and design. With just a few minutes to get to know Rob and his groomsmen, I decided to jump straight into creating a modern composition, allowing a little humour to filter through when unforeseen positions (such as sitting on the fire pit) were taken as they grouped under one of the famous Southend Barns' white peaks.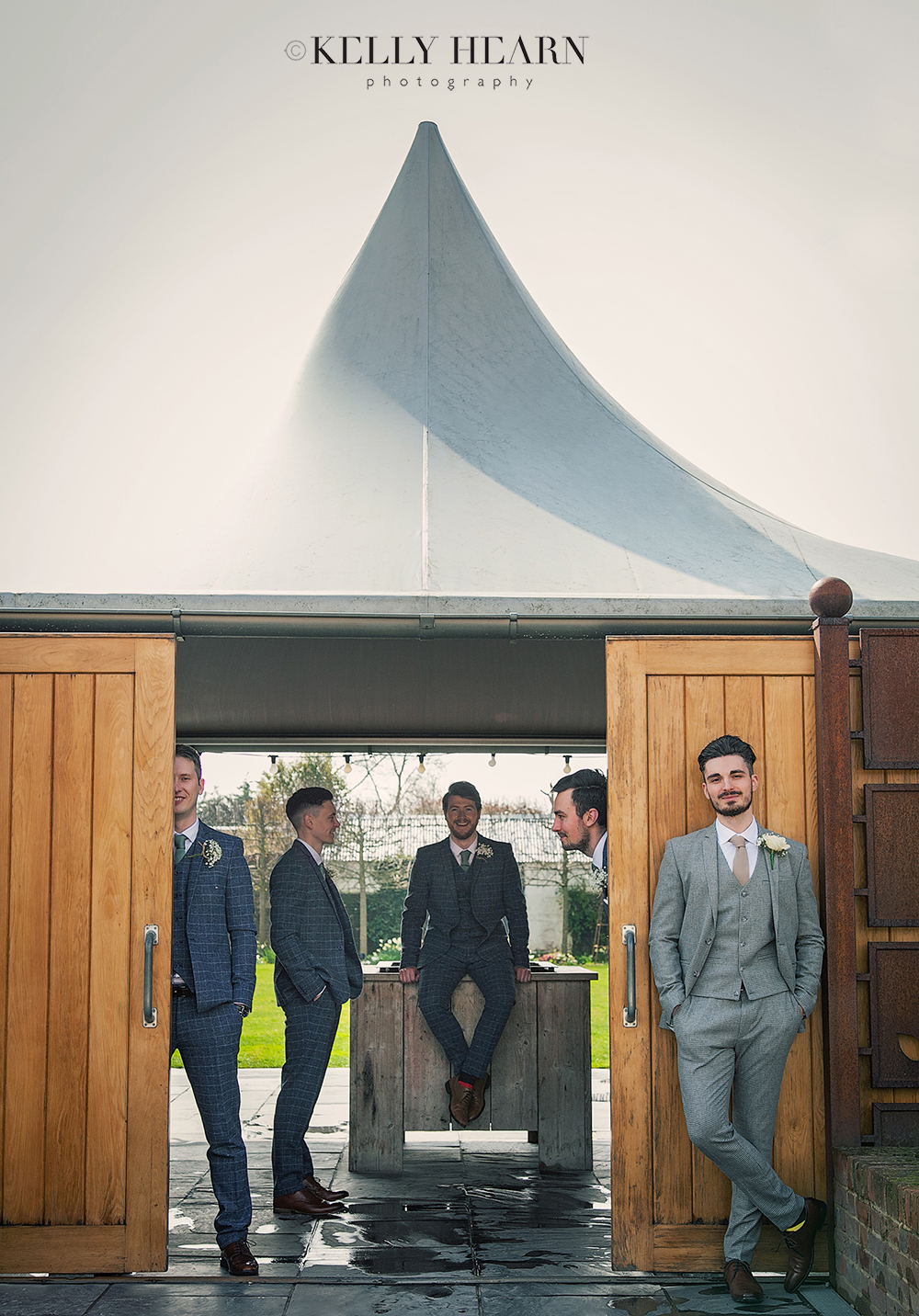 Continuing in a humorous vein, we learnt a little more about the personalities of each groomsmen as checked skinny trouser legs were hoisted up to reveal a colourful array of character socks! I wondered whether the Mr Men themed ankles were perhaps a salute to Rob's favourite childhood books but as his were themed with 'Mr Happy' (thankfully!), I assumed the remaining characters were chosen for their relevance in representing the other members of the groom's party!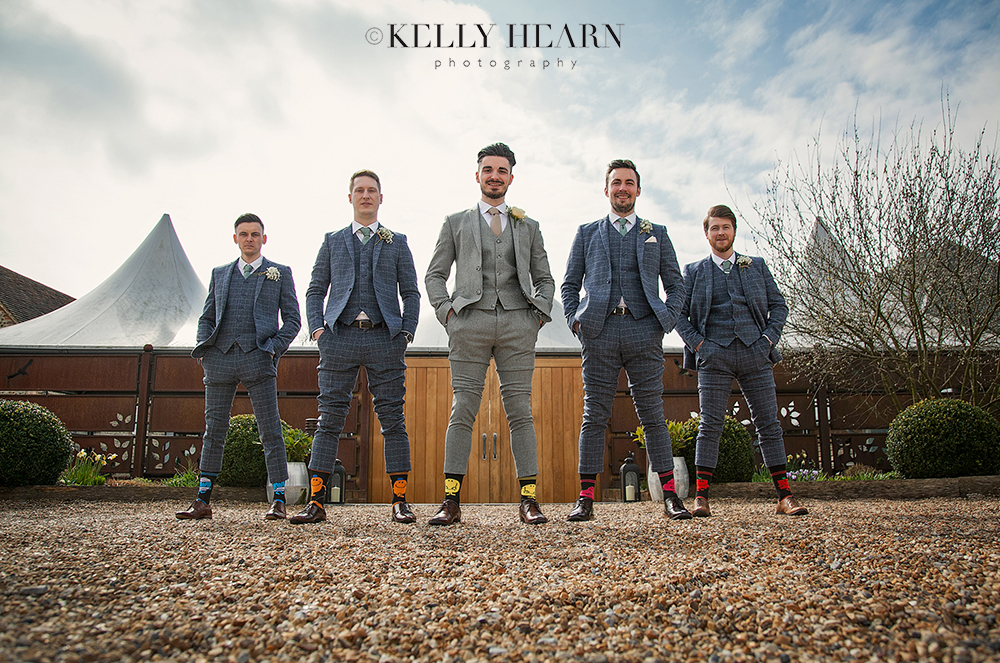 In the bridal suite, I later met Meg and her bridesmaids who, in equal measure to the guys, were having plenty of laughs during their morning preparations.  Whilst friend Amy James from The Ivy Beauty Studio was perfecting bridal hair, Chichester's ID Make up team were on board with the beautifications! Coordinated in peach and coral kimono gowns (which were complemented beautifully by the suite's' sofa cushions by the way), the girls were totally at home and enjoying every minute of the getting-ready process.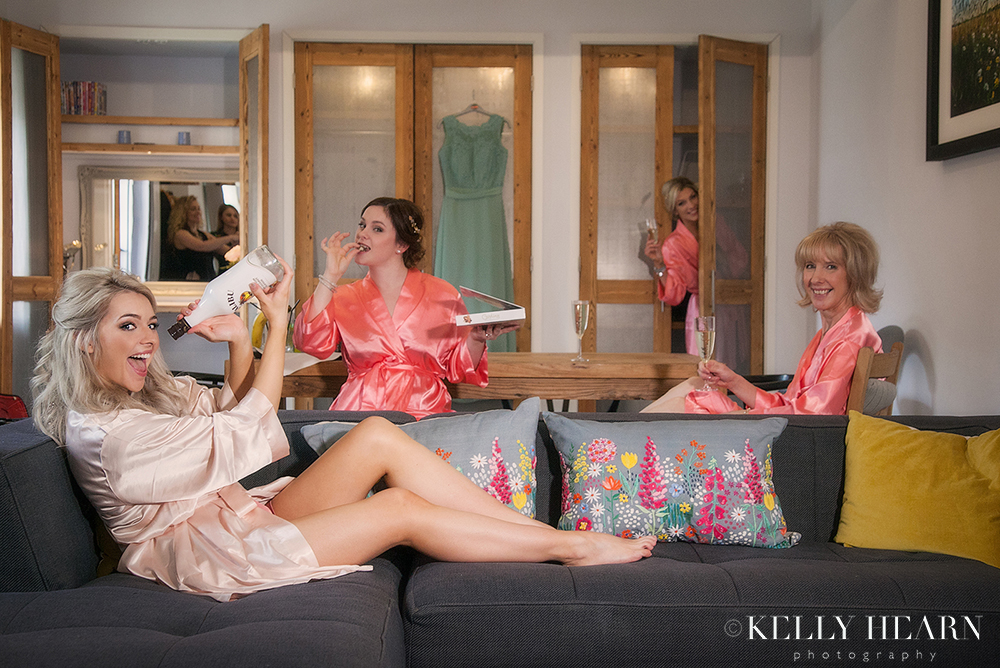 Not unlike Cinderella's Bippity Boppity Boo moment in the original story, Meg underwent a magical transformation as she stepped into her stunning ball gown. The limited edition replica dress was an exact copy of the wedding dress worn by actress Lily James in the 2015 Disney Cinderella movie. It consisted of sheer organza fitted sleeves, basque waist and a full length layered organza, tulle and satin skirt. Intricately detailed with floral embroidery in pastel shades and with an elegant chapel train, this opulent gown gave Meg a truly royal look. It was indeed a dress that was fit for this princess.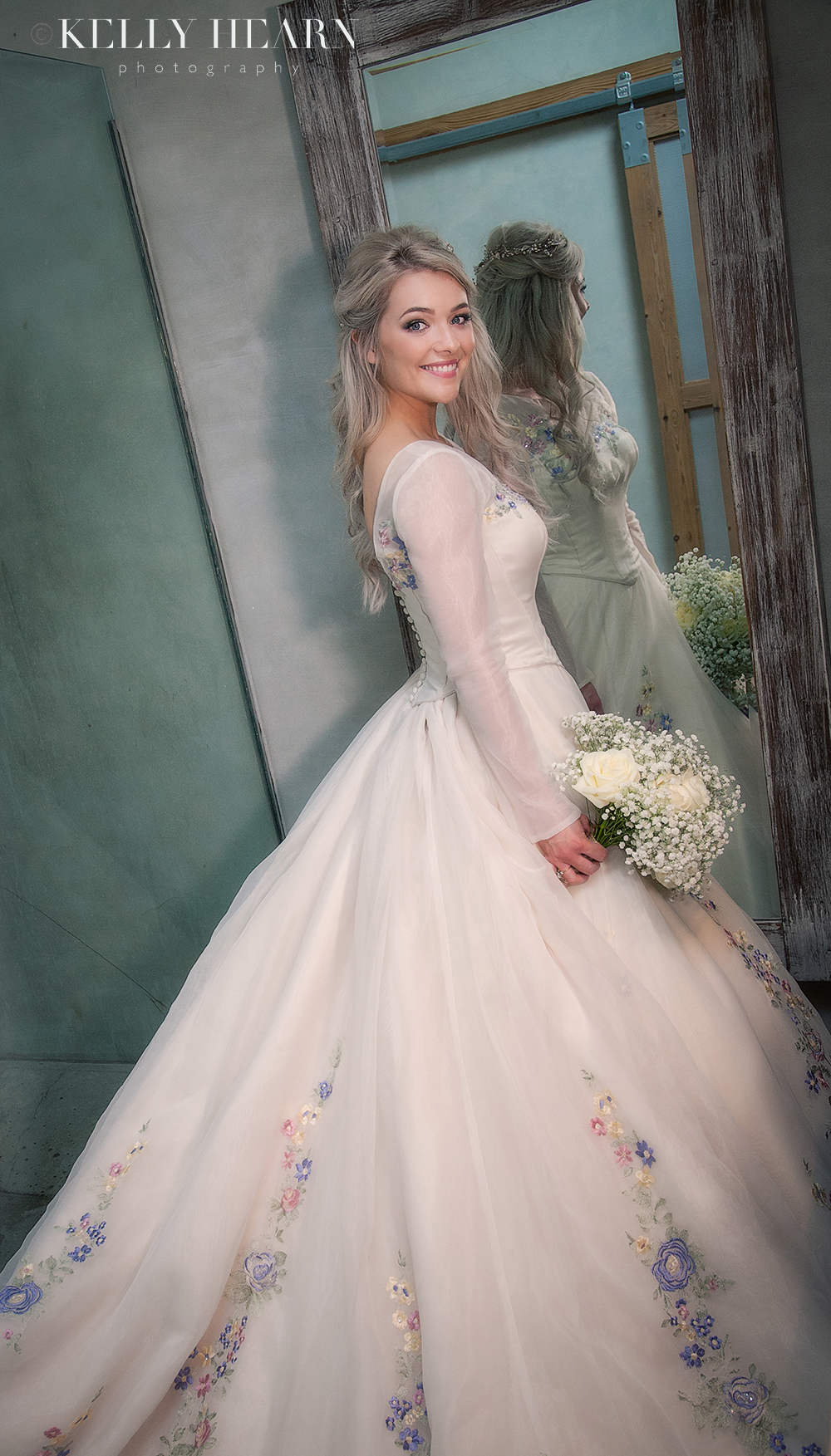 As found in much literature, things are often placed side by side so as to develop comparisons and contrasts within a story. Having just witnessed Meg in her beautiful wedding gown, we saw evidence of such juxtaposition in her choice of bridal shoe! Meg had traded the idea of Cinderella-style glass slippers for Converse trainers, and not just any old pair. These were bespokely hand-painted with a scene of Hogwarts which, for those who aren't familiar with Harry Potter, is the school of witchcraft & wizardry! These custom-made shoes hid snugly under Meg's gown after she discarded a pair of bridal shoes she'd brought along, sensibly deciding she'd feel more comfortable in trainers!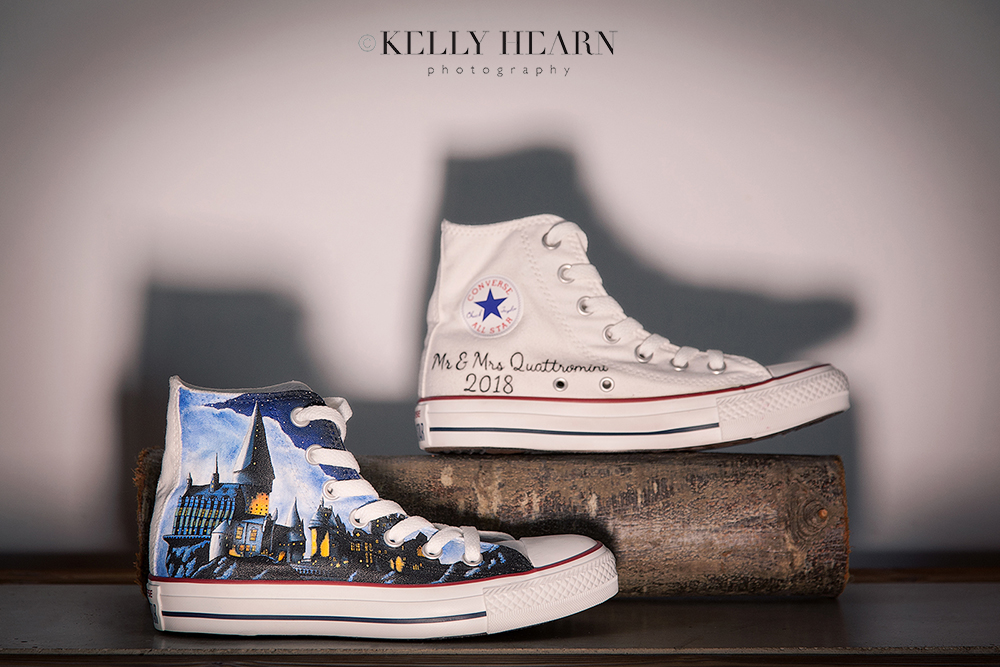 Before the hum of guests trickling in to take seats filled the Dairy Barn, I snuck in to see the room in it's pre-ceremony quietness; simple, muted, a scene set ready for the arrival of this beautiful bride. Pastel pink, mauve and yellow flowers with pretty white gypsophila dotted throughout had been arranged by Full Bloom of Chichester to compliment the delicate colour palette and floral detail seen in Meg's dress.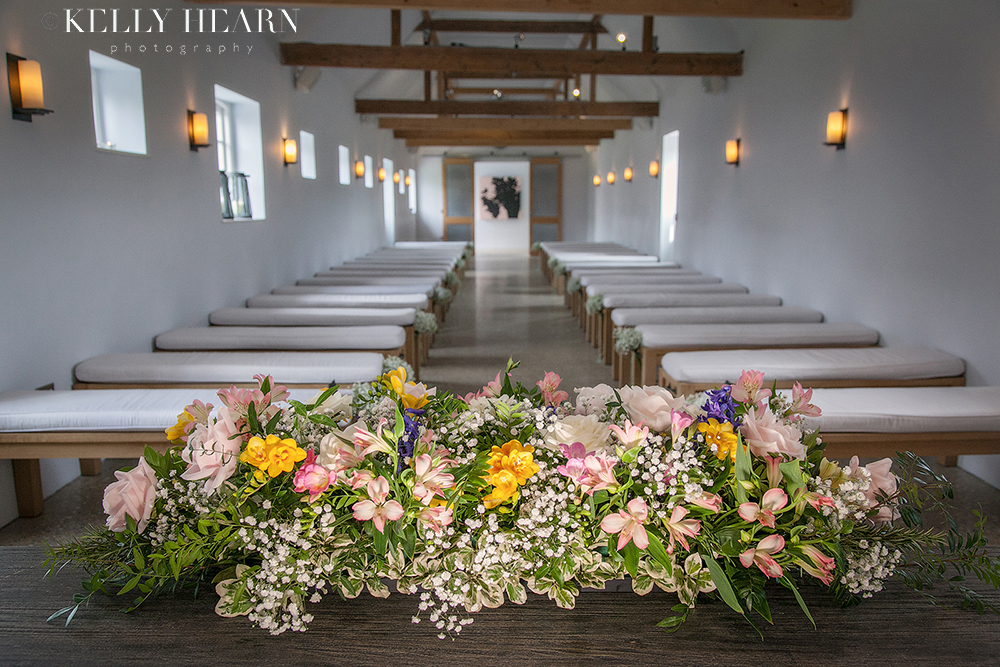 As anticipated, guests soon filled the benches and the room filled with warmth, smiles and laughter as Rob met Meg at the end of the aisle for the meaningful exchange of vows, rings and that magical enchanted first married kiss! Delighted, friends and family were supportively animated as they celebrated the couple becoming an official Mr and Mrs.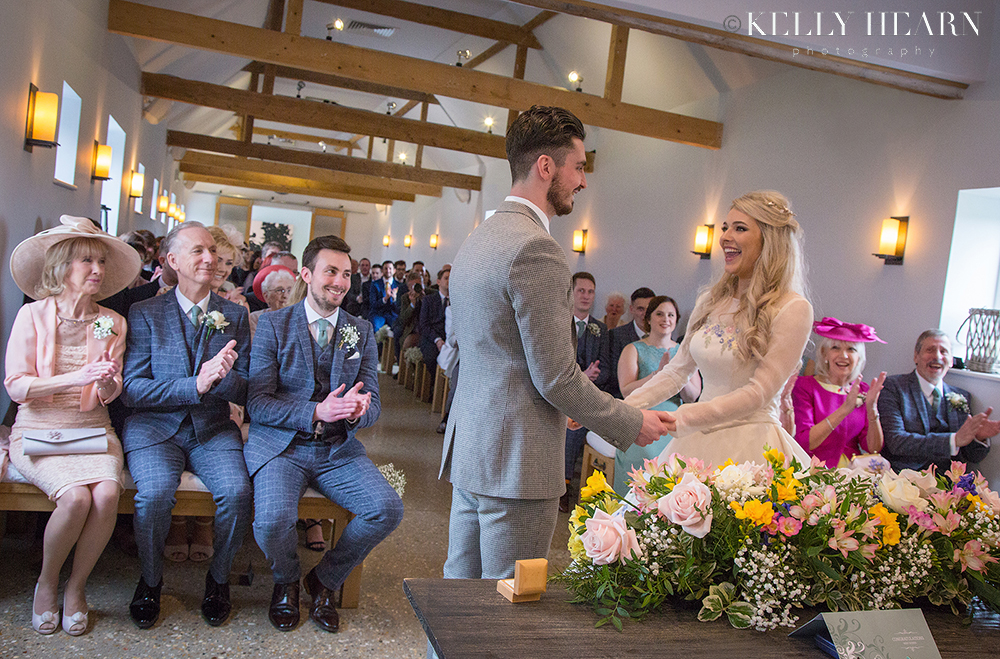 Outside guests gathered to be photographed with the newly weds in the picturesque grounds of the barns. The bridal party cooperated with enthusiasm and flair, the photogenic bride in particular being a total natural in front of the camera. Despite now being a married man, Rob it seemed, was far too busy being charming and got a bit distracted with lapping up the admiration from Meg's Nan…!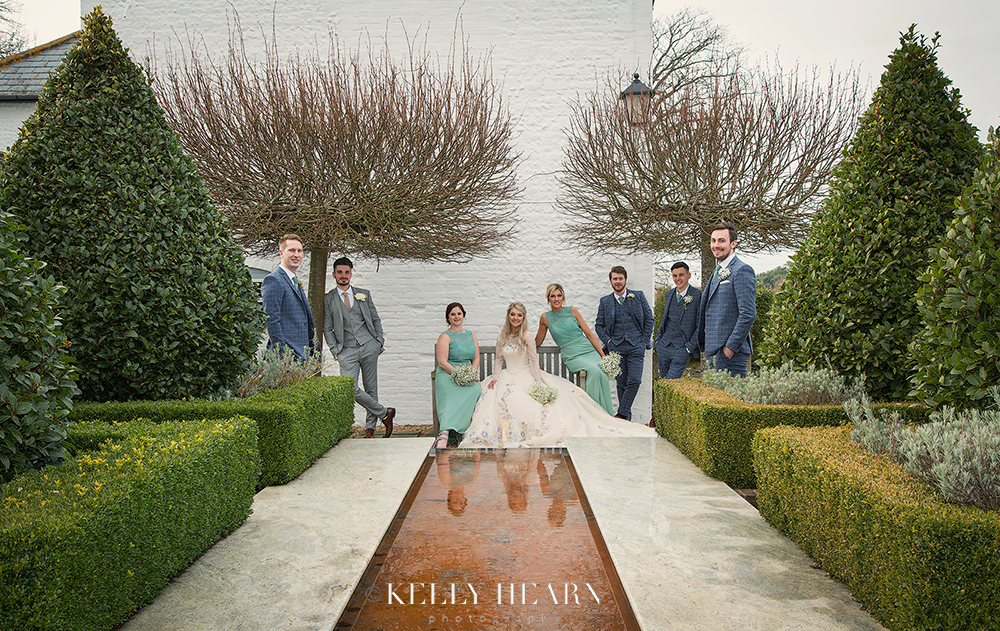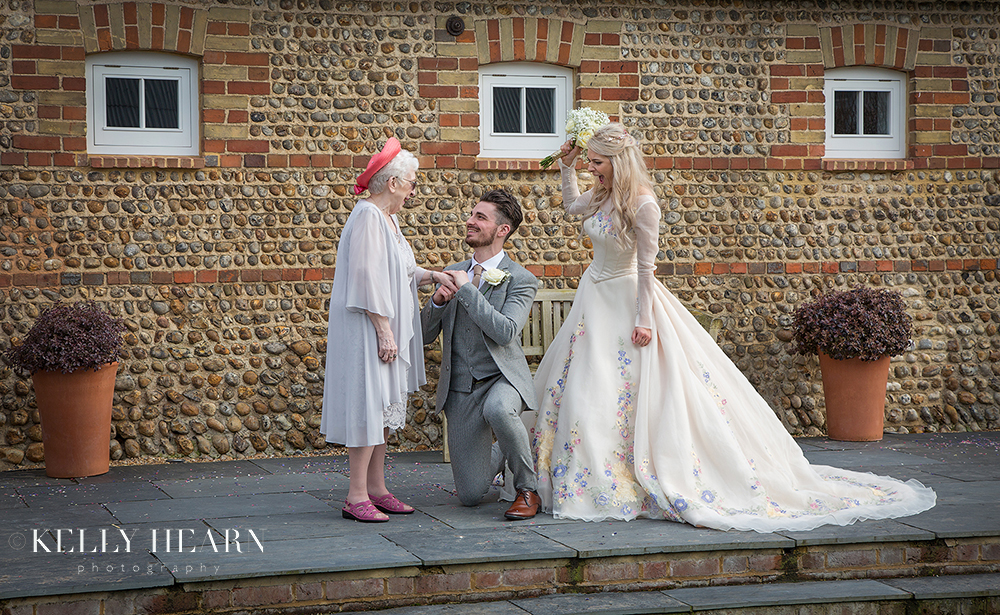 Finally capturing the happy couple together, I was impressed with how adaptable they were to being photographed in a contemporary creative way. I feel that being confident in these images really helped to show unique sides to both Meg and Rob's personalities as well as showcase their individual styling that day.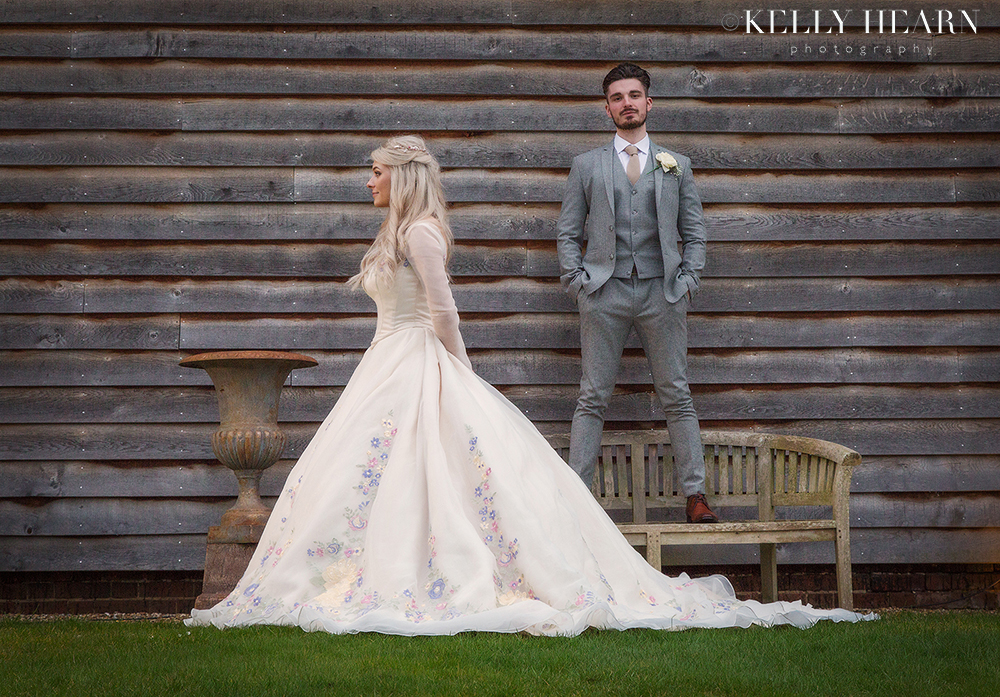 It wasn't long before the 200 year old beam-filled Threshing Barn played host to all the many guests who enjoyed a fantastic reception meal with Meg and Rob that afternoon. The character-filled room was simply and elegantly decorated, each table themed with piles of literature. Of course, the top table was Harry Potter themed whilst other tables had Peter Rabbit and Roald Dahl books to name a couple.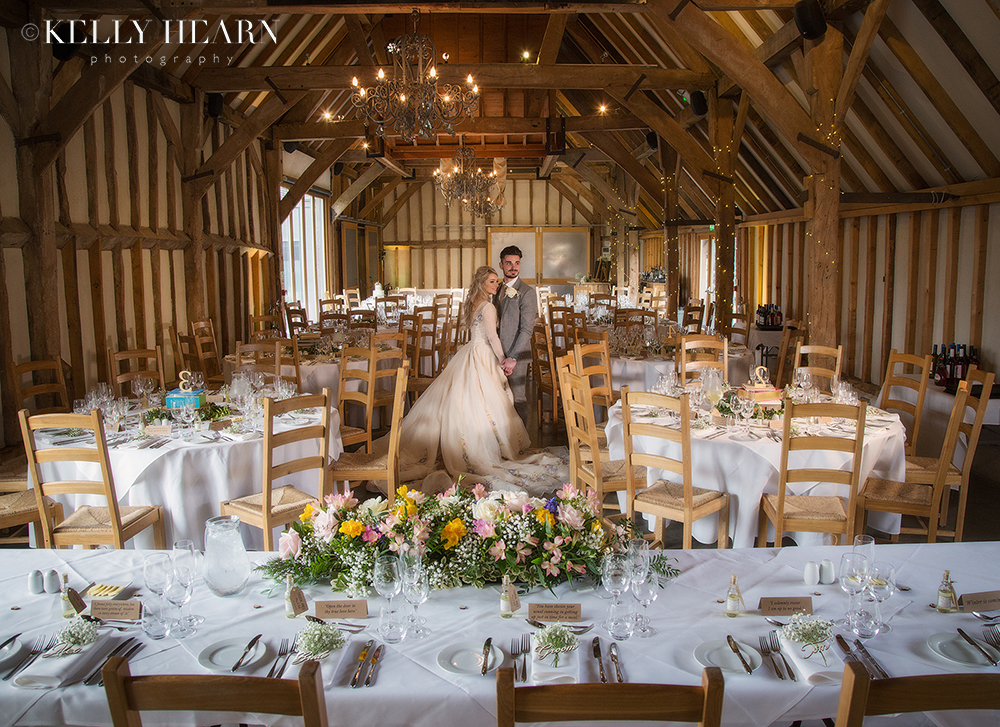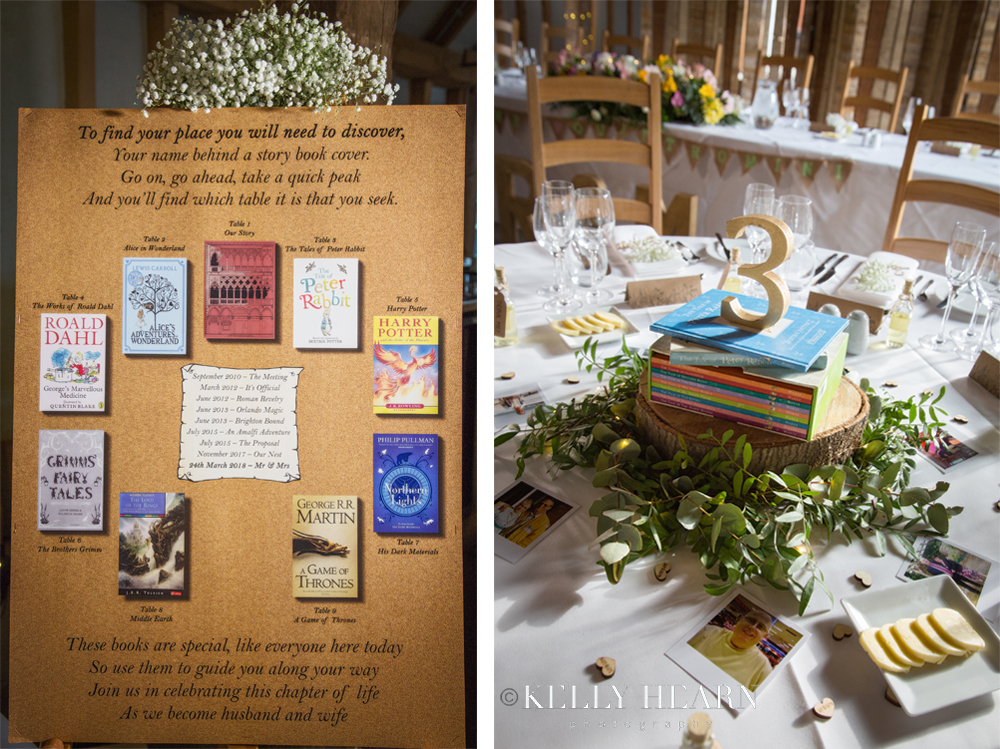 As the evening drew in, Meg disappeared to make one more transformation. She returned donning a stunning red skater style dress in time for a first dance with her father (a trained dancer) and this time with her Harry Potter Converse on show. The father-daughter duo smashed out a fabulous routine to Bjork's fun-filled number 'It's oh so quiet', bringing a broadway musical flavour to kick off the evening celebrations.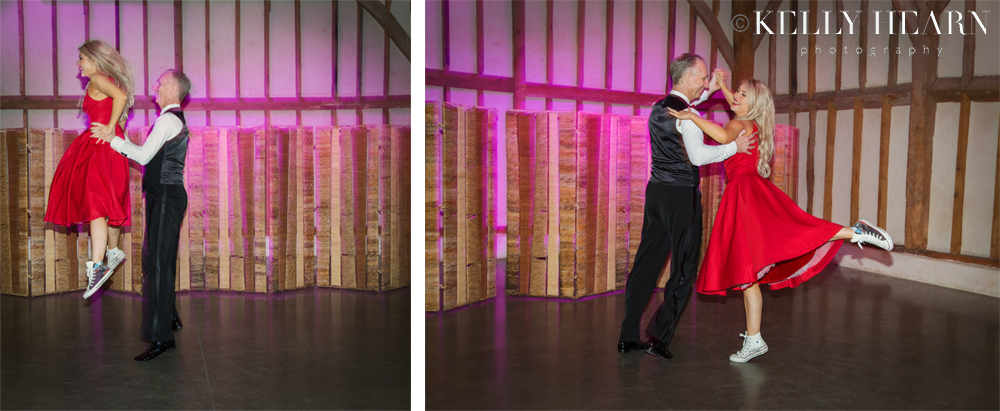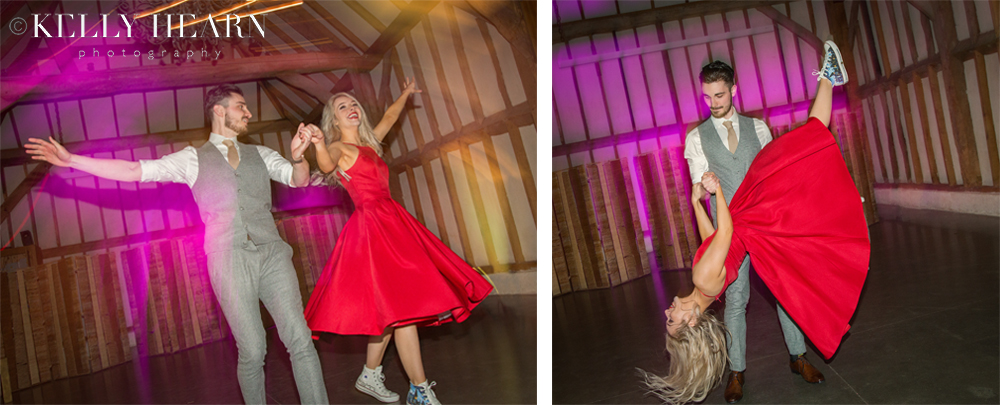 Having broken the dancefloor 'ice', groom Rob took to centre-stage with Meg for the second 'first' dance where he essentially told Megan to "Shut up and dance" with him. Although a rude way to go about it, the couple enjoyed a high energy performance which by the end had resulted in the pull of guests onto the dancefloor who stayed there for the rest of the night!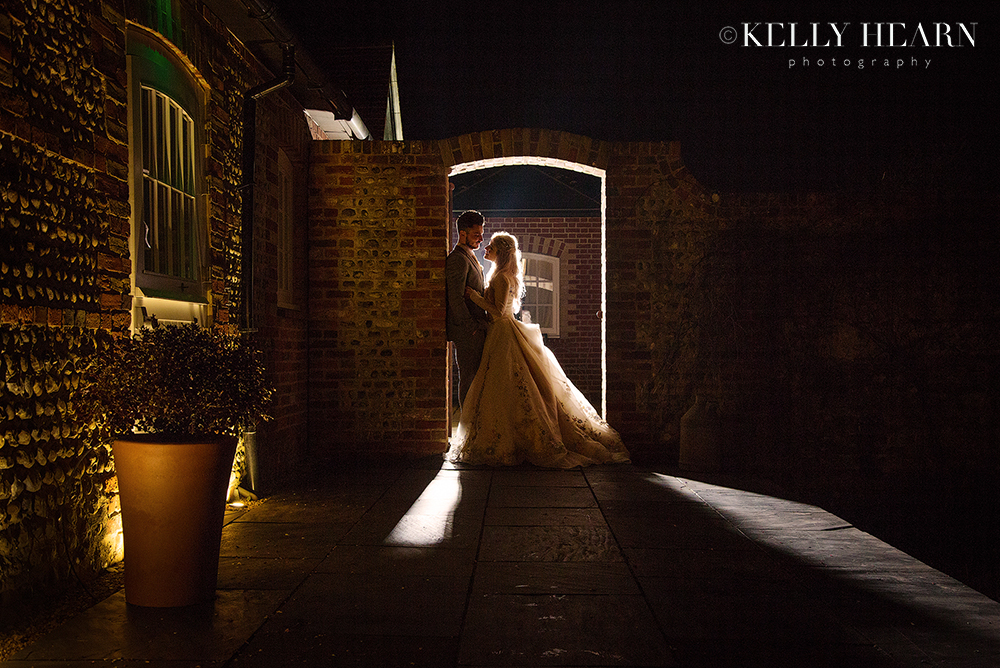 This wedding was full of surprises, personality and fun and I really enjoyed the energy and creativity which made the day so original and personal. This couple appreciated the modern alongside the traditional and the fairytale alongside the reality, whilst embracing humour and romance at all times. Congratulations Mr & Mrs Quattromini, I wish you every happiness. May you find your 'happily ever after' in each other forever more.
Love Kelly x
Kelly Hearn A.B.I.P.P - A.M.P.A