A palette of pinks
October 12, 2017
Vicki & Seb's Upwaltham Barns Summer Wedding
Vicki and Seb and their significant entourage made quite an impression as they decorated the vast hilly South Downs landscape in their midnight blue and blush pink wedding colour palette. The bridal party (all fifteen of them plus the bride and groom!) were in great spirits being photographed under the warm setting sun, whilst below in the glow of a bustling Upwaltham Barns, more guests were filling the charming rustic venue, expectant of a wonderful evening celebration ahead. Following what had been a beautiful day of heartfelt marriage vows, exquisitely delectable food and entertaining speeches, it was lovely to see Vicki and Seb swept up in the romance of the charming country setting and full of happiness at the end of a day rich with the love of family and friends that surrounded them.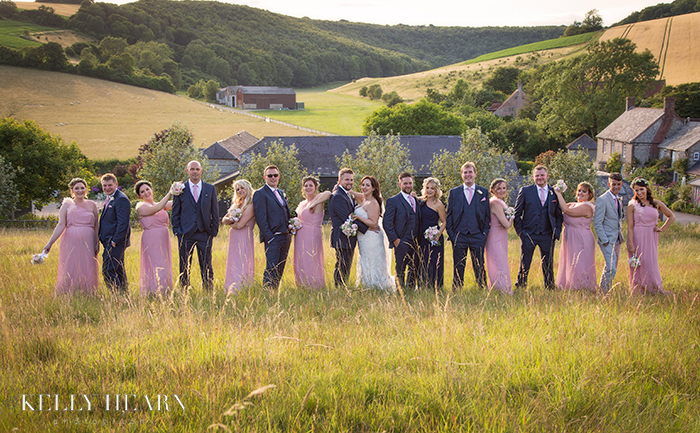 The most important, or should I say, honoured member of the bridal party was Vicki and Seb's adorable little daughter Grace who was lucky enough to get ready with her mummy and all the bridesmaids in the luxury of Woodstock Suites in Charlton. This mother and daughter worked this season's 'twinning' trend, styling themselves out in matching satin kimono gowns with pretty floral details. Mum Vicki had makeup perfected by MAC makeup artist Stephanie Coleman and meanwhile Grace couldn't wait to get into her little blush dress that hung on the bedstead behind her mummy's stunning lace gown.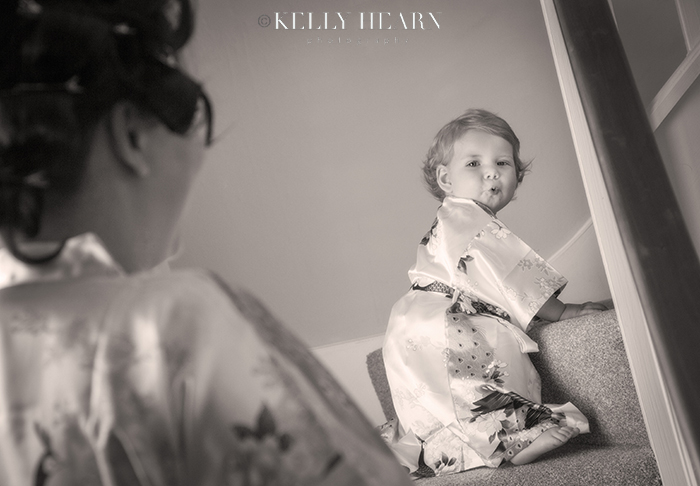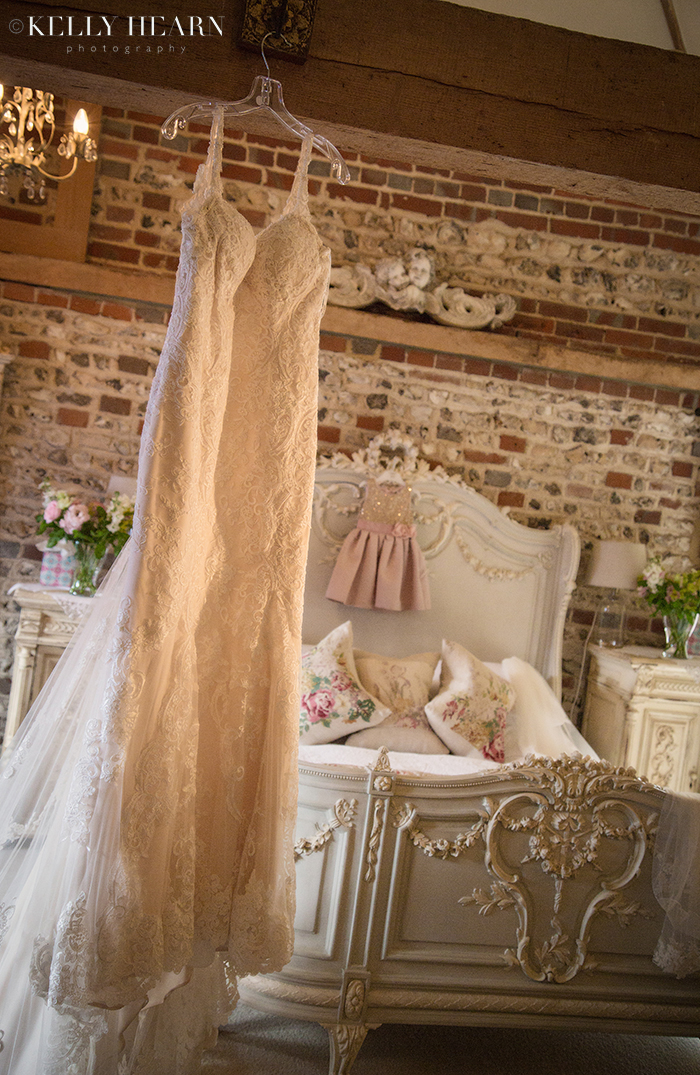 Upwaltham's beautiful french painted pieces that furnish the bridal suite provide the idyllic backdrops for showing off many of the precious outfit details required to bring a bridal look together. Vicki's hand-tied bouquet by Sprigg Florist, consisted of pastel pink roses and peonies along with ivory roses and delicate gypsophila which looked classic and flawless as the florals sat prettily on the white distressed french painted chair.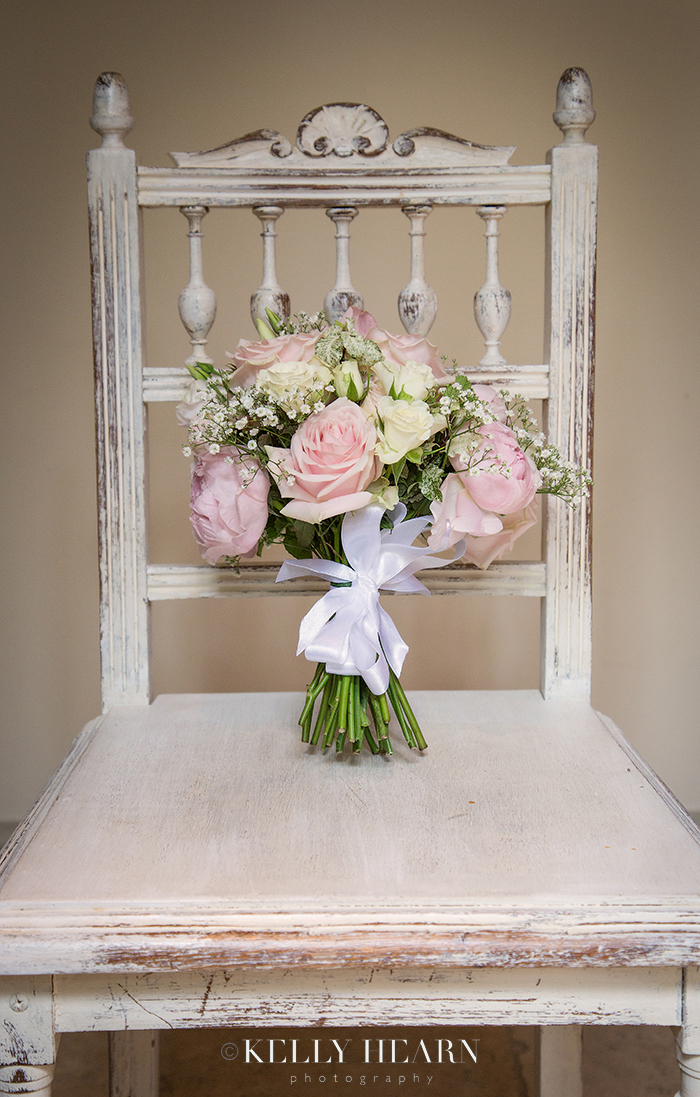 I made sure I caught up with Seb and his best man before he was needed for the ceremony and whilst relaxed and seemingly taking the morning in his stride, I knew Seb was full of anticipation at the thought of seeing his beautiful bride and gorgeous little flower girl descending the aisle of the East Barn. Considering Seb had not been feeling well the day before, he was being an absolute trooper; not only had he scrubbed up very well in his deep blue suit and floral tie, but he also managed to keep a big smile on his face, thus completing the excited but cool groom exterior!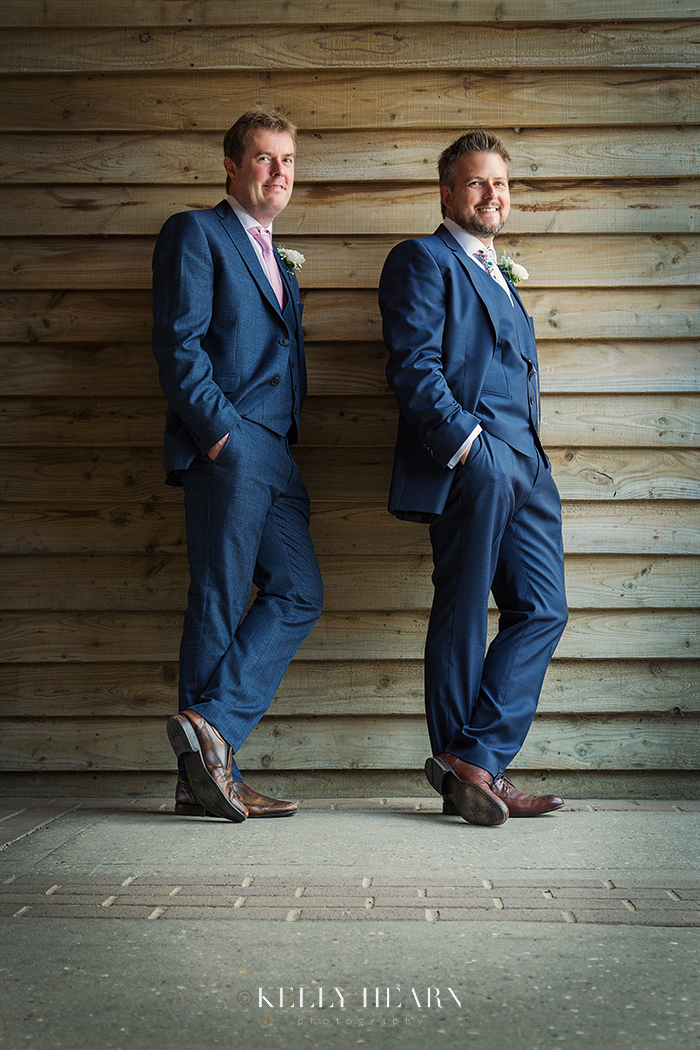 Vicki looked both glamorous and radiant in her fitted mermaid style gown with long lace train. The loose curls of her dark hair were flattering against the elegant ivory dress, her look finished with an attractive touch of red lipstick. The colours of the florals thoughout the day coordinated with the bridesmaids choice of blush pink off-one-shoulder dresses and ivory floral flower crowns. The Maid of Honour (Vicki's sister), wore a dress matching in style to the other girls, but to mark her point of difference she was in the midnight blue colour to coordinate with the groomsmen. Staying faithfully by Vicki's side throughout the day, I had noted how attentive she was to the bride's every need. Further to that, her special aunty-niece relationship with Grace was really touching to see!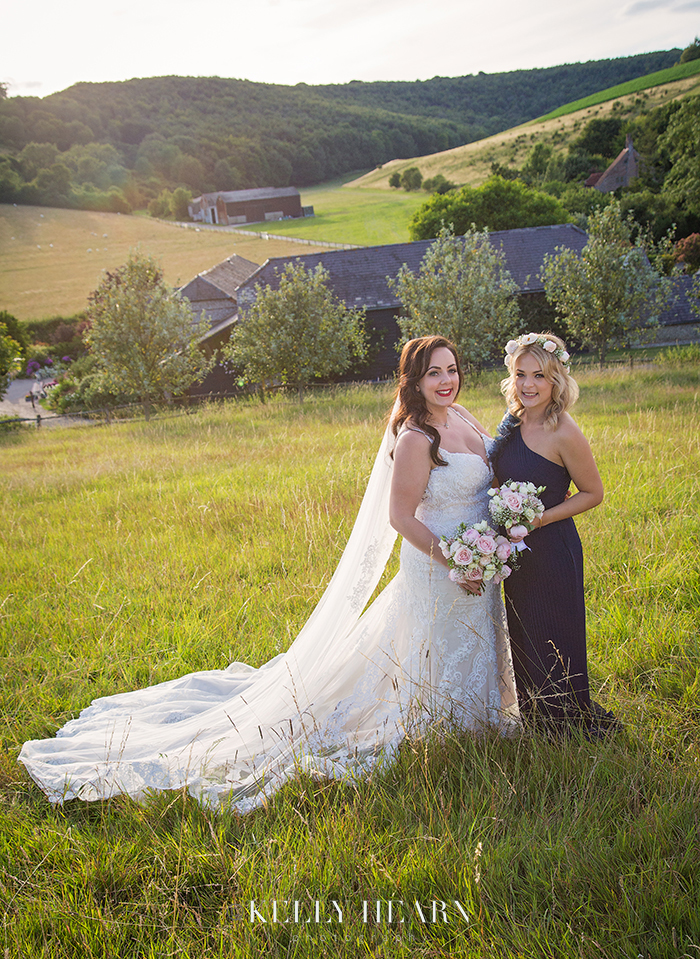 I loved seeing this newly married couple beaming away under the array of pink and gold paper lanterns as they stood with Grace in their arms, now as an official family unit. Having been covered in specifically co-ordinating pink and blue confetti, the Drake family enjoyed some downtime to catch up with family and friends as I photographed them all in the clear light of the courtyard.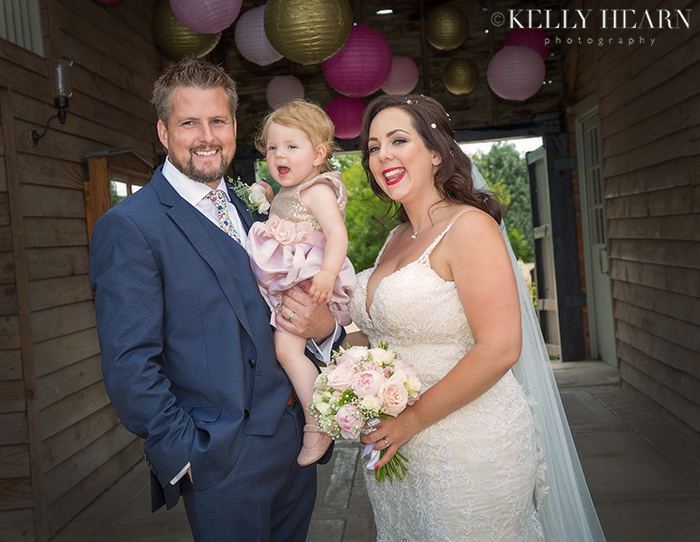 In the reception room, tables were set and named with a Harry Potter theme. Little picture frames highlighted the table names with the Deathly Hallows sign cleverly and subtly combined with the floral design seen throughout the couple's wedding stationery. Geometric shaped candle holders complimented the Harry Potter symbolism and added a modern decor trend element, whilst coordinating flowers kept the table still looking overall classic and sophisticated. Large illuminated light box initials sat in the background adding a bit of funky interest to the room and a personal touch to the setting whilst each guest's place displayed personal laser-cut gold name places.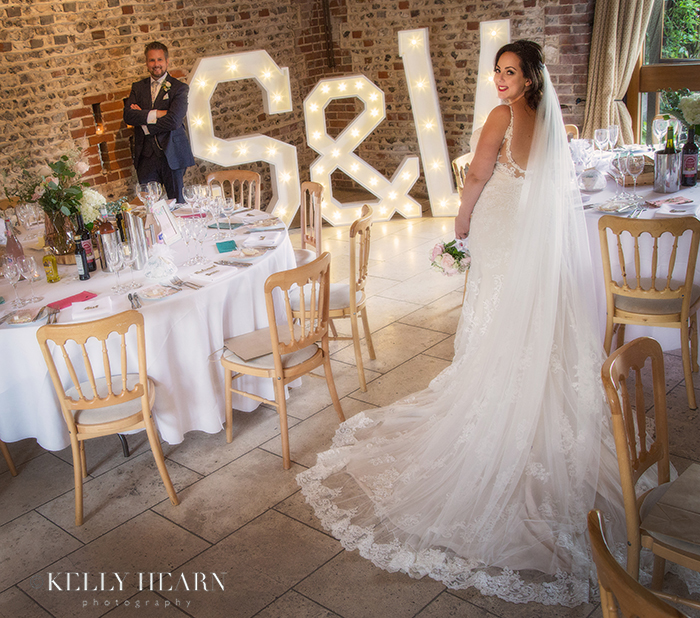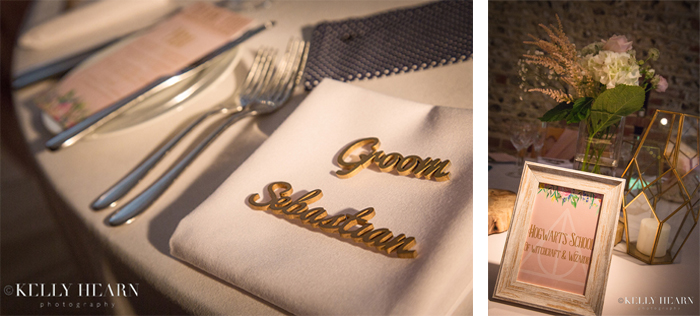 The reception meal, catered by Upwaltham's Nibbles2Nosh, looked absolutely delicious and consisted of farmhouse pate with local chutney to start, lamb for main and a trio of desserts to finish including warm chocolate brownie, lemon posset with a shortbread biscuit and créme brulee. Vicki and Seb had not one, but three wedding cakes on offer as a finale to the delicious dinner. Handmade by Vicki's close friend and bridesmaid, the cakes although different in style, complimented each other seamlessly, tying in with the wedding colour palette. With a tower of pastel pink macaroons, an ombré effect tall cake with sentiment topper and three-tiered cake of pink and cream shades, guests were truly spoilt for choice.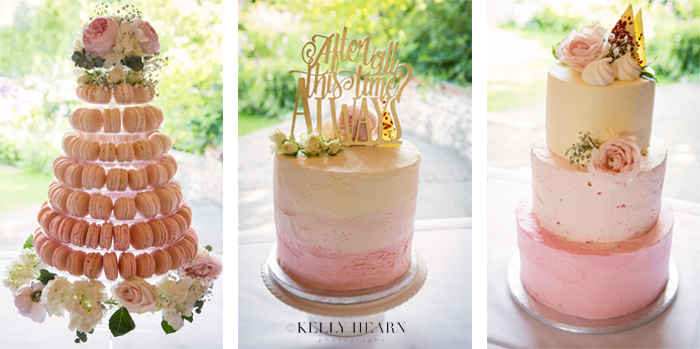 Experience has shown me that you get a real sense of who the couple are and what they mean to their loved ones when it comes to the speeches! As well as the groom, four of the bridesmaids did a little speech each (there was even a rap!), whilst Vicki's dad and Seb's brother also shared some words that left guests giggling away and Vicki and Seb in stitches!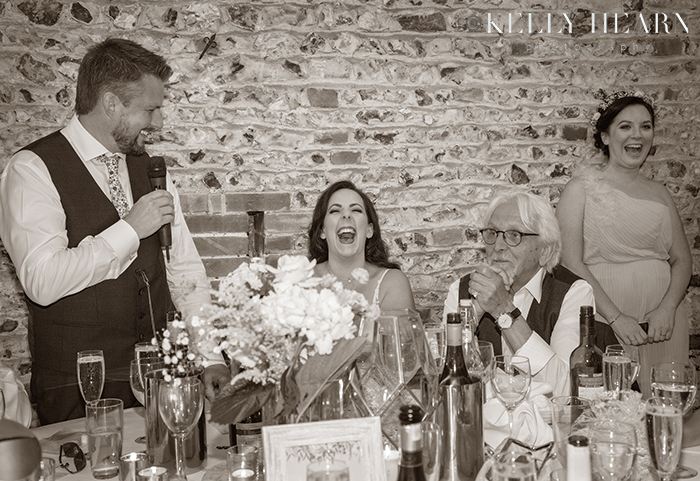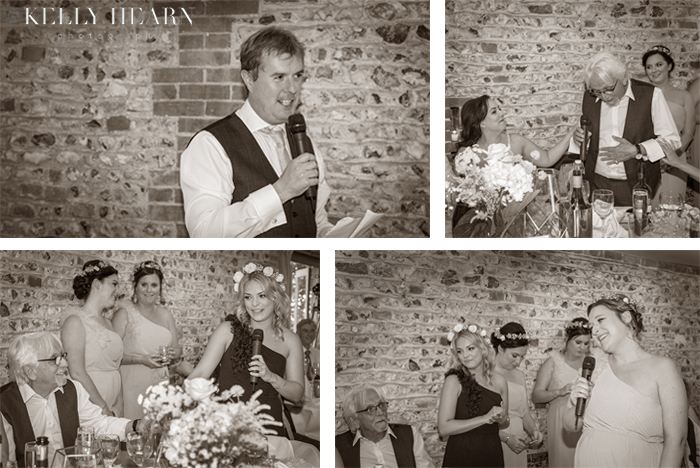 Vicki and Seb looked so happy and very naturally created the perfect picture up on the top of the hill behind the barns whilst the venue was being reorganised ready for the evening reception. Although so much had happened already that day, it seemed to be a timely moment to slide away for a few minutes, pause, reflect and soak in the events so far before being caught back up in the party vibes!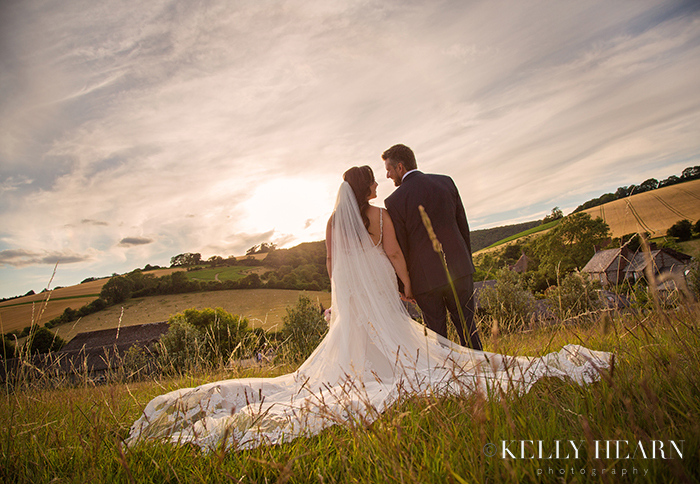 The blue sky did eventually deepen on that July night and the romantic feel of the day was captured nicely in this last image of Vicki and Seb who were backlit by candlelight. The hanging wicker heart wreath overhead symbolised all that the day was about as this new Mr and Mrs embraced standing in front of the picturesque archway.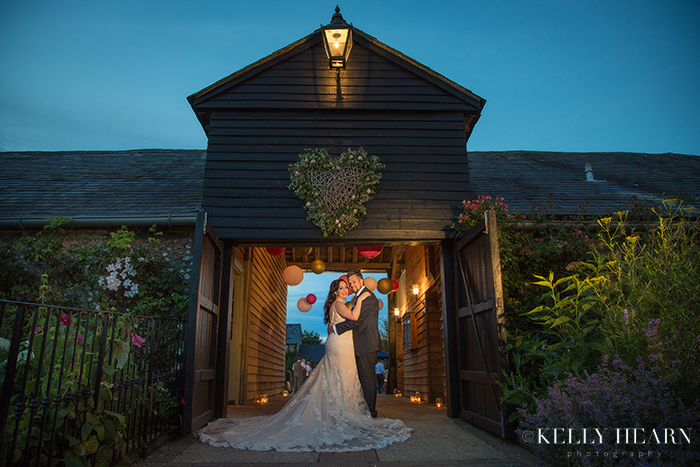 Thank you Vicki and Seb for inviting me to take your precious wedding pictures. The way you involved different family members and friends in various elements of your day was a lovely testament to the closeness you have with those you cherish. It was clear that many people truly love you and your little family to pieces! Congratulations! I look forward to seeing you all again and perhaps photographing Grace when she's a little more grown!

Love Kelly x
Kelly Hearn A.B.I.P.P - A.M.P.A