Once Upon A Dream Wedding
August 08, 2017
Rebecca & Shane's Old Thorns Spring Wedding
I imagine Rebecca has always dreamed of having the perfect fairy tale wedding and, as every bride deserves to feel like a princess, it was lovely to see the day unfold with her looking so delighted to be playing that part so beautifully! With groom Shane making for a fitting 'Prince Charming', the couple succeeded in combining some traditional elements with some more contemporary ideas, ensuring the proceedings and celebrations throughout the day were classic and meaningful, yet with a funky fresh vibe.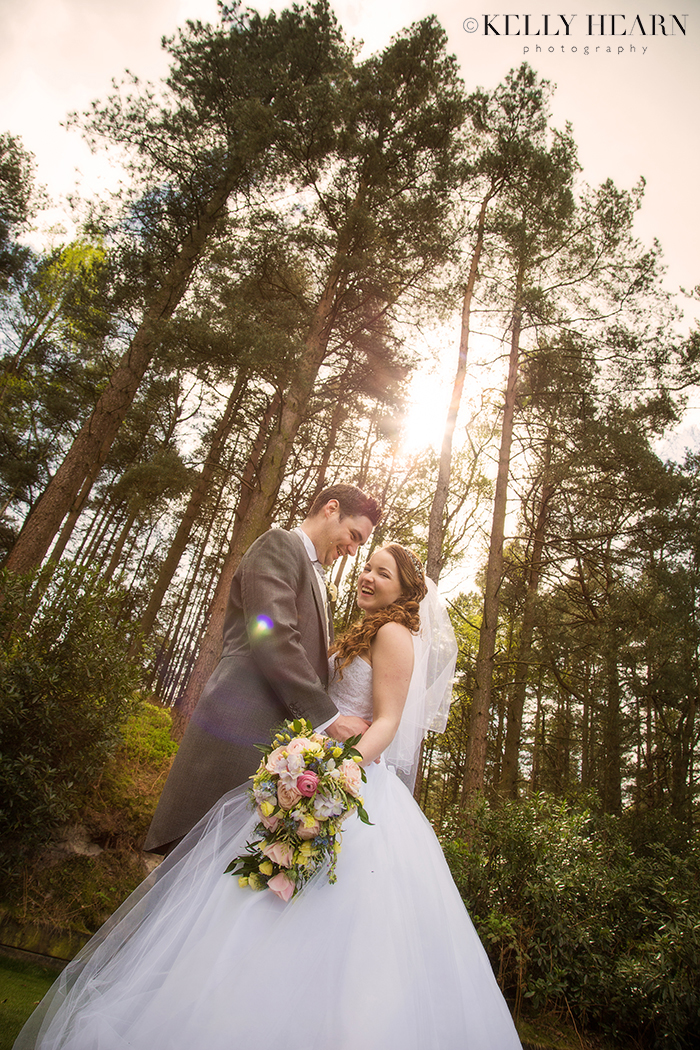 It was a sunny April morning when I arrived at the couple's reception venue to photograph Shane, who was in high spirits, and his equally chipper groomsmen as they were preparing for the day ahead. It was great to see them wearing traditional morning suits, including grey morning coats, ivory waistcoats and cravats of varying pastel colours, which were to co-ordinate with the bridesmaid's dresses. Although a less common choice these days, it is a formal and timeless suit option that never fails to present a groom and his entourage as real first class gentlemen.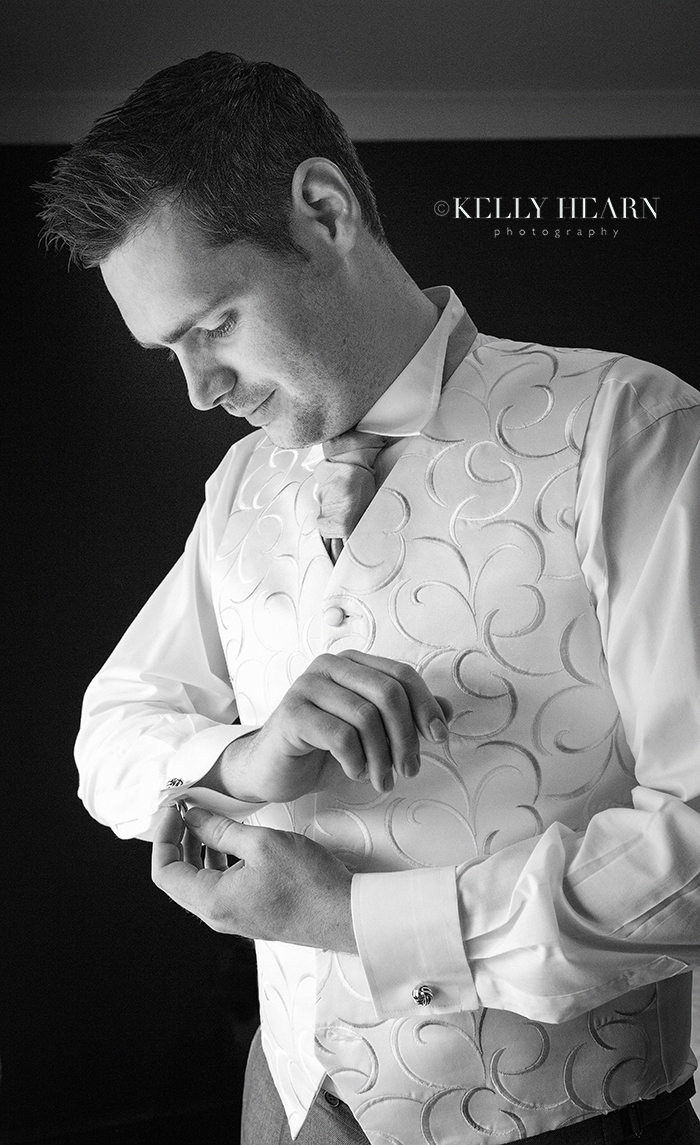 Shane and his chivalrous sidekicks rocked the traditional look in the modern 1920's inspired bar as they posed against the striking graphic shapes and lines of the very stylised art deco mirrored backdrop.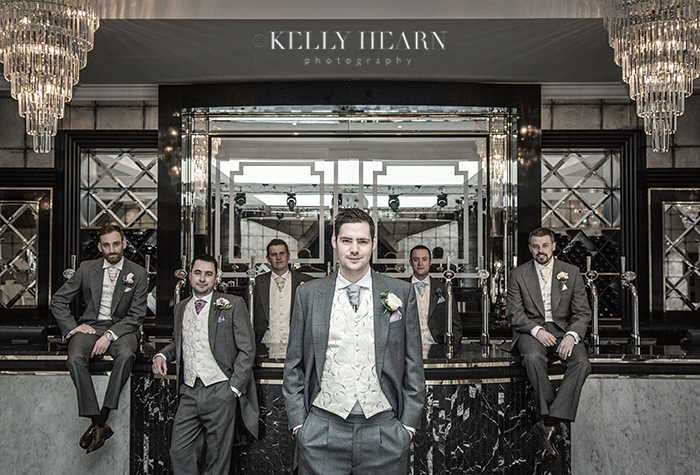 Meanwhile Rebecca had been getting ready at her and Shane's home in Southbourne, a stone's throw from my studio in fact! With hair and make-up perfected and clutching a beautiful bouquet of pastel peaches, pinks, yellows, mauves and blues, Rebecca was ready to embark on that very special journey to the church with her father, in the back of a classic black and ivory vintage wedding car.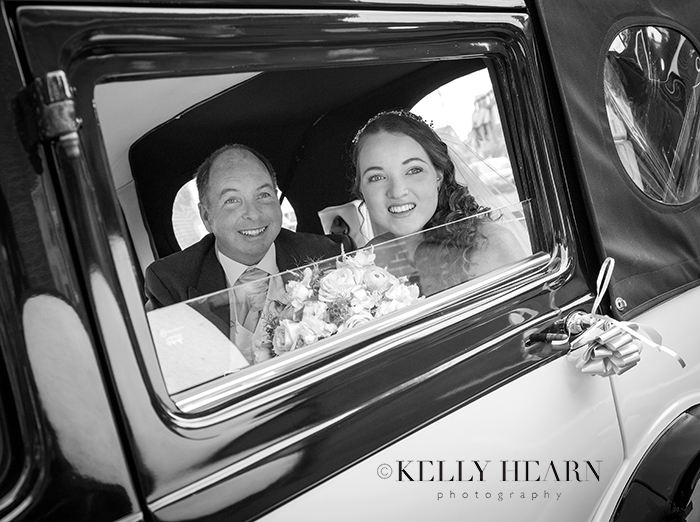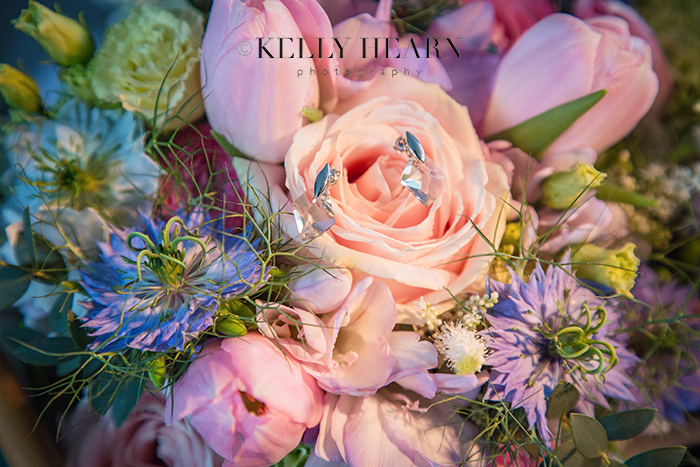 Rebecca soon arrived at St James' Church in Emsworth and gracefully descended down the long aisle with family and friends looking on admiringly. A devoted Shane who'd patiently been waiting by the altar, took a moment to compose himself before turning to see his stunning bride in her sweetheart ball gown style wedding dress. A charming and traditional service ensued and a lovely touching and more personal moment was seeing the grandmother praying blessings over the couple.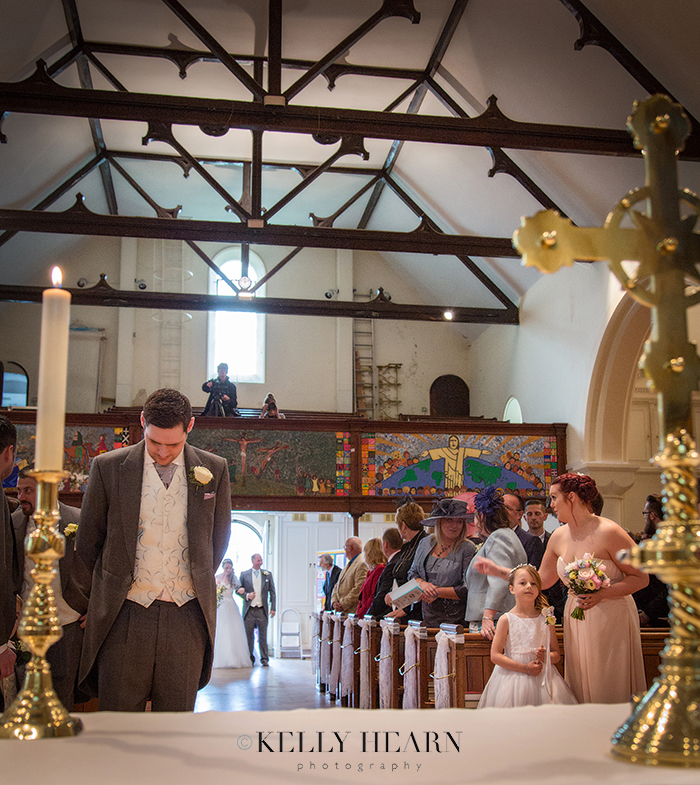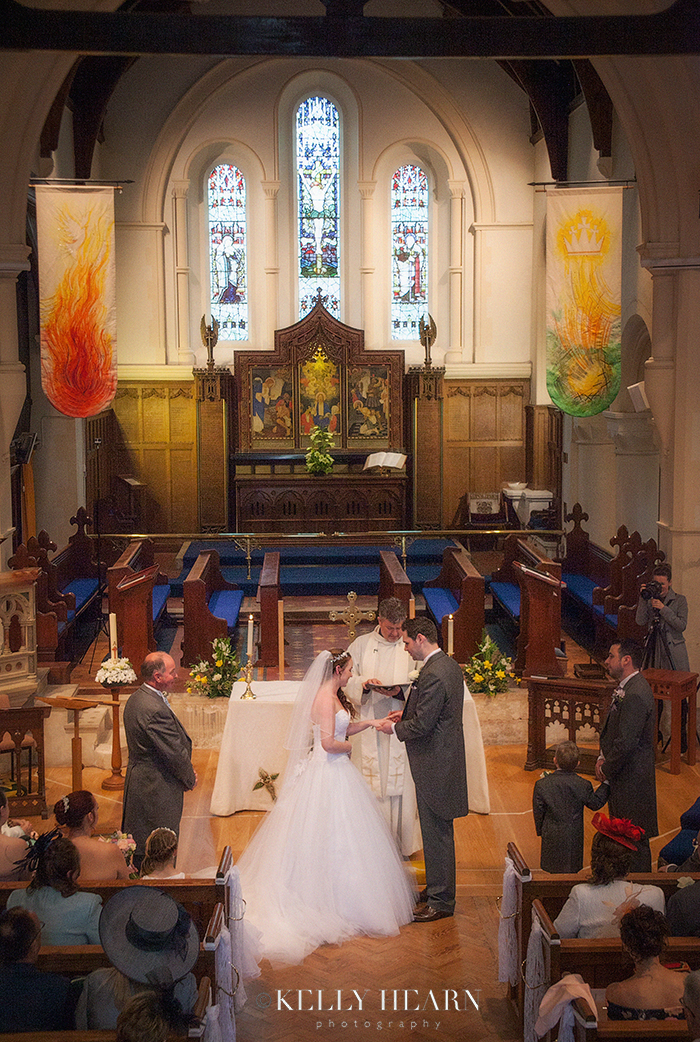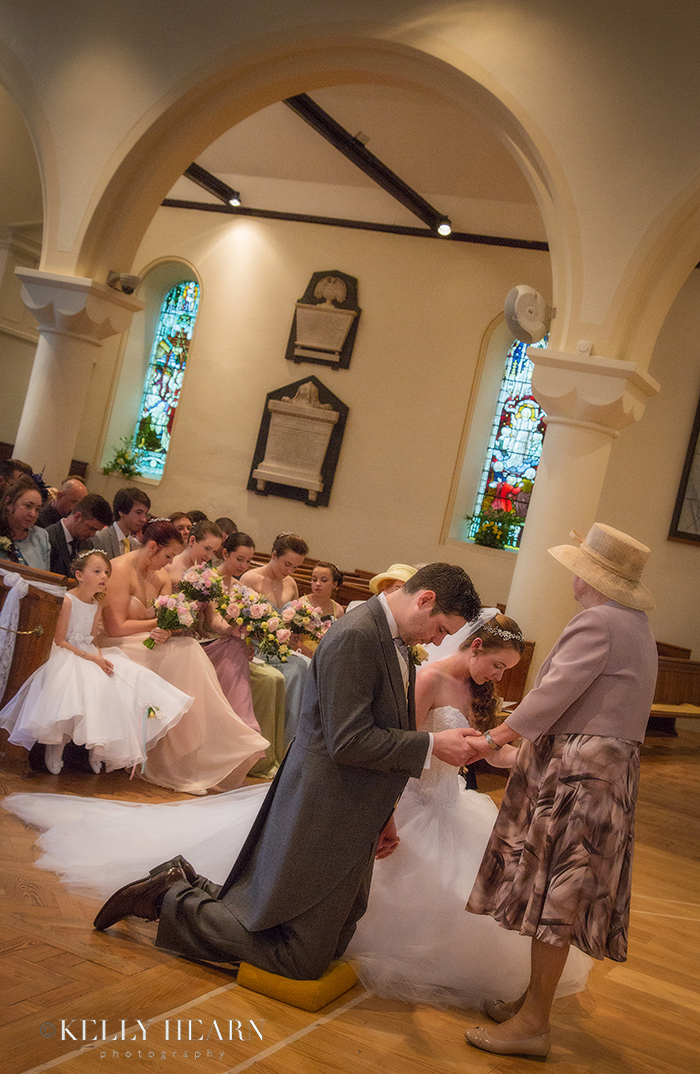 The church itself had a sense of grandeur and presence which seemed to somehow add to the significance of the marriage ceremony. Built in the Victorian era of Sussex flint, it boasts an impressive Byzantine Romanesque structure, characterised by it's symmetry, round arches and towers. As the newly weds exited through the arches and stood surrounded by the arcading, the scale and symmetry of the building made for really interesting framing and offered itself as a powerful backdrop with it's strong lines and shapes contrasting against the softness and romantic nature of Rebecca's dress.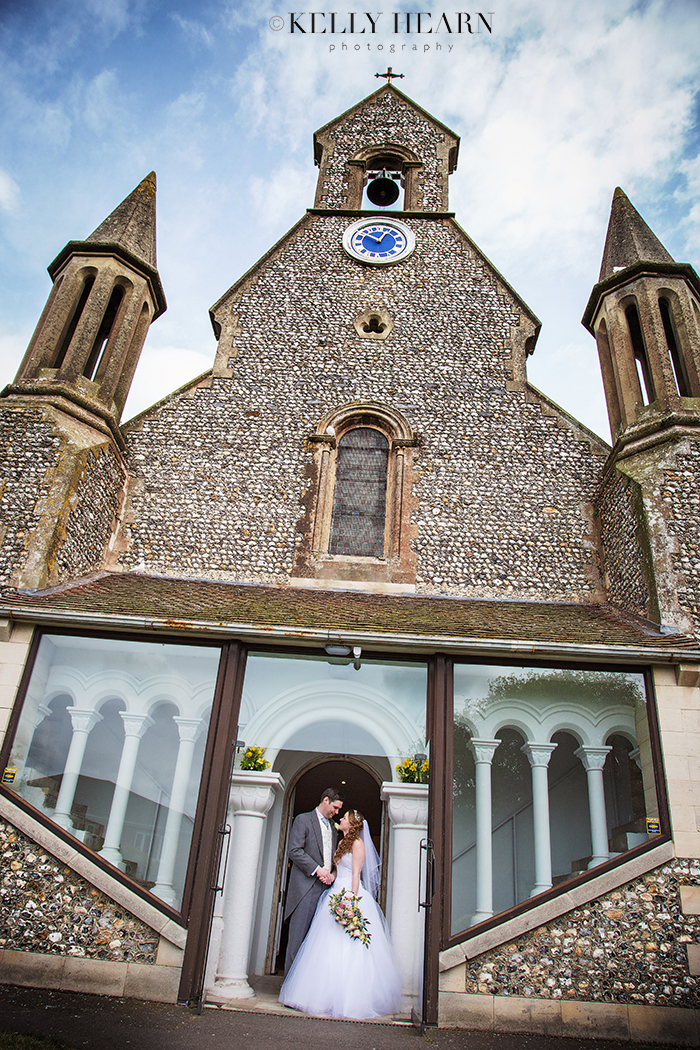 After guests mingled, congratulations were shared and confetti was thrown, it was time for some all important group photographs in the church grounds. We all managed a few laughs at this part of the day and I like to think that when shooting group images it can be a great time to adopt a bit of a fun approach! Also, for those who have a tendency to freeze a little in front of the camera, I often find using a dash of creative license and humour helps to break the photography 'ice'!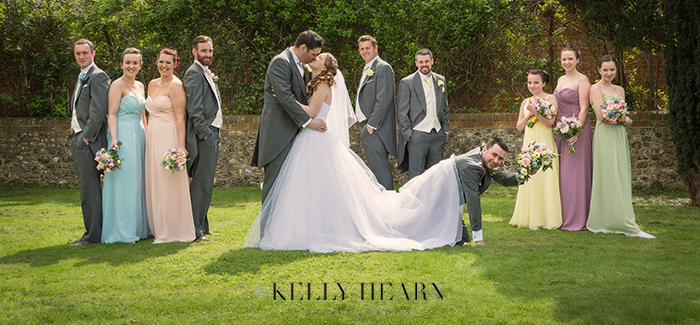 Rebecca's bridesmaids were bang on this year's dress trend, wearing different sherbet shades which almost reminded me of very sophisticated and elegant Disney princesses! Flattering to any skin-tone and bringing a touch of spring to the wedding theme, their sorbet hues were individually represented in Rebecca's bouquet which saw all the different complimentary pastels coming together beautifully. 
With group shots in hand it was time to move on to Rebecca and Shane's reception venue of choice Old Thorns in Liphook, Hampshire, a luxury golf and spa hotel. The picturesque grounds with panoramic views over the golf course and beyond were stunning and there was a wonderful choice of backdrops when it came to photography. The mismatch sweet pastel shades of the bridesmaids dresses continued to be showcased in subtle ways throughout the wedding decor with different coloured spring flowers arranged as centrepieces on each table and even little chalkboard name places and favours being similarly colour co-ordinated.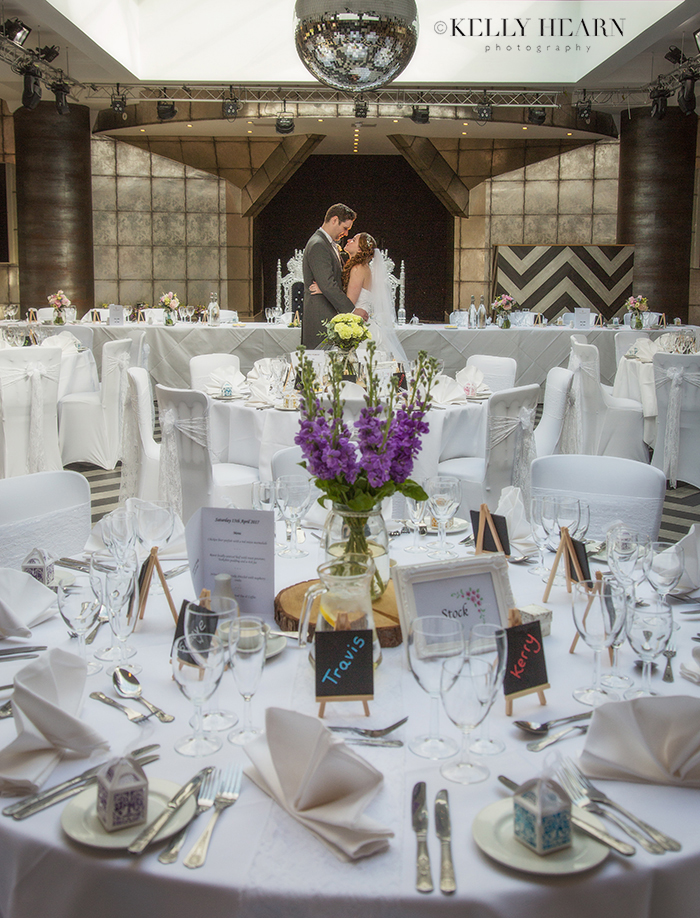 The newly refurbished light and airy Gatsby Ballroom was home to the wedding breakfast and, being inspired by the art-deco era, certainly was a statement room full of glamour. The use of mirrors, glass chandeliers, strong pattern, bold geometries and a monochrome palette provided a really strong look for the reception giving it a modern edge. The iconic design styling and colours were softened by Rebecca and Shane's knack of bringing in some pretty detail; even the monumental display of wedding cakes brought a touch of 'English country' to the room. The selection of eight different flavoured delicious looking cakes were cascading down on a tiered stand and were all lovingly homemade by Rebecca's bridesmaid (also Shane's sister!).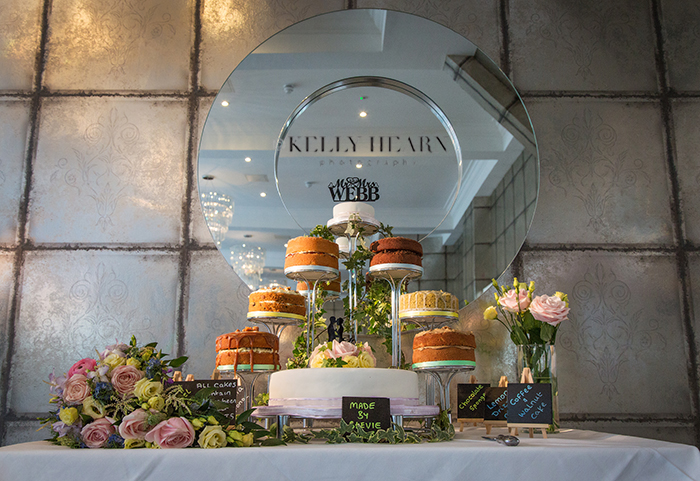 As a surprise, Shane had bought Rebecca a unique wedding gift which she received during the speeches. This gift was to be a new addition to their new family unit! 'Bruce' the puppy was set to make his photographic debut in style; the only guest to gatecrash the wedding, the album, consequently steal the limelight from the bride and groom and successfully photo-bomb various pictures taken throughout the rest of the day! So after the dinner and speeches, we let Bruce stretch his legs and ventured up on the hill to capture their first family portrait with all three of them together as the sun went down. Well, we definitely got many great shots of Bruce (not sure his new owners got much of a look in though?!)…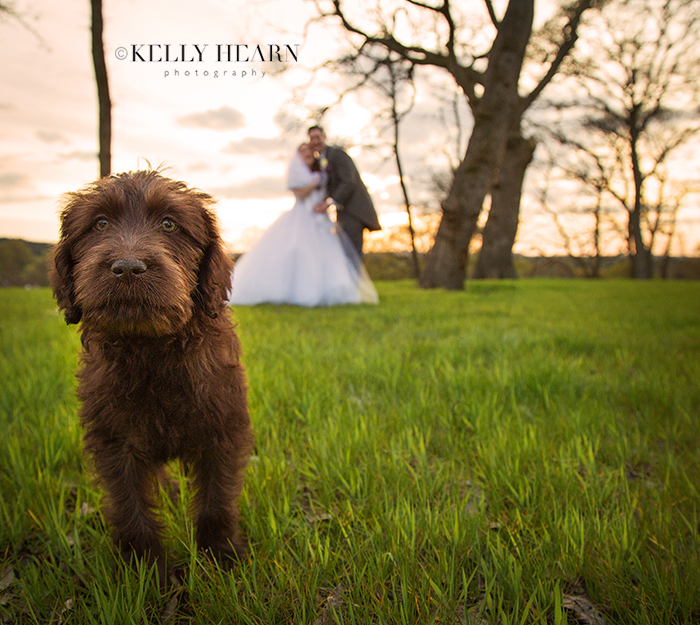 Rebecca and Shane, your wedding day was like a real life fairytale with a modern twist. I loved how you took many traditional elements and brought them into the now, with your creative choices of venues, decor and colour schemes. The day was full of magical moments, many of which I hope you will remember and treasure all over again when you look through your wedding album. Thank you for the opportunity to photograph your day, I hope you treasure the memories, dream together and know exactly what it is to live happily ever after.

Love Kelly x

Kelly Hearn A.B.I.P.P - A.M.P.A